Visiting Salt Lake City and looking to take a day trip to Antelope Island State Park? Keep on reading for everything you need to know – from when to visit, how to get there, and all the best things to do in Antelope Island!
We visited Antelope Island State Park on our cross country road trip from New York to California (as we were moving to San Francisco)! It was super spontaneous (like much of our road trip was), so we rolled on up, paid the fee, and started exploring.
And what we found was utterly fascinating! Tons of wildlife (think free-ranging bison, bighorn sheep, and of course antelope), scenic views of the lake, and epic (easy!) hiking leading to tons of natural beauty and beautiful shoreline. You can even float in the Great Salt Lake – whoa! It's actually the largest saltwater lake in the Western hemisphere! You don't wanna miss a day at Antelope Island State Park near Salt Lake City.
Before we get into all the top things to do in Antelope Island State Park, a few logistics first!
Things to Know When Visiting Antelope Island State Park
When to Visit Antelope Island State Park
Antelope Island State Park is open year round, but the seasons vary greatly over here in Syracuse, Utah. The best time to visit Antelope Island State Park is from late spring to fall. However, if you've got lots of flexibility, I recommend visiting in fall, as hopefully most of the bugs will be gone and it won't be as hot out either!
For reference, we visited in mid September and had more than pleasant weather. The sunflowers were out and about, the animals were grazing around happily, and the sun was shining. If you can wait until October, you'll have the pleasure of witnessing the annual Bison roundup in Antelope Island State Park, which sounds pretty entertaining if you ask me.
Winter can be snowy and cold (yes, it snows over here!), so be sure to bundle up appropriately! Cold weather means less crowds so you may very well have certain trails and lookouts to yourself. And thankfully, there's no bugs on the island in the chilly winter months!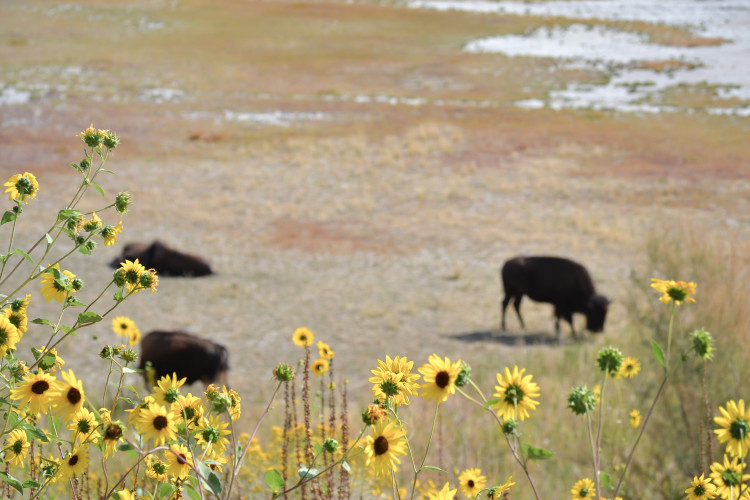 Where is Antelope Island State Park
Antelope Island State Park is located approximately 41 miles north of Salt Lake City. It's not far from the town of Syracuse, in case you're looking for a close place to stay.
It's actually the largest of ten islands located within the Great Salt Lake, and surprisingly, becomes a peninsula when the lake is at extremely low levels.
How to Get to Antelope Island
I'm assuming you're already in Utah, but if not, plan to fly into Salt Lake City International Airport (SLC).
If you're coming from Salt Lake City, the drive couldn't be easier. Simply take Exit 332 off Interstate 15, then drive west on Antelope Drive to the park entrance gate. Psst – keep driving as the park is 7 miles west of the entrance gate across the Davis County Causeway.
Distances from popular spots in Utah:
Salt Lake City: 1 hour (~45 miles)
Park City: 1 ½ hours (~75 miles)
Provo: 2 hours (~85 miles)
Bonneville Salt Flats: 2 ½ hours (~150 miles)
Moab (for Arches National Park): 4 ½ hours (~275 miles)
Bryce Canyon National Park: 4 ½ hours (~300 miles)
St. George: 5 hours (~340 miles)
Zion National Park: 5 ½ hours (~350 miles)
As you can see, Antelope Island State Park is pretty far from the popular national parks in Utah. If you're planning to be in Salt Lake City I say go for it, but if you're sticking to the parks in the south, I'd leave Antelope Island for another time.
FYI: If you're just dying to go, I'd stick to driving during daylight hours, as when we visited the southern parks there was plenty of wildlife on the roads. And after seeing one too many bunnies running across the highway (along with seeing tons of roadkill), we decided to save our driving for during the day.
How Far is Antelope Island from Salt Lake City?
As noted above, Antelope Island is roughly 45 miles from Salt Lake City. There will probably be some traffic at some point on the drive, so give yourself an hour or so to get there.
And once you get up to the long, flat bridge, keep your windows shut! It typically smells super salty and not the most pleasant.
Getting Around Antelope Island
Most people drive around the island, but note that you can also hike and bike! And even ride horseback!
Driving: With well-maintained roads it's super easy to navigate the island! There's a bunch of places for parking, relaxing, and even plenty of bathrooms.
Hiking: There's 19 trails covering over 45 miles, so you can surely see a lot of the state park by foot! We only did a few short ones and felt like we saw such incredible scenic views. And plus, even dogs (on leash) are allowed on most trails!
Biking: Most of the trails above are perfect for biking as well (except Frary Peak and Dooly Knob – those are just too steep). They're flat and easy, although there's longer biking trails if you're looking for something more strenuous!
If you're more of a road biker (like my husband is), feel free to ride along the roads! Always make sure to be extra careful biking along the park roads since there's no designated bike lanes.
You can even rent an electric bike from Antelope E-Bike Company!
Horseback: Itching to explore while riding a horse? Rhodes Valley Outfitters has guided tours of Antelope Island on horseback! And like the bikes, horses are not allowed on either Frary Peak or Dooly Knob trails. There are a bunch of equestrian trails here as well.
Psst – The trailheads at Mountain View, White Rock Bay, and Fielding Garr Ranch have hitching rails in case you need them.
How Long to Spend at Antelope Island
How long to stay is entirely up to you! You can drive around the entire island in about 2 hours making quite a few stops (and even doing a few short hikes). Or you can spend the entire day admiring the bison, dipping your toes into the Great Salt Lake (try your hand at floating!), and going on longer hikes.
Since we had to beat the moving truck to San Francisco (we were on a much longer cross country road trip for our move to California), we only stayed a few hours. But we felt like we saw oh so much! I would like to go back again and float in the lake – that sounds like a bucket list experience to me!
Entry Fees
Standard Entrance Fee: $15 per vehicle up to 8 people
Senior Entrance Fee (65 years of age): $10 per vehicle up to 8 people
Motorcycles: $5.00 per motorcycle
Bicycles and Pedestrians: $3 per person
Antelope Island Annual Pass: $65 (includes the Davis County Causeway fee)
You'll pay your entrance fee at the Antelope Island Causeway Tollbooth before driving the 8 mile causeway to the state park. Everyone's said the staff at the tollbooth is super friendly so don't be afraid to ask questions and have a quick chat (if there's no cars behind you of course).
If you have your Utah Annual State Park Pass you won't need to pay the $15 entrance fee, but do note it doesn't cover the $2 Davis County Causeway fee. Kinda like a bridge toll.
Some camping fees cover entrance into the park, so just double check when you make your reservation.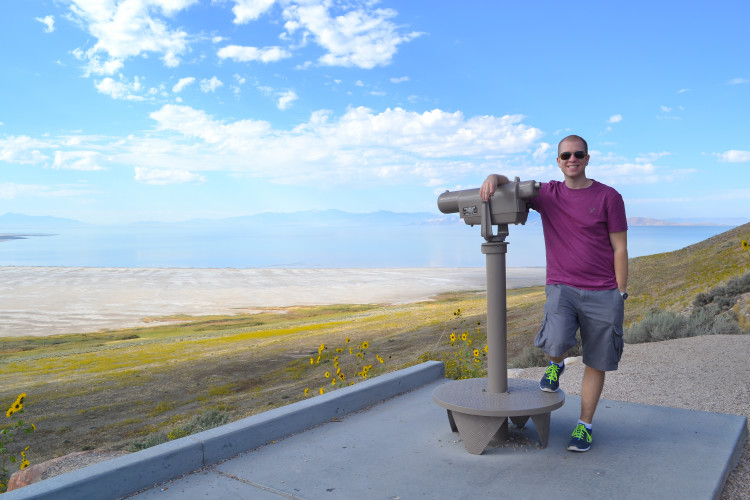 Where to Stay
You've got your pick of camping within the state park, sleeping in Syracuse (the closest town to the park's borders), and in nearby Salt Lake City (tons of options here). If you're only heading here for a day trip, there's no reason why you can't sleep in Salt Lake City since it's only 45 minutes to an hour away.
Camping in Antelope Island (3 Main Campsites)
Sleep in the park for the best stargazing opportunities! Do note there's no water or electricity available at any campsite. You need to make a reservation at least two days in advance, and since weekends are typically pretty busy, make those reservations further out.
Bridger Bay Campground: Great for families, with tents and RVs welcome. Offers 64 sites in two loops with 6 being ADA Accessible Sites.
White Rock Bay Campground: Perfect for groups of 16 or less, tents and self-contained RVs are welcome, plus two equestrian sites are available. Offers 20 sites.
Ladyfinger Campground: Great for small groups of four or fewer people. Tent camping only (limit of one tent per site). Offers 5 sites.
Do be aware that I've heard the gnats at night can be absolutely horrible, so come prepared for that.
Hotels in Syracuse: Not a fan of camping but wanna stay as close as possible to the park? Maybe you wanna do some late-night stargazing and don't wanna make the hour drive back in the dark. The town of Syracuse is a quick 20 minute drive away!
Hotels in Salt Lake City: Since Antelope Island State Park is only 45 minutes from the heart of Salt Lake City, there's no reason you can't head here for a day trip! There's tons of hotels in Salt Lake City, so you'll have your fair share of picking.
Animals on Antelope Island
I could not believe just how much wildlife we saw in our few hours in Antelope Island State Park. You'll feel like you're in Yellowstone National Park for a hot second or two!
Of course there's always a possibility of seeing pronghorn antelope, as this is what the state park is named after! And almost everyone runs into a few bison (or two, or three, or dozens) at some point during their stay. Be on the lookout for mule deer, bighorn sheep, coyotes, bobcats, owls, hawks, and falcons.
Learn more about the mammals on Antelope Island State Park here!
Respecting the Wildlife
I can almost guarantee seeing the wildlife on Antelope Island will be a main highlight of your trip here. BUT remember they are wild animals – they deserve space and respect. Getting too close to an animal can be stressful for them and dangerous to you. Never feed, touch, tease, or intentionally disturb any wildlife – it's prohibited!
And plus, there's BISON all over the island! Never approach them for any reason at all. Maintain a respectful distance, and plan to use a zoom lens for photography.
A Specific Note on Bison
To say there's a large population of bison on the island is a massive understatement. I mean, there's between 500 and 700 depending on the time of year. And if you've ever seen a bison before, you know just how big they are! They don't stay in one particular field either, nor are they roped or caged off – you may even encounter them on the road and sometimes even on hiking trails.
With that being said, it's important to be EXTRA careful when you do encounter these massive animals. Unfortunately there have been reported incidents involving visitors to the state park and bison.
One quick note: photos and videos are NEVER worth risking your life over. Yes, get your photos, but do so at a safe distance.
A few important bison safety tips:
If there's a bison in the road, wait for it to pass. NEVER get out of your vehicle!
Bison on the side of the road? Feel free to drive past it slowly.
Always take photos from a safe distance. If a bison stops what it's doing and looks at you/pays any attention to you, you are too close. Back away slowly.
See a bison on/near the trail? Either turn around and go back the way you came, or leave the trail and give the animal a lot of space when passing it.
Good to Know:
Are dogs allowed? Yes, in most places in the park, although they must stay on a leash. Please do your part and pick up after your dog and dispose of it properly. Dogs are not allowed on the beach.
You are not allowed to collect or remove anything from the state park. It's actually against the law, so don't do it!
Drones are prohibited from March – November, and must be granted a permit other times of year.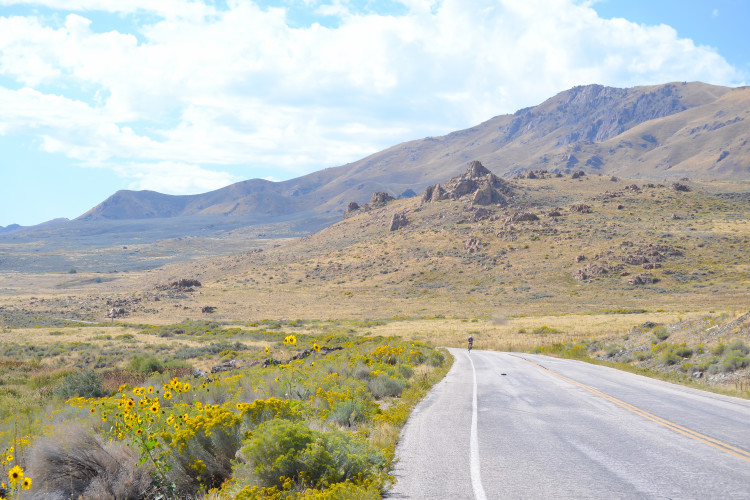 Insects: Be prepared for bugs, especially if you're visiting in the hot summer months. Expect biting gnats (what I call no-see-ums) in the spring, midges in the summer (thankfully they don't bite!), mosquitos in the warm months, and brine flies near the shoreline come summer. We experienced tons of no-see-ums and brine flies even in September (since it was still hot and all).
What to bring: Sunscreen, a hat, and bug spray. Oh, and don't forget water! There's no tree cover on Antelope Island, so you won't find many shady spots – meaning lots of sun exposure! Protect yourself.
So is Antelope Island State Park the most scenic state park in all of Utah? I'll let you decide for yourself after ooh-ing and aah-ing after the photos. The landscapes are so different from those at Utah's famed National Parks (find my complete 7-day Utah National Parks road trip here!), and this is the reason why this state park is just so special. You won't find any sandstone arches or hoodoos here, but the mile long vistas and protected animal life make up for it. OH, and the Great Salt Lake.
Top Things to do in Antelope Island State Park
1. Hike the Buffalo Point Trail
If you only have time for one hike in Antelope Island State Park, make it the Buffalo Point Trail on the northwest side of the island. Besides being one of the most popular trails, it's super short at only 1 mile, and only a slight elevation gain (~300 feet). Meaning even non-hikers can do it!
Buffalo Point Trail is pretty close to the visitors center, and there's benches along the trail if you wanna stop for a rest. It's also a great place to watch the sunset!
And get this —> Bison might be lounging on the beach below or wandering the hillsides nearby! Don't get too close! And of course you'll be rewarded with some exquisite views of the Great Salt Lake from the top — 360 degree panoramic views! Plus views of Wasatch Front, Stansbury Island, and the surrounding mountains.
Do note the trail may be muddy and slippery if you're visiting in the snowy winter months or right after it rains. Come prepared with hiking boots and steady feet.
2. Stroll to Lady Finger Point
Looking for stunning views without much effort? Make the short walk out to Lady Finger Point – it's more of a stroll than an actual hike, since it's super short at ¼ of a mile (or half a mile round trip). But the views are nothing less than extraordinary! Not only do you get easy lake access at Bridger Bay, but also spectacular views of Egg Island nearby and vast views of the Great Salt Lake of course!
You will need to do some rock and boulder scrambling amongst the 500 million-year-old rocks, but how cool is that?! And just like at Buffalo Point, Ladyfinger Point can have some spectacular sunsets and sunrises.
Psst – be prepared for loads and loads of bugs, as the area is known to be exceptionally buggy from spring through fall. Stock up on the bug spray and apply generously!
3. Frary Peak Trail
Advanced hikers will love this trail – Frary Peak Trail takes you to the highest peak on the island, and you'll certainly get a good workout! The 6.6 mile out and back trail is rated as strenuous with 2,100 feet of elevation gain. Expect the hike to take up to 5 hours. Bring loads of water, especially in the heat of summer. I recommend hiking Frary Peak in either spring or fall, as the summer brings intense heat and lots of bugs!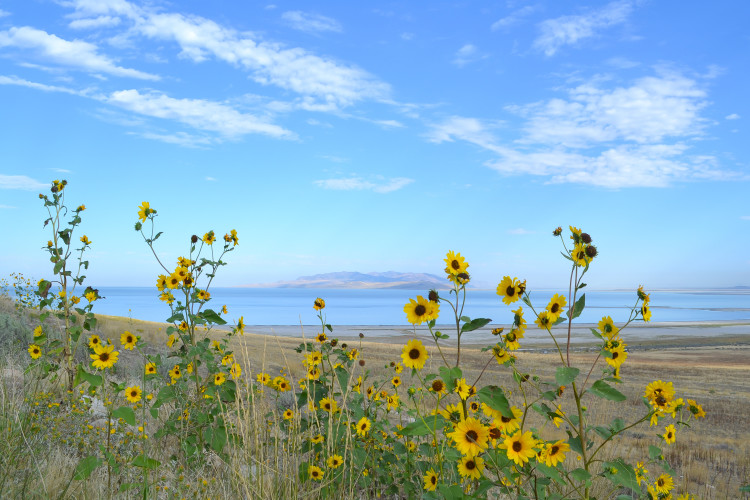 Do note this is a hiking only trail, meaning no horses or bikes are allowed (and unfortunately it's not safe for dogs either).
All the effort is worth the outstanding photography opportunities – expect stark landscapes and otherworldly vistas from the Frary Peak Trail. We chose to save this hike for next time as we didn't have enough time, so if you'd like to tackle this trail, keep in mind it'll take a good portion of the day.
4. Historic Fielding Garr Ranch
One of the most unique things to do in Antelope Island State Park? Exploring the historic Fielding Garr Ranch! Travel back in time to the late 1800's, early 1900's, and try and imagine what life was like back then.
And yes, it's a ranch found on the southeastern portion of the island, but it's got a lot of interesting history. A few fun facts:
Prehistoric artifacts from thousands of years ago have been found here at the ranch (so wild). Did you hear that — THOUSANDS of years!
In modern times, it's the oldest Anglo building still standing on its original foundation in Utah.
Fielding Garr Ranch was the oldest inhabited Anglo home in Utah, from 1848 to 1981, when the island became a state park. Yes, people used to live here!
There's a lot to see here – the log cabin, blacksmith shop, the cellar (to keep food in), cattle corrals, a grain silo, and even a shearing barn. Plus way more. Be sure to read up on all the interesting history of Fielding Garr Ranch before (or during your visit). Lots more info here!
5. Watch the Bison Roam
You cannot come to the island and not expect to see its signature wildlife – the bison! They're the most famous residents of Antelope Island State Park afterall! Definitely one of the best things to do in Antelope Island for those who have a thing for crazy-large wildlife.
A little backstory: 12 bison were brought to the island back in 1893 (for what purpose, I'm not entirely sure), and now there's a herd of between 500 and 700. Talk about loads of mating seasons! Crazy how there's so many now!
I promise you won't have to look too hard to find them – they're literally all over the park! Some even wander across the roads (so be extra careful when driving). The best place to see them is at the end of the island near the Fielding Garr Ranch. Most of the bison hang out here in a few large herds, especially the females and calves. Just picture a baby bison – how effing cute!
And remember – NEVER approach bison as they can be dangerous. And always take photos from a far distance. Bring that zoom lens!
6. Bison Roundup
If just watching the bison isn't enough for you, aim to visit for the annual bison roundup! It happens each fall to gather up all the animals, assess the health of the herd, and sell extra animals at an auction. Yes, sell. I'll explain why.
Every year, there's between 100-200 baby calves born into the herd. Awwww, cute! But there's only enough food on the island to sustain around 500-550 bison. These extra babies make the herd about 600-700 or so!
Some need to be sold at the annual auction so all the bison (and other animals who call Antelope Island home) have enough food to eat. Since there's no natural predators on the island (lucky bison!), some need to be removed artificially. Wanna bid on a baby calf? They go for about $1,000 each!
And nope, you don't even need to make a reservation in advance to see this crazy spectacle – you can just show up! You'll get a better understanding of how the bison herd is managed, and get to watch the hundreds of horseback riders round up nearly 700 bison! Just imagine how wild that is! A true western experience! Find more info and exact dates on the bison roundup here.
7. Look out for Antelopes!
Although we saw dozens and dozens of bison (just look at those photos!), we only saw two antelopes! Yes, despite the name of the park, haha.
We were hiking and all of a sudden an antelope appeared out of nowhere – to say I was shocked is an understatement! Of course I ran away and didn't get any photos of it. In my defense, they can reach speeds of up to 70 miles per hour (making them the second fastest animal in North America, right after the cheetah), so I wasn't taking any chances.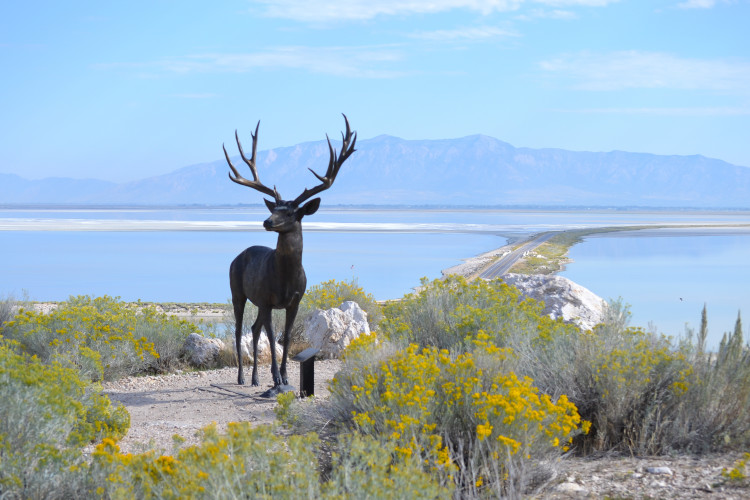 Pronghorn Antelope are native to Utah and the island – and guess what? They're not even antelopes, haha. They've been misnamed for years and years, but these small, deer-like animals are actually artiodactyl mammals (kinda sounds like a dinosaur, right?). They do look like antelopes though, hence the mistakes.
8. Swim (or Float!) in the Lake
Did you know you could swim in the Great Salt Lake? Yes you can!!! Well, actually more like float since the salinity of the lake is so high! Grab a newspaper (does anyone still read those anymore?!), wade into the lake, lean back, and tada — you're floating!
How's this phenomenon work?! Because of all the salt in the water! For comparisons, regular ocean water is about 3% salinity, whereas the salinity of the Great Salt Lake ranges from 5%-27% depending on the water level. This is way closer to the salt levels in the Dead Sea in Israel, at roughly 33% salinity.
I honestly had NO CLUE just how salty the water was here! The water is so buoyant that many people can easily float – how cool is that?! There's about 4.5 billion tons of salt in the lake after all! It's true – it's almost like being in the Dead Sea in Israel!
If floating in the Great Salt Lake is on your bucket list, the best place to do this in Antelope Island State Park is at Bridger Bay Beach. Do note you may need to walk a while to get to the water, or reach a spot where you can comfortably float, as the water levels are low at some points during the year.
Warning: While this all sounds super cool, just know that the lake will probably be super smelly and loaded with brine shrimp and tons of flies. Be prepared for this if you're visiting in the warm summer months. A walk to the lake may not be worth it, haha.
And plus, if you've got any nicks or cuts on your body, you will feel it, badly. The salt water will sting like no other.
Since we visited the island kinda spontaneously we definitely weren't prepared for swimming, so unfortunately we'll have to wait until next time!
9. Enjoy the Night Sky!
Any starry night sky lovers out there like myself?!
In Spring 2017, Antelope Island State Park was designated an International Dark Sky Park, just like Borrego Springs in San Diego County, California!
What does this mean? An exceptionally starry night sky, with the potential to see the milky way with the naked eye. WHOA! The park is open until 10pm, so if you're not camping (which you can totally do), you can still partake in all the night time fun.
With this being said, it's a great spot for stargazing and night sky photography! There's even public star parties and astronomy programs with massive telescopes held throughout the year. White Rock Bay is a great place for stargazing, and photographers love the visitor center, Buffalo Point, or Lady Finger Point for astrophotography.
10. Go birding
Antelope Island and the Great Salt Lake is an absolute haven for bird-watchers! I mean, there's a reason it's the most popular birding destination in all of Utah (and one of the most important areas for migratory birds in the US)!
The area's an important stopover point for MILLIONS of shorebirds and waterfowl, and there's plenty of other birds here as well – about 250 bird species. Expect to see barn owls (and maybe even baby owlets!), partridges, falcons, and even songbirds and tiny hummingbirds depending on the time of year.
Wanna see something truly remarkable? Ask the staff at the visitors center where to see the burrowing owls!
While the birds can be found on the entire island, the Garr Ranch portion of the island is one of the best spots to go birdwatching. Why? Simple – there's loads of trees over here!
So there ya have it – a complete guide to Antelope Island State Park near Salt Lake City! Are you planning a visit soon?!
So much natural beauty I didn't want to get back in the car! My only regret? Not packing a picnic lunch and a huge zoom lens (because who doesn't want to see up a bisons' nose?!)! Until we meet again, Salt Lake! Next time, I'll be swimming , errr floating in your super salty waters!