The second we pulled up to our resort and saw all the twinkly lights and fresh white snow (albeit in the pitch black, we arrived late at night), I was hooked– cliche as that sounds, its true.
I knew the weekend would be full of magic. Sparkling, shimmering, wonderful magic. The weekend lived up to our initial expectations and then some. And with less than a two hour flight from San Francisco to Salt Lake, and then a short 30 minute hop over to Park City, I know we'll be back sooner than later.
You just won't catch me staying anywhere besides The Stein… nothing can compare to the dreamland we were blissfully entranced in for three nights.
So grab your significant other or whip up your gal pals, and make Park City your next winter dream destination. Pure magic, I promise! Here are a few simple ways to make your trip to Park City even more sensational (and memorable) than ever.

The Magic of Park City
1 | Eat Breakfast in Bed
There's nothing better than waking up to a snowy mountain view and NOT having to get out of the warm and cozies of your King bed.
Scratch that. There's nothing better than all of the above with breakfast waiting for you, bedside. We tried the blueberry granola yogurt and the cinnamon apple + golden raisin oatmeal, and both were utterly fantastic. The Stein Eriksen Lodge does not disappoint.
Alas, after stuffing my face finishing my breakfast, I finally forced myself out of bed. It was the toughest part of my day, just ask my husband!
2 | Hot Tub it Up in the Snow
There's nothing more extraordinary (and romantic!) than sitting in some bubbles outside while it's snowing! Sure, you'll be freezing for a moment when you throw off your robe before you step in, but it's absolutely worth the few chills!
We made sure to take full advantage of both the private hot tub on our cute little balcony and the hotel's public jacuzzi. Just look at that steam!
3 | Play in the Snow while Snow Shoeing
A little snow ball fight never hurt anyone! Yes, it may be hard to run around in your snow shoes, but that just makes it even more entertaining! Bonus points if you pelt your show shoeing guide! 😛
Living far from snow we always appreciate a fresh coat of that good white stuff! We traversed the area with White Pine Nordic Adventures and really got a good work-out in!
4 | Relax during a Deep Tissue Massage
Why did I ever have to leave the massage table?! I can honestly say that the masseuse who worked on me at The Montage at Deer Valley gave me one of the best massages of my life, and I've certainly had my fair share.
He used the exact amount of pressure I asked for, worked out all my kinks, and get this – the bed was heated! HEATED, I tell you! I've never had that before, let alone know it was a thing! Plus, the view out the floor-to-ceiling window was that of a true winter wonderland. Pure bliss.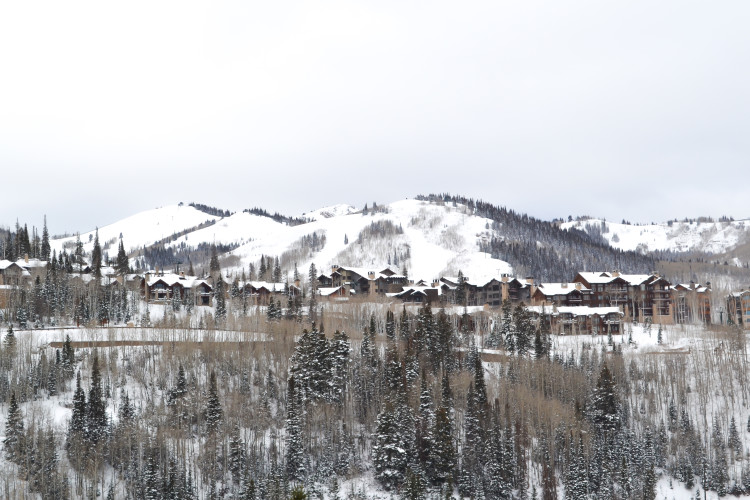 5 | Eat to your Heart's Content // Fine Dining
There's no shortage of recommended restaurants in Park City, and you can bet we never went hungry!
A few of our favorites:
6 | Assemble S'mores by the Fire
Every day between 4:30-5:30pm, The Montage at Deer Valley wheels out an appetizing spread of marshmallows, chocolates, and crackers. A DIY s'mores cart, if you will!
We treated ourselves to a few gooey marshmallows and assembled too many s'mores before our in-house deep tissue massages. A plus if its snowing out, because everything's just that much more magical with perfect little flakes falling from the sky, amiright?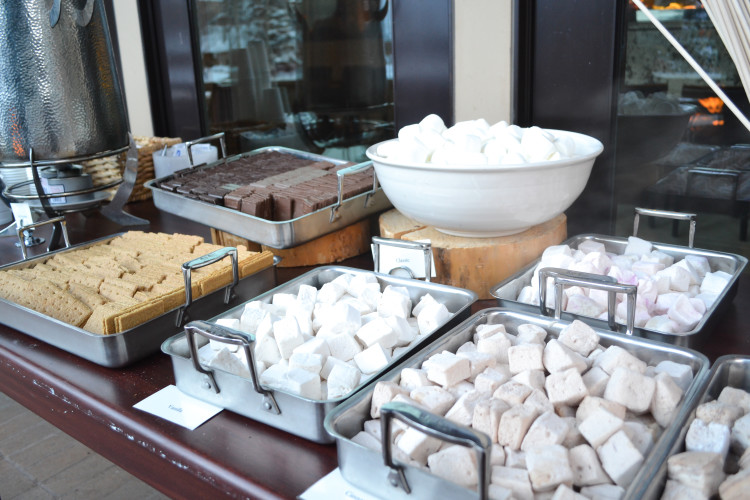 7 | Sip some Hot Chocolate
Your weekend in Park City won't be complete without indulging in some hot cocoa. Go ahead, add on the whipped cream and marshmallows, because why not?! Can you sense a theme of the weekend? (Hint: we felt no shame in stuffing our faces.) 😛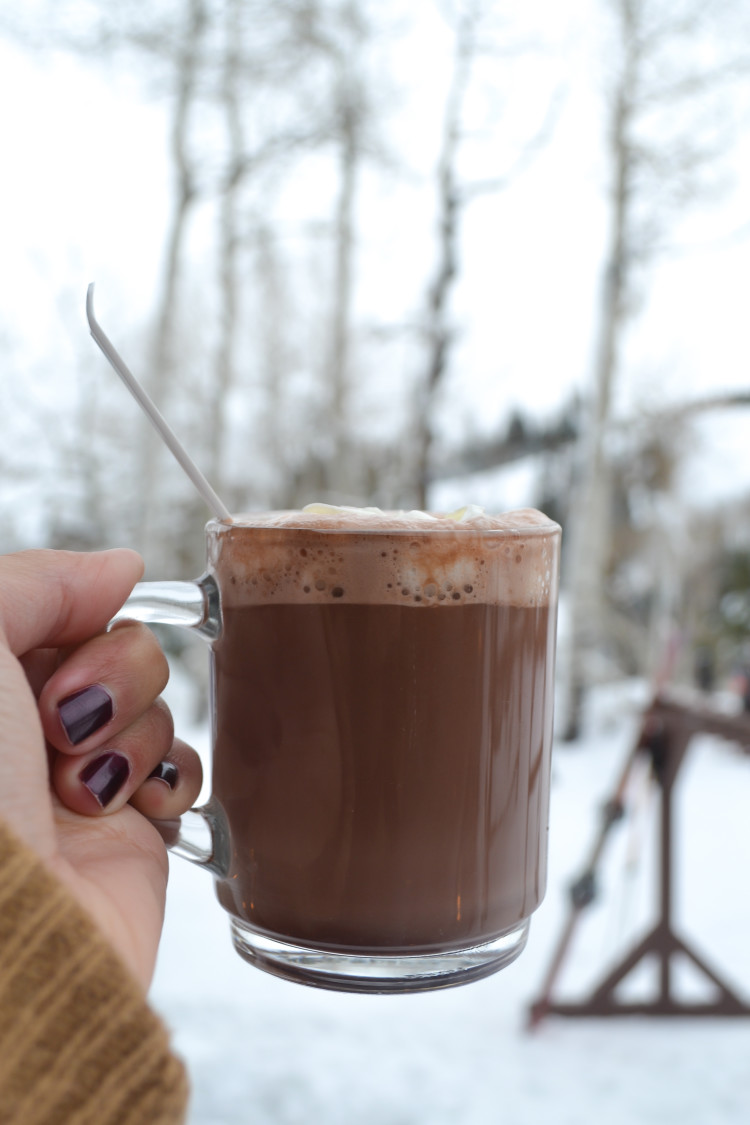 8 | Cozy up in Robes/Blankets by the Fireplace
We got a late start one morning, primarily because I couldn't pry myself away from the heat of the fireplace! Park City is COLD, freezing if you will, and this newly-proclaimed California girl (me, hello!) just can't stand it anymore.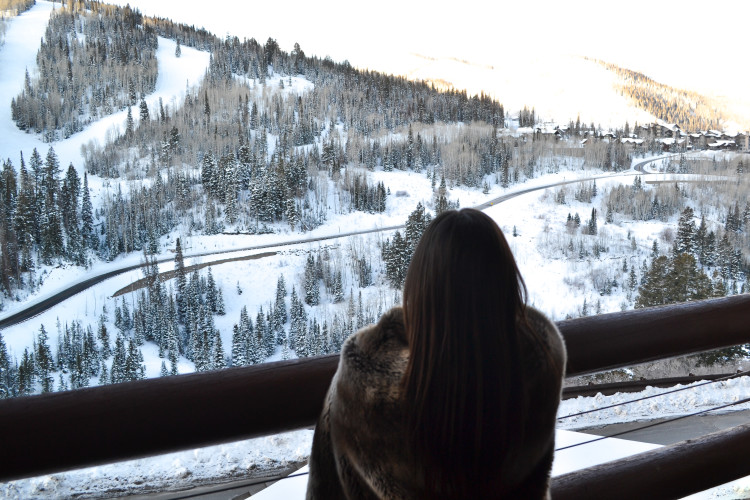 You'd think growing up in NY would have shaken the chills out of me! Alas, the fireplace was just what the doctor ordered at the beginning of each day and after heading "home" each and every evening.
Confession: I opted to bring the blanket outside to take in more of those stunning mountainous views. Can you blame me?!
9 | Frolic in the (heated) Outdoor Pool
And run back and forth between the hot tub! We took full advantage of the pool and hot tub at our resort as much as we possibly could (as mentioned above), because, swoon, those views (#mountainloveratHEART).
And plus, we found ourselves alone for 95% of the time… which confused us because it was the beginning of ski season and who wouldn't want to bask in those wintery views from the pool?
10 | Bundle Up on Main Street
You just can't visit Park City without a stop on Main Street! Here you'll find some of the best restaurants and shops in the city, and no matter how long or short you hang out, you're bound to find some treasures.
We especially loved the Roots store, as we haven't been to one since Toronto a number of years ago!
11 | Take in the View from the Alpine Coaster
Because what's more magical than zipping through the mountains strapped to a boxed contraption while crushing snuggling your husband/significant other/bestie?
After a six minute ride up past the ski lift and above all the skiers, we were off! The coaster at Park City Mountain was more exhilarating than we had originally thought, and we reveled in the views. I can't wait to edit the GoPro footage we got on the way down, as ridiculous as I look!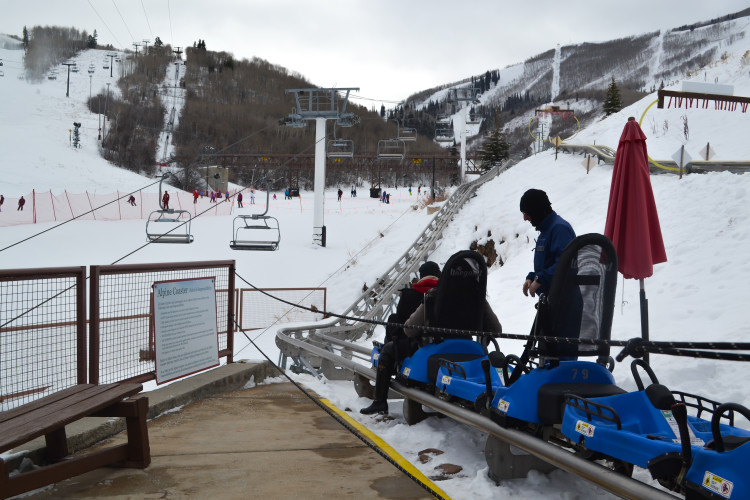 12 | Satisfy your Sweet Tooth
This girl needs her sweets. Yes, NEEDS. So you can imagine my delight when we stumbled across The Rocky Mountain Chocolate Factory on Main Street and at Park City Mountain.
We bought a few treats… and then got hot chocolate.. and then enjoyed both over a not-very-competitive game of checkers back at The Stein Eriksen Lodge (after forgetting the rules a few times, haha).
And all the desserts we convinced ourselves into eating throughout the weekend… delectable! Our favorite? The peanut butter pie trifle at Silver Star Cafe… I could eat that every day of my life and never get enough!
13 | Test your Wits while Bobsledding
An exhilarating experience to say the least. And definitely a once-in-a-lifetime opportunity you won't find in any other part of the world.
I mean, c'mon, where else are you going to have the chance to bobsled down an Olympic track going over 65+ miles an hour with an Olympic silver-medal athlete ?
You'll find the Utah Olympic Park in the heart of Park City, and while not necessarily a "magical" experience, it's something that can't be missed while in the area.
Have you been to Park City before?! If not, what's your favorite winter wonderland destination?
Thank you to Visit Park City and all partners for hosting us during a wonderful weekend getaway! All opinions (and hot tub and hot chocolate loving) are my own.