Looking for the best things to do in Bend in winter?! Keep on reading, my snowshoe-obsessed, craft beer drinking friend! Bend in winter is absolutely beautiful, and it's not as cold as you might think!
Longing for a snow-filled weekend away where you can sip hot chocolate on the mountain and hop from hot tub to sauna and back again?
Book a flight pronto, because these things to do in Bend in the winter will surely satisfy all your snow-angel making and craft-beer guzzling fantasies (and lots more, I promise you that!) Already have plans to visit and wondering what to do in Bend? I've got you covered, too!
Every year, my husband and I vow to visit a new winter wonderland destination. The past few years we've snowshoed at Lake Tahoe, marveled at frozen waterfalls in Yosemite, walked on a frozen lake in Banff, and hot tubbed in the snow in Park City.
I'm not a skier by any means (I've never even attempted once), and since he hasn't skied in over a decade, we look for places which supply a whole slew of activities besides those found on the slopes. I'm more of a hot-chocolate-drinking watch-from-the-side-lines kinda girl anyways, at least when we're talking about winter sports.
After a bit of research and compiling some of the best winter destinations from a whole bunch of my colleagues, Bend was finally put back on our radar.
I had heard marvelous things about Bend from my cousins who live up north in Portland, in addition to a few local Californian friends, all raving about the outdoorsy summer sports and craft beer tasting opportunities.
Could there be fun things to do in Bend in the frigid winter months as well (without freezing our butts off), I wondered? Well, after visiting for a long weekend in February, I'm here to announce, that yes, yes there are. And a fiiiiine many things at that.
Let's get to it. But first, a bunch of logistics about traveling to Bend in winter.
Logistics for traveling to Bend in Winter
How to Get to Bend
To put things simply, you've got a few options when heading to this mountain town, highly dependent on where you're coming from. Everyone can take a flight to Portland as there are flights from all over the US, and then drive the 3 and a half hours through the scenic mountains to reach Bend.
However, if you're from a few select cities, you're able to hop on a quick (yet sometimes rather expensive) flight to Redmond, which is roughly 20 minutes outside of Bend. And if you're up for a road trip, well, you can certainly drive from anywhere in the Pacific Northwest.
→ Read Next: Road Tripping from San Francisco to Seattle (I'm begging you to do it)
Since Bend is kiiinda smack dab in the middle of the state (and I just can't leave Oregon without some Pok Pok), we chose to fly to Portland and take our swanky rental car (a Mazda CX-9 Signature AWD, complete with snow tires) a few hours southeast to Bend.
We need to talk about the car for a hot second, as we fell in love the second those keys were handed off to us. The Mazda CX-9 really was everything, and we absolutely loved the supple Napa leather (omg, so soft), integrated Apple CarPlay™ (we may need to install it on our current Mazda CX-5 at home), and the SKYACTIV-VEHICLE dynamics (which was a for-sure bonus when driving on those rough snowy roads, aka, it kept the drive super smooth).
The fact that we weren't slipping and sliding around in the snow was just another bonus (the safety features on that thing are incredible)! Those views on the way home back to Portland were especially scenic, and the Mazda provided us with a smooth and enjoyable drive back.
Since the road conditions changed quite instantly in Bend in winter and during our drive down from Portland, having Mazda's i-ACTIV safety system to improve the road grip was a major benefit. Okay, enough about the car, I could gush about it for hours…
But really, make sure you either have reliable snow tires, AWD, and/or tire chains. The roads were typically in decent condition, but once the snow started piling up, we were SO thankful the Mazda was well equipped to deal with icy roads.
I mean, we could have driven the almost 9 hours to Bend from San Francisco, but, no thanks. Maaaaybe if we had the Mazda CX-9 for the entire duration of the drive though….
As noted earlier, it's also possible to fly directly into Redmond Municipal Airport (RDM) which is located in the heart of central Oregon, and only 20 minutes away from downtown Bend. I honestly don't remember why we didn't choose this option, but I'm pretty sure flights to Portland were way cheaper (and I wanted to introduce my husband to Blue Star Donuts before our flight back home).
Just note that direct flights to/from RDM are only available from select cities, including Portland, Seattle, San Francisco, Los Angeles, Phoenix, Salt Lake City, and Denver, with more cities occasionally being added.
Weather in Bend in Winter
Weather can be tricky-ish during the winter in Bend, with constant changes in both temperature and precipitation (one winter day it can be 65 and sunny, with the next bringing a crazy amount of snow). You just never know what you're gonna get.
When we were beginning to research for our trip, I had assumed it would snow every second of every day – but when we arrived, there wasn't even a single flake on the ground! But ohhh, we found out later that weekend that it most definitely snows in Bend proper, and not just high up in the mountains.
It was unseasonably warm when we visited in early February (and by that I mean, low 50s, high 40s), but we definitely still needed our snow boots, winter jackets, scarves, and gloves at all times due to a slight wind chill.
As noted, the grounds were completely clear upon arrival, but when we left, boy was that a different story. On our last morning, we woke up to a pristine winter wonderland – the entire city was covered in fluffy white snow, just waiting to be played in. And played we did (with the nearby snowy Alpacas that is – more on that below, don'tchu worry).
We checked the forecast as we were leaving, and Bend was expected to get 6 straight days of snow! That nipped our doubts of snowfall in Bend proper right in the butts!
Not sure exactly what to expect? It's cold up here, ya'll, I'll say that. You'll definitely want to pack all your winter essentials, as it's ~42 degrees F on average in Bend proper during the day, and even chillier up on the mountain.
Mornings and nights tend to bring even more frostiness to the bones, and can drop down to ~23 F. Don't fret though – winter in Bend is absolutely spectacular, especially with some snow on the ground, just bring along your thermals and long underwear (or tights if you have none of the above).
If you're a ski or snowboard lover, or just wanna be able to frolic through the snow for as long as humanly possible, you'll be thrilled to learn that winter in Bend can last until mid-May! Spring skiing, anyone?! Winters in town typically last around 6-8 months, and at least 8 up in the Cascades and where you'll probably do your snow sports!
How to Get Around Bend:
The downtown area is quite walkable, but you'll most definitely want to explore other spots nearby (we loved the Old Mill district), as well as get out into nature (Mt. Bachelor and Smith Rock State Park should be included on any list of things to do in Bend).
If you're visiting Bend in winter like us, you'll want to make sure you rent a vehicle with AWD and/or snow tires (like the Mazda CX-9 we used all weekend), as the roads can get a tad slippery.
There's a Mt. Bachelor shuttle that whisks people around from the Bend Park N Ride lot to the mountain (West Village), but I much preferred having our own vehicle. I'm alllll about spontaneous stops and taking a zillion photos (which isn't very conducive to a shuttle schedule I might add).
Where to Stay in Bend: LOGE Entrada
While there are quite a few places to stay in Bend, we were thrilled when we received our confirmation for the newly renovated LOGE Entrada Bend.
The property is the epitome of outdoor living at it's best (yet actually sleeping cozily inside) – the entire space is decked out with gorgeous wooden paneling, in-room Yeti coolers available for daily use (fo' free), complimentary bikes and daily yoga (although too cold for us to enjoy in February), and the most comfortable beds you may possibly ever sleep in (yup, no exaggeration there).
I mean, there's even hammocks floating above the beds just waiting to be unclipped and laid in. AND a bike maintenance station (complete with bike wash) for when the weather gets a bit more conducive to mountain biking.
The fire pits were a nice touch (roasted marshmallows, anyone?), as was the steaming hot tub (and yes, it's open year round). Avid skiers will appreciate the fact that ski lockers are located a few steps from each room, and there's wall-mounted bike racks for easy use as well.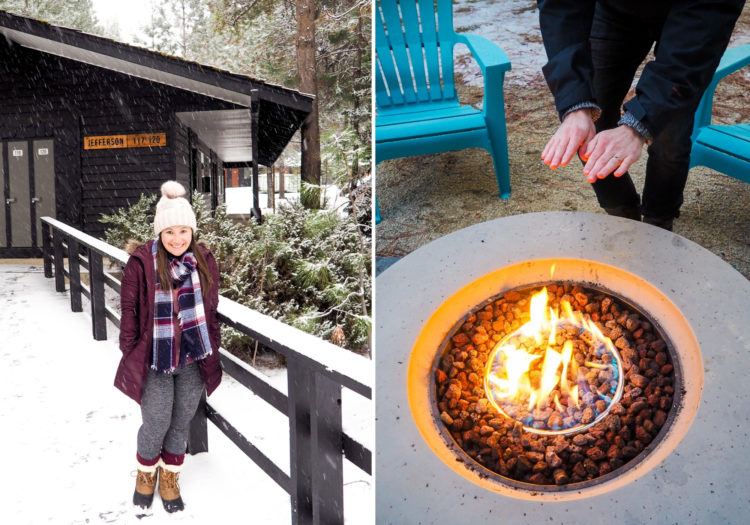 Enough about the amenities. Once you open your door, you're surrounded with oh so much natural beauty that central Oregon has to offer – glistening, snow-laden trees amongst the bright orangey doors and colorful chairs surrounding the fire pits.
While I lovedddd the rooms, my favorite part was opening the front door and getting that instant rush of crisp, fresh mountain air. With a hashtag of #LiveOutsideGoExplore (the actual meaning behind LOGE's name), you bet I can support their cause of getting everyone into nature!
While we were a tad bit worried about LOGE's location (outside of downtown and all), we loved being slightly removed from the noise and wee bit of crowds in Bend proper. Popular restaurants were only a 6-10 minute drive away, and LOGE was right by the Mill District which we absolutely loved.
And plus, it's actually the closest in-town hotel in Bend to Mt. Bachelor, which is perfect for all of you hoping to frequent the mountain quite often.
We need to talk about one more thing in particular, my favorite thing – the sauna. Most rooms in regular hotels just have robes and slippers to keep you warm, but get this- we had an in-room sauna. Yes- a sauna in our room. Wild! I've never seen that before!
We especially appreciated it after coming in from the frosty outdoors after dinner every night. I did find myself wishing for slippers on more than one occasion, as the wooden floor got quite chilly! BUT the in-room sauna more than made up for it. First world problems, am I right?
With recent updates and major upgrades to the ENTIRE space, you bet this relaxed lodge is perfect any season. We witnessed the grassy lawn getting a fresh remodel (for Friday night movie nights and Saturday night concerts), as well as the property's main office and on-site coffee shop. I guess we'll have to visit again in Spring and/or summer!
What to Pack for Bend in the Winter
As expected, Bend in the winter gets pretty damn chilly. You'll wanna prepare for the cold temps and pack the necessary gear! Thankfully with the right stuff, you can stay warm and dry even when it's wet and chilly outside! No one likes wet feet – that's the absolute worst!
After going on quite a few snowy weather winter getaways, I've kinda perfected the ultimate packing list. But first, a few tips:
Piece of advice #1: Invest in warm and waterproof snow boots with a proper grip. When ordering, opt for a size slightly larger than normal, as you want to allow for thick socks and toe warmers. If your boots are too tight (and your toes are crammed together), your feet will never stay warm enough.
Piece of advice #2: HOT HANDS. Enough said. But in all honesty, hot hands saved our frosty fingers on more than one occasion. What are they, you ask? They're these magical dry packets filled with iron (among other scientific things) that intensify in heat once activated. Basically – super technological hand warmers that stay warm for up to 10 hours. And they are a godsend. You'll want at least 1 pair a day. Buy on amazon here.
Here's my winter weather recommendations for what to pack for Bend in the winter:
Warm Winter Coat: For those frigid winter days, you'll really wanna invest in an insulated parka. I've got my eye on this North Face parka (I currently wear one from 10+ years ago – it's about time for a new jacket). Looking for one a bit less expensive? This one's crazy popular on social media, and with the length and sherpa-lined hood, I can totally see why. However note that it's only water resistant, not waterproof, so not the best choice for those crazy snowy days.
Packable Puffer Jacket: I wear this one – it's lightweight and water resistant, plus comes in a bunch of fun colors and the pockets are super deep (perfect for storing your phone). It packs down to almost nothing in the little included pouch – perfect for travel!
Fleece Zip-Up: On those absolutely frigid days when you need a little something between your sweater and warm winter coat, a fleece zip-up (like this Columbia full-zip) will come in handy. There's a reason it's got 45k positive reviews!
Base Layers: I've been wearing heat tech long sleeve tees ever since I went to Banff a few years back, and they've saved me from those frigid temps! They're super lightweight and perfect to wear under a sweater, and leave you feeling dry and warm without the bulk!
Fleece-lined leggings: I used to layer two pairs of regular leggings, but now that fleece-lined leggings are a thing, I only wear those! They're just as comfy as regular leggings, but keep your legs staying warm and toasty. I've worn these pairs a few times and they've been great, and come in a bunch of fun colors! If you're looking for something to wear under jeans or snow pants, these come highly recommended (although too thin to wear on their own; more like a base layer).
Chapstick: Cold and dry air make your lips susceptible to chapping super easily. Ugh, the worst! I'm low-key obsessed with this cocoa butter swivel stick – it makes your lips so super soft and it smells a tad like chocolate! My favorite! It also works wonders on dry, chapped skin. You'll wanna reapply multiple times throughout the day. Psst – not all chapsticks are created equal, and some will even make your chapped lips worse (true story). Avoid any containing ingredients like phenol, menthol, and/or salicylic acid; these actually make your lips drier. I always stick to Vaseline (these mini pots are small enough to throw in your purse) or a cocoa butter stick.
Power Bank: After relying on friends' spare batteries for far too long (thx friends), I finally invested in power banks of my own, haha. Batteries die out faster in the cold, so come prepared with a power bank to recharge your stuff on the go. This compact power bank gives up to 10 full charges! I always throw this tiny one in my bag also, just in case, as a backup. My phone is my life-line (especially when traveling solo), so I like to be extra prepared!
Warm Gloves: I like to take a few pairs of gloves with me – loving these wool-blend mittens and this pair that's super lightweight and waterproof (good enough to go skiing in).
High Socks: Choose wool ones that wicker moisture and keep your feet dry all day long. Synthetics are a no-go, especially in winter. These merino wool socks are super warm and so incredibly soft (and nope, not itchy at all contrary to popular belief) and perfect under snow boots. You'll never wanna take them off… just buy a few pairs! I recommend layering your socks and actually wearing 2 pairs at all times (I typically do one shorter, ankle length merino wool sock underneath, and a longer, mid-calf merino wool pair on top).
Things to do in Bend in the Winter:
Snowshoe through the mountains, drink to your heart's content (preferably after you're done playing on the mountain), sweat it all out in your in-room sauna, photograph and hike Smith Rock State Park, indulge in some of the town's best restaurants, and warm up by the fire with marshmallows and hot chocolate. Sounds like a mighty fine weekend to me, despite the frigid temps!
I left the skiing and snowboarding to others on the mountain, but you can easily add this into your Bend itinerary should you not be as wimpy as me!
Snowshoe Tour
Unleash your inner snow bunny and get out on the slopes off-trailing into a winter wonderland – without the skis.
Out of all the things to do in Bend in winter, snowshoeing through the vast wilderness of the Oregon forests is one not to miss. And lemme tell you – those views in the Deschutes National Forest of the Cascade Range are like no other.
Snow-laden trees, white glittery landscapes, interesting yet slightly horrifying animal tracks, and steaming hot cocoa. This snow-accented forest-scape right outside of Bend is beyond what I initially thought it would be, in the best way possible.
If you're craving some fresh mountain air and looking for an early morning workout, Wanderlust Tours has your back. We opted for a morning snowshoe tour, and although had a sliiiiightly difficult time dragging ourselves out of bed (the mattress at LOGE, omg…), I'm glad we were able to squeeze this activity into our Bend winter itinerary.
You may be wondering, "Will anyone and everyone enjoy this activity, or is it just for those with experience trudging through the snow?"
Just trust me – if you can walk, you can snowshoe. Sure, you'll probably feel a tad bit wobbly with those snowshoes attached to your boots in the beginning, but getting the hang of it is super easy!
And since Wanderlust provided us with the perfect type of snowshoe (I mean, who knew there were all different kinds depending on the terrain, your load, body, etc), I didn't fall over – not even once!
Quite a feat considering I didn't own a pair of proper snow boots until we booked this trip to Bend. True story, even considering I grew up in snowy New York and have been going on wintery trips the past few years.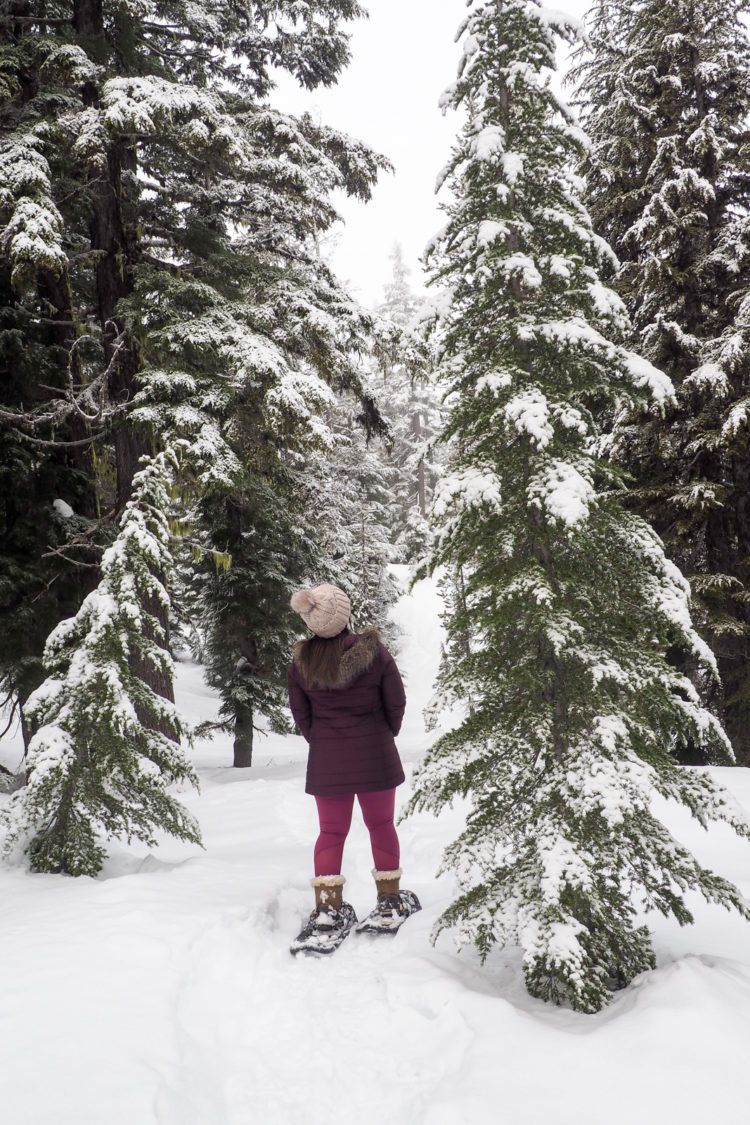 After snowshoeing in both Mt. Rainier and Park City a few years back, it felt great to get out into the wintery wilderness again and go off on an enjoyable, yet semi-frigid, hike. Our naturalist guide taught us some snowshoeing techniques and little tricks, which were fun to attempt, like running down a snow-piled mountain (and no, I still didn't fall)!
Mid-snowshoe we came upon a view so ridiculously beautiful I could cry – snow-covered trees as far as the eye could see. And this is where we stopped for some much needed hot chocolate, complete with little mini marshmallows (my favorite).
We also learned about the terrain and fauna of the area. It came to my surprise that all those "mini trees" along our route were actually covered in at least 10 feet of snow… meaning should you hike there in summer, they'll be towering over you no problem. Crazy how the landscapes change so much season to season.
Just make sure you wear winter boots and warm pants – Wanderlust Tours will provide the rest. Hot chocolate and all.
Photography Tour with Bend Photo Tours
Why take a photography tour? Because anything's better than aimlessly shooting in auto (hi- that's me!). Especially when you've got a professional local photographer who knows the area inside and out at your side. And because taking a photo tour is one of the best things to do in Bend in winter for aspiring photographers!
As soon as I found Toni's photography tour company during my hefty research before visiting Bend, I knew I wanted to practice shooting with her. While numerous photo tours are available on her website, I was most excited about the night sky shoot, something I've ALWAYS (always) wanted to properly learn how to do.
Toni and I checked the weather all week long leading up until my trip, but shooting the stars just wasn't in the cards – with cloudy forecasts and even a bit of rain predicted, we ultimately decided to switch up our plans and shoot at Smith Rock State Park earlier in the day instead.
Although I was a bit disappointed (c'mon Mother Nature, I wanted my star photos!), Toni provided me with invaluable information during our morning at the state park. She didn't mind answering all my silly (and quite embarrassing for someone who's blog is pretty photo heavy) beginner-ish questions, and I had a lot of them. And I mean, a lot.
Toni made it clear that she wanted to teach me exactly what I wanted to learn – and this is what I appreciated most. Composition. Lighting. Exposure. Landscapes. People. Camera buttons and functions (which I can never figure out for whatever reason). Lenses. Bokeh.
It was all up to me what I wanted to focus our time on. It's evident each tour is heavily customized to each of her students – she's got a good thing going on.
After our morning with Toni, I now finally understand a few basics of actually shooting in manual (which I've dreaded my entire existence up until now). I also think I'm finally gonna treat myself to a new lens in the next few months (it's much needed).
She even taught my husband a thing or two, who has absolutely zero interest in photography whatsoever (much to my dismay). Good thing he's cute – he'll never volunteer to be my instagram husband, that's for sure.
Besides knowing all her shits about everything photography, she's quite the woman to chat with as well! She's been to all 7 continents (yes, even Antarctica) and has tons of stories from her adventures overseas.
Toni traveled around for 10 months, and has lived in numerous cities around the world, before ending up in Bend, Oregon (for now, at least!). With that being said, we never ran out of things to jabber about. She has a true admiration for Bend and it truly shows.
Capture the overwhelming beauty of Bend with Toni in various locations around the city, including Smith Rock State Park and Tumalo Falls (just one look at pictures and swooon), and even 100s of feet above the city aboard a helicopter. Go check out the different tour options here.
Check out Bend's Local Craft Beverage Scene
Yes, Bend is most commonly known for its many many craft breweries, but since we're not the biggest fans of beer (must be too many Keystone Lights in college), we opted for something a bit more varied. Enter, the Local Pour Tour, which was the perfect way to warm up after a morning of epic, yet chilly snowshoeing.
On the tour we visited a cidery, a kombucha taproom (the first one around!), a micro craft brewery, and a whisky distillery. First up was Avid, where we had a personalized flight of mini tastings of the original apple cider, blackberry cider, vanilla cider, and cherry cider (blackberry won by far), while learning a bit about the sweet stuff and stuffing our faces with popcorn.
I could already tell the tour was off to a good start when we were offered more than our fair share of cider (we couldn't decide on flavors – too many good ones to pick from!)
Humm Kombucha was next – and my first time trying the stuff! We learned all about scoby's (I won't show you a photo – they're the least attractive thing to stare at) and indulged in a few too many kombucha mimosas. Lemme tell ya – those things are gooooood.
I must be honest though – I was more than skeptical even trying kombucha in the first time. Sure, plenty of my friends gush about the stuff and I knew it must be healthy-ish, but it just sounded too odd to me (it is fermented vinegar-tasting tea, afterall).
To anyone with the same notions as I had – lemme tell you, I was wrong, alllll wrong. As long as flavors are injected (and it's properly made), kombucha is sweet and feels even a bit indulgent considering there's not one trace of alcohol in it (that is, until you add some champagne like we did).
By far my favorite stop of the day – who would have known?!
Last two spots were Craft Kitchen and Brewery and Oregon Spirit Distillery, where we each tasted a few beers and some whiskey.
Craft prides itself on small-batch brews and homemade bbq eats, and we not only feasted on a whole slew of brewskis, but spicy fried sweet potatoes and pork tacos as well. So even if you're not the biggest fan of beer (like myself), Craft is still worth checking out.
I mean, Bend has the highest micro-brewery per capita in the nation, so naturally, you can't not visit Bend without visiting at least one. What kinda list of things to do in Bend would it be without urging you to try out a few craft beers?
Lastly, the staff at Oregon Spirit Distillery took us on a whole tour and answered alllll our ridiculous questions on the production of whiskey, and we even tasted an entire flight of the stuff. While I definitely couldn't down them straight, my husband drank enough for the both of us.
One of the yummiest things to do in Bend in winter by far!
Visit Smith Rock State Park
Located roughly 30 minutes north of Bend in central Oregon's High Desert (riiiight off the highway I might add), this is a spot you'd be absolutely mistaken to miss, no matter the weather. With scenic views of deep river canyons and ample hiking opportunities, Smith Rock is any outdoor-lovers dream.
If you're up for a workout on tons of switchbacks, head up to Misery Ridge for dramatic views of the entire canyon and nearby rock formations. This spot is a mecca for rock climbers, and even if you don't subject yourself to Misery Ridge (it is called Misery Ridge for a reason), you can still spot them from the canyon floor.
One of the most dreamy things to do in Bend in winter when there's some light snow dusting the ground! Just look at that winter wonderland scene – straight outta a postcard!
We visited Smith Rock State Park with Toni from Bend Photo Tours (which I raved about above), and am so glad she suggested hitting up this spot – it's downright gorgeous.
On our drive back to Portland we opted to stop here again since it was snowing, and I had a slight feeling Smith Rock would be even more magical covered in snowflakes (and I was so right).
Alpaca Farm
You cannot visit Bend in the winter without visiting the alpacas. Although it's not technically in town, it's by far one of the best things to do near Bend, Oregon in Terrebonne, a mere 30 minutes up north (right near Smith Rock State Park).
Crescent Moon Ranch is where you'll want to stop, and make sure to head into the visitor's lounge to pick up some alpaca food to feed the little guys and check out all the goods made from their soft, luxurious fleece. Wool sweaters, wool socks, wool stuffed animals, and oh so much more – it's all there.
I just couldn't stop taking photo after video after photo of these cute, cuddly-looking creatures. And if you're worried that they'll get cold in the frigid weather and/or snow, just remember they're actually from the Andes Mountains in Peru, so thrive in the chilly temps (it's what they're used to!)
While we found these guys to be docile and gentle, they were quite aggressive (towards each other) when fighting for the food we were feeding them. And psst – they're actually in the same family as camels, how cool is that (I never made this realization before!)
While there are a ton of other fun things to do in Bend in winter, we only had a weekend to explore! Next time I'd love to take a helicopter ride, go dog-sledding, and snowshoe to Tumalo Falls (I'm so upset we missed out on this – next time!)
Where to Eat in Bend in Winter
Bend has a whole slew of fantastic eateries, with more popping up each and every year! I mean, you can totally spend an entire winter weekend in Bend just hopping from eclectic restaurant to craft brewery to hipster cafe, and hardly even cover any ground.
And I must say, besides snowshoeing, drinking our weight in kombucha and ciders, and hiking in Smith Rock, that's what we did – eat to our heart's content.
We burned off a bunch of calories snowshoeing, so we shouldn't be ashamed of all the food we consumed in a mere 2 and a half days, right? Right.
We spent plenty of glorious hours stuffing our faces with the best that Bend has to offer, food wise. Here's our favorite restaurant and dishes from our weekend in Bend with a few notes mixed in:
Spork: super vibrant and eclectic with unique flavors; prepare to wait in line; a whole array of Mexican eats, Asian fusion plates, and craft cocktails; everything on the menu sounded orgasmic, but we opted for the chilaquiles, spicy pork noodles, and side of fried chicken (all worthy of their own paragraph but I'll spare you the delicious details)
Lone Pine Coffee Roasters: a must for any coffee snob/espresso lover (beans are roasted on site); we shared a pomegranate pop tart and homemade liege waffle…. mmm (they get a bunch of their pastries from Foxtail, which is kinda an institution around here, so you know everything's gonna be good)
Wild Oregon Foods: recommended by the fine folks at Wanderlust tours; got the grilled cheese (on sourdough) and tomato soup, which was absolutely perfect after our morning of snowshoeing on Mt. Bachelor
The Sparrow Bakery: cute and intimate French-inspired bakery (with extra seating in the back if it's not too cold); don't leave without noshing on a chocolate ocean roll (their speciality) and chocolate raspberry scone; our bacon breakfast sandwich with avocado was served on a croissant… mmm super flaky and the perfect winter breakfast
Wild Rose Northern Thai Eats: everyone would not shut up about this place, so we decided we kinda had to at least try it (and yes, it was absolutely spectacular); we ordered the spicy pork basil and garlic chicken and both were A+++
McKay Cottage Restaurant: perfect for a chilly winter morning in Bend; tons of breakfast options; go early for a prime seat near the window to watch the snow falling or to warm up by the fireplace
El Sancho Taco Shop: go and get the Oaxacan string cheese taco, enough said.
And get this- Bend has the last Blockbuster still up and running in all of America (TRUE STORY). And it's right around the block from Dutch Brothers Coffee. Plus, no sales tax in the entire state and they pump your gas for you. That my friends, is reason enough to head to Bend, any season. Am I crazy? It's quite possible…
So all-in-all, it was a lovely wintery weekend away, and I have a feeling we'll be making a trip back to Bend once summer rolls around.
Hope this helps you plan an epic trip to Bend in the winter! Which of these things to do in Bend in winter sound the most exciting for your snowy trip?!
Special thanks to Visit Bend for helping organize our trip and sponsors, LOGE Entrada for the wonderful hospitality and comfy bed, Wanderlust Tours for the stunning snowshoe tour and craft beverages, Bend Photo Company for teaching me a thing or two about composition, and Mazda USA for making this trip possible. All hot chocolate guzzling and dizzying snow-falls complete on my behalf. :p