If you're looking for the best things to do in Miami, Florida, you've come to the right place!
I lived on the East Coast for over 25 years, and since moving to the Best Coast West Coast, I'm kicking myself that I hadn't taken the short flight down to Miami from NYC. Confession – I used to be a travel snob, and the thought of another. trip. to. Florida. just didn't sound appealing enough. Silly, silly, naive me.
Welcome to Miami, buenvenito amiami. << that song instantaneously plays in my head whenever I just think of Miami — anyone else? And hot girls in bathing suits… haha.
With that being said, I'm vowing to explore more of the East Coast that I missed out on while living there, and am hoping to knock places such as Nashville, Miami, and Savannah off my never-ending bucket list sooner than later.
Miami seems to be a hip summer destination for many in the states!
Unfortunately, since I don't have the knowledge to share the best things to do in Miami with you just yet, I've asked my friend Cherene from Wandering Redhead to do so! She's lived in the city for years on end, and knows all the hottest places to venture no matter what you're looking to do in Miami!
Pre-Travel Guide to Miami
How to Get Around
If you're only planning to visit Miami Beach, a car is not an absolute necessity. There are airport shuttles to get you into town, as well as Uber, Lyft or Taxi.
Once on the beach, ride shares and taxis are plentiful and many activities are within walking distance depending on where you decide to stay. There is even the South Beach local bus for only 0.25 cents per ride!
The Miami Mover (above ground train) can take you from the airport to downtown and Brickell. This is a good way to get around if you are visiting these areas and don't want to have a car.
If you're feeling extra touristy and want your transportation easily taken care of, hop on a Hop-On Hop-Off Bus (and boat tour) of Miami! No shame, I promise – I've done it in various cities around the world.
If you plan on going further afield such as visiting The Everglades, you may want to consider renting a car or hop on an organized tour.
When to Go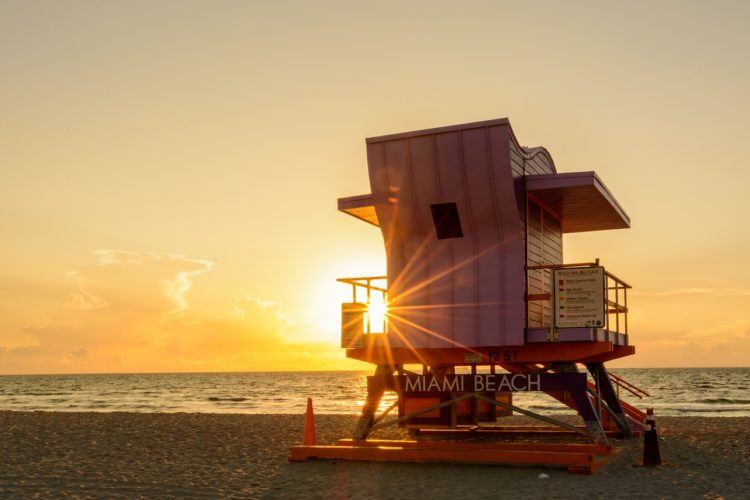 Miami boasts great weather year round, but beware of hurricane season between June and October. As someone who has lived there 13 years, I think August and September are the worst months.
The weather is rainy and hot those months, but from November to May, it's absolutely gorgeous. Like any tropical place, rain is always in the forecast, but sometimes will be a short isolated shower. January and February can actually be "chilly" — anything under 70 degrees Fahrenheit is considered cold to a South Floridian! Try not to laugh!
You also need to consider the various events in Miami, because, well, there's a lot and they can greatly impact your stay!
February: The Food and Wine Festival is in South Beach.
March: Ultra Music Festival and Winter Music Conference. There will be crowds and inevitably, hotels will be much more expensive. The Miami Tennis Open on Key Biscayne is also in March.
Memorial Day weekend is Urban Beach Week.
Art Basel is early December.
These are all great events but if you're not interested, you may want to schedule around them. There are usually no big events occuring in the summer, so these will be the quietest and cheapest months to come.
Important Things to Pack
Miami is both the most casual and the most dressiest city. I know, it makes no sense! What that means is you can be as dressy as you want or as casual as you want. Tank tops, shorts, and flip flops are the South Beach "uniform". At a trendy restaurant or club, you will see designer dresses and 5 inch stilettos. Jeans and a nice shirt are fine for just about anywhere. Obviously a bathing suit and cover up are must pack items! And don't forget sunglasses, because the sun is bright!
Where to Stay in Miami
South Beach
Downtown
15+ Things to Do in Miami
1 | Go to the Beach
You can't visit Miami without seeing the world famous beaches of South Beach. I'm sure you've seen them on CSI Miami — or in a PitBull video! Perhaps more famous for the incredible people watching then the beach itself, absolutely anything goes here.
The most popular public beaches are at the southern tip of South Beach around 3rd street. Going topless here is ok.
Walk further north around 8th street, and you'll be walking distance to bars and restaurants. Around 14th street and north is a bit quieter with most of the beaches full of chairs for the hotel guests. Some will let you sit there for a price.
The beach is probably on everyone's list of best things to do in Miami, both tourists and locals alike!
2 | Ocean Drive
Take a stroll down this iconic street with neon lights and Art Deco Buildings. This place is hopping all day and all night. Feel free to wear just your bikini, as they are usually acceptable dress code due to its location right next to the beach.
A South Beach Food Tour (with stops on Ocean Drive and Espanola Way – below), is the perfect addition to a day at the beach! You know you'll get hungry at some point!
3 | Española Way
This charming street evokes an old world European charm. It's kind of a hidden gem, located between 14th Street and 15th Street on Washington Avenue in South Beach. There are cute shops and restaurants and a festive attitude.
4 | South Point Park
This southern most spot in South Beach is a favorite thing to do in Miami by locals. You can even wheel around the park via Segway!
There is a beautiful park with a walkway that takes you from the ocean to the bay, and if you time it just right, you can sit and watch the cruise ships depart from the port around 4 to 5 pm on weekends.
Sit and have a bite to eat and a drink at Smith and Wollensky's for a lovely afternoon – yes it'll be expensive, but yes, it'll be so worth it.
5 | The Everglades
A bit of nature should be on anyone's bucket list of things to do in Miami. The Everglades are a two million acre wetland ecosystem that reaches from central Florida, near Orlando, all the way south to Florida Bay. And they're one of the best national parks on the east coast.
This river of grass is home to hundreds of animal species including the endangered panther, the manatee, 37 types of snakes, 350 types of birds, and of course, Alligators! And if you haven't rented a car, don't fret as there are numerous tours available, like this one that takes you on an airboat and through a Native American Reservation as well!
One of my favorite ways to explore is to bike ride at Shark Valley. You can rent bikes and ride them on the 14 mile loop that takes you right into alligator territory.
Halfway through you'll encounter an observation tower where you can look down directly into the water. You are guaranteed to see TONS of alligators. There are also beautiful birds and the scenery is a tranquil nature lover's paradise.
Another fun activity is to take an air boat ride – doing so will get you into the heart of the Everglades with the possibility to see even more gators.
6 | Vizcaya Villa and Gardens
This Italian style villa was once the winter home of James Deering, built in 1910. It is now a museum with gardens and is a National Historic Landmark. They also do High Tea on the Terrace from time to time. You can check their calendar for event information. And yes, the Hop-On Hop-Off Bus will take you to the villa!
7 | Wynwood
If you're looking for some artsy things to do in Miami, Wynwood is your place! This is perhaps the most instagrammed place in all of Miami!
In order to see all the top spots, I suggest taking a Wynwood Walls and Street Art Tour! And if you're worried about parking, you can even take a Wynwood Graffiti Buggy Tour – looks absolutely hilarious and a wonderful way to get up close to the art without driving all around!
Wynwood is an artsy, cool neighborhood that is home to many art galleries and has impressive murals on the walls. The famous Wynwood Walls attract thousands of visitors, both local and tourists.
Check out the Wynwood Yard for some great food trucks (included in this tour!), an outdoor bar, and a relaxed hippy vibe. I always take visitors here since it's one of my favorite things to do in Miami!
8 | Have Cocktails with a View at Sugar
This is one of the newer hotspots in Brickell, at the shiny new East Hotel in Brickell City Center. The top floor has a beautiful garden style lounge where you can sip cocktails and have Asian style tapas with majestic city views all around you. Go early to avoid lines!
9 | Happy Hour at the River Yacht Club
This is where I go to feel fancy and hobnob with the yacht people. This laid back beautiful restaurant is located in Brickell on the Miami River. It is open to us non-yacht owners and they serve great food and have excellent happy hour specials! Try the grouper bites! Yummers!
10 | Have a Cuban Coffee at David's Cafe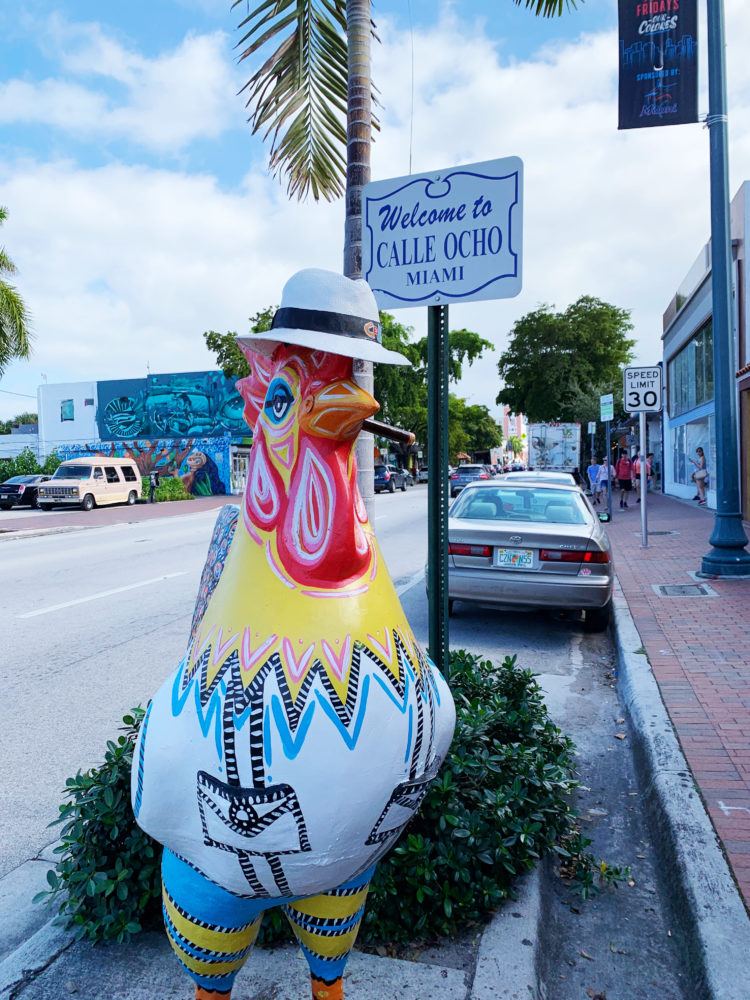 If you haven't had a cafecito, you haven't been to Miami. Beware if you are caffeine sensitive…this stuff is liquid crack! Try the cafe con leche which is the Cuban version of a latte. It is muy deliciosa!
Interested in learning more about Cuban food? Consider hopping on a Little Havana Food Tour and eat yourself silly!
11 | The Standard Hotel
This historic hotel is on the Venetian Causeway, just minutes from the beach. It is gorgeous with an enviable location on the water, but manages to maintain a chill unpretentious mood. Children are not permitted at the pool, but dogs are!
You can opt to just have a meal on the water, but I suggest booking a spa appointment. Once you spend over $100, you get a free day pass to the rest of the facilities.
Totally worth it because they charge more than that just for a day pass! Of all the best things to do in Miami, this is probably the place I come back to the most!
12 | Brunch at Zuma
This is the ultimate splurge and oh so Miami. This Downtown restaurant is in the Epic Hotel with great bay views. The brunch is a set price ($95) and includes a lavish gourmet buffet and all you can drink libations.
You can easily drink enough Umani Mary's and eat your weight in oysters to justify this price. The food is fabulous and this is the kind of meal that is your only meal for the day so come hungry!
13 | New World Symphony
Get some culture in your life and enjoy some beautiful music at this state of the art symphony hall. At least just come by and gawk at the stunning architecture and gorgeous landscaping complete with interesting artsy structures!
During the winter months, on certain Saturdays, they have the "wall cast" concerts. You can bring a blanket, wine, some food, or simply lie under the stars and listen to the symphony from outdoor speakers and watch on the giant screen as the symphony performs inside. This is one of the best things to do in Miami and better yet, it's absolutely free!
14 | Lincoln Road Mall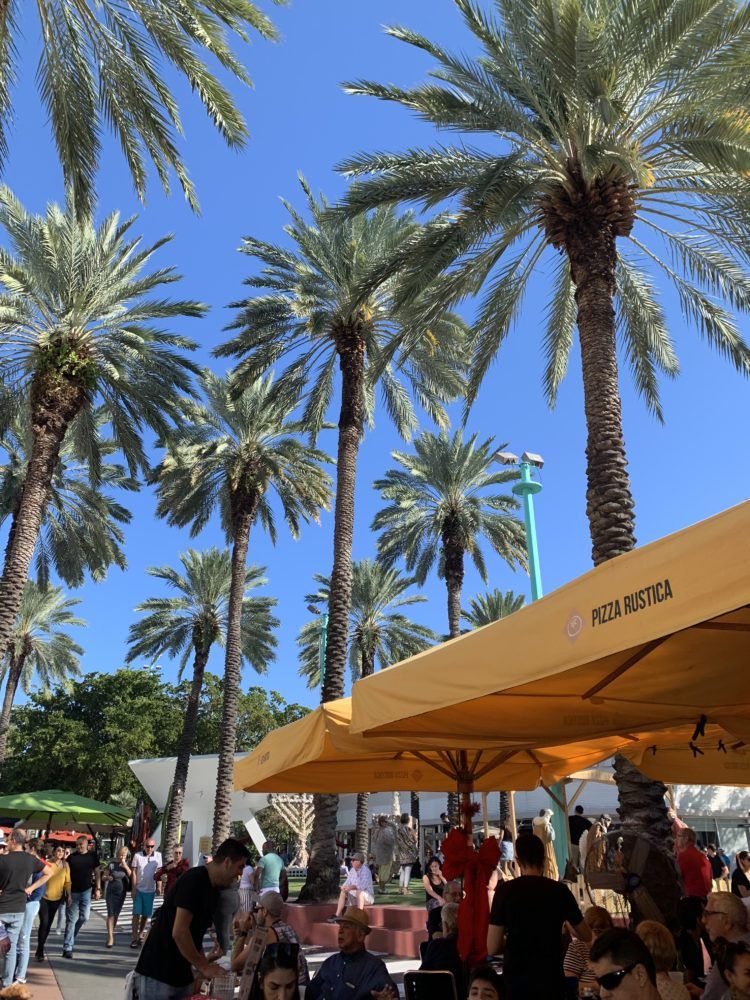 This pedestrian only street runs east to west from the beach to the bay. It is jam packed with shopping, cafes and restaurants, and always boasts a great energy. Have a coffee or drink at Segafredo's for a European vibe.
15 | Stand Up Paddle Boarding
Get a little exercise while enjoying nature. There are many places to do this in Miami including Biscayne Bay in South Beach, Key Biscayne, or the ocean. If you are a beginner, the bay has calmer waters compared to the ocean. You can usually rent by the hour and paddle around until your arms are tired. I even take my dog!
Additional things to do in Miami if you've got more time:
Take a day trip to Key West: Snorkeling, beaches, and cocktails — You'll feel like you're in the Caribbean in no time! You can even take a glass-bottom boat!
Go to the Miami Zoo: Say hello to more than 3,000 animals and 1,200 plants and trees! Feed the giraffes or parrots in the only tropical wildlife park in the United States!
Go jet-skiing and see wild dolphins: On this tour, you'll visit 6 different islands (Hibiscus Island shown below – how cute is the name?!) and even catch glimpses of dolphins in the water!
Film and TV Stars in Miami: See all the locations of your favorite films in Miami, including the districts of Art Deco and South Beach, Little Havanna, Downtown, Coconut Grove, Coral Gables and Wynwood
Go to Disney World!: Many people don't know that you can do a day trip to Disney from Miami! Hop on this tour and leave the driving to someone else! Save the energy for the park!
Are you visiting Miami soon?! Which of these things to do in Miami is on your list?