Headed to Montana for a fun-filled weekend in the snow? You'll want to keep this guide to Glacier National Park in the winter close by!
Keep on reading for local insights about the weather (psst – it's not warm), important things to pack, navigating throughout the park, those dreaded road closures, where to stay, what to eat, and most importantly, what to do in Glacier National Park during the cold winter months!
Glacier National Park (and Montana in general) has been on my travel wish list for quite some time. Since I haven't made it there yet, I've asked destination expert Alex from The Wayfaring Voyager to share with us everything a first-time visitor to the area needs to know.
There's tons of information floating around about visiting the park in the summer, but not so much in the winter (alas, this post was born)! Thanks, Alex! Be sure to ask any questions below in the comments about visiting in the winter as Alex grew up right outside of Glacier and has been countless times. → And that's what I call a true destination expert!
Psst – looking for other winter weekend getaways? Consider Park City, Montreal, Banff/Lake Louise, and Yosemite!
Take it away, Alex!
When most people think of things to do in Glacier National Park, they book their flights and schedule their road trips for the summer. While this can be an amazing time to visit, it will be crowded (most definitely)—and you'll undoubtedly miss out on the benefits of seeing the park during the off season.
I grew up about 30 minutes away from Glacier, and have fond memories spending every season there (yes, I've visited in spring, summer, fall, and even in the dead of winter).
While the snow makes the park even more magical (if that's at all possible), there's some important things to keep in mind should you make the decision to see Montana and Glacier in the winter. From frigid temps and road closures (the bad) to snowy winter activities and hardly any crowds (the best), here's a guide from a true local to help you make the most out of your trip.
And don't worry, the pros far out way the cons!
Weather during a Glacier National Park Winter
It seems pretty obvious to state that winter in Montana tends to be cold. We have had snowfall as early as September some years and it sometimes lasts well into April. It's not uncommon to have negative temperatures, and we tend to get much more snow up in the park than in the surrounding Flathead Valley. Most days, you should expect weather in the low to mid 30s.
The average, yearly snowfall at headquarters in West Glacier has been around 29 inches, though some years it can be more or less. Late November to early December brings fresh snow and the local ski villages open up for business.
That said, for those who love winter sports and who aren't afraid to brave the cold, it can be a paradise. If you are planning on heading up to the park during snowy seasons, it's often worth it to contact the Park Office (+1 406 888 7800) and see which areas are closed.
I highly recommend downloading this PDF to keep handy on your phone, since you can't rely on cell service to get you around. Service is spotty as best in many parts of the park, especially in winter.
Important things to pack for your winter visit to Glacier National Park
Much of what you will choose to bring with you will depend on what you are planning to do while in the park. If you would just like to visit and explore the charming Apgar Village, then basic winter gear should be fine. However, for any backcountry camping or skiing and snowshoeing, you might need some extra layers.
Here are some basics you might want to consider throwing in your bag for any visit to Glacier National Park in the winter months:
Piece of advice #1: Invest in warm and waterproof snow boots with a proper grip. When ordering, opt for a size slightly larger than normal, as you want to allow for thick socks and toe warmers. If your boots are too tight (and your toes are crammed together), your feet will never stay warm enough.
Piece of advice #2: HOT HANDS. Enough said. But in all honesty, hot hands saved our frosty fingers on more than one occasion. What are they, you ask? They're these magical dry packets filled with iron (among other scientific things) that intensify in heat once activated. Basically – super technological hand warmers that stay warm for up to 10 hours. And they are a godsend. You'll want at least 1 pair a day. Buy on amazon here.
Here's my winter weather recommendations for what to pack for Glacier National Park in the winter:
Warm Winter Coat: For those frigid winter days, you'll really wanna invest in an insulated parka. I've got my eye on this North Face parka (I currently wear one from 10+ years ago – it's about time for a new jacket). Looking for one a bit less expensive? This one's crazy popular on social media, and with the length and sherpa-lined hood, I can totally see why. However note that it's only water resistant, not waterproof, so not the best choice for those crazy snowy days.
Packable Puffer Jacket: I wear this one – it's lightweight and water resistant, plus comes in a bunch of fun colors and the pockets are super deep (perfect for storing your phone). It packs down to almost nothing in the little included pouch – perfect for travel! 
Fleece Zip-Up: On those absolutely frigid days when you need a little something between your sweater and warm winter coat, a fleece zip-up (like this Columbia full-zip) will come in handy. There's a reason it's got 45k positive reviews!
Base Layers: I've been wearing heat tech long sleeve tees ever since I went to Banff a few years back, and they've saved me from those frigid temps! They're super lightweight and perfect to wear under a sweater, and leave you feeling dry and warm without the bulk!
Fleece-lined leggings: I used to layer two pairs of regular leggings, but now that fleece-lined leggings are a thing, I only wear those! They're just as comfy as regular leggings, but keep your legs staying warm and toasty. I've worn these pairs a few times and they've been great, and come in a bunch of fun colors! If you're looking for something to wear under jeans or snow pants, these come highly recommended (although too thin to wear on their own; more like a base layer).
Chapstick: Cold and dry air make your lips susceptible to chapping super easily. Ugh, the worst! I'm low-key obsessed with this cocoa butter swivel stick – it makes your lips so super soft and it smells a tad like chocolate! My favorite! It also works wonders on dry, chapped skin. You'll wanna reapply multiple times throughout the day. Psst – not all chapsticks are created equal, and some will even make your chapped lips worse (true story). Avoid any containing ingredients like phenol, menthol, and/or salicylic acid; these actually make your lips drier. I always stick to Vaseline (these mini pots are small enough to throw in your purse) or a cocoa butter stick.
Power Bank: After relying on friends' spare batteries for far too long (thx friends), I finally invested in power banks of my own, haha. Batteries die out faster in the cold, so come prepared with a power bank to recharge your stuff on the go. This compact power bank gives up to 10 full charges! I always throw this tiny one in my bag also, just in case, as a backup. My phone is my life-line (especially when traveling solo), so I like to be extra prepared!
Warm Gloves: I like to take a few pairs of gloves with me – loving these wool-blend mittens and this pair that's super lightweight and waterproof (good enough to go skiing in).
High Socks: Choose wool ones that wicker moisture and keep your feet dry all day long. Synthetics are a no-go, especially in winter. These merino wool socks are super warm and so incredibly soft (and nope, not itchy at all contrary to popular belief) and perfect under snow boots. You'll never wanna take them off… just buy a few pairs! I recommend layering your socks and actually wearing 2 pairs at all times (I typically do one shorter, ankle length merino wool sock underneath, and a longer, mid-calf merino wool pair on top).
Fortunately, if you find yourself needing some other items, there are a number of great outdoor shops nearby that cater to tourists and skiers. I am a big fan of Rocky Mountain Outfitter, located in downtown Kalispell. REI, Cabela's, and many other shops are also available, as well. But if you buy ahead of time, you'll most likely find better deals, so I wouldn't count on waiting until you're there.
How to get to Glacier National Park
The Flathead Valley is serviced by Glacier International Airport (FCA) located in Kalispell, MT, roughly 30 minutes away from the park. There are fewer flights coming in during the winter, but they are also much cheaper than what you can find in the summer. The airport is teeny-tiny, so you shouldn't have any trouble finding gates, security, or check-in.
Of course, it is also possible to drive to the park. Driving conditions can be a bit difficult for those who have never driven in snow, so it's good to keep this in mind if you are planning a winter road trip. Make sure you have 4-wheel drive, tire chains, and a whole lotta time to navigate through the snow (best to drive on the slower end to limit any sliding around).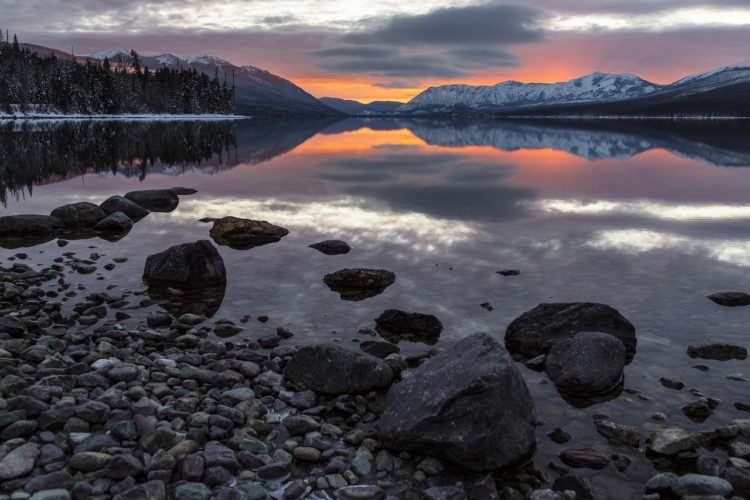 A rental car will most likely be necessary to get to the park and explore the surrounding areas. Thankfully the highways are pretty well-marked for tourists to make the drive, and the roads are usually clear leading up to the park entrance.
From Whitefish, Kalispell, and Columbia Falls, you'll want to take US Highway 2, which leads right to the small town of West Glacier. From there you'll turn left and go straight through to the entrance. Easy-peasy, amiright?
How to get around the park in winter
As mentioned above, it's almost guaranteed that you'll need to rent a car in the Glacier area. While public transportation options are improving, a rented car allows you to explore on your own terms. You'll also want to look into choosing a vehicle that can handle the snow fairly well, as the park parking lots aren't always plowed well.
Glacier International Airport has a few rental car companies located within the terminal, including Hertz, Avis, and Thrifty. And thankfully, as with most other prices in the off season, you can find car rentals for reasonable daily prices. A few hotels nearby also offer shuttles to and from the airport for free, which is something to keep in mind if you don't feel comfortable driving in the snow.
In the towns of Kalispell and Whitefish there are some buses and ride-share options. For those looking to enjoy skiing or snowboarding up at Big Mountain, there is a shuttle running regularly from downtown Whitefish to the ski village so you don't have to worry about finding parking.
Normally in the summer, a shuttle within the park is available, but it does not run during the off season. Plan for this ahead of time and you won't be surprised when you get there.
A note on road closures in Glacier National Park in winter
Glacier National Park is open all year, but there will be some parts of the park that you won't be able to access during the winter. Some of these include the ever-so-popular Going-to-the-Sun Road and Logan Pass, as well as access to some trailheads. While this means you can't make the stunning drive, there's still lots to do in Glacier in the winter, promise!
While Going-to-the-Sun Road opens and closes depending on the weather that specific year, if you're aim is to visit for the snow, just expect the road will be closed. For reference, the road opened on July 13, 2022 for the summer season, and will be officially closed October 16, 2022. Winter weather sometimes forces an earlier closure than anticipated, so understand your visit may be impacted.
Checking the status of the roads on the official NPS Glacier National Park website is super easy, and it's routinely updated so visitors know which roads are clear for driving. Snow build up and/or ice commonly affects the conditions of the roads, ultimately affecting the activities and things to do in Glacier National Park.
For a good portion of the winter months, you can usually go as far as Lake McDonald Lodge, which still remains open much of the year. There you can do some snowshoeing, cross country skiing, and drink a scrumptious cup of hot cocoa. Yum… does anyone love to shove in about a gazillion marshmallows? Only me?
Park fees
Winter Rate – $25.00, November 1 to April 30 (Entrance Fee by Private Vehicle – 7 day permit)
One of the best parts about visiting Glacier in the winter is that it's less expensive! The parks gets several million visitors in the summer, but winter is oh so much quieter. Backcountry camping is even free of charge during the winter months, so use that to your advantage if you're planning on bundling up tent-side.
Things to do in Glacier National Park in the winter
Worried you'll be freezing your cute little tushie off the entire time? Yes, the area is chilly, but don't let that deter you from taking in all the spectacular nature views! And just think, once you do some outside activities, you can treat yourself to a hot chocolate afterwards!
Those willing to strap on cross country skis or snowshoes will surely experience a true winter wonderland! The snow in Glacier is often well-packed, meaning visitors are welcome to explore any of the trails open via snowshoes or with skis!
The Apgar Visitor Center is still open during the winter, and rangers often lead guided snowshoeing tours from Apgar Village. You can receive a schedule of events upon arrival. While bears might be hibernating, there's plenty of other wildlife present during the winter, including beaver, deer, birds, mountain lions, and occasionally elk and moose. You'll want to stay with your ranger and follow any instructions they have when encountering these wild animals.
Several hikes also start from around Apgar, including the Apgar Lookout, Fish Creek to Apgar, and Lake McDonald West Shore hikes. These are mostly level and perfect for enjoying the winter weather.
Nearby towns also offer a host of winter activities. Whitefish has a popular Winter Carnival and some of the best downhill skiing in the state. If skiing's your thing, be sure to check that out!
Where to stay
The lodges within the park are open during certain weeks in the winter, but it's no guarantee that they'll remain open if there just so happens to be a snowstorm (and it's Montana, so it does happen!). As mentioned earlier, camping is free, but for those who would like warmer and drier accommodations (me me me), several hotel options are available as well.
In Kalispell, there are a number of hotels available at a range of prices, and although these are not the most exciting places to stay, they're decent enough for a weekend. Some of these include the Red Lion Inn, Hampton Inn, and Motel 6.
Whitefish offers some much needed higher-end options, including rooms at the Whitefish Mountain Resort. The Firebrand Hotel is also brand new and offers a great location downtown. Whitefish also has some of the best restaurants, breweries, and coffeeshops in the area and town is conveniently located about twenty minutes from Glacier National Park itself. However, staying there can be a bit out of your price range if you want to remain on a budget.
Columbia Falls is the closest to the park, though there are few hotel options available. The Cedar Creek Lodge is probably the best hotel located within that area.
Where to eat
The Flathead Valley has recently become quite the spot for good ol' comfort food. Whitefish has some world-class restaurants, and many of the local favorites are found there. Some of my favorite spots include:
Whitefish
Kalispell
A number of breweries have also popped up lately, offering some local flavor and nightlife, so be sure to check those out if a cold brewski if your thang.
Over the past few years, the Flathead Valley and Glacier National Park have been swamped with visitors. As the area changes, we're starting to see more and more people choose to visit during the off season and exploring what the park has to offer during the winter months.
If you are planning on making the visit and want some of the peace and tranquility that the region offers, then winter can be a great opportunity to explore Montana.
Are you visiting Glacier National Park in winter anytime soon?! Don't forget your mittens!
Alex is a traveler and writer promoting sustainable tourism for millennials. You can find out more about her and her adventures at The Wayfaring Voyager.com.