Looking for all the fun things to do in Mendocino and Fort Bragg? Planning a quick weekend getaway to this coastal town in Northern California? Read on for exactly how to spend your weekend in Mendocino (spoiler alert – it'll be way better than you ever imagined!)
Get ready for misty mornings, dense redwood forests, and fern-covered canyons – it's any nature lover's perfect weekend getaway! There's stunning shorelines, mushroom ice cream (yup – I said mushroom), secluded beaches, sleepy sea lions, and magical sea caves. All my favorite things to do in Mendocino and Fort Bragg, coming right up!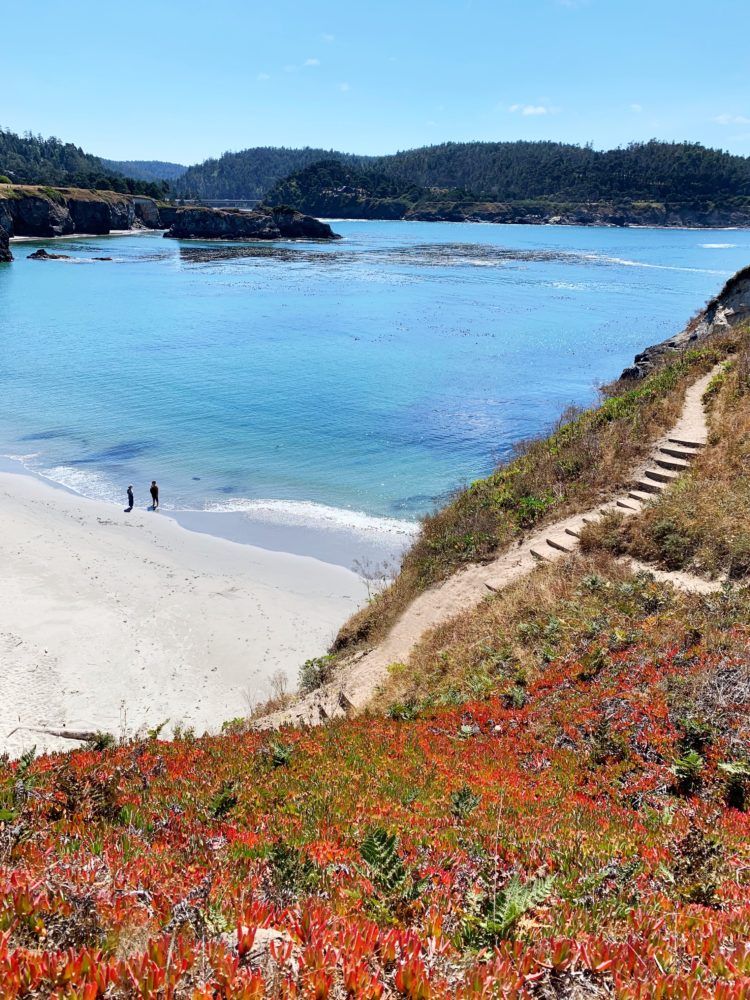 Before moving to California a few years ago, I had never even heard of Mendocino. After taking tons of day trips in the Bay Area, I set out to look for weekend trips in San Francisco instead (beyond the typical Yosemite and Napa Valley, because of course we'd been there already).
After some quick research and a nod of encouragement from my sister-in-law, we decided spending a long weekend in Mendocino was the perfect spot for our next mini getaway!
And a few weeks later, we were off on a road trip from San Francisco to Mendocino! [Be sure to check out our drive, as we made numerous stops you wouldn't wanna miss as you venture up Highway 1.]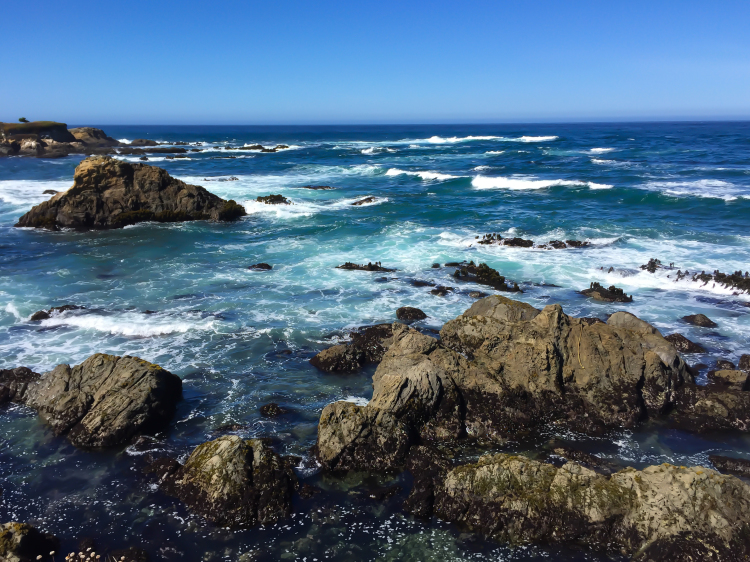 I honestly hadn't realized there were plenty of things to do in Mendocino to keep us busy, busy, busy. While you can plan to chill out and spend your weekend doing a little R & R, if you're the more active type, dontchu worry – Mendocino will fulfill all your towering redwood dreams and then some. AKA – the hiking's great here.
READ NEXT: San Francisco to Mendocino (all the stops to make along the way)
If you're in the mood for some fresh ocean air, picturesque landscapes, snaking rivers, and giant redwoods, you'll fall in love with these old mining towns just as fast as I did.
When to Visit/Weather in Mendocino
Mendocino is kinda a year-round destination. It's never too hot (mid 80s at most) and never too cold (although it can get into the low 40s in winter mornings). The weather's pretty mild and temperate, making for great hiking weather and other outdoorsy things.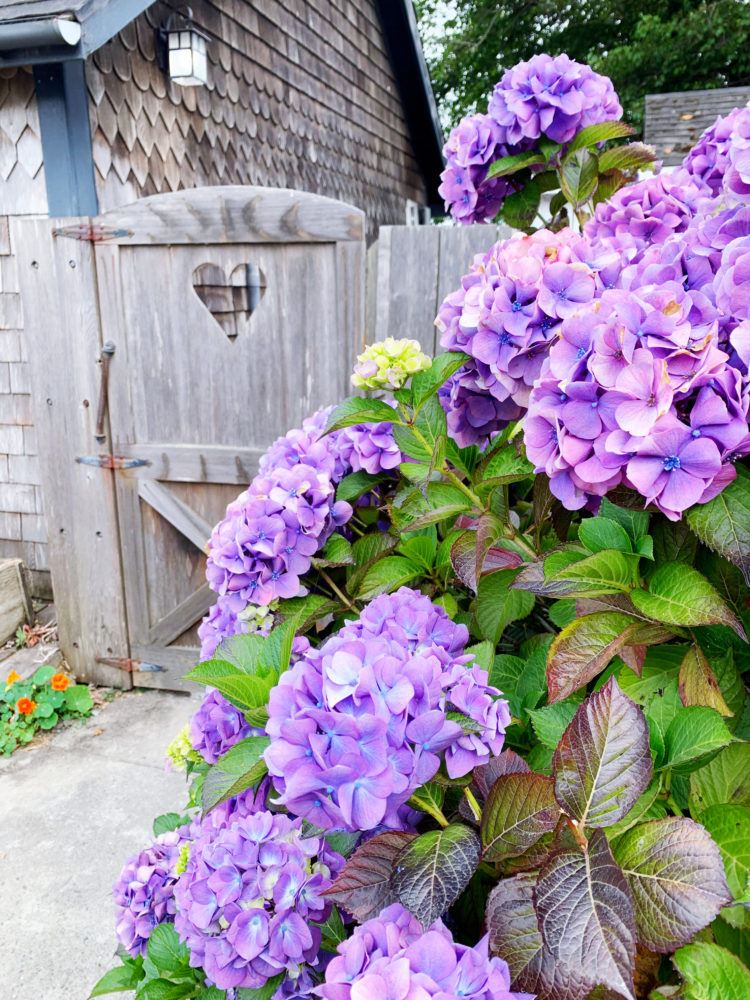 However, (because, yes, of course there's a however), it's kinda hard to predict the weather over here.
Sometimes it's clear and sunny and hot, sometimes it's misty and chilly, other times the wind is all encompassing meaning you'll need to bundle the F up, and sometimes, you'll find 23 types of weather all in one day. There's no snow over here, although I secretly wish there was because scenic Mendocino covered in the fluffy white stuff would be a sight to be seen.
But one thing's for sure: you'll 85% wake up to a dense fog blanketing the entire area. And then it'll usually burn off by midday. If you're lucky.
And to make matters even worse, just like in San Francisco (and other coastal areas nearby – like Pescadero and Half Moon Bay), there's MAJOR microclimates on the coast in Mendocino. It can be windy and foggy in Little River (5 minutes south of Mendocino), super clear in Fort Bragg (a mere 20 minutes north), and then all of a sudden quickly change in 5 minutes. The fog rolls deep here, and moves fast!
One way to combat this – just bring a bunch of different clothing options and you'll be fine! I usually like to throw either pants or shorts in the car – whatever I'm not wearing at the moment – so I can quickly change if need be.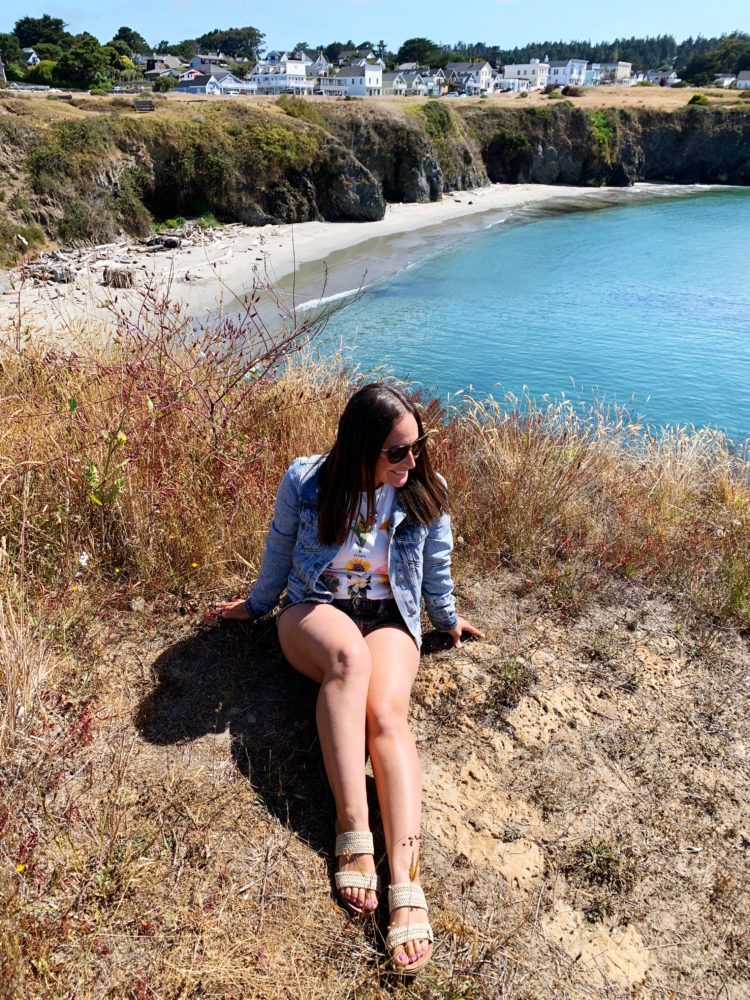 We've visited Mendocino in summer and fall, and had mostly sunny days with some fog/misty mornings mixed in. I don't do well in any kind of precipitation (besides snow when I'm choosing it), so if you're like me, steer clear of the rainy winter and early-spring months.
While you'll see some people hanging at the beach, don't necessarily expect beach weather in Mendocino (yes, even in summer). This is Northern California where the Pacific's absolutely freezing, so leave your bathing suit at home (or bring it, but know you probably won't be needing it).
How to Get to Mendocino
First of all, where is Mendocino exactly? Both Mendocino and Fort Bragg are located in Northern California in Mendocino County. The area is roughly 3 hours or so from San Francisco, making it the perfect weekend getaway for those in the Bay, like us!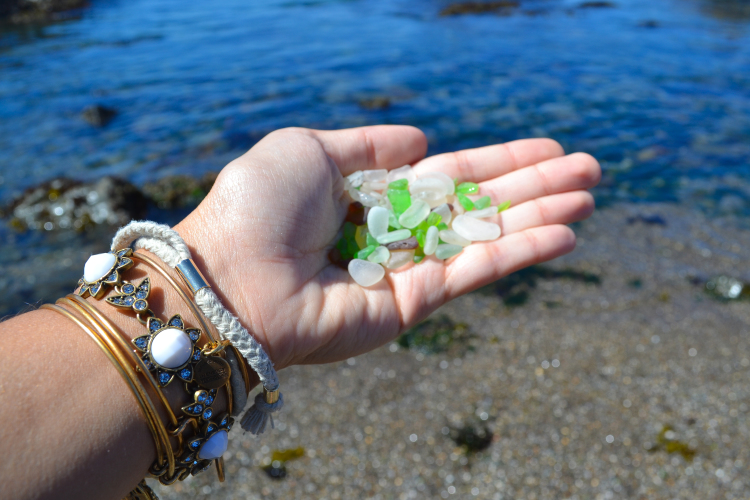 From outta town? You'll wanna get yourself to either San Francisco International (SFO) or Sacramento International (SMF), as those are the two major airports closest to the Mendocino area! From there, it's not too long of a drive: 3 or 4ish hours from San Francisco (depending which route you choose – more below), or about 3.5 hours from Sacramento.
Driving to Mendocino from the San Francisco Bay Area? You basically have two options:
driving inland on the 101 and then 128 (~3 hours)
making your way up the coast via Pacific Coast Highway (~4-5 hours)
INLAND ROUTE (U.S. Route 101 and California 128)
If you take the inland route via the 101 and 128, expect to drive through tiny towns, orchards and farms, vineyards and wineries, and the Navarro River Redwoods (which are absolutely gorgeous!). You'll pass some of our favorite NorCal towns, including Sausalito, Petaluma, Santa Rosa, and Healdsburg.
While all of these make for great weekend getaways from the Bay, if you're short on time, I don't recommend stopping there on your way to Mendocino. None are awfully far away (and all are on the 101), so save them for other trips.
Of course I have a few recommendations on the 128 (farther from the Bay Area and closer to Mendocino, meaning you probably won't be venturing over this way any time soon).
Add the following to your list of must-stops while heading up for a weekend in Mendocino:
Pennyroyal Farm for expensive cheese and wine tastings – still on my California bucket list (Boonville)
a quick look around Farmhouse Mercantile for quirky treasures and wordy goods (Boonville)
Hendy Woods State Park for some pre-redwoods vibes (Philo)
Apple Farm for some fresh apple ciders and hard cider, apple cider syrup, jams, and chutneys to-go (Philo)
a winery or two if you're not in a rush – I've heard Lula Cellars and Navarro Vineyards are great! (Philo)
Any caffeine lovers in the house? Grab a coffee at Dutch Bros if you've never been (we usually stop at the one in Santa Rosa). My husband is obsessed with "The Annihilator", and I totally get it – it tastes like chocolate coffee.
COASTAL ROUTE (Highway 1)
We typically take the 101/128 when heading up to Mendocino since it's shorter, but if you've never driven this part of the Pacific Coast Highway, don't miss it! It is a tad longer (okay, so more than a tad considering all the stops you'll make), but well-worth it in my opinion.
If you've never ventured past the Golden Gate Bridge, the following stops are highly recommended:
Golden Gate Bridge Vista Point for perfect views of the bridge (a miss if you live in SF obviously)
a quick stop at Muir Beach Overlook
Stinson Beach for a quick stop in the sand
check out the Point Reyes Shipwreck (another quick stop)
Hog Island Oysters if you're in the mood for some fresh shellfish
Patrick's Saltwater Taffy and Wild Flour Bread Co. (get some taffy, scones, and a fresh loaf!)
Point Arena Lighthouse and Museum – my personal favorite, but it does close kinda early so get a super early start from SF or leave out a few stops if you wanna make it to the lighthouse in time
I've actually written up an entire post detailing our entire drive from San Francisco to Mendocino via Highway 1 – find that over here! Tons more info on all these stops, I promise!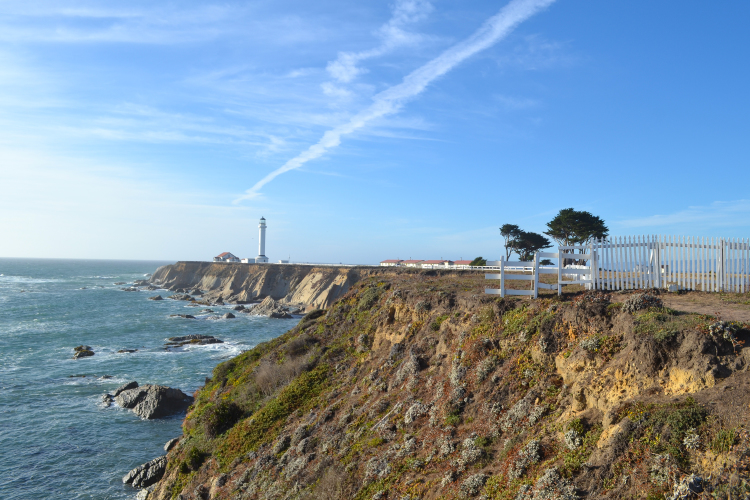 Note that driving up the 1 will take the better portion of the day, so don't make any dinner reservations in Mendocino or plan to do anything of significance up there the first night. You'll likely be tired from all the fun stops!
My recommendation if you have a FULL 3 days to explore: Drive up to Mendo via Highway 1, and drive back to SF via the 101 and 128. You'll get back much faster.
Quick Facts about Mendocino:
+ Mendo is about a 3.5 hour drive from San Francisco if you're driving inland, or about 5-6 on Highway 1, depending on which stops you decide to make. If you're driving up the coast, I highly encourage you to read more tips about our road trip.
+ Numerous state parks can be found here, and some require an entrance fee. Be prepared to pull out some cash every now and then. With so much natural beauty, it's worth your morning Starbucks run.
+ Fort Bragg is only a few miles north, and a great way to spend a few hours. You must wait in line for Cowlicks Ice Cream. So incredibly good.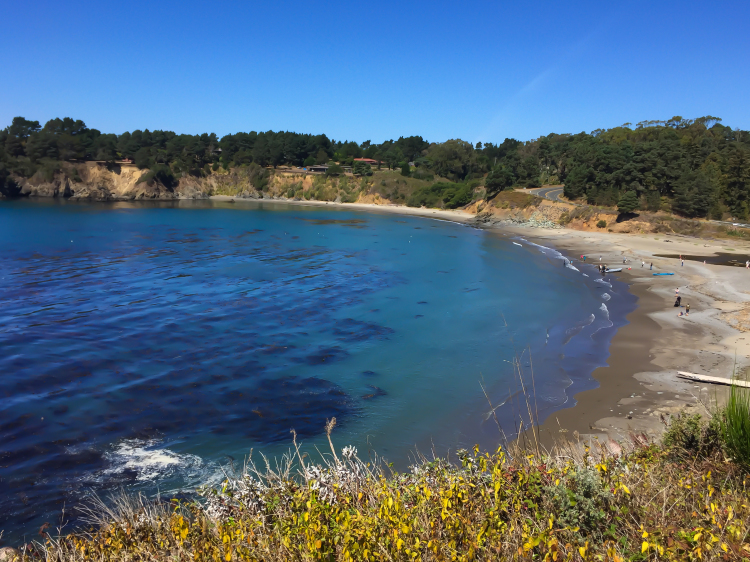 + There is a convenience store in town which basically has everything you need for a weekend away (minus clothes and all). I forgot a toothbrush and was able to easily pick one up on our first night. It's also a great place to stock up on snacks.
+ Two days in the Mendocino/Fort Bragg area was perfect. We had enough to do to keep ourselves busy, but feel an extra day or two would have been overkill. A long weekend in Mendocino, 3 days at max, is perfect.
If you're looking to take a much longer trip up/down the PCH, check out all my favorite stops on the Pacific Coast Highway – yes, all 75 of them!
How to get around Mendocino
You'll definitely want a car when visiting Mendocino. While the actual town of Mendocino is super small and extremely walkable, the state parks and other things to do in Mendocino are actually located in Little River and Fort Bragg, too.
And plus, while cell service is typically okay in the towns (Mendocino and Fort Bragg), you'll find it's lacking in Little River and in the parks. AKA don't plan on using Uber or Lyft to get around. Your best bet if you're carless – rent a car from San Francisco and road trip up highway 1 to Mendocino.
Little River vs. Mendocino vs. Fort Bragg
Okay, so I know this guide is focused on things to do in Mendocino, BUT you can't visit the area without checking out nearby Little River and Fort Bragg.
Little River has a bunch of cute B&Bs and cottages (like our stay at Glendeven!), plenty of hiking trails at Van Damme State Park, and it's only 2 miles south of Mendocino (you actually drive right through it to get to Mendo).
Mendocino boasts a cute, charming little coastal community, with a bunch of state parks and reserves. There's plenty of restaurants in town, art galleries, Victorian homes (many in pastel-colored hues), and a bunch of chocolatiers.
Fort Bragg is the largest town on this list, and only 20 minutes or so north of Mendo. When you're done checking out all the things to do in Mendocino, be sure to head up the coast to Fort Bragg! Some of my favorite spots are up here (including my favorite ice cream shop of almost all time… ohhh the homemade waffle cones…).
I apologize in advance for all the photos – I couldn't help myself! Mendocino is such a hidden beauty! If you live in the Bay Area or have a few extra days in San Francisco, head up north for some much needed time in the forest. Literally.
Things to do in Mendocino and Fort Bragg
I've organized this list of things to do in Mendocino and Fort Bragg by location on the 1 (heading from South to North), but know that we kinda jump around a bit. Everything is within a 30 minute drive or so, so nothing's too far from each other. Honestly? We choose what to do based on the weather, and make our way up and down the coast a few times stopping at wherever we see fit.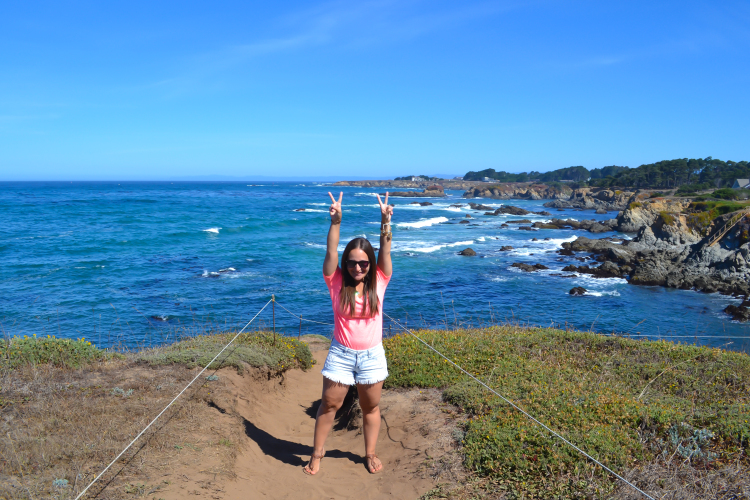 Van Damme State Park (Little River)
Our B&B (The Glendeven) was actually surrounded by Van Damme on 3 sides, meaning we should have taken full advantage (whoops). I heard there's a scenic beach, a lush fern-filled forest, and even year-round camping if that's your style.
If you're looking for a day hike, check out the shady 9 mile Fern Canyon Scenic loop (with over 800 feet of elevation gain) – sure to help burn off those ice cream-induced calories. Add in the Pygmy Forest boardwalk if you wanna extend your walk a bit!
Explore the tiny town of Mendocino
For the record, downtown Mendocino is quite small. Here you'll find a bunch of restaurants and a few quirky shops, as well as the fire station and local church.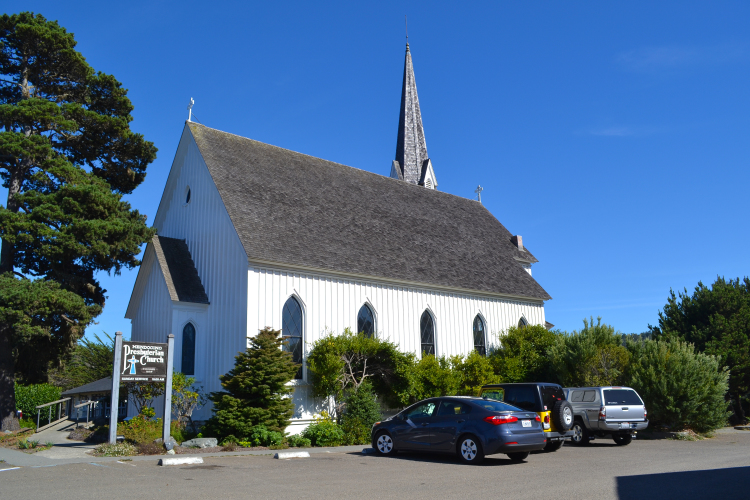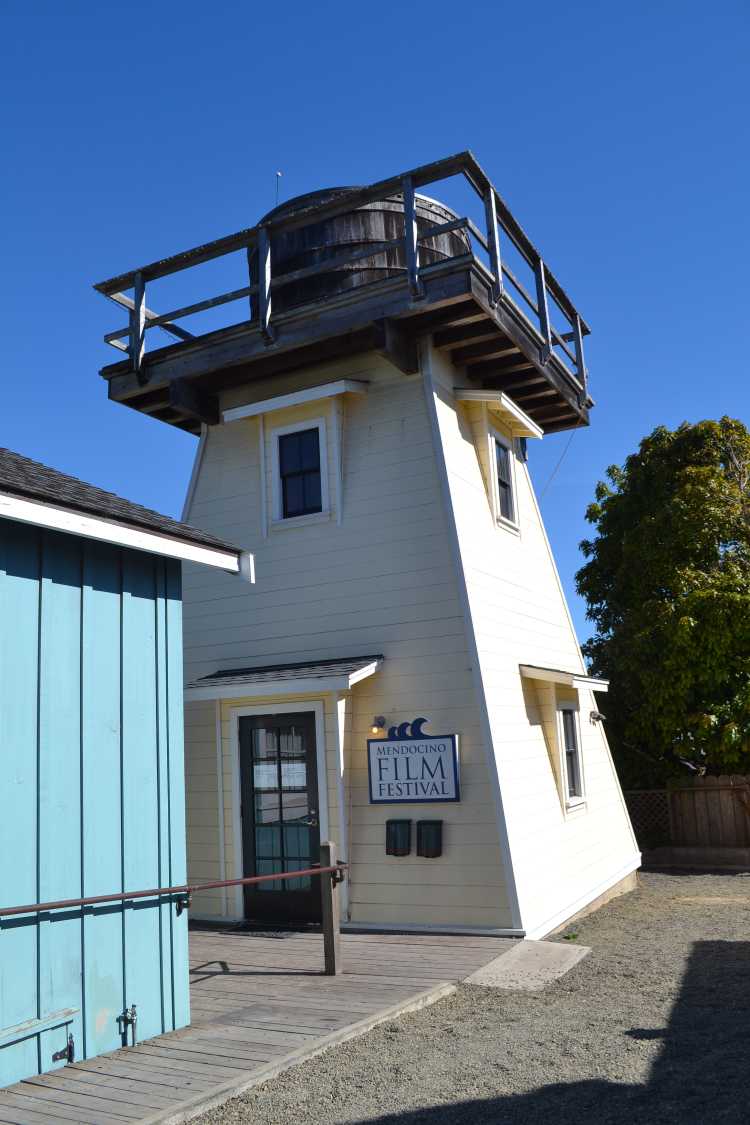 What it's lacking in size makes up in cuteness and quaintness though! I couldn't stop taking pictures! So much character and charm! I'd love to get a house here someday and continue exploring all the things to do in Mendocino.
Mendocino Headlands State Park (Mendocino)
Ohhh, this is one of our favorite things to do in Mendocino and Fort Bragg, so don't miss it! It's just a few minutes from town, and there's a bunch of trails through the meadow with plenty of photo opportunities of the wild Mendo coast.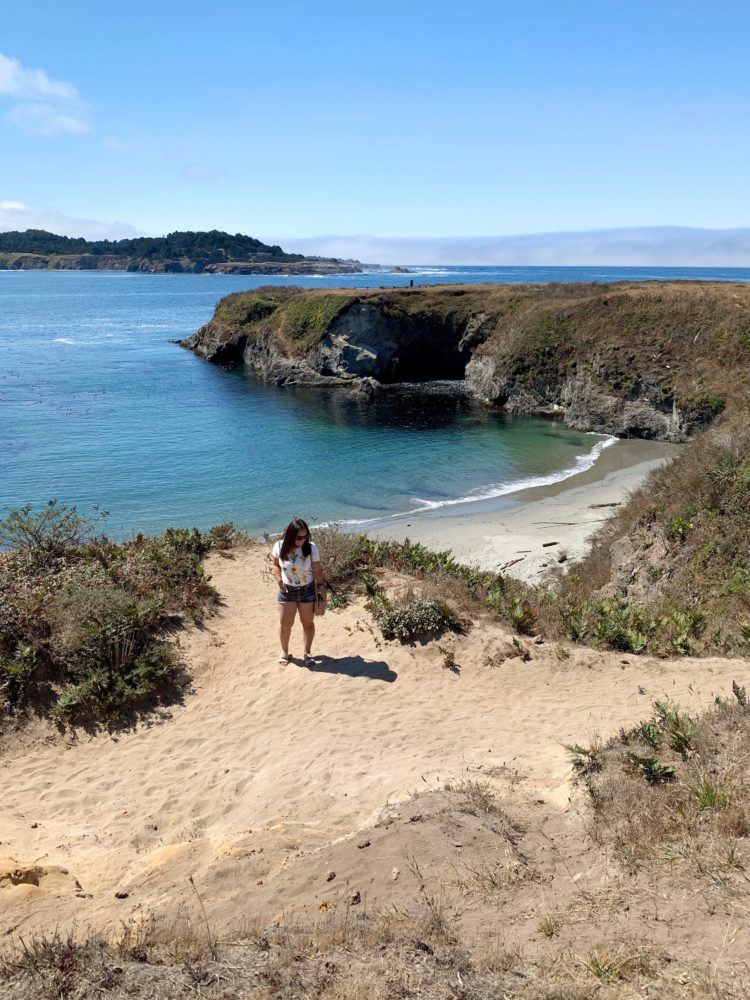 My advice: Go mid-morning just as the fog is starting to dissipate – you'll appreciate the greenery of the bluffs and the blues of the water even more! And the fog actually adds to the scenery, believe it or not.
There's a staircase heading down to the beach, but we just admired the views from the bluffs above.
If you're visiting in winter, bring binoculars – there's typically whales right off the coast!
Russian Gulch State Park (Mendocino)
One of Mendocino's most popular parks, and for good reason. The entire area is absolutely stunning. After a foggy first day in Mendo, we left Russian Gulch for some sunny skies and were glad we did.
If you're just looking for some easy walks along the ocean (like we were), head to the upper picnic area (make a right once you enter) for views of the bridge and the flat Headlands Trail. We kinda wish we brought along some food for a DIY picnic. Next time!
The most popular areas of Russian Gulch are the Headlands Trail, Fern Canyon trail to the waterfall, the beach under the bridge, tide pooling, and Devil's Punchbowl.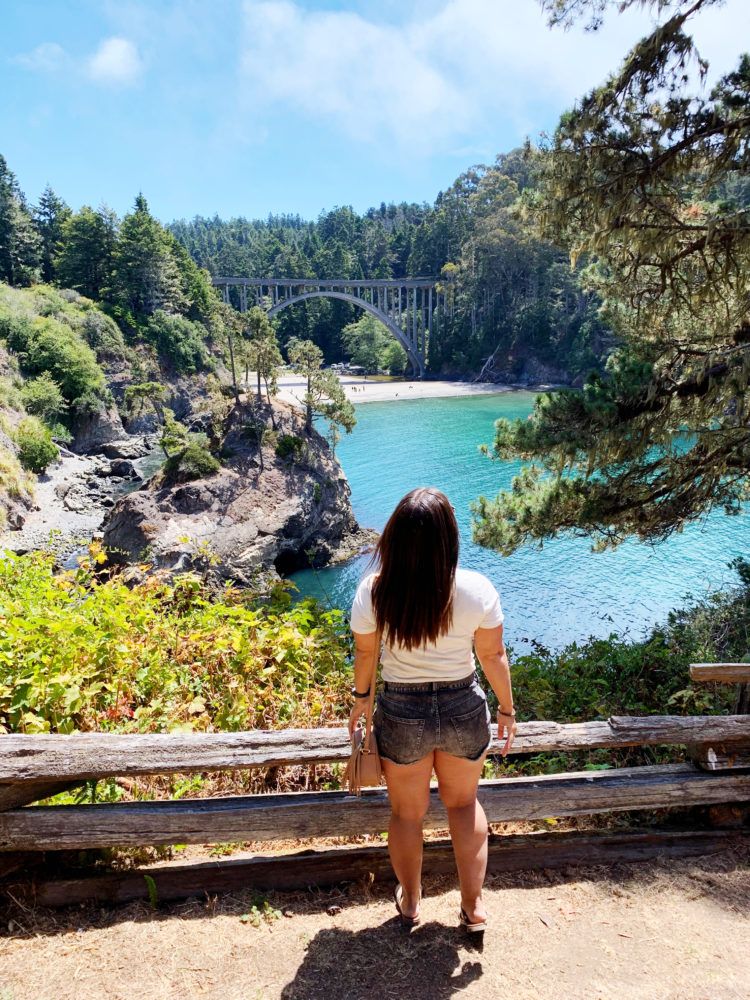 I'd love to go sea kayaking over here someday! I swear, the color of the water easily rivals Big Sur – it's so super turquoise and gorgeous!
Do note there's an $8 fee per car to enter, so be prepared to whip out some cash.
Point Cabrillo Light Station (Mendocino)
If you're in the area, you absolutely must visit this light station. How cute is it?! Can you tell I'm just an absolute sucker for lighthouses? I honestly don't know what it is about them, but I feel the need to visit them all (visit the lighthouse in Pescadero if you're a fan as well)!
The Point Cabrillo Light Station has been used for navigational purposes since 1909 (#wow!), and is now part of the California State Parks system. There is a short trail to reach the lighthouse, but if you haven't caught my drift yet, it's worth it. And really, it's super short. No excuses. Get your coffee and go.
One of the most charming things to do in Mendocino for sure!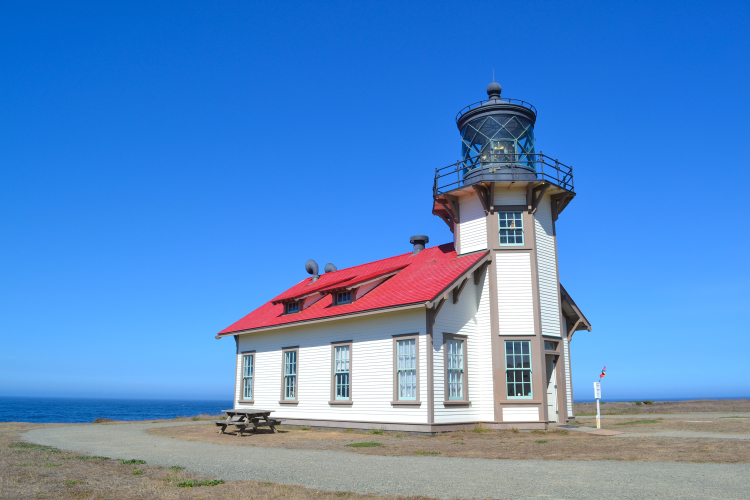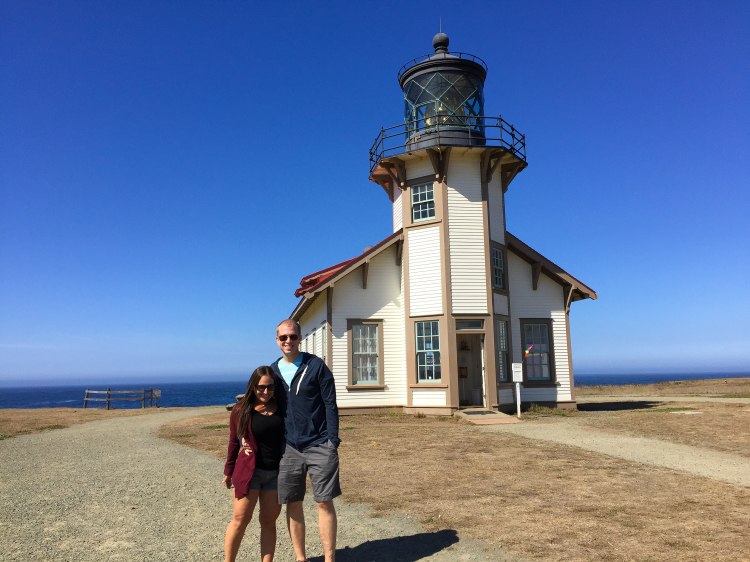 Jug Handle State Natural Reserve (Mendocino)
Something I love most about Mendocino and it's parks is that anyone can access the natural beauty. And by that I mean, you don't have to walk very far to see some of the most gorgeous spots on the coast. Enter Jug Handle! Another spot for some beautiful views of the rocky coastline.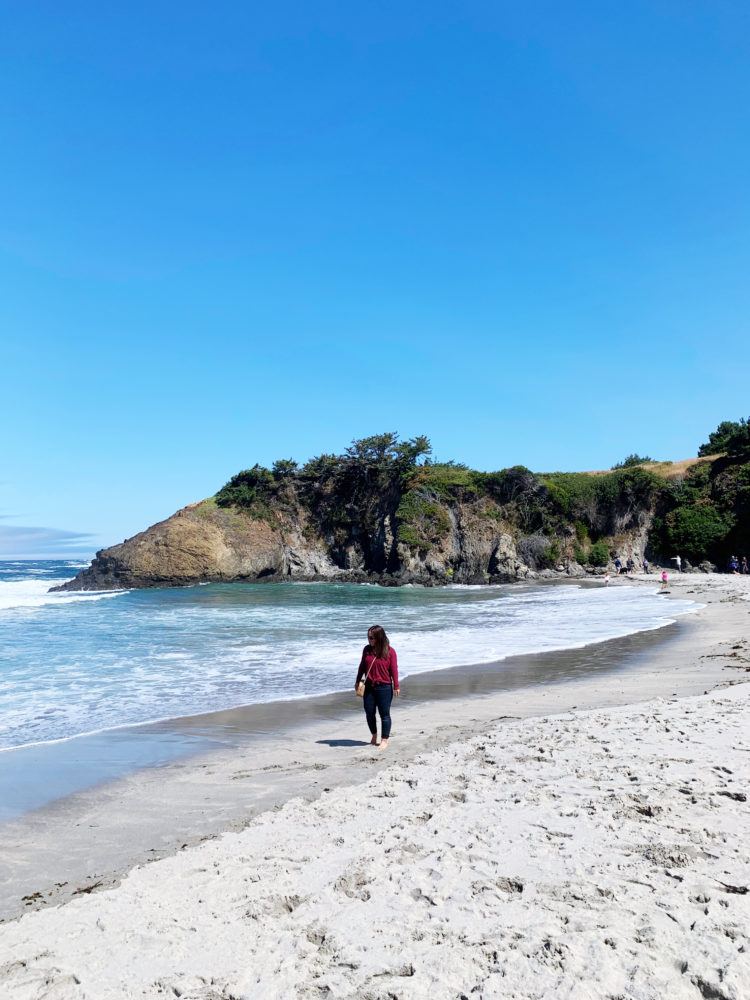 My advice? Do both walks from the parking lot – it'll take you 45 minutes, an hour max for both. Here are the walks we did:
Down to the beach (literally less than a 10 minute walk, although there are some overgrown sandy steps at the end, just FYI)
The flat Headland Loop on the bluffs above the beach (you can go as far as you want; we walked around about 20 minutes with lots of stopping for photos).
If you're looking for a longer hike, take the flat 5 mile (roundtrip) trail through the "ecological staircase" to the Pygmy Forest. I'm still convincing my hiking-hating husband to do this with me as I've heard it's one of the best things to do in Mendocino for hiking lovers!
Mendocino Coastal Botanical Gardens (Fort Bragg)
47 whole acres of blossoming flowers, coastal bluffs, and sunshine. Expect to find rhododendrons, camellias, fuchsias, dahlias, magnolias, maples, succulents, begonias and more. If you're a plant lover like myself, this will be one of your favorite things to do in Mendocino – I promise you that!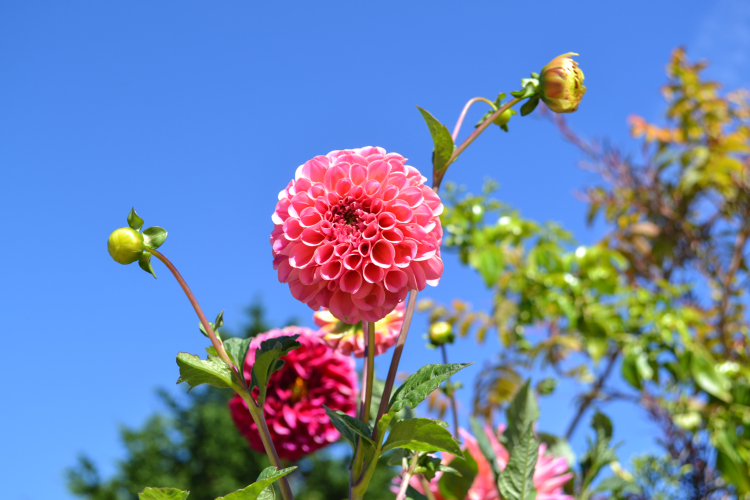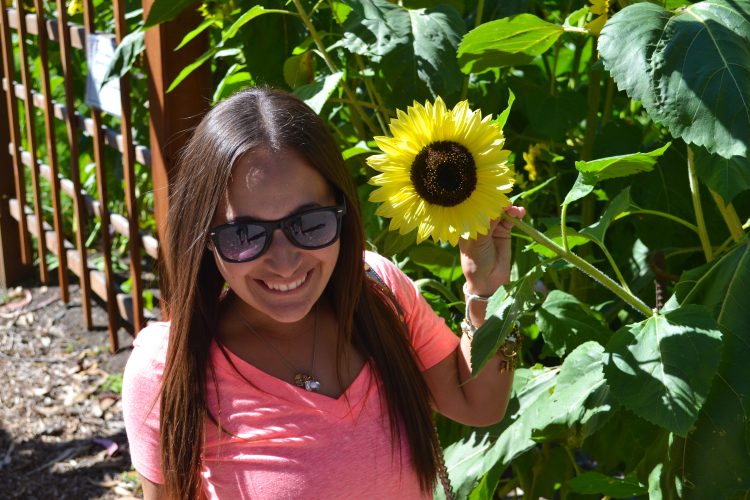 The Mendocino Coastal Botanical Gardens are a good place to wander for 2 hours or so. Honestly, I was a bit underwhelmed (taking into account the $14 admission fee), but the ocean views made up for the gardens. A great place for nature buffs!
Don't miss the raspberry tea by the entrance at the garden cafe – I was skeptical at first because it's unsweetened, but boy was it tasty.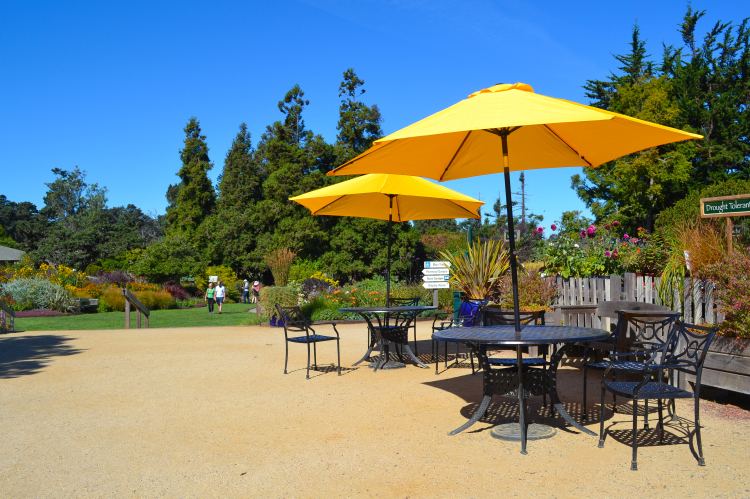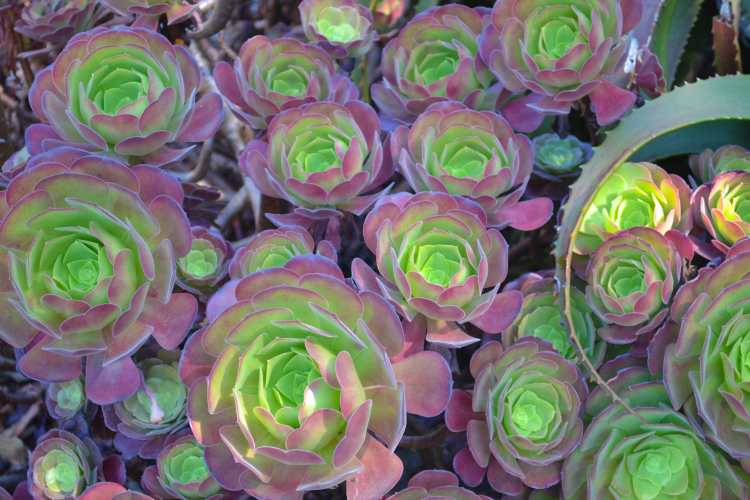 Skunk Train (Fort Bragg)
You've probably heard of Fort Bragg's world-famous historic Skunk Train before – the 130 year old rail line that weaves its way into the nearby lush redwood forests.
And through majestic stone tunnels. And over wooden trestle bridges. And alongside the Pudding Creek Estuary. Nature without the effort, anyone?!
And psst – the train doesn't actually smell like a skunk, well, not anymore at least! In the past, they were powered by gasoline engines and burned crude oil to keep passengers warm, producing that strong icky smell. Be thankful for technology. 🙂
And if that doesn't sound thrilling enough, take a ride on a two-passenger railbike. It's exactly as it sounds – you pedal with your partner in the open-air through the trees (sounds kinda magical if you ask me). The bikes are still on my California bucket list (it seems kinda expensive, but maybe I'll finally cross it off next time we visit Fort Bragg). (Fort Bragg)
Cowlick's Ice Cream (Fort Bragg)
Yes, I listed this spot down below in the "Where to Eat" section, but I love it oh so much I've added it twice! Plus, I figure if I don't shut up about it, you must think it's worth your time.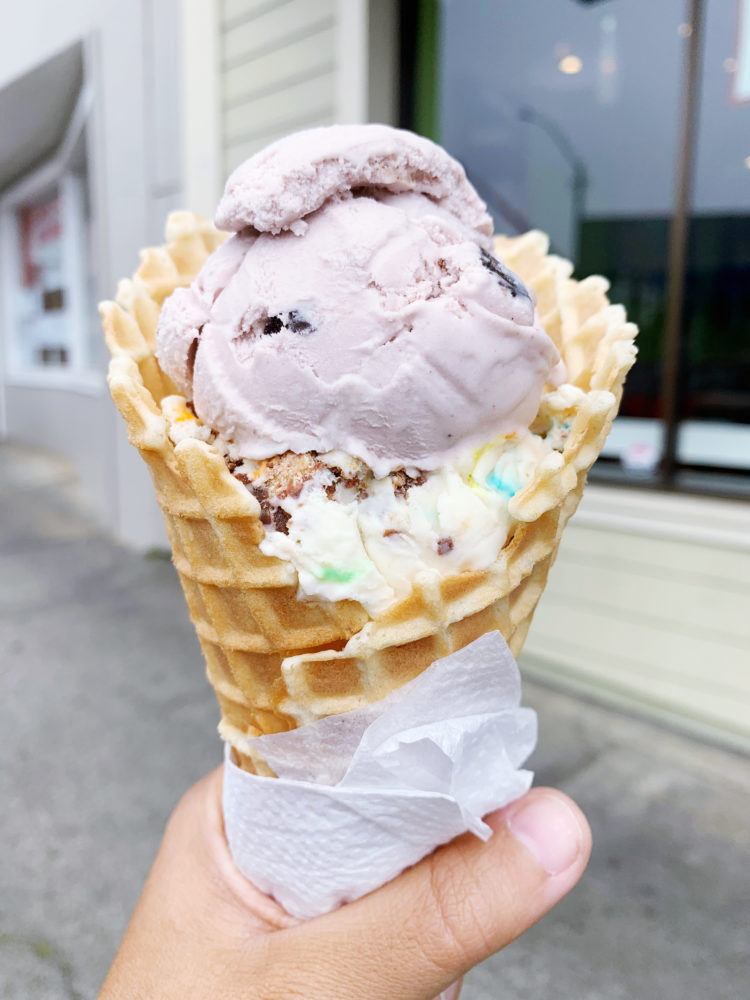 A few things to note:
The portions are huge (aka a "small" comes with two outrageously large scoops).
Get the black raspberry chocolate chunk (I'd honestly drive the 3 hours here just for a few scoops – ask my husband).
Always opt for a waffle cone. ALWAYS.
Prepare to wait 20-30 minutes or so. There's always a line – it's that good.
Glass Beach (Fort Bragg)
A visit to the Mendocino area wouldn't be complete without a visit to Glass Beach. Do you remember all those photos you've seen on Pinterest of the beach covered in sea glass? Yea, that's in Fort Bragg.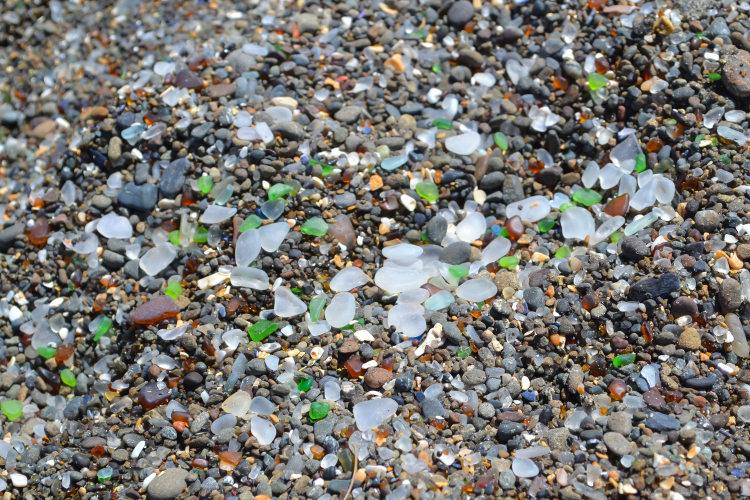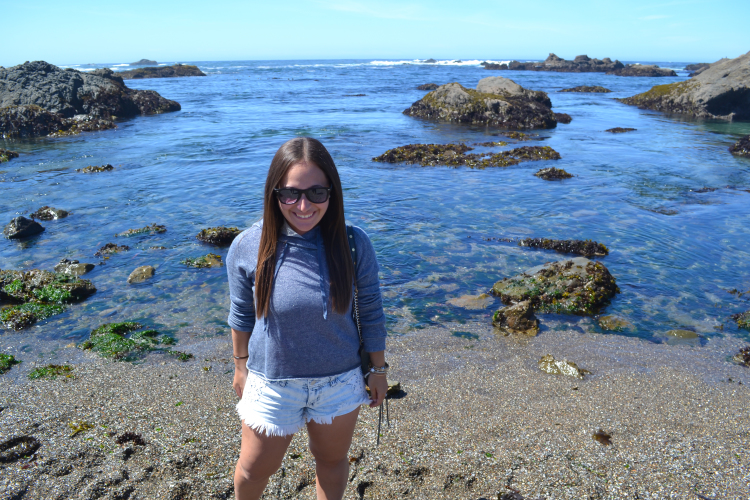 Note that the actual beach does not live up to the photos, and if you go in expecting all colored glass, you'll be wildly disappointed. It's more of a mixture of rocks, sea glass, and sand. I picked out some glass for the photos – guilty!
The beach isn't too sore on the eyes, either. 😉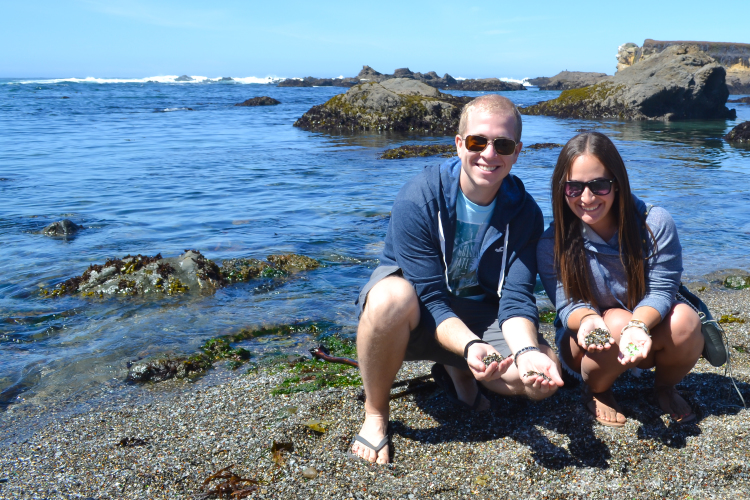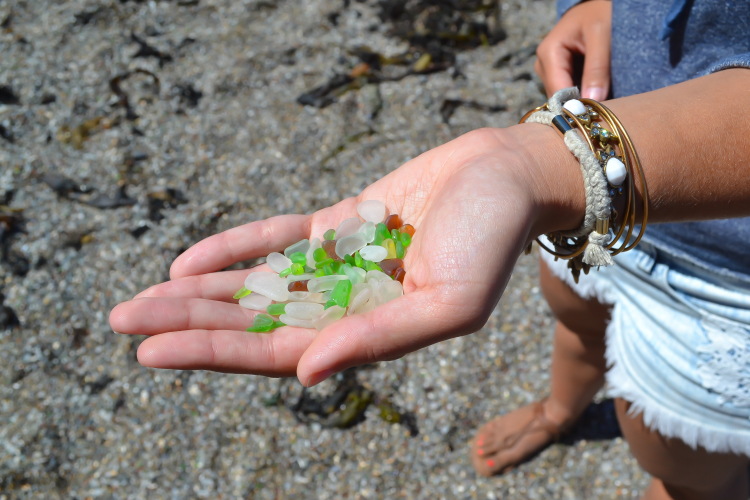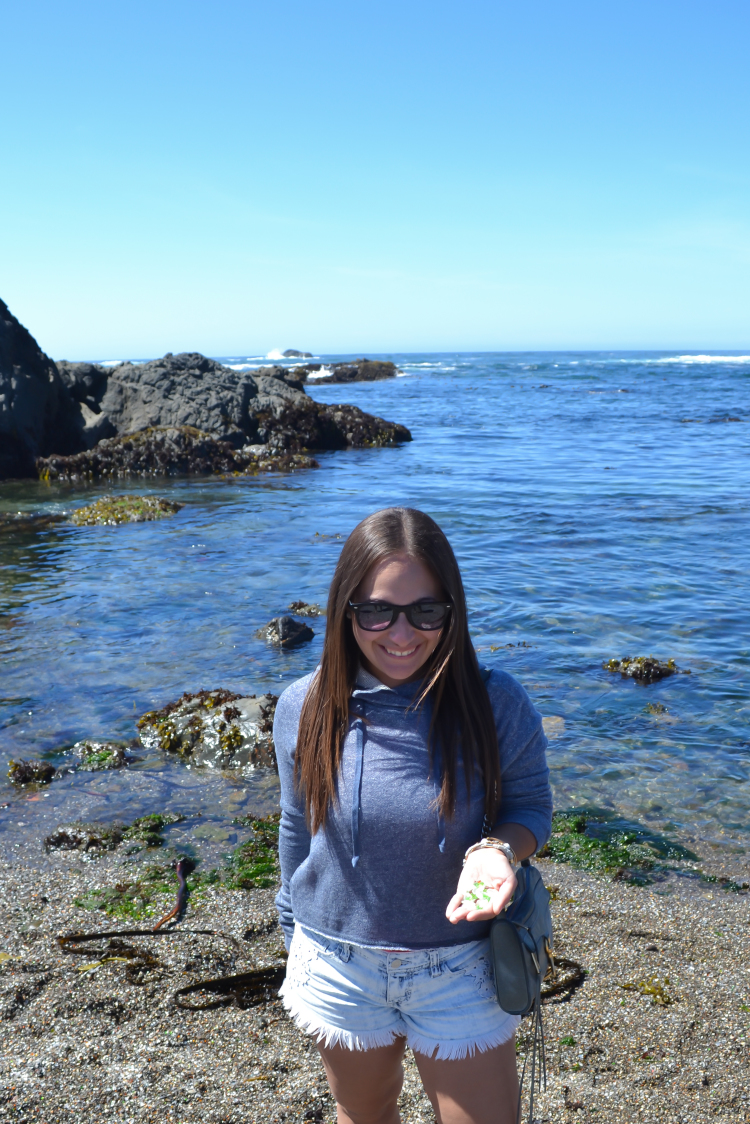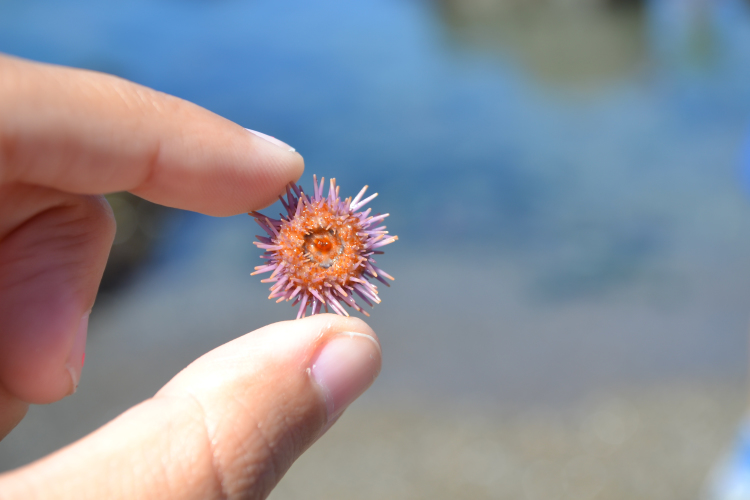 Walk on the Ten Mile River Bridge (Fort Bragg)
Kinda random, but we found it on the way to the winery and it looked pretty cool so we decided to stop! TBH, I wouldn't head there just for that, but if you happen to pass it, it's worth the quick 15-minute detour. There's a pedestrian footpath on one side of the bridge with great views of the Ten Mile River and beach. (Fort Bragg)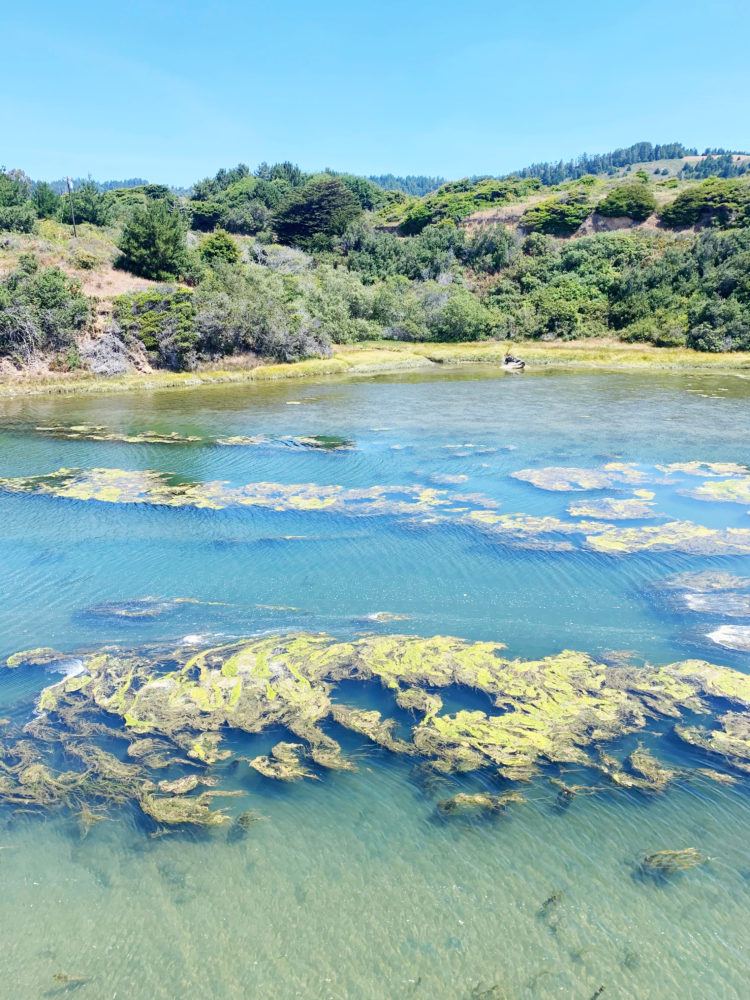 Pacific Star Winery (Fort Bragg/Kibesillah)
We recently heard about Pacific Star from a friend (hey Caroline!), and I cannot believe it's not on more lists of things to do in Mendocino and Fort Bragg.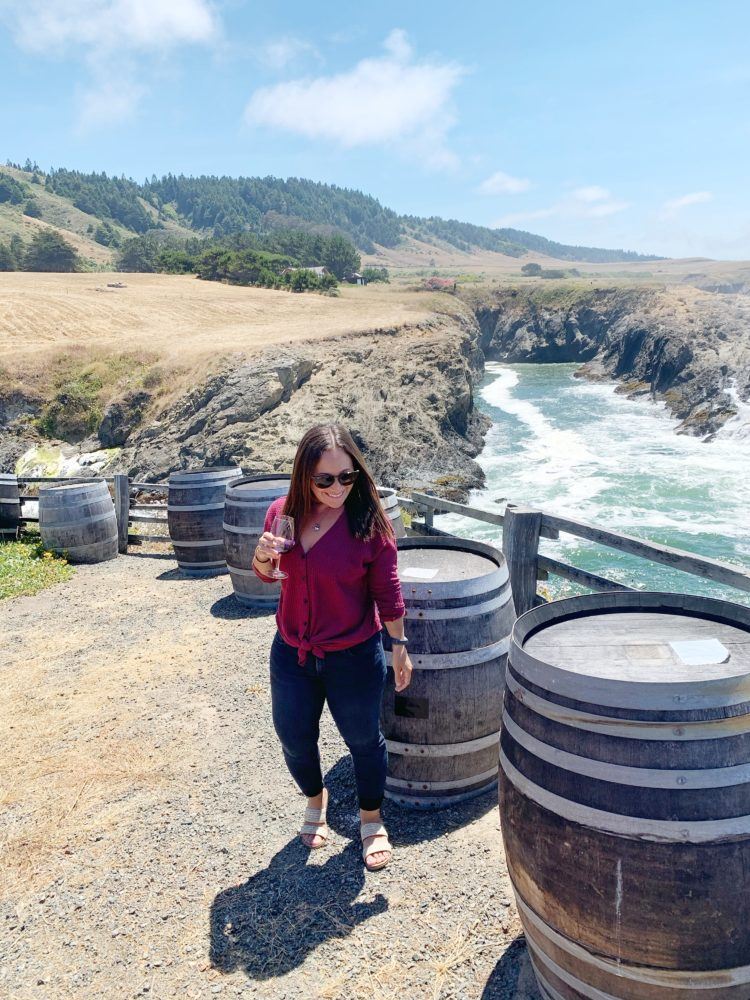 I mean, not only are the views of the coastline absolutely stunning, but you can get a $10 tasting of 6 wines (!!!). And the wines were pretty good (with some classic reds as well as some more rare and unusual varietals from grapes from nearby vineyards).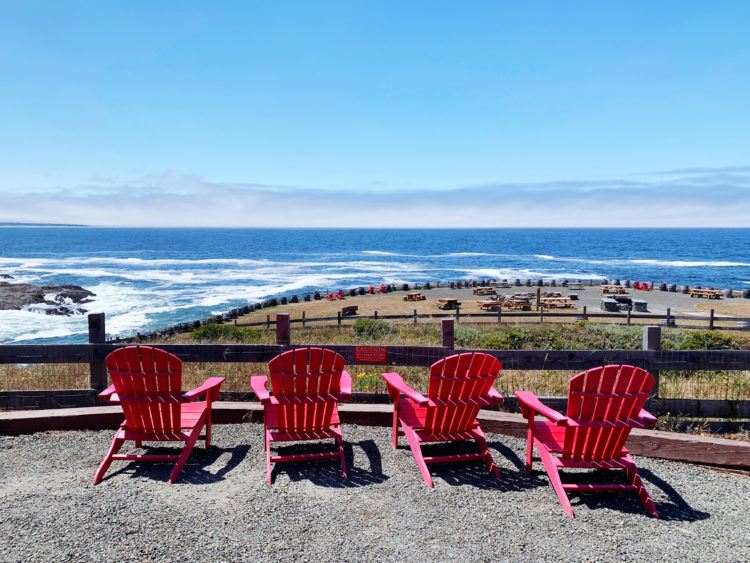 We bought some cheese and crackers from the winery as a little snack to accompany our wine, but I would have loved to bring some stuff from home for a picnic lunch! Well worth the extra 20 minute drive from the town of Fort Bragg.
Other Things to do in Mendocino and Fort Bragg
Witness the Sunset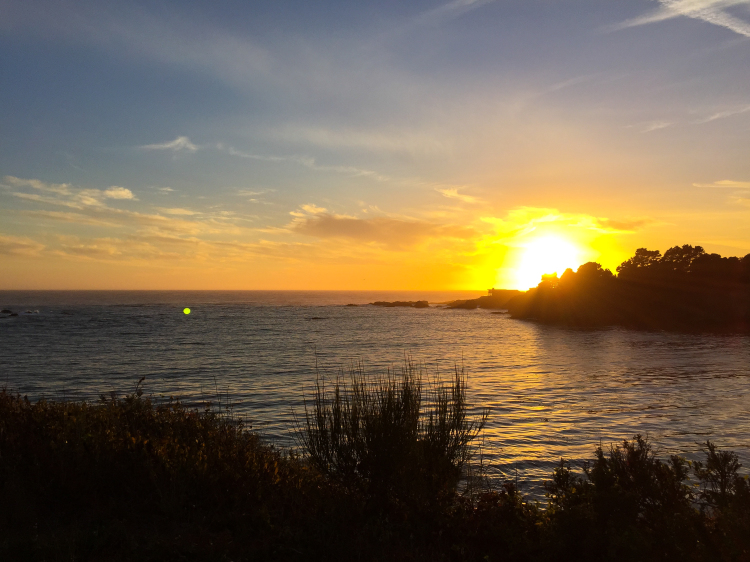 Out of all the things to do in Mendocino, promise me you'll spend a bit of time admiring the sunset. It's true. The sunsets in California can't be beat, and Mendocino is no exception. With the rugged coastline and the forest being so incredibly close together, you can get some great shots for sure.
Hang out by the water
These shots were taken at the botanical garden mentioned above, but basically everywhere on the coast offers views as good as these. California, you are just too damn beautiful! And my mother wonders why I moved here. 😉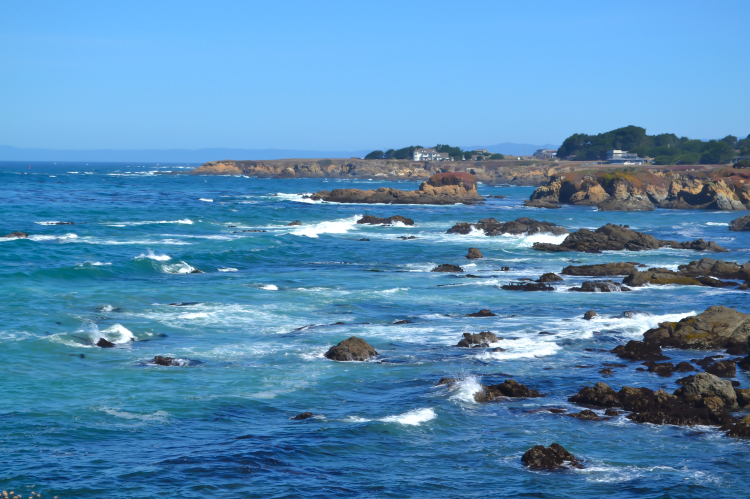 Drive through the Forest
It's literally impossible not to drive through the trees if you're relying on a car to get around. If you're from the Bay Area and have visited Muir Woods or other redwoods, Mendo's forest won't be too shocking, but still impressive to say the least.
If you want to venture a bit north, halfway between Mendocino and Ukiah you'll find Montgomery Woods, loaded with ancient redwood groves. Those are cool. Trust me.
Take in the Views
Can I just gush for a minute? When I saw these views (below) I could have sworn we somehow got teleported to SoCal or Big Sur. Um, hello, that water (!!!). Who knew Northern California had pacific ocean views like these?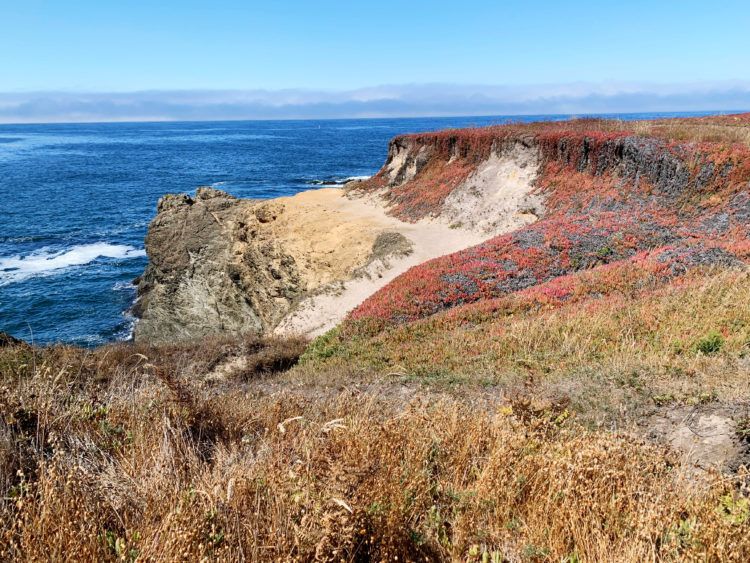 I'm still in shock. The amount of times I made my husband pull over on the side of the road is kinda hilarious. To me, not him. :p
My advice: pack a bathing suit, some wine, and go wild. Yolo, right?
Star Gaze
Mendocino gets dark at night, yo. Like, really, really, really dark. Can't see anything without a flash light dark. There aren't many lights in town, and we hardly saw any street lights (especially not on the windy roads through the forest — be careful!).
This sets up the perfect opportunity for star gazing. No light pollution = billions of stars. Since we were staying at a private house through AirBnb (sign up here to get up to $100 off your first stay), we threw our sweatshirts on and feasted our eyes on the sky.
I even attempted to get some shots – but my star photography is not up to par and I couldn't figure it out!
I think I even saw more stars than when we were in Hawaii (shhh… the Maui gods wouldn't be too happy I shared that).
Where to Eat in Little River, Mendocino, and Fort Bragg
Frankie's: This small restaurant is known for both their pizza and ice cream – what could possibly be better? And plus, the patio seating is perfect on a bright sunny day!
Don't feel like waiting on line at Cowlicks? Frankies serves Cowlicks Ice Cream, so you can get the good stuff without the crowds.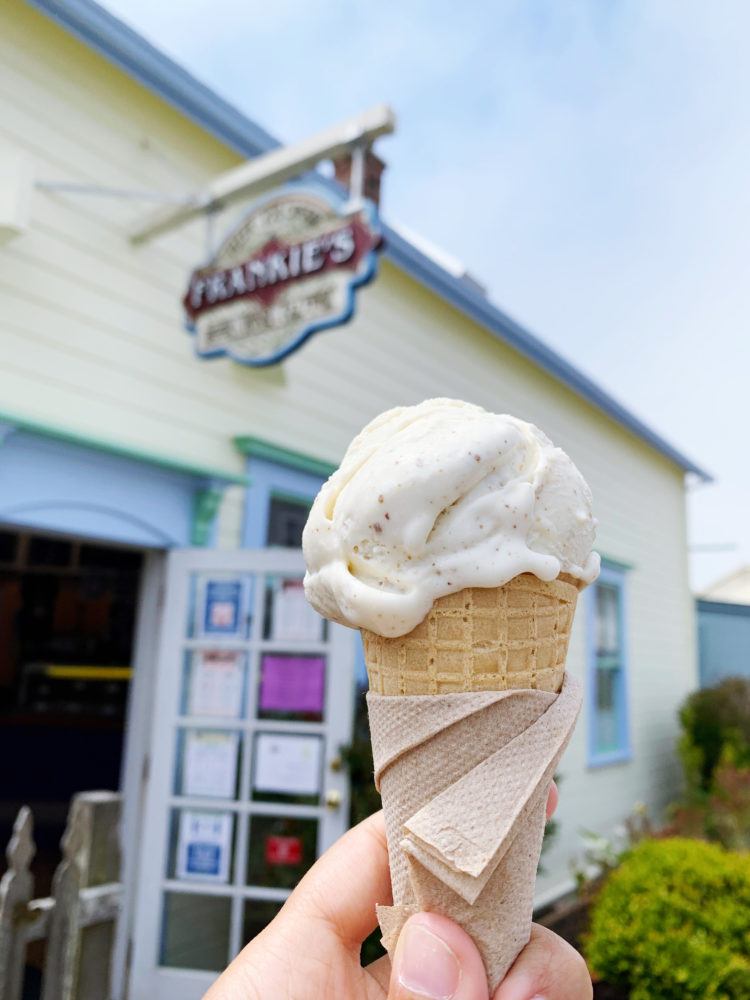 Make sure to try the candy cap mushroom flavor (it doesn't really taste like mushrooms, more like vanilla with a hint of brown sugar?), and Hokey Pokey (with honeycomb aka it's super sweet).
Psst – Frankies is closed on Mondays, so plan to visit another day of the week 🙂
MacCullum House: I heard people raving about the atmosphere and food, but we sadly missed this place. We ran outta time! Definitely the spot to be for a cute brunch. Kinda expensive, but kinda worth it.
Patterson's Pub: A local favorite in the area. Patterson's is beaming from morning 'til night, and offers your normal pub fare. Prices are good, beers are flowing, and you're sure to find an interesting crowd at the bar. The pub does not allow anyone under the age of 21 to enter, so keep this in mind if you're bringing your kiddos along!
Don't you just love how the green car matches that building so perfectly? Oh, just me? 😮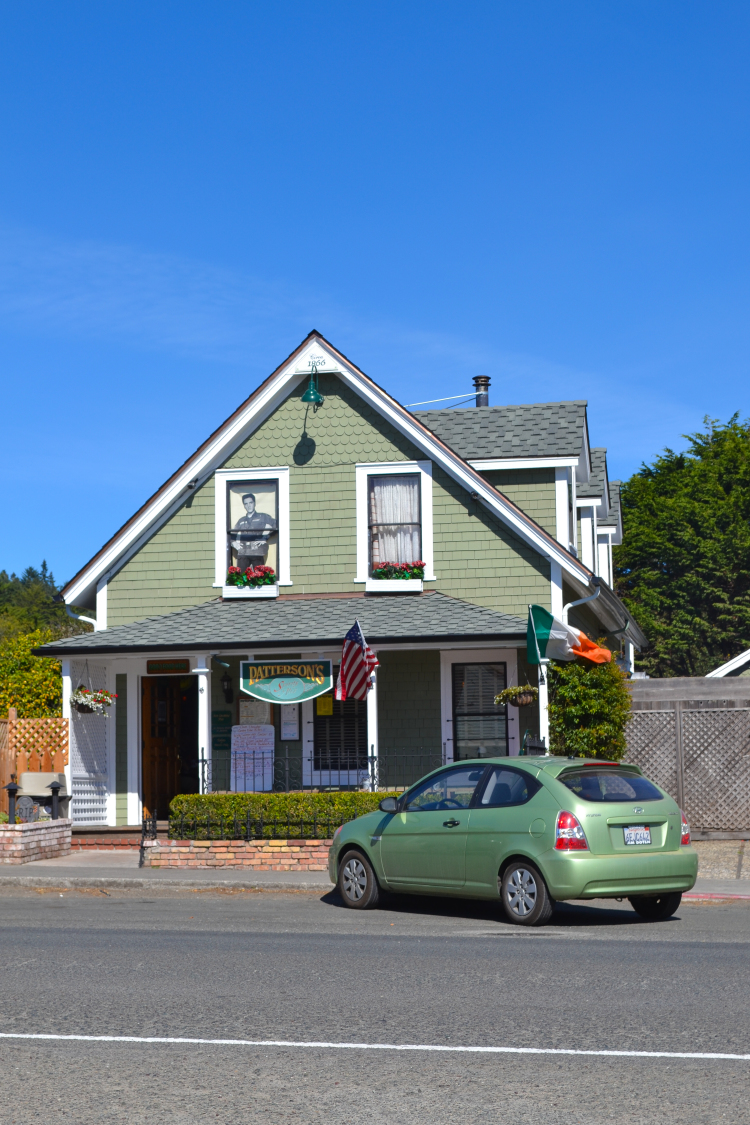 Wild Fish: Wanna surprise your partner with an amazing meal and ocean views? Make a reservation (the place is super tiny) at Wild Fish, a super romantic fine-dining restaurant. And their speciality – fresh seafood! The pan-seared swordfish and cioppino were absolutely delicious. Get some local wine and sticky toffee pudding. (Little River)
Cowlicks Ice Cream: Possibly the best ice cream I've ever had. And boy do I eat a lot of ice cream. Be prepared to stand in a very long line – but trust me, this chilly treat is worth the wait.
Raspberry chocolate chunk, you have my heart. Always and forever. And those crispy handmade cones. Pure perfection. [If you look behind the counter, you'll see them making each cone hand by hand. It's a pretty cool process.]
Jenny's Giant Burger: Another local favorite, and another place you'll most likely wait in line. But hey, a place must be good enough if people stand around waiting. That, or it's cheap, haha. Jenny's is a bit of both. High on flavor, low on cost. My favorite combination. 😉
I was too busy stuffing my face I forgot to take a picture. #sorrynotsorry. Old fashioned burgers done right. It's a family run establishment that has been in the area for years and years – the locals even call ahead so they don't have to wait in line. Tiny place with about 5 tables inside and 5 outside.
Mendo Cookie Co: Warm, gooey, straight-outta-the-oven cookies, enough said. Oh, and that they have tons of flavor combinations. Oatmeal, chocolate chips, butterscotch chips, walnuts, coconut, peanut butter, etc, you name it!
This is a must stop for locals, passersby and anyone visiting Fort Bragg/Mendocino. They even have a walk up window or dine in cafe type shop. My suggestion: have one person wait in line for ice cream at Cowlick, the other get some cookies, and enjoy them on line. That's my kinda afternoon.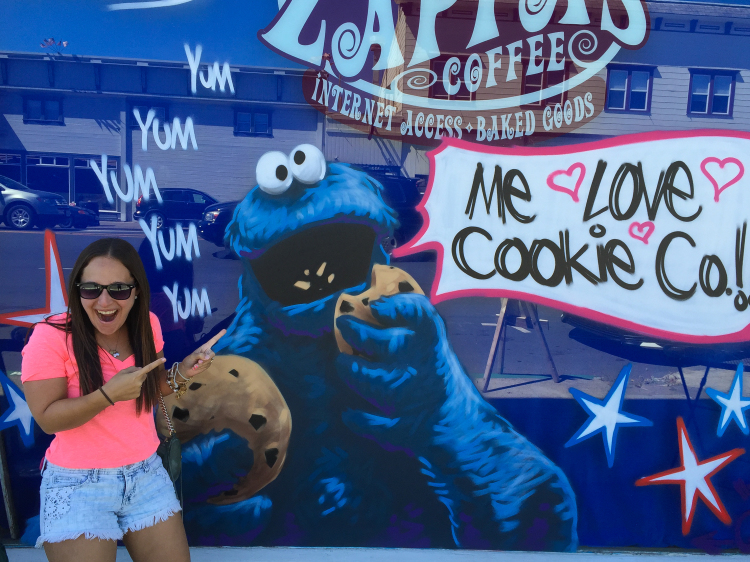 Goodlife Cafe and Bakery: Earthy and organic. That's how I would describe this breakfast joint. Lots of breakfast options, some more healthy than others (beware of the pastries – they are delectable). You can tell it's a hip spot to hang out – they place was pretty packed even at 9am.
Little River Inn: A good place for a romantical dinner (yes, I made that word up, I kinda love it). Service was a little lacking, and we were bummed we couldn't see the sun setting.
My recommendation: eat at the bar, arrive right before sunset, and you'll be able to witness the entire spectacle while eating some Dungeness crab ravioli in sweet pea puree and sipping some vino. Still pretty romantical to me.
Where to Stay in Mendocino:
Glendeven Inn & Lodge (my top pick)
If you're looking for a romantic place to stay, look no further than the Glendeven Inn. I can't stop gushing about our stay there, I really can't!
From the in-room wood-burning fireplace and the homemade breakfast to its location surrounded by the lush Van Damme State Park on 3 sides and within minutes to Wild Fish (our favorite spot for a dinner date), our stay was nearly perfect.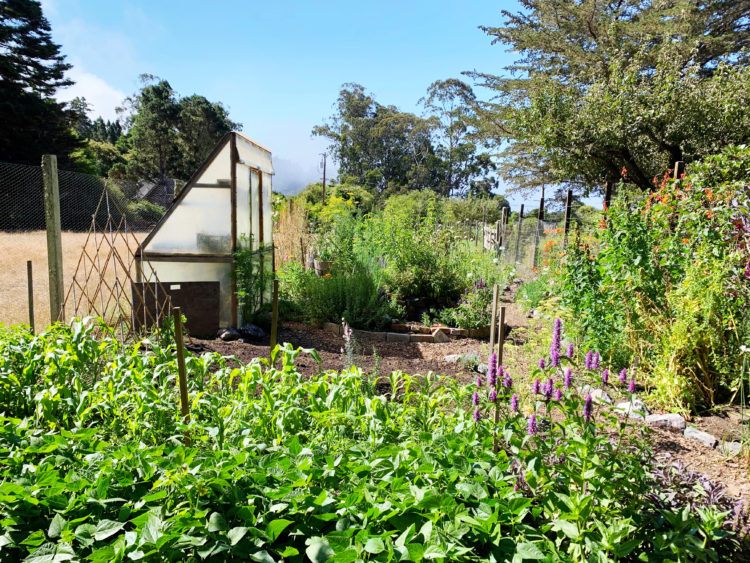 And it wasn't just any old ordinary breakfast – we had freshly baked zucchini breads, mediterranean quiches, fresh OJ, berry cobblers, etc delivered straight to our door at 9am each morning.
Get this – it's literally farm-to-table as they get all their ingredients from their house farm; farm-fresh eggs, organic veggies, handpicked fruits (all vegetarian just FYI).
Our room faced the chicken coop and llama pasture so we watched the animals from our windows while we ate breakfast (we later fed the chickens and said hi to the llamas)! By far one of our most memorable hotel stays to date!
Choose one of their modern farmhouse rooms in the lodge – super upscale furnishings and large windows with tons of natural light! And ohhh the bed – memory foam and oh so comfy!
READ REVIEWS, FIND PRICES, and BOOK YOUR STAY HERE.
Sea Rock Inn: We also passed by the cottages at Sea Rock Inn after walking around the Headlands, and I think we wanna check that place out next time we visit! From the looks of it, I think they'd have great ocean views!
Heritage House: Looking for a romantic seaside escape in a historic Gold Rush farmhouse? We passed this spot numerous times as well, and I'll be adding it to my list of places to stay in Mendocino.
AirBnB is your best friend around here. Sure, the bed and breakfasts look (and are!) cozy, but they come with a hefty price tag. My husband and I stayed at the cutest little cottage in the woods, which was literally on private land in the middle of the forest.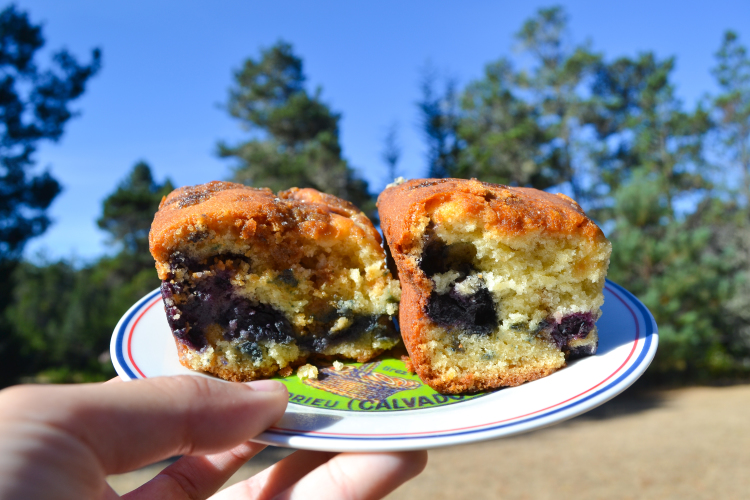 The sweetest lady welcomed us to her home, and even treated us to her famous sour cream blueberry muffins (people rave about them in the comments on AirBnB, they're that good).
Unfortunately, she just sold the place, and is not taking any more Air BnB-ers. BUT don't fret – there's plenty of other notable spots on AirBnB. Have a look around and find your perfect stay!
And remember, Get up to $100 off your first stay with AirBnB here!
Have you ever spent a weekend in Mendocino/Fort Bragg? What was your favorite of all the things to do in Mendocino?
Looking for more California content? Explore my other California guides here!
Did you know that …
When you purchase something through our links, we earn a small fee (but you still pay the same)! Win-win! If you found this article useful, consider using the links within the article or below. Thanks for your support!