Heading down to Southern California and looking for the best things to do in Huntington Beach? Look no further – this Huntington Beach blog has everything you need to plan your stay!
Close your eyes and think of classic California. I bet wide-open beaches lined with palm trees, people cruising on their bikes, surfers cruising the waves, and perfect sunsets along the pier come to mind. And that beautiful place you're picturing? Well, my friends, that is the ever-so-stunning Huntington Beach, California.
Somewhat of a sleepy little beach town compared to beaches in nearby Los Angeles, Huntington Beach is a great place to escape. It's touristy, but not too touristy. The beaches are huge and you won't have to worry about fighting for a spot. You can pretty much have whatever you want during a vacation here, whether you prefer luxury accommodations or budget hotels, nature, shopping, sports, spas, fine dining, and of course, the beach.
We love driving down the California coast – we do sections of it every few months (sometimes even more often). And one of our favorite weekend trips? Spending a few days relaxing and beachin' it up in Huntington Beach. It's kinda a long drive from San Francisco (where we're based), but always well-worth it in my opinion. We're longing to go back and explore more of the area soon!
I've asked destination-expert Heather from That OC Girl (who actually works in HB's tourism industry so you know for sure she knows her stuff) to share with us the best things to do in Huntington Beach and some of her favorite places to eat.
When to Visit Huntington Beach
In all honesty, there's never a bad time to do all the things in Huntington Beach, and it's pretty much endless summer over here. Expect sunny days and cool balmy nights, with average temps in the mid-60s to low-80s F (aka near perfect weather). And yes, unlike Northern California, you can go to the beach even in the winter.
The weather is comfortable and mild year round, and thankfully, without much rain (although showers occur most frequently from December to February). Since the town is right next to the ocean, it also thankfully never gets too hot.
With that being said, the most popular time to visit Huntington Beach is during the summer season of June to August. Fall is another popular time to visit, since a bunch of popular events happen during this time, such as the Great Pacific Air Show and the Vans US Open. Do note that
How to get to Huntington Beach
DRIVING: Coming from other parts of California? Huntington Beach is roughly an hour from Los Angeles and 6 and a half hours from San Francisco. It makes a great addition on any California Coast road trip, although do note if you're planning to drive down Highway 1 (the Pacific Coast Highway) instead of inland on the 101 and/or the 5, it'll take significantly longer.
FLYING: If you're flying, the closest airport to Huntington Beach is Orange County's John Wayne Airport (SNA), a 25-minute drive away. The next best option is Los Angeles (LAX), which is about a 50-minute drive. However, I'd opt for John Wayne Airport over LAX if possible – it's a much easier option to fly through since it's significantly smaller with tons less traffic (within the airport and on the nearby roads).
How to Get Around Huntington Beach
Want my honest opinion? Rent a car from the airport. However, if renting a car isn't really your style, Uber and Lyft operate throughout the city, so that's another option. And be sure to take advantage of the shuttle if it's running. It normally operates throughout the summer and for major events, but is sometimes paused due to budget restrictions so it's best not to 1000% rely on that, unfortunately.
Parking in Huntington Beach
Thankfully, parking isn't too difficult in Huntington Beach. Unfortunately, you'll have to pay for most of it. Most of the parking in the major downtown and beach areas of Huntington Beach is metered, along the Pacific Coast Highway and adjacent streets downtown. Beach parking lots can be found on the beach side of the Pacific Coast Highway and cost up to $30 per day, which can get quite pricey if you're only planning to spend an hour or two there!
Local tip: If you're looking for free parking, you can try the residential areas several blocks away from the beach or north towards Dog Beach. You'll just have to walk a little!
Where to Stay in Huntington Beach
The options below are all in Downtown HB (as they're the closest to the most popular things to do in Huntington Beach), but be sure to check out hotels along Beach Blvd and Sunset Beach as well.
Hyatt Regency Huntington Beach Resort & Spa
The Hyatt Regency is a gorgeous resort that has everything you need including 3 restaurants, a grocery store, a spa, salon, and 2 pools, one of them with a kiddie section.
You literally won't even need to leave the resort if you don't want to (although that'd be a shame because you'd be missing out on all the things to do in Huntington Beach, of course). Plus, you don't even need to leave if you want to hit the beach – The Hyatt Regency is the only hotel in Huntington Beach with a bridge connecting the resort to the beach!
This is a great place to stay if you have children, a large family, or are looking for something a little romantic.
The Waterfront Beach Resort, A Hilton Hotel
The Waterfront Beach Resort added a second tower of rooms to their property, complete with an amazing rooftop lounge that gives you the best view of Huntington Beach and the Pier. You are going to love the views at this resort!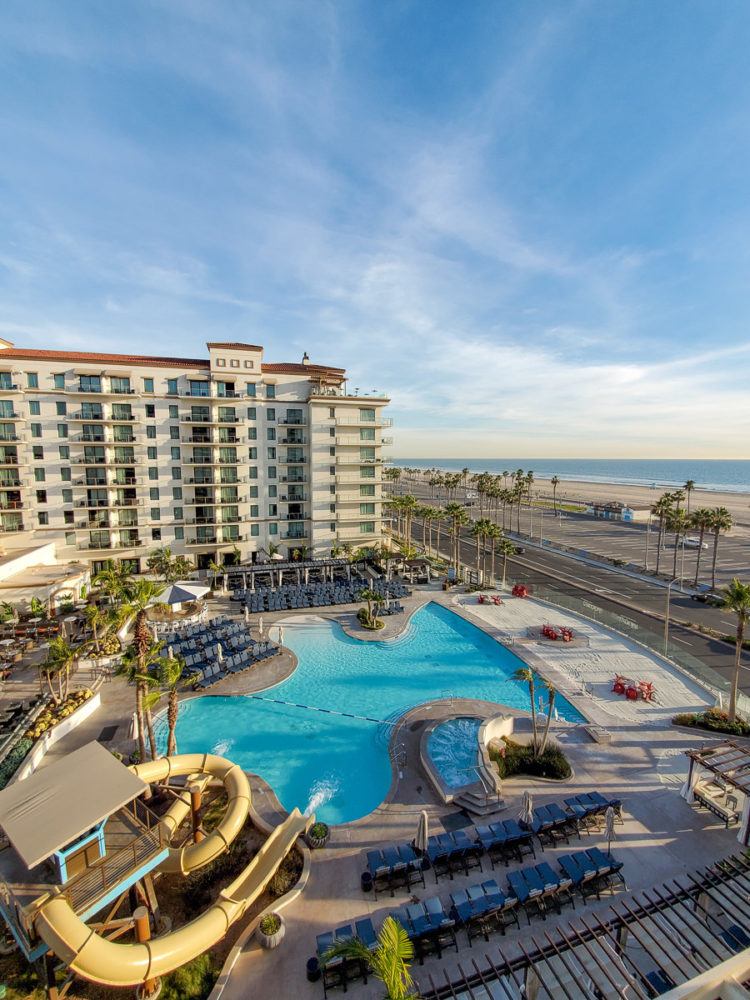 The Waterfront has lots of fun perks like private cabanas and fire pits at the pool area, a kid's club, and Waterfront Adventures, which offers bike rentals and bonfires with s'mores on the beach. Hellooooo- I said s'mores, and nothing's better than some chocolatey marshmallows. Plus, you'll have an amazing spa and several restaurants to choose from.
This is another great place to stay if you have children, if you are a couple, are looking for something with a great view, or love s'mores of course.
Paséa Hotel & Spa
The Paséa Hotel & Spa embraces the laid-back coastal culture throughout the resort. From the moment you step in you see the super cool décor and have this amazing smell that just reminds you of some tropical getaway. The Paséa is super chic!
It's also in a great location since Pacific City is just steps away, and Downtown and the Pier just a block away. The hotel features a Balinese-inspired spa, a treehouse restaurant/bar area, and of course rooms with amazing ocean views.
This is a great place to stay for solo travelers, couples, or a girl's getaway!
Kimpton Shorebreak
The Kimpton Shorebreak is a boutique resort on 5th & PCH, just steps from the Huntington Beach Pier. It's the perfect hotel for surfers – I mean, the best surf spot in all of Huntington Beach is right across the street.
What's awesome about the Shorebreak is the feel – it's completely rad, surfer-style, laid-back, and just has this awesome California vibe to it. You really have to experience it yourself to understand!
At the Shorebreak you can have the pleasure of checking into your ocean view room, throwing some music on the record player while you get ready for the day, taking the beach cruiser bicycles out for a spin, free happy hour, and having a bonfire with s'mores at the end of the night.
The Kimpton might not have everything the other large resorts offer, but they make up for it with the little details, including the surfboard parking.
This is a great place to stay if you like boutique hotels, are a business traveler, a couple, on a trip with friends, or like to surf.
Huntington Surf Inn
The Huntington Surf Inn is currently the top-rated hotel on TripAdvisor, so they must be doing something right! It's in a prime location right across from the beach, and they have beach goodies available for you to use on your beach day. But, with only 9 rooms you have to book in advance!
This is a great place to stay if you are on a budget.
Things to do in Huntington Beach and Suggested Itinerary
I've put together a suggested 4 day itinerary full of things to do in Huntington Beach, along with my top restaurant recommendations. Whatever you do, don't miss the pier and Sushi on Fire; they're my all-time favorite spots in Huntington Beach and I can't imagine a trip without them!
Day 1: Your Intro to Laid-Back Surf City
Stop 1: Lunch at Sushi on Fire
Once you arrive in Huntington Beach, head straight downtown for lunch at one of the top-rated restaurants, Sushi on Fire. They have something like 70 specialty rolls to choose from, and that's on top of their traditional rolls. The menu is incredible and of course, ridiculously delicious. You MUST get some cold sake! You may have a bit of a wait since this place gets pretty busy, but the rolls are worth the wait – I promise!
Stop 2: Downtown & Huntington Beach Pier
Get a feel for the vibe in Huntington Beach by exploring Downtown and the Pier. One thing you absolutely have to do is walk the Pier and watch the surfers for a little bit. Huntington Beach is home to some pro surfers, and sometimes they can be spotted out there catching a wave.
If you are up for it, stop at Ruby's Diner for a classic milkshake! Ruby's is awesome because it's on the end of the pier so you have a really pretty ocean view to enjoy while you eat. Milkshakes with a view? Yes please! There's also a Tiki Bar upstairs called Jan & Dean's Tiki Lounge if you're not full from lunch, haha.
Stop 3: International Surfing Museum
If you're interested in learning more about the surf culture here in Huntington Beach, stop at the International Surfing Museum. Say hello to the father of surfing, Duke Kahanamoku, see some cool boards, and just soak up the chill vibes.
It's a small space, but entry is free and locals work there (meaning they can give you a ton of information not only about surfing but about other cool things to do in Huntington Beach).
You can't miss the largest surfboard in the world on display outside the museum; it's 42 feet long, 11 feet wide, and 16 inches thick…. I promise you'll see it. Take a photo and watch the Big Board video at the museum. The board actually won a Guinness World Record in 2015, for, you guessed it – Largest Surfboard in the World. And get this – it actually had to be forklifted into the water!
Continue your walk down Main Street for the Surfing Walk of Fame. Just like Hollywood's star-studded Walk of Fame, you'll find all the surfing stars on plaques on the sidewalk. It's kinda a novelty of Huntington Beach, and something you cannot miss if you've ever watched a surf competition.
If you're a pro (or wanna-be) surfer dude (or dudette, haha), this will be one of those things to do in Huntington Beach that you just can't miss!
Stop 4: Pacific City
Huntington Beach's newest shopping and dining center is at Pacific City, just a short walk from Main Street. You can find stores like Sephora, H&M, and Free People here, as well as a bunch of restaurants and a food court. Once in a while, special events like live music are held here too! Scope the place out and see if there's a restaurant that looks interesting for tomorrow's dinner.
Stop 5: Dinner at Duke's
If there's one restaurant you absolutely must try, it's Duke's. This Hawaiian themed restaurant is all about fresh seafood! Everything on the menu is great, but make sure you order the Hula Pie for dessert.
Stop 6: Beach Bonfire
Finish the day with a bonfire on the beach. Even better if you can arrive before sunset because sunsets are always amazing in Huntington Beach!
Waterfront Adventures (by The Waterfront Beach Resort) has this awesome beach bonfire package complete with a bonfire butler. You don't have to do anything but show up! The package comes with s'mores, water, and chairs. Reservations are recommended and can be made through the hotel's concierge.
Day 2: Hit up the Boardwalk and Harbor
Stop 1: Breakfast at Sugar Shack
Start the day with a yummy breakfast at Sugar Shack Cafe alongside tons of surfing memorabilia (no joke – there's a lot of it). This homey American cafe is the number one restaurant in Huntington Beach, so I can guarantee it's going to be good. They have all the classics like omelets, burritos, pancakes, and French toast. And if you're lucky, you'll score a table outside on the patio!
Stop 2: Rent Beach Cruisers
Another #1 thing to do in Huntington Beach? Rent a beach cruiser bicycle and cruise along the boardwalk! You'll find several places to rent a bike, with choices of either a standard cruiser or an e-bike, with the latter being super fun to cruise around on!
Once you've picked out your bike, ride down to Dog Beach and then Bolsa Chica State Beach. If you have time and it's open for the season, stop at SeaLegs at the Beach for drinks. And get this – it's technically the only place you can legally drink on the beach! Just don't eat or drink too much because you have to be ready for the next stop!
Stop 3: Golden Road Brewing
Golden Road is Huntington Beach's newest brewery, and it's conveniently located on the beautiful Huntington Harbour in Sunset Beach. Have some lunch (the fried avocado tacos and lobster mac and cheese are popular dishes) and sip some local beer while enjoying the view. Can't get much better than that.
Stop 4: Huntington Harbour
Next, make your way to Huntington Harbour to get your activity on! You can choose from kayaking or stand up paddleboarding with Sunset Kayak Rentals or OEX Sunset Beach. If you don't feel like doing any manual activity you can also rent a Duffy boat with Huntington Harbour Boat Rentals.
Or, if you feel like splurging a little bit you can go on a wine charter with Prince Charters, or have Wagner Charters take you out for fishing or a sightseeing tour! The harbor has oh so many things to do, it's hard to pick just one!
Stop 5: Dinner at Pacific City
After that long day of action take some time to chill and enjoy a relaxing dinner at Pacific City. There are several restaurants to choose from, but I'm going to recommend trying Ola Mexican Kitchen. Their gourmet tacos are great and you can mix and match.
Day 3: Ultimate Relaxation (Yoga, Pool, and Spa)
Stop 1: Beach Yoga
Start off the day getting your ohm on. And no better place to feel your best self than with a yoga class on the beach. These are easily found on Meetup, Facebook, or even through Toes on the Nose (located within the Hyatt). Do your research ahead of time and figure out which class you want to participate in and make reservations if necessary. Not a yoga person? Skip this and head straight to the spa.
Stop 2: Spa Session
Again, if you're staying at one of the major beach resorts (besides the Shorebreak), you have an amazing spa right in your hotel! Schedule a massage treatment, a facial, or whatever you prefer and spend some time pampering yourself.
Need some recommendations? The 5,800 square foot Balinese-inspired Aarna Spa at the Pasea Hotel and Spa is a great choice (there's even a private spa garden with fire pits and water features), and Drift, located at The Waterfront Beach Resort, is known for its modern marine ambiance and eucalyptus-infused steam room. Can't go wrong with either!
Stop 3: Lunch at Jan's Health Bar
If you haven't guessed it already, today's theme is all about living a healthy lifestyle, which is the way of life here in Southern California. Head over to Jan's Health Bar for a healthy and delicious lunch. Their salads are to die for, as are their made-to-order sandwiches and smoothie bowls, all made with fresh ingredients.
Stop 4: Pool or Beach Time
For more relaxation time (because we all deserve a little R&R, don't we?), head back to your hotel and enjoy the pool, or hit the beach if your hotel doesn't have a pool (no worries).
And don't fret – there's lots of beaches to pick from: City Beach (right in front of four major resorts), State Beach (a quieter location located a bit south of the Hyatt), Dog Beach (north of City Beach, but not recommended for sunbathing), Bolsa Chica State Beach (north of Dog Beach), or Sunset Beach (further north, but quieter).
Stop 5: Dinner at LSXO
Super private and luxurious, although everyone's welcome! There's even a hidden door (LXSO is actually hidden within another restaurant in Pacific City)! Expect classic Vietnamese eats, old-school hip hop, and classy cocktails.
Don't miss the Blue Gold Cake (it's quite popular), the egg rolls, shaken beef, papaya salad, and the sea bass. Be warned – you need to make a reservation for this place though, as it's quite popular!
Stop 6: Drinks at Offshore 9
Looking for the highest rooftop bar in all of Orange County? Check out Offshore 9 Rooftop Lounge at The Waterfront Beach Resort – 9 floors up! And you betcha there's panoramic views over here!
The lounge features shared plates (ohhh the short-rib fries), hand-crafted specialty cocktails, tons of wine and champagne selections, and stunning views over both Huntington Beach and the Pier. Reservations might be necessary during the summer, so call in advance!
Day 4: Hang Loose during a Surfing Lesson
Stop 1: Take a Surf Lesson
A trip to Huntington Beach is just not complete without a surf lesson, I mean this place is called Surf City USA for a reason. Thankfully, there's tons of surf schools to choose from, just make sure they are certified to teach and have a license (gotta be safer than sorry!).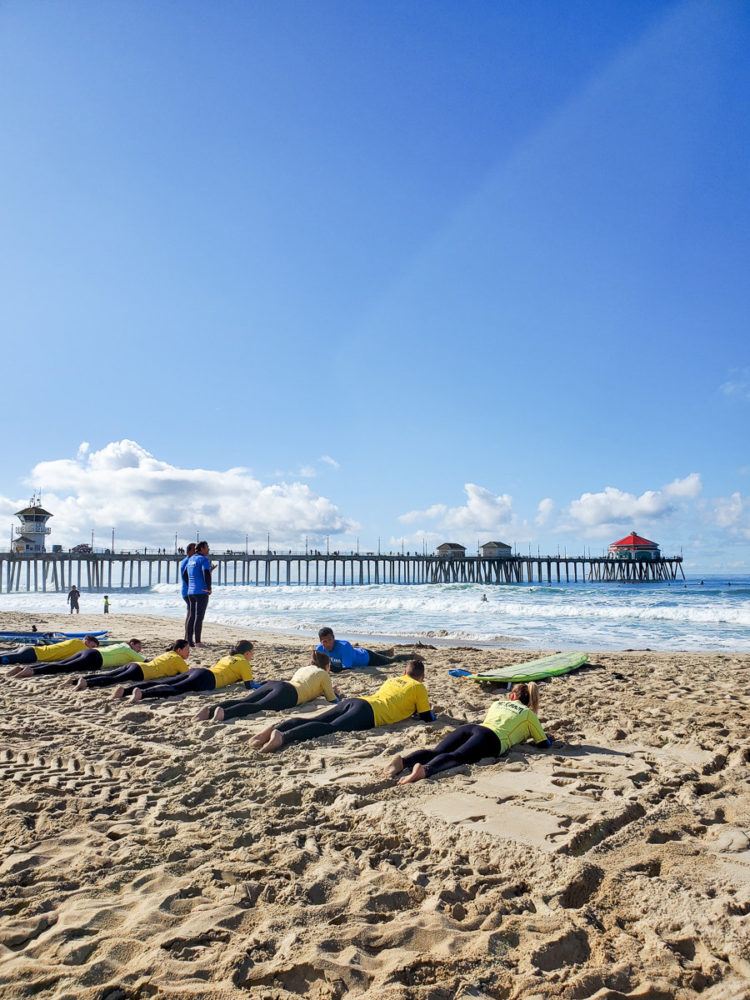 Please oh please don't take a lesson from someone who isn't. How do you know? Check the city's website to get a list of permitted surf instructors. One that I can personally recommend is McKinnon Surf. He has years of experience and is a cool dude to work with!
Stop 2: Breakfast at Pacific Hideaway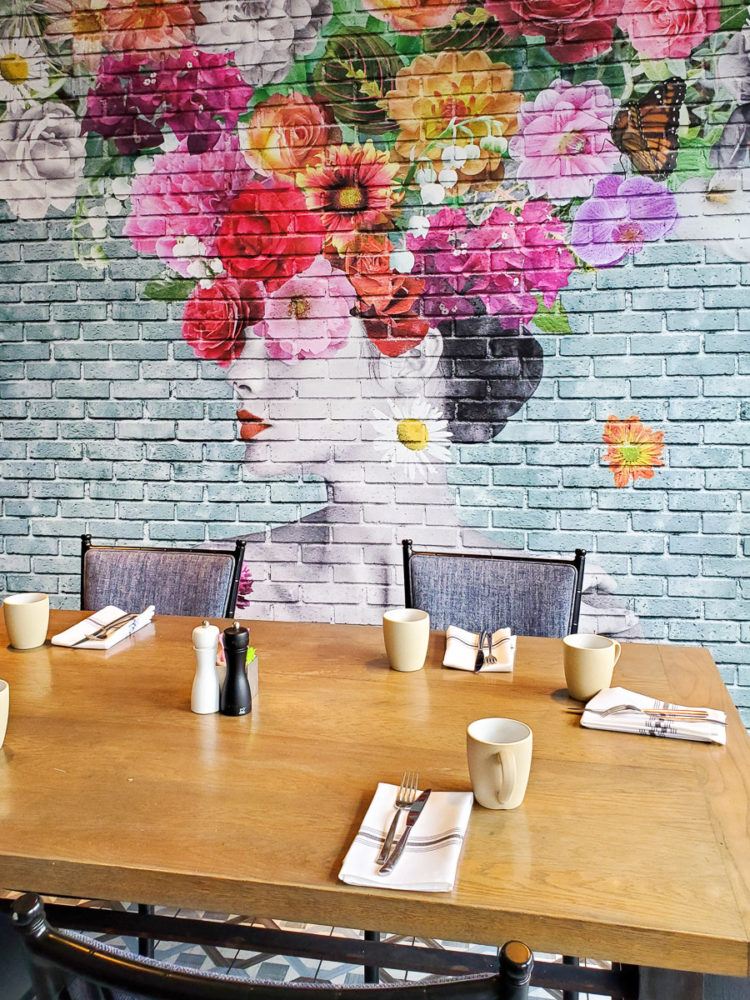 Phew, surfing takes a lot outta you! Time for some brunch at Pacific Hideaway located in the Shorebreak (you can easily walk over from the beach). This chic eatery not only offers elevated coastal cuisine, craft cocktails, and local beer, but the views of the iconic Huntington Beach pier from the (pet-friendly) patio are killer!
And plus, it's inspired by global surf shacks, so kinda perfect after your surf lesson.
So there ya have it – all my favorite things to do in Huntington Beach! While it might seem small, there's really so much to do here! Have you visited HB before? What are you adding to your Huntington Beach itinerary for the future?!
Looking for more California content? Explore my other California guides here!
Did you know that …
When you purchase something through our links, we earn a small fee (but you still pay the same)! Win-win! If you found this article useful, consider using the links within the article or below. Thanks for your support!