Are you ready to be blown away by shimmering lakes, snowy mountain tops, and enough craft beer to last a lifetime? Get ready for an Oregon road trip, my Pacific-Northwest-craving friends. Sharing tons of details below to get you started planning your trip to the Oregon coast and beyond!
Just last year I had never visited Oregon before. Yeah, yeah, shame on me (I kiiinda recently moved to the west coast so you'll cut me some slack, yea?) ;p I visited for the first time last year, and let's just say I'm a tad obsessed. I had heard Portland was kinda cool, and after one look at Crater Lake I knew I had to make it there sooner than later. Alas, my first few trips to Oregon were planned, and I've now found myself in the state 3 times within a ~6 month period (something that just NEVER happens).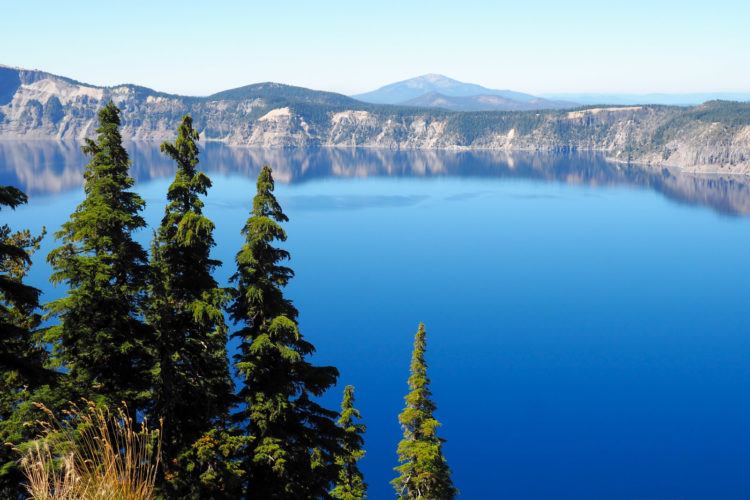 So without further ado, I'm sharing my ideal Oregon road trip, from the quirkiness that is Portland south to the dazzling still water of Crater Lake and west to the allure that is the stunning Oregon coast.
Oregon Road Trip Itinerary Overview
Stop 1: Portland (2-3 days)
Stop 2: Columbia River Gorge/Multnomah Falls (1 day)
Stop 3: Mt. Hood (1 day)
Stop 4: Silver Falls State Park (1 day)
Stop 5: Smith Rock State Park (½-1 day)
Stop 6: Painted Hills (½ day)
Stop 7: Bend (1-2 days)
Stop 8: Crater Lake (1-2 days)
Stop 9: Ashland (1 day)
Stop 10: Coos Bay / Southern Oregon Coast (1 day)
Stop 11: Newport, Tillamook, and Cannon Beach (1-2 days)
END: Portland
Over the course of the road trip, expect to drive approximately 24 hours (round trip) and around 1000 miles. You'll notice on the map below that I haven't included the drive from Portland to Silver Falls State Park (that'll add another 2 hours or so to the time listed on the map), as well as the 1.5 hour drive back to Portland from Cannon Beach (limits of technology). In order to complete this Oregon road trip in a timely manner (a week to 10 days or so), you'll be driving almost every day, with some being longer driving days than others. Plan accordingly and bring snacks! The time in the car doesn't have to be absolutely horrible. :p
→ Read next: Top Tips for Long Car Trips // Long Road Trip Essentials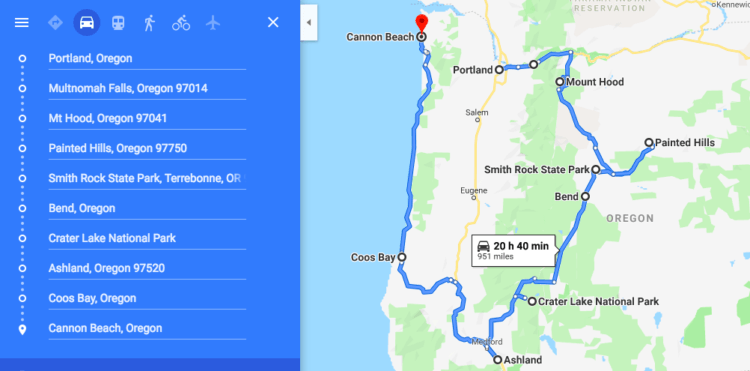 When to Visit Oregon
Like the rest of the Pacific Northwest, Oregon experiences four seasons. To be completely transparent (and as noted above), I visited these different spots in the state on a few different occasions. I visited Portland in early June, Crater Lake in early September, and Bend in the snowy winter months. Oregon is spectacular year round, but if you're on the hunt for some sunshine and minimal precipitation, I'd recommend planning your Oregon road trip between the months of April and September.
The best month for visiting the Oregon Coast is typically September, as the summer months are usually pretty foggy. It'll be the wettest throughout the state between November and March, and the warmest between June and September. The roads around Crater Lake typically don't fully open to cars until July, so keep this in mind if you're visiting prior!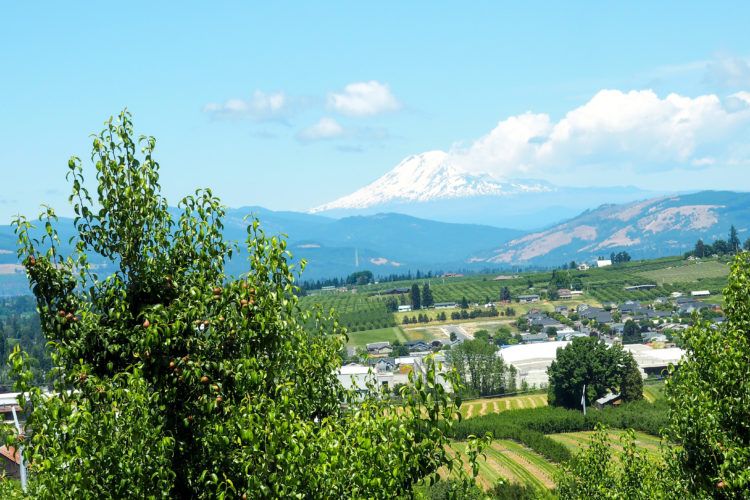 If you have the luxury of picking exactly when to take your Oregon road trip, choose September! The weather is glorious – little to no rain, clear coastlines, and warm weather. Just like my home state of California, Oregon typically experiences an Indian Summer, which lasts until early-mid October.
Getting to Oregon (and Portland in particular)
First things first, if you're not a resident of Oregon, you'll of course need to get yourself there! Since PDX is a major international airport, it's wise to start your Oregon road trip in Portland, as you'll be able to find decently priced tickets from throughout the US, highly dependent on the airport you're departing from. For reference, from SFO (San Francisco), I commonly see round trip tickets to PDX (Portland) for under $200, and many times under $150.
New Yorkers can fly to Portland for roughly $300 if bought far enough in advance. I swear by Skyscanner and Google Flights whenever searching for tickets, and more often times than not, find the cheapest prices on one of them. The ability to track prices (and get email notifications when the price drops) is top notch and one of my favorite features. Take advantage of Skyscanner, you guys, they're seriously the best.
If you'll be following this complete Oregon road trip itinerary you'll be doing a full loop from Portland, hence the need for round trip tickets from PDX. If you're coming from Northern California and don't mind doing a bit of extra driving, you can start this road trip from wherever you see fit (Crater Lake is roughly 7-8 hours from San Francisco, and the southern Oregon Coast – Coos Bay – is about 9 hours). Just remember that you'll need to head back to your original destination. 🙂
Since this is in fact a road trip, you'll need a vehicle to get you from place to place! Worth mentioning so you don't forget to account for the cost of a rental car when following this Oregon road trip! And since you'll be returning the car in the same place you picked it up, no need for pesky extra drop-off fees. I commonly use this booking site when searching for low-cost car rental options, and like Skyscanner, frequently find great deals on there!
I like to search via this site in order to compare rental companies to see who has the best price.
How Long Should This Oregon Road Trip Take?
In all honesty, that's a kinda hard question to answer, as the duration of the trip highly depends on your interests and how long you wanna stay in each place. I'd say a week if you're picking and choosing a few stops to 2 and a half weeks if you wanna see and do mostly everything on this Oregon itinerary at a leisurely pace.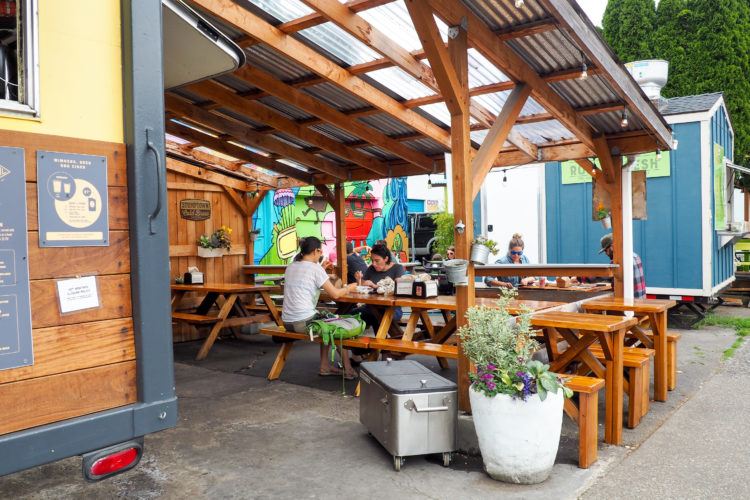 Now let's get this Oregon road trip under way!
The Complete Oregon Road Trip Itinerary
STOP #1: START IN PORTLAND (2-3 DAYS)
Portland, Oregon is best known for its delectable donuts, snobby coffee culture, orgasmic food, and, of course, for being weird. It is in their slogan after all! Two to three days in the city will give you enough time to see all the highlights, as well as eat to your heart's content. It's the best place to start your Oregon road trip since renting a car will be easy peasy if you're flying into PDX.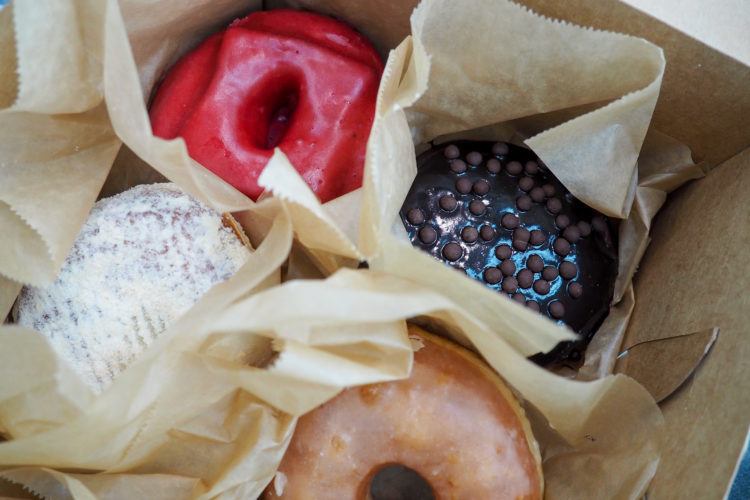 With two days in Portland, you can easily fit in these activities:
Pittock Mansion: Looking for spectacular views of the entire city? You'll find those here at Pittock Mansion. Note that while the view is free to admire, a ticket is required to tour the mansion grounds.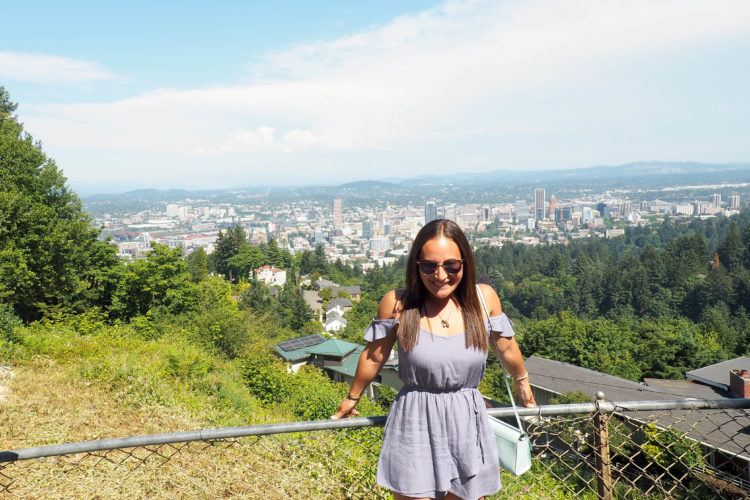 International Rose Test Garden (located within Washington Park): What's better than rows and rows of sweet-smelling roses? Hint: not much. The garden boasts over 10,000 of the pretty things, in every color combination imaginable (over 650 varieties)! Wander around for a half hour or so, and be sure to actually stop and smell the roses (yes, pun intended). Make sure you visit when the roses are in bloom (April through October, although June is the peak season). FYI – Entrance to the garden is free, but you'll need to pay a few bucks for parking.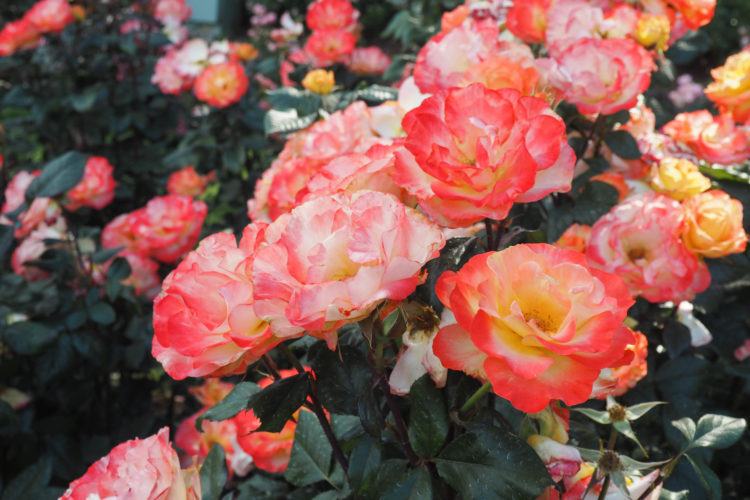 Powell's City of Books: Book lovers, rejoice! You can easily spend hours (and hours) exploring Powell's flagship store – you'll even need a map (which they happily supply). Be warned: this place is HUGE huge (like, multiple floors with rooms opening into rooms opening into rooms, etc etc). It actually takes up an entire city block and then some. If you can't find what you're looking for, you're just not looking hard enough – they have EVERYTHING imaginable and then some (new, used, rare, and even out-of-print books). I was like a kid in a candy store…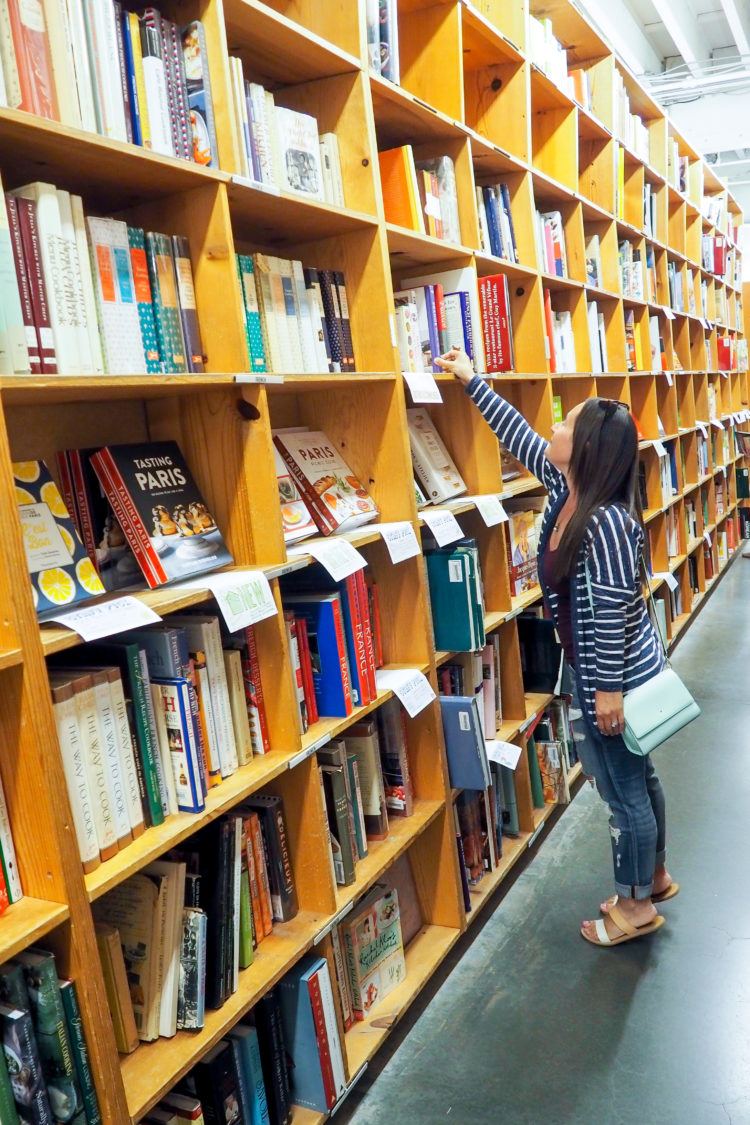 Keep Portland Weird Sign: Right across from Voodoo Donuts you'll find this quick photo spot → don't miss this iconic mural! The sign itself is just a wall in a parking lot, but just go, be weird, and take your picture. The actual address is 350 W Burnside St in case you can't find it (it's right behind Dante's).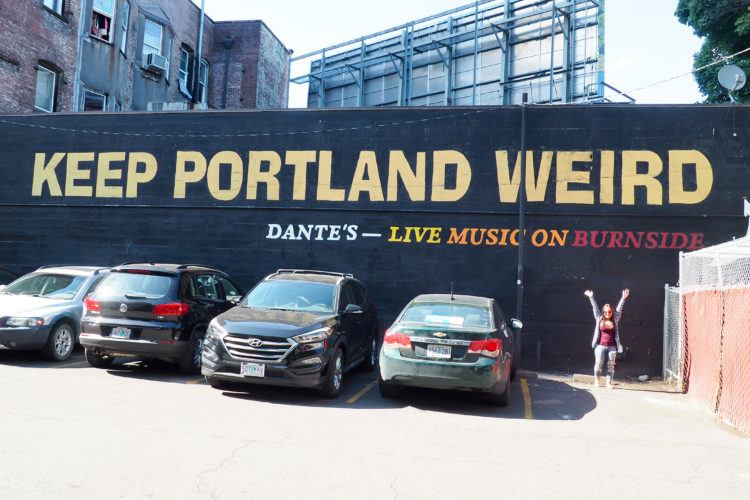 Tilikum Crossing: Have more time and looking for a scenic leisurely walk over the river? Head to Tilikum Crossing, also known as the "bridge of the people", a .35 mile pedestrian, bike, and light rail bridge with unparalleled views of the Willamette River. Smart, right? Why don't more cities have this (bridges that ban cars that is)? You can easily do this walk back and forth in under an hour. I reckon it'd be even more dramatic and scenic at night with all the city lights shining down on the river! Be sure to look out for the submarine near OSMI!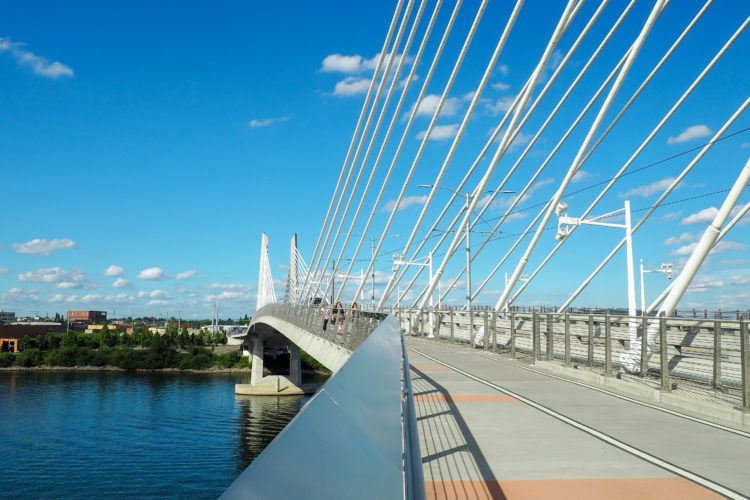 → Read Next: 3 Perfect Days in Portland
Where (and what) to eat in Portland (my favorites):
Pok Pok: order the Vietnamese fish sauce wings
Blue Star Donuts: just do it, more than once (calories don't count on vacation)
Coffee at Stumptown: grab some at the airport if you don't have time
Salt and Straw ice cream: try some of their wacky flavors, changing all the time!
Abyssinian Kitchen: some of the tastiest Ethiopian food around
Katchka (Russian): try the herring under a fur coat, Siberian dumplings, lamb with rice, and cauliflower schnitzel (all super tasty)
Pine State Biscuits: I'm drooling just thinking about my breakfast
Fried Egg, I'm in Love: the best egg sandwiches in Portland, in my opinion
Tov Coffee: located in a converted school bus; get "the mint thing", it's orgasmic
Voodoo Donut: a Portland must-stop, even if everyone says Blue Star is better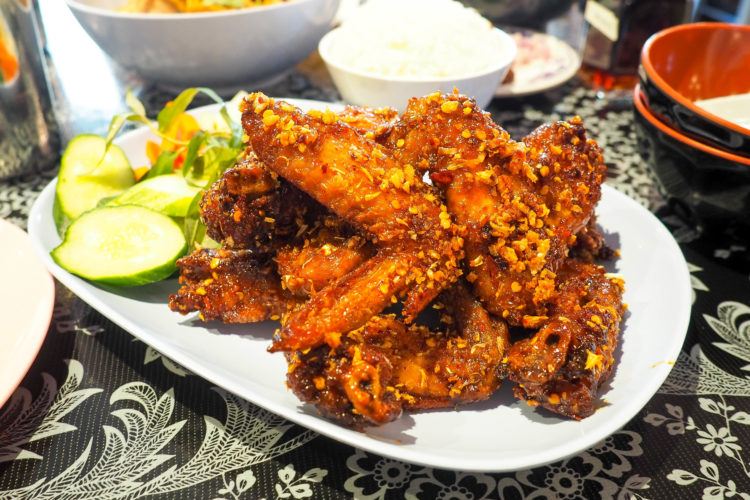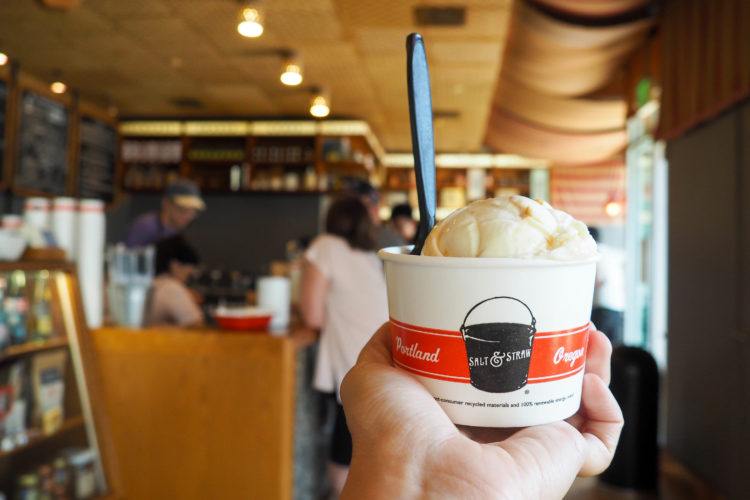 Sleep: Portland (I've been lucky enough to stay with friends/family when visiting the area, but I've heard fantastic things about Ace Hotel Portland, Jupiter Hotel, Kimpton Hotel Monaco, and Stay Pineapple at Hotel Rose. Browse all hotels in Portland here.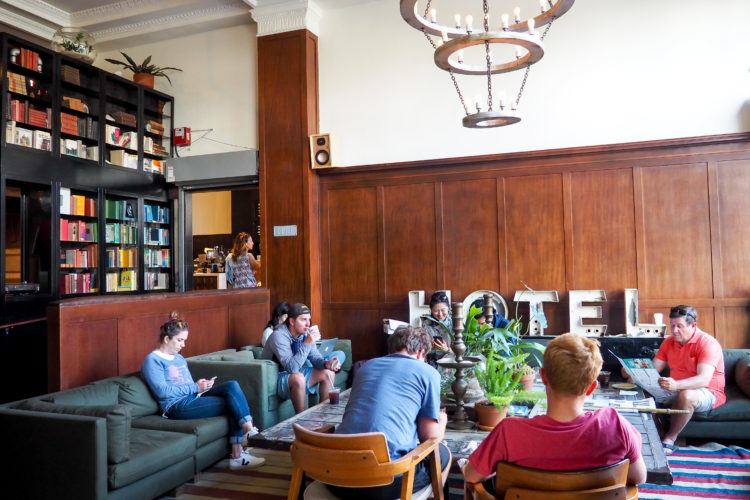 Stop #2: Multnomah Falls and the Columbia River Gorge (1 day)
Distance: 30 miles to Multnomah Falls | Driving time: 45 minutes + driving through the Gorge
It's time to grab those wheels (hint: car rental) and make our way towards our first official stop on this Oregon road trip, Multnomah Falls!
Being the tallest waterfall in all of Oregon state, a stop at Multnomah Falls really should be on any Oregon road trip itinerary, no matter how long or short. Looking up at the 600+ foot tall roaring cascade of icy water is awe-inspiring to say the least! It's actually the most visited natural recreation site in the Pacific Northwest (whoaaa Nelly), so be prepared to share the views with 34,534 of your closest Portland-loving friends if you come after 10am. Visit before 9am and you'll have the place almost to yourselves, season dependent.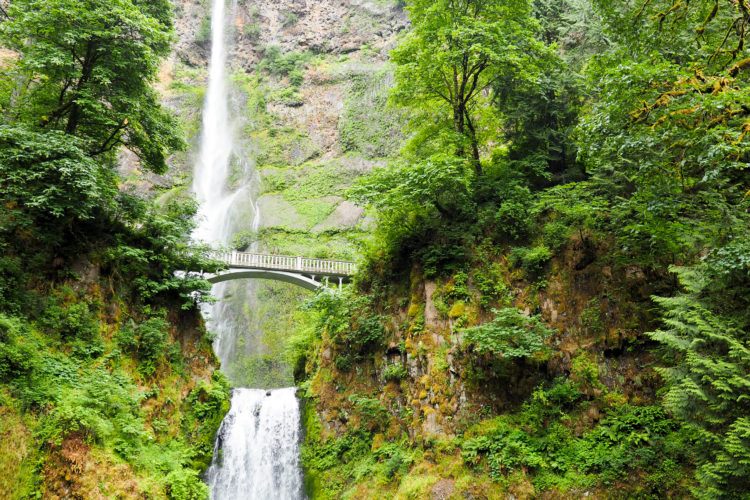 Once Multnomah Falls is outta the way (and as noted earlier, head here early due to the crowds that arrive by 9/10am), continue on your waterfall-finding journey – there's dozens upon dozens (!!!) of them in the Columbia River Gorge. The Gorge is essentially a canyon of the Columbia River, stretching more than 80 miles and up to 4,000 feet deep, and is kinda a divide between Washington and Oregon. With stunning vistas and enough waterfalls to last a lifetime, you'll want to carve out at least half a day to explore.
Note that trails close on occasion due to wildfires, so you'll want to make sure access is available before you set off on any hike. I've heard Horsetail Falls, Latourell Falls (it's a few minutes before Multnomah, but go afterwards to beat the rush at Multnomah), and Wahkeena Falls are spectacular – but all were closed during my June 2018 visit due to the horrific fire in 2017. Check for possible trail closures here.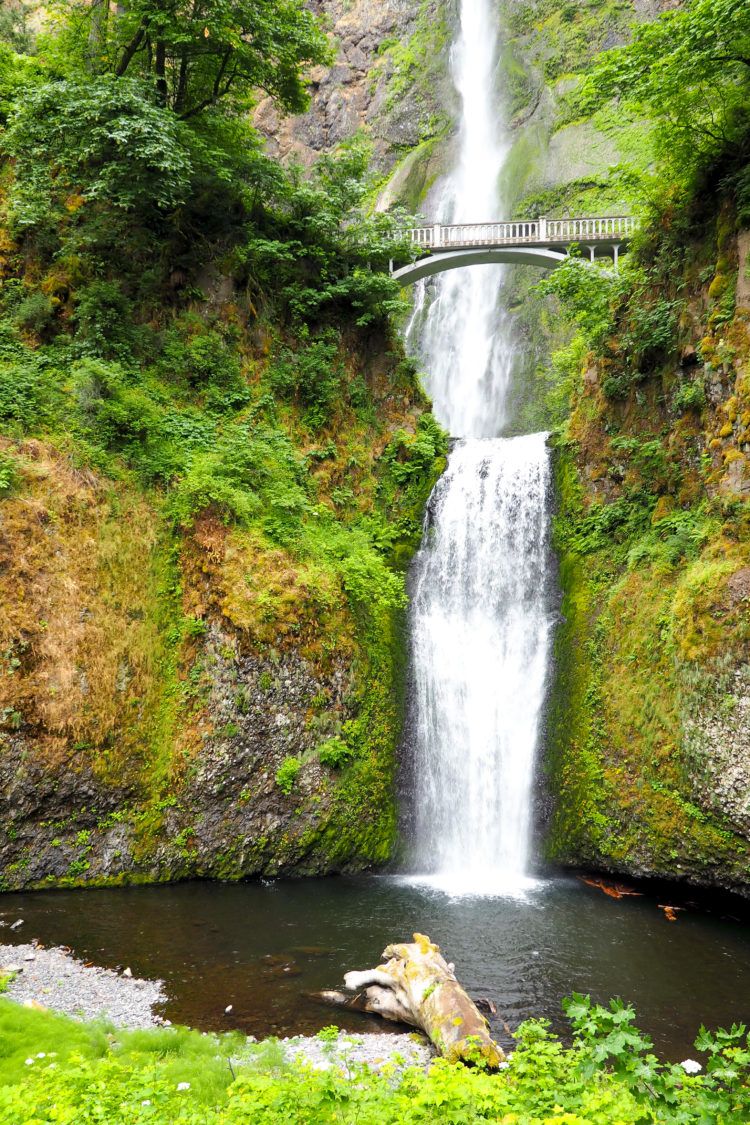 Note that it's about 45 minutes from Multnomah Falls to the town of Hood River, which is a good place to base yourself for the night. If you're exploring other waterfalls in the Gorge, you'll be even closer to Hood River.
Sleep: Hood River (Check out the Hampton Inn & Suites Hood River and the Best Western Plus Hood River – both great options). Browse all hotels near Hood River here.
Stop #3: Hood River and Mt. Hood (1 day)
Psst – if you're really pressed for time you can combine stop #2 and #3 into one long day. It's definitely doable, it'll just be a little rushed. Do note that if you plan on doing some hiking, you'll probably wanna split up the days, but your call! I visited everything in one day, but wasn't able to do all the hiking I wanted due to the trail closures as mentioned above.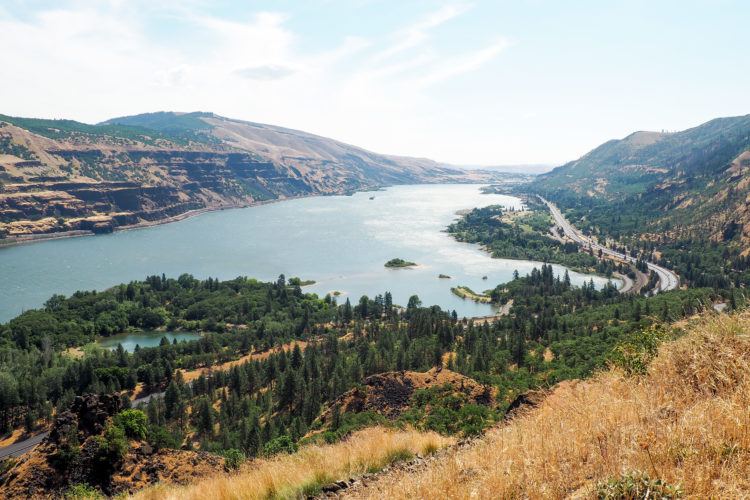 Distance: 47 miles to Timberline Lodge | Driving time: 1hr
Next up, Hood River, but first, a short pit stop at Rowena Crest. Sure, it's about 25 minutes outta the way, but most definitely worth it for that instashot (I'm sure you've seen it somewhere – haha)! So what is it about this place that makes it rather popular?! Yes, it's technically just a bend in the road but the surrounding scenery makes it a worthwhile stop.
This iconic horseshoe curve is actually one of the most photographed roads in all of Oregon! It does get pretty windy up here, so if you're planning on taking that insta-photo, please be extra extra careful! Note that you'll need to hoist yourself up and over the railing if you want more than just shoes in your shot (I was too much of a chicken to do so).
On your way to Mt. Hood, you'll most likely wanna stop in Hood River for some lunch. My suggestion – Solstice Wood Fire Cafe for, you guessed it, some wood-fired pizza. Stretch those legs and go for a walk along the Hood River Waterfront for some great views of the area as well!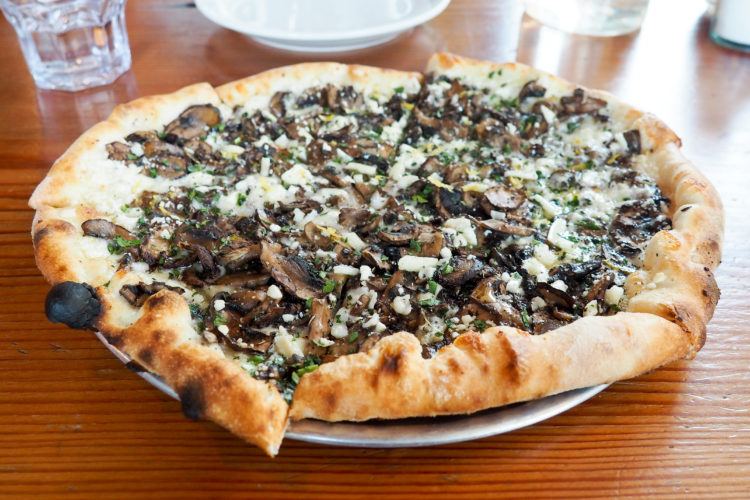 Additional pit stop: Hood River Lavender Farm! An absolute must-stop for anyone who's even a little bit lavender obsessed. Not only can you wander around the whole place smelling the sweet smells, but for $5, you can pick your own lavender to tie up and bring home! The place was smaller than I had expected, but there's tons and tons of lavender bushes so it doesn't even matter. Be extra careful when picking, as there's lots of bees!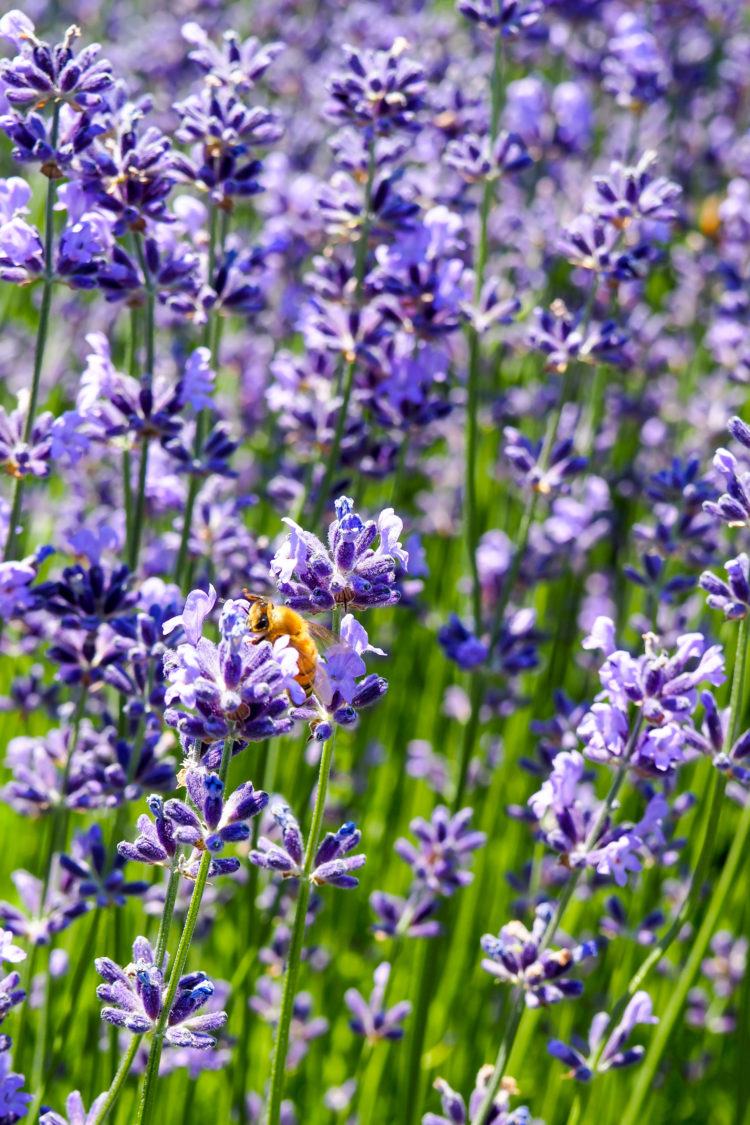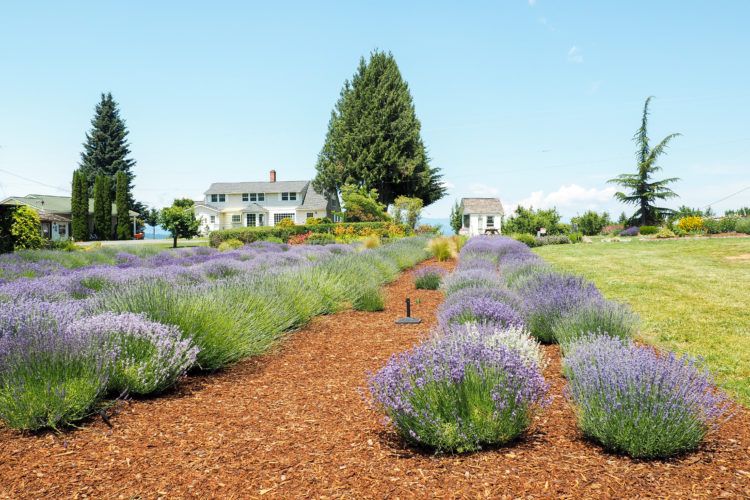 Be sure to look inside the gift shop for lavender jams/jellies, soaps, etc. If you come on a clear day you can even see Mt. Hood in the distance! FYI: Lavender picking season is from April/May to November, with peak bloom being July-August.
Wanna brag to your friends about finding the best views of Mt. Hood? Head to Trillium Lake, where the mountain literally reflects in the water and creates the most peaceful setting. What's better than a mountain reflection in a jazzy blue lake? Not much! On a clear day, you'll find Mt. Hood perfectly reflected in the water. Worth the short photo stop for sure! You can also walk around the lake for additional views as well, but we wanted to make it back by dinner so skipped the almost-2-mile loop trail. I want to visit during sunrise or sunset next time!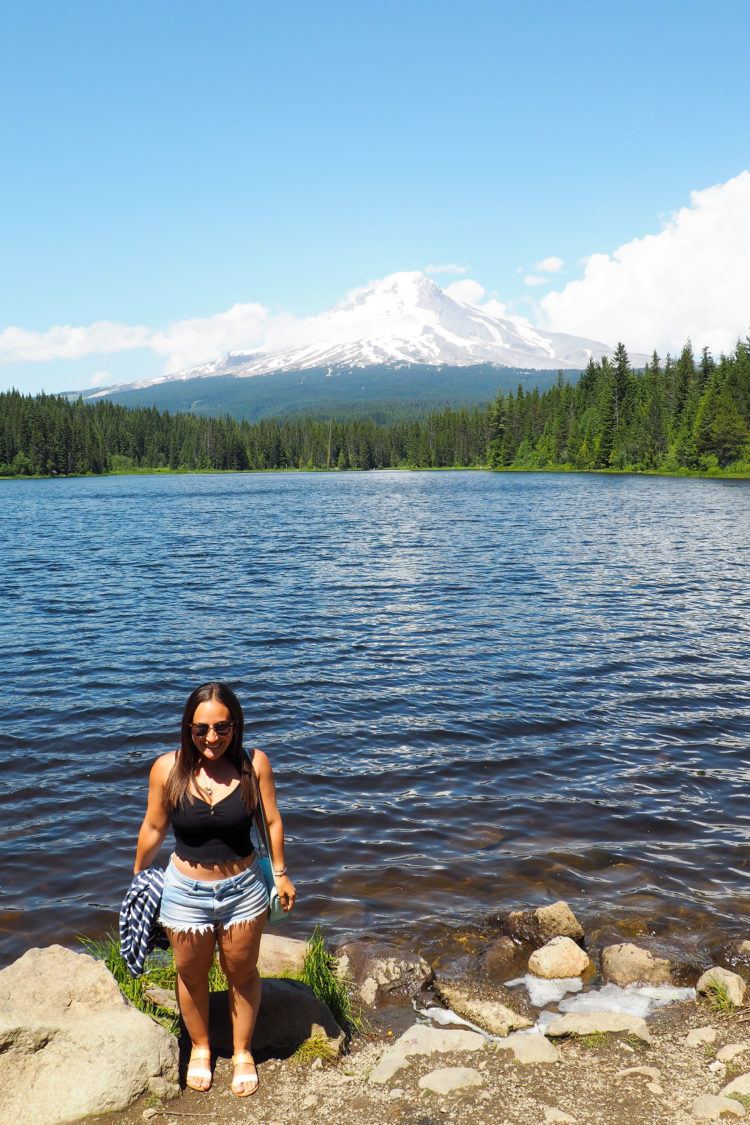 End this long day at Timberline, a mountain lodge right at the base of Mt. Hood, where you can watch the skiers summer ski and grab a bite to eat (if you're so inclined). You of course can spend the night here if you're planning on actually using the mountain for skiing or snowboarding (be sure to make reservations in advance), but we were just observers for the day.
Sleep in Mt Hood: Timberline Lodge if you're feelin' fancy, or check out Best Western Mt. Hood Inn or Collins Lake Resort for budget options in the area.
Stop #4 (optional): Silver Falls State Park (1 day)
(adds an extra 2-3 hours of driving time)
Distance: 94 miles to Silver Falls State Park | Driving time: 2hr plus traffic
→ Note that it's more than possible to visit Silver Falls State Park as a day trip from Portland, so if you wanna do that and tack on a day to your Portland stop, feel free! → That's what I did! It's actually only about 1 hour, 15 minutes south of Portland, so if you prefer staying in the city and switching hotels one less time, a day trip to Silver Falls from Portland may be your best bet!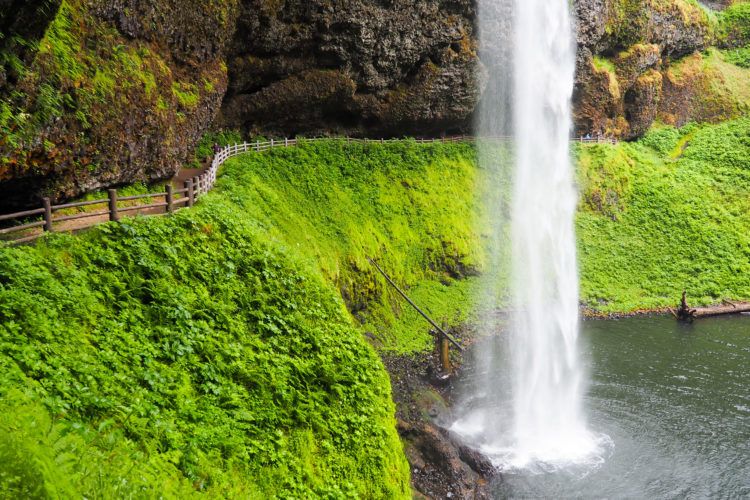 If the waterfall at Multnomah wasn't enough for you, or you're just a waterfall fanatic like myself, make the 2-3 hour detour to Silver Falls State Park. (Psst – I actually found the waterfall at Silver Falls State Park even more spectacular than those on the Columbia River Gorge). There are numerous trails available, with the easiest of them leading to the most impressive waterfall in the park – South Falls. You can even go behind some of them! Definitely reminded me of the some of the waterfalls I saw in Iceland!
If you're looking for a longer hike, trek the entire 9 miles and you'll be rewarded with 10 waterfalls (yes, 10!). Where else can you see 10 waterfalls on one hike?! We hiked about 3 miles or so and saw two waterfalls.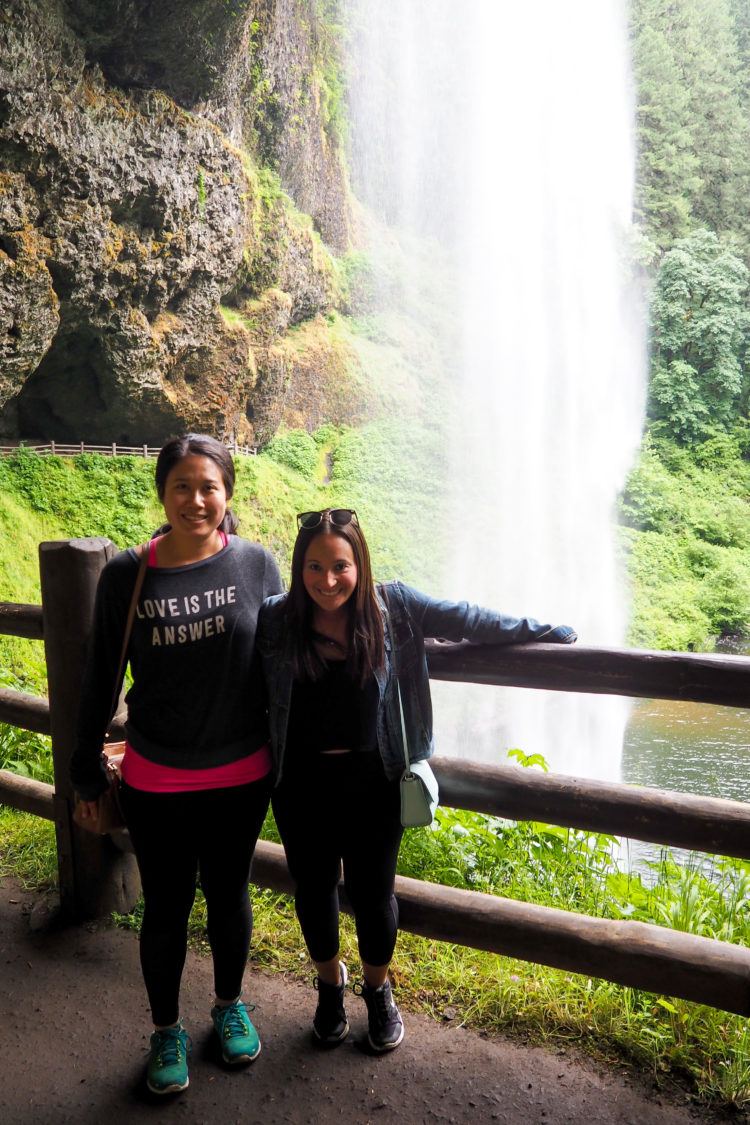 People actually call it the "crown jewel" of the Oregon State Parks system – you'll quickly understand why after your first visit! I mean, who doesn't appreciate a leisurely walk the rainforest (Oregon's only one actually!)
Sleep: Browse all hotels near Silver Falls State Park here.
Stop #5: Smith Rock State Park (½ – 1 day)
Drive: 3 hours to Smith Rock State Park from Silver Falls State Park -or- 2 hours from Timberline
Located roughly 30 minutes north of Bend (next up on this Oregon road trip itinerary) in central Oregon's High Desert (riiiight off the highway I might add), this is a spot you'd be absolutely mistaken to miss, no matter the weather. With scenic views of deep river canyons and ample hiking opportunities, Smith Rock is any outdoor-lovers dream. If you're up for a workout on tons of switchbacks, head up to Misery Ridge for dramatic views of the entire canyon and nearby rock formations. This spot is a mecca for rock climbers, and even if you don't subject yourself to Misery Ridge (it is called Misery Ridge for a reason), you can still spot them from the canyon floor.
Psst: if you're an alpaca fanatic like I am (guilty!), be sure to check out Crescent Moon Ranch located in Terrebonne (right near Smith Rock State Park). make sure to head into the visitor's lounge to pick up some alpaca food to feed the little guys and check out all the goods made from their soft, luxurious fleece. Wool sweaters, wool socks, wool stuffed animals, and oh so much more – it's all there.
Sleep: near Smith Rock (Sleep Inn & Suites Redmond and Best Western Plus Rama Inn are viable options) or in the areas of Mitchell/Prineville near the Painted Hills (depends if you wanna do more driving today)
Stop #6 (optional): Painted Hills and surrounding areas (1 day)
This minor detour to Painted Hills will take you roughly an hour and 45 minutes outta the way, but hey, you might as well see a lot of the state on this Oregon road trip. And plus, it's one of the Seven Wonders of Oregon, so you kinda gotta see it.
The Painted Hills are just that – full of hills of a whole myriad of different colored soils, including yellows, golds, blacks, and reds. Top Tip: these different colors are best viewed in the late afternoon (the claystones appear different dependent on light and moisture).
But don't leave just yet – the Painted Hills are just one of three units that make up the John Day Fossil Beds. You'll find mars-like landscapes at the Clarno Unit, and fossils of plants and animals at the Sheep Rock Unit (which make up 55 million years of evolution with a giant collection of 40,000 fossils). And no, I didn't exaggerate those numbers. It's the real deal over in these parts! All of these three units have short trails to dramatic viewpoints of colorful rock formations – you could easily spend all day here. Note that the three units are roughly 1 hour away from each other, so you'll need to account for some extra driving should you want to visit two or all three.
→ Important: If you're staying after dark to watch the sunset (highly recommended), be extra careful when driving to your accommodations at night. There's lots of wildlife out and about near the roads (deer, elk, etc).
Note that today's kinda a lot of driving if you decide to see Smith Rock and the Painted Hills in one day, so you may want to consider sleeping in Mitchell near the Painted Hills (30 min drive) and driving to Bend the next morning. If you wanna get a head start the drive to Bend, sleep in Prineville (roughly 1 hr, 15 minutes from the Painted Hills and on the way to Bend).
Sleep: Bend at LOGE Entrada Bend (where I stayed and brand spankin-new) or The Oxford Hotel (another top-notch option recommended by a couple we met on our Craft Beverage Tour). Browse all hotels in Bend here. (or Mitchell/Prineville near the Painted Hills)
Stop #7: Bend (2-3 days)
Drive: 2 hours to Bend from the Painted Hills
Located between the snow-covered peaks of the Cascade Mountains and the high desert plateaus of Central Oregon, Bend really has it all, and then some. Because of its prime location for outdoor activities (think hiking, biking, river sports, etc), you'll find a ton of sporty enthusiasts living the rugged lifestyle.
Bend is basically an adults playground. And the town is super cute, too, with a whole slew of mouthwatering restaurants and cafes to indulge in!
As noted above, we visited Bend in it's snowy winter months, and have yet to experience the area in all it's warm-weather summer-glory. We fully enjoyed our time in Bend covered in snow, and went snowshoeing, took a craft beverage tour, and ate everything in sight (for real).
However, since I have a feeling you'll be planning this Oregon road trip for a warmer month, I've compiled some of the best things to do in Bend sans piles and piles of snow. I have a few friends and cousins who frequent the area quite often (they're Bend-obsessed), so I got some recommendations from them for you to enjoy.
Since Bend is sooo well known for its craft beers, you can't leave town without taking part in the fun for at least a little while. The city is actually known as Beer Town USA, and has more breweries per capita than any other city in Oregon. Craft beverage tours like the Bend Ale Trail or the Local Pour Tour with Wanderlust Tours are especially popular to sample local sips.
We loved the mixture of the Local Pour Tour, visiting a local cidery, kombucha tap room, a whisky distillery, and of course a brewery. There's even a non-alcoholic beer brewed for pups! Crazy, right?! They do love their beer over in Bend! If you're a beer fanatic as well, you may want to schedule your trip to Bend during one of it's many annual beer celebrations, including Central Oregon Beer Week, Bend BrewFest, or Bend Oktoberfest (among many, many more).
Alternatively, simply wander around the Old Mill District and Downtown Bend, which have tons of places to eat, stroll, or shop.
Outdoor lovers will also find tons to do here. During the summer, book a kayaking or canoeing expedition on the Cascade Lakes or the Deschutes River with Wanderlust Tours, who we actually went snowshoeing with in the winter and LOVED!
You can also enjoy the outdoors on foot or by bike, and you'll see tons of people out on the trails on warm, sunny days. The Pilot Butte Trail is a popular hiking trail in Bend that takes you to the top of an extinct volcano (yup, I said volcano alright), with thrilling views of the surrounding Cascade Mountains nearby. It's a beautiful, scenic trail for beginners and seasoned hikers alike. For bikers, you can't beat the Deschutes River Trail, which extends over 12 miles and borders the Deschutes River, winding through canyons and beautiful green forests along the way.
And if you're looking to amp up your photography skills, book yourself a private lesson with Toni from Bend Photo Tours. She was oh so patient with me and answered all my silly (and quite embarrassing) questions without batting an eye. Next time I'm there I'm hoping the weather conditions are sufficient for some night-sky photography!
→ Read Next: A Snowy Weekend Trip to Bend, Oregon
Sleep: Bend at LOGE Entrada Bend (where I stayed and brand spankin-new) or The Oxford Hotel (another top-notch option recommended by a couple we met on our Craft Beverage Tour). Browse all hotels in Bend here.
Stop #8: Crater Lake National Park (2 days)
Drive: 2 hours, 30 minutes to Crater Lake National Park from Bend
Crater Lake National Park has got to be one of the most mesmerizing places I've been to date, and thankfully, it's up next on this Oregon road trip. With its calm dazzling blue waters, scenic highways, and super starry night skies, you can be sure you'll never forget your visit to Crater Lake. And that's a promise!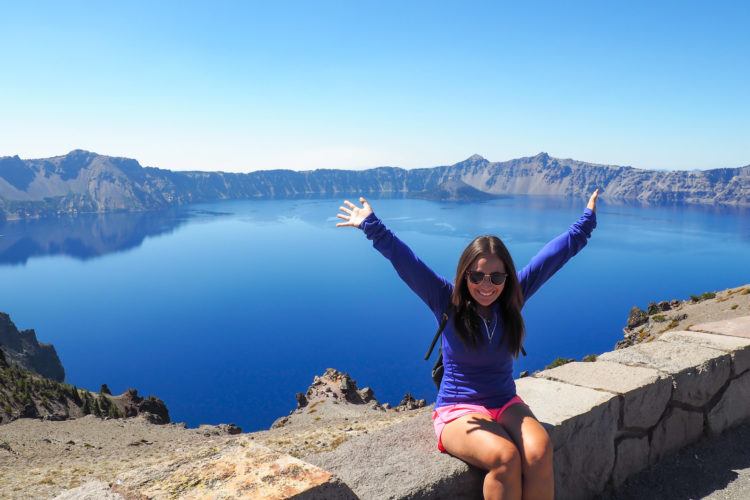 Some quick facts:
Crater Lake is currently the 10th-deepest lake in the world, with a maximum depth of almost 600 meters (1,949 feet). It's also the deepest lake in the USA!
The magnificent intense blue color of Crater Lake is primarily due to it's great, great depth, and remarkable clarity. The waters stay so clear since the lake has no other bodies of water flowing into it, meaning little-to-no pollution!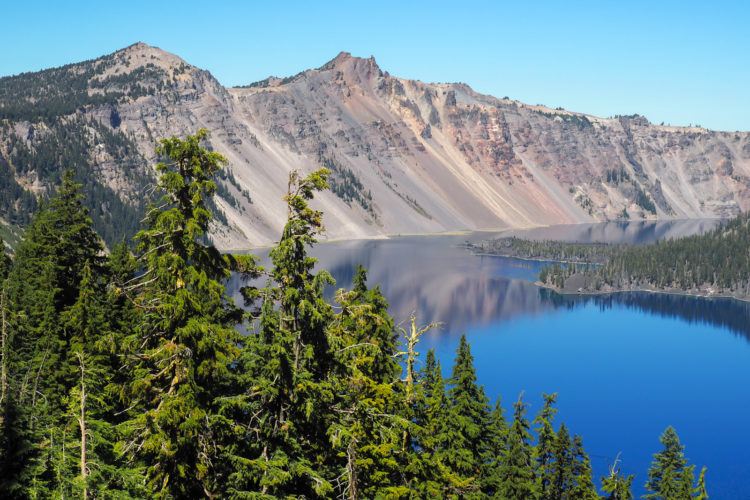 We spent most of our time hiking, but there's lot more to do at the National Park if hiking isn't your jam. Revel in the views from Rim Drive's multitude of lookout points, get some fancy drinks and/or a dessert at Crater Lake Lodge, take a boat cruise to Wizard Island, and even go for a swim (if you dare to step foot in the chilly waters)!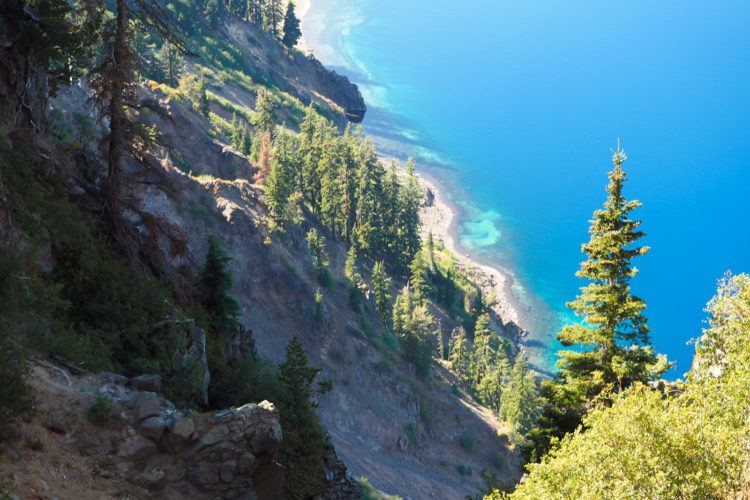 Although the park is open every single day of the year, many of the park's roads, trails, and facilities are closed seasonally due to snow, which usually do not reopen until summer (June/July). If you want to ensure you'll be able to drive around the perimeter of the lake (Rim Drive), schedule your trip for late July, August, or September. These also happen to be the most popular times to visit Crater Lake, but don't fret – the park is rather large so you'll still be able to find your own spots of peace and solitude.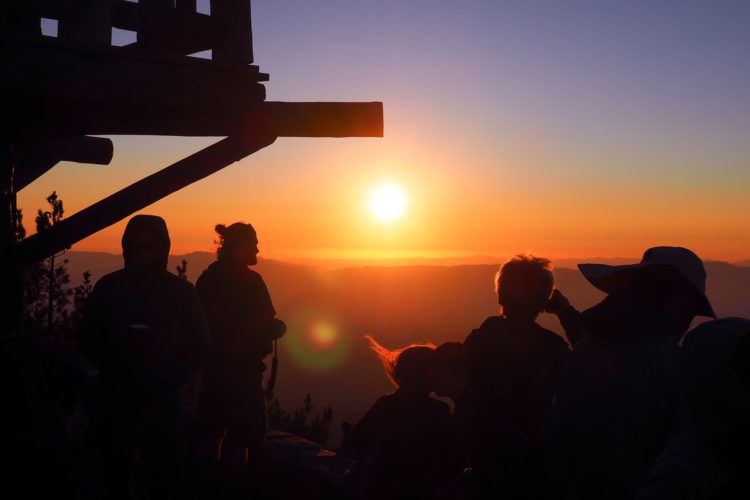 Sleep: Melita's Crater Lake Lodge nearby Crater Lake (or you can head right to Ashland if you prefer). Browse all hotels near Crater Lake National Park here.
Stop #9: Ashland (1 day) – OPTIONAL
Drive: 2 hours to Ashland from Crater Lake National Park
Get one last look at Crater Lake, then hit the road; it's time to make our way to Ashland, one of southern Oregon's hot spots and loved by all.
Ashland is a classic Pacific Northwest hippie town with a love for nature, beer, and admittedly, all things weird. Here, you can find a very alternative vibe, with tons of green, vegan health shops, locally-brewed beers, and tons of places where you can get in touch with the quirky and downright strange personality of the place.
It's not everywhere that you can watch Shakespeare, drink Sriracha flavored beer, and go to a paranormal activity hotspot in just one day. But in Ashland, you can do all this and more! Told you it was weird.
Speaking of Shakespeare, The Oregon Shakespeare Festival (OSF) is a must-see here, with regular shows at the Green Show, a performance venue and courtyard that's frequented by visitors and locals alike. But if you're not a fan of Shakespeare himself (say what?!), you can see other productions the group puts on, like Hairspray and Alice in Wonderland. The OSF shows usually happen during the summer, and if you choose to go to a classic Shakespeare show, don't miss the ones at the Allen Elizabethan Theatre.
Aside from Shakespeare, there are tons of other weird and wacky things to do in Ashland. Beer lovers can find the strangest and most unique beers at the Caldera Brewing Tap House, a local favorite that made waves with its Sriracha Stout beer. You can also visit the Oregon Vortex, which is a weirdly spiritual spot known for paranormal activity and other strange happenings located about 30 minutes from town. And of course, don't forget to enjoy the beautiful nature in the area, especially in the fall, when the leaves turn all kinds of beautiful colors.
Technically, if you wanna save a bit of driving and don't have all the time in the world, you may choose to cut Ashland out of your Oregon itinerary. Your call, but I think it's worth at least a day or so.
Sleep: Bard's Inn Ashland. Browse all hotels in Ashland here.
Stop #10: Coos Bay // Southern Oregon Coast (1-2 days)
Drive: 3 hours, 15 minutes from Ashland to Coos Bay
It's finally time to get this Oregon coast road trip itinerary underway! The drive from Ashland and Crater Lake will essentially take the same amount of time, so there's no absolute NEED to visit Ashland if you're pressed on time. If you're coming from either one, you have two options – the long way (~5 hour drive with more exploration of the southern Oregon coast), or the shorter way (3 and a half hours cutting straight to Coos Bay from Ashland/Crater Lake). I suggest opting for the short route as in my opinion, you won't be missing out on too much by skipping the southern coast below (as Coos Bay is one of most scenic areas on the Oregon Coast)– but obviously, your choice!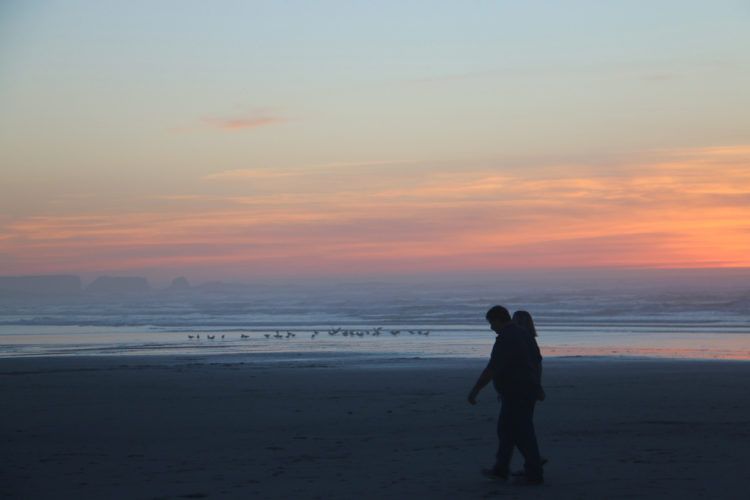 Coos Bay is home to the Cape Arago Beach Loop, which is where I'd spend the rest of the day.
On this driving/exploring/sightseeing loop, you'll venture into three Oregon State Parks, watch a ton of seals and sea lions play, as well as stop at numerous breathtaking vantage points. The drive is not super long, but you'll definitely want the better portion of the day to stop and soak it all in!
A few must-see stops: 1) Bastendorff Beach (say goodbye to crowds and hello to oh so much natural beauty), 2) Sunset Bay State Park (those towering sea cliffs sure are something, especially with the beautiful sandy beaches and amazing tide pool explorations), 3) Cape Arago Lighthouse Viewpoint (you unfortunately can't view the inside but you can get fantastic views from here), 4) Shore Acres State Park and Botanical Gardens (tons and tons of blooms), 5) Simpson Beach (look out for the migrating whales and hundreds of seals and sea lions), 6) Shell Island (breeding and rest areas for seabirds and Marine mammals), and finally 7) Cape Arago State Park.
Sleep in Coos Bay: Browse all hotels near Coos Bay here.
Stop #11: Newport, Tillamook, and Cannon Beach (2 days)
Next up on this Oregon coast road trip → making the way back up north to Cannon Beach!
Prepare yourself as today's primarily a driving day, but don't worry, there's tons of scenic stops along the way. Think scenic seaside towns, sand dunes, spectacular lighthouses, and cheese! Yes, cheese! Because who isn't fascinated by cheese?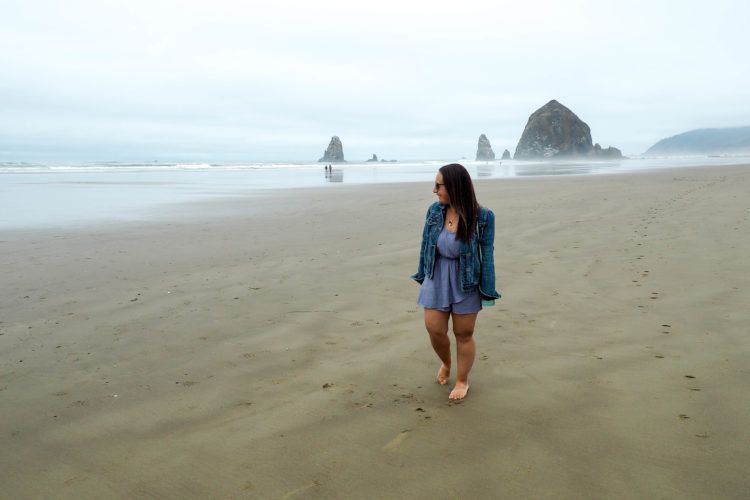 Sure, California's Highway One surely steals the show when it comes to coastal road trips, but Oregon's coast is one for the bucket list as well! With quiet seaside coves, bustling beach towns, and secluded hideaways, you won't want to miss the beauty that is Oregon.
A few recommended stops between Coos Bay and Cannon Beach, where we'll be ending the drive today. If you're not pressed on time you can easily spread these activities/stops out over two days.
Oregon Dunes National Recreation Area: Wind-sculpted sand dunes for days (literally, miles and miles and miles). This NRA is actually one of the largest expanses of temperate coastal sand dunes in the world, so yea, I wasn't kidding when I said Oregon's coastline is on par with California's. You can even take a buggy or ATV tour of the dunes!
Haceta Head Lighthouse: The first of numerous lighthouses on our list, and this one just happens to be the brightest light on the Oregon coast and most photographed in the whole state. To say it's simply stunning is a huge understatement.
Cape Perpetua: Don't miss the Spouting Horn, an exploding salt water geyser, and Thor's Well, a gaping pit with violent waves crashing in every direction that ultimately fall into a hole, just as weird and wonderful as it sounds.
Nye Beach: The perfect stop for a late lunch, depending on how much exploring/sand-duning you did earlier. This is also a great place to spend the night if you'll be splitting the drive from Coos Bay to Cannon Beach into two days.
Yaquina Head Light: Being the tallest lighthouse on the Oregon Coast, you can't miss this towering beauty
Devils Punchbowl State Reserve: This is a popular whale watching site and displays an intriguing geology. Also, as the name suggests, there's a hollow rock formation shaped like a huge punch bowl. Better yet, go at sunset if you want to see something spectacular.
Tillamook Cheese Factory: Who could resist some fine, fine creamy cheese samples? Not I, that's for sure! If you're not familiar with the brand, Tillamook is a leading cheese provider in the area, who aims to connect farmers with everyday food lovers (hi!) with cheese and ice cream. Don't miss the tour.
Cannon Beach: Phew, made it (finally)! HAYSTACK ROCK, enough said.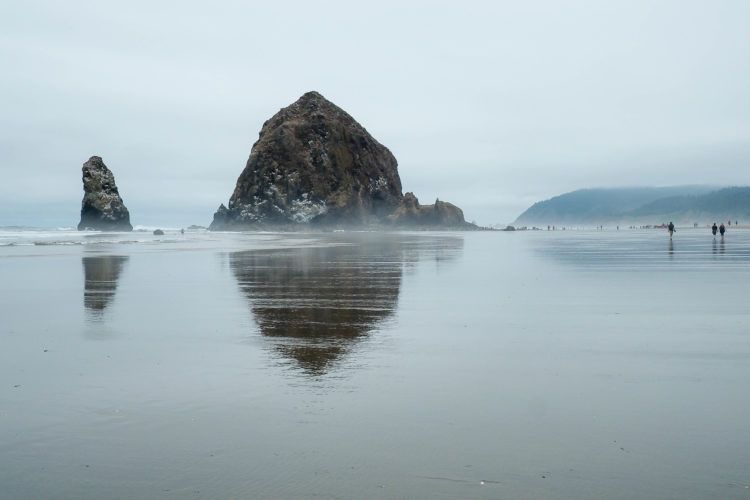 Finally, the last official stop on this Oregon coast road trip, the one and only Cannon Beach. Here at Cannon Beach, you'll find the famous and ever-so-popular Haystack Rock (it's a sight to be seen).
No matter where you stand, you'll see it (I promise), as it towers 235 feet over the beach. If you can, plan your visit during low tide so you're able to walk right up to Haystack Rock to search for sea creatures (crabs, sea anemone, mussels, and snails). Check here to see when the tide is at its lowest. Check out Pelican Brewing Company should you get hungry (the fish tacos were absolutely bomb).
Sleep: Hallmark Resort and Spa Cannon Beach or Surfsand Resort if you're feeling fancy, or Hidden Villa Cottages for a less expensive room. Note that many of the hotels are quite expensive in Cannon Beach, so expect to pay at least $250 a night or so.
Thankfully, you've only got about an hour and a half drive west back to the city of Portland to complete this full Oregon road trip. Choose to drive back after your first night in Cannon Beach, or the morning after your second.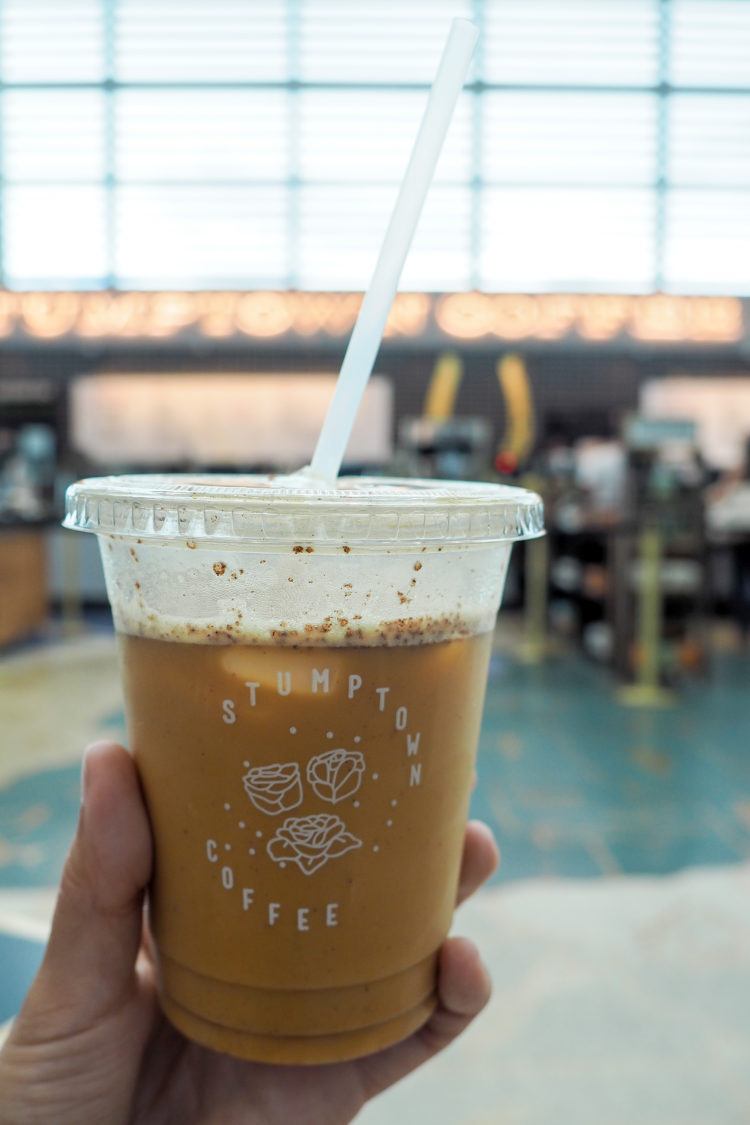 End: Portland → Phew, you made it back! Grab some Stumptown Coffee on your way home!
Are you visiting the state soon? What are you most excited about on this Oregon road trip itinerary!?