Looking for the best things to do in San Clemente? Keep on reading for not only what to do in San Clemente, but how to get around, where to stay, and where to eat! Basically, the only San Clemente travel guide you'll need to plan your trip!
Near perfect weather. White, sandy beaches. Spanish-style architecture. Rich history. Golf cart culture (yes, really)! San Clemente is one of the chillest towns in all of Orange County. And we're obsessed. It's now our favorite town in all of OC, and we can't wait to go back (hopefully way sooner than later).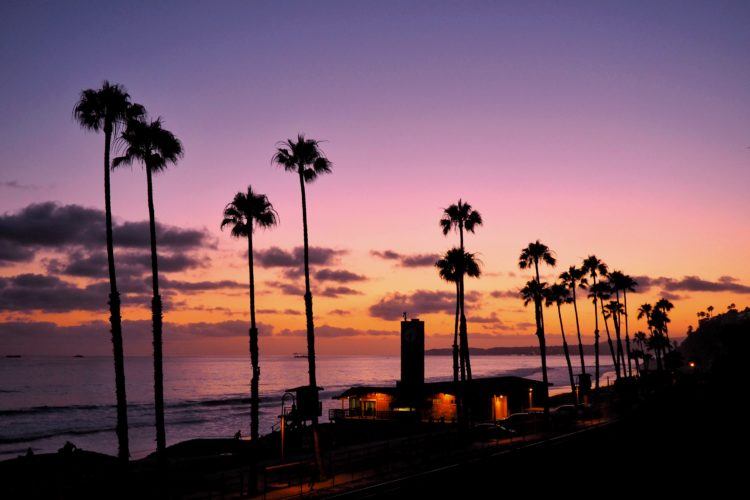 Upon first glance, San Clemente reminded us of Santa Barbara. And surprise, surprise, we absolutely LOVE Santa Barbara and it's chic Mediterranean feel! So it was no coincidence that we ended up loving San Clemente as well.
I mean, there's coastal views, lush green parks (overlooking the sparkling ocean and pier), stunning sunsets, and a vibrant downtown full of boutique shops and local restaurants. What else could you need?
We found the town to be a spunky mix of old-town Spanish flare and that small-town beachy vibe we seem to love. It's actually referred to as the Spanish Village by the Sea, how fun is that?!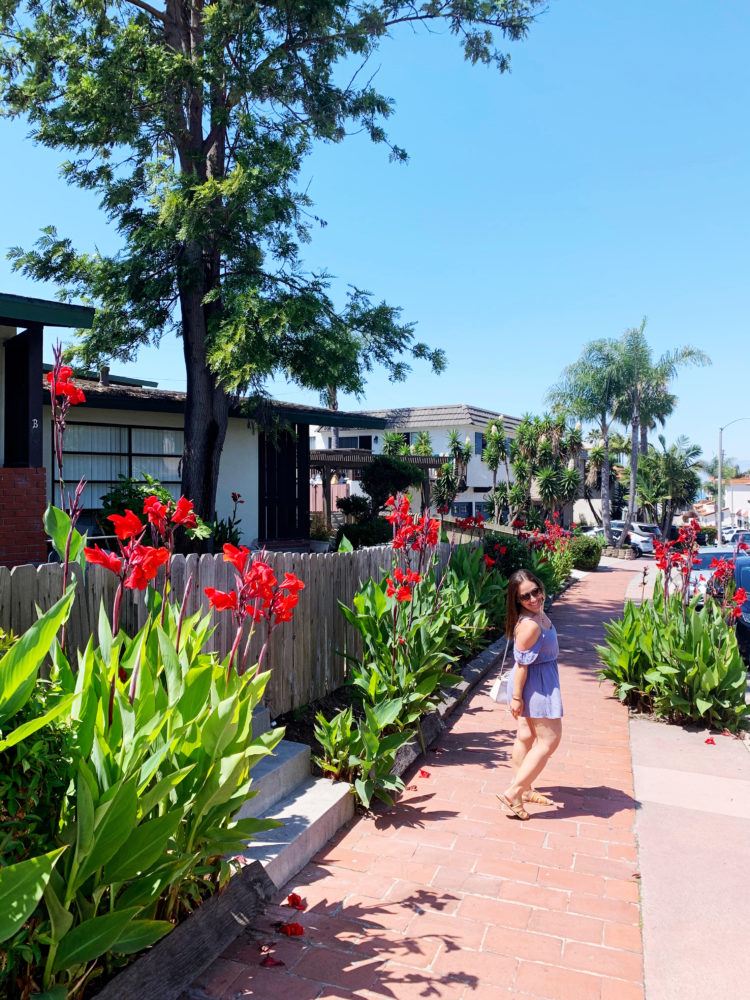 San Clemente kinda feels like a hidden gem amongst other California beach towns. We'd love to move here one day (and I bet it'd feel like a permanent vacation – score!) And plus, with the numerous things to do in San Clemente, I don't think we'd get bored very fast.
THE BASICS
Location: Orange County, California
Nearest International Airport: John Wayne (SNA)
Where to Stay: Our favorite AirBnB!
Our favorite things to do in San Clemente: Morning walks on the beach trail, views from Casa Romantica, and cheeseboard dinners at The Cellar
How to get around: You can see a lot by foot, but I'd recommend a car to explore all the beaches!
SAN CLEMENTE TIPS
Stay at our favorite airbnb in San Clemente! One of the best parts – it's less than a 5 minute drive to the beach! We loved that beach chairs and an umbrella were waiting for us (a great surprise) – meaning we had to bring way less stuff from home with us. And the entire space is just oh so cute, with a definite beachy surfer vibe. I'd move right in (permanently) if I could!
If you're staying in San Clemente for more than 2 or 3 days, venture on over to other areas of Orange County! We love Huntington Beach, Dana Point, Balboa Island (for frozen bananas), and Inspiration Point in Corona del Mar the most!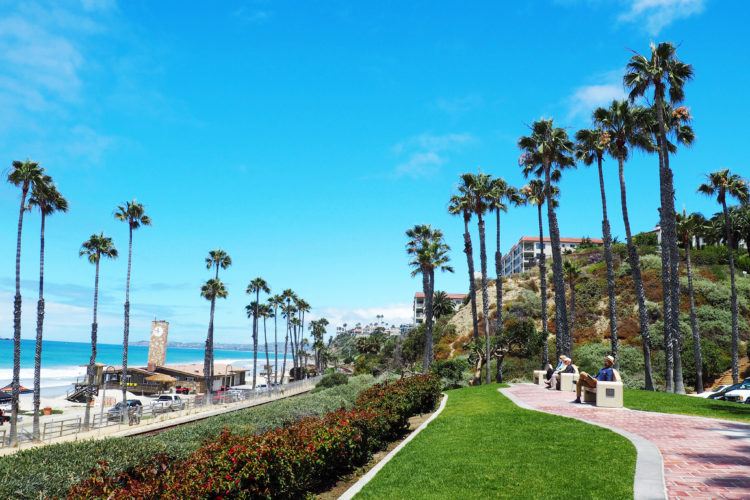 WEAR SUNSCREEN! I repeat, slather on that sunscreen until you feel you've overdone it and then some. And yes, even when it's cloudy. The sun here is strong – you'll want to protect yourself better than I did (whoops). The lobster look doesn't look good on anybody, I promise.
San Clemente is pretty dog friendly, but they're unfortunately not allowed on the beach or pier. We brought Kona along and took him almost everywhere with us (well, except the beach of course)!
Where is San Clemente exactly?
San Clemente is the southernmost city of Orange County (OC). It's a bit south of popular areas in OC you've probably heard of, like Laguna and Huntington Beach.
Because of this, San Clemente sits almost directly between Los Angeles and San Diego (about an hour from each), so it's a great place to stop if you're visiting both cities on a larger California trip, such as when you're driving down the Pacific Coast Highway!
It's not as well known as other nearby cities in OC, and most people visiting Southern California don't even stop here! It feels a bit more like a local's town, which is super refreshing.
How Long to Visit San Clemente
We had our beachy-chic San Clemente AirBnB for a whole week. But full disclosure, we didn't spend the entire time in the town itself (we did day trips to other nearby spots).
I think if you've already explored other parts of OC or just wanna take it slow, a long weekend in San Clemente will suffice. We spent a full 3 days here, including most mornings for breakfasts/brunch and coming back for dinner in the downtown area.
To be honest, it's kinda nice that there's not sooo many things to do in San Clemente that it gets overwhelming. I always overplan, so it was surprisingly refreshing to have a few chill days without much on the agenda besides eating and beaching and relaxing.
However, once you're done crossing off all the things to do in San Clemente, go venture to other nearby towns like we did! Dana Point's a quick 10 minutes away, San Juan Capistrano is roughly 15 minutes inland, Laguna/Huntington are 30-45 minutes north, and even San Diego is only about 45 minutes south. There's lots to do in the area, I promise!
When to Visit San Clemente / Weather
Visit anytime of year, EXCEPT May or June. Like other parts of California (Pescadero, Half Moon Bay, the Central Coast), San Clemente experiences what us Californians refer to as "May Gray" and "June Gloom". And it's exactly as it sounds – gray and gloomy.
Those the only months you can visit? Don't fret – the clouds typically burn off by mid-day (11am to noon or so). We visited in late June and had mostly cloudy mornings and sunny afternoons. And boy do those clouds feel nice every once in a while – the sun is hot!
Any other month will have near perfect weather with sunny skies at all times of day.
When it comes to temps, you're in luck, because like the rest of OC, the climate is mild and comfortable year round. Summer see's 80s+ (but not too hot that it's gross and sticky all day), while the winter lows are in the mid-60s or so (perfect for those linen pants).
It's basically endless summer over here. And I'm all for it.
How to get to San Clemente
Because of San Clemente's awesome location pretty much equidistant between Los Angeles and San Diego (with huge international airports), it's pretty easy to get to from just about anywhere in the world. A few options below:
Driving:
We live in California (the San Francisco Bay Area to be exact), and make the 7 hour drive to Orange County at least once a year. Yeah, it's kinda long, but well worth it!
If you're doing an extended Pacific Coast Highway road trip, promise me you'll drive the extra 10 minutes or so to San Clemente once you reach Dana Point, the official end to the PCH (it's actually not part of Highway 1 – how wild is that!?). I've shared all my favorite stops on the PCH here, and you'll find San Clemente at the very bottom.
Flying:
If you're not within driving distance (or just wanna get to San Clemente quicker), there's a whole bunch of airports to choose from!
The closest airport is John Wayne (SNA) in Santa Ana, which is about 25 miles north of San Clemente. And because of San Clemente's almost perfect location (in my opinion), LAX (servicing Los Angeles) and SAN (for San Diego) aren't too far, either, at around an hour to both.
I'd choose John Wayne over LAX any day though. Traffic. If you know, you know.
Public Transportation:
AMTRAK: You can get to San Clemente (right to the pier, actually!) on the Pacific Surfliner, which runs between San Luis Obispo and San Diego. And make sure to look out the window – there's endless ocean views for days.
METROLINK: If you're coming from an area not too far away (1-2 hours or so) and don't wanna deal with traffic, consider taking the Metrolink. You can grab the train from LA, Antelope Valley, Inland Empire, Orange County, Riverside, San Bernardino, and Ventura County.
How to Get Around San Clemente
You can totally get by on foot if you just stay downtown, but if you wanna explore further afield (other beaches), it's best to have a car.
No car, no problem! If you're visiting in summer, the San Clemente Trolley is a great way to get around! It goes from the pier to outlets (with stops in between) and even better, it's completely FREE!
The trolley typically runs from Memorial Day to the last Sunday in September.
Some locals even use golf carts – and get this, you can even rent one to cruise around town! Check out Echo Cart Services! Looks like a ton of fun, and we definitely wanna get one next time!
Where to Stay in San Clemente
AirBnB
We chose to get an AirBnB for a week since we wanted more of a local feel, and we personally LOVED this one! It's located in the Trestles area of San Clemente, and less than a 5 minute drive to the beach. The place was beachy-chic and had such a surfer vibe – we stayed for a week and would have stayed for longer! We'll definitely be heading back there next time we visit San Clemente.
If that one's not available (sad face), I also bookmarked the following for future visits:
If you prefer hotel stays, check these out below:
Common Questions about San Clemente
What is San Clemente famous for? Its Spanish colonial-style architecture, beautiful beaches, and stunning mountain views. And we love it all!
Is San Clemente expensive? Overall, we found the prices to be on par with San Francisco (meaning it's pretty expensive to visit). A cup of coffee will cost around $3.50, a burrito costs ~$10, ice cream is ~5 a scoop, with the average hotel night being ~$150 (although prices greatly vary depending on accommodation). But hey, the trolley is free and most of the San Clemente attractions are not expensive.
Is San Clemente a nice place to live? YES! Well, I'm (sadly) not speaking from a local's perspective, but from what I saw after spending a week here, it looks pretty fab. There's tons of green spaces for sunset beach picnics, beautiful homes, and a thriving downtown area with plenty of brunch stops and coffee shops.
And now, let's get to it – exactly what to do in San Clemente and how to have the best possible weekend in this laid-back OC town.
Fun Things to do in San Clemente:
Quite honestly, San Clemente is quiet and relaxing when compared to other spots in OC (I'm looking at you, Huntington Beach and Laguna!) Sure, there are things to do in San Clemente, but don't feel bad if all you do is beach hop and grab tacos!
After spending a week here, we've put together a list of our favorite things to do in San Clemente.
Walk on Avenida del Mar
If you're looking for things to do in San Clemente, you can't miss a stroll down Avenida del Mar! It's San Clemente's main street, and here you'll find lots of cute boutiques and restaurants downtown. Don't miss my favorite shop – Melrose in the O.C (the whole place is filled with chic coastal beauties).
In terms of eating on Avenida del Mar, we loved Mimosa Cafe, The Cellar, and Southswell! Keep walking and you'll end up at the beach and pier (thankfully, it's all downhill)!
Pro Tip: Not sure where to park? There's a few free (!!!) lots right around the downtown area. We also found street parking to be pretty easy as well.
Casa Romantica Cultural Center and Gardens
OHH, one of my favorite things to do in San Clemente (by far), we even went twice! I was super intrigued when I learned that Casa Romantica is a nonprofit organization, and it's been around for over 90 years (built in 1928!).
Although it's passed through various owners over the years, the integrity of the spot hasn't changed at all. And it's beautiful.
Get this! Ole Hanson, the actual founder of San Clemente, created Casa Romantica and was therefore the original owner of the house. He found a spot of empty land and decided to build upon it, and it's what we now know as San Clemente! The history is pretty fascinating (learn more here).
The center embodies the city's original Spanish-style architecture – those arches and tiles are just remarkable.
We loved reading about the history of the home and who built it (there are signs and historic photos throughout the house). Make sure to take a look around the immaculate gardens after walking through the house – the views of San Clemente beach and the pier are unbeatable.
Do note that "suggested admission" is $5 (but I'm not sure how "suggested" it is as they charged us to enter). You can donate more though, which is what I'm guessing they're trying to say.
They also have plenty of cultural events hosted here! Would be kinda fun to go to one if the timings right!
San Clemente Pier City Beach
Beach day, anyone?! Good thing the beach is over a mile long (and pretty wide), as it's by far the most popular beach in all of San Clemente! The pier runs straight through, so you can easily take a quick stroll in between your sunbathing.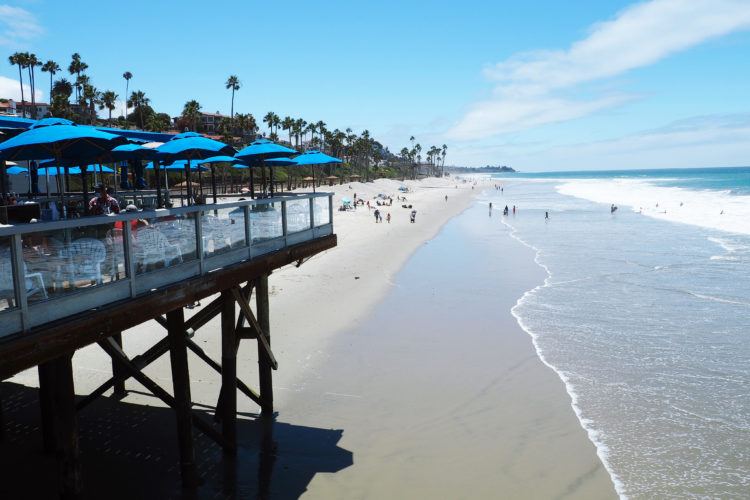 My only gripe: AMTRAK runs parallel to the beach, so you'll undoubtedly hear it a few times if you spend the day at the beach. And boo – dogs aren't allowed on the beach (take them for a long walk on the Coastal Trail instead)!
There's lots of (paid) parking nearby at Parque del Mar City Park, although we were able to find metered street parking as well since the lot was full by late-morning.
San Clemente Coastal Trail
A dog-friendly wide dirt path that connects all the beaches in San Clemente? Sign me up! The coastal trail is roughly 2.3 miles long (one way), so just remember if you park at one end and walk, you'll need to make your way back (making it a much longer trek).
We walked a bit from the pier (roughly midway) and turned around after a bit. It's relatively flat the whole time, so I'll bet you'll walk farther than you realize. That ocean breeze does wonders for the soul.
A few tips:
The coastal trail starts at North Beach (northern trailhead) and ends at Calafia Beach (southern trailhead).
There's lots of food/restaurants and bathrooms along the trail, so don't fret if you get hungry or need to use the facilities.
Make sure to bring lots of water if you're visiting in summer, as there's hardly any shade and it gets hot hot hot!
And plus, you can take your dog along (although remember they're not allowed on the beaches or pier).
Watch the surfers at Trestles or T-Street Beach
Is there anything more iconic than spending a few hours watching some surfers ride the waves? While you'll find surfers almost everywhere in San Clemente (and OC for that matter), the biggest, baddest waves are known to be at both Trestles and T-Street Beach. Here's a breakdown of the two:
Trestles Beach: The World Surfing League holds an annual surfing contest here, so you know the waves are legit. People come in from all over the world (at literally a minute's notice – the waves are unpredictable!) to compete! While the beach is perfect for surfing, it's definitely not for everyone as it's almost a half-mile walk from the parking lot. Because of this, it's super laid back and super chill.
T-Street Beach: This surfer beach is much easier to get to, as there's a safe pedestrian overpass (over the railroad tracks) right from the parking areas.
Walk on the San Clemente Pier
The pier is one of the best San Clemente attractions! Sure, there are tons of beautiful piers in California (the ones in Huntington Beach, Santa Barbara, and Cayucos are our favorites!). And the 1,300 foot classic wooden pier here in San Clemente is just as great, offering beautiful views of the coastline and the city.
We saw lots of fisherman dropping lines into the water, locals and tourists enjoying drinks and seafood at The Fisherman's Restaurant and Bar (on both sides of the pier above the beach), and friends/families just strolling by enjoying the weather.
The pier's an icon of the city, and one of our favorite things to do in San Clemente by far. Make sure to walk all the way to the very end (it's not too long, I promise), to get those endless blue water views.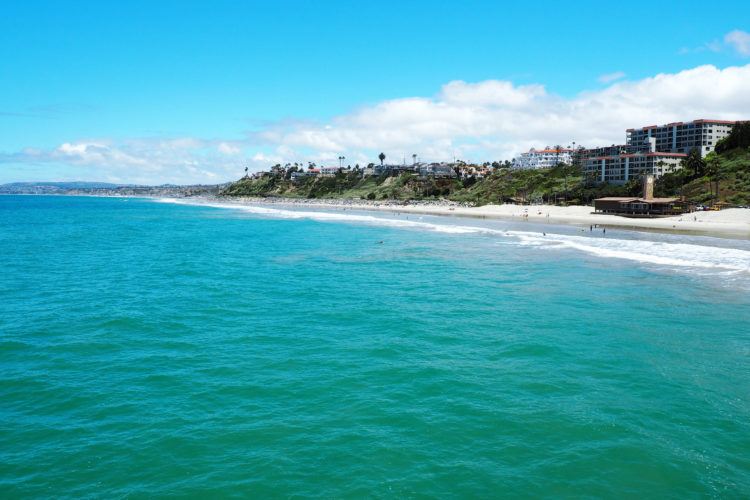 Hang out for sunset, then head on over to Pier Bowl (the mini downtown area over here) to find a bunch of shops and restaurants in the area near the pier.
Psst – dogs are not allowed, so you'll have to leave your furry friend at home if you wanna walk on the pier.
Calafia/San Clemente State Beach
San Clemente has a whole bunch of beaches, but we liked Calafia the best! Makes sense – it's one of the more popular beaches in the area with steep sandstone cliffs as the perfect beach backdrop.
And always be on the lookout for dolphins; we saw one within 5 minutes of arriving! You don't see that in Northern California!
Tip: The San Clemente Coastal Trail starts/ends here, so you could reward yourself with some beach time before heading back!
Psst: there's also campgrounds at the state beach if that's your accommodation style (it ain't mine so I don't have too much specific info on the facilities as we didn't use them).
Have a picnic and watch the sunset at Parque Del Mar
Since the sun sets in the west, we're blessed to have absolutely amazing sunsets above the Pacific here in California. And watching the sunset at Parque del Mar? This was one of our all-time favorite things to do in San Clemente. I mean, is there anything more quintessential OC than indulging in tacos in a park with friends while watching the sunset above the beach? Nope!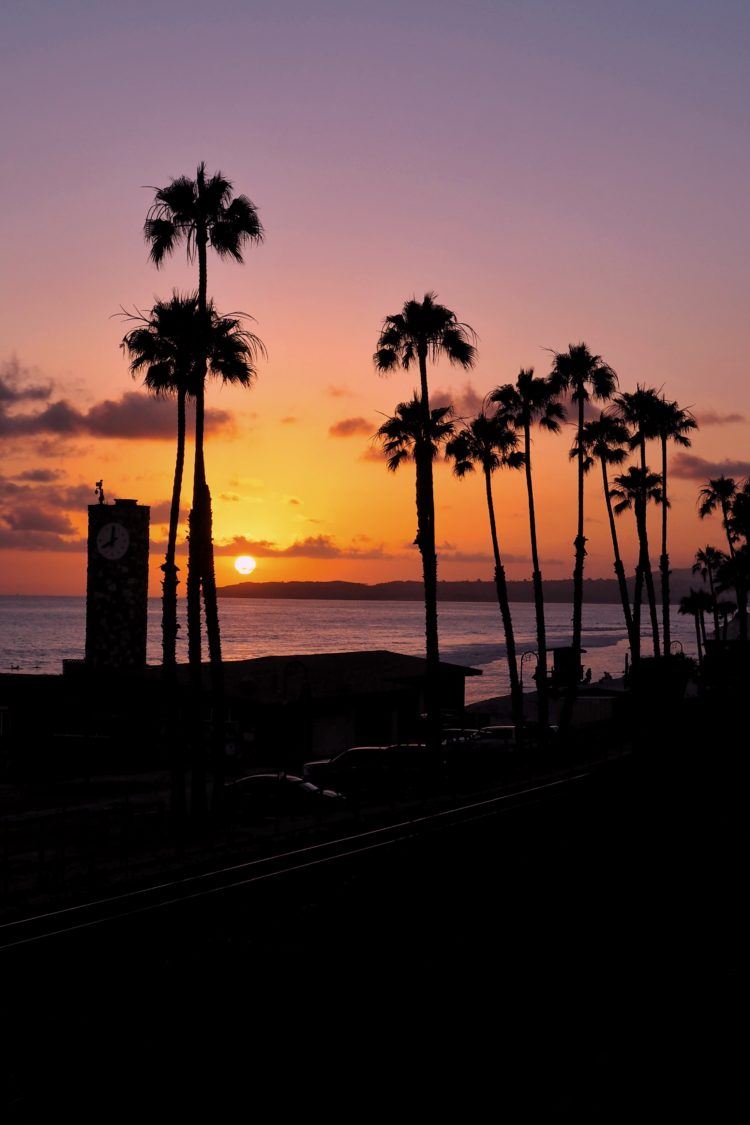 Del Mar is a patch of grassy land with a few benches and picnic tables, but we just brought a blanket and found our own spot for sunset!
There's a huge parking lot over here with free parking after 6 (although it is quite a busy spot so you may need to park on the street).
Things To Do Near all the other San Clemente attractions
If you're spending a few days in San Clemente, you could easily venture a bit north to explore other areas of Orange County as well! I'm sharing some of our favorites below: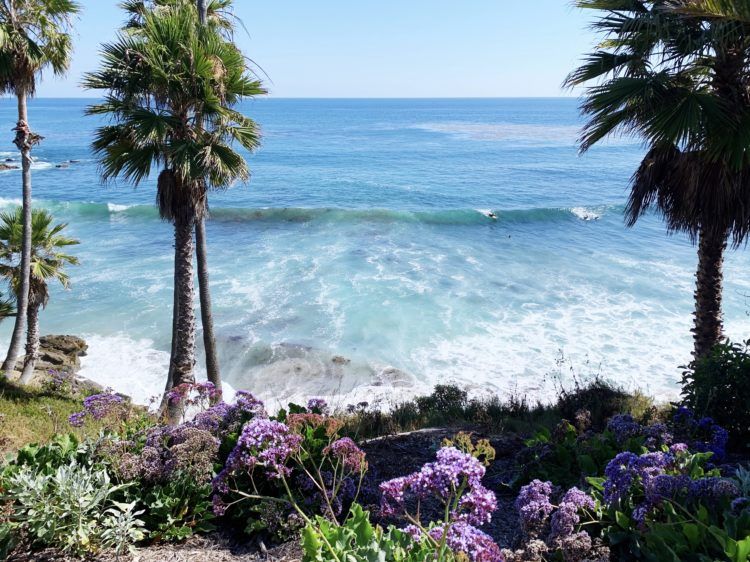 Dana Point (10 minutes away): Strand Beach for sunset, Dana Point Headlands, Doheny State Beach, Baby Beach, Harbor Point Park, and Strand Vista Park
Laguna Beach (25 minutes away): 1000 Steps Beach, Ruby's Diner, Crystal Cove State Park, Rooftop Lounge, Laguna Main Beach (+ historic lifeguard tower!), Laguna Art Museum, Heisler Park, and Crescent Bay Beach/Point Park
Corona del Mar/Newport (30 minutes away): Inspiration Point, Corona del Mar State Beach, Balboa Island, frozen bananas at Sugar 'n Spice, Sidecar Donuts, Fill Bakeshop
Where to Eat in San Clemente
We were pleasantly surprised with all the great food we found in San Clemente. There's a bunch more spots we wanted to check out but just didn't have enough time! Here's our favorites from the week:
Breakfast/Coffee
Bear Coast Coffee: The yogurt parfait was good, the bacon breakfast burrito was simply amazing (ugh I want another one RIGHT NOW). Grab your coffee and food to go and sit in the park (with ocean views) right across the street! Come early because the place gets busy – we saw a line of at least 10 parties a bit after we left!
Sur Coffee: A cute little coffee shop in downtown San Clemente on Avenida Del Mar. And despite everyone raving about Bear Coast, my husband actually preferred the coffee at Sur instead! He said it's one of the best iced lattes he's had in a very long time (and he's a borderline coffee snob).
Maison Cafe & Market: Okay, this place is actually in Dana Point (but it's less than 10 minutes away from SC so I'm including it). Don't let the strip mall location deter you! This French/Italian-inspired cafe is so cute and they've got all the best things on the menu. I gobbled down my ricotta blueberry toast, and Noah loved his sausage sweet potato frittata. I think I also read that they collect china so all their dishes are mix and match and absolutely adorable!
Cafe Mimosa: Mmmm, one of the best brunch spots we could find in town! Eat outside; the patio area is oh so cute! The perfect place to order a mimosa (or two), as they have plenty of flavors! We got the raspberry and peach and they were both delish!
Active Culture: Chilaquiles and avocado toast. What else do I need to say? Haha – but really, all the dishes sounded like perfection, despite being all vegetarian (we like our meats). There's another location in Laguna if you find yourself in that area. 
Lunch/Dinner
Sancho's Tacos: Looking for a casual spot to grab some tacos after a day at the beach? Sancho's is your place (they've got tons of taco choices). We also got a small order of the churros – and trust me, they were worth the calories.
Biggies Burgers: Biggies has your typical burgers and fries, but you get to choose from curly fries, string shoe, and steak fries! What fast food spot makes three different types of fries?! I was amazed, simply amazed, haha. The burger was average, but those fries (I chose curly) were the real deal.
The Cellar: They're known for their cheese boards – we loved our Spanish board! The Korean kimchi fried chicken sandwich was perfect to share also! Perfect for date night! And pick up a jar of their wildflour honey – it's oh so delicious!
Pedro's Tacos: A funky little (drive-thru) taco shop with the best fast-food mexican around. Get the carne asada with potato. It's life changing (and I'm not just saying that because I devoured the thing after a few too many drinks). We actually went back a second night we loved it so much.
Snacks/Dessert
Southswell Hand-Dipped Ice Cream: Pretty trendy and kinda expensive, but portions are a decent size. Choose from soft serve, ice cream bars, and if you don't feel like ice cream, they have frozen bananas as well! The line can get kinda long, but it's worth it! You get to completely customize your dip and toppings as well!
Banzai Bowls: Mmm what's better than an acai bowl on a hot summer day? I'll give you a hint – not much! I grab plenty of açaí at home, but haven't seen a menu as extensive as Banzai! Psst – order ahead because it sometimes takes a while.
Phew, that was a whole lotta information about our trip to San Clemente!
I hope this helped you plan out a chill weekend of fun things to do in San Clemente! What are you looking forward to the most?! See you down below in the comments!
Looking for more California content? Explore my other California guides here!
Did you know that …
When you purchase something through our links, we earn a small fee (but you still pay the same)! Win-win! If you found this article useful, consider using the links within the article or below. Thanks for your support!