Looking for the best hikes in Pacifica, California? Look no further! I've rounded up my favorite Pacifica hiking trails with panoramic coastal views in this Pacifica hiking guide!
I've been spending my weekends over there quite recently in an effort to explore closer to home, and am constantly adding other activities and restaurants to my list of things to do in Pacifica.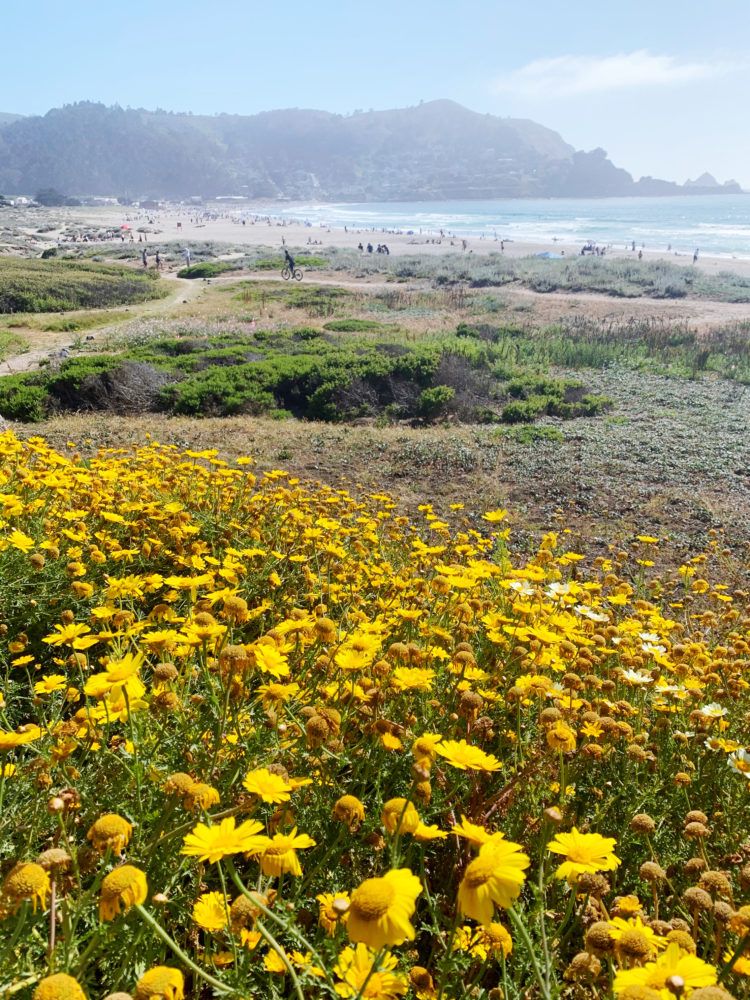 The area is known for its oceanside bluffs, alcoholic slushies (yas!), perpetual fog, and an underrated surf scene. The hikes in Pacifica provide panoramic coastal views, and there's endless stretches of golden sand beaches in the area, too.
Kinda like Half Moon Bay, Pacifica is San Francisco's funky, underrated beach town to the south. Although it's not as sleepy as HMB. And you'll find even more surfers over here, believe it or not.
Not to sound like a total cliche, but Pacifica really is a coastal gem in Northern California. And hardly anyone thinks to visit! Including myself, until recently!
Now, I'm not claiming to be an expert (I just moved to California a few years ago and recently started exploring Pacifica), but I wanted to share all the cool things I've found in the area, as well as the easy Pacifica hiking trails I've walked if you're looking to get outside!
So, get ready for a local's guide to Pacifica hiking – filled with all the best hikes in Pacifica with the best views!
Where is Pacifica Exactly?
Nope, it's not in San Francisco! And it's not in Half Moon Bay either! The charming moderately-sized beach town of Pacifica is located on the coast between the two! Not many people realize this, but it's actually right on the PCH. It's a real shame the area isn't typically included on Highway 1 trips, although it's one of my favorite spots on the Pacific Coast Highway!
Pacifica makes for a great day trip from San Francisco being only 15 minutes or so down the coast (depending on traffic, of course!). And it honestly feels like a world away from the hustle and bustle of the city. Pacifica's a relaxed oasis compared to the crowds of SF. If you wanna truly feel away without going too far, head out on some of these hikes in Pacifica – just bring a light jacket!
→ READ NEXT: 30+ Day Trip Ideas from San Francisco (all my favorites!)
How to Get to Pacifica
Since Pacifica is oh so close to San Francisco, you can easily drive down the 1 and voila, you're there! If you don't have easy access to a car (which I know is quite the norm in SF), it'll be an inexpensive Uber/Lyft ride away.
And thankfully, there are actually a whole bunch of things to do in Pacifica that are within walking distance to each other, so you can get dropped off at one spot and then explore other areas nearby.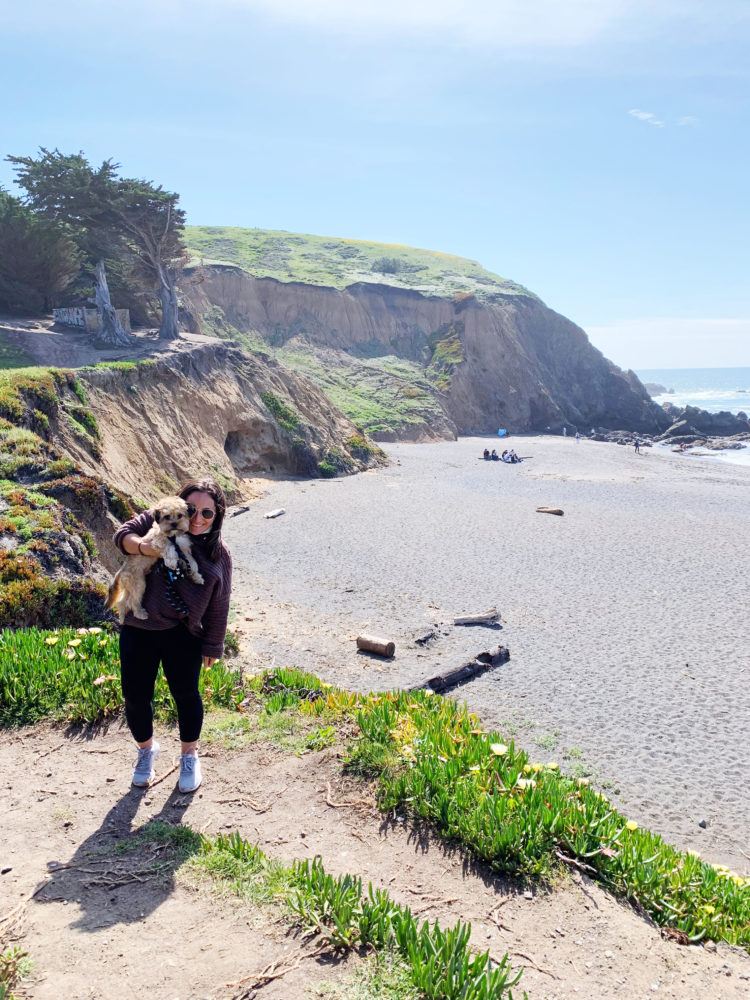 If you're visiting from SF without a car, I recommend getting dropped off at either of these spots:
Pacifica State Beach: within walking distance to Taco Bell (yes, you need to go to this location), Puerto 27 Restaurant, an easy hike/walk with great views of the beach, as well as Rockaway Beach
Mori Point (Parking Lot): you can easily spend two hours or so hiking in Pacifica around Mori Point, and then walking along the path to the pier, going as far as Pedro Point Brewing and Mazzetti's Bakery if you get hungry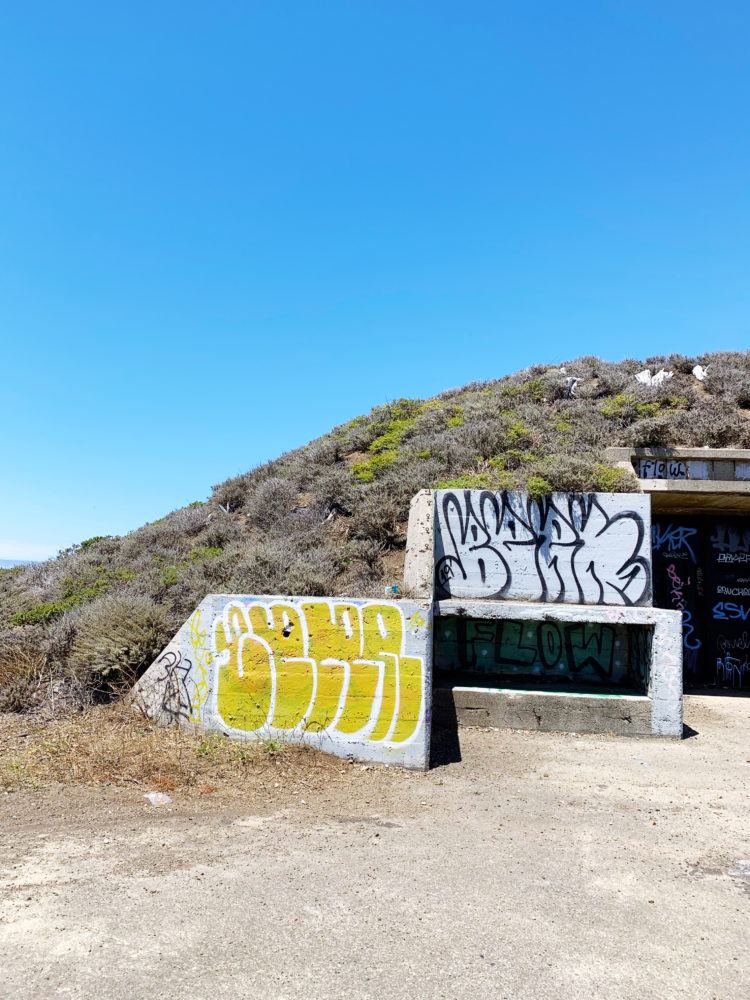 When to Visit Pacifica (Weather and Fog Forecasts)
There's no perfect time to go hiking in Pacifica, but I'd recommend between July and October. This is when the areas typically the warmest and sees the least rain.
The winter can get pretty chilly and is when the rain comes, so stay away if you're after pleasant hiking temps and dry weather.
Like other parts of the Northern California coastline (like Half Moon Bay and Pescadero), the weather is temperamental at best. Half the days are clear and sunny, while the others are covered in dense fog.
It is what it is. Temps don't change too drastically (with an average temperature of 58°F for the year), but it'll obviously feel way warmer in the sun.
And yes, you can lay out in your bathing suit and get a tan some days (don't forget the sunscreen even when the fog rolls in).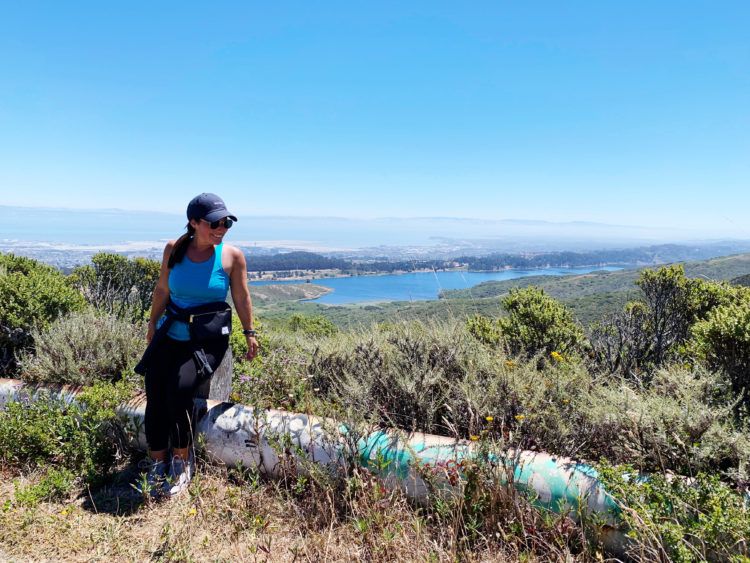 But don't expect to go swimming over here- the ocean water is just too cold for that (like most of NorCal, sorry). You WILL see surfers in the water, but they wear pretty thick wetsuits to stay warm.
If you find yourself with a sunny day in Pacifica, consider yourself lucky. The fog here is real, y'all! The Linda Mar area of Pacifica see's the most sunshine, but you never really know until you get there.
We've visited year round and have had endless afternoons of fog, while other days there hasn't been a cloud in the sky. Like I said, temperamental! My advice? Just always keep a light jacket with you and you'll be good to go!
Another thing you have to understand about the area is that the weather and fog changes pretty drastically pretty quickly. You could be hiking in Pacifica with clear skies, then BAM! The fog starts to roll in and it instantly feels 15-20 degrees colder. Or you could be driving through thick fog and in a mere 5 minutes you're awarded with sunny skies.
Regardless of the fog/no-fog situation, there's usually some sort of breeze. I mean, this is the Northern California coast, it gets windy! It's typically not too bad and feels more like a natural air-conditioning (something none of us have in our NorCal apartments!).
What to Bring on the Pacifica Hiking Trails (and other Hiking Essentials)
Since none of these hikes in Pacifica are longer than a few miles, I don't feel the need to bring tons of hiking gear. Here's what I do in fact bring along, although most are your typical essentials anyways.
A light jacket: An absolute MUST, even in summer, and yes, even when it feels like it's 80 degrees out! Because of the crazy unpredictability of the weather here (it's no joke), I always tie a sweater or light jacket around my waist.
Water bottle: Although the hikes in Pacifica aren't too strenuous, there's not much shade on many of the trails, meaning you'll probably get extra thirsty extra fast.
Hiking shoes/trail runners: Since some of these hikes in Pacifica are actually paved, don't worry too much about your footwear. Regular sneakers will be just fine, but I recommend trail runners if you've got 'em (especially for patches of loose sand/rocks/gravel).
I've actually worn sport sandals on Devil's Slide, but this probably wasn't the best idea as my ankles and feet hurt afterwards (zero ankle support obviously).
Snacks: I always throw in an energy bar, some almonds, plantain chips (low salted), and/or dried fruit (I'm obsessed with the "just dried mango" from Trader Joes).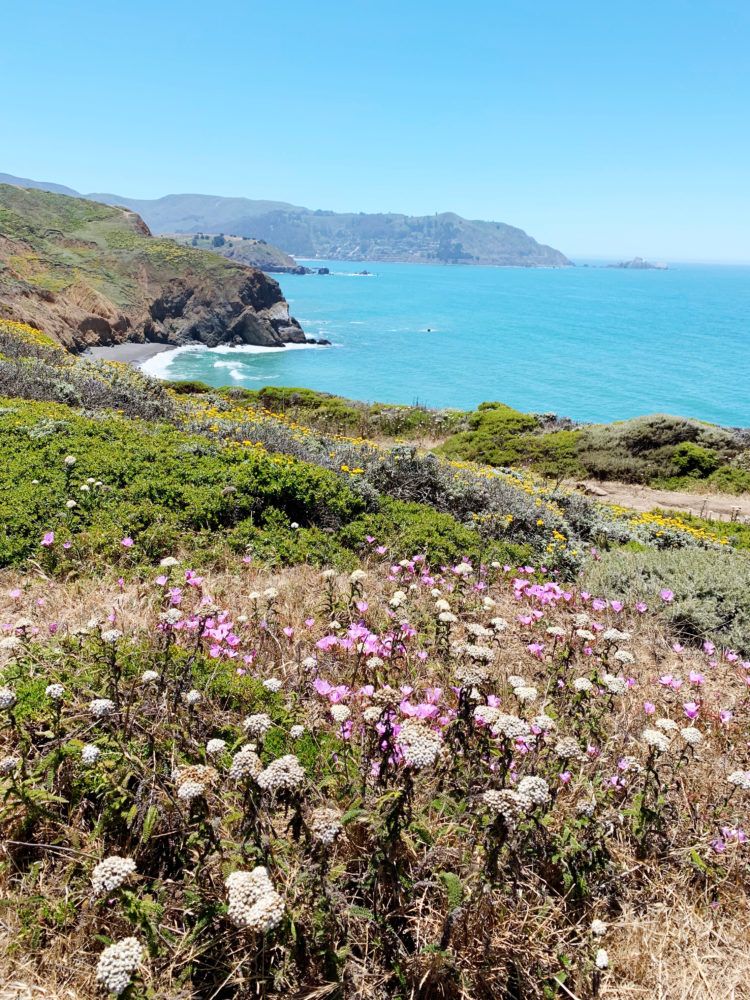 A Note on Cell Service
Cell service is pretty good on most of the Pacifica hiking trails, so I typically use my phone if for some reason we're looking for a specific path. It's kinda hard to get lost, I promise. And just FYI- I have T-Mobile, so this may not apply to you.
I haven't seen any paper maps or guides at the beginning of the trails, so just keep that in mind if you usually rely on those.
Areas in particular that I've had little or no service were at Devil's Slide and Sweeney Ridge. If you're meeting up with friends make sure to communicate with them in advance.
Walks and Hikes in Pacifica
Besides the beaches, hiking in Pacifica is one of the most popular things to do here. Or are the Pacifica trails more popular than the beach? Okay, I guess they both win as #1!
Since the town is practically on the Pacific Ocean (the Pacific Coast Highway runs right through it), it's not hard to find plenty of hikes in Pacifica with panoramic coastal views. And they're not hard, yay!
Expect to find the hikes in Pacifica to be gradual and on rolling hills (no crazy steep mountains over here!), overlooking the waves of the ocean, and nearby forested canyons.
Here are my favorite Pacifica hiking trails, which I've been loving as of lately!
MORI POINT LOOP TRAIL
Distance: 2.5 miles roundtrip (with the option to go further)
Elevation Gain: 400ft
Route Type: Loop
Rating: Moderate
Guide: Link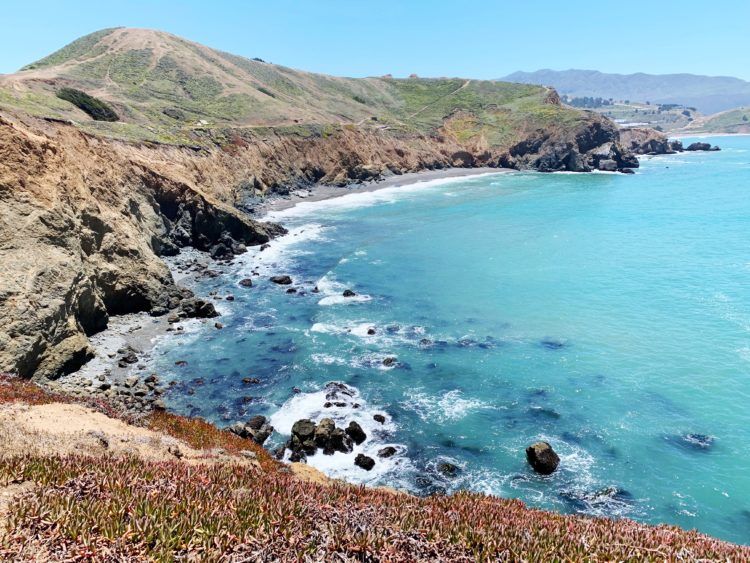 Ohhh, Mori Point – one of my all-time favorite hikes in Pacifica. A friend first took me to Mori Point a few years ago, and it was love at first sight. I was enamored with the oceanside bluffs, wildflowers, the numerous Pacifica hiking trails, and the sparkly-blue Pacific Ocean.
We've since been to Mori Point countless times, and it's now one of our favorite things to do in Pacifica. I mean, I even dubbed it one of the best stops on the Pacific Coast Highway, an area you won't find on too many other PCH road trip guides. It's worthy of an afternoon trip for sure!
The main attraction here? Mori Point itself – which juts out into the Pacific Ocean. Hiking to Mori Point isn't all that difficult (with numerous ways to reach the top, including a set of stairs), and the views – absolutely spectacular!
Look for the Bootlegger Steps on the map (photo above) if climbing up the steep mountain isn't your thing. And if you'd rather still hike (aka aren't feeling the natural stairmaster), you can actually go around the mountain which eventually takes you to the top (that's what I prefer to do).
My advice? Go during spring and early summer to see the wildflowers in bloom; they make such a striking scene against the blues of the Pacific Ocean.
Looking for only one or two hikes in Pacifica? I definitely recommend Mori Point!
If we're feeling lazy (or have Kona – our new puppy – with us), we take a casual stroll on the boardwalk leading to the coast (photos below). But if you're looking for the views found in the photos above, you'll wanna do a bit of hiking in the bluffs.
Parking Tip: there's a decent sized parking lot designated for Mori Point, but it fills up quite quickly. We typically find easy parking in the neighborhood right there.
DEVIL'S SLIDE TRAIL
Distance: 3 miles roundtrip
Elevation Gain: 450ft
Route Type: Out & Back
Rating: Easy
Guide: Link
Wanna walk on an old segment of Highway 1? You can over here! True story – this section was closed for driving a while back due to common accidents, frequent landslides, and erosion (it was quite treacherous to say the least). Hence the name "Devil's Slide"…
It's now been replaced with a much safer double tunnel for cars, giving us the path for walking and biking and tons of edge-of-the-world views!
The trail is relatively easy, being about a mile and a half each way, (making it one of the easiest hikes in Pacifica) meandering high above the Pacific along a steep cliff face.
Local Tip: start the hike on the southern side (there's parking on both sides), so you get the slight inclines outta the way first!
There's benches to take in the coastal views, and always keep your eyes peeled for whales! Don't miss the scenic overlooks and observation points – the rocky waters below are a sight to see!
Devil's Slide is by far one of the best hikes in Pacifica to bring your dog, as it's all paved and there's no worry of sharp rocks/foxtail grass getting into their little paws.
You'll commonly see bikers over here as well, so steer clear of them (thankfully the path is quite wide with separate lanes for walkers/bikers).
There's lots of interpretive signs with info about the geography, flora, fauna, and history of the area (which is kinda interesting). And if you walk all the way to the southern spot, you can see the Devil's Slide Bunker (a militarily bunker used in WWII).
Fun Fact: The slide area is actually composed of what used to be the ocean floor! Shifting tectonic plates uplifted the mud and sand to where it is today! Whoa, science!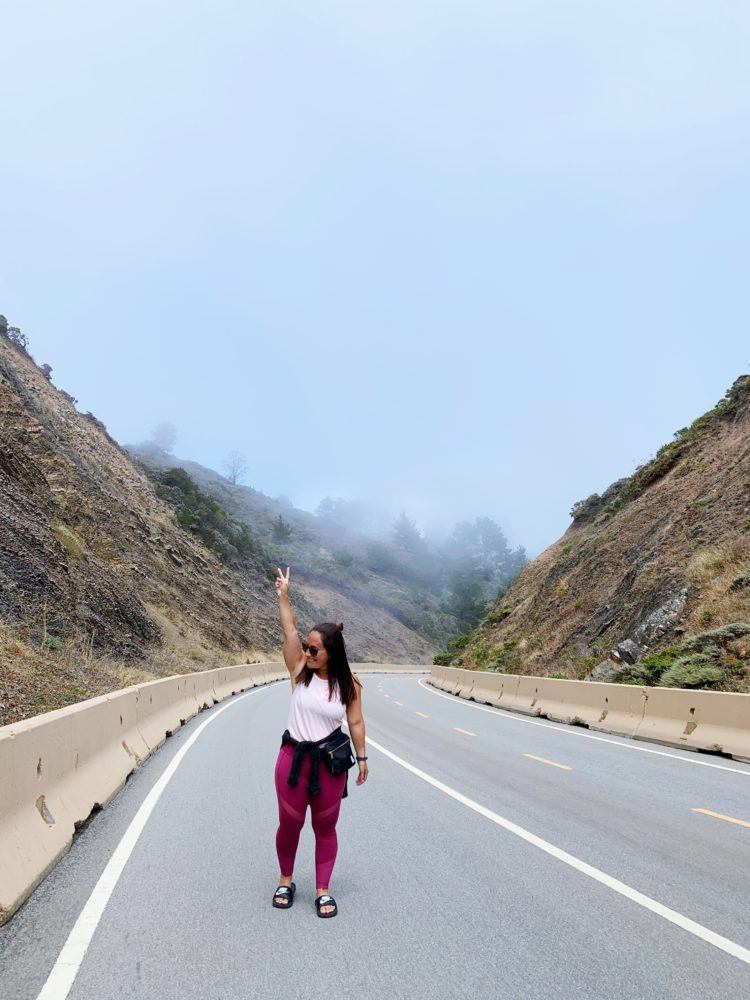 Do note that it gets quite windy over here in the winter, so you'll wanna bundle up! I once took my parents to Devil's Slide and we almost (literally) blew away, so be extra prepared if you visit in the winter months.
Parking Tip: There's two lots at Devil's Slide, one north and one south. Arrange with your hiking buddies beforehand which to meet at since there's very limited service over here.
PAVED TRAIL NEXT TO TACO BELL
Distance: ~1.5 miles roundtrip
Elevation Gain: 200(ish) ft
Route Type: Out & Back
Rating: Easy
Looking for world-class views with minimal effort? Walk the paved trail next to Taco Bell (we actually did this on our anniversary and it's now one of our favorite things to do in Pacifica).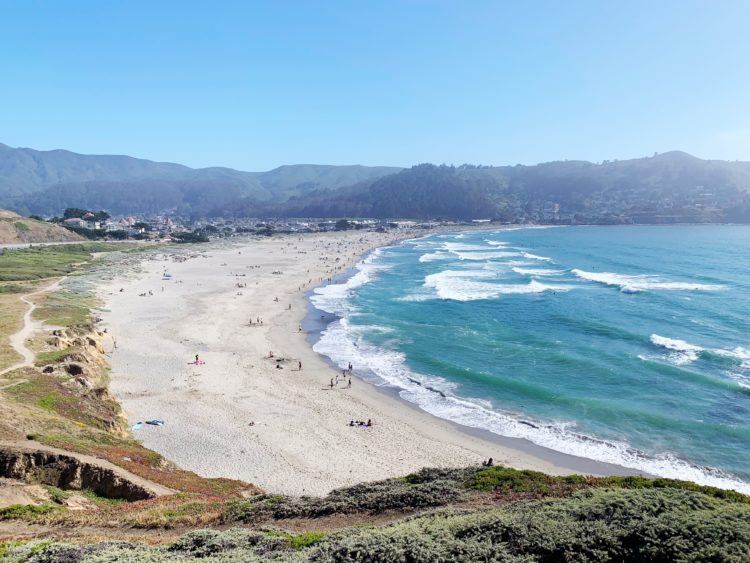 I'm not entirely sure if this short trail is one of the "official" hikes in Pacifica, but it's a recreation trail for hikers, bikers, and walkers. And it's easy enough to do in sandals – can't beat that!
The path runs parallel to the 1, and once you reach the base of the little mountain, you can either take the short way up the dirt path or continue on the slightly longer paved trail (we typically prefer the latter, because, why not?).
Psst → the trail actually starts a bit south of Taco Bell (close to Pedro Point firehouse), but we always just start from Taco Bell.
And once you've had enough of all those views of Linda Mar Beach, you can continue down over the hill (with switchbacks) to Rockaway Beach.
We love to grab some snacks from Taco Bell (Mountain Dew margaritas for the win!) and take Kona here! If you're looking for one of the shortest hikes in Pacifica yet still long for picture-perfect coastal views, come here. It'll take you minutes, tops.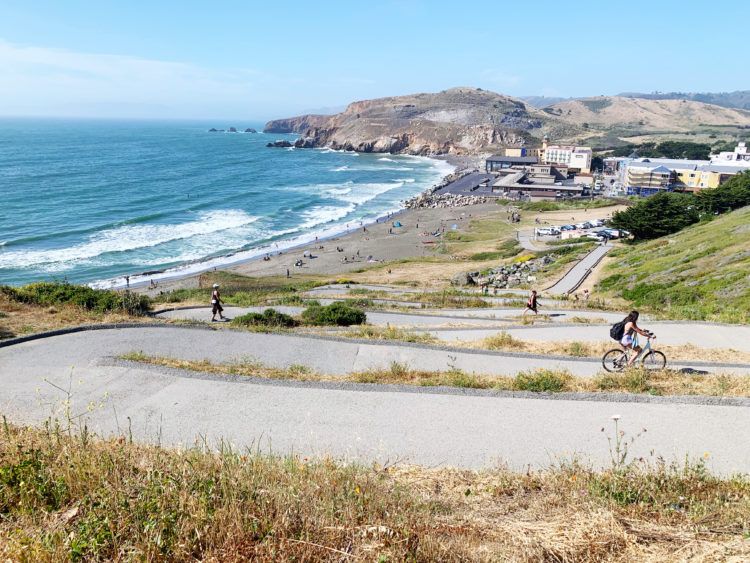 Parking Tip: Unfortunately, if you start near Taco Bell and Pacifica State Beach, you'll need to park in the paid beach lot (currently $7 for 4 hours). Parking at Taco Bell is free but we didn't feel comfortable leaving our car there once we left for the walk.
SWEENEY RIDGE TRAIL
Distance: ~ 4.8 miles roundtrip
Elevation Gain: 750ft
Route Type: Out & Back
Rating: Moderate
Guide: Link
Okay, so some people don't really consider this a true nature hike since it's mostly paved, but the views are too good to pass up! And it's definitely a workout, that's for sure, being the longest in terms of mileage on this list of Pacifica hikes.
Thankfully, the hike doesn't get boring since the views are constantly changing.
Just an FYI – there's a decent amount of semi-moderate uphill hiking. BUT the views are worth the effort (with the Pacific on one side, and the SF Bay on the other)! It's about a 1.5-2 mile uphill hike before you reach the ridge, and then voila – the entire Bay Area is there before your eyes!
You can even catch a glimpse of the Golden Gate Bridge and Mt. Tam on a clear day. You'll probably hear a bunch of planes as SFO is nearby as well.
Do note that this is an out and back hike (not a loop), so you'll have to come back the same way you came. You'll wanna wear sunscreen and a hat as there's not much shade over here. If you can, try not to go when it's excessively hot.
Fun history fact → It's over here that the San Francisco Bay was actually discovered by Europeans! There used to be an Old Nike Missile Site here but it's been removed as of April 2019. You'll see remnants of them at the summit.
Psst – if you wanna head up on actual earth (as opposed to a paved trail), start at the Notch Trailhead, which is another way to get to the summit of Sweeney Ridge. Do note it's much more strenuous with much steeper inclines, but you'll reach the same spot.
Parking Tip: There's a few spots for cars, but you'll likely have to park alongside the road or in the neighborhood. I found this to be the most popular Pacifica hike we did, so expect to walk a bit to the start of the trailhead. Once we started hiking it was pretty quiet and the crowds were super thin.
MILAGRA RIDGE TRAIL
Distance: 1.5 miles (with the option to go further)
Elevation Gain: 250ft
Route Type: Loop
Rating: Easy
Guide: Link
Looking for some great views without any major uphill climbs? Milagra Ridge (one of the shortest hikes in Pacifica) may be just your answer! Since the park is on the smaller side, don't expect much of a workout (the trail is 1.6 miles from one end to the other).
Don't fret though – if you are in fact looking for a more strenuous afternoon, you can head all the way down the path towards the ocean. Meaning you'll have to come back up again! We had anticipated doing a super short and simple trail, but I guess the universe had other plans for us since we just kept walking and walking.
Milagra Ridge connects to the Milagra Spur Trail, which we hiked on too.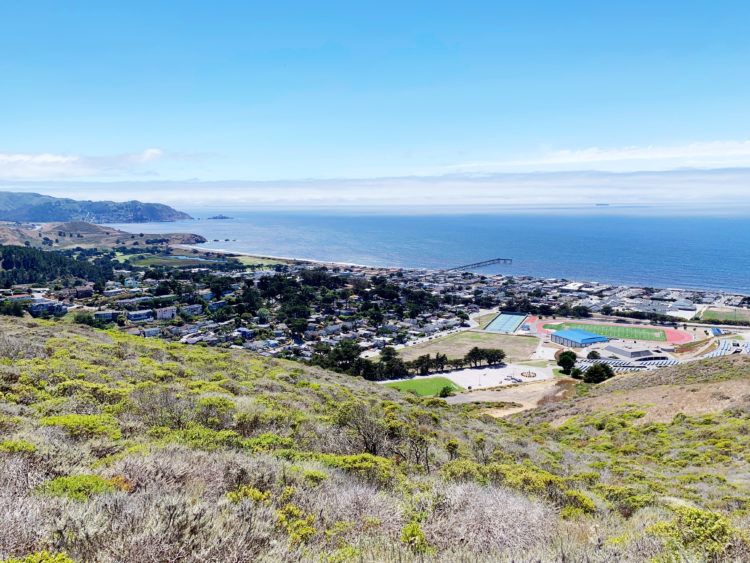 On our hike we came across a few worn out bunkers (covered in graffiti), which were used as part of the 11 Bay Area Nike sites. Fun Fact – none ever even filed a missile! And also a stone labrinyth, like the secret one at Land's End in San Francisco.
Definitely bring a light coat or sweater – it gets super windy here and plus, there's zero shade, so slather on that sunscreen!
Parking Tip: Unfortunately, parking can be kinda difficult at Milagra Ridge. There's not really a parking lot, and only enough space for about 8 cars or so near the trailhead. We were able to find parking on College Road (although there's not much) and in the neighborhood nearby.
Beaches in Pacifica
Phew! Once you're done hiking in Pacifica, reward yourself with some beach time! That is, if the fog stayed away of course!
Pacifica boasts three main beaches, being Pacifica State Beach (Linda Mar), Rockaway Beach, and Sharp Park Beach. We typically end up at Linda Mar since it's right next to Taco Bell, haha. Hopefully the weather cooperates so it's actually sunny and warm for your beach day!
Bathe in the sunshine and go surfing at Pacifica State Beach
By far the most popular beach in Pacifica, and for good reason – the weather's usually the best over here!
It's also known as Linda Mar Beach, because, well, it's located in the Linda Mar area of Pacifica.
Brave? Go swimming, but beware this is the Pacific Ocean, and we're talking about Northern California here… meaning super chilly temps). Prefer to stay warm and dry? Sunbathe on the sand, do some beach yoga, read, people watch, make a sand castle (haha), etc.
Psst- this is where my beloved Taco Bell Cantina is located (more on that below). And it's even gotten the name "Taco Bell Beach" by locals because of that!
Regionally, Pacifica is an extremely popular surfing spot, and you'll always see surfers strolling along with their boards. Beginner surfers will love the waves at Pacifica State Beach as they're much milder than other nearby spots.
Parking at Linda Mar: $7 for 4 hours
Eating and Drinking in Pacifica
Phew, after all that hiking in Pacifica, you deserve a treat or two! Thankfully Pacifica boasts plenty of spots to chow down in.
Drink a mountain dew margarita from Taco Bell
Yes, Taco Bell made this list of best things to do in Pacifica. Surprised? Haha – I don't blame you. BUT hear me out – the Linda Mar Taco Bell (here in Pacifica) is known as the most beautiful Taco Bell in the world. Let me say that again. IN THE WORLD! It's located riiiiight on the beach, and even has surfboard parking!
AND Mountain Dew margaritas, which are actually in fact, pretty amazing if you consider they come from Taco Bell. Don't expect top shelf alcohol here (or much alcohol at all), but they sure are tasty and perfect on a warm afternoon!
You can grab your crunch wrap supremes and either take them to the back porch or out to the beach; watching the surfer dudes catch waves is highly recommended. (And there's plenty of 'em, although they're all wearing wetsuits…)
Grab some cannolis from Mazzetti's
Wanna treat yourself after all that hiking? You deserve it! Head on over to Mazzetti's, an unassuming family-owned bakery known for their Derby cake, cannolis, neapolitans, and french pastries. And yes, the lines can be crazy-long, but that just goes to show just how awesome this place is. Ugh, now I'm craving a cannoli. :p
Eat fish-n-chips at Camelot's
This legendary spot had to make the list of best things to do in Pacifica, because, well, who doesn't love made-to-order fish-n-chips?! The inside is so funky with all the colorful British memorabilia.
We like to eat inside and then walk over to the water and just watch the waves crash on the shore.
Sip a pint at Pedro Point Brewing
Looking for a beer instead of a cookie? I feel you! There's plenty of beers here with over a dozen on tap, all brewed on-site. And the place is extra fun – with 80s rock music playing and even books and board games to play!
One of the coolest things about Pedro Point? The place is BYO Food, so you can get something from one of the local spots around and bring it in. And since it's dog friendly, you'll see lots of cute puppies around!
Picnic on the Beach with Colombo's Italian Delicatessen
Wanna have a picnic on the beach? Grab some sandwiches from Colombo's, an old-school deli with over 25 speciality sandwiches on the menu (no really). And the best part? They bake fresh loaves each and every morning. Mmmm… gimme some Dutch Crunch.
Go for Peruvian Food at Puerto 27
Pisco sours and sangria, anyone?! Puerto 27 specializes in Peruvian food, with an outdoor patio to feast on! It's kinda on the expensive side, but hey, the views overlooking the ocean are probably the reason why. I think we're gonna go here for a special occasion soon!
Hope this Pacifica hiking guide helps you plan your perfect trip this underrated surf town! Which of these hikes in Pacifica are you planning to do?!
Looking for more California content? Explore my other California guides here!
Did you know that …
When you purchase something through our links, we earn a small fee (but you still pay the same)! Win-win! If you found this article useful, consider using the links within the article or below. Thanks for your support!