Looking for things to do in Guerneville in Sonoma County? Keep on reading for not only all of my favorites, but where to stay, what to eat, and what to do.
To say these the past few months have been ridiculously busy is a huge understatement.
Not only did we buy our first home (and figure out the massive amount of paperwork that comes with putting an offer down and closing within 21 days… true story), but we also spent 2 weeks in Japan… just a few days after moving into our new place. March and April were a bit of a frenzy to say the least.
So when we were graciously offered a weekend away at Applewood Inn Restaurant + Spa in Guerneville (within the Russian River area of Sonoma County), we knew a few days of a little R and R was exactly what this over-achieving crazy couple needed. A little us time. And a whole lotta eating (cuz it's what we do best).
When researching things to do in the Russian River area, I couldn't find too much… and spoiler alert- I kinda liked it. Yes, there were things to fill the entire weekend, but not enough for anxiety to see/do/eat everything set in.
Normally, trips are jam packed and more often than not, I'm dragging the husband (or whatever lucky friend accompanying me) around nonstop. Sure, it's always a good ol' time, but with the pressure taken off of trying to pack in too much in a short weekend, we were finally able to relax and enjoy each other.
With that being said, if you're in the need for a quiet weekend away, Russian River is a definitive choice. And you'll eat really well – I can promise you that! At just over 2 hours away (depending on traffic), it is the perfect setting for a weekend away from the hectic life of the San Francisco Bay Area. It's now one of our favorites, and I can see us visiting again in the near future!
Curious as to some of my other favorite long weekend trips from SF? I'll never say no to a trip down to Santa Cruz, Big Sur, Yosemite, Carmel, or Napa Valley!
Here's a quick(ish!) recap of our weekend at the Russian River:
Our Weekend at The Russian River and Things to do in Guerneville
Where We Stayed: Applewood Inn (Guerneville)
Tranquil. Cozy. Remote. Three words that most accurately described our stay at Applewood Inn. The staff was absolutely lovely, we enjoyed tons of relaxation time, and who doesn't love to wake up in a king bed basically nestled within the trees? We couldn't have stayed at a better place during our weekend at the Russian River.

A few things in particular we adored about Applewood Inn:
Applewood Inn boasts only 19 rooms, meaning not only does the staff remember you day after day, but you feel as if you have the whole place to yourself! During our three days on the property, we only saw a handful of people and absolutely loved this aspect.
Also- the pool was never crowded. And plus, the entire property was super cute – we felt like we were coming home to a mini mediterranean villa each day and night!
The bed and breakfast is conveniently located between the coast and the wineries in Sonoma. We had heard great things about nearby Healdsburg, but staying in that area would have meant over an hour and a half to the beach!
Staying in Guerneville meant that we were an easy 45 minutes from both the rugged coastline and the delicious wine tastings.
The two course complimentary homemade breakfast each and every morning was an absolute treat! Fresh, seasonal, local food. And as much coffee, tea, and mimosas as we could handle.
We heard the restaurant (opening for dinner in a few short weeks), will be as farm-to-table as they come.
More about the location: Applewood Inn is a 3-minute drive from the main street of Guerneville, with it's super small-town charm (with very easy street parking) and the most delicious ice cream, pies, and biscuits. #heckyes #droolworthy
And only a few minutes from great hiking at Armstrong Redwoods Park as well!
This upscale (and adults-only) B+B is self sustained and uses every inch of their 5 acre property- using energy from solar panels, growing their own fruits, veggies, and spices on property gardens, and even plans to raise chickens in the near future. Love that they place so much importance on the environment.
Also- lots of redwoods surrounding the property made this rustic place just that much more remote-feeling.
Perhaps the most comfortable bed (pillows included) we've ever slept on. And that includes our beloved memory foam mattress at home. Yes, it was that amazing that we took a mid-afternoon nap one day… something we NEVER do on vacation. And that fireplace was so lovely to bundle up to on the chilly NorCal nights.
Wine upon arrival. Enough said.
*The only challenge we experienced was the lack of decent wifi – yes, we should have been unplugging, but we even had difficulty pulling up directions to our desired destinations from the space. :/
What We Did in Guerneville and Around: Everything!
As I mentioned earlier, I hadn't planned much before arriving in Guerneville (so unlike me!), and decided to leave our itinerary in the hands of the staff at The Applewood Inn. After a quick chit chat, we had a rough idea of our plans for the next two days – a good mix of time on the coast, exploring the tiny towns nearby, tastings at local vineyards, and plenty of added relaxation time.
So many hidden gems to be explored during a weekend at the Russian River… you just need to know who to ask. 😉 Who knew there were oh so many things to do in Guerneville?
A few of our favorite activities:
A windy morning searching for whales at Bodega Head
We visited in early May, which is supposedly the end of the season for migrating humpbacks. Although we didn't see any whales, other groups who braved the wind longer than we could saw quite a bunch! While no humpbacks were spotted on our end, the rugged Sonoma coastline is absolutely beautiful and I highly recommend a stop here any time of year.
Driving down the Pacific Coast Highway to Bodega Bay
I had a hard time not pulling over every few minutes while on our drive down to Bodega Bay. En route to Bodega Head, we bypassed numerous bodies of water that were just too beautiful to fatham!
The husband gladly accompanied me on a walk around the harbor after our seafood lunch. And better yet – we found a local fruit stand selling the sweetest cherries on our way back!
Sipping wine at Ferrari-Carano Vineyard
Not only did we try an excellent Pinot Noir (what the area is known for), but the walk around the grounds was one of the best I've seen in the entire Napa/Sonoma area. Instead of a tasting, we opted for a glass and enjoyed our wine roaming the vineyard. One of our favorite things to do in Guerneville by far!
Relaxing/Spa Treatments/Reading our Kindles at Applewood
As mentioned above, we had our fair share of free time at the Applewood Inn. I now vow that every trip we take should include more relaxation time. We obviously need it!
I got a signature massage at the Applewood Inn Spa and almost fell asleep it was that relaxing! Doesn't hurt that my masseuse used the perfect amount of pressure on this camera-lugging girl's shoulders!
Wandering around Guerneville and Healdsburg
What Guerneville lacks in size, it definitely makes up for in hip eateries! See below for more of these goodies, but to say we stuffed our faces the entire weekend is a huge understatement.
Healdsburg is much larger, and we loved wandering around peeking into shops, storefront tasting rooms, and of course, more and more eating. We took our cones to Healdsburg Square and ate on the benches – the weather was absolutely perfect!
Champagne Tasting at Korbel
While we opted out of the free tour (it was a bit too long- at just about an hour- for our tastes), we surely enjoyed our free champagne tasting at Korbel!
The tasting includes 4 pours- which you can pick out yourself from the long list of Champagnes, or leave it up to the sommelier to choose them for you based on your preferences of bubbly. And let me tell you, they were more than generous with the pours!
Other Things to do in Guerneville For Next Time:
Armstrong Redwoods Park
Tubing down the Russian River or just hanging at Johnson Beach
What We Ate on our weekend in Guerneville: Ice Cream, Crab, Biscuits + More
A few of our favorite finds:
Nimble and Finns (Guerneville)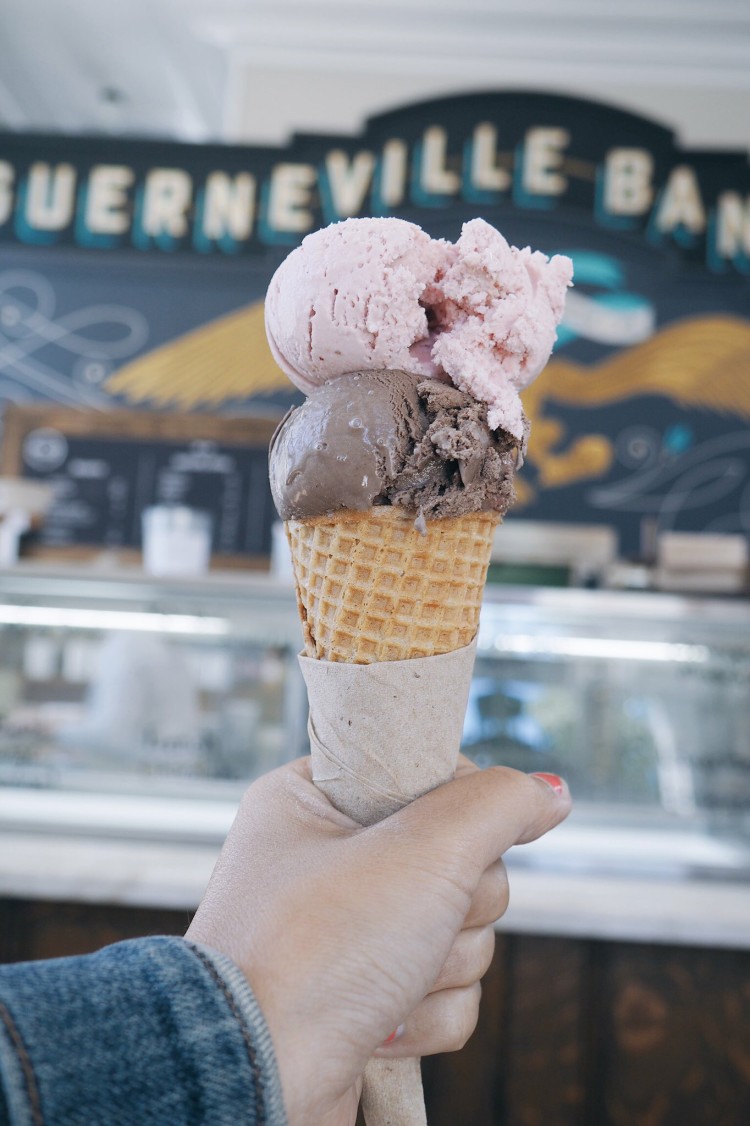 One walk into Nimble and Finns and you'll see why this place is always crowded. ICE CREAM. And even better, they applause unlimited samples.
I opted for the chocolate raspberry (#yum), and the strawberry rhubarb, but all the flavors I sampled were downright delectable. And when choosing a flavor is one of the hardest decisions of the day, you know you're doing a-okay! 🙂
Big Bottom Market Biscuits (Guerneville)
Ridiculously flaky. Exceptionally flavorful. My speciality spinach, bacon, and cheese biscuit met all of my biscuit expectations and then some. And yes, you better believe that this place has Oprah's favorite biscuit. Yes, really. It even says so on the sign outside!
boon eat + drink (Guerneville)
Boon eat + drink is easily Guerneville's hippest spot – tables were never left empty for long. And I understand why: it's a problem when you want basically everything on the menu, am I right?
After some deliberation, we finally decided to ditch the standard courses and order a whole bunch of sides and one main dish to share. Burrata and grilled french bread, flash fried brussel sprouts, creamy mac n cheese, and perfectly medium cooked steak over a bed of arugula, truffle fries included.
To say we were beyond stuffed was an understatement. Not even room for dessert.
Chile Pies Baking Co. (Guerneville)
Located in the same building as Nimble and Finns (within the beautiful Guerneville Bank Club), we taste tested a slice of pie as well! Never enough sweets for this girl! And let me tell you – that peanut butter chocolate pie was well worth the calories, that's for sure.
Noble Folk Ice Cream and Pie Bar (Healdsburg)
This creamery has got big competition with it's neighbor in Guerneville, Nimble and Finns. More creamy deliciousness, including flavors such as black sesame coconut (a favorite of mine after visiting Japan), salted caramel, and peanut butter and chips.
Take your ice cream to go and sit in Healdsburg Plaza, an uber cute square with live music playing, if you're lucky.
After our weekend of eating and drinking, we were cravvving carbs (pizza in particular), and Pizzando did just the trick. Lots of creative options to choose from, but we ultimately opted for a ricotta, lemon, pea grass, and prosciutto pie.
Spud Point Crab Company (Bodega Bay)
We literally watched the staff boil the crabs straight from the buckets! It doesn't get any fresher than this! My husband and I decided to share the specialities – crab cakes, a crab sandwich, and clam chowder, which were all absolutely delicious. One of each, please!
All in all, we thoroughly enjoyed our weekend getaway to the Russian River and all the fun things to do in Guerneville. It was a welcomed weekend away and we'll be back sooner than later!
Special thank you to Applewood Inn and boon eat + drink for hosting us over the weekend! We experienced lovely hospitality and can certainly say we were never left hungry at either establishment! We'll be back, that's for sure!