Visiting San Francisco and looking for the absolute BEST viewpoint of the Golden Gate Bridge? Head on over to Battery Spencer — one of my all-time favorite views of the Golden Gate, and probably all of San Francisco! It's got that perfect postcard view you'll be swooning over as soon as you see it!
If you're visiting SF, I can almost bet that seeing the Golden Gate Bridge is on your San Francisco bucket list! As it should be — it's iconic to the City by the Bay and a true architectural masterpiece. And it's freaking gorgeous — there's a reason it's one of the most photographed bridges in the world!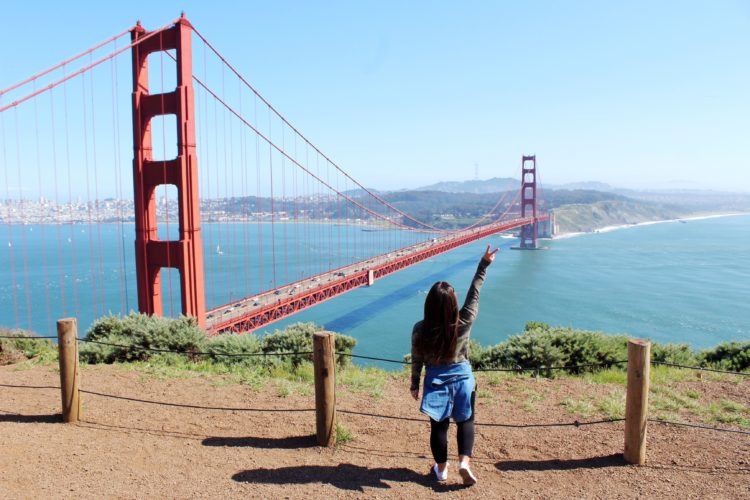 While there are tons of Golden Gate Bridge viewpoints, marveling at the bridge from Battery Spencer is, in my opinion, the absolute best place! It is THE signature view of the Golden Gate Bridge afterall. You know those famous opening credits of Full House? Yup — those were shot from Battery Spencer!
There's been fashion shoots here (expect to see lots of IGers!) to fun family outings with lots of cute pups and kiddos, and everything in between. We've had picnics overlooking the Golden Gate Bridge, brought visitors up here, and even witnessed a proposal or two. And when I tell you it's downright magical — don't just believe me. Go and experience it for yourself! Battery Spencer's one of my favorite spots for sunset in San Francisco!
It's one of the places we always take visitors (along with Muir Woods, the secret mosaic stairs, and Chinatown and the Mission — two of my favorite neighborhoods in San Francisco).
So get ready, we're off to see the Golden Gate Bridge and it's International Orange color in all its glory right here at Battery Spencer. Here's literally everything you need to know before visiting!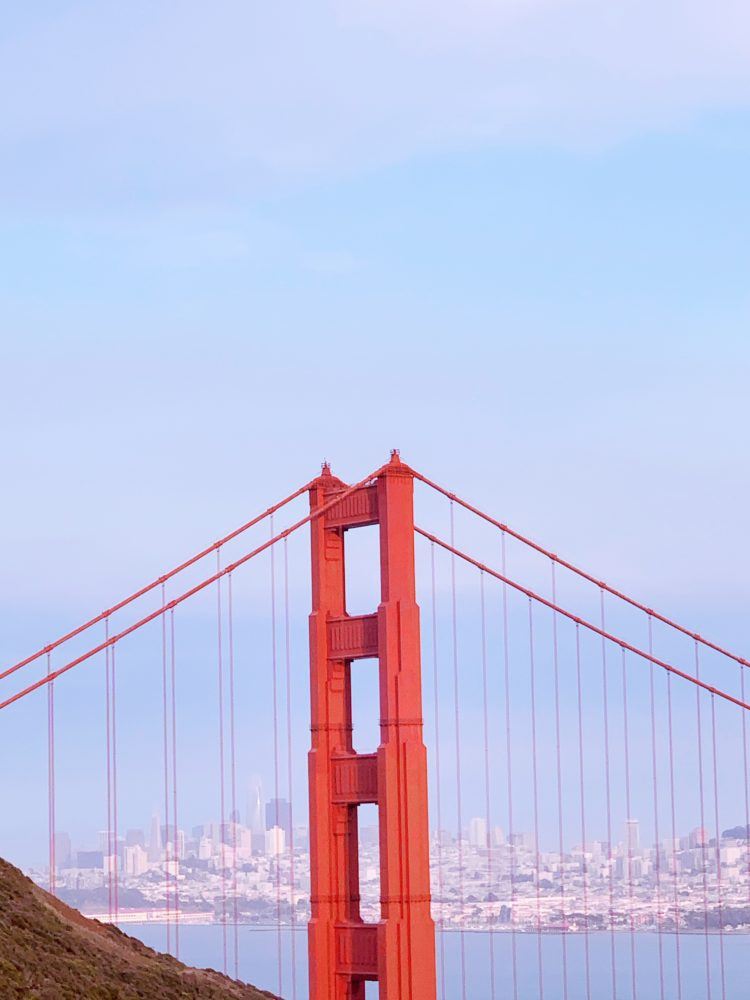 About Battery Spencer
The Basics
Cost: FREE!
Parking: Limited but not crazy difficult
Open: Always!
Bathrooms: Available, but not in the best of shape
Distance from Downtown SF: 25-30 minutes, depending on traffic
A little history about Battery Spencer
Yeah, the views are absolutely phenomenal (have you seen the photos?!), but did you know this area's filled with military history?! Battery Spencer was part of the Harbor Defence and one of the protection points for the SF Bay from 1897 until 1942 (around the time of World War II). It's where the three 12" guns were operated and stored. If you walk around Marin County, you'll soon discover quite a few other historic forts and batteries.
You can actually still see bunkers and gun mounting remnants to this day! But the walls have since been vandalized and are covered with graffiti, so it honestly doesn't look super historic anymore. Still kinda cool to check out. I honestly come for the views though. 😉
The View
I'm not kidding when I say you get an up-close and personal view of the bridge from up here! There's great views from every single angle! And besides panoramic views of the Golden Gate Bridge, you also get spectacular views of the San Francisco skyline and the Bay Bridge in the distance. Battery Spencer's really one of the best hidden gems in San Francisco — there's a reason it's my favorite!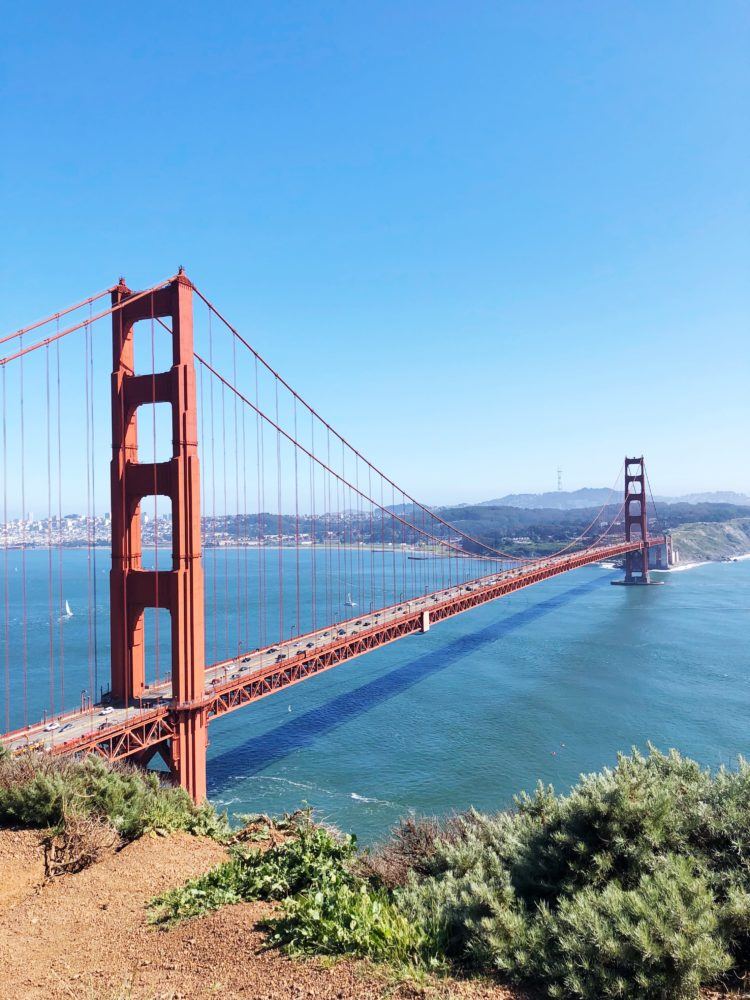 Photographers just LOVE this spot — there's enough room for everyone to get their shot! The area is quite wide, so you've got broad ocean views to the west and views of the Bay Bridge, Alcatraz, and even Fort Baker to the east.
And of course, with the sun setting over the Pacific Ocean, Battery Spencer is a prime spot for sunset photos! You get that nice glow illuminating the bridge itself, and if you're lucky, pinks and oranges in the sky!
Battery Spencer Logistics
When to Visit
Want the views all to yourself — or close to it? Come early in the morning on a weekday. Sunrise shoot, anyone?!
But if you're allergic to early mornings like we are, don't worry — the views are absolutely fantastic any time of day. If you've got flexibility, aim to visit on a weekday; it'll be far less crowded! Try and visit on a clear, sunny day! Although the fog does make an appearance more often than not!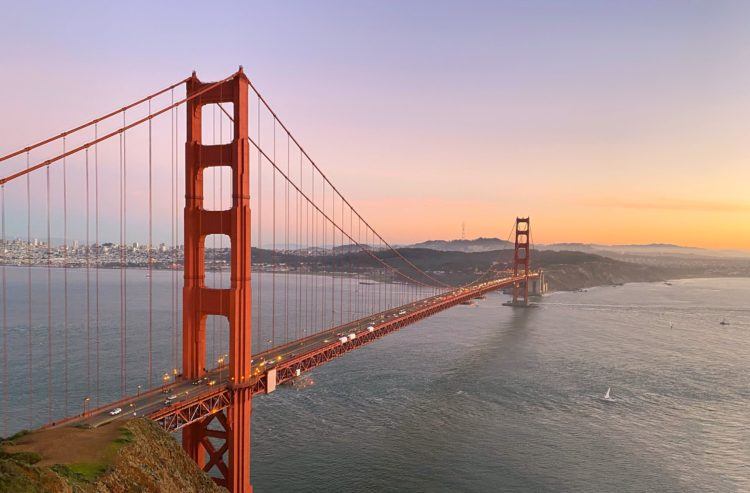 We've visited Battery Spencer at sunset on a holiday weekend — not a good idea. I'm not kidding when I say we almost missed sunset entirely because traffic on Conzelman Road was that bad. Don't be us — visit any other time. I've thankfully visited plenty of other times so I wasn't terribly upset when this happened.
Pro Tip: If seeing sunset at Battery Spencer is on your SF bucket list, plan to come a bit early! You wanna give yourself enough time to get a parking spot and make the short walk to the viewpoint! Don't rush it!
If you do manage to snag a spot for sunset, be sure to stay once the Golden Gate Bridge lights up and reflects in the water. And on a clear night, do a bit of stargazing — there's plenty of stars up here!
Weather and What to Bring/Wear
Hate to break it to you, but the wind at Battery Spencer is NO joke, y'all. When I tell you it's gonna be windy 95% of the time, listen to me! It makes sense — The viewpoint is at the top of a hill, and it's San Francisco afterall (this is not SoCal with it's near perfect weather). Expect it to be pretty chilly, especially at sunset.
Make sure to wear layers, and leave that hat at home (unless you wanna be holding it down with fear of it blowing away, never to be seen again).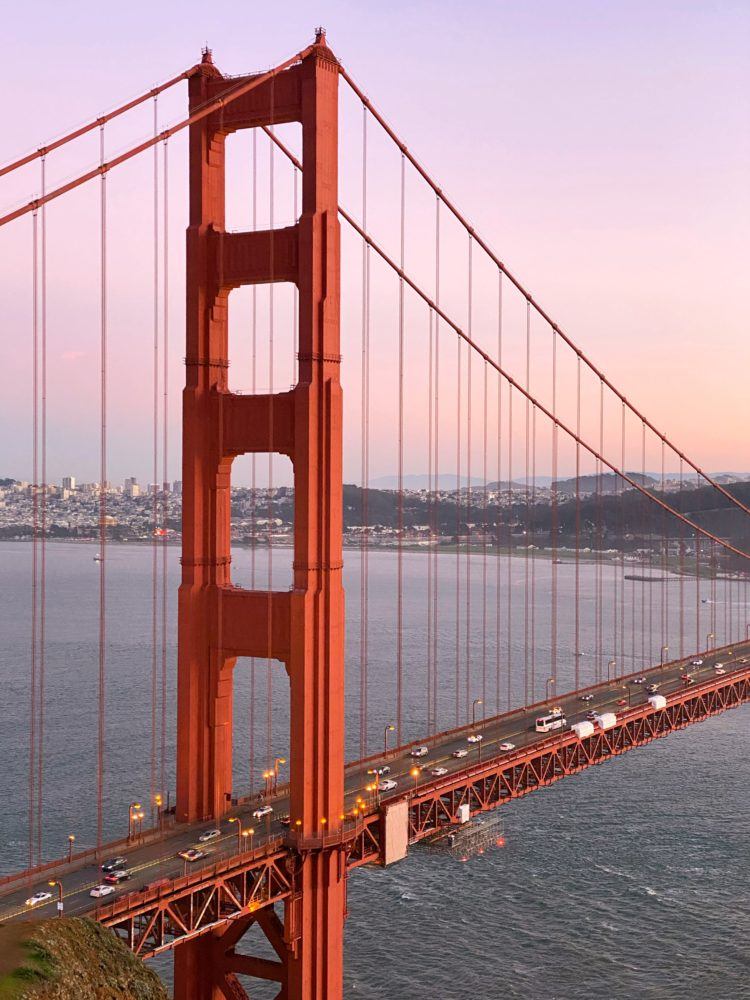 I always underdress and am always shivering! Make sure to wear enough layers, and yes, even in the summer! There's tons of ridiculous and incriminating photos of me at Battery Spencer (with my dress half up, blowing in the wind). I just can't learn. Don't be me — wear pants or at least a long dress if you don't wanna flash everyone in sight and/or hold your skirt down the whole time.
On the rare occasion it's not terribly windy up here, just enjoy it and take in the views! Because that's NOT the norm! :p
Should I visit on a foggy day?
Well, that's entirely up to you — but I say, go for it! Fog is almost guaranteed over here at least a few times a week, and it's kinda hard to know when it's coming. Karl is finicky y'all (yes, our beloved fog even has a name AND a twitter account). Fog is very much unpredictable, and he seems to creep up in an instance.
And plus, if you get lucky and come at the right moment, watching the fog roll in over the bay is just as magical (if not more so!) than watching the sunset at Battery Spencer.
How to Get There
First things first, Battery Spencer is not located within the city of San Francisco itself. Many people get confused by this, but just hear me out!
It's located on the north side of the bridge in the Marin Headlands just across the bay, meaning you'll have to cross the bridge itself (leaving San Francisco) in order for the viewpoint. But I promise you it's worth it! I wouldn't have you leave SF for some regular old view! Just something to keep in mind because this means you'll need to plan to leave the city for a hot second or two.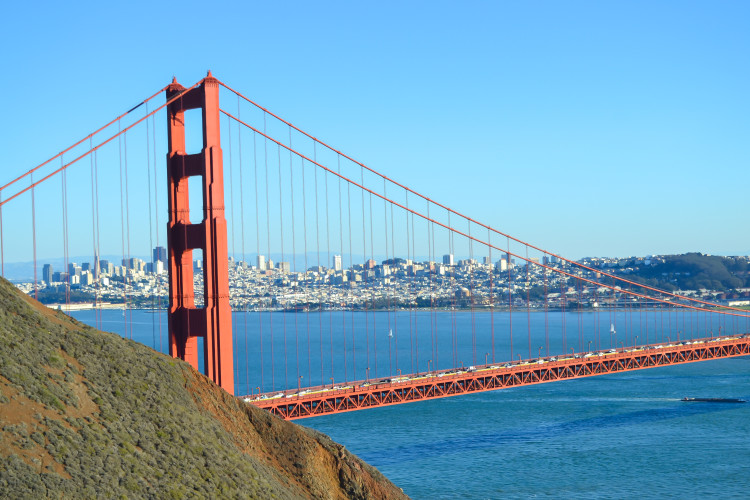 Driving:
Thankfully, driving to Battery Spencer from San Francisco is super easy. But depending on where in the city you're coming from, it can take a bit of time to reach. From downtown SF expect it to take roughly 25 minutes. If you're already in the Presidio near Crissy Field or the Palace of Fine Arts, it's even closer (around 15 minutes).
Exact Address: Conzelman Road, Sausalito, CA 94965
It used to be super quick to drive up the hill to Battery Spencer after crossing the bridge, but they've since made that a one-way road. And thank goodness — because traffic and parking used to be an absolute nightmare!
Directions: After crossing the bridge, you'll need to make your way around the hill by making a right on Alexander Ave, turning left onto Bunker Road, following that around until you reach McCullough Road, and then finally getting to Conzelman Road at the traffic circle. Once you reach Conzelman you'll quickly see the bridge, but KEEP ON GOING! The Battery Spencer viewpoint is the closest one to the Golden Gate.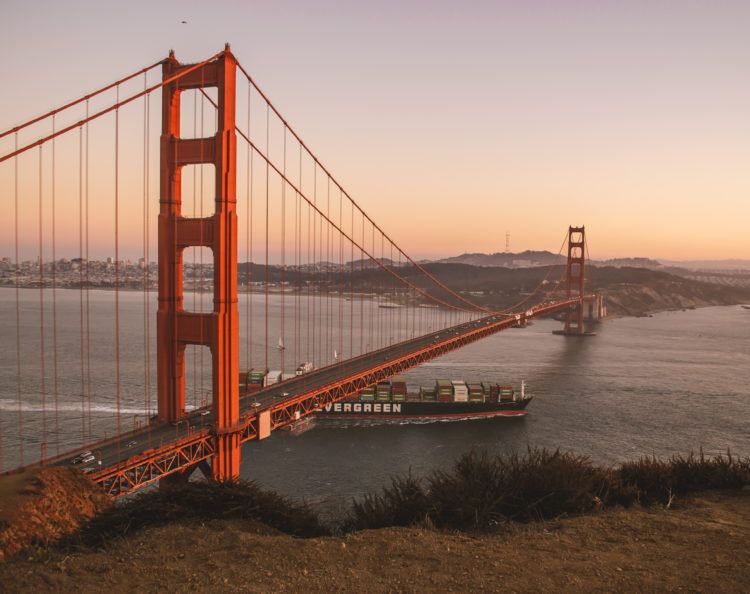 But honestly, just pop Battery Spencer into your GPS and you'll be guided right there! Cell service isn't the greatest up here, so just something to keep in mind on your return journey.
Or if you're not renting a car, Uber or Lyft shouldn't cost more than $20 or so (from the Palace of Fine Arts or nearby). But then you'll need to get yourself back over the bridge if you don't wanna walk, and finding a ride share in the opposite direction could be more difficult.
Walking:
Yes, you can in fact WALK straight to Battery Spencer from San Francisco! It'll take a while, but that just means more room for desserts in San Francisco, right?! You'll need to of course walk over the Golden Gate Bridge itself, and the bridge alone is 1.7 miles each way, soooo definitely expect a long walk!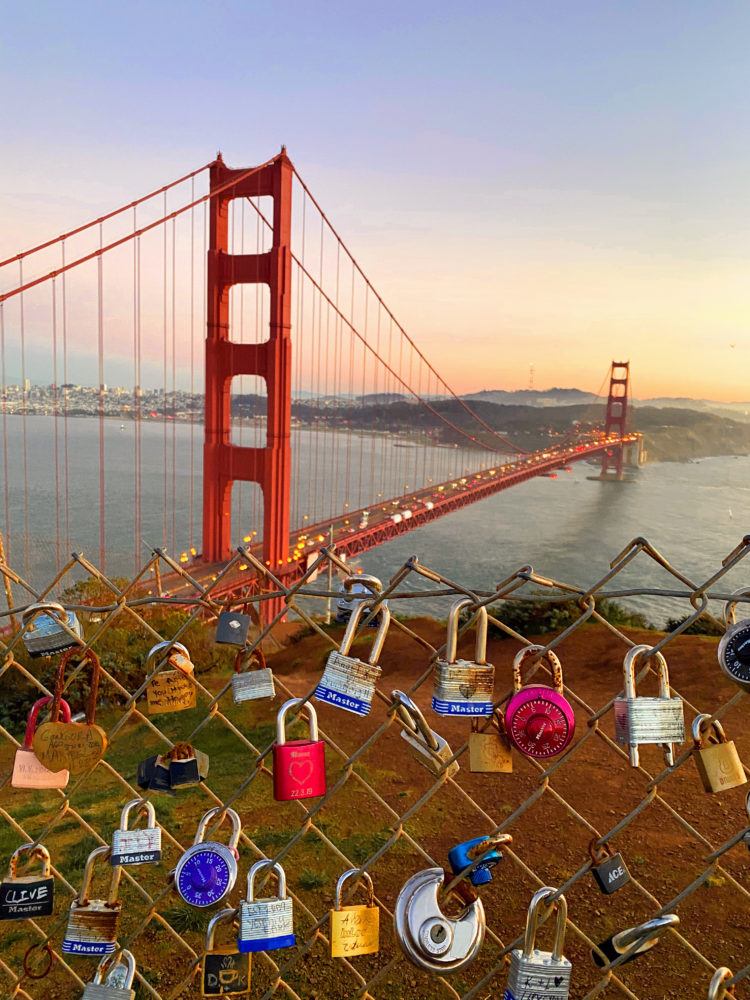 From Crissy Field (another great spot to see the bridge), it'll be about an hour and 30 minute walk one way (including the walk over the bridge). Do note that there's some slight elevation change, so wear your comfy shoes!
If you're coming from elsewhere in the city, it'll take longer, so I'd plan on walking to Battery Spencer on a day you're already hanging out in the Presidio. There's the Palace of Fine Arts, Baker Beach, Lover's Lane, the Batteries to Bluffs Trail, and a whole lot more around here.
Public Transit:
Thankfully, if you don't feel like walking a few miles to reach the viewpoint from the city, there's the bus!
You can take the #30 or #70 bus from the Golden Gate Bridge Toll Plaza or Richardson Ave & Francisco Street, ride a few stops, and get off at the US-101 Off-Ramp/Sausalito Lateral Road. You'll then need to walk about 20 minutes (0.8 miles), but that definitely beats walking 3 miles!
Parking at Battery Spencer
Depending on the day — it can get kinda tricky. But it's way better than it used to be!
The actual "lot" for Battery Spencer (if you can even call it a lot) is only large enough for a few cars, so I'd expect to park elsewhere on Conzelman Road. Thankfully, now that the road is a one-way street, there's a decent amount of designated street parking on the side of the road. Phew — I used to majorly stress about that!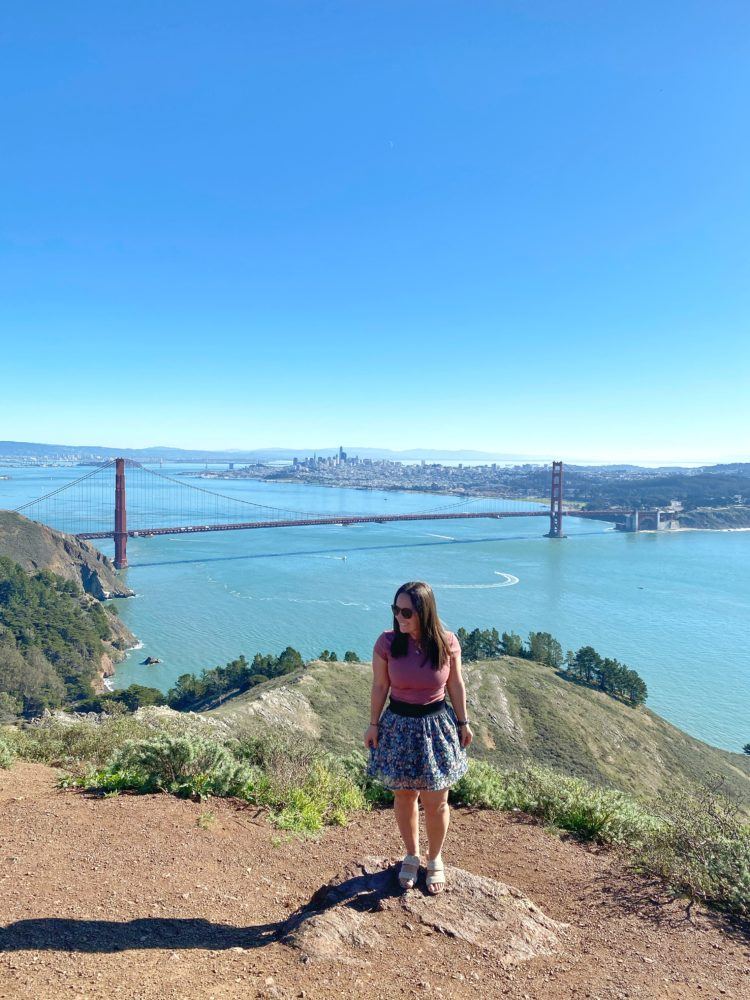 If it's a busy day (not uncommon on the weekends), we sometimes have to park closer to Hawk Hill and walk over (about a 25 minute walk from Hawk Hill — but there's other viewpoints along the way).
Just note that if you do in fact pass Battery Spencer and there's no spots available, you'll need to make the loop around the hill again. So if you see parking just before the viewpoint I say snag it up if you wanna ensure yourself a spot!
Local Safety Tip: Remember to LOCK YOUR DOORS and HIDE ALL VALUABLES (or better yet, just take them with you). Unfortunately, petty crime is a thing here in SF, especially in high trafficked tourist areas.
And once you park, the viewpoint will be less than a ¼ mile walk away. Do note the walk is slightly uphill, so be prepared for that, especially if it's super chilly! You'll pass the old abandoned military buildings, which you can check out of course, but most people are just here for the views!
Cost:
Visiting the panoramic views at Battery Spencer are 100% free! But if you're planning to venture back into San Francisco, remember you'll need to pay the bridge toll (there's no fee going northbound, only southbound).
If you're planning to visit Muir Woods, Sausalito, Napa Valley, or anything else over the bridge, try and squeeze in a visit to Battery Spencer on the same day so you've only gotta pay the toll once! At over $8, it does add up!
Things to do Nearby Battery Spencer
Already over the bridge? Here's a few of my other favorite things north of San Francisco!
Muir Woods: Craving nature and giant redwood trees? Spend a morning in Muir Woods! Whenever I'm in the mood for some fresh air, I always head to the misty redwoods!
Point Bonita Lighthouse: The hours are super limited (only open 12:30-3:30pm on Sundays and Mondays), but I promise you it's worth planning around. There's more ocean views along the half-mile trail, and the historic lighthouse is super interesting. I've only been once and desperately wanna go again!
Sausalito: Wanna feel like you stepped foot in the Mediterranean for a hot second? Hang out in Sausalito for the afternoon! Don't miss a walk along the waterfront and some Lappert's ice cream! My absolute favorite way to spend a sunny day!
Other Viewpoints of the Golden Gate Bridge
I've got a whole post on other spots with spectacular Golden Gate Bridge views. Check that out here! A few of my favorites (besides Battery Spencer of course!) include:
Golden Gate Bridge View Vista Point
Hawk Hill (super close to Battery Spencer but with totally different views!)
Baker Beach and Marshall's Beach
Golden Gate Overlook (near Langdon Court Parking)
Fort Point National Historic Site
Crissy Field
I hope this helped you plan your visit to Battery Spencer, the most iconic viewpoint of the Golden Gate Bridge! Are you visiting SF soon? Don't forget to add Battery Spencer to your San Francisco itinerary!
Looking for more California content? Explore my other California guides here!
Did you know that …
When you purchase something through our links, we earn a small fee (but you still pay the same)! Win-win! If you found this article useful, consider using the links within the article or below. Thanks for your support!