So you wanna take the epic road trip from San Francisco to Seattle?! Ready to cross this trip to the Pacific Northwest off your bucket list?! Good call!
If you follow this San Francisco to Seattle road trip itinerary, I can promise that you'll discover more rugged nature, towering trees, glistening lakes, and tasty wine than you thought possible along the way. Oh, and we'll be stopping in a few cities known for their donuts – what could possibly go wrong? #noshame
This San Francisco to Seattle drive to the Pacific Northwest will have you wondering why you haven't explored the region before!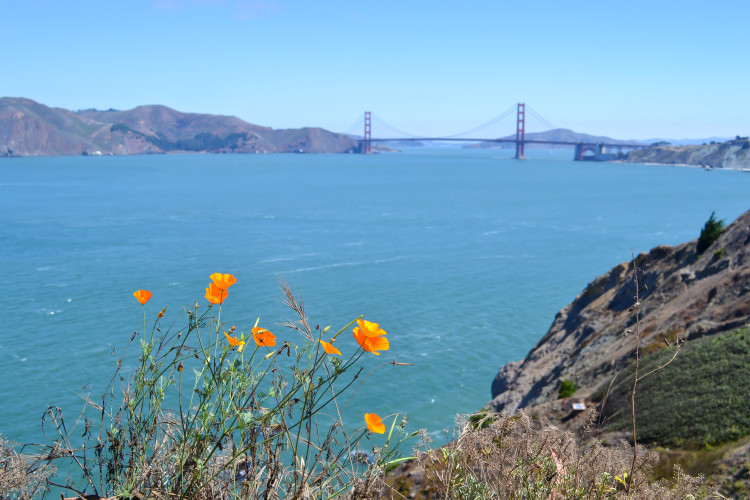 Over the course of the road trip, expect to drive approximately 38 hours (one way) and around 1800 miles. In order to drive from San Francisco to Seattle in a reasonable amount of time (1-2+ weeks depending on the length of your trip), you'll be driving almost every day, with some being longer driving days than others. Plan accordingly and bring snacks! The time in the car doesn't have to be absolutely horrible. :p
Check out my road trip packing guide for must-have items and other handy tips and tricks (helpful even if you're an experienced road tripper, promise!)
San Francisco to Seattle Road Trip Itinerary Overview
First things first, if you're not a resident of San Francisco, you'll of course need to get yourself there. Since SFO is a major international airport, and a hub for many airlines, you can easily find cheap airfare within the states.
I swear by Skyscanner and Google Flights whenever searching for tickets, and more often times than not, find the cheapest prices on one of them. The ability to track prices (and get email notifications when the price drops) is top notch and one of my favorite features. Take advantage of Skyscanner, you guys!
If you'll be following this itinerary and heading north (without driving the direct 15+ hours back to San Francisco), you'll want to book two one-way tickets. 1) HOME → SFO, 2) SEA → HOME. Make sure to search for one-way flights when booking tickets. 🙂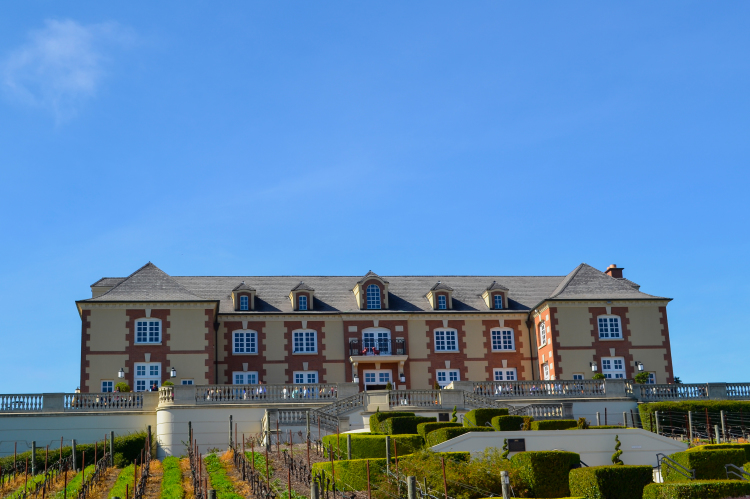 Since this is in fact a road trip, you'll need a vehicle to get you from place to place! Worth mentioning so you don't forget to account for the cost of a rental car when following this San Francisco to Seattle itinerary! I like to search via this site in order to compare rental companies to see who has the best price.
Note that many rental car shops charge extra for returning their cars at different pick up/drop off locations – just something to keep in mind (worth the extra cost to me – I would rather pay an extra fee than drive an extra 15+ hours (with gas!), plus the cost of hotels on the way back).
Search for the best car rental prices here. I bet you'll find a great deal!
Other road trip posts you may enjoy:
San Francisco to Seattle Map
Might be easiest to save this map and bookmark this page to have handy for future reference. 🙂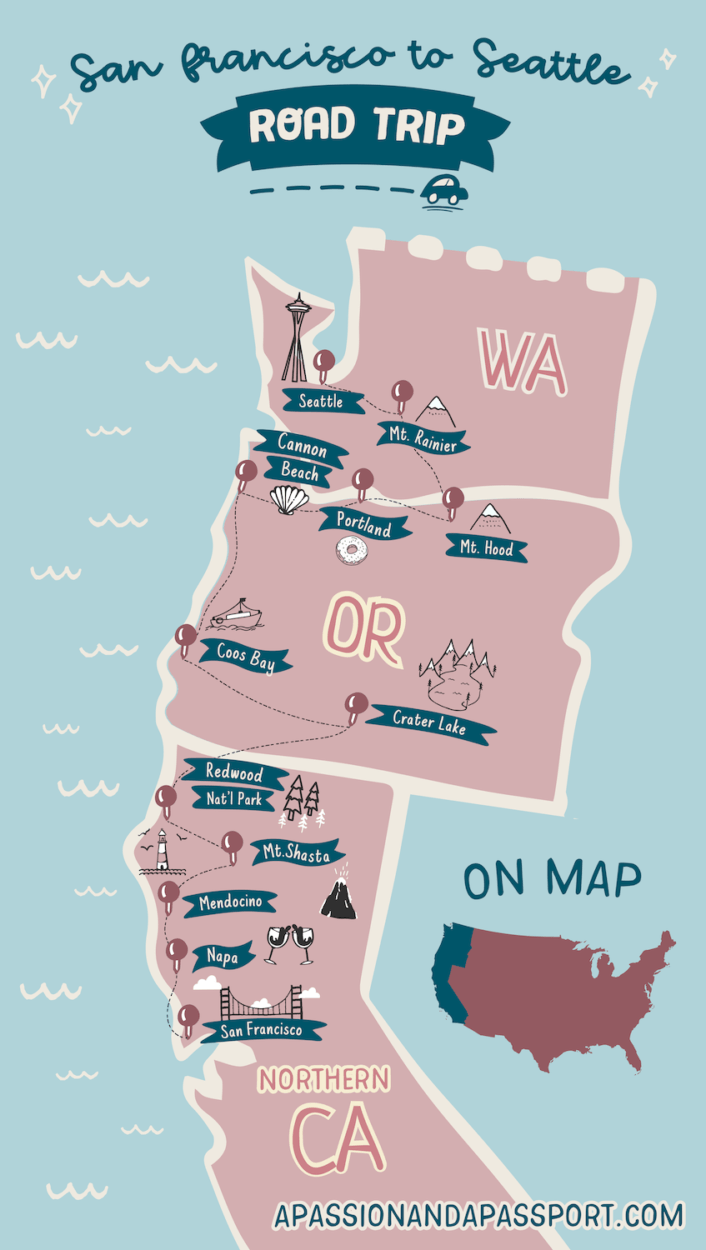 Now let's get this San Francisco to Seattle road trip under way!
The Complete San Francisco to Seattle Road Trip Itinerary
STOP #1: Start in San Francisco (1-3 days)
If you've never visited the City by the Bay before (SF), you should really stay and wander for a few days. Three days in the city is the perfect amount of time for any first-time visitor to San Francisco.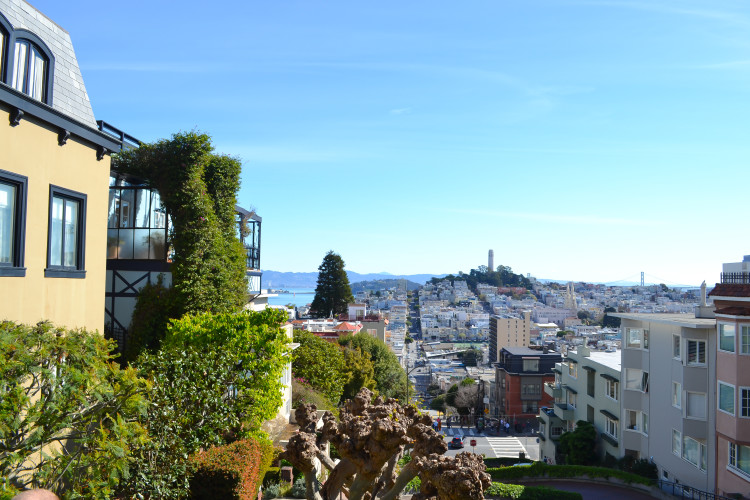 If you've never visited the city before and/or have ample time to explore, check out my favorite things to do in San Francisco (I've listed out all my favorite tourist attractions, big city views, restaurants, and oh so much more).
→ Not sure the best way to see everything (without zig zagging around the city)? Be sure to check out my 3-day San Francisco itinerary. It's full of all my favorite spots (sweets and treats included!).
For starters, don't miss the obvious super twisty Lombard Street, Alamo Square's Painted Ladies (those iconic Full House houses), Twin Peaks for an awesome bird's eye view of the city, Ghirardelli Square for some ice cream sundaes, and eerie yet surprisingly alluring Alcatraz.
Stuff your face with Mission burritos (found in, you guessed it, the Mission District), some ice cream from Bi-Rite or Mitchell's (both equally orgasmic choices), a sourdough bread bowl from Boudin Bakery, and homemade Italian in North Beach. Looking for more sweets and treats? I've got you covered, but don't blame me if you can't get into your pants the next day. :p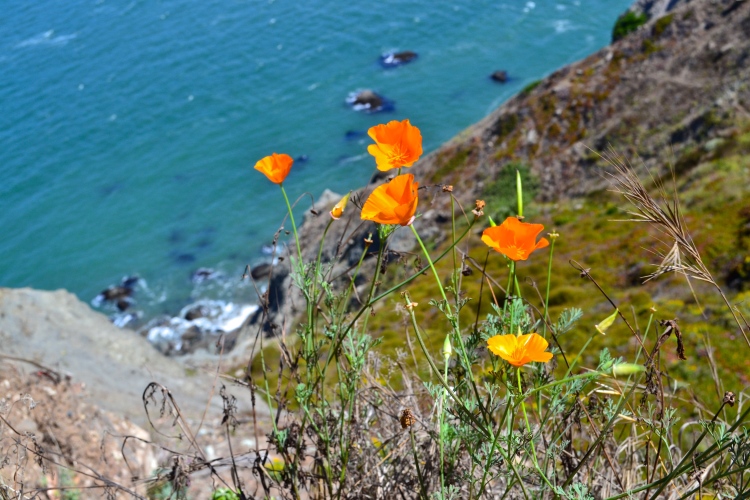 And of course you need to feast your eyes on the crimson cutie, aka the Golden Gate Bridge. If you're lucky enough to find yourself a super clear city day, the views of the bridge can't be beat- although many claim she's just as beautiful in the fog (hey there, #karlthefog – yes, we named the form of precipitation!)
Stop by Baker Beach, Crissy Field, and/or the Marin Headlands for my favorite views of the Golden Gate (more Golden Gate Bridge photo spots here).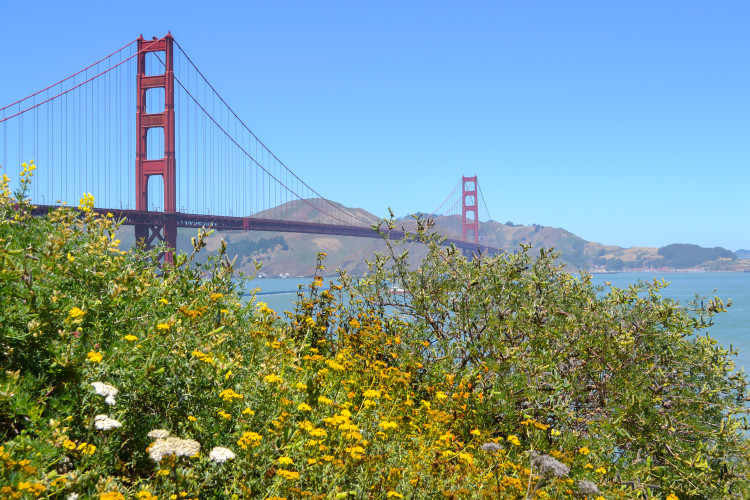 Where to Stay: There are SO many hotel choices when it comes to the city, at all different price points as well. If you're feeling fancy definitely check out the Palace Hotel, Hotel Vitale (complete with rooftop yoga), and Intercontinental Hotel Mark Hopkins SF (super elegant and sophisticated), and Hotel Zetta (Yerba Buena), the Phoenix Hotel (funky and a pastel paradise), and Clift Hotel (in the super cute Nob Hill) if quirky boutique hotels are more your thing.
If I were you, I'd stay away from the hotels near Fisherman's Wharf as this place is tourist central and therefore uber crowded ALL THE TIME (although Hotel Zephyr looks pretty rad).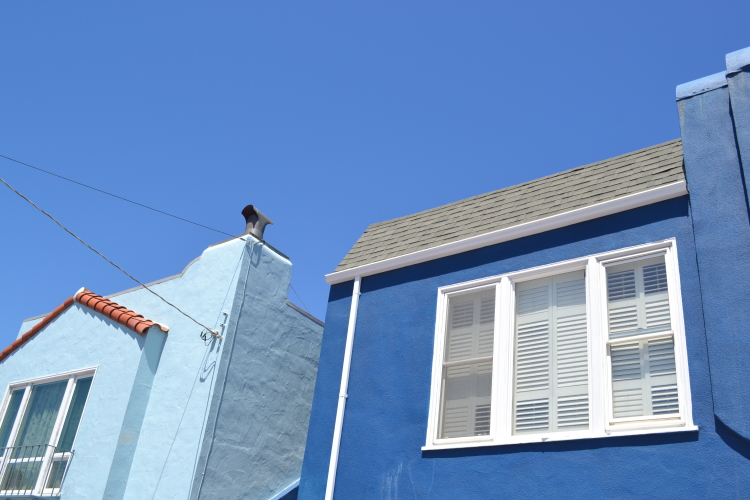 Read Next: First Time Visitor's Guide to San Francisco, Where to Find the Best Views of the Golden Gate Bridge, Best Desserts in San Francisco, Ultimate San Francisco Food Bucket List, Three Perfect Days in San Francisco (the ultimate itinerary)
IMPORTANT NOTE: You kinda have two choices on how you make your way to Mendocino (stop #3 and our first coastal town on this itinerary). You can either make a well-deserved detour to wine country (and let's face it, get your wine on), or drive up the Pacific Coast Highway all the way to the Mendo/Fort Bragg area.
Your pick – wine or coastline. I guesssss you could do both, but that'll add another hour or two to your driving time. But what's another two hours, amiright?
STOP #2: Wine Country: Napa/Sonoma (1-2 days)
TOTAL DRIVE TIME: 1 hour, 30 min (traffic dependent)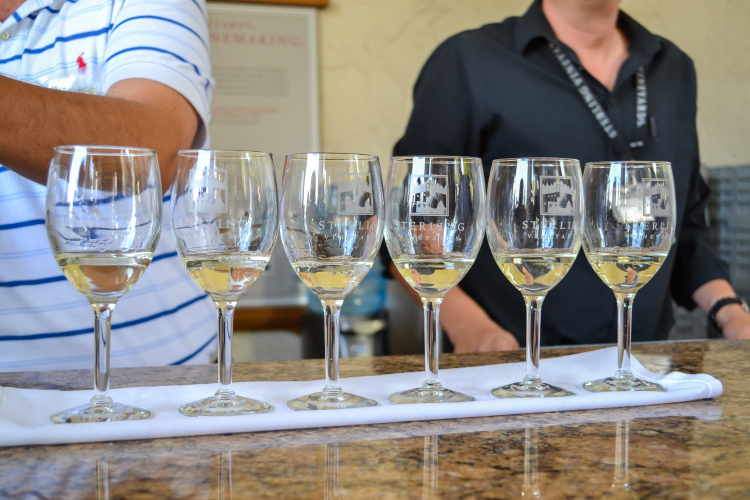 Resident of SF? You'll probably be skipping this area and heading north as day trips to Napa are on everyone's spring weekend itinerary. Visitor? Promise me you won't miss a day or two in California's wine country (preferably two if you want to do all the things).
No visit to Northern California is complete without sipping some of the good stuff (wine, duh) in either Napa Valley or Sonoma (both excellent and similar choices).
You'll find dozens and dozens of vineyards dotting the area, from small, family run wineries to ridiculously large name box-brands (think Mondavi or Chandon), each with their own flare. Go wine tasting, stomp on some grapes (true story), and admire the perfectly aligned vineyard rows just waiting to be produced.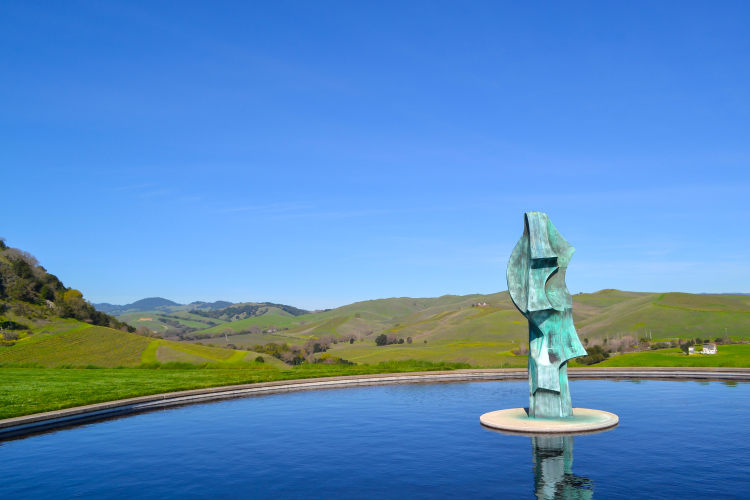 Not a wino? You'll still fall in love with Napa and/or Sonoma – I promise. There's a whole long list of things to do in Napa besides drink, including olive-oil tasting (carb-loaded drizzled tastings, anyone?), ziplining through the redwoods, farmers market visits, wildflower hiking, and mud baths to tickle your fancy (yes, I just said mud baths).
Looking to check something off your bucket list? Head out on an early morning balloon flight above the valley, worth the ridiculous AF wake-up call.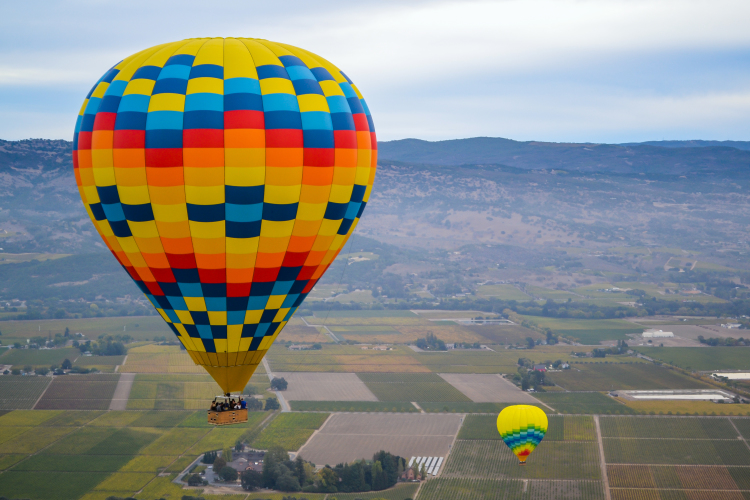 Most wineries don't mind if you have a look around and relax for a bit, even if you're not ordering a flight or doing a tasting. And plus, those vineyards and wineries come with beautiful grounds, lush rolling hills, and boast fantastic views of the area – my favorites for non-drinkers here!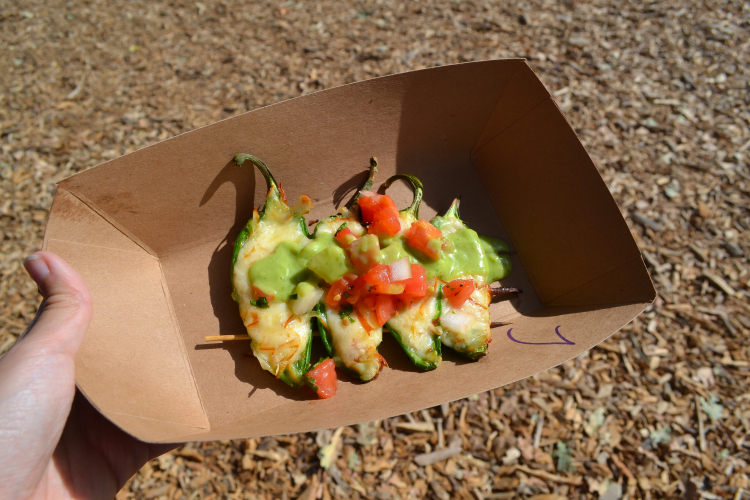 What makes the two designated wine spots a tad different from each other? The amount of land spread between the wineries. Both areas have roughly the same number of wineries, but Sonoma's are spread over twice the land, ultimately making it feel way less crowded.
They're both absolutely stunning and feature lush, rolling hills full of vineyards, so the scenery won't really help make up your mind.
Go to Napa if you want to be where all the people are, love a good cab and other classic Bordeaux varietals, and want to buy and taste some of the best-known wines in the world.
Choose Sonoma if you'd like a lower-cost, laid-back and intimate afternoon, enjoy a variety of wines (everything from pinot to zinfandel and charbono to gewurztraminer), and want to get off the beaten track a bit. We love Guerneville, A LOT.
Where to Stay: There are tons of great accomodation options in both Napa and Sonoma. If you decide Napa's your town of choice, I prefer the Andaz Napa (hip boutique-ish), Harvest Inn (rustic upscale), Napa Valley Inn (Mediterranean-style), or RiverPointe Napa Valley (colorful cottages).
Chose Sonoma? Read your head at El Dorado Hotel (breezy rooms with a wine bar), MacArthur Place Hotel and Spa (warm and sophisticated), or Fairmont Sonoma Mission Inn (spa with mineral baths).
Read Next: Things to Do in Napa Besides Drink Wine, The Most Beautiful Wineries in Napa Valley, A Girl's Getaway to Wine Country, Hot Air Ballooning Above Napa Valley
STOP #3: Mendocino/Fort Bragg (1-2 days)
TOTAL DRIVE TIME: 2 hours, 45 min without drive the PCH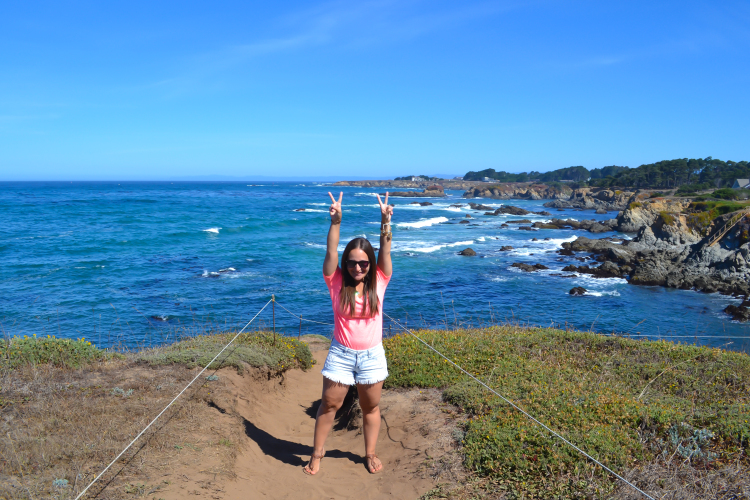 Time to start making your way to the coast, because we're heading north on the PCH towards Mendocino and Fort Bragg! And lucky for you (any myself), I already did this same exact road trip – from San Francisco to Mendocino.
If you choose to venture on over to Napa for a few days, your best bet is to drive West to Bodega Bay from Napa, and continue your drive up north via Highway 1 (also commonly referred to as the Pacific Coast Highway – all my favorite stops here!).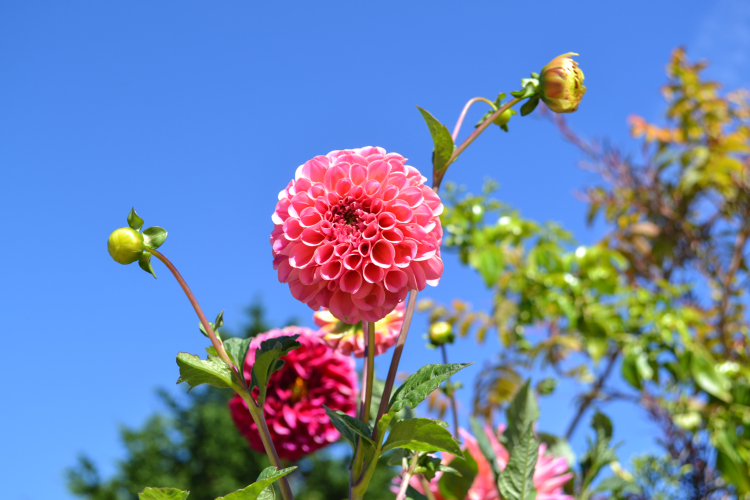 On the drive to Mendo, don't miss Patrick's Saltwater Taffy, Wild Flour Bread, a quick stop in the spooky town of Jenner, Salt Point State Park, and the Point Arena Lighthouse (my favorite!)
Once you arrive, get ready for some small-town nature fun. While the town is wickedly small (you'll see what I mean), the surrounding area completely makes up for it. From waterfall hiking, epic sunsets, a killer botanical garden, and another light station (I'm a killer for these if you couldn't already tell), don't underestimate all the fun to be had here in Mendocino.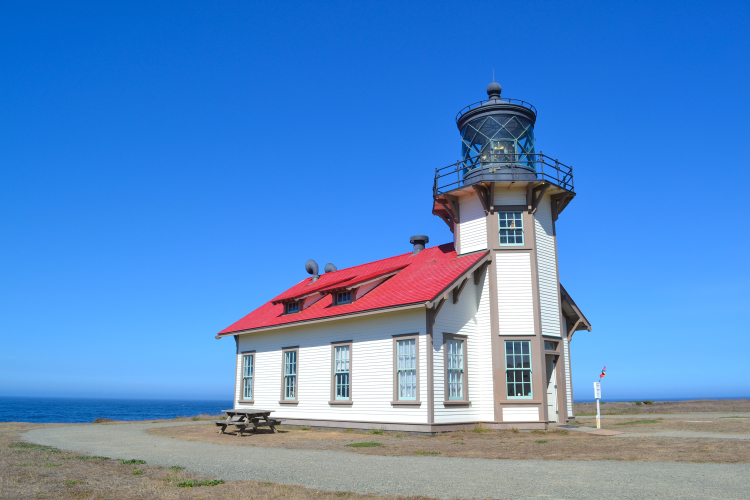 Fort Bragg is only a few miles north, and a great way to spend a few hours. You must wait in line for Cowlicks Ice Cream. So incredibly good.
And those photos you've seen of all the colorful sea glass on the beach? Yup, that's over here in Fort Bragg, although if you're expecting a beach made of primarily smooth glass, you'll be wildly disappointed. It's more of a mixture of rocks, sea glass, and sand. I picked out some glass for the photos – guilty! And as a plus, the beach isn't too sore on the eyes!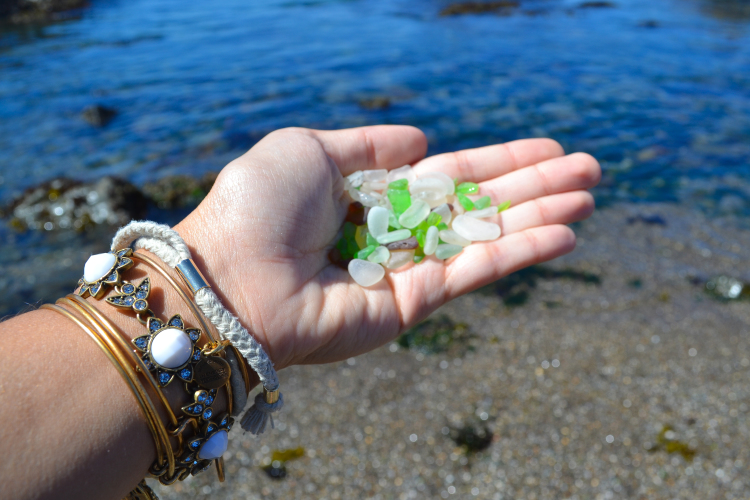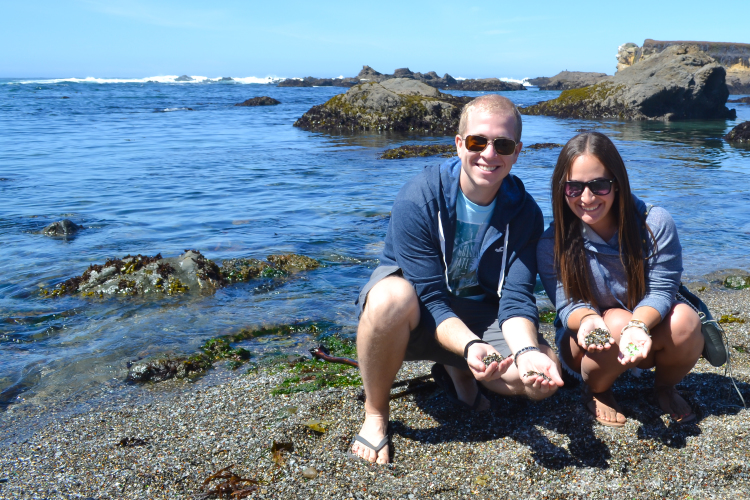 Where to Stay: AirBnB is your best friend around here.  Sure, the bed and breakfasts look cozy, but they come with a hefty price tag. Stay at an AirBnB directly in the forest (with star gazing opportunities at night) and you won't be disappointed. If AirBnB's not your thing, check out the super cute and modestly priced Hill House Inn, Joshua Grindle Inn, and Agate Cove Inn.
Read Next: San Francisco to Mendocino Weekend Road Trip, The Mini Guide to Mendocino and Fort Bragg
STOP #4: Lassen/Mount Shasta (1-2 days)
TOTAL DRIVE TIME: 5 hours (extra hour or so to Mount Shasta)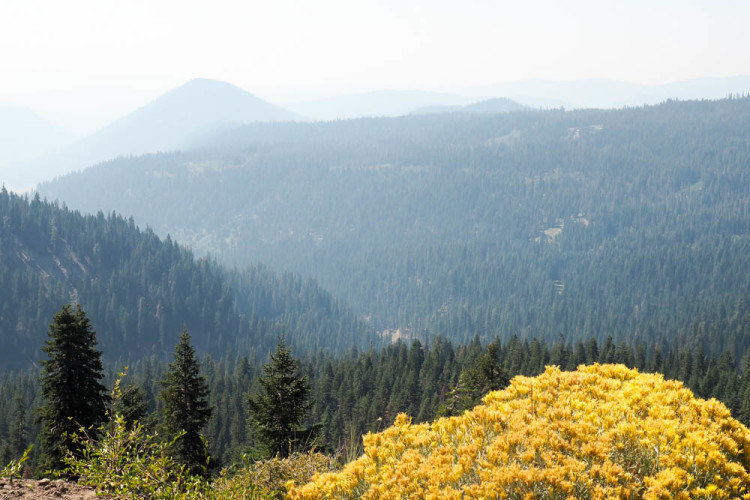 Ready for some waterfall fun and stinky sulphur in your life? Yes, parts of this area reek, but you'll quickly see why after taking note to the bubbling mud pots and steaming sulphuric vents. In order to see the best of both Lassen Volcanic National Park and Mount Shasta, it's best to give yourself two full days in the area.
Dedicate Day 1 to a full exploration of the national park, and don't miss Sulphur Works, Emerald Lake (an absolute dream!), Bumpass Hell Trail Hike (it's not really thaaaaat bad), Lake Helen, and Manzanita Lake.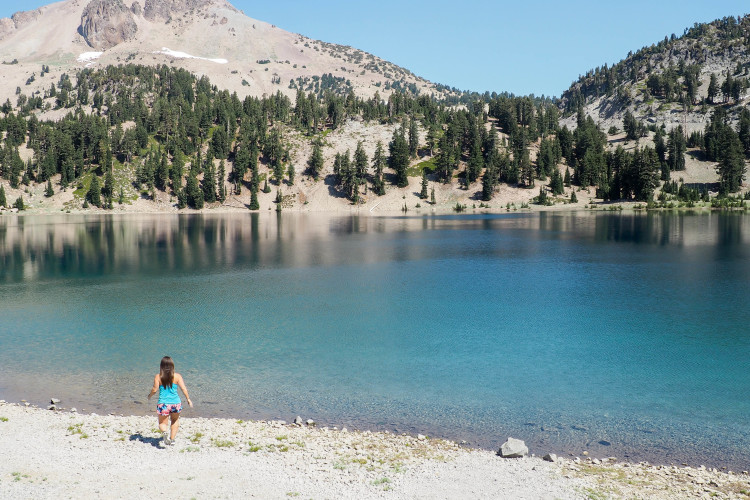 The hike is roughly three miles and takes about an hour to get down to the boardwalk. You'll know when you're getting close – you'll smell the sulphur! Marvel at the unusual multi-colored soil, and watch the boiling pools of water.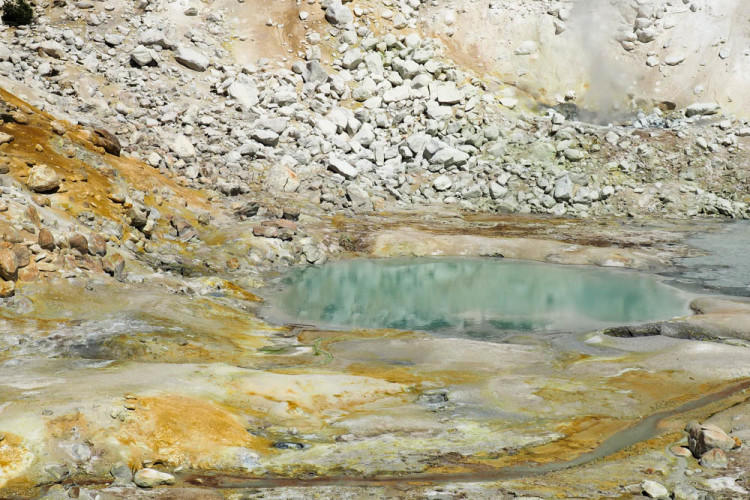 Spend the next day hoping from waterfall to waterfall, as there are lots to pick from today! Wear or pack your bathing suit, but beware, the falls are chilly year-round, even in the 100 degree F scorching heat!
A few not to miss: Burney Falls (an absolute wonder – you NEED to go here), the trio of waterfalls McCloud Falls (which you can easily drive between), and Mossbrae Falls if you've got some extra time.
Later (or the following morning), head to Castle Lake Road to get fantastic views of Mount Shasta with the city beneath it. That mountain sure is something.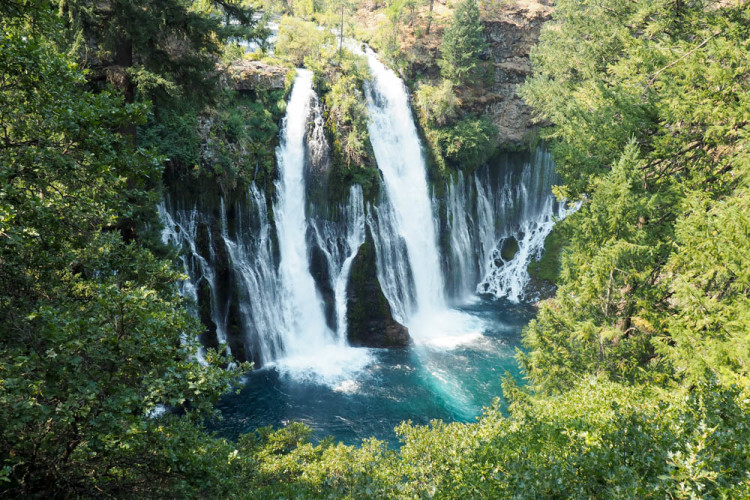 Where to Stay: The nearby town of Redding is a great place to base yourself for these two days wandering around Lassen and Burney! We decided to stay at The Best Western Anderson Inn – and at less than $100 a night (inclusive of free breakfast!), we couldn't have been more pleased.
You'll find plenty of options in Redding, I can promise you that. Other spots we looked at included TownePlace Suites Redding, Fairfield Inn and Suites, and Hilton Garden Inn, but we booked too late and most were sold out.
Read Next: A Waterfall Weekend in Lassen National Park
STOP #5: Redwood National and State Parks (1-2 days)
TOTAL DRIVE TIME: 4 hours, 30 min
Ready for some redwoods? You're in luck, because today is alllll about those ancient giants. Don't get confused though – Redwood National Park is actually a series of a few stunning National and State parks of protected forests, beaches and grasslands along the rugged Northern California coast.
I promise that each park will give you those towering redwoods you're so looking forward to (and there's actually three different types!) Don't plan on visiting them all, as you definitely won't have time on this San Francisco to Seattle road trip, and to be honest, feature similar things (yes, those redwoods…)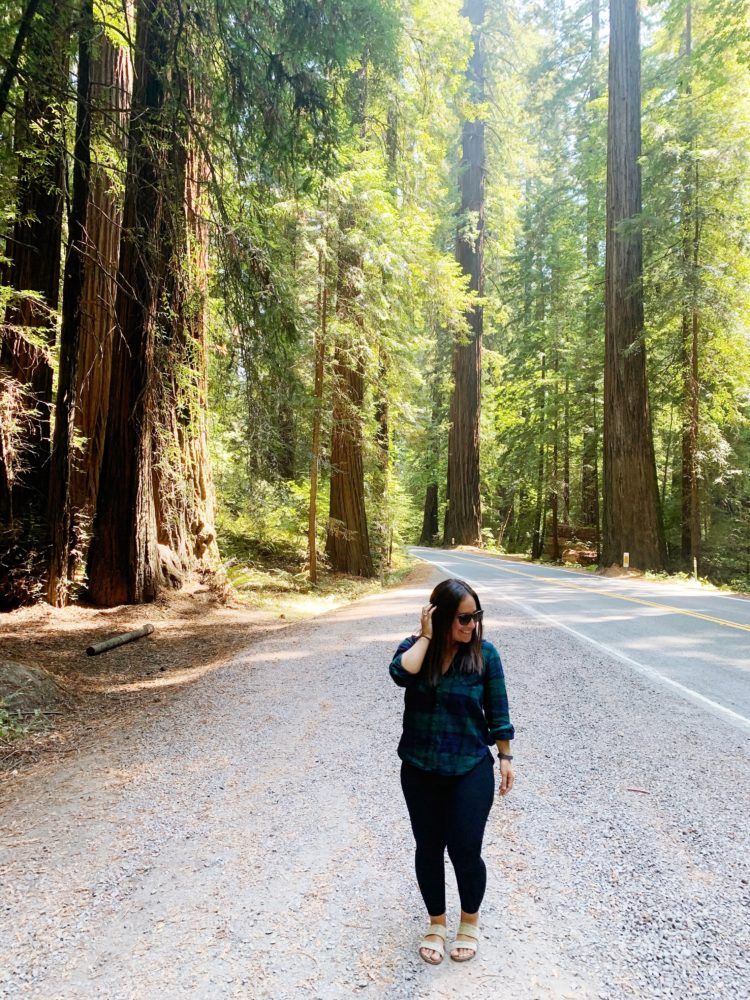 Together, they make up a World Heritage Site, so definitely not to be missed, considering they are the tallest trees on Earth! Unfortunately, just about 5% of the old growth redwood forests remain in California, with Redwood National and State Parks preserving over 35% of all the remaining. WIth that being said, please appreciate the park and leave no human trace behind.
Recommended short walks include: Stout Grove Trail, Lady Bird Johnson Grove Trail, Circle Trail, Revelation Trail, and Yurok Loop Trail, all under 1.5 miles. Rather stay in the car (why though?) Check out Howland Hill Road, Bald Hills Road, Coastal Drive Loop, and/or Newton B. Drury Scenic Parkway.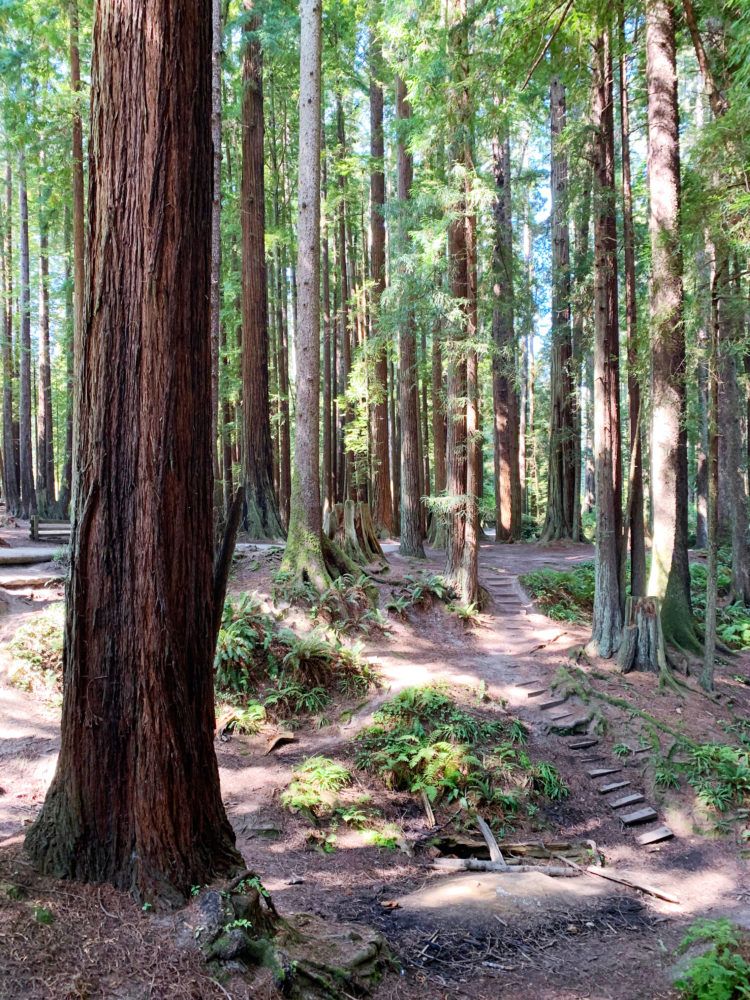 Have a picnic at one of the tables underneath the soaring redwoods, but please remember to do your part and properly store and dispose of all food and garbage—even crumbs. Feeding wild animals is a big no-no, and can actually do way more harm than good.
And remember – you won't find any restaurants or grocery stories within the parks, so plan accordingly and pick up some sandwiches, chips, picnic goods, etc beforehand.:)
Where to Stay: You won't be able to stay directly within the parks as there is no accomodation options, but don't fret – lodging is available in nearby communities. Check out lodging in Crescent City, Arcata, and Trinidad.
STOP #6: Crater Lake (2 days)
TOTAL DRIVE TIME: 3 hours, 30 min
Had enough of the trees and craving some 1,940+ foot deep lake time? You're in luck, because next up on this San Francisco to Seattle road trip itinerary is Crater Lake National Park, one of the deepest lakes in the USA and quite possibly the most pristine on Earth! Yes, you read that right – the EARTH!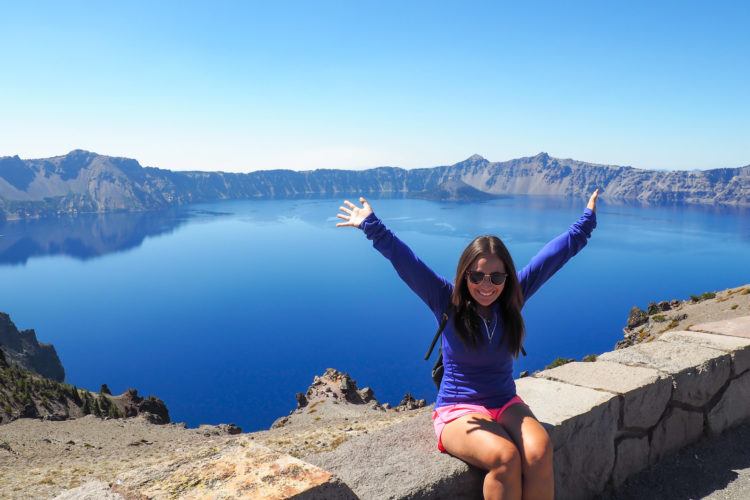 Although the park is open every single day of the year, many of the park's roads, trails, and facilities are closed seasonally due to snow, which usually do not reopen until summer (June/July). If you want to ensure you'll be able to drive around the perimeter of the lake (Rim Drive), schedule your trip for late July, August, or September.
Because Crater Lake is fed entirely by rain and snow (and not from rivers), it's marvelously pure, meaning the water is as blue and clear as it's gonna get.
Whatever you do, don't miss these highlights in Crater Lake: admire the sheer force of Vidae Falls, head off the coast to Wizard Island, and then cruise along Rim Drive. The complete drive around the lake is 33 miles, which is completely paved and easily drivable in the summer months, with tons of scenic overlooks to view and ooh and awe at!
Be sure to check out Merriam Point, Watchman Overlook, and Pinnacles Overlook – all absolutely stunning! But really, all views of the lake deserve a thumbs up (or 2 or 5).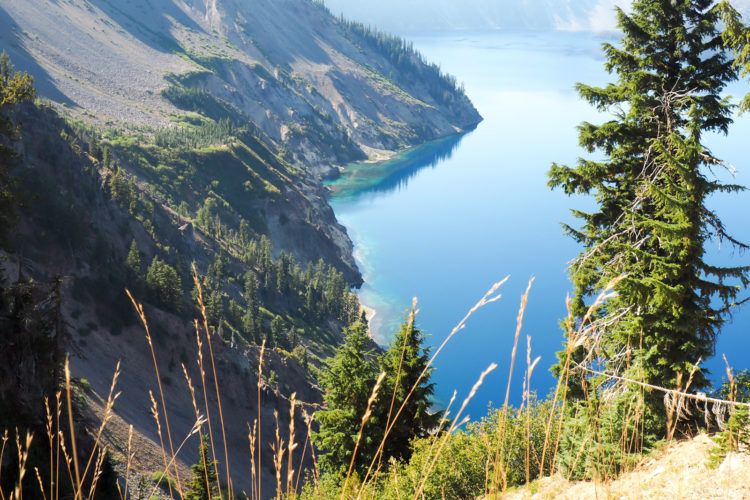 Hoping to get down to those dazzling blue waters yourself? Hike the 1.1 mile (2.2 roundtrip) Cleetwood Cove Trail, short, but very steep, which offers access to the shore. If you'd like to take a boat tour around the lake (only offered in summer), I HIGHLY recommend you make a reservation in advance (tickets are known to sell out months in advance).
Read Next: Two Perfect Days in Crater Lake, Oregon
Where to Stay: Crater Lake National Park boasts two hotels/motels within the park itself (which are only open in the summer; May – September). Crater Lake Lodge actually overlooks the lake, while The Cabins at Mazama Village are located a few miles south. Both book up super quick, so if you'd like to stay directly within the park, it's a good idea to make your arrangements as soon as possible.
Don't fret if all the rooms are sold out (but what a bummer), as there are numerous towns nearby with more accommodation options.
STOP #7: A bit of the Southern Oregon Coast and Coos Bay (1 day)
TOTAL DRIVE TIME: 4 hours
Get one last look at Crater Lake, then hit the road; it's time to make our way to the Oregon coast! You have two options – the long way (6 hour drive with more exploration of the southern Oregon coast), or the shorter way (3 and a half hours cutting straight to Coos Bay from Crater Lake).
I suggest opting for the short route as in my opinion, you won't be missing out on too much by skipping the southern coast below (as Coos Bay is one of most scenic areas on the Oregon Coast)- but obviously, your choice!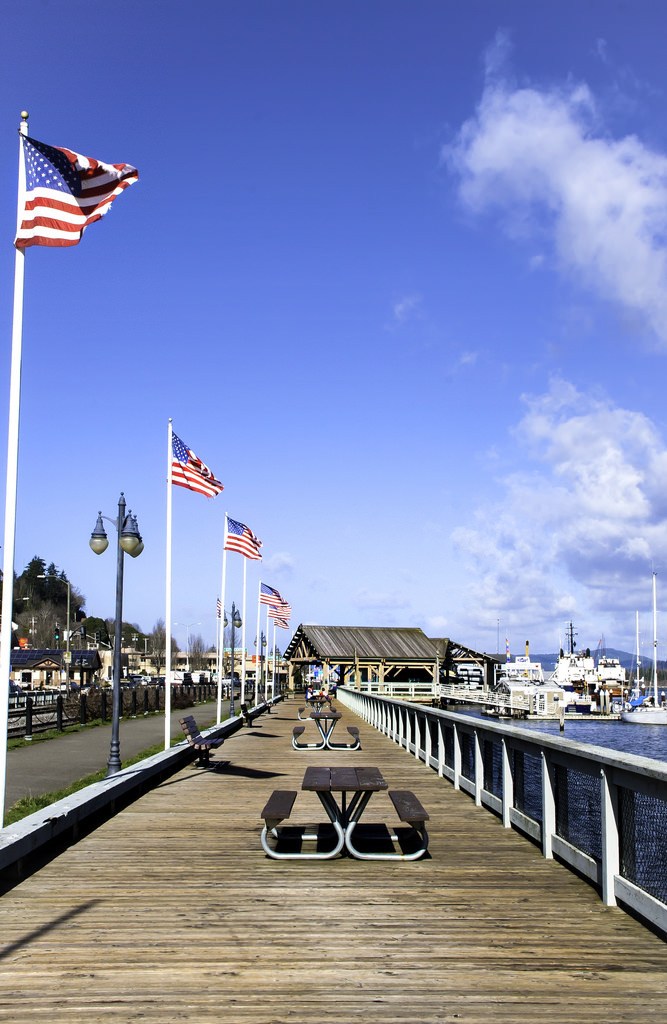 If you do decide on the longer trek, you'll need to dip back south into California (yes, for real) in order to get back on Highway 1. Bypassing part of the coast isn't really an option since there are no major highways through the National Forest between Crater Lake and the coast. Just saying… 🙂
Once you get to the Coos Bay area, plan on spending the rest of the day on the Cape Arago Beach Loop. On this driving/exploring/sightseeing loop, you'll venture into three Oregon State Parks, watch a ton of seals and sea lions play, as well as stop at numerous breathtaking vantage points. The drive is not super long, but you'll definitely want the better portion of the day to stop and soak it all in!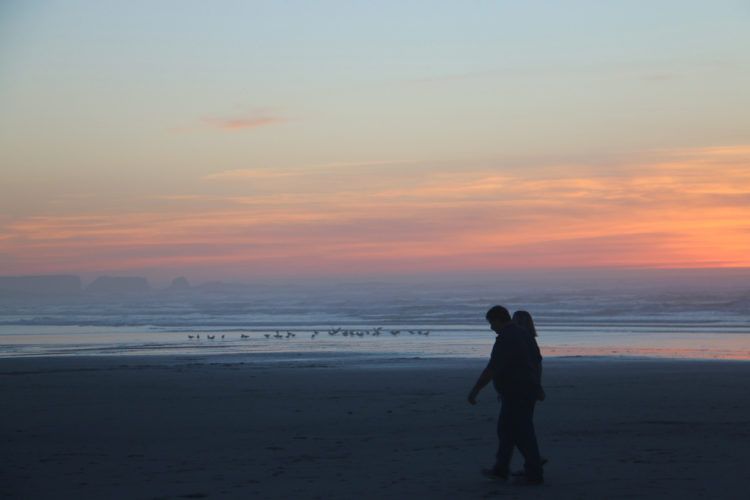 Be sure to stop at 1) Bastendorff Beach (never-crowded and always beautiful), 2) Sunset Bay State Park (protected by towering sea cliffs with beautiful sandy beaches and amazing tide pools), 3) Cape Arago Lighthouse Viewpoint (can't go in but you can get fantastic views from here), 4) Shore Acres State Park and Botanical Gardens (for those who can't get enough blooms in their life), 5) Simpson Beach (tons of migrating whales and hundreds of seals and sea lions among other wildlife), 6) Shell Island (breeding and rest areas for seabirds and Marine mammals), and finally 7) Cape Arago State Park.
Stretch your legs on a short walk within the Cape Arago State Park, where steep trails will lead you to a secluded cove with tidepools and fossils. The south trail will take you to a variety of sea life, whereas the north offers offshore colonies of seals and sea lions (closed March-June to protect the baby seal pups!) Any scuba enthusiasts in the house? You'll also find scuba diving here as well!
Note that visitors are not allowed on Shell Island due to the large abundance of wildlife. There are numerous look out points around the Cape Arago Beach Loop for viewing purposes. Bring your binoculars!
Again, please do your part and keep wildlife wild. Never bother any animals you see on the beach (or anywhere for that matter), and this includes feeding, touching, etc, and please, keep your distance.
Where to Stay: You won't find any fancy resorts over here – this stretch of coastline is mostly made up of motels and small, low-cost hotels. A few suggested options include Best Western Holiday Hotel Coos Bay, Red Lion Hotel Coos Bay, and Old Tower House Bed and Breakfast.
STOP #8: Northern Oregon Coast and Cannon Beach (1-2 days)
TOTAL DRIVE TIME: 5 hours plus stops
Today's primarily a driving day, but don't worry, there's tons of scenic stops along the way, including scenic seaside towns, sand dunes, spectacular lighthouses, and cheese! Yes, cheese!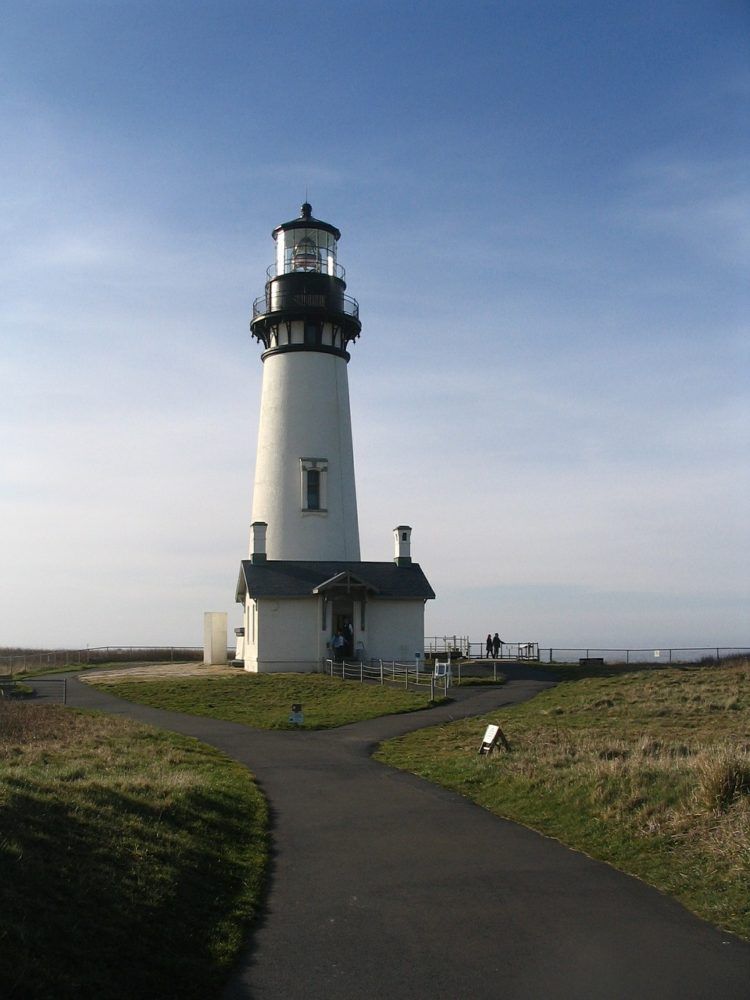 Sure, California's Highway One surely steals the show when it comes to coastal road trips, but Oregon's coast is one for the bucket list as well! With quiet seaside coves, bustling beach towns, and secluded hideaways, you won't want to miss the beauty that is Oregon.
A few recommended stops between Coos Bay and Cannon Beach, where we'll be ending the drive today. If you're not pressed on time you can easily spread these activities/stops out over two days.
Oregon Dunes National Recreation Area: Wind-sculpted sand dunes for days (literally, miles and miles and miles). This NRA is actually one of the largest expanses of temperate coastal sand dunes in the world, so yea, I wasn't kidding when I said Oregon's coastline is on par with California's.  You can even take a buggy or ATV tour of the dunes!
Haceta Head Lighthouse: The first of numerous lighthouses on our list, and this one just happens to be the brightest light on the Oregon coast and most photographed in the whole state. To say it's simply stunning is a huge understatement.
Cape Perpetua: Don't miss the Spouting Horn, an exploding salt water geyser, and Thor's Well, a gaping pit with violent waves crashing in every direction that ultimately fall into a hole, just as weird and wonderful as it sounds.
Nye Beach: The perfect stop for a late lunch, depending on how much exploring/sand-duning you did earlier. This is also a great place to spend the night if you'll be splitting the drive from Coos Bay to Cannon Beach into two days.
Yaquina Head Light: Being the tallest lighthouse on the Oregon Coast, you can't miss this towering beauty
Devils Punchbowl State Reserve: This is a popular whale watching site and displays an intriguing geology. Also, as the name suggests, there's a hollow rock formation shaped like a huge punch bowl. Better yet, go at sunset if you want to see something spectacular.
Tillamook Cheese Factory: Who could resist some fine, fine creamy cheese samples? Not I, that's for sure!
Cannon Beach: Phew, made it (finally)! HAYSTACK ROCK, enough said.
Where to Stay: I highly encourage you to make it to the famed Cannon Beach on this day (if you aren't splitting the drive up), which you can check out tomorrow morning (don't worry about making it here before dark).
Looking for a top hotel recommendation? Check out Surfsand Resort – you can see Haystack Rock from your balcony! Doesn't get much better than that! Other moderately priced options include: Tolovana Inn (beachfront with a pool), Hallmark Resort Hotel and Spa (pets welcome!), and The Courtyard (great location).
STOP #9: Portland (3 days)
TOTAL DRIVE TIME: 1 hour, 45 min
First of all, you'll probably want to spend the morning and early afternoon in Cannon Beach since you most likely arrived at night the previous day.
And thankfully, Portland is less than two hours from the coast! I recommend spending a few days here, as the city is weird, wacky, and downright wonderful. Heck, their slogan is "Keep Portland Weird", and it definitely lives up to its reputation. Enjoy donuts, coffee, beer, and hanging with hipsters? You'll absolutely love it here. Promise.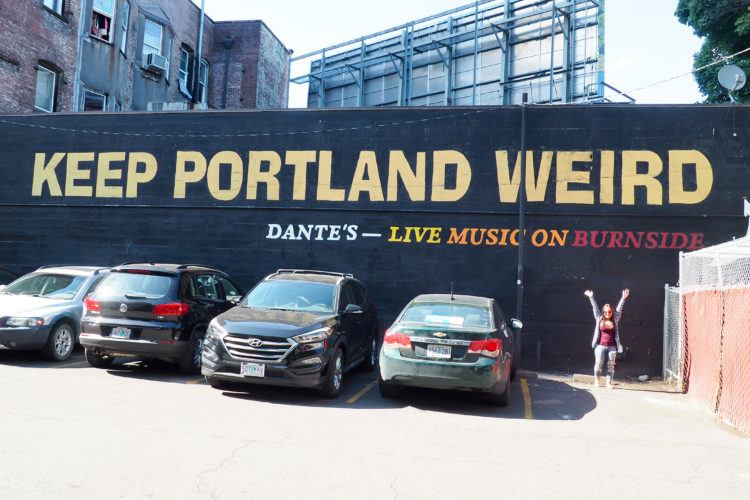 During your few days in Portland, don't miss the International Rose Test Garden (best during the summer months), Portland Japanese Gardens (uber authentic and super zen), Pittock Mansion (for those birds eye views of the city down below), Portland Saturday Market (open-air arts and crafts market, open on weekends only), the Aerial Tram (for even more views), and Powell's Books.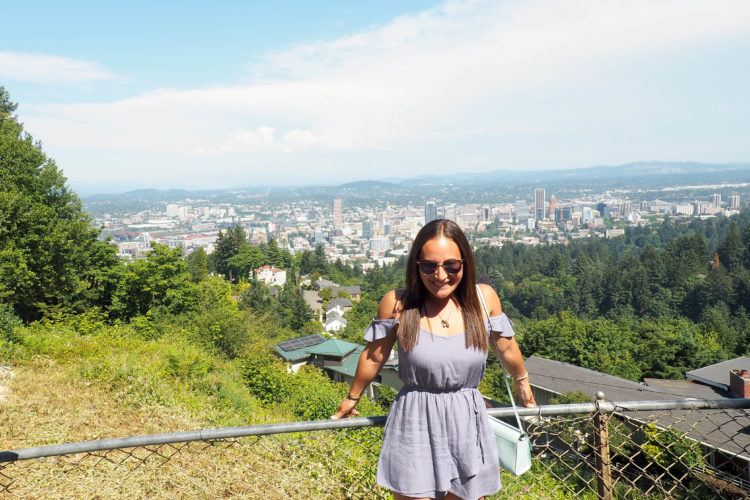 Oh, and don't leave without sipping some coffee at Stumptown, noshing on wings from Pok Pok (yes, wait in line), biscuits from Pine State, and donuts from Blue Star and of course Voodoo. Craving some ice cream? Salt & Straw's the answer to that silly question. There's SO much food worthy of making this list, as Portland earns its title as a foodie city, and you'd burst from attempting to eat at all the hot spots.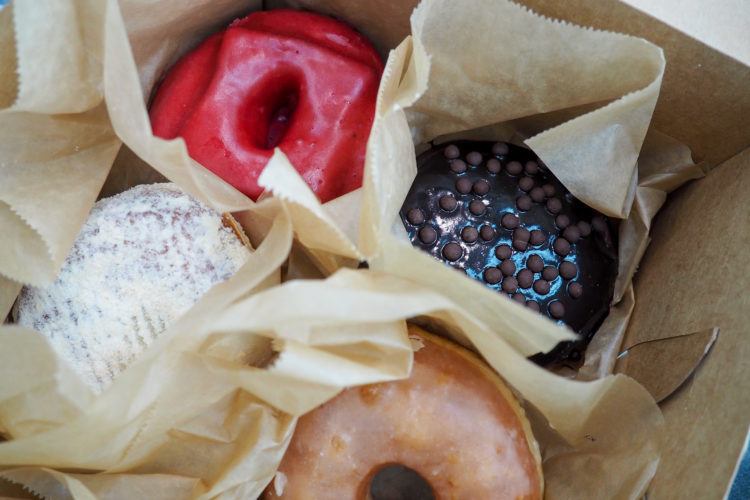 Read Next: The Two-Day Portland Itinerary You'll Want to Copy
Where to Stay: Pretend to be a hipster for a few days and book yourself a room at the Ace Hotel; the cool vibes won't disappoint (bonus: you'll find Stumptown Coffee right next door). The Ace is close to all the sites with plenty of public transport options nearby as well if needed.
Other trendy recommendations include: The Society Hotel (budget funky), McMenamins Kennedy School (yes, an old elementary school!), Jupiter Hotel (retro chic), and Hotel Eastlund (boutique design).
*EXTRA ADD-ON: STOP #10 >> can go directly to Mt. Rainier (STOP #11) if you prefer
*STOP #10: Day Trip from Portland to Multnomah Falls, the Columbia River Gorge, and Mt. Hood
TOTAL DRIVE TIME: 2 hours, 30 min // ~ 5 hours, 45 min roundtrip
Today's adventure is a bit out of the way, but 100% worth it since you probably won't be back anytime soon (but fingers crossed you will!) The drive and suggested route below is best done as a day trip from Portland, as you'll need to make your way back to Portland before heading to our next stop (Mt. Rainier).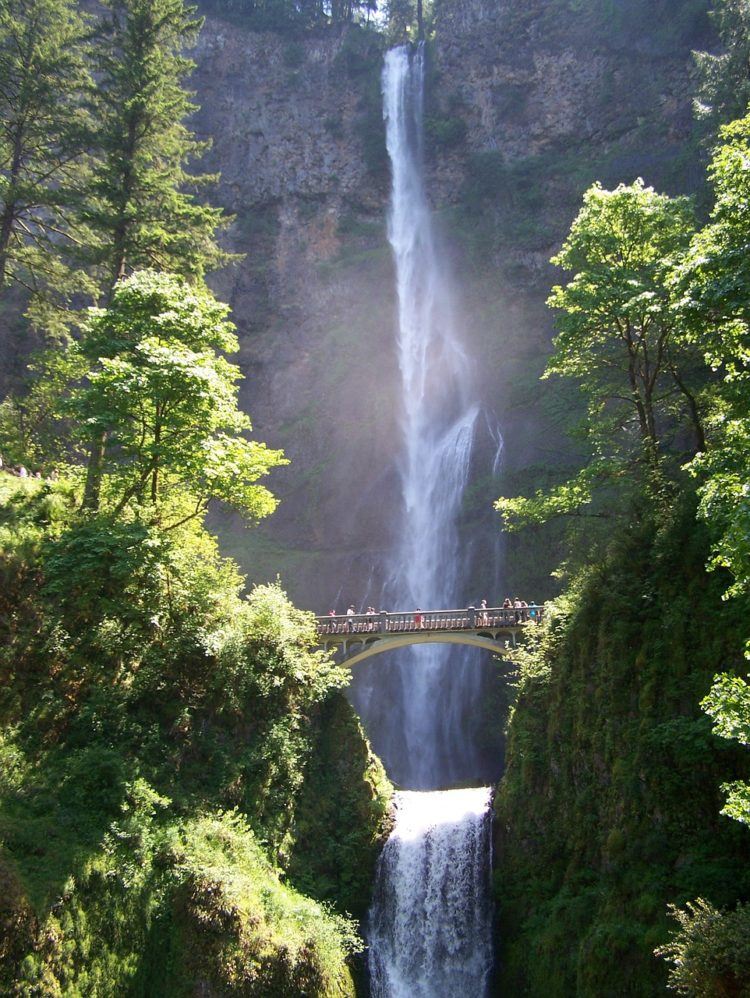 From Portland, consider these stops:
Portland's Woman Forum: The views. Need I say more? Don't miss Chanticleer Point and Crown Point nearby as well.
Multnomah Falls: The parking lot gets packed real fast, just putting that out there. For good reason though – it's the tallest waterfall in the entire state of Oregon! Being only 30 minutes from Portland it makes a great day trip, and will therefore be crowded, so come as early as possible. 🙂
Rowena Crest Viewpoint: Want to see something wild? This loop on Historic Highway 30 will surely make for some interesting photos! Requires a bit of extra driving (30-45 minutes), but well worth it to see at least once.
Hood River Lavender: stop here and smell the lavender! For reals though, this place is not to be missed on a sunny day, with the purple lavender fields against the Mt. Hood views.
Mt. Hood: Being the second most climbed mountain in the world, and home to 11 glaciers, this towering beauty is not to be missed! Reach a high enough altitude and you're bound to find snow no matter what the season is.
Read Next: Multnomah Falls and the Colombia River Gorge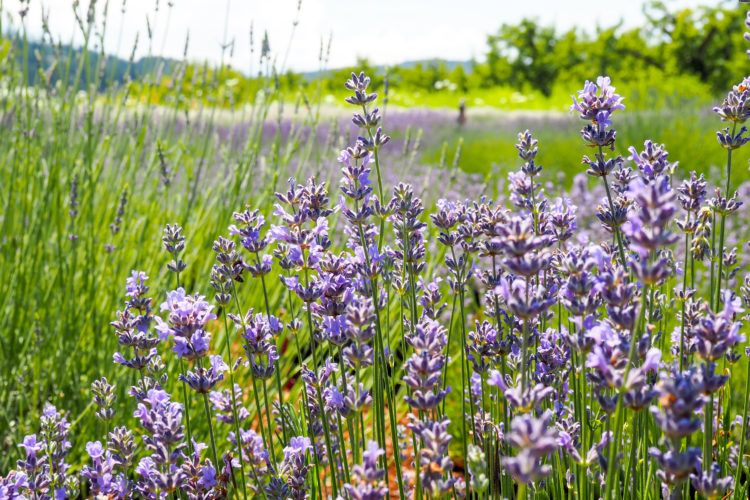 Where to Stay: It's a good idea to make your way back to Portland to slice off a few hours of drive time to Mt. Rainier. Psst – check out the recommended Portland hotels above, and book an extra night if you're totally feeling this day trip.
STOP #11: Mt. Rainier National Park
TOTAL DRIVE TIME: 5 hours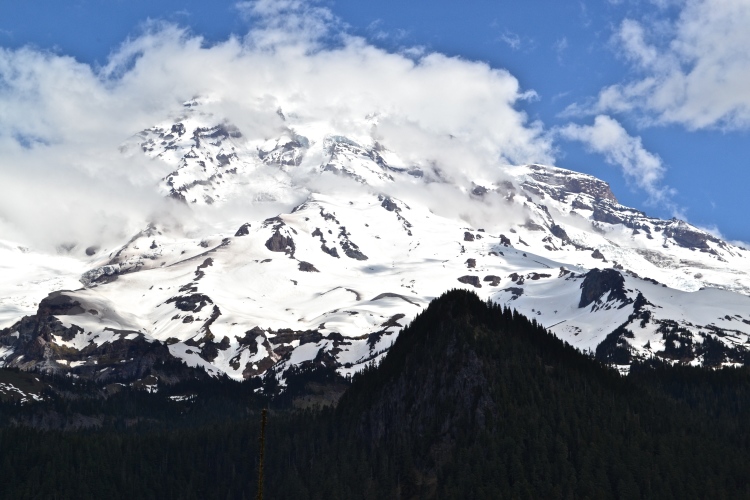 Get ready for big mountain views today, as Mt. Rainier does not disappoint in that department! Since you'll probably be pressed on time during this San Francisco to Seattle road trip, it'll be difficult to plan your day in Mt. Rainier around the weather. Obviously sunny and clear is sought after, as the mountain may be hidden beneath lots of fog and cloud cover if not!
Fingers crossed the weather cooperates for your visit, because once you see the mountain, wow, just wow. Iconic. Majestic. Grandiose. Trust me, it's hard to describe those views. No words truly capture that feeling you get staring up at it. Mount Rainier is most definitely a landmark in Washington's landscape. You'll know when you see it. That's for sure.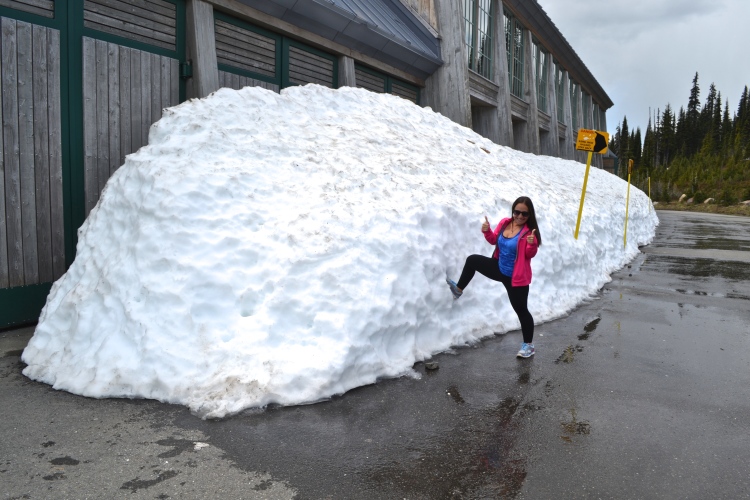 Be sure to dress appropriately, as there WILL be snow on the mountain no matter what time of year you visit. Trust me, snow does not melt 14,410 feet above sea level.
Hiking, snowshoeing, and picnicking are all good options in the park! Fun fact: Mount Rainier is actually a volcano! Not too many people know that!
Where to Stay: You can choose to stay within the park or just outside, your choice. However, if finding accomodation inside the park is important to you, book super early, as there are only two inns located within.
National Park Inn is open year round, while Paradise Inn only operates between mid-May through early-October. Thankfully there are numerous options outside the park in nearby communities, including Packwood, Lewis County, and Mineral Lake.
Read More: One Day in Mount Rainier from Seattle
STOP #12: Seattle (!!!)
MADE IT to the last stop on this San Francisco to Seattle road trip itinerary! (If you've rented a car, you can return it now – avoid paying for an extra few days – you won't need your own wheels within the city itself). Uber and Lyft are more than sufficient.
TOTAL DRIVE TIME: 2 hours
Welcome to Seattle, dubbed the Emerald City and surrounded by mountains, forests, and water — oh and the coffee and donuts in this part of the world are plentiful and then some.
You always hear about the gloominess and rain, never the sunshine and green space. From sculpture parks and waterfront activities, to bacon brie Belgian waffles and homemade mac and cheese, Seattle has a lot to offer. And then some. Seattleites, your secrets out! Mmmm I'm salivating just thinking about the Top Pot donuts.
While the futuristic Space Needle is an obvious choice, the observation deck just can't be beat. From almost 600 feet up, you get unparalleled views of the Seattle skyline as well as the Puget sound. I strongly encourage you to go up during both daytime and at night as you get totally different aspects of the city this way. And right near the Space Needle is the Chihuly Garden and Glass, another not-to-miss spot in Seattle.
A few other Seattle suggestions for your few days in the city: take a harbor tour along the Puget Sound for unbeatable city and water views, check out the madness of the Museum of Pop Culture (formerly the EMP Museum), take photos at Olympic Sculpture Park, eat everything at Pike Place Market, visit the gum wall and the first Starbucks, and stuff your face with all the noms throughout the city.
If you want something a bit different, consider a seaplane tour which  will provide you aerial views of all of Seattle's most iconic sites (think the Space Needle and such).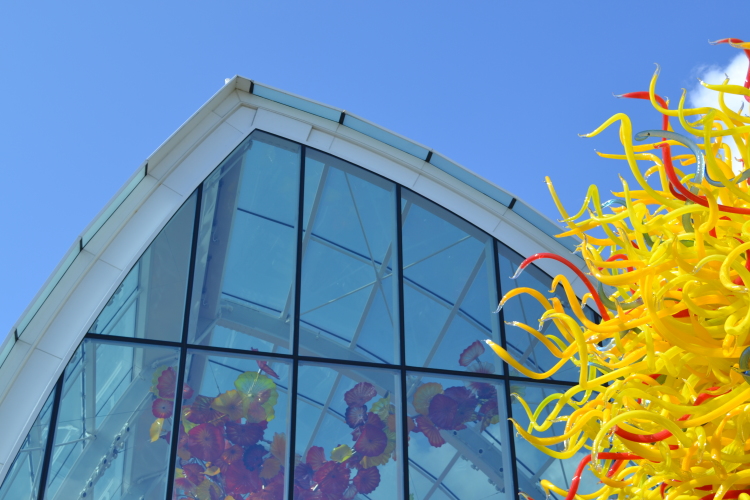 If you're itching to get out of the city, or just need to burn off a few of those delicious-donut-calories, go on a hike!
Favorites include Rattlesnake Ledge, Thunder Knob Trail Hike at Diablo Lake (GORGEOUS but requires even more driving time), and Snoqualmie Falls, all ranging from easy to moderate with absolutely fantastic views. And once you get back, you can definitely say you earned your donut/s.
Where to Stay: Seattle is split between tons of different neighborhoods, each with their own distinct flare and character. If it's your first time in Seattle, you'll probably want to stay in one of the more touristy areas near all the attractions: Waterfront (check out the Seattle Marriott Waterfront and The Edgewater Hotel) or Belltown/Pike Place Market (consider Kimpton Palladian Hotel and Hotel Andra, or for those on a tight budget – the Green Tortoise Hostel, practically on the market's edge).
Read More: Seven of Seattle's Top Tourist Attractions, Where to Eat all the Noms in Seattle, Seattle Seaplane Experience, Seattle Tourist City Guide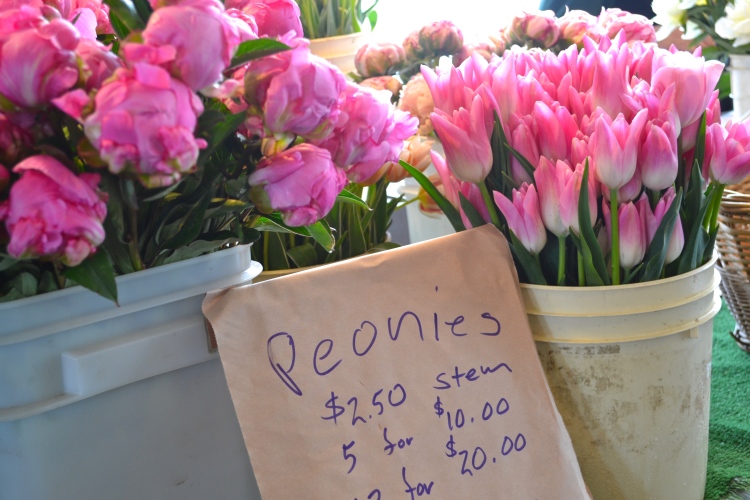 *** Want to extend your trip even further?! Consider heading to Olympic National Park, Vancouver, and/or Vancouver Island up North, or Yosemite National Park, Lake Tahoe, and the southern California coastline down south.
What to Bring on your San Francisco to Seattle road trip:
Binoculars, raincoat for that unpredictable Pacific Northwest weather, camera to capture all those fun road trip moments (and that scenic beauty obviously!),
Be sure to check out my Ultimate Road Trip Packing Guide; everything you can possibly think of for any long road trip! Plus, all my snack suggestions. 😉