Headed to wine country and looking for the best things to do in Napa besides drink wine? This list of the top things to do in Napa is surely what you've been looking for! Read on, and get planning your ultimate Napa adventure!
There's enough wine in Napa to fill your walk-in closet with bottles for girls nights for centuries down the line. We already know that. But Napa Valley is so much more than the bubbly stuff. There are so many things to do in Napa besides drink; you could certainly plan an entire Napa Valley itinerary without any wine! Below are my absolute favorite things to do in Napa without spending all day at tasting rooms and vineyards.
There are just so many things to do in Napa besides drink wine. And it's entirely possible to spend a lovely weekend doing things other than sipping wine and taking buzzy selfies (although no one can deny just how fun that is 😉 Napa is so gorgeous you could stare at the lush rolling hills and wander throughout the vineyards for hours without even missing an ounce of the sweet stuff.
So gather your girlfriends, your sister, your mom, and your grandma for that matter, and start planning the ultimate Napa weekend away, sans wine (okay, maybe they'll be a little of that).
Things to Do in Napa Besides Drink Wine
1. Hot Air Balloon Ride Above The Vineyards
Okay, so I put one of the best things to do in Napa besides wine tasting first! Because, why not?!
Think you've got the best views of the vineyards from the ground? Think again. An early morning hot air balloon ride will have you wondering why you've never made the trip up here. It's downright magical, and you better believe me when I say that 5am wake up call will be worth it.
2. Olive Oil Tasting
While Napa is best known for it's wine, the area produces some of the best olive oil (and balsamic vinegar) in the country. There are a few storefronts that offer free olive oil tasting, and you'll find them lining the streets in Downtown Napa.
We recently tried a bunch of oils in Rome during a food tour, and now I'm itching for more samples closer to home. Love samples? Olive oil tasting will be one of your favorite things to do in Napa besides wine tasting!
3. Admire the Winery Grounds
The wineries are just downright spectacular, and not just because they boast some of the finest wines in the world. Each winery and its' grounds have distinctive personalities and flair, some with sparkling statues, water fountains, and fresh, modern art.
And many provide the best views of the valley — my favorites right here… have I mentioned that before? Most wineries don't mind if you have a look around and relax for a bit, even if your not ordering a flight or doing a tasting.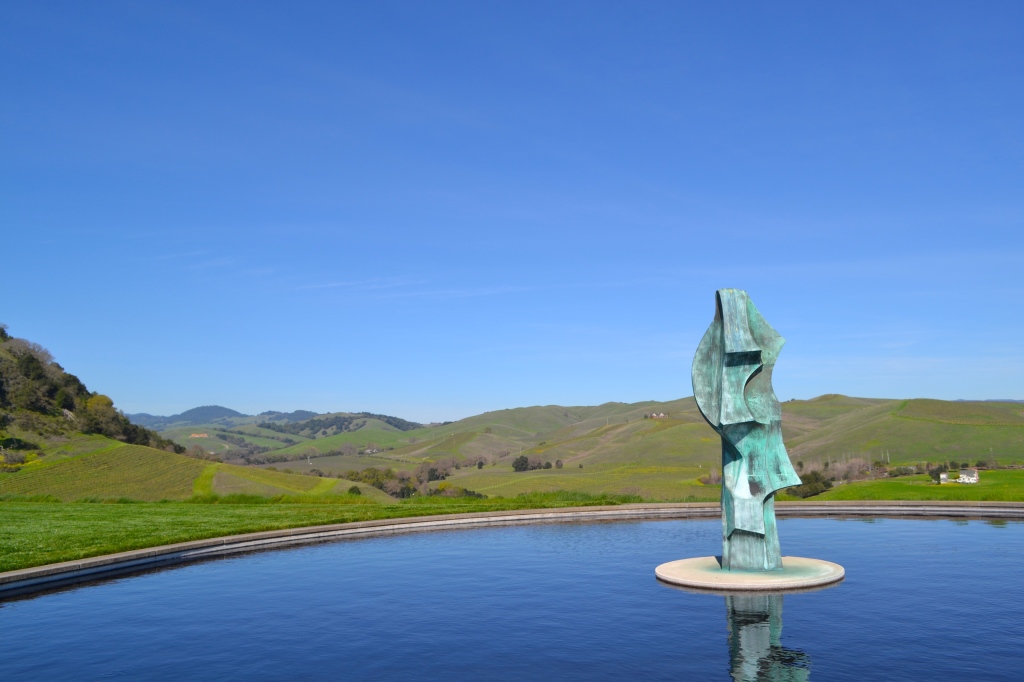 4. Picnic Time on Winery Grounds
Spring is just marvelous in Napa Valley for a picnic, and definitely deserves a spot on any "things to do in Napa" list!
My favorite place for this? Peju, hands down. Not only do they have an excellent shop with meats and cheeses, but a barbecue as well in the warmer months on certain days. Make sure to grab an order of the cheesy jalapeños – any spice lover will devour these in no time.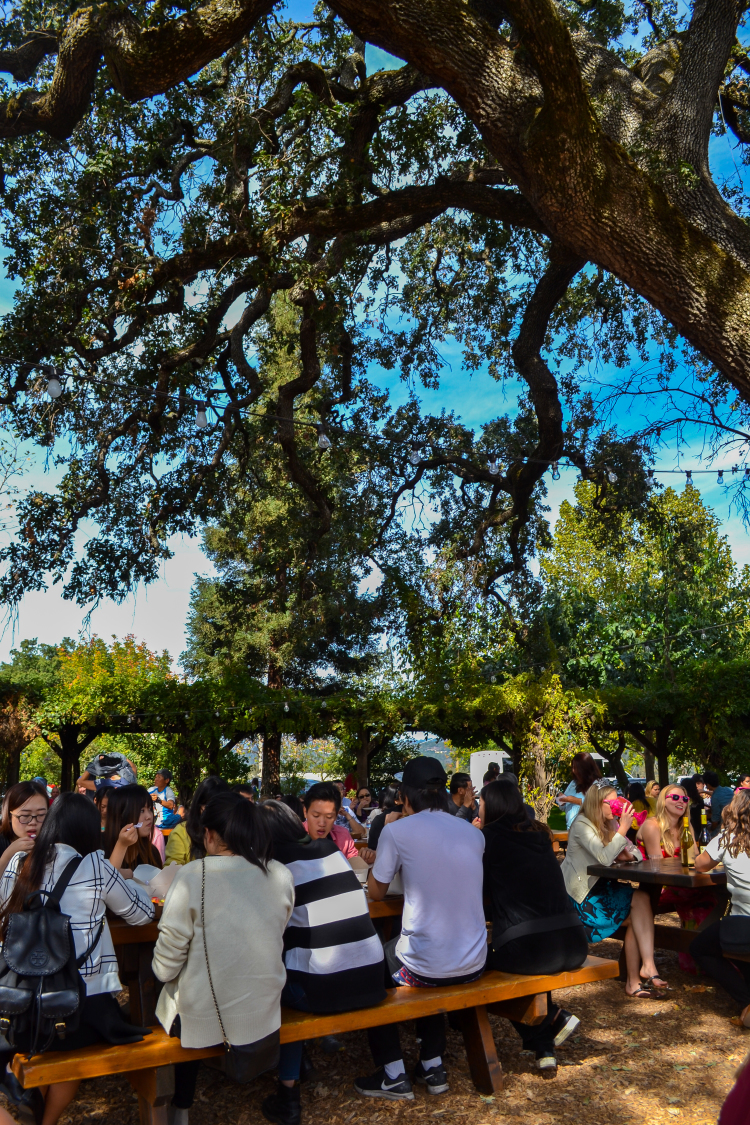 5. Calistoga Mud Baths
Imagine stepping into a bath full of mud and drifting peacefully to sleep (okay, maybe falling asleep's not the greatest idea of all time). Definitely a unique experience and one for the bucket list. And have you seen Luis basking in the mud on USA's premier show Suits? C'mon, one quick look of his face and you can automatically tell it's a life changing experience. 😛 Currently on my California Bucket List.
6. Relax by your Own Private Fireplace
The best way to end any day? Lounging in your king size bed at the Andaz Napa without a worry in the world. Order some room service, and you've got my favorite kinda night all planned out for ya. Plus- they have the most delectable bubble baths (which my friend and I made sure to put to use every. single. night. – we took selfies, of course. See that here. 😛 )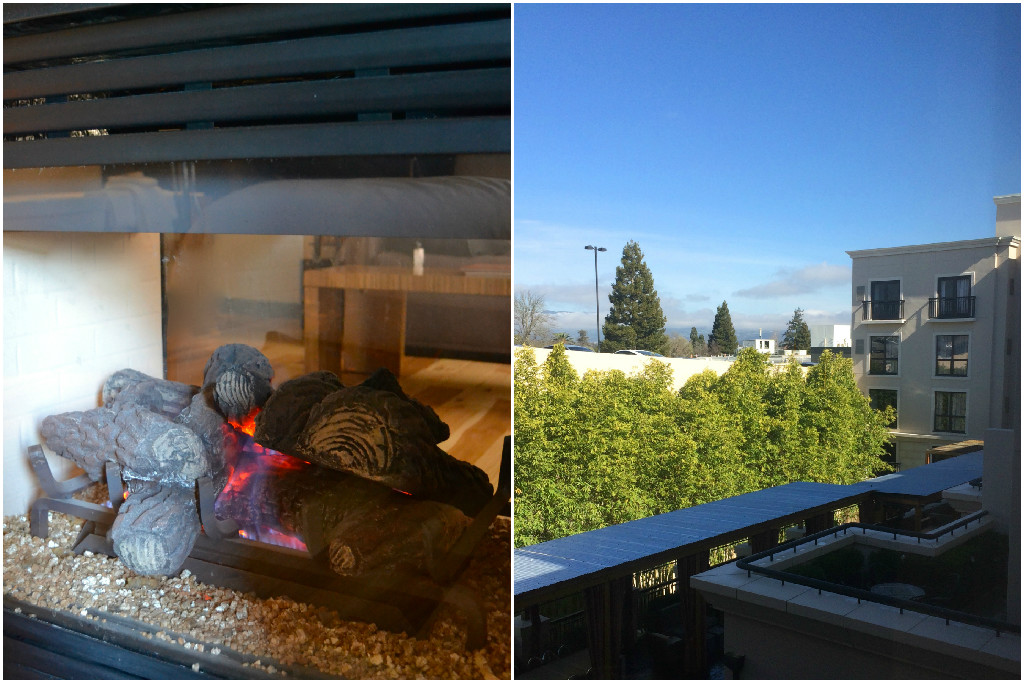 7. Eat a Million Dollar Meal at French Laundry
Napa boasts some of the finest restaurants in the nation, including the incredibly famous French Laundry (#bucketlistworthy). No, this famous establishment won't cost you a million bucks, but it will cost a pretty penny. It's extremely difficult to secure a reservation here, so plan months in ahead if superstar chef Thomas Keller is calling your name. A top thing to do in Napa besides drink wine for sure, although there miiiiight be a little wine involved. 😉
8. Other World Class Restaurants
If you can't manage a reservation at French Laundry, or shelling out $500 a meal is not in your vocabulary, there's other dining options which shouldn't be missed! A few of these include:
Bouchon
Ad Hoc
Redd
The Restaurant at Meadowood
Bistro Jeanty
Goose & Gander
Zuzu
The Thomas
Solbar
9. Stomp Grapes at Sterling
Just because you don't wanna sip some wine, doesn't mean you can't stomp on the grapes! This is by far one of the messiest things to do in Napa besides wine tasting, so prepare to get a tad dirty!
Sterling is one of my favorite wineries, and not just because you get to take a cable car to the top of the hill. You can stomp a barrel full of grapes! And that, my friend, is something you'll never forget.
The grapes feel all smooshy between your toes and your feet turn a distinct shade of purple afterwards, but what says Napa better than stomping your own grapes? Plus, you'll get a t-shirt with all your grapey goodness imprinted on it!
10. Wander around Downtown Napa
Downtown Napa is super chic with cute little eateries and sweet shops. Top things to do in Downtown Napa include:
Eat! Some amazing tasting menus are dotted around the valley (farm), and be sure to check out – Gotts, Rutherford Grill, Ad-Hoc, and my favorite, Buchon 🙂
Learn about wine at a wine discovery class! We learned a ton with some friends at Robert Mondavi, swirling and all.
Bike ride around the valley — with so much lush greenery, it'd be a shame to miss this!
Spa-ing! it should be a sport, right? The only sport I'll ever win at!
Check out the Oxbow Public Market. Lots of goodies and fun foods to try here!
Board the Napa Valley Wine Train for some spectacular views alongside a first-class meal (and wine..)
11. Admire the Fall Foliage
One of my favorite times to visit Napa is in October and November, when the leaves begin to turn a sweet shade of light green, and eventually turn into all shades of oranges, reds, and yellows. What a beauty. And by far, one of my favorite things to do in Napa besides drink wine!
Oh Napa, and your surrounding areas, I'll be back before you know it! Planning a trip to the area soon?! Which of these things to do in Napa besides drink wine are you planning on including in your itinerary?!