Looking for the perfect Utah National Parks road trip itinerary? The National Parks in Utah will blow your mind – and the best way to see all of the Mighty 5? On a Utah road trip! Read on for my exact one week in Utah road trip itinerary (which we followed exactly!)
The National Parks in Southern Utah are like no other.  From photogenic hoodoos in Bryce Canyon to hiking to sandstone arches in Arches National Park, the scenery from all 5 of the Utah National Parks will really blow you away.  Combine them with a short detour to Page, Arizona, and you've got the most perfect (and varied!) week-long road trip.
Here's the exact road trip we took through the 5 Utah National Parks, commonly referred to as the Utah Mighty 5, or Big 5 Utah. We were able to make the drive in 7 days, flying back to San Francisco early morning on the 8th day. I am a massive planner when it comes to these things, so I hope all my excessive planning helps make your road trip plans a bit easier!
PS: If you're at a loss for what to pack, my ultimate road trip packing guide may help!  😉  (Opens in New Tab)
Logistics for Your Utah National Parks Road Trip
Where to Start this Utah National Parks Road Trip
If you're from outta town, you'll obviously need to get yourself within close proximity to the parks. This most likely means flying into the region. You have two choices:
Las Vegas
Salt Lake City
We chose to fly into Las Vegas from San Francisco. If you've never been to Las Vegas, I suggest spending a night or two and checking out some of epic these things to do in Vegas — I promise it's not all wild nightclubs and partying! 
As noted above, this road trip route is easily doable as well by flying into Salt Lake City.  If you do decide on the later, make sure to add an extra day or two to visit Antelope Island State Park (which I dubbed the most scenic state park in Utah not too long ago). 
I swear by Skyscanner and Google Flights, and always always always use these two sites when looking for airfare.  The option to watch prices and get email notifications are top notch and one of my favorite features of the two.
You'll obviously need to rent a car from the airport since this is in fact a road trip. Just putting that out there to make sure you account for that expense as well! 😉 I recommend renting a 4-wheel drive, especially if you're visiting in the Fall, Winter, or Spring, as you never know what type of weather you'll encounter.
I like to search via this site in order to compare rental companies to see who has the best price. Remember to opt for a larger car, or a 4-wheel drive!
Search for the cheapest car rentals over here! I typically save almost $100 each time when booking through here! Just note the cancellation policies (most are free cancellation but not all, just double check).
Driving Between the Parks
This is in fact a road trip — meaning you'll be driving a lot between the different National Parks in Utah!
We had originally wanted to do the bulk of the driving to the Utah National Parks at night (after sunset) as to not take away hours of daylight in the park.  After the first night of doing so, we ultimately decided this wasn't the greatest idea since there was so much wildlife on the roads (we encountered lots of deer, elk, and rabbits). 
We wound up driving in late-afternoon/early evening once we were too exhausted to see much more in each park. I highly advise to not leave the driving for the next morning, as I doubt you'll have enough energy for hiking after sitting in the car for hours.
OPTION: If driving long distances isn't your thing, or you don't feel like doing much planning (besides what I've done for you here), consider joining a Utah national parks tour. Many of the group tours let you see so so much in such a short period of time because they already know the best viewpoints and best hiking routes.
In addition, many extra activities are included as to make the best use of your time, and you've got a guide with you for most of the time to answer any questions!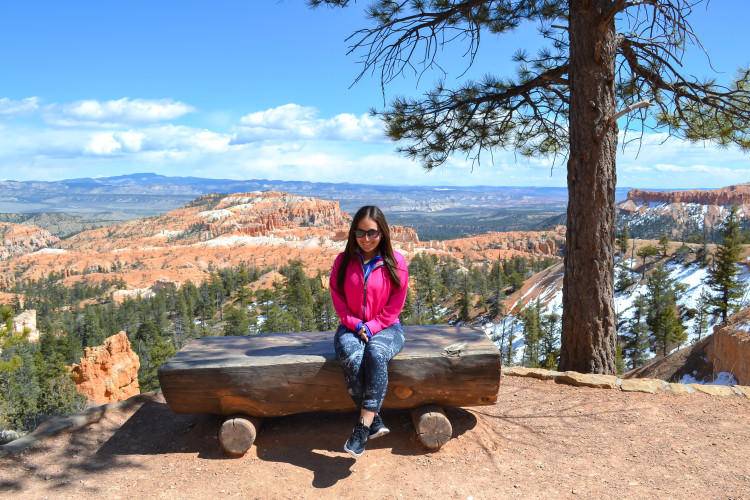 A few multi-day tours I recommend (prices include nightly accommodation):
All great Utah national parks tours to choose from!
Utah national parks map (plus Page, Arizona!)
This is the exact route we took on our Utah National Parks road trip! Feel free to save it for the future if it helps!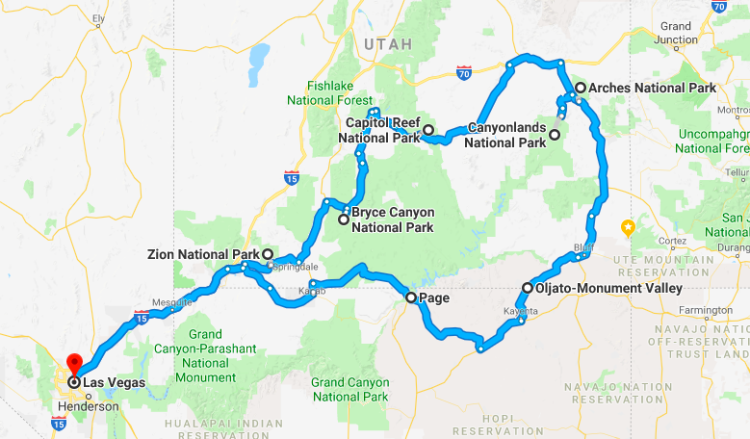 Packing Tips for Utah
Road trip Gear:
Fleece blanket: The weather in Utah is weird, y'all. We encountered sun, rain, snow, and sleet all in just ONE day! I loved having a cozy blanket to cuddle up to during the long drives. Much more comfortable than a sweatshirt, and the driver can use this too! Doubles as a picnic blanket as well!
cell phone mount: This is in fact a road trip, and you'll likely be following Google Maps (or another GPS app) on your cell phone. Stay safe when using GPS in your car by using a cell phone mount.
mini cooler: Road trips are always more fun with snacks and some drinks! Keep your food tasting fresh and cool in a mini cooler. It's also a good way to stay healthy on the road as you can store veggies (baby carrots are my favorite), fruits, and healthy snacks such as cheese sticks and turkey jerky for much longer!
Travel Games: If you're traveling with kids, a bit of boredom is unavoidable. One way to beat this – think ahead and surprise them with a few travel games! A few good examples to choose from: Rubbernecking Cards, Spot It!, 6-in-1 magnetic boards, License Plate Game (a classic!)
Spiral bound road atlas: even if you have a GPS, as in some places you'll inevitably lose service…
Hiking Gear:
water bottles: preferably reusable and with a straw (no spills in the car!) I also like to bring along drink flavorings when you inevitably got sick of so much water. A water bottle is also great to have in the car during the driving portion of this trip!
Chapstick (my faves here, here, here, and here). Like I said above, the weather is weird in Utah, and I absolutely HATE chapped lips! A little chapstick goes a long way – get a tube for each member of the family, and then an extra or two!
Sunscreen: One of the most important items on the list. When you're hiking and sightseeing, you'll be outside so often, and even if it doesn't "feel" hot, the sun's still there, peeking out through the cloud ready to burn you! You don't want a silly thing like a sunburn to ruin your Utah adventure, do you?
body wipes: You'll inevitably just feel gross at some point during or after your hikes (or when you're in the car for long hours). Body wipes keep you feeling clean and refreshed when a shower isn't available for a few hours.
Snacks: No matter the level of difficulty or length of the hike, it's always a good idea to bring a few snacks with you out on the trail. No one wants to hike when they're hungry! And plus, a yummy snack is a great way to reward yourself at the top of the summit!
First Aid Kit: While none of the hikes I'm recommending are downright dangerous and too strenous, it's smart to keep a simple first aid kit of band-aids, gauze pads, adhesive tape, and a cold compress in your car just in case something happens on the trail.
Layers: I'll say it again – the weather changes frequently in Utah depending on what season you go in (particularly early Spring and late fall). Bring a long sleeved hiking shirt, a lightweight rain jacket, and waterproof gloves (depending on the season). You can leave what you don't think you'll need in the car, although I always like to bring along the long sleeved shirt and usually tie it around my waist until I need it.
Hiking Poles: If you haven't hiked before, you may feel more comfortable using hiking poles, which help steady you on the ground and provide an extra level of balance on uneven surfaces (rocks, sand, etc). We didn't use any and were fine, but we saw many on the trails with similar poles.
A One Week Road Trip Through (All) 5 Utah National Parks
Day 1: Drive from Las Vegas to Zion National Park (2 ½ hours)
Start off early, and you'll find yourself with a full day in Utah's greenest National Park. We arrived around 11am, and explored until sunset around 7pm. Zion is HUGE, so it's best to arrive at the park with a game plan. Some of the hikes take a good portion of the day (Angels Landing/Narrows), and while you'll see a lot of amazing scenery, you won't leave much time to explore other parts of the park.
Decide in advance if you'll be tackling a tough hike! It was also one of the most crowded parks during our visit to Utah, (and we visited in the shoulder season of late March), so keep that in mind as well!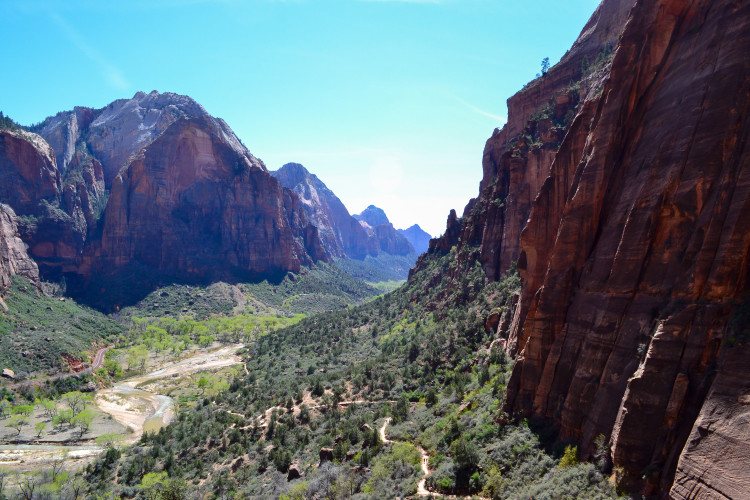 What we did:
We braved our souls hiking Angels Landing, and the views from the top were worth every ounce of dripping sweat and all that fear while looking down! Read all about our terrifying, dramatic, and exciting hike here. The hike took up our entire day in Zion (roughly 1pm-6:30ish), so we didn't have time for other explorations. Next time I really want to hike the Narrows!
A few must-do's in Zion:
Brave the water at the Narrows
Scenic Drive
Emerald Pools
Weeping Rock
Observation Point
Finish off the day by driving to the next National Park on the list: Bryce (about 2 hours away).
Where We Stayed: Ruby's Inn Best Western Plus (free breakfast, and only about $90)
Day 2: Bryce Canyon National Park
Wake up near Bryce Canyon and get ready for a full day of outdoorsy exploration! Most people say you only need about half a day for Bryce, but I disagree with them! Bryce Canyon happened to be our favorite National Park on our week-long road trip throughout Utah, so I'm thankful we kept a full day open for it!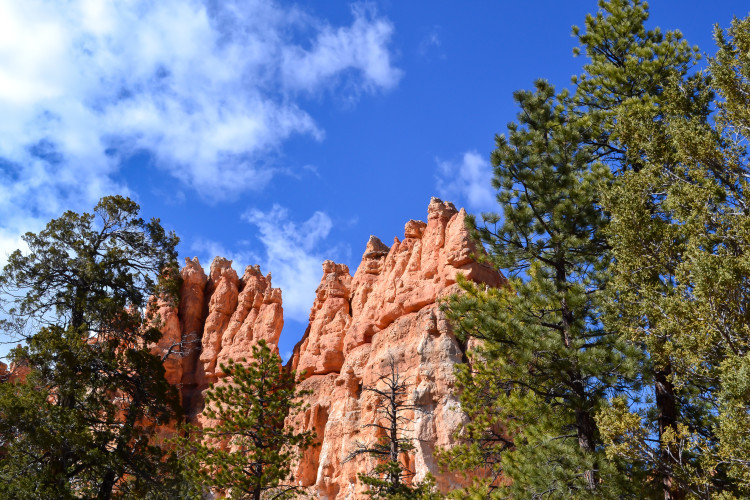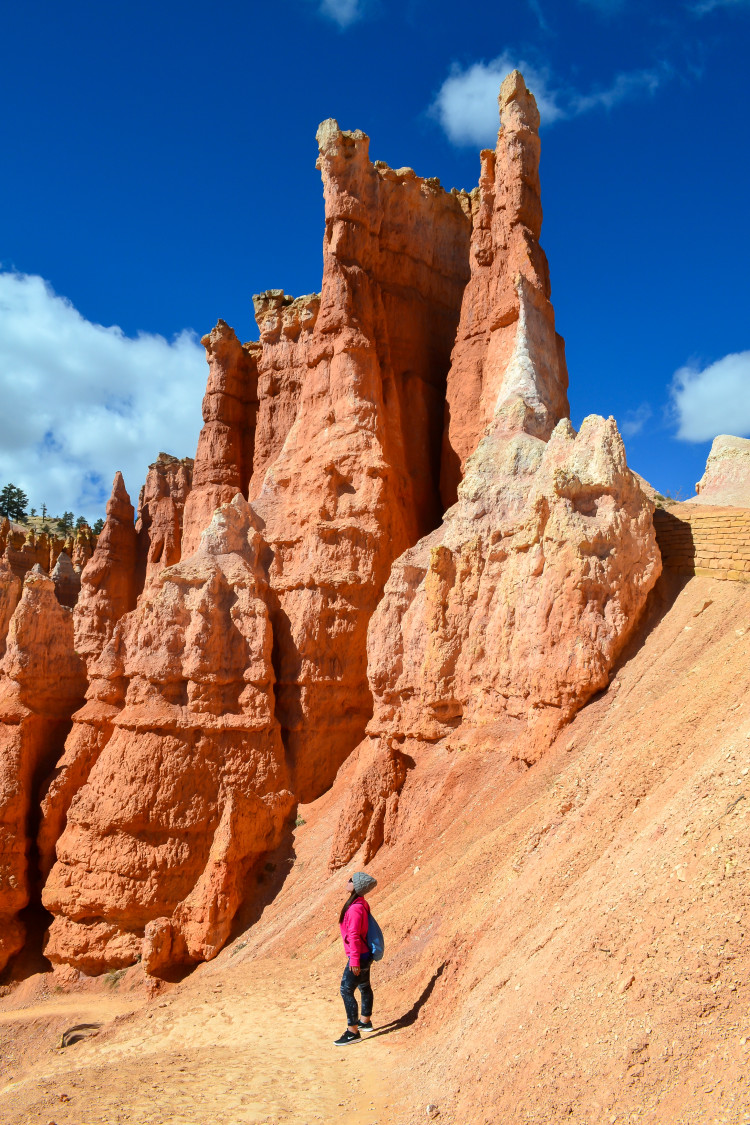 What we did:
In early morning, we zipped around to all of the different scenic viewpoints in Bryce.  The park was relatively empty (get there early!) compared to Zion, and we hardly felt rushed at all. 
We ate a leisurely lunch at the Bryce Canyon Lodge, then spent the afternoon hiking down to the hoodoos via the Queens Garden/Navajo Loop Trail.  If you do one thing in Bryce Canyon, do this hike.  It was more than spectacular and you really get up close to the hoodoos here!  Super awesome photo ops as well! My favorite of the 5 Utah national parks!
A few must-do's in Bryce:
Visit the viewpoints (my favorites were Bryce Point, Inspiration Point, Agua Canyon, and Rainbow Point, but they're all worth seeing in my opinion – we saw them all).
Hike the Queens Garden/Navajo Loop Trail (3 miles)
Sunset at Sunrise Point or Inspiration Point (both great choices)
Thor's Hammer
Mossy Cave Trail
After a long day of hiking, exploring, and photographing, we set out to Capital Reef National Park (about 2 ½ hours away).
Where We Stayed: Broken Spur Inn & Steakhouse (in Torrey, UT)
Day 3: Capital Reef National Park
Most people miss this area when they're heading to the National Parks in Utah, and we definitely felt it!  Less crowds than at popular Bryce and Zion, but in my opinion, it's definitely one you shouldn't miss! 
It wasn't as astounding as the others, but still worth a stop if you're in the vicinity anyways. It's not much of a detour and worth a half-days' time, at least. Plus, the pie! You earned it. Capital Reefs' remoteness just adds to the peace factor.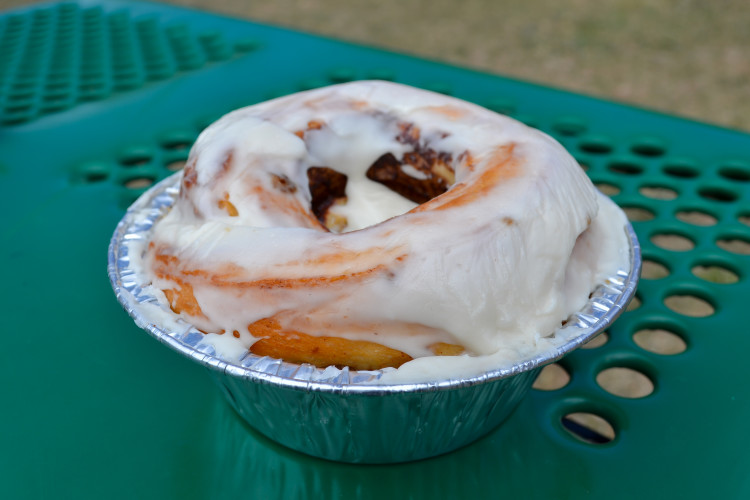 What we did:
The day started out FREEEZING (who knew late March in southern Utah would be cold?!), and were glad we had the car to get us around. We opted to drive throughout the park, stopping at various points on the Scenic Drive.
We feasted on the most massive cinnamon bun I've ever encountered at the Gifford House, and were both quite satisfied with our lunch decision. The afternoon finished off with a short hike and some petroglyph sightings.
A few must-do's in Capital Reef:
Indulge in some pie (and massive cinnamon buns) from the Gifford House (!!!)
Admire the views on the Scenic Drive
Check out the petroglyphs
Goosenecks Overlook
U-Pick Em Orchards (in season)
Cathedral Valley
The day was over and we drove to Moab, Utah, where we based ourselves for the next 3 nights. Expect the drive to take approximately 2 ½ hours.
Where We Stayed: Gonzo Inn, Moab UT (highly recommended!!!)
Day 4: Canyonlands National Park
The drive from our hotel (Gonzo Inn) was roughly 30 minutes away, so we got an early start. It's good to know that the park is divided into a few sections, and with only a day here, it's best to pick out an area ahead of time. We opted for the Island in the Sky District and highly recommend it for those short on time. Plus, it's the most accessible and most built up for visitors.
Special Note: Since you won't be driving much for the next few days, opt for some fun activities since you'll have a bit more time! I have some recommendations listed below, but I really advise you take at least one scenic air tour (like this one that covers both Canyonlands and Arches National Park)! Something we desperately wished we planned in advance!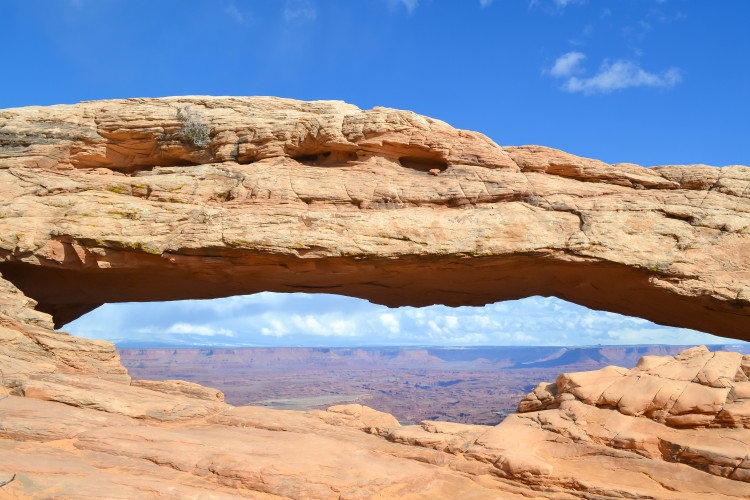 What we did:
Another FREEEEEEEEZING morning, but we braved it (or at least I did – the hubby grugedly came along). Stopped at a bunch of the viewpoints, hiked to Mesa Arch, and ate a super yummy strawberry salad in the car while we waited out a snowstorm (I'm telling ya – the weather is weird, here!).
Once the weather cleared up we ventured out to a few more viewpoints, and then hiked back to Mesa Arch in the clear blue-sky weather.
A few must-do's in Canyonlands:
Sunrise at Mesa Arch (short hike)
Grand View Point Overlook
Green River Overlook
Upheaval Dome
Whale Rock
Suggested Activities:
Half Day Tour of Canyonlands from Moab: Leave the driving (and navigating) to someone else and explore the Island in the Sky district of Canyonlands National Park on a half-day 4-wheel drive (4WD) tour! See sites with remnants of ancient Pueblo civilizations, canyons that drop 1,000 feet (300 meters) straight down, and parts of the Colorado River.
See Canyonlands from Above: If you're a bit tired from hiking and/or want an experience to definitely remember, I highly recommend a Scenic Air tour of Arches and Canyonlands. In 50 minutes, you'll be able to see all the highlights from both parks as you soar over arches, canyons and rivers. We unfortunately learned about this tour too late and there was no availability left on the date we needed, so I highly recommend you book this in advance.
Colorado River Rafting: Not only will you explore Canyonlands National Park (Island in the Sky district) by 4-wheel drive (4WD), but you'll also go white-water rafting! A must-do experience in this area! Buffet lunch included as well! If you're not keen on rafting down the mighty river, consider a jet boat tour through a calm stretch of the Colorado River south of Moab instead. A great way to beat the heat!
No long drives today! Woo!
Where We Stayed: Gonzo Inn, Moab UT
Day 5: Arches National Park
This is what everyone thinks of when they picture a National Park in Utah. We, unfortunately, had lousy weather, and until we hiked to Delicate Arch the next morning in the sunshine, I was rather underwhelmed. Maybe it was the weather, maybe I was too full from eating too many pancakes that morning, or maybe it didn't live up to all the hype.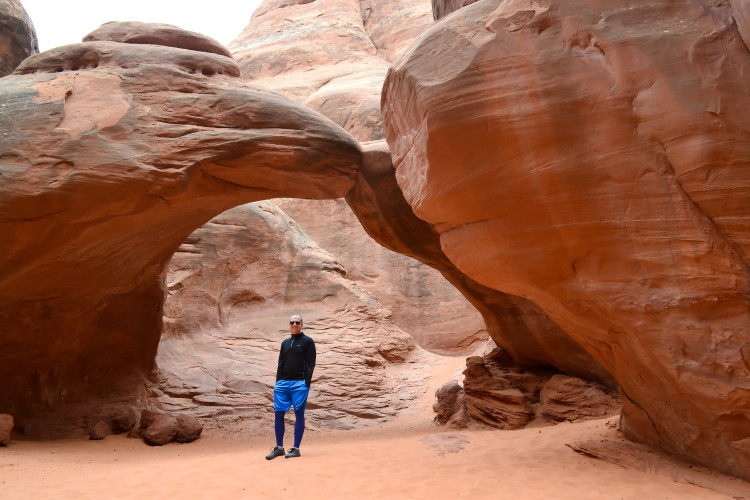 What we did:
We started off the day with a full breakfast at House of Pancakes (bad idea – I was too full to hike!), then explored many of the viewpoints/short hikes to Sand Dune Arch, Landscape Arch, and Balanced Rock. We saved the hike to Delicate Arch for the next morning because I could not bear to see it up close on a cloudy day.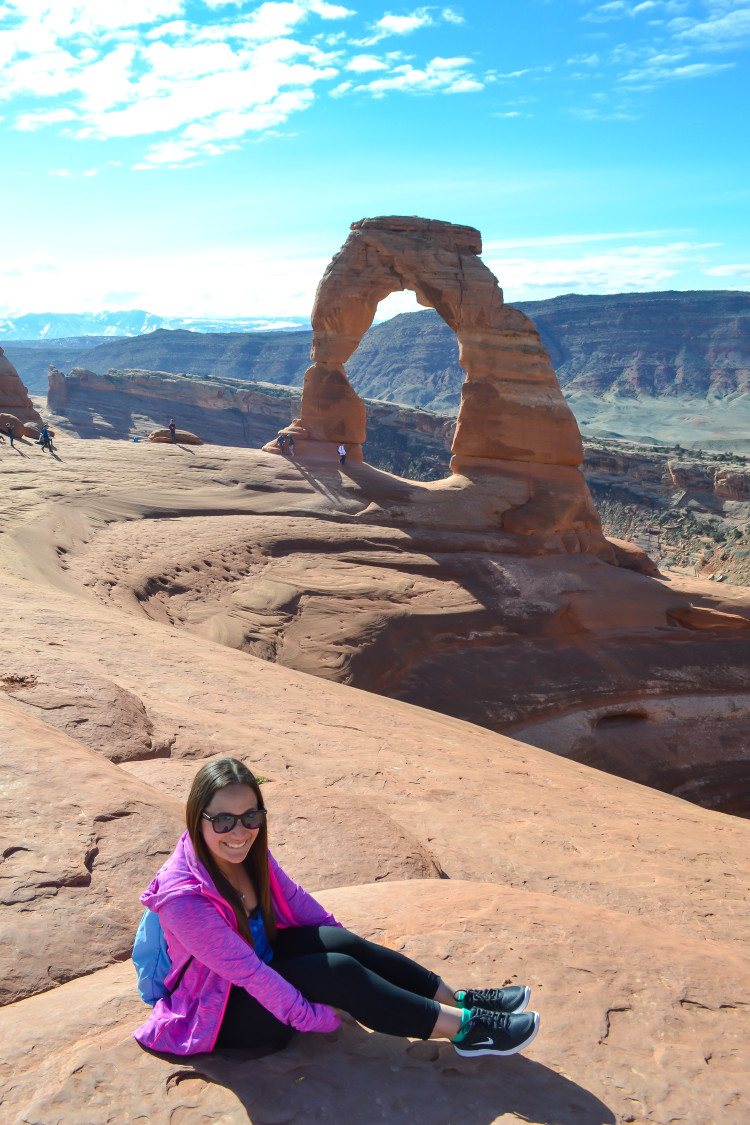 A few must-do's in Arches:
Hike to Delicate Arch (you NEED to do this)
Sand Dune Arch (a favorite on a cloudy day!)
Landscape Arch
Double Arch
Balanced Rock
Suggested Activities in Moab/Arches National Park:
If you missed out on an air tour yesterday, consider one today at Arches! You'll see all the best hiking trails, popular geographic formations, and enjoy the freedom of flight with a highly experienced pilot. Just don't forget your camera!
Moab Dinner Cruise: Still looking for something fun and relaxing once the sun goes down? I think this Moab Dinner Cruise sounds pretty awesome! You'll be treated to a hearty cowboy dinner before boarding the boat, then as the sun sets you'll travel on the Colorado River into a canyon where a narrator tells about the historic and geological history of the area. And then the light show on the canyon walls!!! Eeeee!
4×4 tour of Arches National Park: Instead of meandering yourself, you'll be able to travel off-road to reach more remote locations away from the crowds with an experienced guide. Sounds good to me!
No long drives again today! Zippy!
Where We Stayed: Gonzo Inn, Moab UT
Day 6: Dead Horse State Park, Four Corners, and Monument Valley
Busy, busy day today, and some extra driving than the previous days.
Prepare to get an early start, and head right to Dead Horse for a few hours or so. If crossing things off your USA bucket list is your thing, drive to the Four Corners Monument (2 ½ hours away), located at the south eastern tip of Utah.
Take a few photos and get back on the road – off to Monument Valley you go (1 ½ hours away). We decided to skip Four Corners since I was more interested in hiking to Delicate Arch in Arches.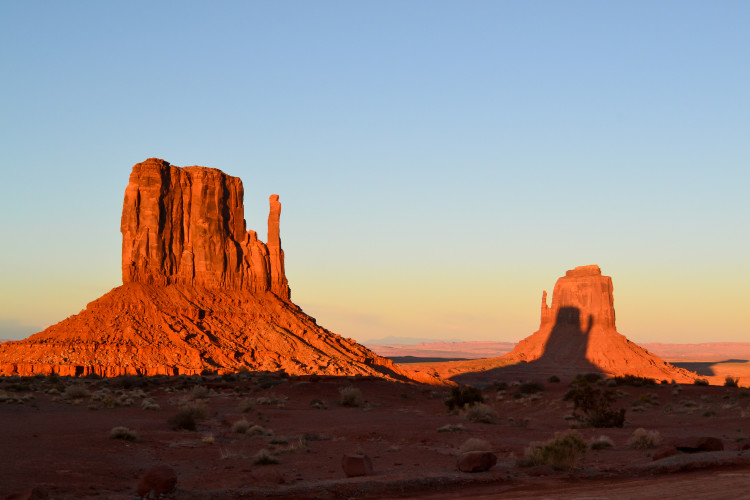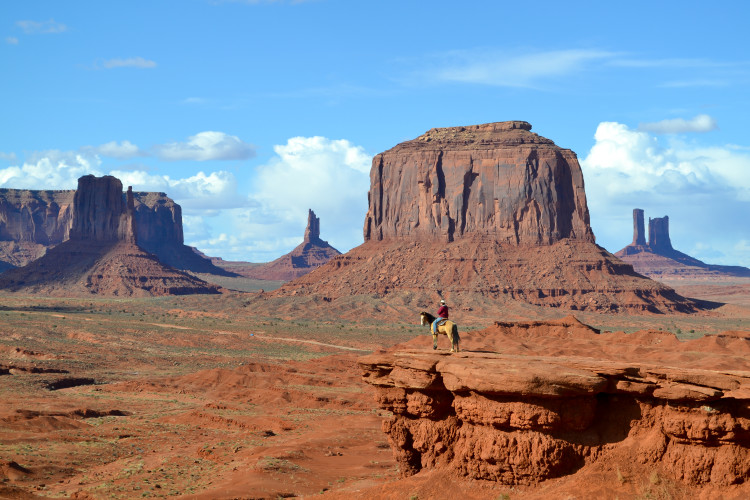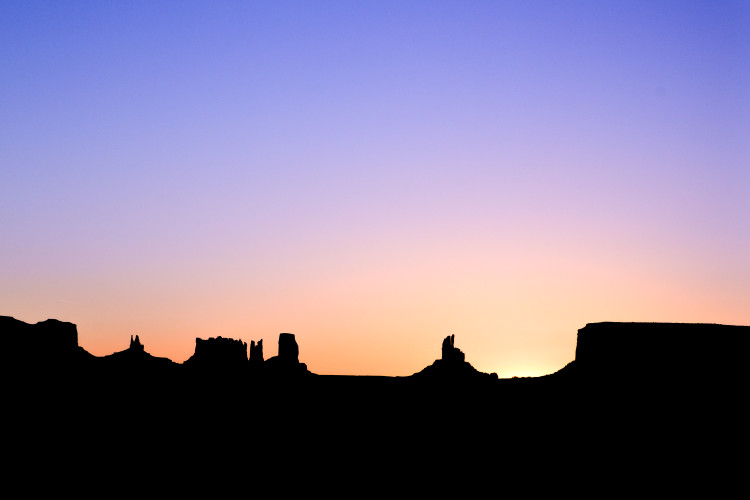 What we did:
The morning was dedicated to hiking to Delicate Arch since the weather was pretty much perfect! We then got on the road headed for Monument Valley, and took a tour of the area! Technically not a National Park, nor a State Park for that matter, but a must-do if you're in the area (or love Forrest Gump)!
Despite the cold temps and bumpy ride, it was pretty fantastic (the photos don't lie)! I was bummed that we could not for the life of us find the Forest Gump sign! GAH!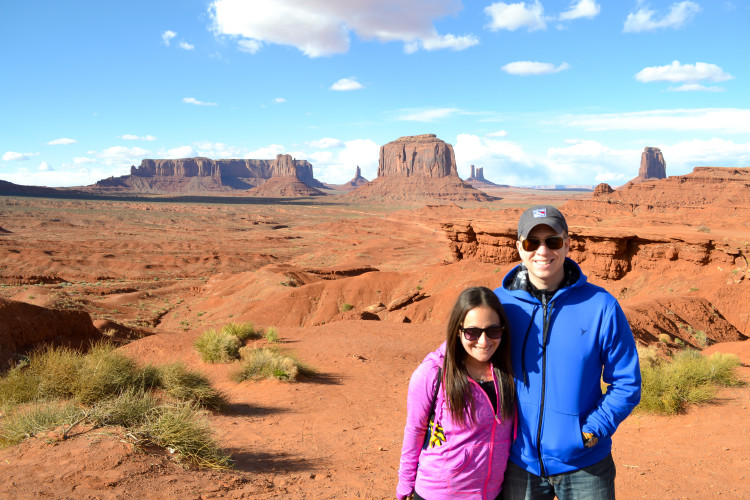 A few must-do's for this day:
Spend a bit of time at Dead Horse State Park
Put each limb in a different state at the Four Corners >> be in 4 states at once!
Take a photo of the "Forrest Gump" Sign
see the sunrise and sunset at Monument Valley (so breathtaking!)
Tour Monument Valley (similar tour here)
Important Note: I highly advise you book a tour of Monument Valley, as you can only see a little of the park yourself. In order to see most of it, you need to ride on an authorized vehicle only offered via tour guide. Very similar tour to ours here.
If you've decided to visit the Four Corners which is a bit out of the way, it's a good idea to book a Sunset Tour of Monument Valley so you're not rushing to make the day time one.
And PS – the views are even better at sunset. 😉 Make sure to bring a jacket as the park gets super at night, especially when you're riding around in an open-air jeep!
Where We Stayed: Goulding's Lodge Monument Valley
Day 7: Horseshoe Bend and Antelope Canyon, Page Arizona
One of my favorite days! Goodbye Utah, and hello sunny Arizona! Spend the early morning driving from Monument Valley to Page, which takes roughly 2 hours. The rest of the day will be spent touring Antelope Canyon (choose either Upper or Lower, or if you're extremely interested, you can do both!) and admiring the view at Horseshoe Bend.
Tip: Book your tickets to Antelope Canyon in advance if you want a particular time slot (we had to wait in line and then wait two hours – bad mistake on our part).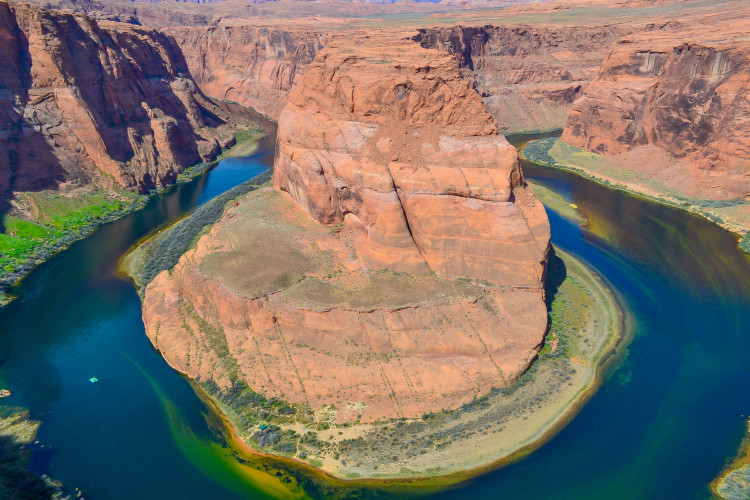 What we did:
Just this! We ate a super scrumptious breakfast at Amigo Café in Kayenta on our drive to Page, then started our exploration of the area! Lower antelope canyon and horseshoe bend it was – and both were astonishing. The way the colors reflect in the canyons are unreal – just look at all those shades of orange and purple!
Not even one of the 5 Utah national parks and one of my favorites! We had some extra time in the afternoon so we took a short drive to Antelope Park Marina and just relaxed on our last day!
A few must-do's for this day:
Marvel at Horseshoe Bend (super short hike)
Lower or Upper Antelope Canyon
Have a mouthwatering Mexican breakfast at Amigos Café (en route to Page from Monument Valley, located in Kayenta, AZ)
Admire the boats at Antelope Park Marina (entry fee included in your National Parks Pass)
Eat at Big John's Texas BBQ in Page, Arizona (delicious!)
Additional Recommended Add-Ons:
Scenic Helicopter Flight above Antelope Canyon: Take in views above Antelope Canyon, and Lake Powell and the Grand Staircase as well! Land atop Tower Butte, a stunning rock formation on Navajo Indian land, for panoramic views of Glen Canyon National Recreation Area. Learn about Navajo history and culture. I can't even begin to think about those photo ops. On my wish list for next time.
Airplane Tour of Rainbow Bridge, Lake Powell, and Glen Canyon Dam: Super outstanding views, enough said. Plus, its half the price of the helicopter tour! Bingo!
Where We Stayed: Holiday Inn Express & Suites Page (highly recommended)
If you're pressed on time, you could drive back to Vegas tonight and fly out on a late night flight. Don't cut it too close though…
Day 8: Head on back to Las Vegas and fly Home!
If you have some time, why don't you check out a few things to do in Vegas besides gamble, like visiting the Grand Canyon and The Valley of Fire?!
The 5 Utah National Parks should be on everyone's bucket list, whether you're from the USA or not! We were astonished as to how varied the area was, and each of the Utah National Parks were completely different from one another! We'll be back – that's for sure!