Looking for the ultimate cross country road trip packing list? You'll find all the road trip essentials right here, so make sure to bookmark this page for safe keeping and proper planning!
This past summer, we traversed the country from New York to San Francisco in 7 long days. It was the ultimate week long road trip en route to our new home in California.
I'd always wanted to take a cross country road trip.  I feel like it's the ultimate American thing to do.  So when we had the choice between flying out to SFO (and shipping all our stuff and car) or driving out on the ultimate USA road trip, of course I chose the later.  
Since then, we've road tripped to Mendocino and Fort Bragg, down to Big Sur, and most recently, a whirlwind of a road trip to all 5 of the National Parks in Southeastern Utah. We've driven part of the way from San Francisco to Seattle,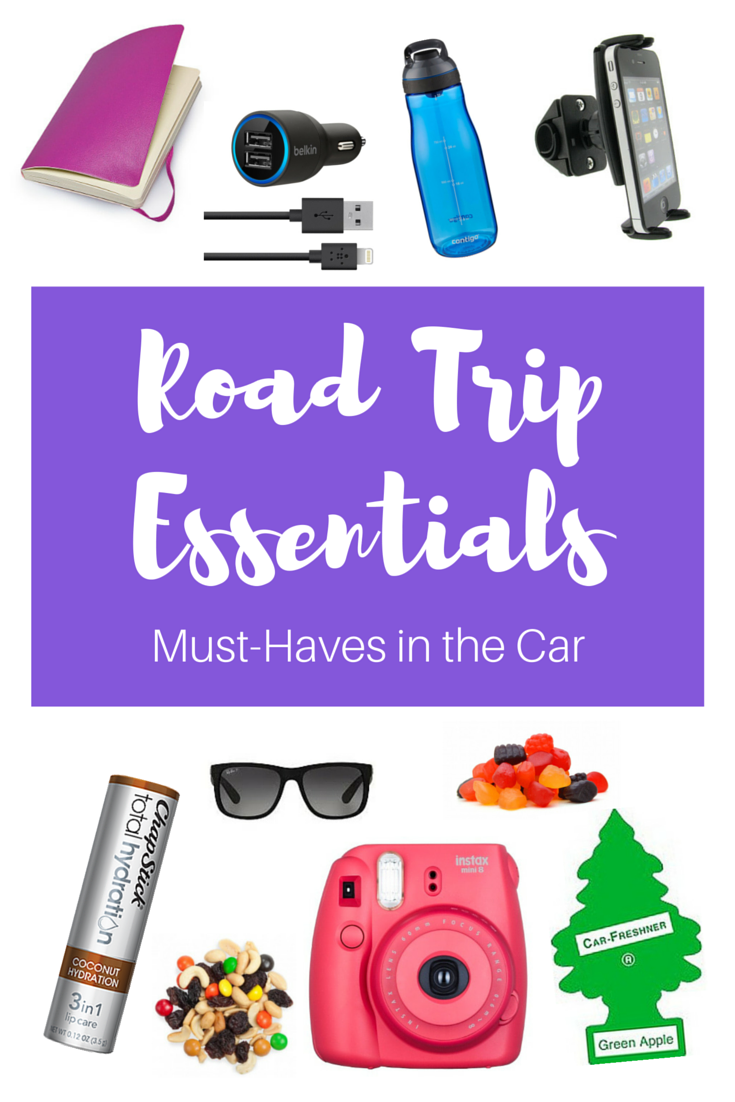 When packing for a road trip, it's important to bring those things you absolutely cannot find on the road, as you can most likely find most forgotten items on the way. That being said, I prefer packing my own stuff and knowing exactly what I have in the car. Check off these items on the ultimate cross country road trip packing list!
The Ultimate Road Trip Packing List
The Absolute Essentials // What You Really Need
Any cross country road trip packing list wouldn't be complete without these items!
first aid kit (band aids, tylenol, tums, ibuprofen, benedryl, antacid tablets)
personal medications – more than enough for your road trip
cell phone mount (stay safe when using GPS!)
a few gallons of gas (you never know – here's the can!)
cash, including change (I'd bring a roll of quarters for any tolls and/or parking meters)
Easy Pass/Fast Track for those pesky tolls you'll inevitably encounter
mini cooler (for drinks and snacks)
lots of water
For Fun // Entertainment
It's inevitable that you'll be bored for at least a bit of your journey, so it's best to come prepared beforehand.
AUX power adapter for music to stream right through the car stereo!
travel games – Rubbernecking Cards, Spot It!, 6-in-1 magnetic boards, License Plate Game (a classic!)
adult coloring book and some colored pencils
podcasts/books on tape
pre-loaded iPod/phone with music
iPad with preloaded movies/TV series (THIS is perfect if you've got kiddos)
stamps, and address book, for mailing home goofy postcards
When Hunger Strikes // Food + Drink
I mean, you could totally eat fast food all day every day, but it's probably not the best thing for your body (especially with all that sitting around you're doing in the car). Add a few (healthy) snacks to your cross country road trip packing list! And I totally recommend grabbing a picnic blanket and picnic kit – eating in the middle of a grassy field on a sunny day is always welcome!
mini garbage pail / plastic bags for garbage
snacks – and lots of 'em! Take along things that are relatively non-perishable. Make at least some of them healthy. 😉
cheese sticks (eat these first and put in the cooler)
vegetable sticks
apples, oranges, and bananas – these stay ok for a few days in the cooler
packets of oatmeal for a quick breakfast/snack
fruit snacks
pretzels
water bottles / preferably reusable and with a straw (no spills in the car!)
picnic blanket and mini picnic kit (with a bottle of wine and a corkscrew!)
Safety // Best be Safe than Sorry
spare tire
spiral bound road atlas (even if you have a GPS, as in some places you'll inevitably lose service…)
copy of your own car insurance card if you're renting a car
For the Body // You Only Have One
chapstick (my faves here, here, here, and here)
hand/face Lotion – it tends to get pretty dry in the car
sunscreen (so important!)
bug spray and anti-itch lotion/cream
body wipes (for when you just feel gross)
Other Recommended Items
mini portable speakers for picnics
a roll of toilet paper – you never know what the conditions may be like!
camera – I suggest a DSLR so you can really capture the all that stunning scenery on the road!
instax camera – so fun!
go pro – for fun road trip videos!
air freshener for the car
roll of quarters: that way you'll be well supplied for laundramats, tolls or whatever
ice scraper (depending on where you're going, this may be necessary)
tire chains (again, depending on where and when, it may be essential)
ALWAYS: A good sense of humor and lots of patience! 🙂
Anything else you'd add to this cross country road trip packing list?!