Looking for super fun things to do in Northern California? Lucky you – I've compiled over 300+ places to visit in Northern California! Think of it as your ultimate NorCal bucket list!
What comes to mind when you picture Northern California? If you said towering redwoods, the granite peaks of Yosemite, and freshly shucked oysters, you wouldn't be wrong! But we've also got gold rush towns, a snow-capped dormant volcano (true story), and plenty of Victorian-era houses.
I'm sure you've heard of the most popular places to visit in Northern California → we've got Yosemite National Park, Lake Tahoe, San Francisco, Napa Valley, etc. But this list is taking you way beyond the typical touristy stuff.
Sure, we don't have year-round perfect weather or sunbathing lifeguard goddesses like down in Southern California. But we do have glistening glacial lakes, a creepy ghost town, and some of the tallest trees (the coastal redwoods) in the entire world.
Clam chowder bread bowls, eerie towers of calcium carbonate, and apple-picking (and pumpkin-picking!) galore. And some of my all-time favorite things to do in Northern California: hiking along the coast, driving around Lake Tahoe, and strolling on Baker Beach complete with Golden Gate Bridge views.
There's even a trail with canyon walls covered in lush ferns used in Jurassic Park. And au natural hot springs and scenic waterfalls and wine. OH THE WINE (we've got tons of vineyards, even ones with wine tasting in a castle).
Here's a GIANT list of over 300+ things to do in Northern California. And if you live around here, don't tell me you're bored! I've organized this massive list by region to make travel planning even easier.
Best things to do in Northern California:
For easy reference, Northern California is comprised of:
Shasta Cascades (with Redding, Lassen, + Mount Shasta)
Central Valley (think Sacramento and surroundings)
Gold Country (with Nevada City, Placerville, etc)
High Sierras (including Lake Tahoe, Yosemite, and more)
→ Looking to take a NorCal road trip? Check out these 15 best road trips in California!
1. NORTH COAST
The North Coast is full of redwoods, rustic coastal scenery, and tons of lighthouses. Del Norte, the most northern county, is only 20 miles south of the Oregon border!
Del Norte County
1. Climb the narrow spiral staircase of the Battery Point Lighthouse for sunset, as long as it's low tide. At other times of day, it's just an island floating offshore! (Crescent City)
2. See the St. George Reef Lighthouse from the bluffs at Point St. George (Crescent City)
3. Watch the injured elephants and sea lions feed at Northcoast Marine Mammal Center (Crescent City)
4. Search for agates and other semi-precious gemstones beautifully polished by the sea at Pebble Beach during low tide (Crescent City)
Explore old-growth redwoods along the Boy Scout Tree Trail in Jedediah Smith Redwoods State Park (the northernmost redwood park in California!)
Cruise along (non paved) Historic Howland Hill Road for an hour or so through the towering, old-growth redwood forest
Look out for migrating gray whales from Pebble Beach Drive, Crescent Beach Overlook, and/or Battery Point Lighthouse (one of the best things to do in Northern California from May to October!)
Camp under the giant redwoods at Del Norte Coast Redwoods State Park, with tons of short hikes (don't miss the Damnation Creek hike – I heard it's one of the most beautiful things to do in Northern California!)
Wander the Crescent City Beachfront Park, right on the harbor with a sandy beach (Crescent City)
Paddle the famous Smith River or get wet on a white water rafting trip in Middle Fork Smith – Cooper Canyon. If you're looking for one of the most adventurous things to do in Northern California, consider a trip on class II and III rapids of the South Fork Smith River (the last and largest undammed river in California).
Experience the redwood forest in an exhilarating, new way by walking high up (over 50-100 feet!) among the trees on a redwood canopy trail at the Trees of Mystery, or relax by gliding through the forest on the SkyTrail gondola ride (Klamath)
Humboldt County
Find "Atlas", one of the widest trees in the park at Prairie Creek Redwoods State Park, or just stroll around the 75 miles of trails amid old-growth redwoods (Orick)
Wander through the fairy tale forest of the short yet stunning Fern Canyon, an unusual vertical-walled river canyon covered in leafy ferns (Fun fact: part of the 3rd Jurassic Park movie was filmed here!) (Orick) ✓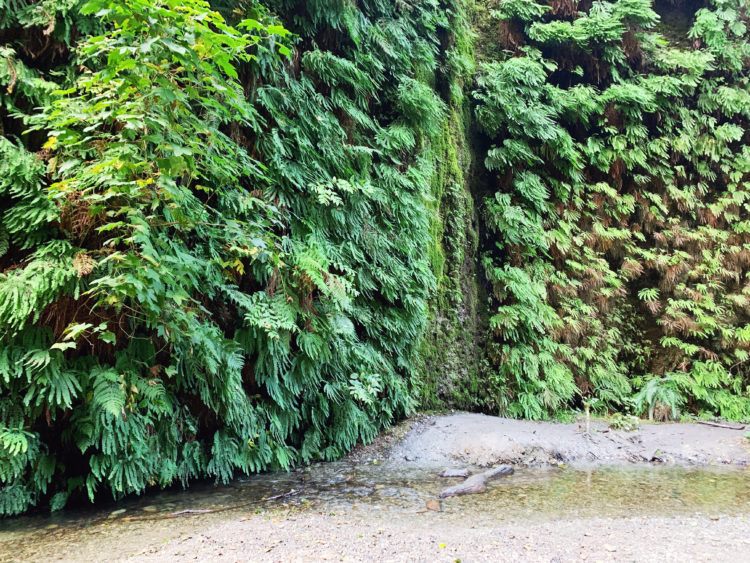 Apply for a permit to hike the never-crowded Tall Trees Grove Trail — only 50 cars are allowed in per day (Orick)
Hike to the top of Trinidad Head to search for whales (but first, don't miss the replicated Trinidad Memorial Lighthouse) (Trinidad) ✓
Soak up the rugged coastline on the Trinidad Fishing Pier over Trinidad Harbor, a popular crabbing spot with even more spectacular views (Trinidad) ✓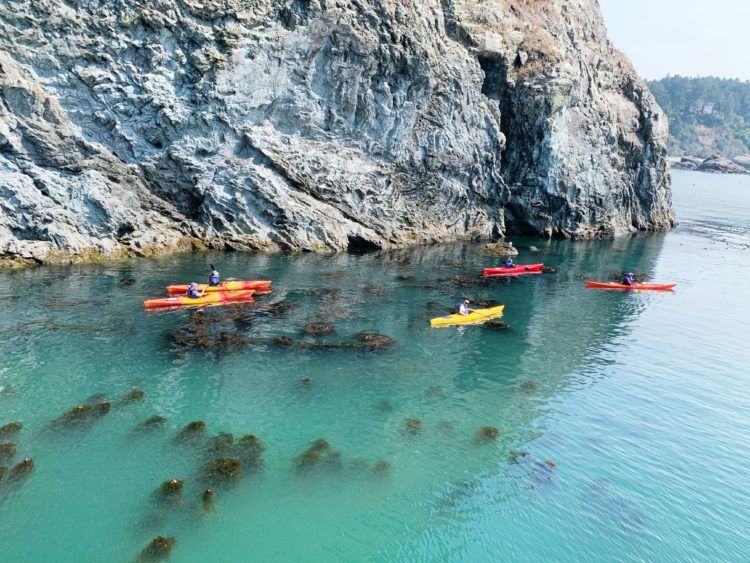 Touch starfish (safely in a touch tank) at Humboldt State University's Marine Lab, a fun and educational side-trip (Trinidad)
Watch the surfers at Trinidad State Beach at sunset after hiking down from the park (or just chill at Moonstone Beach) ✓
Slather on the sunscreen and make the steep trek down to College Cove Beach — don't miss the caves filled with starfish and sea anemone (or take the coastal trail above the beach to find the secret swing) (Trinidad) ✓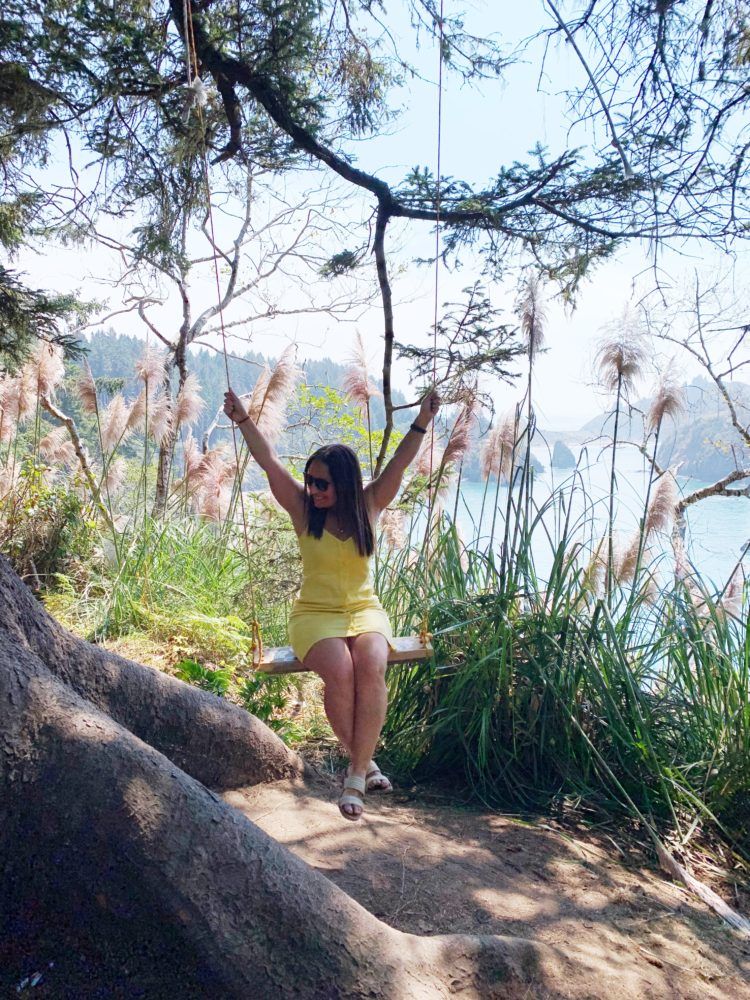 Stock up on smoked salmon and canned albacore at Katy's Smokehouse, a local institution around here (Trinidad) ✓
Wander around the handsomely restored Old Town district, and feel like you're still in the Victorian era. Don't miss the dozens of ornate 19th century Victorian homes, including the Carson Mansion and the Pink Lady! (Eureka) ✓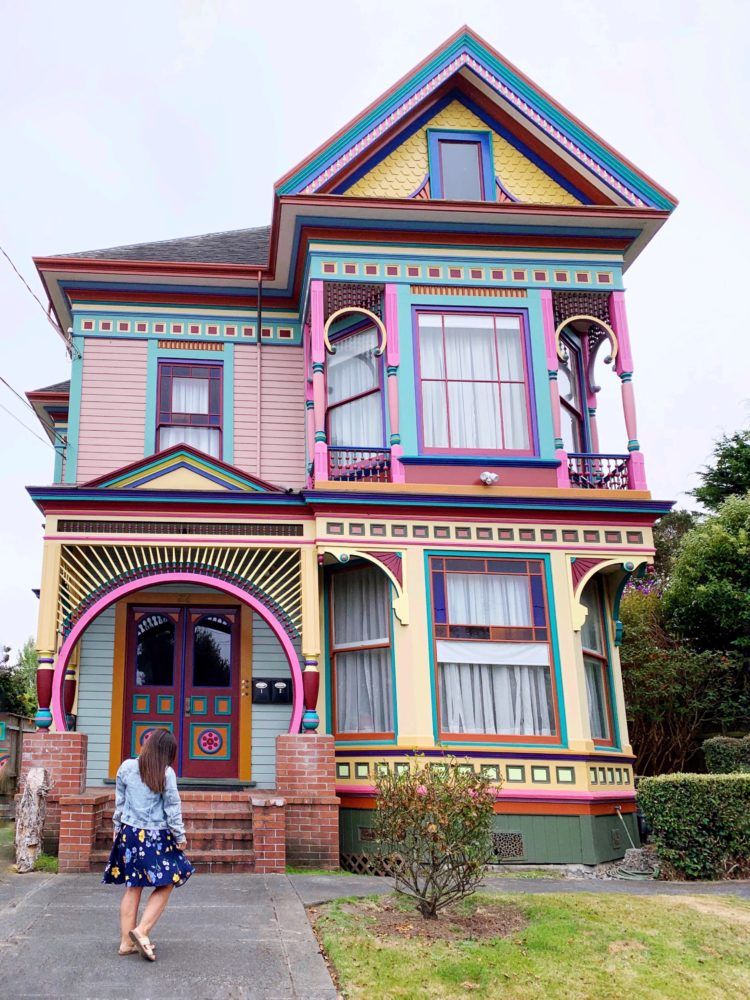 Go tidepooling and walk the lush grounds (with rainforest vibes) at the gorgeous Patrick's Point State Park (don't miss Agate Beach, Wedding Rock, Sumet Village, and Rocky Point, all located within the park) (Trinidad)
Search for sand dollars and semi-precious stones at Humboldt Lagoons State Park, and lookout for elk on the way there! (Trinidad)
Take a morning stroll along the Giant Sequoias at Sequoia Park, filled with tons of towering trees and even more cute pups (Eureka) ✓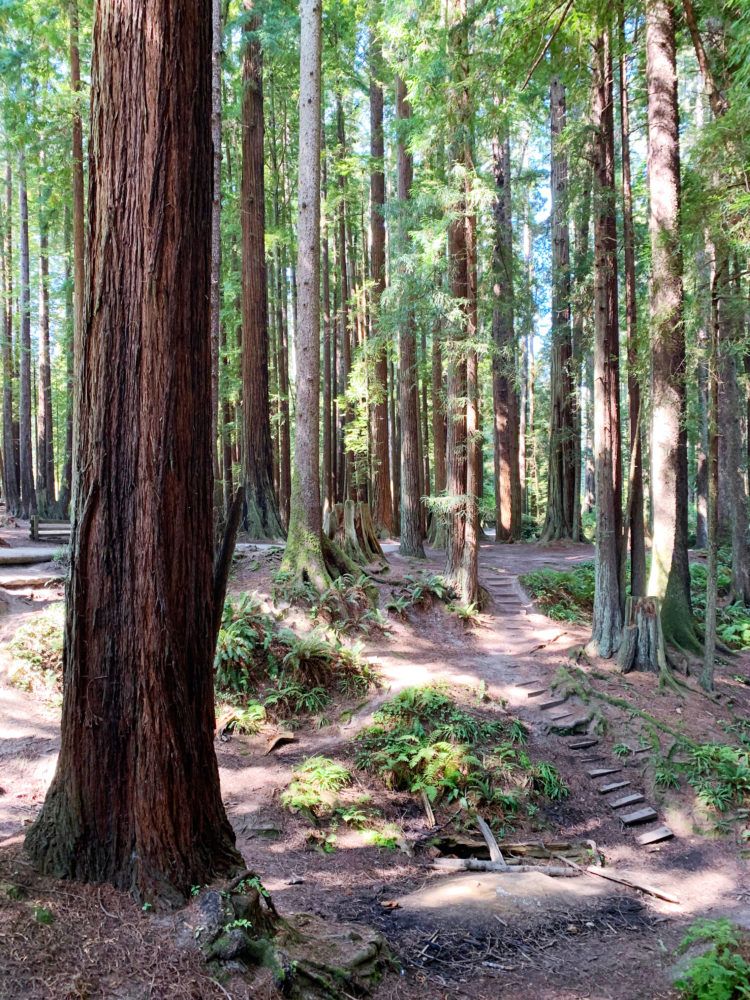 Board the MV Madaket for a guided cruise of Humboldt Bay (Eureka)
Pry yourself away from the redwoods for some baklava and a Mexican hot chocolate at Ramone's Bakery & Cafe (Eureka, multiple locations)
Spend an afternoon wandering around the tiny town of Ferndale, a former dairy capital with Victorian-era 'butterfat mansions' ✓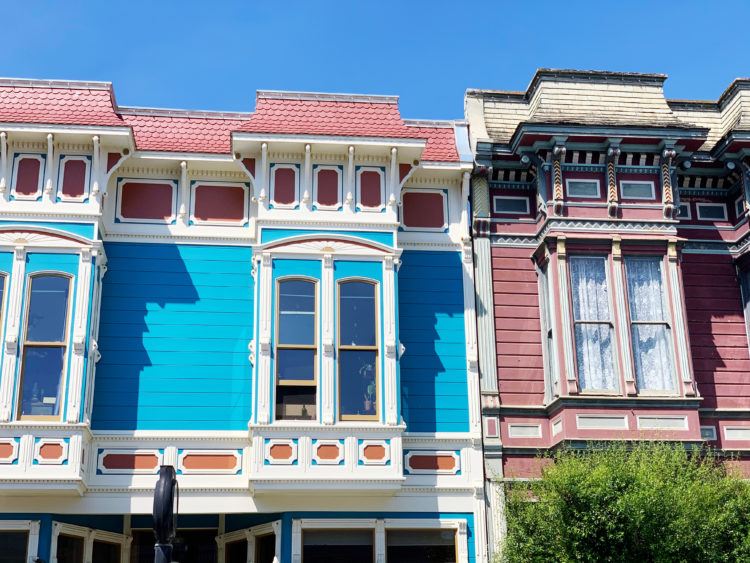 Go for a the full flight of ciders (or go easy with an "ample sample") at Humboldt Cider Company Tap Room (Eureka) ✓
Put on your boots and walk through the clover-lined mini trails at Humboldt Redwoods State Park (don't miss the Founder's Tree and Dyerville Giant) (Weott) ✓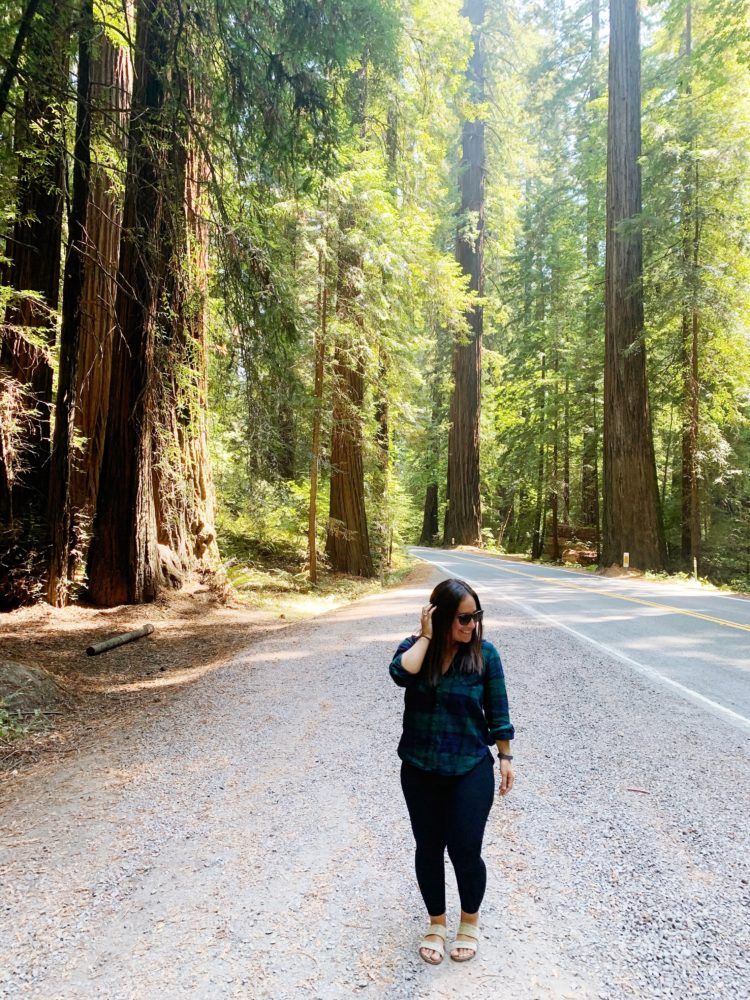 Drive slowly through Avenue of the Giants, a scenic 30 mile highway running through 50,000 acres of redwood groves in Humboldt Redwoods State Park (Weott) ✓
Read Next: Weekend Getaway Guide to Eureka, Trinidad, and Arcata (You Won't Believe How Beautiful the Coast is!)
Mendocino County
Drive through a 315-foot redwood tree at Leggett's Drive-Thru Tree Park (don't forget to take a photo!) (Leggett) ✓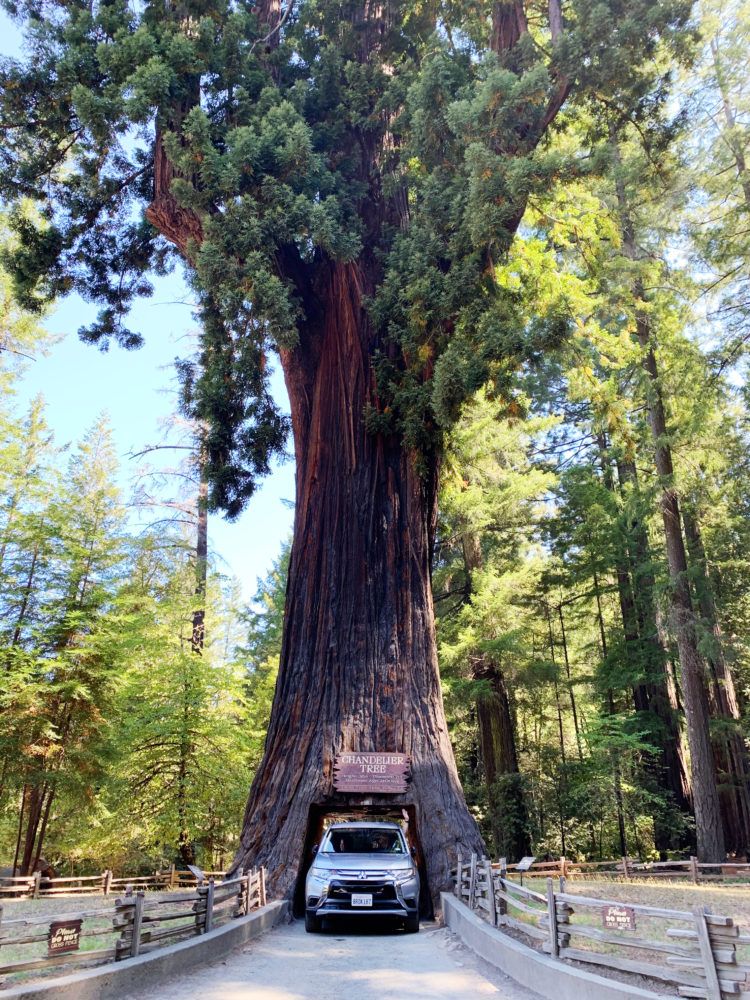 Climb aboard the world-famous Skunk Train in Fort Bragg, and ride into the nearby lush redwood forests. There's two-passenger railbikes if you're looking for something a bit more active. (Fort Bragg)
Sip wine with a view of the rocky Mendocino coast at Pacific Star Winery (one of the best places to visit in Northern California for wine lovers!) (Fort Bragg) ✓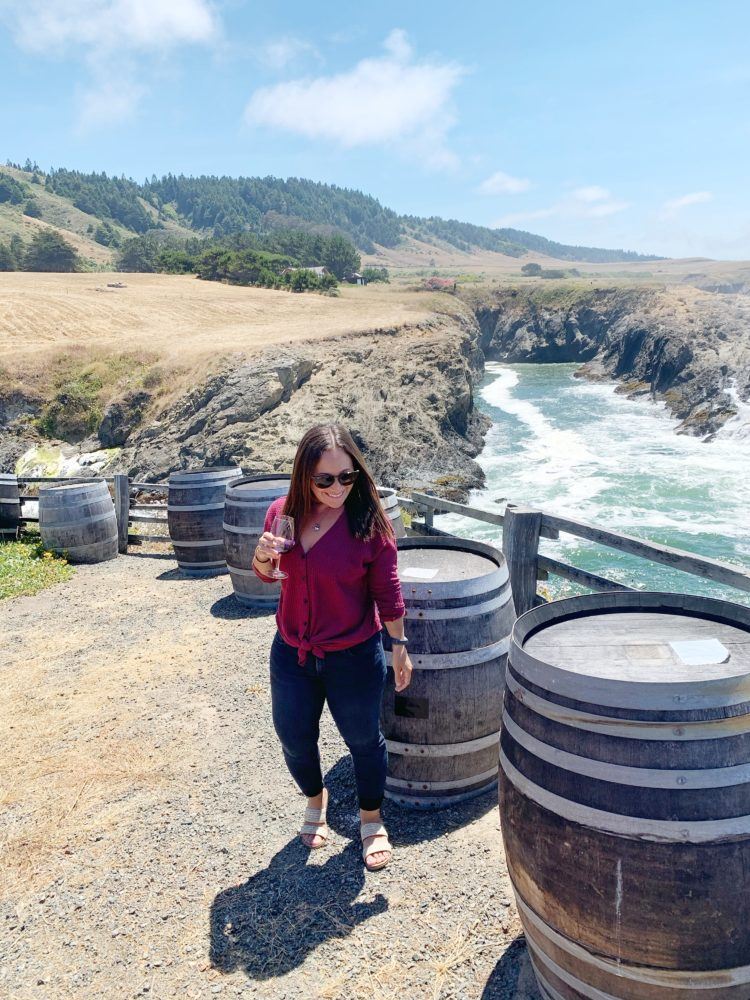 Spot the rainbow of sea glass on Glass Beach within MacKerricher State Park (but don't take any with you) (Fort Bragg) ✓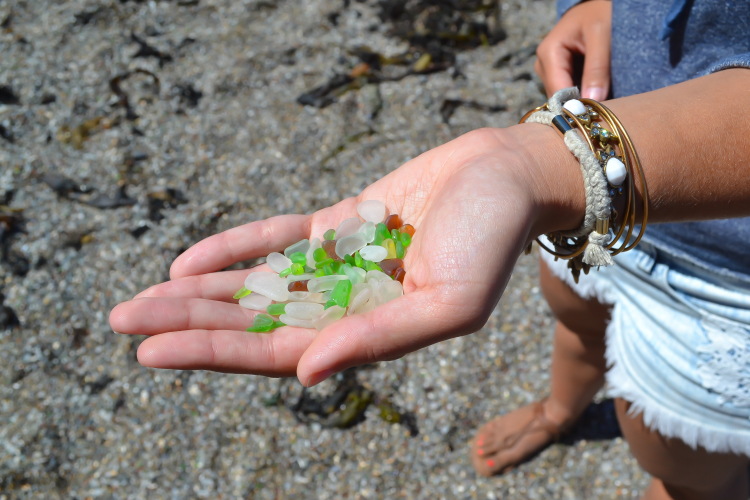 Kayak along the Noyo River with river otters, and see black-tailed deer on the shores (Fort Bragg)
Brave the line and indulge in a waffle cone at Cowlick's Ice Cream; psst – the portions are huge! (Fort Bragg) ✓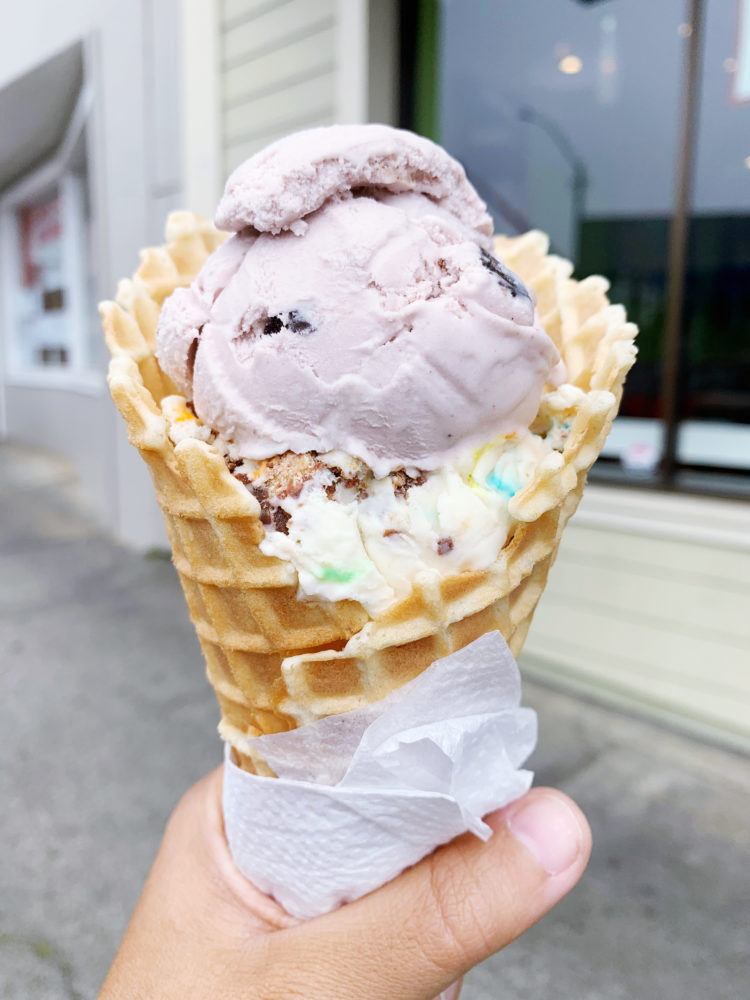 Charter a boat and go on a fishing trip from the rustic Noyo Harbor, or just enjoy the view of the boats coming in and out of the harbor (Fort Bragg)
Smell the rhododendrons, begonias, and other beauties at the Mendocino Coast Botanical Gardens, then head to the water for great views of the rocky coastline (Fort Bragg) ✓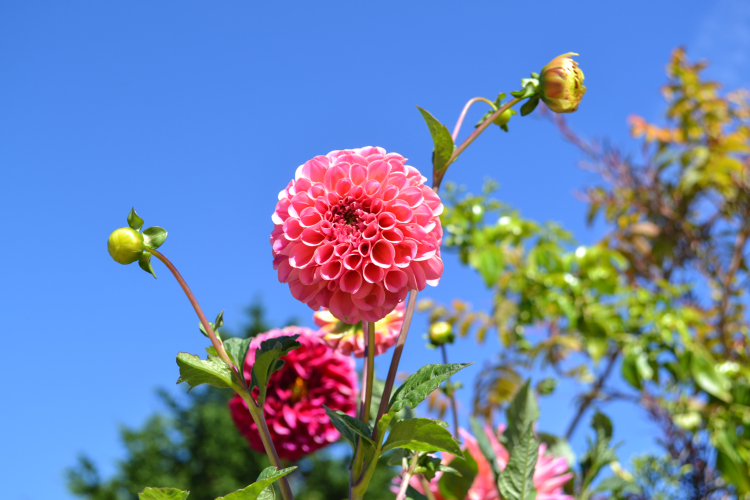 Take a guided safari tour and learn about endangered zebras, antelopes, and giraffes at B. Bryan Preserve (don't miss feeding the giraffes!) – a slice of Africa on the Mendocino Coast! (Point Arena)
Hike the popular Headlands Trail at Russian Gulch State Park for views of the famous Russian Gulch bridge, then make a short detour to the Point Cabrillo Light Station (Mendocino) ✓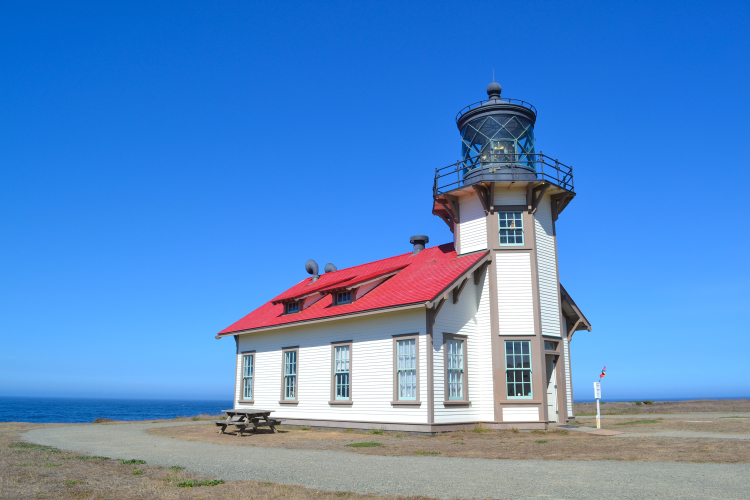 Stay on a farm and watch the chickens and llamas from your hotel window while eating breakfast next to the fireplace at the Glendeven Inn & Lodge (Little River) ✓
Grab a coffee at Good Life Cafe and walk along the headlands and bluffs in Mendocino Headlands State Park (Mendocino) ✓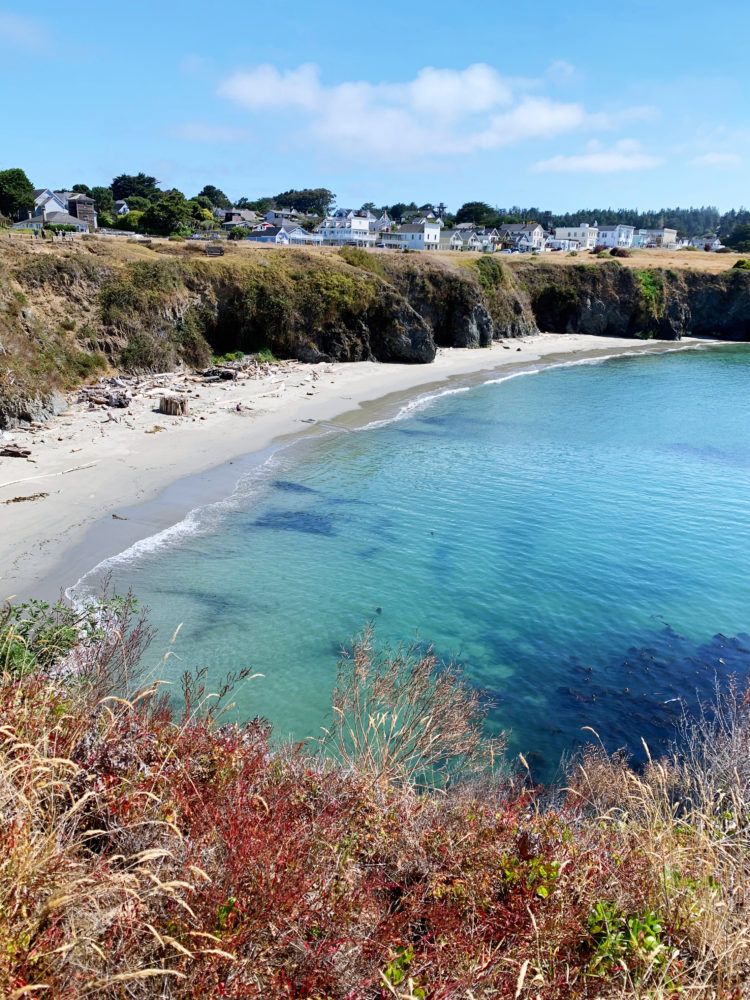 Take an early morning stroll on the beach at Jug Handle State Natural Reserve, then walk atop the bluffs for another perspective of the water ✓
Wander around the pastel-colored buildings in the tiny town of Mendocino, and try some chocolate from one of the shops (Mendocino) ✓
Try some candy cap mushroom ice cream at Frankie's; and don't worry, it tastes more like vanilla brown sugar than actual mushrooms (Mendocino) ✓
Cool off with some fresh, organic apple juice from the Apple Farm (and pick up some hard cider, apple syrup, and dried apples for later) (Boonville) ✓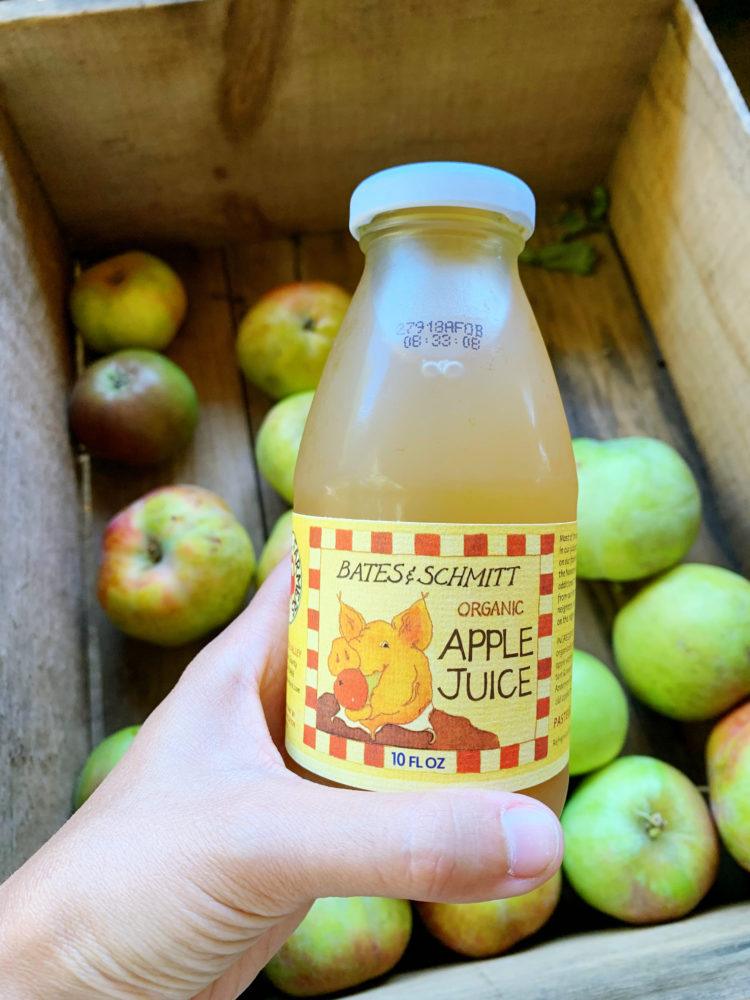 Indulge in some wine and cheese pairings at Pennyroyal Farm (you can even make a reservation to tour the farm!) (Boonville)
Climb up the Point Arena Lighthouse and Museum for panoramic views of the area – one of the tallest lighthouses on the west coast (Point Arena) ✓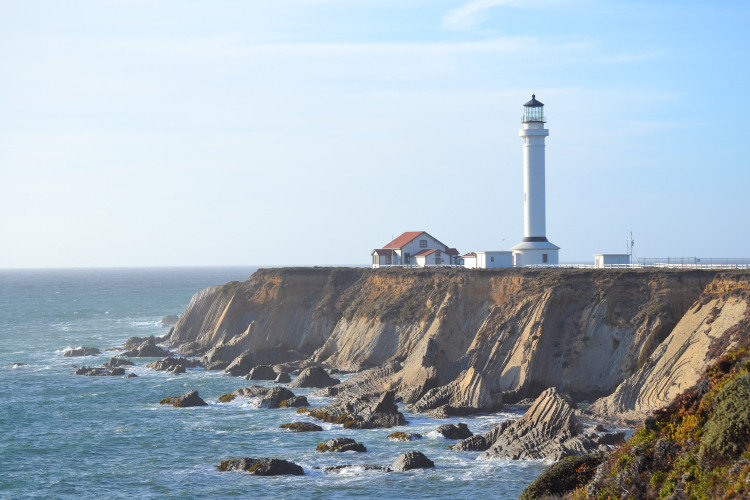 Look out for whales and admire the scenery at Stornetta Lands, a hidden gem and one of the best things to do in Northern California (Point Arena)
2. SHASTA CASCADES
The Shasta Cascades region of California is basically the gateway to outdoor adventures, with a whole slew of national and state parks, comprising thousands of acres of wilderness. There's towering mountains, pristine lakes, cascading waterfalls, and more.
Lassen National Park
Experience the park's largest hydrothermal area by hiking Bumpass Hell to boiling mud pots, bubbling pools, and stinky sulphur smells – but wait to add this to your list of things to do in Northern California until late summer; the trail doesn't typically open until mid-July ✓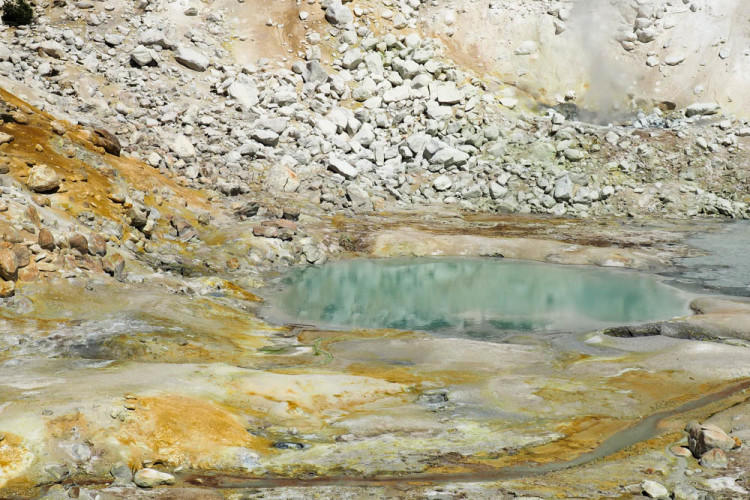 Enjoy the challenging 4 mile hike to the Cinder Cone Volcano and be rewarded with spectacular views of the whole park – including the Painted Dunes and Lava Beds
Take an easy stroll around Manzanita Lake, and make sure to take photos of Lassen Peak's reflection in the water ✓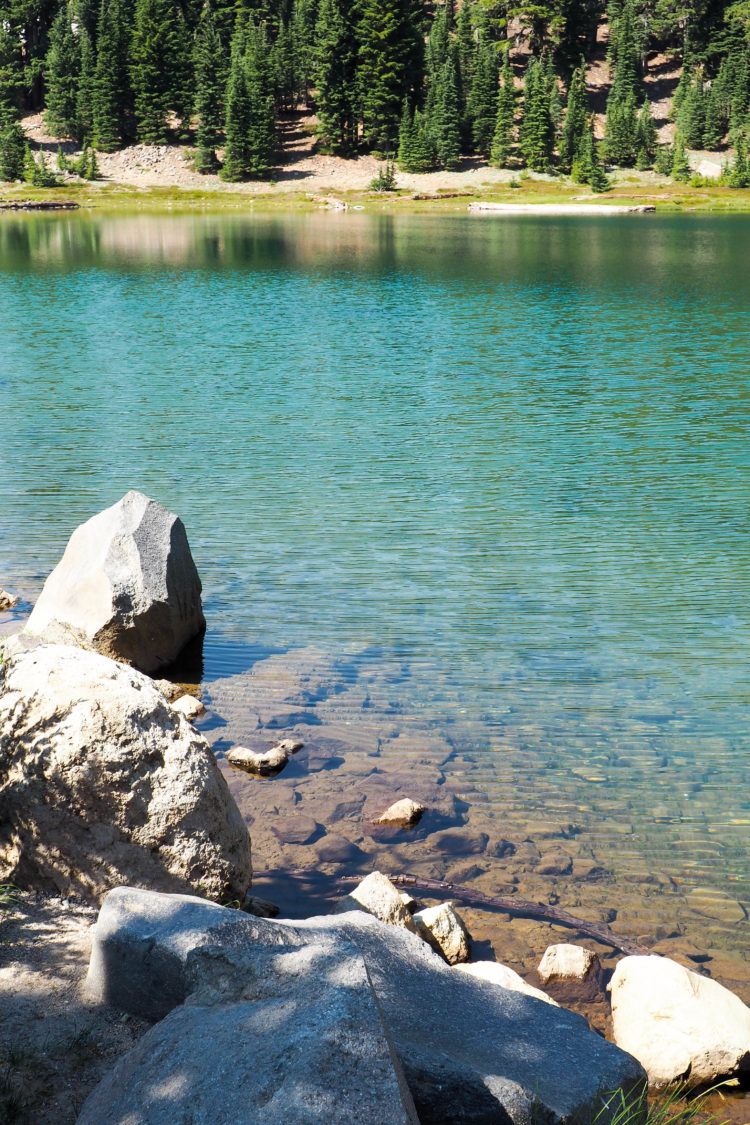 Walk along the easy sidewalk trail to Sulphur Works to get a taste of the area's steaming vents and plopping mudpot ✓
Launch yourself to another planet while admiring the colorful Painted Dunes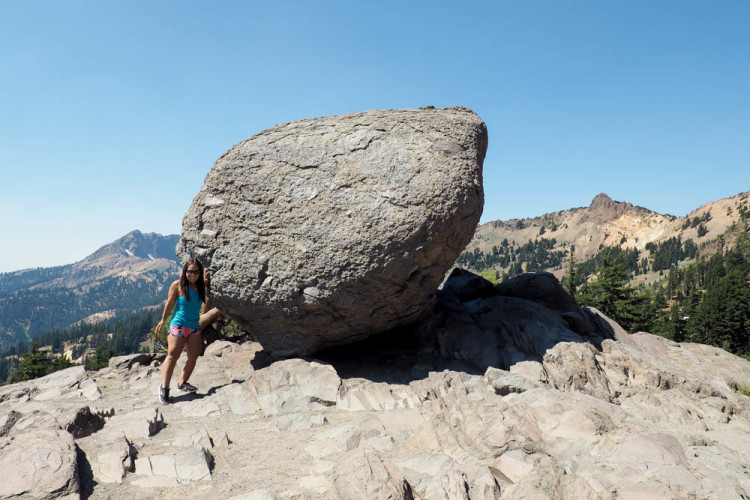 School yourself on volcanoes while walking along the Lava Beds trail, filled with huge chunks, different colors, layers, and mineral compositions of lava rocks
Have a picnic and then a snowball fight at Lake Helen – and yes, even in summer (pros of high elevation…) ✓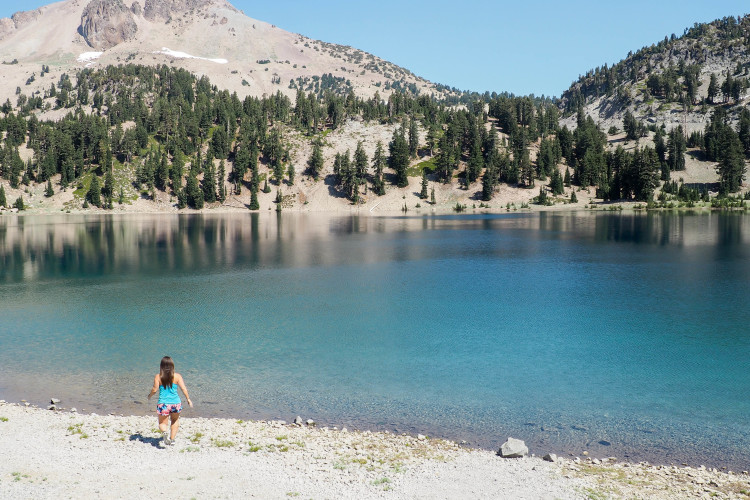 Go for a hike to the park's highest waterfall, passing red fir forests along the way of the Mill Creek Falls Trail
Learn how lava tubes are formed and take a short walk with flashlights in the pitch black Subway Cave Lava Tubes
Redding and Around
Stretch your legs and walk across the Sundial Bridge, a 700-foot suspension bridge leading to botanical gardens and plenty of trails in Turtle Bridge Exploration Park ✓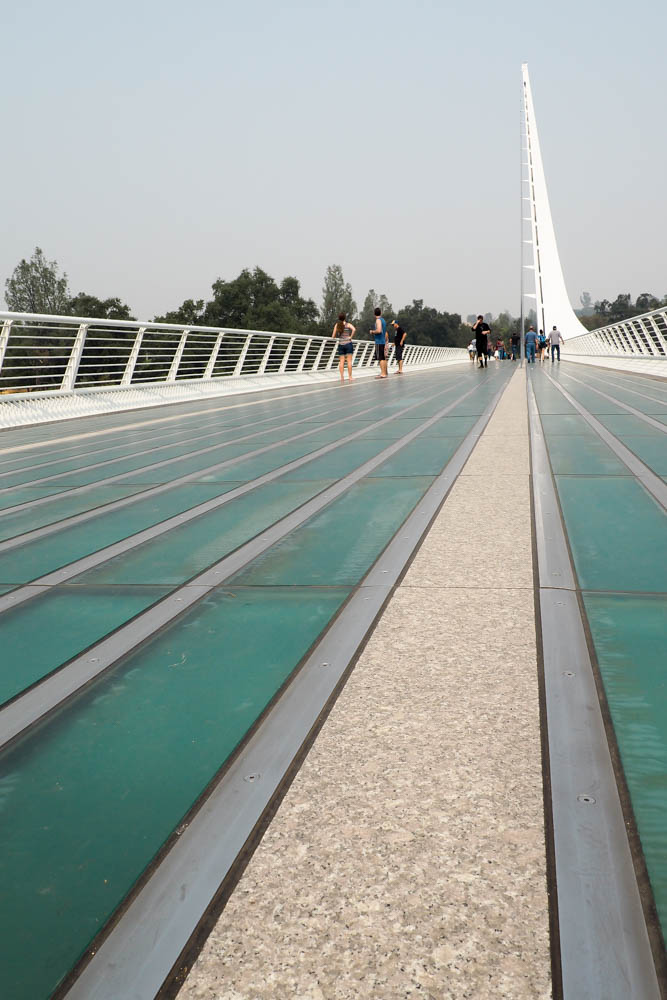 Stand up paddle on Whiskeytown Lake, or just hang around for sunset (it's downright gorgeous) ✓
Take a short catamaran ride on Shasta Lake en route to Shasta Caverns, where stalactites, helictites, and rare formations await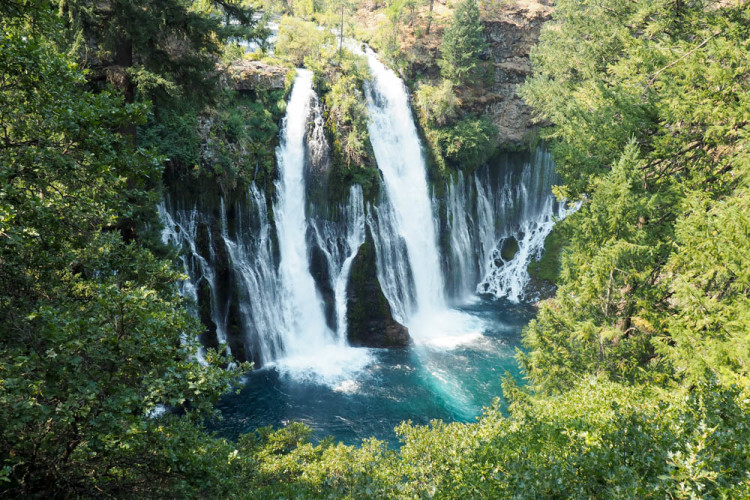 Marvel at Burney Falls, one of the most beautiful cascades of waterfalls in the middle of a forest in all of California ✓
Enjoy a free tour of the Shasta Dam and then take a leisurely walk on the dam itself for great views of Shasta Lake and mountains on one side, and the stunning Keswick Reservoir on the other ✓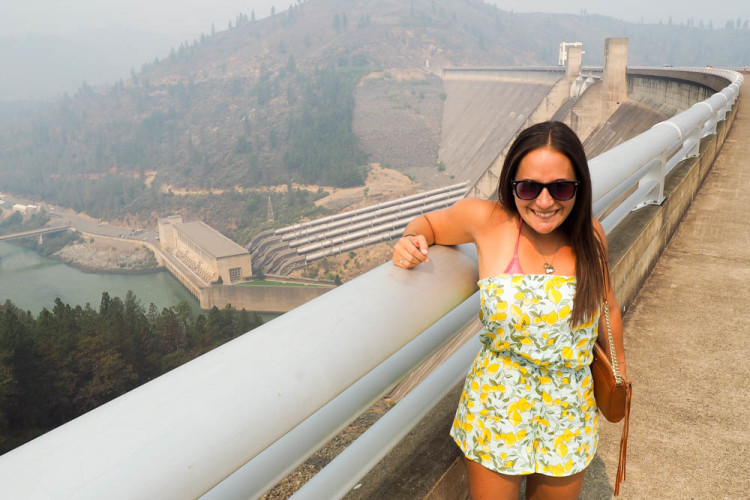 Go for a swim at chilly Potem Falls; it's only a short trek down from the parking area
Sign up for the free, ranger-led kayak tour around Whiskeytown Lake (the Moonlight Tour is currently on my personal list of things to do in Northern California!)
In and Around Mt. Shasta
Throw back a few beers at Mt. Shasta Brewing Co., a quirky microbrewery with tours and a tavern
Spend your whole day with stunning views of Mount Shasta from Castle Lake Road
Make the gruelling climb to the summit of the majestic Mount Shasta (and at 4k meters high, it's just about half the height of Mt. Everest!)
Walk along the railroad tracks to Mossbrae Falls, a stunning cascade of waterfalls along the leafy-green wall — just make sure to listen out for the trains!
Hike (or drive!) between the trio of waterfalls (or drive) at McCloud Falls – there's Lower Falls, Middle Falls, and Upper Falls ✓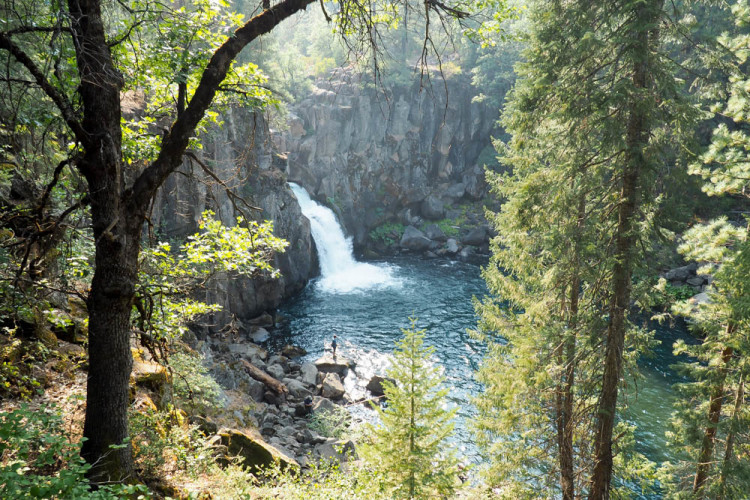 Hit the slopes at Mt. Shasta Ski Park (and plus, the tickets and rentals are more affordable than at many other mountains)
Drive to Castle Lake, then take the 1 mile trail to Heart Lake for one of the most spectacular vistas of Mount Shasta at sunset
Get great views of Mt. Shasta right from Highway 97 (a favorite viewpoint of many) or get a reflection of the mountain early morning at Lake Siskiyou
Get your hike on at Castle Crags State Park, and if you squint really hard, you may even see Mt. Shasta from the very top
Snowshoe at the Bunny Flats on Mt. Shasta and/or the 12km network of packed trails at the Mt. Shasta Nordic Center
Other Things to Enjoy in the Shasta Cascades
Throw on your headlights and crawl through some caves at Lava Beds National Monument (there's over 20 to explore!)
3. SAN FRANCISCO BAY AREA
Marin County
Up your instagram game with a photo under the Cypress Tree Tunnel (but be sure to get there early – it's popular with photographers and tourists) ✓
Find the Point Reyes Shipwreck (psst – it's behind a small grocery store in Inverness, or simply put "Point Reyes Shipwrecks" into Google Maps ✓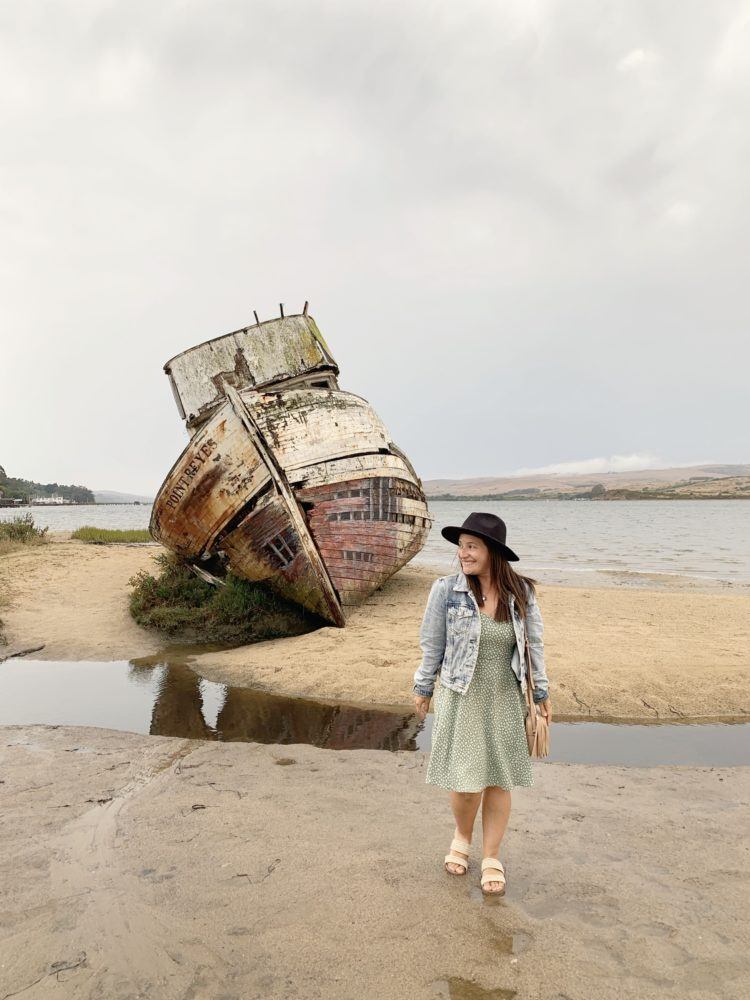 Watch Cowgirl Creamery's award-winning Red Hawk cheese being made, and then pop a few samples into your mouth before picking up a few picnic provisions
Kayak in Tomales Bay, the largest unspoiled coastal bay on the California coast!
Feast on freshly harvested oysters (and even shuck them yourself!) at Hog Island Oyster Company and/or Tomales Bay Oyster Company ✓
Bring binoculars to watch the sea lions and seals play on the rocks and rest on the sand at the Sea Lion Overlook ✓
Admire the dramatic sandstone cliffs at Drakes Beach, and if you're lucky you may even see a few elephant seal
Put on your boots and marsh through low tide to go tidepooling at Sculptured Beach, Palomarin Beach, and/or Duxbury Reef
Walk down the equivalent of a 30-story building to the Point Reyes Lighthouse (one of the most strenuous things to do in Northern California) ✓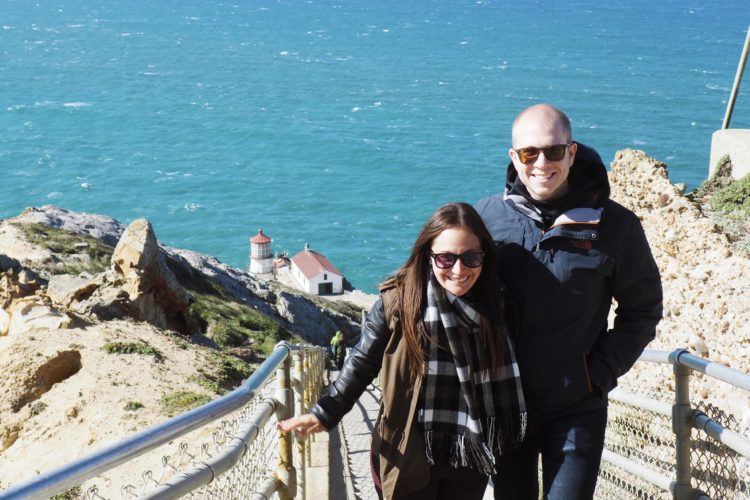 Spot herds of Tule Elk on the long yet flat 9.4-mile round trip Tomales Point Trail, and then get spectacular views of the beach and Tomales Bay from the point (if it's a clear day, of course!)
Scramble down the rocks to witness the rush of Alamere Falls, a waterfall cascading over a 30-foot cliff directly onto the sand
Stay in a secluded yurt on scenic property in the cosy Windsong Cottage
Marin Headlands, Sausalito and Beyond
Take picture perfect photos of the Golden Gate Bridge with SF in the background from Battery Spencer, Hawk Hill, and/or the Golden Gate Bridge View Point ✓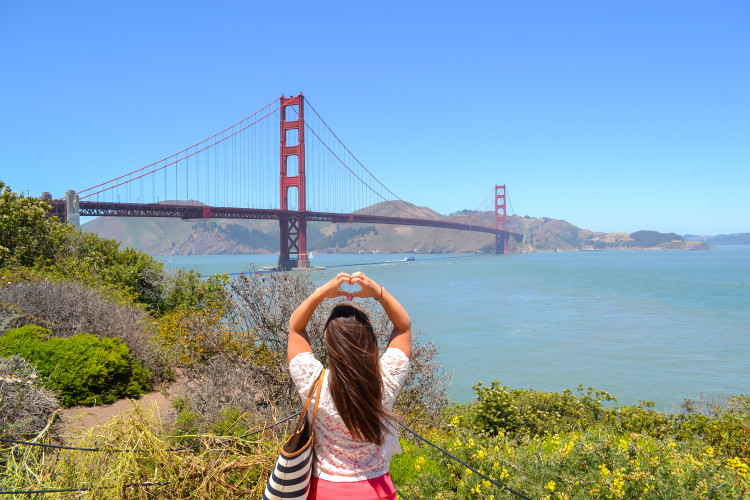 Hike to Cataract Falls, a series of small, scenic waterfalls in a forest setting (best right after it rains!)
Get a different view of the Golden Gate Bridge from hiking down to Kirby Cove — and if you're lucky, you'll find a swing or two (they rangers take them down but they magically reappear)
Stroll along the waterfront in Sausalito with an ube ice cream in hand from Lapperts (other Hawaiian flavors available, too!) ✓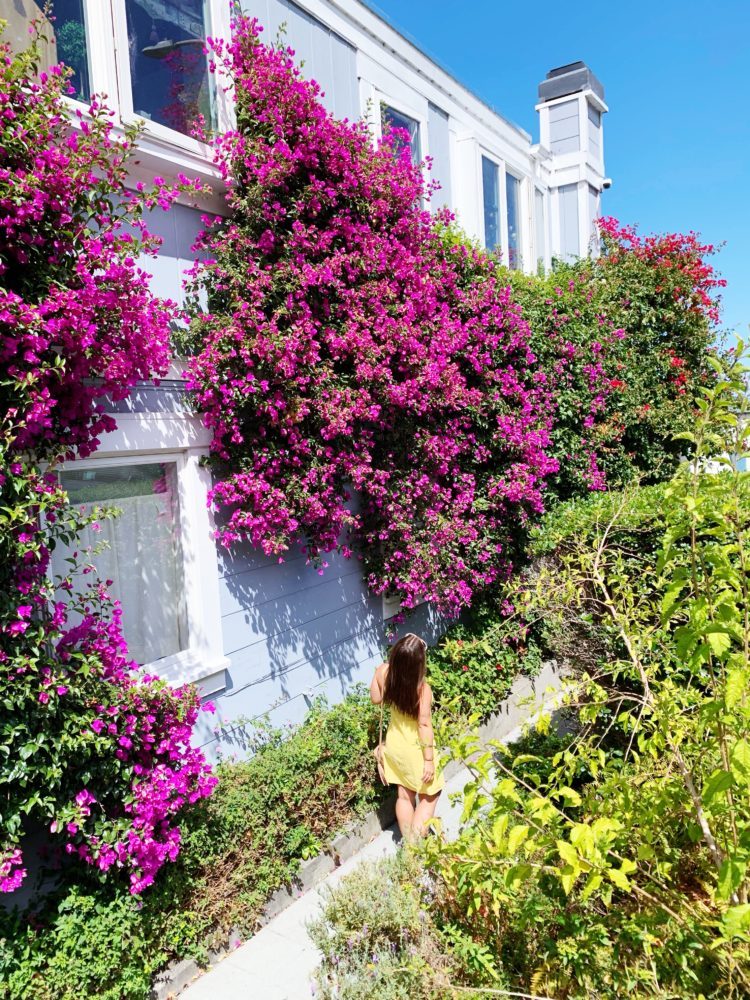 Throw on your hiking boots and hike around the Marin Headlands; top trails include Baltimore Canyon, Phoenix Lake, and Dipsea Steep Ravine
Tour a houseboat in Sausalito, part of the waterfront since the 1880s! (one of the best things to do in Northern California if you're visiting in September – get a ticket for the Floating Homes Tour)
Lay out on the super soft and fine sand at Stinson Beach, and watch the puppies run around the Northern side of the beach ✓
Check out the work of the The Marine Mammal Center, the largest marine mammal rehabilitation hospital in the world (don't miss the observation deck with the healing animals) <3 ✓
Look up at towering redwoods in Muir Woods (but be sure to make a required reservation in advance) ✓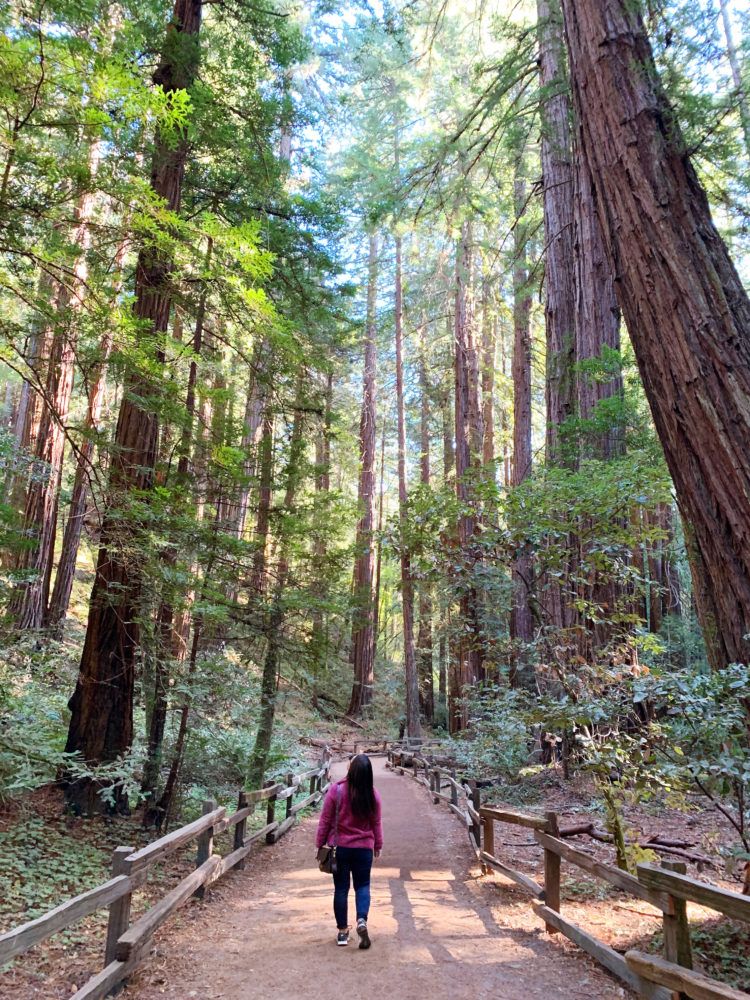 Huff and puff along the Tennessee Valley Trail for spectacular views of Tennessee Cove (and don't forget to stop at the Pelican Inn for a beer or snack along the way!)
Wake up at the crack of dawn and hike Mt. Tam at sunrise to watch the fog seep over the mountains ✓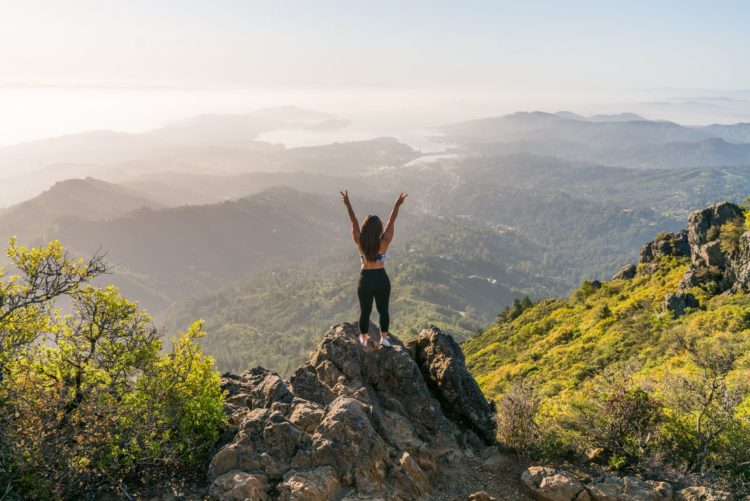 Plan your visit right to take the ½ mile trail to super-scenic Point Bonita Lighthouse, a historic active lighthouse only accessible on Sundays and Mondays ✓
Sunbathe on the small pebbles at Rodeo Beach (and enjoy all the dogs running on the sand off-leash! We have to take little Kona here soon!) ✓
Go for a short stroll at Muir Beach Overlook with sweeping ocean views, then head to rocky Muir Beach for more coastal views ✓
Napa County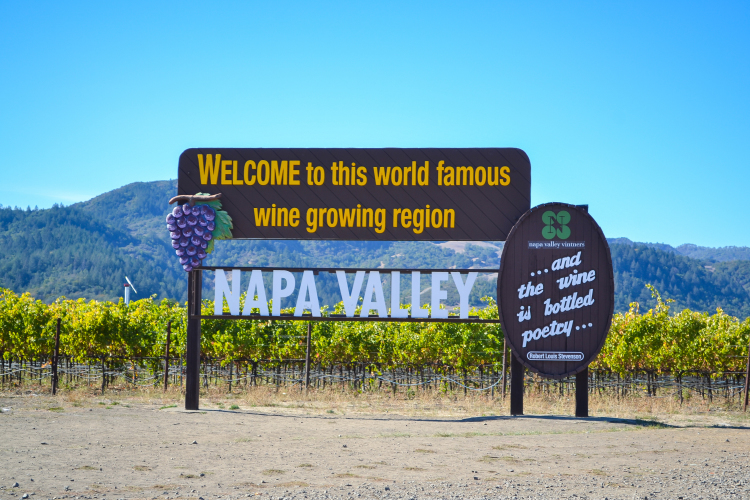 Brunch it up at Auberge du Soleil, a posh 5-star hotel perched up on a hillside overlooking Napa Valley
Cool off in a CAVE (!!!) and learn about the winemaking process and see where barrels are stored on a winery cave tour on the following properties: CADE Estate, HALL Rutherford, Pope Valley Winery, and B Cellars Vineyards
Float away in a hot air balloon above the vineyards of Napa Valley – and yes, it's just as magical as it sounds! ✓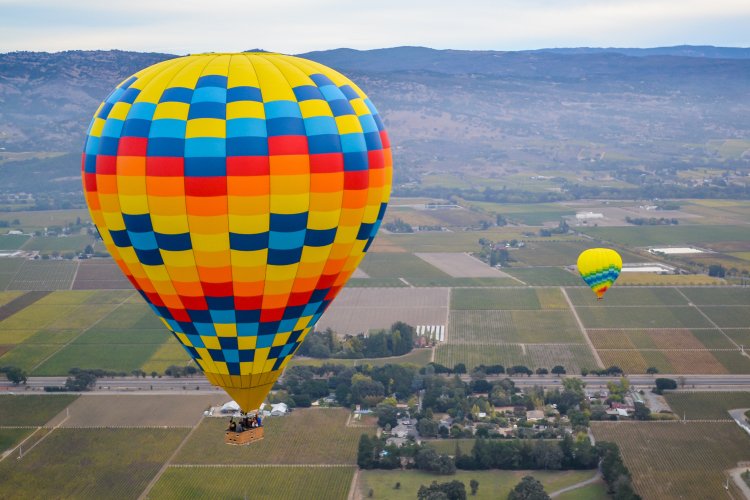 Soak in a bath full of mud and drift peacefully to sleep at the Calistoga Spa Hot Springs
Stomp on grapes in a wine barrel at Sterling Vineyard (one of the messiest things to do in Northern California), after taking the gondola up the hill ✓
Revisit your college days and sip some white zinfandel at Beringer Vineyards (you can also take a wine cave tour here, too!) ✓
Order a 3-course farm-to-table meal at Farmstead at Long Meadow Ranch in a renovated barn owned by a cattle ranch and winery (check out the general store, too!)
Sip wine in a real-life castle at Castello di Amorosa (inspired by a castle in Tuscany), and then say hi to the baby goats on property! ✓
Board the Napa Valley Wine Train for spectacular vineyard views while feasting on a first-class meal
Admire the immaculately kept grounds at Domaine Carneros, a chateau in the middle of Napa Valley (and get a sparkling wine sampler with charcuterie) ✓
Gather supplies and feast on a gourmet picnic under the shady oak trees at V. Sattui with meats, cheeses, and even cheesy jalapenos! ✓
Go on your own DIY food tour of the Oxbow Public Market; there's tons of goodies and fun foods to try here! ✓
Eat a million dollar meal at Thomas Keller's French Laundry, one of the finest restaurants in the nation (always and forever on my NorCal bucket list – hopefully I can get a reservation soon!)
Learn about wine (and the correct way to swirl and aerate) at a wine discovery class at Robert Mondavi Winery ✓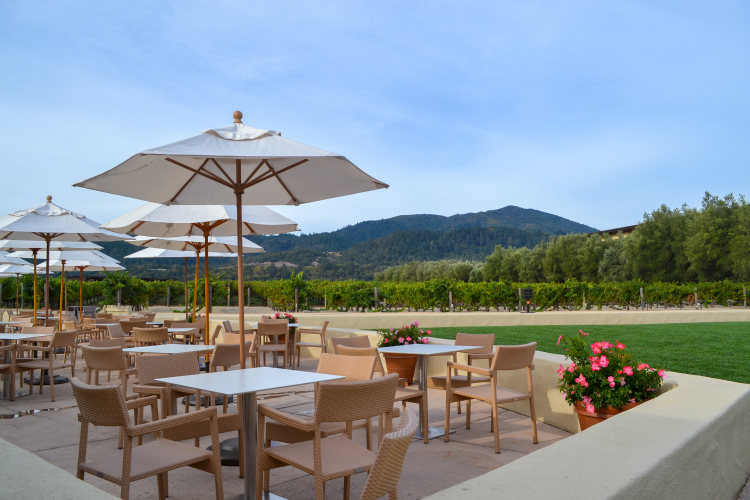 Get the best butterscotch pudding of your life served in a homemade waffle cone at Market in St. Helena (there's also fried chicken!)
Wait on line and order one of each at Thomas Keller's Bouchon Bakery (the chocolate almond croissants, caramel macarons, and classic eclairs are not to be missed)
Make a reservation at the pink tasting rooms with stained glass windows at Peju Winery (complete with waterfalls and a koi pond) if you're a fan of bigger, bolder reds ✓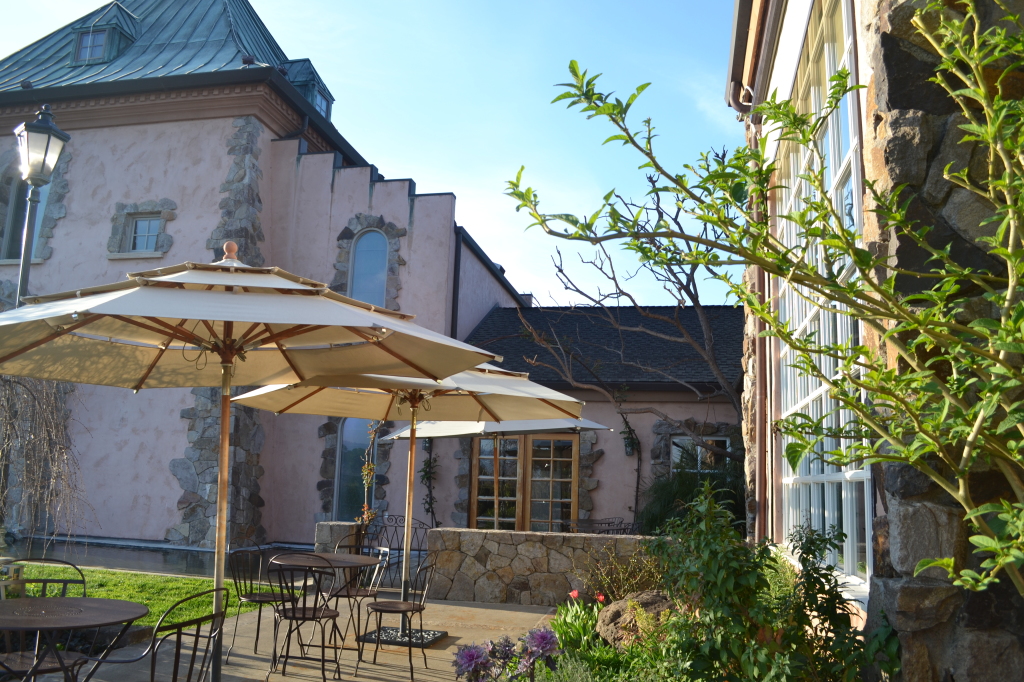 Sip some sparkling bubbly wines (with a cheese plate pairing!) at Domaine Chandon, and then order some raw oysters ✓
Spend a whopping $1,250+ night at the super-expensive and super fancy Calistoga Ranch (one of the most expensive things to do in Northern California by far!)
Hang out at some smaller-production, off-the-grid, family-run-wineries at Crocker & Starr, Fairwinds Estate, and Judd's Hill
Bodega Bay
Spot whales at Bodega Head (one of the best things to do in Northern California in the winter!) ✓
Pick out some fresh saltwater taffy along the Pacific Coast Highway at Patrick's of Bodega Bay ✓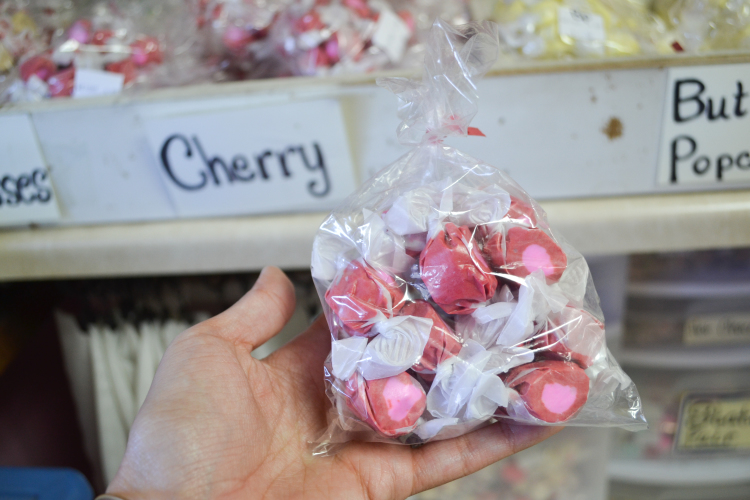 See the stunning 1800's Saint Teresa of Avila Church, the famous church from the Alfred Hitchcock 60's thriller "The Birds" (don't miss the Potter School nearby, also in the movie!) ✓
Feast on crab cakes and clam chowder on a sunny day at Spud Point Crab Company, a bare-bones waterfront seafood joint ✓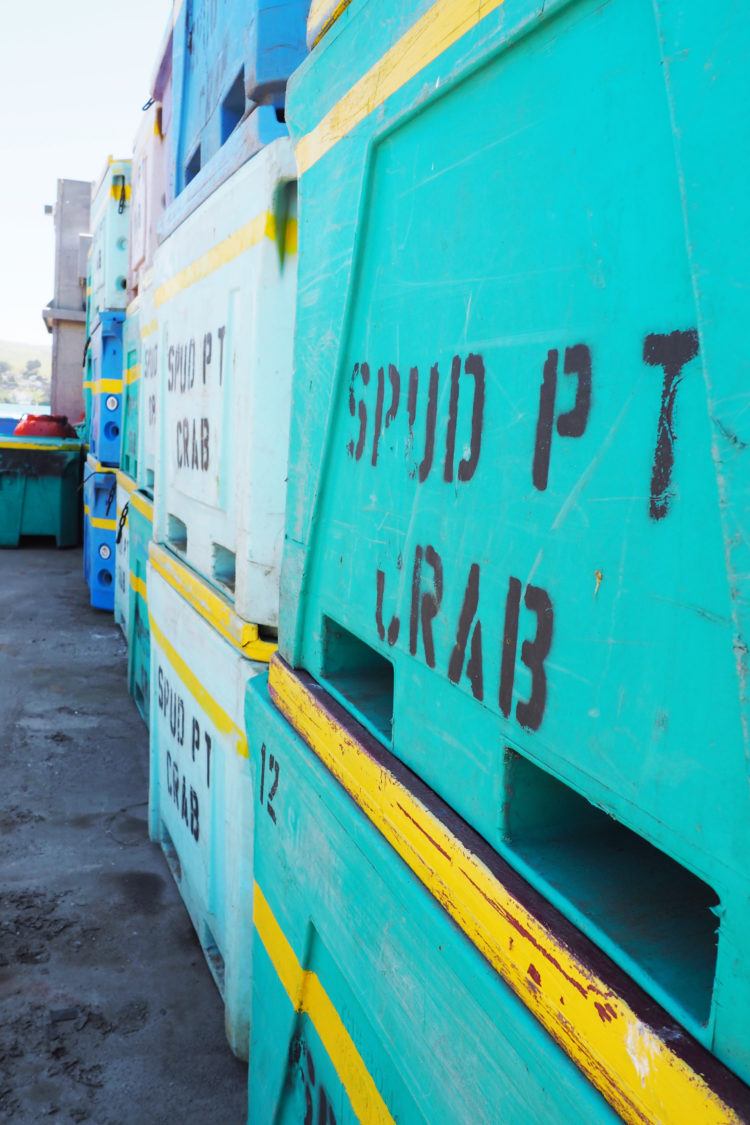 Walk a few miles along the easy Kortum Trail in Sonoma Coast State Park, especially beautiful when the wildflowers are in bloom (Bodega Bay)
Fly a kite, go hiking, and spend the day beachin' it up at Doran Regional Park – dogs welcome!
Go wine tasting at Sonoma Coast Vineyards, an elegant and airy tasting room overlooking the bay
Guerneville
Bring your blow-up floatie or inner tube and float down the Russian River (or just relax at Johnson's Beach, one of the most popular things to do in Northern California, and more specifically, Guerneville!)
Grab a cone at Nimble & Finn's, then get a slice of pie at Chile Pies Baking Co., both located in an old bank ✓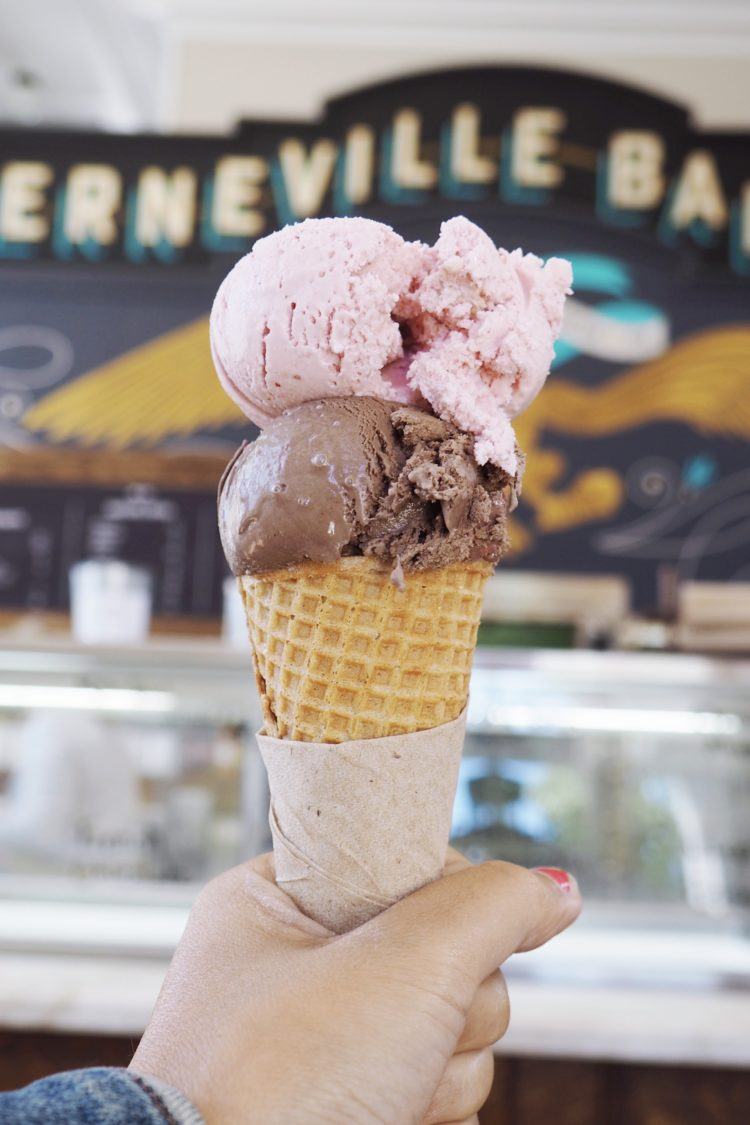 Eat your way through Guerneville, with top spots being boon eat & drink, BROT (mm German food), and Big Bottom Market (get the biscuits) ✓
Stay in a trendy airstream trailer in a woodsy-chic area at AutoCamp Russian River
Go (free!) champagne tasting at Korbel Winery and stay for the (free!) tour ✓
Hike among the majestic sequoia trees at Armstrong Redwoods State Natural Reserve – they're over 500 years old and over 200 feet tall!
Enjoy a glass of Pinot Noir and roam the vineyard grounds and garden at Ferrari-Carano Vineyards ✓
Healdsburg
Have a multi-course Californian-Japanese 3 Michelin starred-meal at sophisticated SingleThread Farm Restaurant, and yup, it's just as expensive as it sounds
Sleep in a tent and go glamping at Wildhaven Sonoma Glamping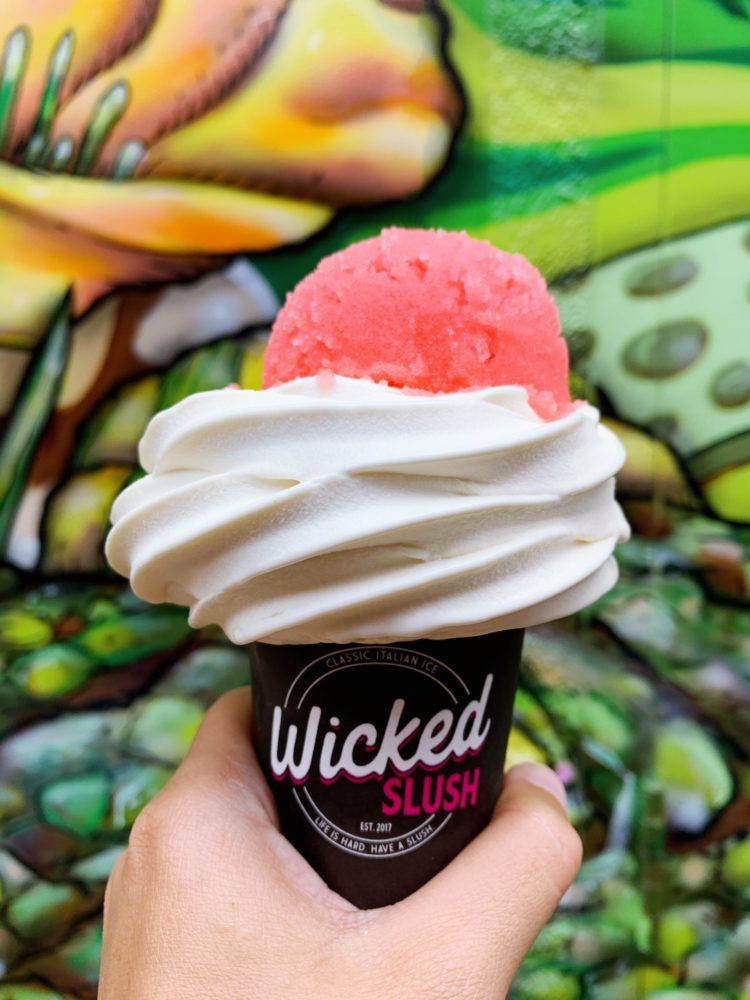 Get your slushie on at Wicked Slush, a perfect treat for a hot summer day (add some ice cream!) ✓
Go wine tasting in Alexander Valley, one of the best cabernet sauvignon growing regions in the world
Wear your comfy pants and feast on fried pickles, St. Louis Style Pork Ribs, sweet cornbread, and spiced sweet potato tater tots at KINsmoke
Other Sonoma Spots:
Bite into a warm loaf of organic French bread from Wild Flour Bread, a quaint bake shop with scones, speciality coffees, and you guessed it – lots of fresh bread! (Freestone) ✓
Learn about California history by checking out the Mission San Francisco Solano, the barracks, Toscano Kitchen, and other exhibits at the Sonoma State Historic Park (all in a span of 3 blocks)✓
Indulge in a juicy fried chicken sandwich and sit in the backyard picnic table area at Boxcar Fried Chicken and Biscuits
Feed the giraffes and stay in an upscale tent on a 400-acre wildlife preserve at Safari West, also known as the "Sonoma Serengeti"
Cool off with a speciality coffee at Dutch Brothers Coffee; we like The Annihilator – it tastes like chocolate! (there's more locations nearby other things to do in Northern California, too) ✓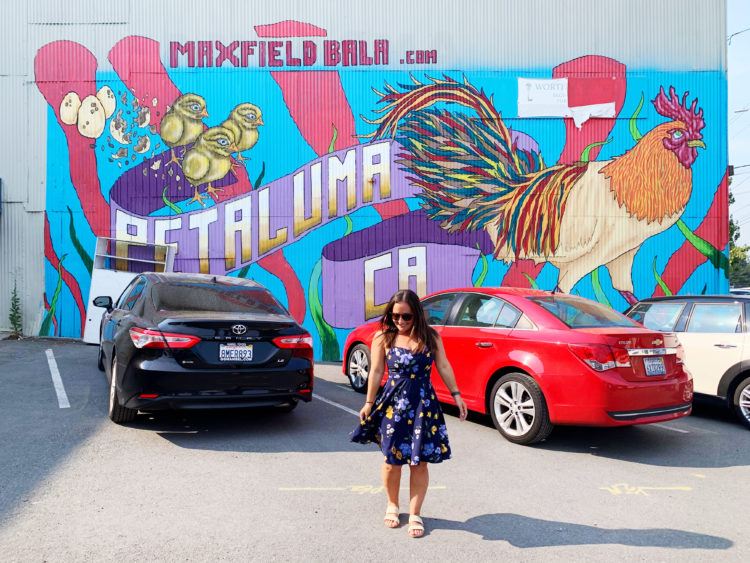 Walk along the Petaluma waterfront, and grab a slice of pie from Petaluma Pie Company or ice/soft serve combo from Wicked Slush (one of my favorite day trips from San Francisco) ✓
Relax with the regulars at the popular Bear Republic Brewing Company taproom – with over 20 beers on tap during happy hour!
Sip some wine and snack on gourmet foods in a modern castle at Ledson Winery & Vineyards (the grounds are spectacular!). One of the best things to do in NorCal in the fall! ✓
Relax on the Sonoma coast at Goat Rock State Beach, and then watch the sunset and have dinner with a view at River's End Restaurant & Inn (Jenner)
Sample cheese, sign up for a cheese-making class, and go on a full tour along the California Cheese Trail in Sonoma County
San Francisco
Snag an egg tart from Golden Gate Bakery, then stroll down Grant Ave in Chinatown without missing the Dragon Gate, Chinese mai tais at LiPo Cocktail Lounge, and coconut bread at Eastern Bakery ✓
Devour a Mission burrito at El Farolito or La Taqueria, then stand online for some scoops at Bi-Rite and venture over to Dolores Park for a mini picnic ✓
Get a workout walking up the Lyon Street Steps (one of my favorites on this 3-day San Francisco itinerary, and probably all of Northern California!) ✓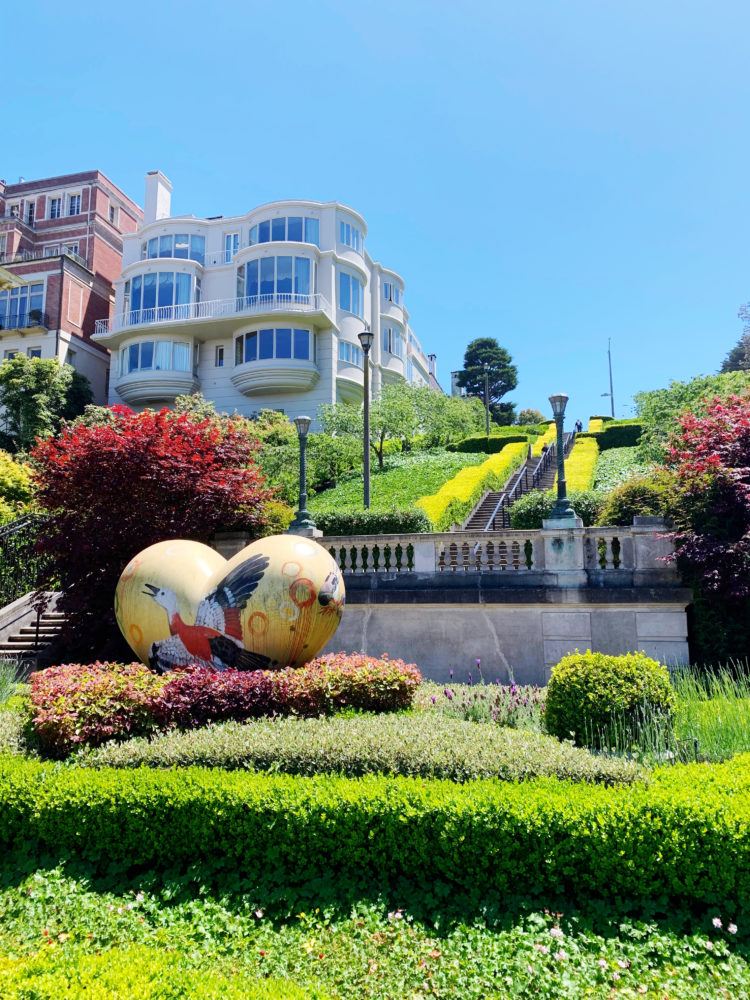 Stumble upon street art in Balmy Alley and Clarion Alley, two colorful, mural-filled alleyways in the Mission ✓
Watch the sunset from the top of Twin Peaks (just bring a jacket – it gets pretty windy up here!) ✓
Get spooked at Alcatraz on the night tour (one of the most spine-tingling things to do in Northern California) ✓
Ride a historic cable car along the SF Bay to Ghirardelli Square on the Powell-Hyde Line, then share a giant sundae with your BFF (get off one stop prior if you wanna walk down Lombard Street) ✓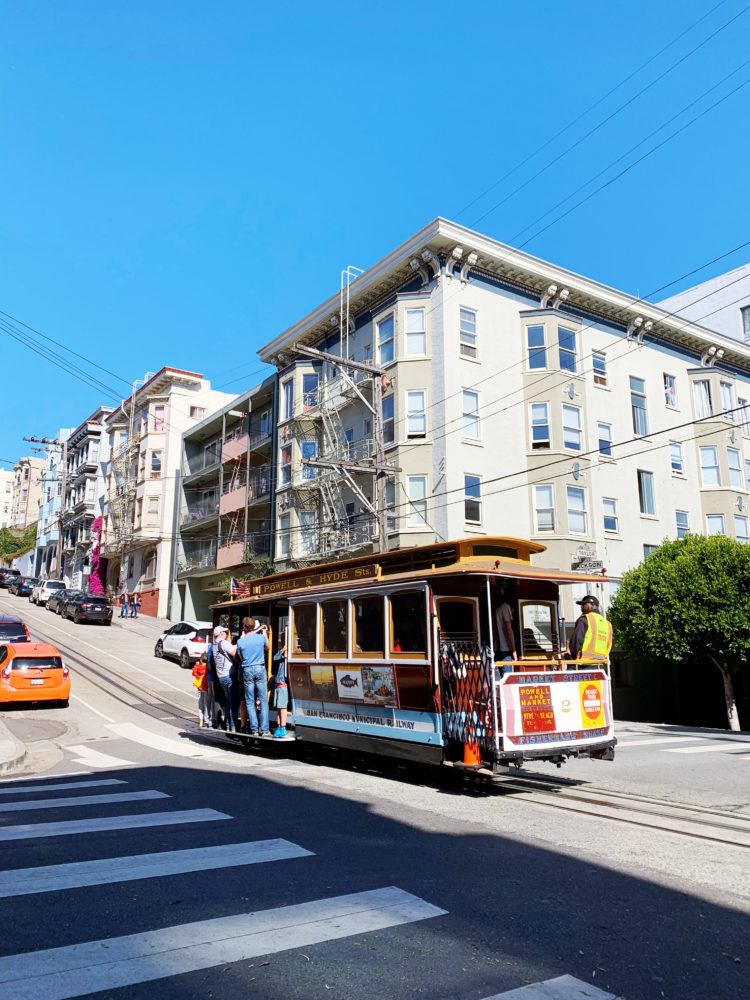 Grab a slice of Sicilian at Golden Boy Pizza, then venture on over to Stella Pastry for a cannoli or other Italian pastry ✓
Wear your stretchy pants and entertain your gluttonous self at some of San Francisco's best spots for sweets and treats – including Loving Cup, Mochill Mochidonut, U: Dessert Story, Mr. Holmes Bakehouse, Humphrey Slocombe, Sixth Course, and Uji Time ✓
Check out the (free) Diego Rivera murals, then head up to the observation deck for panoramic views of the city and the bay at Coit Tower ✓
Be a tourist at Fisherman's Wharf and Pier 39 — watch the sea lions play, get some mini donuts, have lunch at Boudins with some clam chowder in a sourdough bread bowl, and take some cheesy tourist pics ✓
Eat ramen in Japantown (Marafuku's a fan favorite), then indulge in some japanese sweets – including mochi donuts, matcha parfaits, sweet crepes, and taiyaki ice cream (and don't miss some fun photos at Pika Pika!) ✓
Spend the day in Golden Gate Park waving hello to the bison, snagging free views from the Hamon Observation Tower (within the de Young Museum), walking around Stow Lake, sipping tea at the Japanese Tea Garden, getting your science on at the Cal Academy, and cooling off with some froyo from Twirl & Dip ✓
Check out Umbrella Alley near Fisherman's Wharf — it's filled to the brim with colorful pieces, including that iconic Greeting's from San Francisco mural! Don't forget your camera!
Learn the history of the Sutro Baths and escape the city by hiking Land's End – complete with views of the Golden Gate Bridge, a secret labyrinth, and more ✓
Eat at some of my favorite fun restaurants in San Francisco – including Original Joes (get the butter cake, trust me), a Mano (for some fresh pasta), Farmhouse Kitchen (try the Little Lao to-go platter!), and Foreign Cinema (watch a movie while you eat!) ✓
Cross everything off this epic San Francisco bucket list – trust me, there's a lot to do here (I couldn't put everything SF on this huge list of things to do in Northern California – it'd completely overpower the entire list!) ✓
San Mateo, Santa Clara, and San Jose
Put on your boots and hike among wildflowers atop coastal bluffs at Mori Point, one of my favorite hikes in Pacifica ✓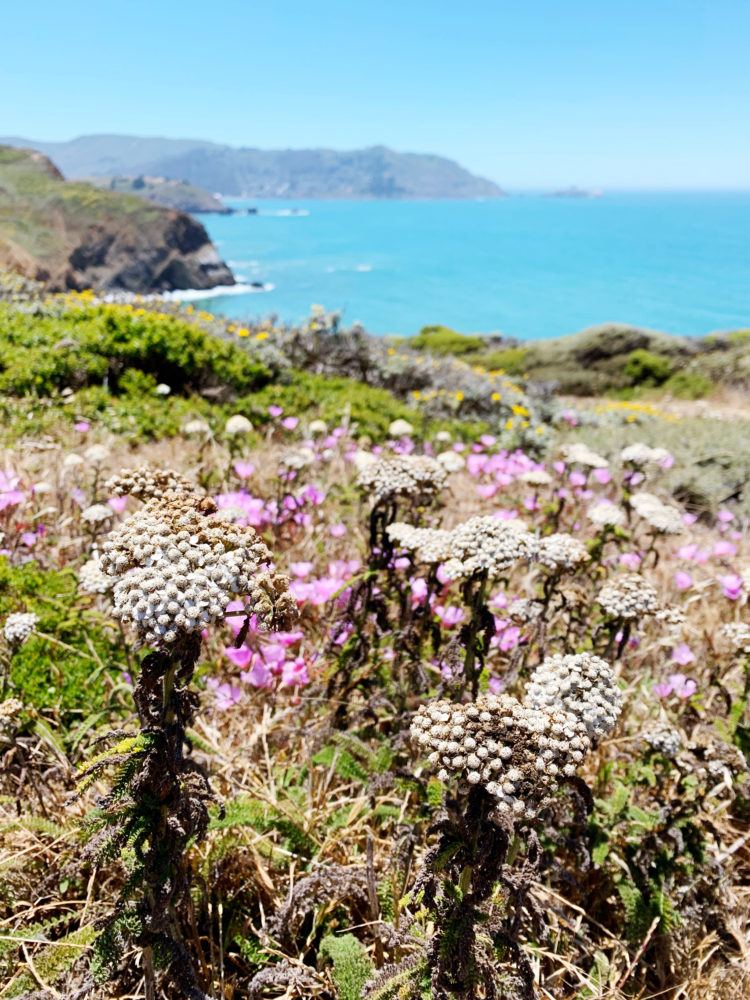 Gather some friends and have a picnic amongst the gardens at Filoli Historic House & Garden, full of flowers and other scenic greenery
Stroll through the 5.5 acre Municipal Rose Garden in San Jose, known for colorful flowers in bloom from April – November (with over 180+ rose varieties!) ✓
Relax at Linda Mar Beach with a Mountain Dew margarita in hand from the most beautiful Taco Bell in the world (true story!) ✓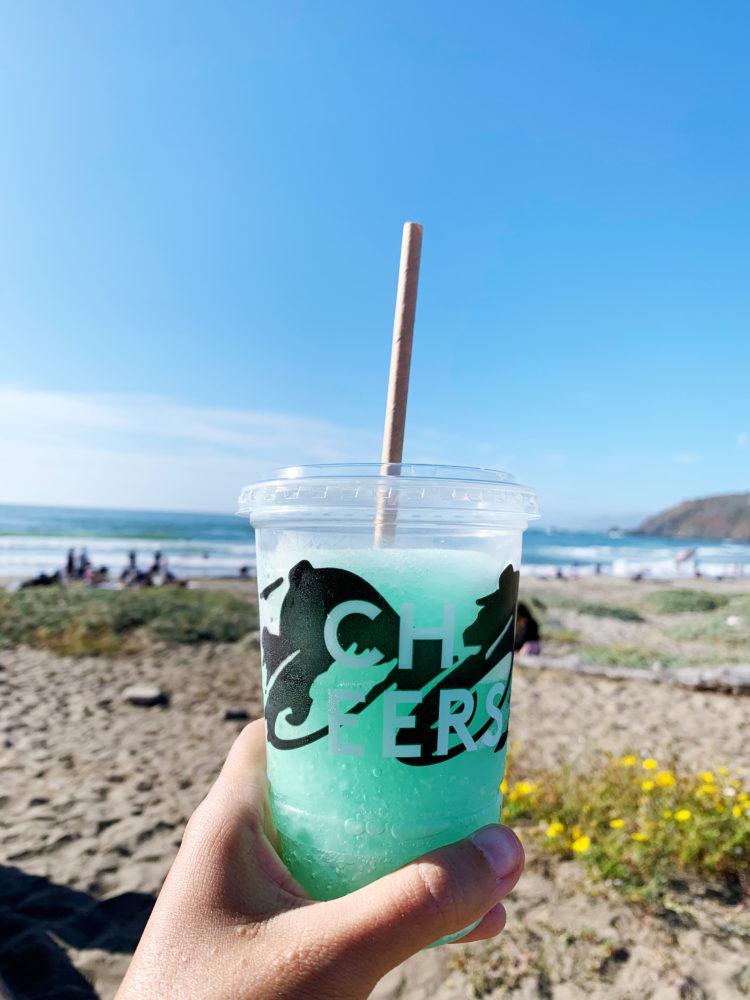 Feel like a kid again on the thrill rides at California's Great America, and come back at Halloween and Christmas ✓
Walk around the Rose Garden in San Mateo with a bubble tea (boba) in hand, and then hang out in downtown Burlingame, San Carlos, Palo Alto, and/or Los Altos (my favorites) ✓
Brave the line at Ramen Dojo and slurp up noodles and other Asian fare in San Mateo (the ramen… oooo the ramen) ✓
Go for a special occasion meal at Madera, at the Rosewood Hotel in Menlo Park ✓
Get your shopping on at Santana Row, an upscale-market place with tons of shops and eateries (check out the exotic cars and the Tesla store!) ✓
Walk up and down the vendors at the San Jose Flea Market, one of the world's largest outdoor flea markets (there's over 2400 vendor spaces with practically everything you can think of!)
Get your hike on at Edgewood State Park (Redwood City), the Stanford Dish (Palo Alto), and Castle Rock State Park (Los Gatos) ✓
Stroll through the Hakone Estate and Gardens for a taste of Japan (one of my favorite things to do in Northern California when I'm missing Japan) ✓
Feast on handmade xiao long bao (soup dumplings) at Din Tai Fung, a popular global chain known for elevated dim sum (the pork XLB and chocolate XLB are always non-negotiables!)
Taste garlic ice cream at either Garlic World or Garlic Shoppe in Gilroy, known to be the garlic capital of the world ✓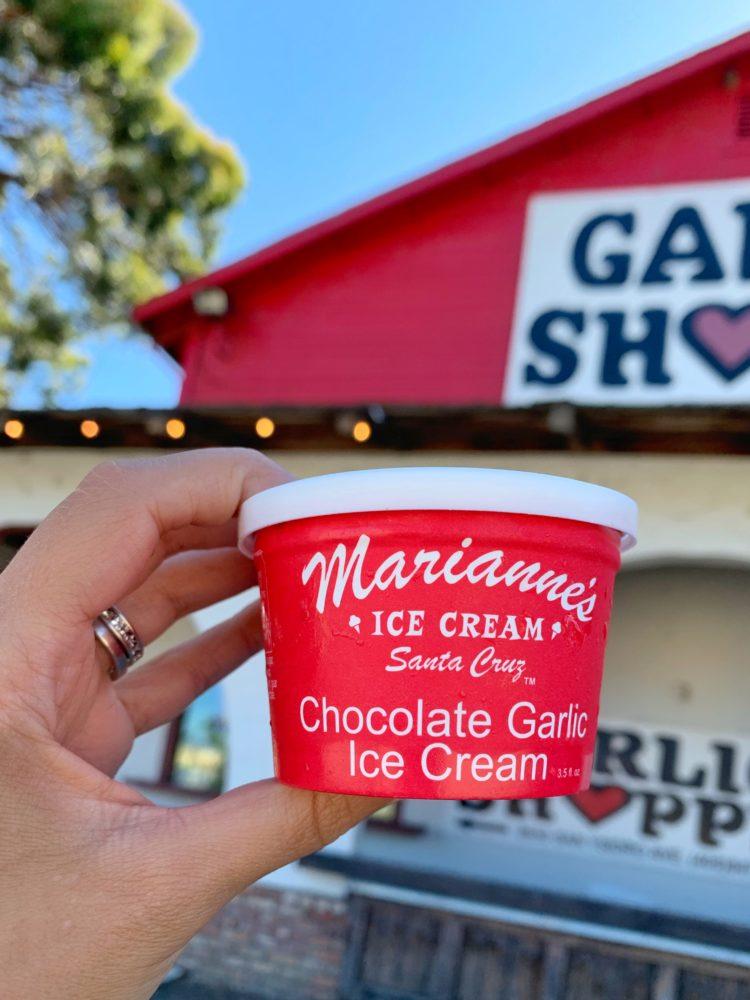 Visit the Its It Factory Store in Burlingame and indulge in a chocolate-covered cookie ice cream sandwich (my favorites the mint)
Half Moon Bay
Search for starfish, crabs, and other marine life along the rocky seashore while tidepooling at JV Fitzgerald Marine Reserve
Slurp down a bowl of clam chowder and feast on a fresh lobster roll from Sam's Chowder House (not to miss out of all the things to do in Northern California) ✓
Stroll along HMB Main Street and check out the galleries, independently owned shops, and quaint little restaurants ✓
Run through the sunflower fields and pick a few of your own at Andreotti Sunflower U-Pick Farm, just make sure to steer clear of the bees (one of the best things to do in Northern California in September) ✓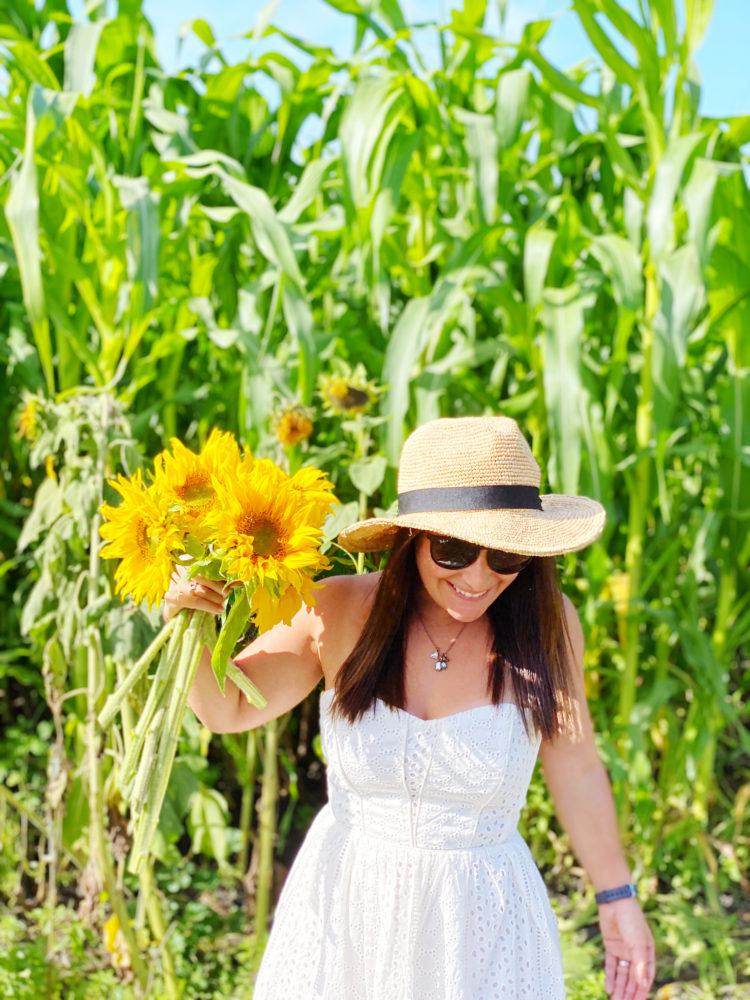 Watch the surfers at Mavericks, one of the most famous surfing spots along the Northern California coast
Walk the Half Moon Bay Coastal Trail, and pass by the Ritz Carlton (get an overpriced drink here!), a beautifully manicured golf course, and tons of ocean views ✓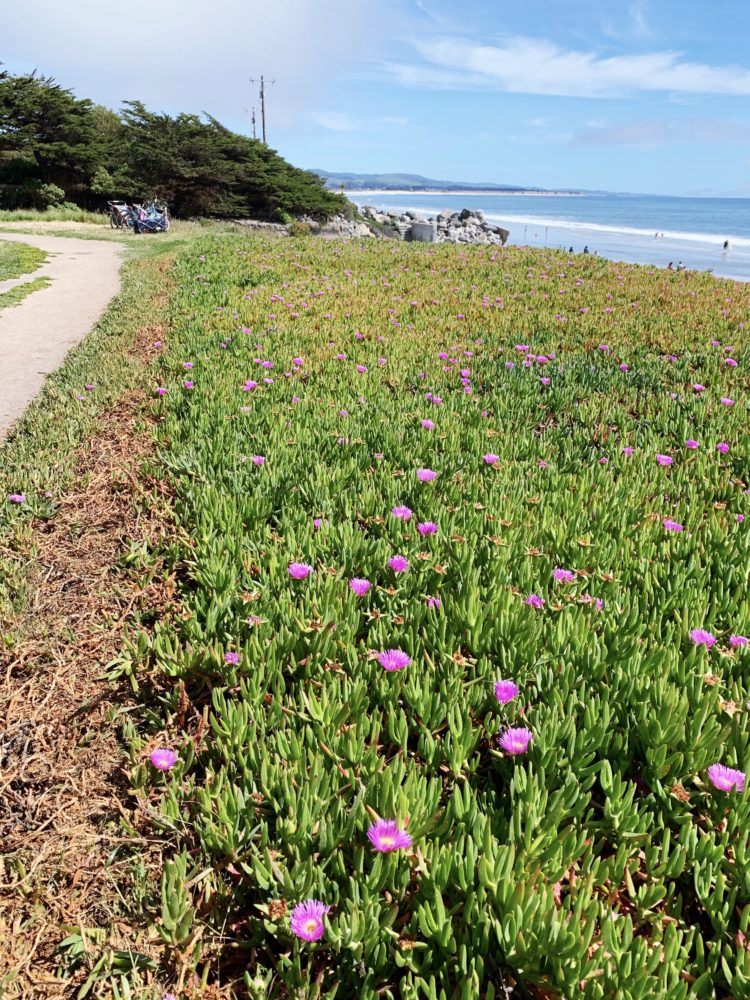 Spend the night at the Ritz Carlton Half Moon Bay — don't miss the late-night smores at the Ocean Terrace Bar ✓
Visit Half Moon Bay in the fall to sip pumpkin beers from HMB Brewing Company, walk through corn mazes at Arata's Farms, pick out your own pumpkin at Bob's, and check out the largest pumpkin of the season at the HMB Arts and Pumpkin Festival. All my favorite pumpkin patches in Half Moon Bay here! ✓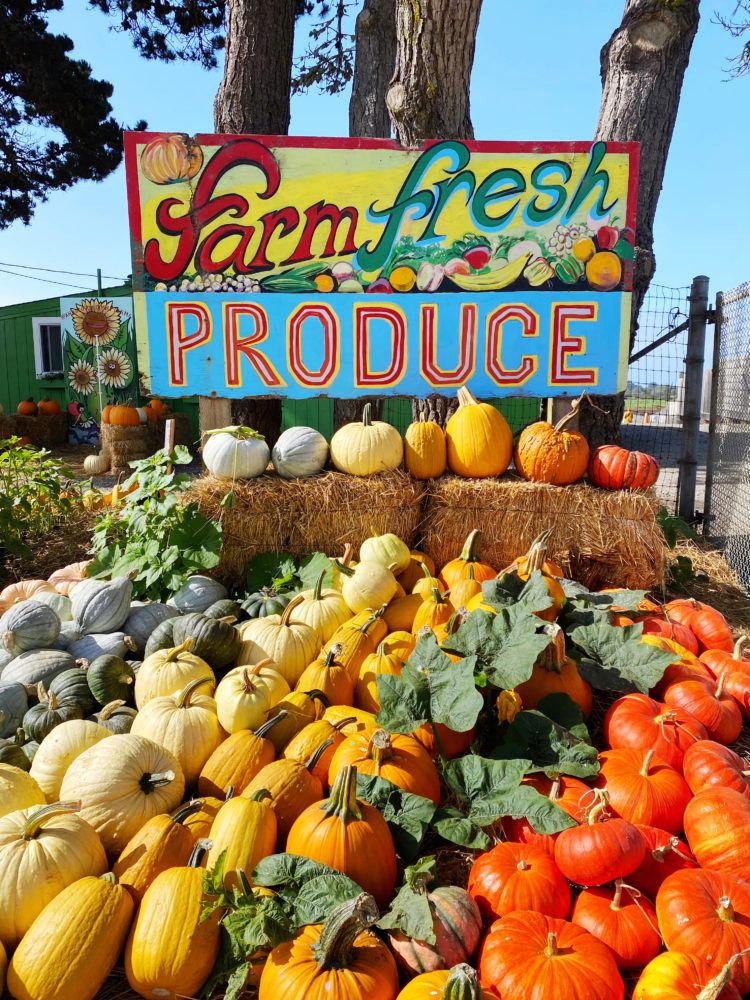 Pescadero and Davenport
Grab a loaf of freshly baked homemade artichoke garlic bread from Arcangeli Grocery Co. (worth the quick drive from San Francisco any day of the week) ✓
Listen to the loud barks and grunts of the peculiar-looking elephant seals at Ano Nuevo State Park after making the few mile hike (one of the best things to do in Northern California if you're visiting from December – March because that's when all the babies are born!) ✓
Check out Pigeon Point Lighthouse, California's most photographed lighthouse (psst — the surroundings are beautiful; take a quick walk around and look out for sea lions and whales!) ✓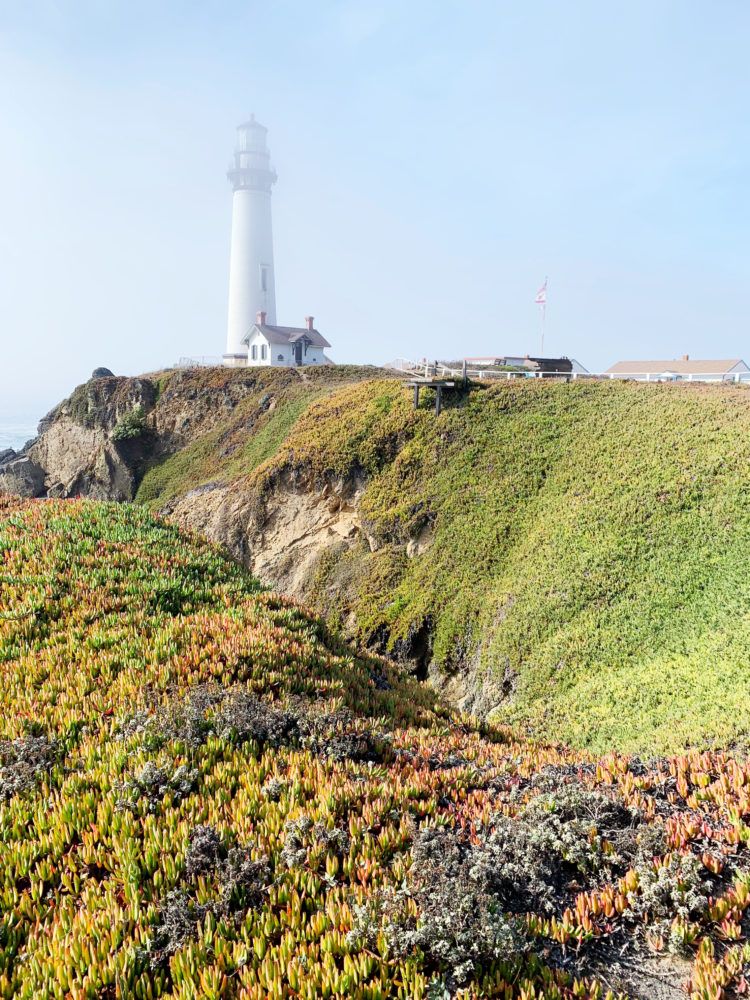 Get some of the best seasonal pie of your life from Pie Ranch (or just deal with a pastry and some coffee if they've ran out) ✓
Pick your own strawberries and sip some hot apple cider at Swanton Berry Farms, known for their strawberry shortcakes and olallieberry cobbler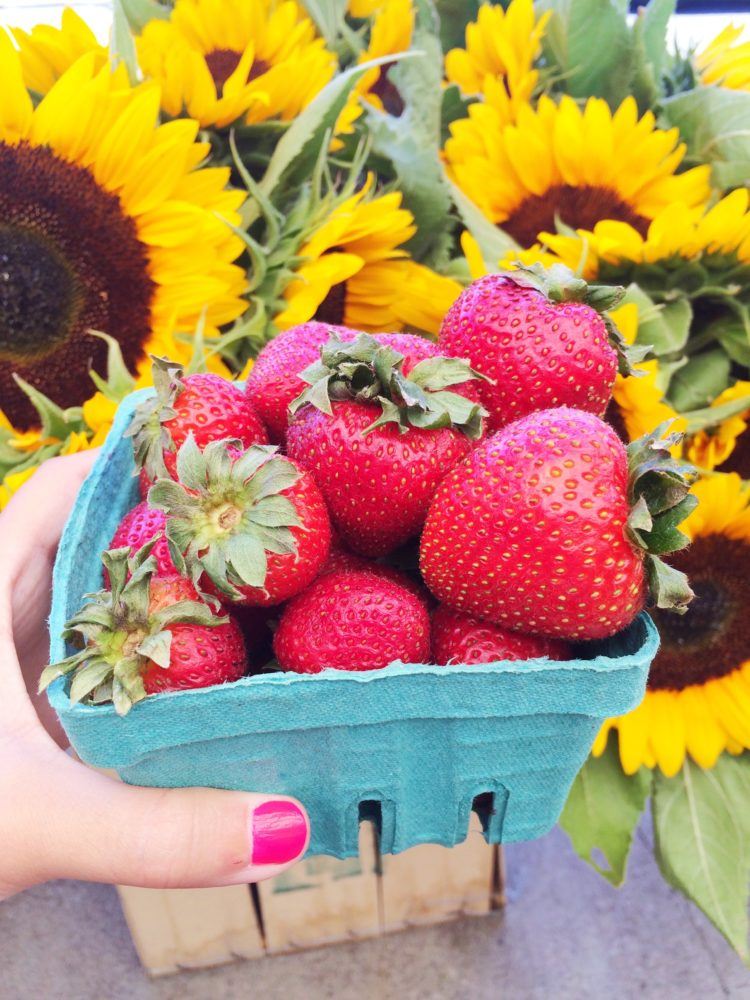 Shuck your own oysters at American Abalone Farms, and try out some abalone too!
Say hello to the baby goats (and pick up some lavender goat cheese) from Harley Farms Goat Dairy. If you can snag a reservation for their occasional farm-to-fork meals, make the splurge. ✓
Dip your toes in the ocean at Shark Fin Cove (or admire it from above on the coastal bluffs) — a beach with a rock that looks just like a shark's fin! ✓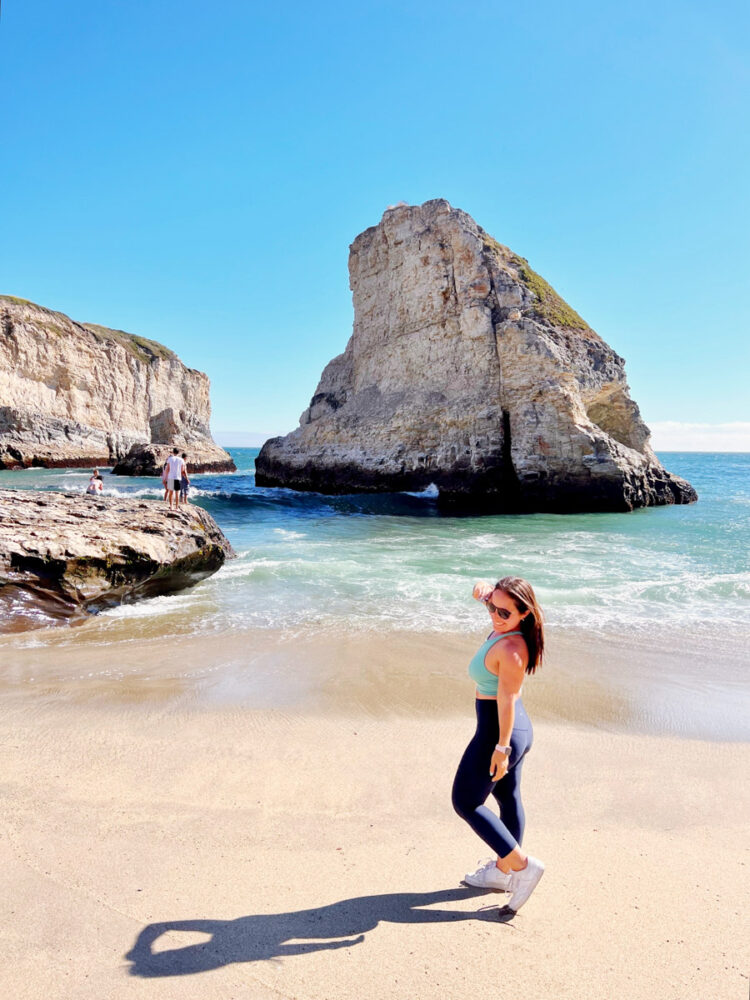 Santa Cruz County
Add marshmallow fluff on top of your homemade artisanal ice cream at Penny Ice Creamery (mmm the gingersnap flavor is so good!) ✓
Make the 11 mile round trip waterfall loop in Big Basin Redwoods State Park to see Berry Creek Falls then gaze up at the giant redwoods ✓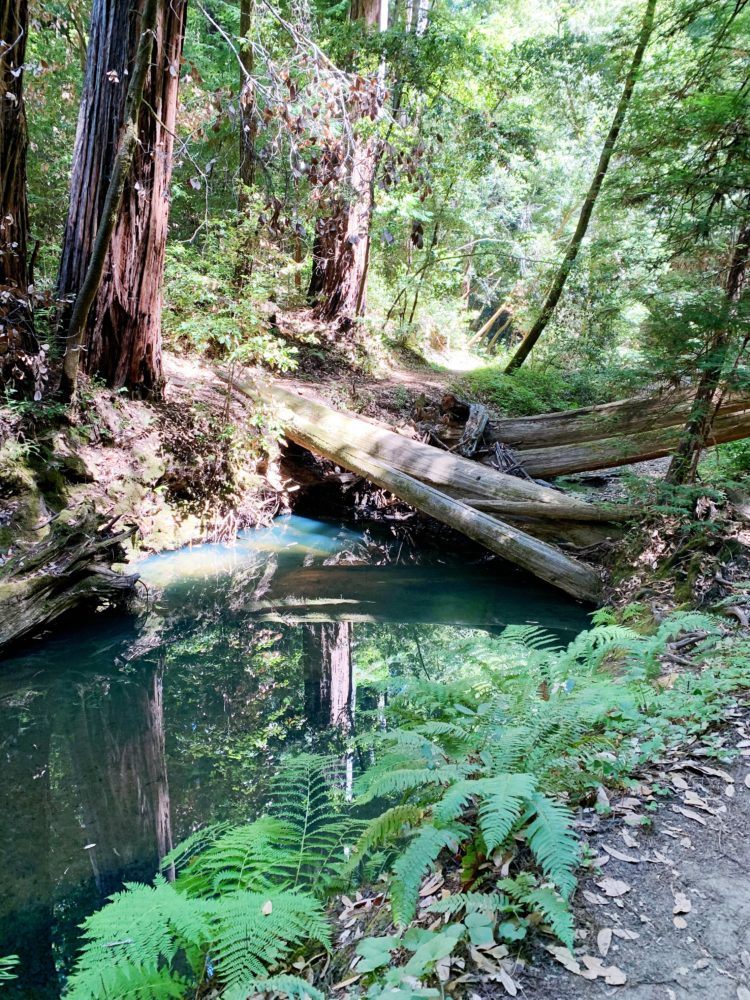 Grab a few scoops from Marianne's Ice Cream, an old fashioned ice cream shop with over 105 flavors to choose from (the most popular spot in Santa Cruz) ✓
Ride the famous Giant Dipper and snack on some sticky cotton candy at the Santa Cruz Beach Boardwalk (then take a walk on the beach and wharf!) ✓
Walk the short path to admire thousands of migrating monarch butterflies on the Natural Bridges Monarch Trail (one of the best things to do in Northern California in the fall!) ✓
Lay on the beach and take colorful photos with the vacation rentals at Capitola Beach (then grab a coffee with a view at Mr Toots Coffeehouse) ✓
Watch the sunset at the wide and flat Natural Bridges State Beach Park, or come during low tide to go tidepooling to see some sea anemone and starfish!
Be wowed on a tour of The Mystery Spot (surrounded by redwoods), a longtime roadside attraction with an impressive tilt-induced visual illusion
Go for a scenic stroll on West Cliff Drive, with stunning views of the Monterey Bay, a surfer statue, Lighthouse Point, and more ✓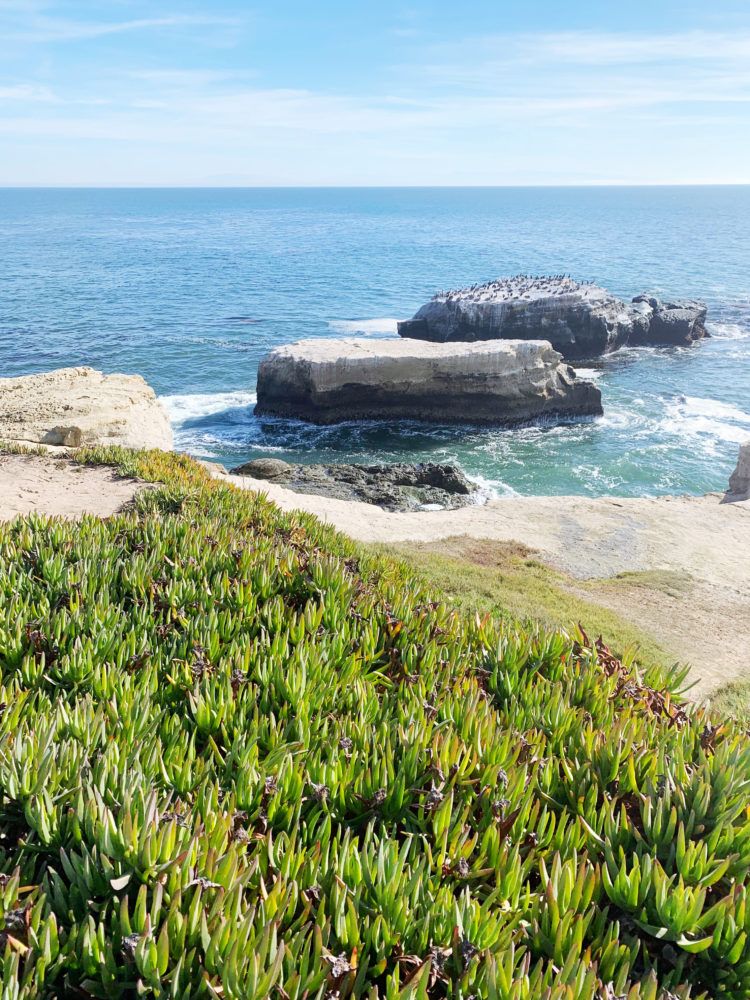 Stay at this A-Frame airbnb in Felton and wake up with your head in the redwoods, then take the Roaring Camp train through the redwood forests to the top of nearby Bear Mountain
East Bay
Stroll down Telegraph Ave and around the UC Berkeley campus (and head to Sather Tower for fantastic sky-high views) ✓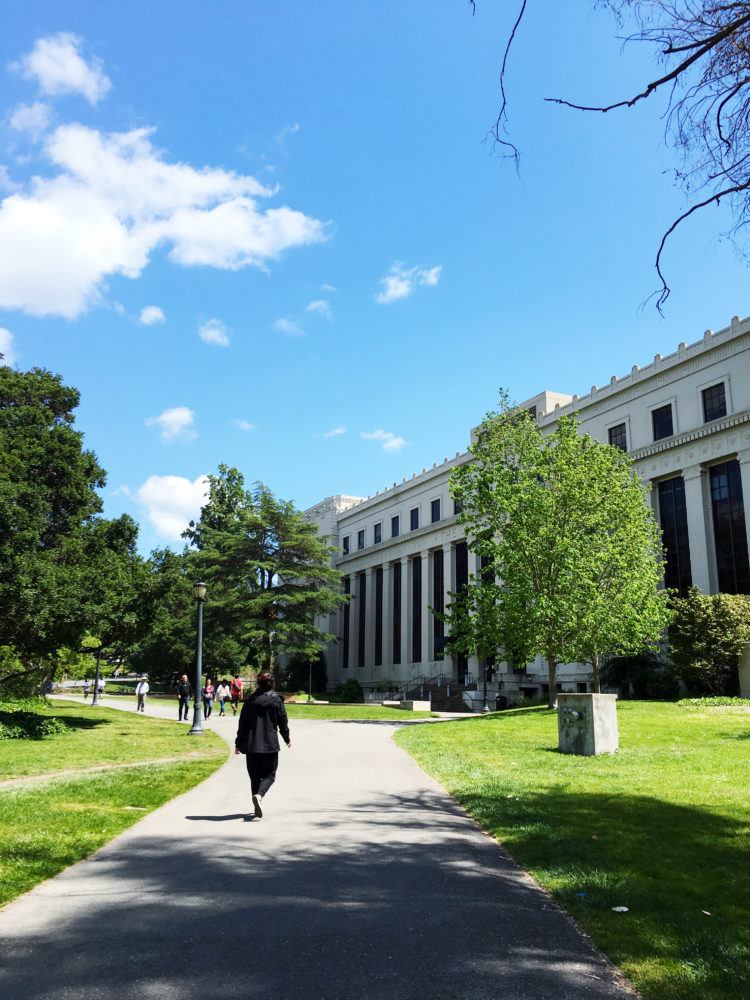 Watch the sunset and go for a short stroll at Tilden Regional Park (there's even a carousel, botanical garden, lake for swimming, and a steam train ride)
Take a long, shady walk among the towering redwoods on the Ridge Trail at Reinhardt Redwood Regional Park (just one of the many places to see redwoods in Northern California) ✓
Find some creatively-shaped houses in the hills of Berkeley and drive past the Fish House and Boat House ✓
Smell the flowers at the Berkeley Rose Garden, a historic garden with literally thousands of roses (I LOVE coming here for some peace and quiet) ✓
Set up your own DIY food tour in the Gourmet Ghetto (don't miss potato puffs from Gregories, corn pizza from Sliver or Cheeseboard, a latte from Wrecking Ball, and some french inspired fare from La Note) ✓
Walk around Lake Merritt or rent a paddle boat, then head to Lake Chalet for some seafood and cocktails overlooking the lake (it's actually a renovated boathouse!) ✓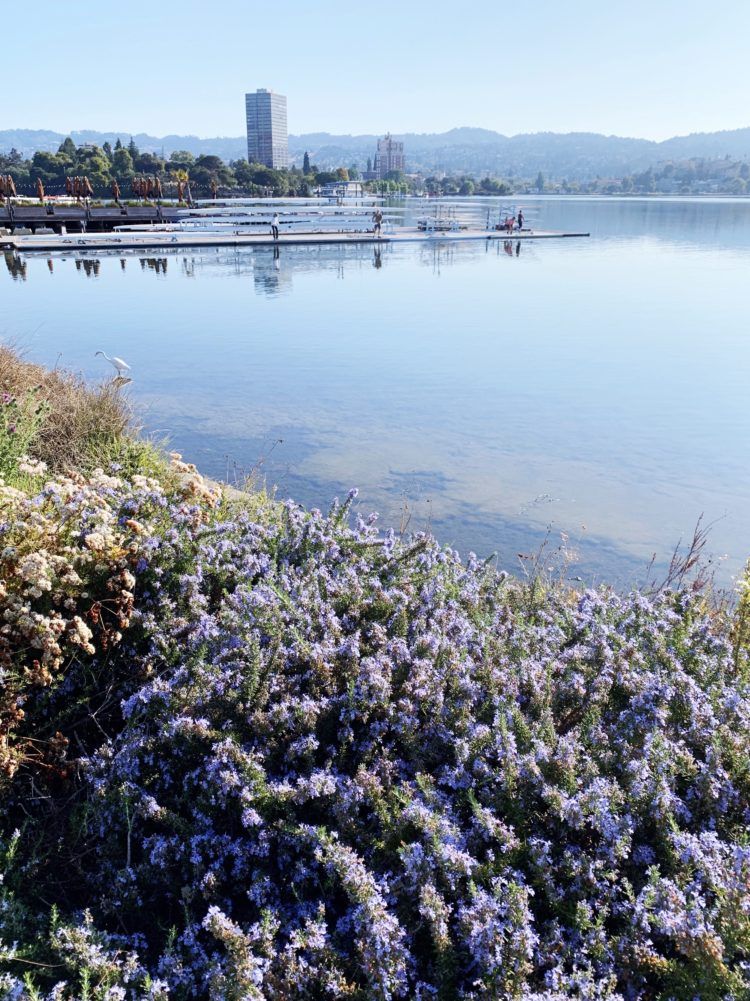 Treat yourself to some deliciously creamy mac n' cheese from Homeroom (always super crowded, so be prepared for a wait) ✓
Stop by the Oakland California Temple, a beautiful mormon temple in the Oakland Hills with fantastic architecture, lush grounds, and stupendous views
Fill up a basket of cherries in Brentwood with plenty of U-Pick farms to choose from (mid-to-late May, as this is when cherry picking typically starts.) ✓
Check out Oakland's diverse art scene during the month of May during Oakland Art Month
Explore the Secret Stairs of the East Bay, with more than 400 paved pathways and staircases latticing up and down the slopes of Oakland and tons of architectural beauties along the way
Wander around the Ruth Bancroft Garden, loaded with an extensive collection of succulents, cacti, and other drought-tolerant flora ✓
Check out Waterworld California, the Bay Area's largest waterpark, full of raft slides, a lazy river, and the new "Break Point Plunge", which sends thrill seekers down six stories inside a tube
Put on your hiking boots (or sneakers, totally fine) and make the 6.2 mile round trip hike up Mission Peak (take the famous photo at the top!) ✓
Spend the day hiking Mt. Diablo's famous 13 mile loop, located in the Diablo Range in Contra Costa County ✓
Spend your cash on some adult beverages → there's tons to choose from (roughly 41 boutique wineries and five breweries) that dot the Livermore Valley (then go shopping at the Livermore Outlets)
Take yourself on a trip to the racetrack and bet on a few horses at Golden Gate Fields – come on $1 Sundays for the best deals! ✓
Heat up your taste buds at World Famous HotBoys, serving fried chicken with five levels of spice, then walk down the street to Little Giant Ice Cream ✓
4. CENTRAL VALLEY
Sacramento
Indulge in Sacramento's coffee culture, buy some beans, and check out a few popular spots (including Insight Coffee Roasters, Camellia Coffee Roasters, and Temple Coffee) ✓
Visit California's State Capitol building → you can even take a tour (available every day between 9am-4pm) ✓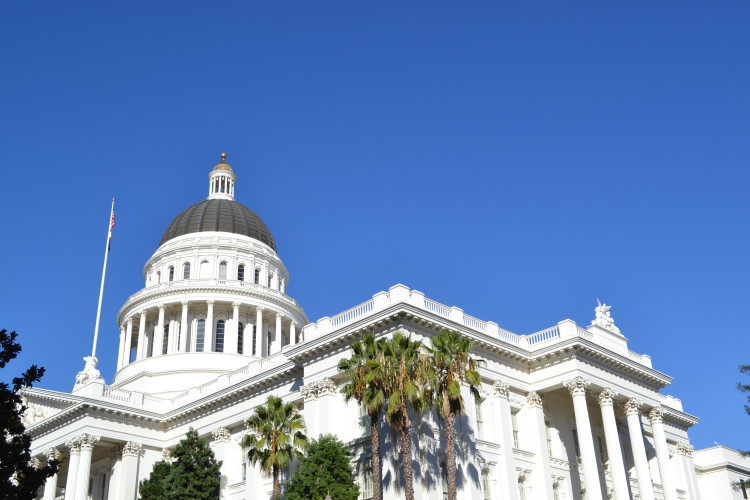 Wolf down some locally grown food in Sacramento's Farm-to-Fork culture, and then visit a farmers market or two (typically in summer!)
Grab a few friends and hop on the Sac Brew Bike, and go from brewery to brewery tasting some beers along the way
Admire some statement art pieces (and learn some history, too!) at the Crocker Art Museum, a staple of Sacramento Art and Culture
Make a reservation at Beast + Bounty and work up an appetite for some hip Californian fare, the cities newest hotspot
Become a street art aficionado at Sacramento Wide Open Walls, a new collection of murals that support public art and expression (there's even a Lady Bird mural!)
Visit Old Sac(ramento) for some old timey, western vibes (and don't miss the California Railroad Museum!) ✓
Head to one of the hippest spots in Sacramento — the R Street corridor, with boutiques and breweries to cafes and restaurants.
Sip a craft cocktail at the swanky poolside lounge on the roof at Revival at The Sawyer
Take a walk over the Sacramento River via the yellow Tower Bridge, a historic landmark of Sacramento (then hang out at RiverWalk Park for great views of Old Sac and the skyline)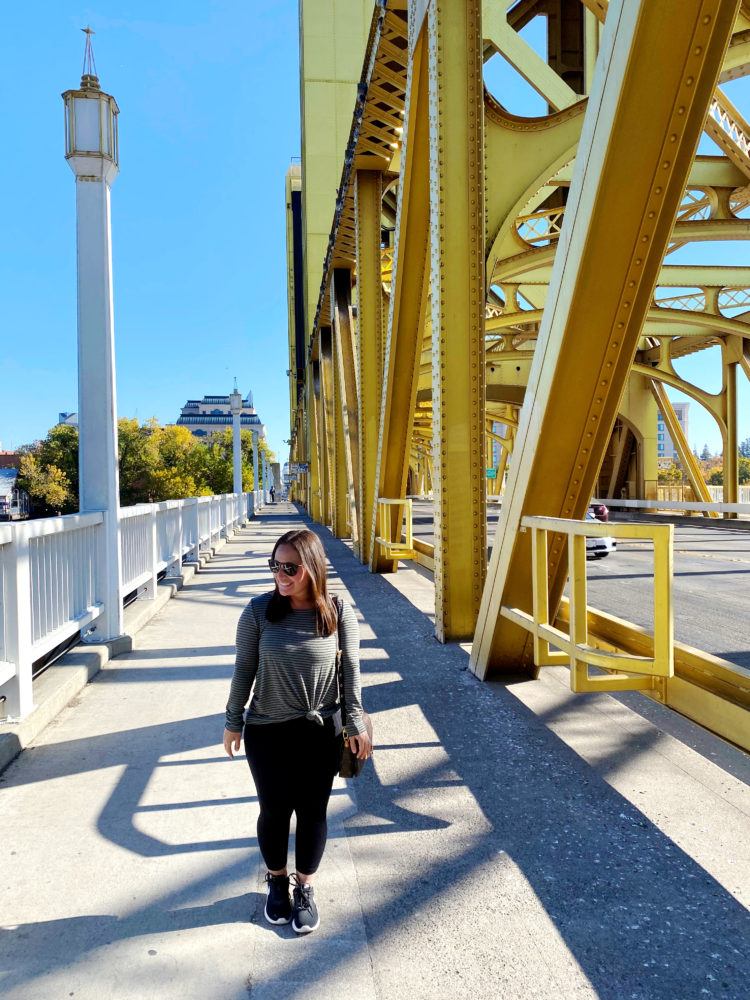 Other Things to do in the Central Valley
Go wine tasting in Lodi, known as the Zinfandel Capital of the World (with over 85 boutique wineries to pick from)
Take your pick from a myriad of museums in Lodi, including the San Joaquin County Historical Museum, Micke Grove Zoo, Hill House Museum, Lodi Serpentarium, and the World of Wonders Science Museum
Walk around the charming historic downtown of Lodi, peruse some art galleries, and sip some wines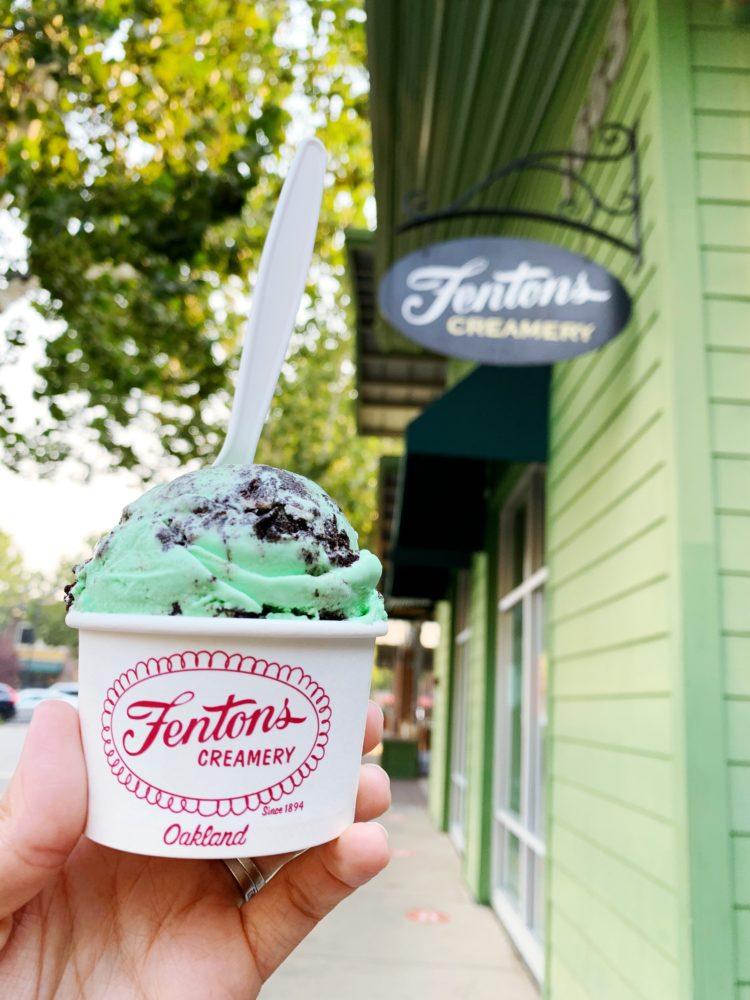 Cool off with a cone (or treat yourself to an over-the-top sundae) at Fentons Creamery, a favorite ice cream parlor by many, and a damn good reason to venture on over to Vacaville ✓
Pick some zinnias and make your own FREE bouquet of colorful flowers at Metzger's Zinnia Patch (Woodland)
Pick some lavender and run through the fields at Araceli Farms – by far one of the best things to do in Northern California in May and June! (Dixon)
Take a creepy tour of the grounds and facilities at the Preston Castle Foundation (loaded with tons of astonishing history and ghosts!)
Head under the Earth's surface and squeeze through the caverns to see stalactites and stalagmites at California Cavern State Historic Landmark (opt for the Middle Earth tour if you wanna get muddy!)
Read all about the cheese making process or just sample a bunch of cheeses and enjoy the outdoor waterfall garden at Hilmar Cheese Company Visitor Center ✓
Buy super cheap jelly beans – belly flops! (and other sweet treats) and go on a tour at the Jelly Belly Candy Co (don't miss the free sample bags!) ✓
Paddle on Class 3 rapids and go river rafting on the South Fork of the American River
5. GOLD COUNTRY
Nevada City and Grass Valley
Devour an almond croissant from Three Forks Bakery (only on Sundays), and then cool off with an ice cream cone from Treats ✓
Cross the hanging suspension bridge in the middle of the forest along the Deer Creek Tribute Trail ✓
Visit California's oldest gold mine, Empire Mine State Park and Cottage, and view the mine shaft and mansion, explore the grounds, and walk along the trails for clues of past mining activity ✓
Dress up for a Victorian Christmas at the Nevada City Christmas Markets with some roasted chestnuts, festive old-world decor, and tons of mulled wine (one of the best things to do in Northern California during the holiday season!)
Spend a day jumping into the water and cooling off on the rocks at the South Yuba River (easy access via the Buttermilk Bend trail) ✓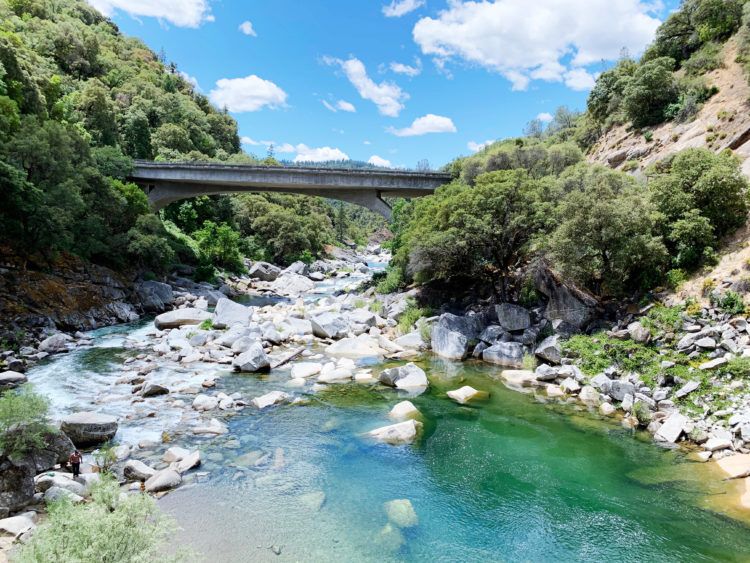 Take a refreshing dip in the crystal clear Emerald Pools and look around for the mini waterfalls; photographers, don't forget your camera!
Murphys
Stroll along Murphy's Main Street and pop into over two dozen tasting rooms (all within walking distance of the charming downtown area)
Descend 165 feet below the surface and see the underground world at both Mercer Caverns and/or Moaning Cavern Adventure Park
Feel super tiny at Calaveras Big Trees State Park, home to hundreds of giant sequoias that are thousands of years old
Paddle through granite gorges and multiple rapids on a whitewater rafting adventure on the Stanislaus River (one of the most intense things to do in Northern California)
Fall in love with the view at Querencia, a distinctive inn overlooking the mountains and vineyards in the Gold Country Sierra foothills
Spend the night where Mark Twain and Ulysses S. Grant once did – at Murphy's Historic Hotel & Lodge, with vintage rooms and a saloon more than 160 years old!
Pan for gold and learn a shit load about mining history at the Angels Camp Museum — famous for its restored carriages and wagons
Auburn
Cool off in the many swimming holes along the American River (easy to reach via the Confluence Trail, Lake Clementine Trail, and Quarry Road Trail)
Treat yourself to a warm slice of world-famous pie (and/or a milkshake) at Ikeda's → I've heard the marionberry cobbler is to die for
Hang out at The Pour Choice with a cold beer, iced coffee, and/or a kombucha, the coolest spot to hang out in town by far (and super hipster)
Pan for gold in the river at Marshall Gold Discovery State Historical Park and check out the 20+ historic mining building
Walk around the different vendors of the Gold Country Fairgrounds during an event/festival, and don't leave without some asiago cheese peppercorn (if you're ever so lucky to find it)
Check out the waterfall created by the Lower Lake Clementine Dam after going on an easy ~5 mile hike, and you'll probably see a rainbow!
Apple Hill/Placerville
Pick some berries (cherries, raspberries, blueberries, and blackberries) in early summer, and a variety of apples in Fall at the farms around Apple Hill
Nosh on some hot apple cider donuts (or their new nectarine pie) from Rainbow Orchards, a colorfully painted farmhouse ✓
Indulge in a decadent apple pie caramel apple – a Granny Smith apple wrapped in pie dough and sprinkled with cinnamon from Abel's Apple Acres, or try some apple dumplings or apple pie instead! ✓
Walk down the narrow stairs and passages to the Black Chasm Cavern to witness rare helictite formations only found in a few caves around the world
Soak up all the fall vibes and sip an apple cider milkshake (yes, it's a real thing!) from High Hill Ranch ✓
6. HIGH SIERRAS
Lake Tahoe + Truckee
Go stand up paddling (SUP) or kayaking in the aqua colored waters of Sand Harbor (the water is so super clear and the rocks/smooth granite boulders are amazing!) → or just take in all the scenic beauty ✓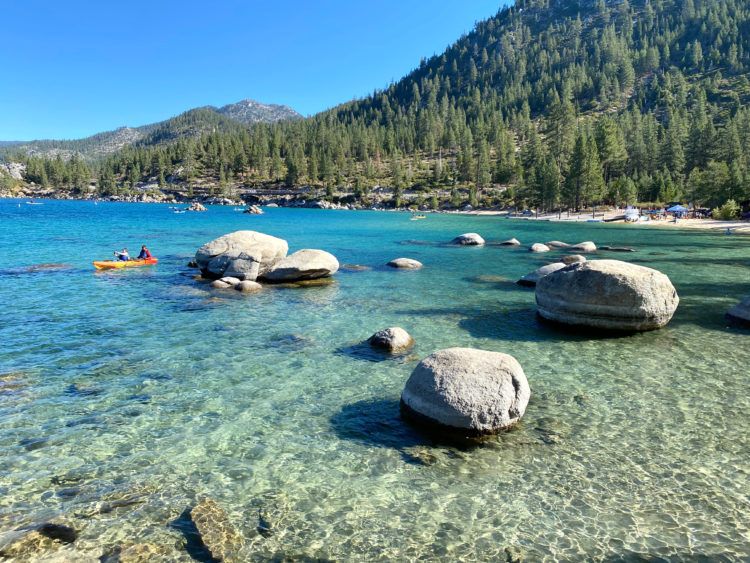 See the fall colors in the autumn countryside of Hope Valley, with Aspens, Black Cottonwoods, and Willows
Make the 2 mile trek to Cascade Falls via the Cascade Falls Trail with a great view of Lake Tahoe
Learn about the history of the bay on an Emerald Bay Cruise (there's waterfalls to gawk at, mountains to admire, and the only island in the lake, Fannette Island)
Make the steep one mile hike down to Vikingsholm Castle Historic Site, a castle with Scandinavian architecture that you can tour!
Ski in two states in one day while skiing at Heavenly Mountain (or just take the gondola up from Heavenly Village for the views!) ✓
Round up some friends and have that classic Tahoe winter trip – cabin in the woods, ice skate at Heavenly, hit the slopes, cuddle up by the fireplace with some hot cocoa, and head to as many apres ski happy hours as you can ✓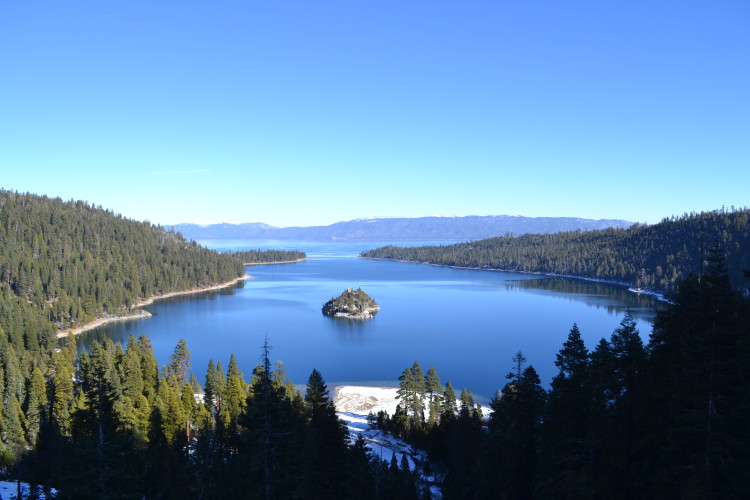 Sip some brews on the South Lake Tahoe Beer Trail, complete with over nine breweries each with their own craft beers
Hike to Eagle Falls along the Eagle Falls Trail; you'll see cascading waterfalls, lots of evergreens and lush vegetation, and large granite peaks
Drive the 72 miles around the lake, making sure to stop at the best viewpoints along the way, including Incline Village, Crystal Bay, Kings Beach, Emerald Bay State Park Lookout, Zephyr Cove, Secret Cove, and Sand Harbor ✓
Watch the sunset from Cave Rock – one of the best spots to watch the sun dip below the horizon in Northern California!
Go off-roading in a jeep on the strenuous 22-mile Rubicon Trail overlooking Lake Tahoe (or hike the 5 miles between D.L. Bliss and Emerald Bay State Park)
Strap on your boots and get snowshoeing out into the wilderness at Donner Lake and Donner Pass
Spend the afternoon relaxing and climbing on rocks at beautiful Hidden Beach, accessed via the 3-mile East Tahoe Shore Trail and frequented by locals ✓
Ski through an old-growth forest at Sierra-at-Tahoe, the perfect spot to breathe in some fresh Tahoe air
Hike the ridiculously easy trail with your pup to Eagle Rock for stunning views of Lake Tahoe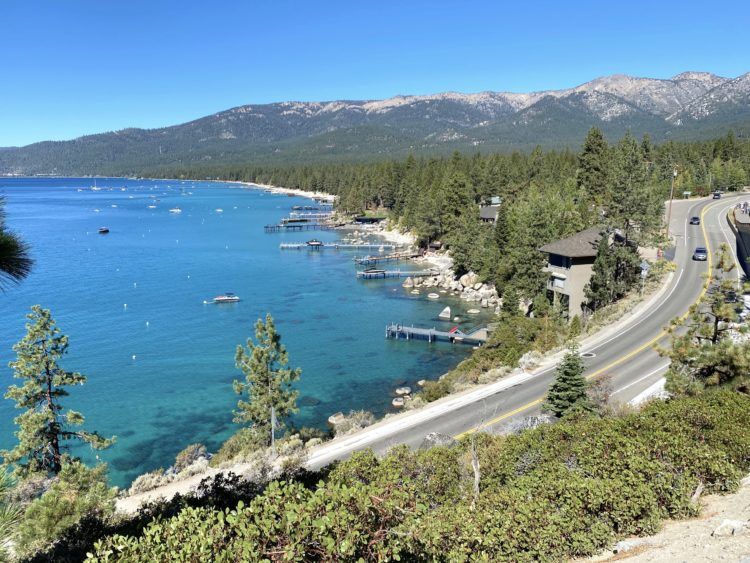 Walk along the lake for stunning views via the brand-spankin' new East Tahoe Shore Trail, a 6-mile roundtrip paved trail just completed a few short years ago with tons of lookout spots on the way
Yosemite National Park
Hike right next to Vernal Falls on The Mist Trail (make sure to bring rain jackets; it's not called the mist trail for nothing!). If you're really feeling it, continue all the way up to Nevada Falls! ✓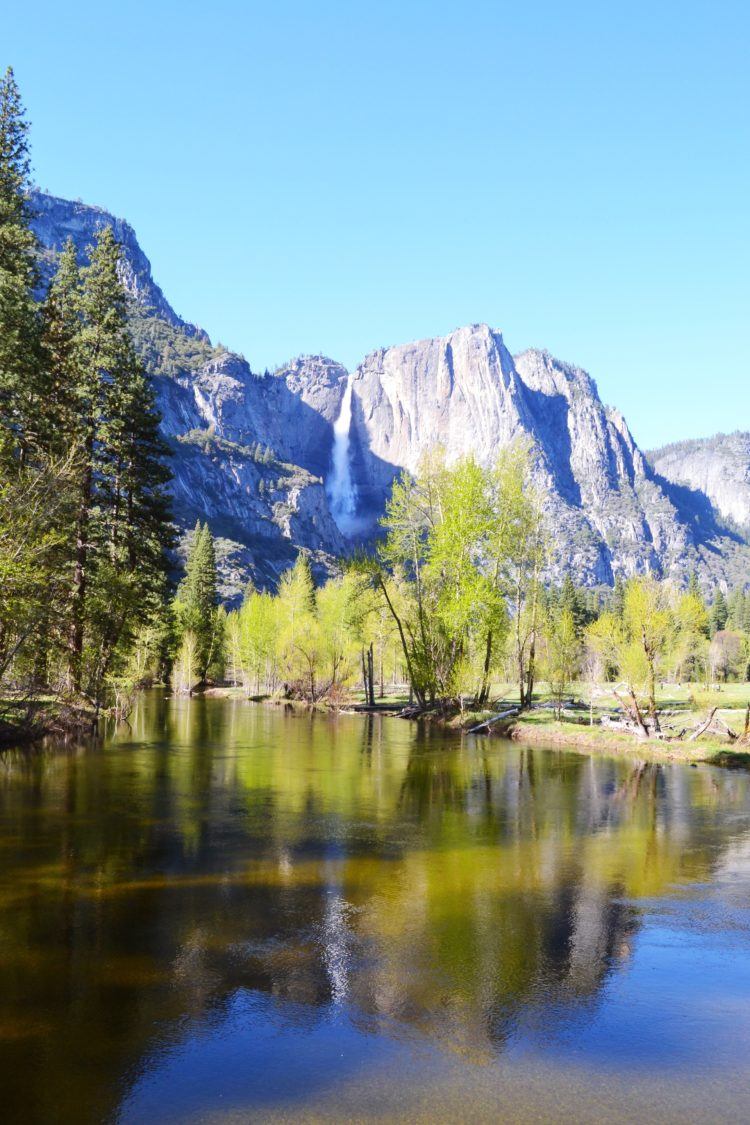 Take an easy stroll around Mirror Lake – there's typically crazy reflections of the mountains here! ✓
Look down into Yosemite Valley to appreciate the views of Half Dome and Nevada Falls from Glacier Point
Watch the sunset at Taft Point (be extra-super careful if you're taking photos at the edge!)
Feel super small and marvel at the grand expanse that is Tunnel View – the most iconic view in the park, and no hiking required! ✓
Look up into the massive grove of giant sequoias at Mariposa Grove, featuring the Grizzly Giant – the oldest and tallest tree in all of Yosemite ✓
Experience Yosemite without the crowds at the Hetch Hetchy area, including the Hetch Hetchy Reservoir, which is probably the most beautiful dam you'll ever see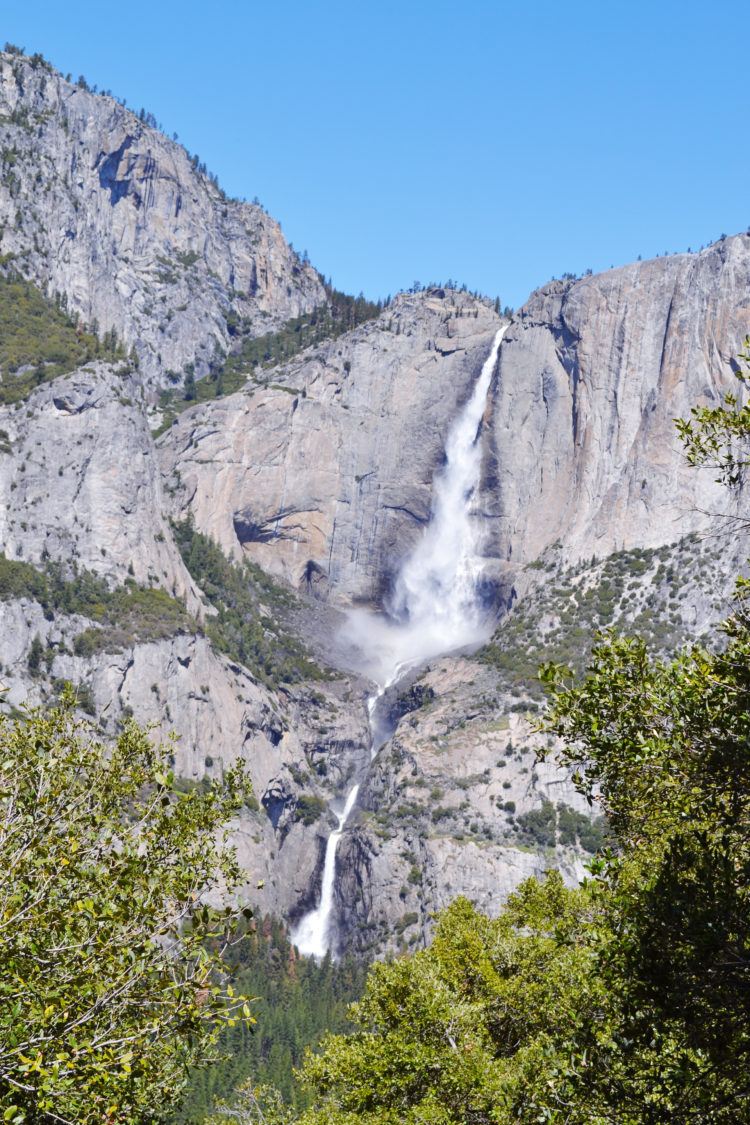 Gaze up at Yosemite Falls from either the Lower Falls Vista Point or along the Yosemite Falls Trailhead (a 3.4 mile hike), the tallest waterfall in North America, at over 2,425 feet ✓
Snag a permit and make the strenuous hike up Half Dome, Yosemite's iconic (and legendary!) dome super popular with climbers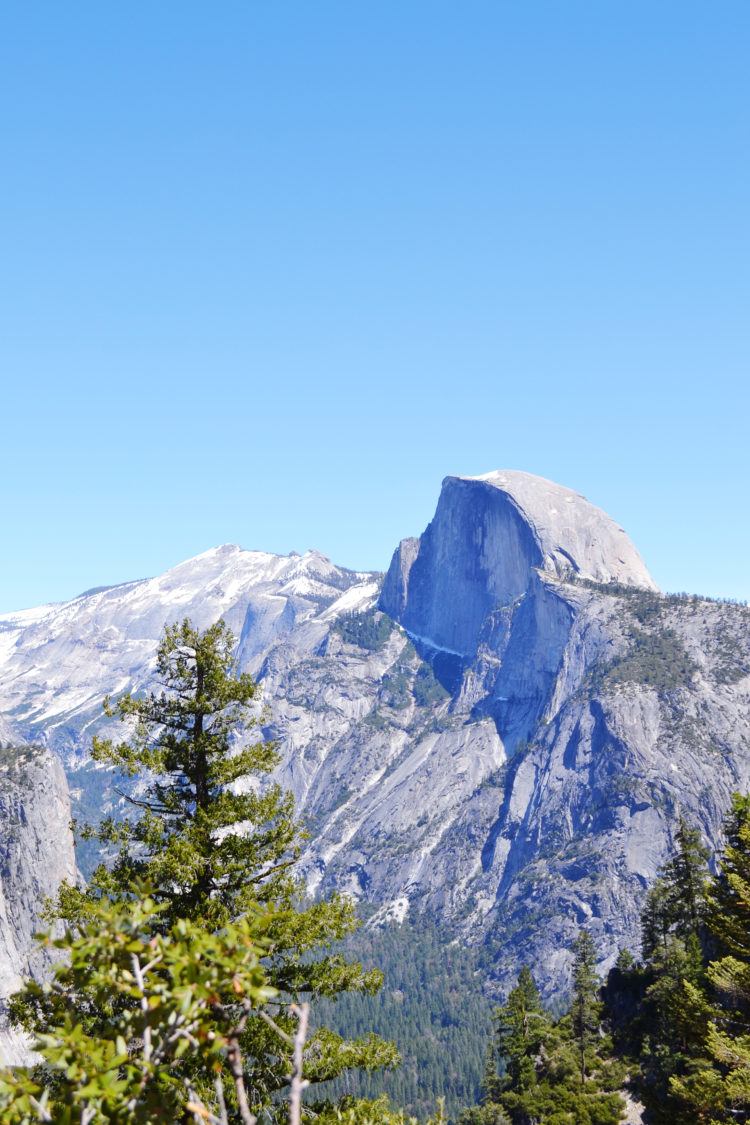 Check out the crystal clear water of glacial Tenaya Lake from the short line or the top of Mount Hoffman
Get some of the best views in all of Yosemite from the top of Clouds Rest, a 14 mile hike with views of Half Dome, the Sierra Nevada mountains, and Yosemite Valley
Visit Yosemite in the winter and feel like you're in real-life winter wonderland snow globe ✓
Make the impressive drive from Yosemite to Sequoia National Park via the Sierra Vista Scenic Byway (one of the most scenic things to do in Northern California!)
Mammoth Lakes Area and Nearby
Check out the impressive basalt rock formations of the Devils Postpile National Monument, and don't miss the popular waterfall – Rainbow Falls!
Make the scenic 16-mile drive of the June Lake Loop, complete with 4 lakes to see, as well as the Obsidian Dome (and then take your pick of hiking, kayaking, and/or fishing nearby)
Check out a former gold-mining community at Bodie State Historic Park, the largest ghost town in the west with daily tours and tons of historic buildings and artifacts
Take a dip in the steaming waters of the Travertine Hot Springs, surrounded by snow-capped mountains and unique rock formations
Soak in Wild Willy's Hot Springs, that heart-shaped hot spring you've probably seen all over Instagram
Head to Convict Lake at sunrise for the most stunning photos you'll probably ever take (besides at all the lakes in Banff National Park), then spend the day fishing, hiking, and boating!
Walk between the strange yet impressive columns at the Crowley Lake Stone Columns; tip – you'll need a 4WD to get there safely, unless you wanna walk the last 2 miles
Pinch your nose and make the short trek to Mono Lake, most notable for its unique limestone spire formations (known as tufas) and super salty water
Looking for more California content? Explore my other California guides here!
Did you know that …
When you purchase something through our links, we earn a small fee (but you still pay the same)! Win-win! If you found this article useful, consider using the links within the article or below. Thanks for your support!