Headed off on a road trip up north and looking for the best things to do in Eureka, California?! Keep on reading, my NorCal-loving friend! Here's how to spend a Victorian-esque, redwood-filled weekend in this remote coastal town!
Imagine spending your time amongst the lush greenery of the towering redwoods, walking around old victorian architecture, and gazing at rugged and remote ocean landscapes. That's Eureka in a nutshell!
However, not many people visit, let alone know about all the treasures and fun things to do in Eureka, California. So let's just keep this little slice of treasure to ourselves, shall we?
The landscapes are stunning, there's lots of talented local artists (hello colorful street art!), and the coast is craggy in this vibrant seaport city. It's the quintessential California coastal town.
I mean, the entire city is a state historic landmark! It was once a major logging town in the late 19th century, but has since turned into an artsy little city with lots to do.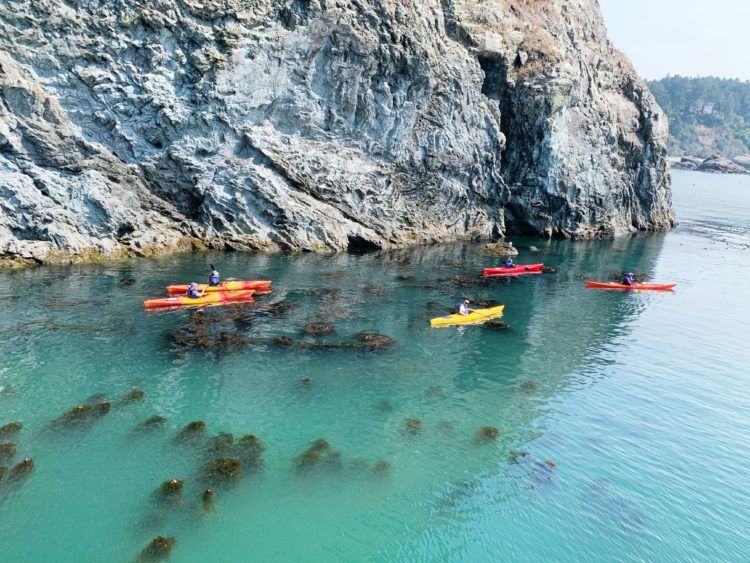 Yes, Eureka has a booming cannabis industry and more marijuana growers than ever before (true story). But you'll also find the world's most photographed mansion, California's oldest zoo, and a whole slew of artisanal businesses here.
Northern California is FULL of fun and exciting things to do! I made a huge NorCal bucket list — here's all my favorites!
Fun Fact: Eureka is actually the largest coastal city between Portland and San Francisco, and boasts the largest bay north of SF. If you're on a road trip from SF to Oregon/Washington, Eureka's a great place to stop!
I briefly visited Eureka with some friends after hiking the Fern Canyon trail, and knew I needed to get back sooner than later. Our visit was centered around the redwoods, and we missed out on so much! So just two weekends after, I brought my husband up to discover more of the Eureka charm!
We found a city with a small-town feel, tons of history, and of course those legendary giant redwoods. It's a city of continuous growth — I loved the stark contrast between the old buildings and the modern murals/street art.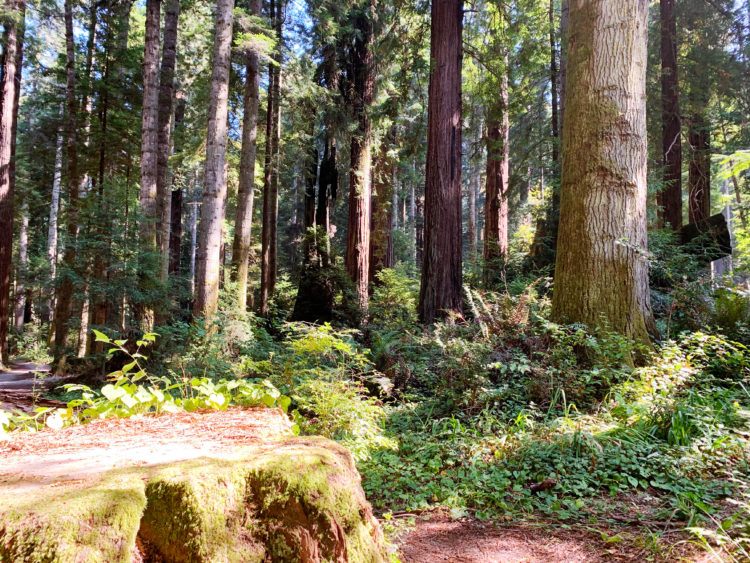 Plus, Eureka's especially dog-friendly — perfect for us because we brought along our puppy!
Just don't get it confused with Eureka Springs in northwest Arkansas or Yreka (closer to Mount Shasta)! We're talking about things to do in Eureka, California over here!
The town is definitely not as well known as Big Sur or Mendocino, but the Eureka landscapes kinda reminded me of them! They've all got different vibes, so all the more reason to check them each out (on separate trips, obviously). Many people don't venture past Mendocino — I think they just don't know much about this more remote part of Northern California.
But thankfully, we just visited the far north, and I'm here to showcase the many wonderful things to do in Eureka, California and beyond.
How to get to Eureka:
Eureka is located in Humboldt County in far Northern California, nestled between the Humboldt Bay and redwood forest. It's about 275 miles north of San Francisco, and only 90 miles south of the Oregon/California border.
Driving to Eureka, California
And since it's located within a few hours' drive from many other popular destinations in California, it makes for a perfect stop on any northern California road trip!
→ Read Next: The Best Road Trips in California
Driving distances as follows:
San Francisco to Eureka Road Trip Ideas
If you're coming from the SF Bay Area like we were, definitely plan a day to explore driving up! There's so much between San Francisco and Eureka → Sausalito, Mendocino, and Napa/Sonoma to name a few. But if you're from the Bay Area, you've probably seen those spots already.
Instead, I recommend driving past all those, and stopping to see the towering redwoods! Here's a few suggestions:
Leggett Drive Thru Tree Park: A quick stop, but you can drive your car straight through a huge redwood tree. It's also the most northern of all the stops on the Pacific Coast Highway (so great to check it out while you're over here!).
Avenue of the Giants: Drive the scenic 32 miles of the Avenue of the Giants and see the highlights of the park along the way. Don't miss the Shine Drive-Thru Tree, Chimney Tree, Grandfather Tree, One-House Log, and the BigFoot Museum. One of my favorite places to see redwoods near San Francisco!
Humboldt Redwoods State Park: The short hike within Founders Grove is a must! And get this — Humboldt has the largest remaining old-growth redwood forest in the world. IN THE WORLD, you guys! Don't miss it on your road trip to Eureka! You can find this park along the Avenue of the Giants.
Flying to Eureka
If you're coming from southern California, flying to Eureka is an option — but probably an expensive one. The Arcata/Eureka Airport (officially known as California Redwood Coast — Humboldt County Airport) is a quick 20 minute drive north of Eureka.
Psst: only United flies to Eureka, which is why you typically won't find many cheap flights (not much competition). While it's obviously a much faster option, I'd opt to fly into San Francisco and make the 4 hour drive up.
And if you're coming from outta state, you don't have the option to fly to Eureka anyways, as the small, regional airport only serves LAX and SFO. Fly into either San Francisco or Sacramento (whichever is cheapest) and drive up.
Where to Stay in Eureka: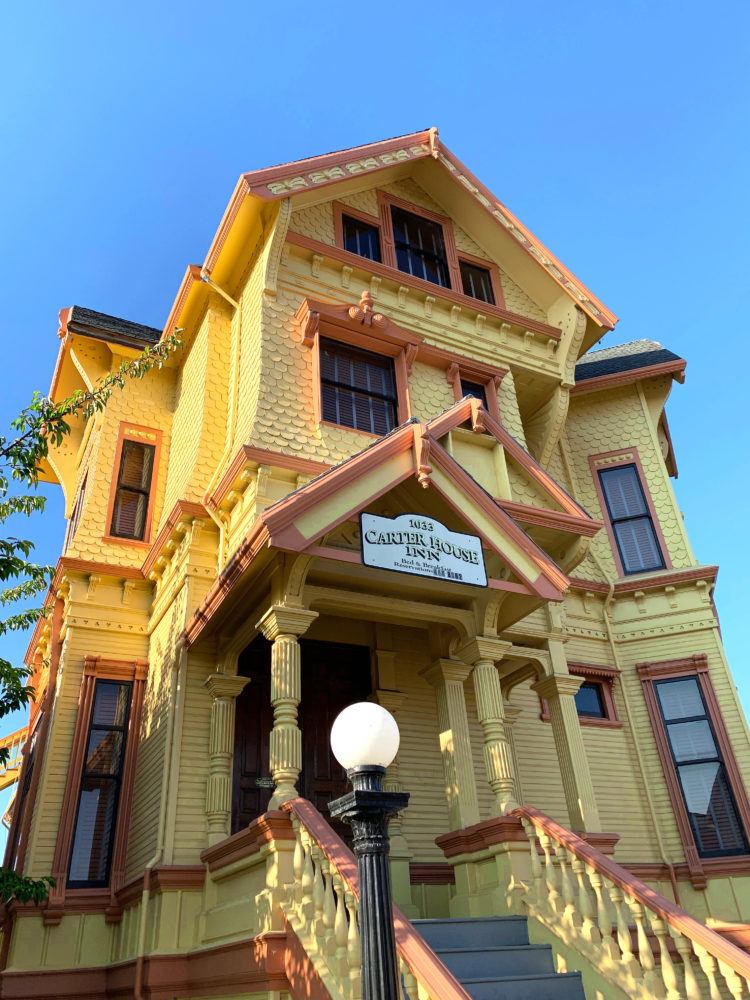 There's a few hotels and charming inns to stay within Eureka, listed below:
Carter House Inns: Looking for upscale lodging in Eureka? Carter House is your answer with it's Queen Anne architectural charm. Not only does the inn boast an impressive restaurant, but it's right down the block from the exquisite Carson Mansion!
Inn at 2nd & C: This place is old — very old (from the 1880's) — but has lots of charm and even a grand ballroom! The entire hotel has been largely restored and has a unique wooden interior with an old-school vibe. Some of the rooms even have a whirlpool tub!
If you're looking for something more affordable, you'll also find a whole bunch of motel and hotel chains, including Holiday Inn Express & Suites Eureka, Best Western Plus Humboldt Bay Inn, and Eureka Inn Trademark by Wyndam.
But here's the thing: I don't recommend staying in downtown Eureka. At all.
Yup — I'm serious. Haha, I honestly wouldn't stay in Eureka itself if you can help it. I know, I know, this whole guide is based on things to do in Eureka and I actually stayed there BOTH times I visited the area. BUT — hear me out.
The downtown/Old Town area of Eureka is actually quite sketchy. We didn't feel super comfortable walking around at night, and didn't love the vibe during the day either.
Here's where I recommend staying instead:
I highly recommend staying in either Arcata (a mere 10 minutes north) or in coastal Trinidad ~25 minutes away. Sure, you'll be venturing into Old Town Eureka a bit for food and a few activities, but you can get away without staying in the actual town.
The Ranch House at Humboldt Bay Social Club: I desperately want to stay here next time I visit the area → just look at the photos! The Ranch House is the crown jewel of a 22-acre bayfront property that is steps to the beach and a short drive to the redwoods and the quaint towns of Eureka and Arcata. Book here.
1952 Airstream Dream: Stay in a piece of history – this 1952 Airstream offers modern comforts with a historic feel. The trailer is located walking distance from rolling sand dunes and miles of secluded beaches in between Arcata and Eureka. Such a unique stay near Eureka! Book here.
Enchanting Dome House in the Redwoods: Ever wish you could wake up with your head in the redwoods? You can over here! The dome house is nestled in 5 acres of redwoods less than 5 minutes from scenic Moonstone Beach and 15 minutes from Trinidad. There's even a tiny outdoor writer's studio and bathroom with an artisan-made tiled bath/shower. Super unique and enchanting! Book here.
Things to Know Before Spending a Weekend in Eureka
When to Visit/Weather in Eureka
If you have ultimate flexibility and can visit anytime, I would recommend either September or October. Just like San Francisco, Eureka gets that great Indian Summer, meaning the temps will still be warm for outdoor activities. And the crowds will be gone. Fall is perfect for your visit.
But whenever you visit, make note of any festivals happening! The town actually has a pretty busy event's calendar!
By spring most of the rain is gone, although it can stay wet until April depending on the season. If you're a food lover, don't miss the Salt & Fog Fish Fest!
Summer sees great weather, and it's when the boats in the bay start giving tours! The Eureka Street Art Festival happens every summer (I'm dying to visit!), as well as the late-summer performing arts Fringe Festival. There's new street art popping up in summer, and there was once a 26 foot tall flame-throwing octopus in Old Town (doesn't get more artsy than that!).
Winter (November – March) can be pretty rainy and "cold" by California standards. By that I mean temperatures hover around 60°F, drastically dropping at night. Definitely bring a rain jacket to enjoy the outdoor things to do in Eureka, California and be prepared to bundle up at night!
How long to spend in Eureka:
While there's enough to keep you busy for 5 days or so, I say a long weekend visit will suffice. However, if you wanna properly explore Redwood National and State Parks, I'd give yourself at least a full day or two for just that.
Safety in Eureka
Okay, we need to talk about something. Unfortunately, parts of Eureka can be pretty sketchy.
My husband and I kept saying to each other that the town has SO much potential, but the sketchiness we felt totally interrupted our good time there. We saw plenty of questionable characters (addicts, perhaps) and homeless people lurking near the waterfront and in Old Town.
Old Town in particular can be really sketchy and druggy, so just be aware while wandering the streets. It's not a place I would feel comfortable walking around as a female solo traveler, and am glad I visited with my husband.
After doing some research (I'm a research junkie, haha), I found that Eureka actually has one of the highest crime rates in America. Ack!
You'll more than likely be ok, but as always, know your surroundings, don't flash anything expensive, and report any suspicious activity to the police. When parking in Old Town, always lock your vehicle doors and windows, and remove any valuables. Be sure to park in well-lit areas.
However, the whole area isn't like this. Thankfully, Arcata is way less sketchy, and nearby Ferndale and Trinidad are very safe. Sequoia Park is also safe, so don't feel like you need to have your guard up your entire visit. I'd feel weird not telling you about this since I feel like it negatively impacted our stay quite a bit.
I actually have a friend who moved to Eureka and another who voluntarily chose to spend about a month there, so it's not all bad! Just use common sense.
How to Get Around Eureka
CAR
You'll definitely want a car to check out these things to do in Eureka and beyond. While there's plenty to keep busy with in Eureka itself, it's the surrounding areas that we loved the most. A car will be needed to access Arcata, Ferndale, Trinidad, and of course the redwoods!
WALK
If you're just planning on hanging out in Eureka's Historic Old Town and downtown areas, you can definitely get by by walking! But — I'd still plan on renting a car if you're not driving up. As mentioned earlier, I wouldn't wanna rely on walking the streets, especially at night.
RIDESHARE
Do note that rideshare services are somewhat limited, so you may have a hard time catching an Uber or Lyft. Best not to rely on those, unfortunately.
So let's get to it! All our favorite things to do in Eureka, CA and beyond!
Best Things to do in Eureka, California
Check out the 1885 Carson Mansion and Pink Lady
Gawking at this Grand Victorian house is by far one of the top things to do in Eureka! It's eclectic, ornate, and even has turrets & gables. A wild combination of Gothic, French, and Italian architecture makes up this Queen Ann-style building. The mansion seriously looked like something outta an Alfred Hitchcock movie!
I was surprised to learn that up until the 1950's it was a private home! Successful Lumber Baron William Carson used to live here → which just goes to show how much lumber was king back in the day.
Unfortunately, Carson Mansion now houses a private club (with fine dining for its members), meaning you can't go inside. BUT it's ornate architecture is definitely worthy of a look from the outside! It's actually the most photographed home in all of California.
And right across the street lies Pink Lady, another magnificent Victorian home in Eureka. There's original stained glass windows, hand crafted wood, and even crystal chandeliers. It's absolutely spectacular!
Drive (or walk!) around to check out the Victorians
Eureka is filled to the brim with beautifully historic Victorian homes. There's even a self-guided Eureka Heritage Homes Tour — meaning you won't miss out on any of the historically important buildings. We found a few on Hillsdale Street which we swooned over, including one we deemed the "rainbow house". Oh so colorful and I kinda wanna move in.
Grab a free brochure (map included!) at Many Hands Gallery, which gives short descriptions of each building. An impressive 16% of the buildings in Old Town are noted as important historical structures, whoa! One of the best things to do in Eureka for anyone who loves history and intricate architecture.
Sequoia Park (and Zoo)
With its towering sequoias and paved trails, we were pleasantly surprised by Sequoia Park! It's not your typical grassy park with a playground if that's what you were thinking. We loved walking along the towering trees one morning with some coffee in hard, and loved that the park is super dog friendly!
We didn't visit the zoo, but later learned it's the oldest (and actually one of the smallest) zoos in California. Makes sense that the animals here are on the smaller side, with red pandas, gibbons, river otters, and more.
Walk along the Waterfront Trail
The Waterfront Trail travels all the way along the water, starting near the Shoreline RV Park and extending all the way to the Bayfront Restaurant. You'll pass by great views of Daby Island, Woodley Island, and on a nice day, a whole bunch of kayakers!
There's a pretty esplanade with a nice view of the harbor and Humboldt Bay. Get some ice cream at Living the Dream Ice Cream in the Coast Guard Plaza — the best on a sunny afternoon!
Do note this is where we saw a lot of the questionable people mentioned above. If it weren't for that, walking along the waterfront would have probably been one of my favorite things to do in Eureka.
Lost Coast Brewery
Get ready for FREE tours of their state-of-the-art facilities, their brewing process, and of course a few samples. Lost Coast brews a huge variety of awesome beers year round, as well as equally awesome seasonal beers. Think French Oak Imperial Stout, the Original Gangsta belgium-style white, Winterbraun (full body with a rich chocolate taste), and even a refreshing watermelon ale.
There's some delicious fish and chips on the menu if you need some nourishment while sipping all those beers.
Humboldt Cider Company Tap Room
Not a big fan of beer? Sample some ciders here instead! The Tap Room is pretty chill and you'll be blown away by how many ciders they've got on tap! There's crisp dry ciders, sweet honey ciders, and everything in between. Definitely include the Honey and Friends with Benefits in your tasting flight — they're the most popular (and for good reason).
Clark Historical Museum
Cultural exhibits housed in an elegant old bank circa 1911? Yup — the museum showcases Humboldt County's rich local past. It's pretty small but very densely packed, meaning there's lots to see in a small space! Lots of natural history, a Victorian section, and the largest collection of Native American baskets in the entire country!
Dick Taylor Craft Chocolate Factory Tour
Learn about the chocolate process, taste a whole bunch of samples, and just go to heaven with that chocolate smell! You'll need a reservation for the factory tour, but you can always just pop in to buy a few bars!
The factory has a ton of fun experiences, like a whisky and chocolate pairing, so be on the lookout for those. One of the best things to do in Eureka for chocolate lovers, by far!
Factory closed? You can still get your Dick Taylor chocolate fix at other spots in the area, including Just My Type or Eureka Natural Foods. They sell the speciality bars there as well! We brought some home to SF, and I quickly demolished them.
I later learned that Dick Taylor chocolates can even be found in San Francisco's ferry building (!!!) and at other speciality food shops around the country. Who knew?!
Cruise or kayak around the Humboldt Bay
Visiting in the late spring or summer months? Lucky you — join a cocktail cruise on the 1910 ferryboat the "MV Madaket" (the last ferry that operated here) for a 75-minute guided cruise.
Leaving from the Eureka waterfront, get ready for remarkable views of the bay and learn so much history about past maritime culture. Plus, the ship has the smallest licensed bar in all of California, how fun is that?! Cruises run from May through September.
If you're looking for something a bit more active, rent a kayak or canoe and paddle around the bay. One of the best things to do in Eureka, and I'm especially sad we missed out on this!
Check out the boutiques in Old Town
Looking to do some shopping? Look no further than Old Town, Eureka! Make sure to pop into a few speciality stores on F Street: Old Town Antiques, Just My Type Letterpress, and Land of Lovely. And definitely check out Timber and Shipwreck Vintage if you're into boutiques and vintage clothes.
Humboldt Botanical Garden
Need some fresh air (and to escape Old Town for a bit?). The botanical garden has trails leading through flower gardens and trees, so it's a great place for a little wander. There's even a butterfly house here!
Plus lots of metal art sculptures, little frogs, well-groomed beds of various plants, and more (kinda similar to a spot we went to in San Clemente). Just don't forget the bug spray!
Watch the Sunset
Whenever I'm away, I always aim to watch the sunset. And the sunsets in Eureka surely didn't disappoint!
We watched the sun dip below the horizon on a beach on Somoa — an island directly across from "mainland" Eureka, as well as on Eureka itself! Both were absolutely stunning. I'm kinda a sucker for sunsets though! Just head to the water for a bunch of great spots.
Other Things to do near Eureka
While we enjoyed spending time in Eureka, it was actually the surrounding areas I loved the most! Especially coastal Trinidad (don't miss it!).
Arcata (~10 minutes north)
We walked around the vibrant yet smaller town of Arcata one morning, and found it to have more personality than nearby Eureka. Possibly because it's where Humboldt State University is located, meaning a younger crowd. I mean, half of the city's total population is college students (a classic example of a traditional "college town").
It's even nicknamed "Hippie Haven". If you're looking for nightlife while in town, make sure to check out Arcata, it's by far Eureka's livelier sister.
Trinidad (~25 minutes north)
I was OBSESSED with Trinidad. Definitely don't miss this spot. The rocky coastal landscapes are insane.
College Cove Beach (Trinidad): Everyone says this is the most beautiful beach in all of Northern California, and I couldn't agree more! The sand is oh so soft, the large rocks make for spectacular photography, and the sunsets are divine. Don't miss the tide pools filled with starfish, sea anemone, and little sea crabs.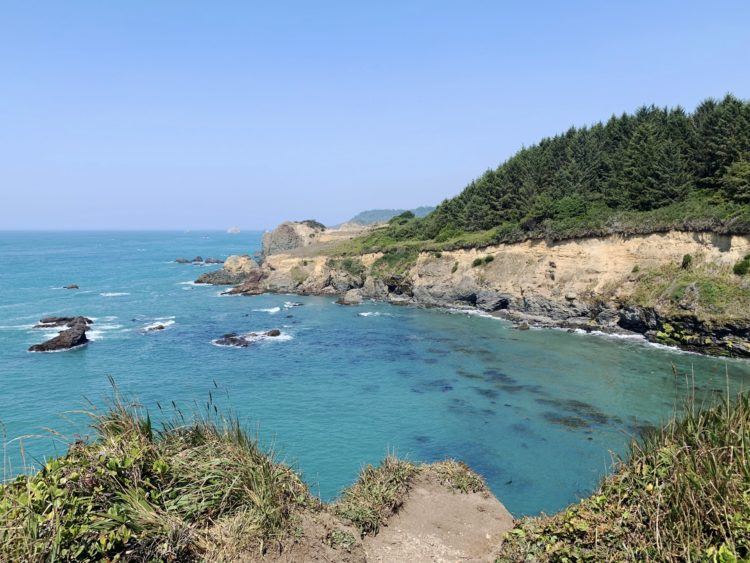 Just note that if you wanna go down to the beach, it'll be a steep trek down a sandy trail (and then a natural stairmaster coming back up!).
Because of that (and the fact that we had our little pup with us), we decided to walk above the beach on the coastal trail instead. If you take the same route we did, you may even find the secret swing!
Trinidad State Beach (Trinidad): We hung out here instead of College Cove since it's only a few minutes walk from the parking area (and no scary hikes to get down). The sand was soft and the large rocks made the beach pretty picturesque!
Don't miss the tiny historical Trinidad Memorial Lighthouse — it's since been relocated on a small hill in the parking lot due to coastal erosion and heavy rainfall in 2018. The lighthouse is actually one of the most iconic landmarks on the North Coast and a beloved symbol of the Trinidad community. Worth a quick visit.
Trinidad Harbor and Wharf: I honestly could not believe this little slice of heaven we stumbled upon right near the state beach! The water was so clear and glassy, we were able to watch the commercial fishermen reel in their catches for the day, and I was loving the NorCal sunshine!
If you're hungry, Seascape Restaurant is two minutes away with a great view of the pier. Get a slice of their famous blackberry pie, some clam chowder, and/or some fish and chips. And if you wanna go on a fishing excursion, there's Patrick's Point Charters right there as well.
Trinidad Art Gallery: A small gallery in town with a great blend of media and local artists. You'll probably find a few gifts for yourself here, whoops! There's jewelry and ceramics to paintings and notecards. Well worth a stop, even for a few minutes or so.
Katy's Smokehouse: You'll smell the seafood market before you even get near it! If you're looking to bring some locally sourced products back home, stock up on smoked salmon and canned albacore at Katy's Smokehouse. They smoke and can everything themselves (heck – the fish are caught and unloaded right down the road) — the place is definitely a local institution around here.
We found the prices to be extremely high, but the quality looked equally high, so yolo?!
Ferndale (~25 minutes south)
Don't leave Humboldt County without exploring Ferndale for a bit — it's virtually unchanged since the 1800's. We went for a quick walk around town and loved the juxtaposition of essentially Old-fashioned Americana and it's modern quirkiness. Ferndale is SUCH a cute little town, and perhaps California's best preserved Victorian Village.
There's a charming downtown area, full of interesting shops and lacy architectural details. Downtown you'll find an eclectic mix of independently-owned stores, artisan galleries, and speciality shops, all along the lamppost-lined blocks of Ferndale.
The town is even sometimes called "Cream City" because of all the surrounding dairy farms! Don't miss a meal at Fat Anne's and definitely check out the shops on historic Main Street, including Golden Gait Mercantile and the Farmer's Daughter (my two favorites).
Redwoods National and State Parks (~1 hour north)
Fern Canyon (Prairie Creek Redwoods State Park): I'd been wanting to visit Fern Canyon since the minute I saw a photo of it (probably on IG). If you've had it on your Northern California bucket list for a while (like me), may as well head up north and do a day trip to Fern Canyon! You're already so close!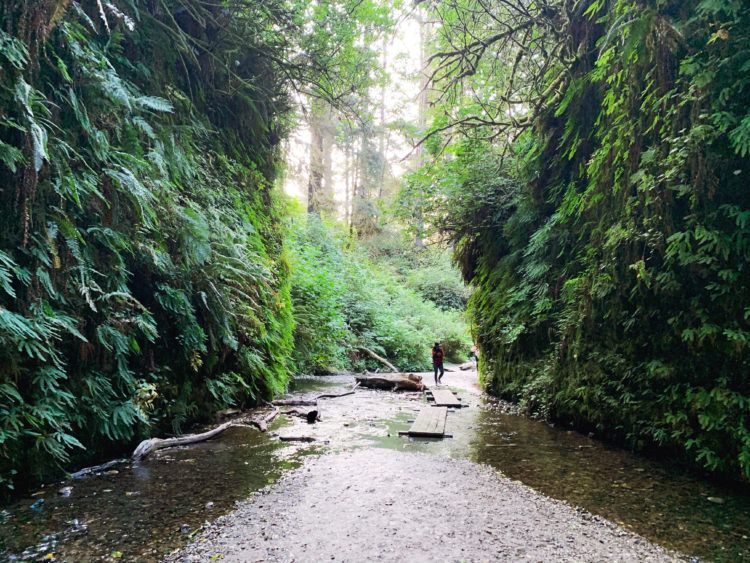 Wander through the fairy tale forest of the short yet stunning Fern Canyon, an unusual vertical-walled river canyon covered in leafy ferns. Fun fact: Part of the 3rd Jurassic Park movie was filmed here!
Trillium Falls Trail (Redwood National Park): If you're denied access on your first attempt into Fern Canyon like we were, check out Trillium Falls nearby. We did the 1 mile roundup to/from the waterfall in order to pass the time!
If you're interested and have more time to spare, opt for the 3 mile loop! It felt like we were in a secluded rainforest! There are notices of bear sightings, so be careful and always hike in groups/with a buddy.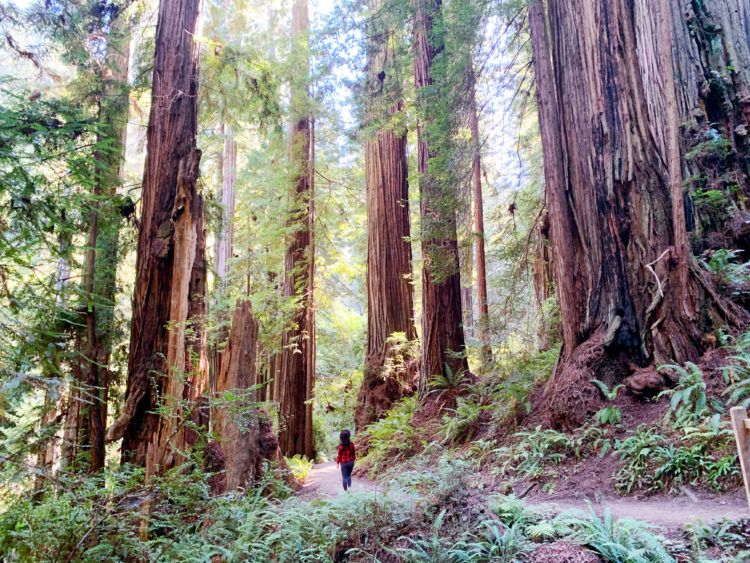 → Read Next: Best Places to See Redwoods Near San Francisco (there's more groves than you think)
Where to Eat/drink in Eureka and Nearby
After a day out and exploring all the fun things to do in Eureka, you'll need to fuel up! We honestly didn't find the food in Eureka to be anything special — but to be completely fair, we were coming for the landscapes and nature! I'll leave the foodie trips to Rome, Tokyo, and Mexico City!
However, we definitely didn't starve to death, either. There's more than enough in Eureka, Arcata, and Samoa (an island right off the coast of Eureka) to leave you satisfied!
But first, Coffee:
Dutch Brothers (Eureka): Anytime we pass by a Dutch Brothers we need to stop (lucky us there's tons in Northern California). Despite so many interesting flavor combos, we always get the Annihilator — it seriously tastes like coffee with chocolate milk. And it's drive-thru so you don't even need to get outta your car!
I also heard Jitter Bean Coffee Co, Old Town Coffee & Chocolates, and Gold Rush Coffee on Broadway are popular for your caffeine fix as well!
Breakfast:
Renata's Creperie (Arcata): A creperie that specializes in both sweet and savory crepes? Yes, please! We popped over one morning and loved the fresh ingredients. My suggestion – fill up on a savory crepe and share a cinnamon sugar crepe for dessert.
Los Bagels (Eureka, Arcata): Kinda an institution around here, and the best place for breakfast in Eureka! Fun ambiance with Mexican and Jewish influences, with plenty of bagels to choose from (with interesting flavor combos). I'm so upset we missed this spot — the jalapeno cheddar bagel with cucumbers and jelly sounds oddly amazing.
The Greene Lily (Eureka): Casual and easygoing with hearty breakfasts and champagne brunch. Great benedicts and fruity mimosas! There's even mimosa FLIGHTS for those Sunday Fundays.
Ramone's Bakery & Cafe (multiple locations): Lots of bakery goods and great quality coffee. There's baklava, mexican hot chocolate, fresh baked bread, and huge cookies (plus way more). Chill vibes and a welcoming atmosphere.
Lunch/Dinner:
Oaxaca Grill Restaurant (Eureka): The perfect place when you're in the mood for some hearty Mexican food. We got take-out from this place one night and watched the sunset on the beach!
Sixth and E Neighborhood Eatery (Eureka): The best burgers in Humboldt by far! Try the sparkling lemonade, onion rings, fried cheese, zucchini fries, and churros! It's all good.
Surfside Burger Shack (Eureka): A chill stop for some grass fed burgers and hand cut garlic fries. We loved the fact that it was surf-themed!
Humboldt Bay Social Club (Samoa): Don't miss this local gem! If my friend who recently moved to Eureka hadn't told us about it, we would have completely missed it! We came one afternoon and loved hanging out. The food was a bit on the expensive side for what it was, but the ambiance more than made up for it. Come here for grill-your-own-oysters and a beer/s'mores by the fireplace.
Samoa Cookhouse (Samoa): Family-style classic cookhouse that's been open since 1890, plus a logging museum on-site! Very charming and historic.
The Pub at The Creamery (Arcata): Come for the chicken & waffles, stay for the beignets, pesto fries, and truffle oil tater tots. Great selection of local beers as well!
Campground (Arcata): One of the best steakhouses in the area — great for date night! Try the bison beef burger or ribeye, and definitely start with a spicy peach and melon caprese salad and speciality cocktail.
Suggested 3-day Itinerary of things to do in Eureka (and beyond) from San Francisco
Day 1: The Drive and Downtown Eureka
Start your drive to the far north on the early side, aiming to reach the Avenue of the Giants by noon. You can certainly stop in Leggett to drive through the massive redwood as well! Don't miss the Founder's Grove, and be sure to stop at the BigFoot Museum, One Log House, and Grandfather Tree along the way.
Once you reach Eureka, head straight downtown to see the historic Victorian homes. The Carson Mansion and Pink Lady (across the street) are two of the most popular ones to check out! The waterfront trail is another good idea for today!
Day 2: Arcata and Trinidad
My favorite day by far!
Wake up and grab some coffee and breakfast in Arcata, go for a quick stroll, then off to Trinidad it is! Relax at either College Cove (don't miss the tidepools at low tide) or Trinidad State Beach (or both), go on a few easy hikes, and check out the fishing pier and lighthouse.
Day 3: Sequoia Park, Explore Ferndale, and head home
Spend the morning walking along the sequoias at Sequoia Park (home to the Sequoia Zoo). You could also do a tour of Dick Taylor's Chocolates or the Lost Coast Brewing Factory today.
Before heading home, stop by the cute town of Ferndale for some lunch and boutique shopping on charming Main Street.
Day 4 (Extra Time?!): Hike the Fern Canyon trail and Trillium Falls trail nearby
Honestly, if you're already in the area, I highly suggest heading north to the Fern Canyon trail. It's that short hiking trail with leafy green ferns growing on the tall canyon walls. I'm guessing you've probably seen pictures of it plastered all over IG and pinterest.
Additionally, we found the Trillium Falls trail to be just as stunning! It was like walking through an actual rainforest — just be careful not to get too excited and lose your bearings, as bears frequent the area from time to time.
Hope this helps you plan your trip! Make sure to check out a bunch of these things to do in Eureka, California — and don't miss Trinidad!
Looking for more California content? Explore my other California guides here!
Did you know that …
When you purchase something through our links, we earn a small fee (but you still pay the same)! Win-win! If you found this article useful, consider using the links within the article or below. Thanks for your support!