Headed to the City by the Bay and looking for fun places to eat in San Francisco? You're in luck – this giant list of San Francisco restaurants has something for everyone. Must eat places in San Francisco, coming right up!
Think casual boozy brunches, spots for romantic date nights, unique themed hotspots, as well as the best affordable restaurants in San Francisco (and all my local favorites)! I'll also be sharing the most popular restaurants in San Francisco too, because, well, they're popular for a reason.
Since we moved to the San Francisco Bay Area almost a decade over, we've eaten at our fair share of restaurants in the city.  I must say, they were all remarkable and memorable.  
And after having a few more scrumptious sweets this past weekend (the husband ran the SF 1/2 marathon while I waited on line for cruffins… #priorities, am I right?), I decided it was time to compile a list of my San Francisco foodie spots to share with the world. The city is full of eats from all over the globe, with many restaurants having spectacular signature dishes while others are icons of the city and cannot be missed.
*If you have any other recommendations, please let me know as I'm always interested in taste testing more dishes and treats.
So if you're a San Francisco foodie, check out this massive list of fun restaurants in San Francisco, and start eating! Miiiight wanna wear your stretchy pants…
Breakfast and Brunch:
1. Mama's on Washington Square (North Beach)
Located right near Coit Tower, this restaurant has been around for ages. Expect a long wait, but an equally delicious meal.
2. farm:table (Lower Nob Hill)
Beware, the place is super tiny, but as I've heard from others, it's totally worth the wait and cramped quarters. Menu includes the daily toast, which is an absolute must have here.
3. Son and Garden (Tenderloin)
Flowery walls. Wisteria hanging from the ceiling. Cotton candy drinks. And scrumptious ube pancakes. What more can you want? This new spot (the sister restaurant of Farmhouse Thai — another of our favorites) is super buzzy and trendy — perfect for your IG feed. We'll be coming back for their high tea next time!
4. House of Bagels (Inner Richmond)
Delicious NYC style bagels. Enough said. ✓
5. Honey Honey Cafe & Crepery (Lower Nob Hill)
The Nutella Banana Dessert Crepe is to die for. Lots of soups, salads, sandwiches, and burgers to choose from as well, but we come for the crepes. ✓
6. Kitchen Story
Fresh Californian cuisine at it's best! You can tell everything is prepared with love — everyone in SF knows (and raves) about Kitchen Story. The hype is legit! There's lots of unique options for brunch, including a mascarpone stuffed deep fried French toast, crab Benedict, and Millionaire's bacon (the absolute best). If you're still feeling hungry, go next door to U: Dessert Story for something sweet.
7. Happy Moose Juice (Bayview)
Raw juice bar serving up cold-pressed fruit & vegetable juices and almond milks. Try some samples here.
8. Dottie's True Blue Cafe (Mid-Market)
A fun retro-ish spot serving big helpings of American morning fare & lunch items on tables covered with old movie-star photos. Featured on the Food Network's popular Diners, Drive-In's, and Dives! Their famous pancakes with whole wheat buttermilk, spiced with ginger and cinnamon, served with pure maple syrup sounds like the perfect way to jumpstart any morning!
9. Blackwood (Marina)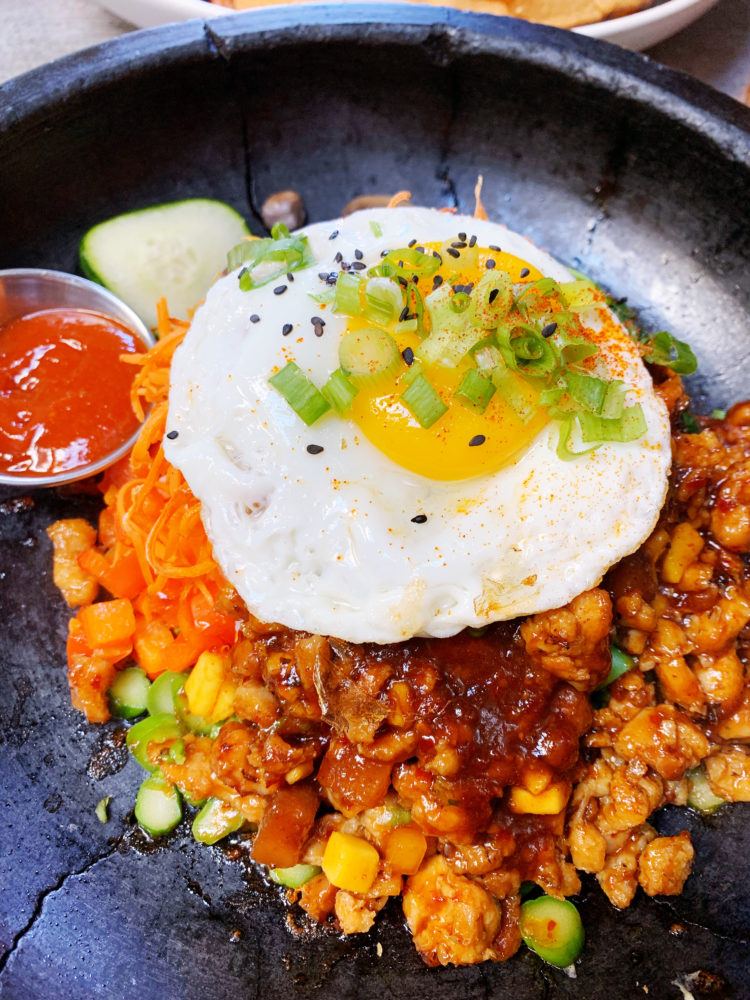 Yes, it's open for dinner too, but we just love their brunch dishes! It's Thai food fused with American flavors at its best. Super modern with plush seating; try the hot stone pot and spicy tuna ceviche tower with a side of millionaire's bacon (I'm drooling just thinking about it).
10. Cafe Me (FiDi)
Cute and hidden, but worth the find. Go for the lox bagel, stay for the bacon, cheese, and egg English muffin. You're welcome.
11. Eight AM (Fisherman's Wharf)
Avocado toast three ways, yes please! Perfectly located right near Ghirardelli, so you can suppress your ice cream craving right after breakfast.
12. Sweet Maple (Western Addition)
A laid-back and unpretentious neighborhood restaurant, what more could you want? Home of world famous Millionaire's Bacon (brown sugar and spicy peppers included).
13. Brenda's French Soul Food (Tenderloin)
Whyyyy did it take me forever to get here. Everything on the menu is the sh*t – this place is not overrated at all. Get allll the beignets, especially the crawfish (so perfectly moist and flavorful). Psst – it's located in a not-so-wonderful area of the city, so you probably don't wanna go wandering while you wait for your name to be called. And be prepared to wait. It's popular for a reason. ✓
14. The Dorian (Marina)
Looking for a fun boozy brunch in the Marina with a bunch of gal pals? The Dorian's your spot. Don't miss out on the nerd-topped frosés (essentially frozen rosé) and the truffle ricotta pancakes (my absolute favorite). Their happy hour specials are pretty sweet as well. Make a reservation in advance as you'll need one, especially on the weekends. ✓
15. Mission Rock Resort (Mission Bay)
Looking for a quiet(-ish) spot with water views? This place is calling your name. With a pretty decent sized raw and oyster bar, plenty of choices of Egg Benedict's, and a Dungeness Crab Roll, you'll want to gather up your friends and spend the afternoon here. Warm day? Sit on the patio – you won't regret it. ✓
16. Basik Cafe (Nob Hill)
Yes, our first chain on this list, but this Hawaiian cafe won't disappoint (this location is actually the first addition to the mainland). Looking for some health-oriented plant-based breakfast fare (think açaí bowls, smoothies, etc)? I could indulge in their pitaya bowls every. single. day.
I've eaten at another location (in Oregon, actually, who knew?!), so if everything's the same, then you gotta get over here. A bunch of my SF friends live and die for this place. ✓
17. Chez Maman (Hayes Valley)
This tiny French bistro is perfect for anyone missing France — there's crepes and mussels and French brie and frites and a whole slew of other classic dishes on the menu. Chez Maman is inspired by childhood memories and your mom's homemade cooking.
18. Plow (Potrero Hill)
Farm-to-table comfort food, anyone? It's pretty small and typically busy, busy, busy (sometimes an hour wait on weekends), but well worth the wait. Promise me you'll get the lemon ricotta pancakes – a perfect fluffy combination of sweet and sour. I've also heard the potatoes are to die for.
Lunch and Dinner Dishes:
Who can resist from fresh pasta, ravioli included (obviously). I'm a sucker for Italian food, and I've heard this is some of the best in the whole city!
2. Suppenkuche
Craving some authentic German fare? How about a Bavarian pretzel, schnitzel, and beers in a glass boot? Good food and good beer — that's all you really need!
So much food I wanna try here: including the fried chicken with honey, tuna tartare, corn bread, egg toast, the list goes on! Make sure to try the Donuts & Coffee desert and the Butterscotch and Chocolate Pot De Creme – which I heard was out of this world.
4. Golden Boy Pizza: They only serve Sicilian square, and they only take cash. But still – some of the BEST pizza you'll find in the entire Bay Area, I promise. Trust me, I'm from NY so you know I have a lot of feelings when it comes to pizza. ✔️
5. Fog City Diner: Another restaurant boasting spectacular views of the Bay! Find locally inspired American cuisine here while staring out the window. The last time I went here was a few years ago – think I need to find my way back sooner than later! ✓
6. Cala: One of my favorite upscale Mexican places in the entire city! We typically get burritos in the Mission, but you'll find more creative dishes here (like smoked lingcod sope and trout tostadas – reminded me of Contramar in Mexico City!).
And plus, the space is super stylish and leafy, kinda like an industrial loft garden. Any San Francisco foodie needs to check this spot out pronto. (Hayes Valley) ✔️
7. Original Joes
Probably the best Italian food you'll find the entire city. I'm low-key obsessed with the chicken parm — it hits the spot each and every time! Whatever you do, always order the ravioli as your side and don't leave without some butter cake for dessert. And better yet — there's two locations: in North Beach and Daly City (Westlake), if you find yourself closer to one or the other. Psst: the Westlake location is typically much easier to get a reservation for!
8. Liholiho Yacht Club: Super chill vibe – kinda old world but quiet. Plus, there's a guitarist some nights! The tuna poke, short rib, and soft shell crab katsu are popular for a reason! The menu is a fusion of Japanese and Hawaiian flavors, with a bit of California cool.
Don't leave without ordering some Baked Hawaii for dessert (a take on Baked Alaska), with caramelized pineapple ice cream and caramel sauce.
You NEED to make a reservation here – it's that popular. (Lower Nob Hill)
9. Foreign Cinema: Dinner and a movie, anyone?! Foreign Cinema projects movies onto the white-bricked wall at one end of the dining area outside. And they showed an old James Bond movie (once it got dark) when we were there → so fun!
Everything we ordered was absolutely delicious – from our appetizers of fresh greens minestrone soup and cantaloupe with pulled mozzarella and prosciutto, to our main dishes (he got the fried chicken and I savored my sea bass). Go here for a special occasion as the bill adds up quickly, and you'll wanna try a lot.
Psst – definitely make a reservation, and ask to be seated in the film playing area. ✔️
10. The Rotunda: Don't let the department store location fool you – this upscale cafe has a signature stained-glass ceiling! My recommendation: come for the afternoon high tea (who doesn't love some finger sandwiches, clotted cream, scones, and sweet bites.
Lovely, airy, and comfortable! I've heard the strawberry butter (and the popovers!) are to die for. The perfect spot for a girl's fancy tea time date! (Union Square)
11. Dumpling Kitchen: Mmmm, the perfect San Francisco foodie spot when you're craving some authentic dumplings. Definitely get an order (or two) of the soup dumplings (plus the Shanghai style pan fried dumplings)- they're my favorite!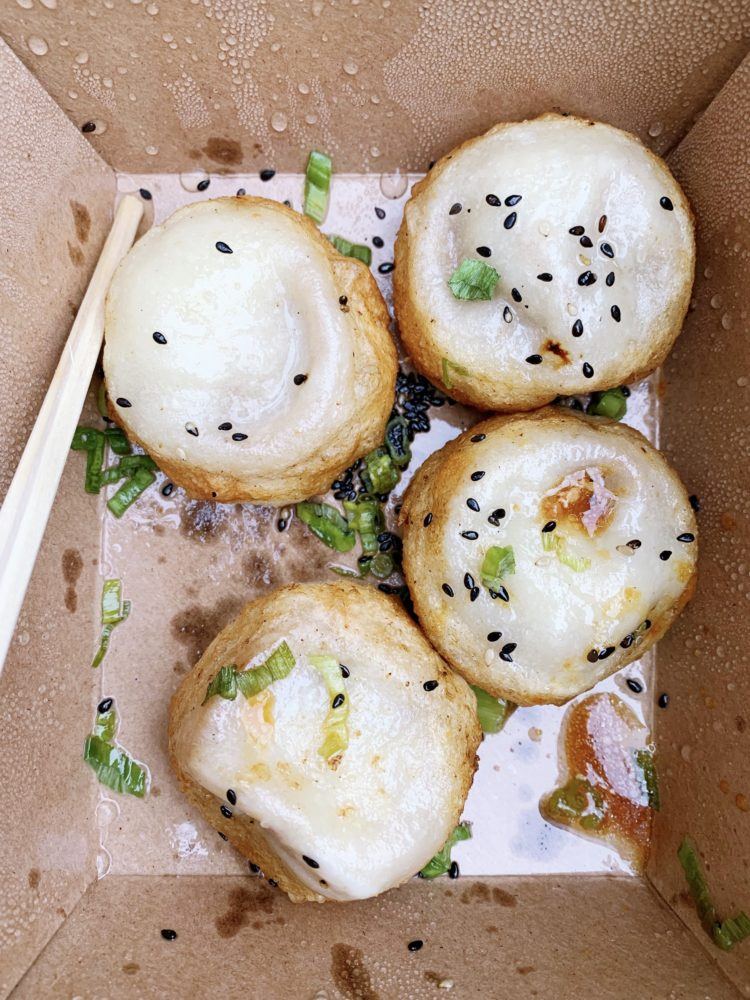 I also really like the green beans and green onion pancakes (okay, so just about everything is great). Add some chili sauce if you wanna spice things up a bit! Also perfect when you have the late night munchies, as they're open until 2am! (Parkside) ✔️
12. El Matate
My favorite place for burritos in the Mission, and not expensive AT ALL! Sit outside and people watch, and then head on over to Balmy Street for a bit of colorful and creative fun (the murals here are just outstanding!). ✓
13. La Taqueria
Because you can never have enough burritos in San Francisco. They are "authentic" style, meaning no rice inside – which you won't miss because guacamole. 'Nuff said. ✓
14. Cliff House
The popovers are amazing, and come in leu of bread with any meal. A perfect spot for brunch or lunch before/after hiking Land's End! ✓
15. Flores
Bright and buzzy, Flores is your neighborhood restaurant that you'll wanna keep coming back to. As long as you've got a thing for palomas and traditional Mexican cuisine. Psst — the other craft cocktails are just as good. The inside decor is oh so fun as well!
16. Ike's Place
With locations all over California, this place is a safe bet when you're craving a sandwich. Check the selections for the location you're going to since they all boast different creations on their menu. With the Stupid Eggplant Sandwich, Super Mario (mozzarella sticks included), and the Fat Bastard, you're bound to find something you like. Lots of vegetarian options as well! ✓
17. The Italian Homemade Company
Wonderfully authentic! Where I take all my visitors if we end up in North Beach (aka Little Italy). My suggestions: the meat lasagna, (any) fresh pasta, or the flat bread with prosciutto. I love to come here and either sit outside, or take my food to the nearby Washington Square park across from the beautiful Saints Peter and Paul Church and people watch. ✓
18. a Mano
Looking for some sleek Italian eats? Definitely check out a Mano! The pasta is TO DIE FOR and we can never decide what to get for this very reason. My favorite is definitely the pesto pasta, arancini, house made focaccia with olive tapenade, and burrata! Yum. Yes, it's a bit pricey but worth every penny.
Super fresh and super juicy! A fast food chain in the city that knocks it out of the park each and every time. You can't pass up the shakes here, either! ✓
My new obsession! So different from any other asian food I've had here, and the rolls are perfectly packaged with your choice of protein, bean sprouts, cilantro, cucumber, and other tasty fill ins. Pretty healthy, too! ✓
21. Marugame
When I first learned there was a Marugame Udon in SF, I could hardly contain my excitement. This is the #1 place we always head to in Oahu, so was thrilled to find out there's a location so close to home. There's always a line out the door — makes sense since the hand-pulled udon noodles are perfect on a chilly SF night. Try some sides like tempura sweet potatoes and chicken katsu.
22. Greens
I've heard this is an excellent place for any vegetarian lover! The restaurant has wonderful panoramic views of the Golden Gate Bridge, Marin Headlands, and the Marina, all viewed through floor-to-ceiling windows. The menu offers the freshest seasonal ingredients locally sourced, and it really shows in their meals! Make a reservation because this place is usually packed!
23. PPQ Dungeness Island
Dungeness crab, anyone?! My husband and I love the dinner set for 2 — it comes with a HUGE roasted crab smothered in garlicy goodness, imperial rolls, house garlic noodles, and a deep fried banana with ice cream. An absolute dream come true! They've got other Vietnamese dishes on the menu, but whatever you do, get the crab.
24. Burma Superstar
Tea leaf salad and Superstar Garlic Noodles – what I get every single time. Absolutely delicious. We had never even heard of Burmese food until we moved to San Francisco, and now we can't get enough. ✓
25. The American Grilled Cheese Kitchen
Because how can a wide variety of grilled cheese concoctions be a bad thing?! Beats me! This is not your mother's grilled cheese! (PS: If you're on the Peninsula, try The Melt, one of my favorites down there!)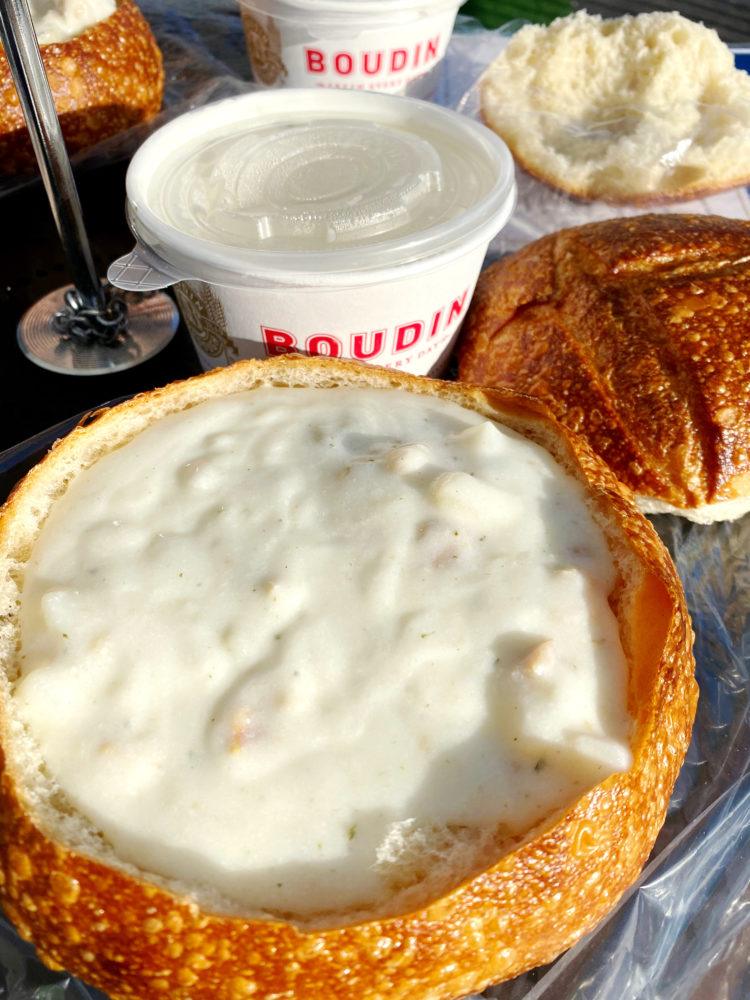 If it's your first time in San Francisco, you simply cannot leave without some chowder in a bread bowl. Basically against the law. I've sampled some of the breads (and bought entire loaves of the stuff), and love indulging in some hot clam chowder on a cool San Francisco day. If you've never been, you need to fix this ASAP — it's a true SF staple!
27. flour + water
flour + water boasts a daily changing menu of house-made pasta and Neapolitan-style pizzas prepared in a wood-fired oven. Kinda bummed I missed their pasta tasting which took place a bit ago to celebrate their birthday week! Currently on my "hot list"!
If you're a sucker for oysters than this place is your jam! They harvest and shuck all their oysters at a farm nearby in Tomales Bay, where you can visit as well if you're road tripping to Mendocino! They have a fantastic location in Napa if you're thinking of heading up North to go wine tasting! ✓
29. Bacon Bacon
Anyone up for some bacon, because all the items on the menu have, you guessed it, bacon! Besides two locations in the city, be on the lookout for their food truck when you're craving a little salty goodness!
30. Mozzeria SF
EDIT: CLOSED — If you're looking for a peaceful meal, head on over to Mozzeria SF. The entire staff is deaf, and the sleek Italian spot is owned by a deaf couple- how cool is that?! What to order? Any of the Neapolitan pizzas (they're all tossed in a wood burning oven); oh, and some burrata! Their Hosui Pear with pancetta, brie, roasted garlic, spinach, and balsamic is what I'll be ordering the next time I'm craving some speciality pizza! ✓
31. The Cheesecake Factory: Okay, okay, I see you rolling your eyes. "The Cheesecake Factory as one of the best San Francisco foodie spots? Really, Jess?" Well, hear me out. The restaurant is on the top floor of Macy's, meaning if you sit outside, you'll have perfect views of Union Square.
Whenever we go (which isn't very often to be completely honest and always only during the holidays because it's much more festive), we get some Adam's Peanut Butter Fudge Ripple cheesecake, admire the city from above, and call it a date. ✔️
If you're not venturing out to Half Moon Bay (where the original Sam's Chowder House is located), then the Chowder Mobile is the next best thing! While the menu isn't as diverse than the real thing, the clam chowder and lobster rolls are just as tasty! Perfect for a quick stop before exploring Golden Gate Park! ✓
Not your average tea house, this lounge offers tea services from all around the world: Japan, China, India, Russia, England and Morocco for starters! And don't worry – some of the locations have extensive food menu's as well if you're thinking of heading over for lunch! ✓
34. Balompie Cafe #3
Did someone say pupusas?! Please and thank you! This local Salvadoran restaurant is perfect when you want some traditional and specialty papusas — think steak, shrimp, and mushroom. The corn tamales are great as well!
Garlic lovers unite! This eatery serves over 3,000 pounds of garlic… a month! How insane is that?
36. House of Nanking
A little bit touristy, but for good reason! The Chinese food here is top-notch! Make sure to order the garlic noodles and sesame chicken! Mmm… my favorite! Hop across the street (or a few) to get Chinese Mai Tai's at Li Po's to end your night! ✓
37. Media Noche SF
Once known for their flamingo mural (that's sadly painted over), this Cuban hot spot is wellll worth a visit. I finally checked this fancy-ish fast and casual spot off my San Francisco food bucket list! I ordered a pollo bowl, but I've heard their Cubanos are outta this world as well. Look down – the spot boasts beautiful floor tiles (perfect for your Instagram). And don't miss out on a moonbar (ice cream dipped in chocolate) and that new gorgeous floral mural out front (one of the best photo spots in SF!)! ✓
38. Nopa
When a restaurant changes its menu each week based on the available ingredients found at local farmers markets, you know its gonna be good. Come for generous portions, a bomb ass wine list, and thoughtful, straightforward cocktails.
This place is one of my friends absolute favorites in the entire city – and when I asked her what's good, she listed out 25630 things. So yea, I have a feeling everrrything's worth ordering.
Ingredient-focused Californian eats & creative cocktails in a lively, 2-story setting.
39. Nopalito
If you're looking for Mole or empanadas, come here! There's lots of delicious dishes, so pick a few and share them!
40. AsiaSF: Okay, now this is definitely one of the most fun restaurants in San Francisco. I went here for a friend's bachelorette if that gives you any clue as to how truly crazy it is. What's better than dinner and a drag/dance show with absolutely beautiful ladies?!
I honestly don't remember the food, but I do remember the drinks were flowing and we had mini ice cream cone flights to share at the end of the night. If you're in the mood to dance, head downstairs before the show starts! ✔️
41. Palette Tea House & Dim Sum: It's not the best dim sum in the city (and far from the cheapest), but it's new and buzzy and fun. So why leave it off this list of fun places to eat in San Francisco! It's kinda dim sum on an elevated level — with lobster infused buns, Pacific-inspired cocktails, and a rainbow of dim sum dishes.
Recommended Food Tours
Food tours are an absolutely wonderful way to experience not only the food of a neighborhood, but to learn about the cultures and customs as well. San Francisco is so diverse and you'll absolutely love these guided food tours. ***Click on each to find out more information. HIGHLY RECOMMENDED!
Mission District Food Tour: You absolutely cannot visit San Francisco without indulging in some Mission treats! Voted the hippest neighborhood in America, The Mission is a mecca for eclectic eateries running the gamut from Indian tandoori to Tex-Mex. (Aka – you don't want to miss this).
North Beach and Little Italy Food Tour: Did someone say homemade pizza? This little slice of SF is full of delicious Italian spots you don't want to miss. On this tour, you'll taste everything from cappuccinos, chocolates, breads, pastries, olive oils, specialty meats, and more. Make sure you come hungry!
Japantown Lunch Tour (with Spa Pass!): Walk around San Francisco's Japantown, and learn an alternative history of the city before you eat lunch and sample some Japanese delicacies. And yea, the tour includes either a shiatsu massage or a Korean spa pass, because why not?!
Chinatown Guided Food Tour: Did you know that Chinatown draws more visitors annually than the Golden Gate Bridge? Yes, it's true. You'll visit food shops and temples, many not known to the public. And plus, this tour even includes some time in North Beach, so you'll cover two neighborhoods in one tour! Pssst-there's also a night version of this tour as well if you're pressed on time.