Looking for the u-pick sunflower fields in Half Moon Bay? Look no further! This post will tell you everything you need to know and more! From pricing, season, location and exactly where to find the sunflower fields in the Bay Area (it can be confusing), and more.
Imagine strolling through bright yellow rows of sunflowers. And then picking a few of these beauties to take home with you! If getting lost in a sea of sunflowers is your idea of a fun-filled fall afternoon, head on over to Andreotti Family Farms! It honestly feels like you're walking through a jungle, just with pops of sunflowers to brighten the day!
Read Next: All My Favorite Beaches in Half Moon Bay (since we do get Indian summer over here…. meaning September's the perfect time to go to the beach!)
Before heading off on a late-summer weekend getaway to Lake Tahoe, we headed to the coast for a morning of sunflower picking in Half Moon Bay! And I couldn't have been happier — honestly, you should've seen my smile. Sunflowers just bring out the best in me, and I was beyond thrilled to finally be visiting Andreotti Family Farms (after seeing so many gorgeous pics on IG)!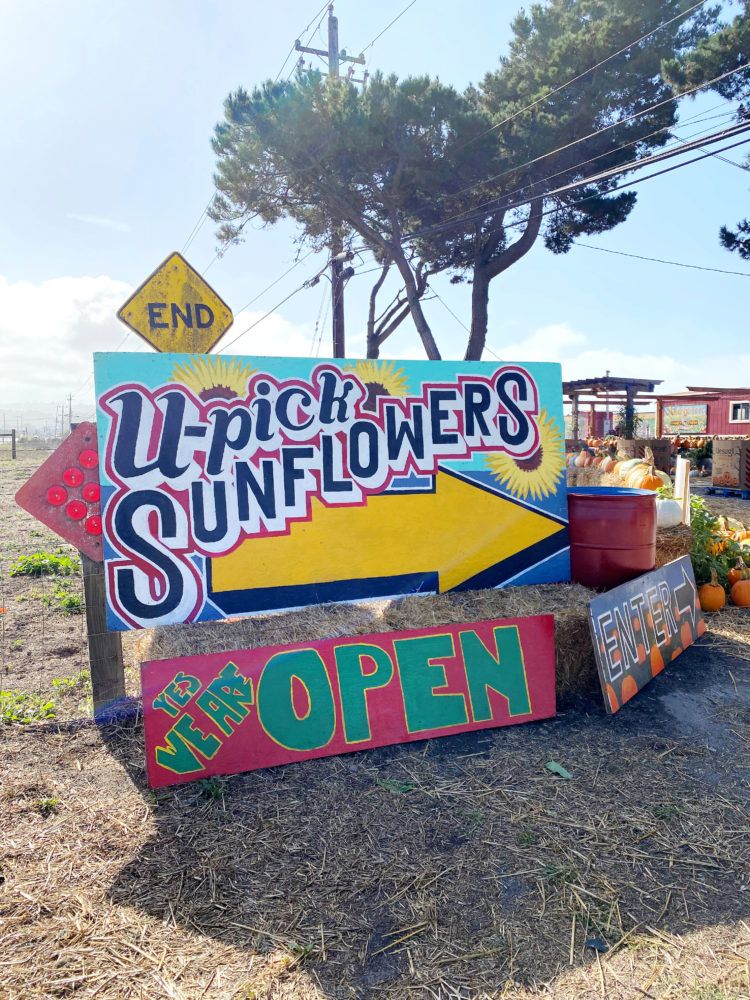 Just FYI: Sunflowers don't do well in the backseat of the car for hours at a time. We salvaged what we could, but I ended up buying some beauties from Trader Joe's once we got home from Tahoe. Just keeping it real over here! :p
To be completely honest, I had NO clue there was a sunflower field less than 30 minutes away from me here in the San Francisco Bay Area. Sure, I knew of some fields located near Sacramento in Woodland, Davis, and Dixon, but not in Half Moon Bay! And plus, it's actually the only farm in California that lets you pick your own sunflowers.
If you've missed out on the sunflowers during California's hot summer, don't fret! The sunflower fields in Half Moon Bay peak in early September, lasting usually until early October (or whenever they're gone). So even those of us who aren't perfect planners can still enjoy them!
Psst: before you leave the sunflower field in Half Moon Bay, don't miss out on pumpkin picking at Farmer John's Pumpkin Patch. The farm's literally right next door and one of my fave Bay Area fall activities!
Psst: Love flowers as much as I do? Don't miss out on the Carlsbad Flower Fields in Southern California from March to May (they're absolutely stunning!), lavender fields in Dixon (NorCal) from mid-May to June, finding the hidden Calla Lily Valley in Big Sur from February to April, and frolicking through the mustard fields in Half Moon Bay in February/March!
About Andreotti Family Farms
In all honesty, one of the reasons I just love Andreotti Family Farms so much is the simple fact that it's a family-run business. You can really tell their love for their craft, and it shows. I mean, they've been working on the land for over three generations!
Andreotti Family Farms started in 1926 growing primarily artichokes (and a whole lot of 'em), but they've since expanded to so much more. They also now grow tons of different winter veggies and have a pumpkin patch and U-pick sunflowers in the fall. And there's even a driving range on property! Wild!
Wanna try the best garlic artichoke bread you've ever had! Make the short drive south to Pescadero!
Unfortunately, their historic 100 year old barn burned down in February 2021. They lost all their heritage seeds and dry crops. 🙁
I heard they're still planning on opening up the sunflower fields and pumpkin picking for visitors in Fall of 2021. If you'd like to support them (they need our help), you can do so here: DONATE HERE
Where to Find the Half Moon Bay Sunflower Fields
Well, first things first, the sunflower fields are located in Half Moon Bay, on the coast of California about 30 minutes south of San Francisco.
We were a tad confused at first, because Google Maps took us to a different location about a mile away (where their produce stand is located).
Here's the CORRECT address for the sunflower fields in HMB: 800 Cabrillo Highway North, Half Moon Bay
No matter where you're coming from in the Bay Area, it's not terribly far to get to Andreotti Family Farms. However, always expect some traffic, especially if you're visiting on the weekend. But honestly, just avoid the weekend if you can — I highly suggest heading to Half Moon Bay during the week if at all possible.
From San Francisco: 35 minutes / 28 miles
From Palo Alto: 30 minutes / 27 miles
From Oakland: 45 minutes / 38 miles
From San Jose: 45 minutes / 41 miles
When to Visit the Sunflowers in Half Moon Bay
If you missed the summer sunflowers in other parts of California, you're in luck! Since HMB is on the coast, this means that the weather is pretty foggy and cool. MEANING peak sunflower season is later than others in California!!!
The sunflowers bloom here in Half Moon Bay in the early fall, usually the first week of September to whenever they're gone/have been picked through (usually early October). However, the exact date varies every year depending on the season and the growth of the sunflowers. You'll wanna follow Andreotti Family Farms on IG to check for sunflower opening updates Not following them? Go do this, NOW.
Since the sunflower season is super short (it's only a few weeks long), you'll wanna get over there as soon as you can once they're open! Waiting later in the season may result in fewer sunflowers to choose from, since you can in fact pick them to take home!
And no one wants to pick through the wilting field later in the season — that'd just be sad!
Admission and Exploring the Sunflower Field in Half Moon Bay
Cost
Walk-in Price: $10 per person
Advance Reservations: $15 per person
Both tickets include entrance to the farm (for ~50 minutes or so) and 5 sunflowers to pick and bring home. Want a larger bouquet? Additional sunflowers are just $1 each!
Why make a reservation and buy a ticket in advance? Because it gets crowded y'all. Exploring the sunflower fields in Half Moon Bay is one of the best things to do in NorCal in the fall, and it definitely shows!
Since we don't get a true autumn here in the Bay Area, everyone flocks to the coast to go pumpkin-picking, pet some goats at Lemo's, and walk in the corn fields. If you wanna ensure you can go right into the field without waiting, snag a ticket beforehand.
When we went in 2020, advance tickets were suggested. However, we arrived right when they opened on a Friday morning and were the first ones in the field! Since they hold a few spaces for walk-ins every hour, this wasn't a problem. It's actually a tad cheaper to go without a reservation, but I'd 100% avoid the weekend and go early for sure, reservation or not. If you can't go during the week, definitely make a reservation in advance (on their website).
And now, the best part! Walking through the sunflower fields and picking some yellow blooms!
Once you've got your ticket and are admitted into the sunflower field, it's time to get lost in the 10 foot tall beauties! And of course pick a few of your own! The farm provides you with shears, but if you've got your own, that'll ensure you can definitely cut the sunflowers down. It does get popular and they sometimes don't have enough shears for everyone.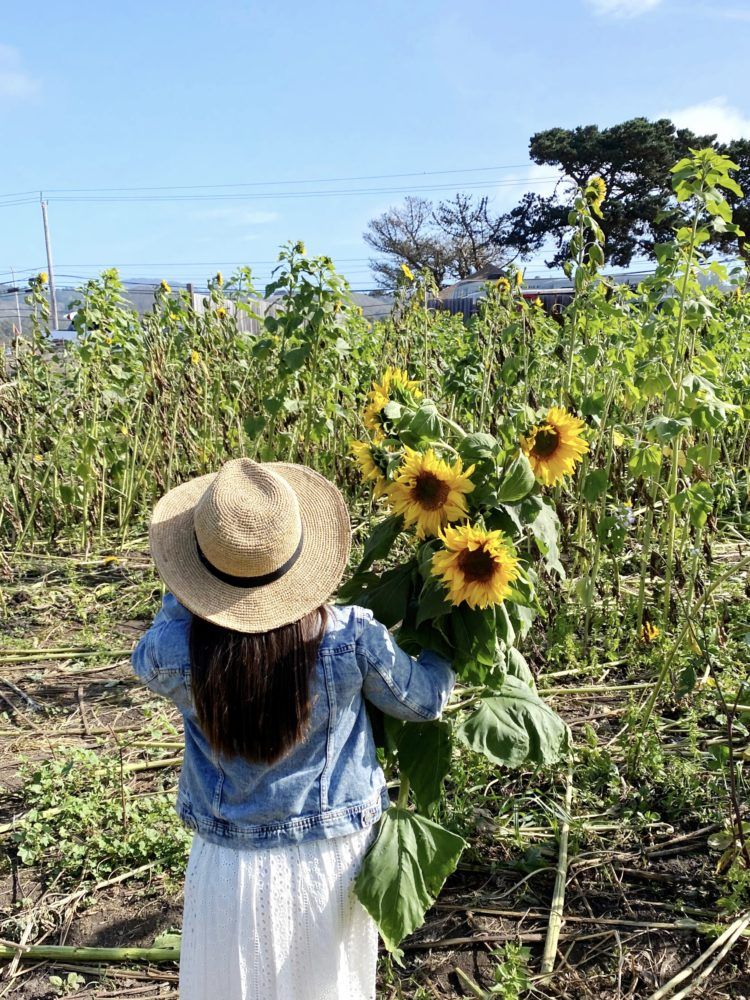 Cutting down the sunflowers was actually way more labor intensive than I realized! Those shears/clippers are HUGE and somewhat heavy! I thought they'd be more like kitchen shears, haha.
How to cut a sunflower: Andreotti Farms asks you to cut the sunflowers at the base of the stem, this way half of the plant isn't just hanging out. Be prepared to trim the stems (they're huge with plenty of leaves) out in the field to take them home!
Bees: There were a decent amount of bees in the sunflower field (which we expected), but this didn't bother us too much. And don't worry, we didn't get stung! I heard the later on you go in the day, the more bees there are. We went in the early morning, and were totally fine. The bees are way more interested in the sunflower pollen than us people anyways!
Dogs are allowed: We brought our little dog Kona (since he was coming with us to Tahoe), but he didn't do so well in the fields. There was lots for him to put in his mouth and the ground was covered with some muddy spots and lots of leaves.
It sounded like fun to bring him, but honestly, next time I think I'll leave him at home. My husband actually decided to carry him through the fields a bit (to keep him clean and because he kept getting distracted) which made taking photos kinda difficult.
What to Wear/Bring:
Clothing: Wear a white dress (you'll pop against the flowers!) and bring along a straw hat! It gets sunny, and plus, the hat will look super cute in photos! Just know it's pretty dirty and dusty in the fields, so maybe not the time to wear your best stuff if it's not easily cleanable.
Shoes: Trudging through the sunflower fields is actually way harder than it looks, so you'll wanna ensure you can get around as easy as possible! There's no clearly defined paths (you're free to wander wherever), so you'll probably get poked and stabbed quite a bit. I wore sandals and kinda regretted it → there's tons of sunflower stumps to potentially trip and fall over. Do yourself a favor and at least wear closed-toe shoes.
Shears: If you've got your own shears, bring those along! The farm has some but in limited supply.
Other things: sunscreen, a ribbon to tie your sunflower bouquet together, and of course a camera!
What else to do in Half Moon Bay:
We LOVE Half Moon Bay, and visit quite often! Make a day of it and hang out! Here's my favorite things to do in Half Moon Bay:
Farmer John's Pumpkin Patch: It's literally right next door to Andreotti's Family Farm, so stop on by to see and pick a few pumpkins! All the fall vibes, right?! There's a whole bunch of pumpkin patches in Half Moon Bay, so make sure to stop by a few.
Relax in adirondack chairs and indulge in lobster rolls (the absolute BEST) at Sam's Chowder House (there'll probably be a long wait, but I promise you, it's worth it)
Check out the beautiful property of the Ritz Carlton Half Moon Bay (have a cocktail or two) and then walk a portion of The Coastal Trail
Looking for more California content? Explore my other California guides here!
Did you know that …
When you purchase something through our links, we earn a small fee (but you still pay the same)! Win-win! If you found this article useful, consider using the links within the article or below. Thanks for your support!