Headed to Canada and stoked to make the adventurous trek from Calgary to Jasper? Trust me – there's a reason I keep heading back! Read on for practical travel planning tips, how to structure your itinerary, and the best spots to see along the way! This is the only Canadian Rockies road trip itinerary you'll need to read!
If you're planning a trip to the Canadian Rockies, you're in for a real treat. The whole area is full of jewel-toned glacial lakes, cascading waterfalls, majestic mountainous terrain, and jagged snow-covered peaks. Picture perfect postcard views everywhere you look.
And that includes wildlife on the side of the road, such as bighorn sheep, moose, elk, mountain goats, and the occasional bear (yes, I just said bear)!
pin for later:
This road trip through the Canadian Rockies was one of the most impressive drives of my life, and I've been on my fair share of road trips over the years (Iceland, Norway, California, Hawaii, etc, I'm looking at you). I found the gorgeous Canadian province of Alberta to be just so special that I did this trip, not once, not twice, but three times (twice in summer and once in winter).
Read Next: The Best 3 Days in Banff Itinerary (all my favorite activities and lakes to see!)
When to take this Canadian Rockies road trip:
The scenery's stunning year round, but frigid winter conditions mean some activities are closed. As noted above, I've visited in both seasons and loved both just as equally (for different reasons of course).
Summer: While the most crowded (and therefore expensive), if this is your first time to the area, I highly suggest you plan your Canadian Rockies itinerary during the pleasant summer months.
Not only will the lakes show off their distinctive gleaming turquoise colors, but you'll be greeted with very, very long days! The sun doesn't set until almost 10pm in the peak of summer over here, meaning lots of time for explorations!
Do note that the weather in the Canadian Rockies is quite temperamental, so you'll want to pack along a light jacket for the cool mornings and chilly evenings.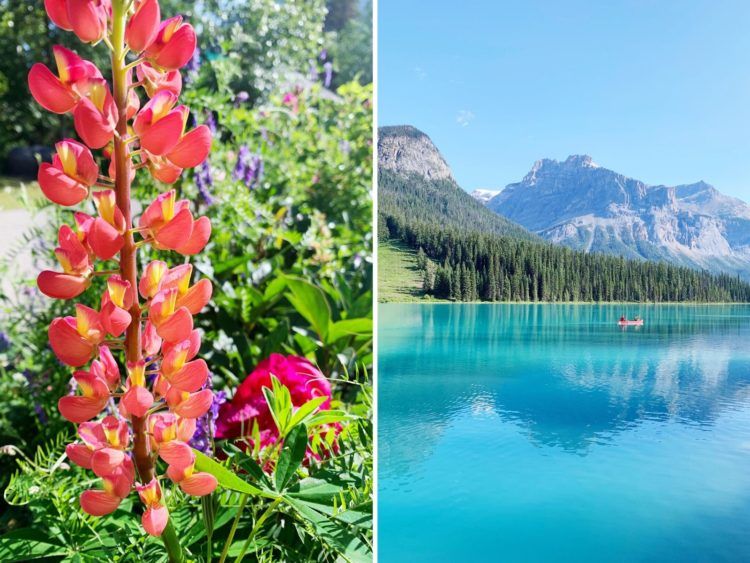 Spring/Fall: The Canadian Rockies see over 4 million visitors a year, and I bet at least 75% visit from June-August. With that being said, a visit in late Spring or the fall may be your best bet if you're not a fan of the masses.
Do note that many lakes don't fully thaw until late June, so expect icy bits in the spring, with possible snowfall as early as late September/October! Bring a bunch of different clothes, check the weather forecasts before your trip, and you'll be fine!
Winter: If you're planning to visit the Candian Rockies in the frigid winter months, head on over to THIS POST for lots of pre-planning info. I visited Banff and the surrounding areas in February, and most definitely learned a lot!
Let's just say I was way colder than expected, despite packing layers upon layers for the snow and below 0 temps. But frolicking in a permanent snow globe is one of my favorite things, so can't be mad about that!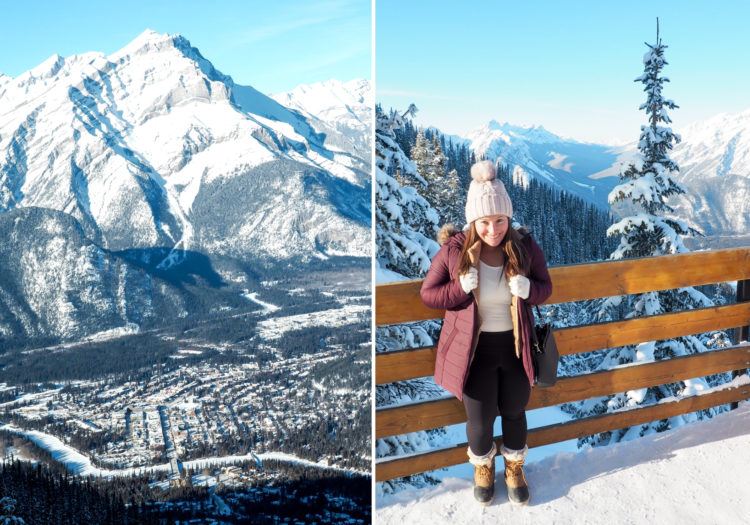 How long should this Canadian Rockies itinerary take?
I've driven from Calgary to Jasper and then back to Calgary in as little as 5 days, and lemme tell you, we felt ridiculously rushed. Thankfully I had already been to the area numerous times before, so I didn't feel upset missing out on a few things.
If this is your first time to the area (and you have no clue when you'll be back), I'd highly suggest carving out at least a week to drive from Calgary to Jasper, if not even a few days longer. The Banff itinerary I have provided here covers 9 full days, which you can shorten to 7 if need be.
If you have way less time, don't fret — you can still see tons with only 3 days in Banff (I'd stick to Banff and the surrounding areas, save Jasper for another time).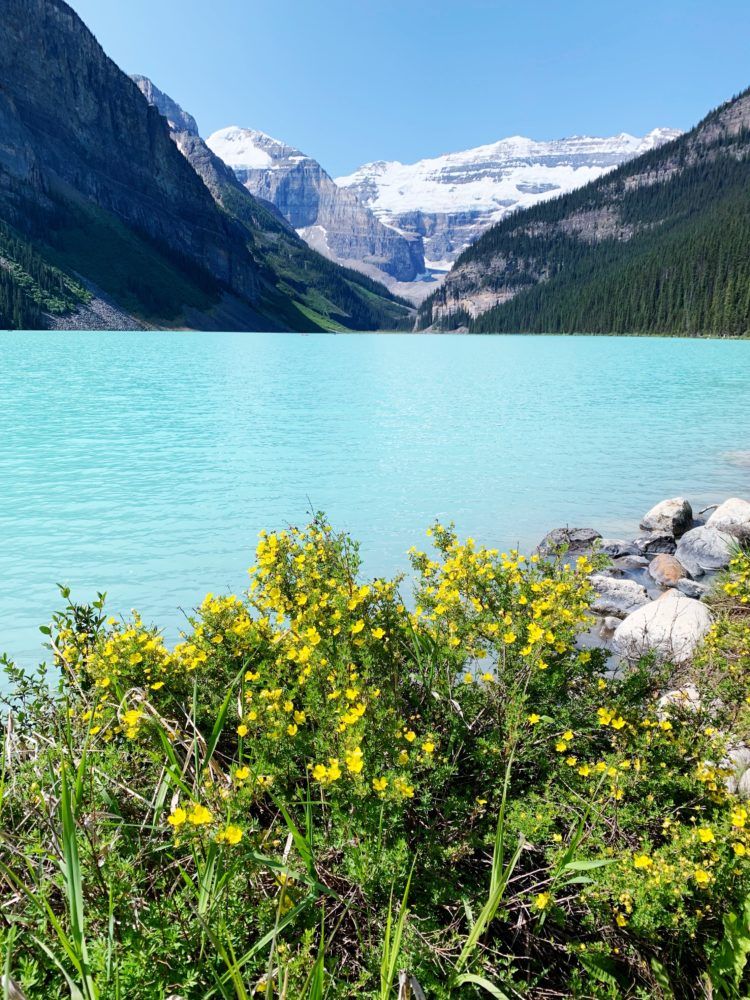 Do note that I don't typically include long day (or multi-day) hikes into my travel plans. They just aren't my thing (while I'd love to say I'm an avid hiker, my legs give out after a few miles). If you're planning to spend a few days hiking and want to see the bulk of activities on this Canadian Rockies itinerary as well, I'd add a few extra days to this pre-planned week-long itinerary.
Calgary to Jasper Itinerary Overview
Rough Route: Calgary (1 night) → Banff (2 nights) → Lake Louise (2 nights) → Icefields Parkway → Jasper (2 nights) → Calgary/Edmonton (1-2 nights)
Do note that you can choose to drive roundtrip (essentially backtracking back to Banff and Calgary once you're done exploring Jasper), or you can end in Edmonton which is a tad closer than driving back to Calgary.
In addition, I've planned this Canadian Rockies itinerary from Calgary to Jasper (as that's likely where most people will start from), but do know that you can actually start in Edmonton and do the entire route in reverse.
I typically find cheaper airfare going to/from Calgary, but depending on where you're home airport is, you might as well check both (Calgary as well as Edmonton).
Reverse Route: EDMONTON → JASPER → LAKE LOUISE → BANFF → CALGARY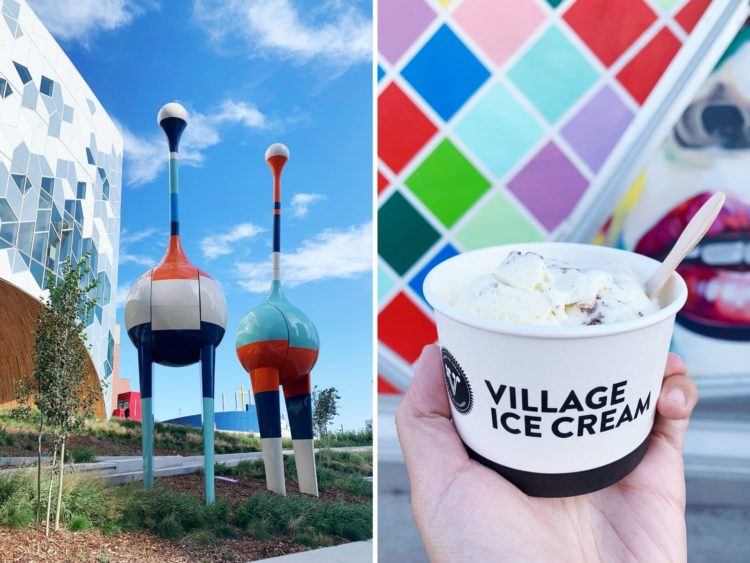 How to Get to the Canadian Rockies?
If you're coming from the US, getting to the Canadian Rockies is quite simple. You can easily hop on a flight to Calgary (YYC), then make the short drive to your first stop of either Canmore or Banff in roughly an hour and a bit.
For reference, from my home airport of San Francisco (SFO), the flight takes roughly 3 hours, while flights from other parts of the country will obviously be longer due to longer distances traveled.
Check out my post on Banff in winter for lots of driving tips should you be planning your visit during the icy snowy months.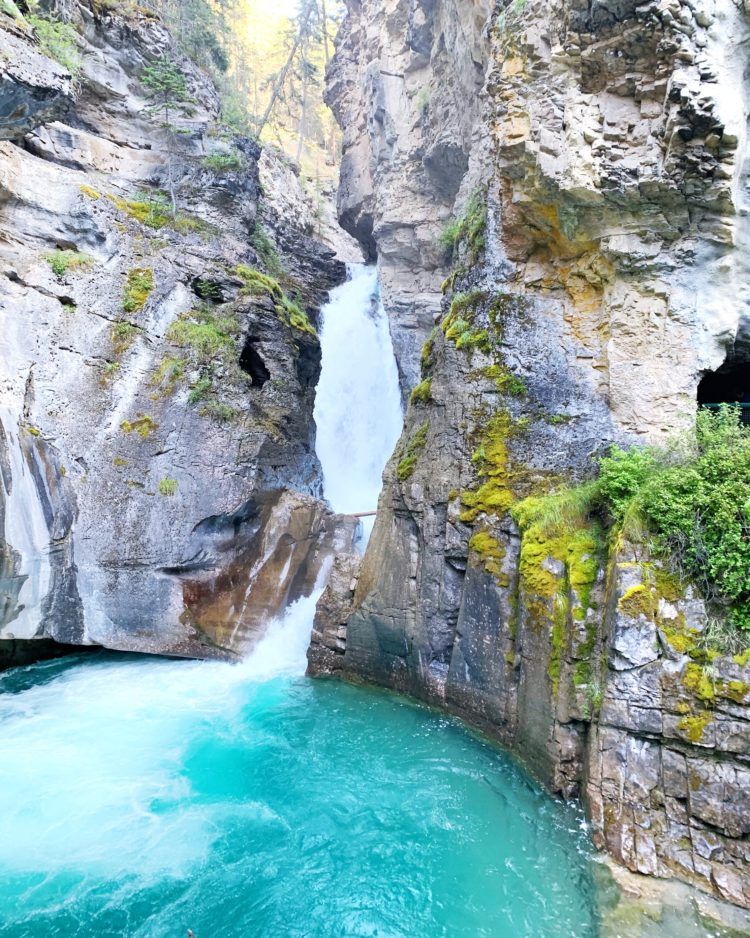 Renting a Car:
Renting a car in Calgary is pretty straight forward, as there are numerous car rental agencies both at the airport and right outside. We typically book here and find great deals → for this particular trip, we saved over $100!
For the lowest price, make sure to only input the times you actually need the car, and consider renting from a company not within the airport itself (we took a free shuttle to an outside company to get our car).
Do note that many (if not all) car rental agencies in Calgary will ask for proof of insurance upon pick up. Be prepared to show your own, or pay up at the counter for over priced insurance through the rental company. If you've got a travel rewards credit card (like my favorite, the Chase Sapphire Preferred or Reserve), it most likely includes car rental insurance – but of course confirm beforehand.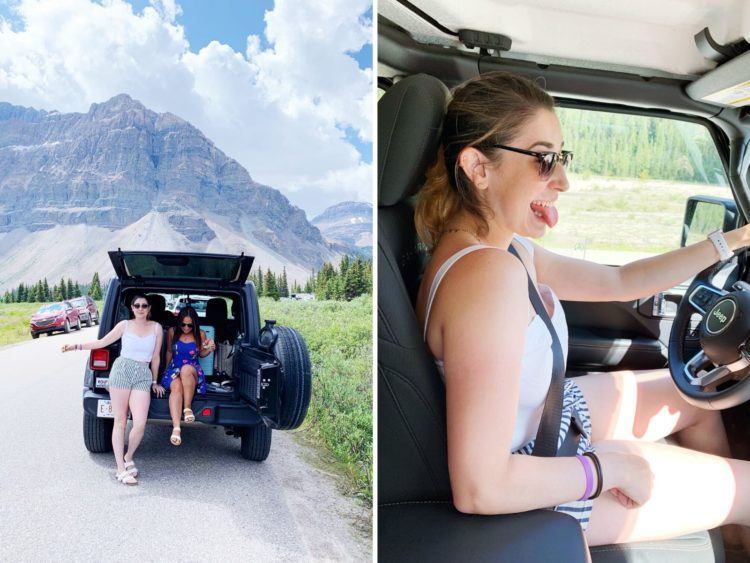 Accommodation Options in the Canadian Rockies:
Ohhh, if you're traveling during the popular summer months of June through September, you'll NEED to book accommodation at least 2-3 months in advance. You may have some luck with last-minute bookings in May or October, but don't count on it. And thankfully, there are lots of hotel options along the way from Calgary to Jasper, with all different budgets in mind.
When we were finally ready to finalize accommodation in Banff and Jasper, a lot had already been sold out and we didn't have many hotels to choose from. Plan (and book) early to get the greatest flexibility when it comes to accommodation, in terms of budget and location.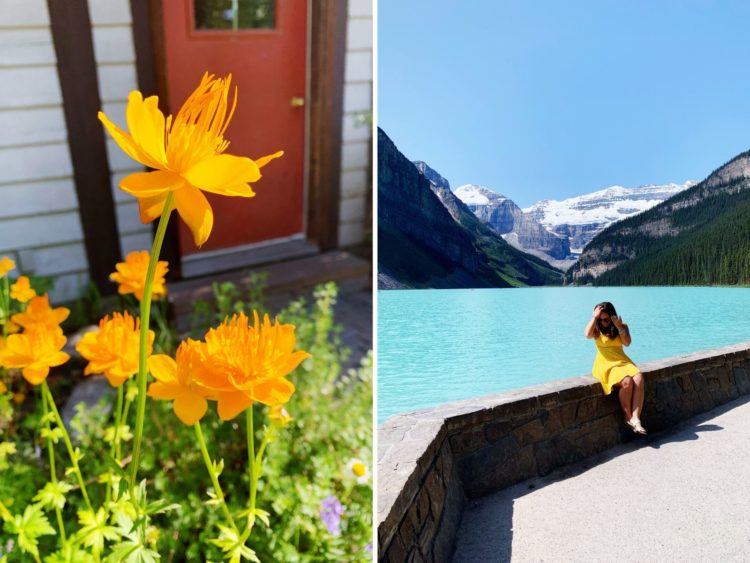 Here's where I've stayed on my numerous trips, and where I wish I could have stayed:
Calgary:
We wanted some place close to the airport since our flight was leaving early the next morning. It was your typical Hyatt – very clean, staff very friendly, and free breakfast buffet, at an affordable rate. Would recommend if your travel plans see a relatively early flight like ours did! We ubered into town and I don't remember it costing much.
Find more hotel options in Calgary here.
Banff:
I've stayed here twice so far, and have to say, it's not terrible at all. If you're looking for cheapie-won't-break-the-bank accommodation options, Samesun is it. Located a few minutes from the center of town, with a fun bar environment, daily local activities, and helpful staff.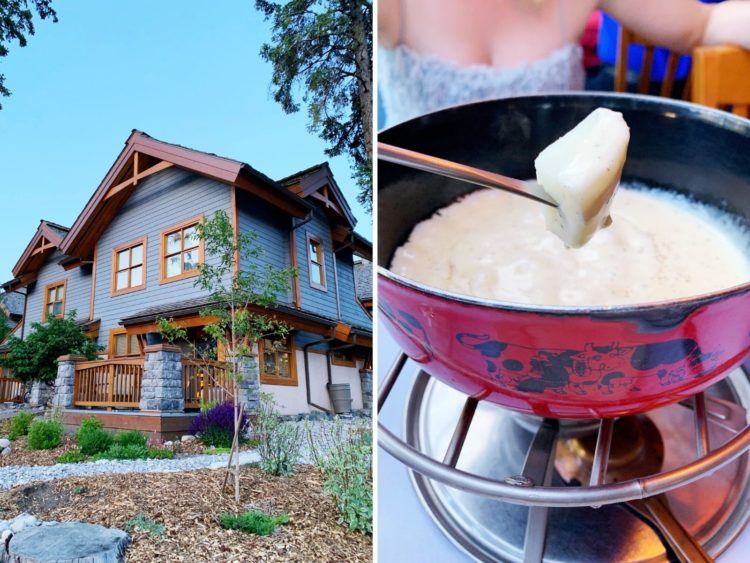 Honestly, nothing too special about this place, but it was one of the lower cost options in Banff Town and had free parking. Once we were ready to book hotels, most were either sold out or waaaaay outta our price range ($300+/night). Irwin's was affordable and in a good location. Check out their sister property, The Rundlestone Lodge as well.
Where I promise you I'm staying next time I visit Banff. No if's, ands, or butts. I mean, it's a castle, y'all! What's not to love?! During my winter visit to Banff I had the pleasure of taking a dip at the Willow Stream Spa (located within the hotel), and if that's any indication of the level of class of the hotel, you know I'm there.
Find more hotel options in Banff here.
Lake Louise:
Soooo, I've never technically stayed in Lake Louise (I always base myself out of Banff), but next time I visit, I'm making it a top priority to stay at the Fairmont Chateau Lake Louise. I mean, it is technically a castle afterall. And it's located directly on the lake… what's not to love?! Hold me to it!

Jasper:
If you haven't figured it out by now, the Fairmont wins in Jasper as well, being the most popular place to stay in the National Park. It's an upscale, rustic retreat, with not only a spa and suites, but golf courses as well.
Since we booked unfathomably late (and by that I mean a month ahead of time), the only accommodation I could find available was at the Tonquin Inn, which ended up being a perfectly fine place for a few nights.
Other options include The Astoria Hotel (lodging with lots of character and charm), Whistler Inn (surrounded by mountains), and HI Jasper (hostel just a short walk from downtown).
Find more hotel options in Jasper here.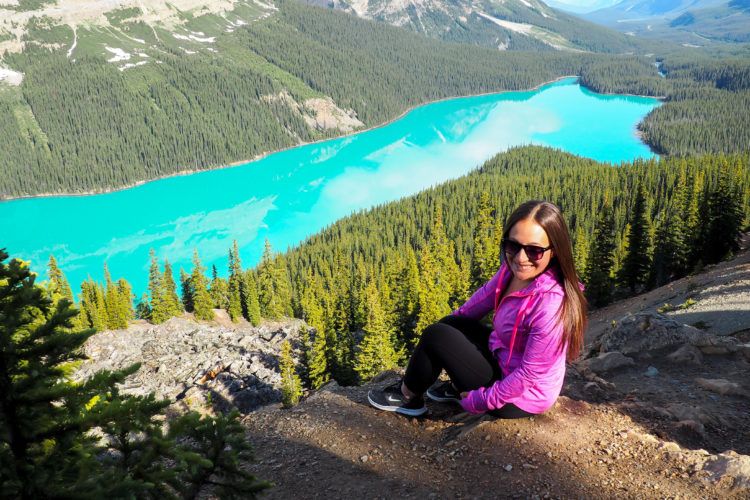 Getting a National Parks Pass:
Yes, Banff is a National Park (I don't know if everyone realizes that), and yes, you need to pay to get in (even if you're staying in the nearby town of Canmore).
When visiting the Rocky Mountain National Parks, (which you'll do quite often on this road trip from Calgary to Jasper), you'll need a valid parks pass to enter any of them, including Banff, Jasper, Kootenay, or Yoho National Park.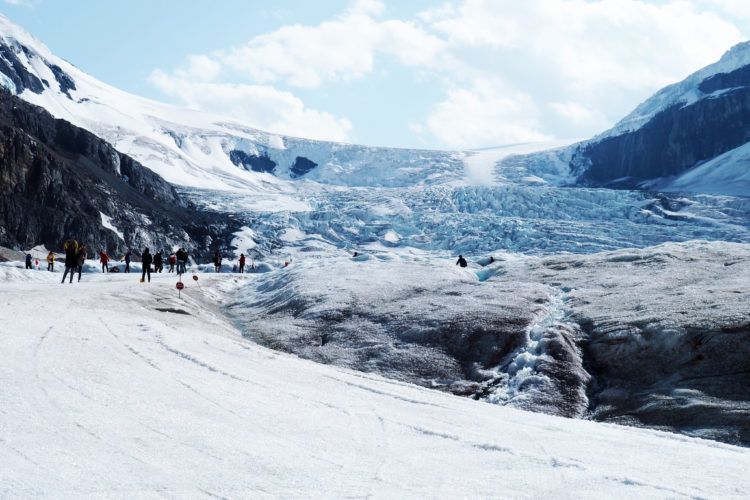 The cost of entry into the National Parks is determined by how many days you'll be in the parks, as well as how many people are in the car. For example, the cost of a day pass is $9.80CAD, meaning if you're in the parks for 4 days, it'll be $39.20CAD per person.
However, if you've got more than 2 people in your vehicle, there are savings to be made (a pass for 2 people vs 7 people is the same price). So gather up all your travel besties and maybe rent a van? :p
Depending on how long you're visiting the parks for, how many people you're traveling with, and if you're pretty sure you'll be returning within the year, it may make sense to purchase an annual Discovery Pass for $136CAD. This website will recommend the best value option for your group.
In addition, be sure to purchase passes ahead of time so you don't waste precious minutes waiting for them upon arrival, as the lines can get mighty long (especially in the popular summer months).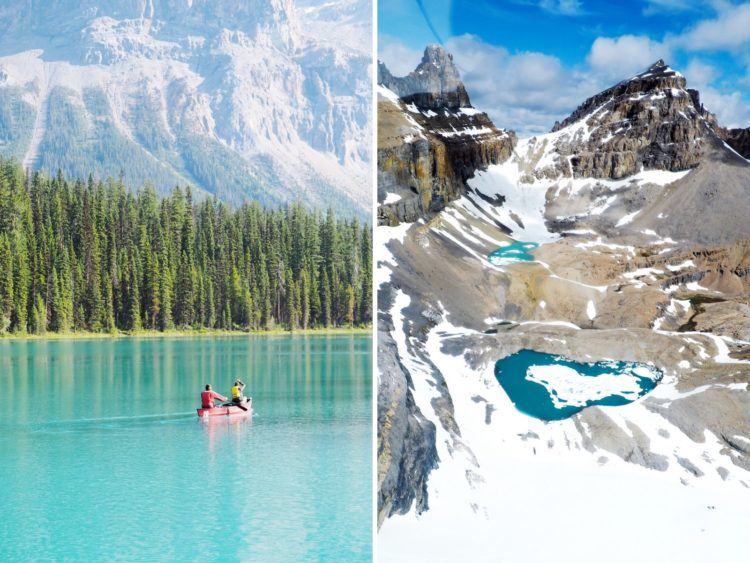 An important note on wildlife:
You're in the wilderness out here → expect to see some wildlife. Always carry bear spray with you and always go hiking in groups (at least 2 people). Always be alert for wildlife, as they may surprise you, especially while hiking (always stay on the trails) and even while driving around the parks.
Be sure to educate yourself before you do run into wildlife, and always keep a safe distance. NEVER attempt to pet/feed/chase/touch any animal, no matter how harmless or cute or docile they may look. And never step out of your car when bears are present, promise me that. Photos are great – but never at the expense of your life.
Remember, bears are living creatures, and can/will attack when threatened. Keep your distance and if you feel the need for better photos, bring along a zoom lens and crack open the window (when safe).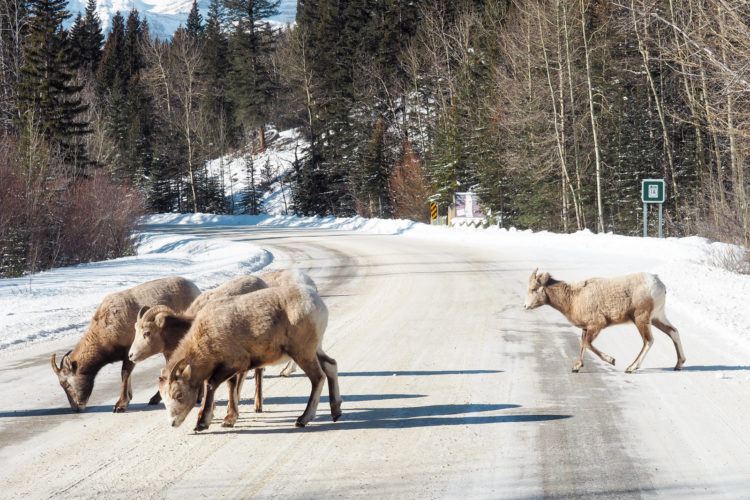 On my few visits to the Canadian Rockies I've seen bighorn sheep, a bunch of black bears, elk, and even a few grizzlys. With just a few days in the area, you're bound to see some wildlife. Be on the lookout and stay safe. And don't go out of your vehicle when bears are present – just don't do it! I can't stress that last point enough!
What to Pack
When you visit really determines what you'll need to bring, but you'll always need: bug spray, bear spray (yes, bear spray), binoculars, a raincoat (yes, even in summer), sunscreen (yes, even in winter), hiking layers, a camera, and reusable water bottle.
→ Psst – check out this (very) in-depth road trip packing guide to ensure you don't forget anything!
Driving times from Calgary to Jasper:
The entire drive from Calgary → Canmore → Banff → Lake Louise → Jasper is roughly 5 hours. Just remember you'll need to drive back to Calgary if you're flying home outta there (another ~5 hours), or to Edmonton if you choose two, one way flights (~3 hours, 45 minutes).
While the drives aren't necessarily super long, you'll probably wanna stop every 15 minutes or so to take photos along the way. Be sure to factor that into driving times if you've got pre-planned activities to get to. There are so many pull offs and lookout points along the highway, it's hard to decide which ones to stop at. And if you unfortunately miss one, just keep going: they'll be more soon.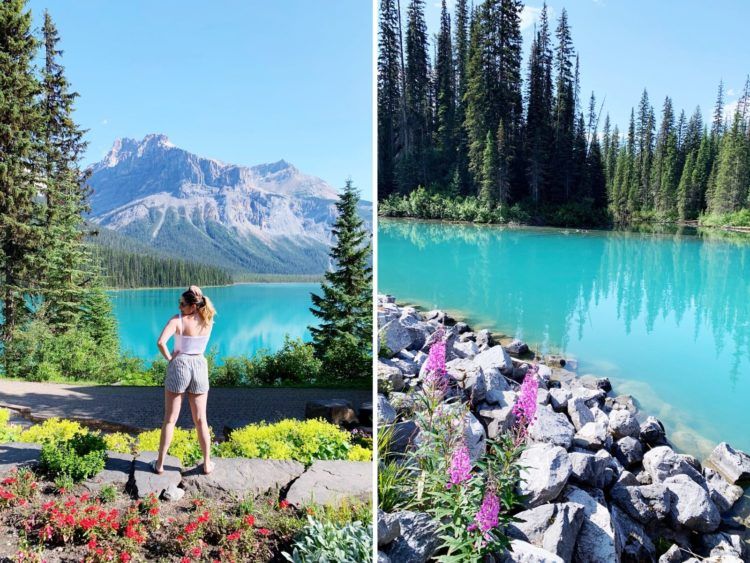 Tips for a successful road trip from Calgary to Jasper and beyond:
1. Stock up on road trip snacks: Before making the drive, stop at a grocery store upon arrival in Calgary to pick up some non-perishables. Snacks will be significantly cheaper over here than in the nearby National Parks. We headed to a Walmart right near the airport for some honey wheat pretzels, kettle corn, chips, and even some goods for lunches – a loaf of olive bread and some salami.
You may want to bring along a packable cooler for some perishable stuff if you've got a family to feed. We didn't feel the need to, but if you've got a big family/bunch of friends in your car, it may be worth it to keep some food items in there to reduce the cost of food in the National Parks.
2. Be aware of gas stations: Although there are plenty of gas stations in Calgary, there's not as many along the road once you leave the city. There are a few in Banff, one in Lake Louise, one at the Saskatchewan Crossing, and a few in Jasper.
I'd suggest always having at least half a tank of gas while on the road traveling between Banff and Jasper, and plan to avoid using the Saskatchewan Crossing petrol station as it's much more expensive. I like using the GasBuddy app to find stations and their prices, although Google Maps now has this function as well.
3. Be on the lookout for wildlife: As noted above, the Canadian Rockies are filled to the brim with wildlife, especially along the Bow Valley Parkway (highly recommended) and in the more rugged Jasper National Park. Stay safe and never exit your vehicle to get closer to animals. They're called WILD animals for a reason!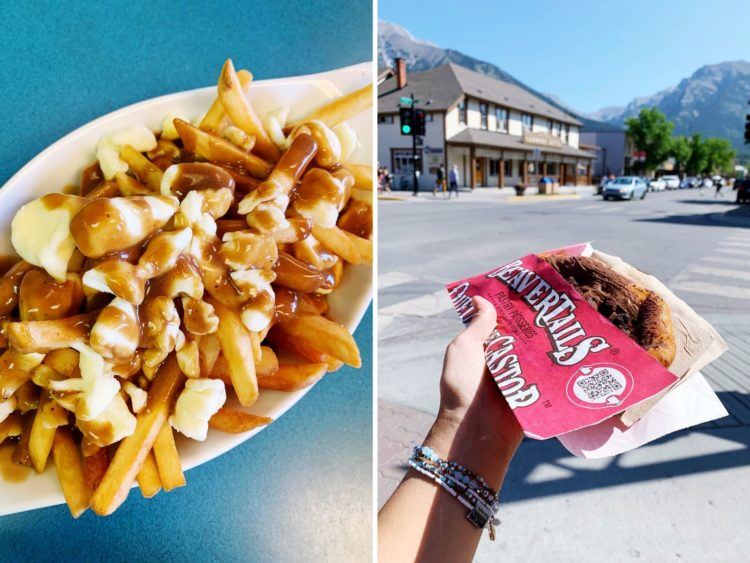 And now, let's get this Canadian Rockies road trip from Calgary to Jasper started!
Day 1: CALGARY
Let's face it, this Canadian Rockies trip will most likely be starting in Calgary, so if you've got the time, may as well explore (at least for a little while!). We chose to get a move on it and started off driving directly to Banff, so you could totally leave Calgary towards the end of your trip (like we did) if you're planning on driving round trip.
OR you can totally skip out on Calgary altogether (if you'd like the extra time in the mountains), but it's such a vibrant little city it'd be a shame to miss it!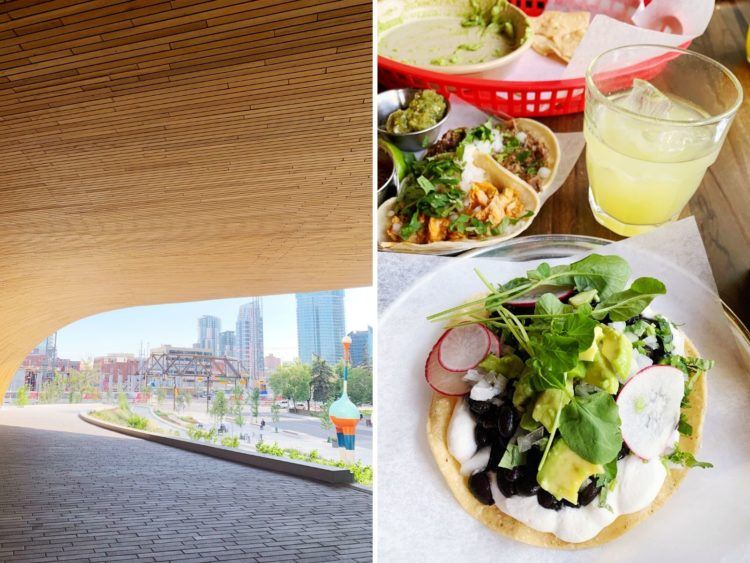 However, in order to save time (or if you just wanna tack on another city to your Canadian Rockies itinerary), you may want to fly back home out of Edmonton, which is slightly closer to Jasper than Calgary is. With that being said, choose to see Calgary before making your way to Banff if you've decided not to back track to Calgary after your week in the Canadian Rockies is over.
If you've only allotted one day in Calgary, pick and choose from the following attractions: Calgary Tower (for city vistas with a revolving restaurant), Calgary Zoo, Glenbow Museum (artworks and local history on display), Heritage Park Historical Village, Prince's Island Park, Canada Olympic Park, RiverWalk (go for a stroll or bike ride), and walk over the Peace Bridge.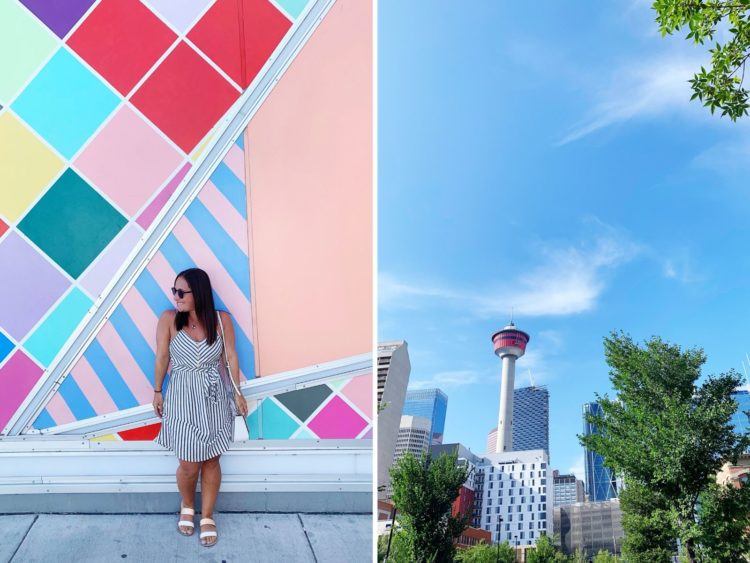 We only had time for a quick stroll and some food, and chose to eat at Native Tongues (my cucumber pineapple agua fresca was perfect on a warm, sunny day), and of course grab some cones at Village Ice Cream (wildly popular).
On our walk we checked out the Central Library (really interesting architecture) and saw the Calgary Tower from afar. I obviously need to get back to Canada and spend more time in Calgary.
Read Next: The Complete Guide to Calgary (my friend living in Calgary wrote this for me, so this guide is from a local and include lots of secret tips!)
Where to Stay in Calgary: As noted earlier, we opted to stay at the Hyatt Place Calgary Airport, but if you're spending time in Calgary at the beginning of your trip, stay downtown! The Hotel Arts Kensington, Hotel Fairmont Palliser, and Hotel Elan all look like great options!
Day 2: CANMORE
Depending on how much time you've got, I highly recommend making a short stop in Canmore Town, whether it be for a few quick hours or for the night. This picturesque mountain town is often overlooked by tourists, meaning it's usually not as crowded as Banff (although it's been getting more popular in recent years).
Canmore's got much more of a local vibe, tons of craggy mountain views (it's known for summits like the Three Sisters and Ha Ling Peak), and a bunch of turquoise blue lakes.
P.S. If you're hoping to take a helicopter tour of the Canadian Rockies (highly recommended, FYI), it'll likely take off in Canmore (as did our dog sledding tour when we visited Banff in the winter).
Early Morning: Start the morning off by making the quick 1-hour drive from Calgary to Canmore. Sure, you could drive all the way to Banff today (it's just another 30 minutes or so), but why not make a pit stop in another cute mountain town along the way?
At first, the drive from Calgary to Canmore will seem boring and lackluster, but once you get a bit closer to the Rockies, BAM, those mountains will be all you see. The scenery will drastically change the closer and closer you get to Canmore/Banff; you'll quickly see what I mean after your first mountain peak view.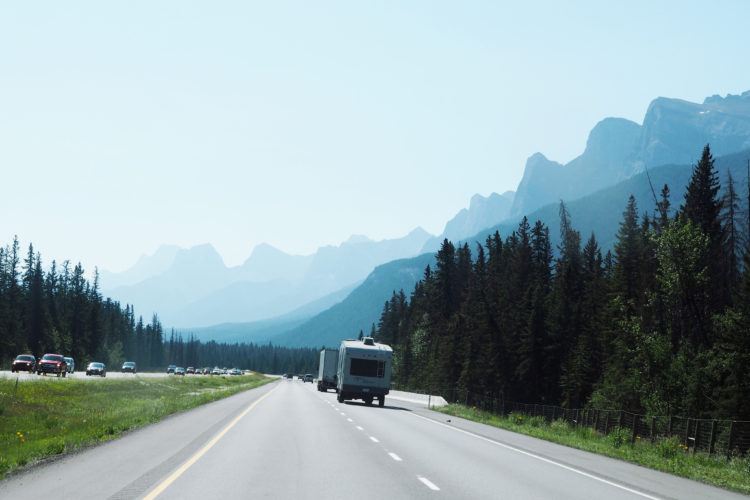 Mid-Morning/Afternoon: Start off your time in the Rockies with a BeaverTail in Canmore (essentially fried dough with a whole lotta sugar), and then pick and choose a few of these highlights of Canmore.
Main Highlights of Canmore:
1. Helicopter ride over the Canadian Rockies: I loved this oh so much, I did it twice – once in the lush summer months, and once in the frigid winter temps. We flew over the Three Sisters mountain range, the Goat Mountain range, Spray Lakes, and oh so much more.
You may need to keep your itinerary quite flexible if you're planning to head up in the skies during winter time, as difficult weather can unfortunately cancel many heli rides.
Visiting during the summer? There's a much better chance you'll encounter optimal helicopter ride weather! It's from up there in the skies that you realize just how massive, awe-inspiring, and unbelievable the Rocky Mountains actually are. Super scenic, undeniably smooth, and somewhat thrilling. If you're looking for a bucket list check, I highly recommend a heli ride over the mountains.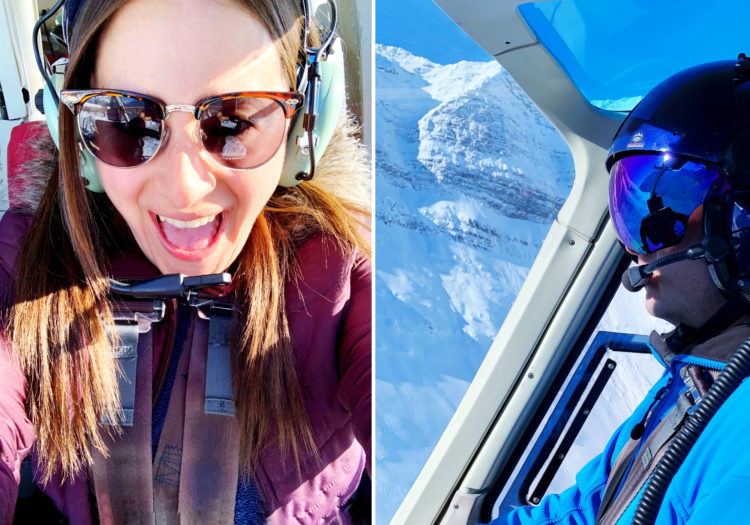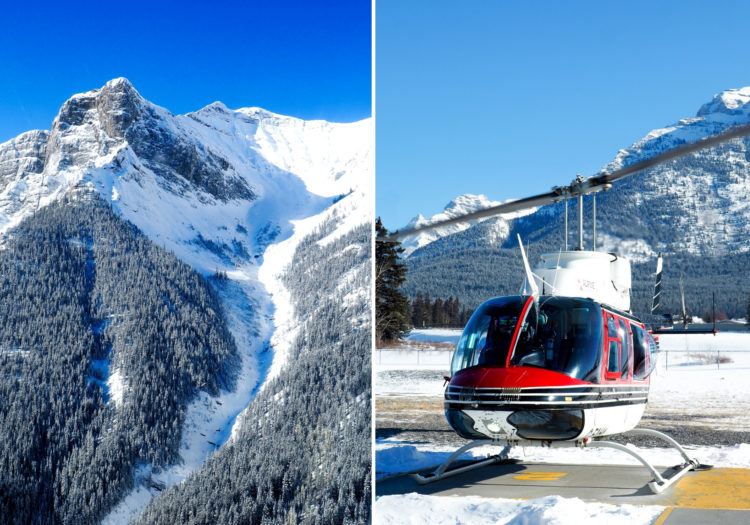 2. Walk around the mountain town of Canmore: Sure, you'll most likely be walking around Banff Town as well, but the town of Canmore has a slightly different vibe. Here in Canmore you'll find more trendy boutique shops (instead of the tacky tourist shops in Banff), and more local dining options (instead of the chain restaurants found in Banff).
I like to grab a beaver tail and indulge while admiring the mountain views all around town.
3. Meal at Communitea: If you happen to be hanging out in Canmore when hunger strikes, I highly recommend grabbing some food at Communitea (my favorite!). The second we stepped inside this vibrant cafe I totally understood all the hype – this place has a huuuge variety of hot teas (because tea's always a good idea) and a great selection of health-related eats.
Note that they close around 6/7ish, so plan to eat an early dinner if you're coming in on the later side of the day. Psst – not sure what to order? Get any of the buddha bowls or the pad thai – allll phenomenal choices.
4. Go for a hike: As there are so many hiking trails in Canmore, it's hard to choose just one (lucky you if you have more time in the area!). The most popular ones include the Grassi Lakes Hike (a 4.3km hike full of stunning pristine mountain lake views), Quarry Lake Loop (a super short 1.2km walk around the lake), and the East End of Rundle Hike (a much more strenuous uphill 5.6km trek – a great leg burner)!
Where to Stay: Tonight, either finish the drive to Banff (roughly 30 minutes or so), and sleep/eat in Banff, or book a hotel in Canmore (for either just tonight or for the duration of your stay in Banff*).
*You can opt to stay in Canmore in order to save a bit on accommodation when touring Banff, but do note that it's roughly 30 minutes away, and with summer traffic, you're likely looking at longer drives. Decide for yourself if the cost savings are worth the potential extra driving.
Highly rated accommodation options in Canmore include: Malcolm Hotel, Basecamp Resorts Canmore, and the Solara Resort & Spa.
Days 3-4: BANFF NATIONAL PARK
Next up, Banff National Park; the real reason for this drive from Calgary to Jasper, am I right? Rocky mountain peaks, a picturesque (albeit crowded) mountain town, glistening glacial lakes, and abundant wildlife. Banff is quite possibly one of my favorite places in the entire world. And I've been lucky to visit some pretty epic destinations.
With two full days in Banff, you can easily see all the area's highlights. If you're planning on doing a longer hike or two, plan an extra day or so in the park. And remember to bring along some bear spray, sold at numerous shops in town (better to be safe than sorry!).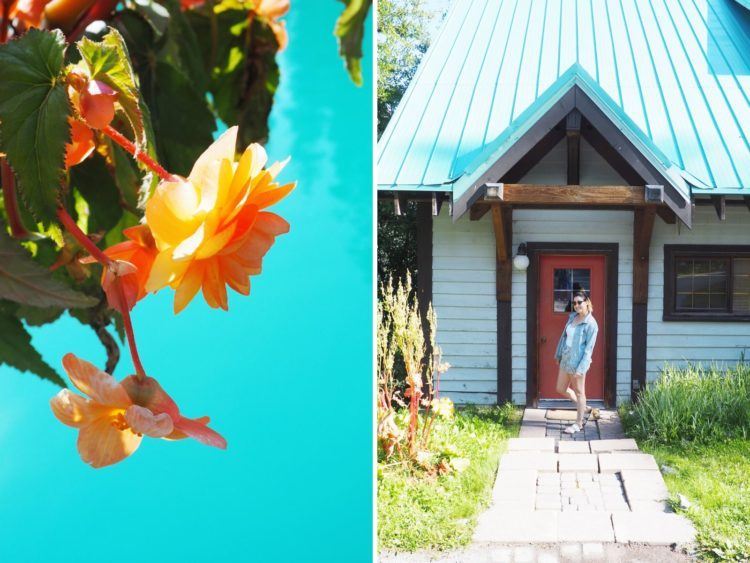 Technically, Banff National Park includes Lake Louise and Moraine Lake, but as they're located a bit north, we'll cover them in the next few days. No need to rush as long as you've got the time!
Grab a digital map of Banff National Park here.
Honestly, you can do the activities listed below on either day in any order, but the plan I wrote out below just makes sense geographically and crowd-wise (although expect crowds in summer regardless of when you visit). Best to start the day as early as possible!
Day 1 in Banff:
1. Sunshine Village Gondola at Banff Sunshine Meadows: Start the day at Banff Sunshine Meadows, a ski resort on the outskirts of town, known for its intense ski trails come winter and moderate hikes once ski season is over. This place is pretty jam-packed come winter, but you'll find it relatively quiet in the hot, summer months.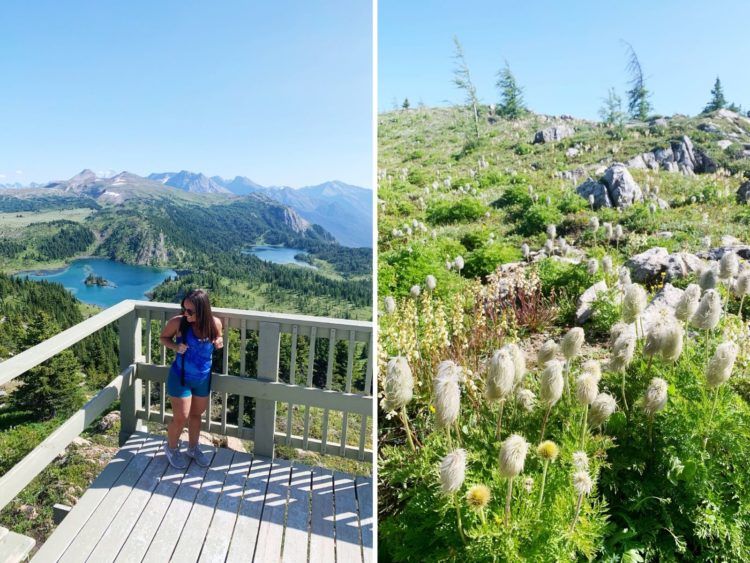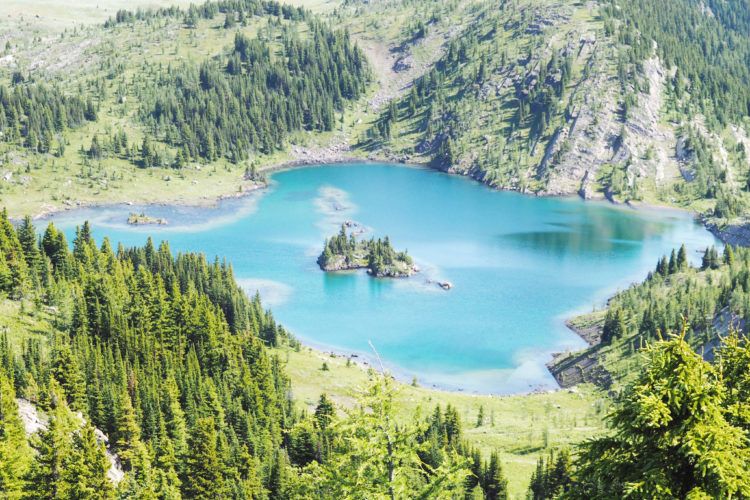 We took the gondola up, and loved walking throughout the wildflowers. We almost decided to take a short hike to one of the lakes for closer views, but quickly decided against it once we heard there'd been a grizzly sighting near the path just the day before (and we had no bear spray with us!).
The view from the lookout point was satisfying enough – just check out that photo! And don't be like us- be sure to bring along some bear spray if you're planning a hike!
2. Banff Town Center: This town is the epitome of a true mountain town – with peaks dominating its skyline, chateau-style hotels, lots of souvenir shopping options, and tons of wildlife (yes, bear spray is much-needed over in these parts).
Can't find what you're looking for? Just walk up and down the side streets – you'll find BeaverTails (don't miss this iconic greasy treat), homemade fudge, ice cream, and possibly even a few deer! Just be aware you won't be the only one going for a stroll – summer sees a swarm of visitors, so be prepared to dodge some crowds along the way.
Don't miss out on the poutine, cheese (and chocolate) fondue, and my favorite breakfast/coffee spots – Whitebark Cafe, Wild Flour, and Good Earth Coffeehouse.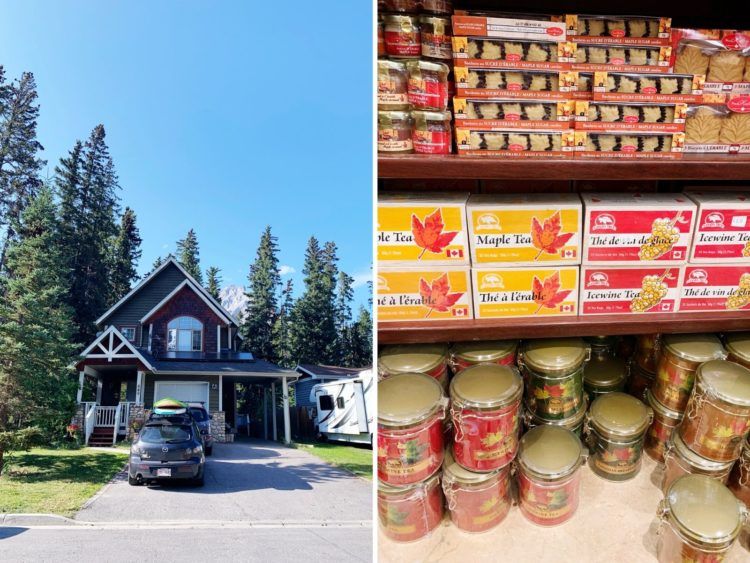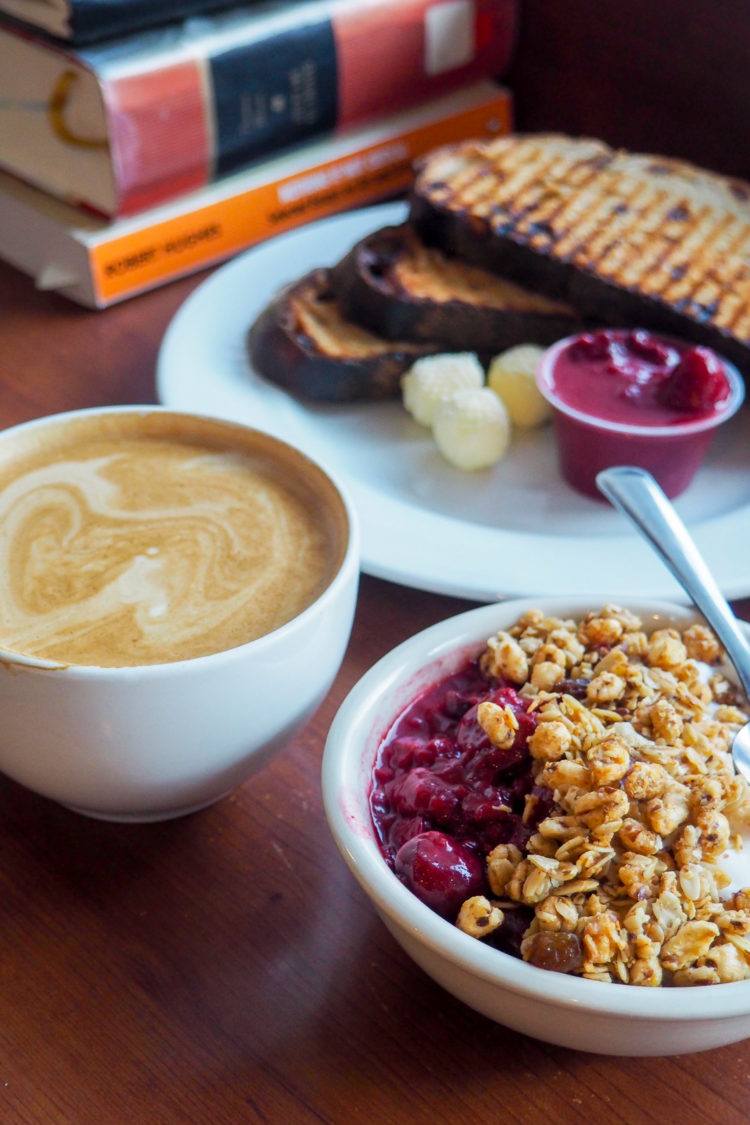 3. Banff Gondola: One of the most popular things to do around here is the Banff Gondola, a scenic cableway heading to the summit of Sulphur Mountain to reach its 360 degree rooftop observation deck.
From up here you'll get panoramic views of the town of Banff, stunning Bow River, and the surrounding mountains. We were in such awe the entire time; pictures do not do this place justice (take my word for it).
We found the best views by walking a bit further along the path, on the Banff SkyWalk Vista Trail, where thankfully the crowd dispersed quite a bit. We even saw a few bighorn mountain sheep up here, casually strolling around and posing for photos.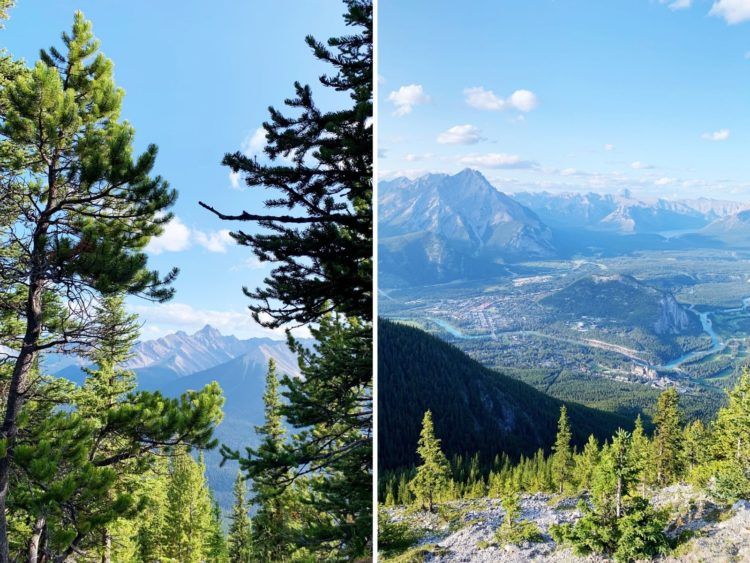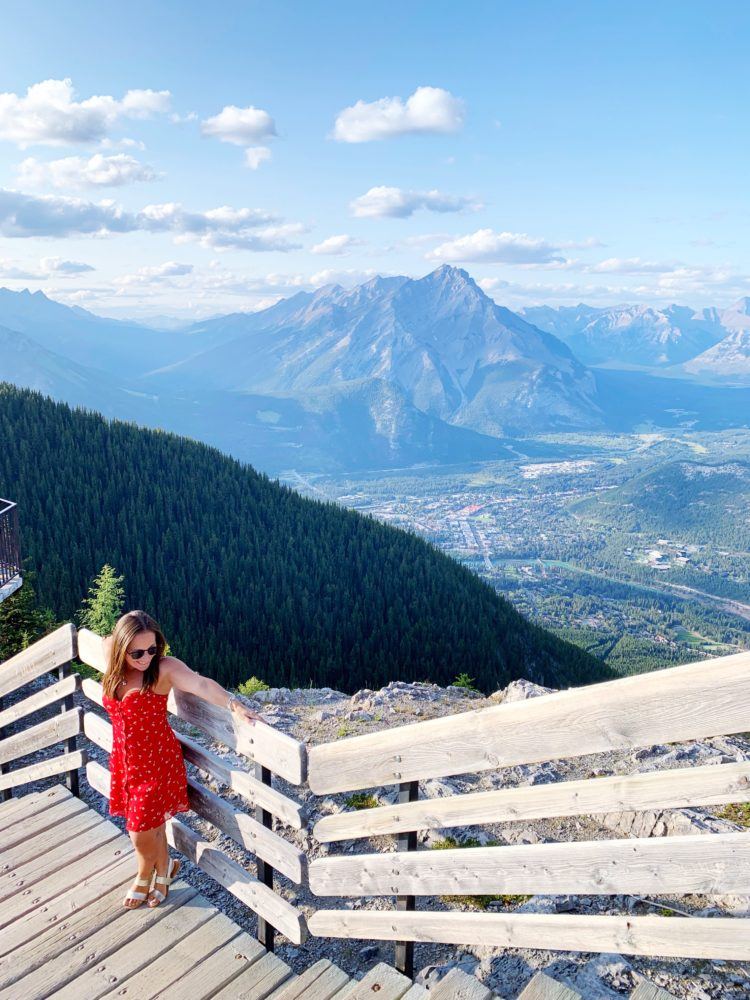 Do note that it's kinda expensive to take the Banff Gondola, with prices currently around $55CAD. If you wanna slash the cost of that admission ticket, plan a 2 hour hike up the summit of Sulphur Mountain, and get the same views fo' free!
This moderately-strenuous hike (6.8miles of a series of switchbacks) provides stunning views of Bow Valley almost the entire way, but it's not for the faint of heart. On my first visit to Banff, I hiked up (wanting to save the cash for things like poutine and beaver tails), while I took the gondola the last two times.
Depending on what month you visit, the gondola and parking lot may be exceptionally crowded (especially in prime summer months). We had to park a bit aways away, but trust me- no matter the season, the gondola is one activity you don't wanna miss (if you like nice views and all…).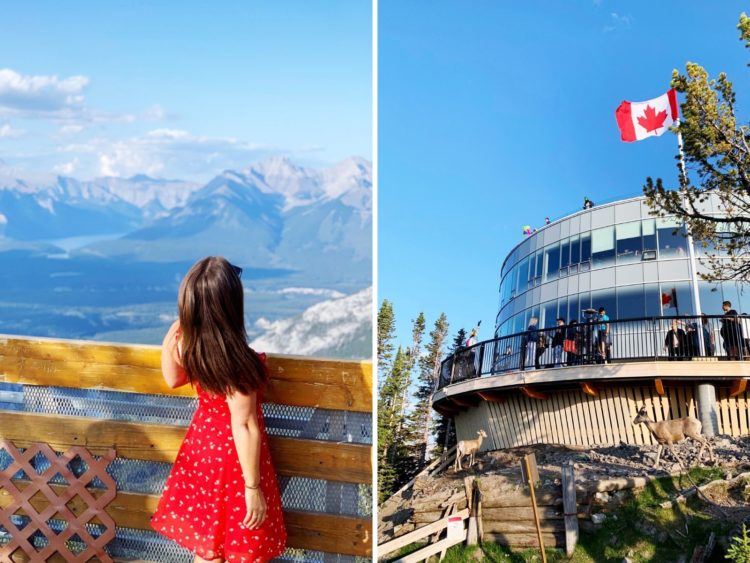 We stayed for sunset and the golden hues on the mountains and surrounding trees left me speechless.
Psst- it gets chilly up here! Expect the temps to drop quite a few degrees once you reach the top of the gondola (yes, in both winter and summer). Had I known that, I may not have worn a dress, as I got goosebumps quite quickly!
4. Banff Upper Hot Springs: Finish off the day with a relaxing soak in the hot springs (about 2 minutes away from the Banff gondola). I mean, what could be better than soaking in a warm bath with 63,537 of your closest friends? Nothing, as long as said bath is nestled in the Canadian Rocky Mountains with views of Mt. Rundle across the valley.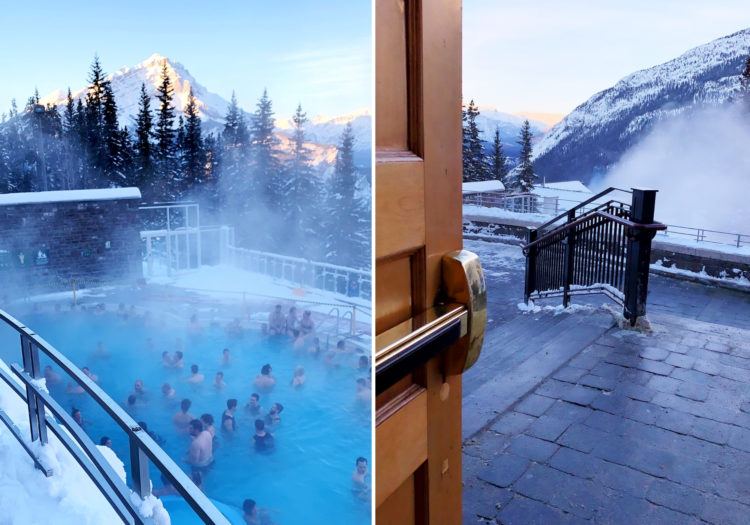 I visited twice (once in winter and the other in the heat of the summer), and have to say that the Upper Hot Springs are even more spectacular when the temps are below zero (and yes, your hair will freeze and turn gray – it happens to everyone, and returns back to its normal state quickly after leaving).
Be prepared to wait in line, as the hot springs are a popular attraction no matter the weather. Bring your own bathing suit if you aren't keen on donning one of their 1950's vibes bathing costumes (but do know this is an option if you decide you spontaneously need a dip).
Day 2 in Banff:
1. Johnston Canyon Hike/Bow Valley Parkway: If rushing waterfalls, limestone cliffs, and turquoise pools get you going, plan a morning at Johnston Canyon. Note that the farther you venture, the more you'll see. You can hike to the lower falls in 1 easy mile (roundtrip), upper falls in 3 miles (roundtrip and a bit more strenuous), and the ink pots in 6.5 miles (plan at least 3 hours for this roundtrip trek).
We managed to trek to the lower and upper falls in roughly 2 hours or so, and most definitely recommend this! The hike to the falls is relatively easy, partially on wooden/steel catwalks and paved roads. In winter, it's covered in snow and a whole different spectacle. Think ice crystals and icicles at every turn; it's like stepping into Narnia.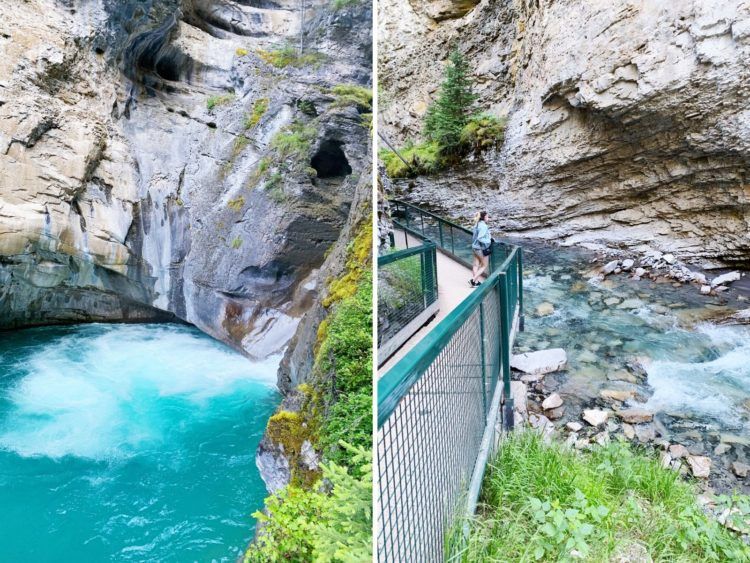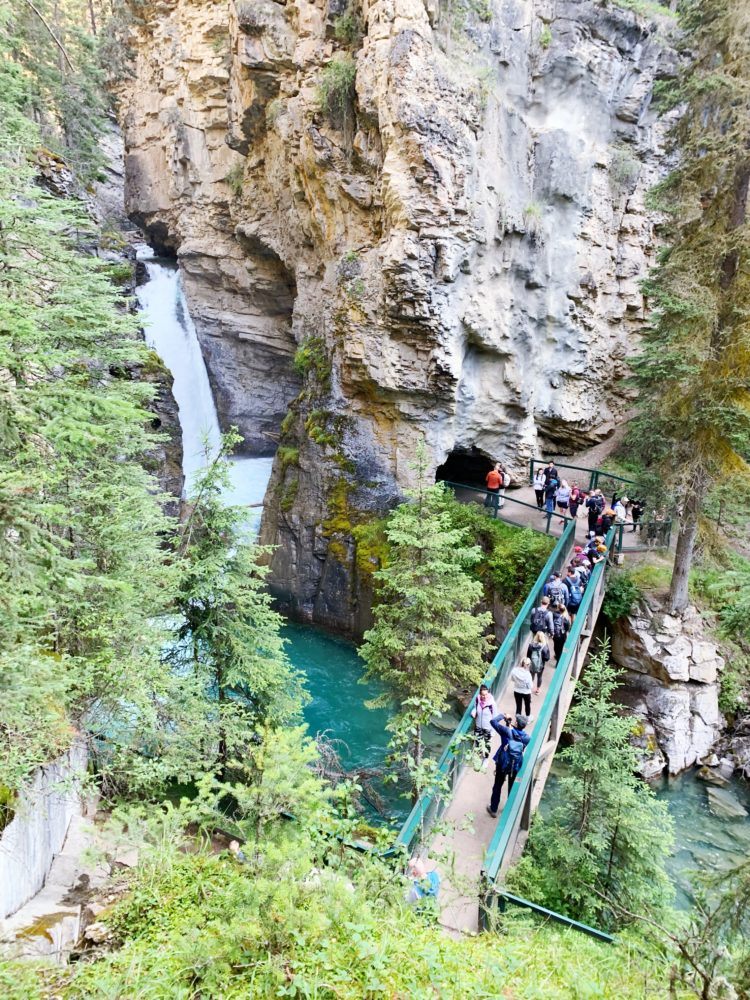 You'll want to get here early if visiting in summer (yes, we already established it's busy, busy, busy this time of year), as the parking lot gets filled up quite early, as in we arrived at 9am and it was full (there's extra parking down the road, don'tchu worry).
In order to get to Johnston Canyon you'll be taking the Bow Valley Parkway (1A), which is known to be filled with wildlife – be sure to keep a close eye out for any animals on the road!
2. Lake Minnewanka and Two Jack Lake: Our first set of lakes in Banff – I mean, that's a huge reason you're coming to this region, right?! And PS – some even prefer these two lakes to Lake Louise (although I'm semi-obsessed with the latter).
The way the mountain reflects in the glacial water is absolutely mesmerizing, and luckily, there's boats that can take you out on the lake! Be sure to book online in order to bypass the (possibly very-long) cue. It's a favorite activity during the warm, summer months!
If you don't have time for a boat ride, just stroll along the shore (minimal physical effort required). Wanna stretch your legs? There's a great trail – be sure to watch out for the mountain goats and chipmunks!
Visiting in the popular summer months? Consider taking the bus straight from Banff Town, as it can be exceptionally easy (and parking can get quite difficult due to crowds). Do note the lake will be frozen over if you're visiting in the (beyond)-chilly winter months – still beautiful nonetheless.
3. Surprise Corner: You're driving and driving along Tunnel Mountain Road, and then, BAM! There's the Fairmont Banff Springs Hotel (and Sulphur Mountain) in the distance. You'll only need a few minutes over here to check out the view, but boy, is the short drive worth it. There's no sign here, so just follow your Google Maps and you'll see it straight away.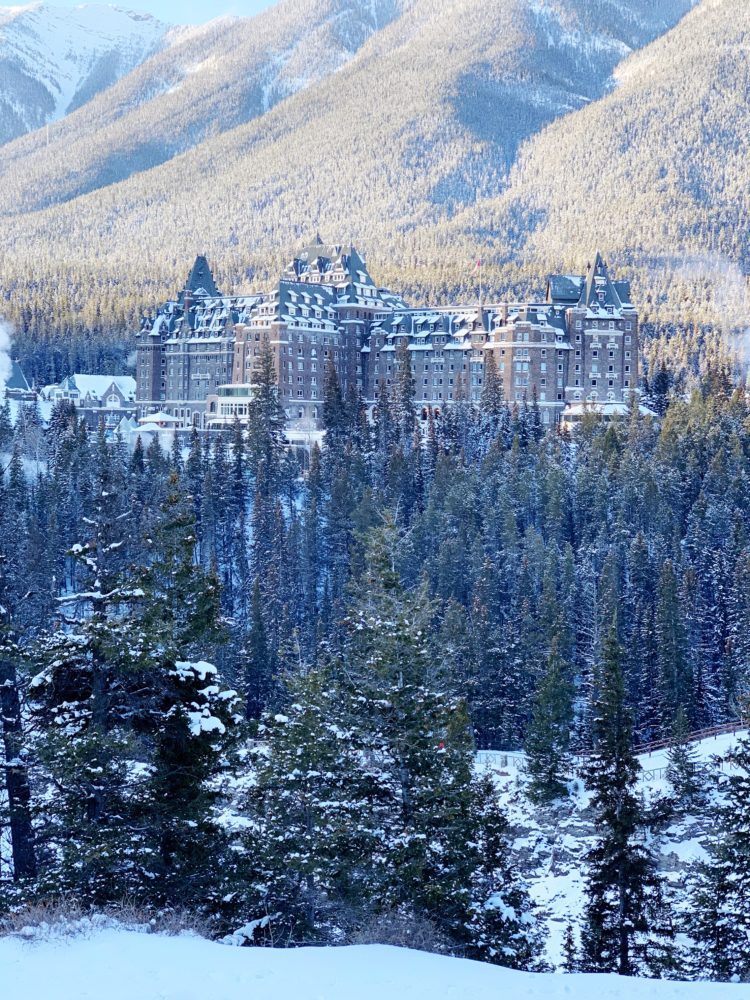 4. Bow Falls Viewpoint: This scenic spot is so close to the town of Banff it'd be just plain old silly to skip it (a quick 5 minute drive or a lovely 20 minute walk if the weather's nice). And get this – the waterfall has even been featured in several 1950's films; remember Marilyn Monroe in River of No Return (yup, that's Bow Falls!).
It's peaceful with sounds of the soothing water (with the roar of the water over the falls as well); a great place to enjoy nature! Yes, most of Banff is just that, as the entire area's full of scenic beauty. There's benches and tables around the park, making it the perfect spot for a late afternoon picnic. Visiting in winter? → expect the falls to be frozen (only making them even more spectacular)!
Where to Stay in Banff: Thankfully, there are a great deal of hotels/motels/lodges in Banff Town to choose from – at all price points (ranging from a few bucks a night all the way to hundreds and hundreds). I've stayed in a few different spots in Banff, namely Irwin's Mountain Inn (typical mountain lodge), Samesun Banff (hostel in a great location), and at the Banff Centre for the Arts and Creativity (cozy winter spot).
Everyone raves and raves about the Fairmont Banff Springs Hotel, and in all reality, what's not to love? It's a castle, after all. Next time I visit Banff, I'm staying here (even if I have to convince my travel partner it's worth it). Do note that hotels in Banff get booked up waaaay in advance for the high summer season, so if you have a particular hotel in mind, be sure to plan ahead (like 5-6 months).
Find more hotel options in Banff here.
Days 5-6: TURQUOISE LAKES AND MOUNTAIN VIEWS
When people think of Banff, the activities on today's agenda are what they typically think of! Prepare your eyes for some of the bluest glacial water you've ever seen – I've been a few times and I'm still just as blown away as during my first visit.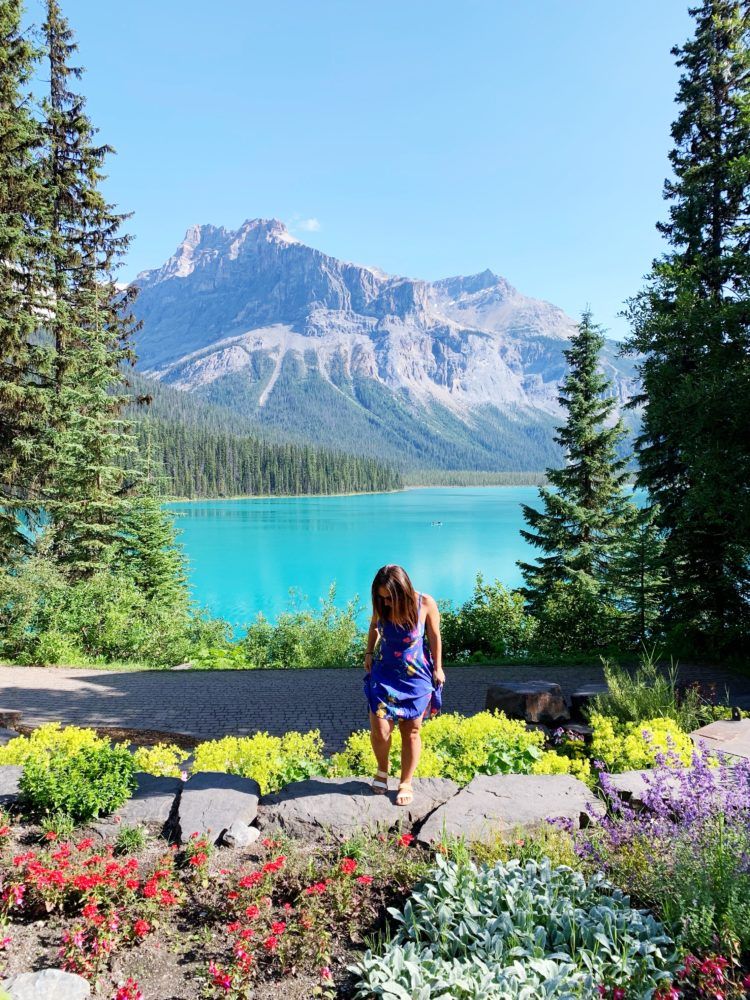 FYI – you can switch around Days 5 and 6 if you'd like.
Just remember, if you're visiting during the busy summer season, all three lakes will be exceptionally crowded. Plan to arrive as early as you possibly can, not only to dodge some crowds, but to ensure parking as well (the lots fill up fast).
You can easily visit all 3 lakes in 2 days, just understand with only 2 mornings for 2 lakes, you'll definitely find lots of crowds at the 3rd.
My recommendation: do Moraine Lake first thing one morning (like, super early), and Emerald Lake the other. Plan to hang around Lake Louise both days, possibly kayaking around the lake one day, and going for a hike on the other. Plus, 2 afternoons at Lake Louise gives you better chances for that picture-perfect postcard weather.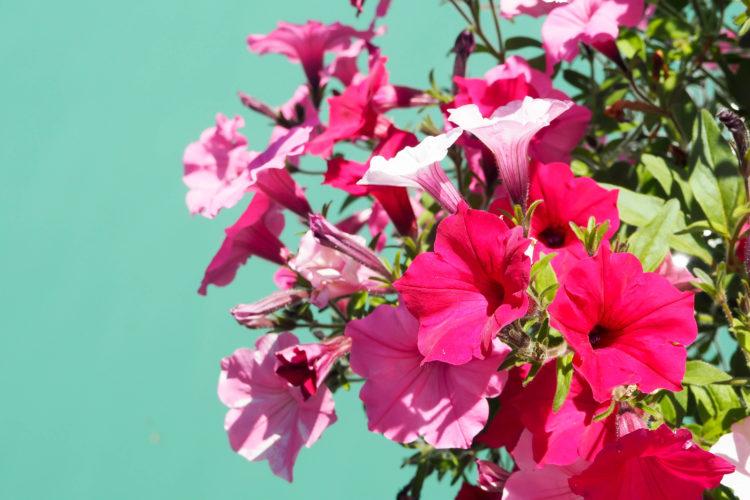 And if you're suuuuper short on time, you can squeeze all three in during just one day! Plan to arrive at Moraine Lake around 5am, visit Lake Louise for the rest of the morning/early-afternoon, then spend the remainder of the day at Emerald Lake. It'll be a long and crowded day, but worth it to see all three.
Keep in mind that if you're visiting Banff in the snowy winter months, these lakes will be frozen over. I enjoyed Lake Louise in the winter just as much as during the summer, although did not make it to Moraine Lake or Emerald Lake.
The road to Moraine Lake (Moraine Lake Road) actually closes from mid-October to mid-May (dates change slightly every year) due to avalanche risk, although snowshoeing and cross country skiing is available at Emerald Lake during the winter.
Find additional and up-to-date restrictions and road closures on the official Parks Canada website.
Lake Louise
Get ready, because today is full of striking turquoise-colored lakes, snow-covered mountain tops, those famous red canoes, and loads and loads of people (face it, this is a sought after part of the world). You'd be downright silly to skip out on Lake Louise during your Canadian Rockies road trip.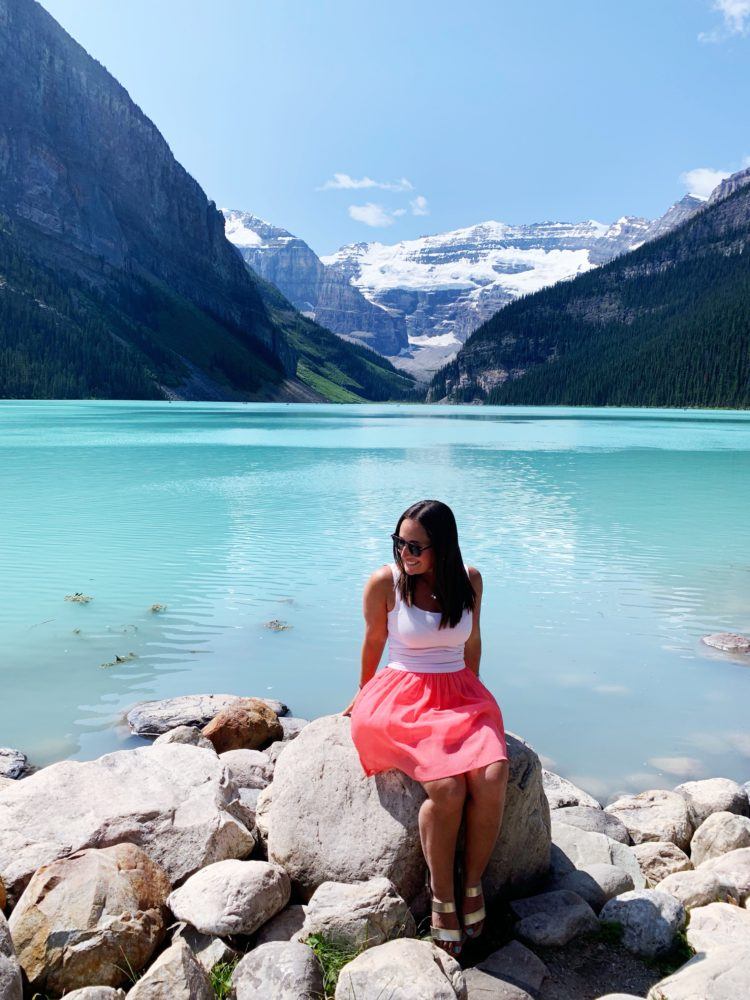 Ohhhh Lake Louise. The crown jewel of the Canadian Rockies. I promise you, a stop over here will be one of your favorites on this Calgary to Jasper itinerary. She's an absolute stunner, known for her chilly, turquoise waters with Victoria Glacier and soaring mountains overlooking the lake (with the beautiful Fairmont Lake Louise on her shoreline).
You'll want to plan at least a few hours here, if not a whole day, as you'll find yourself in awe at every corner and with enough activities to last quite a while.
However (yes, of course there's a however), the time of year you visit Lake Louise makes a hell of a difference. Note that the waters of Lake Louise do not fully thaw until late May or early June, so if you're hoping to witness the lake in all her stunning turquoise glory, wait until mid-late summer for a visit to the Rockies.
April and May will bring more tranquility and solitude, but no one can promise those striking turquoise waters until July. And, as expected, the lake will be iced over in the freezing winter months, with part of the snow cleared for ice skating!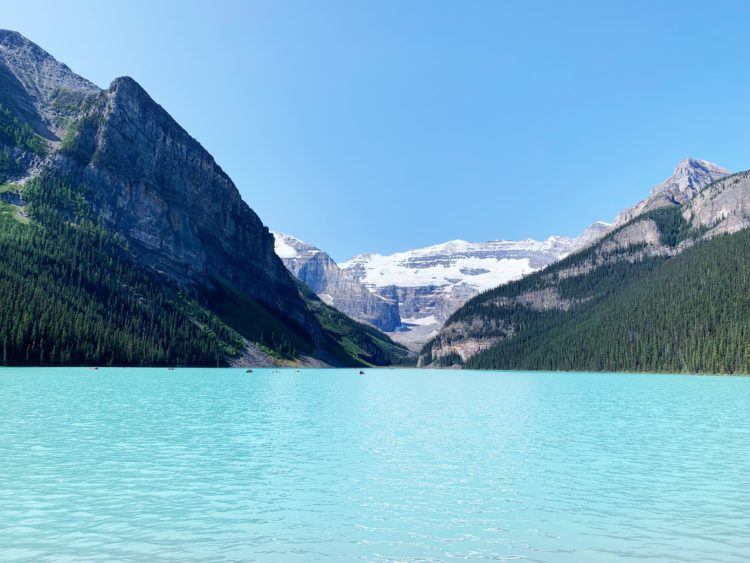 You could easily spend multiple days at Lake Louise, taking in it's sheer beauty and just admiring the Victoria Glacier in the distance. With two half days, you can most definitely get in the highlights below:
Main Highlights of Lake Louise:
Walk around the lake: Yes, Lake Louise is crowded beyond disbelief. However, if you stray from the area near the hotel, you'll find much more peace and quiet.
Plan to walk around the lake on the Lake Louise Lakeshore Trail (at least part-way), and you'll encounter tons of milky-blue creeks and picturesque meltwater along this easy and super-scenic trail. Look back and you'll even get great views of the grand Fairmont Lake Louise, which is a stunner in it's own way.
Rent a famous red canoe: Many visitors want that iconic Canadian experience of paddling around the stunningly scenic turquoise lake (and yes, I was one of them). However, do note that renting a canoe is quite pricey, and will set you back around $125CAD per hour.
If you're a guest of the Fairmont Chateau Lake Louise, you are eligible for a decent discount which definitely helps (cost would be $85CAD per hour).
It can get quite crowded, so if you have your heart set on paddling around, head to the boathouse first thing upon arrival – the other activities can wait. I rented a canoe with 2 friends (max 3 adults or 2 adults/2 small kids), which helped decrease cost per person quite a bit).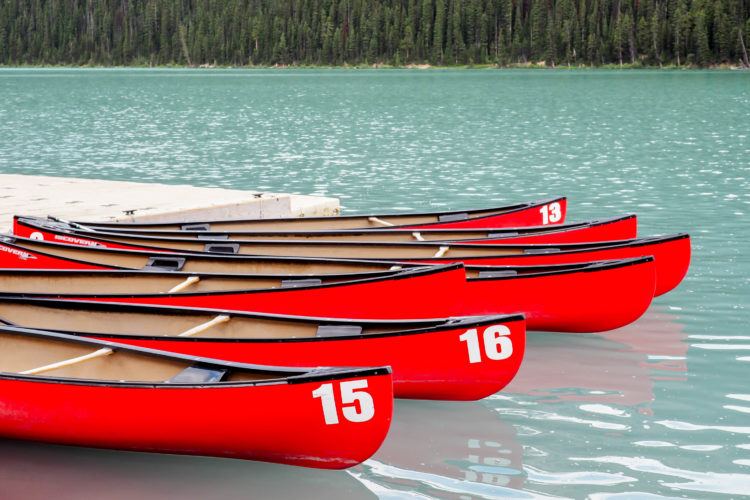 Wander around the Fairmont Chateau Lake Louise: Even if you're not staying at the stunning chateau, plan to spend a bit of time in and around the hotel. Elegance and sheer beauty at it's best!
Admire the architecture. Make sure to stop by the terrace, as you'll get fantastic views of the lake from here. And if you can't bare to take your eyes off the lake, plan for lunch at the Lakeview Lounge (and ask for a window seat!). Afterwards, browse through the stores and grab some dessert at the cafe.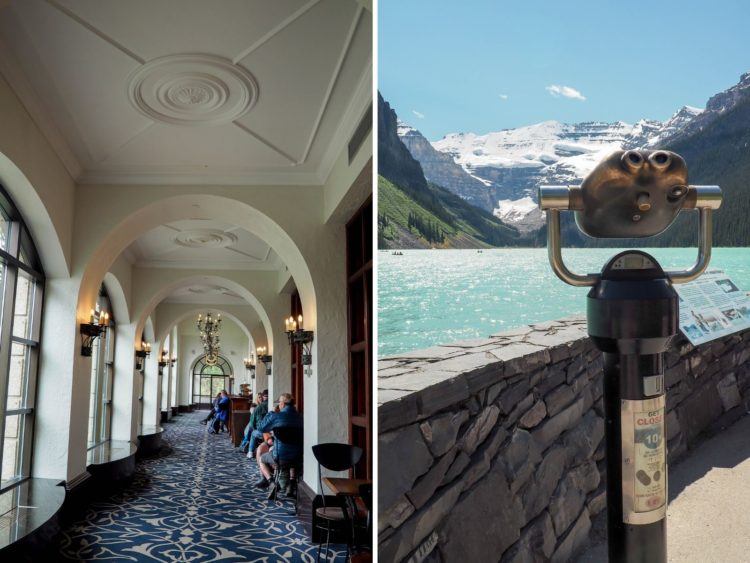 Go for a hike: Wanna see Lake Louise from above? What about burning off some of those BeaverTail-induced calories? There are numerous hikes to quaint mountain top tea houses above Lake Louise, including Lake Agnes Tea House (4.4miles/6.2km) with the additional extensions of Little/Big Beehive (+2/3 km), and the Plain of Six Glaciers (8miles/13km).
These have quite the view to effort ratio (meaning phenomenal views for only moderate activity). You'll want to set aside a few hours for each of these hikes, and expect the tea houses to be fairly crowded in the summer months.
Moraine Lake
Moraine Lake is by far the most picturesque of all the hotspots in the area (and many even call it more spectacular than Lake Louise, myself included). BUT it's kinda a b*tch to visit (you heard that right).
You need to plan your timing right if you actually wanna see the lake in all its glory, since you need to visit very early in the morning (and I mean early). The parking lot gets filled up by 6-7am at the absolute latest (and, yes, I'm dead serious), meaning in order to ensure a spot, you'll want to arrive no later than 5am. Yupppp, insane, right?!
There's another way to visit without all the crowds, although it'll still be a very early morning wake up call. Not many take advantage of this, but there are early bird buses departing from the overflow parking lot of Lake Louise right off the main road.
These buses will take you directly to Moraine Lake for just a few bucks (departing from 6-7:30ish, be sure to check the schedule in advance). This way, you don't need to get there at 5am, and can easily park in a lot.
Really have a thing against early mornings (I hear ya). You can plan to take the shuttle bus from Lake Louise to Moraine Lake a bit later in the morning, but be sure to get your ticket as soon as you arrive (tickets were sold out once we finished exploring Lake Louise and wanted to head to Moraine Lake).
We thought we could casually walk up to the shuttle line and snag a ticket – no siree! For this option, plan to drive directly to Lake Louise, and you'll see buses for Moraine Lake in the parking lot. Just remember, get your timed ticket as soon as you arrive!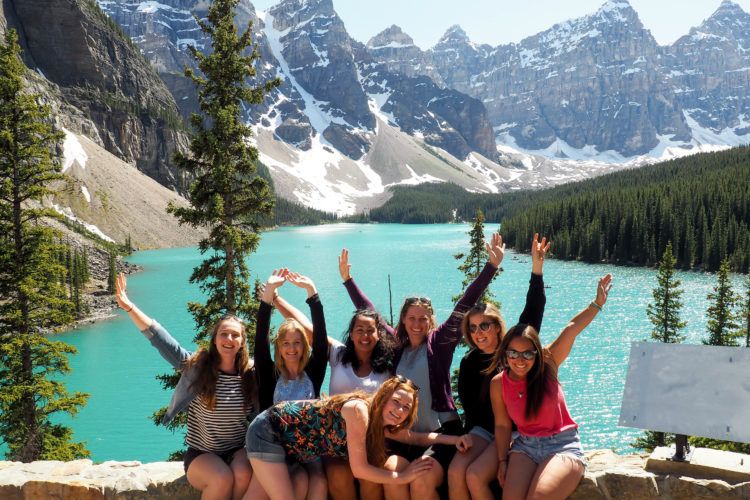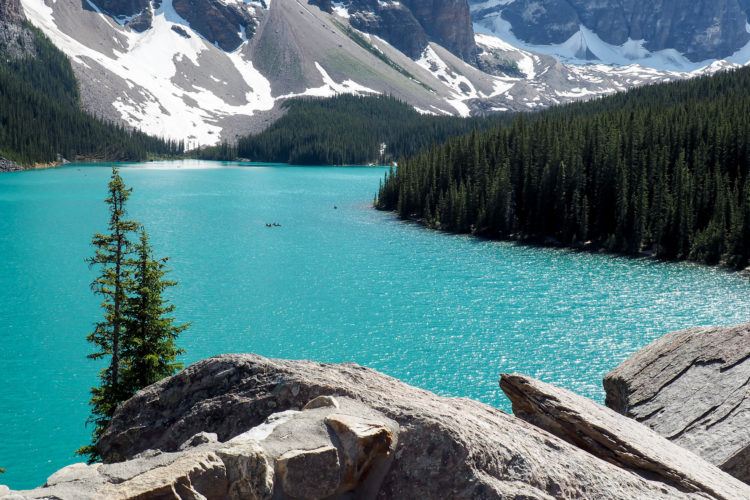 Once you get to Moraine Lake, plan to climb up the large rock pile, as that's where the famous lookout spot is located (and where these photos were taken). This view, the lake surrounded by the Valley of the Ten Peaks, is actually one of the most photographed images of nature in the world. The world. Aka don't snooze your alarm!
The hike only takes a few minutes (15 minutes tops), and despite what others say, the path is pretty well-marked and clear. I climbed up in Converse and was just fine.
You can also rent a kayak over here, but in my honest opinion, the most rewarding views are from up above. From up here, you'll get to witness the snowy peaks of the mountains mirrored in the still turquoise waters below; it's an absolutely mesmerizing sight. Promise me you won't forget your camera.
Emerald Lake
Emerald Lake is actually located within Yoho National Park in nearby British Columbia, and is unfortunately overlooked by so many tourists. Don't be one of them! Make sure you include Emerald Lake into your Banff itinerary (once you see the photos you'll see why).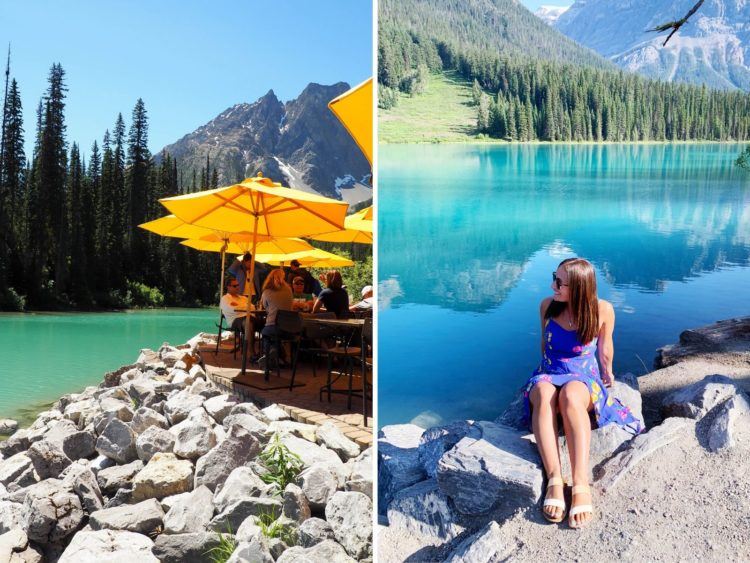 Trust me, after seeing the glistening, emerald waters with the greenest pine trees reflecting in the water, you'll never want to leave. It's just that gorgeous. Be sure to take a walk around the perimeter of the lake, as you'll find yourself away from the crowds with the place almost to yourselves.
This is another spot where you can rent a canoe, and thankfully it's a tad bit cheaper than over at Lake Louise, although will still cost you a pretty penny (worth it, yes!).
You can also make a short stop at Takakkaw Falls in Yoho National Park, although we did not have time for this (we spent too much time gawking over the water of Emerald Lake – figures).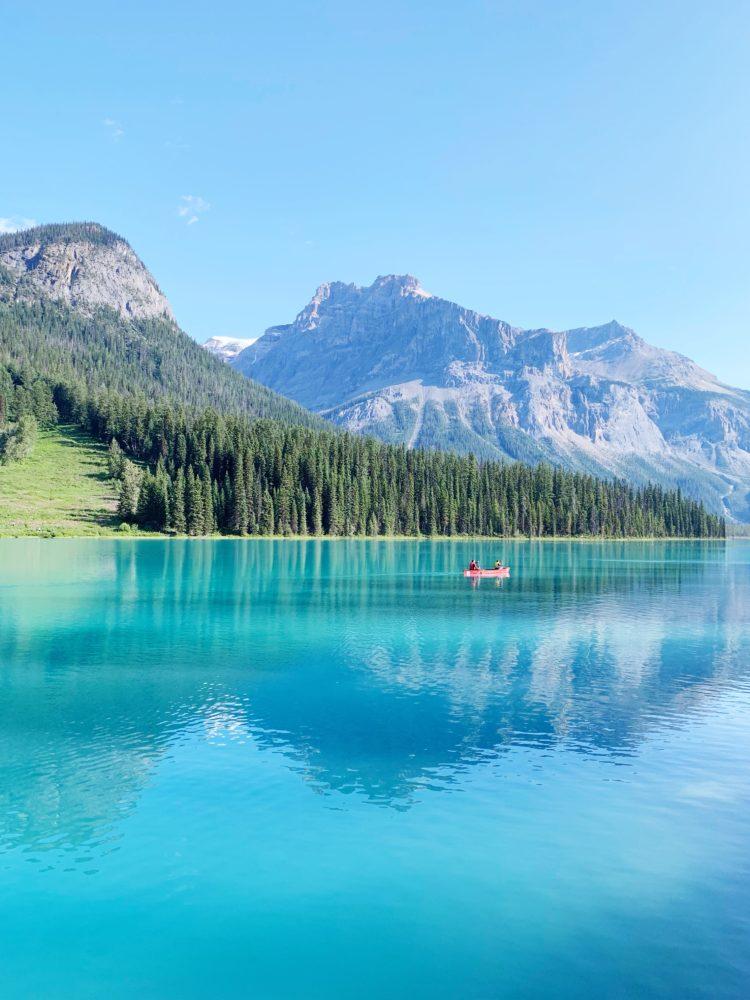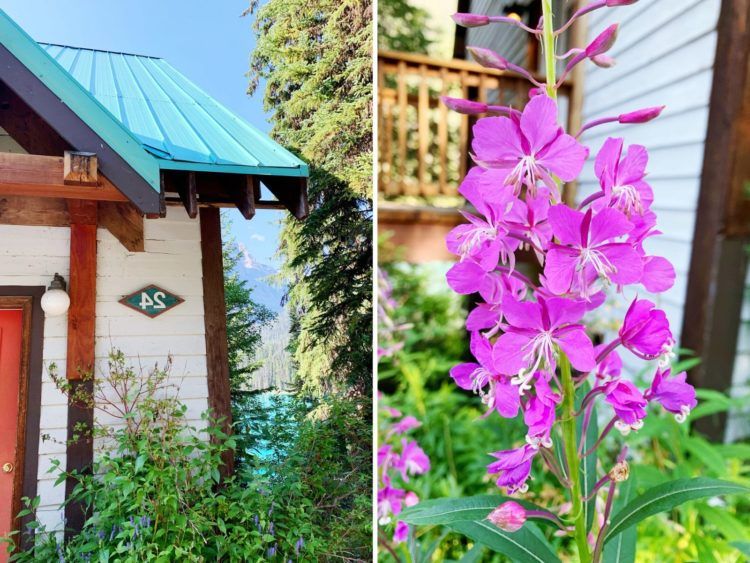 Where to Stay near Lake Louise: There are a few accommodation options in the Lake Louise area, although you could choose to spend an additional night in Banff instead. My top choice – stay at the Fairmont Chateau Lake Louise. Yes, it's pricey, and yes, it can be crowded mid-day, but one look at it and you'll be wishing you were staying there.
If you still wanna be right near the lake but not shell out crazy money, the Deer Lodge is a great option as well. In addition, Emerald Lake Lodge, a peaceful resort overlooking, you guessed it, Emerald Lake in Yoho National Park, is a great choice as well if you wanna stay away from all the hustle and bustle (high on my bucket list).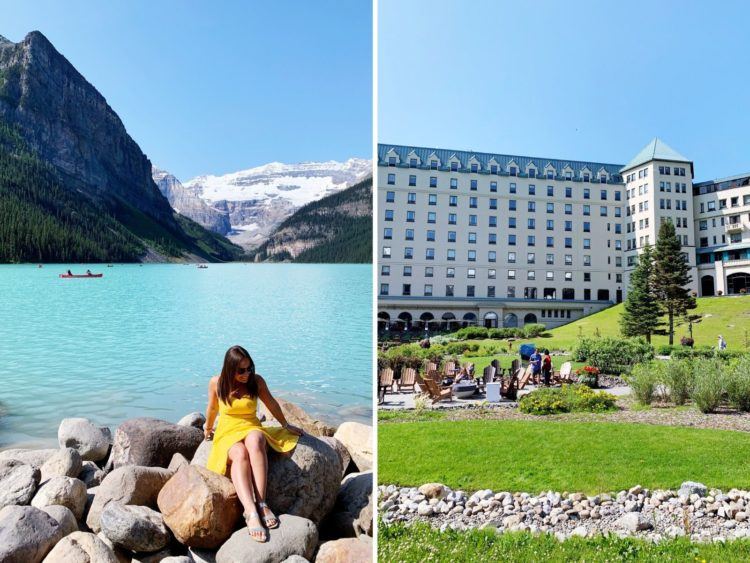 Day 7: ICEFIELDS PARKWAY
Say goodbye to those stunning glacial lakes, because we're continuing on with this Canadian Rockies road trip on the Icefields Parkway!
Head on up to Jasper National Park via the impressive Icefields Parkway (this wouldn't be a very thorough Banff travel blog without mentioning this)! Whatever you do, you absolutely cannot miss this stunning drive.
It's full of lush pine forests, jagged snow-covered peaks, and tons of wildlife spotting opportunities (bighorn sheep, mountain goats, moose, and bears are known to frequent the highway – watch out!), making it one of the world's most spectacular driving routes.
This will be a very full, action packed drive, so plan to start early and be thankful for that extra light if you're visiting in the summer. The entire drive should take roughly 3 hours from Lake Louise to Jasper (without stopping), so dedicate the whole day so you don't feel super rushed.
Plan for some traffic in the busy summer months, and note that in some spots along the highway the speed reduces to a slow 50km/hr.
You'll want to pack a picnic lunch (we had peanut butter and jelly sandwiches and a few snacks like pretzels, granola bars, etc) since there's not many options for decent food along the road. Also – make sure to fill up your gas tank in Banff/Lake Louise, as there's really only one gas station along the way, and the prices are exorbitant.
We did the following in one day and found it a great use of time:
Stop 1: Bow Lake
Driving northbound (coming from Banff/Lake Louise), Bow Lake will be the first stop you want to make along the Icefields Parkway. Known for its delicate glacial blues and fantastic reflections (and fewer crowds), it's not one to miss.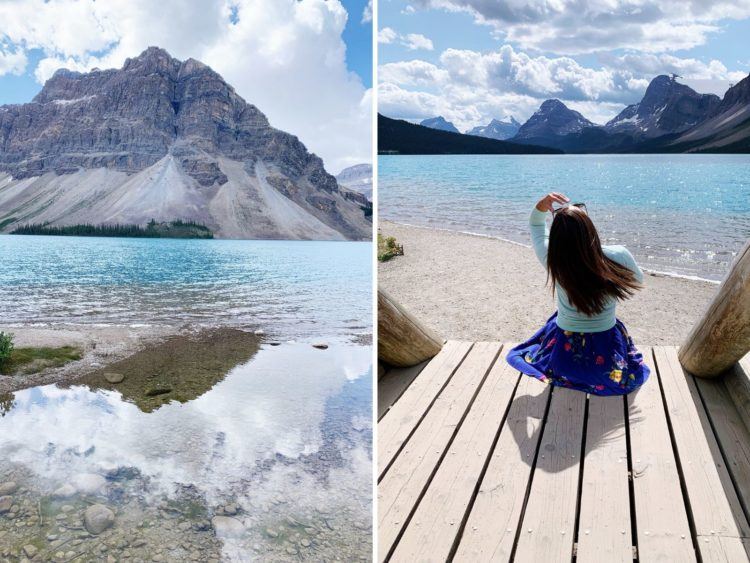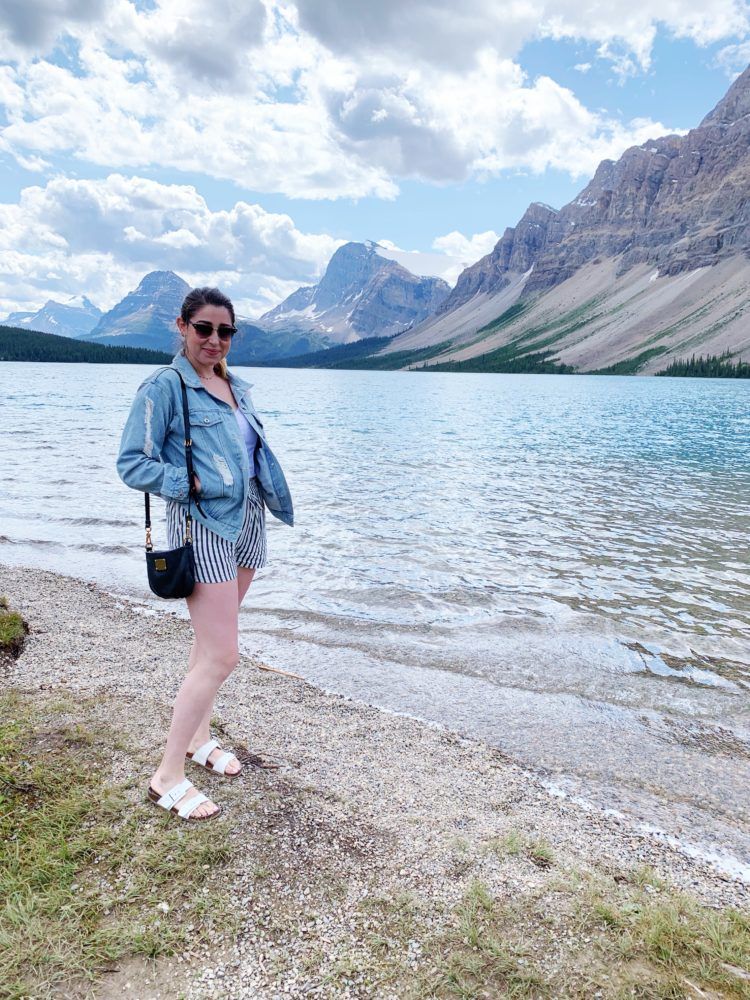 However, reflections and water color is highly dependent on the weather. The first time I visited the water was especially calm and serene, and I got the most gorgeous mountain reflections, but during the next visit there was some wind, resulting in small ripples forming in the water, with zero reflections. You'll probably have the best luck with reflections in the early morning.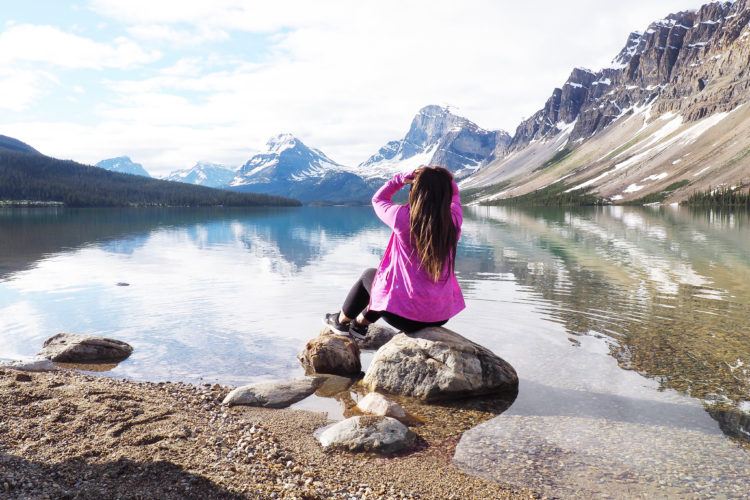 No matter the weather, look out for Bow Falls and Bow Glacier in the distance. Take some time to go for a walk along the shoreline, and check out the historical Num-Ti-Jah Lodge!
Psst – the lake is very easy to access as it's right off the road, and parking is very convenient.
Stop 2: Peyto Lake
I'm sure you've seen photo after photo of this stunning glacial lake, as Peyto Lake is alllll over social media. You won't wanna miss this lake, I can promise you that! It's by far one of the best views in all of the Canadian Rockies in my opinion (with the water glistening against snow capped mountains and deep, green trees), and a wonderful way to spend a mid-morning.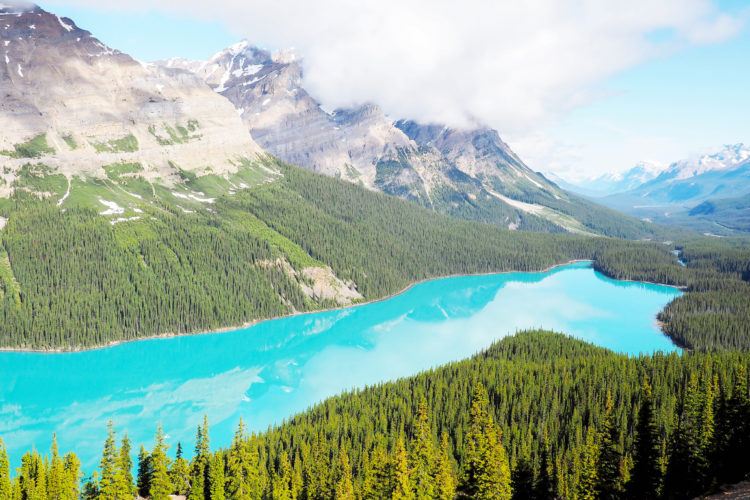 And no, it's not filled with electric blue Gatorade, although it sure looks like it! The distinctive blue color is oh so real, and is due to rock flour particles from nearby glacial melt. Make sure to notice the shape of the lake – it actually looks like a wolf head! And ohhh, it'll be crowded.
When inputting a location into your GPS, be sure to put in "Bow Summit", as this is where the Peyto Lake overlook is. Do note that unlike Bow Lake which can be accessed right from the parking lot, you'll need to take a short, 15 minute uphill hike from the lower parking lot to reach the Peyto Lake viewpoint.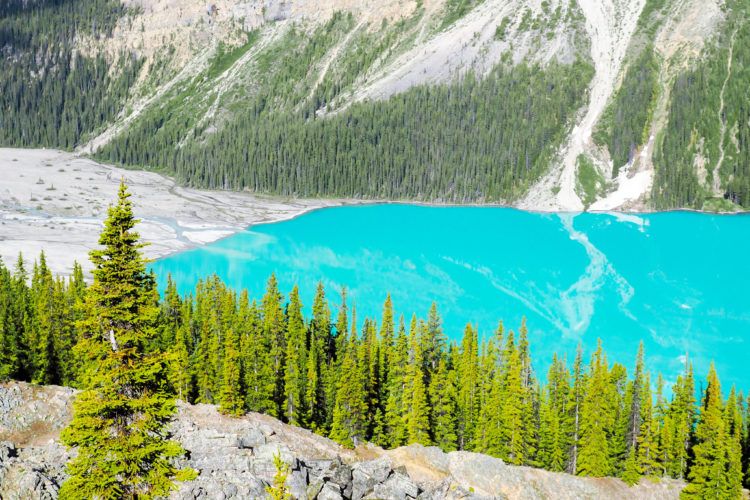 There is another parking lot (the upper parking lot), but this is reserved for tour buses and those with handicapped stickers, which is about a 2 minute walk to the overlook.
Be extra careful taking pictures here if you venture off the path (do so at your own discretion). I've read that there are additional (albeit unmarked) trails leading to a spot slightly lower than Bow Summit, where you can find some peace and quiet and even more stunning views.
Stop 3: Athabasca Glacier/Columbia Icefield Adventure
Ever step foot on a 10,000 year-old sheet of ice before? Well, today's your chance to get up close and personal with Athabasca Glacier and do just that! In order to get directly on the ice, you'll need to take a tour organized by the Columbia Icefield Discovery tourist center.
On the tour we traveled a few minutes to the Athabasca Glacier via snow-coach (an all-terrain vehicle with tires bigger than me!), drank the pure glacial melt water (bring a water bottle for this), learned all about the history of glaciers in the area, and walked on the crunchy ice.
Do note that it's practically freezing on the glacier (yes, even in the middle of summer), so be sure to bundle up! You'll have roughly 20 minutes on the ice, which doesn't sound like long, but we froze in a matter of minutes!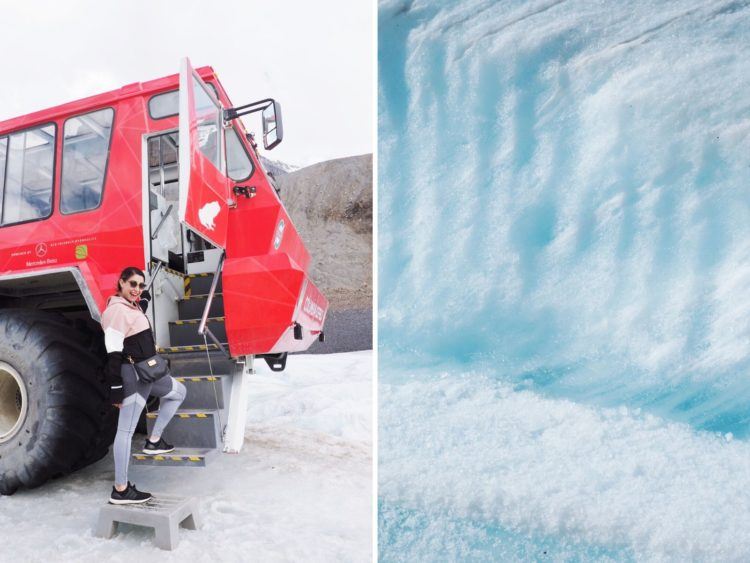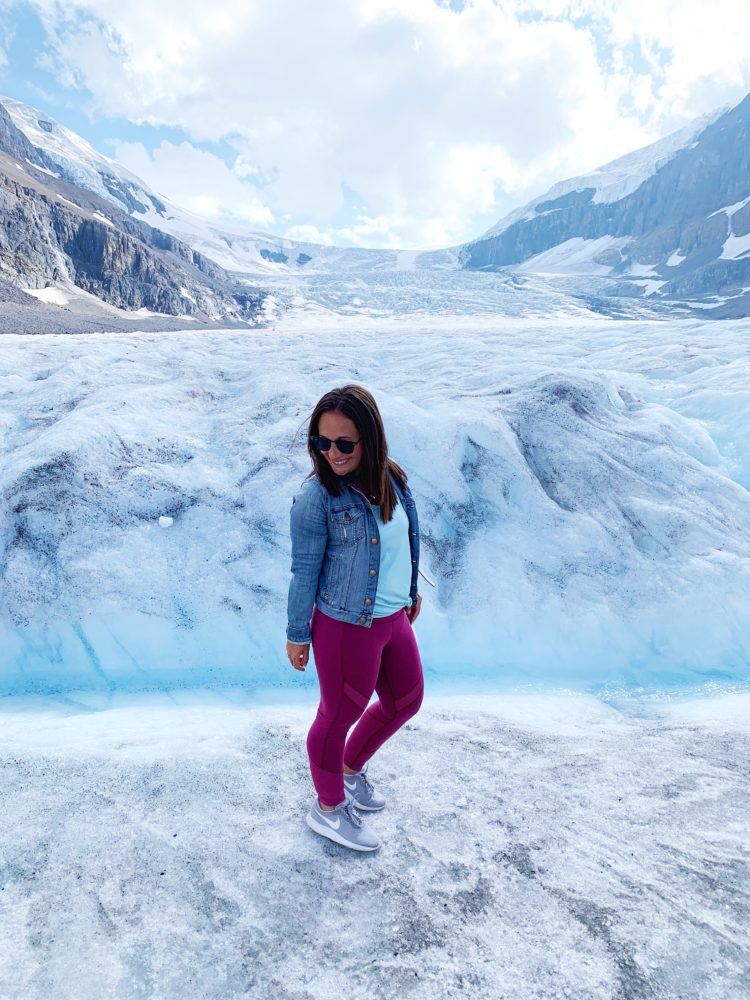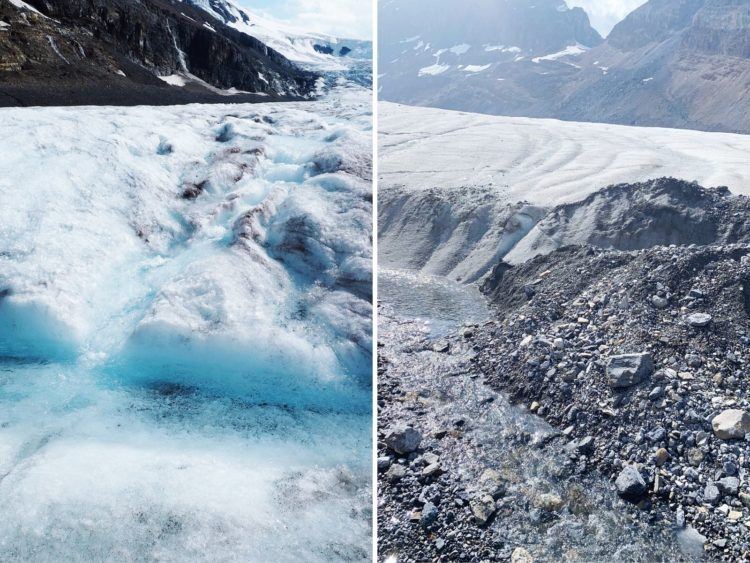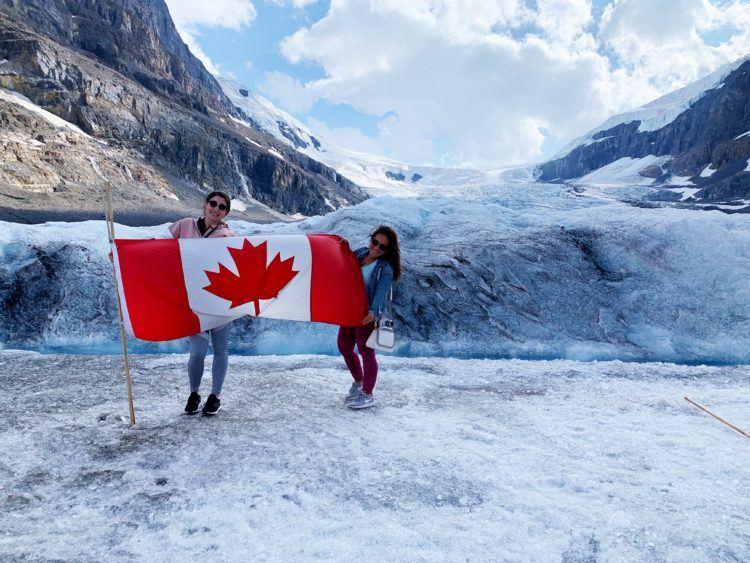 Is the Ice Explorer Tour worth it? I say yes, but it is quite expensive (at $87CAD at the time of this writing – January 2020). The only way you'll really be able to experience the ice is by getting bussed directly onto the glacier. Do note that you are able to observe the glacier from afar and even walk on it's edges, but it's NOTHING like stepping foot in the middle of it.
Prebook your SnoCoach tickets ahead of time to bypass the (usually-very-long) line at the Icefield Discovery Centre. The Skywalk, a jaw-dropping walk along a glass floor 918 feet above Sunwapta Valley with breathtaking vistas every which way you look, is included in the ticket price as well. The real star of the show is the Ice Explorer though.
If walking on a glacier is on your bucket list, don't miss out. Unfortunately, the glacier is receding at an alarming rate, which is a clear indication of global warming. 🙁
Thankfully, the folks at Columbia Icefield take as much precaution as they can to slow the melting of the glacier as best they can (I.e using special snow-coaches which are careful not to crack the ice, limiting the # of visitors per day, etc).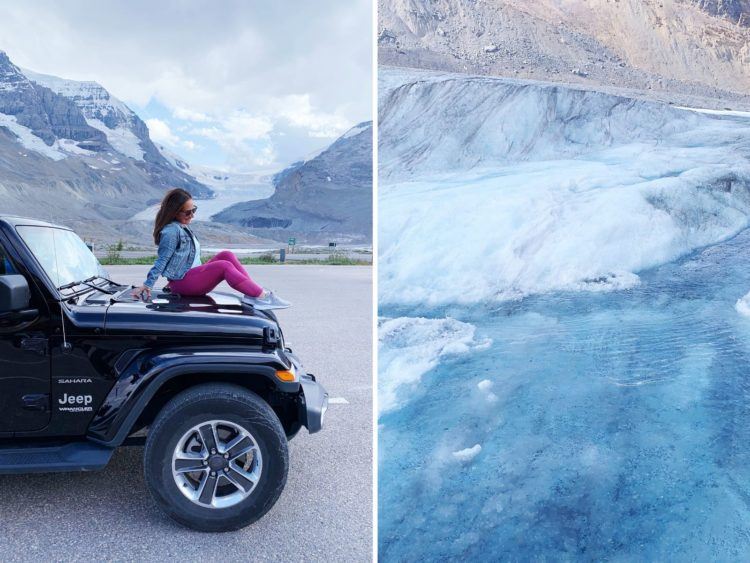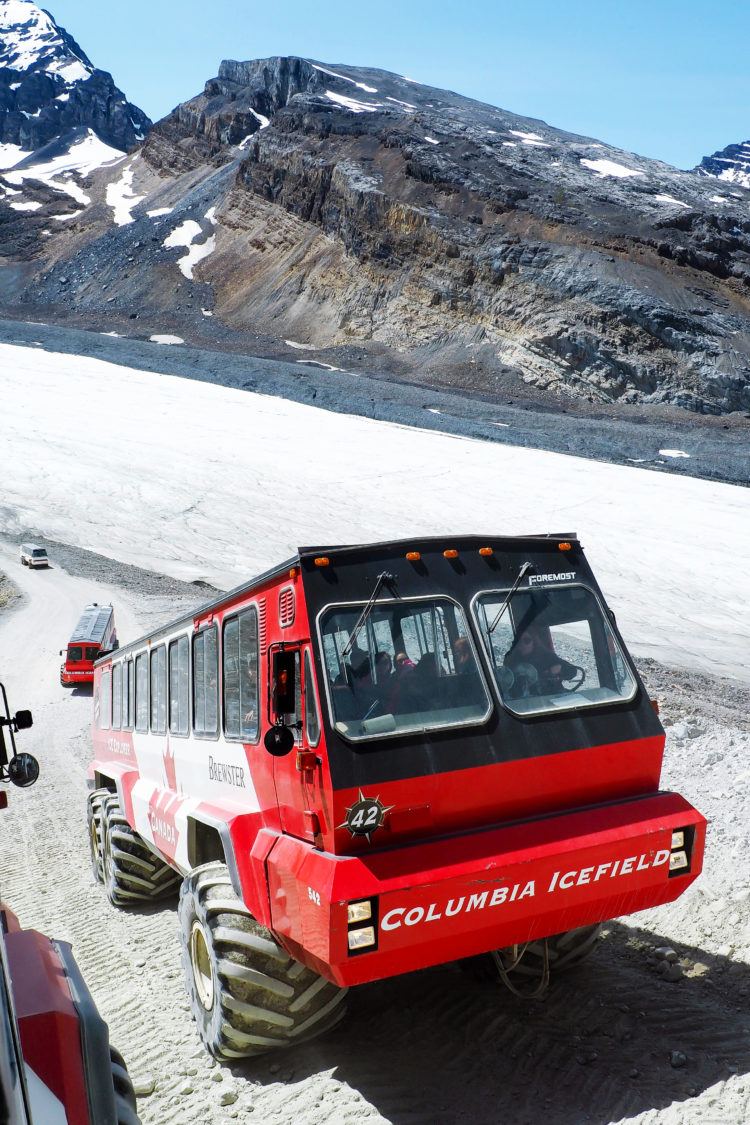 Other spots along the Icefields Parkway you may want to stop at include Herbert Lake, Mistaya Canyon, Weeping Wall (Cirrus Mountain), Parker Ridge Trail for a bit of hiking (~5km round trip), and Wilcox Pass Trail for a longer trek (~10km).
Grab a digital map of the Icefields Parkway here.
Where to Stay the night: I highly recommend that you continue the drive on the Icefields Parkway until you reach your hotel in Jasper (another hour or so north, depending where you're staying obviously).
This way, you can start your first day in Jasper bright and early the next morning. And honestly, there's really no reason to stay anywhere along the Icefields Parkway, as 8-10 hours will give you sufficient time to enjoy all the must-see sights.
*And plus, if you're planning to drive back to Banff after visiting Jasper, you'll have another day (or partial day) to see the scenic stops on the Icefields Parkway. Jasper hotel recommendations below.
Days 8-9: JASPER NATIONAL PARK
Jasper is like Banff's more rugged, less-crowded little sister, despite being larger in size and offering if not even more scenic beauty. The area is full of glaciers, lakes, and more peaks than you ever thought imaginable, with Mt. Edith Cavell towering over the town at 11k+ feet.
And due to its more remote area (5+ hours from Calgary instead of a mere 1.5 to Banff), you'll find less visitors to Jasper (although the prime summer months still see an influx of out of towners).
You could easily spend weeks exploring all that Jasper National Park has to offer, but if you're tight on time like I was, 2 days will suffice.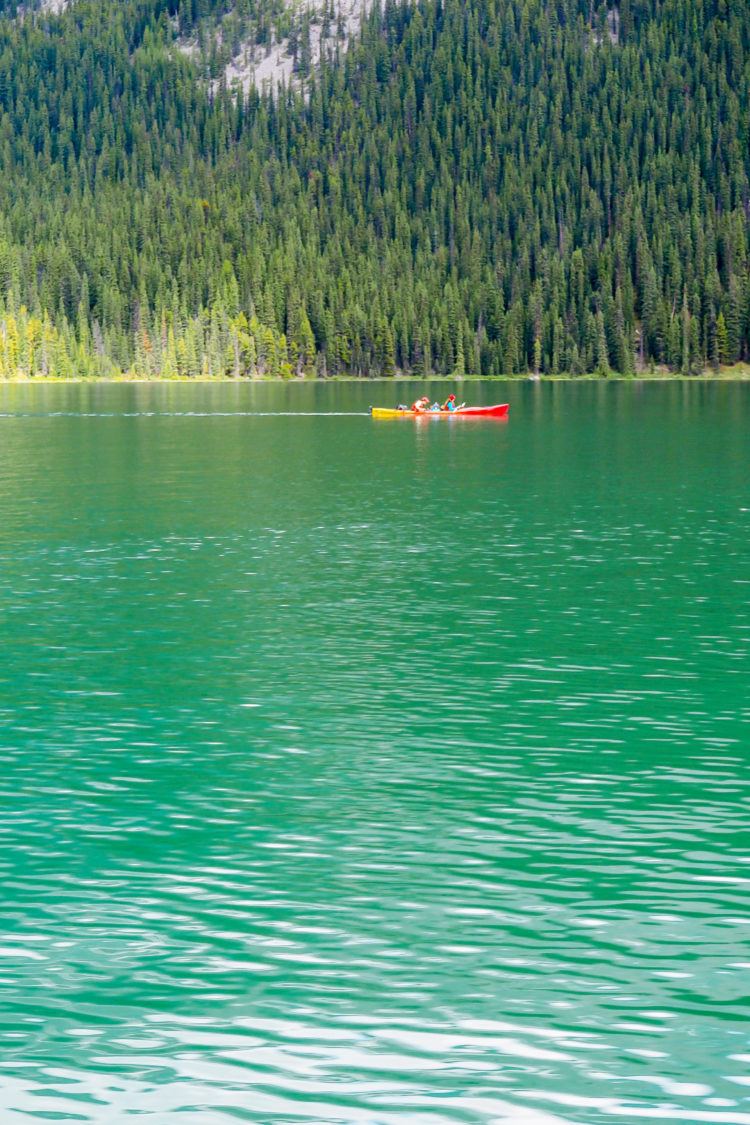 And if you haven't seen much wildlife on your Canadian rockies road trip just yet, don't fret – you're bound to see lots in Jasper.
Fewer crowds to Jasper mean a higher bear population, so be sure to take along your binoculars and bear spray and always practice bear safety (never get out of the car with a bear present, no matter how far away and when hiking, make noise and never go alone).
Native wildlife to the area include elk, moose, mountain goats, bighorn sheep, white-tail deer, and, as mentioned, lots (and lots) of bears (grizzly and black) in the vast wilderness that is Jasper National Park.
Really wanna ensure you see some wildlife?! → sign up for an organized evening or morning wildlife search (when the animals are most active)! Your guide will select the route based on seasonal wildlife movements, ultimately giving you the best chance of seeing the animals. Read reviews and Sign up here.
Grab a free digital map of Jasper National Park here ahead of time to get your bearings!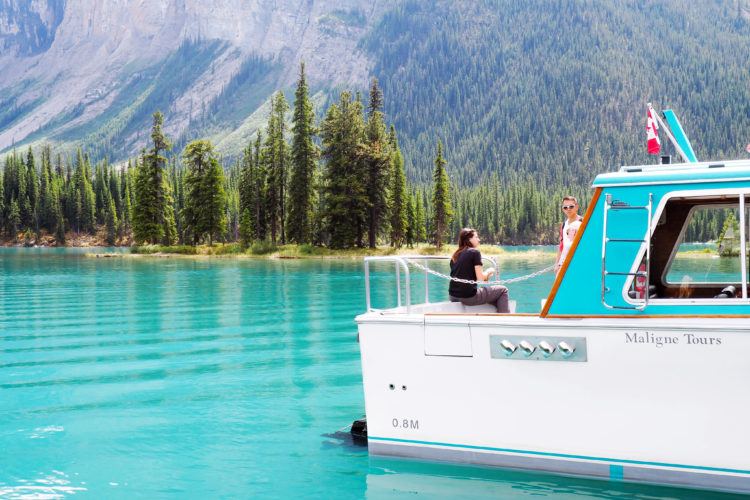 First day in Jasper:
Stop #1: Maligne Lake and Spirit Island
You cannot drive all the way to Jasper National Park and not visit Maligne Lake. It's by far one of the most photographed locations in Jasper, (well, in all of Canada, actually), thanks to Spirit Island (only accessible by boat tours), it's stunning azure colors, and views of the three glaciers.
And plus, it's the largest natural lake in all of the Canadian Rockies (and we know how many of them there are!).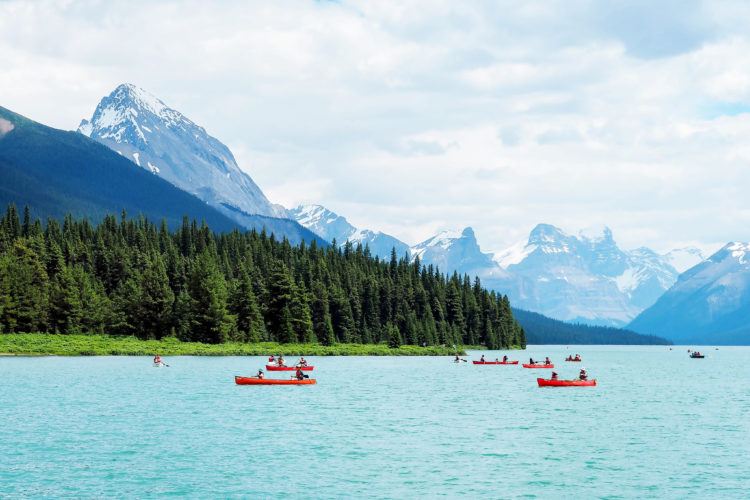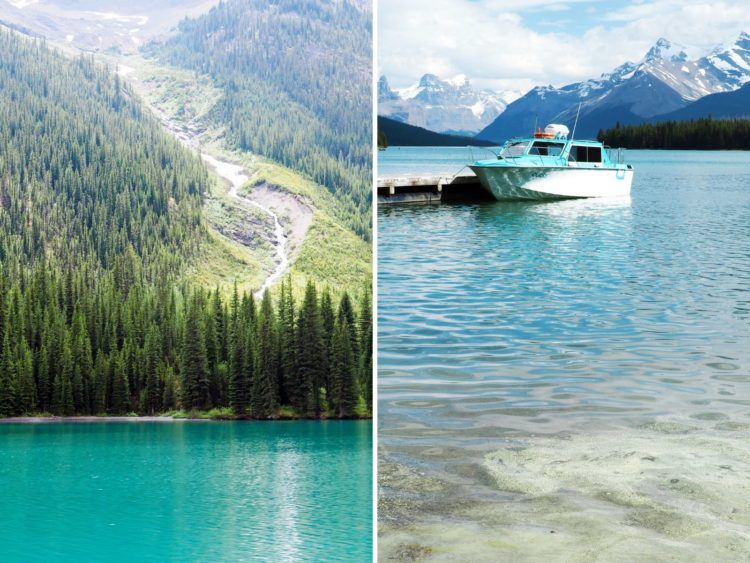 I recommend heading to Maligne Lake first thing in the morning, as this large lake is popular for a reason. It's the furthest spot on the list for today (~1 hour), but you'll be backtracking the rest of the day towards the town of Jasper, so it's not so bad!
You'll want to set aside some time for the ever-so-popular scenic boat cruise around the lake, which makes a quick (20 minute) stop at Spirit Island. And once you get off at Spirit Island, the time goes extra fast, so be sure to take all your photos right away!
I've done the boat tour twice, and it's probably an activity I'll be doing on all my trips to Jasper. Yes, it's on the expensive side ($75CAD for 90 minutes and $110CAD for 120minutes), but well worth it in my opinion.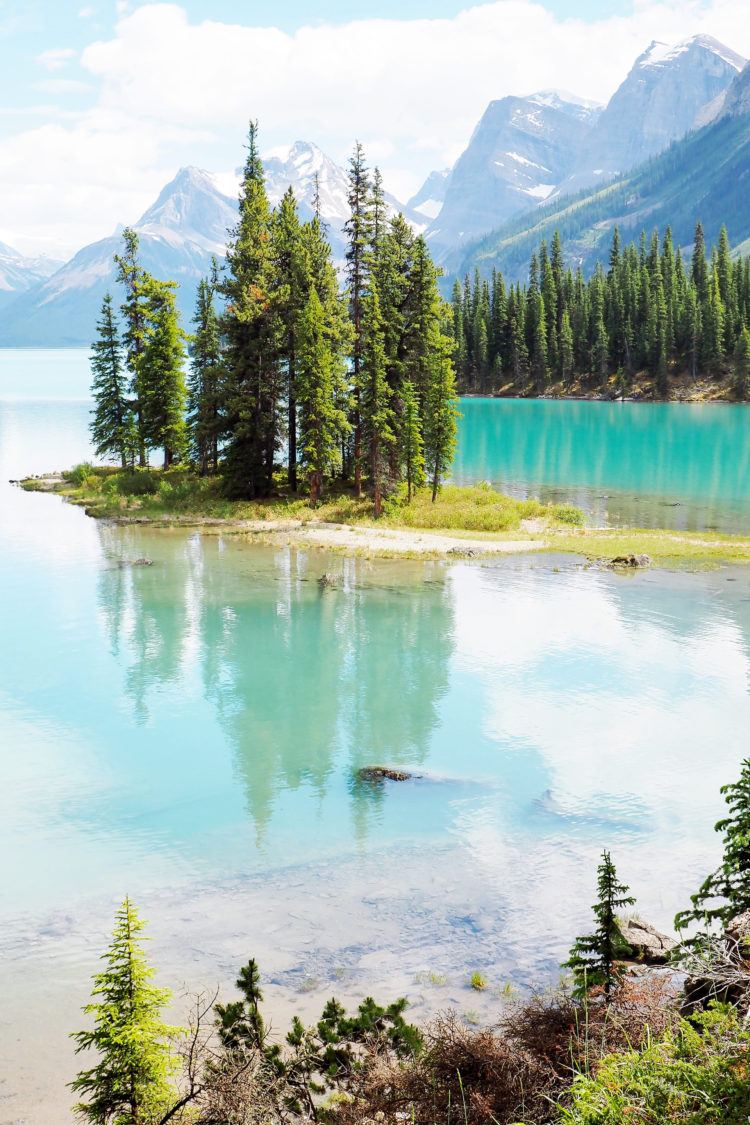 Canoes and kayaks are available from the boat house if you don't want to take a scenic cruise around the lake and to Spirit Island.
Note that you CAN paddle to Spirit Island yourself, but it's quite far at 14km from the Curly Phillips boat house (anyone up for an epic, yet tiresome paddle?). And just FYI, the water is quite chilly (like all other lakes in the Canadian Rockies), so you probably won't wanna swim (or fall) in it.
You'll also find a visitor center, the pier where the boat tours launch from, and a cafeteria-style restaurant at Maligne Lake (although I recommend making your own sandwiches).
Stop #2: Medicine Lake (The disappearing lake)
A relatively short stop, but may as well park for a few minutes since it's kinda on the way to Maligne Canyon (our next stop)! Medicine Lake, known as the Disappearing Lake to some, does just that – the water vanishes (and then reappears) each year, making it a quite unique body of water. And how does this happen? By continuous draining through a network of underground caves. How cool is that?!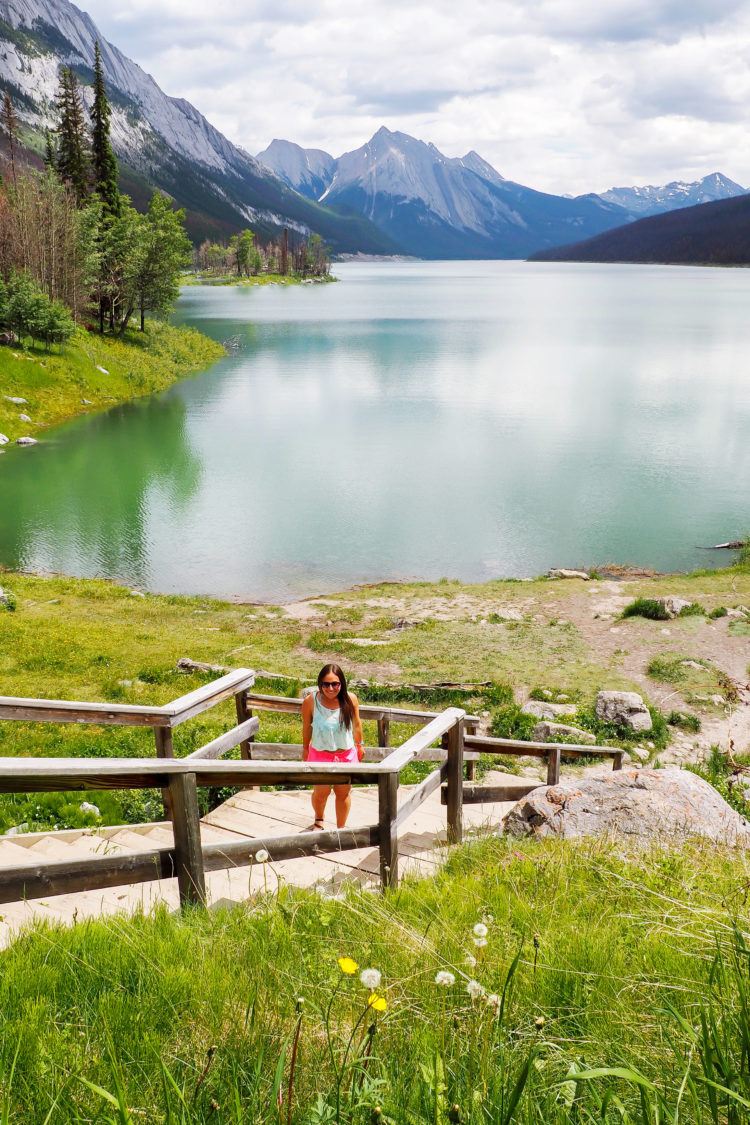 If you want to actually see the water, be sure to visit before late Fall, as by then the lake is gone, leaving behind a giant mudflat (where you'll sometimes see moose grazing). The water refills in the spring when the snow melts from the surrounding mountains (I think…).
Look around, you may even see mountain goats, a bunch of Pika (a small furry animal), and/or a bald eagle or two (we saw one in a nearby nest!).
Stop #3: Maligne Canyon
I stopped to hike Maligne Canyon both times I was in the area (this past summer and a few summers ago), and highly recommend it! Being the deepest slot canyon (a whopping 50 meters!) in Jasper National Park, Maligne Canyon is not to be missed!
And get this – it's narrow enough in some places that squirrels can safely jump across (brave little guys if you ask me – it's a looooong way down).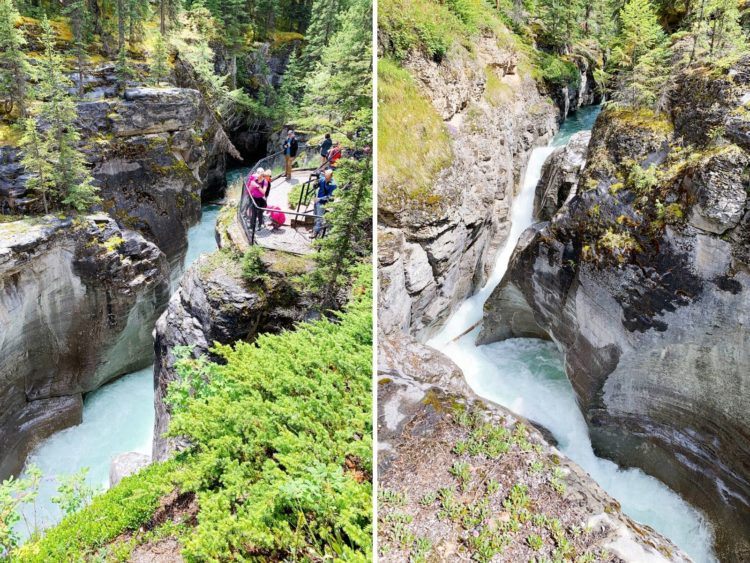 If you want to do the entire hike across all six bridges it'll take you a few hours, but many (including myself) opt to take in the views from the first few bridges. We started the hike from the First Bridge, which is where most people begin as well. There are fantastic viewpoints along the trail (did someone say waterfalls), pleasant strolls through the forest, and oh so many photo opps of the narrow canyon.
It's downright fascinating to think how the gushing water has eroded the rocks and carved the gorge over thousands and thousands of years. Oh, Mother Nature, you're pretty wild.
Don't feel like getting around yourself on stops #1-#3? Neither did we (exploring in the Canadian Rockies is hard work :p). We actually chose to sign up for this full-day Jasper Wildlife and Waterfall tour, which stopped at Medicine Lake and Maligne Canyon, and included a 90-minute boat ride at Maligne Lake to Spirit Island.
The tour also included plenty of wildlife searching, and we saw quite a few bears right alongside the coach and plenty of curious pika! Sign up here for the exact tour we did!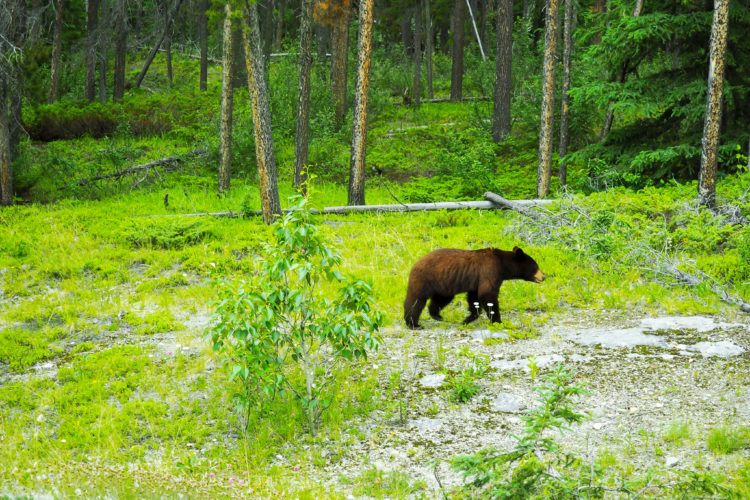 If you prefer to get your hiking on instead of cruise along on a boat tour of Maligne Lake, opt for this tour instead (psst – it's cheaper but doesn't include that highly coveted stop at Spirit Island).
Stop #4: Pyramid and Patricia Lakes
If you have more time and haven't had enough of the lakes just yet, Pyramid and Patricia are your answer. Go on a walk around this pair of lakes (complete with beautiful reflections) – but don't forget your bear spray! Both are much quieter than all the previous lakes on this Canadian rockies itinerary, so be sure to talk loudly or even sing every few minutes to alert the bears to stay away.
Not up for a long walk? Go kayaking instead! Don't expect the same wow factor of Emerald Lake or Lake Louise, but you'll be surrounded by mountains – what more do you need?!
Although we didn't make it here ourselves, I heard it's a great place to watch the sunset! Which I will be doing on my next trip to Jasper (hopefully sooner than later). And technicallyyyy you could walk here from town since the paths are clearly marked, but it'd likely take you the better portion of the day (your choice!).
Second day in Jasper:
The activities on today's list are technically along the Icefields Parkway, but are waaaaay closer to Jasper than Banff. We chose to check out of our hotel early after our second night in Jasper, threw our luggage in the trunk, and hit the ground running for Calgary (via Banff), making the following stops along the way.
And just FYI, we arrived back in Calgary in late-afternoon, just in time to head into town for some dinner and a short walk around town. As noted earlier, you can opt to head to Edmonton (a 4 hour drive from Jasper) if you'd like to explore a new area the next few days instead!
Morning: Edith Cavell Meadows hike
The Edith Cavell Meadows hike was recommended to us by a shop owner in the town of Jasper (while shopping for binoculars), and we cannot thank him enough. It's apparently the #1 hike in Jasper – how had we not even heard of it before?!
The hike takes visitors to a lake full of frosty icebergs and the mindblowing Angel Glacier, and only takes about 30 minutes to reach (via the Path of the Glacier Trail; an easy 1.6km walk).
If you want to see the glacier from above, you can continue on to Cavell Meadows Summit via the Cavell Meadows Trail (about 7km with some steep inclines). You'll be rewarded with a spectacular view of Mt. Edith Cavell, Angel Glacier, Cavell Glacier, and Cavell Lake below.
Due to our time constraints and wanting to see other attractions in the area, we walked to Cavell Pond via the Path of the Glacier Trail. It was misty and a tad rainy on the morning we went, meaning we had the trail mostly to ourselves (we saw just one other couple on our way down).
I suspect there'd be a much larger crowd in better weather, so be sure to arrive early since the parking lot is pretty small. I definitely want to do this short hike again in clear weather!
Afternoon:
Horseshoe Lake: Despite being a relatively small lake (compared to some of the much larger ones we've already seen), it's quite scenic and offers a short trail around the perimeter. Apparently it's a top cliff-jumping spot, so if that's your thing, be sure to bring your bathing suit!
Full disclosure: the trail was pretty muddy and a bit flooded (with patches of knee deep water) when we were there, so we opted to head straight back to the car since we weren't wearing appropriate clothing.
Athabasca Falls: Thankfully I got to witness the force of the water of Athabasca Falls on my first visit, as it was unfortunately pouring on my latest visit! A picturesque and powerful waterfall with mountain views behind – what can be better?! It'll undoubtedly be crowded with tourists, but still worth it in my opinion.
A super easy and quick spot to visit, even with only a short amount of time. There are self-guided trails and bridges, and a large parking lot, making for easy access! You can even get close enough to feel the spray of the water, providing some nice relief in the hot summer months.
Next time I treat myself to another Canadian Rockies road trip, I wanna visit in winter (it looks downright magical with the frozen falls against the turquoise waters).
Sunwapta Falls: Yeah, yeah, yeah, I hear you – another waterfall? This twin pair of waterfalls (one upper and one lower) are fed by the Athabasca Glacier – yup, that ice we stood on along the Icefields Parkway!
The upper falls are super easy to get to (literally a few steps from the parking lot), but you'll need to head down 1.3km to reach the lower falls. And if you're feeling brave – walk across the footbridge for a better view!
And if you've got extra time (or would rather skip out the Mt. Edith Cavell hike in the AM), there's loads of additional hikes in the area to choose from. Some of the most popular ones include: the Wilcox Pass Trail, Valley of the Five Lakes, and the Sulphur Skyline Trail. I'll be packing my hiking boots for those next time.
Where to Stay in Jasper:
By far the most popular place to stay in Jasper National Park is the Fairmont Jasper Park Lodge. It's an upscale, rustic retreat, with not only a spa and suites, but golf courses as well. Not looking to live a life of luxury in the mountains (nor pay a pretty penny for it)?
Other options include The Astoria Hotel (lodging with lots of character and charm), Whistler Inn (surrounded by mountains), and HI Jasper (hostel just a short walk from downtown). Since we booked unfathomably late (and by that I mean a month ahead of time), the only accommodation I could find available was at the Tonquin Inn, which ended up being a perfectly fine place for a few nights.
Find more hotel options in Jasper here.
I hope this (massive) guide to a Calgary to Jasper Canadian Rockies itinerary was helpful! Is a Canadian Rockies road trip on your bucket list?! If not, add it ASAP!