Ever since moving to California almost 5 years ago (whoaaa where does the time go?), I've had a dream to visit all of the National Parks in California. And well, yeah, I haven't quite finished that little ambition of mine.
Considering there's 9 national parks in California, from the tippy top of the state to even a park surrounded by water on all sides (yeah, it's a group of islands), I haven't found the time to make it to all of them just yet!
BUT I will eventually, and am always planning and scheming how I can check another one off the list. So many spots in California feel like they should be National Parks, so while I haven't made it to many official parks yet (just Yosemite, Death Valley, Redwood, and Lassen thus far), we've still explored quite a bit (including Napa, Santa Cruz, Sausalito, LA/Santa Monica, Huntington Beach, San Clemente, San Luis Obispo, Pismo Beach, Santa Barbara, etc, etc, etc).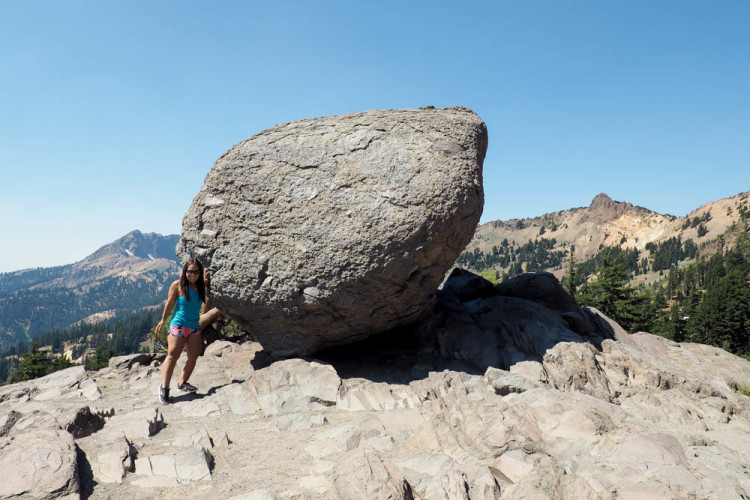 California is wild – there's just SO much to see and do, national parks included! Sand dunes. Tidepooling. Giant sequoias. Salt flats. Alpine peaks. All the natural beauty is just one (of many) reasons why I'm head over heels with my new home state.
And since I haven't made it to all the parks just yet, I've asked fellow travel writers to help compile this list of all 9 National Parks in California. Because, ya know, besides wanting to be a resource for all you lovely readers, I need information too!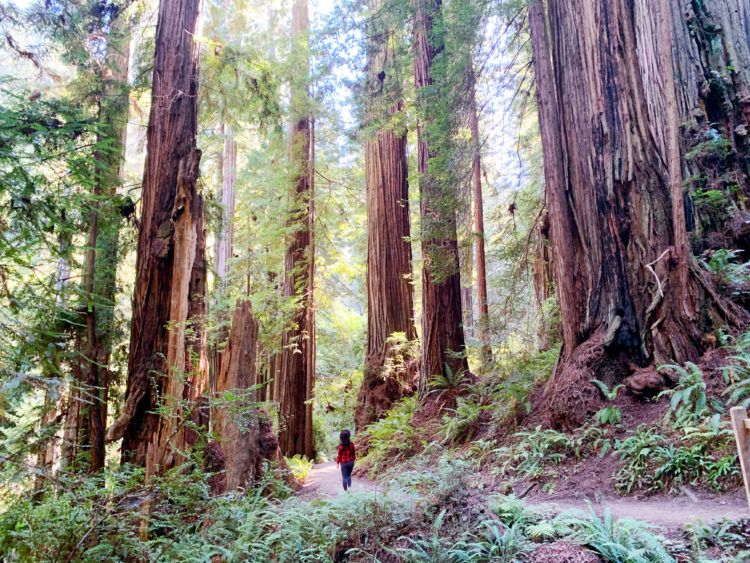 I'm grouping the parks based on where you'll find them in the state; so first off National Parks in Northern California, and then National Parks in Southern California.
California National Parks Map
And since I'm a highly visual person, I thought this California National Parks map may be a helpful resource to you as well!
National Parks in Northern California
1. Redwood National Park
The Redwood National Park was one of my favorite spots during my West Coast road trip. Visiting was such an eye opening experience, as I knew I had to visit the national park with some of the tallest trees in the world. BUT after visiting, I quickly learned that Redwood National Park is way more than it's towering groves..
Sure, there are Redwood trees- impressive in their dense clusters of giant redwoods – but the park also features rugged coastline with noisy seal colonies, prairie lands, and quiet woodland. It's the perfect place to explore the varied landscape of Northern California and get off-grid for at least a couple days.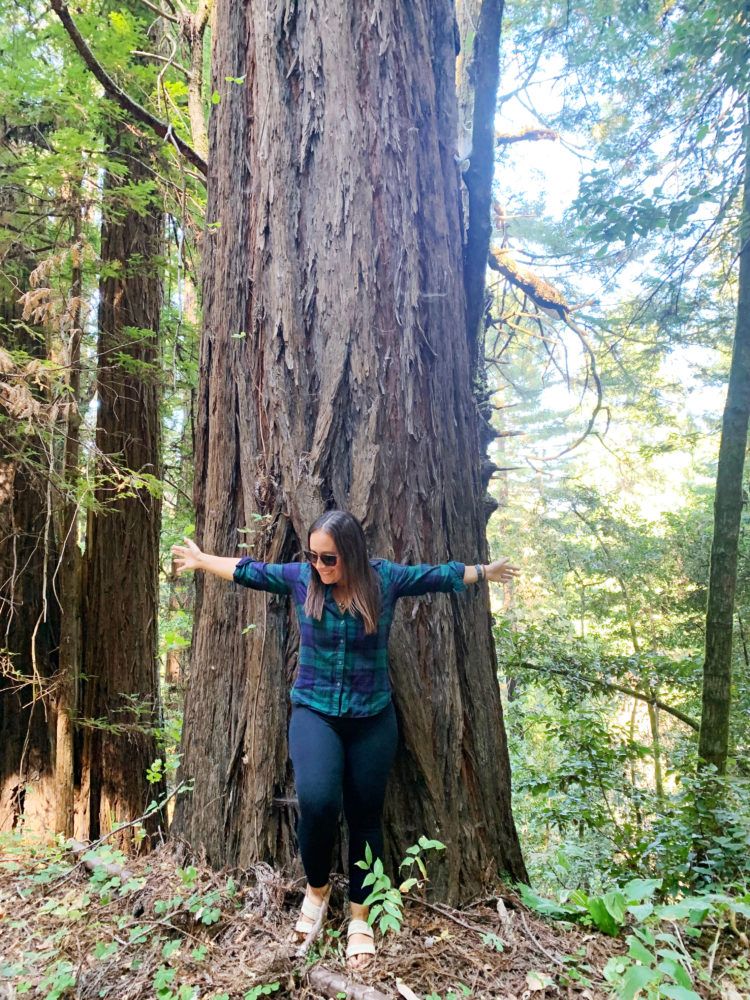 If you're all the way up north by the redwoods, might as well check out the popular Fern Canyon hike! We LOVED it on our recent visit!
What to do in Redwood National Park: If you are visiting the park, you won't want to miss Tall Trees Grove – as the name suggests, it's home to some of the tallest trees in the world!
In addition, there are a number of hikes within the park – my favorite was the Coastal Trail. We did the section between Klamath, which winds along the coast to a hidden beach and then up the Klamath River. If you time your visit right, this is a great spot for whale watching, but it's beautiful at any time of the year.
Recommended time to visit: 2-3 days
Where to stay: Yes, there are camping facilities within the park. But you can also stay in Klamath, which makes a good base for exploring. We stayed in the Holiday Inn Express Klamath (Redwood National Park – not to be confused with the Klamath Falls one in Oregon) and it was well-located for seeing different parts of the park.
If you wanna stay in some civilization (with lots of cute restaurants and shops nearby), I recommend Trinidad or Arcata!
How to Access the Park: The easiest way to access the Redwood National Park is either from San Francisco or from Portland (Oregon). It's a grueling (yet beautiful!) seven-hour drive from San Francisco or an even longer eight-hour drive from Portland. You'll definitely need a car to explore the different sections of the park unless you're doing a long-distance hike.
Contributed by Julianna from The Discoveries Of
2. Lassen Volcanic National Park
If you're looking for less crowds and more nature, a road trip to Lassen Volcanic National Park may be just the answer! Sure, there are tons of weekend and day trips from San Francisco, but if you're looking for something a little less discovered (at least to those living in the Bay Area), welcome to Lassen!
The park is actually said to be called a mini Yellowstone, so you can witness similar natural phenomena without fighting your way through the crowds in Wyoming.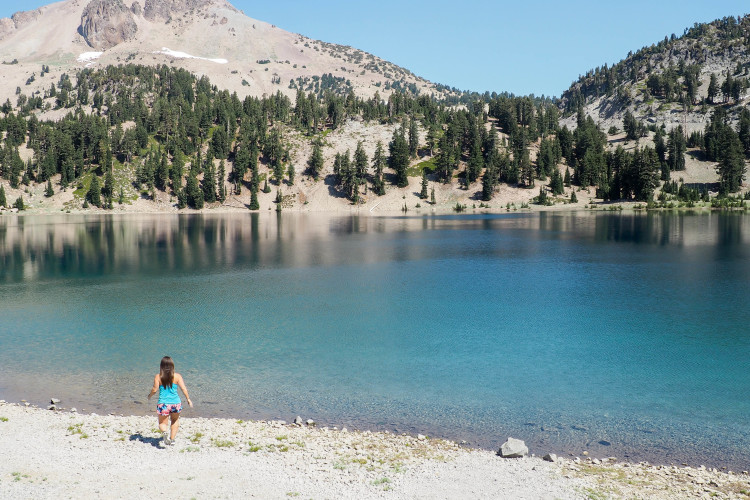 Read Next: A Weekend in Lassen Volcanic National Park
How to Access the Park: Located just a mere 4 hours north of the famous (and wildly over popular and hence over crowded) San Francisco, Lassen couldn't be easier to reach.
A weekend trip to Lassen is also very doable from other nearby cities including Reno, Nevada (2.5 hours), Vacaville/Sacramento, CA (3 hours), and Concord, CA (3.5 hours). It just might cost a tad more to reach these other areas, as you'll commonly find good deals to SFO if your dates are flexible.
Recommended time to visit: 1-2 days in Lassen itself, another to explore the nearby waterfalls
When to Go: With heavy snowfall late into the spring months, it's best to wait until late Summer or early Fall to visit Lassen.
What to do: Start by the by Kohm Ya-mah-nee Visitor Center to fill up your water bottles (not many facilities once you get into into the park), and make the drive along the Main Park Road.
Make sure to stop at Sulphur Works – an active hydrothermal area. And when I say active, you have no idea how active! Walk over to the bubbling mud pots and steaming vents, and you'll see what I mean! Sure, the smells aren't too pretty.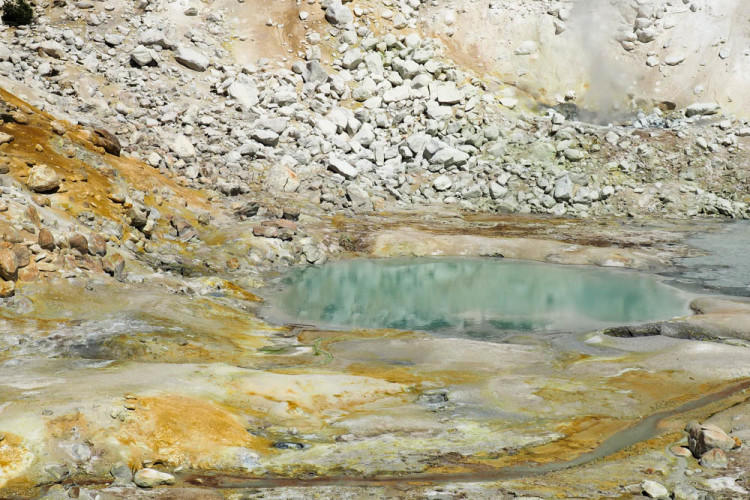 Next up is the glistening Emerald Lake, and not far after you'll come across Bumpass Hell Trail, a three mile round-trip hike leads to a boardwalk where you can listen to more bubbling mudpots, watch the steam escape from a fumarole (named Big Boiler), marvel at the unusual multi-colored soil, and watch the boiling pools of water.
Once you've had your fair share of fumaroles, sulphur, and nasty rotten-egg smells, reward yourself with a lay down at Lake Helen.
Where to Stay: If you wanna be near the park, I'd choose AirBnb, 100%. There's so many cute cabins to choose from! Look for AirBnbs near Lassen National Park here!
However, if you'd rather spend the night at a hotel, your best bet is to stay in Redding, California, located roughly 45 miles west or about an hour drive away.
We decided to stay at The Best Western Anderson Inn – and at less than $100 a night (inclusive of free breakfast!), we couldn't have been more pleased.
You'll find plenty of options in Redding, I can promise you that. Other spots we looked at included TownePlace Suites Redding, Fairfield Inn and Suites, and Hilton Garden Inn, but we booked too late and most were sold out.
3. Yosemite National Park
Yosemite's got a lot going for it (in summer, winter, all seasons). It's got more dramatic mountain views and crashing waterfalls than you can ever imagine, hiking opportunities for every skill level, and granite domes galore.
Plus giant, ancient sequoia trees and wilderness trails. Do note that if you've got your heart set on hiking the 10-12 hours to Half Dome you'll need to secure a permit in advance (aka don't just show up and expect to get your climbing on).
How to Access the Park: Yosemite National Park is located in Northern California, about 170 miles East of San Francisco. The closest airport to the park is Fresno/Yosemite International airport (not recommended since it's $$$), followed by Oakland (OAK) and San Francisco International Airport (SFO), about 3 hours away by car.
You'll probably wanna fly into either Oakland or SFO, rent a car, then head east. Do note that traffic can be quite horrendous, so don't make too many plans that first day.
Popular hikes/attractions/Iconic views: There's a lot you won't wanna miss out on in Yosemite; it's easy to spend a few days here and not see everything! The most famous include:
Yosemite Valley: the easiest part of the park to visit, famous for incredible views of the several peaks towering over Yosemite as well as hiking access to Bridalveil Falls, Happy isle Trail (family friendly), the Vernal Falls footbridge, Glacier Point, and the almost 9,000 foot Half Dome.
Glacier Point and Tunnel View: Two amazing lookouts with sweeping views over the valley, which you can drive to in summer.
Wawona and the Mariposa grove, known for their giant sequoias and historical buildings.
Tioga Road, a scenic drive leading to a more remote part of the park with beautiful views and some beautiful redwoods grove.
Tuolumne Meadows, renown for very many hikes offering great views over the high sierra, complete with ancient sequoias as well
Hetch Hetchy, home of the park reservoir and famous for many wilderness trails (permit required)
Recommended # of days to hit major landmarks/hikes: 2 days to 1 week, depending on the season and number of hikes planned.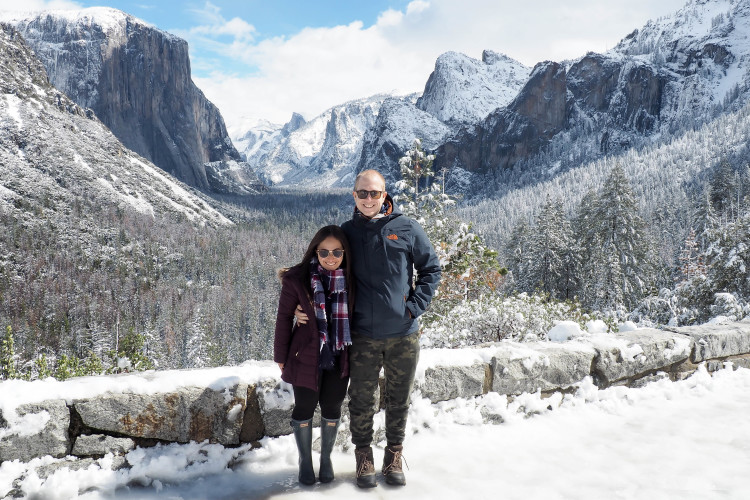 Read Next: What to do in Yosemite in Winter (psst – it's more beautiful thank you think)
Facilities within the park: Thankfully, due to it's great number of visitors, the park is well equipped with facilities in several locations. The vast majority of facilities are located on the valley floor and include a park shuttle, a few restaurants, grills, cafes, supply and grocery shops, bookshops, and even a family friendly pool.
The park also has several exhibitions aimed at adults and kids showcasing the natural landscape of the park and offers excellent ranger led activities such as talks and walks.

Tip: Yosemite gets incredibly crowded during the summer and reservations are a must both for accommodation and valley floor tours. The park is large and distances are big: especially if short on time, getting accommodation inside the park rather than in the gateway towns outside of Yosemite is highly recommended.

Where to stay: The park offers a plethora of accommodation options both inside its perimeter and in its proximity, ranging from campsites (the park has 13, reserve your spot in advance) to hotels and lodges.
Notable addresses are the historical Majestic Yosemite Hotel, the Yosemite Valley Lodge, Half Dome Village Camp, and White Wolf Lodge. Outside of the National Park you can look at accommodation in Mariposa and Oakhurst which act as getaway towns to the area.
BUT honestly, we 95% of the time stay in an AirBnb near Yosemite.

Contributed by Marta from Learning Escapes
4. Pinnacles National Park
Pinnacles National Park, located about mid-center California, is actually the newest US National Park, joining the club in 2013. It's known for its tall, red rock spires, cliffs, crags, and cave formations (formed by an ancient volcano), as well as being one of the best places to spot the highly endangered California Condors (for which there are only 400 left in the wild!).
How to Access the Park: There are 2 separate parts of the park (East and West), and they are not connected by road through the park itself. Both entrances are roughly about a 3 hours drive from San Francisco and 2 hours from San Jose.
To drive from East to West entrance (and vice versa) takes about 1.5 hr. Because of this, visiting both parts of the park in one day is not easily feasible. The East-side Park is where most of the facilities are located and is open 24 hrs. Here you can find a visitor center, a campground, a small supply store that's attached to the campground, and Bear Gulch Nature Center.
Best time to visit: Spring or late Fall and Winter. It gets really hot in summer.
What to do in Pinnacles National Park:
Best Moderate/Advanced Hike: A favorite stretch of trail in Pinnacles is the High Peaks Trail, which can be accessed by making an 8 mile loop from Bear Gulch – High Peaks – Condor Gulch. This loop will take you through the best overlooks and sceneries in Pinnacle National Park (yessssss). Make sure to bring plenty of water, a hat, and a flashlight (for the cave section, and yes, there's a cave section!).
Easy Adventures: Visit Bear Gulch Cave, Bear Gulch Reservoir, or the Condor viewpoint. There are over 30 miles of trail in the park and many intersect, making it possible to create your own loop as short or as long as you wish.
Where to stay: There is no lodging within the park itself beside the campground in East Pinnacle. This isn't a problem for most, as many visit as a day trip from the Bay Area (SF, San Jose). If you're planning on staying overnight, do note that hotels can be found in the nearby towns such as Soledad or Salinas quite easily.
Contributed by Jill from Jack and Jill Travel The World
National Parks in Southern California
5. Sequoia National Park
Yes, even more trees! Here in California we've got lots of 'em! Located next to Kings Canyon in the southern Sierra Nevada mountains, many people choose to visit both during the same trip. Here you'll find the iconic General Sherman Tree, an underground Crystal Cave, and tons of impressive rock formations.
How to Access the Park: Getting to Sequoia National Park is easiest by car, although which way you arrive depends on where you're coming from, of course! The park is about 57 miles from Fresno and 83 miles from Bakersfield, which would be your nearest airport.
However, because of limited flights to Bakersfield, you may want to arrive at LAX and make the two and a half hour drive instead. Plus, flying into LA will be significantly cheaper!
What to do in Sequoia National Park: Hiking! The Moro Rock hike consists of a flight of stairs leading up the rock a quarter of a mile (prettyyyy intense, you'll see). And I promise that once you reach the top, the most incredible views await you. It's a perfect place to get a panoramic view and and it's surrounding areas.
Another popular hike is the Giant Forest Loop. This takes you past the famous General Sherman Tree, the largest sequoia on record standing at 275 tall. You can also take the Tokopah Falls trails which leads you to the 1200' Tokopah Waterfall.

Number of days: 2-3 to fully explore

Facilities Within the Park: Within the park there is lodging, bathrooms, multiple visitor centers, and stores with food for purchase. Picnic spots are also available, so bring along those baskets!
Insider Tip: Be sure to wear or pack layers of clothing as temperatures can drastically range from the foothills to the shady sequoia groves. Also, if you're driving – be sure to fill up your gas tank before you enter the park as there are no stations within the park itself.
It's wise to also bring along some food for the ride as well. Take the shuttle to avoid navigating the windy roads and parking. I have a full list of tips in this post about driving through the park.

Where to stay: There's a tent cabin camp at Bearpaw High Sierra Camp and rustic huts at Pear Lake. You can also camp at a few spots within the park like Cedar Grove, Grant Grove, Foothills, and a few more. Prefer hotel? Stay out of the park in nearby Visalia, where you'll have a great deal of options for hotels, including the Holiday Inn, Marriott, and the Fairfield Inn.

Contributed by Mary from Calculated Traveller Magazine
*Wanna cross two National Parks in California off your list in one go? Many choose to visit both Kings Canyon and Sequoia on the same trip! Since they are technically connected to each other, this is easily doable!
6. Kings Canyon National Park
With it's deep valleys, alpine peaks, skyscraping trees, and distinctive rocks, can you blame me for wanting to visit this National Park in California sooner than later? There's a reason John Muir called Kings Canyon "a rival to Yosemite", considering it's got terrain similar to Yosemite Valley (who knew?!).
And plus, it's home to the deepest canyon in the USA – over a mile and a half deep (there's a reason it's called Kings Canyon alright!). BUT it seems as if not many even know this park exists, since it only receives about half the visitors of Sequoia NP!
How to Access the Park: Kings Canyon's closest major city is Fresno, about an hour and 15 minutes away. And since it's located roughly 4 hours from the SF Bay Area, it makes for quite the easy weekend trip from San Francisco.
What to do in Kings Canyon National Park: Ohhh, there's tons to see and do within Kings Canyon. First off, the park is comprised of two distinct areas: Giant Grove (with it's General Giant Tree – the second largest sequoia in the world!) and Cedar Grove/Zumwait Meadows.
Be sure to check out Redwood Canyon, the largest remaining grove of sequoia trees in the world. And since you're here for views (I'm assuming, but I'm guessing my assumptions are correct), you'll wanna make it to Kings Canyon Panoramic Point – a scenic overlook with a pine covered valley and Hume Lake below. Once you've got that outta the way, head on over to Grizzly Falls, a quick trek to a 75 foot waterfall.
Number of days: 1 day for main highlights, 2 days to see the bulk of the park
Where to Stay: Whether you wanna stay within the National Park itself, or right outside of it, you've got a few options.
Inside the park there's John Muir Lodge, Grant Grove Cabins (if you want a more rustic experience, with both timber and tent cabin styles available), and Cedar Grove Lodge (open May-October).
If those are are booked up (which could likely happen in the height of high season), check out Montecito Sequoia Lodge (located right between Kings Canyon and Sequoia) and a bit further away but not terribly far: Cyndi's Snowline Lodge and Gena's Sierra Inn.
7. Death Valley National Park
Death Valley National Park is one of the most diverse parks I've ever experienced (and I've seen my fair share!). Think salt flats, sand dunes, pastel-colored mountains, craters, and eerie rocks that move all on their own (yup, crazy, right?!). It's hard not to love this place, just watch out for the intense heat!
Recommended # of days: 2 days to see the main highlights, 3+ to really see it all
How to Access the Park: Death Valley is located on the Eastern side of California, with the quickest route including 1. flying into Las Vegas and 2. A two-hour drive from the Las Vegas airport.
Alternatively, a popular route includes flying into and driving from Los Angeles, although the leg from Los Angeles will take you about 3-4 hours (depending on that horrendous Los Angeles traffic of course).
What to Do: The main attractions at Death Valley are Zabriskie Point, Artists Palette, The Devil's Golf Course, Dante's View, Badwater Basin, and the Mesquite Flat Sand Dunes. Most of these popular areas are relatively easy to see and do not require much hiking.
Here's my FULL 2-day guide to Death Valley, including everything you need to know for a great visit!
I recommend Zabriskie Point for sunrise and Mesquite Flat Sand Dunes for sunset. To see most of these major attractions, plan for a 2 day excursion, making it the perfect weekend getaway (probably will need to take off a day or two, since you actually need to get to the area first).

Where to Stay: Death Valley National Park has several campgrounds, the most popular of which is Furnace Creek. Located in the most convenient area and open year round, Furnace Creek tends to be the first site to fill up (so if camping's your jam, be sure to book way ahead of time)!
When it comes to hotels (you want a real bathroom? I hear you!), The Inn at Death Valley really is a great place. It's filled with beautiful palm trees, colorful gardens, and a restaurant, making it an oasis in the deathly hot desert.
The Park has two visitor centers in the park: Furnace Creek and Scotty's Castle. As you might expect, Furnace Creek is relatively close to Furnace Creek Campground. The other visitor center is named Scotty's Castle Visitor Center, and it is located in the northern area of the park. But please note, the castle is closed until further notice due to flooding.

When to visit Death Valley: As much as I loved Death Valley National Park, I will warn you that the heat can be overwhelming (this is coming from a Texan). We visited the park in April and was completely surprised at how hot Death Valley National Park was.
Our experience is why I recommend visiting only in the winter when the average temperatures are around the 60's, making it one of the best US national parks to visit in winter.

Death Valley is truly a photographers dream. And once immersed in its beauty, it's easy to see why so many photographers visit the world renowned park each and every year. The colors! The mountains! The dunes! They all make for perfect memories and photographs. Don't miss it!
Contributed by Michelle from The Wandering Queen
8. Channel Islands National Park
Channel Islands National Park, a chain of 5 islands off the southern coast of California, is by far one of the country's most unique parks. It's quite isolated, being a group of islands and all, leading to incredible, undisturbed wildlife habitats.
Think sea caves, kelp forests, splendid hiking opportunities, and more. It's a primitive park without many permanent facilities (with no current inhabitants), but it's absolutely wonderful for outdoor lovers and a place not to miss on any trip to California.
Recommended # of Days: 1 day as a day trip, 2+ if you're camping overnight
How to Access the Park: In order to reach the park, you'll need to take a ferry or organized kayaking trip from Oxnard or Santa Barbara.
Most visitors arrive to the Channel Islands via the public ferry from Ventura or Oxnard, CA, which are just south of Santa Barbara. The boat ride itself is half the adventure, with opportunities to spot sea lions, dolphins, and even whales if you're lucky.
If you're up for a morning workout, you have the option to kayak out to the Channel Islands – but just know the sea can be kinda rough and the islands are 11 miles away from the mainland!
Day tripping from Santa Barbara is also feasible; driving from Los Angeles is just on the verge of being too far for a day trip. Still, Los Angeles area airports can make sense for a longer visit or if you're planning on stopping at the Channel Islands as part of a Pacific Coast Highway road trip.
What to Do: A full day visit will allow you time to get off at the largest and most popular island, Santa Cruz. There, you can kayak to sea caves, snorkel through kelp forests, or walk to oh-so-scenic vantage points.
If you have additional time, don't miss the crystal-clear waters around Scorpion Beach, coasting alongside the golden sands of Silver Strand Beach (via kayak perhaps?!), and spotting sea lions and starfish.
There are four other islands as well, with different opportunities to tidepool (crabs and starfish!), go birding, or hiking the strenuous 16 miles to view a colony of 30,000 pinnipeds (various types of seals and walrus).
Where to Stay: Although most visitors only go for a day trip, it's possible to spend the night in basic campgrounds (do note that reservations are required in advance). If you prefer the comforts of a hotel, I can recommend the Embassy Suites Mandalay Bay, which is right on the beach in Oxnard.
For anyone willing to take a ferry to the islands, this is a spectacular place to view wildlife activity or hike through seemingly harsh, yet downright beautiful environments. I highly urge you to go!
Contributed by Becky from sightdoing.net
9. Joshua Tree National Park
One step into Joshua tree, and you'll feel like you've landed on a different planet. And with giant branching yuccas (more commonly known as Joshua Trees), fan palm oases, gardens of cholla and ocotillo, and massive rock formations, you'll see what I mean when you visit.
How to Access the Park: Joshua Tree National Park is located in the desert of southeastern California. It's easiest to get to the park by driving yourself, after getting relatively close that is! Psst – The closest major airport is in Palm Springs, about an hour away.
However, many prefer to fly into Los Angeles or Las Vegas, which are 2.5 hours and 3 hours to the park, respectively.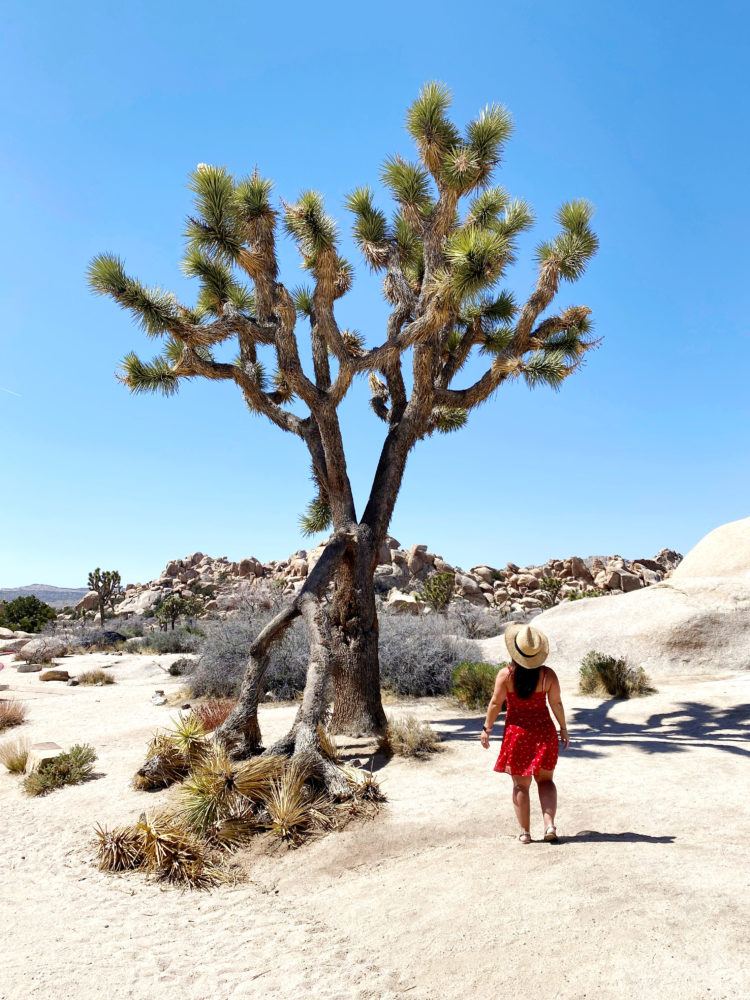 Popular Hikes/Attractions/Iconic Views: The main thing to see in Joshua Tree National Park is the Joshua trees (but you already knew that, right?)! And thankfully, they're all over the park, so you don't have to do much searching. Since they come in so many unique shapes, they make for great photo ops. Hiking in the crazy jumbled rock landscape is also a must-do.
For a short and easy hike, check out the Barker Dam Trail. For something more challenging, hike to Willow Hole. If you aren't into hiking, you can still see plenty of great scenery from road side pull outs. My favorites include Skull Rock and the great view from Keys View.

Recommended Number of Days: 1-3, depending if you wanna do some hiking

Facilities Within the Park: There are no hotels, restaurants, shops, or services within the park so you'll need to bring in supplies yourself. And thankfully, you can easily get everything you need at the towns of 29 Palms and Joshua Tree on the north side of the park.
Be sure to pack lots of water since it's easy to get dehydrated in the desert and there are no taps inside the park.
Where to Stay: To really appreciate the park you should camp in one of Joshua Tree's 9 campgrounds. BUT only two of them have water and flush toilets, with the rest being quite the rustic experience (think pit toilets and no running water – bring your own).
A favorite campground includes Hidden Valley in the heart of the park, which has campsites nestled amongst huge boulders and rock formations.

If you don't want to rough it there are tons of chain motels and some cool retro hotels located nearby in 29 Palms and Joshua Tree. AirBnB's another great option – many locals have built super cute cabins just to the north of town right there in the desert. Worth a look!
If you're in the area at night, you just have to go stargazing. The park has very little light pollution so it's a great place to admire the night sky. Drive deep in the park, pull over at a pullout, and sit down to enjoy the show overhead. Don't forget to bring warm clothing since the desert really cools down at night even if it's scorching during the day.
When to visit Joshua Tree: The best time to visit Joshua Tree is in the spring or fall, as you'll find the most pleasant temps this time of year. In the summer the desert gets waaay too hot (well over 100F) and in the winter it can be below freezing.
Contributed by Taryn from HappiestOutdoors.ca
Which of these National Parks in California are on your bucket list? Which have you visited recently?! Which should be the next California National Park that I check out?
Looking for more California content? Explore my other California guides here!
Did you know that …
When you purchase something through our links, we earn a small fee (but you still pay the same)! Win-win! If you found this article useful, consider using the links within the article or below. Thanks for your support!