Headed to Indonesia soon and looking for things to do in Gili Air?! Keep on reading for not only what to do in Gili Air, but Gili Air accommodation options, snorkeling in Gili Air, and how to get from Bali to Gili Air. Essentially, the complete guide to Gili Air!
The Gili islands are full of exquisite white sandy beaches, curious sea turtles, coconut palms, and more puka shells you've ever seen. It's an absolute paradise and then some. And being so close to Bali, you'd be crazy to miss out on these little islands during your stay in Indonesia, which is why I included it on our 10 day Bali itinerary!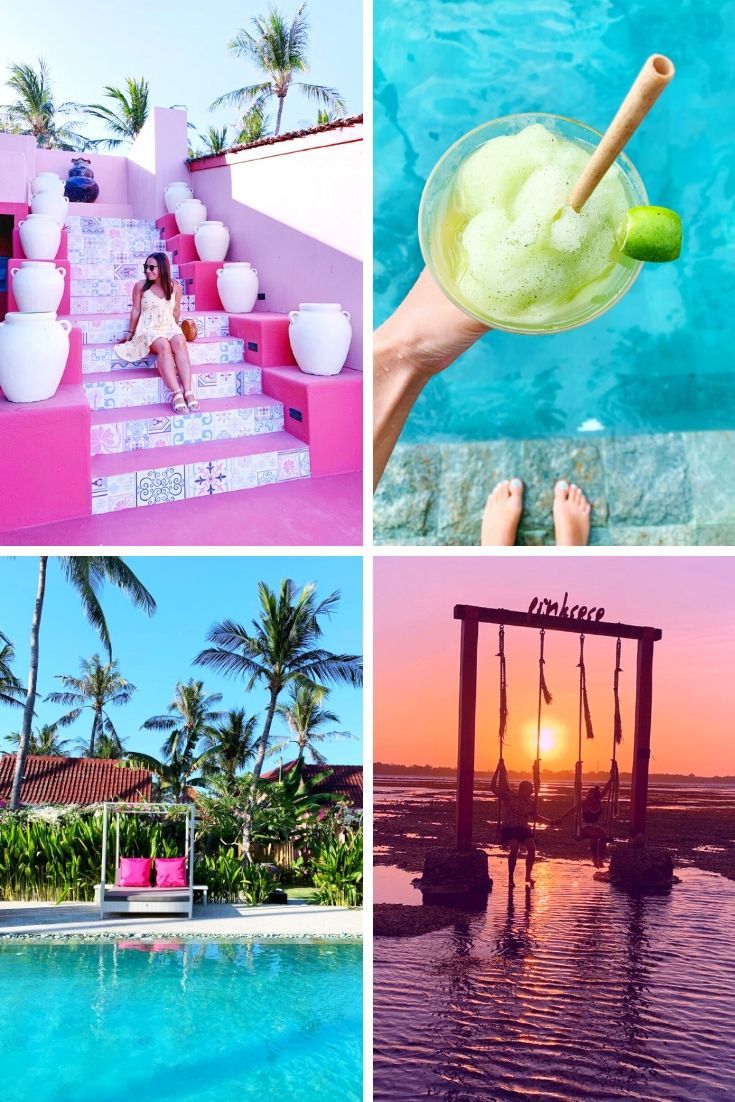 I promise you – after a few busy days in Bali, the Gili's will feel like a breath of fresh air since you don't have to do much to have a good ole time here. Think pool, beach, snorkeling, fresh fish, lots of cheap Bintangs, and 1 hour massages for $7 on repeat.
The Gili Islands are becoming one of Indonesia's most popular destinations, so get here now before the masses. I mean, some even call it the "Maldives of Southeast Asia", an area I'm dying to get to. With the island's laid-back, beachy vibe, inexpensive accommodations, lack of motorized traffic, and absolutely stunning sunsets, I get why they're becoming so incredibly popular.
This exceptional slice of paradise should be on every beach-lovers bucket list. Let's dive right in!
Introduction to The Gili Islands
The Gilis (translated to "small islands" in the local Sasak language) are a group of 3 tiny idyllic islands located off the northwest coast of Lombok in the West Nusa Tenggara province of Indonesia. There are actually more small islands nearby, but most travelers refer to the Gilis as Gili Trawangan, Gili Air, and Gili Meno.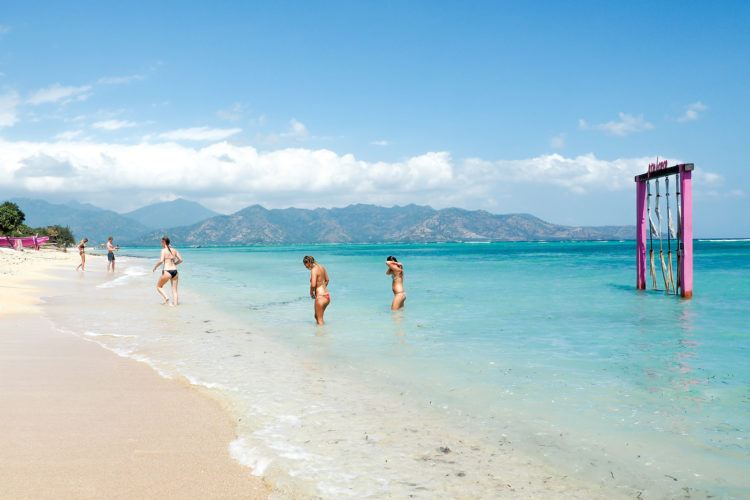 All three islands boast white sandy beaches dotted with palm trees, plentiful coral reefs, tropical cocktails, a laid-back beachy vibe, and spectacular sunsets, so it's hard to choose wrong. However, although we're talking about things to do in Gili Air in this blog post, there are some main differences that are important to highlight. This way, you can decide for yourself which island you think suits your style best. But psst – it's super easy to take a day trip to the other islands, as they're all relatively close by speed boat.
Gili Trawangan: Gili T (what it's commonly called) is the largest and most developed of the three islands. It has a great food scene, complete with the Trawangan Night Market (a must-do if you're nearby).
And plus, it's the westernmost Gili Island, so you can ensure the sunsets are nothing less than extraordinary.
Gili T is typically associated with loud late-night wild parties, with beach parties almost every single night, going well into the early morning. Because of this, you'll find tons of foreign tourists looking to have a good time. If that's not your thing, no worries (it's not ours), you'll probably like Gili Air or Meno better.
Gili Meno: Unlike Gili T, Gili Meno is great for honeymooners and those looking for a more private island experience. It's the smallest and least developed of the three islands, with a handful of restaurants, a lesser number of tourists, a turtle sanctuary, and some of the best snorkeling in the area. Plan to laze around in a hammock, read a book, and play chess with the locals. Looking to escape? Gili Meno may be just what you're looking for.
Gili Air: We chose to stay on Gili Air, and LOVED our few days here (honestly, it was just the best, minus the cidomos, which I'll talk about later). Gili Air is a good balance between the other two, meaning its definitely developed but not as super touristy and rowdy as Gili T, but has more going on than the quiet Gili Meno. There are numerous restaurants to choose from, a handful of dive schools, and local boutique shops.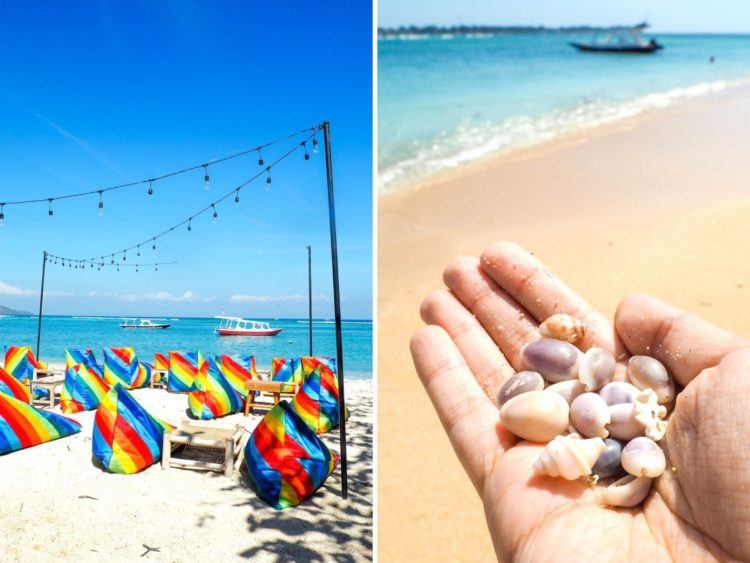 You'll still find lots of locals residing on Gili Air, in traditional and authentic villages and huts, with locally produced goods and crafts for sale.
And plus, Gili Air is the closest of the three to Lombok, so supperrr easy to get to if you're coming from the main island, only taking about 15-20 minutes (like we were since we had flown in after spending a few days in Komodo National Park).
When to Visit Gili Air (Crowds and Weather)
Being a tropical island and all, the temperatures don't change much throughout the year. You'll find high temps of 75 – 90 degrees F and lots of sunshine no matter what, so bring along that sunscreen! It's hot and sticky year round (helloooo high humidity), although cloud cover does change depending on when you visit.
Do note that Gili Air (and the Gilis in general) experience two distinct seasons: wet and dry, like most of SouthEast Asia. There's never a horrible time to visit, but I've provided a bit more detail about the different seasons below.
Peak Season: June – August, and December – January
The months of June – August and December – January (particularly around the holidays) are by far the busiest months of the islands, so be sure to book hotels in advance. Yes, the prices surge and it may be quite windy, but you're basically guaranteed beautiful blue skies and sunny weather. We visited in mid-July and couldn't have asked for better temps – it was perfect bathing suit weather and we basically lived in our sunnies and shorts.
Shoulder Season: May and September
If I had to pinpoint the absolute best time to visit Gili Air and the islands in general, the months of May and September win by a long shot. Not only have the crowds either not shown up just yet (May) or have dissipated (September), but you'll find more reasonable prices and still typically dry weather.
Wet season: late October – late March
If a bit of rain doesn't scare you, a visit to the Gilis during the wet season may not be all that bad. Besides being especially quieter during this time of year (apart from Christmas and New Years of course), it hardly rains all day. You'll typically find short bursts of rain in the afternoon, with many blue skies before and after. With that being said, you'll want to plan your beach time in the morning to avoid possible showers (and thunderstorms) later on in the day.
Do note that the water visibility will be slightly less than during the dry season, so just something to keep in mind if you're planning on doing a lot of snorkeling and/or diving.
How long to stay on the Gili Islands
We stayed just two nights on Gili Air, and probably would have enjoyed a third. With that being said, we spent the majority of our time on Gili Air, and didn't take day trips to the other islands (besides Gili Meno for a short lunch during our snorkel tour). If you really want to slow down and find the ultimate relaxation you're craving, I'd suggest 4-5 days.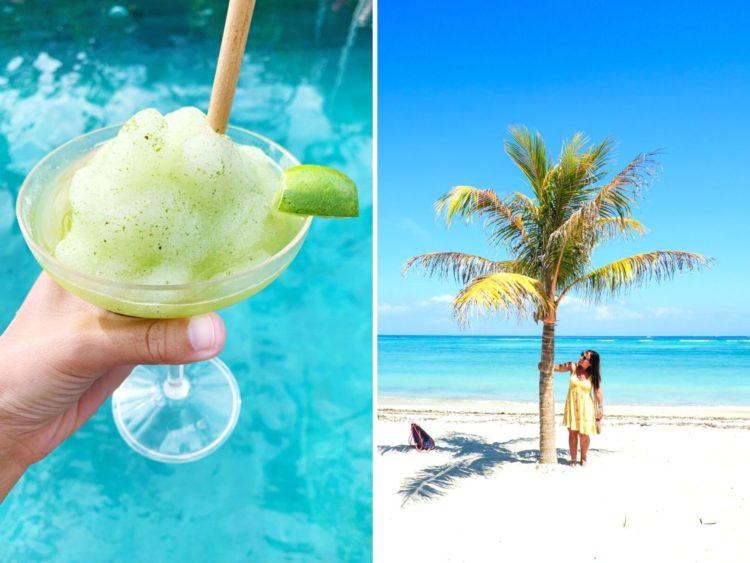 Also – remember: if you're planning on getting your PADI certification here, you'll most likely need to devote 2-3 days to doing just that, plus 24 hours after your last dive before you can fly back to Bali (or wherever your travels may take you).
How to Get to Gili Air
Note that there are no airports within the Gili Islands, with the closest one being in Lombok (the island directly east of the Gilis). This just means you'll have to arrive by boat!
Pro-Tip: most boats pull up on the beaches, but you'll probably need to wade ashore. Probably not a good idea to wear sneakers on this journey!
Bali to Gili Air:
There are a few different boat/ferry companies to take you to the Gili Islands, but I highly encourage you to book a fast boat with Blue Water Express. They are a very reputable company, and after experiencing some pretty rough seas (I still can't believe we went out – those swells were insane), I'm so glad we didn't take the public boat. Yes, Blue Water Express is obviously more expensive, but so worth it to me for the 1-2 hour boat ride (plus free pickup at your hotel if I recall).
FYI – if you're traveling in July/August (like we were), the waters in the Lombok Strait (connecting Bali and Lombok) may be particularly bumpy (due to intense southern winds), so bring along some medicine if you're prone to sea sickness.
Although there's usually an early morning option, I'd opt for the later one around 11am, so you don't need to rush for checkout (and plus, you'll have enough time on the Gili's if you follow this Bali itinerary, I promise). Depending on where you're staying in Bali the night before, you can choose to depart from either South Bali (Serangan Harbor) or East Bali (Padang Bai).
Other popular/established fast boat options from Bali include Eka Jaya Fast Boat and Scoot Fast Cruises. I'd choose one of those if tickets on Blue Water Express are sold out.
Psst – traveling during high season? Book your ferry ticket in advance as they are known to sell out for weeks.
If you're looking to save a few bucks, you can take the public ferry (if you must). However, be prepared for a super long day. You'll first need to take a boat from Padang Bai to Lombok, which takes about 5 hours, and then take a taxi to the port and then another ferry to the Gili Islands. So much of a hassle, and if you're on a tight schedule, not an option I recommend, considering total travel time is about 8 hours (compared to 2-3 hours when booking yourself on a fast boat ferry company, like above).
Lombok to Gili Air:
Follow this plan if you'll already be exploring Lombok, as it doesn't make much sense otherwise (i.e. if you're coming directly from Bali). Public ferry boats to the Gilis leave from Bangsal Harbor, whereas the more expensive (albeit very popular) speed boat charters leave from Teluk NareTeluk Kade. Like the route from Bali to Gili Air, you'll find fast boats to be more comfortable and much quicker than the public ferry.
We actually headed to the Gili's from Komodo via Lombok, so flew into Lombok International Airport and had a private driver pick us up and drive us to Teluk Nare, where we had a charter waiting for us.
How to Get Around Gili Air
You may be surprised to hear that there are no motorized vehicles (or paved roads!) on any of three Gili Islands. And yes, I absolutely loved it! You'll find everyone biking and walking around the islands, as well as taking horse carts from time to time (called cidomos by the locals). And thankfully, many hotels provide bike rentals free of charge, including our hotel, the Pink Coco. The islands are small enough to just bike and walk, but you may wanna take a cidomo to help transport your luggage.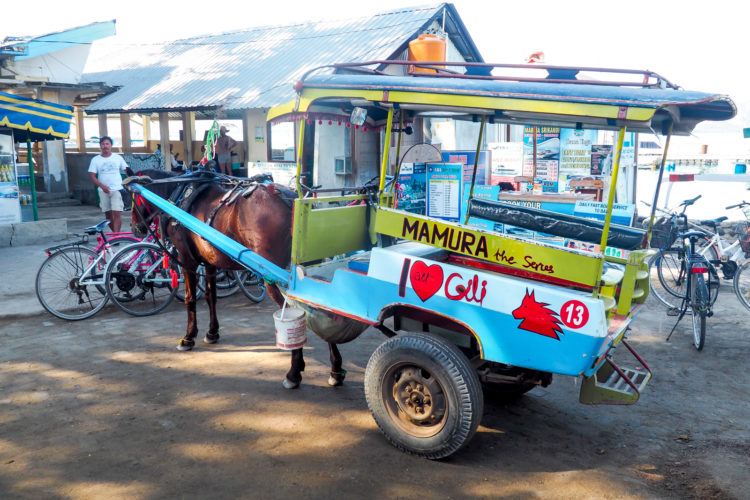 When we first arrived by ferry to the Gili Air port, we took a horse cart to carry us and our luggage to our hotel, the Pink Coco. We learned later that day that the walk takes about 20 minutes without bags (alongside the beautiful beach), although through some sandy spots, so it wouldn't have made for an exciting afternoon lugging our stuff there.
I was honestly pretty upset with the conditions of the horses and how they were treated. At times I saw the cart drivers use whiplashes to keep the horses in check, which was quite disturbing to say the least (and broke my heart). Because of this, we opted to walk as much as we possibly could, only using the horses twice – to and from the port with our luggage (and even then that felt like too much).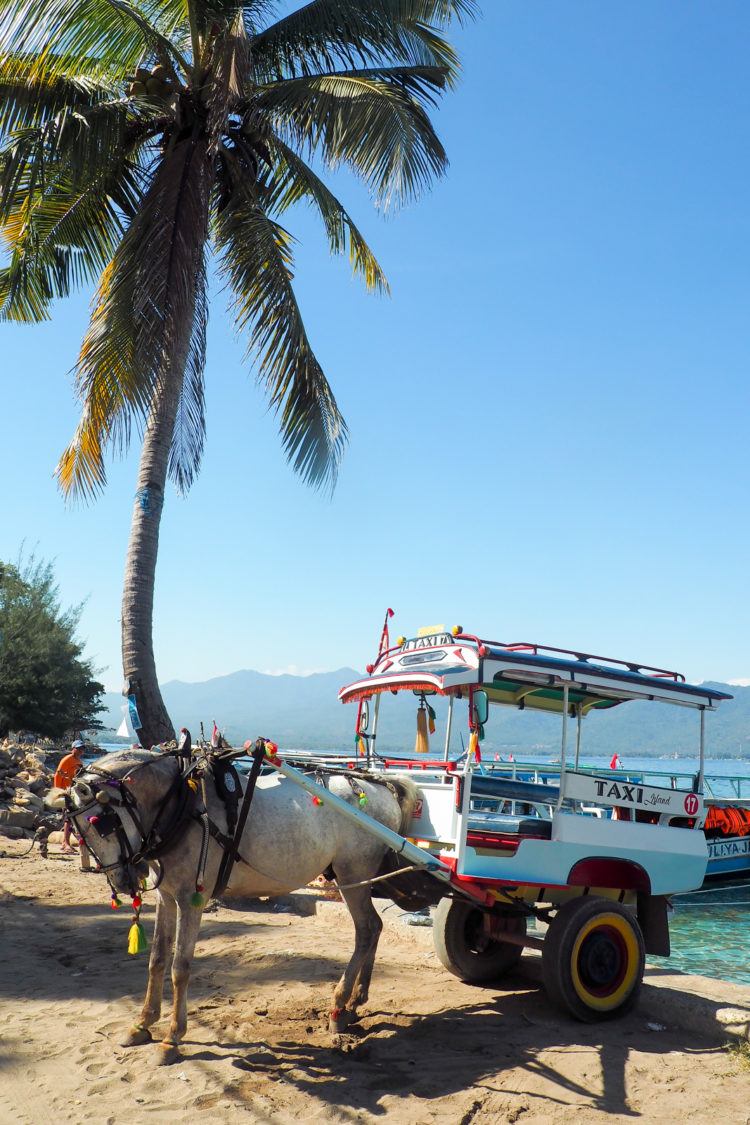 What to Pack
You guessed correctly – you'll need to pack similarly to any other tropical island getaway. Don't forget your swimsuits, light/airy clothing (it gets hot here!), sunglasses, reef-safe sunscreen, and mosquito repellent/bug spray. A dry-bag's a good idea if you'll be doing any boating, including snorkeling and/or diving. Women will need to wear cover ups over bathing suits, so packing a sarong or two would be particularly helpful. Ladies, bring tampons if you'll need them, as I heard they're pretty tough to find in town.
In addition, it's important to note that there are no hospitals on any of the Gili Islands, so be sure to bring any medications you may think you'll need for your trip, including a dose of antibiotics in case you get the dreaded Bali Belly (food poisoning). There are clinics and pharmacies, however supplies are limited with no options.
Gili Air Accommodation: Where to Stay
Accommodation on the Gilis in general are pretty basic, and you won't find many luxury hotels or chain options over here. While the hotels were MUCH more developed than the beach huts we stayed in over on San Blas in Panama, they still seemed to be lacking some amenities we'd typically find in the states, although there's tons of variety for what you're looking for.
And thankfully, most of the accommodation options on the islands are budget-friendly, with most being under $100/night and plenty under $50.
*You'll need to decide which island you want to base yourself on (outta 3 main ones). We chose Gili Air, and loved our decision. For reference, there's Gili Trawangan (commonly called Gili T), which is the largest, liveliest, and most developed island, with tons of late-night beachside parties and lots of drinking (apparently).
Gili Air, where we stayed, is a bit more low-key, but there's still a whole slew of restaurants, bars, and relaxed nightlife (think listening to live music on the beach in some bean bag chairs while sipping some Bintangs – the local beer). And finally there's Gili Meno, the smallest of the islands, for those who just wanna get away from it all (it's by far the quietest of the bunch without much nightlife).
Where we stayed: PinkCoco Gili Air
To say we fell in love with the Pink Coco is a huge understatement. There's just something about it that we found ourselves drawn to immediately. From all the pink accents to the breakfast overlooking the beach, it was the perfect place to rest our heads while on Gili Air.
And plus – all the staff were especially helpful and accommodating (when we had a mishap with our bags). It didn't hurt that our room was just steps from the scenic pool, which was covered in palm trees and where we spent the bulk of our time while on the islands. HIGHLY recommended, and one of my husband's favorite hotels of all time (his words).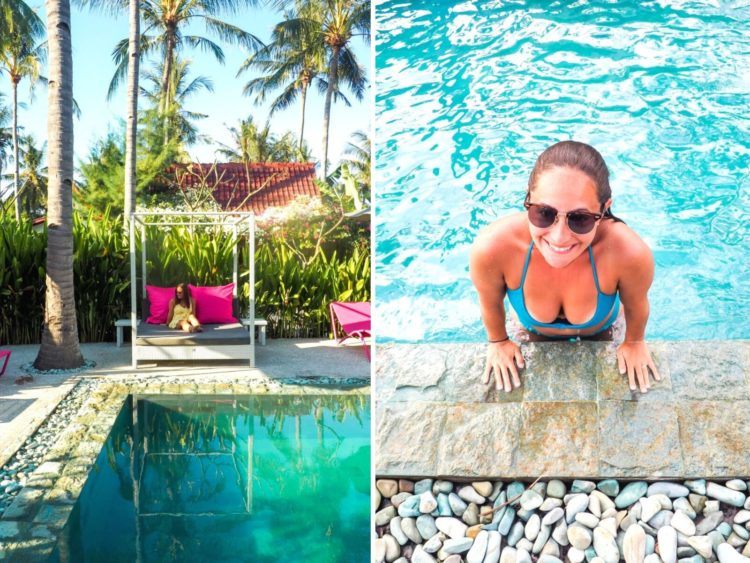 In high season (mid-July), I think we paid about $85 per night at the Pink Coco Gili Air, which we thought was an absolute steal considering how beautiful the pool area was.
Other places to stay on Gili Air: Captain Coconuts Gili Air (super lush), Jago Gili Air (new and modern), and Slow Villas (a chic, rustic feel).
A few important notes on culture over here
The Gili Islands are Muslim, so be sure to cover up once you leave the beach. No bikinis are allowed in the town area. And definitely not any topless sunbathing (highly, highly frowned upon – please, be respectful)! Plan to dress comfortably yet somewhat conservative.
Most shops will kindly ask you to remove your shoes before entering. Please be respectful and do so.
And just FYI, you'll hear the Mosque calls of prayer a few times throughout the day.
Extra Gili Air tips:
There are a few ATMS on the island. However, I'd still bring some cash with you. You never know when they won't work or run out of cash to dispense (yes, it happens on occasion).
You cannot drink the water – bottled is the way to go.
There's no police station (and therefore, no police officers) on the Gili's, meaning that drugs (including but not limited to: mushrooms, marijuana, ecstasy, etc) are not hard to come by (and actually advertised on the street). Be smart!
Power may go out on occasion (it's a small island and they need to save electricity). Know that this is normal, and just go about your regular day.
Wifi is not the strongest on the island, but you'll find some cafes and restaurants have strong connections.
Cows, chickens, and cats are everywhere. Let them be and be patient and let them cross if they're in the road when you need to get by.
There's also flies everywhere. EVERYWHERE. Pack bug spray and reapply it often.
Pack a dry bag for snorkeling. Just do it.
Things to do in Gili Air
1. Snorkel around the Gilis: No trip to the Gili's would be complete without exploring its vast underwater world, so plan a day to go snorkeling! Gili Air actually means "water island" in Indonesian! You can either pre-book or book once you get to the island (we were spontaneous and booked the day before while walking to our hotel). Book ahead here if you'd like to ensure a spot and not get jammed in on a beat up boat like we were (with janky masks and snorkels as well).
Most snorkel tours visit Turtle Point (for you guessed it, turtle spotting), near Gili Meno to see the underwater statues, and another spot or two with coral gardens to see a wide array of tropical fish. I saw a few turtles (my favorite) as well as tons of colorful fish.
A quick note on turtles and underwater life in general: NEVER attempt to chase/touch/pet/feed turtles, as human contact can give them diseases and make them sick. Admire these beauties, (and get your photos), but NEVER at the expense of the animal. PLEASE keep wildlife WILD.
The area near the statues was unbelievably crowded, as there were quite a few boats there when we were. However, if you know how to free dive (dive below the water without your snorkel), you can easily escape some of the crowds on the water's surface.
For reference, our boat left around 9:30am or so for snorkeling, stopped on Gili Meno for some lunch, and we returned back to Gili Air at our hotel around 3ish or so. It was the perfect few hours, and we were able to relax poolside before freshening up for a beachside dinner a bit later.
2. Diving: If you're a diving enthusiast, you'll absolutely LOVE the Gili's. They're a true divers dream come true, with all the opportunities to see impressive arrays of marine life. Think clownfish, barracuda, angelfish, triggerfish, pufferfish, and schools of damselfish over the corals.
Besides tons of colorful, tropical fish, there's sea turtles, black and white tip reef sharks, manta and eagle rays, and the occasional whale shark. The conditions are great year round (including warm water, meaning no need for a wetsuit), there's diving suitable for all levels, and an abundance of turtles. If that doesn't make any diver happy, I don't know what does.
Popular dive sites in the Gili Islands include Shark Point (where you'll have a good chance of spotting larger marine life, think moray eels, reef sharks, and huge green turtles), Turtle Heaven (for you guessed it – an insane amount of turtles), Simon's Reef (with tons of barrel sponges and gorgonian fans usually with pygmy seahorses), and Deep Turbo (a favorite among many divers with its stunning coral garden).
For reference, a typical day dive will set you back roughly 540,000IDR (~$40USD), with night and other types of dives costing a tad more. If you'd like to pre-book, this option includes 2 dive sites and hotel transfers for a great price.
And even if you aren't scuba-certified and wanna take a stab at diving, you can either try it out in the pool or do a discover scuba class (which I did in Santorini on our honeymoon years back!), which only takes ½ day. Practice in the pool is free, while a Discover scuba class is 950,000 IDR (~$70USD). Read more about Discover Scuba and sign up here.
3. Get your PADI certificate: The Gili Islands are the perfect place to get your PADI certificate, so if you've been toying with the idea of becoming an avid scuba diver, now's your chance. It's by far one of the best things to do in Gili Air, especially for all you water lovers. There's a bunch of dive schools right in town, including Ocean 5 Dive, Manta Dive Gili Air, and Gili Air Divers.
A "Scuba Diver" dive certificate takes two days to complete, consisting of theory, pool sessions, and 2 open water dives in the ocean (~4.5 million IDR = ~$330USD). If you want your open water course certificate (giving you full knowledge of scuba diving), it'll take 3-4 days, depending on the dive shop, consisting of an additional few requirements (~5.5 million IDR = ~$400USD).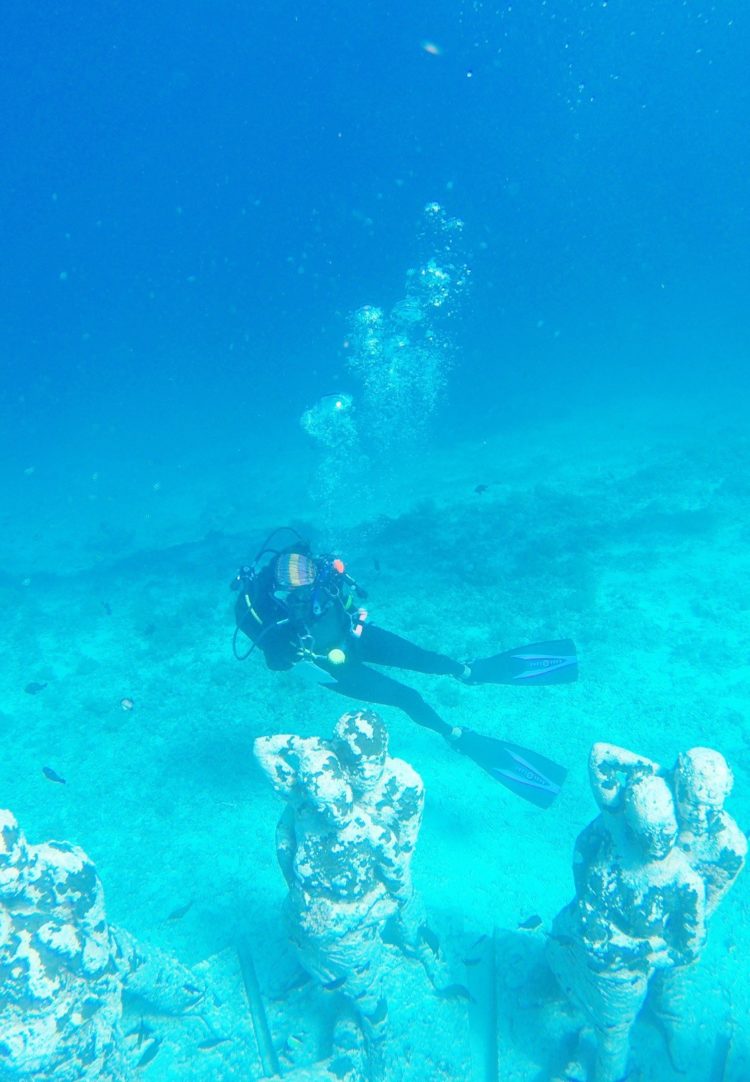 And while you're at it, why not join a reef and/or beach clean up with Ocean 5? We all gotta do our part to help the environment!
4. Shopping: Believe it or not, this tiny island has a handful of super cute beach and surf boutiques and beach front stalls. You will definitely not find any malls or bustling markets. However, what you will find is an eclectic mix of tropical-inspired beach wear, sarongs, bamboo hats, hand woven tops, coconut oil, casual summer dresses, handmade jewelry, and natural spa products.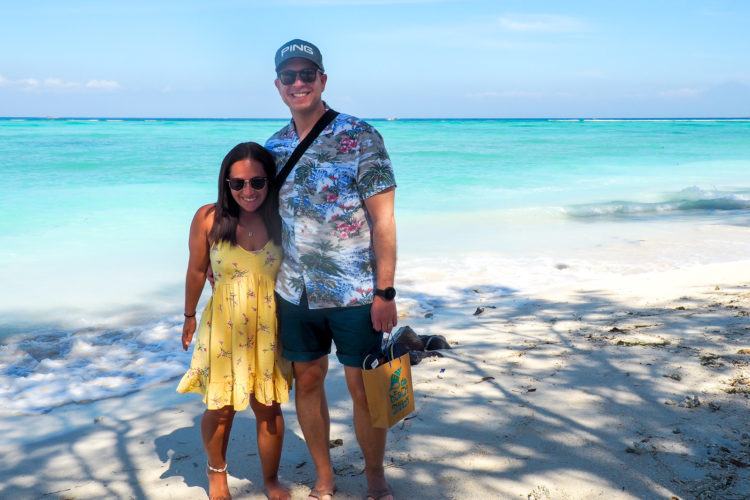 Funny story (well, kinda); our bags got lost on the way to Gili Air from Komodo (the planes are tiny, it happens), and we therefore had no clothes. Off to the shops it was to buy bathing suits! I found the best stuff at Da Beach Shack, Sunkissed, and Kartini.
If you're in need of toiletries, soft drinks, groceries, snacks, etc, head inland to Siti Store; it's the largest grocery/convenience store in Gili Air.
5. Super-cheap massages on the beach: Who got hour-long foot massages 4 times in 3 days? This gal right here. Walk up and down the beach and you'll come across numerous spas offering treatments such as back/neck massages, foot massages, mani/pedis, etc, all for ridiculously low prices. Think 100,000 IDR for 60 minutes of pure bliss (yup, that's about ~$7USD).
We felt like we were in Thailand again and we were loving every second of it. There's also a few more luxurious spas on the island, including Slow Spa Gili Air, which I'm dying to get to our next visit to Gili Air.
6. Late-night live music: Despite having a more laid-back party scene than Gili T, there's still lots to do at night on Gili Air. I mean, what's better than sipping a Bintang on a bean bag chair on the beach, while listening to live music for hours? Exactly – not much.
Throw back a few local beers, or sip on fresh coconuts and just relish in that sweet, sweet island life. A few spots known for their live music on Gili Air include: Sunset Zipp Bar, Bel Air, Cheeky Monkeys (a live DJ), Gili Lumbung, Puri Vida (reggae), Legend Bar (trance music), and Luckys (electronic).
7. A meal (or happy hour) at Mowies Gili Air: While there are a few top foodie spots to check out while in Gili Air (more info below), you've gotta get yourself to Mowies. Here you'll find lots of healthy choices (including plenty of vegan/vegetarian options), including juicy jackfruit tacos, nasi goreng, curries, tuna burgers, great smoothies, fresh juices, and cocktails. The vibe is utterly amazing (I swear, the island is so chill), and you can watch the sunset/eat on bean bags.
8. Watch the Sunset on the West side of the Island: I swear, sunsets in Indonesia are some of the best on the planet – the entire sky lights up and everyone just stares in awe. On clear nights you'll even see Bali's Mount Agung off in the distance.
You'll find a whole slew of beach bars and restaurants along the west coast for sunset. Great spots to watch include Mowies (considered to be #1 by expats), Ombak Gili Air, and Gili Lumbing. You may even encounter fire twirlers, live bands, reggae tunes, outdoor movies, etc. No matter where you watch, go a bit early for happy hour, snag a bean bag, and watch the fiery sun fall beneath the gentle waves.
If you're a sucker for sunrises and sunsets like I am, please spend a few days in Komodo National Park before/after visiting Gili. So much magic.
9. Rent a bicycle and ride around the island: One of the best ways to see the island? Rent a bike! Since there are no motorized vehicles on the island, so many people (both locals and visitors) get around by renting bikes! I recommend a bike with fat tires as they go over the sand easier, and a basket to carry your snorkel/beach gear if you'll be beach hopping.
It only takes about an hour to cycle around the perimeter of Gili Air, with lots of stunning views of Lombok's Mt. Rinjani for a good portion of the ride. If you ride inland, expect to see a bunch of free-roaming cows and fields of palm trees.
Expect to pay about 70-100,000 IDR per day, ~$7USD, you can negotiate, especially if you have multiple people renting bikes and/or want to rent for a few days). Some resorts offer free bike rentals (including ours, The PinkCoCo).
10. Movies on the beach: Looking for a low-key night (or perhaps after sunset/happy hour and before lounging in front of live music)? Head to an outdoor beach cinema complete with multi-colored bean bags at either Ombak Paradise (on the west side) or Bel Air (on the east side) at 8pm on select nights (you'll probably see flyers advertising which movies are playing). Sounds like a good way to spend a few hours on the beach.
11. Indonesian cooking class: Wish you could learn the secrets to the local cuisine? Think Mie Goreng (fried noodles with chicken), authentic peanut sauce, fried tempeh, and kelopon (a famous Indo dessert), and more. I so wish we had done this; hopefully next time!
And thankfully, there's two cooking classes on the island to pick from:
If you don't mind venturing to the north, check out Hero's class at Warung Sunny. For a super reasonable price of 250,000IDR (~$18USD), you'll be taught local flavors by a local guy for over 2 hours in an unpretentious wooden shack.
If you'd rather stay in town, next to Oceans 5 Dive Resort, there's Gili Cooking Classes. Depending on which class you sign up for you, you'll make a delicious 3-6 course meal complete with famous Indonesian dishes. The classes start at 290,000IDR (~$21USD), so a great deal as well.
12. Swing over the ocean: I'm sorry, but you CANNOT come to Gili and not swing over the ocean. These swings have become an instagram sensation in recent years, and make for phenomenal photos! You'll find a few walking along the beach, our favorite being the swing at PinkCoco (where we stayed).
Just be careful getting on, as you'll need to wade through the water and rocky sand, and it's harder than it looks during high tide. I fully expected there to be lines of instagrammers looking to take that perfect shot, but I was actually the first to get on!
Where (and what) to eat on Gili Air
For such a tiny island, there's a great deal of Gili Air restaurants. Food is relatively cheap and plentiful, as are fruit juices, smoothies, coconuts, and local beers.
For breakfast, we loved Coffee and Thyme (super cute setting) and Gili Bliss (for refreshing smoothie bowls). We had a nice breakfast at PinkCoco one morning overlooking the beach which I also loved. I heard good things about Aura Bowls and Breadelicious, but we didn't have time to go (not enough mornings to try everything).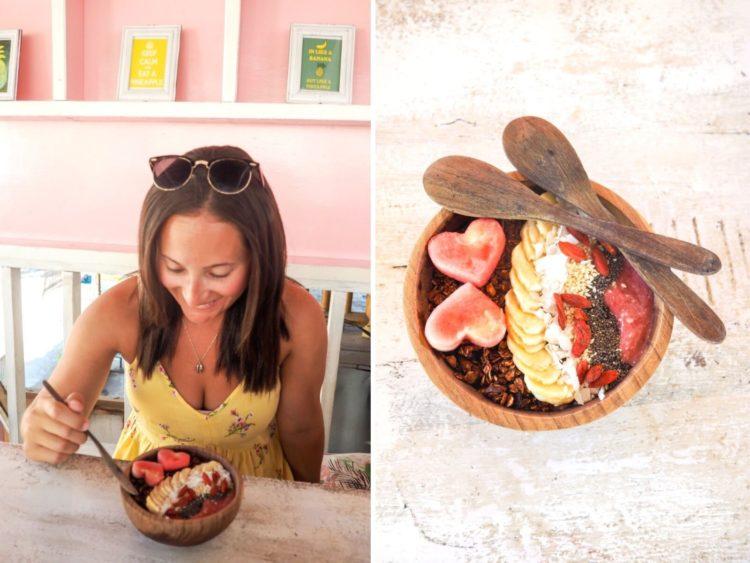 For lunch and dinner, we enjoyed meals at Mowie's, and also heard that Captain Coconuts, Pachamama, Scallywags Beach Club, Chill Out Bar, Warung Mexicana, and Warung Sunny are especially tasty as well. You'll also find a bunch of restaurants along the water serving up BBQ'd fish, caught just that day.
There's a whole slew of local warungs both in town and around the island for super cheap meals. Be sure to try both Nasi Campur and Nasi Goreng, local dishes consisting of either rice or noodles with toppings (think noodles, eggs, chicken, tofu, veggies).
I hope this Gili Air travel blog was helpful! Are you visiting the islands soon?! Which of these things to do in Gili Air will you be adding to your must-do's?!