Headed to England and looking for the perfect way to spend 3 days in London? I gotchu, my Marmite and pub-loving friends. :p In this London itinerary I'm sharing everything you need to know — when to go, where to stay, how to get around, and of course, what not to miss during your long weekend in London!
Close your eyes and picture the city. What first comes to mind? I'm sure Trafalgar Square, the Tower of London, those iconic red double decker buses, Big Ben, and the London Eye ring a bell. And maybe even crumpets and royalty. But what about magnificent ancient buildings, spectacular flower markets, fine food, graffiti-covered tunnels, al fresco swimming, and exceedingly good times? London really has it all! You'll see!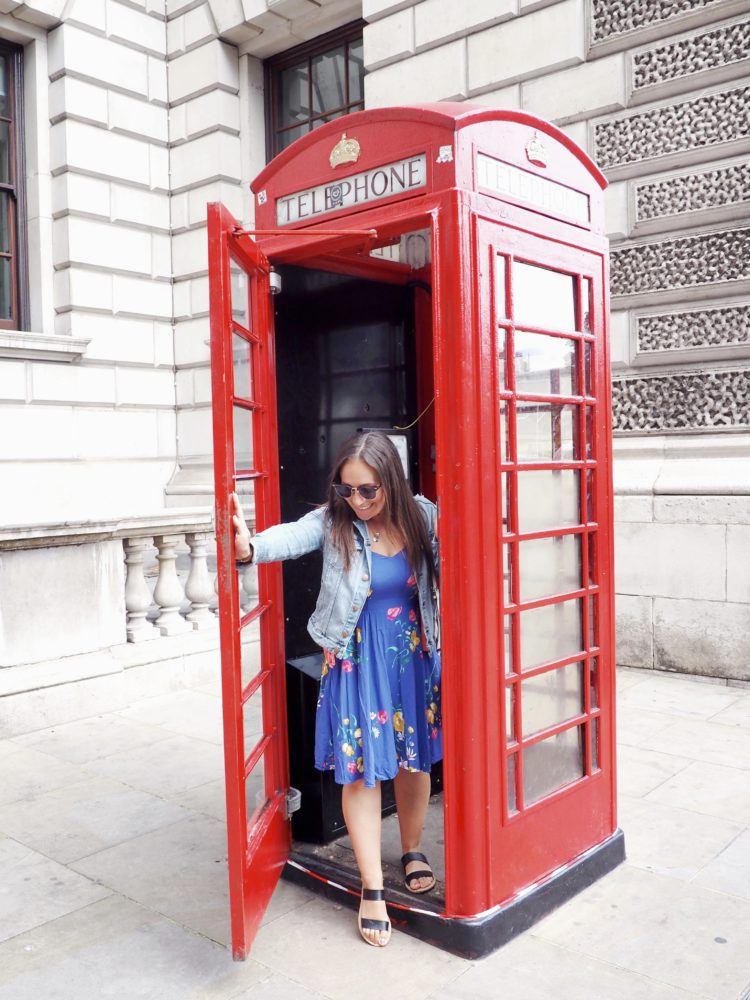 London is one of the world's greatest cosmopolitan cities. There's colorful neighborhoods, lots of interesting history, instagrammable photo spots, and tons of art galleries. The culture is vibrant — a huge melting pot of beliefs, nationalities, food, and languages. I get it — figuring out what to include on your London itinerary can be downright daunting; the city is huge! Don't fret — this 3 day London itinerary will help!
Read Next — The Ultimate London Bucket List! Perfect for your first trip across the pond, or 15th!
So if you can't wait to say hi to Queen Lizzy and scarf down some battered sausages and mushy peas, start planning your 3 days in London ASAP! Inside this London itinerary, I'm sharing all the best parts of the city — all the major tourist must-sees along with a whole slew of local hot spots and off-the-beaten path back streets.
But first, the basics — always! Before we get into what I consider the most perfect London itinerary, there's a whole lotta logistical info we should touch upon first!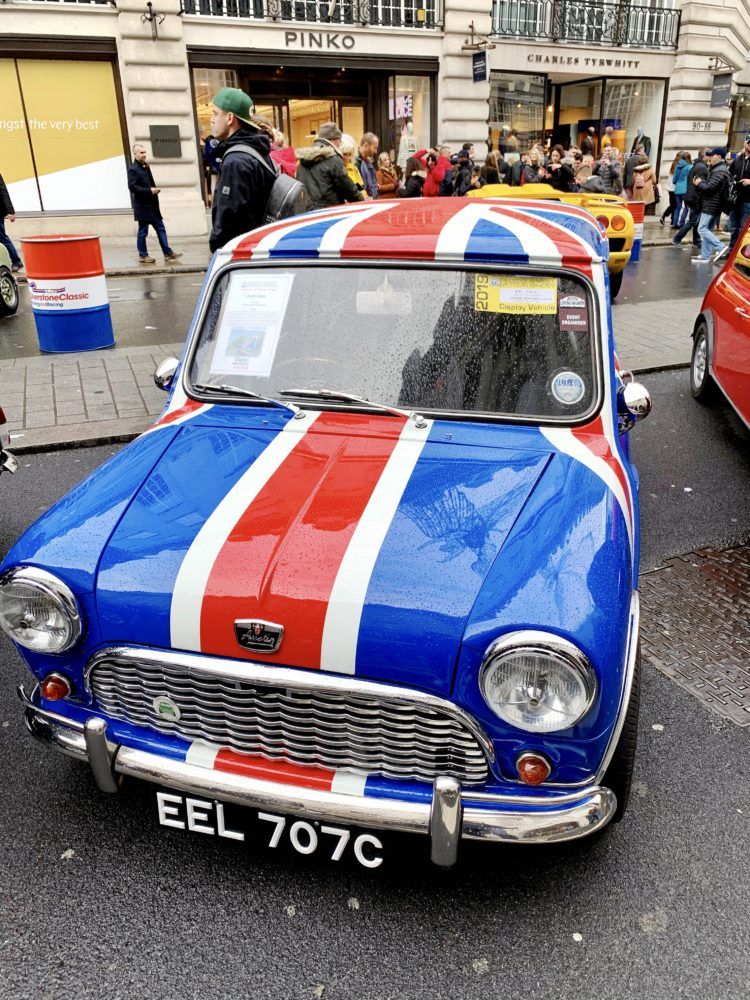 London Itinerary Logistics
How to Get to London
Thankfully, London is oh so easy to reach! It boasts Heathrow International Airport (a huge hub for a whole slew of airlines), and easily connects the US and other parts of Europe. And it's honestly not as far as you may think! When we lived in NYC, it took about the same amount of time to get to London as it did to California — can you believe it?!
From NYC, expect the flight to take approximately 7 hours nonstop. From the West Coast, like San Francisco and Los Angeles, the flight will expectedly be longer, at roughly 10 hours nonstop.
And if Heathrow doesn't fit into your plans, there's 5 other main airports to choose from — absolutely wild!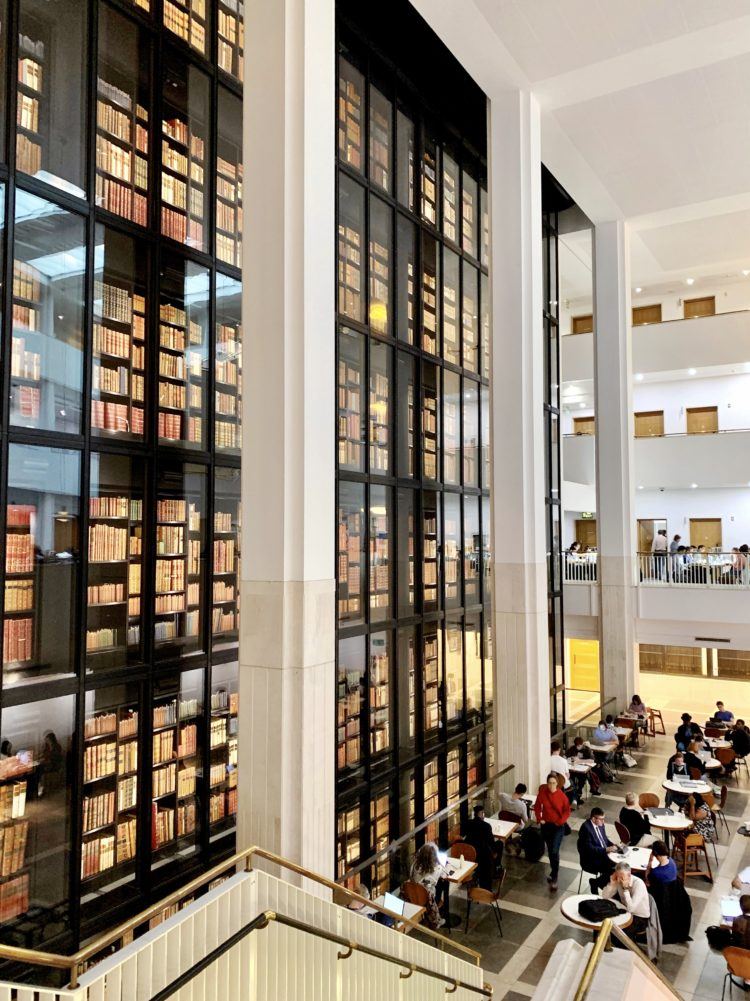 How to Get Around London
How do you get around London? For a big city, you'll be relieved to hear this is surprisingly easy. And yes, even if you didn't grow up reading a subway map like I did in New York City.
Psst → I don't recommend renting a car in London. The public transport is too good, and city driving and parking is just too much of a hassle to make a car worth the expense.
By Tube
If you've done any research (or watched any English movies), I'm sure you've heard of the Tube before. Just like NYC's subway, the Tube is London's Underground rail network, and it's a great way to travel to, from, and around central London.
Tube maps are color coded by lines, which make it exceptionally easy to read the map. When I first learned the underground was divided into nine travel zones, with 11 different tube lines, I was more than intimidated. So thank goodness for the colors!
Psst: Central London is covered by Zone 1, so if you're just staying within city limits, don't worry about the others! As you move further and further away from the city, you'll pass through Zones 2-9.
It's best to grab an Oyster Card when you first arrive in London. Although there's an initial upfront cost of 5 pounds, you'll save a lot of money using an Oyster Card instead of purchasing individual tickets every time you use the tube. If you're staying 3 days in London or even longer, you'll make up these 5 pounds no problem!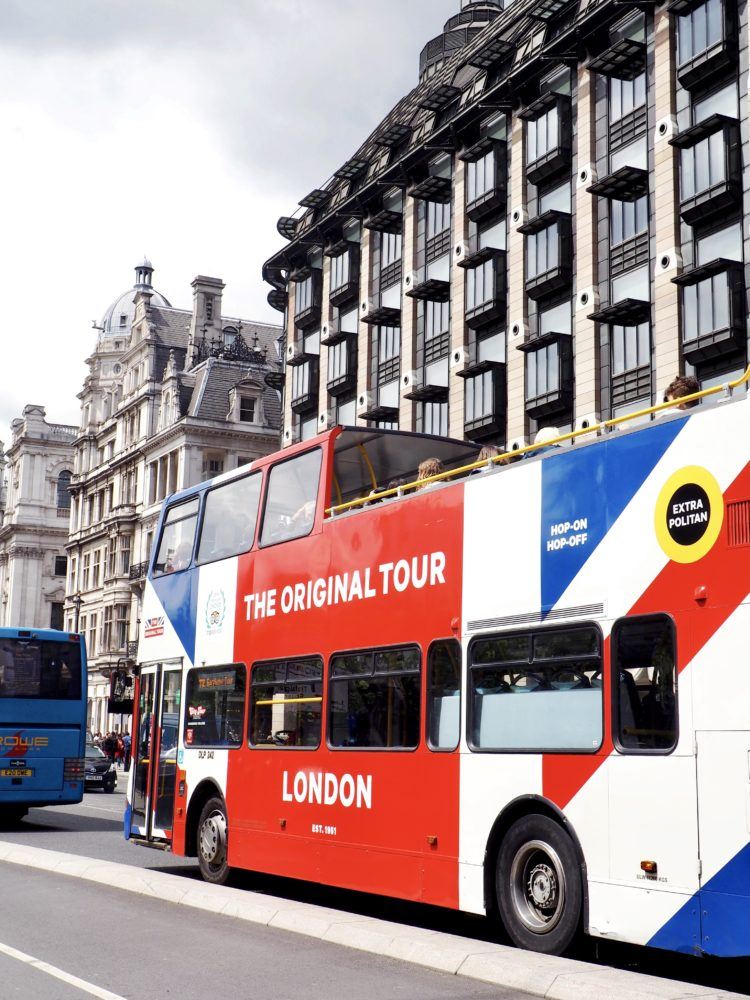 By Bus
Tubes are fast but buses are wildly fun and come with views (especially from the front seats on the top deck). With the invention of Google Maps, finding a bus, and knowing when to get off, has never been easier. Catching a traditional double decker red bus is like taking a tour, but way cheaper.
The downside is you may get gridlocked (meaning there's tons of traffic in all directions – and yes, it happens). If so, just hop off and Google the nearest tube. But go on a double decker at least once — it's a true London experience!
By Boat
Wait, by boat?! Yes!
Board the Thames Clipper service for another "kill 2 birds with one stone" moment, where the journey is also the experience. It's the fastest (and more frequent) fleet on the River Thames. You can even use your Oyster card to pay!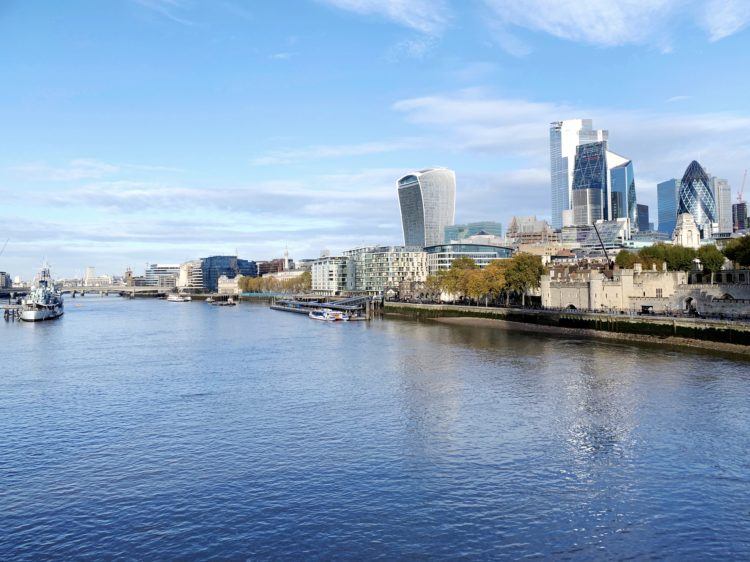 The boat stops at 23 piers along the River Thames between Woolwich (Royal Arsenal) Pier in the East and Putney Pier in the West. Services run from early in the morning until late at night 7 days a week. Like the tube, the river is divided into zones: West, Central and East.
They've even got something called an Uber Boat — which works just like the Uber app, except you get on a boat from your selected pier!
You can even do an afternoon tea cruise on the River Thames! Still on my London bucket list!
Travel Tickets
Another transformative recent invention is the system where you no longer need to buy tickets for buses, the Tube, or Clipper.
You simply tap your credit card to open the tube barrier (or on the bus or boat entrance) and at the end of the day a clever system automatically adds up all the journeys you have made! It then calculates the cheapest ticket you could have bought for that days' travel. Pretty cool if you ask me!
For all journeys made within zones 1-6 there is a daily cap of £13.20, so you can keep travelling as much as you want and it won't cost you more than this. Psst — it's easy to see which zone you're in as they're shaded on the tube map. PS, boats are extra, but oh so much fun!
Remember to use the same card all day for this to work and tap into and out of tubes (you only need to tap once on the bus).
Attraction tickets
If you're spending 3 days in London and plan on heading to multiple attractions, definitely figure out if a London Pass will help save you money! You'll get access to over 80 attractions such as Tower of London, London Zoo, Windsor Castle, view from The Shard, Wembley Stadium Tours, Thames river boat cruise, and oh so much more!
There's also the Hop On Hop Off Sightseeing Bus Tours, which are such an easy way to get around while seeing the top tourist attractions! No shame — they're actually quite fun!
When to go to London
Have you heard the phrase "cloudy with a chance of grey"? Welllll that kinda describes London in a nutshell. But in all actuality, London has a great deal of sunny days, too — you just gotta get lucky!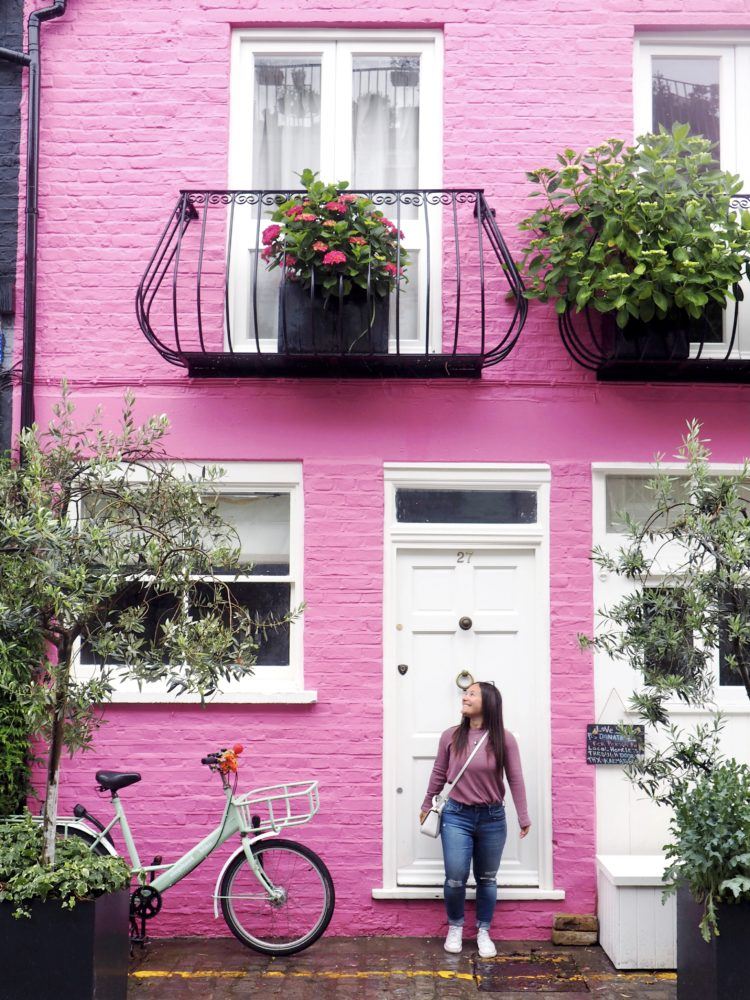 It's kinda a gamble any time of year; I've been there a few times and the weather's been wildly unpredictable from day to day! I thankfully had a few sunny days between the overcast, rainy ones. Gotta take what we can get, right? And just gotta be prepared for everything and anything, as far as the weather goes.
English weather being what it is, you are never guaranteed warmth or a dry day, but your best bet is a visit in May, June or September, avoiding the biggest crowds but with the best chance of sunshine.
As you would expect, everyone loves to visit London, so it's pretty crowded in summer. It never really gets hot over here, with July being the hottest with an average temp of just 66°F. Sooooo bring along your sweaters, regardless of time of year.
The coldest month is usually January — temperatures can drop to around 33°F (1°C). Although snow is pretty rare in London, it gets chilly over here, so you'll need to bundle up!
Another great time to go is late November/early December as London gears up for Christmas. The city goes to town on its festive street illuminations and the shop window displays at Fortnum and Mason are works of art in their own right. Hyde Park hosts its own Winter Wonderland, funfair and food stall fiesta.
What to Pack
Wear clothes (and shoes) made for walking, but which are versatile enough to double up as a party outfit for after dark excursions. Also, pack a rain jacket (or as they call it, a brolly), as you are pretty much guaranteed rain at least once during your 3 days in London.
Take as small a day pack with you as you can manage, as not only does this save you having to find lockers as you tour museums or galleries, it also makes the airport style security checks, which are everywhere, a bit less time consuming.
Take a pocket sized A-Z map, as a safety net, in case of phone failure. And a power bank, as a full day of Google Maps and photos takes its toll on your battery.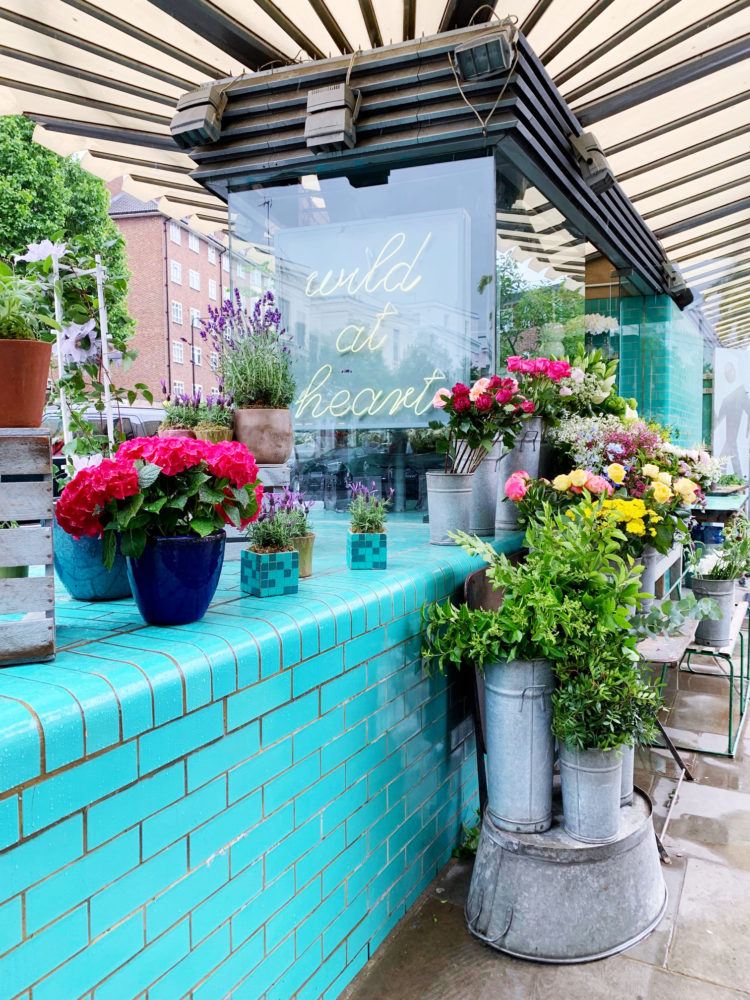 Where to Stay for 3 Days in London
There's no shortage of hotels in London, and the hardest thing will be to choose just one! If you're spending 3 days in London and wanna experience the hot spots, you'll wanna stay in Central London, as you'll be near most places on this London itinerary! It also helps if you stay near a tube stop!
A few recommendations:
Splurge: If money is no object then the sky's the limit in terms of London opulence. Live like royalty by staying at the Palace at The Rubens, where the red carpets and top hatted porters make it look like Christmas has taken up permanent residence. (It's on my bucket list.) Or try the impressively facaded Renaissance Hotel at St Pancras Station, with its colonial interior to die for.
Mid-Range: For a great mid-range option, swim in the reflections of fishes at the Novotel Blackfriars, just a few minutes' walk from Shakespeare's Globe and waterfront bars on the South Bank of the Thames. The pools like a giant fish tank!
Or, for breakfast literally on the river's edge, stay at the Novotel Excel. It's further out of town but there is the added bonus of catching a cable car from just outside the front door, which takes you up and over the Thames. This links up with the Thames Clipper boat taking you straight to Greenwich or Westminster.
Save: For a bargain, if not so pretty, totally central option, you can't beat the Covent Garden Travelodge.
So let's get started, the ultimate 3 days in London itinerary, coming right up!
Day 1 – Palaces, Parks and Portobello Market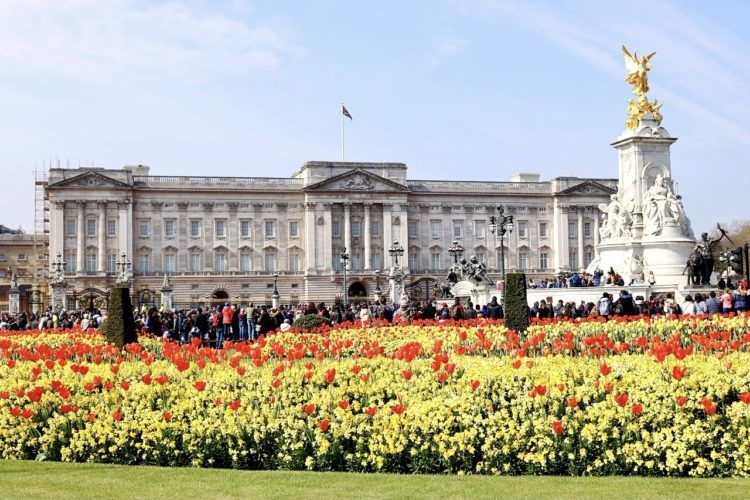 Stop #1: Buckingham Palace
What better place to start your 3 days in London than the most famous landmark of all, Buckingham Palace?! But what makes this place so special after all? Well, it serves as the official residence and administrative headquarters for the monarch of the UK — meaning, yes, the British royal family (including the Queen!) lives here!
If you're visiting the end of July to the beginning of October, you can take a palace tour (available for a total of 10 weeks in the summer). At just £26.50, it's really a bargain considering all that you can see.
Once inside, you'll be wowed by the gold banisters, gilded picture frames, acres of pink carpet, and galleried corridors. It's totally worth checking out this most extravagant collection of bling. The tour concludes with a lovely café on the terrace, where I recommend having a delicious tea (because what's cooler than tea at the Palace?!). Did I mention this is where the Queen lives?!
And don't miss the Palace Gardens — it's where the Queen's annual garden parties are held!
Guards and horses on parade
If it's not summer (meaning tours aren't available), or tea (nearly) with the Queen is not your personal cup of tea (no pun intended…), there's always the daily spectacle of the changing of the Guards.
From 10:45 -11:30am daily, you are treated to a free procession during which red coated, spectacular-hat wearing soldiers parade on foot and on horse up the Mall, in front of the Palace gates. You may want to get there a bit early for a ring side view. Actually scratch that — come extra early; you won't be the only one with that idea.
Although the Changing of the Guards happens most days, check ahead as they do have the occasional day off. As they should!
Stop #2: Hyde Park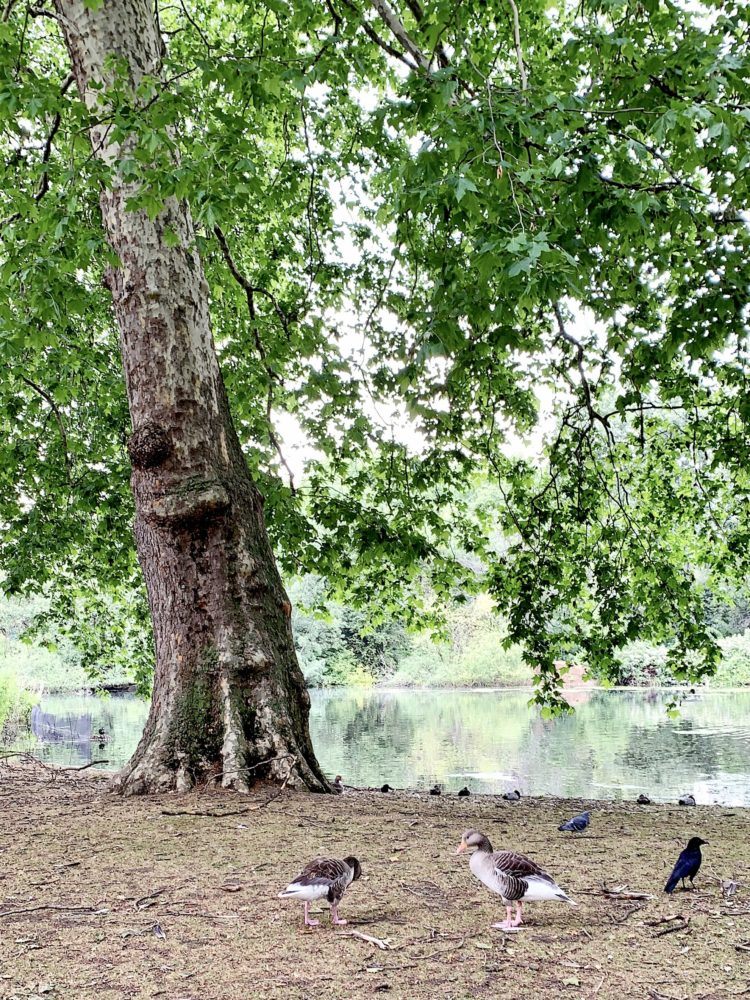 Once you've seen the glamorous Buckingham Palace, take the 12-minute stroll through Green Park and into the delightful Hyde Park.
It's one of the largest parks in London, and you can wander around for hours! There's active adventures like swimming at The Serpentine pool, row-boating, tennis, and football, while others may prefer to have a quiet afternoon reading a good book and/or taking photos.
A little back story: Henry VIII himself decided to take it from the church in the 1500's and turn it into his own personal hunting grounds. He actually built a fence so visitors wouldn't be allowed to enter! Thankfully, (as we now know!), this didn't last forever! Fortunately for you and I, the general public is now allowed to wander around the park.
Be sure to check out its numerous statues, fountains, and flower gardens. The park is cut in half by the Serpentine Lake, thoughtfully built by (the lesser known) Queen Caroline in 1730. She probably had a bit of help, I'm guessing. ?
At one end of Hyde Park, the Marble Arch looms large and impressively by Speakers Corner — the most famous location in the world for free speech. You can pop out here for a bit of high street retail therapy in bigger versions of the usual shops on Oxford Street. Expect to find lots of cheap and cheerful London souvenir stalls!
The park also plays host to its own Kensington Palace, where plenty of history and fabulous antiques are ready to be explored if you have the time (and you're not already palaced-out for the day).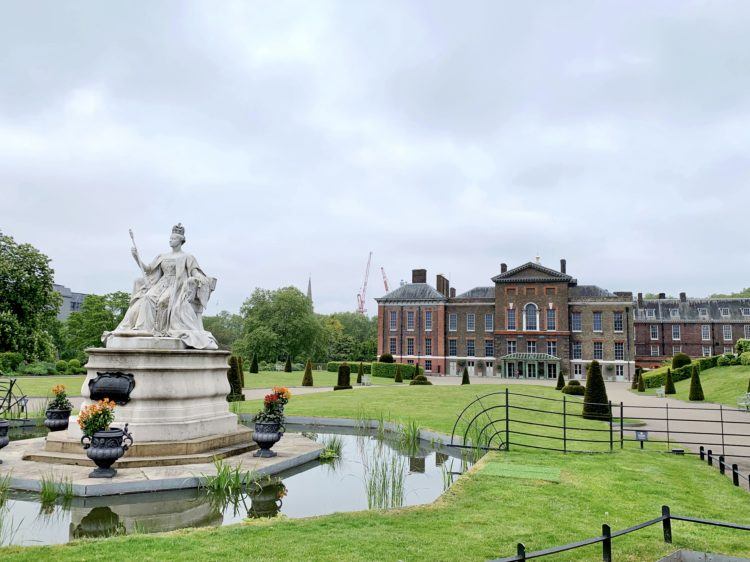 Depending on the weather (as always in the UK), you may opt to linger and do a bit of boating on the lake. Row boats and pedalos are available for hire and there is a new "solar shuttle" which glides silent and silver across the lake and into the future.
On a very sunny day you may even want to take a dip in the outdoor lido. There is a café next door where the dry (sane?) can spectate, sipping a relaxing coffee/beer.
Don't forget to take an apple and some bread crumbs — you can feed the ducks, squirrels and swans here! You can also, somewhat surprisingly, feed a flock of bright green parakeets who mysteriously took up residence here in the 1990's and decided to stay. Every city's got it perks — and I'm here to share a few on this 3 day London itinerary.
Stop #3: V and A Museum (Optional)
Hyde Park is a perfect spot for lunch or a picnic but if it's a more traditional weather day (aka cloudy and gloomy), take a 10 minute stroll down the very grand Exhibition Road to the gorgeous William Morris café in the V and A museum. If you like a bit of jewelry, art, and theatrical costume history, stick around and check out the interesting exhibits.
Huge Victorian statues rub shoulders with outfits worn by David Bowie and Elton John. It's free, so don't feel you need to stay all day. Other world class museums are here too, if you prefer a bit of science or natural history.
Stop #4: Portobello Market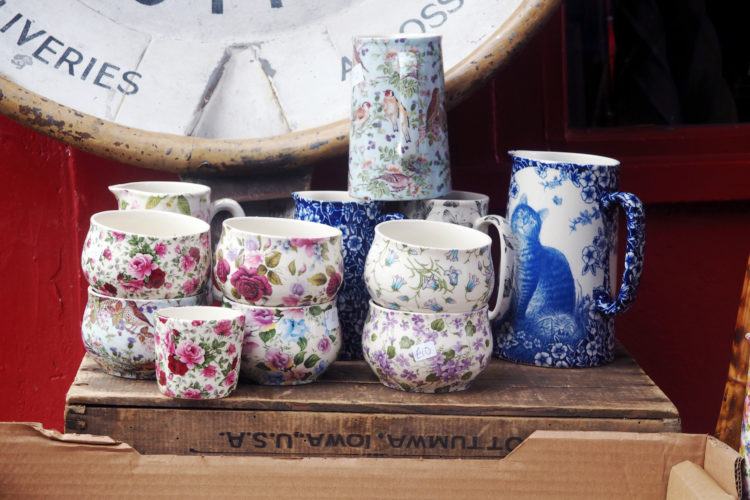 With the Palace and the Park in the bag, it's time to search for treasures you can actually buy. And with that being said, we're off to Portobello Market!
From the V and A hop on the tube at South Kensington to Notting Hill Gate. If you didn't leave Hyde Park, make for the nearest tube at your closest exit, or if you like a good (2 mile) walk, just pop out the far corner of the park.
You'll feel obliged to look for Julia Roberts and Hugh Grant's faces in the crowd, but sadly I fear they have moved on. The streets of Notting Hill remain, however, cinematically beautiful in a pastel fronted kind of way. This was one of my favorite areas during my 3 days in London, and I bet you'll love it too!
Portobello Road is always bustling, but the biggest and busiest market day is Saturday. The streets are lined with table upon table of shiny silver antiques – candelabras, platters, and goblets await. Knights of Old and Aladins are fully catered for. On a sunny day it's absolutely blinding. Behind the on-street stalls are mazes of mini shops selling wares and trinkets from yesteryear – lace, cameras, and glass beads just to name a few.
Walking down Portobello Road you'll pass a variety of independent shops selling things you never knew you needed. Crystal door handles? Handmade bunting? Cow hide rugs? Yes please! It's probably a good idea to bring along a packable tote bag just in case you buy a bit much. 😉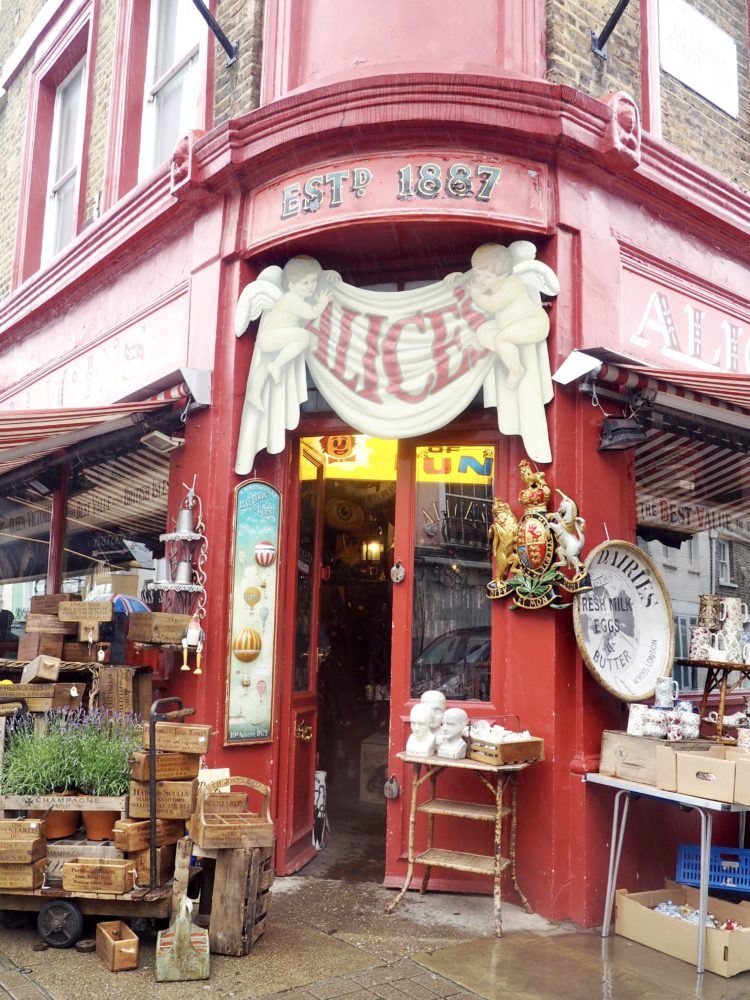 After an afternoon of browsing, make your way along to the very end of the stalls where a mini festival atmosphere has taken hold and musicians play in kitsch tented bars in the summer. Grab some food from one of the food stalls or dine in one of the more refined café bars on Portobello Road itself. The Farm Girl has a lovely plant-filled courtyard which is open until about 5, or try the Duke of Wellington gastro pub if it's indoors weather.
Practicalities:
Market open 9am – 6pm Monday – Saturday (closed Sundays)
Vendors start packing up at 4pm or earlier in winter or rainy days, so bear this in mind depending on when you're visiting.
Stop #5: See a show in the West End
London's West End puts on some of the best theatre in the world (besides New York City, of course). Not only are the shows themselves spectacular, but so are the wildly ornate theatres (except for the Gillian Lynne theatre showing School of Rock, which is like a nuclear bunker, haha).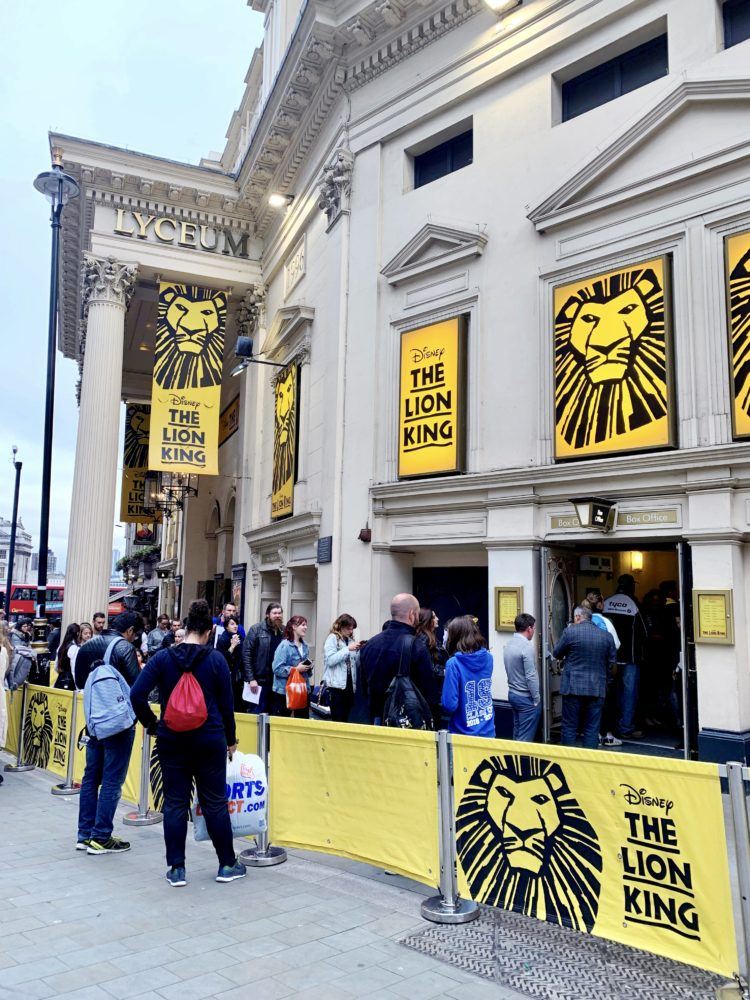 Being mindful of the fact that one person's idea of heaven is another's idea of torture, feel free to pick a different show, but I can recommend Hamilton at the beautiful Apollo theatre, and Les Miserables at the lovely Queens Theatre. Mamma Mia at the Novello Theatre and The Lion King at The Lyceum Theatre were also great! During my 3 days in London, I actually saw two shows!
Shakespeare's Globe Theatre
Not into Broadway and looking for an English twist to your nightly entertainment instead? Definitely opt for a Shakespeare play at the Globe, an Elizabethan playhouse!
Shakespeare's Globe is a reconstruction of the original theatre built by Shakespeare's own theatre company in 1599. Guys, this is where THE William Shakespeare wrote his plays. Pretty wild to think about if you ask me! Whoa! Definitely a cultural landmark you need to add to your 3 day London itinerary!
A few things to take note:
The theatre is open to the elements (it is located on the bank of the River Thames afterall, AND boasts a huge circular cut-out ceiling). Be sure to come prepared and bundle up!
In the cheap seats, there literally are no seats. Standing only. Stern looking middle-aged women will tell you off if you try to sit on the floor/steps. My advice – buy a real seat ticket if you want to enjoy the show.
And with that being said, book early! Seats fill up fast!
And if you really wanna follow in the footsteps of Shakespeare and Dickens, sign up for a historical walking pub tour! You'll explore some of the city's most historic pubs, taverns and alehouses, and of course sip some of the city's finest brews! Yum! Sounds like my kinda tour.
Day 2 – Sunday Flowers, Towers, and a Garden in the Sky
Today's London itinerary is tailor made for a Sunday – so switcheroo your days as necessary. If your 3 days in London don't happen to overlap with a Sunday, you can easily fill in these stops with something else! But I'd really recommend today's activities — so, plan your London itinerary accordingly 🙂 !
Stop #1: Columbia Road Flower Market
Practicalities:
Bucketfuls of beautiful flowers. Independent shops selling jewelry, vintage clothing, and cupcakes. A relaxed yet hectic vibe. All the garden varietals you can think of. This is the Columbia Road Flower Market in a nutshell. I couldn't believe the amount of blooms there were — from pale green long stem hydrangeas and sweet cherry blossoms to evergreen camellias, anemone buttercups, and blueberry plants. Plants in every color of the rainbow!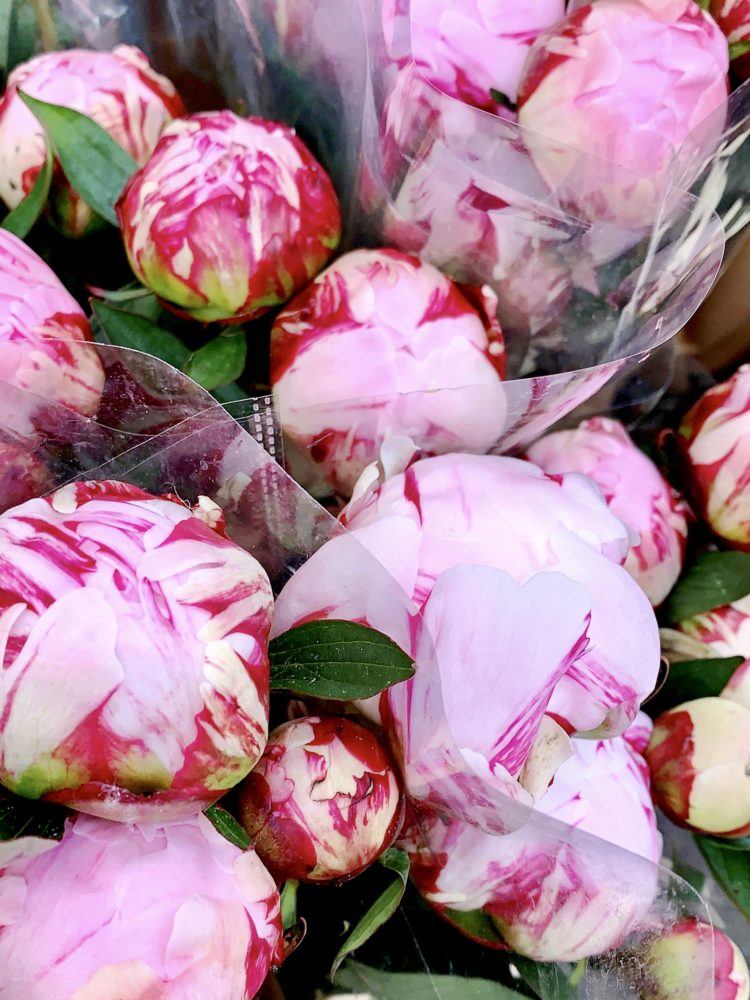 It's easily one of London's most visually appealing markets, and by far the largest flower market in all of East London. Honestly, if you love colorful blooms (like me!), do NOT leave this off your 3 day London itinerary.
Experiencing a bit of the East End of London amongst the market traders' shouts and the explosion of color makes for a pretty exciting morning. It's beautiful but busy, so get there early (I'm talking as soon as they open at 8am) before the crowds hit. If you come a tad later you can tell you're getting close as everyone will be carrying oversized bunches of flowers or small trees nearby!
Stop #2: Brick Lane Markets
Practicalities
Main Market: open Sundays 9-5
Vintage market: open Friday to Sunday
After your flower power start to the day, go with the flow of people winding their way past funky street art for some (safe) urban grit on Brick Lane. Shoreditch High Street fuses old with new by being part of an old Roman Road, while also being strewn with trendy bars with exposed brick-work and mismatched chairs.
There's cool warehouses, colorful street-art, lofts-turned-fitness-studios, designer boutiques, and quirky vintage stores. You'll soon realize it's not just one huge market, but a whole selection of mini-markets.
Behind (and under) the stalls is the UK's biggest Vintage Market. You'll also find an undercover Backyard Market, selling painted broccoli as art, and a Tearooms Market with vintage sunglasses and cool outfits.
Honestly → you could get lost over here for hours. But of course, at some point, hunger will hit! There's lots to choose from over here, like the famous Cereal Killers cafe (great for a late breakfast), and the Sunday Upmarket, a bustling indoor international food market on the corner of Hanbury St, which always smells divine.
But my all-time favorite — Beigel Bake! It's by far the best place to get a traditional Jewish-style bagel at any time of the day. Get the salt-beef bagel; you won't regret it. Psst – they only take cash, and there's always a long line, but always worth the wait! Probably one of my favorite things I ate during my 3 days in London (well, besides Dishoom of course).
When you're fully shopped-out and full, make your way to the end of Brick Lane where you can hop on a Tube at Aldgate East. One stop will take you to Tower Hill — our next stop!
Stop #3: Tower of London
Practicalities:
Cost – £24.70
Open – 7 days (times vary)
You're now just a canon's throw away from another iconic landmark, the infamous Tower of London — site of beheadings, royal murders, and the crown jewels. Yup, you read that right; what a place!
The tower is actually a collection of castles, museums, churches and houses enclosed by fairytale crenellated battlements. The 900-year-old centre-piece, the White Tower, was built by William the Conqueror himself as a fortress and a palace. A menagerie of animals were kept here and Victorian visitors risked death by monkey or snake, so after about 600 years they decided to move them all across town to the zoo.
More busby-toting soldiers march around the site where Anne Boleyn lost her head, and Beefeaters (who actually live there) spin gory tales and explain why London will fall if the ravens ever leave. You'll be educated and entertained at the same time — the best way. Don't leave this off your 3 day London itinerary — promise me that!
Stop #4: The City
Next up → a quick wander around the City of London (which we usually just call The City or the Square Mile). It's the center of trade and finance in Europe, alllllmost rivalling New York City as the finance capital of the world (it's a tough call).
Here you'll find all the shiny skyscrapers and glassy epicenter of central London, including my personal favorite — the silvery and futuristic oddly-shaped Gherkin! The City is full of classy gastropubs, trendy brunch spots, and, lots of impressive rooftop bars (later on on this London itinerary).
But before ascending into the skies yourself, it's worth a mini-detour into the Leadenhall Market.
Stop #5: Leadenhall Market
Wait a sec — you didn't think you'd be whisked into Harry Potter during your 3 days in London, now did you?!
One minute inside Leadenhall and you'll feel like you stepped into a Harry Potter film! Well, you actually kinda have, believe it or not! You may recognise the grand arches of Leadenhall Market — for their role as Diagon Alley in Harry Potter and the Sorcerer's Stone!
You can walk on the actual set of the alley where the actors filmed some of the most iconic scenes in the movie. Anyone remember the Leaky Cauldron (the wizard's pub in the books/movies)? The entrance is actually an optician in Bull's Head Passage!
Leadenhall Market dates back to the 14th century! It underwent a Victorian revamp and now boasts ornate burgundy and green vaulted ceilings, cobbled floors, and an array of boutique shops, stalls, and bars (including cheesemongers, florists, and butchers). As it relies on city workers for its trade, most stores are only open Mondays to Fridays, but you're free to walk through its fabulous corridors, admire its beauty, and take some photos 24/7.
Stop #6: The Sky Garden
A few minutes from Leadenhall you'll find London's bendy Walkie Talkie building! It's technically called 20 Fenchurch Street, but looks like it's been flown in directly from ToonTown! And what's so special about it besides it's wacky shape? There's a secret roof top garden filled with tropical foliage and cocktail bars! And it's super fun to photograph — the architecture (of both the exterior and interior) is super impressive. A must on any photographers 3 day London itinerary!
Entry is FREE (!!!) but you do need to book your entry time slot in advance. Psst → bookings open 3 weeks before entry, so set a reminder in order to snag a ticket if you wanan see London at 38 stories high.
At the top you're treated to 360° skyline views of the city and the River Thames — all while holding a glass of champagne (optional but deemed necessary). Fingers crossed you get a clear day since London is notorious for fog. Regardless, it's a good time!
Cafés are available if you need a little something to snack on. But dinner's next so don't get too full!
Stop #7: St. Paul's Cathedral and Dinner
After soaking up the incredible views (fingers crossed), head back down the lift, and take a 10 minute walk to St Paul's Cathedral. This Anglican cathedral serves as the mother church of the Diocese of London, and is absolutely stunning — inside and out!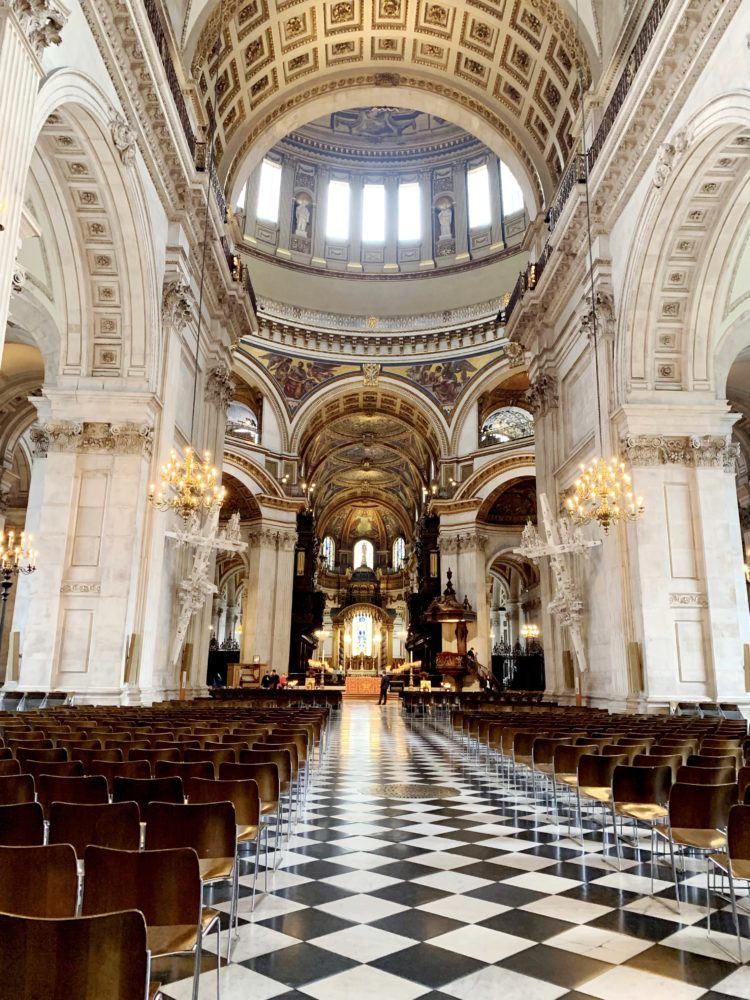 I mean, the dome is one of the largest in the world at 366 feet high! You can walk all the way to the top for stunning architecture, and definitely check out the famous Whispering Gallery on the way up.
Once you've checked out the church, make a beeline straight to the Franco Manca pizza restaurant, exactly opposite St. Paul's Cathedral. Sitting at the window table you'll feel like you're eating on the steps of the cathedral itself, much like an extra in Mary Poppins.
The pizzas are about £8, made of sourdough and are, in my opinion, the best in the world.
Stop #8: Covent Garden
The night is still young my friends! What next?! How about hanging at a beer garden in Covent Garden?! Being only 15 minutes from Franco Manca, there's no excuse not to hang out — the area is extra fun at night! The cobbled square is filled with street entertainers, high end shops, and general eating, drinking and merriment.
Since you're already in the area, take a peek at the incredibly colourful Neal's Yard, where shop windows in narrow streets are painted in pretty Caribbean pinks and green.
Another great place to end the evening is the rooftop bar at Roof Top St James. They graciously provide warm blankets and heaters so you can stay outside and soak up the views of Trafalgar Square by night — all while sipping an espresso martini. Book ahead to reserve a table as this place gets popular!
Day 3 – Greenwich Meridian, Boating the Thames, and Camden Lock
Stop #1: Greenwich
The last of your 3 days in London starts in Greenwich, which marks the start of all time and space. Literally. I'm sure you've heard of GMT in terms of time — that stands for Greenwich Mean Time! And it's measured from RIGHT here! Like I said, literally the start of time and space! Ground Zero, if you like.
You obviously need to take a photo with one foot on each side of the Greenwich meridian — you'll be in both halves of the world at the same time. Whoa! There's the Greenwich Observatory if you wanna explore the history of time and the night sky, or you can simply walk around the buildings around the park.
But whatever you do over here, don't miss the imposing masts of the Cutty Sark, the fastest ship in the world in its heyday (back in 1869 when it was built). If you take a tour, be sure to look out for the creepy figurehead collection — weird and wild!
For lunch, grab a bite from one of the food stalls over here (the samosas are fiery) and sit overlooking the Thames. On a rainy day, try the Gipsy Moth pub next door with ship views.
Stop #2: Thames Boat ride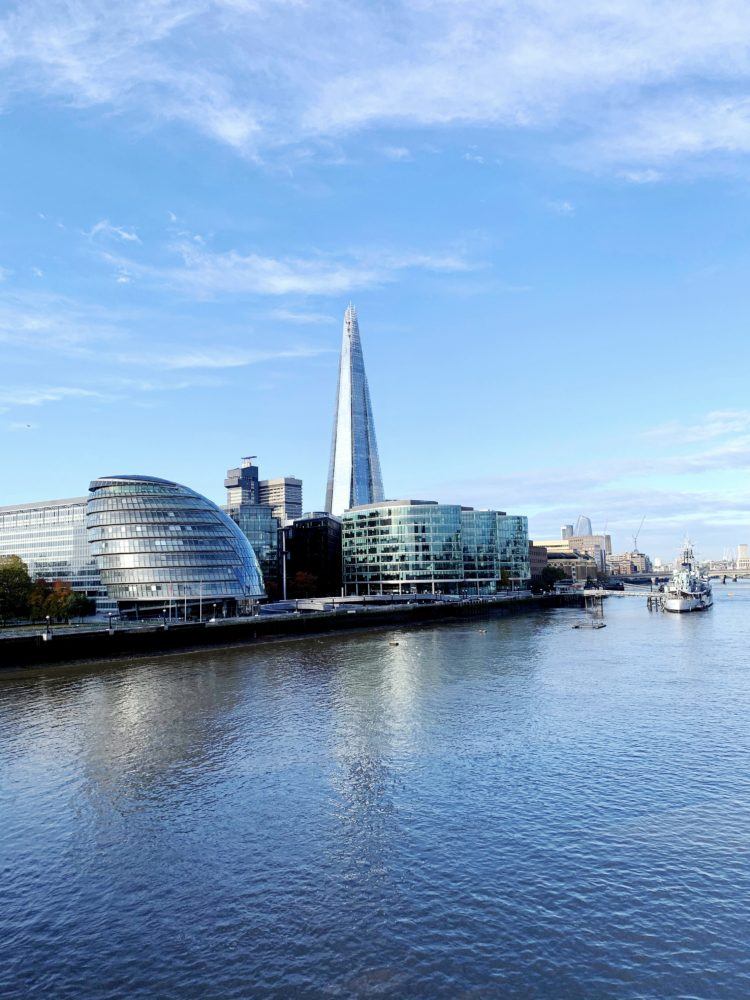 The River Thames is basically the liquid heart of the city, so you gotta include a ride during your 3 days in London. From Greenwich, you can catch the Thames Clipper for about £7 by tapping your card. It's by far the fastest, most frequent, and most reliable fleet on the River Thames – there's a reason why they've got over 4 million passengers each year!
The boat speeds all the way along the river, under Tower Bridge (it's gorgeous!), and into Westminster. It's an exhilarating and scenic ride, and something for the bucket list!
Stop #3: Big Ben
This wouldn't be a very thorough 3 days in London itinerary without a sighting of Big Ben, now would it?! I'm sure you've seen hundreds and hundreds of photos of this iconic London masterpiece, and now it's your turn too see it in person. Go on, take a selfie in front of Big Ben (if all the construction's finally finished).
Fun Fact → You probably didn't know that Big Ben is actually the nickname for the Great Bell of the striking clock you see! People typically refer to both the clock and clock tower as Big Ben, so no worries if that's what you do, too!
Stop #4: Trafalgar Square
From here it's a quick 15 minute walk up to Trafalgar Square, a public square with lots going on — always! You might as well go the slightly longer (by about 5 minutes) route which takes you past 10 Downing Street, to see if the Prime Minister is home. The end of the street is railed off and guarded, which you can't really hold against them, but you can normally peek down to see if anyone famous is visiting.
Trafalgar Square is a fun place to hang out for a while — there's musicians and drinks and cafes! Sip some drinks in front of the bronze Landseer Lions and Nelson himself (that column is quite iconic!). Try to climb a lion for a photo – although they're surprisingly high so it might be hard to get up!
Stop #5: Options — National Gallery or Camden Market
For your last afternoon, I've got two options for ya! You probably won't have time for both, so choose wisely! Your two choices — historic paintings or a vintage-y market!
National Gallery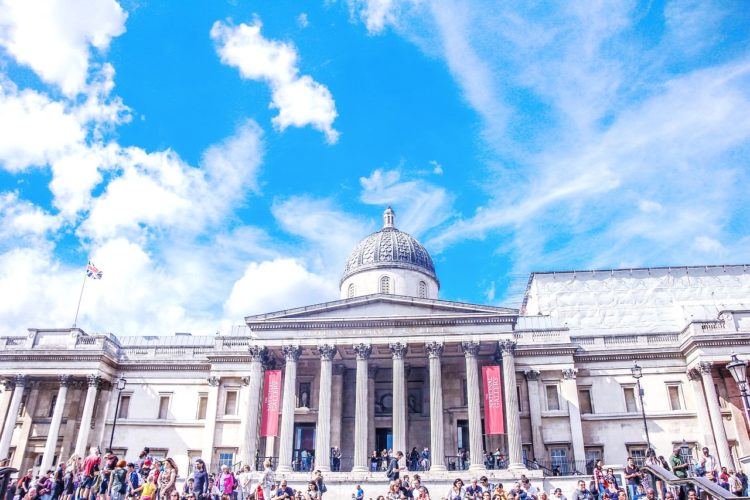 Art lovers, I'd definitely choose the National Gallery! Here you'll find some of the most valuable paintings in the world (as well as at the National Portrait Gallery), which form one side of Trafalgar Square. And luckily, both are free to enter (more money for fish n chips — yassss). Even if you don't have much time, just pop in and check out a few celebrity paintings. Did I mention it's FREE?
Camden Market
If you're more of a shopper, hop on the tube at Charing Cross to Camden Market for an afternoon of sheer shopaholic bliss. Walk past some incredible 3D shop frontages and then a crowd of throwback 1970's punks as you approach the Camden Lock.
The market is spread out along the canals and inside former stables and warehouses, with over 1,000 shops and stalls with everything imaginable. You'll find vintage clothes, steampunk items, forks shaped into rings, and even Moroccan lamps. Everything is very worldly over here. Don't miss the 20-foot metal man guarding a booming subterranean rave shop, then surface from the stalls to find yourself in a flower festooned bar with live music.
Camden Market is a great place to stop for a drink and soak up the atmosphere until just before sun down.
Stop #6: London Eye
I've saved one of the best activities for last, because sunset is the best time to ride the London Eye! The views are just spectacular from the observation wheel — I can't wait to ride again! To get here, hop back on the Northern Line from Camden Town for the 30 minute ride to Waterloo.
Pre-book your time slot ahead of time (it gets busy, busy, busy over here!). You'll be invited to a pre-ride 4D experience where they shoot foam at you and pretend it's snowing — we loved it; don't miss it.
Prepare to have your breath stolen away as you slowly ascend over the spires of London, old and new, and watch the whole scene as the sun is setting. The Eye eggs are mainly glass — for the best views head to the far corner of the pod, nearest the river.
As the sun drops in the sky, the buildings turn into silhouettes, and it simultaneously sets on the city and your mini-break of 3 days in London.
Stop #7: Oxo Tower and an English Pub
Grab a pre-dinner cocktail on the famous garden terrace on the 8th floor of the Oxo Tower. There's also inside tables with floor to ceiling windows for those chillier evenings, don'tchu worry.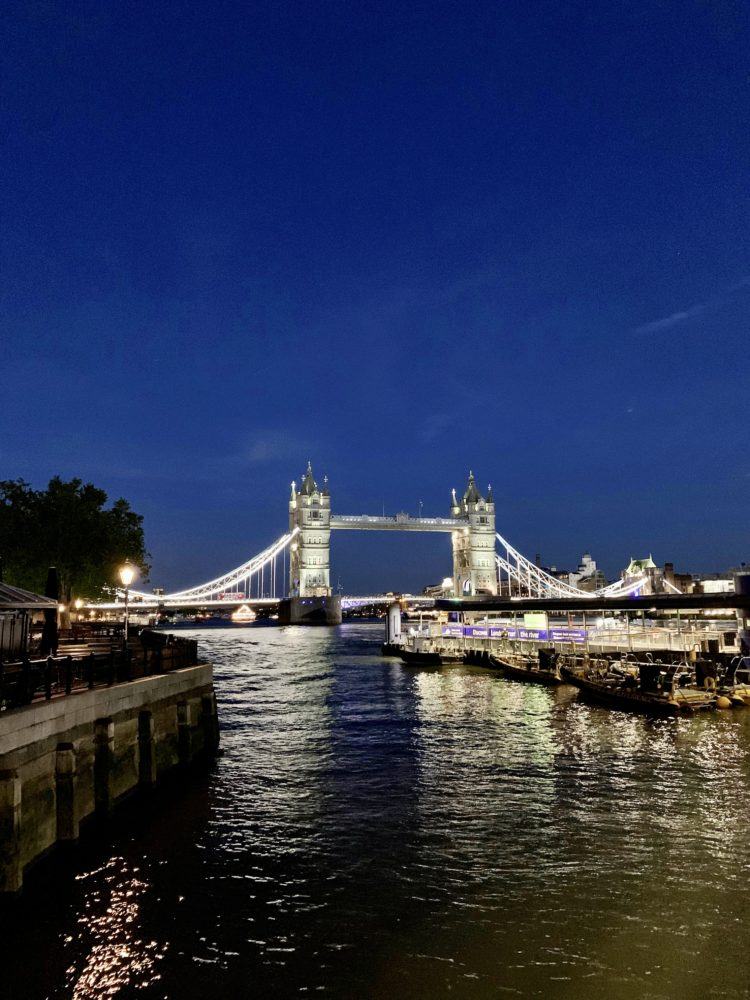 To end your 3 day London itinerary, continue strolling along the south bank of the River Thames, stopping at one (or more) of the many riverside bars and cafes. End your journey at the Golden Hind, a replica of St Francis Drake's ship. Here you can enjoy a beer in The Old Thameside Inn, a British pub, looking out over the water and a final historic ship at the same time.
Got more time? There's loads to do in London! A few additional ideas for a longer London itinerary:
Take walking or bus ghost tour
Spend an afternoon at the exotic Royal Botanical Gardens at Kew gardens
Fly a broomstick at Harry Potter Studios
take a boat further down the Thames to the majestic Hampton Court with its famous maze
I hope this helps you plan your 3 day London itinerary! What are you most excited to experience during your 3 days in London?!
Special thanks to Helen from Holidays from Hels for putting this 3 day London itinerary together and sharing all her favorite spots! Be sure to check out her article on London with kids if you're visiting as a family!
A bit about Helen: Her younger carefree self spent 2 and a half years wandering around the world. She now works in a school and still likes to spend as much time as she can exploring. Share in the mishaps, stories and lessons learned in her new family adventures travel blog,
Follow holidaysfromhels on: