Headed to Panama and looking for the best things to do in Bocas del Toro? You'll be pleasantly pleased to learn that Bocas is way more than just a backpacker's town, with prime wildlife spotting opportunities, pristine palm-fringed beaches, and lush, green jungle. Trust me, there's lots to love about these Panamanian islands. A full guide to Bocas del Toro Panama, coming right up!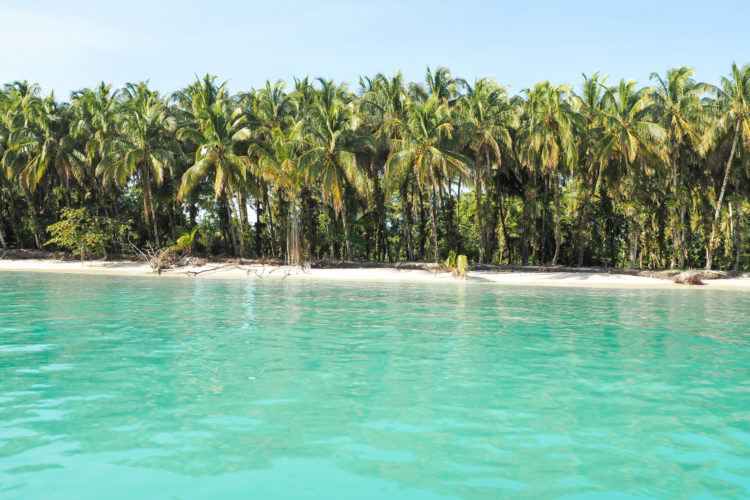 Bright, vibrant, pristine, and primitive. Just a few words that accurately described my recent trip to Bocas. As I've said again and again, Panama's raw natural beauty and minimal development surprised us in all the right ways. Not many automatically think to head to this Central American eco-tourism destination, but it's quickly becoming one of the region's biodiversity hot spots.
I say get there before it becomes the next Costa Rica (aka overflowing with tourists). Bocas' infrastructure is secure enough for those visiting, while not losing it's seductive and primitive atmosphere. Moral of the story – get yourself to Bocas del Toro Panama ASAP.
Worried Bocas is all partying and spring break shenanigans? That was our concern too. While, yes, it's commonly known as a backpackers hub (with lots of late, wild nights) in Central America, you can certainly have a luxurious time if that's what you're after. We sure did, while soaking up alllll the Caribbean vibes humanly possible.
And with all the things to do in Bocas del Toro during the day, don't feel bad about going to bed at 10pm (plus that sun will probably knock you out earlier than you think). Just know it's beyond humid over here – so leave your good hair days at home and just relish in that sticky Panamanian air, whether you're looking for a mighty good time or living in the lap of luxury.
Geographical makeup of Bocas del Toro
Yea, yea, yea, we know it's in Panama by now, but before doing heavy research and actually spending time in Bocas, I was a tad confused about the makeup of the islands. Bocas del Toro is an archipelago of a bunch of islands (9 to be exact!) off the northern Caribbean coast of Panama (pretty close to Costa Rica actually).
However, when people are saying they're going to Bocas, they typically mean they're headed to Bocas Town or Bastimentos.
The 3 main islands which visitors frequent are: Isla Colon, Isla Solarte, Isla Bastimentos. The largest town on the archipelago is Bocas Town on Isla Colon, with Old Bank being the second largest community on Isla Bastimentos. The National Marine Park is located in and around Bastimentos, so you'll probably be snorkeling over there.
So basically, it's this:
Isla Colon (Bocas Town and Starfish Beach) → Isla Solarte → Isla Bastimentos (Old Bank, Up in the Hill, Marine Park, and Red Frog Beach)
How to Get to Bocas del Toro from other parts of Panama
Bocas del Toro is either really annoying to get to, or quite simple. It just depends where you're coming from. Coming from Panama City couldn't be easier – it's just a one hour flight to Bocas del Toro (and the airports located right in town).
However, most visitors to Bocas come from Boquete, which makes things a bit more complicated. Although, I highly encourage you to visit Boquete; the transfer to Bocas ain't really allll that bad. And plus, all the things to do in Bocas del Toro are well worth the extra effort of coming from Boquete (or anywhere, really).
From Panama City: As previously mentioned, Bocas is just a hop, skip, and jump away from Panama City. Air Panama has a few flights daily from Panama City, which is what we took to get back to Panama City (after our trip to Bocas) on our way home to San Francisco.
Note that you can also arrive into Bocas Airport from nearby San Jose, Costa Rica via Nature Air. You'll want to book these flights in advance since they are quite popular and there aren't many seats up for grabs.
There's also the option to take the bus from Panama City to Bocas, but why. Just why? It's a 10-12 hour bus ride on pretty rough terrain. You'll need to first get yourself to Albrook Bus Terminal in the city where you can purchase a ticket for either the morning bus or night bus (which most bussers prefer so they can just sleep the whole drive).
The bus will drop you off in Almirante (port) where you'll need to then take a short boat ride to Bocas Town for a few bucks. I'd rather just fly to be completely honest. Why the hassle and complete waste of time?
P.S. If you're headed to Bocas, you may as well spend a day or two exploring Panama City! You can't go all the way to Panama and not see the canal and go for a quick wander around Casco Viejo!
From Boquete:
We came from Boquete, and while slightly irritating upon initial research, it really wasn't all that bad once we figured it out.
First you'll need to take a 3.5 hour shuttle to Almirante (a port town), then a 30 minute marine taxi (which was essentially a speed boat) from there to Bocas Town. Thankfully, there are organized transportation services that will take care of everything for you.
We booked with Hello Travel Panama through Mamallena Hostel, left Boquete around 9am, and arrived in Bocas del Toro around 1:30pm or so. Make sure to schedule this transfer in advance as the shuttles get booked up beforehand.
With that being said, there's absolutely no reason to attempt this transfer yourself, as prices weren't half bad: $30 per person, including the boat transfer from Almirante. Our shuttle was comfortable, air-conditioned, spacious, and safe, with enough room for all luggages (on top of the shuttle actually).
Psst: You'll need to get yourself to Panama (or Central America in general) if you aren't visiting other parts of the country as Bocas does not have a huge airport.
A Note on The Bocas del Toro Airport
Psst: it's tiny. Like, exceptionally tiny. One of the smallest airports I've been in (and I've taken my fair share of 5-7 people flights). Thankfully, The Bocas del Toro Isla Colon Airport is located right in Bocas town and you may even be able to walk to/from your hotel!
There's only one waiting room, one "gate", and 1-2 bag scanners, so things go super quick here. If you're heading back to Panama City via short flight, you only need to arrive about an hour or so before the flight. Make sure you eat beforehand (or take along a few snacks) because there's no restaurants over here!
Weather in Bocas del Toro
Bocas del Toro Panama is a tropical destination, so unfortunately, expect some rain no matter when you visit. Averaging more than 130 inches of rainfall every year (which is waaaay more than famously rainy Seattle which in comparison gets ~38 inches), don't let the possible rain deter you from visiting.
While some say there is no predictable dry season (it can rain every month of the year and it most likely will), the time of year you visit is super important to say the least.
DRY SEASON: December to early April → harsh humidity, but clearest skies (partly cloudy at most), and the least chance of rain. Best time to visit in my opinion.
WET SEASON: Late April to November → beyond miserable humidity, highest chance of rain, many overcast days. It rains the most during May, June, and July, although not all day thankfully.
However, no matter when you visit, it'll be a perfect 73-86 degrees F year round, which is perfect for lazing at the beach (although a bit warm for trekking through the jungle).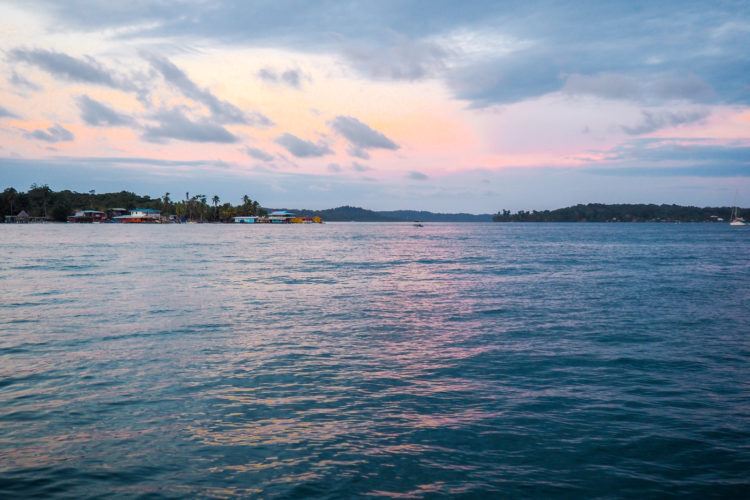 For reference, we visited in late March and experienced a bit of rain during our 3 days in Bocas, although thankfully this didn't negatively affect our activities much. On the day we had planned to visit the stunning Zapatilla Islands, the forecast called for rain and clouds all hours of the day, but thankfully the sun decided to come out early morning and stay out. Bless those Panamanian weather gods!
Bocas del Toro Wildlife
During our time in Bocas del Toro Panama we saw poisonous red frogs, stunning starfish, HUGE spiders (I was mortified at first, then they weren't such a big deal), roosters/chickens and baby chicks, tons of hermit crabs, a wide array of marine life (including sea fans, parrotfish, silver trout, and more), parades of ants, sloths in the mangroves, and monkeys playing around in the trees.
It was utterly fantastic.
I later learned that Bocas is actually considered the "Galapagos of the Caribbean" and one of the most biologically diverse places on Earth (!!!), which makes sense considering all the wildlife we saw. You'll find Panama's first National Marine Park (which is also a UNESCO World Heritage Site) here in Bocas, where we even snorkeled for a while!
Some of the most appealing things to do in Bocas del Toro involve it's stunning flora and fauna, so be sure to leave some room in your itinerary for spontaneous wildlife spotting.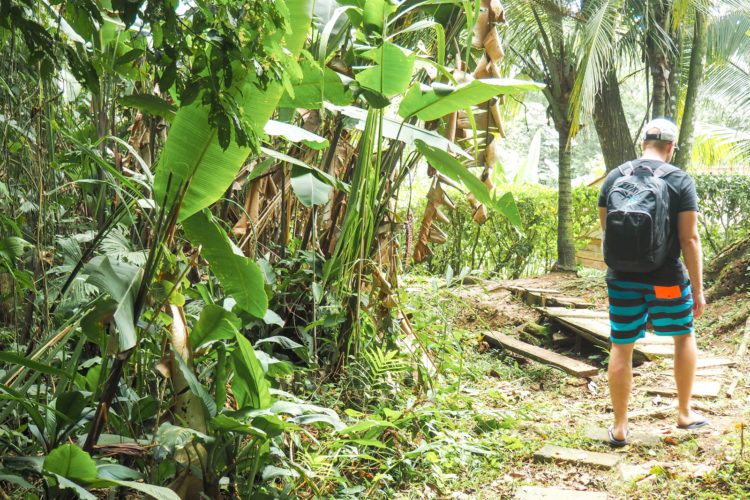 A note on wildlife: always keep wildlife wild. NEVER attempt to touch/chase/feed/torment any living creature, no matter how small. The animals work together to form the precious and delicate ecosystem, and even just one minor disturbance can have a major (negative) impact. Do your part and help keep Bocas del Toro Panama as wonderful as it's always been.
Tips for Visiting Bocas del Toro:
Carry cash with you! This is small island living – most places won't accept credit card! Thankfully, the American dollar is used as currency in all of Panama, Bocas included.
Plan for rain. Bring along a light rain jacket or cute umbrella with you.
You'll be getting around from island to island within Bocas del Toro via water taxi. If you are prone to getting sea sick, be sure to take along some motion sickness tablets with you. And if you're not sure, just order some just in case. Don't want to potentially ruin your trip if you don't have to!
You cannot drink the water in Bocas. Accept this and buy some bottled water (larger bottles are not only cost effective but better for the environment – less plastic waste), or bring along a steripen (a portable water purifier) with you. If you'll be traveling throughout Central/South America with iffy potable water, a steripen is a good thing to invest in. It's small, light, and a smart choice for the environment.
If you're planning on doing a decent amount of snorkeling, you may want to take your own mask and snorkel set with you. Tours provide them, but they aren't always the greatest. We didn't find fins necessary when snorkeling as there's minimal current in the Marine Park where you'll most likely go to snorkel.
Get a dry bag to hold your essentials beforehand, this way your precious items won't get potentially damaged from water (while on the boats and/or at the beach). And while you're at it, you might as well pick up a waterproof phone case, juuuust in case.
Where to Stay in Bocas del Toro
When people say they're visiting Bocas, they usually mean they're staying in one of two places: Bocas Town (on Isla Coron) or on Bastimentos. I'll go into a few of the pros and cons of each below, but just know that no matter where you end up, you won't find posh sleeping quarters or glitzy glam.
Accommodation in Bocas tends to be unsophisticated, rustic, and quite simple. This ain't no ritzy all-inclusive in Cabo or snazzy beach club in Bali. There are a few higher end resorts and accommodation options on Bastimentos, but they're fairly removed from everything.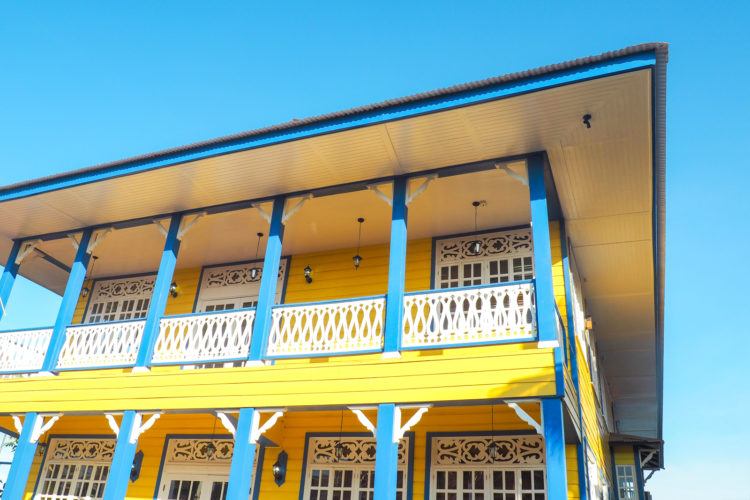 Staying in Bocas Town:
pros:
Lots of bars and restaurants nearby
Short walk to the airport
Many tour operators and boats to whisk you around
Lots of trendy/hip surf shops
cons:
Can be loud at night (although we didn't experience this)
Hotels are basic at best (although ours wasn't)
Staying on Isla Bastimentos:
pros:
Much more privacy over here
More secluded (if that's what you're going for)
More luxurious hotels/resorts
cons:
Not many restaurant options nearby
A bit more difficult to reach from Almirante
Up to you, but we highly prefered being in the middle of everything and having dinner options (after basically eating the same thing for 3 days on San Blas). After visiting Bastimentos, we quickly learned the sheer seclusion of the island just wasn't for us. Up to you!
Where we Stayed: Azul Paradise Bocas Town (not to be confused with the location on Bastimentos). After doing tons of research (it's what I do best!), we ultimately decided on Azul Paradise Bocas Town, as other hotels looked a bit run down and not in the best shape.
Bocas is kinda like a party town so be prepared for late night shenanigans and loud music, although we didn't experience any of these things (apparently every other week is slow?)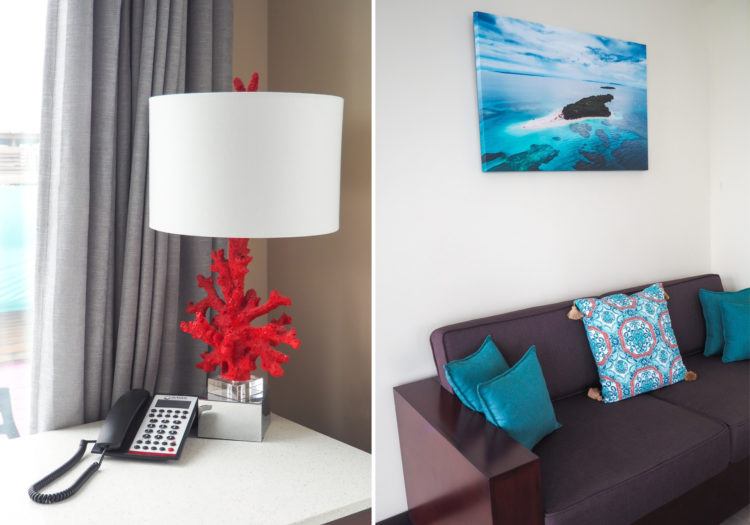 The hotel was modern, fresh, and in a wonderful location. We splurged and booked the King Luxury Suite, and it was roomy to say the least. With floor to ceiling windows with views of the sea, a soaking tub, and a superrr comfy bed, we couldn't have picked a better spot. And we could even use the toilet while gazing at the ocean right outside our room (look at my instagram stories to see what I mean).
Check prices and reviews here. But in all reality, it was by far the cleanest and hippest spot we saw that wasn't a hostel (because those looked right up my alley – if I was traveling solo that is).
Other accommodation options:
Bocas Town:
Mamallena Hostel: If you don't care to be as fancy schmancy as we were, I've heard great things about Mamallena Hostel. We actually went there to book a few tours (we had 10% off since we used Hello Travel Panama for our transfer to Bocas), and I LOVED the colorful vibe of the common room and views out to sea. The happy hour specials looked divine, and I could totally see myself staying there if I was with a few friends or riding solo for a few days.
Selina Bocas del Toro: There's a reason why this hostel is #1 on so many booking sites. We got dropped off here after spending the day on Bastimentos and I loved what I saw of the place – a vibrant coworking space, bar with seaside terrace, and a garden. Plus bean bags! Swinging bar stools! A young, hip crowd! I could totally see myself hanging here with friends.
Other Spots on Isla Colon
Island Plantation Resort: Choose this rustic-chic beachfront resort if you're looking for an intimate spot about 20 minutes away from Bocas Town. Located on secluded Bluff Beach, you'll find gourmet meals, bar service, two bedroom suites, a yoga and meditation platform, and an outdoor pool.
Bastimentos:
Red Frog Beach Island Resort: If luxury's calling your name, book a few nights at Red Frog Beach Island Resort. This beachside getaway offers a full-service spa, dining opportunities (yes, multiple restaurants!), and an outdoor pool (one of the few on the island). It's modern, upscale, spacious, and beautiful, and a wonderful tropical rendezvous.
Palmar Beach Lodge: We visited Palmar on our day trip to Red Frog Beach, and although couldn't see the actual villas set right in the jungle, the common spaces were decorated nicely and the food was bomb. The hotel sits directly across from the beach, with sun loungers, swings, and that bright blue ocean water. Palmar has only 9 rooms, so while it'll feel quite secluded, you'll need to book that baby fast if you're visiting in the prime dry season months. Great for those wanting to stargaze and listen to the animals playing in the jungle at night!
Azul Paradise (Bastimentos): OVERWATER BUNGALOWS. Enough said. Haha, but really, they're a tiiiiiny fraction of what they cost in Bora Bora, so if you've ever dreamed of staying in one, now's the time to do it. We almost decided to stay here on our trip to Bocas, but ultimately decided on the Azul Paradise over in Bocas Town to be closer to a wide array of restaurants and bars.
*There's also a Selina's over here on Bastimentos on Red Frog Beach if you're looking for less expensive accommodation.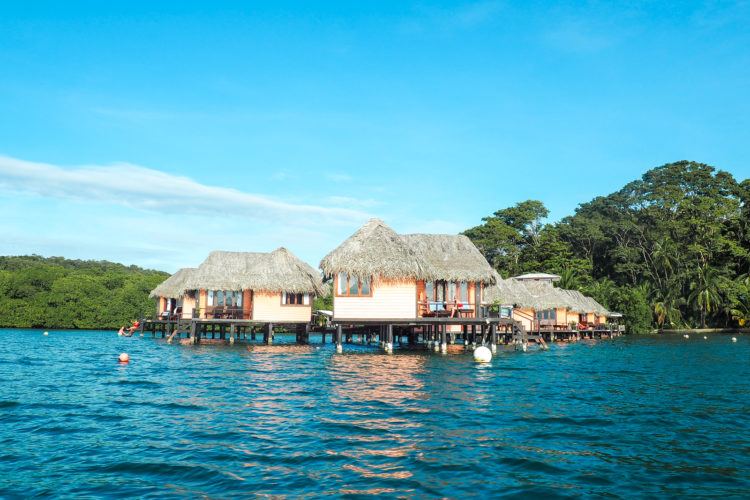 How to get around Bocas del Toro
You'll be fine on foot around Bocas Town, but in order to get to other islands or parts of Isla Colon, you'll need to rely on other transport. Water taxis will take you to Isla Bastimentos, where you can either rent bikes or wander by foot if you're planning to stay close to the port (Old Bank) or Red Frog Beach. Plan on booking a tour if you wanna see the Zapatillas, Sloth Island, and/or go snorkeling.
Things to do in Bocas del Toro
Bocas is the perfect combination of active adventures and beach relaxation. We fit a lot into our 3 days in Bocas, yet didn't feel like our activities were too rushed.
We snorkeled in the marine park, wandered the town, relaxed on Zapatilla Island and Red Frog Beach, went anfibia boarding, strolled through Old Bank, learned about chocolate at Up in the Hill, and oh so much more.
Although there's tons to do here, be sure to slow down and soak up all the Caribbean vibes. You are on vacation, afterall. Treat it like one!
If you're planning on spending a few days in Bocas del Toro Panama and are wondering what our exact travel plans while there were, head to this post which describes in detail our activities each day.
If you're feeling lazy, here's a super quick breakdown: Arrival Day (mid-day): Bocas Town, Day 2: Zapatilla Island, Sloth Island, snorkeling, and anfibia boarding, Day 3: Old Bank, Up in the Hill, Red Frog Beach, Day 4 (½ day): floating bar. While days 2 and 3 were much more active, we still had time to laze on the beach for a while.
Isla Colon
Starfish Beach (Playa Estrella)
Although a visit to Playa Estrella (with the literal translation being Starfish Beach) is one of the most popular things to do in Bocas del Toro, we chose to keep our distance. I had read tons of mixed reviews, many saying they hardly saw any starfish, or none at all, and that the beach was just ok with decent-ish beach stalls for food.
Since we had suuuuch a wonderful experience seeing the starfish in San Blas, I felt okay missing out on Starfish Beach in Bocas del Toro Panama. Do your own research though, as the reviews are mixed at best.
If you do want to visit, you can either visit on a tour or make your way there yourself (it's not very difficult from Bocas Town). You'll need to take a 45 minute bus ride from Central Park in the middle of town to Boca del Drago beach, and then you can either take a quick water taxi to Starfish Beach or walk 20 minutes.
Just please, please, please avoid from hurting the starfish and whatever you do – keep them underwater! Too many tourists playing by their own rules are slowly killing off all the starfish in the area. 🙁  Don't be one of them.
Floating Bar (5-7 minute water taxi from Bocas Town)
How'd you like to grab a few cocktails/beers while literally floating in the middle of the ocean? On our last day in Bocas del Toro Panama, we had some time to chill, so chill we did! A water taxi brought us to the Floating Bar for a mere $5, where we indulged in a few spicy tacos and alcohol-infused drinks.
While we didn't have the greatest weather, on sunny days you'll commonly find snorkelers floating around the bar searching for starfish and loud music.
There's also the famous Blue Coconut (closed on Fridays), which is a bit farther away (closer to Bastimentos) but still the same vibe.
Wander Bocas Town
The opposite of pretentious and showy, the town is exactly what you'd expect from a surf-y hippy-ish spot. Located at the southern tip of Isla Colon, Bocas Town (which is actually the capital of the Bocas del Toro region), is full of trendy cafes, colorful bars, backpacker accommodations, and surf shops. Yes, the town is small (only a few streets actually), but there's enough to explore for an afternoon or so.
Don't miss a crepe from Francine's, cocktails at one of the many waterfront deck bars, and a smoothie from Bocas Blended. Our dinners at El Ultimo Refugio and Azul Restaurant were quite appetizing as well. Psst- If you're staying on Isla Colon in Bocas Town you don't need to dedicate specific time to explore per say, as you'll be wandering around when looking for food each night.
ATV in the jungle
Interested in a wild ride? Craving an adrenaline rush? Look no further than driving an ATV through the beaches and jungles of Isla Colon. It's by far one of the more adventurous things to do in Bocas del Toro. While we didn't have time for this activity, it's something I think we would have loved – after ATVing in both Santorini and Moorea in French Polynesia, we're always up for some 4-wheelie fun.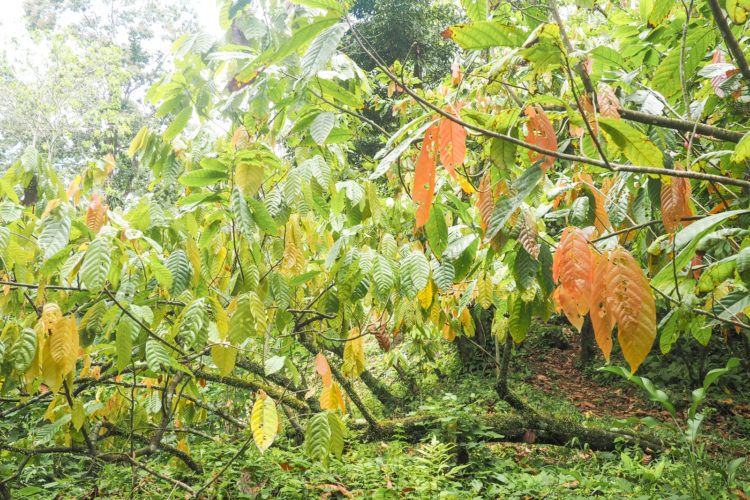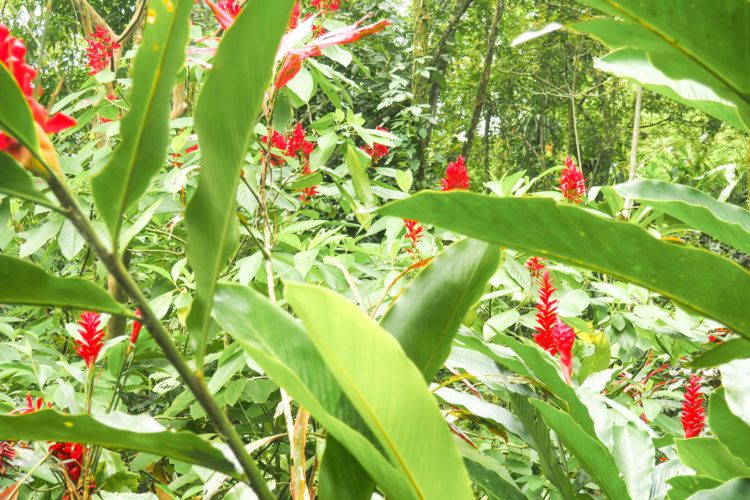 There's a rental agency in Bocas Town called Flying Pirates where you can hire a guide and drive down private jungle trails to a remote beach. I also heard that seeing monkeys and sloths is not uncommon! If you're looking to get away from the crowds, this may be just your answer.
Isla Bastimentos
Stroll Through Old Bank
Old Bank, located on the Island of Bastimentos (a quick water taxi ride away from Bocas Town), is an Afro-Caribbean community just waiting to be explored. And after a few quick glances around, we instantly knew that Bastimentos was much more rugged and real than Bocas Town. With minimal tourism in Old Bank, you'll get to see first-hand how the people live.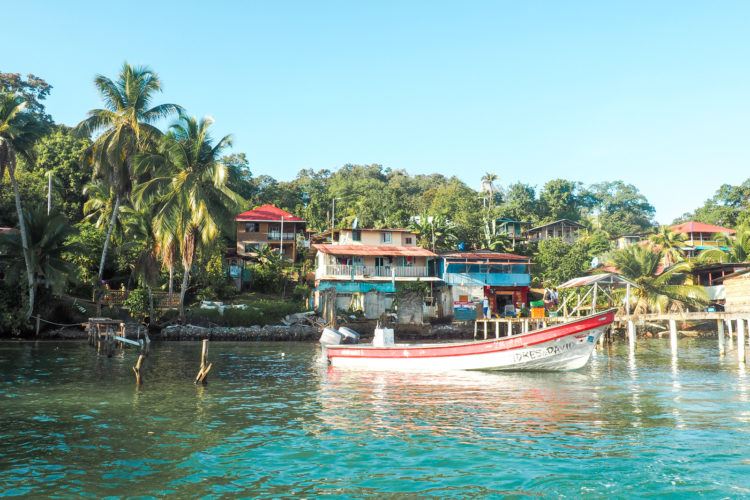 We saw roosters, baby chicks, lots of laundry hanging to dry, and tons of colorful old wooden buildings amongst lush vegetation. Just follow along the main dirt path directly from the port, and you'll come across all this and more. With flavors of the West Indies, and being the second largest town in the Bocas archipelago, don't miss it!
Up in the Hill Coffee Shop and Organic Farm
An organic chocolate and coffee farm high in the jungle of Bastimentos– sign me up! Not only did we learn all about how chocolate is grown and processed, but also the reasons why they've chosen to live off the land, how the plants work together to help the others grow, and how they go about creating and sustaining a permaculture organic farm.
It's all very fascinating stuff, and quite inspiring to say the least.
On the tour we saw poisonous red frogs (harmless to look at, but no touching allowed), huge spiders with insanely strong webs (you can touch these to see what I mean), parades of ants carrying leaves (just wow!), yellow tailed birds, and chocolate cocoa trees!
But beware — Getting there is an activity in and of itself! Start making the short trek from Old Bank around 10:15ish, and keep going up, up, and up into the jungle and through the woods. They'll be signs, don'tchu worry. The hike/walk wasn't difficult per say, we were just super hot and sweaty from the intense humidity and heat.
Be sure to take ample amount of water, and forget about having a good hair day (I had just washed and blow dried my hair the night before – biiiiig mistake).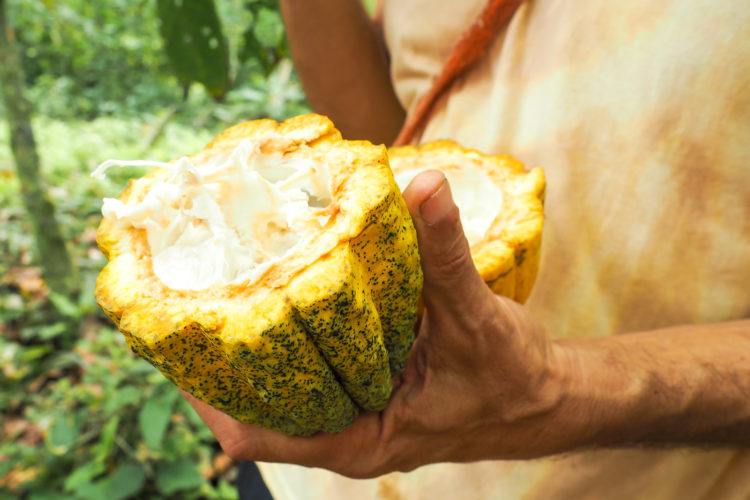 Up in the Hill is a fully sustainable farm, producing zero waste and using every last bit to better their efforts. There's a tour through the family farm everyday at 11am, which we signed up for the night before.
At the end of the tour, we were served a delicious spread of jackfruit, plantains, banana with fresh cocoa, chocolate drinks with coconut milk, pumpkin soup, coconut brownies, and more, all made with fresh ingredients from the farm.
Note that it's possible to visit Up in the Hill without going on the tour, although I'm not so sure a brownie and chocolate drink are worth the sweaty trek up there.
Red Frog Beach
While Panama in general is not known for its great beaches (particularly because many of the resorts are on the Pacific side which has rough sand, cool water, and larger waves), Red Frog Beach is an exception. Located on the Caribbean coast of Panama, this beach boasts lush tropical forests and tons of wildlife (we saw monkeys here!)
However, despite its numerous accolades and awards, I wasn't too impressed, most likely because we had already visited San Blas and Zapatilla earlier on in our Panama trip. The waves were quite substantial and there is a riptide so be extra careful if you decide to go into the water. We just layed on our towels and relaxed and read for a while.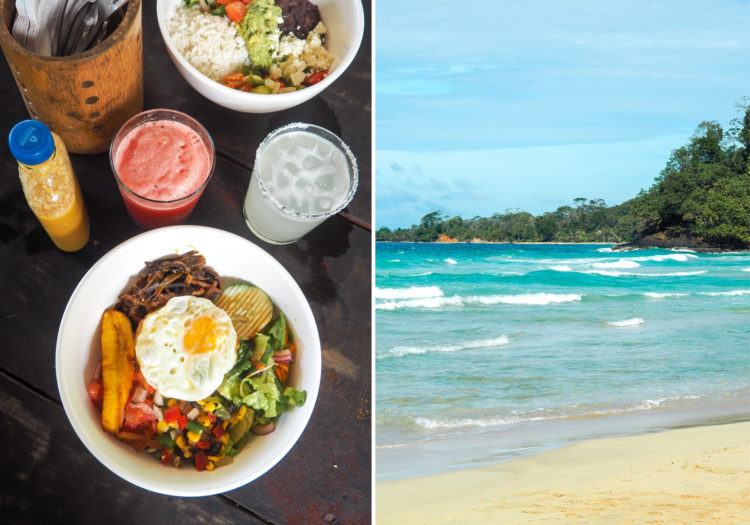 Red Frog Beach is the most popular beach on Bastimentos and therefore, the most crowded. Note that there are a few beach resorts (including Palmar Beach Lodge (spacious villas), Red Frog Beach Island Resort, and The Island Hub at Red Frog) if you'd prefer to stay and relax for a few days. If you're just visiting as a day trip like we did, you'll find a few restaurants/bars after walking along the path from the water taxi drop off.
The fish tacos at Nachyo Mama were highly recommended to us but we weren't hungry enough for more food. Note that we chose to get dropped off at Palmar Dock, and took a 15 minute walk to the beach through the "shortcut" for another $5 each. It didn't quite seem like a shortcut, but it is what it is!
Wizard Beach
The beach is kinda a pain to get to, requiring a 40 minute hike over hills and through the jungle (especially difficult if it's rained at all). But this just means not many make the effort, making the beach rather unspoiled and secluded with lots of space to spread out.
After sweating profusely after heading to Up in the Hill, it's safe to say another jungle trek wasn't in the cards for us on our trip. Note that there are no facilities here – zero bars, zero restaurants, nothing. If you're after a relatively untouched beach – go for it, just be careful!
You can reach Wizard Beach by foot from Old Bank, although robberies have become more common so please use extra caution and don't walk alone or leave any valuables on the beach itself.
There's actually police present at the beach because of the past incidents. You may be able to reach the beach via water taxi, but due to the common large surf, it is usually inaccessible this way.
Snorkeling at Bastimentos National Marine Park
Since the National Marine Park is quite large (covering an area of 13k hectares), you obviously won't be able to explore every inch of it. However, you can most definitely witness the Caribbean mangrove swamp (home to Sloth Island!), and snorkel in what is the best conserved coral reefs on the Caribbean coasts.
You'll see angel fish, parrot fish, groupers, trout, butterfly fish, and even lobster and moray eels if you're lucky!
If you've got time, you can make your way to Playa Larga (Long Beach) on Bastimentos Island which is where the marine turtles go to nest between April and October. We visited in late March — unfortunately not the right time to see these majestic beauties.
Note that Playa Larga can be difficult to reach and it's recommended that you find a tour with an experienced guide to take you here. The Zapatilla Islands are also part of the Bastimentos National Marine Park, and I absolutely loved this spot in Panama.
Water Activities/Other Islands
Bioluminescence
If you're looking for something a bit out of the ordinary, be sure to check out the glow of the bioluminescence in Bocas del Toro → it's absolutely wild! And what exactly is bioluminescence, you ask? It's the creation of light through a biological process by living organisms, and these just so happen to be in the Caribbean waters offshore!
In non-science-y terminology – Thousands of microorganisms basically glow in the dark in the water! You'll need to get yourself on a tour because this phenomenon doesn't happen everywhere in the archipelago – the guides know the best spots to look!
Zapatilla Islands
Crystal clear water. Untouched natural beauty. So many seashells! If there's one stop you can't miss while in Bocas del Toro Panama, it's the Zapatilla Islands. These two uninhabited islands are located east of Isla Bastimentos and are quite honestly, one of the most amazing places I've ever been (same level as Bora Bora I might add).
While many say that San Blas is way more beautiful than Bocas, I'd have to disagree, as long as you make your way to the Zapatillas.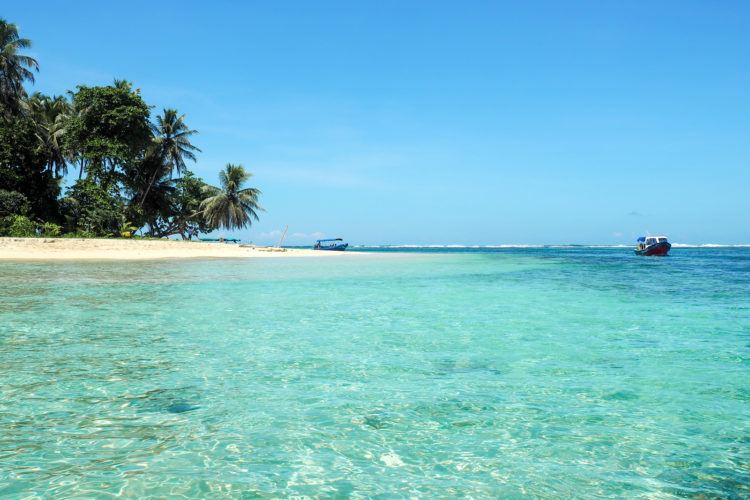 On the island I spent a decent chunk of time wading in the shallow waters offshore, just admiring that gorgeous turquoise Caribbean water. This serene island paradise is absolute heaven and then some. And get this → it's actually where Survivor Panama was filmed!
There are a whole array of tours whisking visitors around to the Zapatilla Islands – you can either book in advance (what we did with Hello Travel Panama) or easily find a water taxi from Bocas Town to take you straight there.
Anfibia Boarding (coral boarding)
Picture yourself facedown in the water, hanging on to an ergonomically designed board, drifting up and down, allll while a boat is pulling you across the ocean. Sounds fun, right? It's absolutely exhilarating and like flying underwater. You'll see coral, fish, and whatever else there is along the ocean floor. Just make sure your bathing suit is on tight – our guides said they're known to fall off from the pressure!
Anfibia boarding is commonly included on many day trips to Zapatilla or the surrounding areas. We booked with Hello Travel Panama and got to experience anfibia boarding for a decent chunk of time.
Sloth Island
Located a bit offshore Isla Colon you'll come across Sloth Island, which is home to dozens of sloths just hanging around it's protected mangroves. And despite how difficult they are to spot, we found a whole bunch!
Note that visitors to the island are not allowed on shore, and will have to keep watch for sloths from the boat. Thankfully our guides were experts at spotting them, and made sure everyone on the boat got a few glimpses, three toes and all! They're kinda hard to see in the photos, but look for the hornet's-nests-looking things!
Dolphin Bay (Laguna Bocatorito)
If seeing dolphins are on your Bocas del Toro bucket list, be sure to head to Dolphin Bay. This cove/lagoon is exactly where the bottlenose dolphins hang out most of the year, hence the name "Dolphin Bay". Not very original, but hey, it works! Being roughly 20 minutes away (via boat) from Isla Colon, there's no excuse not to visit (unless you're like me and didn't know about this spot until it was too late).
However, the best time of year to see these majestic creatures are between June and July, when the rough seas make the calm waters of the bay especially appealing for them.
Nightlife in Bocas del Toro
If you came to Bocas del Toro Panama for the typical Bocas experience (the wild-at-times party scene), you'll for sure want to base yourself in Bocas Town. So sample a bunch of cocktails, hit the dance floors, and party the night away, Caribbean style. Some popular bars/clubs are Aqua Lounge, Barco Hundido, Selinas, Tequila Republic, and La Iguana Surf Bar.
For the sake of transparency, we had little to no interest in experiencing the nightlife in Bocas (our bed was way too comfy to part ways), so I can't give you loads of info about it. However, ask anyone in town and they'll be sure to point you in the right direction (the town ain't that big, you'll see).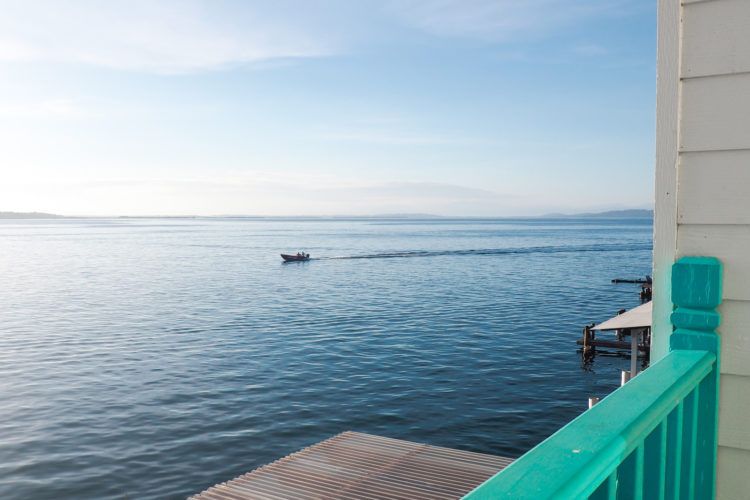 Where to Eat in Bocas del Toro
Homemade plantain chips. Caribbean cocktails and house-made margaritas. Blueberry smoothies. Fresh fish. Simple, flavorful, and refreshing food.
There are a whole slew of restaurants in Bocas Town, which is where we chose to base ourselves and where the bulk of my food recommendations are from. I have to say that the food wasn't anything to write home about (much like the rest of Panama), but we appreciated the many options right in town and the fact that nothing was crazy expensive.
We definitely wouldn't dub Panama as a foodie's destination (much like that of Japan or Mexico City), but everything was edible and nothing was horrible.
For breakfast/brunch we loved Francine's Crepes and Waffles (the owner is so incredibly sweet and our crepe was utterly fantastic), and Amaranto where we had great coffee and blueberry yogurt bowls.
We found a bunch of lunch and dinner options which we especially liked in Bocas Town, including Azul Restaurant ($20 for a 6 course tasting menu, can't beat that price!), El Ultimo Refugio (set over the ocean with an ever-changing menu of whatever's been caught that day), and La Baguita Ocean Lounge (such a fun atmosphere – we ate here multiple times as it was located directly next to our hotel).
We also found the veggie bowls and smoothies at Palmar Beach Lodge (on Red Frog Beach) to be a great mid-day snack when dozing off on the hammocks. The tacos at The Floating Bar were especially tasty, and probably some of the best spice we had on our whole trip. And our delicious spread after our tour at Up in the Hill was probably the best thing we ate all week.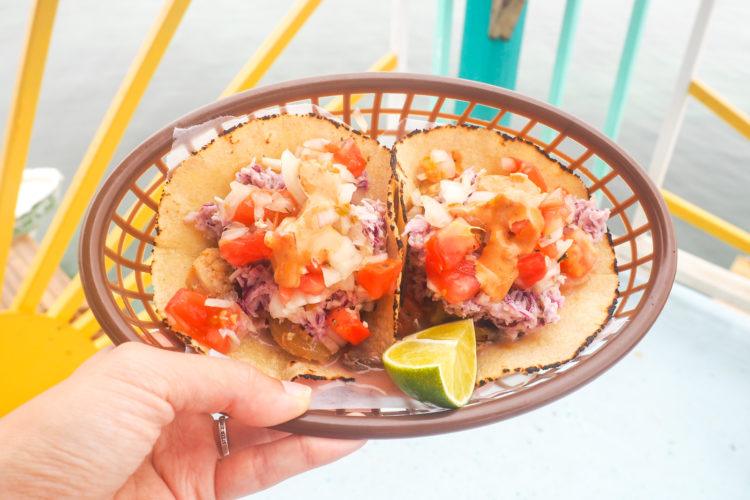 In between meals we found a few snack/ice cream/smoothie places we liked, including La Churreria Bocas del Toro (weren't as good as the churros in Mexico City obviously, but they were decent enough), a gelato stand on the side of the road, and Bocas Blended for smoothies (which I heard boasts great wraps as well).
Note that a bunch of restaurants are cash only, so be sure to have enough dollars on you for food and drinks.
Are you headed to Bocas del Toro Panama in the near future? Which of these things to do in Bocas del Toro are you most excited about?