Thinking about adding a few days in the San Blas Islands to your Panama trip? Good choice- you'll be rewarded with forests of coconut palms, luminous aquamarine waters, remote Caribbean islands, and seafood meals consisting of the freshest fish possible.
It's true island living. We fell asleep to the gently swaying palm trees and ocean waves, and woke up to the birds (loudly) chirping right outside our bungalow. We ate freshly caught fish for every meal, and didn't need to wear shoes (not even sandals) the entire duration of our stay.
I've never had an experience even remotely similar. And would I do it again? Yes, in a heartbeat.
My 3 days in the San Blas Islands off the coast of Panama will be 3 days forever ingrained in both my brain and my heart. We were completely off the grid- no cell service, no WiFi, no contact with the outside world. And it was absolute perfection.
Most people only visit for a day (and at most 1 night), so I wanted to provide you guys, my lovely readers, with some up-to-date information about the islands and my experience on my San Blas Tours.
I'll say this to preface the entire blog post: it seemed like everything in San Blas was organized chaos at its best. But that's just how they roll, and it works. Must be all that salty air and fresh coconut water. Go with an open mind and zero expectations.
In my opinion, no trip to Panama is complete without visiting the San Blas Islands. Make some room in your itinerary and you'll come home with glistening golden skin and relaxed as ever.
→ Read Next: 10 Days in Panama (A MASSIVE Itinerary + Guide)
San Blas Logistics and Important Info
Introduction to San Blas (understanding the islands)
What and where are the San Blas Islands? San Blas is an archipelago off the coast of Panama comprised of approximately 365 islands (one for each day of the year!), with only about 49 being inhabited.
The islands vary in size, with some super tiny with no more than some sand and a few palm trees, while others are more developed and are home to large communities, schools, and churches.
We visited the more remote islands, although were able to see one of the larger communities on the way over in order to pick up a few beers!
Who owns the San Blas Islands? Nope, not Panama! This group of islands are owned and inhabited by the Guna Yala indigenous tribe of Panama, who have spent centuries protecting and supporting themselves on these lands.
They own a portion of land on the mainland, and a whole heap of spectacular islands out in the middle of the Caribbean sea. The Guna's are in full control of the San Blas Islands, protecting their lands against massive tourism which in turn keeps them healthy and downright beautiful.
Who are the Gunas? They're the native people living on the San Blas Islands, and call themselves either Kuna's or Guna's. The region in Panama where you can find them is now officially renamed to Guna Yala, but most still refer to them as San Blas.
They're actually the first indigenous group in Latin America to gain political autonomy, and have their own laws, norms, and values which is completely different than traditional Panamanian culture.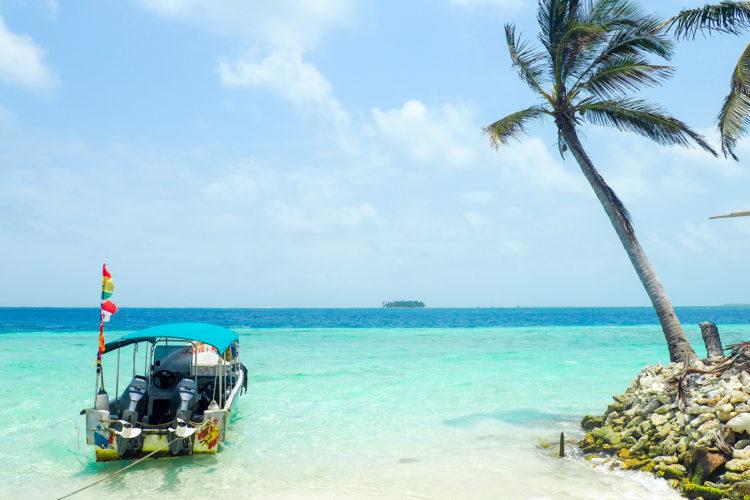 They were the ones who cooked all our meals, took us to different islands, and provided us with accommodations. They're friendly people but many don't speak much English, so we had a difficult time communicating with them beyond the typical course of the day's activities.
Some only spoke in their native tongue (known as either Guna or Tulekaya), so communicating with our limited Spanish was impossible as well. If you want to wow them, learn a few basic greetings in their traditional language (na is hello, dot nuet is thank you).
How to get to San Blas:
Most people head to the San Blas Islands from Panama City via tour company, which is what we did. One way takes about 4 hours or so, so keep this in mind if you're headed there just for a day trip (it's a lot of traveling for just a few hours on the islands, in my opinion).
I read that the road to San Blas was an absolutely treacherous one, and I was a bit skeptical at first. However, after making the trip, I'm here to say that it wasn't nearly as bad as everyone made it out to be. It does take some time though, so be prepared for that.
First, you'll need to take a 2.5-3 hour shuttle bus ride from Panama City to the port. The last hour or so of driving is up and down a pretty windy, bumpy road, but it's not so terrible, and you'll need to show your passport and pay some Guna fees, so don't be alarmed. You'll likely stop at a grocery store on your way to stock up on snacks, supplies, and other items you may want/need for your trip.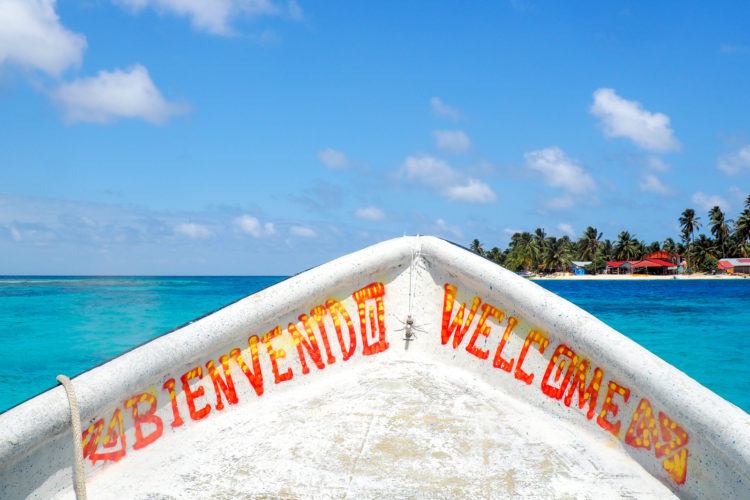 Once at the port, you'll catch your boat to your island of accommodation, which takes roughly another 45 minutes or so, depending on how far out you're staying.
Psst – alternatively you can fly to select air strips in San Blas, but they were about $100 round trip without tons of options. And since we booked with a tour company, we were more than happy to just go with the flow and have everything transportation wise taken care of for us.
Before we move on, I think it's wise to have your expectations in check when staying in San Blas Panama, as it's not the luxury experience you may think it is.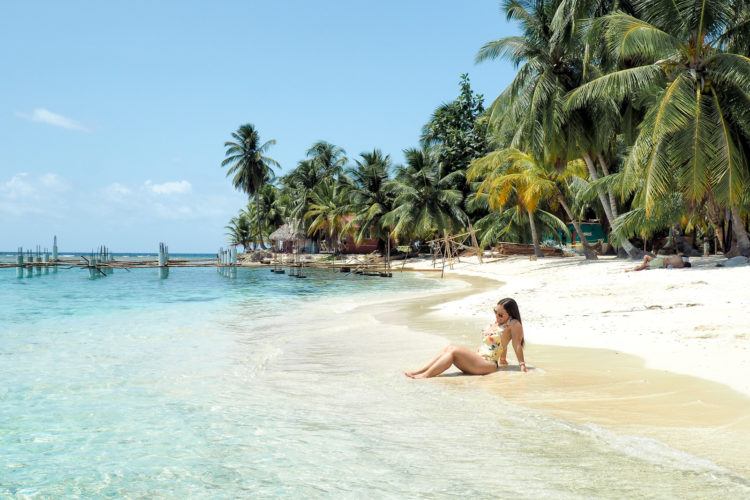 What to expect in San Blas:
peace and quiet • shared bathrooms • no hot water • wide, pristine beaches • minimal meal variations • tropical, somewhat sticky air • no mass tourism • lots of down time (take advantage of the hammocks!) • sporadic and unpredictable weather • gently swaying palm trees • kinda roughing it • no hotels or resorts • no chain restaurants • bright turquoise water teeming with wildlife • fresh seafood lunches • super basic accommodations • coconuts for days • starfish
Notice how I intentionally threw in a mix of what many would perceive as positives and negatives? Decide for yourself if the San Blas Islands are right for you. We absolutely adored it and can't wait to visit again.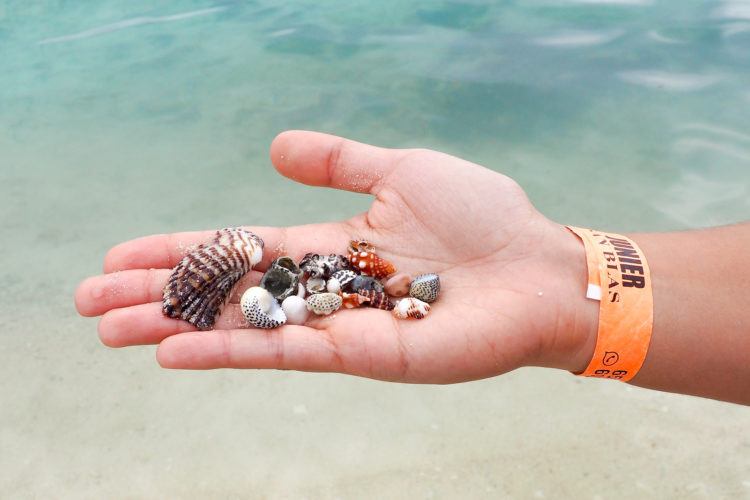 How Long to Stay in San Blas
We stayed for 2 nights which we found pretty perfect. I can't imagine only going for the day, as it's at least 4 hours there and 4 hours back (from/to Panama City). It's the perfect add-on to a longer 10-day Panama itinerary.
And one night seems alright (if that's all you have time for) – but we were just getting into the swing of things and feeling super relaxed on our second day, and it would have been a bummer to leave right then and there.
Any more than 2 nights and I think we would have been longing for a hot shower and variation of food more so than actually enjoying the picturesque beaches. So in my opinion, I vote for 2 nights!
As noted above, it's not a luxury experience, and you'll be kinda roughing it for as many nights as you spend on the islands (which is why most prefer to go as day trips or for only one night).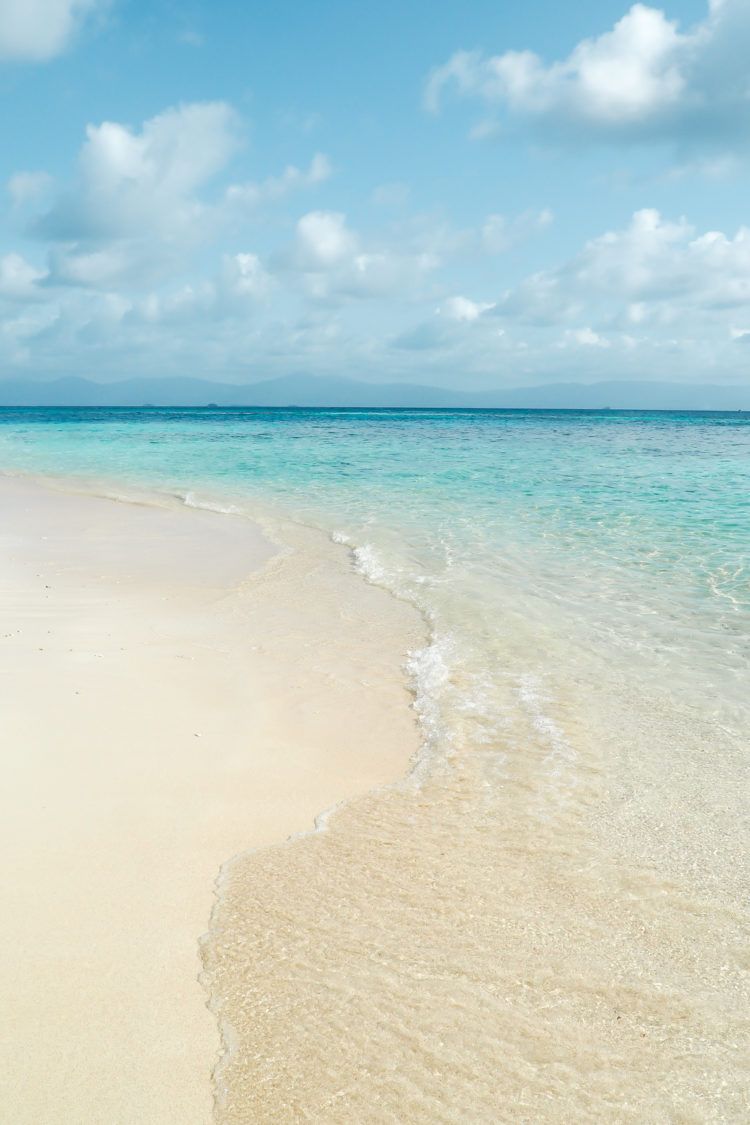 When to Visit the San Blas Islands
There's really no best period to visit the San Blas Islands, but I heard that they experience the least rainfall in January, February, and March. Rainy season begins in April, comes out in full force in May, and basically lasts until the end of the year.
However, if you're planning on heading to San Blas in the rainy season, don't fret – you'll still find beachdays with hours of sun even on rainy days.
It should be noted that the sea is a bit rougher during rainy season since there's more wind and possibly a passing hurricane in the Caribbean Sea. If you get seasick, be sure to pack some dramamine! And thankfully since San Blas is located outside the hurricane belt, they don't get hit by large storms.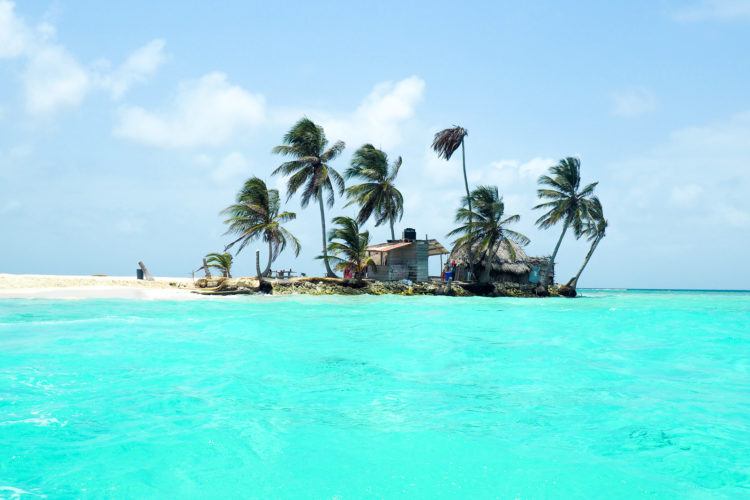 Since the islands are so close to the equator (around 9° degrees north of the equator), it'll be hot year round. The temperature stays roughly 80° F (27°C) no matter the month. You will find some high humidity no matter the month, although this didn't bother us much since we were continuously in and out of the water all day long.
We looked at the weather report before heading off to San Blas and were wildly disappointed → rain and clouds all day, the entire duration of our stay. But thankfully, that didn't occur (thank the Panamanian heavens), and we experienced clear blue skies with only a handful of cloudy hours, and a bit of rain on and off at night.
The weather can be super unpredictable any time of year, so just hope for the best!
Taking a San Blas Islands Tour:
When we initially started our research on San Blas, I couldn't find much valuable information out there.
What I did come across was either outdated, written by those only taking a day trip, or from the perspective of those who went sailing in San Blas (which I'll explain in a bit why this option isn't your best bet, for now at least).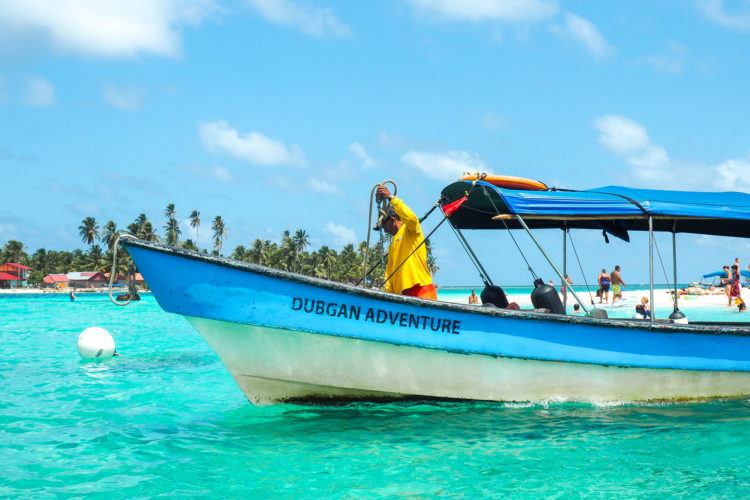 After doing heaps of research and comparing and contrasting different tour companies, we ultimately decided to book with San Blas Dreams. We were picked up at our hotel in Panama City at 5:30am, driven to a grocery store to purchase whatever items we thought necessary (snacks, drinks, towels, etc), then taken directly to the port via 4×4.
A water taxi then took us to our island of accommodation, where we were given our little thatched bungalow and started living the island life right away.
People who booked with other tour companies stayed on our island in the same Kuna camp as well, so I'm not entirely sure how it gets ultimately decided who goes where. I'm sure the Kuna have a system, but I don't entirely understand it. I'm on vacation though, what do I care?
It's definitely worth it to book yourself a tour, as a sweet couple we met on a different island booked their accommodations independently and had to (literally) beg boat drivers to let them onto tours to other islands. And they weren't allowed to drink any rum (ackkkk). Do yourself a favor and book through a tour company.
It's honestly not worth the possible few bucks of savings to figure out all the logistics yourself (remember you'll need to get yourself to the port which is a 3 hour drive from Panama City and then a 45 minute boat ride to the islands).
For full transparency, we paid about $203 per person for a 2-night/3-day stay, including all meals, accommodation in a private cabin, transfers, and tours.
You'll need to pay a $23 Kuna tax and port tax (no matter if you book independently or through a tour company), so be sure to have cash handy.
Accommodation options in San Blas:
We stayed on Diablo Island, although accommodations are available through San Blas Dreams on other islands including Chichime Island, Ina's Island, Anzuelo Island, the Perro Chico/Barco Hundido, Fragata Island, etc. etc. the list goes on.
We weren't given a choice and unless you specifically book accommodation on a particular island, I wouldn't worry about it. All the islands have white sandy beaches, bright turquoise waters, and palm trees providing shade (they basically all look like versions of each other).
We opted for a private thatched hut, although there are shared cabins (6-14 people, kinda like a hostel) for rent as well, some with sandy bottoms and ocean views. A bunch of people on our island slept in tents provided by the Kunas, and we heard of others sleeping on hammocks on other islands.
Please understand, as I noted earlier, this is NOT a luxury experience. They'll be no infinity pools (heck, not even a pool at all), no hot water, minimal electricity, and shared bathrooms. You're essentially camping in a cabin, but under a palm tree and next to the brightest shades of turquoise water you've ever seen.
Worth it? I think so. It's important to note that while the rooms are as basic as they get, we actually slept ok, although it was pretty stuffy and hot without much air circulation. It goes without saying that I couldn't wait to jump into the sea each and every morning after waking up.
A few words about Sailing in San Blas:
We read about sailing through the San Blas Islands via sailboat or catamaran instead of basing ourselves in the little huts on the island, but heard mixed things and read about several cancelled trips (how horrible for those already booked).
I highly advise you to do your due diligence and heavy research before you decide to book a chartered sailing trip in the San Blas Islands.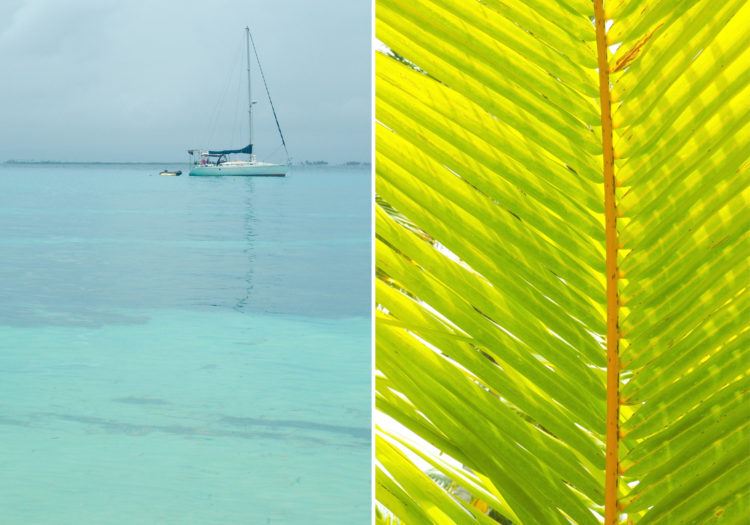 It's suspected that many of the chartered boats catering to tourists are actually illegal and not supported by the Kuna, and go against both Panamanian and Kuna law. Basically, if the charter is run entirely by foreigners, they are illegal; a legal chartered boat will use Kuna captains and/or crew.
The Kuna Congreso is trying to stop them, and I don't disagree – these illegal sailing boats crowd their protected waters, don't support the local development, provide no local jobs, pay zero taxes, and only increase boat traffic and trash.
With so many cancellations and uncertainty, you wouldn't want to chance your tropical island trip possibly getting cancelled only a few days before with limited remaining options, right? The Kuna's have protected their culture for years and years and years — don't be part of a scam and knowingly disrespect them.
They are among the few indigenous cultures in our world which have not been destroyed. Keep it that way and help them protect their precious islands.
Just FYI – Sailing in San Blas is not banned per say, but taking tourists around via charter is. If you've got your own boat (ha!), you're good to go!
Sample itinerary on most San Blas Tours:
7:30ish: Wake up to the birds happily chirping (your ears off)
8:15ish: Hot Breakfast
9-10am: Lounge on beach, read, free time
10:15ish: Island hop (tour of the day)
1:00pm: Lunch back on your "home" island
2-7pm: Free time/showers (snorkel, nap in hammocks, read, swim, laze around)
7pm: Dinner
Night: beers and card games, stargazing and short beach walks
Those San Blas tours we took each day for a few hours took us to nearby islands, natural swimming pools (previously sunken islands), and sand bars, where we wandered around the islands taking photos, going for swims, snorkeling, and hanging with other people from our boat. The Kuna's provided rum and cokes for us to enjoy, and we even saw a bunch of big starfish in the shallow waters!
Quick note on starfish: Starfish are living creatures guys. They need to be kept in water – do not lift them out! They are extremely sensitive and should be handled as carefully as possible, for the least amount of time.
Our Kuna guides said we could lift them up for a quick photo (still halfway submerged in water), then place them right back. Don't go moving them all around for your perfect IG shot, just don't do it. They are so delicate – we want to keep these little sea beauties alive!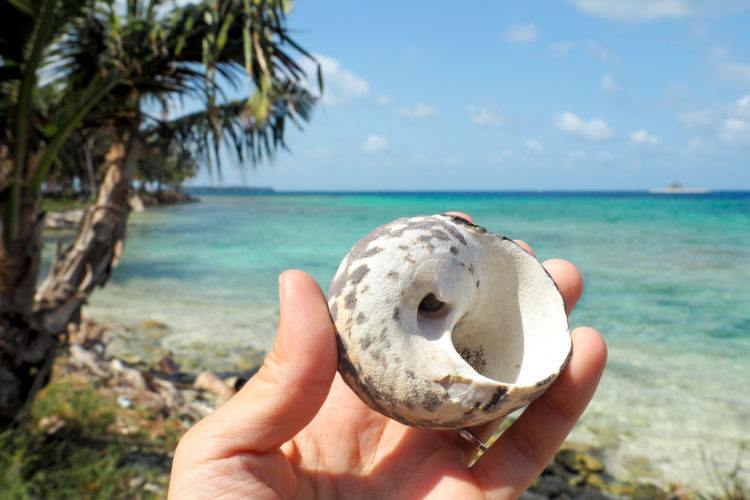 Rinse and repeat for the next day. It's really a simple way of life, and we reveled in it oh so much.
What you'll Eat in San Blas, Panama:
Basically whatever the locals catch or buy off of fishermen that morning! I ate a whole lot of white fish, rice, coconuts, and plantains. Visiting the San Blas Islands won't be a culinary experience, but you'll definitely be living off the land (and sea!).
Lunch and Dinner: You'll be given choices of fish fillet, grilled or fried (entire) fish, mixed seafood, prawns (when available), and maybe some chicken. I had the fish fillet almost everyday for both lunch and dinner, and it was absolutely delicious (even on day 3). Sides of either rice or plantains are provided, with a mini salad of lettuce and a few slices of tomato. You'll get used to the limited variety rather quickly.
Breakfast: no choices here, as everyone eats the same thing, although they switch it up a bit morning to morning. We had fried eggs and some sort of fried dough pancake one morning, and hard boiled eggs and potatoes the next. Wasn't half bad!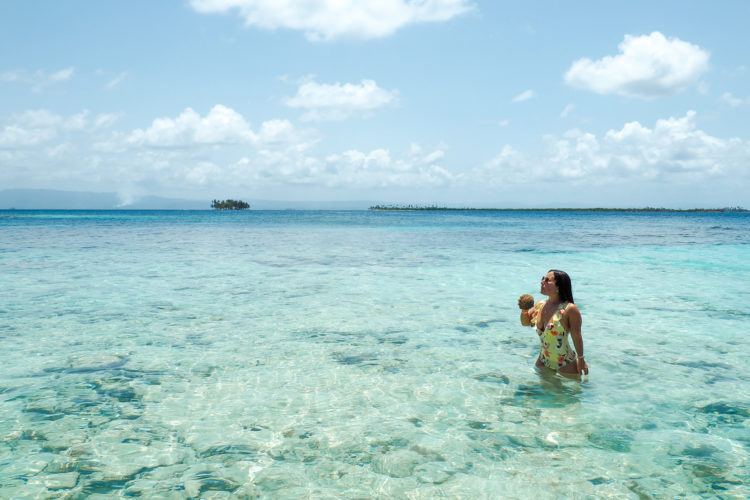 And just FYI, besides coconuts, fruit is mostly imported from the mainland and will be in scarce supply. We were given a few pieces of pineapple and brought some mini bananas with us, but we were bummed we didn't bring more of our own.
What to bring to San Blas:
Snacks (you'll be fed 3 full meals a day, but if you get hungry between meals, you'll want to have your own food to snack on as there's literally nothing to buy – except water, rum, coke, and beer lol). We stocked up on chips, bananas, granola bars, pretzels, and Gatorade from the grocery store before arriving on the islands.
Towels (as previously mentioned, there are super limited amenities on the islands, and you won't find any bath or beauty products here). We used the same towels for both the beach and showering (no one really cares, trust me), and hung them out to dry outside our hut when needed. Don't feel like lugging towels from home and around Panama? Buy inexpensive bath towels beforehand in Panama City or at the grocery store you'll stop at on the way to the San Blas Islands.
Snorkel gear: you'll be provided with snorkel gear on some of your tours, but we heard they aren't the greatest so some people just brought their own.
GoPro: the underwater life here is prettttyyyy amazing, so if you want to take photos underwater, you'll obviously need a waterproof camera
→ Read next: Top Tips for Improving Your Underwater Photography
Battery pack: they'll most likely be no power outlets to charge anything, so its wise to bring along a few already fully charged battery packs. We had the option of charging our devices at the restaurant, which provided a few power strips, but they were crowded at times. And plus, there's no cell service or WiFi, so your cell battery will probably last a few days anyways if you aren't using it to take video and photos (like I was).
Minimal clothes: We brought along too much, and found all we really wore were bathing suits, shorts, and sleep clothes. The San Blas Islands are not the place to bring along your fancy schmancy sundresses or heels of any nature. This just ain't the place for it! I felt too hot and sticky to even think about taking cute twirling photos in front of the swaying palms.
Backpack, duffel bag, tote bag, or super small carry on luggage (not recommended) with all your required items. You definitely should not bring along your entire suitcase, and we had our hotel in Panama City store our luggage for the 2 nights we were in the San Blas Islands. They're quite used to this and shouldn't be a problem at all.
Shoes are not necessary on the islands, basically ever. Once we got to our home island, we didn't put on shoes (even sandals) for the next 3 days. Barefoot it was!
Flashlight or head torch: there's not much electricity on the islands, and although we had a little light in our cabin, the walk to the shared bathrooms at night didn't provide much light. We were fine using the flashlight on our iphones, but you may want to take along a portable flashlight or throw in a head torch if you already own one.
Passport: very important! You'll need to show it multiple times to the Kuna people (you may not be allowed in without it)
Reef-safe Sunscreen (take a lot of it, the sun is extra strong here!): Please oh please do your part and bring along reef-safe sunscreen. Many people don't realize this, but the chemicals in generic sunscreen harm the coral and other marine life in the ocean. There are plenty available these days, but I recommend this one or this one (both affordable and non-toxic to the reefs).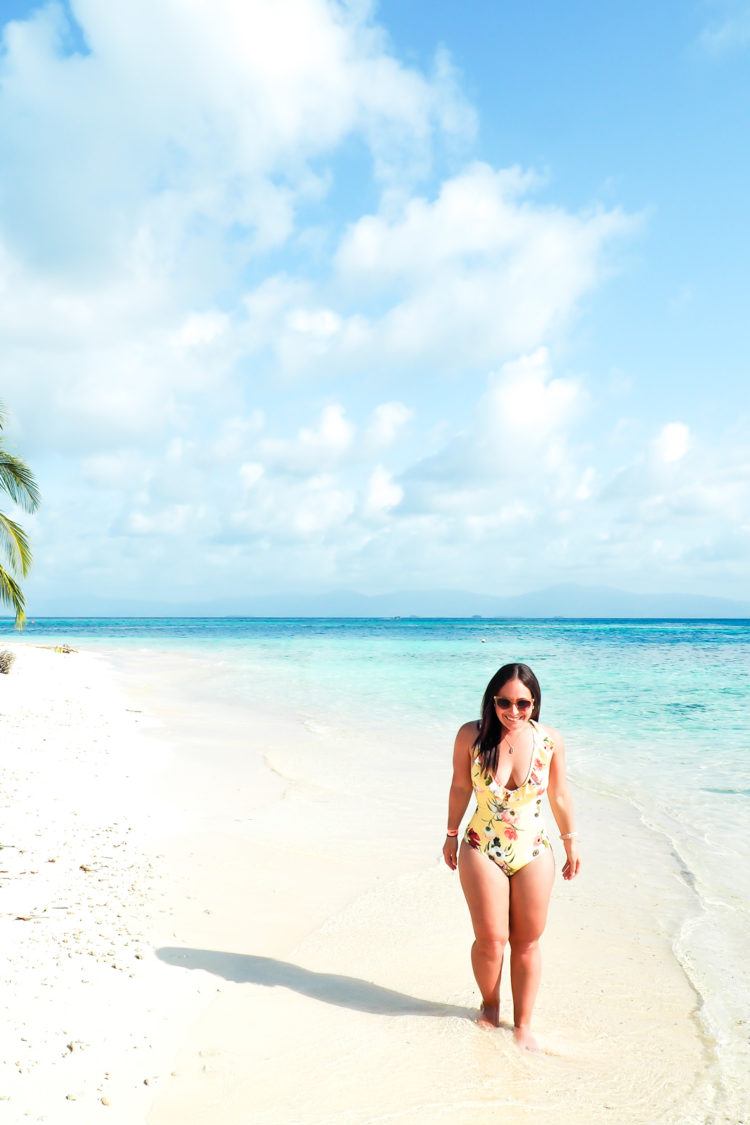 Small bills: Since there is no ATM in San Blas (nope, not even one!), make sure you bring enough cash. You'll need ~$23 per person for Kuna tax and port fees, and some extra money for drinks (water, beer, etc) on the island.
Other things to note:
As noted earlier, electricity is extremely limited. We had no power outlets in our cabin (it's kinda unheard of in these parts), and charged our devices via battery packs and outlets at the restaurant.
If you're a snorkel fanatic like me (I'm always the last one out of the water), you'll love the San Blas Islands. The underwater world is teaming with wildlife spotting opportunities – think colorful fish, estrellas del mar (starfish- my favorite), reef sharks (don't worry, they're harmless), and more. Be careful of stepping on the sea urchins though! And promise me you'll never snorkel alone or after dark (just don't do it – it's not safe!)
You'll be able to purchase some colorful molas if you please, which are decorative panels handmade by the Kunas themselves. The more intricate and elaborate, the more work went into them!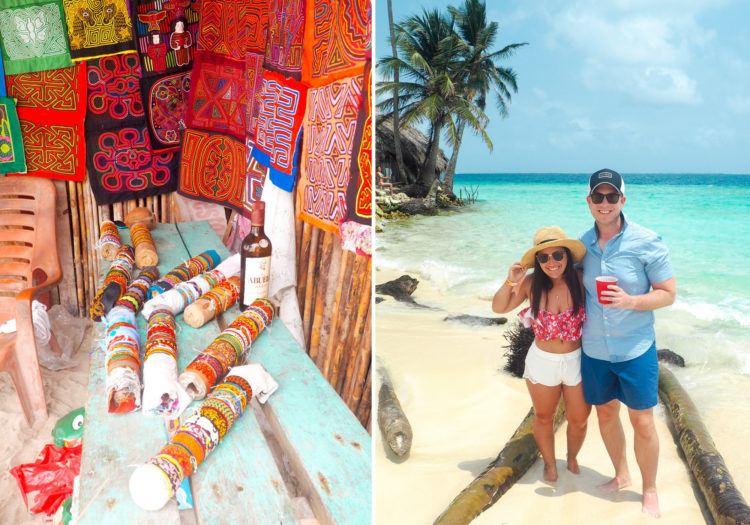 Always ask permission before taking photos or video of a local Kuna. Many prefer not to be photographed, while others will ask for a dollar or two (especially woman in traditional dress). Attempt to strike up a conversation, feel out the situation, then politely ask to snap a photo.
Trash has become a recent problem for the San Blas archipelago. Do your part and take as much trash out of the islands as you possibly can. For instance, before visiting the islands, attempt to minimize the packaging of whatever you're bringing in (food, toiletries, drinks, etc). Since there is no formal trash removal on the islands, it unfortunately ends up on one side of the island with no where to ultimately go besides the stunning azul waters.
Don't steal coconuts! Even if there's 20 hanging from a tree, just don't do it! Up until recently (the late 1990s!), the Kuna used coconuts as their primary currency of the region. Nowadays, they export millions of cocos to Colombia annually in exchange for goods such as food staples, batteries, etc. So basically, stealing a coconut it pickpocketing over here! If you want a coconut, ask if they're for sale and they'll cut one open for you right then and there. They sold them on our island for $2.
Are you headed to the San Blas Islands in Panama soon? If not, I highly recommend you add them to your bucket list!