Looking for the wild mustard fields in Half Moon Bay? This guide will highlight everything you need to know to visit — legally! No trespassing required!
I've been passing by the wild mustard fields ever since we started visiting Half Moon Bay back in 2015. Of course I'd seen photos plastered on IG and everyone's Facebook, but those that did get pictures, mostly did so illegally. So when I found out there was a way to see these happy yellow flowers without breaking any rules, I jumped at the chance!
Psst: Love flowers as much as I do? Don't miss out on the Carlsbad Flower Fields in Southern California from March to May (they're absolutely stunning!), finding the hidden Calla Lily Valley in Big Sur from February to April, admiring the Pacific Grove magic carpet from April to June, smelling the lavender in Dixon in May to June, and sunflower frolicking in Half Moon Bay in the fall!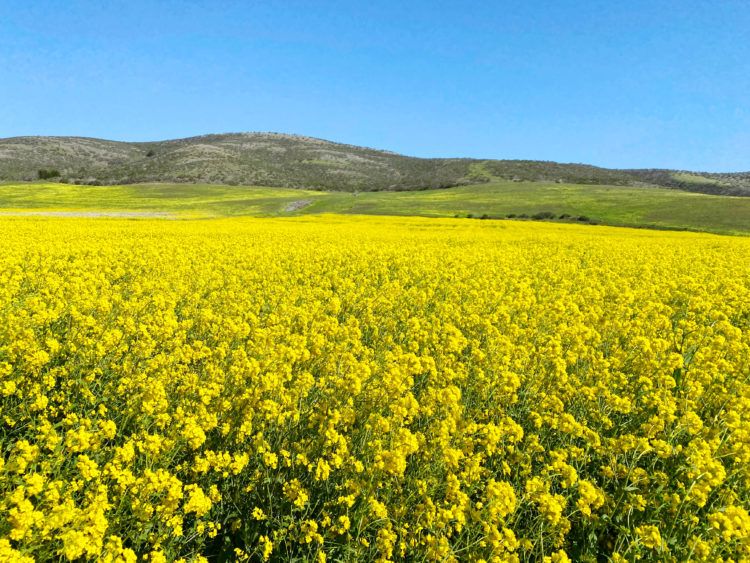 And it was just as spectacular as I imagined! Wandering throughout the wild mustard super bloom kinda felt like I was swimming in a sea of yellow happiness. I mean, how could you be anything less than ecstatic running through bright yellow flower fields?
I kinda felt like I should've been singing "The hills are aaaalive, with the sound of muuuuusic" at the top of my lungs. I spared everyone my singing voice, don't you worry.
Spring comes early for us in the Bay Area. Just off the coast of Half Moon Bay, the mustard starts blooming around mid-February. The coast turns a brilliant yellow, with mustard and oxalis flowers as far as the eye can see. If you've been itching to get outside after a chilly and rainy winter, take this as your sign to get outdoors!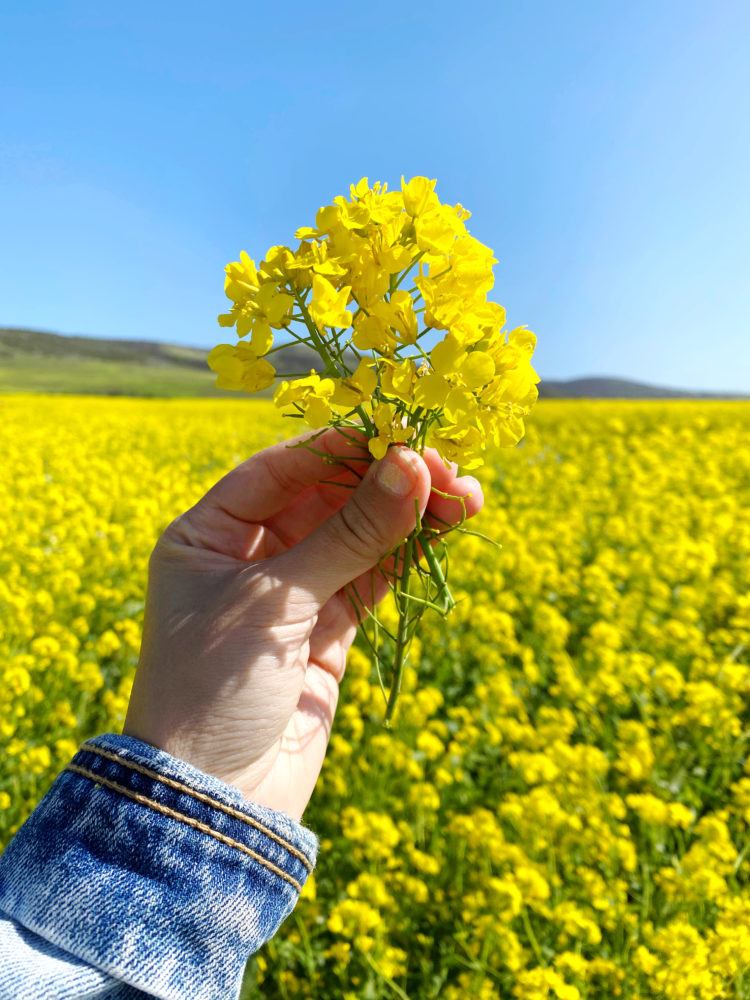 Wild mustard plants grow almost everywhere! In the Bay Area, you can also see them in Napa, Sonoma, and along other roads in Northern California. But, the yellow flower fields in Half Moon Bay are some of the most impressive I've seen! Look to the east and you've got a beautiful mountain background, and to the west there's the blue waters of the Pacific. Boy are we lucky over here in California!
Read Next: The Best Beaches in Half Moon Bay (all my favorites for tide pooling, sunbathing, and long coastal walks)
If you're hoping to visit the wild mustard fields in Half Moon Bay, this guide will share exactly what you need to know! Cost, how to get there, where to park, photo tips, etc — everything! It's definitely worth the short drive from San Francisco in February!
How to Get to the Wild Mustard Fields in Half Moon Bay
Lucky for us in the Bay Area, the mustard fields of Half Moon Bay are super close! I've been itching to get the flower fields in SoCal, so I was thrilled with the fact we have some of our own here in Northern California!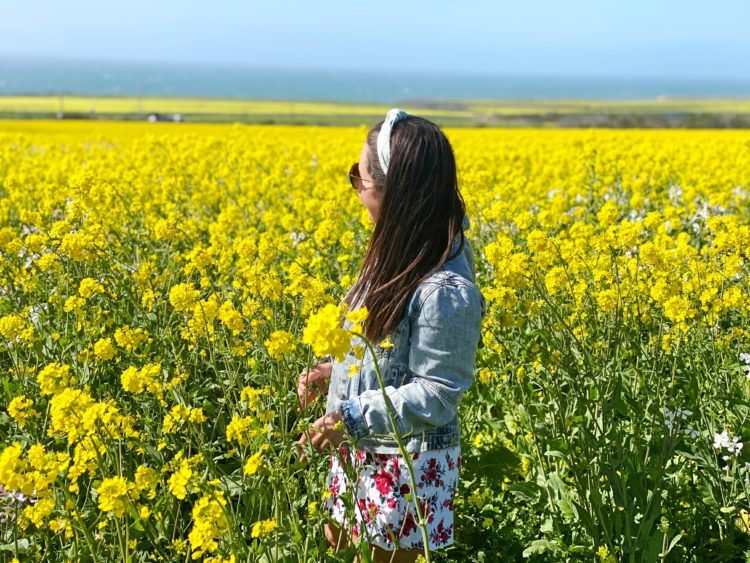 Coming from San Francisco, you'll need to drive south on Highway 1 (the PCH) towards Santa Cruz. The mustard field is located directly off the Cabrillo Highway (another name for the 1) a few miles south of The Ritz-Carlton Half Moon Bay (a swoon-worthy property I might add). It takes roughly 40 minutes or so (without traffic) to get there, but trust me — you'll need to account for some crazy traffic (especially on the weekend).
It's not far from other areas in the Bay Area, either:
Palo Alto: 35 minutes
Oakland: 50 minutes
San Jose: 50 minutes
Berkeley: 1 hour
Napa Valley: 1 ½ hours
Wherever you're coming from, simply pop "Wild Mustard Field" into Google Maps and you'll be directed right there. Yes, it's that easy! However, as you get closer, don't drive too fast or you'll miss it. It really is a sudden burst of yellow in the middle of a long, and relatively quiet highway!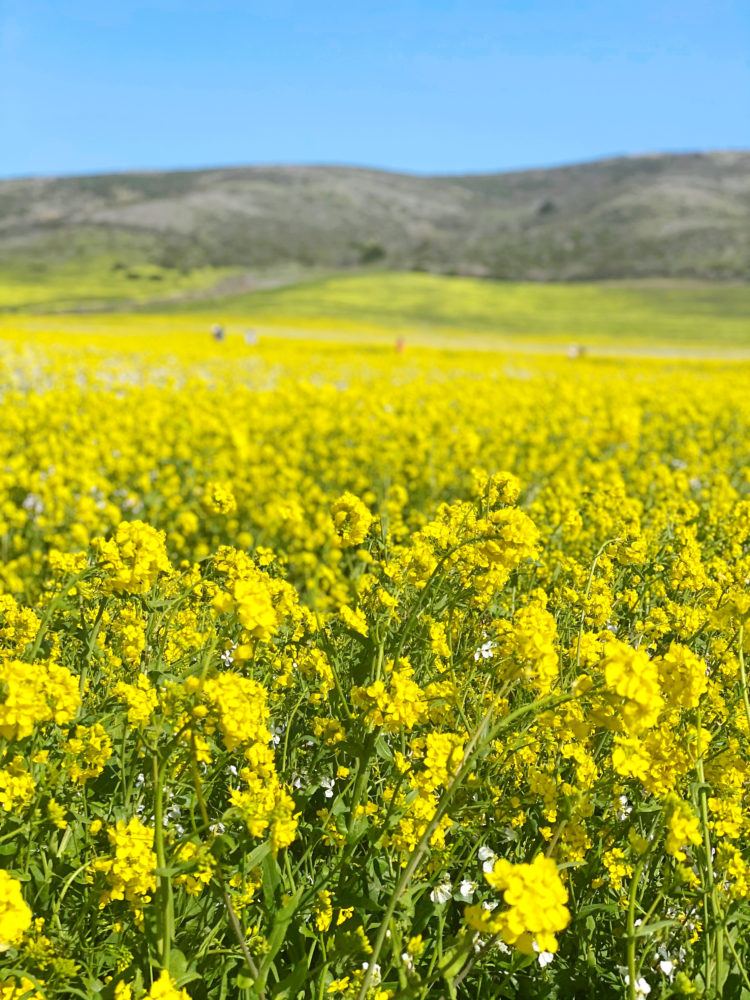 Where to Park: There's no actual lot, but there is a small dirt area across the street big enough for roughly 8 cars or so. If that's full, you'll be able to park on the side of the road super easily. Be extra careful when leaving, as it can get busy on the main highway, especially on warm winter weekends when everyone's off to the beach!
What to Bring and Wear
Wear white or yellow; they go beautiful against the yellow mustard fields (I didn't plan very well)
Since the wild mustard fields are located just off the coast in Half Moon Bay, it'll probably be pretty windy. Because of this, you'll wanna take along a light jacket or sweater. My hair was blowing in the wind like crazy — good thing for my headband!

Yes, I know those girls on IG are always wearing pretty flowy dresses with flowers in their hair, but I can promise you they threw on their jackets once the photoshoot was done. 😉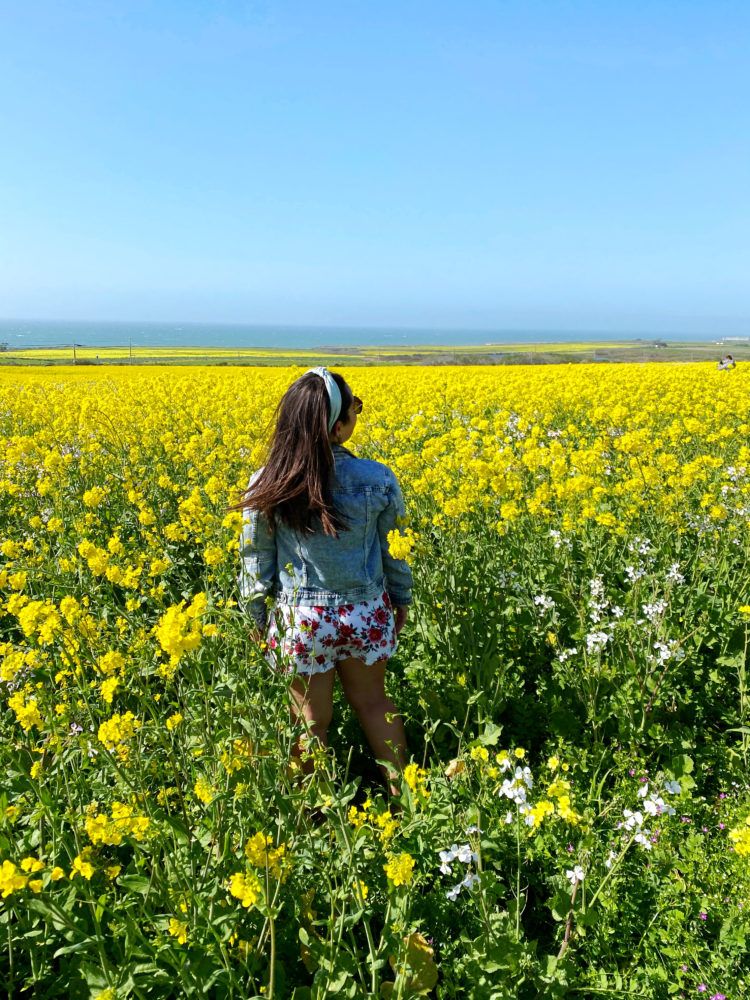 Bring a friend or tripod, as you'll undoubtedly wanna take loads of photos. I came solo, and didn't get the photos I wanted. Oh well, haha. I've learned in life sometimes it's more about the experience, and not getting that perfect IG shot.
I didn't encounter many bugs, but if you really wanna keep yourself safe and bug-free, spray on some bug spray before walking through the fields.
Do note that you'll probably get some yellow residue on your clothes, so don't wear your BEST stuff.
Photo Tips:
The wild mustard fields really are something. I took more wallpaper worthy photos than I know what to do with.
Of course, they're a great instagram op, but I reckon they'd make the most perfect background for some family photos. I saw a few little kids in the fields and they were having so much fun! Here's a few fun ideas to really make your photos something special!
Get creative with your angles. Take photos from above, below, within the fields themselves, and close up/wide angle shots.
Pick a few blooms to take photos with! And yes, that's allowed here (since the farmers will be plowing the field soon anyways).
Take photos with different backgrounds — look one way and there's mountains in the distance! Look the other — well, there's the Pacific Ocean!
When to Visit the Mustard Fields of HMB:
Spring arrives early in Half Moon Bay, with the mustard plants in full bloom by February. But unfortunately, they don't last long.
With this being said, if it's February or March, act fast. The mustard fields are only open to the public from mid-February (around Valentine's Day) to sometime in March. Honestly, the field entrance ends whenever the farmer decides to cut them down.
You don't need a reservation, but unfortunately, Iacopi Farms is only permitting visitors on Saturdays and Sundays this season. I visited the year prior during the week, and it was relatively quiet! I came on a Friday afternoon and had the field almost to myself! It was marvelous!
For even better photos, try to go on a clear day without many clouds. The yellow flowers just pop against the light blue sky. Thankfully, the sky tends to be pretty clear this part of the year.
The Farm and Wandering the Fields
And now the best part – meandering around the fields themselves!
But first, we need to talk about price and trespassing. Because it's been a major problem in the past. And something that needs to be addressed.
Entrance Cost: $10
The wild mustard field sits on private property. This means it's private. Simply put, unless you're allowed in, don't go in. It's that simple.
In 2021, Iacopi Farms decided to do a paid entry after so many people jumped the fence to get into the fields in years past. Too many people trespassed. C'mon people — if there's a "No Trespassing" sign, just don't trespass. It's really not that hard.
In order to support the farm, they're asking for admission of $10 per adult ($5 per kid). Not a bad price for an afternoon of frolicking through the flowers! The field is normally fenced off, so if it does happen to be closed when you arrive, please do the right thing and abide by their wishes.
When I visited in mid-February, Iacopi Farms had freshly picked veggies for purchase (which looked absolutely delicious I might add). If I hadn't just gone grocery shopping the night before I would have bought a few cauliflower heads and red potatoes!
But wait — didn't people cross the fence last year to take photos for free? Yeah — and they were trespassing on private property. Just don't do it.
If you really don't wanna pay to support, there's other mustard fields in the area. You'll find mustard flowers on the side of the road a tad further south. I saw a few people taking photos, but the field definitely wasn't as large (just do the right thing and support the farmers — they feed us!)
Wandering the Fields
Once you pass the entrance and pay, you'll see a main pathway/walkway without any flowers. You can simply walk along this path, admiring the mustard on either side, or you can make your own path in the fields. Yes, unlike other flower fields in California (and elsewhere, really), you can actually stomp on these blooms without it being a big no-no.
You're allowed to walk into the fields and make your own paths (I even asked to make sure). The lady at the front actually encouraged it for photos! I mostly stuck to the pre-made paths made by other people, although it was fun to wander around and get lost in the tall mustard for a bit!
The mustard fields really go on and on for as long as you could see! You're allowed anywhere within the fields, you just can't go past the cones. And because of its size, it's super easy to social distance and take photos without any photo bombers.
What is wild mustard anyways?
I know you're thinking that, because I had no clue either. I chatted up the lady charging admission because I was honestly pretty intrigued! She told me that the mustard acts as a natural fertilizer for future crops, and the leaves are edible and can be eaten as mustard greens.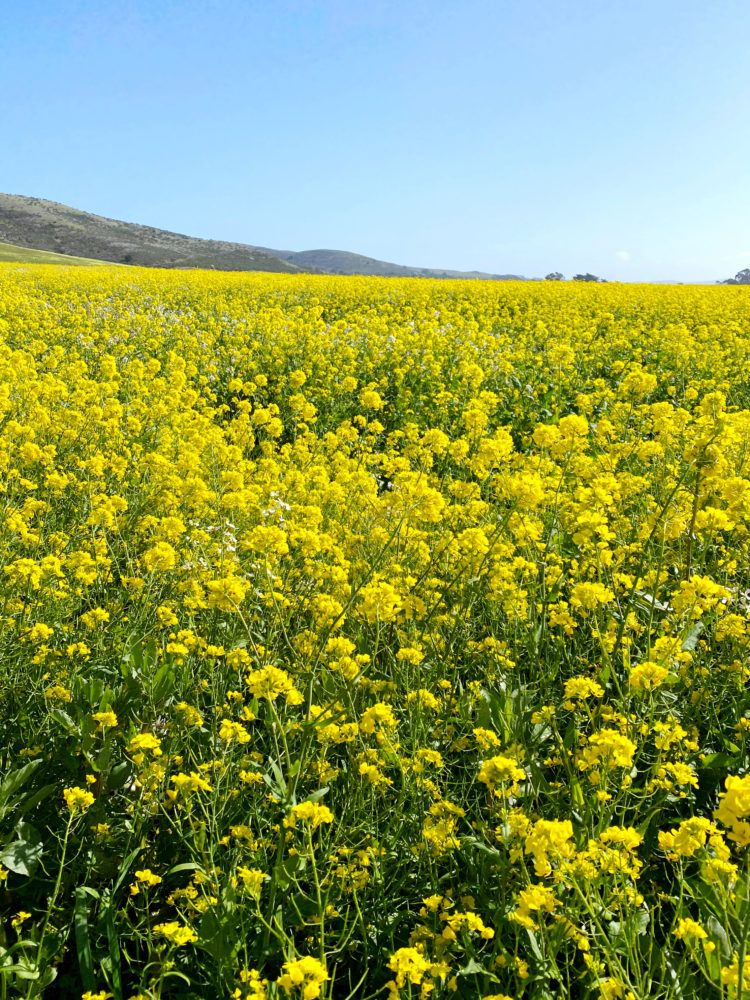 While the flowers don't have any real purpose (well, except making some pretty spectacular landscapes), it's the seeds that have the power. Grinding and mixing the seeds with liquid (water or vinegar in most cases) creates mustard! Yes — the yellow condiment we put on hot dogs!). Science is crazy y'all!
Other things to do in the area:
HMB is so fun — we love visiting any time of year! If you're by chance not visiting when the wild mustard fields are in bloom, don't fret, there's lots to do here instead! And if you can make the wild mustard fields into a day trip, stay for a few extra hours!
I highly recommend the following:
Hang at one of the many beaches in Half Moon Bay; we love Poplar, Mirarmar, and Montara the most!
Lobster rolls with a view at Sam's Chowder House — one of our favorite spots to go for fresh seafood!
Meander around the Ritz Carlton property; the view are just phenomenal and the cocktails are delicious!
Go for a walk on the Coastal Trail, or any of these hikes in Half Moon Bay (lots of chill walks over here!)
Head over to JV Fitzgerald or Mavericks Beach (at low tide!) to go tide pooling (look closely and you'll see tons of hermit crabs, colorful sea anemone, and starfish!)
Dip your toes in the ocean, or just walk along the beach (the Pacific is so COLD!)
Pick sunflowers at Andreotti's and go pumpkin picking at the farms in the fall!
I hope this helps you plan out your day at the mustard fields in Half Moon Bay!
Looking for more California content? Explore my other California guides here!
Did you know that …
When you purchase something through our links, we earn a small fee (but you still pay the same)! Win-win! If you found this article useful, consider using the links within the article or below. Thanks for your support!