Looking for the best national parks to visit in winter? Thankfully, there's a whole lot! Here's our picks of warm + sunny and chilly + snowy national parks in winter (you'll wanna visit them all after reading this post, you'll see!).
The more parks I visit, the more I'm in awe of the USA! I've got a whole lotta love for my home country. Make the most of the winter months with this list of the best national parks to visit in winter.
This guide will showcase 22 (yes, twenty two!) of the best national parks to visit in winter. I've included everything you need to know — including why winter's a great time to visit, what to expect, best things to do, and of course any logistics like road closures/winter conditions.
Why visit the national parks in winter:
Typically, not as many people choose to visit the national parks in winter, so you'll experience way fewer crowds (at most) and much more solidarity. That does highly depend on the park though — some parks are too hot in the summer so everyone flocks there come winter!
Since there's a whole bunch of parks to choose from when planning your winter national parks visit, I've organized this list by those with warm(ish) weather and those with your typical winter weather. You'll find parks on this list that are downright freezing (heavy parkas required), while others you'll need your sunscreen for.
BUT all downright stunning in winter. And all the parks on this list are even better in winter. Some have way less crowds, some are actually enjoyable (goodbye blistering heat), and some the wildlife is more out and about. Oh — and of course some turn into snowy winter wonderlands complete with frozen waterfalls, snowshoeing and cross-country skiing opportunities, and glistening frozen lakes.
FYI — I'm obsessed with Yosemite in winter. It's easily my all-time favorite of all the national parks to visit in winter. If you live in California, be sure to head over!
A few common questions about the national parks in winter:
What constitutes winter? When people say they're visiting the national parks in winter, they're usually talking about visiting between December to February/March. Although — some parks do have an extended winter season, meaning snow comes earlier/lasts longer. Always be sure to check the official National Park Service website for updates, as things can change each season.
Are the national parks open in the winter? Yup — most are open and welcome to visitors! The only park that completely closes is Isle Royale (one of the best national parks to visit on the east coast in summer) due to hazardous conditions. However, in certain parks, some public facilities, scheduled activities, and even roads are closed or greatly reduced. For instance, Crater Lake National Park is a hit or miss during winter because reduced visibility means you might not even see the lake (the park's main attraction)!
What's the weather like in the national parks in winter? Well, this highly depends where you're going! It'll be warm and sunny in some (like Death Valley, Joshua Tree, and the Everglades), while other parks will look straight outta a winter wonderland (hello Yosemite, Yellowstone, and Rocky Mountain). You've really got your pick when it comes to visiting the national parks in winter!
So let's get to it! There's a whole bunch on this list – it'll be hard to choose just a few this season! Whether you're looking for one of the chillest national parks to visit in winter or prefer some mild weather, we've got you covered.
Mild and Warm National Parks in Winter
1. Death Valley National Park
Location: California
Average Temperatures in Winter: 65-74° F (gets much chillier at night)
Why Visit in Winter: moderate temps, great stargazing, enjoyable hiking opportunities, fewer crowds than spring
Winter Season: November – February
Winter is easily the best season to visit Death Valley National Park. Why? Simply because it's way too hot other times of year. Think, 120°F in the heat of summer! And I'm not even exaggerating. Death Valley is the hottest, driest, and lowest national park in the USA.
Death Valley National Park is a land of extremes and contrasts – there's salt flats, sand dunes, and even slot canyons to explore. And scientific mysteries like rocks sailing across the playa themselves on what's known as The Racetrack. It's weird and wild, and a great place for adventurers — as long as it's not summer.
By visiting in the winter, you'll be able to enjoy all the activities and hiking the park has to offer without it's blistering hot temps. The air is a comfortable ~65-75°F, meaning you won't melt the second you step outta your air-conditioned car.
But no matter when you decide to visit, always come prepared with a hat and lots of water! Gotta keep yourself hydrated! Oh, and sunscreen — yes, even in winter.
Don't Miss in Winter:
Mesquite Flat Sand Dunes: Yes, you can see the sand dunes from the parking area, but you'll wanna do a bit of hiking to really get the best experience (and best photos!). Bring a board or piece of cardboard – since winter brings cooler temps, sand boarding is way more fun in winter. I honestly can't even imagine trekking out to the far depths of the dunes in summer – the sand is way too hot on your feet and the sun is scorching!
Watch sunrise or sunset at Zabriskie Point: This popular viewpoint is popular any time of day, but the colors really come out when the sun is low in the horizon. Meaning just around sunrise and sunset are the best times to visit!
Badwater Basin Salt Flats: Imagine walking out to a bed of geometric-shaped salt flats as far as the eye can see. Yup, that's Badwater Basin, the lowest point in North America! If you're lucky to visit after a rainfall, the flats will even look like a huge mirror, which typically only happens in winter.
Go hiking: Mild weather calls for some great hiking opportunities, since you won't melt and get all sticky right away. Popular hikes include Mosaic Canyon (my favorite), Golden Canyon (we hiked to Red Cathedral), and the Natural Bridge Trail (quick and easy).
Winter conditions/road closures: Nothing is closed in Death Valley during the season, making it one of the best national parks to visit in winter. However, a storm caused extensive flash flooding in the Scotty's Castle area in 2015, and it's been closed until further notice.
Where to Stay: I highly recommend staying within the park itself, at either The Ranch at Death Valley ($$) or The Inn at Death Valley ($$$). There are numerous campgrounds as well if you wanna stargaze from your tent all night – just bundle up as temps drop drastically once the sun goes down.
2. Haleakala National Park
Location: Maui, Hawaii
Average Temperature in Winter: mid-high 70s at high-elevation areas of the park, including the summit mid-day. Expect early-morning sunrise temps to be below freezing. 
Why Visit in Winter: rare dusting of snow makes the dormant volcano even more stunning, super lush vegetation, mild weather suitable for hiking to the crater
Winter Season: December – February
Does watching the sunrise above the clouds sound like something straight out a dream?
Imagine waking up at the crack of dawn, driving up switchbacks to the mountain summit, and watching the sunrise above the clouds. Yup, this is Haleakala National Park in Maui, Hawaii.
And it's by far one of the best national parks to visit in winter. This dormant volcano is sacred to native Hawaiians, and heading to the 10,023 foot summit should be on everyone's Maui itinerary. 
While it's pretty uncommon, snow does fall every 5 years or so. Kinda hard to know in advance, so if you happen to get lucky, definitely don't take it for granted!
Most people leave a bit after sunrise, but the colors really start to show once the sun's higher in the sky.
There's two trails down to the crater, each about 2.2 miles (one way). On your hike, look out for the nene (native Hawaiian goose), the Hawaiian petrel, and the rare silversword (in the same family as the sunflower, found nowhere else in the world).
Good to Know — Haleakala National Park is actually made up of two distinct districts:
Summit District (for watching sunrise above the clouds and hiking to the volcano crater)
Kipahulu District (for hiking the Pipiwai Trail and bamboo forest commonly visited on the Road to Hana).
Top Things to do in Winter:
Hike down to the crater: Head down the volcano into the crater to view ancient rock, but beware — the higher elevation can cause altitude sickness. Always have lots of water on hand and take it slower than normal. Don't miss "Rainbow Bridge"!
Watch sunrise above the clouds: By far the most popular thing to do in Haleakala. However, the summit of Haleakalā is about 30°F (or 17°C) cooler than the coast. Aka dress warm and in layers (a blanket works well here). Do note you'll need to make a sunrise reservation as it's gotten super popular over the years!
Bike down the volcano: There's a bunch of tour companies that offer van rides to the summit, and then guided biking tours back down! An exhilarating way to start the day for sure! Again, just watch out for that high altitude!
Winter conditions/road closures: The 38 curvy miles of switchbacks to the summit are open all year long. Plan to take a rain jacket as winter brings more rain.
Where to Stay: Most visitors do 1-2 day trips to Haleakala National Park from elsewhere on the island, but there are campgrounds and wilderness cabins. Staying in the Upcountry will get you closest to the park for early morning sunrise visits.
3. Joshua Tree National Park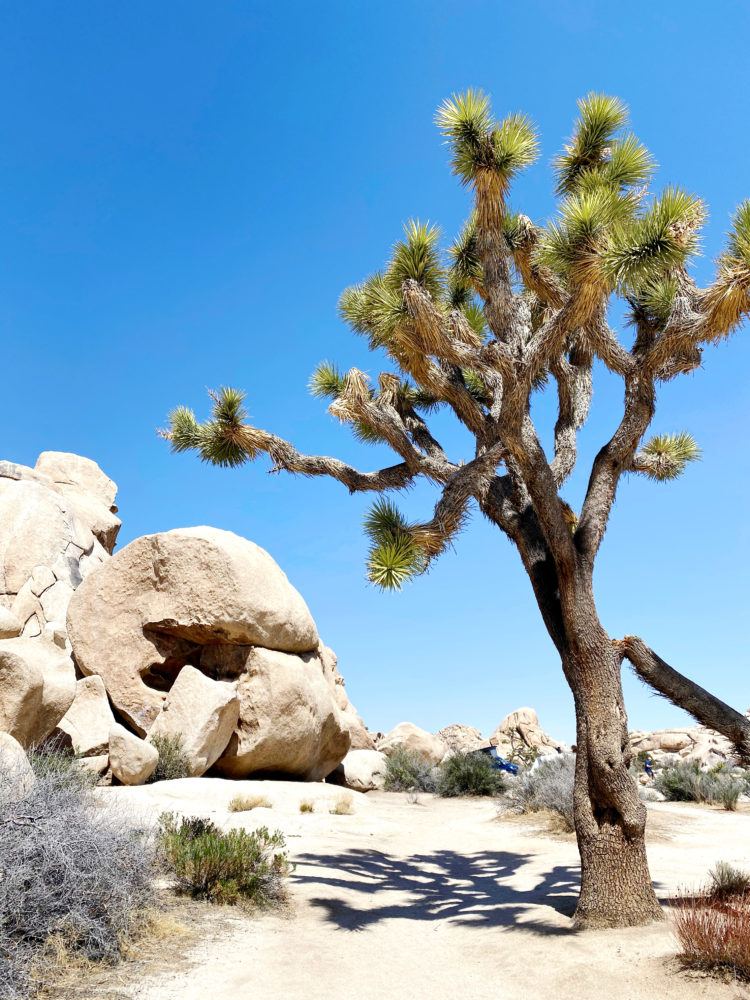 Location: California (an hour from Palm Springs)
Average Temperature in Winter: a mild ~60°F (with way cooler temps at night)
Why Visit in Winter: less crowds, perfect weather for hiking and camping (most trails are dangerous to hike in the high heat the rest of the year) 
Winter Season: December – February 
Winter in Joshua Tree National Park is the perfect time to hike, backpack, and camp. For much of the year, Joshua Tree is unbearably hot, but in the winter, temperatures drop, making it the perfect cold weather escape. 
From December to February, day time temperatures are about 60 degrees with plenty of sunshine — great for hiking among the Joshua trees and crazy rock formations.
There's endless things to do in Joshua Tree National Park, but here's a few of the can't-miss activities for your winter visit:
Hike Ryan Mountain. One of the most popular hikes in the park, Ryan Mountain is ideal for sunset. In the winter, you'll have great views of sunset's pinks and purples over the Coachella Valley.
Hike the Boy Scout Trail. The Boy Scout Trail is one of the more strenuous hikes in the park. In fact, it can only be hiked from late Fall to early Spring due to extreme heat! You'll be able to explore the park's famous Joshua trees and massive boulders as you venture through the park's wilderness.
See the Cholla Cactus Garden. A trip to the Cholla Cactus Garden is an essential part of every trip to Joshua Tree National Park. Head to the garden at sunrise to see the small, fuzzy cacti glow orange in the first morning light.
Winter conditions/road closures: While day time temps are mild, plan for freezing nights. Hail and snow are not unheard of in the desert during winter, although they're not super common.
Where to Stay: Unlike many national parks, winter is a popular time to visit Joshua Tree. Because of this, if you plan to camp in the park, book your accommodation 6 months in advance when reservations open.
Adventurous travelers will love Jumbo Rocks Campground. Only steps away from your campsite, you can scramble and climb the enormous boulders.
And if you're not into camping, check out the super-instagrammable Airbnb's in Twentynine Palms and Yucca Valley.
Contributed by Julia Jennings from Well Planned Journey
4. Hawai'i Volcanoes National Park
Location: Big Island, Hawaii
Average Temperature in Winter: ~70°F
Why Visit in Winter: about the same temperature year round, so it's nice and warm compared to the rest of the USA
Winter Season: December – March are "chilliest", although no true winter season
Hawai'i Volcanoes National Park is an amazing National Park – in any season! I mean, imagine walking on lava beds; how cool is that?! It's a massive park, home to one of the world's most active volcanoes, including Kīlauea and Mauna Loa.
The weather on the Big Island of Hawaii is always pleasant and a true paradise. Sure, there's the occasional rainstorm, but more often than not, it's likely to be a perfect 70°F and sunny. Yes — even during your winter trip to Volcano National Park.
The entire winter season hovers around these temps, and It's consistent and reliable. Although slightly cooler than the beach and lower elevations on the island, you are still promised a gorgeous day at Volcano.
Definitely make Volcano National Park part of your Big Island road trip, as it's one of the best national parks to visit in winter.
Top Winter Activities:
Hike the lava fields: In Volcano National Park, you can walk on land that is younger than you. Spend time hiking around the lava fields. If the volcano is flowing, you might even get a chance to see red hot lava.
Hike along the Crater Rim Trail: You'll love the steam vents constantly sending out warm, moist air from deep in the earth. Hiking along the paths near the caldera, you'll find dramatic views, deep fissures in the earth, and sulfuric acid on the rocks. And amazing plant life!
Check out Thurston Lava Tube (Nahuku): When lava flows quickly, the outside layer can harden and solidify while the hot lava flows through, leaving a tube. Thurston Lava Tube is large enough for crowds of people to check out. You'll love imagining the vastness of the lava that flowed through here.
Winter conditions/road closures: Part of the main driving loop in Volcano National Park is closed … but not due to winter weather. It is closed due to lava flow overtaking the road recently.
In 2018, lava flowed right outside Volcano National Park causing some damage to homes and neighborhoods. Since then, the volcano has been dormant. Due to this, you currently cannot see molten lava.
Where to Stay: For an epic experience, consider staying within the park itself. The Volcano House, Lava Lodge at Volcano Village, and Volcano Rainforest Retreat are three great options! Outside the park, it's about a ~2 hour drive from Kona, or a ~3 hour drive from Hilo.
Contributed by Jamie Harper from Fly by the Seat of our Pants
5. Everglades National Park
Location: Florida
Average Temperature in Winter: low 50s to upper 70s °F
Why Visit in Winter: not too hot, dry with less mosquitos, better chance to see wildlife
Winter Season: December – March
Located in South Florida, the Everglades are one of the best winter destinations for people who wish to visit a national park and enjoy warm weather. And you can even visit as a day trip from Miami.
December to March is known as the dry season in Florida. It's sunny, dry, not too hot or humid and there are way less mosquitoes.
It's also the best time of the year to see the wildlife. Birds, crocodiles, alligators, bobcats and white-tail deer tend to go out more during the dry season which means you'll have higher chances of seeing them!
Because of the pleasant weather, winter is also the best time to go hiking in the Everglades! The best walking paths are Anhinga Trail, Pa-Hay-Okee Boardwalk and the Shark Valley observation tower. They are located near the visitor centers in Shark Valley and Flamingo.
Here are few recommendations of things to do in the Everglades in winter: 
Go on a ranger-led activity: The park rangers offer a variety of activities such as guided walks, bicycle, and canoe tours. Definitely take advantage! They can be booked at the visitor center or online.
Airspeed boat tour: This is an absolute must-do in Shark Valley, and what most picture the Everglades to be! On the one hour tour you'll discover the wetlands, mangroves, and of course, see more alligators than you thought possible.
Bird watching: There's over 300 species of birds in the park, so a highlight for anyone mildly interested! Watch roseate spoonbills, ahingas, double-crested cormorants, purple gallinules, great egrets, white pelicans, ospreys, and more.
Winter conditions/road closures: none
Where to Stay: When it comes to accommodation, you can opt for a campsite in the national park such as Long Pine Key Campground or Flamingo Campground. Everglades Chickee Cottage & Bungalow in Ochopee also offers a glamping version! 
For more traditional accommodation, opt for a hotel in Miami, Naples or Fort Myers and drive back to the Everglades during the day.
Contributed by Pauline from BeeLoved City
6. Big Bend National Park
Location: Texas
Average Temperature in Winter: ~65° F, significantly colder at night
Why Visit in Winter: the weather is mild and gorgeous; summer is way too hot to enjoy the park, fewer crowds
Winter Season: November – February/March
While summer temps can soar into triple digits, winter at Big Bend National Park is beautiful. Daytime temperatures can get to 65 degrees or even higher, and the chilly nights are perfect for campfires and s'mores.
With smaller crowds than fall and spring, winter is the perfect time to visit Big Bend National Park.
Here are some of the things you don't want to miss:
Take a drive down Ross Maxwell Scenic Drive to take in the incredible views of the Chihuahuan Desert landscape.
Hike Santa Elena Canyon, a short 1.4-mile hike that's one of the most scenic in the park. You'll be hiking along the Rio Grande, with the canyons rising on either side of you the whole way. You can also paddle the Rio Grande along the Santa Elena Canyon!
Hike the Boquillas Canyon Trail, a short hike that'll take you to the entrance to Boquillas Canyon where you can view a spectacular sunset. If you have a passport, you can visit earlier in the day and take a donkey ride to the nearby small Mexican village of Boquillas del Carmen.
Winter conditions/road closures: It's important to keep an eye on the weather when visiting Big Bend in the winter. While winter storms are not frequent, they do move in quickly, so you'll want to make sure you're not caught unprepared.
Where to Stay: To stay in the park, make sure to book the Chisos Mountain Lodge. It fills up very quickly so you'll want to book at least six months out.
Contributed by Yo Schlachter of Texas Wanderers
7. Biscayne National Park
Location: Florida
Average Temperature in Winter: ~70° F
Why Visit in Winter: mild climate, less rainfall and less humidity (resulting in fewer mosquitoes), smaller crowds, year-round sunshine
Winter Season: December – February
Biscayne National Park in Southern Florida is a beautiful ocean paradise, and the largest marine sanctuary in the US National Park System.
Of course, Southern Florida is known for its year-round warm weather, with Miami being one of the most pleasant places to spend winter in the US. Rainfall and humidity are far lower in the winter months than during summer in Miami, and December/January temperatures are on average around 25C°/77F°. 
Biscayne National Park is actually 95% water and home to the world's third largest offshore reef. The park offers excellent diving and snorkelling at the park's coastal barrier reef, which is also home to the only underwater archaeological trail in the US.
The park extends from Key Biscayne, an island which was once a coconut plantation. It is now a tropical oasis, with charming residential villages and varied outdoor activities – a world away from the hustle and bustle of Downtown Miami and Miami Beach.
Must-Do's here:
Stop at some of the beaches, including the Rickenbacker Causeway, Virginia Key Beach Park, and/or Hobie Beach. Both of these have calm, gentle waves and are great for children or those who aren't experienced swimmers.
There's plenty of local companies offering boating or kayaking excursions departing from Key Biscayne. This is the best way to see marine life without diving, if you prefer.
Back on land at Key Biscayne, there's plenty to do such as exploring the park on two wheels to spot other local wildlife, such as pelicans, manatees and curious racoons.
Winter conditions/road closures: none
Where to Stay: Camp on Elliott Key, the largest island in the park, or on Boca Chita, one of the popular islands for day trips.
Contributed by Claire from www.stokedtotravel.com
8. White Sands National Park
Location: New Mexico
Average Temperature in Winter: ~60-75°F, although nights will be much colder
Why Visit in Winter: less chance of afternoon thunderstorms, mild temps, and calm winds
Winter Season: November – March
White Sands National Park is the newest, and 62nd, national park in the United States. The white gypsum sand dunes of the park are incredible and a beautiful place to take photos.
It's a great destination to explore in winter because it's warm and dry throughout — best for those wanting to escape cold and wet winters elsewhere in the country. It's one of the best national parks to visit in winter if you wanna guarantee mild weather.
The average daytime temps in November are still a balmy 70 F, but it does cool down in January and February to 60 F. As White Sands is located in a desert, the temperatures cool off significantly in the evenings. Make sure you prepare for high temperature swings when you visit.
As it doesn't snow here, and the temperatures in winter are still relatively warm, all of your favorite summer activities in White Sands National Park are also available in winter.
Hiking is the most popular activity and is more enjoyable in winter than the scorching summer. There is no better way to explore the gypsum sand dunes than setting out on a hiking trail.
If you are interested in a unique biking experience, you can cycle along the famous eight-mile Dunes Drive. It's mostly hard-packed gypsum sand, which is something you won't find anywhere else!
For anyone looking to blow off some steam (or just have a little fun!), head to some of the higher sand dunes and try some sledding. Sledding is normally associated with the cold and snow, but here you can do it in warm temperatures on sand!
Winter conditions/road closures: As it doesn't snow here in the winter, all roads and activities are open year-round. Occasional winter storms can occur, bringing rain and even limited snow. Check the weather report in advance.
Where to Stay: White Sands National Park doesn't have any accommodations, but you can camp at many locations within an hours drive or spend the night in a hotel at nearby Alamogordo.
Contributed by Bettina from thenexttrip.xyz
9. Guadalupe Mountains National Park
Location: Texas
Average Temperature in Winter: ~50 °F (nights much cooler)
Why Visit in Winter: rugged trails and amazing vistas, mild temps, fewer crowds
Winter Season: December – February
Boasting the four highest peaks in Texas and incredibly diverse flora and fauna, the Guadalupe Mountains National Park is a not-so-cold wilderness waiting to be explored! If you're venturing on a road trip in Texas, this national park is a must-stop!
In general, winters in the Guadalupe Mountains are mild, with daytime temperatures in the 50s and nighttime lows in the 20s and 30s. You'll definitely wanna pack layers!
Things to do in Guadalupe Mountains National Park in the winter:
Lace up your hiking shoes and venture out in one of the incredible hiking trails through Guadalupe's mountainous backcountry. There are multiple day hiking options, such as Devil's Hall Trail and McKittrick Canyon Trail.
Pack your camping gear and opt-out in the wilderness. Camping in the Guadalupe Mountains is an excellent activity to escape the crowds and connect with nature, even when it's a bit chilly outside.
Get your binoculars ready and spot wildlife! Since several different ecosystems are found within the park, this means there's a lot of animal species to see! However, many are nocturnal and come out when it's dark out.
Winter Conditions/Road Closures: Mind you, the dry season goes from October through June, and due to the high winds in the winter, the Guadalupe Mountains might experience fires. This means that smoking and open fires might be prohibited. As usual, always check the National Park Service website for updates.
Snow and freezing fog can occur during the cooler months of December and January, as well as high winds. Check the weather in advance.
Places to stay in or near the Guadalupe Mountains:
Camping: The park has two first come, first serve backcountry campings offering primitive dry camping for both RVs and tents. Pine Springs and Dog Canyon, the latter being more secluded.
There are no other lodging options in the park. If you prefer staying in a hotel or cabin, look for accommodation in Dell City, Texas or Whites City, New Mexico.
Contributed by Bruna Venturinelli from Maps 'N Bags
10. Dry Tortugas National Park
Location: Florida
Average Temperature in Winter: ~70s°F
Why Visit in Winter: dry season (and least chance of hurricanes), fewer crowds, less humidity, clear blue skies, great bird watching
Winter Season: November – April
Dry Tortugas is an amazing National Park to visit in the winter! It is located south of Key West, Florida so the weather is normally in the 70's – but can be windy so be ready for that.
You take a 2 hour boat ride to get to the island but that is all part of the adventure! The ocean water is gorgeous around Key West and if you keep a good eye out you could see dolphins or turtles.
Below is a list of things to do when you are there:
Explore Fort Jefferson. You can walk around the top of it and in through the fort. It is a really cool experience to imagine what it must have been like for soldiers to live here all those years ago.
Spend time at the beach. Head over to the beach to look for huge conch shells – only looking though – you aren't allowed to take any. Next up you can sit on the beach and take in the beauty and the quiet of being on an isolated island in the middle of the ocean.
Snorkeling. Bring your swimsuit to do some snorkeling by the beach that is located by the fort wall. Take note the water can be cloudy if it has been windy for a few days.
If you are looking to get out of the cold and experience a unique National Park then head to Dry Tortugas this winter!
Winter conditions/road closures: Winter can get windy, so be prepared (with days of 20+ knot winds common)! Northern storms can reduce underwater visibility and drop the temps (but most of the time it's beautiful and sunny).
Where to Stay: You'll want to find a place to stay in Key West like Casa Marina Hotel or Boyds RV Park. 
Or if you want you can camp overnight on the Dry Tortugas! There is no water there so you will have to carry in everything you need. If you are up for this I highly recommend it – it would be an amazing experience!
Contributed by Bryanna Royal of Crazy Family Adventures
11. Pinnacles National Park
Location: California
Average Temperature in Winter: low 60s F
Why Visit in Winter: mild daytime temps for hiking, fewer people than in the busy spring
Winter Season: November – February
Pinnacles National Park in Central California is a fabulous park for a winter trip. With its beautiful volcanic pinnacles and talus caves, this relatively young and small national park is both pleasant and blissfully uncrowded during the winter months.
With daytime temperatures in the low 60s on average, you can get by with layers that include a light fleece jacket. Winter does bring rain in California, so also pack a light poncho so you can stay dry in the event of showers with your hands free. If you plan to hike very early or very late, you may need gloves and a beanie.
Top things to do in Pinnacles National Park:
Since there is no road that goes through the park, hiking is the best way to explore it. There are over 30 miles of hiking trails, ranging from moderately easy to challenging. Some trails take you up into the elevations of the rock formations, for panoramic views over the countryside.

Trails at Pinnacles can be combined for a day-long trek that takes you through all the best parts of the park, including the most stunning pinnacles, one or both of the two main talus caves: Bear Gulch and Balconies, and the surrounding grasslands.
Other than hiking, wildlife viewing is popular at Pinnacles. The park is one of the release and manage sites for California condors born in captivity, and you can see them roosting on high ledges or soaring in the skies above. You can see numerous species of birds, bees, and lizards, and even snakes at Pinnacles.
Rock climbing enthusiasts visit Pinnacles to climb, and nature lovers come to enjoy the dark night skies. You can see the Milky Way on clear nights, since there is little to no urban pollution.
Winter conditions/road closures: none
Where to Stay: The park is open year round, but there is no lodging within the park. The only campground, near the east entrance, features large, clean campsites, and you must reserve in advance.
Contributed by Dhara from Roadtripping California
Cold and Snowy National Parks to Visit in Winter
1. Yosemite National Park
Location: California
Average Temperature in Winter: low 30s to high 40s°F
Why Visit in Winter: fewer crowds, winter wonderland, glistening frozen lakes, cheaper rates
Winter Season: November – March
Visiting Yosemite in winter means plenty of spectacular photo stops and short wintery hikes. There's glistening frozen lakes, picturesque snow capped mountain peaks, and s'mores by the fire. 
The crowds vanish, icicles dangle from tree branches, snowflakes coat the Valley, and the entire park is so calm and bright. A winter wonderland for sure! It's by far one of the best national parks to visit in winter if you're looking for snow.
Temperatures and snowfall range depending on where you are in the park and your level of elevation, with average high temps in Yosemite Valley of around 50°F (10°C), and average lows being around 30°F (-1°C).
Although many hikes are unavailable due to the snow pack, there's still a bunch of ways to fill your time.
Top Yosemite Winter Activities:
Snowshoe and cross-country ski: Although Yosemite Valley typically doesn't have sufficient snow for skiing or snowshoeing, there's other spots to go. Check out Crane Flat and Badger Pass.
Go hiking in the snow: The most common short hikes in Yosemite during the winter include: Bridalveil Falls, Lower Yosemite Falls, Mirror Lake, and the Vernal-Fall footbridge section of the Mist Trail. These are all hikable during winter in Yosemite, except after super heavy snowfalls (as the trails won't be trekkable due to all the snow and ice).
Check out Tunnel View: This is one of the viewpoints you see on all those postcards, and rightfully so! Ansel Adams made this view famous long ago, and Tunnel View is an absolute must stop for any visitor to Yosemite in winter, even if you've already visited during another season. Other popular viewpoints accessible during winter: Valley View, Sentinel Bridge, and Yosemite Valley Chapel.
Winter conditions/road closures: tire chains may be required depending on road conditions, and something you may want to invest in beforehand.
In addition, winter weather may restrict access to some parts of the park. Some roads in the park will close due to snow around late October and stay closed through May or June (depending on the year and how much snowfall Yosemite receives; roads open and close on different dates every year).
It's important to note that the main road which leads to the super popular photo spot of Glacier Point (Glacier Point Road) is closed during the winter as conditions are way too dangerous. Tioga Pass is closed as well.
Where to Stay: I highly recommend staying at Rush Creek Lodge. It's super close to the entrance of the park, the entire lodge was built using the finest wood (meaning the place smells incredible), and there's s'mores by the fire every night. 
Contributed by Jessica from A Passion and A Passport
2. Bryce Canyon National Park
Location: Utah
Average Temperature in Winter: ~32F
Why Visit in Winter: less crowds, crisp air, snowy hoodoo vistas
Winter Season: November – late February/early March
While Bryce Canyon National Park is beautiful at any time of year, winter in the park is especially magical. While it does get especially cold (with highs averaging between 39-41 degrees Fahrenheit), you'll find that the snow creates some stunning vistas, making the hoodoos look even more otherworldly. Just be sure to bundle up (although it's typically pretty sunny)!
And plus, the views are even better when covered with a dusting of snow! Despite the snow, there's still plenty of hiking opportunities throughout the hoodoos. There are stunning views throughout the park and when hiking, so prepare to stop for tons of photos!
Depending on the year, there could be anywhere from a few inches to a few feet of snow. Be sure to pack and plan accordingly!
One of the best times to visit the park is during its annual Bryce Canyon Winter Festival weekend, held each President's Day weekend. Many winter activities are offered, including cross-country skiing tours, ski clinics, snowshoeing tours, kids' events, crafts, and more.
Some things to do in Bryce Canyon National Park in the winter include:
Check out the viewpoints along the Bryce Amphitheater: This is the most visited part of the park, and for good reason – Bryce Amphitheater is where you will find the best views, and its most famous rock formations. Don't miss Sunrise Point, Sunset Point, Bryce Point, and Inspiration point.
Hike the Queen's Garden and Navajo Loop Trail: This popular hike will introduce you to all the iconic sights within the park, including Thor's Hammer. The hike is a combination of two trails to form a 2.9 mile loop. Allow about 2.5-3 hours to complete. You'll be surrounded by hoodoos!! Choose to continue along the Navajo trail and come back up Two Bridges (since Wall Street is closed in winter).
Go snowshoeing or cross-country skiing: There are several winter recreation options available in Bryce Canyon park, including cross-country skiing and snowshoeing. The park offers a winter snowshoeing program, and visitors can rent snowshoes and poles free of charge. Guided full moon snowshoeing hikes are also offered.
Winter conditions/road closures: The Navajo trail through Wall Street is closed in the winter due to rockfall danger. The Rim trail between Bryce Point is also closed due to danger of falling off the cliffs.
The 1-mile road leading to Fairyland Point and 0.3-mile road to Paria View are closed to traffic, but remain open to cross-country skiers. Other road closures may be possible due to snow conditions.
Where to Stay: Ruby's Inn is located just a mile outside of the park entrance. The historic inn offers comfortable standard and luxury rooms, as well as RV and tent campgrounds, a pool, and on-site restaurant, with a homey feel.
Contributed by Caroline Ikeji of Pictures and Words Blog
3. Arches National Park
Location: Utah
Average Temperature in Winter: 40-50°F, depending on the day and windchill, with nights much chillier
Why Visit in Winter: temps are more manageable, lack of crowds, arches covered in snow are especially beautiful, most hikes are still possible
Winter Season: November – February
Arches National Park is open all year round and winter is a great time to visit. In summer, the heat is extreme and the crowds of people can clog the roads, parking lots and trails.
In winter, however, you will have the trails to yourself and the arches covered in snow are especially pretty. Just imagine the contrast of snow on the park's red rock landscapes!
The weather is mild, making it one of the best national parks to visit in winter months.
On our Utah national parks road trip, we loved exploring Arches! Can't wait to go back!
Some great winter activities are:
Drive through the park: There are several distinct areas in Arches National Park and the road through the park takes you to all of them. Some arches such as Skylight Arch and Sand Dune Arch, as well as Balancing Rock and the viewpoint for the Park Avenue Canyon are short walks from parking areas alongside the road.
Go hiking: Arches National Park is a hiker's paradise and all of the trails are open throughout the year. The primitive trail on the Devil's Garden hike is not safe, but the rest of that hike, including the paved path to Landscape Arch is easy to do. For all winter hikes in the park, it is best to wear some kind of traction on your hiking shoes and carry trekking poles, as some areas may be icy.
See Delicate Arch: This freestanding arch is featured on Utah's license plates. The trail to Delicate Arch is one that gets icy and it has a drop off on one side in parts, but the views of Delicate Arch covered in snow are iconic. Just be extra careful here.
Winter conditions/road closures: There is only one road through the park and it is open all year round, though it may be closed for a few hours after a snowfall while the rangers clear the snow from the road.
The visitor center is also open all year, although the hours are a little shorter in winter. Expect ice, snow, and reduced park operations in winter.
Where to Stay: The only place to stay inside the national park during winter is Devil's Garden Campground. 25 of its sites remain open throughout the winter on a first come, first served basis.
If camping in the cold doesn't seem appealing, Moab, where there are plenty of accommodation options, is just a five-mile drive from the park entrance.
Contributed by James Ian from Travel Collecting
4. Canyonlands National Park
Location: Utah
Average Temperature in Winter: highs averaging 30-50°F
Why Visit in Winter: cooler and mild temps, enjoyable hiking opportunities, lack of crowds
Winter Season: late November – early March
Canyonlands National Park, located in the desert of Utah, is one of our favorite places to visit during the winter months. It's a quiet time in the park, so if you're looking for some peace and solitude, definitely consider Canyonlands for your winter national parks trip!
The temperatures in Canyonlands are pretty chilly, and it does occasionally snow, so make sure to pack warm layers for Canyonlands if you go in winter.
If you're lucky enough to be in Canyonlands after a snowstorm, you'll absolutely love how beautiful it is there with the white snow contrasting against the red rocks.
Good to know: The main areas of Canyonlands are Island in the Sky, The Maze, and The Needles District. If you are planning on doing some hiking and seeing the major arches and lookouts, plan on just visiting Island In The Sky and The Needles.
Top things to do in winter:
While you're in Canyonlands, make sure to hike to Mesa Arch. It's short and sweet and easily passible even with a little bit of snow. And especially popular at sunrise!
To really appreciate the vastness of Canyonlands, make sure to go out to the ends of the Green River Overlook and the Grand View Overlook so you can get the best views of all the canyons below. These overlooks are especially spectacular when there is snow on the ground since the snow really highlights all of the layers of rock!
At night, bundle up, and spend some time watching the stars. The remote nature of Canyonlands will let you see more stars than almost anywhere else on earth!
Winter conditions/road closures: Canyonlands is about a 40 minute drive outside of Moab, Utah and there are not any services near the park. Plan on being self sufficient while you're there with plenty of food, water, and gas to last your stay.
The Island in the Sky visitor center is closed Wednesdays and Thursday from January to early March, while the Needles Visitor Center is closed entirely from late November to early March.
If you plan on hiking, bring along instep crampons — sandstone covered with snow and ice is treacherous. In addition, paved roads may close temporarily for snow plowing.
Where to Stay: Plan on camping in the park or traveling to and from Moab each day.
Submitted by Jessica Averett from Bring The Kids
5. Grand Canyon National Park
Location: Arizona
Average Temperature in Winter: ~40s and 50s, much colder at night
Why Visit in Winter: far less crowds, a lot more wildlife, clear skies
Winter Season: December – February/March
Looking for the best national parks in winter? Look no further than northwest Arizona, as winter is one of the best times to visit the Grand Canyon.
The park sees more than 6 million visitors a year, but not many see it with a fresh blanket of snow.
Yes, it does get cold in the Grand Canyon in winter. During the day it is in the 40s and 50s but at night it can get well below freezing. The canyon sits 7,000+ feet above sea level, meaning it's much colder than other nearby spots in northern Arizona.
Good to know — You can only visit the South Rim of the Grand Canyon in winter as the North Rim is closed.
Top winter activities:
From the visitors centre you can visit Mathers Point. This is the most popular point at the Grand Canyon because of its location and spectacular views. Don't miss other viewpoints including Yaki Point, Pipe Creek Vista, Grandview Point, and Moran Point.
You can also walk part of the Rim's Trail. The Rim Trail extends from Hermit's Rest to the Grand Canyon Village. From the visitors centre you can take the trail to Mather's Point and then onto Yavapai Point. From there you can turn around and return to the visitors centre.
Winter conditions/road closures: The North Rim of the Grand Canyon is closed, so plan to visit the South Rim!
When you arrive at the park, make a stop at the visitors centre. You can find out there if the roads are bad or if any trails are closed due to snow. If the roads are snowy you can opt to take the shuttle (get a map at the visitors centre).
Where to Stay: Check out one of the (normally exceptionally busy) lodges within the park, including El Tovar Hotel, Bright Angel Lodge, and Maswik Lodge.
If you wanna stay outside the park, stay in Tusayan. The Holiday Inn Express is located just two miles from the South Entrance of the Grand Canyon.
Contributed by Nicole from American SW Obsessed
6. Yellowstone National Park
Location: Wyoming
Average Temperature in Winter: ~28 F
Why Visit in Winter: fewer tourists, turns into a winter wonderland (great place for snowmobiling, snowshoeing, and cross country skiing), steaming geyser basins
Winter Season: November – February/March, but highly depends on year
A national park that is often overlooked for a winter visit but is never neglected during summer is Yellowstone National Park. However, if you're a snow lover and a person who prefers fewer crowds, booking a winter trip to Yellowstone is a once in a lifetime experience and one you should most definitely do.
Imagine hydrothermal features. Lakes. Waterfalls and wildlife. And now picture them blanketed in a fresh layer of white snow. Even more stunning, am I right?! A true winter wonderland!
The average daytime temperatures in Yellowstone hover around 28 degrees for most of the winter. Nighttime temperatures plummet and regardless of what your plans are there, you will need to pack heavy winter gear, including a parka, snow boots, and thick mittens.
Yellowstone receives an average of 150 inches of snow during the winter months (whoa), and can arrive as early as September and last until May.
Some fantastic winter activities in Yellowstone include (but are not limited to!):
Cross-country skiing: Two of the most popular trails in the park are Blacktail Plateau trail and the Biscuit Basin trail that passes through Old Faithful geyser basin.
Snowshoeing: You can rent snowshoes from concessionaires and most trails are groomed in Yellowstone. Some beginner trails are Old Canyon Ski Trail (1 mile), Black Sand Basin Ski Trail (4 miles), and Observation Point Loop Snowshoe Trail (2 miles).
Snowmobiling: Looking for some fast-paced thrill through the forest? Rent a snowmobile at one of the rental shops right outside the park entrances.
Wolf watching: This business brings in $35 million annually and is best done during winter when the wolves congregate in the lower valleys.
Winter conditions/road closures: Road closures in Yellowstone can present a problem for visitors. Thankfully, snowcoaches take visitors throughout the park if they are unable to put on a pair of skis or snowshoes.
Old Faithful and the Grand Canyon of Yellowstone, for example, can only be seen by snowmobile or snowcoach (or by skiing and snowshoeing).
While many facilities are closed in the winter months, the park explicitly explains which ones do remain open. Yellowstone has warming huts set up throughout the park for visitors to enjoy.
Where to Stay: If you opt to stay in the park, Mammoth Campground remains open year-round. Do note it's advised to find a cabin in a city close to the park and venture in each day.
Contributed by Megan Starr from Megan & Aram
7. Rocky Mountain National Park
Location: Colorado
Average Temperature in Winter: below freezing (brr!)
Why Visit in Winter: snow capped peaks and blue skies, fewer crowds, recreational sports, wildlife viewing
Winter Season: November – February/March, but snow can fall in high elevations longer
Rocky Mountain National Park is one of the top winter travel destinations in the USA. It makes a perfect addition to any Colorado road trip due to its icy landscapes, numerous snow activities, and striking landscapes. With this being said, it's one of the coldest national parks to visit in winter!
The average temperature during winter in the Rockies hovers below freezing even in low elevations. Visitors need to layer up in warm waterproof jackets and thermal clothes. Accessories like thick scarves, gloves, and woolen socks are essential during the winter.
The top things to do in winter in the park include:
Snowshoeing around Bear Lake: The trail is just half a mile long and perfect for all ages. Along with the loop trail, visitors can also walk over the frozen lake surface and feel the thick layer of ice crack beneath their weight!
Sledding in Hidden Valley: Hidden Valley located on Trail Ridge Road is the only place within the park where sledding is allowed. Visitors can rent plastic sleds or tubes in Estes Park, carry it to the top of the hill, and have fun sliding down.
Watching wildlife in the Rockies: Winter is a perfect time to watch the wildlife of the Rocky Mountains. Visitors can easily spot elk, deer, and even moose on Bear Lake Road and other places inside the park.
Winter conditions/road closures: While Bear Lake Road is open during the winter, Trail Ridge Road that connects Estes Park to Grand Lake is closed after the Hidden Valley area.
Where to Stay: Estes Park, the gateway to the park, is the perfect place to stay during your visit to Rocky Mountain National Park.
It has many hotels, wooden cabins, and vacation rentals for all types of travelers.
A day trip from Denver is possible, just note the skies get dark sooner than you're probably used to. If you've never visited the city before, definitely spend at least one day in Denver.
Contributed by Ketki of Dotted Globe
8. Grand Teton National Park
Location: Wyoming
Average Temperature in Winter: ~25-30 F
Why Visit in Winter: amazing winter wildlife viewing (elk refuge), many roads closed to traffic are used as cross-country skiing & snowshoe paths
Winter Season: late November – early March
If you're looking for one of the greatest national parks in the USA to visit this winter, consider Grand Teton National Park!
Often overshadowed by neighboring Yellowstone, visiting Grand Teton in winter is actually a better choice than visiting Yellowstone, as it is far more accessible. With Yellowstone, you need to book a snowcoach or snowmobile to access most sites and it requires a lot of advance planning. Grand Teton has drive-in access, although some main roads are closed.
Make no mistake, though: Grand Teton is cold in the winter! Expect daytime high temperatures around 25-30 degrees Fahrenheit, and nighttime lows around 0-5 degrees Fahrenheit, with about 10 snowy days a month. So pack warm and be prepared for a winter wonderland!
There are several great things to do in Grand Teton in winter:
Take a horse-drawn sleigh ride through the National Elk Refuge just outside the park to see these beautiful creatures in their natural habitat
Go on a winter wildlife safari, where you have a chance of seeing moose, foxes, wolves, bighorn sheep, and all sorts of deer.
Try cross-country skiing or snowshoeing on the groomed snow trails in the park.
Go dog sledding: There's lots of dog sled tours available, taking participants to snowy winter wonderland in nearby National Forest land. Try being the "musher" — it's loads of fun! Psst: you can also do this in Canada's Banff National Park in winter!
Winter conditions/road closures: Several roads which are normally used in other seasons become closed in winter and turned into groomed trails. Two of those main roads are Moose-Wilson Road and Teton Park Road.
You can enter via the Moran Entrance Station, which is easily accessed via Jackson Hole.
Several places within the park are also closed to protect winter wildlife habitats: namely, Wolff Ridge, Static Peak, Prospectors Mountain, and much of the Snake River.
Where to Stay: It's best to stay in the town of Jackson, and the Wyoming Inn is a great choice for people who want a chic yet cozy boutique hotel experience while they're there.
Contributed by Allison Green of Eternal Arrival
9. Great Smoky Mountains National Park
Location: Tennessee and North Carolina
Average Temperature in Winter: mid 30s-low 40s
Why Visit in Winter: frozen waterfalls, lack of crowds (and traffic), clear views, Christmas attractions, no bugs
Winter Season: December – February (come Jan – Feb for snow)
Great Smoky Mountains National Park located in eastern TN and western NC is the most visited park in the country, partially because the majority of it remains accessible year-round.
There are several major airports within a half day's drive and many other tourist destinations nearby, making it an easy road trip destination as well.
With lower altitude mountains than western national parks, this is a wonderful place to hike in winter without subzero temperatures! While snow is sporadic, it's not uncommon to see frozen waterfalls and streams which makes for a magical wonderland feel. With this comes winter temperatures of average highs in the mid 30s-low 40s with lows in the 20s.
What to do in winter:
Hiking in the Smokies: Be sure to check conditions before heading out and remember that higher elevations usually mean colder temperatures! Two popular winter hikes are Laurel Falls and Porter's Creek. Lots of hiking options here.
Find a frozen waterfall: Grotto Falls is a waterfall that freezes and you can hike behind it! If winter trails aren't a good fit, drive by Meigs Falls and check it out from the road.
Visit nearby Gatlingburg or Pigeon Forge: These towns are full of Christmas light displays, holiday shows, and typical tourist museums and attractions to enjoy year round.
Ski: Ober Ski Mountain to the NW and Cataloochee Ski Area to the SE are both outside the park limits but nearby for visitors to enjoy snowboarding, skiing, and sledding. Visitors can cross-country ski on closed roads in the park if they time their visit right to have enough snow.
Winter conditions/road closures: Before heading out, visitors should always check the NPS website for unexpected road closures; fallen rock or trees can't be predicted. There are some regular seasonal closures that may impact hiking trail selection or require using a different trailhead, all also found on the NPS website.
Where to Stay: Stay at one of the many adorable cabins for the coziest winter experience! Airbnb has lots of different options in all of the surrounding gateway cities. Cherokee, NC and Townsend, TN are quieter areas for peaceful retreats while Gatlinburg, TN is a busy place with lots going on nearby.
Contributed by Stephanie from Exploremorecleanless.com
10. Zion National Park
Location: Utah
Average Temperature in Winter: 50 F/25 F
Why Visit in Winter: fewer crowds, quieter trails, cheaper accommodation
Winter Season: December-February
Zion in winter is full of fresh, crisp winter air, incredible landscapes (sometimes even dusted with snow), and lots of space (goodbye crowded viewpoints).
It's one of the most visited national parks in the country with nearly 4.5 million visitors each year. If you don't want to battle the crowds (and don't mind chillier temps), then winter may just be the perfect time for your visit.
And thankfully, most of the hikes stay open in the winter, partially due to the low elevation of the park.
Winter activities in Zion:
It seems counterintuitive but doing Zion's famous Narrows hike in winter (where you're hiking IN the Virgin River) is a must. Gear up with a drysuit and canyon shoes and you'll basically have this unique canyon hike all to yourself.
For a bird's eye view you can't beat Angel's Landing. The last bit of this vertigo inducing hike is along a narrow ridgeline so make sure to check trail conditions in case of snow or ice.
If you're game for a longer, more challenging hike with a high payoff then you can't beat Observation Point. This 8 mile hike with 2300 feet of elevation gain will reward you with sweeping views of Angel's Landing.
Winter conditions/road closures: The weather in Zion is generally mild in the winter but check trail conditions before embarking on your hike.
The more shaded Zion trails tend to be icy in winter, including Angels Landing, Weeping Rock, Observation Point, and the Emerald Pools. Be extra careful!
In addition, the shuttle bus is usually suspended early December to mid February. This just means you're able to drive freely throughout the park!
Where to Stay: Less than a mile from the park entrance the Desert Pearl Inn offers spacious and comfortable rooms. If you want a bit of pampering after your adventure you can't beat the Red Mountain Resort in nearby St. George.
Contributed by Brianna Simmons of Casual Travelist
11. Acadia National Park
Location: Maine
Average Temperature in Winter: 30s and low 40's
Why Visit in Winter: snowmobiling and snowshoeing, fewer crowds,
Winter Season: December – February
Acadia National Park in Maine is absolutely beautiful in winter with its snow covered trees and paths.
And unlike the super busy summer season, Acadia is quiet during the winter. Yet, there are plenty of things to do for outdoor adventure sports lovers who don't mind the freezing temperatures. Just be sure to bundle up of course! Making it one of the best national parks to visit in winter for skiers and snowshoers.
With less foliage, bird watchers flock to Acadia to see birds such as owls and eagles. You can also try and spot the Northern Lights in Acadia during the dark winter nights, too!
During winter, the average temperatures in the park during the daytime hovers around the 30s and low 40's Farenheit. Acadia also averages about 60 inches of snow annually, so check the forecast before you go to know what to expect!
Ski and snowshoe: You can cross country ski in Acadia on carriage roads and park roads, some of which are even groomed. There are 120 miles of hiking trails to explore by snowshoe. On the ponds, there are opportunities for ice skating and ice fishing.
Take your snowmobile on the Loop Road and the unplowed fire roads. And don't worry, if snowmobilings not your thing, you can still drive on two sections of Park Loop Road which open, Ocean Drive and Jordan Pond Road.
Go ice climbing on the cliffs. And yes, it's exactly as it sounds. You'll take swings of the axe in order to climb up, which is just as exciting as it sounds. If you've never done this before, definitely go with a guide!
Winter conditions/road closures: Although Acadia National Park is open all year long, the visitor centres are closed. In addition, many of the roads are closed in the winter, including portions of the Park Loop Road and the scenic route up to the top of Cadillac Mountain.
Where to Stay: Bar Harbor is the nearest town to Acadia and generally considered the gateway to the park. You can rent winter sports equipment like skis and snowshoes at Cadillac Mountain Sports in Bar Harbor.
Do note that many of the restaurants and hotels in Bar Harbor close for the winter season, but The Atlantic Oceanside Hotel stays open year round.
Contributed by Shobha George at Martha's Vineyard Tourist
Hope this (giant) list of the best national parks to visit in winter inspires you to visit a few parks! Do you prefer spots that are cold and snowy or mild and warm(ish)?
All photos in this post (unless otherwise noted) are credited to NPS and are used with permission.