Heading to Sin City and looking for things to do in Vegas besides gamble?! I got you!
After visiting Vegas more times than I can count, I've come up with a whole slew of ideas! This list is massive, with over 50 things to do in Las Vegas besides gamble. If you know me and my writing style, you'll know I'm ridiculously thorough and wordy. 🙂
So next time you're looking to get out of the casino, be sure to check out this list! There's animal encounters and bulldozer driving (yes, really, haha) to hiking in National Parks and stuffing your face with more treats than you can imagine.
Thankfully, as much to everyone's surprise, Vegas is not all casinos and gambling.
Don't get caught up in all the hype and spend the majority of your time in Vegas at the tables, go out and explore. With so much to see, it would be a shame to spend it all indoors becoming best friends with the dealer and bartenders. And thankfully, there's plenty of things to do in Las Vegas besides gamble.
Recommended Items to Pack for Vegas: Chapstick for that dry desert heat | Comfortable Sandals | Cross Body Bag | Moisturizer | Sunscreen | Aloe Vera Gel for sunburns | Cardigan | Sunglasses | Sun Hat | Sneakers | Hand Sanitizer | Lint Roller | Camera | Ibuprofen for hangovers | Sarong | Bathing Suit | Kindle | Eye Mask | Reusable Water Bottle
So get off the strip, (or maybe stay on), and say goodbye to the casino.
Wondering what to do in Vegas besides gamble? Read on, my friend!
50 Things to do in Las Vegas Besides Gamble
Thrilling experiences:
1) Go indoor sky diving with winds up to 120 mph. That's me in the photo below! Definitely an experience to remember. Look for a Groupon as they frequently have deals.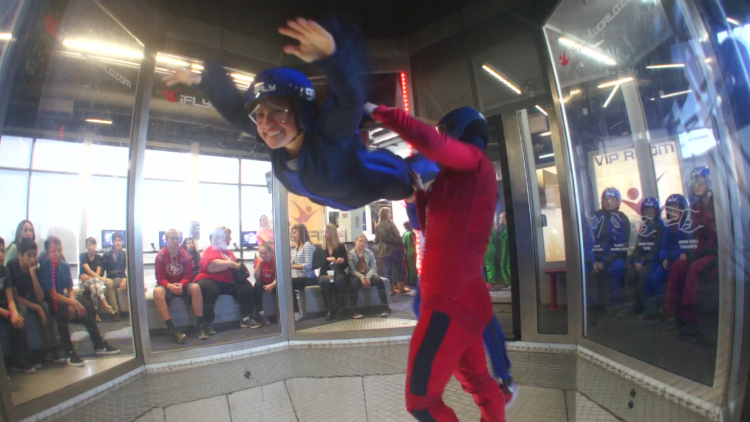 2) Vegas extreme skydiving from 15,000 feet. After indoor sky diving, I feel like I can finally say that jumping out of a plane is something I don't consider too far flung anymore.
3) Drive an exotic car. Ferrari, Lamborghini, Porsche, or McLaren anyone?
4) If you want to see all the glitz and glam from above, consider a helicopter ride above the strip, complete with a champagne toast
5) Check out the rides at the Stratosphere and Circus Circus
6) Drive bulldozers and excavators in the only heavy equipment playground in America.
7) Did you know you could go ziplining only a few miles away from Vegas? Yes, you can!
Or just looking to have some active fun?
8) Golf at Top Golf
For those of you who are looking for some more active fun, Top Golf in Vegas is great! Overlooking the Las Vegas strip, enjoy the multiple floors of driving ranges with full amenities. If you want a break from golf, they have multiples bars, pools, and even a custom club fitting studio. Top Golf is connected with the MGM Grand hotel, so enjoy some special amenities when you book there and even a free shuttle to and from the facility. It's a great place to bring your family with kid friendly events and classes as well as a 900 person capacity concert venue. I just went for my cousin's bachelor party, and it was a great way to start off our weekend! – Vy Tran
9) Jump your highest ever at the Sky Zone Indoor Trampoline Park
10) Take a Gondola Ride at The Venetian
Las Vegas – a city that spent years building its name as a Sin City or the Gambling Capital of the World is slowly transforming into a Fun City. There are plenty of things to do in Las Vegas besides gamble! The Gondola ride at The Venetian is one of the must-do activities in Vegas. The Venetian aka The Little Venice is a colossal Italian themed luxury hotel on The Strip. They have an exact replica of the Grand Canal of Venice, Italy where you can take a gondola ride while the gondolier dressed in the traditional attire sings a beautiful traditional song for you.
You can choose to take an indoor or outdoor ride. The indoor ride takes you through the hotel, beneath the Rialto bridges, alongside shops and cafes, jaunting past mezzanines with a lovely painted blue sky above you. The ride costs $24 per person and $96 for a private Gondola. It's pricey but it definitely makes for one hell of an authentic and phantasmagorical experience without being in Venice. – Anjali Chawla
11) Check out the New Secret Formula Exhibit at The World of Coca-Cola
12) Play at the Pinball Hall of Fame on some super rare machines
13) Explore old town and the Fremont Street Experience and Walking Tour.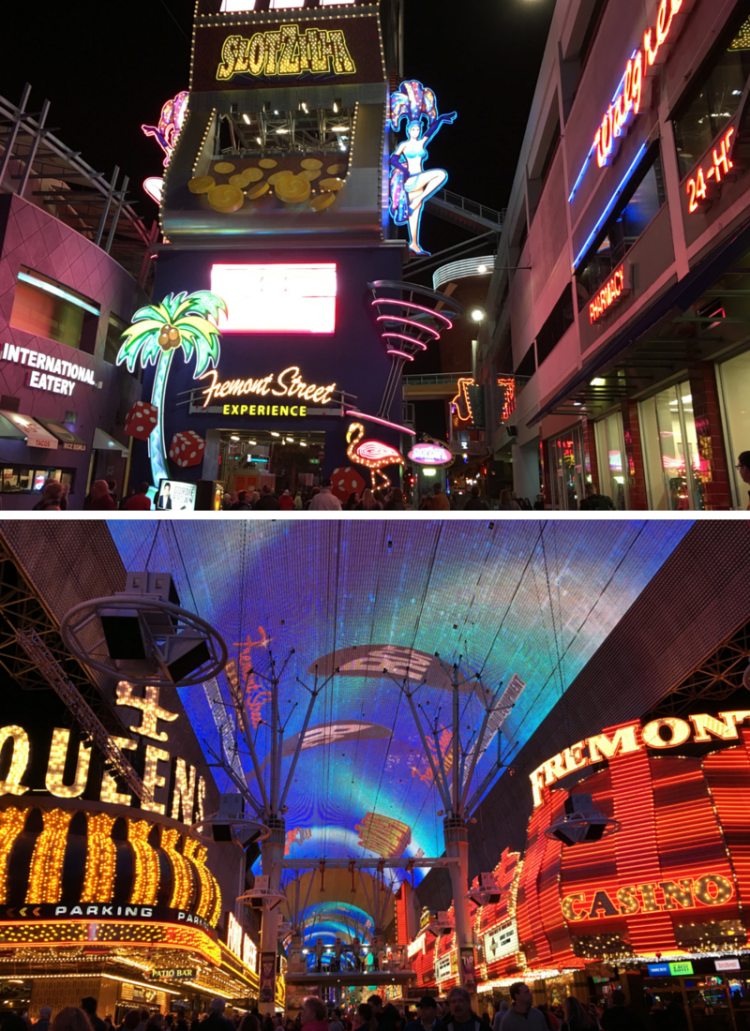 You can even go zip lining, super man style!  Don't miss having your photo taken with the million dollars at Binions, and get some carnival food, like a chocolate covered banana with peanuts (even more delicious at 2 in the morning, but acceptable any time of day).
14) Ride through a tunnel of sharks
I've never been big into gambling or even nightclubs and pretty much the majority of "popular things to do in Vegas."  So it's a bit surprising that I've been back to "Sin City" more than once! But one of the main reasons why I keep going back isn't the allure of gold….well, that's a lie, it actually is.  The Golden Nugget Hotel and Casino, that is!
Located on Fremont Street, which is much more my speed (aka dive bars, cheesy street performers and a much more laid back vibe than The Strip). Fremont Street has all the fun and excitement I need, including a water park at the Golden Nugget that let's you go through an underwater, clear tunnel of sharks.  Yes, SHARKS!  And yes, they are REAL!  The best part?  Even non-guests can hop in for a quick adrenaline ride for a small fee.  The year around pool is the perfect place to step away from the slot machines and do something completely different!  How many people can say they've swam with sharks!?  Well, now you can. – 
LeAnna Brown
15) Visit the Neon Museum
When you get tired of being cooped up inside a windowless, jangling casino, it is refreshing to visit a part of Vegas that is often missed.  A visit to the newish Neon Museum allows you to get outside in the fresh air and do some walking up and down the aisles in between the exhibits.  This area called the "Boneyard" is dedicated to exhibiting iconic vintage signs, including one from the Stardust casino which was once the largest casino in the world and also a lamp from the Aladdin.  – 
Carole Terwilliger Meyers
16) And there's always Madame Tussad's wax museum!
Tired of the glitz and glam? Take a day trip and get active!
17) The obvious Hoover Dam
18) Grand Canyon National Park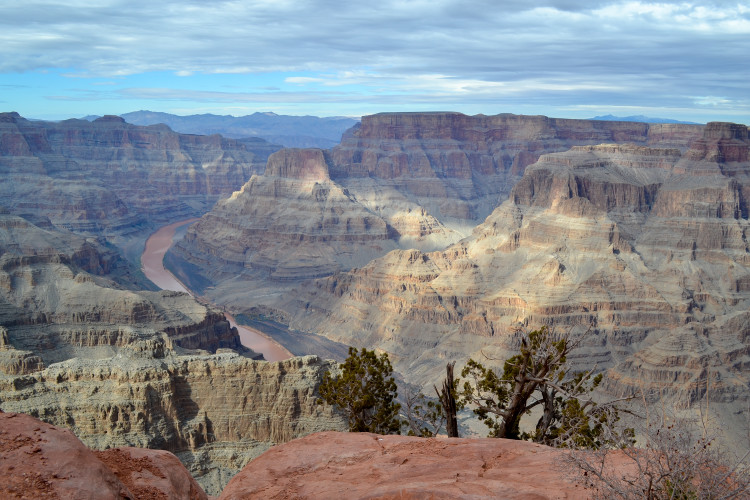 Read Next:A Day Trip to the Grand Canyon West Rim from Las Vegas
19) Head off to Zion National Park!
If you love outdoors and hiking, you should not skip a day trip from Las Vegas to Zion National Park. The drive from Las Vegas to Zion is about 150 miles. Zion is Utah's first national park and well known for its reddish cliffs and canyons. There are hiking opportunities for all levels. A good and not so difficult start is the combination of the Kayenta trail and the Emerald Pools.
If you are adventurous and not fearful of heights can try the hike to Angel's Landing or the Hidden Canyon. You can also opt for taking the shuttle around the park and visit the main sights: the Court of the Patriarchs, the Zion Lodge, and Big Ben. – Sherezade Asensi
20) Take a helicopter ride to the Grand Canyon
A helicopter ride to the Grand Canyon is definitely worth the splurge.  You get picked up at your Las Vegas hotel in a limo, then fly over Lake Mead and the Hoover Dam on your way to one of the Seven Wonders of the Natural World.  Once you land on the floor of the canyon, you have some time to explore for a bit and take a few photos. We also chose the option to have a champagne picnic lunch.  Then, on the flight back, you will fly over the Vegas strip. It will definitely be an experience you will always remember. BOOK HELICOPTER RIDE HERE. – Anisa Alhilali
21) Go Mountain Biking at Bootleg Canyon
If you prefer to explore the wild on two wheels and an adrenaline rush is on your agenda while visiting Sin City, you'll want hit the world-class single track at Bootleg Canyon. This incredible mountain bike park is located on the outskirts of Las Vegas on the way to Hoover Dam. The seemingly endless trails carved into the craggy, lava rock hills affords days of exploration. Although the area is especially well-known for advanced riding, there are trails for all skills levels, and both cross country and downhill styles.
The terrain is rocky and rough, so you'll want to take along (or rent) a full suspension mountain bike. Also be sure to pack along a water bottle to stay hydrated and sunscreen to protect against the desert sun while out on the trails. – Rand Shoaf
22) Put on your hiking boots at Mary Jane Falls
23) Spend a day on the mountain in Lee Canyon
24) Be sure to check out Nevada's oldest and largest state park, The Valley of Fire
If you've come to Las Vegas and want to have some fun experiencing a desert, head on out to Valley of Fire State park, about an hour's drive north.  The park has both an East and a West entrance, and no matter which you take you'll first come across incredible rock formations like the Beehives, or the Seven Sisters.
You can go right up to and climb inside some of them that have huge windblown holes carved out of the sides! There are petroglyphs to discover on the Mouse Tank trail or at Atlatl Rock, a great view to see if you climb atop the huge rock at Rainbow Vista, and get a feel of walking on soft desert sand while passing by beautifully colored stone cliffs over on White Domes Trail.
There's also petrified logs to see, and you'll probably catch sight of a few desert lizards and even some birds like quail if you're lucky! It's a great place to spend the whole day, just bring LOTS of water as it's very hot and dry there! – Maura
[Editors Note: We took a tour to The Valley of Fire and had the best time ever. The park isn't as well-known as the super popular red rocks, so therefore had a semi-private tour with a fantastic guide by booking ahead (for the same price as a group tour). Definitely one of my favorite things to do in Las Vegas besides gamble, that's for sure!]  
BOOK TOUR TO VALLEY OF FIRE HERE
 // 
Read Next:
A Day Trip to the Valley of Fire from Las Vegas
25) See the stunning natural beauty on a Day Trip to Death Valley
My favorite thing to do when in Las Vegas is to take a road trip to Death Valley National Park only 2 hours drive away. It's peaceful and quiet in the Valley and such a contrast to the bright lights and noise of the slot machines of the strip. The scenic drive and viewpoints are gorgeous, and a stop at Scotty's Castle is definitely in order. Make sure you have a full tank of gas and lots of water and snacks in the car in case of emergency. – Mary Chong
26) Go hiking at Red Rocks

Most associate Vegas with only gambling and partying, but the Strip is conveniently located about 12 miles from Red Rock Canyon, one of the most beautiful parks in the Southwest. The National Conservation Area in the Mojave Desert sees over a million visitors annually to hike, bike, camp, climb and explore.
The unique red color comes from iron oxide in the Aztec Sandstone, and is complemented by limestone.
It's Incredibly biologically divers with over 600 types of plants, 100 types of birds and 45 mammals, including the Joshua Tree, especially unique to the area. Plus dinosaur tracks, petroglyphs and cultural history!Access is $5 per person, $15 per vehicle and there are dozens of trails to choose from. The most important consideration for hiking in Vegas is the heat – the desert is not forgiving. Bring lots of water, snacks and if it's summer, start your hike before 8:00 am. Don't worry, if it's too hot, you can always explore the park by car. And if you'd rather not worry about renting a car during your stay, you can BOOK A RED ROCKS ONE-DAY TOUR FROM LAS VEGAS HERE. – Jessica Elliott
Hungry? Look for some fine cuisine
27) The Hofbräuhaus Beer Hall
This beer hall is an amazing break from the fast-paced adventure that is Las Vegas. It offers homestyle Bavarian cuisine (think sausage, sauerkraut, potato) and 1.0L glass steins full of Hofbräuhaus-brewed beer from Munich. If you are looking for the full experience make sure you get a communal dining table in the Bier Hall. Live polka will be playing all night but the best time to visit is when MC Johann is scheduled.
You might get to see him swinging around his giant Alphorn! If you're feeling adventurous, ask a dirndl-wearing server for a shot and experience the traditional spanking afterward. The slaps will be heard all night and provide you with endless entertainment. – Jason Miller
28) Have dinner at Top of the World, with 360degree views of the strip (plus, it spins!)
29) Have a delicious brunch or attend a baking class (!!!) at Bouchon Bakery
30) Get some seafood at Michael Mina in the Bellagio
31) Have a truly unique dining experience at Todd's Unique Dining
32) Have some crab at Joes Stone Crab in Caesars
Feast your eyes on some first-class entertainment
33) Entertain yourself at a Cirque du Soleil show; consider The Beatles LOVE, Michael Jackson ONE, and Mystere
34) See Blue Man Group, my absolute favorite show in Vegas
Lost ALL your money? Consider these [almost] FREE experiences
35) Check out the numerous glorious hotels. With the Bellagio, all-new Atria, and the Wynn, you could spend an entire day hopping from hotel to hotel. FREE
36) Go window shopping at the
Forum Shops at Caesars
. Be sure to leave your wallet at home/in your hotel room. FREE
37) Enjoy dollar margaritas from
Casino Royale
$1 or 2, depending on how many you want
38) Take your mojito onto the streets. Where else can you do that? FREE, besides the cost of a mojito (about $7)
39) Go Pool Hopping
Because Las Vegas has more hotel rooms than any other city in the US, the competition for amenities is intense. As a result, we have found that pool and spa facilities in Las Vegas hotels to be some of the best we have found and are one of the best things to do in Las Vegas besides gamble, especially if you have kids! Undoubtedly the kids will get bored quick if you find yourself in the casino for too long, as they aren't even allowed in! The pools we've visited cater to guests of all ages and each feel like an oasis. My daughter had her first pool experience at Caesar's Palace and loved it. Of course, the Nevada sun enhances the experience. And, most hotels have complimentary spa facilities for guests over 18, including an indoor hot tub. Find out more about Las Vegas pools
here
.
40) Fountains of Bellagio Show
The fountain show at the Bellagio is absolutely mesmerizing and a must-do activity while in Vegas. One of my favorite spots to watch the show is from the restaurant, Mon Ami Gabi, at the Paris hotel. The restaurant is just across from the Bellagio, so you have a fantastic view. Steak, frites, Andrea Bocelli singing Con Te Partiro…what more could you ask for?! Well, the absolute best place to watch is from a fountain view room at the Bellagio hotel. Since all shows in Vegas are dark on Monday night, watching the fountains from your own hotel room is the perfect alternative. The fountains go off
in 15 minute
increments from
8PM to 12AM
so you will have plenty of entertainment for the evening as you watch these beautiful water formations paired to some classic tunes. You won't even want to leave the room! –
Jen
44) See the Flower decorations in the Wynn
As you walk into the atrium of Hotel Wynn in LV, you feel fresh and ebullient looking at the ornate flower decorations. Calling them decorations would be injustice to this artwork. There is a big hot air balloon, big revolving carousel with mythical characters like unicorn, Pegasus and others waiting for friends to ride on them, all made with more than 110,000 fresh flowers. The arch shaped trees in the courtyard adorned with lights and hanging balls of flowers welcome you into a world of colors. Even the restaurants have some resplendent display of flowers. Creating these artistic marvels is one task and maintaining them daily another extensive effort that is tended in night before the guests wake up. There is no place in the hotel and your heart that's untouched with these vibrant blooms. – Neha Kulshrestha
45) get some yummy chocolates at M&M's World
46) Take a Picture with the Iconic Las Vegas Sign (an absolute must for any first-timer!)
No visit to Las Vegas is complete without paying a visit to the well-known "Welcome to Fabulous Las Vegas Nevada" sign. This piece of art was commissioned in the late 50s, by a local salesman, with the intention of selling the city as a glamorous and extravagant destination. To achieve this purpose the designer used neon lights, circles (representing silver dollars) and a star. Since its reveal, the sign has gained worldwide notoriety
and it has become a symbol for Los Vegas.
If you are interested in posing in front of the sign, head to 5100 Las Vegas Boulevard South. There is an ample, free of charge parking lot on the premises. Have fun! – Ruth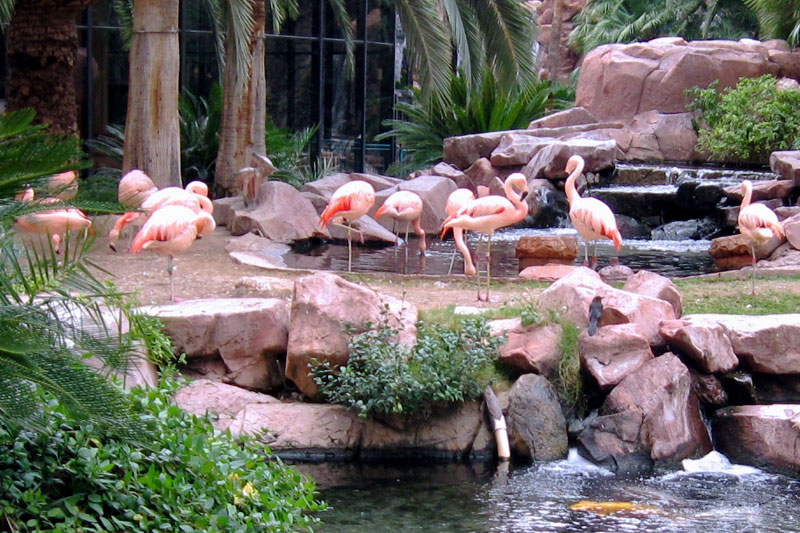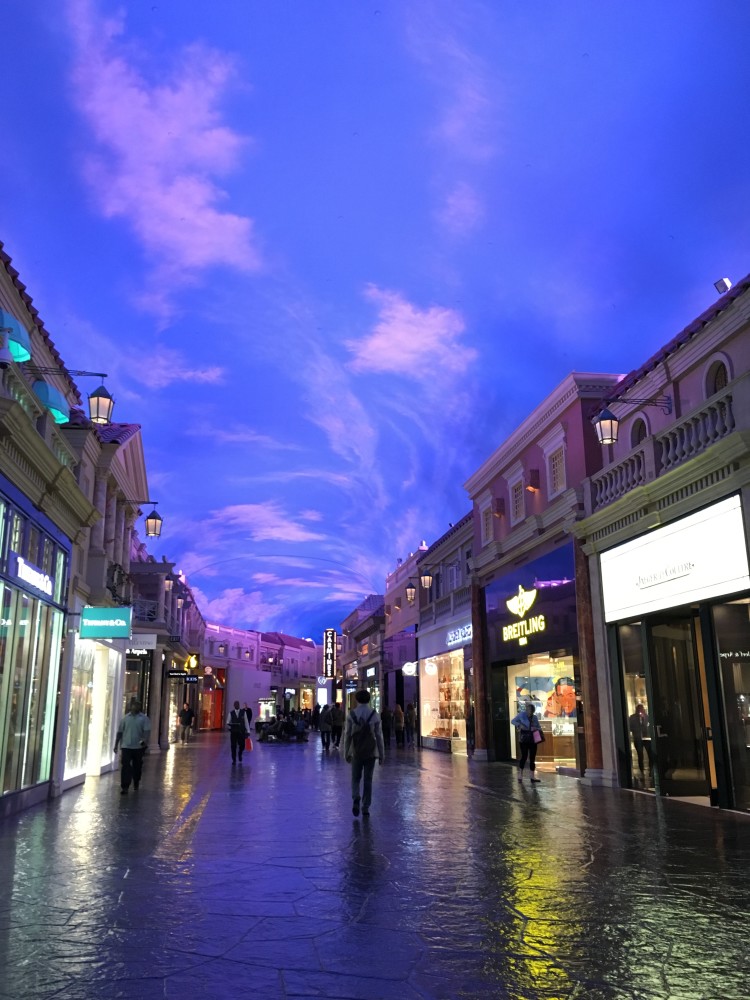 Did I miss anything?  
What do you like to do in Vegas? As evidenced above, there's tons of things to in Las Vegas besides gamble!