Planning a trip to Europe and wondering the best time to travel to Greece? Read on to learn all about the different seasons in Greece as well as what months to avoid if you hate the heat and crowds!
Overview of When to Visit Greece:
The short answer: The shoulder seasons of May and September. Everything is open but the hordes have either not yet arrived (May) or have just all gone home (September).
Greece is widely regarded to be the cradle of Western civilization. This is due to the country's enormous influence on our arts, philosophy, politics, and sports. That's not to mention the country's gorgeous beaches and thriving nightlife.
These things have made Greece a major tourist destination for travelers around the world. But you might be wondering when the best time to visit Greece is. Like many other countries, you can have a very different experience depending on when you decide to go.
Let's take a closer look at the best time to travel to Greece.
Almost everyone suggests that the best time to visit Greece is spring and early summer (mid-April to mid-June) or autumn (September to mid-October).
By visiting Greece during this time, you'll avoid the summer high season and it's inflated prices, over-crowded tourist attractions, and super high summer temperatures with heat waves of 100°F/40°C.
Read on for more in depth information about each season and get your Greece travel planning on!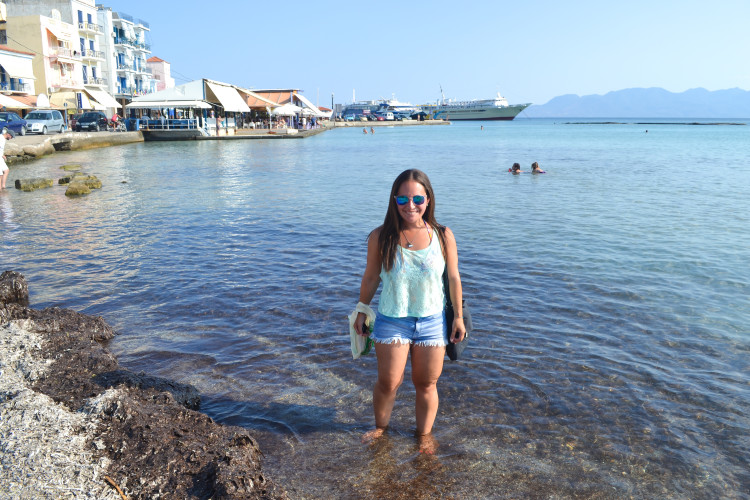 Greece Weather and Travel Seasons
Summer: June – August
Summer is easily the busiest time of year for Greek tourism.
It's when most people decide to visit the country, and because of this, most places you visit will be crowded with people. As a result, accommodation will also be a lot more expensive.
Furthermore, the summers in Greece are known to be scorchingly hot and dry (heat waves of 100°F/40°C are pretty common). The weather in Greece can be quite oppressive in the summer- don't forget your sunscreen!
For these reasons, most do not consider the summer months to be the best time to go to Greece. However, if these months work best for you, I strongly urge you to keep your Greek summer plans.
I've visited three times in the hot and crowded summer months, and have never been disappointed (Greece is gorgeous – it's hard to have a bad time there no matter what). Just be prepared and drink lots of water, plan a bunch of water activities, go swimming at your resort, and wear a hat. 🙂
Benefits to visiting Greece in the summer:
If you want to experience life on the islands in particular, summer is by far the best time to do it (with Santorini, Mykonos, and Crete being the most popular ones, and for good reason)!  All of the shops and hotels will be open for business, so you'll have much more shopping and accommodation variety if you chose to visit Greece in the summer.
The waters are warmest in the summer months, making this the optimal time to go swimming. And what is a Greek vacation without some swim time in the Aegean Sea?!
Looking to party? You're in luck, because the nightlife also kicks into high gear during this time of the year.
Spring/Fall: Mid-April to late-May / September and October
The seasons of spring and fall are widely considered to be the best time to go to Greece. Since this is considered to be Greece's off season, you'll find that prices are much cheaper during this time.
Because of this, you'll find that a rather affordable vacation in Greece is possible, compared to the expensive summer months. You also won't have to fight as many crowds as you would during the summertime.
You'll be able to go anywhere and feel like you more or less have the country to yourself. Beaches in particular are much easier to enjoy during the spring and fall months because of the lack of crowds.
Another major benefit to visiting Greece in the Spring and Fall? The weather is absolutely amazing during these seasons! Wildflowers bloom during the spring, and come autumn, everything changes to beautiful colors of gold and brown.
These are the ideal times to be outside while you're on a Greek vacation, since the temperatures are comfortable and not ridiculously hot. It's the best time to travel to Greece if you plan to spend a lot of time outdoors, especially if you want to visit Athens and it's ruins without sweating profusely.
In addition, September is definitely the best time for the beach and swimming in general as the water has spent all summer warming up – meaning the sea will feel like a bath tub at a warm 75 degrees F.
It's also worth noting that the grapes in Greece are harvested in September. This makes it the best time to go to Greece if you'd like to sample their delicious wine while you're on vacation! Yes!
Winter
The winter months in Greece definitely have some drawbacks, but it's not all that horrible (it's Greece we're talking about).
Although the weather during the winter can be rather chilly and wet, it's usually fairly reasonable. You're even likely to see a few bright and sunny days during this time, although that's typically not the norm.
There's even a chance you might see some snow while you're in Greece. This happens from time to time, but it's rare enough that it's treated as a special occasion when it does happen! Maybe you'll get to be one of the lucky ones to experience snow in Greece!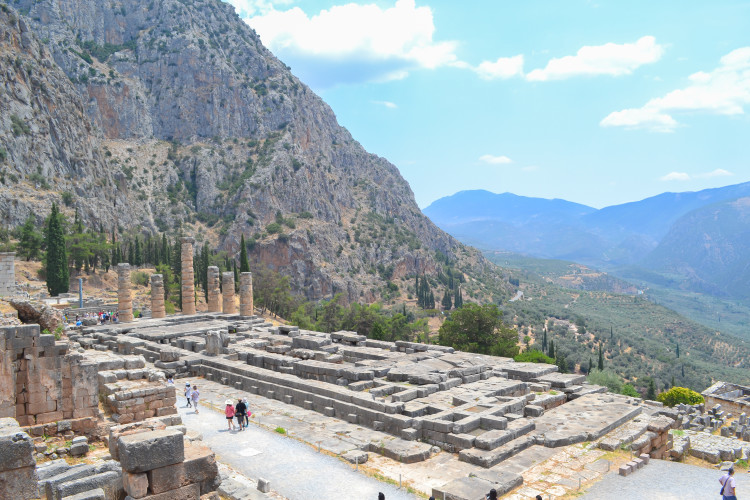 One of the main attractions in the winter, possibly making it the best time to go to Greece if you aren't looking for a beach vacation, is the fact that the country is the least crowded during this time and is fairly quiet.
However, because of this, bear in mind that many shops and accommodation options will be closed for the season. Most of the islands' infrastructures are closed between October-April (hotels, many restaurants, etc.) so in all likelihood there will not be much to do on the islands in the winter months.
You won't be fighting through massive crowds though!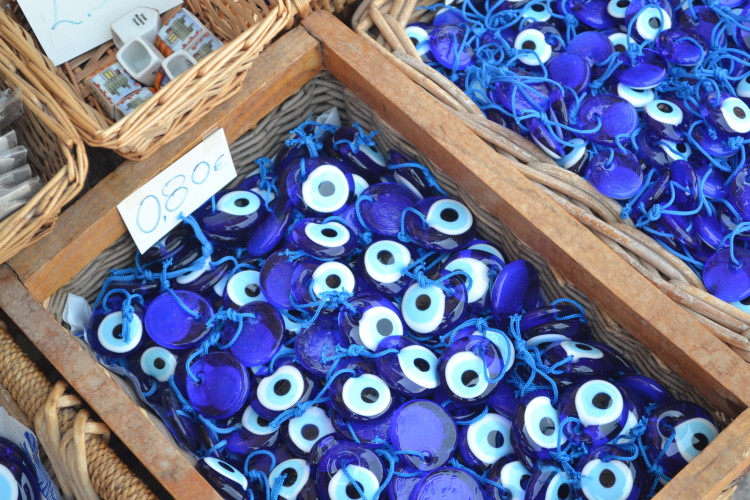 If you really want to spend some time on the islands during the winter, be sure to choose an island that is as far south as you can go (Crete) or as far east (Rhodes) as they hang on to the better weather for longer. Warm, sunny days are never a guarantee, but they have better weather than other islands nearby.
Of course, skiing is also a popular pastime in Greece. This is to be expected from a mostly mountainous country. In fact, so many people go to Greece for skiing that many resorts have to be booked in advance. If you love to ski, then winter is definitely the best time to visit Greece.
Festivals and Events in Greece:
The Greeks love to party, so it should be no surprise that there are celebrations happening nearly every month of the year! You are likely to find something spectacular happening almost anytime you visit, but a few of these events stand out from the others.
Of all these celebrations, none are more important to the Greeks than Easter. Devout Christians spend an entire week celebrating the holiday, known as Holy Week. During this time, you'll see fireworks, bells, candlelit processions, and many incredible feasts.
It really is an experience you have to see for yourself, and is possibly the best time to visit Greece if you don't mind some crowds and are looking for a more local experience.
However, if you're going to Greece for the partying, you might want to visit during Apokreas, or Carnival Season, instead.
Usually held in February, Apokreas is a three week long celebration that's held in the time leading up to Greece's fasting period. Partying is a normal thing in Greece, but it's taken to another level during this time.
There are parades, colorful costumes, plays, feasts, and plenty of over the top celebrating in general. It could be considered the Greek version of Mardi Gras, and is the best time to go to Greece if you really want to blow off some steam and have some wild fun.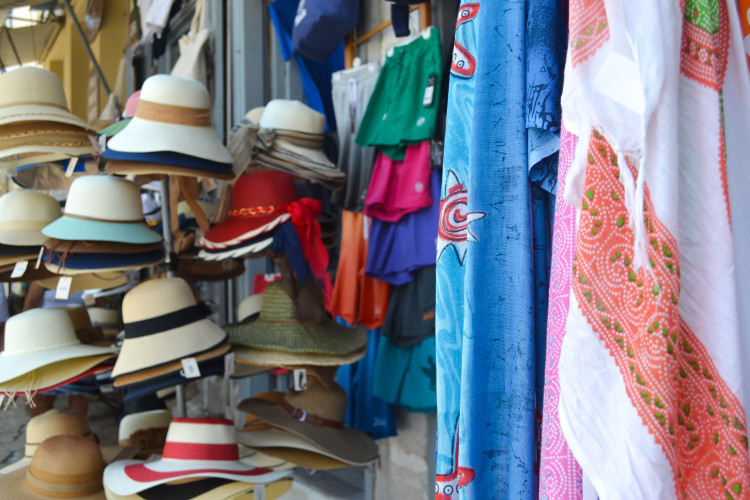 If you're more interested in the art and culture scene, then the best time to travel to Greece is during its Hellenic Festival. The Hellenic Festival is an arts festival held in Athens and Epidaurus during the summer months.
You can take your pick between visiting the ancient sites of Odeon of Herodes or the Theater of Epidaurus. Both are in terrific condition and feature everything from theater, dancing, music, opera, and everything in between.
Many famous stars have performed in these theaters during the Hellenic Festival. It's something you absolutely have to see if you're interested in Greece's cultural contributions.
So there you have it, the best time to travel to Greece! Are you visiting soon? What are you most looking forward to?!