Headed to Greece and looking for the best things to do in Crete, the country's largest island? Keep on reading; this handy insider's guide is full of not only what to do in Crete, but where to stay, how to get around, where to eat, and more.
Crete is a fantastic island in the south of the Mediterranean, with spectacular natural landscapes ranging from pink sand beaches (yup!) and deep gorges, to beautiful plateaus and valleys.
We visited the island for a full week on our Greek island honeymoon (along with Santorini and Mykonos) a few years back, and are itching to get back to the islands ever since (I mean, not much is better than time in the Greek islands). And OH, I'll never forget Elafonisi, Falassarna, and Balos Bay. Take me back tomorrow, pretty please!
→ Read Next: 10 Days in Greece (The Ultimate Greece Itinerary Guide)
Although we spent some time on the island, it was quite a few years ago and I honestly forgot about all the best things to do in Crete (cue the sad face – a good reason for me to go back pronto!).
Thankfully, I've enlisted Gabi from The Tiny Book (who actually lives in Crete full-time! #jealous) to share this complete Crete travel guide with us all! Expect lots of local tips, her favorite places to eat, and the most stunning beaches. Yes, please!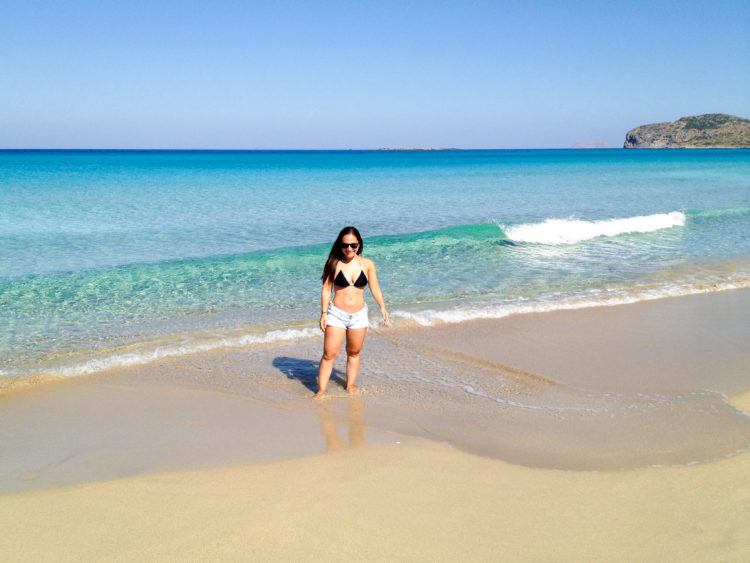 Despite being Greece's largest and most populous island, visitors typically stick to the Cyclades (a group of islands including the ever-so-popular Santorini and Mykonos) when visiting.
However, Crete has SO much to offer, including ancient settlements and cities, local cultural traits (including their own poetry and music), some of the healthiest and most delicious cuisine you could ever imagine, and stunning landscapes (hello mountains, gorges, bays, and lakes). Crete is a land of history and traditions that will definitely grab your attention from the get go.  
So, let's not wait one more minute → get ready to plan your first visit to the fantastic Greek island of Crete with Gabi's tips below.
But before we get into all the things to do in Crete, let's dive into other important details, such as how to get there, where to stay, when to visit, and how to get around the island.
HOW TO GET TO CRETE:
Thankfully, getting to the island is fairly simple. If you're coming from somewhere other than Europe, you'll first need to get yourself to Athens (which is a very well-connected airport, so couldn't be easier). From there, you'll be able to catch a domestic flight to either the capital of Crete, Heraklion (HER), or to the second most important city, Chania (CHQ).
You also have the option of taking an overnight ferry from the port of Piraeus, which will get you to either the port of Heraklion or to the port of Chania in Crete.
WHERE TO STAY IN CRETE:
The most important thing to know is that Crete is divided into 4 main regions, and all of them have their own main town facing the north coast.
Most people traveling to the island for a short period stay either in the capital of Crete (Heraklion), or in the western city of Chania.
And where you decide to stay will ultimately depend on where you wanna spend the majority of your time and what you wanna do on your trip.
Chania: If you're more of the beach type and beach days are your style, and want to explore the best beaches on the island, book accommodation in the regional unit of Chania. In Chania, the old town is well connected with the rest of Crete and you can easily visit more remote areas with organized tours or planning your own day trips and renting a car (the smartest way to see Crete!)
Recommended hotel in Chania – Casa Delfino: This is my favorite boutique hotel in Chania… and in all of Crete! Casa Delfino's located in the heart of the old town and has been part of the same family for more than a hundred years. There's a great spa and one of the best roof-top terraces in town, complete with mesmerizing views of the old port.
Heraklion: Any history buffs over here?! You're in luck – Crete has suuuuch a magnificent history and story to tell. Stay in Heraklion, since the most important archaeological sites and settlements are in this region.
Recommended hotel in Heraklion- Galaxy Hotel Iraklio: Not many hotels in the capital of Crete have a swimming pool (and a fantastic one at that). However, Galaxy Hotel Iraklio does (yasssss)! The hotel offers certified allergy-free facilities in their rooms as well. There's a spa, a gym, and they serve one of the best breakfasts in town. The hotel is quite close to the city center too.
Rethymnon: Staying in the smaller town of Rethymnon, located between the regions of Chania and Heraklion, can be a great compromise to be halfway between both regions. Besides, Rethymnon is a fantastic city too, so you won't be really missing anything. Since Rethymnon is about an hour away both from Heraklion and Chania, you'll be between the beaches and history – which may be perfect for those who like it all!
Recommended hotel in Rethymnon – Avli Lounge and Suites: Another great boutique hotel in the hidden alleys of the old town of Rethymnon, with a beautiful terrace and a rooftop pool. Avli is also famous for their house restaurant serving creative Cretan dishes all year round.
WHEN TO VISIT CRETE:
Honestly, there's never really a horrible time to visit Crete. The weather on the island is mild and relatively pleasant all year round.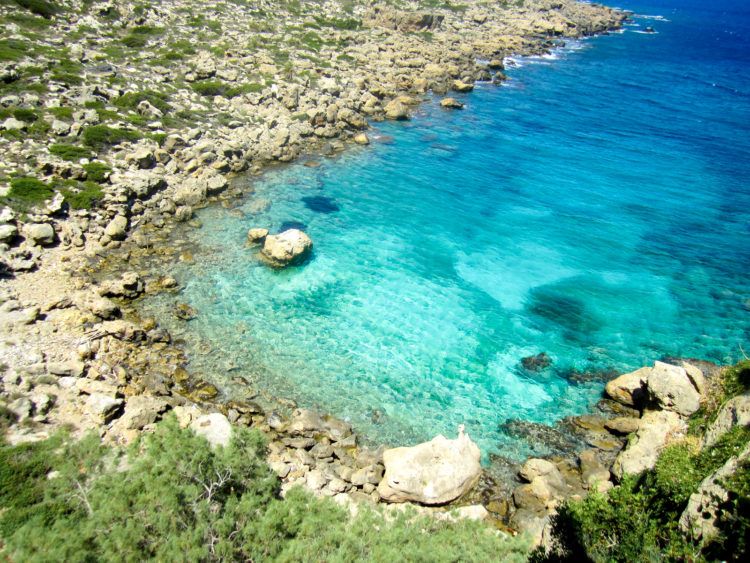 However, winter brings a bit of rain, especially in the western region, and the sea is still a bit chilly. You will still see (a few) people swimming in Crete all year round though!
The shoulder season sees less tourists, less heat, better prices, and great weather. Therefore, May and October are the best months to see Crete, as they are right around the prime summer months of June-September.
HOW TO GET AROUND CRETE:
Unlike other Greek islands, Crete is quite large, meaning if you wanna see and do it all, you undoubtedly need a car to get around. Do note while there's a well-maintained highway connecting the cities of the North, the southern coast of the island is rather isolated, with the exception of a few resorts.
Therefore, if you really want to explore the beautiful hidden beaches of southern Crete, I strongly suggest you rent a car. And thankfully, driving on Crete is really easy, as long as you use common sense (just like anywhere else in the world of course).
Thankfully, taxis are not expensive and are plentiful in every city, and a great choice for moving short distances within the towns. Important to add, that there's currently no Uber or ride-sharing on Crete.
For traveling longer distances (say, between cities), a car is highly recommended. For example, Chania is located about 2 hours away from Heraklion and 45 minutes away from Rethymnon. However, if you'd rather not drive yourself, know there are buses available (although it does take quite a bit longer – 3 hours from Chania to Heraklion, and a bit more than an hour from Chania to Rethymnon).
Thankfully, bus tickets won't break the bank, with one way tickets from Heraklion-Chania costing €15.10, while the Rethymnon-Chania route is €8.60.
WHAT TO BRING ON YOUR ISLAND ADVENTURE:
Comfy sneakers or hiking shoes. The island is 80% mountains, so you'll probably find yourself on a trail or two, or three (or four).
Reusable water bottles. Psst: the water on Crete is completely safe to drink, despite what other blogs and sites might say. I've been living on the island for the last 5 years, and I hardly ever buy bottled water… and surprise, surprise, neither do the locals!
Jacket or raincoat if you are visiting in winter. Also, add a few extra layers if you plan to visit the mountains as it can get quite chilly.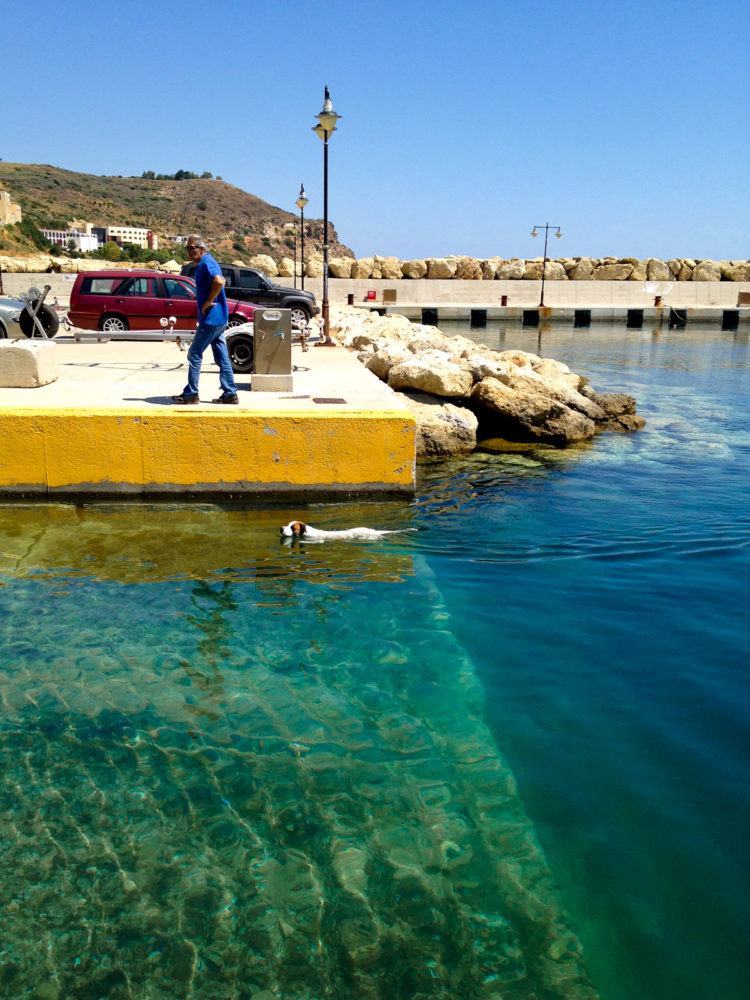 Other things to note:
Don't worry about your language skills; Greek is a very difficult language and the locals know that! You'll be able to find someone who speaks at least some basic English almost everywhere, and we're all pretty friendly enough to help! Don't be shy – just ask! 🙂
So let's get to it, the best things to do in Crete (from a locals perspective), coming right up!
BEST THINGS TO DO IN CRETE:
As there are an abundance of things to do in Crete, all within different areas of the island, I decided to break them up by location. Hope this helps a bit with planning!
HERAKLION
Knossos Palace: One of the main reasons tourists flock to Crete is to check out this unique archaeological settlement (known as Knossos Palace), dating all the way back to the Bronze Age. I mean, we're talking 3,500 years back in Greek history.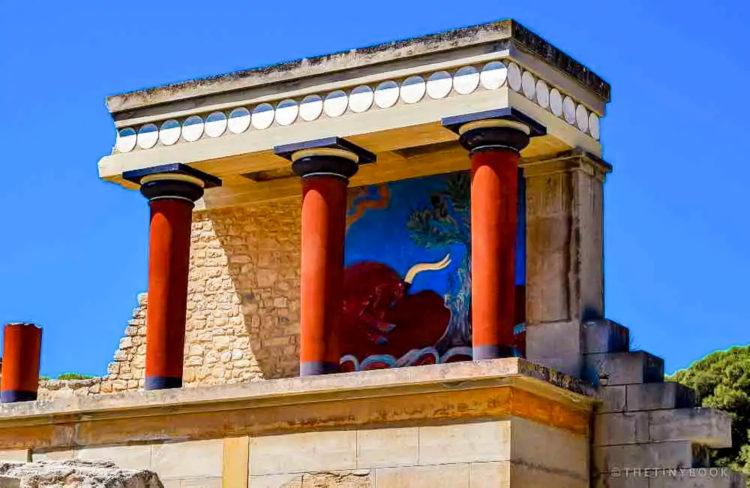 Trust me, Athens isn't the only one with admirable ruins; you'll find the same level of skills here in Crete (as well as Delphi, too!). Don't miss one of the most remarkable things to do in Crete – just don't!
The ruins are impressive, featuring the high grade of architectural development and engineering abilities of this ancient civilization. But of course, remember, they did NOT have the same machines as we do in the present time.
When you think about that last statement, it makes them seem even more magnificent. Inside the Palace, make some time to check the royal rooms as well as the well-known Bull fresco. 
Logistics: The Minoan Palace of Knossos is located about 10 km from the center of Heraklion, and it's easy to reach via city bus (Bus N°2, from the Central Station, ticket: €1.80). The best way to visit the palace is by joining a guided tour that you can book at the entrance, or booking a group tour. This ensures you don't miss anything important! 
This tour includes skip-the-line entry tickets, a detailed guided walking tour of Knossos Palace, as well as entrance to the nearby Archaeological Museum of Heraklion. Honestly, it's a great deal at under $50 per person.
Know in advance:
The site is mostly in the open, so carry some sunscreen lotion and a bottle of water, especially if you visit in summer.
To avoid the crowds, go to the Palace early in the morning or during sunset. In addition, it most likely won't be as scorching hot those hours as well. Double win!
A ticket to the Archaeological site costs €15
Archaeological Museum of Heraklion: Hate to break it to you, but no visit to the archaeological site (Knossos Palace) is complete without adding an hour inside the Archaeological Museum of Heraklion. And score – if you buy a combined ticket, you'll save some money too! (Ticket: Museum: €15 or Museum + Minoan Palace: €16).
The museum hosts objects found in the archaeological site as well as in other ruins and settlements of the area. There are remarkable pieces of jewelry, as well as clay figures and some iconic objects too. AND the Phaistos disc. Aka, just don't miss the museum. It's not everyday you get to admire 3500 year old artifacts and relics of civilizations that once populated the island.
Psst – if you're really into this stuff, you may find yourself spending a few hours here, so plan accordingly!
Venetian Fortress and Old Port: The Old Port is exceptionally beautiful and full of atmosphere, facing the modern city of Heraklion with fishing boats in the harbor and tons of eateries.
And when you check out the old port of Heraklion, be sure to pay a visit to the magnificent Venetian Fortress (also known as Koules). Surprise, surprise, the fortress was built by the Venetians. They ruled on Crete for over 400 years, and the fort was built in order to defend the city from recurrent pirate attacks (did someone say pirate attacks?! I mean, whoa).
Mini history lesson – unfortunately, no fortress was enough to deter the attack of the Ottoman Empire, who finally took over in 1669, ruling on Crete for the following 267 years.
It's hard to miss this majestic limestone castle right on the sea, giving a small glimpse into Crete's sometimes bloody history.
Matala Beach: It's time to cross the mountains and reach the southern coast of Crete – off to the beach we go! Of course I had to include some beach time on this list of best things to do in Crete.
About an hour away from Heraklion, you'll come across Matala, one of Crete's most iconic beaches (and yes, it's absolutely breathtaking – do a google search and you'll be wowed). The beach boasts crystal clear water (it's actually a deep bay – meaning no waves) with a bluff full of caves on one side and the town on the other.
Matala is THE place to go if you wanna rent a lounge chair and umbrella for an entire day (at a reasonable price no less) and just relax. Or go for a walk on the beach and stop for a cocktail or two (a bunch of beach bars around).
Matala first became famous during the 60's when it was the destination of choice of the expats and hippies. They'd leave everything behind to live a thoughtless life inside the caves of Matala. Hippy hangouts, if you must! Today, Matala's caves are virtually empty, but the flower power atmosphere is pretty much alive in the village, with its colorful streets, shops, and bars.
Insider Tip: the water gets deep pretty quick, and the sand at the water's edge is more pebbly than sandy, so you may wanna wear waterproof sandals.
RETHYMNON
Once you've seen some of Heraklion's landmarks, it's time to move west to the remarkable city of Rethymnon. Being the third largest city in Crete, Rethymnon is home to one of Crete's most important universities – ultimately giving the city a young vibe. It has a fairy-tale feel to it, and one of the best preserved medieval cities in all of Greece.
Old Town: The Old Town of Rethymnon is right next to the sea, on the northern coast of the island. It's a fantastic Venetian town with characteristic cobblestone alleys adorned with bougainvillea, picturesque houses with Turkish balconies made of wood, and a beautiful small harbor.
In the Old Port of Rethymno, be sure to check out the beautiful Venetian lighthouse, which is 9 meters tall and gives a unique character to the area. OH! And don't forget to enjoy a cocktail at the waterfront of the port during sunset. Just do it, you won't be upset.
Rimondi Fountain: Since you're already visiting the Old Town, don't miss the elaborate public fountain in Platanos Square (built way back in 1626). And elaborate it is – three basins and three Caorinthian columns, water running from three lion heads, and remains of the coat of arms of the Rimondi family, an aristocratic Venetian family.
Do note that it's typically pretty crowded since just about every walking tour in Rethymnon stops here (especially in summer). It's a quick stop, even just to quickly admire the architecture and rinse your hands under the cool running water in the heat. Of all the things to do in Crete, this one will just take a few minutes – might as well check it off the list!
Fortezza: Much bigger than the Fortress of Heraklion, the Venetian Fortress of Rethymnon, known as Fortezza, is an imposing structure right by the sea, on the western tip of the Old Town.
Inside, it's possible to see the unique former mosque of Sultan Ibrahim Han, with one of the highest tiled vaulted ceilings in Crete.
Also inside the fortress, pay a visit to the Bastion of Saint Lucas, which boasts a unique cannon ramp and great views of the sea. The Fortress of Rethymnon is one of the best-preserved castles in Greece (with a well-priced entrance ticket of €4).
Plakias Beach: Ready for some beach time? The best beaches of Rethymnon are located on the southern coast (I guess you've already realized that the best beaches of Crete are in the South, right?)
Thankfully, the drive isn't too long (roughly 45 minutes to an hour), through the Ida Mountain range and through the small (but impressive) gorge of Kourtaliotiko (you'll want to stop for photos here!)
Plakias has a beautiful sandy shore, with some smooth pebbles, perfect for sunbathing, water sports, and snorkeling. And get this – some sun beds are FREE (yes, free – just with the purchase of a drink)! It can get quite windy in this area, so you may wanna bring along a light sweater just in case. Grab a smoothie at the beach bar and hang out for the afternoon.
The beach is divided into different areas, one of them a favorite among naturists. So now you know, if you want to sunbathe without a bikini, head to the eastern end of Plakias!
Editor's Note: while performing my due diligence and fact checking this article (true story – it's what I do for all guest posts), I came across Skinaria Beach, Damnoni Beach, and Ammoudaki Beach close to Plakias Beach. And OMG they all look just as beautiful.
While I can't vouch for these beautiful stretches of sand, the photos look absolutely unbelievable. Make sure to do your research before visiting to ensure they're a good fit for you and your vacation to Crete. 🙂
CHANIA
Old Town: One of the most beautiful cities in Greece is the romantic old town of Chania. The town is divided into several different quarters (meaning there's lots to see), so it's a good idea to plan a few days in Chania to ensure you see them all!
The Venetian quarter, located towards the west of the city, is home to some beautiful historic buildings which have been transformed into elegant boutique hotels. In this area, you'll also find the Venetian Port, the Lighthouse, and Chania's most famous landmark, the Mosque of the Janissaries. Don't miss it!
The Turkish quarter, also known as Splantzia, is a maze of cobblestone alleys, small picturesque houses, and less hotels or touristic activities. It's indeed the most unspoilt area of Chania's old town, and a must-see. There is a beautiful minaret hidden in the alleys (Chatzimichali Daliani Street), as well as pretty churches and trendy pubs.
If you're a fan of Greek beers (or if you're eager to learn all about the stuff), head to Plaka, a small bar on Sifaka Street.
Gramvousa Island and Balos Bay: Out of ALL the things to do in Crete, DO NOT miss Gramvousa Island and Balos Bay. You'd be doing yourself a big disservice. I could try to spell out the insurmountable beauty of this area, but I'd run out of adjectives. A few that come to mind: exotic, rugged, and unspoiled. It is the most photographed beach in Crete afterall.
It's impossible to visit Crete and skip this spot on the westernmost tip of the island! Balos Bay, often included among the best beaches in the world, is a spectacular exotic shore, a shallow lagoon with stunning turquoise waters and white sand that will leave you in awe. There's even a Venetian fortress on Gramvousa Island to climb for stunning, unique views. A definite pearl of Crete and not to be missed.
However, despite its beauty, the beach has very limited organization, so it's always a good idea to pack your own lunch and carry plenty of liquids to spend the day. Also, don't forget your sunscreen (it gets hot hot hot and sunny here), as well as comfortable shoes to hike down from the parking lot to the beach.
If you prefer, it's also possible to visit the beach with a day cruise (trips available from both Heraklion and Rethymnon as well). Instead, if you'd rather give this adventure a try sans group, check this complete guide to Balos and other beaches of Chania.
→ Book tour to the stunning Gramvousa and Balos Bay here. This is one spot you don't wanna miss.
[Editor's note: I fell in love with Balos Bay and Gramvousa Island on our honeymoon back in 2012, and it's the main reason, along with Elafonisi, I want to re-visit Crete as soon as possible. Absolutely stunning. DON'T MISS – one of my all-time favorite things to do in Crete].
Elafonisi Pink Sand Beach: Pink sand! Need I say more?! If you thought this guide was going to exclude Crete's most beautiful beach, think again! Elafonisi is an islet on the southernmost tip of the region with a fantastic pink sandy shore and the most pristine blue waters you can imagine.
The beach is located about 72 km from the center of Chania, and you can either drive there yourself or book a tour to visit (the best option if you suffer from vertigo or if driving in the mountains is not your cup of tea!).
In fact, to reach Elafonisi, you'll need to drive through the ravine of Topolia. The ravine is quite an impressive gorge with a tunnel and bends right by a bunch of cliffs that are not for the faint of heart.
Anyhow, no matter how you get there, once at the beach you'll forget about everything else, considering it's one of the most beautiful beaches I've ever laid eyes on.
Psst: You can also book a tour to Elafonisi from Rethymnon if you don't plan on staying in Chania for whatever reason.
Day trip to Loutro: From the city of Chania, it's possible to drive through the road next to the Gorge of Imbros, towards the South, and reach the small coastal town of Chora Sfakion. Once there, walk to the port and board a ferry to Loutro, a small fishing village that you can only reach by sea, or by hiking a portion of the E4 (European Path).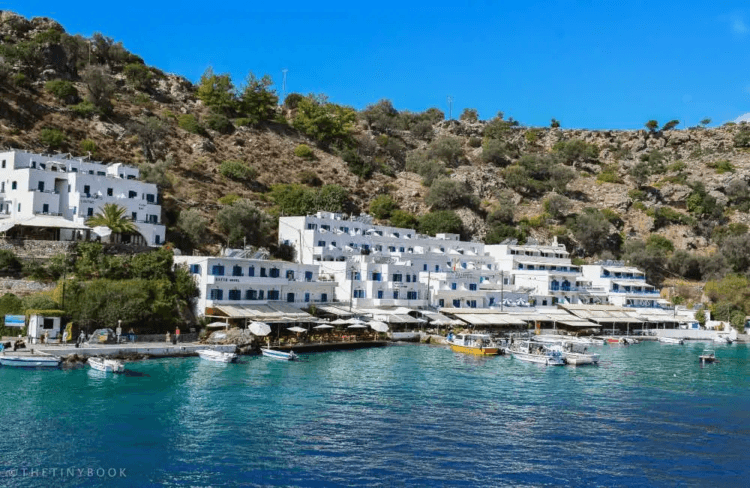 Loutro is a place for extreme relaxation and tranquility. The main activities limit to lounging on the small pebbles of the beach, swimming in its emerald sea, and eating delicious seafood in one of the several tavernas by the water (check out Taverna Notos for the most delicious dishes).
It's also possible to spend the night, but you'll need to book in advance if you visit in the high season of July-August.
WHERE AND WHAT TO EAT IN CRETE:
Mmmm, Greek food. Yes, there are tons of things to do in Crete, but don't skimp out on the eating, too! Make sure to try as much as you possibly can – it's all so exceptionally tasty. Promise me you won't leave Crete without at least indulging in traditional moussaka, pastitsio, and yemista in any traditional taverna.
If you have no idea where to start (there's a lot to order, trust me!), book a gastronomic/food tour! These tours are found in every major city (including those listed above), with some even including wine tasting sessions and visits to olive oil mills and/or cheese factories.
If you're in Chania and want to discover the best tastes of the city, as well as discover the staple products in the Municipal Market, check this gastronomic experience of Crete. Book on AirBnB here (get up to $15 off your first AirBnB experience by signing up here), and Viator here (one of my preferred booking sites for activities). What's better than a morning filled with traditional pastries, authentic coffee, local tapas, and culinary hotspots?
Where to Eat in Heraklion
O Tempelis, in the center of town, is a traditional place with very convenient prices. Here locals gather to share meze, small dishes with Cretan delicacies, such as dolmades, stuffed champignons, baked potatoes, tzatziki sauce, and more.
Peskesi is probably Crete's most famous restaurant (yes, on the entire island). Located a few meters from Liontaria Square (close to the center of Heraklion), it's well-known for serving innovative Cretan flavors while still keeping the traditional homemade cooking methods of Crete.
Where to Eat in Rethymnon
Prima Plora, right by the sea, is a romantic setting with beautiful views and a delicious menu. It's one of the top-rated places in town for seafood and sushi too.
Kokkino, if you're on a budget, though, you don't want to miss the most popular restaurant of the city, right in front of the beach. Kokkino has been in town for ages, serving every dish of the Greek tradition, including inexpensive but huge gyro wraps, skepasti (similar to gyro but in a sandwich), and souvlaki as well.
Where to Eat in Chania
There are several places to have dinner in Chania, and as long as you avoid the tourist traps in the old port, you'll be fine.
The best place where to eat is – as usual – where the locals eat. In Chania, locals gather for dinner in absolutely any of the restaurants along Chatzimichali Daliani Street.
Oasis Souvlaki, is the place you go if you simply want to grab a wrap and keep exploring. This gyro joint has been serving gyro for the last 50 years in the same spot; something tells me they must be doing something right!
Municipal Market, for those who want fresh dishes at friendly prices, there's nothing like a lunch in the municipal market. A few small tavernas serve dishes from midday until the market closes (5 pm), or until food runs out (sometimes well before 5!).
Have we convinced you to start packing your bags for Crete yet? Which of these (ridiculously gorgeous) things to do in Crete will you be adding to your must-do/see list?!
Pin for later:
Author Bio: Gabi is the founder of The Tiny Book, a blog about the Greek island of Crete, with useful inside tips about Crete, travel guides and itineraries to discover Crete. You can also join her Crete Travel Facebook Group, follow her on Pinterest or walk with her in a gastronomic tour of Chania.