Headed to the Greek Islands soon and trying to decide where to stay in Santorini? Keep on reading, because this post highlights a bunch of Santorini boutique hotels (some with private plunge pools and epic caldera views) and budget accommodation (for those who still want to enjoy island life without spending a ton) on all parts of the island!
With its sparkling blue waters and white, cliffside homes, Santorini is an idyllic island paradise located ~200 kilometers southeast of Greece.
Once the site of a massive volcanic eruption about 3,600 years ago, the island is now more peaceful than ever despite being located on a still-active volcano whose crater (the Caldera) is located in the ocean.
Today, Santorini is a picturesque, crescent-shaped island with clear waters and striking rock formations.
Although it is increasing in popularity for international tourists, Santorini is the perfect place for a relaxed, laid-back vacation by the sea. However, it's a huge island, so choosing where to stay in Santorini can be tricky, especially since you'll want those coveted views and alleyways that you've probably seen on Instagram.
Read Next: 3 Perfect Days in Santorini (Itinerary Guide and Inspiration)
But don't worry, we've got you covered! In this guide, I'll be sharing the best neighborhoods to stay for any budget or preference, as well as a few Santorini accommodation recommendations. After reading this guide, you'll be well on your way to choosing the best place to stay in Santorini!
Tips on Choosing the Best Place to Stay in Santorini:
There are no big chain hotels on the island. The best spots are small, privately owned Santorini boutique hotels. Take a quick look and you'll quickly realize you won't be finding any Marriotts or Hiltons over here. With that being said, although I can't vouch for this, the entire island is known for having clean and well-kept accommodations.
If you're visiting other places on your Greek honeymoon or throughout Europe, Santorini is the place to splurge on accommodation. Once you see those sweeeeet caldera views, you'll quickly understand why.
Decide which part of the island you want to stay before doing specific research on hotels. You essentially have two choices: along the caldera (in Oia, Fira/Firostefani, or Imerovigli) which boast spectacular sunset and Mediterranean Sea and volcano views, or on one of the beach towns on the other side of the island (Kamari or Perissa), which are a bit less expensive and right on the beach, but missing those epic views that Santorini is very well known for.
Note that prices range significantly between hotel accommodations depending on the season. A luxury hotel can cost upwards of $800+ a night during high season, while the same room may cost a few hundred less during low/off season. Just something to keep in mind while planning where to stay in Santorini.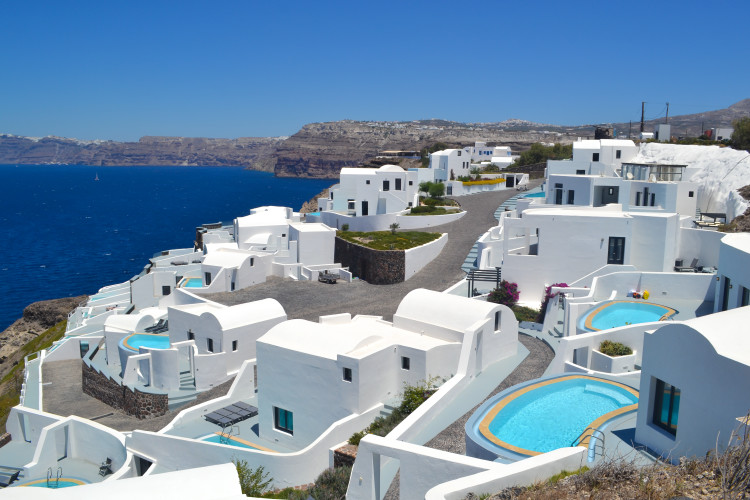 If you're planning on visiting during high season, it's best to book your hotel at least 6-10 months in advance. No, I'm not kidding. Hotels book up super fast in this area of the world. Aka – if you're visiting during June, July, August, or September, get on it, fast.
Quick Links to Where to Stay in Santorini
If you don't feel like reading the information below, check out some of these top-rated hotels in Santorini:
Luxury Hotels in Santorini: Grace Santorini (Imerovigli) • Katikies Hotel (Oia) • Canaves Suites (Oia) • Mystique (Oia) • Alexander's Boutique Hotel (Oia)
Santorini hotels with private pools: Mystique (Oia) • Chromata Santorini (Fira) • Splendour Resort (Firostefani) • Canaves Suites (Oia) • Hotel Aspaki (Oia) • Neptune Luxury Spa Suites (Akrotiri)
Budget Hotels in Santorini: San Giorgio (Fira) • Kavalari Hotel (Fira) • Aspa Villas (Oia) • Zoe House (Oia) • Ampelonas Apartments (Imerovigli) • Hotel Sofia (Firostefani) • Anny Studios (Perissa) • Hotel Matina (Kamari)
Best Santorini Hostels: Villa Manos (Karterados) • Fira Backpackers Place (Fira) • Anny Studios (Perissa Beach) • Emmanouela Studios and Villas (Karterados) • Villa Libertad (Imerovigli) • Caveland (Karterados)
Where to Stay in Santorini: Neighborhood Guide
For Caldera Views:
1. Oia
If you're seeking breathtaking Caldera views, incredible sunsets, and some of the most amazing Santorini boutique hotels, look no further than Oia. Situated on the northern part of Santorini atop a cliffside, the views from this small village stretch across the sea to silhouettes of nearby islands.
I won't lie, it's pretty romantic here, perhaps the best location to stay in Santorini for vacationing couples who want some time to spend on their own.
Here in Oia, you can find shops, restaurants, and those iconic white homes and blue domes that top the churches, but for the most part, it's a quiet place to stay for those looking for total relaxation. You can even find some Santorini hotels with a private pool here!
There aren't tons of activities to do in Oia, but that's the allure of it! If you aren't spending your days relaxing and reading and napping in the sun, here are a few things to do in Oia:
When you think of picturesque alleys in Santorini, you're probably thinking of Oia. Take some time to get lost in the town's gorgeous alleys.
There's no shortage of fresh fish in Santorini! You can try delicious local seafood dishes in one of the cute restaurants in Oia.
There's a small Maritime Museum that houses information and artifacts from maritime activities in the area.
There's a port at the foot of the cliff where you can take a boat to the nearby island of Thirassia to explore new beaches.
Check out these great hotels in Oia: Katikies Hotel • Canaves Suites • Mystique • Alexander's Boutique Hotel • Hotel Aspaki
Staying here is probably your perfect idea of a Santorini vacation, but it comes with a high price tag. Here are a few of the pros and cons of staying in Oia.
Pros: Incredibly photogenic views and alleyways, ideal town for shopping or eating
Cons: High hotel prices, little nightlife
2. Imerovigli
Another place for fantastic sunset views, Imerovigli is located between Fira and Oia and is named after the Latin word for "lookout." You can see as soon as you step out into this village why it earned that name – there are views of the ocean and the crater as far as the eye can see. Imerovigli is less popular than Oia or Fira, so you might feel more like you have the place to yourself.
Here, you can find many Santorini boutique hotels that have stunning views of the water and surrounding islands. It's another fantastic romantic spot for couples on holiday. For more budget-conscious travelers, you can stay in a bed & breakfast style accommodation or one of the many Santorini hotels here. If luxury is your thing, you can also find Santorini hotels with a private pool here, too!
Lace up your shoes and hike to the nearby, totally beautiful Skaros Rock, which used to be the site of a 15th century medieval fortress before it was destroyed by earthquakes.
Wander around and view the traditional hillside cave settlements in Imerovigli.
Enjoy a seafood meal overlooking some of the best panoramic views of the Caldera in all of Santorini.
Check out these great hotels in Imerovigli: Aqua Luxury Suites • Astra Suites • Grace Santorini • Absolute Bliss • Dreams Luxury Suites
A few days in Imerovigli will give you the rest and relaxation you need on your vacation. However, there are a few things you should note before booking a place here:
Pros: Amazing panoramic views, fun outdoor activities, under-the-radar
Cons: Expensive, little nightlife, quiet for solo travelers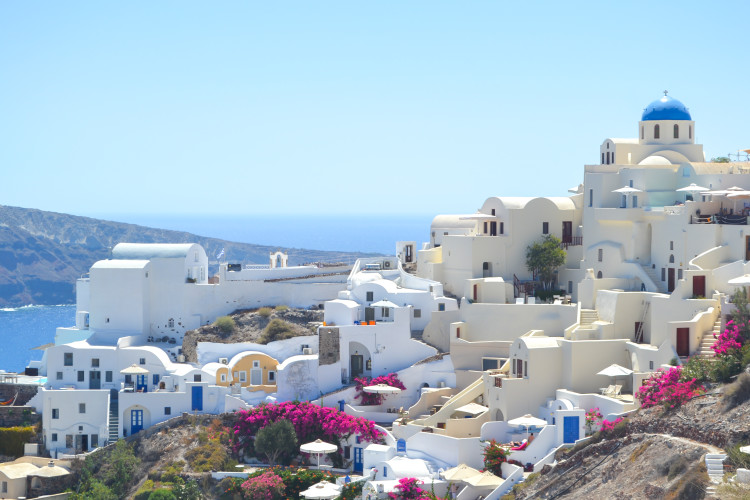 3. Fira
The bustling capital of Santorini, Fira is home to the most lively village on the island, complete with hotels, bars, and lots of things to do. While it's not as quiet and peaceful as Oia or Imerovigli, it still boasts spectacular Caldera views and is more friendly for budget/solo travelers looking to meet people.
In Fira, you can find Santorini accommodation that's across the board in terms of price and value. You may also notice that it's a popular place for cruises to stop, making it much more crowded than the other villages, especially during the day. However, if sleepy towns aren't really your thing, Fira is probably your best option for where to stay in Santorini.
Take the ski lift from the port up into the town. You'll be treated to stunning views (but just make sure you avoid this when there are many cruise ships arriving).
Try the local souvlaki, or Greek meat skewers that they sell all around town.
Peruse the Santorini Archaeological Museum, which has many historical artifacts from all over the island of Santorini.
Visit some of the other small museums in Fira, like the Santozeum (a local art collective) or the Lignos Emmanuel Folklore Museum (a collection of folk items in a traditional cave home).
Check out these great hotels in Fira: Aria Suites • Cosmopolitan Suites Hotel • Keti Hotel • San Giorgio • Kavalari Hotel
Fira isn't for everyone, but if you're looking for a place that's always alive with people, it's a great choice for you! Here are a couple of things to think about before you decide to stay in Fira:
Pros: Lively with many restaurants and bars, can find cheaper accommodation
Cons: Cruise ship stop means LOTS of congestion
4. Firostefani
Firostefani is the next town north of Fira, and that small bit of difference sets it apart in a couple of ways. First off, since it's not a direct point of access for cruise ships, the congestion of tourists isn't nearly as bad.
However, since it's so close to Fira, it's still a bit more lively than the quieter towns of Oia and Imerovegli. Its name actually means "crown of Fira," so it makes sense that this town is almost an extension of the capital city itself, rather than a completely separate place.
With lots of cafes, restaurants, and viewpoints to relax in, as well as many hotels and guesthouses, Firostefani stands in a middle ground between high energy and relaxation. If you're trying to figure out where to stay in Santorini, Firostefani is an excellent choice.
Stroll down the main shopping street, where you can find tons of boutiques and cafes to explore and enjoy.
Visit the Agios Nikolaos Monastery, which is a female monastery with two small museums to learn more about the history and folklore of the structure and surroundings.
Check out these great hotels in Firostefani: Splendour Resort • Tsitouras Collection • Dana Villas • Agali Houses • The Belvedere
Firostefani is one of the best places to stay in Santorini if you want access to both laid-back serenity and lively city nightlife. However, it's probably not the best for a peaceful, relaxing retreat. Here are some things to consider:
Pros: Close to Fira, access to nightlife
Cons: Not as quiet as other villages, can get somewhat crowded
Beach Towns:
5. Perissa
If you'd rather enjoy the sand and sea instead of a bird's eye view, you can opt for a beach town in Santorini rather than a hilltop village. Perissa is one of the most popular beach towns for tourists on the island, and for good reason – it sits at the base of the stunning Mesa Vouno Mountain right next to the sparkling south shore of Santorini.
For a beach resort vibe, Perissa has you covered. Beach loungers and umbrellas dot the shore, and you can spend your days here soaking up the sun and sipping cold drinks while gazing out at the ocean. Sounds romantic, right?
Relax at the Perissa beach, which has all kinds of amenities like lounge chairs and umbrellas.
Go scuba diving in the Caldera in the surrounding areas of Santorini.
In Perissa, you can enjoy a variety of water sports, including sailing and windsurfing.
Enjoy the beach nightlife at a variety of bars and clubs that light up and bring partygoers together in the night.
Check out these great hotels in Perissa: Aqua Blue • Antoperla Luxury Hotel and Spa • Meltemi Village • Anastasia Princess Boutique Hotel
If you're looking for a beach resort scene with plenty of daytime and nighttime activities, Perissa is a perfect choice. Read on for a couple of things to consider before staying in Perissa:
Pros: Plenty of activities, fun nightlife, less expensive than towns with a view
Cons: Family-oriented (could be a pro!), fewer cultural activities
6. Kamari
Not far from Perissa is Kamari, another beach town located at the foot of the Mesa Vouno Mountain. It's also home to Santorini's airport, so there are always people around going through the area. This vibrant beach town is perfect for a laid-back vacation, with the comfort of the island's best amenities and activities.
Most people who come to Kamari choose to do so for the vibrant beachfront, which is also equipped with lounge chairs and umbrellas for an all-day beach escape. There's also a lively walking area with lots of local shops and restaurants to enjoy.
Soak up the sun at the Kamari beach, where you can lay on nice lounge chairs in the shade or enjoy the cool water.
Wander down the main promenade to soak in the energy and life, listening to live music and ducking in local restaurants for snacks or a drink.
Go to a movie in the Open Air Cinema, which is located in a beautiful park surrounded by greenery.
Check out these great hotels in Kamari: Kamari Beach Hotel • Cavo Bianco • Zephyros • Sigalas • Blue Waves
Kamari is a great location for beachgoers or solo travelers that want a lot of action and activity, as there's tons to do here during the day and night. Here are a couple of considerations you should know before deciding to stay in Kamari:
Pros: Plenty of activities, easy to access by bus from Fira, less expensive than towns with a view
Cons: Lots of tourist traffic due to the airport, not as quiet as Perissa
Hostels in Santorini
If you're traveling to Santorini during high season with a few friends, you may want to consider staying in a hostel! Psst – not all hostels are created equal, and I've had plentyyy of absolutely fantastic hostel stays around the world.
Since hotel accommodation in Santorini is exceptionally high from June-September, a hostel will save you boat loads of money, which can then be used for other more important things, like those fine volcanic wines or renting an ATV. While they most likely won't have all the luxuries of your typical Santorini resort, you'll most likely meet other like-minded travelers looking to have a good time and hang.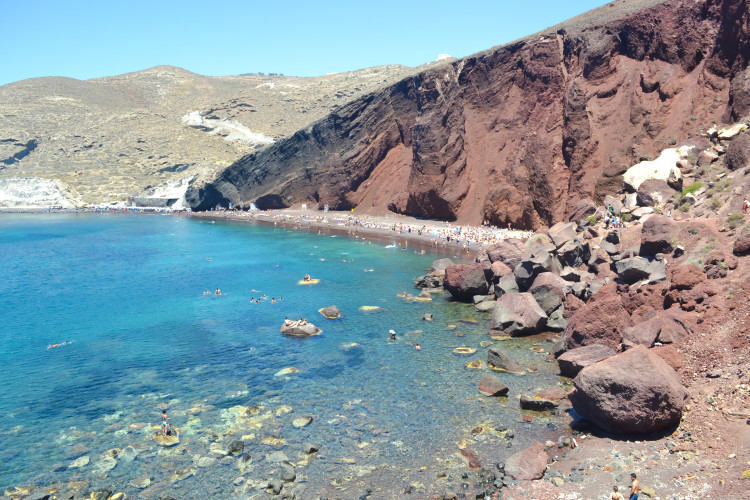 If you can forgo those swooning views, infinity pools overlooking the caldera, and in-room breakfasts, you'll save yourself hundreds, if not thousands of dollars.
A few top-rated hostels in Santorini: Villa Manos (Karterados) • Fira Backpackers Place (Fira) • Anny Studios (Perissa Beach) • Emmanouela Studios and Villas (Karterados) • Villa Libertad (Imerovigli) • Caveland (Karterados)
Villa Manos: updated rooms, large and clean bathrooms, some with sea views (worth the small splurge), outdoor pool, great drinks at cozy bar, near public transit, relatively close-ish to the airport
Fira Backpackers Place: colorful bunks, across the street to public bus stop, super helpful staff, chill ambiance, great location, free lockers
Anny Studios: outdoor pool, laundry service, air-conditioned, airport shuttle, bar, small rooms and bathrooms, very close to beach
Emmanouela Studios and Villas: simple rooms and suites, some with balconies & kitchenettes, sea views, very helpful staff/family
Villa Libertad: pricier than other hostels, outdoor pool, clean and spacious, helpful host, great restaurants within 3-5 minute walk
Caveland: relaxed hostel in a complex of caves, laundry service, outdoor pool, chill common room, free breakfast, yoga on site
Any additional questions on where to stay in Santorini? Ask away!