Planning a trip and looking for the best things to do in Hawaii?! From waterfall hikes and swimming with sea turtles to indulging in hula pie and snacking on tropical fruit, here's 200 things to add to your Hawaii bucket list! Yes, I said TWO HUNDRED!
Hawaii is mysteriously captivating, gorgeously lush, and all around our favorite place in the entire world. Not to sound like a total cliche, but the islands are just plain magical. There's impressive underwater sea life, stunning green peaks, funky surf towns, shave ice/hula pie/fresh fish, near perfect weather, and turquoise water so clear it's unimaginable. It's so lush and so arid, so captivating and so laid-back, and so sweet and so refreshing.
Pure paradise. And we can't get enough.
Ever since moving to California, we've become obsessed with Hawaii. Obsessed and then some. We make the trip across the Pacific at least once a year, and start planning our next visit while sipping mai tais in the islands themselves! I've even written an epic Hawaii DIY itinerary to ensure a great trip!
My husband's even ran marathons in Hawaii! Oahu, Maui, and Kauai – all 26.2 miles done! He's planning on completing his last Hawaiian marathon next year on the Big Island. Do I run? Nope – I just bring malasadas to him at the end of the race.
Hence the reason for this epic Hawaii bucket list – all the things I've done and wanna do neatly compiled into a post and tied with a bow. I promise you'll never be left bored on the islands with this giant list of over 200 things to do in Hawaii.
So pack up your swim and snorkel gear, start looking for flights to the islands, and use this massive Hawaii bucket list to find the ultimate paradise.
I've also got other information on Hawaii which you might find helpful!
General Things to Do in Hawaii (Obvious Hawaii Bucket List Items)
1. Go snorkeling with sea turtles; Hawaii's got a lot of them swimming below the surface. My favorite spot is Turtle Town in Maui. You can also see green turtles resting on the sand of so many beaches (specifics below).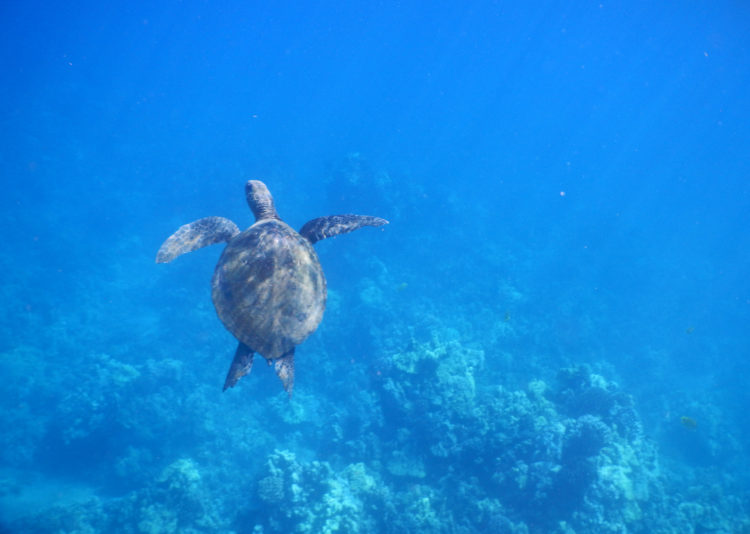 2. Watch the dancers perform at a luau and learn to hula dance. Many also dance with fire sticks and knives (not something to try at home!)
3. See the islands from above by taking a helicopter ride! There's sandy beaches and reefs to admire, lava to scream about, and waterfalls to glide past! Kauai's the most impressive, in my opinion.
4. Try all the Hawaiian specialities, including loco moco, shave ice, ahi poke, acai, spam musubi, poi donuts, kalua pig, and macadamia nuts! I love POG juice, too (a mixture of passionfruit, orange, and guava).
5. If you're visiting in winter, be sure to add whale watching to your Hawaii bucket list! There are plenty of organized boat tours, but you can see whales off the coast yourself!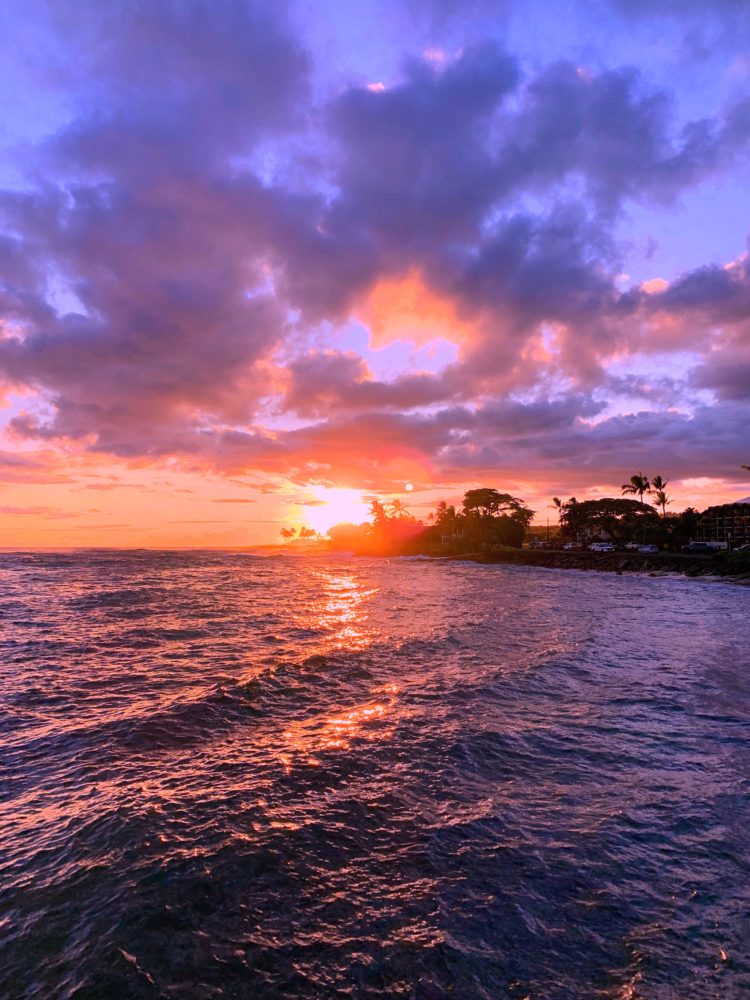 6. Watch the sunset with a glass of champagne (or mai tai!) on a catamaran cruise. Because what's better than watching the sun dip below the horizon with a glass of bubbly in hand?
7. Eat all the fresh fruit you can possibly find, because Hawaii's got some of the freshest fruit in the world. Try pineapple, papaya, starfruit, dragonfruit, rambutan, mango, coconut, lilikoi, and longans. Grab some from one of the many honor-system road-side fruit stands dotted around the islands.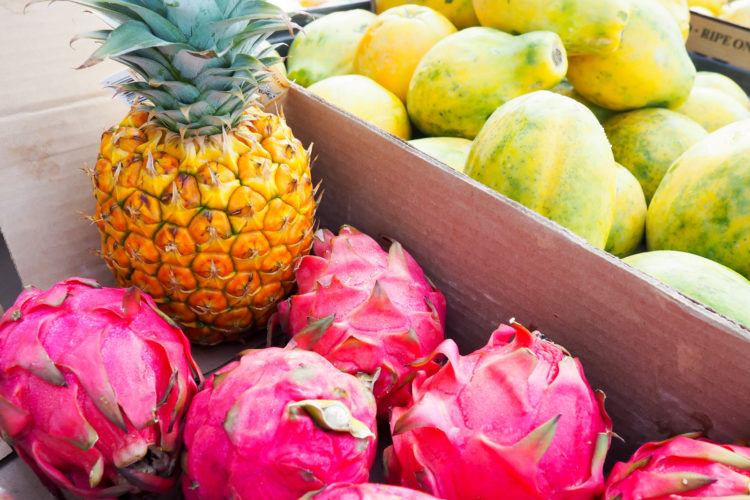 8. Take a surfing lesson – There's no better place in the world, so just go for it!
9. Get lei'd; sure, it could feel a tad cheesy, but nothing will get you into the aloha spirit faster than by wearing a fresh flower lei (or crown)!
Maui: The Valley Isle
We're all kinds of obsessed with Maui, and we've been more times than I can remember. Highlights include watching the sunrise at Haleakala, fresh fish at Mama's, and the thrilling Road to Hana. Oh, and of course our favorite white chocolate macadamia nut pancakes of all time are here.
→ READ NEXT: The Perfect 5 Day Maui Itinerary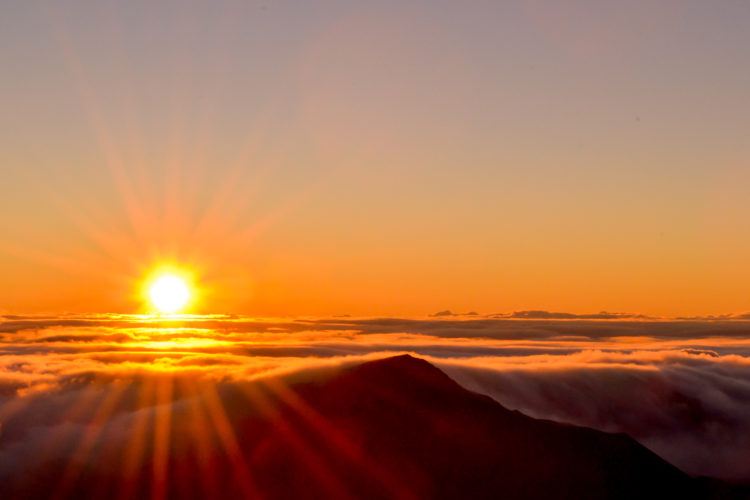 10. Bundle up at the crack of dawn to watch sunrise above the clouds at the observatory of the Haleakala Crater. You can even cruise down all 27 downhill miles of the volcano if that's your thing. One of the #1 things to do in Hawaii. | Kula ✓
11. Go on a sunset catamaran dinner cruise with your sweetie (bonus – champagne's usually included)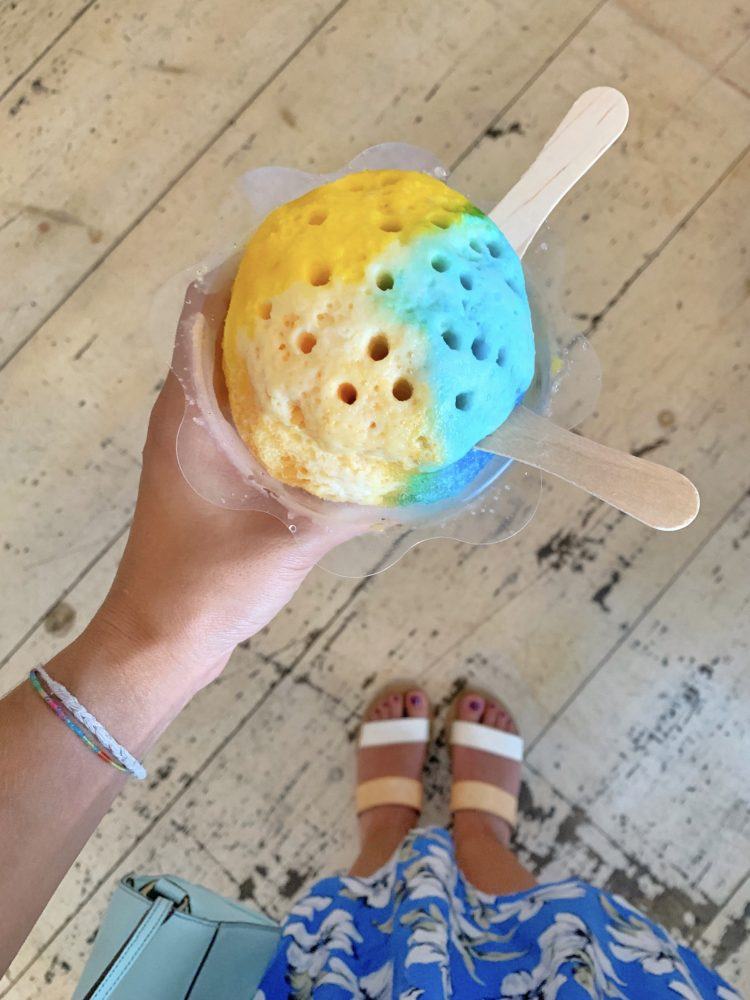 12. Indulge in a shave ice from local-favorite Ululani's Hawaiian Shave Ice. Make sure to get some sweet cream (condensed milk) on top. | Lahaina ✓
13. Swim with Green Hawaiian sea turtles in the turquoise waters of Napili Bay. Stay for sunset! | Kapalua ✓
14. See the Nakalele Blowhole erupt – but don't get too close! | Wailuku ✓
15. Check out the rocky point of Makaluapuna Point, with crashing waves and a short hiking trail | Kapalua
16. Watch the dancers from two popular Hawaiian luaus: The Feast at Lele (our pick), and/or The Old Lahaina Luau (buffet style) | Lahaina ✓
17. Take a day trip to Lanai, a tranquil island with remote beaches and trails | most tours leave from Lahaina and Kaanapali
18. Check out the lava fields at Ahihi-Kinau Natural Area Reserve | Wailea
19. Grab breakfast at the open-aired Gazebo Restaurant (share the white chocolate macadamia nut pancakes and fried rice) | Kapalua ✓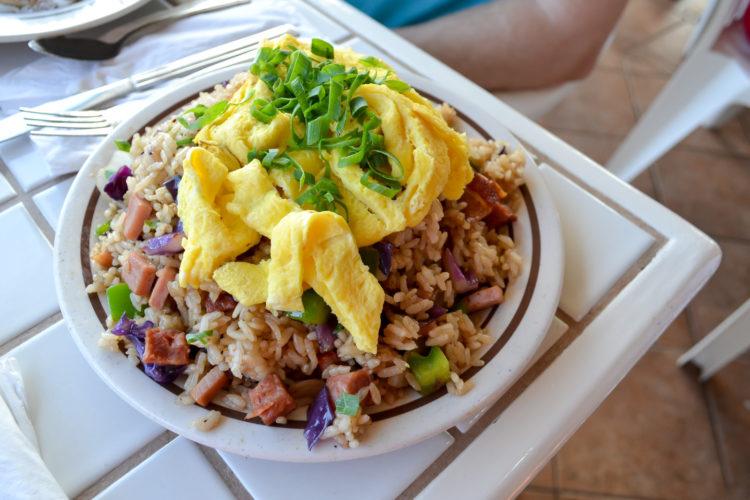 20. Get your snorkel on at Black Rock and pick out all the colorful tropical fish you see. If you're brave enough, join the cliff divers too! | Kaanapali ✓
21. Sip some dessert wines at MauiWine in the Upcountry, the only winery in Maui. There's also a private waterfall tour at nearby Ulupalakua Ranch if you're not too tipsy! | Kula
22. Sit underneath the massive banyan tree, with it's 16 separate trunks and over 60 feet high. It's legendary, and about 150 years old. ✓ | Lahaina
23. Get drive through coffee at Akamai Coffee. Try the honey cinny coconut milk iced latte. | Kahului
24. Taste some coconut candy and BBQ ribs from Nahiku Marketplace. Sip a fresh coconut here too. | Hana ✓
25. Pick out some fresh fruit and a tropical fruit smoothie at Olowalu Juice Stand | Olowalu ✓
26. Order Hula Pie and fish tacos at Duke's Beach House (go on an empty stomach) | Lahaina ✓
27. Walk along the scenic Kapalua Coastal Trail, full of volcanic rock, golf course views, and the ocean | Kapalua
28. Explore Honolua Bay, the tide-less swimming hole perfect for snorkeling around. If you're up for some hiking, add Honolua Bay Trail to your Hawaii bucket list – there's great views of the bay from above. | Kapalua ✓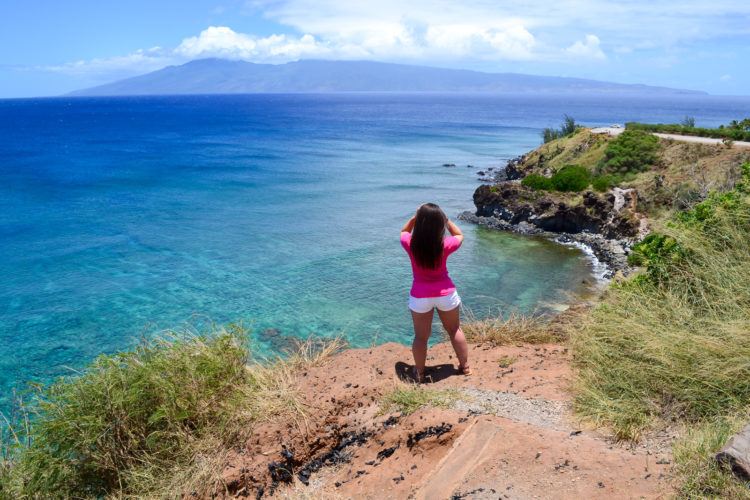 29. Get your shopping on at Whalers Village; there's lots of small boutiques and is said to be Maui's premier ocean front shopping destination | Kaanapali ✓
30. Go on a day trip to Molokini Crater and snorkel inside of a sunken Hawaiian volcano (most tours go to Turtle Town as well!) ✓
31. Buy a colorful bikini at Pakaloha, my favorite swimsuit shop on the islands | Lahaina and Paia ✓
32. Explore the super laid-back surfer hippie town of Paia | Paia ✓ 
33. Make the steep, challenging hike at the Waihee Ridge Trail for picturesque views of mountains, gorges, and forests | Wailuku
34. Find a humuhumunukunukuapuaa triggerfish (the state fish of Hawaii) and try saying it correctly! ✓
35. Drive on the "forbidden" backcountry southern roads of Maui, typically done after driving the Road the Hana ✓
36. Soar above Maui via helicopter and see waterfalls, rainforests, sea cliffs, and all the turquoise water you can imagine | departs from Kahului ✓
37. Check out Iao Valley State Park, a lush, sacred valley in inland West Maui. Don't miss the main attraction – the Iao needle. Bring a rain jacket – it's the second wettest place in Hawaii. | Wailuku
38. Take a photo with the surfboard fence at Aloha Surf Hostel on Baldwin Ave, one of the best hostels in Hawaii | Paia ✓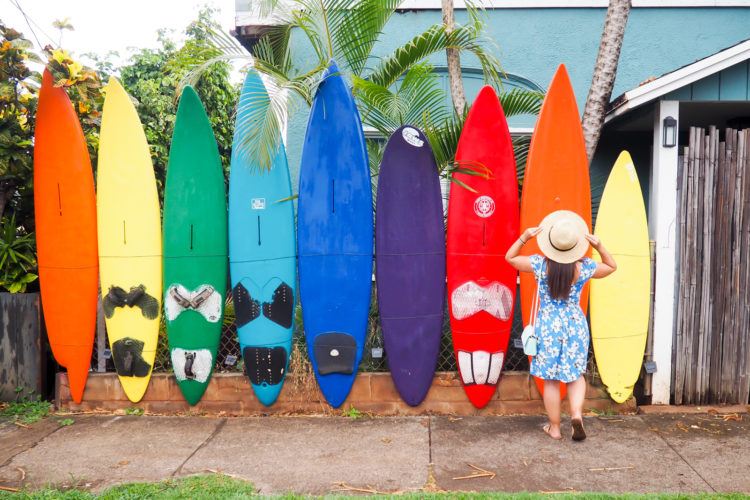 39. Smell the lavender at Alli Kula Lavendar Farm in the Upcountry region. There's 45 varieties! | Kula
40. Relax with green sea turtles on the beach at Ho'okipa. Look close – they look like rocks! | Paia
41. Get the best handcrafted lemonade of your life at Wow Wow Lemonade – there's tons of flavors to choose from, plus acai smoothie bowls! | Kihei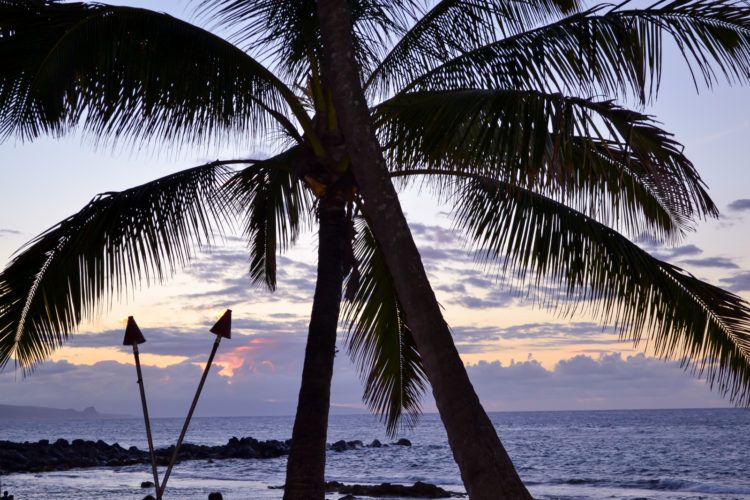 42. Enjoy a noteworthy dinner at the ever-so-delicious Mama's Fish House (note you'll need to make a reservation way in advance). Come early for tiki sunset drinks. One of the most delicious things to do in Hawaii. | Paia ✓
43. Stop for fresh banana bread from Aunty Sandy's on the Road to Hana (buy a second loaf for later snacking!) | Haiku ✓
44. Indulge in drool-worthy chocolate mac-nut pie at Leoda's Kitchen and Pie Shop | Olowalu
45. Sip an organic pineapple smoothie from the Huelo Lookout roadside shack and admire the views | Haiku ✓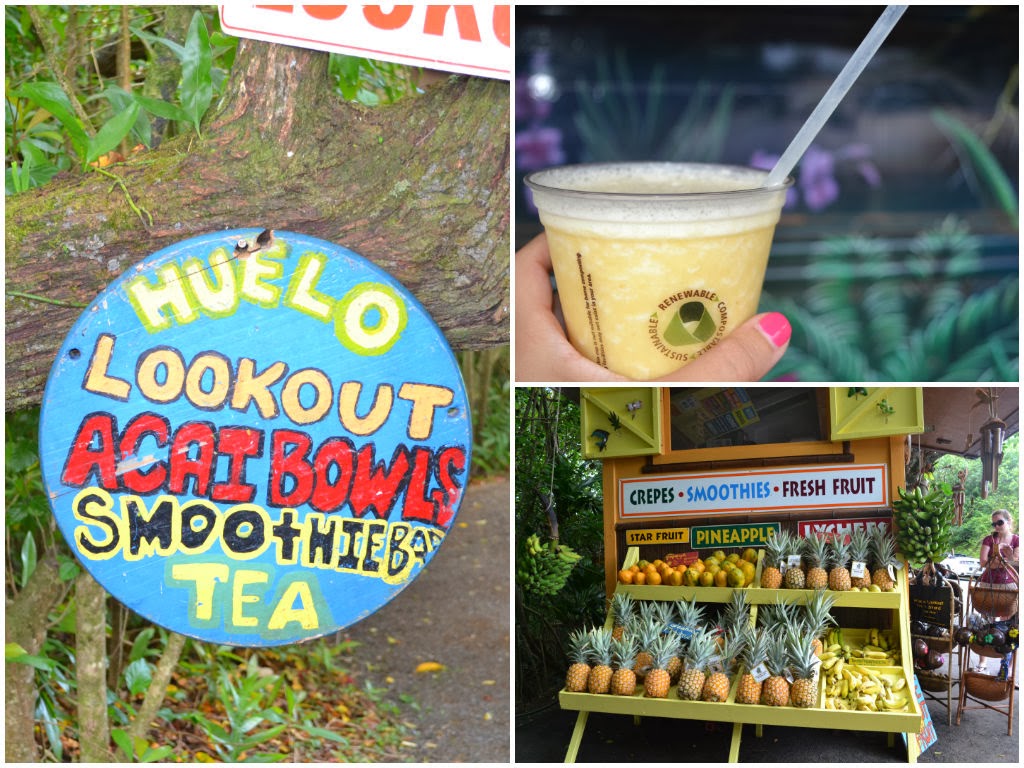 46. Take a short walk through beautiful foliage to Twin Falls (and get the sugar cane juice, it's delicious) | Haiku ✓
47. Have breakfast at the photo-worthy Belle Surf Cafe. It's super cute and very instagrammable. Plus, the cold brew is great. | Lahaina
48. See the famous Keopuka "Jurassic Park rock" at the Garden of Eden Arboretum. Walk around the area to see rainbow Eucalyptus afterwards. | Haiku ✓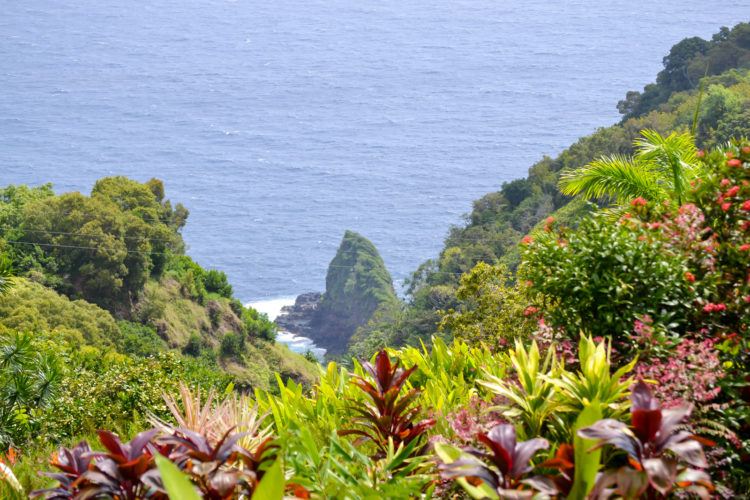 49. Take a guided astronomical tour of Maui's night skies and stargaze with powerful telescopes (hosted by Hyatt Regency Maui) | Lahaina
50. Try the catch of the day at South Maui Fish Company, a popular and rustic food cart. | Kihei
51. Hike through the bamboo forest of the Pipiwai Stream Trail (located in Haleakala National Park) for Waimoku Falls | Hana ✓
52. Take a scenic drive on the lesser-known Kahekili Highway, the narrow, cliff-hugging one-lane road without guardrails
53. See and swim in the 7 Sacred Pools of the Ohe'o Gulch, connected by waterfalls and hidden in the dense forest | Hana
54. Drive the windy roads of the Road to Hana, making all the best stops along the way | Northeast Maui ✓
55. Make a short pit stop on the Keane Peninsula for views of Hana's rocky coast | Haiku ✓
56. Admire the Upper Waikani 3 Bears waterfalls from the side of the road. You can even venture down if you wanna take a quick dip! | Haiku ✓
57. Spend the morning at Waianapanapa State Park, Hawaii's most famous black (lava) sand beach. There's large sea caves, volcanic tubes, a coastal hiking trail, and even a blowhole. | Hana ✓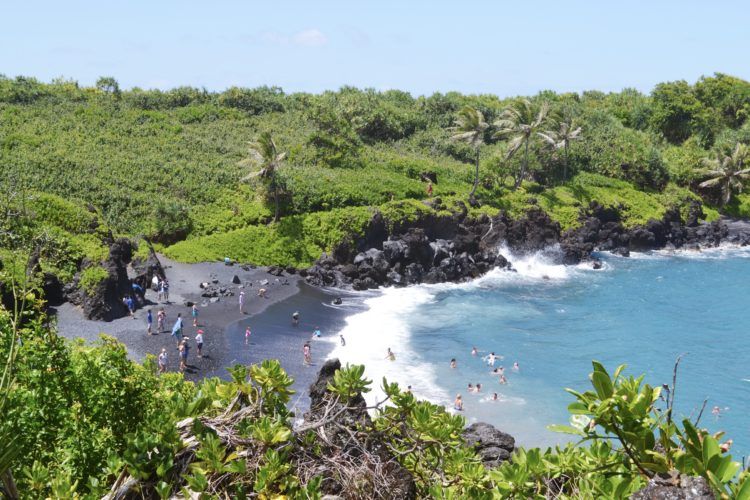 58. Taste test local roasts and pick up fresh beans at Kaanapali Coffee Farms. You can also buy some at MauiGrown Coffee instead. | Kaanapali
59. Check out Wailua Falls, a 113-foot waterfall along the Road to Hana | Hana ✓
60. Stop for a quick photo of the Halfway to Hana sign | Haiku ✓
61. Devour super-fresh malasadas (made right in front of your eyes) at Maikai Lana Malasadas (a local Maui secret). Get a bunch of flavors, but stock up on the lilikoi-filled ones | Lahaina ✓
62. Tour a pineapple farm and learn about the growing process with Maui Pineapple Tours (plus lots of taste tests!) | Makawao/Haliimaile
63. Nosh on garlic shrimp from the Geste Shrimp food truck. Cash only. | Kahului ✓
Oahu: The Gathering Place
Yes – Waikiki and the general Honolulu area are awesome, but don't spend all your time here! Make sure to get out to Lanikai Beach (our favorite), feast on some malasadas from Leonard's, and spend some time on the funky North Shore.
→ READ NEXT: Where to Eat in Oahu (all the best spots)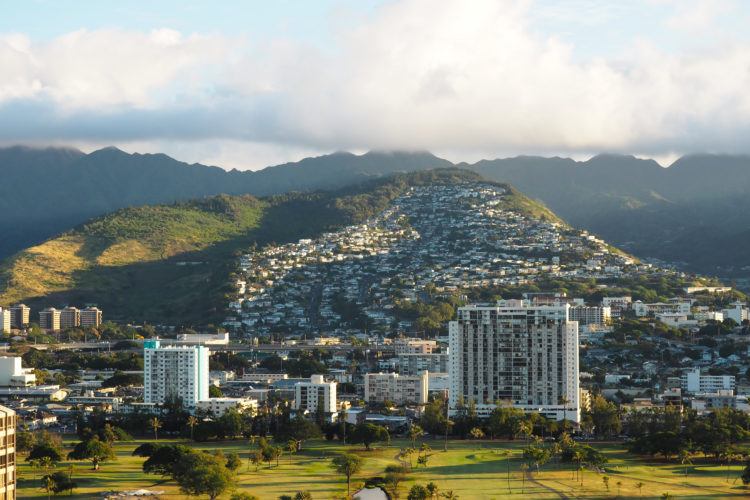 64. Watch the surfers at Waimea Bay during the winter months (best from December through February) | Pupukea
65. Try your hand at surfing in Waikiki. It's the most iconic thing to do in Hawaii – take a lesson if it's your first time. | Waikiki
66. Watch the sunset from Tantalus Lookout at Puu Ualakaa State Park– it's quite the panoramic show and only about 15 minutes from Waikiki | Manoa ✓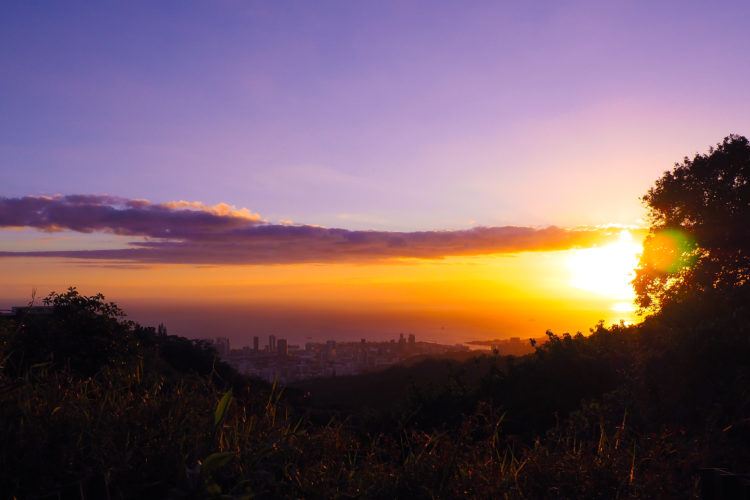 67. Hike the illegal Stairway to Heaven for spectacular sunrise views during the dry season. Worried about the cops – climb the 10 miles up the legal way (Moanalua) | Kaneohe
68. See a great view of Honolulu from the summit of Diamond Head Crater, an extinct volcano. Add it to your Hawaii bucket list – it's the most popular hike on Oahu. | Honolulu ✓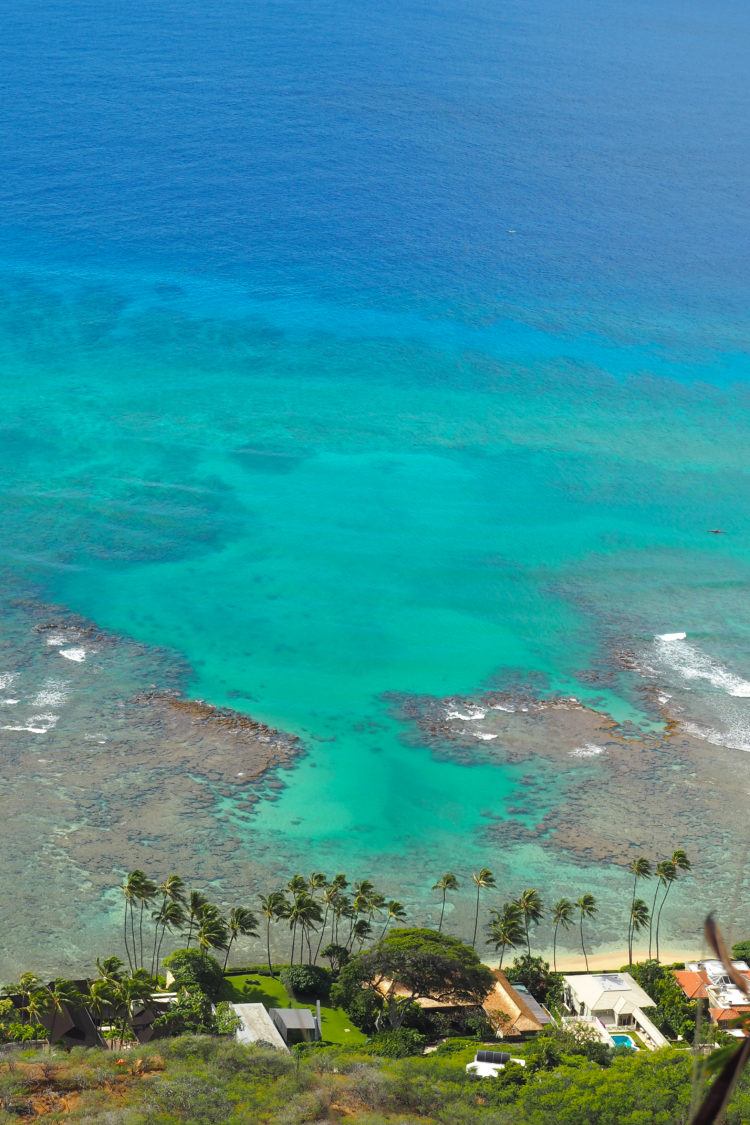 69. Shimmy into the deep cobalt water and see thrilling 12+ feet sharks close up in their natural habitat while cage-diving with galapagos and hammerhead sharks
70. Snorkel at Hanauma Bay, a protected bay with hundreds of marine species | Honolulu ✓
71. Say hello to the King Kamehameha statue; if you've ever watched Hawaii 5-0, you'll know the building! | Honolulu ✓
72. Get some piping hot malasadas from Leonard's Bakery, a Portuguese donut without the hole in the middle | Waikiki ✓
73. Indulge in Haupia Pie at Ted's Bakery, a traditional coconut pudding pie. | Haleiwa
74. Get your hike on at Ko'olau Range, there's tons of scenery here | Waikane
75. Have drinks and appetizers at the Hideout at the Laylow – it's super boutique-y and oh so cute. The outdoor patio is fantastic. | Honolulu
76. Cool off with some soft-serve pineapple dole whip at the Dole Plantation. There's also a huge hedge maze to get lost in. | Wahiawa ✓
77. Grab some mochi ice cream bites from Bubbies Handmade Ice Cream | Honolulu
78. Pick up a few bags of macadamia nuts from Tropical Farms Macadamia Nuts (plus great coffees!) | Kaneohe
79. Take the scenic rainforest hike to Manoa Falls, where scenes from Jurassic Park and Lost have been filmed! | Honolulu
80. Pay your respects at Pearl Harbor National Memorial. Make sure to check out the USS Arizona as well. | Honolulu ✓
81. Try some fresh pineapple (and a smoothie and acai bowl) at Hawaiian Crown. Buy some dried pineapple for later. | Honolulu
82. Take a photo with the Duke Paoa Kahanamoku Statue, and give him a lei! | Waikiki ✓
83. Walk the paved Makapu'u Lighthouse Trail for an easy stroll with some lovely lighthouse views | Waimanalo
84. Hike the Lanikai Pillbox Hike and then relax at Lanikai Beach afterwards (there's sometimes sea turtles over here!) | Kailua ✓
85. Check out Iolani Palace, the former home of Hawaii's final monarchs. | Honolulu
86. Get fantastic views after 25 minutes on the beautiful but illegal Crouching Lion Hike | Kaawa
87. Look up at the bamboo and pine trees on the Judd Trail on this canopy hike in the deep jungle | Honolulu
88. Cool off with an acai bowl from Lanikai Juice, Jewel or Juice, and/or Haleiwa Bowls | various locations ✓
89. Feel like you're eating in Jurassic Park at Haleiwa Joe's at Haiku Garden, a favorite dinner spot of many. Don't miss a quick walk around the gardens before dinner. | Kaneohe
90. Zipline at Kualoa Ranch, which looks like Jurassic Park territory! You can also ride ATVs and/or traverse the area by horseback here! | Kaneohe
91. Feast on a plate lunch from Rainbow Drive-In (the BBQ pork and rice is my favorite) | Honolulu ✓
92. Test your fears and jump out of a plane with Pacific Skydiving Honolulu | Waialua ✓
93. Swim with dolphins in the wild. One of the most magical things to do in Hawaii by far.
94. Sip cocktails (preferable mai tais!) on a sunset catamaran cruise from Waikiki | Waikiki
95. Climb up the 1,048 stairs on Koko Crater Railway Trail (an abandoned railroad track) and be rewarded with panoramic views | Honolulu
96. Satisfy your sweet tooth with soft-serve made from locally grown bananas at Banan | multiple locations ✓
97. Walk around Waimea Valley, home to a 45-foot waterfall, a world-class botanical garden, and the center of ancient Hawaiian history | Haleiwa
98. Hang out at Laniakea Beach, usually full of turtles! But don't get too close as this is their land! | North Shore
99. Watch surfers at BanzaiPipeline (Ehukai Beach), home of the world's deadliest wave. Not safe unless you're extremely experienced. | Haleiwa
100. Brunch it up at Arvo with avocado toast – it also shares the space with a cute boutique and plant store. Walk around to see the street art in the area nearby. | Honolulu ✓
101. Explore a 48-passenger submarine on the Atlantis Submarine Tour. You can even see turtles, Hawaiian fish, and sunken ships through the portal windows. | Waikiki
102. Lay by the pool at The Royal Hawaiian, and make sure to get a pineapple scone from their cute outdoor bakery. In the mood for a delicious mai tai? Sit out back by the ocean; it's one of the most relaxing things to do in Hawaii after a surf session or two! | Waikiki ✓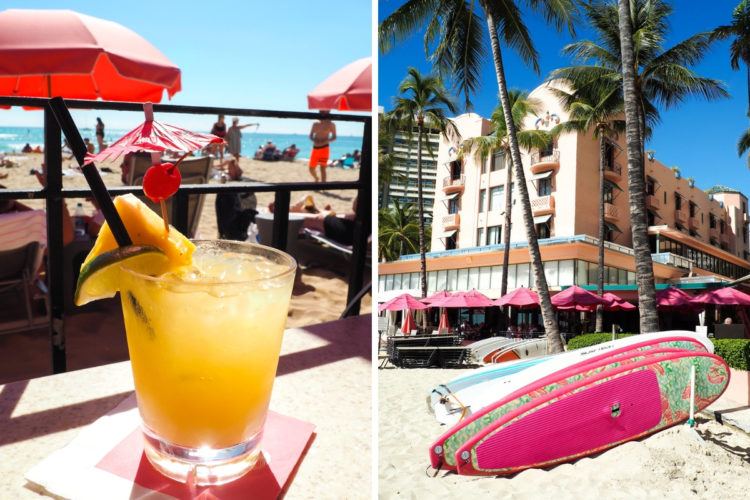 103. Walk amongst the 400 acres of tropical plants at Ho'omaluhia Botanical Garden | Kaneohe
104. Feast on some fresh poke bowls at Ono Seafood | Honolulu ✓
105. Head to Makapu'u Lookout and admire the mountains, turquoise waters, lighthouse, and even sometimes whales (in season)! Relax at Makapu'u Beach afterwards | Waimanalo
106. Try garlic shrimp at Giovannis Shrimp Truck on the North Shore, than wander around Haleiwa Town | Haleiwa ✓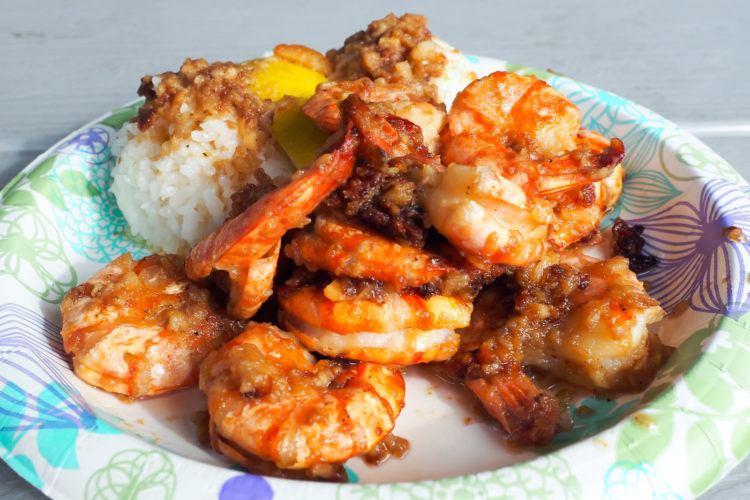 107. Watch the dancers perform at the Polynesian Cultural Center, one of the best cultural attractions in Hawaii | Laie
108. Watch ocean water shoot out 30 feet into the air at Halona Blowhole, all from a lava tube | Honolulu
109. Lounge on Waikiki Beach – it's super iconic to the state and one of the best things to add to your Hawaii bucket list. There's always something fun going on here. | Waikiki ✓
110. Sip instagrammable coffee at Olive & Oliver within the Surfjack Hotel | Honolulu
111. Try the coco cream puffs from Liliha Bakery and poi donuts from Kam Bakery | Honolulu ✓
112. Get the best shave ice on Oahu at Waiola Shave Ice, Island Vintage or Matsumoto's | Honolulu / various locations ✓
113. Check out Lanai Lookout, a popular lookout point with views of neighboring islands | Honolulu
114. Walk around the rocky coastal area of Shark's Cove, and look for little critters in the tidal pools | Pupukea
Kauai: The Garden Isle
Kauai is so green, so lush, and so wild – it feels like you've literally stepped into Jurassic Park. While all of these items are worthy of this Hawaii bucket list, don't miss exploring the stunning peaks of the Na Pali coast as much as you possibly can (by foot, land, and sea), swimming in the natural tide pool of Queens Bath, and trying a Puka Dog!
→ READ NEXT: 3 Perfect Days in Kauai (you'll never wanna leave)
115. Soar above the Na Pali coast in a helicopter with Jurassic Park music in your ears. Extra brave? Make it a doors off ride. Splurge and add a stop at the waterfall – it's worth it! ✓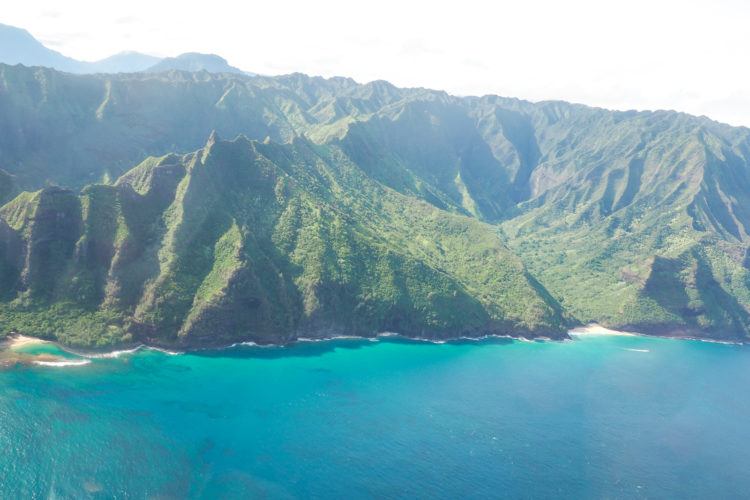 116. Hang out at Wai'ale'ale, the unofficial wettest place on Earth. Make sure to bring a rain jacket! | Wailua Homesteads ✓
117. Stand on line for some local Mexican takeout at Da Crack (it's a local secret) | Poipu ✓
118. Make a quick stop at the Hanalei Valley Lookout, and look out for small waterfalls dripping down the mountains as you drive there. | Princeville
119. Pig out at Java Kai, and be sure to take photos with the instagrammable pineapple mural nearby | Kappa ✓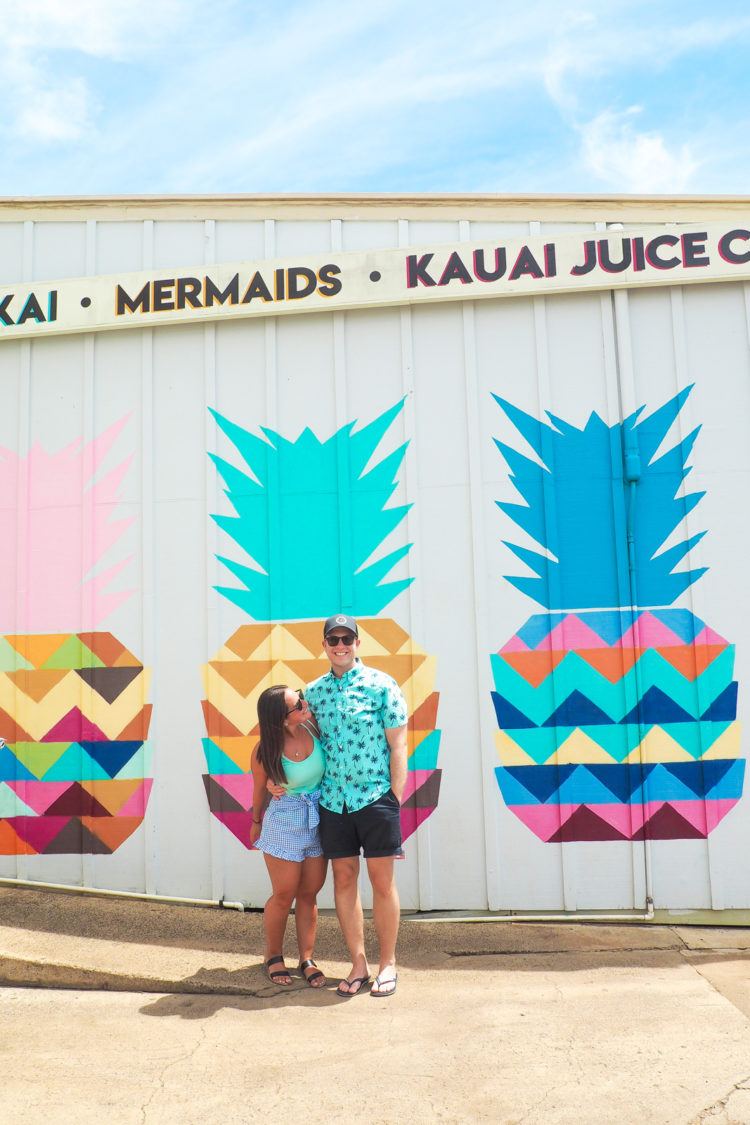 120. Eat dessert for breakfast with a pakala acai bowl from Little Fish Coffee | Poipu ✓
121. Drive through the magical Tree Tunnel on Hwy 520; it's full of lush Eucalyptus trees | Koloa
122. Drink mai tais with a view on the back patio of The Beach House before sitting down to a dinner of fresh fish. One of our favorite things to do in Hawaii. | Koloa ✓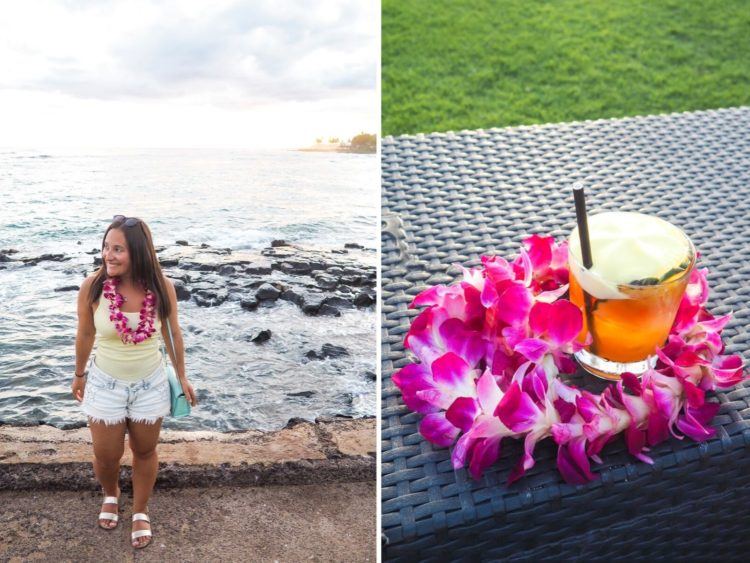 123. Try the avocado croquettes and purple sweet potato puree from Lanai | Poipu ✓
124. Pull over on the side of the road at Wailua Falls to check out the double 173-foot waterfalls. Hit up nearby Opaeka'a Falls next! | Wailua ✓
125. Shop at the boutique stores in Kapaa Town in eastern Kauai | Kapaa ✓
126. Hike over lava rocks and down a rooted path to the natural tidal pools of Queens Bath, then get your float on | Princeville ✓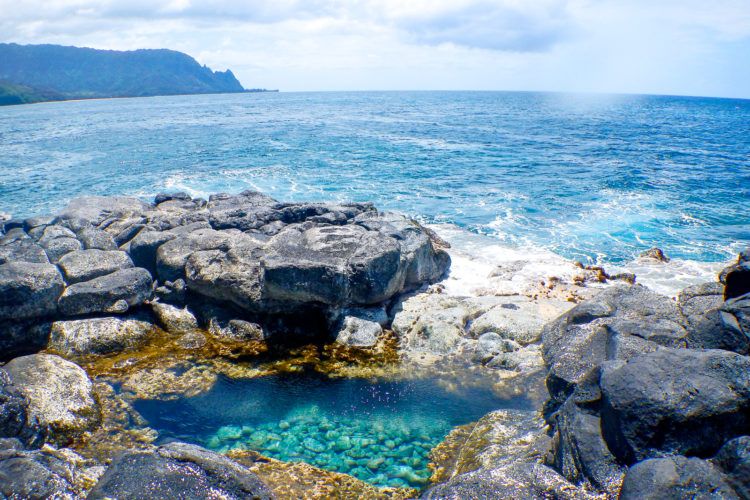 127. Go kayaking or stand-up paddling at Hanalei Bay (or just hang out); it's kinda like a giant swimming pool in summer | Hanalei ✓
128. Put on your fins and snorkel gear and explore Tunnels Beach, known for its huge off-shore reef with tons of turtles! | Wainiha
129. Join a tour and go snorkeling along the Na Pali Coast – you'll be swimming in crystal clear water besides schools of vibrant tropical fish! Look out for dolphins on the way there. One for the Hawaii bucket list for sure! | ✓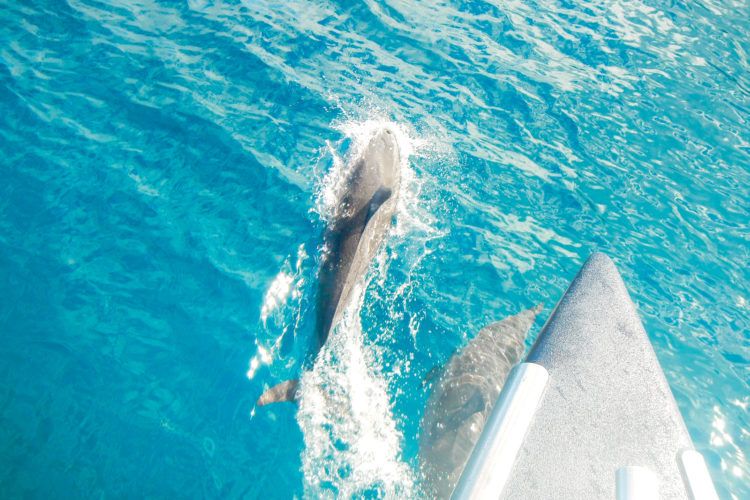 130. Pick up some fresh produce from the Hanalei Farmers Market on a Saturday. Try some dragon fruit, apple bananas, longans, and rambutans. | Hanalei
131. Go for a paddle and see the regal green peaks of the Na Pali Coast via kayak (although only for the true adventurer and not on my Hawaii bucket TBH)
132. Treat yourself to some sunset drinks at the swanky Princeville Resort overlooking the green mountains and Hanalei Bay | Princeville ✓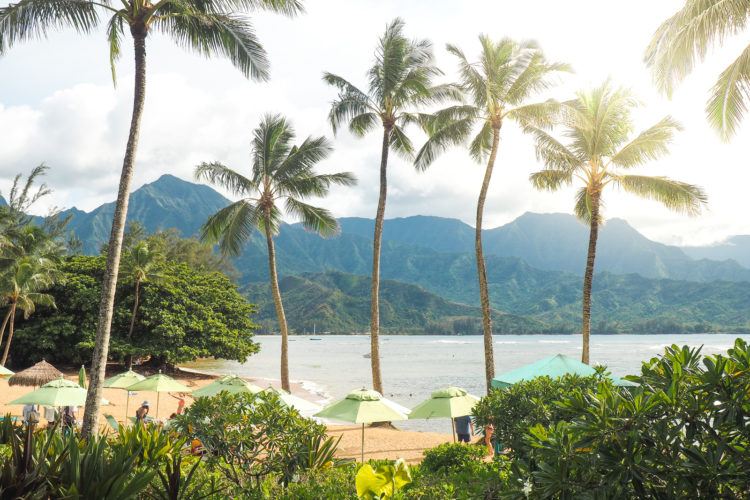 133. Eat teriyaki pineapple fried rice out of an actual pineapple at Lava Lava Beach Club | Kapa'a
134. Order too much at the Koloa Fish Market, opting for poke and bread pudding | Koloa
135. Spot a precious Hawaiian monk seal at Mahu-ulepu Beach; be sure to admire them from a distance | Koloa
136. Marvel at Waimea Canyon State Park, dubbed the Grand Canyon of the Pacific. Don't miss some fresh pineapple and coconut candy here. | Waimea ✓
137. Sip a glass of champagne on a sunset dinner cruise sailing past the famous Na Pali coast | Na Pali Coast Wilderness Park
138. Photograph the impressive Hanalei Bridge; there's even mountain backdrops | Hanalei
139. Join a kayaking tour of Wailua River to Secret Falls; you'll be hiking and walking through mud as well so plan accordingly! | Kapa'a
140. Stop by the red soil and other multi-colored layers on your drive up to Waimea Canyon, there's even a mini waterfall! | Waimea ✓
141. Soar over trees and valleys while ziplining on the longest zipline course with Koloa Zipline | Koloa
142. Go off-roading on a muddy ATV quad tour to a waterfall with Kipa Ranch Adventures | Lihue
143. Movie buff? Cruise around the different movie locations filmed here in Kauai
144. Go bird watching (or just admire the views) from Kilauea Lighthouse and Wildlife Refuge – it's actually the northernmost point of Kauai! | Kilauea ✓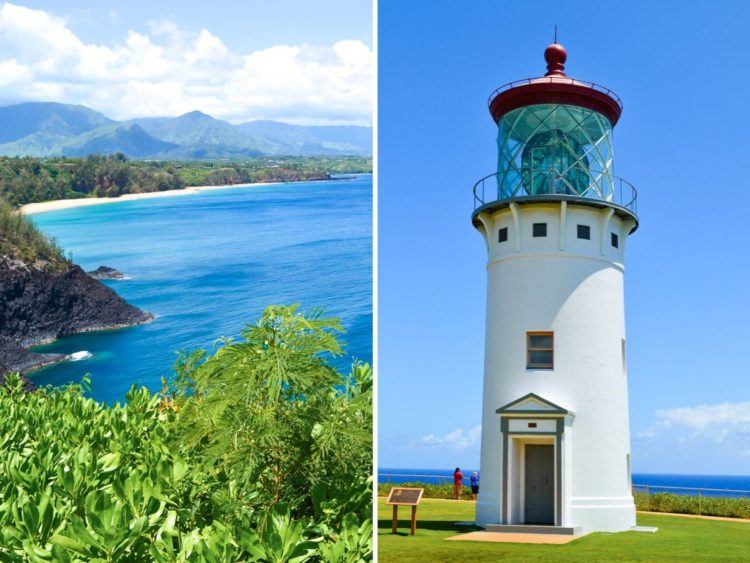 145. Watch Spouting Horn erupt a flume of seawater as high as 50 feet. Listen to the hissing noise it makes! | Poipu
146. Sample all the 30 coffee varieties at Kauai Coffee Company Estate, and even go on a free guided tour! | Kalaheo
147. Test your hand at mountain tubing and learn about the old sugar plantation with Kauai Backcountry Adventures | Lihue
148. Secure a parking pass and permit for the strenuous 22-mile Kalalau Trail to get what are possibly the best views of Kauai (every serious hiker should add this to their Hawaii bucket list). Or just hike the 2 miles in until you reach Hanakapi'ai Beach. One of the most adventurous things to do in Hawaii, so prepare wisely! | Wainiha
149. Hole up by the pool for the day at The Grand Hyatt, and make sure to say hello to the black swans out front. It's worth the high price tag for a night! | Koloa ✓
150. Feast your eyes on mountain and ocean views from Ko'ke State Park if the weathers right | Hanapepe
151. Share a few flavors of shave ice from Wishing Well and Jo Jo's Shave Ice | Hanalei ✓
152. Wander around historic Old Koloa Town, while reading the plaques of this former plantation village | Koloa
153. Try a Puka Dog, a Hawaiian style hot dog and one of Anthony Bourdain's favorite eats in Kauai! | Koloa
Hawai'i: The Big Island
To be completely transparent, we haven't made it to The Big Island just yet (not really sure how that happened). Hence a reason for this Hawaii bucket list – to gather up all the things to do in Hawaii that we haven't done! I can't wait to see lava spitting from volcanoes, hanging out on black sand beaches, and just chilling in Hilo Town.
154. Take a walk on the newest beach in the state at Pohoiki Black Sand Beach, formed by the 2018 Kilauea eruption. Be careful though, the black sand is really super sharp fragments of volcanic basalt. | Pahoa
155. Walk along the black sand beach of Punalu'u, and don't forget to look out for green sea turtles! | Pahala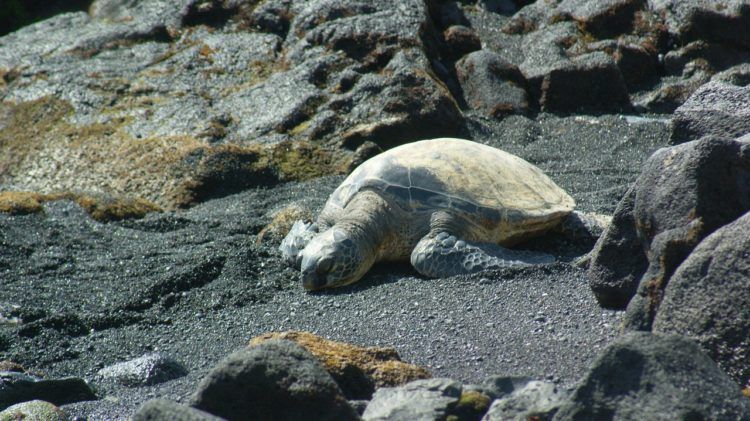 156. Hike the 2.5 miles to Papakolea Beach, the only green sanded beach in the USA, and one of 4 in the world. You can hitch a ride from a local if you don't feel like walking. | Naalehu
157. Have a romantic farm-to-table meal at Brown's Beach House Restaurant, located in the Hotel Fairmont Orchid | Waikoloa Village
158. Avoid the crowds at Mahai'ula Beach, great for paddle boarding and snorkeling with turtles | Kukio
159. Spot live lava flows, lava tubes, and glowing craters at Hawai'i Volcanoes National Park. Take the ranger guided 1.6 mile hike for lots of information, or go hiking on your own. Definitely one of the most iconic things to do in Hawaii.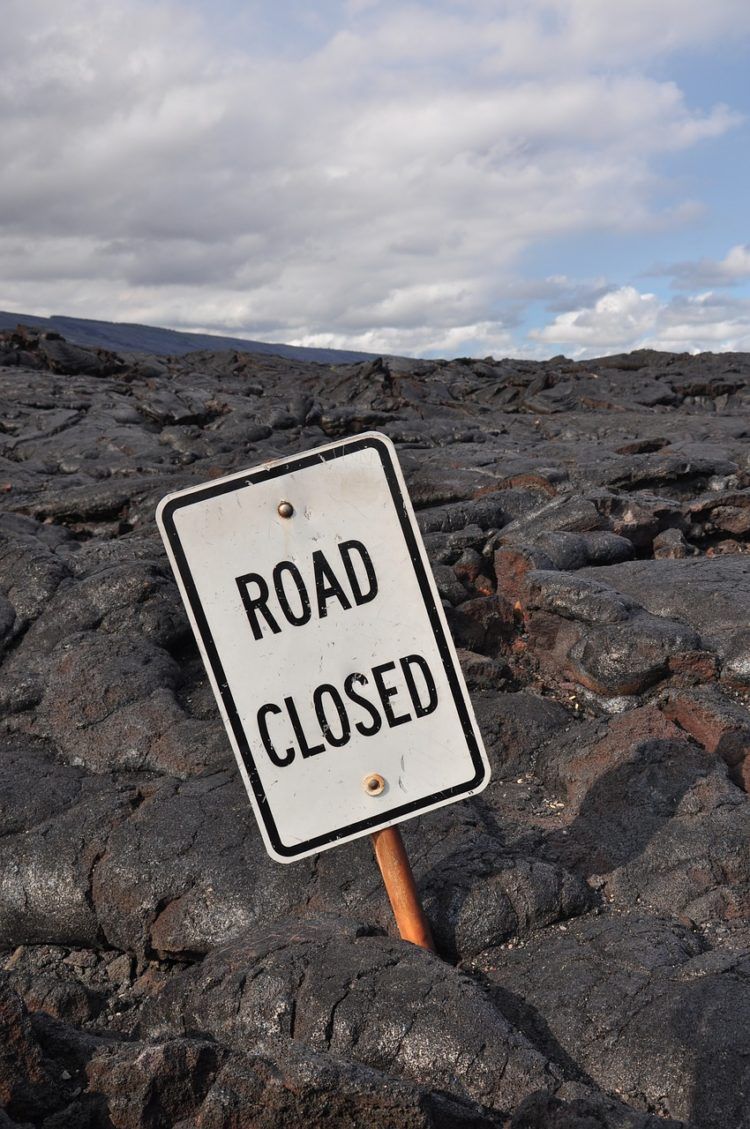 160. Explore the ancient fish ponds and petroglyphs in the historic Kaloko-Honokohau National Historical Park, a beachside wildlife refuge | Kailua-Kona
161. Hike the unique terrain of Hualalai Volcano, rising 8,271 feet above sea level | North Kona
162. Go swimming at Richardson Ocean Park, one of the only beaches in Hilo. And plus, there's black sand with specks of green! | Hilo
163. Explore the tallest waterfall on the island at Waipio Valley, or head to Waipio Valley Lookout if you don't feel like hiking |
164. Night dive (or snorkel!) with manta rays at Manta Village. An experience for your Hawaii bucket list! | South of Kona
165. Explore the former summer house of Hawaiian royalty at Hulihe'e Palace, now a historic house museum with Victorian artifacts | Kailua-Kona
166. Have breakfast at Vibe Cafe, a trendy, vegan spot inspiring inclusive lifestyles with creative flavors | Hilo
167. Snorkel at Kealakekua Bay, one of the Big Island's best snorkel spots. This is where Captain Cook first landed when he came to Hawaii in the 1700's! | South Kona
168. Star gaze atop Mauna Kea, a dormant volcano and Hawaii's highest peak at 14,00 feet. | Mauna Kea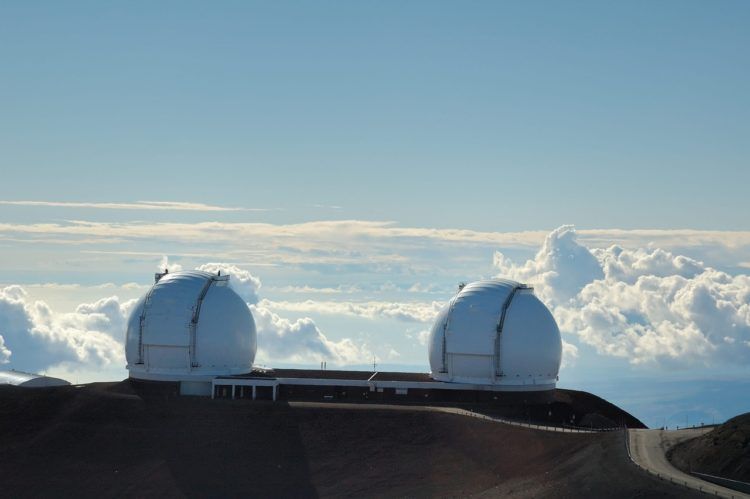 169. Taste some sweets at Two Ladies Kitchen, a Japanese confectionary shop. Try some fruity flavored mochi (pear, strawberry, grape, lilikoi, etc), red bean, and taiyaki | Hilo
170. Spot a rainbow at Rainbow Falls, super easy to see from the viewing platform. Don't miss the huge banyan tree! | Hilo
171. Stand on the remote and windswept southernmost point of the US at Ka Lae (South Point) | Naalehu
172. Walk the tropical rainforest path to the scenic falls at Akaka Falls State Park, only a half mile loop | Honomu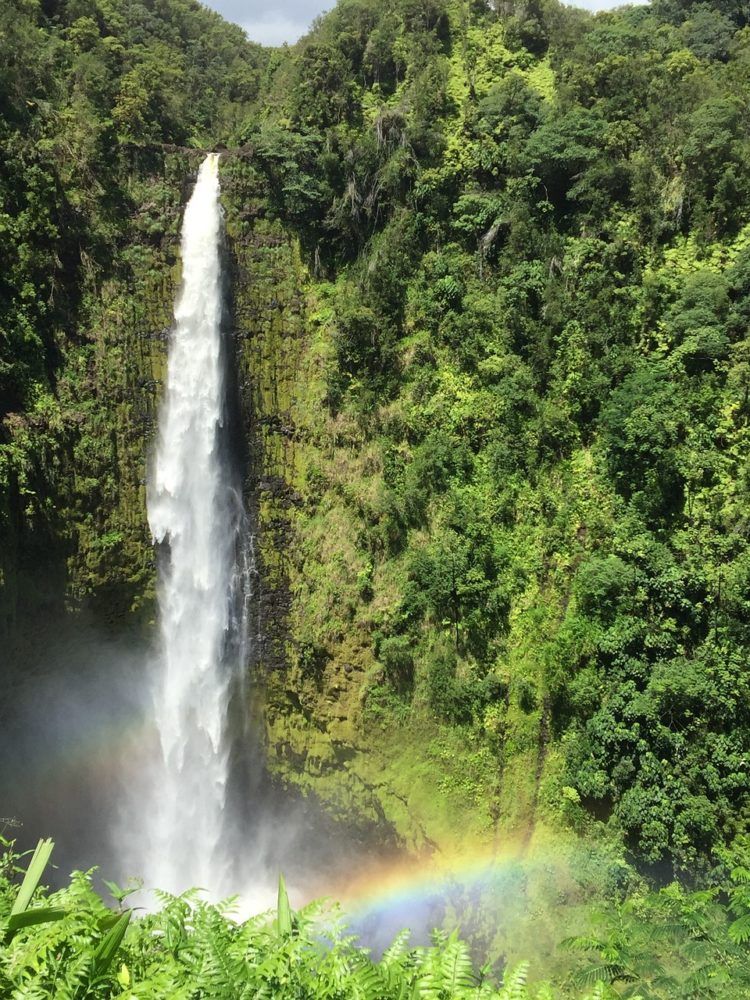 173. Sip some cocktails at trendy Pineapples Restaurant during happy hour; there's live music and retractable walls | Hilo
174. Visit the walled city of Pu'uhonua O Honaunau National Historic Park, where you can find authentic tiki statues and reconstructed villages | Honaunau
175. Smell over 1,800 species of tropical plants at Hawaii Tropical Bioreserve & Garden and take a walk on the boardwalk | Papaikou
176. Take a helicopter tour over an active volcano in Volcano National Park, one of the only places in the world you can get this close!
177. Cozy up with traditional Japanese comfort food at Teshima's Restaurant, simple and delicious | Kealakekua
178. Spend the day hanging out at Kapuna Beach, then hop on over to Mauna Kea Beach | Waimea
179. Order off the inventive menu at ULU Ocean Grill, located in the luxurious Four Seasons. It's been on the list of the 100 Most Romantic Restaurants in America! | Kailua-Kona
180. Feel like you're on Mars while off-roading the R-1 Road of Mauna Kea; you'll encounter red lava landscapes, a silversword grove, and desert washes.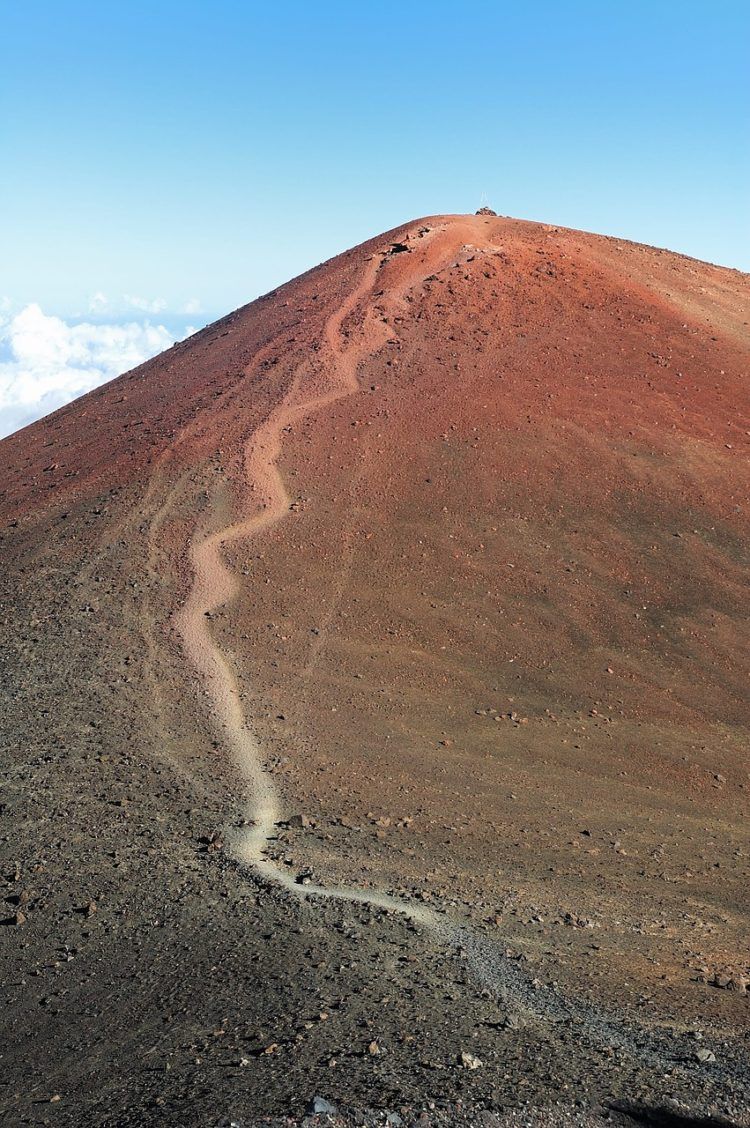 181. Visit the Seahorse Farm to help the facility with their conservation efforts and of course see lots of species of seahorses | Kona
182. Have dinner at sunset at The Rim at Volcano House – the only restaurant you can see the glow of the volcanic caldera! | Hilo
183. Purchase coffee and learn about the process at a coffee plantation | Kona
184. Hike through a fern valley and Thurston lava tube at Volcano National Park – you'll feel like you're in Jurassic Park and on a different planet!
185. Say hello to the local vendors at the Hilo Farmers Market, and pick up some fresh produce (try starfruit, coconuts, and honey). Only open on Wednesdays and Saturdays. | Hilo
186. Chow down on some Hawaiian favorites at 808 Grindz Cafe – everything on the menu is $8.08! | Kailua-Kona
187. Tour the Hamakua Chocolate Farm, complete with chocolate demos and chocolate tastings… mmm | Papaikou
188. Climb up the world's tallest undersea mountain at Mauna Kea (yes, taller than Everest!) | Mauna Kea
189. Choose from the catch of the day at Moon and Turtle – the menu changes every day! | Hilo
190. Have dinner with lava views at the Volcano House from the floor to ceiling windows | Hawaii Volcanoes National Park
Lanai: The Pineapple Isle
Most people never make it to Lanai, but how could I not include it on this Hawaii bucket list?! If you've been to Hawaii a bunch of times and haven't ventured over to Lanai, make it your mission! And there's no excuses – you can easily get from Maui to Lanai via a 90-minute public ferry! There's zero traffic lights here, otherworldly landscapes, and even a feral cat sanctuary. If you wanna head to the more secluded spots, you'll definitely need a 4×4.
191. Take a 4-wheel drive to the secluded Polihua Beach, on the northern tip of the island. Don't swim here though – there's strong rip currents. | North Lanai
192. Watch spinner dolphins playing offshore at Hulopoe Beach. It's also great for snorkeling, swimming, and tide pooling. | South Lanai
193. Drive through the desolate and otherworldly lunar landscape of Keahiakawelo (Garden of the Gods) via 4×4, with tons of rugged boulders, rock towers, and red sand formed via volcanoes. No cell service over here, so be careful! | West Lanai
194. Take a photo at Pu'u Pehe (Sweetheart Rock), an iconic rock formation and natural wonder of Lanai. | South Lanai
195. Play and volunteer at the Lanai Cat Sanctuary, a rescue and care center for abandoned feral cats. FYI – not on my Hawaii bucket list since I'm terrified of cats (true story), but wanted to share in case there's any cat lovers out there! | Lanai City
196. See the abandoned WWII ship floating in the Pacific from the shores of Shipwreck Beach. It's also a great place to snorkel! | North Lanai
197. Hit balls on the beautiful grounds of the Manele Golf Course, with ocean views at many holes | South Lanai
198. Check out the remains of historic Kaunolu Fishing Village, a favorite fishing spot of King Kamehameha in the 1790s | South Lanai
199. Sip a mai tai at the pool bar at 5-star The Four Seasons Lanai, or plan your visit for Sunday brunch! | South Lanai
200. Learn about the traditional culture of Lanai at the Lanai Culture & Heritage Center (and better yet, it's all free!) | Lanai City
Molokai: The Friendly Isle
Like Lanai, Molokai isn't the most well-known spot in Hawaii. It's a different way of life around here – there's no huge resorts, luaus, or Michelin-starred restaurants. And it's had quite the troubling past with the leper colony of Kalaupapa in the 1860's where over 8,000 infected people were sent.
201. Make the steep hike to Kalaupapa National Historical Park, the historic and scenic place of preserved leper colonies. Super interesting! Read "Moloka'i" by Alan Brennet for a better understanding of the time (psst – fiction but based roughly on facts). If you're a history buff, make sure to add this to your Hawaii bucket list. | Kalaupapa
202. Check out Olo'upena Falls, a massive waterfall that can be seen from the ocean or air. It's said to be the 4th highest in the world! If you explore the North Shore sea cliffs by boat you'll see them! | Forest Reserve
203. Take a cultural hike in the sacred and super lush Halawa Valley with waterfall views and foliage-covered cliffs | Forest Reserve
204. Go on a nature tour of Kamakou, a nearly 5,000 foot volcano with ingenious plants | Forest Reserve
205. Go off-roading (or hike) the secluded nature preserve of the Molokai Forest Reserve. If the grounds muddy, don't even attempt to bring your vehicle though! | Kaunakakai
206. Hang out at Papohaku Beach, one of the largest beaches in the Hawaiian archipelago! | Maunaloa
Hope this helps you plan an epic trip to the islands! What's still on your Hawaii bucket list and what are some of your favorite things to do in Hawaii?!
Psst: If you're planning a trip to cross things off your Hawaii bucket list, you might like these too: