Looking for the best day trips from Denver? Keep on reading to discover a whole bunch of things to do outside of the city!
Denver, the capital city of the state of Colorado, has a booming tourism industry as of late. In fact, over 17 million people visit annually! That's a lot for a relatively small city.
Denver has really become a multi-faceted vacation destination. Visitors flock to Denver to celebrate special events, like weddings, or a bachelorette party in Denver. We also get tons of visitors looking to experience our world-famous craft beer scene, the incredible Colorado outdoor recreation opportunities, or even to attend the plenty of annual Denver festivals.
No matter the reason, Denver (and the state of Colorado in general) receive our visitors with open arms! And while planning your Denver itinerary, don't neglect all the cool stuff that lies just outside of the metropolitan area. For a short drive, you can be rewarded with incredible views, new towns and cities to explore, and even more things to do outside of Denver.
So, without further ado, here are ten of the best day trips from Denver, Colorado (which are super easy to get to)!
Best Day Trips from Denver
1. Red Rocks Park and Amphitheater
Distance from Denver: ~17 miles; 25 minutes driving (making it one of the shortest day trips from Denver on this list!)
Getting there: Driving is easiest; if going for a show at the amphitheater, ride shares are quite common, as well as bus to show (a bus service).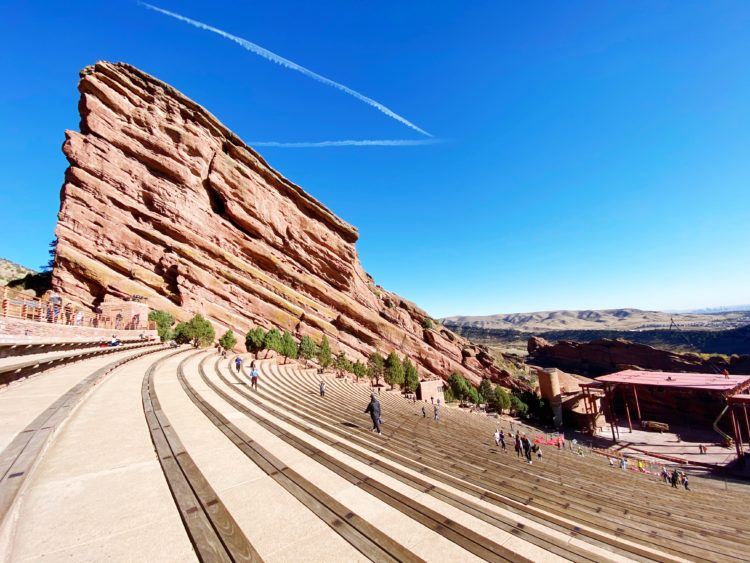 This is almost too close to Denver to consider it a day trip, but making a trip to Red Rocks Park and Amphitheater is so beloved by locals and tourists alike, that I would be remiss to not mention it. The rocks are loved by families, hikers, bikers, wildlife watchers, music lovers and more.
So what exactly is Red Rocks? It's a mountainous park just west of Denver that is particularly known for its large red sandstone formations ("the rocks"). The park is segmented into two main draws: 1) the amphitheater and 2) everything else.
The amphitheater is situated smack dab in between two of the large red rock formations, and it creates natural acoustics you just can't recreate with human hands. Many would argue it is the best outdoor music venue in the US, and I think they would be right. Activities to enjoy at the amphitheater include concerts, comedy shows, and movies. It's also not uncommon in the warmer months to find fitness opportunities at the amphitheater, like yoga.
"Everything else" includes the rest of the activities the park has to offer. Including the open spaces where you can hike a variety of trails, go mountain biking, trail running, and more. It's no wonder Red Rocks has become such a popular area for outdoor recreation near Denver. You can also visit the Colorado Music Hall of Fame, which is located at the Trading Post at Red Rocks. And if you like a good group tour, take one of the free guided walking tours to learn all about the geological wonders of the rocks.
2. Buffalo Bill Museum and Grave
Distance from Denver: ~19 miles; 28 minutes driving
Getting there: Driving is an option, of course; or you can take the light rail (W line) from Union Station to Golden, and take a cab/ride share from there.
For fans of history, a trip to Colorado means the chance to step back into wild west times for a bit. Denver, and the surrounding areas, served as gateways to the west, experiencing multiple mining booms. Because of this, many famous wild west folk were known to spend time in the Mile High City back in the day.
One of those being none other than "Buffalo Bill" (William F. Cody) himself. He received his nickname for his superior buffalo hunting skills, but he really became famous performing in stage shows. But like many during that time, he excitedly migrated west during the gold rush. And as he passed through the new town of Denver, he fell in love with the area.
Which is why it was his final wish to be buried in Lookout Mountain near Denver, and that is where he rests today. At the Buffalo Bill Museum and Grave (one of the great day trips from Denver available), tasked with preserving his grave and legacy, you can learn all about the history of Buffalo Bill, and visit his grave site. You also must be sure and take in the unparalleled views (it is "Lookout Mountain" after all) from the observation deck.
3. Boulder, CO
Distance from Denver: ~30 miles; 35 minutes driving
Getting there: Driving is easiest, or for those without access to a car, the Flatiron Flyer is a rapid transit bus service between Denver and Boulder.
Located just to the northwest from Denver, and smack dab in the foothills of the Rocky Mountains is the picturesque college town of Boulder, CO. In describing Boulder, the best I can say is Boulder is like that hippie cousin to Denver. The people are friendly, earth conscious, open minded, healthy, and love a good craft beer or cruelty-free coffee.
And if you thought Denver was close to the mountains, Boulder is like right up in them. Which creates some pretty killer views between the mountains, the sprawling CU-Boulder campus (which is beautiful), and all the foliage nestled between.
Key attractions in Boulder include (of course) hiking, with Chautauqua Trail being a local favorite. You can get lost for hours bouncing from place-to-place along Boulder's famous Pearl Street Mall. And if you're a tea fan, you're in for a real treat. Head over to none other than Celestial Seasonings (they were founded here!) for their free factory tour. There are plenty of things to do in Boulder to keep you busy for the day (or more)!
4. Mount Evans Scenic Byway
Distance from Denver: ~33 miles; 30 minutes driving
Getting there: As a scenic drive, having a car and driving is key here.
In the mountaineering world, a fourteener (or 14er) designates a mountain peak that has an elevation of at least 14,000 feet. Because of the gorgeous Rocky Mountains, Colorado has 53 fourteeners sprinkled throughout the state – Mount Evans being the closest of which to Denver.
Mount Evans just barely makes the 14er cut, having an elevation of 14,271 feet. But because of its location within the Front Range peaks, it is prominently featured in the western skyline. And while there are plenty of activities to partake in around Mount Evans, one of the most scenic is to take a drive along the Mount Evans Scenic Byway (making it one of the best day trips from Denver).
Idaho Springs, CO serves as the starting point, and as you drive you gain over 7,000 feet of elevation along the 28-mile stretch of byway. The drive offers visitors incredible views of the Continental Divide, wildflower fields, and the opportunity to view wildlife like bighorn sheep.
5. Black Hawk, CO
Distance from Denver: ~38 miles; 50 minutes driving
Getting there: The easiest way is to drive (if you have access to a car), however, buses from Denver also run regularly each day.
The town of Black Hawk, CO was once a booming mining settlement. Founded in 1859 during the Pikes Peak Gold Rush, the town has made a history for itself by being resilient. They survived multiple boom-bust industries, including gold and coal mining, and stamp mills. And since the 1990s, Black Hawk has been known as the area's best historic gambling community.
Today you can visit Black Hawk to enjoy more than a dozen casinos in this small, wild west mountain town. They have all your favorite slot machines, table games, poker tournaments, and more. And much like Vegas, drinks are included at many Black Hawk casinos while you gamble!
The Ameristar is one of the newest and largest casinos in town, and is great for tourists. The Lodge Casino is also a local favorite. A day (or overnight) trip to Black Hawk from Denver is a great way to take in a quaint, historic Colorado mountain town while having some fun. I just hope you come back to Denver a big winner!
6. The Stanley Hotel
Distance from Denver: ~66 miles; 90 minutes driving
Getting there: Driving is easiest, or you can take the Estes Park Shuttle from Denver to Estes Park, and take a cab/ride share to the hotel from there.
Any Stephen King fans out there? If so, this will probably be one of your favorite day trips from Denver on the list!
If you ever saw the movie adaptation of his book, "The Shining" then you may already know of the Stanley Hotel. As this hotel, opened in 1909 outside of Estes Park, CO, was not only the inspiration behind King's work, but also a prime shooting location for the movie.
And the film accolades don't stop there for the hotel. It was again prominently featured in "Dumb and Dumber" as the fictional Hotel Danbury in Aspen, CO. And today? Well, today they believe the hotel is haunted. So between fans of the movies, and fans of the supernatural, crowds keep coming to the Stanley for a spooky visit.
Simply seeing the incredible hotel grounds and surrounding views is reason enough to make the trip. But, to make it really worth your while, you can plan some fun activities as well. The hotel provides both daytime (less spooky) and nighttime (more spooky) history tours. Nearby Estes Park is a lovely little mountain town worth exploring. And Rocky Mountain National Park, discussed more below, is nearby as well.
7. Garden of the Gods
Distance from Denver: ~68 miles; 80 minutes driving
Getting there: Driving is easiest, or there are a number of organized tour options going to Garden of the Gods from Denver regularly.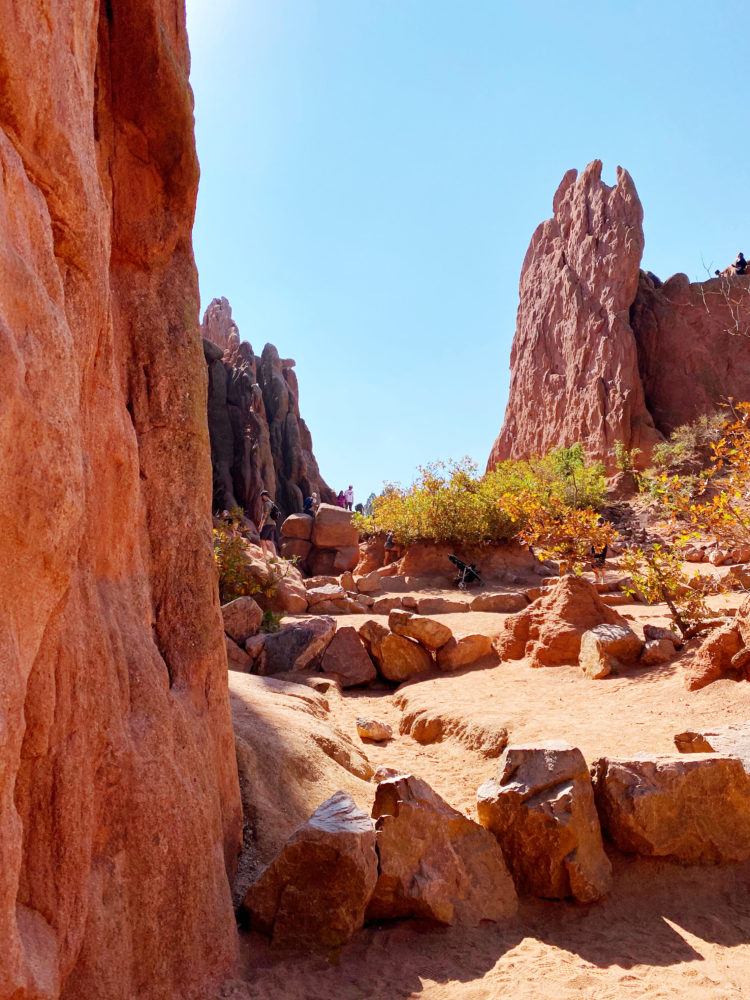 If you haven't caught on to the "Colorado has amazing natural scenery and you should check it out" theme yet…then here's another one for you! Located to the south near Colorado Springs, CO, the Garden of the Gods is a public park designated as a National Landmark since the 1970s, and one of the best day trips from Denver by far!
Today, an estimated four million people visit the park each year. Four million! They come in droves to take in the magnificently dramatic views of towering sandstone rock formations standing 300 feet tall. These views served with a side of Pikes Peak and the Rocky Mountains as your backdrop.
Outside of the incredible views, the park also provides a wide array of outdoor recreational activities to enjoy. Including hiking, biking, rock climbing, and more. They also offer a number of tours like free guided walks, and Jeep/Segway tours. The park itself has a cafe, or you can plan to also visit nearby Colorado Springs.
8. Rocky Mountain National Park (RMNP)
Distance from Denver: ~68 miles; 90 minutes driving
Getting there: Driving is easiest, or you can take the Estes Park Shuttle from Denver to Estes Park, and the Rocky Mountain National Park Seasonal Shuttle from there.
One of the largest draws in all of Colorado is visiting Rocky Mountain National Park. In fact, the park brings in over 4.5 million visitors each year. And all those people can't possibly be wrong! There are tons of activities and recreation to be had within the park limits.
RMNP has over 400 square miles of the most beautifully protected mountains, forest land, and alpine tundra. Within the park, visitors can enjoy incredible hiking (the Trail Ridge Road is especially popular), camping, fishing, many scenic drives, opportunities to spot wildlife, and so much more. And what's even better is the activities are not limited by season. No matter when you visit, the whole slate is available.
You could easily spend a couple days focused solely on RMNP. But with so many other Denver activities to get in, a solid day trip to hit the key highlights of the park is a great option.
9. Manitou Incline
Distance from Denver: ~76 miles; 90 minutes driving
Getting there: Driving is pretty much your only option unless you want a complicated web of train/bus/shuttle.
If you like to stay active while you're on vacation, then Colorado is your dream destination. With so much hiking, biking, skiing/snowboarding, and more in Colorado, it's easy to see why people stay so active here. And while there are plenty of great hikes near Denver, a unique option is to take on the mammoth Manitou Incline.
And it really is something you will have to prepare to take on, because this is not a hike for the faint of heart (or fitness level). The hike itself covers a distance of just under one mile. Not so bad, right? Oh yeah, that mile is entirely made of 2,744 steps and an elevation gain of 2,000 feet.
Now do you see what I mean? This is certainly one of the most unique trails around (and a great addition to this list of Denver day trips). In addition to hiking enthusiasts from all over, the incline also attracts plenty of military and Olympic athletes to incorporate into their training. So what do you say, are you up for the challenge?
10. Royal Gorge
Distance from Denver: ~115 miles; 120 minutes driving (the longest of these day trips from Denver, but worth the trip!)
Getting there: Driving is your only option here.
Millions of years ago, the Arkansas River gradually cut through the Rocky Mountains, creating the Royal Gorge Canyon. It's one of the deepest canyons in all of Colorado, and is actually known as the "Grand Canyon of the Arkansas." In the late 1800s the Royal Gorge Bridge was constructed, along with a rail line spanning the gorge, making it easier to transport mineral deposits in the area (vs going around).
Today, a visit to the Royal Gorge is a fun family favorite activity from Denver. Popular attractions include the Royal Gorge Bridge & Park where you can walk America's Bridge, zipline, ride gondolas, take in the views of the gorge and more. You can also take a ride on the Royal Gorge Route Railroad, which is a 2-hour scenic train that takes passengers through the canyon along the river, over bridges, and more.
And there you have it! 10 of the very best day trips you can take (relatively easily) from Denver, CO. Day trips are a fantastic way to expand your horizons in a new location. And while Denver is amazing, so is the rest of the state of Colorado! Get out there and explore more of it.
Which of these day trips are you excited to try? Do you think there's a day trip from Denver I missed?? Sound off on why I'm totally wrong in the comments below!
Bio: Kara is the one-woman team behind Destination: Live Life, a travel blog. After fleeing small-town life in Wyoming, she has called Denver, CO home for the last 12+ years. When it comes to travel, she appreciates traveling like a local, and never paying full price for a trip. And when she isn't living that travel life, she can be found petting every dog that will let her, and laughing (loudly) at any opportunity.