Planning a trip and looking for the best things to add to your New York City bucket list?! From ridiculously high skyscrapers and live Broadway shows to indulging in all things culinary and snacking on hot dogs/roasted nuts/pretzels, here's 150 things to check off your NYC bucket list! Yes, I said ONE HUNDRED AND FIFTY!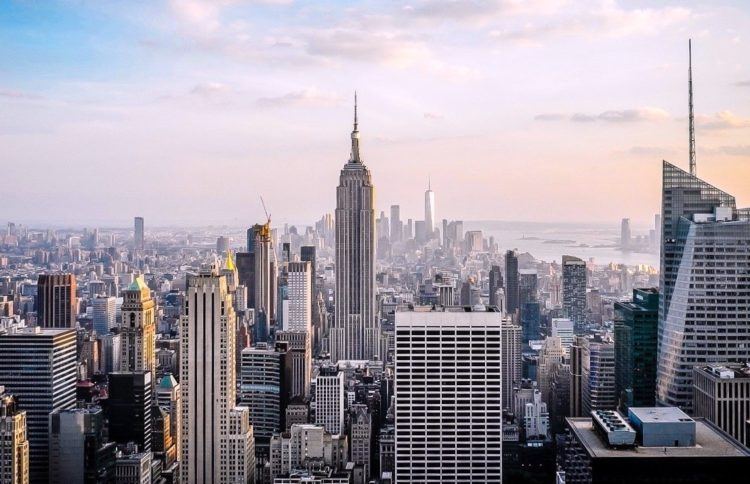 The Big Apple. The City That Never Sleeps. Gotham. The City of Dreams. "The City". Manhattan sure does have a lot of nicknames, but there's only one city we're talking about here. NEW YORK CITY.
NYC is known for its famous landmarks, dramatic skyline, and abundance of museums and green spaces (I mean, you could spend hours in Central Park!). It's wonderfully diverse and authentically energetic, an impressive melting pot of not only people and cultures, but food, architecture, and art.
It's exhilarating, intimidating, chaotic, and generous all at once. There's truly no place like it in the world. AND there's cheap (yet absolutely orgasmic) pizza. Enough said.
I lived in New York for the first 28 years of my life, but I feel like I never truly took advantage of the big city. I was always more interested in heading off to exotic locales (like Bali!, Santorini!, Morocco!), and hence took little interest in exploring my backyard. SHAME ON ME! (Really though, feel free to yell at me).
Of course when I moved to San Francisco a few years ago I realized just how silly I was. I thought I had done a whole lot in NYC, but I quickly realized my New York City bucket list was hardly complete (since never making it a priority).
With that being said, I've finally made myself a New York City bucket list to ensure I take full advantage of the city anytime I visit my friends and family back home. And yes, I've already been back a whole bunch of times to say hello and of course cross things off my never-ending list!
So whether you're a wide-eyed tourist taking photos or or a long-time local just looking for more things to do in New York City, this NYC bucket list has got you covered. Let's get to it – haul a taxi or take the subway, 150+ things to add to your New York City bucket list coming right up!
The Ultimate New York City Bucket List
So how did I choose which things to include on this New York City bucket list? I thought of all my favorite NYC experiences that I've already completed, and added oh so many others I can't wait to check off on future visits.
To make planning easier, I've organized this NYC bucket list by both area and borough. However, I must admit that most of the items on this New York City bucket list are mainly in Manhattan (it's where I spend the most time!). I do encourage you to venture on out to Brooklyn, Queens, the Bronx, and even Staten Island if you've already visited the city before – there's a bunch of hidden gems waiting to be explored!
Uptown
1. Feast on some soul food at Sylvia's, a Harlem landmark serving generous portions of Southern comfort food. Try some smothered chicken, candied yams, fried chicken and waffles, cornbread, and some peach cobbler.
2. Enjoy creative cooking from celeb chef Marcus Samuelsson at the iconic Red Rooster in Harlem (order the chicken and waffles with mac and cheese and collard greens), or just swing by for a pitcher of Garvey Punch ✓
3. Check out the medieval architecture overlooking the Hudson River at the MET Cloisters located within Fort Tryon Park
4. Go backstage at The Apollo, Harlem's historic and well-known theatre where jazz's most iconic performers once played (including Billie Holiday, Sarah Vaughan, and Ella Fitzgerald) by taking its historic tour for a behind the scenes look. Or, watch a show; there's literally something for everything (gospel, jazz, blues, hip hop, funk, soul, comedy, etc).
5. Chow down on soul food at Amy Ruth's, where dishes are named after famous African Americans
6. Go on a fancy dinner date in Harlem with seasonal, farm-fresh American cuisine at Clay. Order the lobster (or ragu) bucatini, duck confit, and the chocolate budino.
7. Try the "rugelach by a brother" at Lee Lee's Baked Goods, surprisingly some of the best gourmet rugelach you'll find in all of NYC. He's even been featured in the New York Times!
8. Listen to live jazz at a popular Harlem club – popular picks include Minton's Playhouse, Bill's Place, and Paris Blues (hit up the nearby National Jazz Museum to learn all about the birthplace of bebop). There's even Jazz crawls you can join (still on my New York City bucket list!)
9. Visit a congregation in Harlem to worship with the church and listen to the gospel performance (a few picks – Abyssinian Baptist Church, Greater Refuge Temple, Canaan Baptist Church, and Bethel Gospel Assembly)
Upper East Side/Upper West Side
10. Peruse the myriad of exhibits at The Metropolitan Museum of Art, also known as simply the MET. There's 17 curatorial collections featuring over 2 million works of art from ancient Egypt to the modern day! Don't miss the rooftop terrace for views of NYC. ✓
11. Sip a matcha latte or cold brew coffee and light lunch (smashed avocado toast perhaps) inside a church at Bluestone Lane Upper East Side Cafe, an Australian-inspired coffee shop
12. See modern art at the Guggenheim Museum, designed by Frank Lloyd Wright and a great collection of Picassos! And get this — the building was recently named a UNESCO World Heritage Site!
13. Walk in the footsteps of Blair, Serena, Chuck & co. and discover the locations featured on the show on a Gossip Girl Tour (yes, including where they went to school, where Blair used to live, and where Blair and Chuck got married!)
14. Tour Gracie Mansion, the residence of New York's mayors, or simply walk by and admire the architecture
15. Scarf down one of NYC's best hot dogs from Papaya King, opened way back when in 1932
16. Stuff your face with deliciously decadent (and HUGE + fresh) cookies from Levain Bakery (try the dark chocolate peanut butter chip and the double chocolate chip); walk over and eat in Central Park! They'll be a line out the door, trust me, but these cookies are worth the wait (and thankfully, the cue moves quickly). ✓
17. Pick up a few black and white cookies from William Greenberg Desserts, a long-time Kosher spot with awards for their cookies!
18. Meet friends for a posh brunch at the original Sarabeth's; share the lemon ricotta pancakes, home fries, and breakfast omelettes, and sip on peach bellinis. Make reservations – this place is popular for a reason!
19. Order an iconic no-frills NY bagel with cream cheese and lox from H&H Bagels, a landmark joint with tons of cream cheese flavors (try the walnut raisin – it's my favorite)
20. Feel like you're in Paris with a box of French macarons and a cappuccino from Laduree (you can't go wrong with any, but try the salted caramel and orange blossom.) The little cakes and pastries are too pretty to eat!
21. Take the girls for high tea at Alice's Tea Cup, a whimsical, literary-themed tea room with scones with clotted cream, mini sandwiches, and lots of sweets. There's also a casual outpost in Brooklyn if you find yourself over there.
22. Take a stroll (or go for a run) along the Hudson river in Riverside Park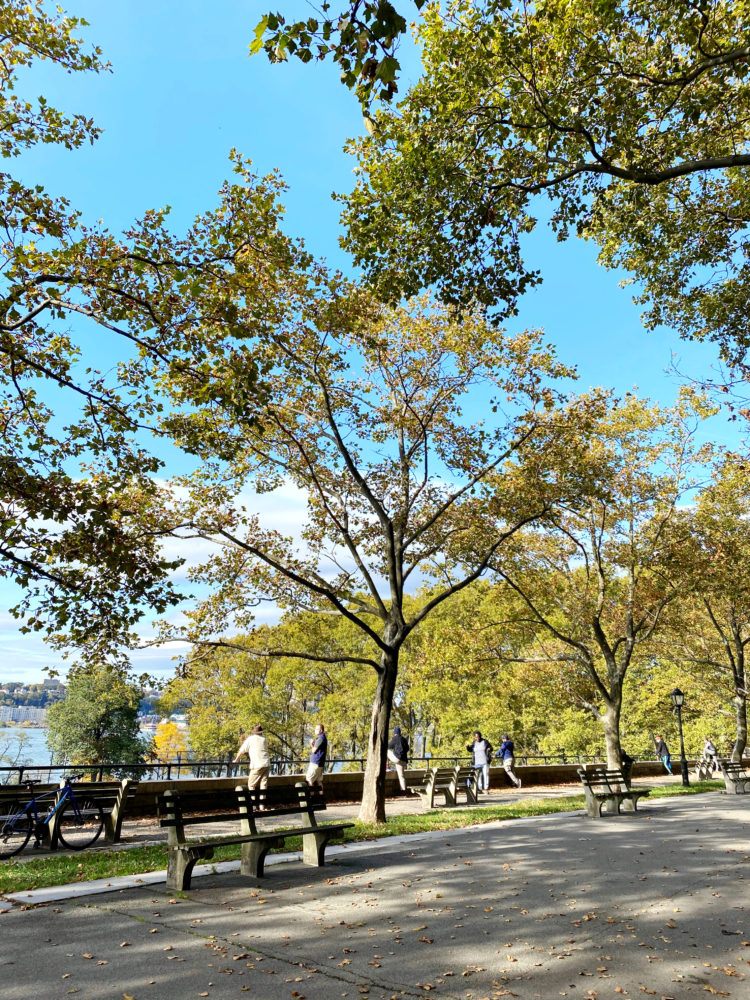 23. Get your science on at the American Museum of Natural History. Don't miss the massive t-rex (and other dinosaurs), the planetarium, and butterfly room! If you've got funds to spend, sign up for a sleepover at the museum. ✓
24. Ride the Roosevelt Island Tramway and take in the views to Roosevelt Island for the same price as a subway ride! Walk over to the Four Freedoms Park for top-notch city views; you'll see the Smallpox Memorial Hospital on the way.
25. See European Art at a former millionaires home turned museum at The Frick Collection
NYC Bucket List Items in Central Park
Being the largest green space in Manhattan, I just had to make Central Park a completely different section of this NYC bucket list – there's just so much to do here! But if you really wanna see the park from a local's perspective (and see a whole bunch of hidden gems), sign up for this Central Park Hidden Gems walking tour.
26. Feel like a kid again and take a ride on the vintage Central Park Carousel, built in 1908 and featuring over 50 hand-carved wooden horses!
26. Grab your bestie or significant other and ride around the park on a horse and carriage ride — one of the most charming things to do in NYC!  Not only will you see famous landmarks, but you'll learn about the history of one of the world's most famous parks!
27. Have a lazy picnic complete with city views in Sheep Meadow, where sheep used to graze. Bring a frisbee, blanket, and some snacks and you're good to go. ✓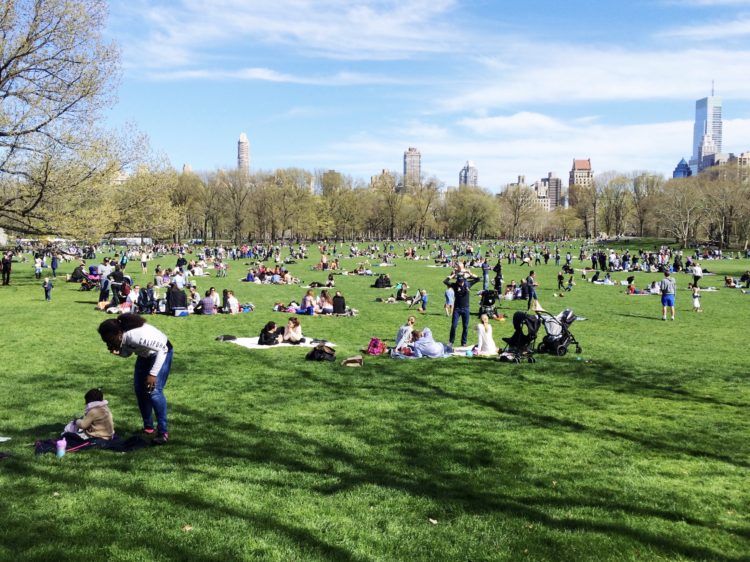 28. Join the tea party at the large bronze Alice in Wonderland statue, featuring Alice, the Mad Hatter, and the White Rabbit from Lewis Carroll's classic book ✓
29. Walk through the leafy Central Park Mall (running from 66th to 72nd street). Absolutely beautiful in winter and fall! A great place to sit on a bench and people watch. ✓
30. Explore the Gothic and Romanesque Belvedere Castle (from the late 1800s!), found on the park's highest point. And yes, this means there's great panoramic views here! ✓
31. If you're a Ghostbusters fan, grab a photo of 55 Central Park West, also known as the Ghostbusters Building (easily visible from the lower side of the park). Complete your mini Ghostbusters film tour by stopping by the fire station and Tavern on the Green.
32. Snag a highly-coveted ticket to Shakespeare in the Park, a free festival performing productions in the outdoor Delacorte Theatre (something that's been on my NYC bucket list forever but I haven't been able to get a ticket!)
33. Rent a rowboat at The Loeb Boathouse and go rowing on Central Park Lake ✓
34. Have a romantic meal with the most perfect view of the lake at The Loeb Boathouse, one of the best NYC bucket list items in summer for sure! Or simply enjoy a drink on the outdoor terrace bar.
35. Cool off by the waterfall behind Huddlestone Arch, an absolutely beautiful spot during the warmer months. And by the way, the stones of the arch (that each weigh several tons), are held together only by gravity and pressure – whoa!
36. Snap a quick photo on Bow Bridge, the romantic cast-iron bridge featured in tons of rom-cons, including Spiderman 3! ✓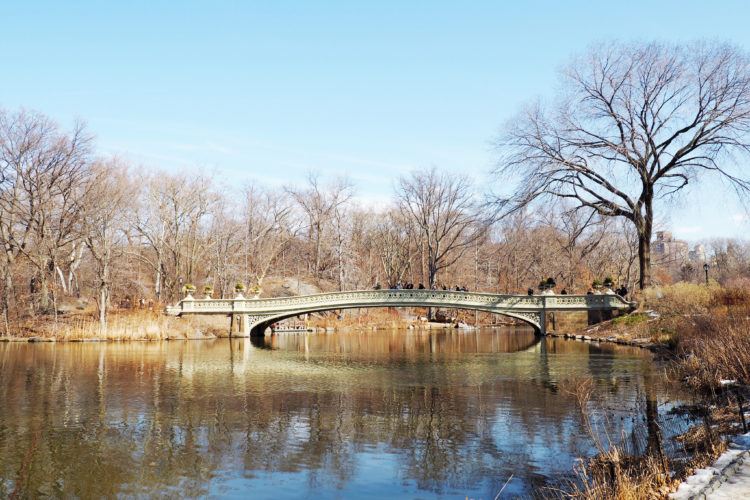 37. Check out the quaint gardens and relaxing atmosphere of the Conservatory Garden, a lovely refuge from the hustle and bustle
38. Gaze up at the colorful ceiling of the Bethesda Terrace and admire the architecture; another great spot for photos while listening to street performers. Be sure to check out the Bethesda Fountain nearby! ✓
39. Meander throughout the flower-filled paths of the Shakespeare Garden, designed to represent the English countryside
4.0 Get some peace and quiet in Strawberry Fields, a designated quiet zone and area dedicated to John Lennon in NYC. You can even take a free celebrity audio guide/tour, narrated by Yoko Ono. Don't miss the black and white tile mosaic inscription honoring this musical legend in the middle of the fields.
41. Enjoy a show at SummerStage, a seasonal outdoor venue with plenty to choose from (some free, some paid), and still on my NYC bucket list
42. Watch model boats sail by in Conservatory Water. Wanna participate? You can rent a model boat from the nearby Kerb Boathouse. ✓
Midtown Manhattan
43. Sing along with the Dueling Pianos at Bar Nine (every Wed – Saturday). It doesn't hurt that the brick-walled hangout is beautiful PLUS there's skee-ball and a pool table tucked away in the back.
44. Share a huge shaved snow and milk tea boba toast at Grace Street Coffee & Desserts in K-Town. There's also rose and lavender lattes, mochi ice cream, and matcha beignets to indulge in. ✓
45. Sing your heart out at late-night karaoke in K-Town at Gagopa Karaoke (BYO drinks!)
46. Take silly photos with life-size wax celebrities at Madame Tussauds, the famous wax museum. Sounds kinda cheesy but it's super fun once you get in the spirit. Say hello to The Kardashians, Ed Sheeran, Tyra Banks, Taylor Swift, and 200 other A-list celebrities. ✓
47. Wander around Eataly NYC Flatiron and have a scenic meal at SERRA by Birreria, the pop-up restaurant on the roof with elevated Italian cuisine and house brewed ales
48. Slurp down some tonkotsu ramen at Tonchin New York, a Tokyo-based chain. There's also okonomiyaki, gyoza, buns, and shaved ice. Get there early; the line's usually out the door.
49. Photograph the triangular Flatiron Building, a true icon of NYC. Get the money shot from the Flatiron Public Plaza, a small area for pedestrians directly north of the building. ✓
50. Sip craft cocktails with a view of the Empire State Building on the rooftop of the Archer Hotel at Spyglass Rooftop Bar
51. Watch the iconic NYC Christmas Spectacular featuring the Rockettes during the holiday season at Radio City Music Hall. Take the tour if you wanna see some behind-the-scenes stuff. ✓
52. Go ice skating and take in all the holiday spirit at Rockefeller Center; there's a giant Christmas tree, the Christmas angels, and a giant ornament stack (a must on any New York City bucket list) ✓
53. See classic modern pieces like van Gogh's Starry Night, Monet's Water Lilies, and Andy Warhol's Campbell Soup in person at the Museum of Modern Art (MoMa). Don't miss the impressive sculpture garden. ✓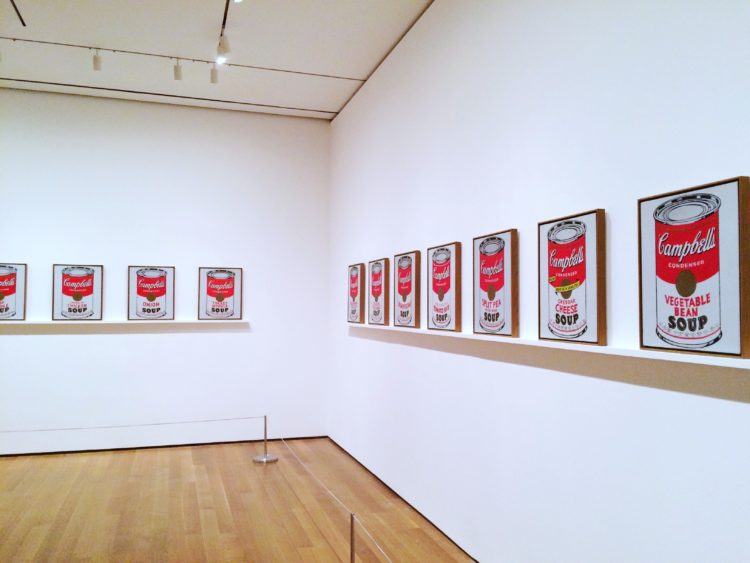 54. Chow down on made-to-order Indian food and ginger lemonade at deep indian kitchen (indikitch), one of the best Indian restaurants in NYC.
55. Take in the bright lights of Times Square. It's busy. It's wild. It's outta control. And it's a local NY-ers worst nightmare. There's street performers, bright city lights and billboards, people dressed up in costumes (expect to pay for a photo), and hordes of tourists. Go at night, it's more fun (the area stays populated until well after midnight). ✓
56. Wait 15 minutes for the super inventive and super instagrammable sushi donut from Poketeria (worth the wait and a must on on any foodies New York City bucket list).
57. Snack on a super sweet and highly instagrammable chimney cake at The Stackery at Winter Village in Bryant Park. Don't miss out on a hot cider. If you're visiting in winter, add this to your NYC bucket list. ✓
58. Admire the 360 degree views of NYC from Top of the Rock; they're just as impressive during the day as they are at night! Look out for Central Park and the Empire State building. And be sure to buy a timed entry ticket ahead of time — this view is super popular! ✓
59. Sip an instagram-worthy rose petal latte at super-cute and pink-hued Blank Slate Tea. It's right next to Blank Slate Coffee + Kitchen if you wanna check that out too (similar but different food choices). ✓
60. Treat yourself to some banana pudding at Magnolia Bakery (and grab a red velvet cupcake for later)
61. Whisper to your friends at the Whisper Wall at Grand Central Station, a classic historical building on any NYC bucket list. Check out the architecture of the main hall and look up at the constellation of stars on the ceiling, too. There's food options in the basement if you're exceptionally hungry. ✓
62. Take the elevator to the 102nd floor of the 1,454 foot Empire State Building for some of the most impressive views of all of New York City. Snag your skip the line ticket here (it gets busy and trust me — you won't wanna wait) ✓
63. Read a book at the stunning New York Public Library; the Stephen A. Schwarzman Building is full of grand chandeliers and impressive wood and stonework ✓
64. No matter the season, Bryant Park is always hoppin'. There's outdoor films during the Summer Film Festival, and holiday markets in the Bryant Park Winter Village come winter (don't miss ice skating and some trndl at The Stackery). ✓
65. Share some Belgium-style waffles with speculoos cookie butter at the Wafels and Dinges kiosk open year round (numerous locations around Manhattan). ✓
66. Grab a beer at Chelsea hot-spot Frying Pan, a historic seasonal floating bar that's docked on Pier 66 (FYI – come for the drinks, not food) ✓
67. Ride the carousel in Bryant Park – it's not just for adults! ✓
68. Go window shopping on 5th Avenue, the city's most famous shopping street – with Louis Vuitton, Tiffany & Co., Gucci, Prada, etc… ✓
69. Snag discount tickets to a broadway show by waiting in line at the TKTS booth at 47th and broadway (or in Times Square) for ~50% off same day shows ✓
70. See a musical on a budget at Ellen's Stardust Diner, a 50's themed diner with singing servers ✓
71. Go gallery hopping in Chelsea by wandering your way around 10th and 11th Avenues (starting around 28th St) and check out the free exhibitions ✓
72. Step inside the iconic St. Patrick's Cathedral to admire the stained glass windows and twin spires
Downtown (Lower Manhattan)
73. Witness the phenomenon of Manhattanhenge, the only time of year you can see the sunset/sunrise perfectly aligned between skyscrapers of the east-west streets. FYI – it gets crazy busy. Will forever be on my New York City bucket list.
74. Climb the spiral staircases at the Vessel at Hudson Yards, a spankin' new open-air honeycomb shaped structure; a true architectural masterpiece! Afterwards, go shopping at The Shops and Restaurants at Hudson Yards. And if you're feeling kinda daring, walk out onto the 100th floor viewing platform of The Edge — it's got a glass floor! ✓
75. Grab a few cardamom and cinnamon buns from Fabrique Bakery, a delicious Swedish bakery chain
76. Take a stroll along the High Line in Chelsea, a rail line converted into a park above the street! Don't miss the murals along the way, as well as stopping for some creamy artichoke slices at Artichoke Basille's Pizza on 10th and 17th ✓
77. Stand in line for a cronut (a donut croissant mix) from Dominique Ansel Bakery. Hot tip – if you order ahead online, you can pick up 6 cronuts instead of two (when you buy in the store).
Take super fun photos at the Museum of Ice Cream NYC — complete with pink interactive exhibits, a sprinkles pool (!!!), an out of this world pink "Celestial Subway", and slide down an epic three-story slide. Don't forget to taste new signature ice cream flavors and treats! Get your ticket here! Dates sell out fast!
78. Go on a DIY food tour and eat/sample everything in Chelsea Market (don't miss Miznon's cheeseburger pita, a brownie from Fat Witch Bakery, and nutty cheddar from Saxelby Cheesemongers) ✓
79. Order unusually-flavored soft serve at Big Gay Ice Cream (and don't miss the photo-op on the colorful bench outside) ✓
80. Pay your respects and hold back tears at the 9/11 Memorial and Museum. Powerful and moving, One World Trade is not to be missed on any NYC bucket list. Don't miss the victim memorial room, missing person posters, and be sure to watch all the videos. If you wanna see views from the top, grab your skip-the-line ticket here. ✓
81. Take a photo with the 3-ton bronze Charging Bull on Wall Street, symbolizing NY's financial industry. The Fearless Girl sculpture is right there, too! ✓
82. Dine al fresco on Stone Street or just go day-drinking on the narrow European-esque cobblestone street (fun fact – it was the first street in NYC paved with stone in 1658!)
83. Admire the unique architecture of airy transport hub The Oculus, and go window shopping (and people watching) inside ✓
84. Indulge in a pastrami sandwich at Katz's Delicatessen, an iconic Jewish deli known for its larger than life pastrami sandwiches (a NYC bucket list item for any foodie!)
85. Eat everything on a DIY Food Tour in Little Italy (don't miss mozzarella and ricotta cheese samples at Di Palo's Fine Foods, housemade hazelnut gelato from Ferrara Bakery, and chicken parm from Capri). If you wanna ensure you don't miss out on any of the good stuff, sign up for a Little Italy Italian Food Tasting Tour. ✓
86. Taste some exotic flavors (like lychee, durian, matcha Oreo, and black sesame, my personal favorite) at The Original Chinatown Ice Cream Factory – everything is made fresh and the shops been around for over 40 years!
87. Take a ride on the Staten Island Ferry for free views of the Statue of Liberty and the Brooklyn Bridge. Avoid peak rush hour so you don't disturb the hordes of locals who rely on the ferry for actual transportation! ✓
88. Pig out at hole-in-the-wall WoHop in Chinatown; the basement location is most authentic and check out the photos of famous people on the walls ✓
89. Sip a craft cocktail at the secret NYC speakeasy "Please Don't Tell" (known as PDT to locals). You enter through a telephone booth at the back of a hot dog restaurant and need to put in a secret code (forever on my NYC bucket list)!
90. Have a pillow fight with strangers in Union Square on NY's annual International Pillow Fight Day, one of the most unique NYC bucket list items
91. Get lost in the stacks at The Strand and pick out a book from the 18 miles of new, used, and rare books
92. Snack on a smoked salmon bagel at Russ & Daughters; it's been around for over a century so you know it's good!
93. Nosh on raw (but edible!) gourmet cookie dough at DO, Cookie Dough Confections (try the sprinkle cookies with fluffernutter dough) ✓
94. Grab a spicy pepperoni sicilian slice from Prince St. Pizza (my favorite pizza joint mentioned on this NYC bucket list) ✓
95. Celebrate Christmas and have a German beer (or two) at Rolf's; they go all-out with holiday decorations ✓
96. Find your ancestors and submerge yourself in history/see where people arrived into America at the Ellis Island National Museum of Immigration ✓
97. Brunch it up at trendy Jack's Wife Freda, and take a look at all the cute details. Try the rosewater waffle, green shakshuka, and the Mediterranean sampler. ✓
98. Satiate your sweet tooth at Economy Candy, a shop filled to the brim (literally floor-to-ceiling) with all types of candy, nuts, and dried fruits
99. Explore innovative art exhibitions at The Whitney Museum of American Art
100. Join the colorful and festive Feast of San Gennaro in Little Italy by eating cannoli, pizza, fried zeppole, and gelato in September. Watch the parade, too! ✓
101. Smell the flowers in Washington Square Park, take a photo with the arch, and just sit around and people watch ✓
102. Explore organized crime at the Museum of the American Gangster in a former speakeasy
103. Nosh on perfectly chewy mochi donuts at Alimama Tea (try the taro mochi munchkins and boba-stuffed cream puffs)
104. Admire the stained glass windows at Trinity Church & Cemetery (psst: it's also where Alexander Hamilton and other early Americans are buried)
105. Watch the sun set behind Lady Liberty at Battery Park ✓
106. Learn about NYC's past at the Tenement Museum, a preserved 1863 tenement building showcasing immigrant stories
107. Head to Stuffed Ice Cream for a signature "cruff", colorful donut ice cream sandwiches
108. Climb the spiral stairs to the crown of the Statue of Liberty for unparalleled views, and then learn about the history and construction at the Statue of Liberty Museum near the base. Book tickets here (includes expedited ferry tickets to Liberty Island and Ellis Island, as well as entry to the museum, AND a 30 minute walking tour of Battery Park!– pretty good deal if you ask me!) ✓
109. Indulge in the super-instagrammable boba ice cream or just a typical tea at Bar Pa Tea
110. Join the cinephiles and see world premieres and movie screenings by waiting on line for tickets during the Tribeca Film Festival (held at select cinemas in April)
111. Stand 103 floors above ground zero for unobstructed NYC views from the Freedom Tower, the tallest building in not only NYC, but the United States
112. Get over-the-top soft-serve cones with flavors like ube, black sesame, and matcha at bright and cheery Soft Swerve Ice Cream
113. Dine al fresco and feast on Italian food on Mulberry Street (top picks include Rubirosa, Parm, and Da Nico)
114. Have ice cream for breakfast at Milk & Cream, NYC's premier (and quirky!) cereal bar
Other Things to Add to Your Manhattan NYC Bucket List
115. Stuff your face at Shake Shack: This hip burger place is kinda a local institution in these parts. Although you'll now find Shake Shack all around the country, the first one popped up in NYC in Madison Square Park – it even donned a webcam to see how long the line was. Make sure to try the gourmet hamburgers, crinkle fries, and thick milkshakes – you can't go wrong. ✓
116. Indulge in sugary, caramelized, honey-roasted and absolutely delicious nuts from Nuts 4 Nuts, my all-time favorite in NYC and something to add to your New York City bucket list if you're a snacker! There's over 100 pushcarts of the good stuff around the city so you're bound to find one no problem! ✓
117. Save on NYC Restaurant Week: Eating out in NYC can get kinda expensive, so save your date nights for NYC Restaurant Week. Here you'll find set menus for a ridiculously cheap price (well, according to NYC standards). Restaurant Week takes place over a few weeks in January/February, and then again come summer time, so you can really have your fill of good eats. Psst – you'll wanna make reservations in advance as many restaurants fill up quickly. ✓
118. Splurge on a helicopter ride above the city: Get ready for NYC's ultimate panoramic view. Because what better way to see the NYC skyline and all the city's highlights than from above in only a few minutes via helicopter? Many tours include soaring over sites such as the Statue of Liberty, Manhattan and Brooklyn Bridges, Empire State Building, Central Park, and the Chrysler Building. Feeling extra frisky? Make it a doors off heli-ride! A thrilling experience for your NYC bucket list for sure!
119. See the impressive skyline and circumnavigate the island of Manhattan on a NYC Circle Line cruise with unparalleled views from the water. Don't miss the Statue of Liberty, Empire State Building, Chrysler Building, and One World Trade Center. You'll even cruise under the Brooklyn Bridge and Manhattan Bridge! ✓
120. Order dollar pizza at 2 Bros: Stomach growling and only got a few bucks in your pocket? There are a few spots in Manhattan serving slices for .99 cents or $1, but my favorite by far has to be 2 Bros Pizza (a massive chain with tons of locations around the city). And yes, you can really grab a slice for less than the price of a subway ride. Other notable dollar pizza spots include 99 Cents Fresh Pizza, Percy's Pizza, and Champion Pizza – although they increase their price after 10pm (for those drunkies with the munchies). ✓
121. Participate in a No Pants Subway Ride: Let's continue this NYC Bucket List with something just oh so New York (despite spreading to 60 cities worldwide). This annual event occurs each (frigid) winter, where people strip down and board the subway sans pants! If you end up on the subway with a bunch of people half naked, you'll know why. Just goes to show how wacky, creative, and downright thrilling the locals are!
122. Watch NYC's beloved Macy's Thanksgiving Day parade, complete with giant helium balloons, marching bands, floats, performance groups, and lots of celebrities.
123. Free outdoor yoga class: There's free summer yoga every day of the week, spanning from Washington Square Park to Rockaway Beach to Brooklyn Bridge Park. Gather up your closest yogis and breath deep in a truly beautiful place – for free! Be sure to pack a mat and some sunscreen!
124. I can't believe I've lived in New York for over 25 years without attending a live TV taping (still on my New York City bucket list). And even better – it's free to be part of a live studio audience! You'll get to see popular stars up close, and take part of the clapping and laughing (if you know, you know). You can get tickets to plenty, but I'd choose The Daily Show, Saturday Night Live (my dream!), The Tonight Show with Jimmy Fallon (another dream), and Full Frontal with Samantha Bee. Lots more info here.
125. Scarf down street meat from the Halal Guys: Ohhh, this is one thing I miss most about living and working in NYC – the street meat! Sure, it may sound downright disgusting, but the Halal Guys are pioneers of American Halal food, so you know it's gonna be good. They only use the highest-quality, halal-certified meat. Get ready for flavor – the meat's a melting pot of Middle Eastern and Mediteerranean spices! Order a platter (their claim to fame) of either grilled chicken, beef gyro, and/or falafel, and always ask for extra white sauce. ✓
126. Pay for overpriced drinks at a rooftop bar with skyline views: Sure, the cocktails are some of the most expensive you'll find in the city (think $16-$20 per average drink), but those impressive skyline views are more than worth it. A few rooftop contenders include: 230 5th (chic penthouse with a rooftop garden – largest indoor/outdoor rooftop bar in NYC), Spyglass, and The Refinery Rooftop (lounge with fireplace and leather sofas) – best to go on warm summer nights for sunset drinks. Some are swanky, some are classy, and some are downright dirty, but they're alllll disgustingly expensive. :p I checked this off my NYC bucket list a few too many times… ✓
NYC Bucket List Things to do in Brooklyn
Hop on the L train because next up on this massive NYC bucket list is Brooklyn!
127. Don your best underwater attire for the Coney Island Mermaid Parade, the largest art parade in the United States. I need to get myself to Brooklyn in August to finally check this off my NYC bucket list!
128. Ride the Cyclone in Coney Island, and reward yourself with a world-famous Nathan's hot dog afterwards (preferably in that order…). If you're in for the 4th of July, watch the professionals scarf down dogs at the Nathan's Famous Hot Dog Eating Contest.
129. Scarf down a few slices of margherita pizza at Lucali, with sharp tomato sauce, soft and milky cheese, perfectly crunchy thin crust, and fresh basil
130. Search for treasures while thrifting in Williamsburg. A few spots to add to your New York City bucket list: Monk Vintage, Buffalo Exchange, and Mother of Junk.
131. Share a slice of NY-style cheesecake at Junior's Restaurant and Bakery; it's got more than 7,500 positive reviews on Google so you know it's the place to go (psst – their black and white cookies and strawberry shortcake are pretty damn amazing, too).
132. See the cherry blossoms at the Brooklyn Botanical Garden during the annual Cherry Blossom Festival, or just smell the blossoms and watch out for the carefully curated cacti
133. Admire the street art of the Bushwick Collective organization, a few blocks filled with murals and other colorful graffiti art (head to Wyckoff Ave)
134. Purchase a pint (or grab a cone) of unique-flavored ice cream at Ample Hills Ice Cream Factory (try the Munchies or the Rice Krispy Treat flavor!)
135. Walk across the unique stone-&-steel design of the historic Brooklyn Bridge (completed in 1883), take some pics of the Manhattan skyline, and then relax for a bit at Brooklyn Bridge Park
136. Eat all the food-truck street food at Smorgasburg, an annual food flea market from April through October (Williamsburg and Prospect Park). Try a few franken-foods, including flan coffee jelly, german dumpling sandwiches, geometric kombucha pops, and pizza cupcakes.
137. Devour some Neapolitan-style pizza at Grimaldi's Pizzeria, made in the brick oven. Take the pie to go and eat in the park with views of the bridge!
138. Discover DUMBO's best bridge views and take that iconic bridge photo between old-fashioned red-brick buildings at Washington and Wall Street (and plus, the whole area is super hip and trendy, so stick around!)
139. Find some treasures at Brooklyn Flea, a seasonal weekly market with vintage and antique items, crafts, and gourmet food stands
140. Go brownstone hunting in Brooklyn; you'll find some impressive brownstone beauties in Carroll Gardens, Park Slope (head to Garfield Place between 5th and 7th), Fort Greene, and Bed-Stuy
141. Watch the 280 members of the Brooklyn Tabernacle Choir at Loew's Metropolitan Theatre – they've won six Grammy Awards!
So no matter what brings you to the Big Apple, there's tons of New York City bucket list experiences you don't wanna miss! What's on your NYC bucket list?!