The best way to take advantage of a few days off of work? To leave right after the work day ends! We grabbed our bags, hopped on a quick flight to Vegas, and set off for Utah early the next morning! We technically gained an entire day of travel fun and paid way less for our late night flight. #winning
I had originally thought Zion would be kind of a wash and only scheduled a half day here. After looking at pictures online of the park (I always do this, bad habit!), I was originally underwhelmed and unimpressed.
And then my husband's coworker suggested the unthinkable: Angels Landing (photo above). A 5.4 mile uphill hike, reaching heights of over 5,790 feet. Guess I didn't do enough prior research.
Instantly, I was hooked. We were going to go from four hours in our car straight to hiking four hours up the mountain.
Little did we know we'd be climbing up 1,488-feet of solid rock our first morning!
Arriving to Zion National Park
Even before we stepped out of our car, we were wowed with the sheer beauty of the area. As we approached the park, I already could not stop pulling out the camera!
And these photos were not technically taken in Zion! Talk about crazy! Our first glimpse of Utah was definitely one for the books. How wrong was I to judge the park before we even arrived. Shame on me.
Since we arrived during the afternoon, the line to access the shuttle was unfortunately way longer than we hoped. But with this view, we couldn't be too upset. After admiring our surroundings and relaxing in awe staring out the shuttle window, we got off at The Grotto stop, with high hopes and ready to tackle the mountain.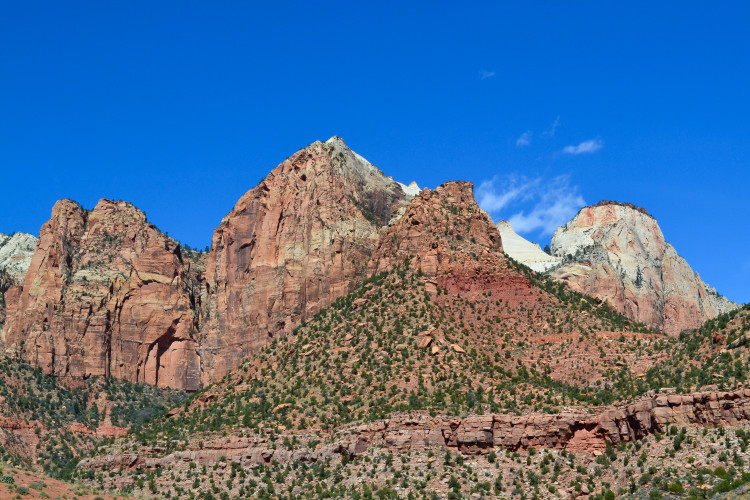 And now for the main attraction, the main reason we rushed out of bed this morning:
Hiking to Angels Landing
Since we had just learnt of this hike a day or two prior, we really did not know what we were getting ourselves in to. We read on the Zion National Park map that Angels Landing is considered a "strenuous hike", but other than that, had no clue as to what made it super difficult.
beginning our hike – no idea what was in store for us – and already sweating!
The first part of the hike was no biggie, as we meandered along a river admiring the insanely huge rocks ahead of us. Piece of cake, we instantly thought, way to soon….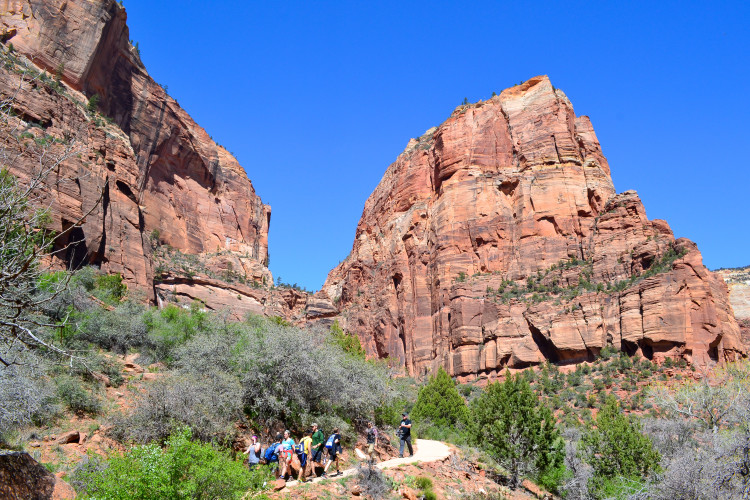 Next came a bunch of uphill switchbacks leading to a gorgeous view of the Virgin River down below, named Refrigerator Canyon. This first set is not Walter's Wiggles… that's coming up! At first I thought this was in fact those famous switchbacks, but nope, just others!
Photo stops are my excuse for a break 😉

And now for that view I was speaking so highly of: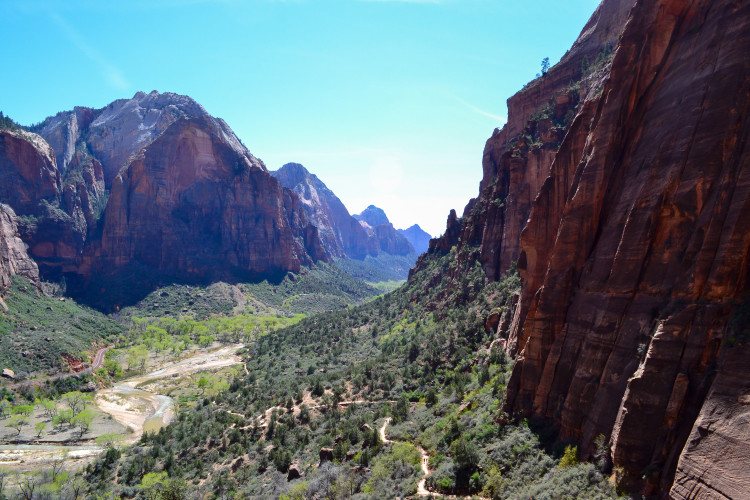 After a bit of relief, we then approached Walter's Wiggles, a series of 21 steep switchbacks. Thankfully this was the last hurdle before Scout Lookout, another mind blowing lookout point. It is here that many people turn around if they are not willing to fight to the top of Angels Landing. And boy was Walter's Wiggles a toughy! All those switchbacks were not fun in the slightest way.
But those views though.
And then came the real challenge: the chains.
For the last half-mile of Angel's Landing, we clung on to chains attached to the side of the mountain. The immense vertical drop-offs meant that we had to use our own body strength to hoist ourselves up in some instances where the rocks were too far apart, all without daring to look down.
See those tiny tiny people climbing that huge mountain towards the mid-left of that photo? Yea, that's what we were about to do.
A few parts of the trail were only 3 feet wide, with treacherous 1,500-foot drop offs on either side. Definitely not for those with a fear of heights! We managed to scramble to the top after many bouts of insecurity and lots of encouragement from each other.
With my legs and knees (and booty) feeling the burn, it had to be the sheer adrenaline that ultimately pushed me to the top.
And the panoramic views of Zion National Park taken from Angels Landing did not disappoint. We sat at the summit for about 20 minutes or so, taking it all in and enjoying some well deserved snacks. Of apples of course, we saved those cookies for the hike down.
Swoon…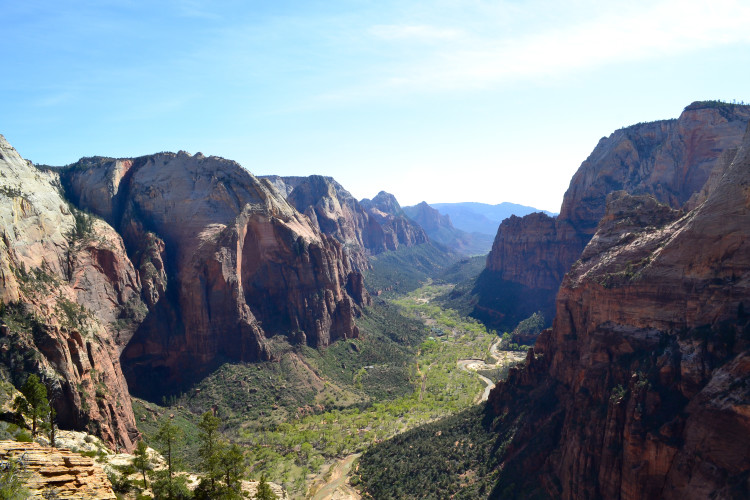 One happy camper glad to be done with the uphill portion of the hike.
We made it to the summit!
Clearly uber excited to have made it up here!
Damn sun flare ruined an otherwise perfect photo! How do I fix this?!
The Final Descent
I admit that descending the mountain was easier, but not by much. Using the chains to lower myself down the rock was a whole other battle in and of itself. I tried doing all different movements: the crab, the backwards crab, the "Hey look at me, I'm all fours", etc. It's safe to say I somehow managed and eventually made it down the chains in one piece.
Those chains are hard, yo! And quite terrifying. And then there were the switchbacks!
Once we finished descending Walters Wiggles (still cant get over that name!), my thighs and knees felt instant relief.
Oh, flat terrain had never looked so appealing. Until those other switchbacks sneaked up on us, and it was like a whole other Walter's Wiggles all over again. My knees burned, my toes killed (I swear, downhill has its challenges too!), and we were out of water. And before we knew it, the hike was over and we were back in our car, en route to Bryce Canyon National Park.
Yes, an hour ago we were up there!
In one word, epic.
In a few words (basically my word vomit after finishing the hike), "oh my god are we crazy I cannot believe we just hiked that thing my bodies killing me! I'm tired, I want some ice cream." 🙂
Tips for hiking Angels Landing:
If you are using the Shuttle system (which operates from early spring through late fall), you'll want to exit at The Grotto drop off point. The trail starts right over there, you can't miss it.
Steep drop offs occur frequently throughout the hike. Take extra precaution and keep all children of age extremely close to you.
The trail is not intended for young children, nor those who are afraid of heights. I wouldn't suggest taking any kids younger than 11 or 12.
Take a gallon of water per person, as there are no water fill ups for the length of the trail.
Keep off when it is wet, icy or thunderstorms are in the area.
It's highly recommended to finish the trail before dark. Plan your day accordingly.
If visiting in summer, arrive early before the afternoon sun sets in. It can get up to 100 degrees over there, and that doesn't sound like much fun to me, at all.
Take it slow and pride yourself no matter how far you make it!