The Grand Canyon is just one of those places you have to see at least once in your life. Am I right? How can I call myself a proud American without witnessing one of America's grandest creations?
Therefore, I made it my mission to see this big 'ol hole in the ground myself on our latest trip to Las Vegas. Since it was my birthday and all (see last year's birthday in Southern California here) I had ultimate control over what we did on our few days there (okay, so I'm a planner, big deal). You better believe a day trip to the Grand Canyon West Rim was on our agenda!
And plus, we couldn't spend all day and all night hopping from slot machine to slot machine. Those penny slots are only fun for so long.
After such a thrilling experience off-roading through the Sonoran Desert with Pink Jeep Tours, I was eager to explore with this company again – this time to the Grand Canyon.
Day Trip to the Grand Canyon West Rim
Pick up time was bright and early, but hey, I wasn't driving, so no big deal there. We weren't sporting a hot pink jeep this time around, but don't fret, we were still moving along in a brightly colored vehicle.
Since the Grand Canyon West Rim is a ways away, about 2 hours to be exact, we were seated comfortably in our high-end leather upholstered seats, ready for action. The company had these vehicles built specifically for them, aptly named 'Tour Trekkers'. I even snoozed a little on the way back (the seats recline!)- who could blame me!
The route we took was no short of spectacular. We passed by the Black Mountains, Lake Mead, tons of alien-looking Joshua Trees, and even the Hoover Dam! We always had something interesting to look at through the large glass windows, and our guide, Shanin, pointed out all the scenic spots along the way.
Although our bonus photo stop at the Hoover Dam was a super short one, it made me appreciate all that man can do. I'll definitely be booking a thorough tour of this man-made marvel in the future.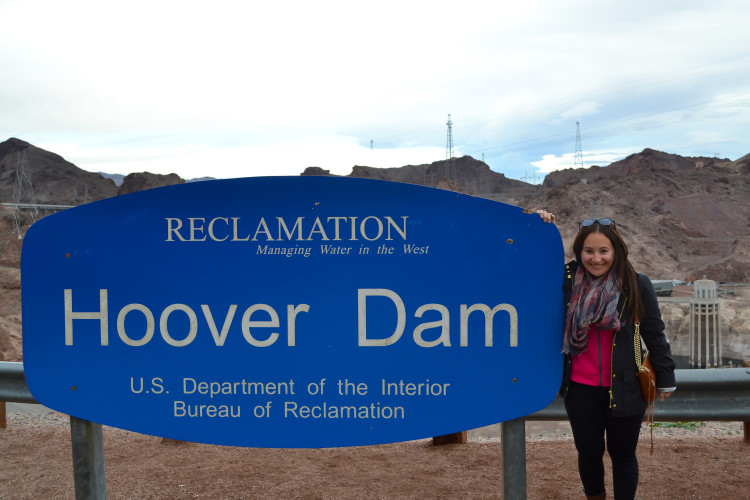 Grand Canyon West: Eagle Point
First official stop! Grand Canyon West is run by the Hualapai Indian tribe, and although is not technically part of the National Park, it still provided spectacular views. These native people of the Southwest, meaning "People of the Tall Pines", inhabited an area of more than 5 million acres, including the Grand Canyon. What a fantastic location. As we walked around and ooh-ed and ahh-ed at our surroundings, it was crazy to think that people used to survive off of this land.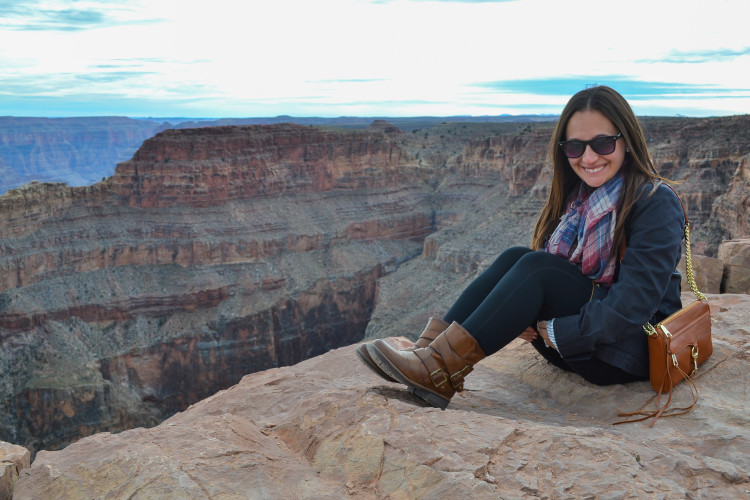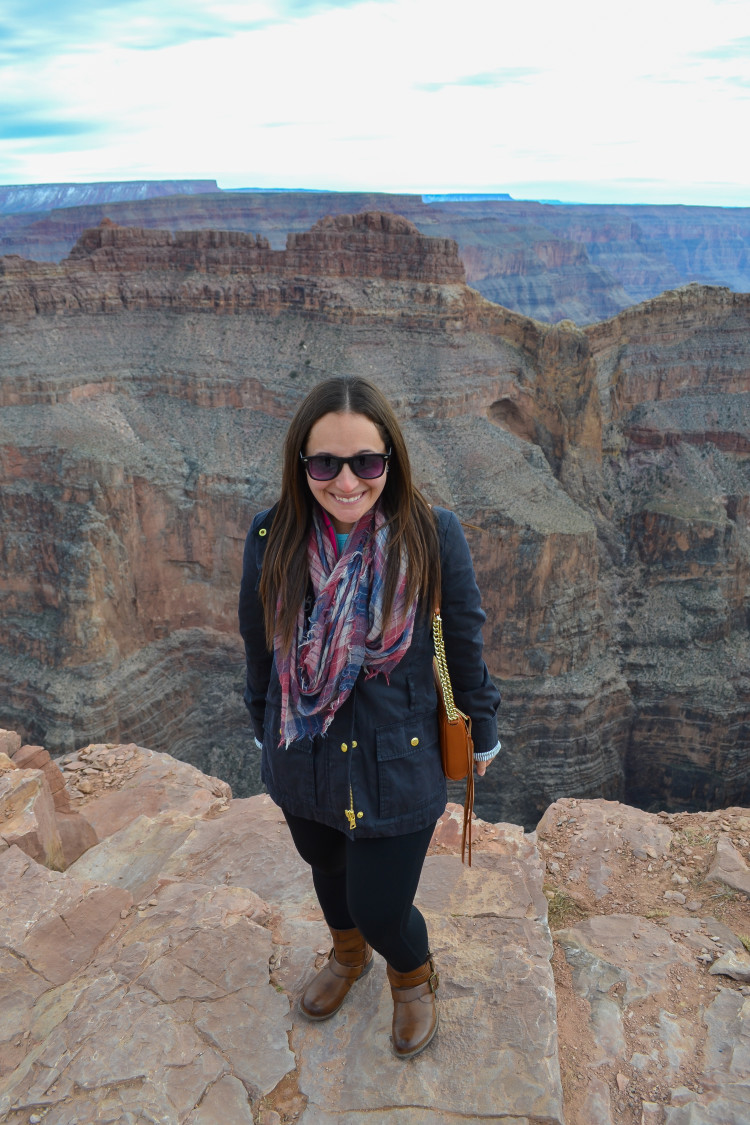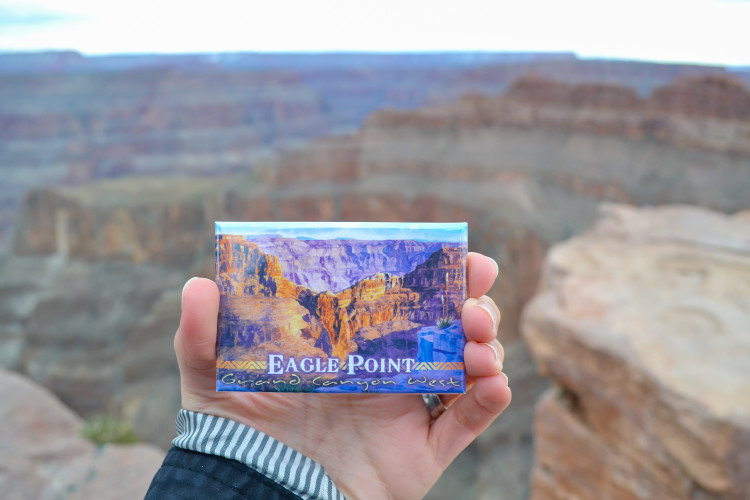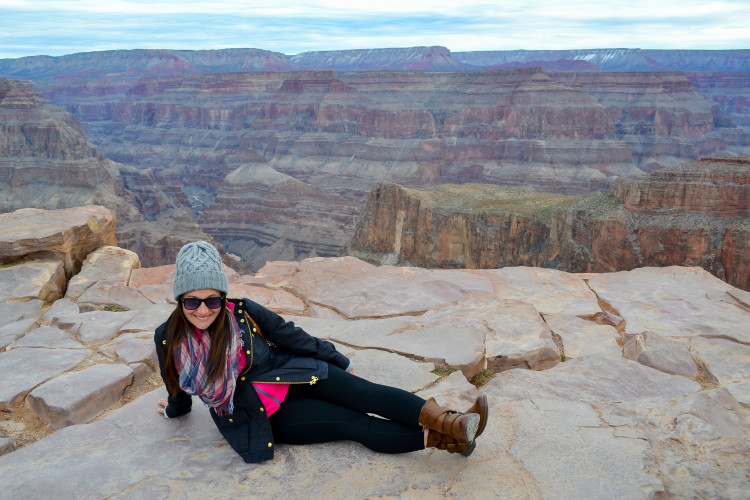 Please remember to be extra careful (especially with small children), as there are no railings anywhere near the canyon. Even I was scared myself at certain points and my gracious husband held my hand as I looked over the edge.
The scenic overlooks provided magnificent views of this mile-deep geologic wonder. And make sure to look out for the Eagle formation (hence the name "Eagle Point").
We ventured into the gift shop (to warm up a bit) and saw some homemade, authentic Native American jewelry and crafts featured here.
Should I do the Grand Canyon Skywalk?
Well, my friend, that's really up to you (obviously). I, for one, am not choosing to stand on a glass floor anytime soon (after the commotion in China and all…). Note that the Grand Canyon Skywalk is an additional fee ($35) and is not included in the Grand Canyon West Rim Classic by Pink Jeep Tour. You can buy your tickets on-site. You are not allowed to bring any personal items on the skywalk (including cameras).
Grand Canyon West: Guano Point
Here we witnessed the most beautiful views of not only Grand Canyon West, but the Colorado River as well. You can choose to hike up the pyramid point (made completely of rock) for some stunning views or hike around the base. And trust me, the views are worth the walk. Here you'll also find remnants of a historic tram that stretched over 8,000 feet across the canyon to a guano mine.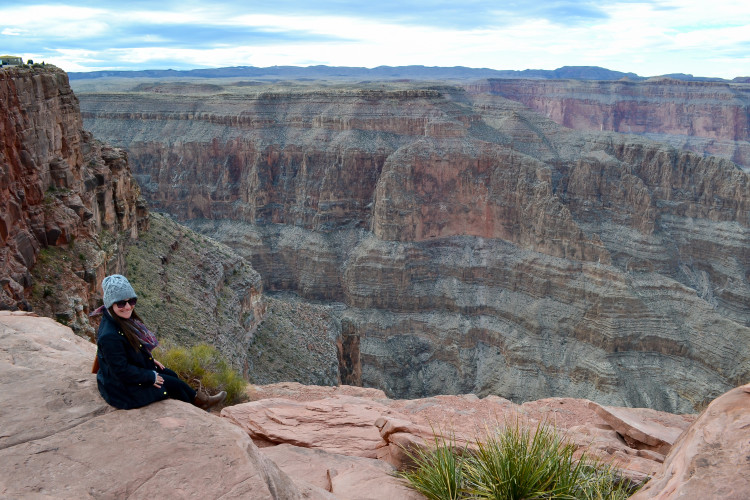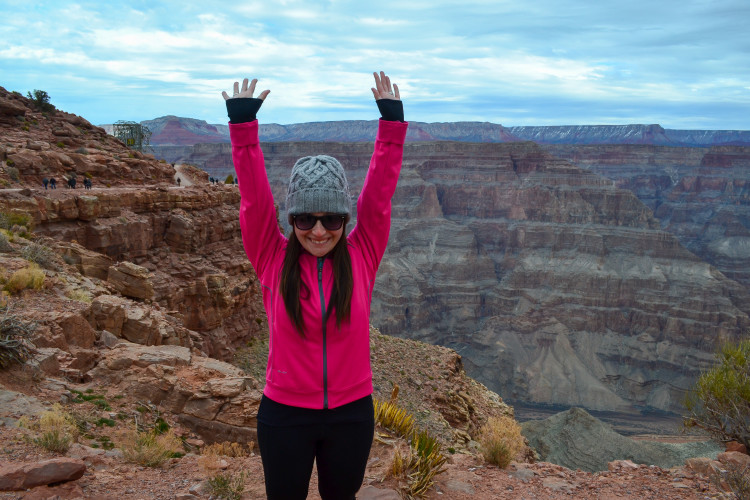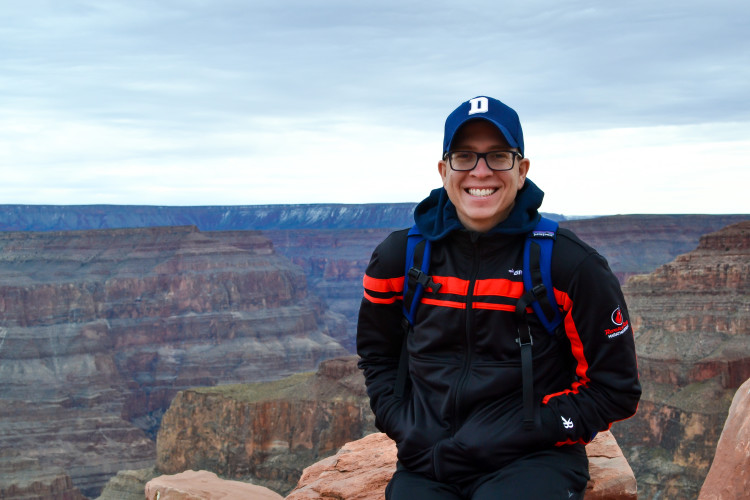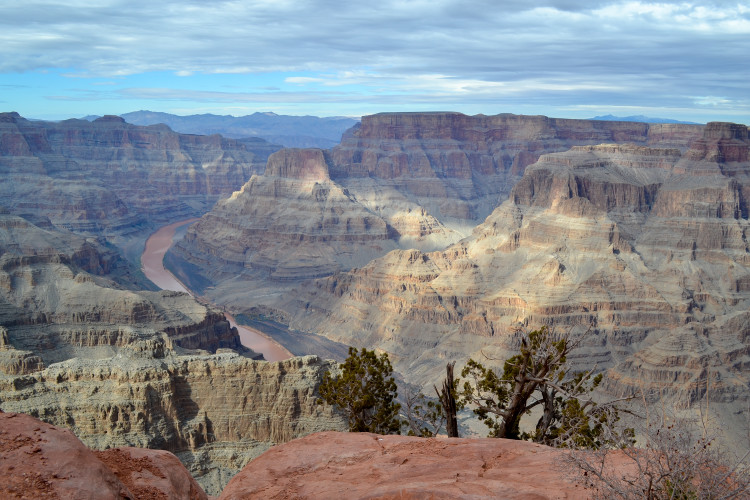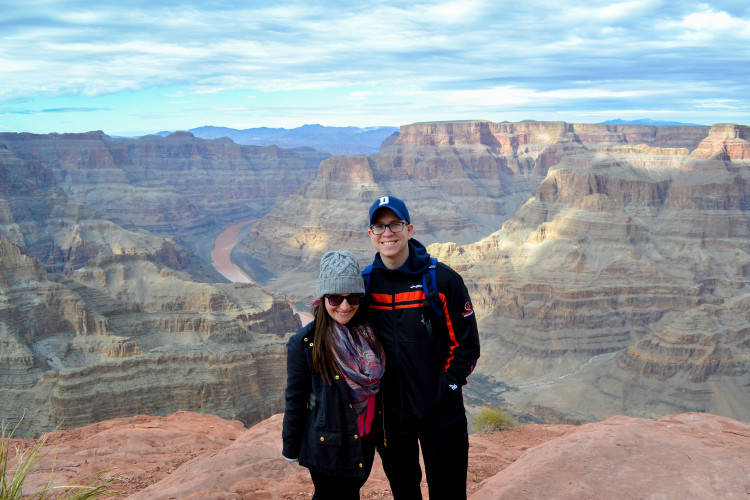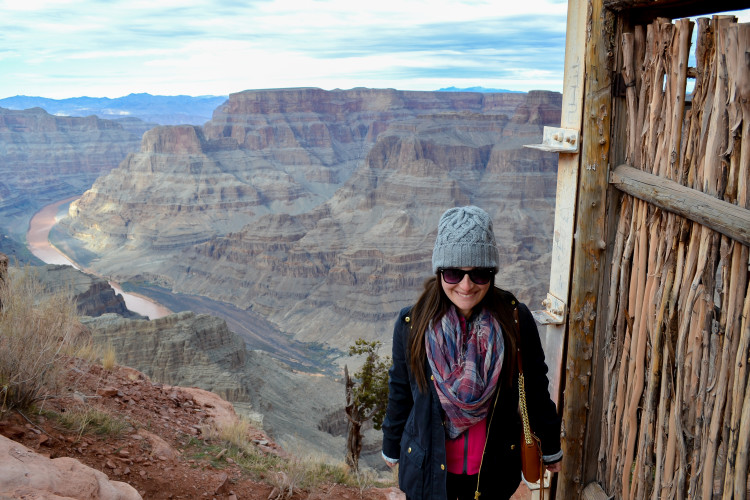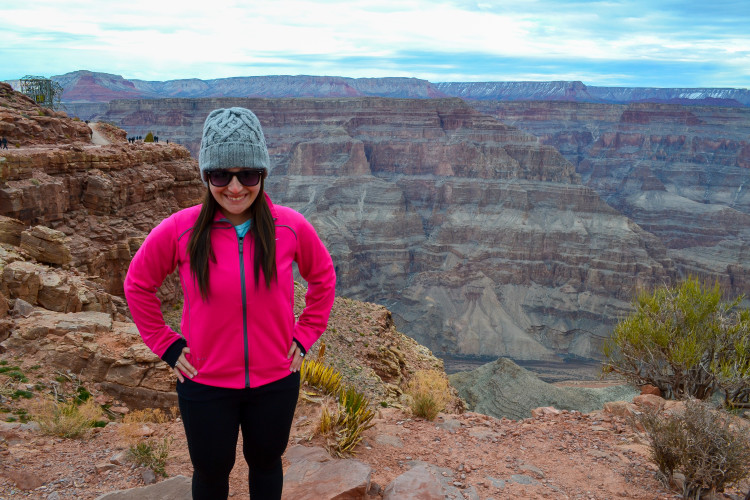 Joshua Trees (Special Stop)
On the way back, our guide made an extra stop to see the Joshua Trees up close and personal- a special request by yours truly. Those things are outta this world – of course I couldn't wrap my head around not getting a few shots of them! He knew the perfect place to stop for a few moments to get the best views of the trees.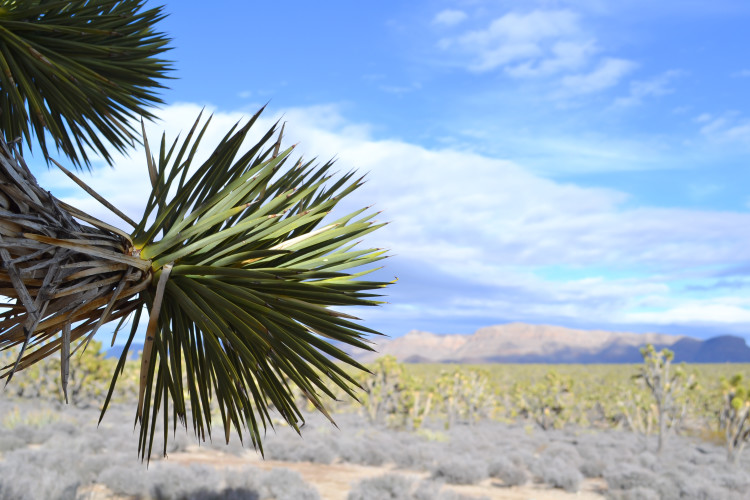 Know before you go:
Vegas is an excellent departure point for the Grand Canyon West Rim as it's significantly closer than visiting any other Rim. By comparison, the South Rim is a rough 4 hours away (one way) from Sin City.
Visiting the Grand Canyon is nothing like looking at it on a postcard or in a photograph – the magnitude of sheer beauty will blow you away (quite literally if it's super windy – state your ground).
If you're heading in winter (November – March), dress in layers, as the temperatures can change drastically over the course of a few hours and it can get quite windy.
The Grand Canyon West Rim is totally do-able in a day trip. The company provides unlimited complimentary water and lunch is provided on the tour.
If you want to capture some panoramic shots of the canyon, bring a wide-angle lens. I used my 18-55mm Nikon and it was perfect.
Complimentary hotel pick-up and drop-off from Las Vegas hotels is included as well.
To get from one location to another, you have to take the free shuttle which runs from the Main terminal to Eagle Point to Guano Point and back to Main Terminal. Don't worry – your guide will direct you and stay with you the entire time.
We were provided lunch at Hualapai Ranch, and it was pretty delicious I might add. Much better than any boxed lunch I've had on a tour before).
I was hosted by Pink Jeep Tours Las Vegas, but as always, all opinions on this day trip to the Grand Canyon West Rim are my own. Shanin was an excellent tour guide and I'd recommend him to anyone and everyone!