Headed to Utah and looking to spend the perfect one day in Bryce Canyon National Park? Get ready for hoodoo heaven, because the park is absolutely phenomenal!
I've been wanting to admire the hoodoos for quite some time (they've been on my never-ending bucket list for ever), and I can honestly say the park did not disappoint. You'll remember your first gaze out of the canyon rim, I promise. I was floored. My mouth literally dropped, and I'm not just saying that for the cliche of the phrase. It really was that remarkable.
Bryce Canyon really blew us away. With panoramic views of hundreds of hoodoos, arches, and spires, the park really looks like an extra-terrestrial, alien-like landscape. It's beyond other-worldly, and insanely bizarre (just like other national parks we've been to, including Death Valley).
Spending just one day in Bryce Canyon was our second stop on our tour of Utah's National Parks. And it was one of our absolute favorites (even more so than Arches, gasp!). Partially because you can honestly see oh so much just by driving around the scenic rim — meaning you don't have to work very hard for the best views!
Most people say that you can explore the whole park in only a few hours, but I highly recommend you dedicate at least one day in Bryce Canyon. And a full one at that.
While you can see a lot in just half a day, it was the hike down to the hoodoos that really peaked my interest (explained in more detail in this post). That's why I highly recommended spending at least one day in Bryce Canyon.
And it will sure leave you speechless — I can promise you that! It's probably one of my favorite national parks I've ever visited.
We spent a little over a week touring the Southwest. See our entire Utah/Arizona road trips and the individuals stops (with lots more info about each) here:
Capitol Reef National Park
Arches National Park
Canyonlands National Park
Horseshoe Bend + Antelope Canyon
Can you really visit most of the park with just one day in Bryce Canyon?!
Surprisingly, yes! The park is quite compact, and you can visit all of the main viewpoints in just half a day. Plus, they're all easily drivable, so that leaves the rest of the day for hiking!
The park is kinda divided into two sections. With only one day in Bryce Canyon, you'll wanna explore the Bryce Amphiteatre. It's easily accessible and touristy, with the highest concentration of hoodoos in the park. The other section, the southern area of Bryce Canyon, is further away with less hoodoos.
As mentioned above, most of the park can be seen with just one day in Bryce Canyon. Don't rush though – stare and take it in all, at least for a few moments! Put that camera down (harder said than done, I know, the entire park is stunning), and witness this creation with your own eyes. It's like stepping foot on another planet!
What's a hoodoo?!
You know those distinctive rock formations you've seen in photos in Bryce? Those are the hoodoos! These mysterious red rock hoodoos of all shapes and sizes were sculpted over thousands of years ago by wind and water erosion. While most hoodoos are fiery red and orange, the pinnacles actually come in a wide array of colors, including white and even slight shades of pink!
And here in Bryce Canyon you'll find the largest collection of hoodoos in the world. THE WORLD, I said! There's literally thousands of hoodoos that fill the Bryce Amphitheatre in the northern part of the park.
You can easily see them from the viewpoints along the rim, or get up close and personal by hiking down into the amphitheatre.
A few fun facts about the hoodoos:
The ancient Paiute Indians believed the hoodoos were evil Legend People frozen in time!
"Hoodoos" are also known as "fairy chimneys" and "goblins".
The tallest hoodoo in the park is Thor's Hammer, which is best viewed from Sunset Point or via the Navajo Loop Trail.
They're made of limestone, siltstone, dolomite, and mudstone.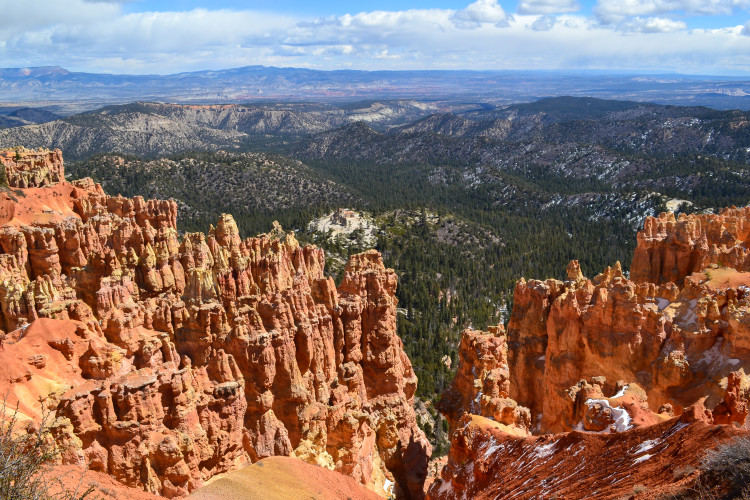 Before starting the drive, make sure to get a map of the area on your way in or at the visitor's center. If the viewpoints are all that you're after, you don't need to worry about planning anything, really, in advance. Just check the weather and conditions of the road, as it snows heavily in some parts of the park (depending on elevation levels).
Where is Bryce Canyon (and how to get there)
Bryce Canyon is located in southwestern Utah, ner the town of Bryce (pretty convenient, right?!).
Most people fly into either Las Vegas or Salt Lake City and do a combined visit to Bryce Canyon and Zion National Park on one trip. McCarran International Airport in Las Vegas is the closest airport to the park, around 170 miles from the park entrance. Salt Lake City International Airport is the next closest airport to the park, being roughly 310 miles away. You'll need to rent a car and drive.
Here's driving distances from more popular spots:
Las Vegas, Nevada: 4 hours away
Salt Lake City, Utah: 4 hours away
St. George, Utah: 2.5 hours away
Page, Arizona: 2.5 hours away
Zion National Park, Utah: 1.5 hours away
Seems counterintuitive, but if you're only planning to spend one day in Bryce Canyon after flying, I highly suggest you stay at least 2 nights. Here's my logic:
Day 1: Fly into either Las Vegas or Salt Lake City, and drive to Bryce Canyon (approx. 4 hours)
Day 2: Explore Bryce Canyon (!!!)
Day 3: Drive to your next destination (hopefully another national park in Utah!)
Honestly, you could totally leave after day 2 and skip the second night, but we found driving in the dark wasn't the greatest. There's lots of animals on the road late at night, and we were worried the entire drive we would hit one! If we had to do our trip over again, I'd choose to spend another night and leave the next morning.
Coming From Las Vegas: If you're coming from Las Vegas and driving yourself, be sure to check out The Valley of Fire and Red Cliffs National Conservation Area on the way!
Could I visit Bryce Canyon as a day trip from Vegas? Technically, yes. BUT it's a 4-hour drive each way, so be prepared for a very long (and tiring) day. If that's all you've got (I hear you, we don't get enough vacation time in the US), definitely consider joining a group tour. You won't need to drive, you can sleep on the way there, and the guide will take you to all the best viewpoints.
One Day in Bryce Canyon Itinerary
Here's how we spent one day in Bryce Canyon:
Not-To-Miss Viewpoints in Bryce Canyon
Inspiration Point
Bryce Point
Look at that elevation!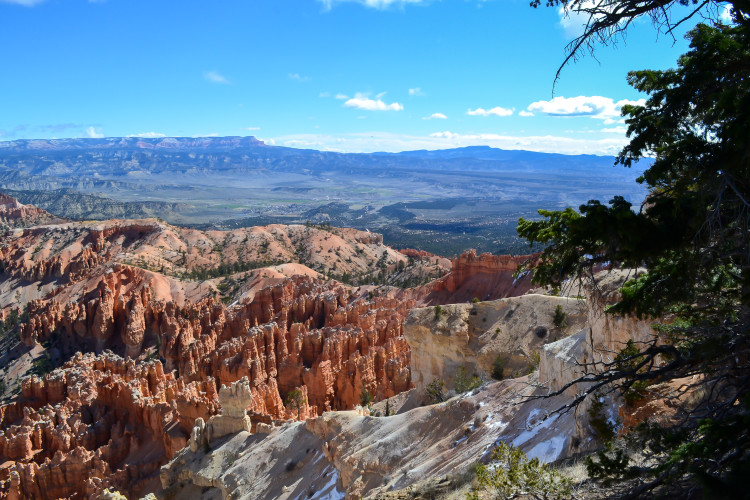 I could have stayed up there all day! So scenic!
Love adventuring with this guy!
Fairview Point
The first glimpse of clean white snow on the ground!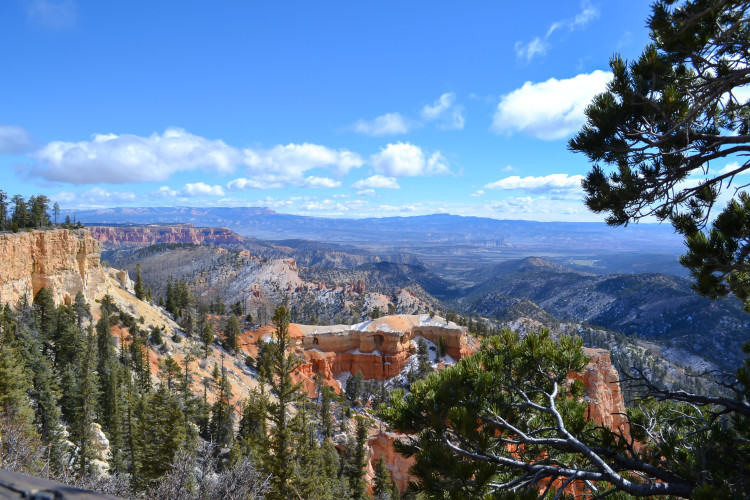 Natural Bridge
They falsely named this structure – it's not really a bridge, but it's an arch! It was windy and cold up here!
Look at all this snow on the way to the next view point!
Agua Canyon
So many gorgeous pine trees! They look so tiny from so high up!
Rainbow Point
The highest point at over 9,000 feet!
SNOW wonder we were shivering! 😛
Black Birch Canyon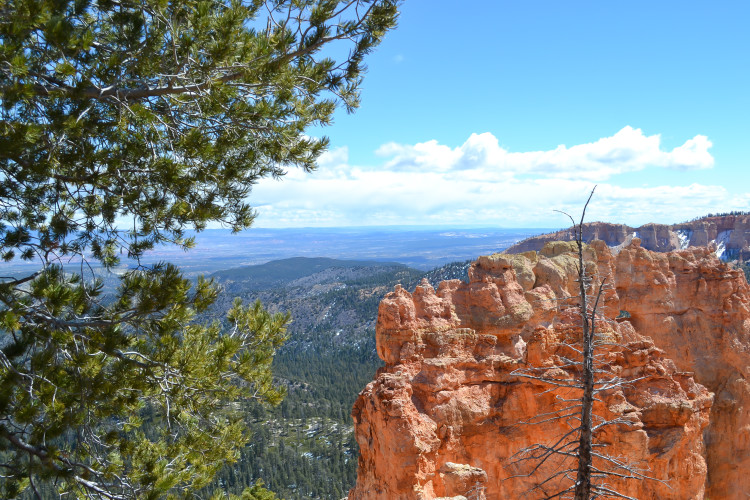 Ponderosa Point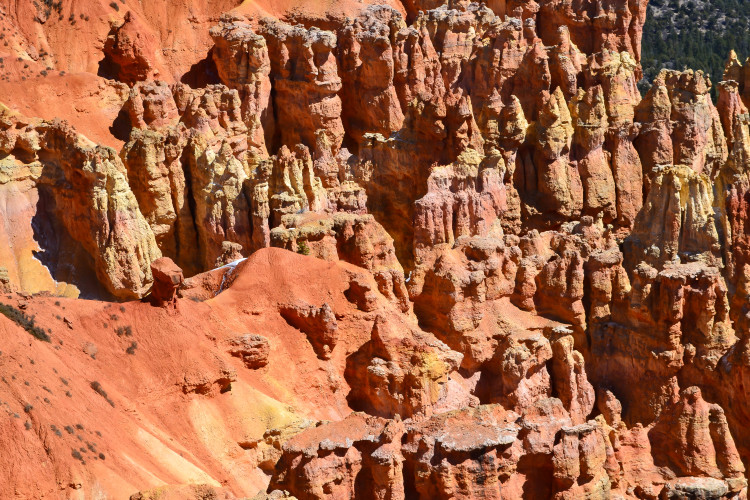 Those colors! So bright and vivid!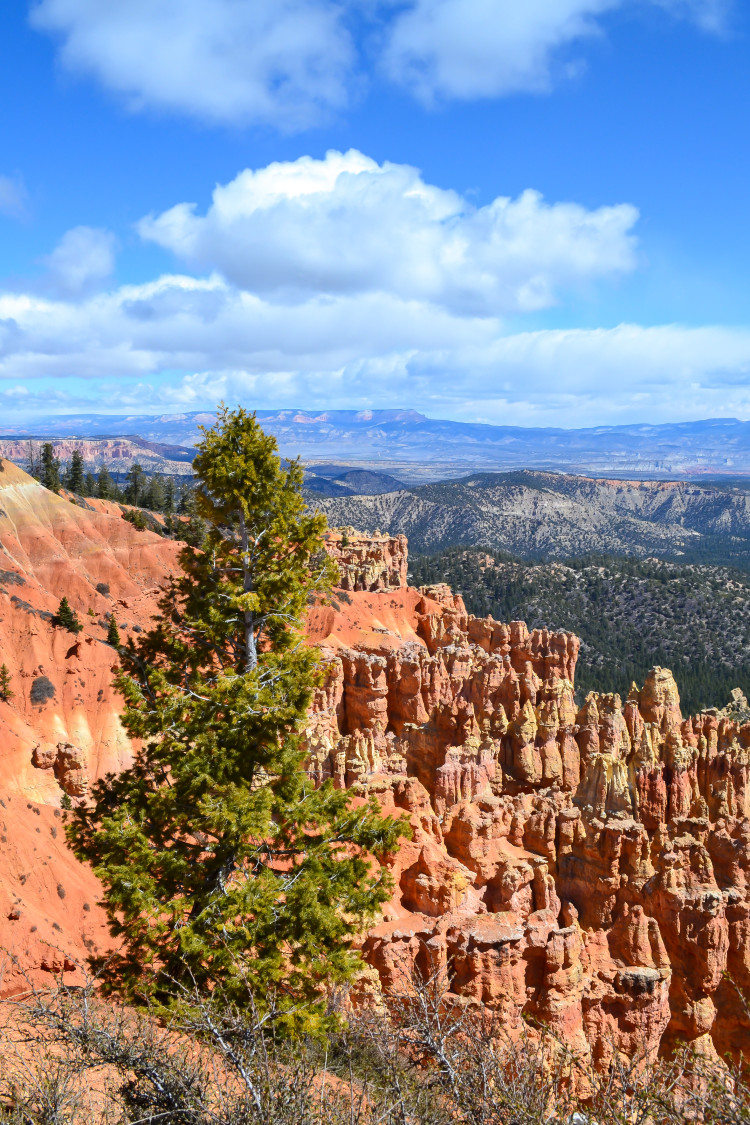 Sunrise Point // Sunset Point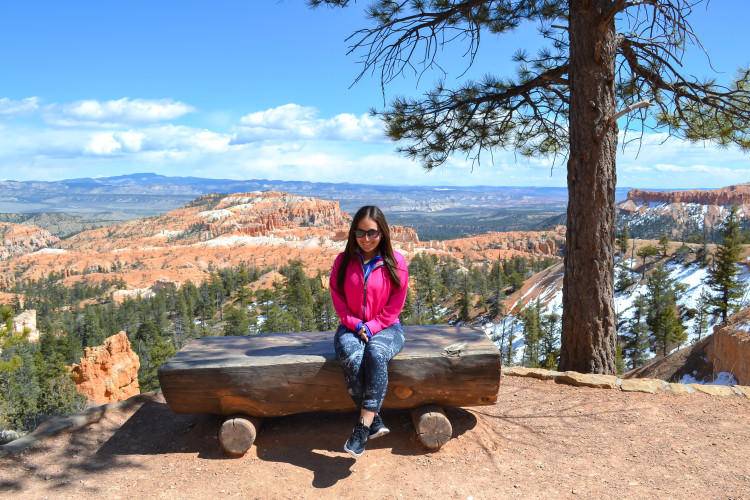 Resting before the inevitable….
Hiking Down to the Hoodoo's!
For the second part of our day, we hiked the Navajo Loop and Queen's Garden Trail down to the hoodoo's. From this trail, you get completely different vantage points of the tall other-worldly formations. If you thought these pictures were fantastic, be sure to check out the ones we took on our hike!
Oh Bryce, we'll be back for ya. <3 Sooner or later. One day in Bryce Canyon just wasn't enough – although we did see a lot of you!
What's your favorite National Park?! The more I go to, the more I add to the list!