Planning a trip to Maui and deciding which stops to make on the Road to Hana?! You're in the right place, my friend! This post fully highlights all the best Road to Hana stops, and is filled with tips for the journey!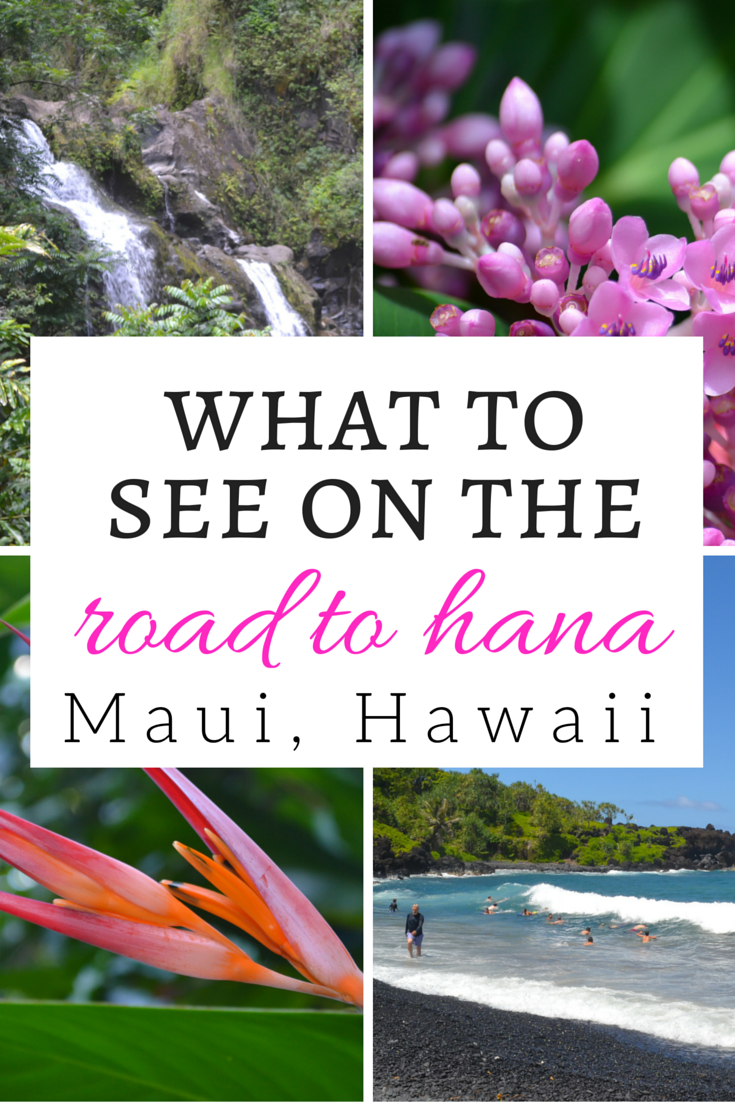 The Road to Hana is one you'll never forget and one you shouldn't miss out on while in Maui. Think juicy pineapples! Warm, moist banana bread! Rocky beach breaks! Misty waterfalls with pools (yes, for swimming!). Bamboo forests! Black and red sand beaches. It's absolute heaven, and we can't wait to do the drive again (and again, and again).
I mean, driving the road to Hana is kinda like a right of passage in Maui.
Highway 36 (known as the Road to Hana, or Hana Highway) is one of the most famous highways in the entire country. Although the drive only takes about 3 hours, you'll want the ENTIRE day to linger around and take in the fresh air of this beautiful area. And trust me, there's lots of stops on the Road to Hana you won't want to miss!
Remember, you'll need to rent a car. Picking up car rentals in Lahaina is super easy. Just don't show up at the rental car place the morning you wanna drive the Road to Hana. Definitely get your rental car ahead of time so can head out first thing in the morning. I like to search via this site in order to compare rental companies to see who has the best price.
Before I start gushing about all the best road to Hana stops, let's go over some logistics, shall we?
Logistics and Questions about the Road to Hana
Can I make all the Road to Hana stops in one day?
Nope — sorry to disappoint. It's impossible to make it to all the stops on the road to Hana in just one day, so it's extremely important to plan ahead of time. And that doesn't mean on the way to Hana. I'm talking about before you even get in your car for the day.
I was thankful I did my research and narrowed down our drive to approximately 13 Road to Hana stops. And even 13 was too many. We were utterly exhausted and just wanted to go home towards the end. You heard it from me — Don't over plan! You'll hate yourself for it.
Just know you cannot see every plunging waterfall, every stunning landscape, or eat every delicious snack (but you can take some back to your hotel, phew). We're on island time here, so revel in that sweet, sweet Maui sunshine and don't get upset if you miss something.
If you wanna hike the famous Pipiwai Trail at the Oheo Gulch, make sure to get there around 1pm or so. It's the farthest Road to Hana stop on this day trip, so you may need to skip a thing or two along the way. You don't wanna be driving back to your accommodation in dark — the Hana Highway isn't meant to be driven at night!
Really don't wanna miss the best stops on the Road to Hana? I feel you, haha. Consider downloading the Road to Hana Gypsy App ahead of time. Not only does it give you verbal directions straight from your phone, but it's a mixture of narration and music for the occasion. It's kinda like having your own personal tour guide in the car with you.
With the app, you'll find hidden waterfalls, secret jungles, and panoramic views of sparkling coastline, basically the most highly sought after Road to Hana stops. I highly regret not buying it (it's only a few bucks), because we were constantly on the lookout for stops and had trouble finding a few the first time around.
Should I Stay Overnight In Hana?
Well, that's honestly completely up to you. If you'd like a much more relaxed pace and actual time to enjoy all the waterfalls and beaches, it can't hurt to stay in Hana for a night. By staying the night in Hana, you essentially have two days to spend on the Road to Hana, since there's plenty of stops to be made after the town of Hana itself.
Do know that unfortunately, car break-ins are a thing around these parts. If you are planning to spend the night in Hana and checking out of your other accommodation elsewhere on the island, make sure to hide all your valuables and leave your luggage in the trunk. And of course, triple check your doors are locked! I'd take out everything you need on the Road to Hana prior to leaving to minimize the need to open your trunk during the drive.
We've never stayed overnight, but had exceptionally long days (getting to Paia by 8am or so and back to our hotel in Kaanapali after dark).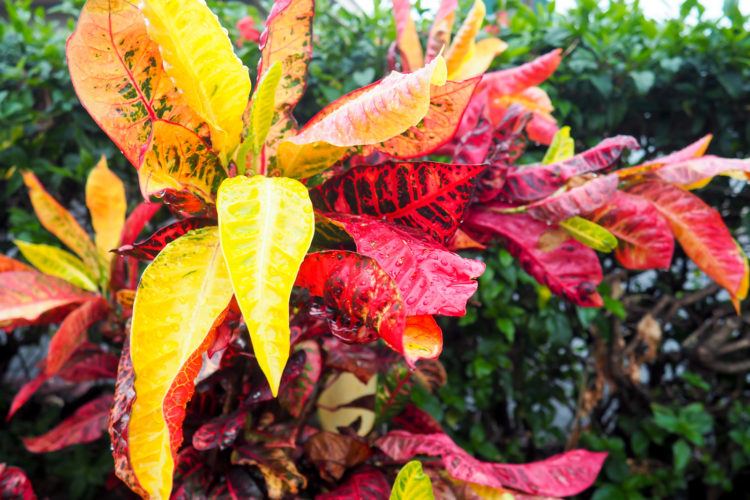 Is the drive to Hana dangerous?
Many say the driving the Road to Hana is pretty scary, with it's 52 miles of winding roads, plenty of one lane bridges, hairpin turns, and rocky cliffs. It's kinda like driving the Pacific Coast Highway in that sense. But there's banana bread and Maui pineapples instead of lobster rolls and boysenberry pie.
In all honesty, as long as you drive on the slower side and use caution (always let the locals pass you and honk before making any blind turns/crossing one-lane bridges), you'll be ok. If you'll be in the driver's seat, you'll want to make sure you get plenty of rest the night before! And there's even a maximum speed limit of twenty-five miles per hour, soooo, yea, can't really go too fast here.
Weather and When to Go
So here's the thing — the weather changes quickly here on the Road to Hana. The morning can be completely dry, and then a massive cloud comes and brings lots and lots of rain. Hana is on the "wet side" of the island after all! Because of this, I'd be prepared with rain jackets/ponchos in the car. And some patience and common sense. If it doesn't seem safe to continue, it's not — turn around.
The two times we drove the Road to Hana, we had gloriously sunny weather. That said — both times were in the peak summer. Had we visited another time of year, I'd highly expect at least some precipitation and passing rain showers.
And honestly? I'm not sure we would have loved our Maui road trip in the rain. If it's just light rain with a few sprinkles, no big deal, you'll be fine! But a torrential downpour is another story! With heavy rain comes muddy trails leading to muddy waterfalls, not those picture-perfect scenes you're probably imagining. And don't even think about the beaches. With that being said, as you approach Hana (and beyond), you can expect the weather to clear up.
I've had friends go on rainy days and while they still had fun, they noted the drive was much more difficult. As noted earlier, the road is super windy in certain parts and the road can get slippery. If you don't wanna worry about if it's gonna rain or not, it might be best to book a guided tour below.
What Kind of Vehicle to Drive
You've got essentially three choices when deciding what kind of rental you wanna get. And all come with pros and cons, so decide carefully!
As mentioned earlier, petty theft does unfortunately happen. We prefer to blend in with the locals as much as we can by renting an older vehicle from Kihei Rent-a-Car, a family-run business who provide free shuttles to and from the airport to get your car! The first time we drove the Road to Hana (quite a few years ago) we rented a standard 4-door sedan, and this last time (a few months ago), we rode around in a fun tangerine-colored Jeep!
Don't get anything too large or you'll have an extremely hard time parking along the road.
Standard Sedan: Your regular car, which will probably fit on the side of the road the easiest.
Jeep: If you're planning on driving the "Back Road to Hana", aka all the way around the island, you'll need a Jeep to do so. Rental companies don't allow you to drive this route in other cars. We loved having our Jeep, and took the top off a few times!
Convertible: Always a fun time with the top down, but just remember the Hana Highway is on the wet part of the island! Meaning it may rain and you won't even want the top down anyways! Just something to consider if you'll be spending lots of extra money on a convertible!
Parking at the stops on the Road to Hana
Hate to break it to ya — but parking along the Road to Hana can be quite stressful. There's not many places to pull over and park, and plenty of No Parking signs. Don't expect massive parking lots around here. You're lucky if there's space for 5-10 cars at certain stops on the Road to Hana!
Don't let that deter you — there's so much to see along the way. And if you really can't find a spot, just move on. There's much more to see. Plus, you don't wanna get stuck with a $200 parking violation by parking incorrectly on the road. If you do park on the road, make sure you give plenty of clearance to vehicles driving along, and never block the road!
Road to Hana Tours
Don't feel like a long day of driving yourself? To see the entire road in style and comfort, it's best to take a guide. They plan the entire day out so you hit the best spots, for the right amount of time, and get you back to your hotel or condo for dinner. No stress at all. After my husband yelled at me for the up-teenth time about the massive amounts of driving, I kind of wish we opted to take an organized tour.
Recommended Day Trips to Hana:
Even more Tips for driving the Road to Hana
Start super early (around 6am or so) to avoid traffic. Plan to leave the Hana area (or your last stop) to go back around 4pm. If you're not in Paia (the start of the Road to Hana) by 9am you're too late. And with that being said, skip the sites in Paia and save those for another day. Other articles include attractions in Paia as recommended Road to Hana stops, but Paia really deserves at least a half day itself. Plus, you'll undoubtedly encounter lots of traffic if you spend time in Paia before really making the drive to Hana.
Fill up on gas before the drive the night before! If you forget and your gas is low, fill up in Paia, but it's very expensive there. Another wise choice would be to fill up in Kahaluli, near the airport. It may come as a surprise, but there are ZERO gas stations between Paia and Hana, and you never know what could happen. Just be prepared with a full tank the morning of.
Bring sunscreen, a cooler full of water, and mosquito repellent (there's lots of jungle here!). And yes, lot of sunscreen. That Hawaiian sun is strong!
Turn on some good old-fashioned Hawaiian music (as you'll be in the car ALOT). Did I stress that enough? You'll be in the car for hours and hours between making all the the stops on the Road to Hana. Enjoy yourself! Better yet — make a playlist in advance!
You could bring snacks if you like, but you'll find roadside fruit stands between some of the stops on the road to hana. Some of them are open for pay by the honor system. So, bring cash, including plenty of one-dollar bills, to pay at the stands.
Pack a breakfast and lunch, or eat breakfast beforehand and eat along the way. You won't find too many spots for a full meal, and what you do find will probably take a while (lots of people with only a few choices).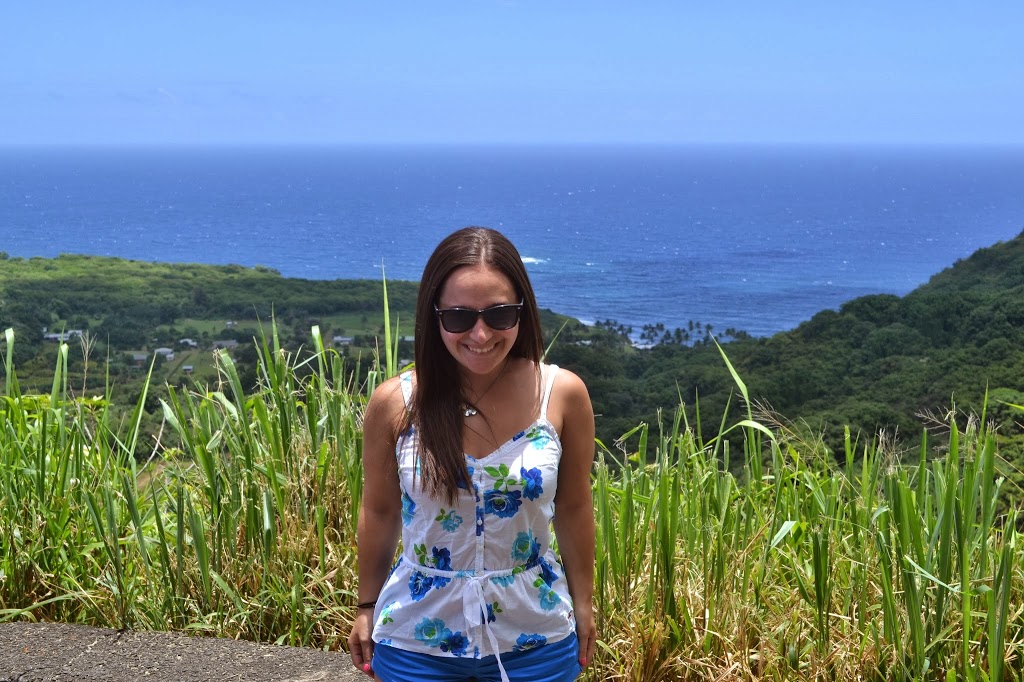 The Road to Hana Route
Sure, it seems like you'll just be driving on one road, and while most of the best road to hana stops are along the Hana Highway, it's a tad confusing.
Begin your (early-morning!) journey on the Road to Hana from Highway 36 (Hana Highway) from around the town of Paia (you'll first need to get there from wherever you're staying the night before!).
Then follow Highway 36 until it turns into Highway 360. You'll continue on this road to and past Hana — stopping along the way to enjoy the best road to Hana stops and sights.
Continue driving past the town of Hana where the road then becomes Highway 31.
A great place to turn around is at the Kipahulu region of Haleakala National Park. (Note that the Kipahulu region is separated from the summit of Haleakala by many miles and thousands of feet of elevation – aka DO NOT attempt to go to the crater in the same day.)
Basically it's Highway 36 (from Paia) — Highway 360 — Highway 31. Honestly, just follow the line of cars and you won't get lost (haha).
An Important Note on Kaihalulu (Red Sand Beach)
You may have seen photos of this (stunning) red sand beach on Instagram or others floating around the internet. Please do not include this beach on your Road to Hana itinerary — it's not a stop for tourists to make. I recently learned that Kaihalulu is one of Maui's most sacred places (pertaining to their origin story), and the trail is exceptionally steep, narrow, slippery, and all-around dangerous (people hurt themselves every year). Plus, the trail used to get to the beach is on PRIVATE PROPERTY, and as we know, TRESPASSING IS ILLEGAL.
Do your part and stay away — no matter how many articles you read and/or amazing photos you see. It's a sacred beach and highly discouraged to visit by the local community. Let's keep this place pristine and hidden away as it should be. And if you do feel the need to go (just please don't), NEVER take anything from the land — and that includes the red sand.
Phew, let's get to it! Now that you know all the logistics of the drive, of course. The best stops on the Road to Hana, coming right up!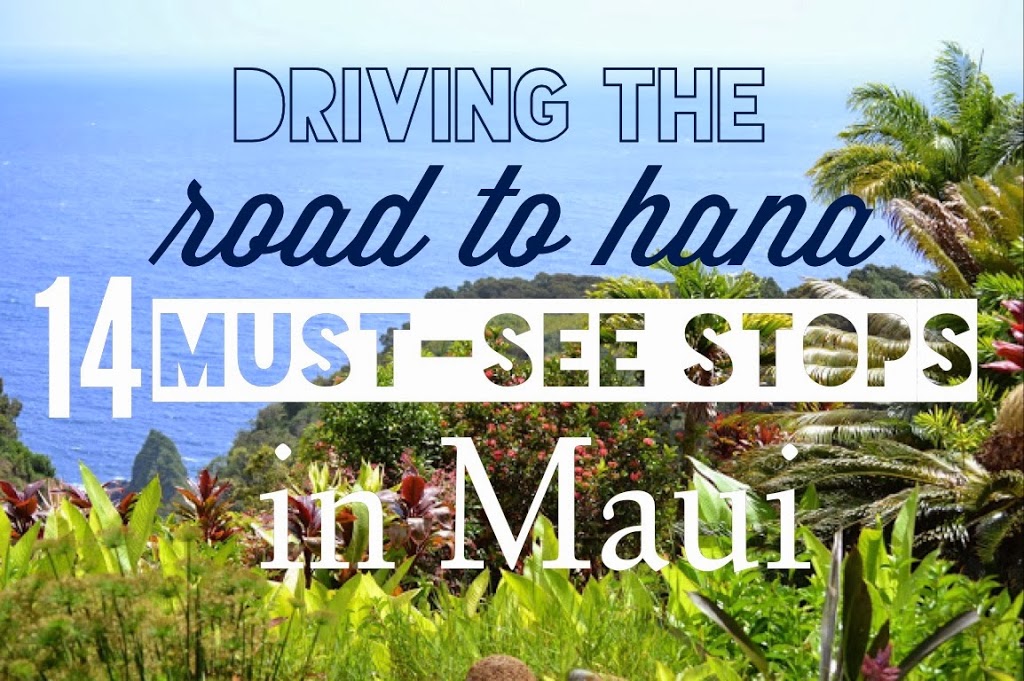 The Best Stops on the Road to Hana
Almost if not all of the stops are hard to find, so make sure you keep your eye on the side of the road for mile markers (MM). You'll see cars lined up on the side of the road for some of the more popular stops, but others you will have to diligently look for.
Once you pass a MM it is almost impossible, and actually rather unsafe, to go back. Another reason to go ahead and just download that Gypsy App!
Road to Hana Tip: If you pass a stop by accident, just move on. There's lots more to see! ***The point isn't actually to reach Hana, but to take in all the gorgeous sights along the way.
Road to Hana Stop #1. Twin Falls (MM2)
We made our first of all the stops on the Road to Hana at Twin Falls. And it was absolutely gorgeous (and surprisingly usually underrated by guide books). But don't listen to the guidebooks — make a stop here.
Take a short (possibly muddy) walk through the beautiful foliage to the waterfall, see native plants, and don't miss out on that sugar cane juice from the fruit stand.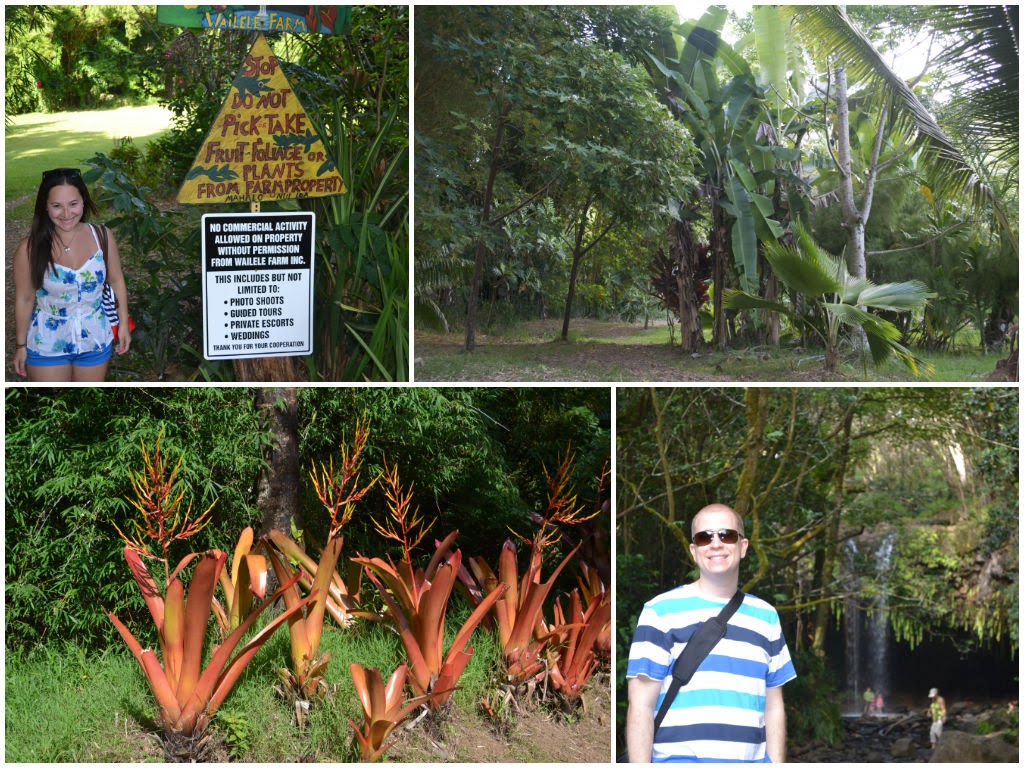 If you wanna get your toes wet already, you can even go swimming at the base of the waterfall! We just chose to take photos in front of the falls, because we had lots of other stops planned! You decide — it's your trip!
PS: If you come early enough, you may be able to enjoy Twin Falls crowd-free.
PPS: Please do not take anything (i.e. pick any fruit) on your way the falls. The fruits are owned by private farms, and selling fruit is how they make their money. Be nice to the farmers. 🙂
2. Huelo Lookout (MM 4.5)
Huelo Lookout is the most adorable pastel-yellow road-side fruit stand full of everything you'd want. Juicy Maui pineapples. Organic fruit smoothies (made with fresh sugarcane and locally sourced fruit).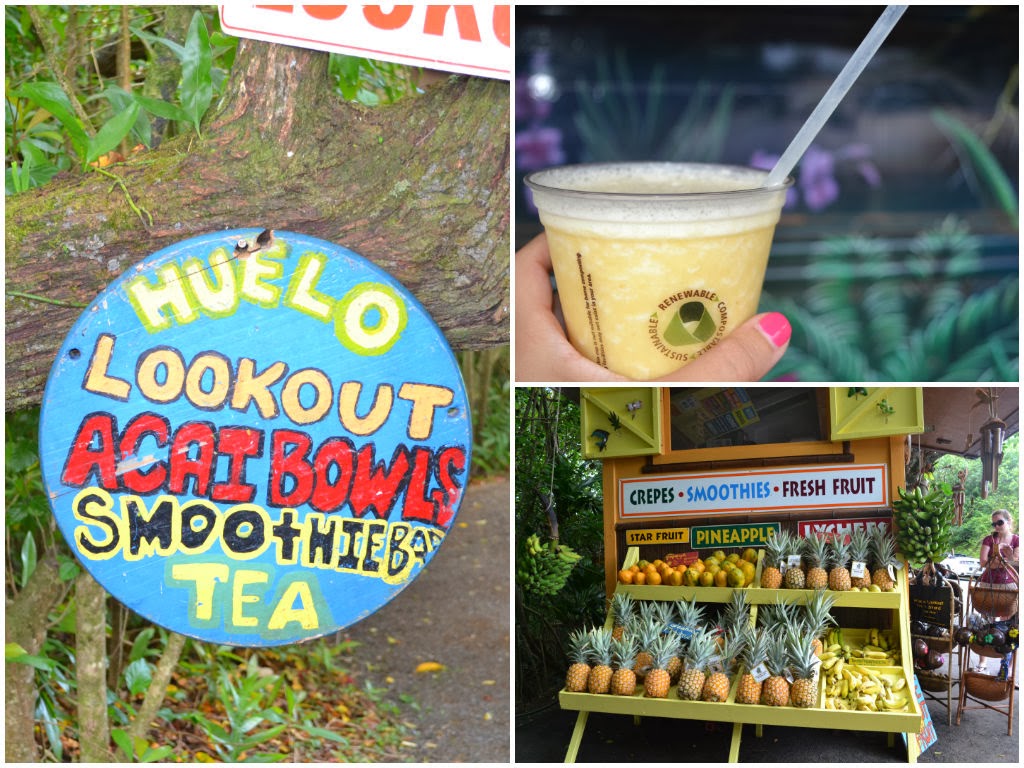 Coconuts to drink and banana bread and acai bowls and French crepes to enjoy. Don't fill up just yet – there's (lots) more snacks to come, promise!
Grab a pineapple smoothie (why not) and marvel at the views from the lookout in the back. A super short stop on the Road to Hana but worth the few minutes.
3. Waikamoi Ridge Forest Trail and Overlook (MM 9)
We accidentally stumbled upon this unintentionally, thinking this was the parking area for the Garden of Eden (ha). We didn't do the hike, as we had lots of other stops on our preplanned agenda, but the view from the vantage point (below) was exceptional. Aren't I right?
Psst – unplanned Road to Hana stops are always welcome! It's Hawaii – its all beautiful here!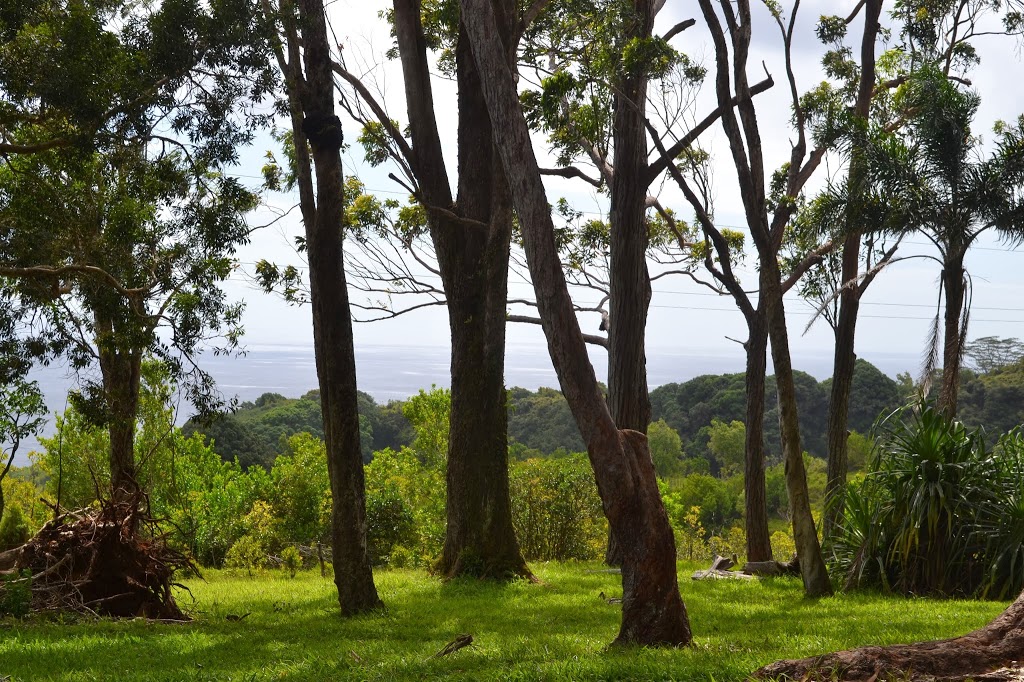 4. Garden of Eden Arboretum (MM 10.5)
The garden is most popular for its debut in 'Jurassic Park,' where the opening sequence of the movie was filmed, specifically the Keopuka 'Jurassic Park' Rock which can be seen from one absolutely gorgeous lookout inside the garden.
After admiring the view, be sure to walk around the area to find some of the 500(!!!) botanically labeled plants, hidden waterfalls, and the view from Rainbow Overlook. The Rainbow Eucalyptus was specifically gorgeous!
Be prepared to pay ~ $15 per person as an entrance fee to the park. It's one of those pricy touristy places, but one not to miss (open daily from 8-3). The garden has facilities (a few bathrooms, yippy!), which are actually uncommon along the road. Out of all of the stops on the road to Hana, this one was one of my favorites!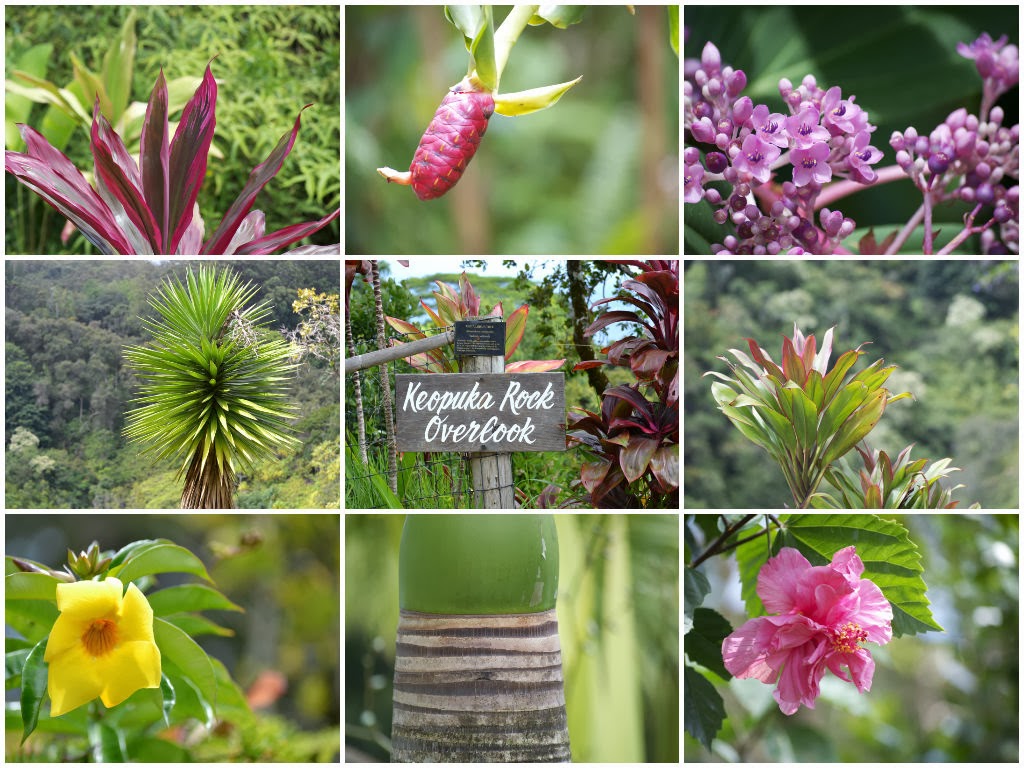 5. Keane Peninsula (MM 17)
A short drive to Keanae Peninsula is definitely worth the diversion off the Road to Hana. The paved drive down to this peninsula leads you to the ocean's edge for amazing views of the Hana coast. The coastline is rocky and exposed to the elements, so you won't find any swimming opportunities here.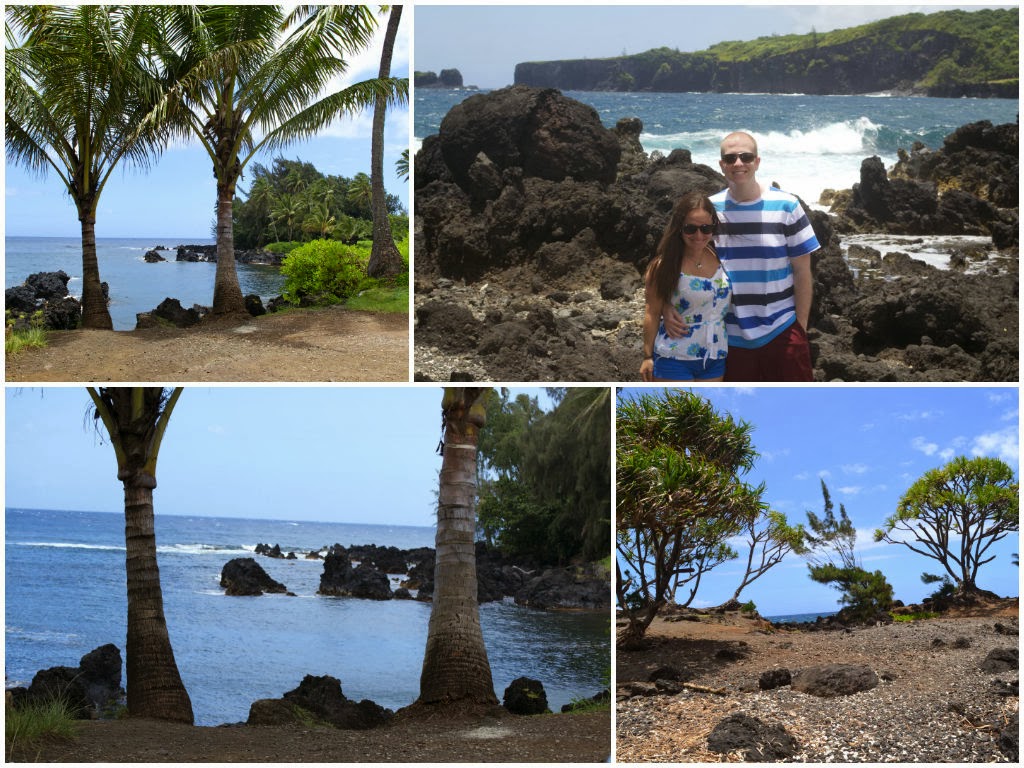 Don't get too close to the edge while standing on the rocks – the water shoots pretty high against the rocks! You'll find the turn to Keanae Peninsula on the ocean (makai) side of the Road to Hana between mile markers 16 and 17. The turn is at the bend of a hair pin curve, so drive slowly so you don't miss it.
6. Aunty Sandy's (on the Keane Peninsula)
A quick stop on the Keane Peninsula, you'll see it on the side of the road (on the right) no problem. Make sure to get some fresh, warm banana bread, and the shave ice is like no other on a hot, sticky day.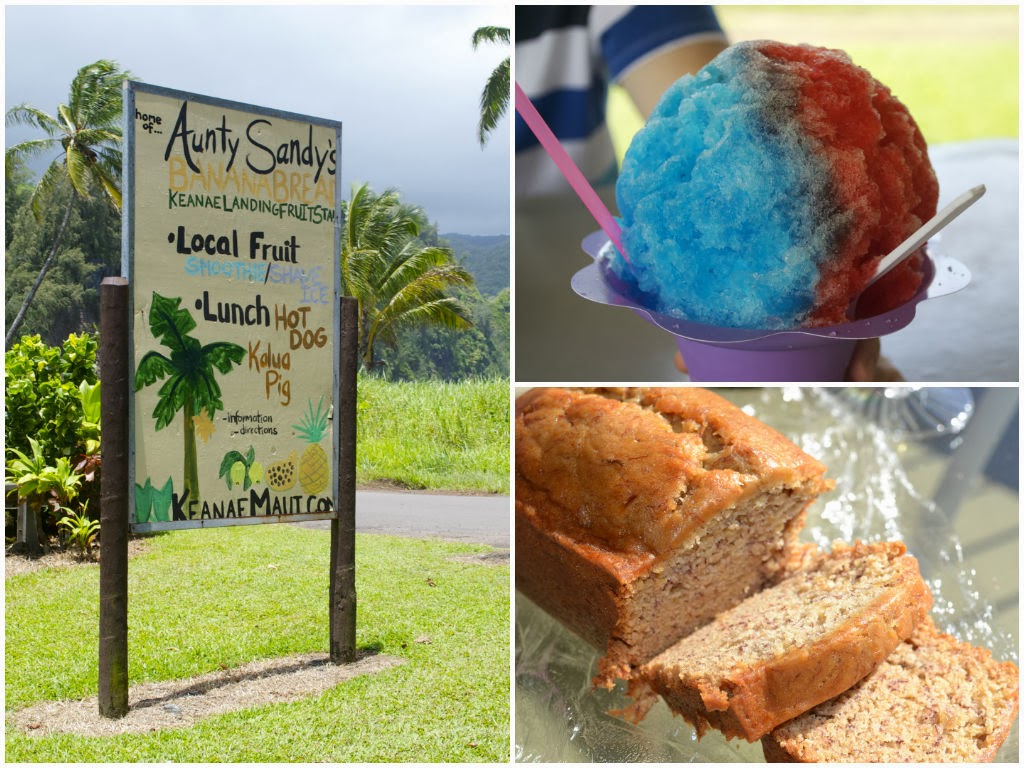 7. "Halfway to Hana" snack shop (MM 17.3)
Call me crazy, but you can never have enough snacks on the road to Hana! You may be full from the previous snack shops, but load up on some if you're planning on driving the entire route past Hana on the "country-no-paved" roads. Plus, you're half way there! That in and of itself is an accomplishment!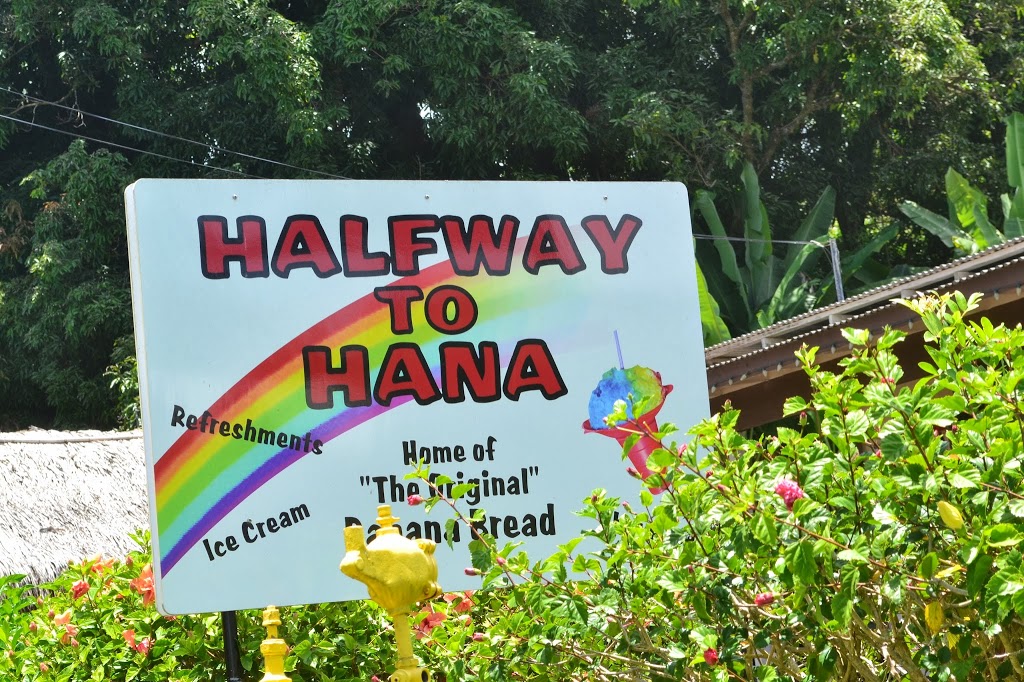 8. Wailua Overlook (MM 18)
Wailua Overlook is beautiful, with views to the historically rich community of Wailua. Be prepared to stop, as it's rather easy to miss this little turnout (and there is only room for about 4 cars!)
9. 3 Bears Upper Waikani Falls (MM 19)
Another quick stop on the side of the road a must stop on the road to hana. Parkings a bit tough, but arguably the best waterfalls on the Road to Hana. You have the option of walking down to get much closer to the falls, but with the car situation not preferable, we chose not to. Still a great view from above!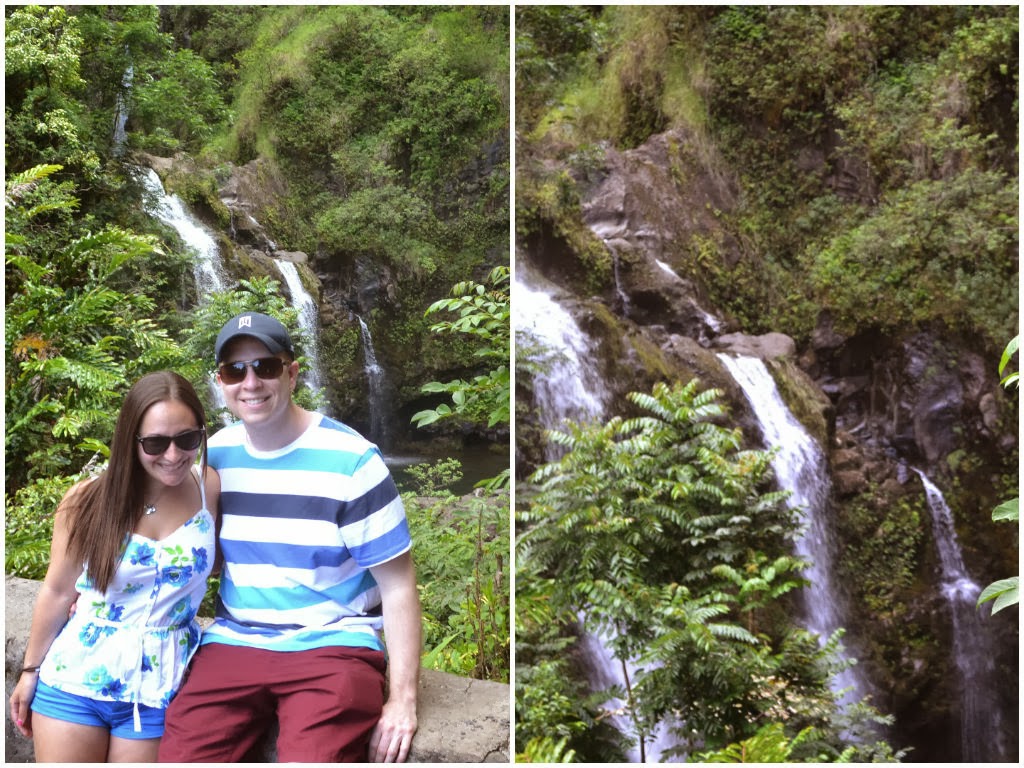 10. Nahiku Ti Gallery and Coffee Shop (MM27-28)
By this time on the drive, we were so hungry (despite all the yummy snacking earlier!) We weren't planning on stopping here, but are so glad we did- two words. kalua pork tacos. And bathrooms. Okay, technically four words. The food almost outbeat my kalua pork from Aloha Mixed Plate. And while I'm raving about it, check out 10 Things to Taste in Hawaii.
Basically, a great place to buy little gifts for family and have a superb meal. You won't leave hungry, that's for sure.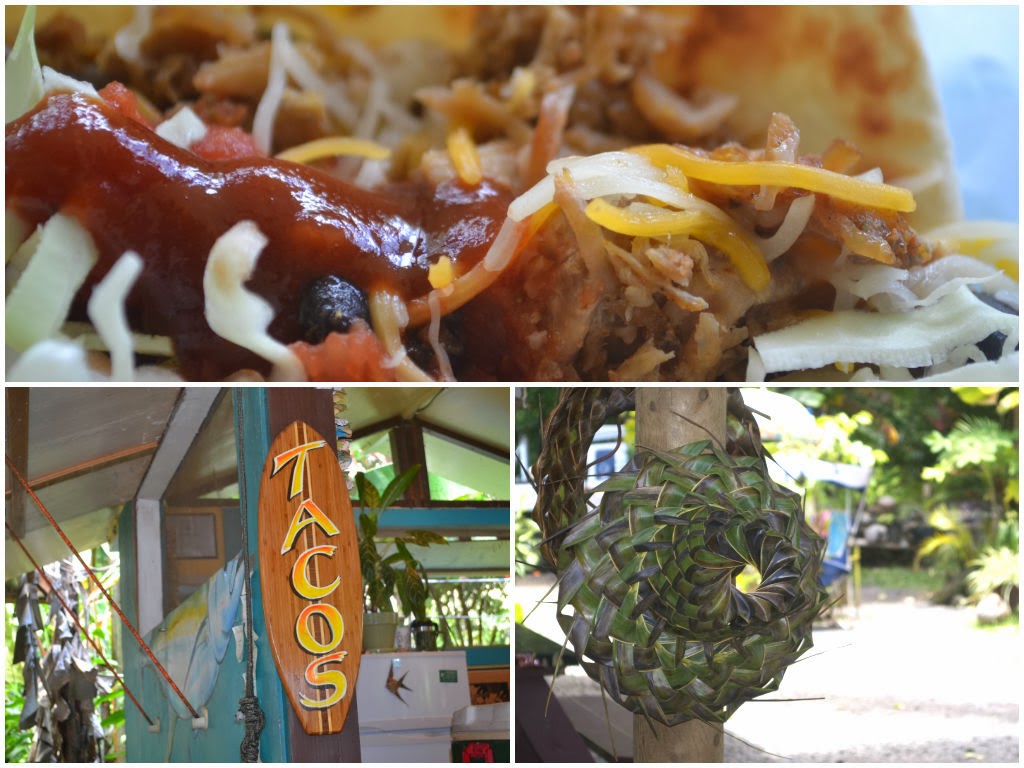 11. Wainapanapa State Wayside Park (MM 32.2)
This park, comprised of 122 acres, features dramatic black-sand beaches, large sea caves, volcanic tubes, a blowhole, and a coastal hiking trail. Plan to be here around an hour or so if you want to check out everything and hang by the beach for a few. Although the beach is quite small, it is beautiful and definitely worth checking out. The black pebbles make for an astonishing sight.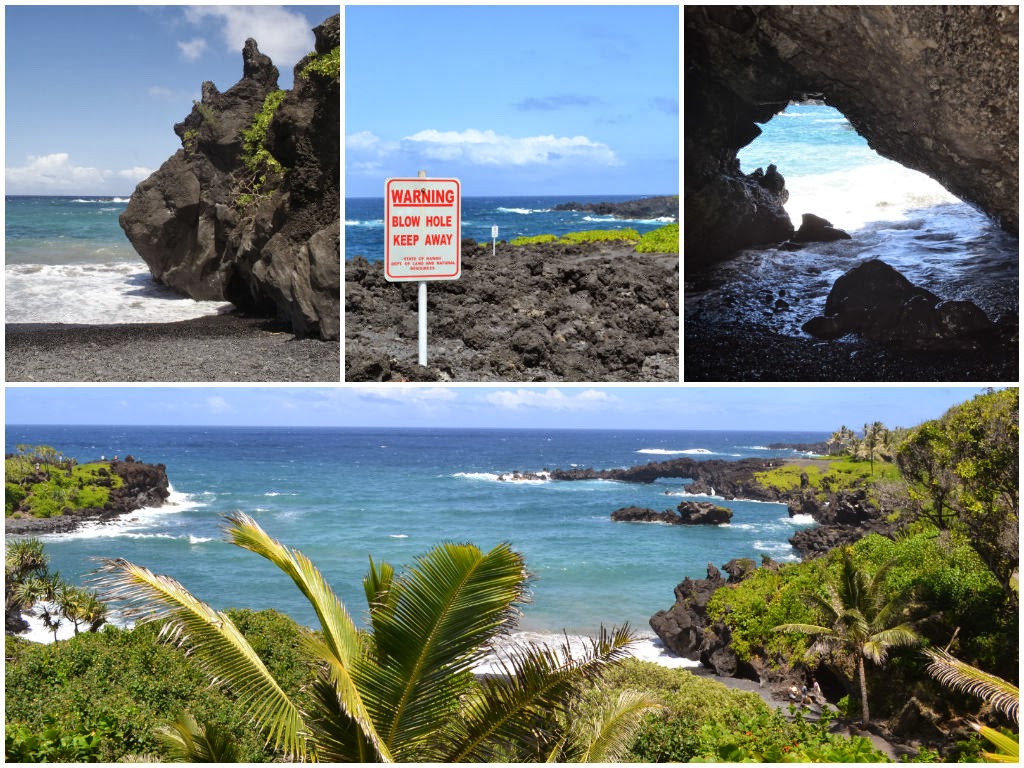 The translation for Wai'anapanapa is "glistening water" or "water flashing rainbow hues". It is obvious that both are perfectly accurate in describing the powerful contrast between the black sand/pebbles and the deep blue-greens of the ocean.
Plan to be here around an hour or so if you want to check out everything and hang by the beach for a few. I wish we had accounted for more time here, but there are so many stops on the road to hana it's hard not to seem like you have to rush through a few.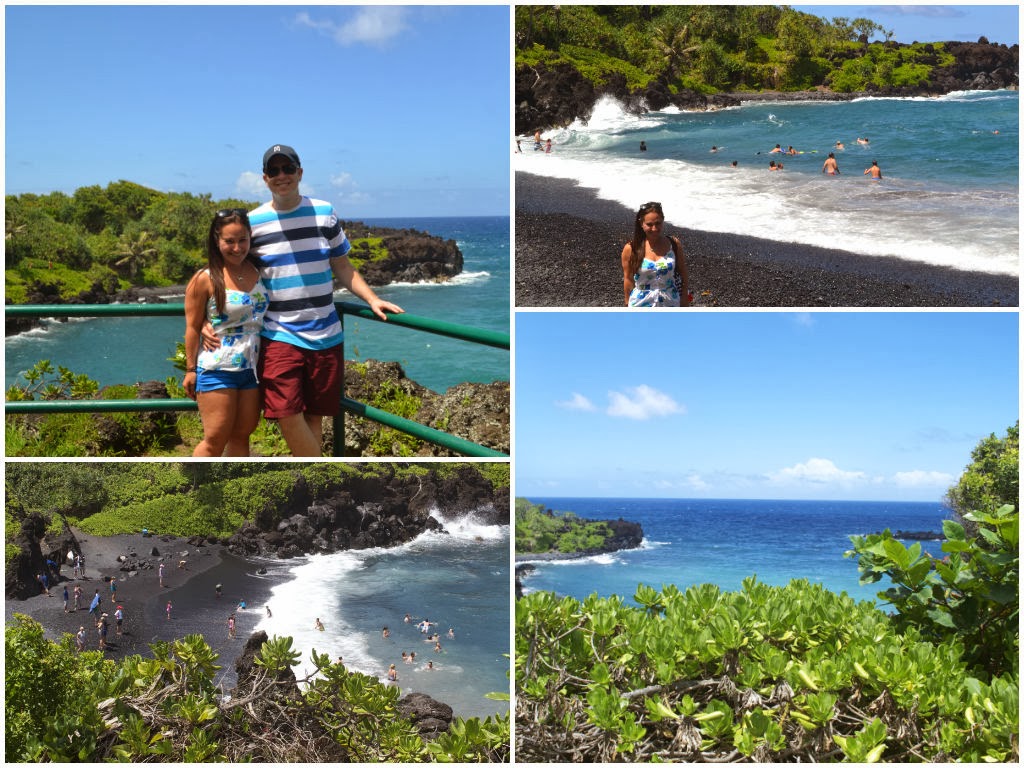 * Camera tip: it's rather foggy inside the sea cave, making moisture get onto our lens. We didn't realize at first, and unfortunately, some of our photos didn't come out as crisp as we would have liked. Just be careful to wipe down your lens once you come out of the cave, or use a point and shoot while inside.
Congratulations, you have now reached Hana! (MM 34)
However, it's not actually worth it to stop in town (besides go the beach listed below). The town is sleepy, and unless you are interested in the culture and history, stay in the car and drive through.
Transition from Highway 360 to 31: Now MM start counting down from 50
13. Wailua Falls (MM 45)
You'll find Wailua Falls Between mile markers 45 and 44, past the town of Hana but before you get to the Oheo Gulch on Highway 31. The waterfall is literally on the side of the road and along a bridge, and is, for lack of better words, big (113 feet!!!) and beautiful. There are paths to the bottom of the falls, but it can be muddy, slippery and dangerous.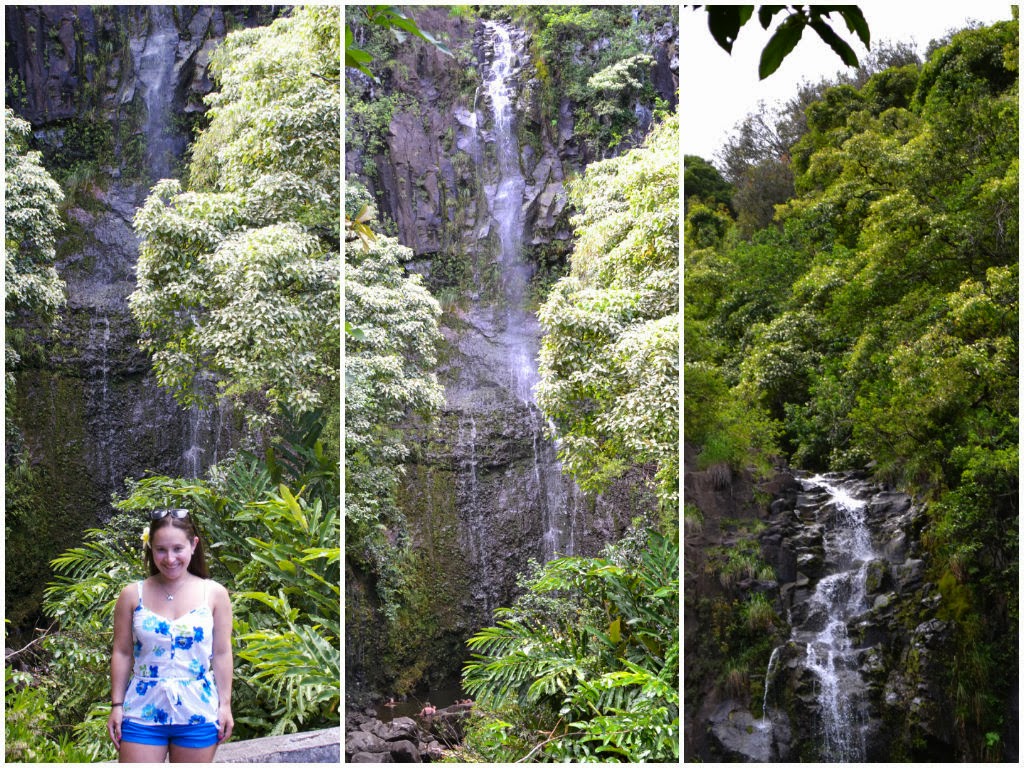 14. Oheo Gulch (7 sacred pools) and Pipiwai Stream Trail Hike (MM42)
The last and final stop on our own customized Road to Hana. By this time, we were completely exhausted. But being the crazy, neurotic, I'll-probably-only-be-here-once kinda gal that I am, I insisted that we attempt the 4-mile round trip hike through the bamboo forest to the upper and lower falls, Waimoku.
We didn't end up making it all the way there, since the heat and utter exhaustion slowed us down. However, people coming back said it was gorgeous. I say go for it, but make sure you're totally up for it and know what you're getting yourself into. And let me know how it is when you come back! Once we finally got back to the trailhead, we were too tired to even think about trekking to the Oheo Gulch.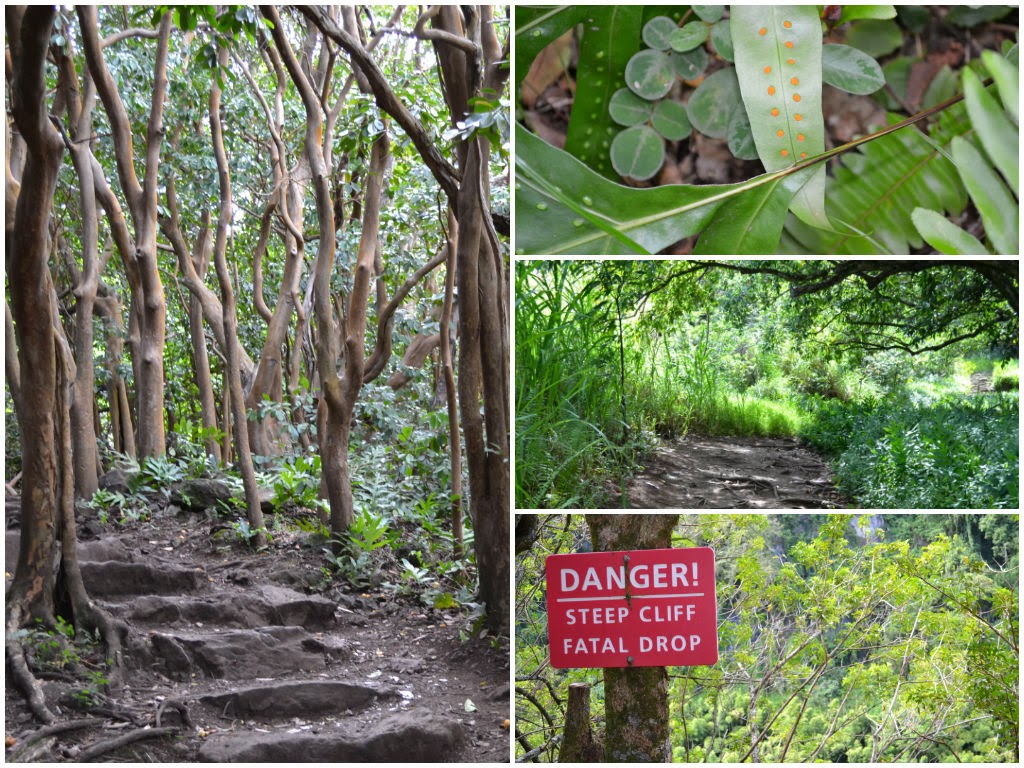 You pick up the trail head from the parking lot at the Kipahulu region of Haleakala National Park (near mile marker 42 past Hana) A parking fee of $10 per car is required. If you have or will be visiting the summit of Haleakala Park, keep your permit. It's valid for three days at both sections Haleakala National Park.
Plan between 2 to 2.5 hours to hike this 4-mile, round-trip to hike on the Pipiwai Trail to Waimoku Falls. I slept pretty damn well after that. And on that note, goodnight!
🙂
click to purchase 🙂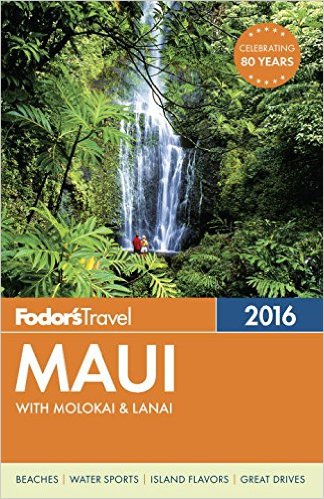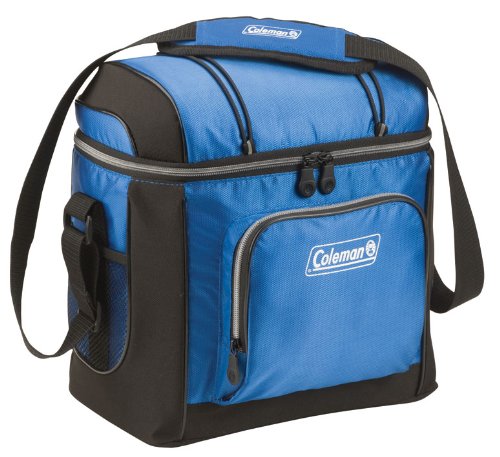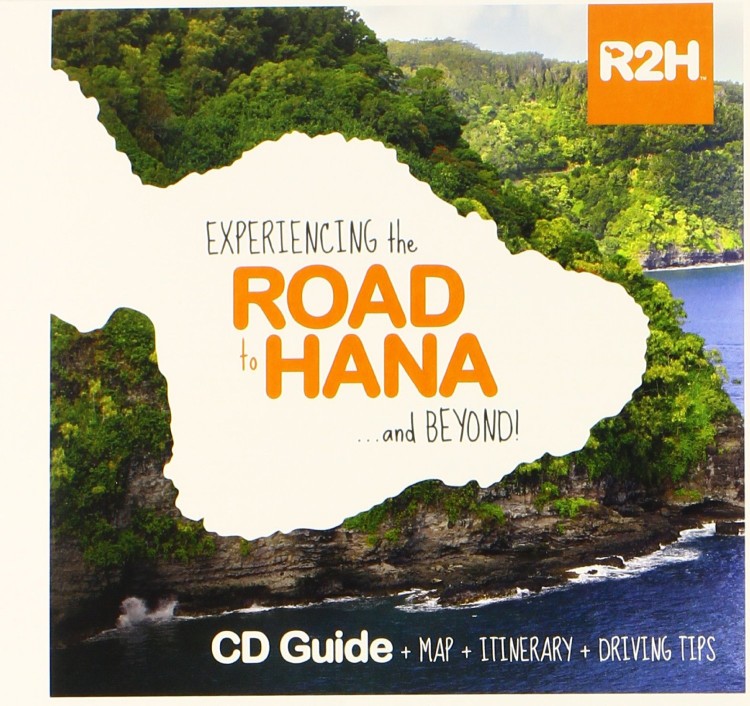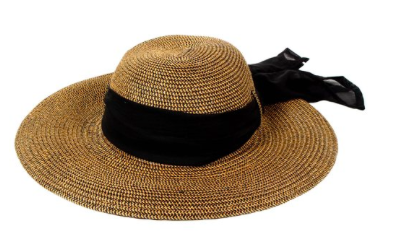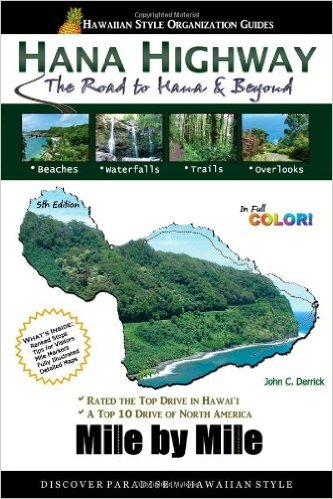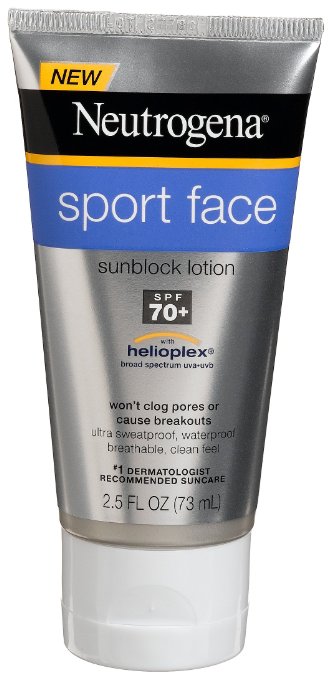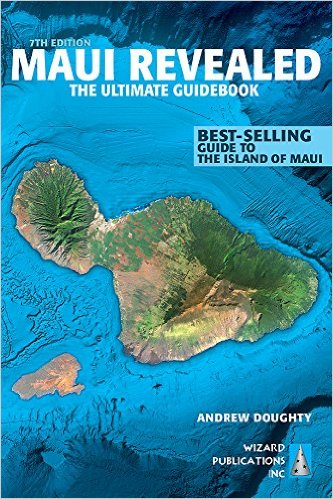 Have you been to Maui before?! What were you favorite Road to Hana stops?!