Planning a trip and looking for the best national parks on the east coast? I've got you covered! The eastern USA is more varied than you could ever imagine. And these east coast national parks will have you booking a trip in no time.
What parks come to mind when thinking about the National Parks System? Yosemite, Zion, Grand Canyon, and Yellowstone are probably at the top of that list. And they're all incredible.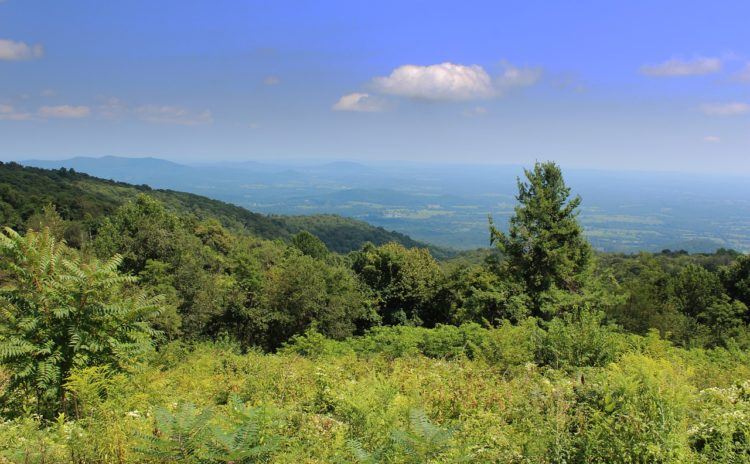 Everyone raves about the parks on the west coast, but where's the love for the national parks on the east coast? There's pristine coral reefs, subterranean underground caves, thermal bath houses, and stunning fall foliage. WHOA. Just whoa.
I never truly appreciated nature until I moved to California, so now I need to get back to the other side of the country to check these parks off!
Since I've visited a whole bunch of parks on the west coast, and hardly any others, I'm vowing to make a few trips to the east coast national parks sooner than later.
What constitutes the "East Coast"
Well, I'm counting the eastern part of the USA as the "east coast". So, that's basically anything east of Michigan. I decided to add in Hot Springs National Park (in Arkansas) as well since it seemed too cool not to include. I did however have to make a cut-off somehow!
Technically speaking, the only national parks on the actual east coast are Acadia, Congaree, and the three parks in Florida (Biscayne, Everglades, and Dry Tortugas). So that's just 5, and five wouldn't be a very thorough list (haha).
We're all about comprehensiveness here over at A Passion and A Passport.
Hiking Safety
Remember, whenever you're hiking in the national parks on the east coast (or anywhere for that matter), don't forget to pack properly! You'll wanna carry water, a flashlight, a trail map, and possibly a windbreaker with you in your day bag. Of course sturdy hiking shoes or boots are a must.
And as always, leave no trace and know your bear safety before hitting the trails.
Fees
To my surprise, there's actually a few east coast national parks that are absolutely FREE to visit. Meaning zero entrance fees or passes needed.
These include:
Biscayne National Park (Florida)
Congaree National Park (South Carolina)
Cuyahoga National Park (Ohio)
Great Smoky Mountains National Park (Tennessee and North Carolina)
Hot Springs National Park (Arkansas)
Mammoth Caves National Park (Kentucky)
— that's about half of the parks on this list! Whoa! I honestly thought you needed to pay at all parks!
ACADIA NATIONAL PARK | Maine
Location: Maine (~3 hours from Portland)
Established: January 1929
How Long to Stay: 3-4 days, longer to explore the Schoodic Peninsula
Cost: $30 (good for 7 days) or annual pass required
Looking to visit one of the most popular national parks on the east coast?! Look no further than Acadia National Park on Maine's scenic shores. Many even call it the "Crown Jewel of the North Atlantic Coast" (including NPS itself!).
And crown jewel it is — there's woodlands, rocky beaches, glacier-scoured granite peaks, and even a sandy beach (complete with tide pools!). Besides all the aquatic sea life in the park's intertidal zones, expect to see bears, whales, seabirds, and even the occasional moose.
Acadia National Park boasts over 150 miles of hiking trails, so come prepared to lace up your boots and get walking. Hiking enthusiasts shouldn't miss Cadillac Mountain, the highest point on the US East Coast!
But don't worry if you're not an avid hiker, the park is packed with scenic drives!
The park is known for its stunning fall foliage come Autumn, and is said to be absolutely magical after a fresh snowfall in the winter. A fan favorite of all the east coast national parks by far!
Good to Know: There's three main regions of Acadia National Park —
Mount Desert Island (MDI): the main region and where most people spend their time
Schoodic Peninsula: small but scenic
Isle au Haut: a remote island only reached by ferry
Best Time to Visit: Between late spring and fall for pleasant weather; visit right after Labor Day for less crowds, although they pick back up again when the leaves change colors. Visit in the winter when the park is blanketed in white!
Top Things To Do:
Watch the sunrise at Cadillac Mountain: Well worth the early wake up call. Hey, it's one of the first spots in the US to view the sunrise! Totally bucket list worthy! AND you can totally drive to the summit. After sunrise, walk along the Cadillac Summit Loop Trail for more great views.
Drive Park Loop Road: Scenic drive, anyone?! This 27-mile road loops through Mount Desert Island, connecting some of the most scenic spots! Don't miss Sand Beach and the carriage roads!
Grab popovers at Jordan Pond House: Because who doesn't deserve a mid-day treat — hiking or not!
Lodging In and Around the Park: Unless you're planning to camp within park grounds, you'll likely be grabbing accommodations in Bar Harbor. A few recommended stays: The Inn on Mount Desert, The Harborside Hotel Marina & Spa, and The Bar Harbor Inn and Spa.
Other Important Must-Know Info: Extend your trip and explore the small town of Bar Harbor for a few days! Add on a boat cruise and a lobster feast, and you've got yourself the perfect trip!
BISCAYNE NATIONAL PARK | Florida
Location: South Florida (between Miami and the Florida Keys)
Established: June 1980
How Long to Stay: 1 day as a day trip from Miami
Cost: FREE (no entrance fee or annual pass required)
Can't get over to Bora Bora or Hawaii anytime soon? Don't fret – Biscayne is your tropical oasis. This east coast national park protects coral reefs, mangrove forests, the shallow waters of Biscayne Bay, and over 10,000 years of human history. AND it's third largest offshore reef IN THE WORLD.
This isn't your typical National Park on the East Coast – it's 95% underwater! How crazy is that?! Biscayne is basically a HUGE aquatic wonderland and is the largest marine sanctuary in the U.S. National Parks system — it's 173 thousand acres. Get underwater – you'll see schools of technicolor fish, stingrays, moray eels, sea turtles, and more!
The park is also home to endangered or threatened species like manatees, American crocodiles, and hawksbill sea turtles. Rare and popular birds can be found along the Biscayne Birding Trail as well.
Don't miss South Florida's natural beauty, full of a series of small, sandy islands called keys!
Best Time to Visit: There's no horrible month to visit, but note that the water is warmest during the summer. Say goodbye to that wetsuit! Two things though – mosquitos (ew, yuck) and the possibility of a hurricane — so have a backup plan just in case!
Must Do's:
Snorkel the Maritime Heritage Trail: Throw on that mask and fins, time to get underwater. In the protected coral reefs expect to see colorful coral, sea anemones, green moray eels, and shipwrecks. Follow the mooring buoys to check out the six wrecks, as well as snorkel around the base of the Fowey Rocks Lighthouse.
Take a guided stand up paddle tour on Jones Lagoon, a mangrove lagoon home to loggerhead turtles, jellyfish, yellow stingrays, and more. A unique eco-adventure on the clear, calm waters. Look out for the manatees!
Kayak at Adams Key on the super clear blue waters, where baby sharks, turtles, and the rare Roseate Spoonbill can be found.
Lodging In and Around the Park: There's no accommodation in the actual park except for campgrounds, and even those don't have many facilities (besides a toilet of course). Be prepared to rough it! Most visitors spend the night in nearby Miami or Homestead.
Other Important Must-Know Info: A boat is by far the best way to explore Biscayne, so plan to pack some dramamine if you think you'll need it! AND it's one of the only National Parks on the East Coast that is completely FREE to visit — no entrance fees or passes required!
CONGAREE NATIONAL PARK | South Carolina
Location: Hopkins, South Carolina (~2 hours from Charleston and ½ hour from Columbia)
Established: November 2003
How Long to Stay: 1-2 days
Cost: FREE (no entrance fee or annual pass required)
Looking for some towering trees? The massive cypress, pine, champion, and loblollies are the East Coast's answer to the west coast redwoods. There's plenty of hikes to choose from to view these gentle giants, including strenuous hikes and leisurely strolls down the Boardwalk.
You can even do some yoga under the trees! Just know the area's a humid subtropical climate, so prepare for that if you plan to do any longer hikes.
Since Congaree's one of the least-visited national parks on the east coast, it makes the wilderness feel super tranquil and serene. Here you'll find otters, bobcats, and even wild boar on the park's 20,000 acres (explore via foot, kayak, and/or canoe).
Don't miss the Congaree swamp — the bald cypress and tupelo grow in the water and make for a remarkable site! It's been said that the swamp looks super primitive and exactly how it was back when the Native American hunted there.
PS: it's great for stargazing, so make sure you stay until it gets dark!
PPS: the park is dog friendly! Not many National Parks on the East Coast (or anywhere for that matter), are, so woo, take your pup!
Best Time to Visit: Fall and Spring are the best times to visit, partially because there's fewer insects and spider issues! Bird lovers should plan their visit around the breeding season and spring and fall migration. Stay away from June through September – it's hot and muggy with tons of annoying insects and spiders (the mosquito meter is lower other times of year). Come mid-May to mid-June to see the synchronous fireflies.
Top Things To Do:
See the Champion Trees: Head off-trail for a "big tree hike" – this is where you'll find most of Congaree's most impressive trees! Ranger-led hikes are offered to those who can't confidently navigate off-trail.
Psst → If you've got a special interest in giant trees, make a special trip to the west coast to find some of the largest redwood groves near San Francisco!
Paddling the Cedar Creek Canoe Trail: Float past some of the largest trees you'll probably ever see (in your life!), where turtles, river otters, snakes, white-tailed deer await. Again, there's guided canoe trips on the Congaree River, and they're free (just gotta rent your own canoe).
Stroll the Boardwalk Loop: Despite over 25 miles of trails in the park, you don't wanna miss the 2.4-mile Boardwalk Loop trail. Part of the trail meanders 6 feet above the forest floor! Watch out for flooding – the lower portion of the trail gets submerged.
Watch the synchronous fireflies: Imagine thousands of fireflies synchronizing their flashes come nightfall! By far the biggest highlight of the park, occurring between mid-May and mid-June. Congaree is one of only three places in the Western Hemisphere where this happens!
Lodging In and Around the Park: Plan a night or two in Columbia, South Carolina, and drive in each day. Only less than 30 minutes away!
Other Important Must-Know Info: Double check the weather before the go – frequent flooding occurs. This not only affects the water levels when canoeing, but hiking as well! And the insect issue is real – remember to bring mosquito repellant!
CUYAHOGA VALLEY NATIONAL PARK | Ohio
Location: ~30 minutes from Cleveland, Ohio and ~25 minutes from Akron, Ohio
Established: October 2000
How Long to Stay: 1-2 days
Cost: FREE (no entrance fee or annual pass required)
Cuyahoga what?! I almost guarantee that you've never heard of this east coast national park unless you live nearby. But millions of people visit each year, so it's not a local secret by any means.
Known for its flora and fauna (I mean, there's 943 known species of plants in the park), the park provides much solitude for its visitors. There's lots of shady trees to walk under — oaks, maples, hickory, beech, pine, and spruce are all common here! Just look out for the raccoons, skunks, coyotes, and bats which call the valley home. And bald eagles frequent the area, so look up!
There's marshy wetlands, mossy limestone ledges, and a whole bunch of waterfalls (there's about 100 with the bulk in the northern part of the park). Plan to go hiking, biking, and waterfall hopping, with the most popular sites being Brandywine Falls, the Ledges, Ohio & Erie Canal Towpath Trail, Beaver Marsh, and the Boston Store.
The park stretches from Cleveland to Akron and follows the Cuyahoga River. One of the best ways to see the park is via the Cuyahoga Valley Scenic Railroad, a Class III railroad operating on diesel-electric and steam! The park has a rich cultural legacy, giving visitors a sense of the past.
Random fun fact: Cuyahoga is one of the latest national parks on the east coast to get established as an actual national park! In 2000!
Best Time to Visit: Fall is a super popular time to visit for the stunning array of fall foliage. Come in late spring to see the waterfalls in all their glory – they're really flowing in May.
Must Do's:
Go waterfall hopping: Brandywine Falls, standing tall at 65 feet, is easy to reach from the parking lot on a flat boardwalk trail. Take a dip and cool off at Ohio's tallest waterfall. Haven't had enough? Check out Buttermilk Falls and Blue Hen Falls.
Ride the Cuyahoga Valley Scenic Railroad: Get some of the best views from the train! It's super popular in fall when the park is bursting with color. The train departs daily from June to October and runs through the park.
Hike Virginia Kendall Ledges: This 2.2 mile moderate trail along a forested landscape with gigantic limestone boulders and secret caves is not to be missed.
Bike the Ohio & Erie Canal Towpath Trail: This flat scenic trail is perfect for biking (although you'll find many walkers taking in the scenery as well). And get this → mules used to tow boats here! Lots of history! Don't expect to have the trail to yourself; it's exceptionally scenic in fall!
Lodging In and Around the Park: If you wanna stay within the park, opt for Silver Fern Bed & Breakfast or the Inn at Brandywine Falls. There's lot of options outside the park in Cleveland or Akron. Note there's no camping within Cuyahoga Valley National Park.
Other Important Must-Know Info: History runs deep in the valley! Read a bit about the prehistoric people, environmental disasters, and comebacks before visiting — especially if you're a history buff.
DRY TORTUGAS NATIONAL PARK | Florida
Location: South Florida (~70 miles west of Key West)
Established: January 1935
How Long to Stay: 1 day, 2 if you're camping overnight
Cost: $15 per person, good for 7 consecutive days (or National Parks Pass)
A remote oasis in the middle of the Gulf of Mexico?!
Now that's one of the national parks on the east coast I'm really itching to get to. It's a tiny and tropical archipelago, with a curious history complete with pirates, prisoners, and a deadly pandemic.
The 100-square mile park is mostly open water with 7 small islands. Dry Tortugas is home to the magnificent octagonal Fort Jefferson, picturesque blue waters, superlative coral reefs, vast marine and bird life (with over 300 species!), and a white sandy beach.
In this overlooked gem in the Florida Keys, you'll find crystal clear water with incredible marine life, including sea turtles, bottlenose dolphins, turquoise fish, and even hundreds of shipwrecks.
I mean, it's the 3rd largest barrier reef in the world (after the Great Barrier Reef in Australia and the Belize Barrier Reef). There's mangrove snappers, spiny lobsters, and barracuda, all in this isolated tropical playground. A snorkeler's wonderland!
And psst: it's the most active nesting sanctuary for sea turtles in Florida, so you'll probably see a whole bunch!
Since it's only accessible by boat (daily ferries available) or seaplane, you'll need to plan in advance. Being another one of the least visited national parks on the east coast, you'll probably see more birds and fish than people!
Best Time to Visit: Dry Tortugas has two distinct seasons 1. winter season (December through April), with rough seas, high winds, and frequent storms.
2. Summer season (June to November), is much warmer with clear skies and less wind. Always check for the possibility of a hurricane. Come in late spring for peak bird migrations and early summer to see sea turtles.
Top Things To Do:
Explore Fort Jefferson: Located on Garden Key, it's one of the nation's largest 19th century Civil War fortresses. You can walk through the fort, step into the cells, see the cannons, and learn all about the fascinating history.
Snorkel/dive the reefs: Go below the water's surface and swim in warm shallow seas to see a variety of vibrant sea life. Divers should head to Loggerhead Reef to explore the Windjammer Wreck (remains from a 1875 ship).
Relax on the white sandy beach: Nothing wrong with doing nothing! Sink your toes into the sand, wade in the warm water, relax under a shady palm tree. Now this is what life is all about.
Lodging In and Around the Park: Camping is allowed on Garden Key, but it's first come, first serve. Expect amazing star gazing opportunities, stunning sunsets, and perfect snorkeling.
Other Important Must-Know Info: Dry Tortugas is remote, so don't expect any cell phone service or many public restrooms. Come prepared with snacks and water for the day.
EVERGLADES NATIONAL PARK | Florida
Location: South Florida (~45 minutes from Miami, Florida)
Established: December 1947
How Long to Stay: 1-2 days
Cost: $30 per vehicle (good for 7 consecutive days at all park entrances) or Parks Pass
I'm almost sure you've heard of the Everglades, I mean they are the largest subtropical wilderness in the entire United States. The park is so special it's been deemed not only a National Park and World Heritage Site, but also an International Biosphere Reserve and a Wetland of National Importance.
This 1.5 million-acre swampland just outside of Miami is filled with coastal mangroves, sawgrass marshes, and pine flatwoods. Imagine crocodiles sunning themselves in the grasses, birds flying through the mangrove forests — it's practically a scene out of National Geographic itself.
The Everglades are one of the most impressive national parks on the east coast! Why, you ask?! The wildlife is absolutely incredible. Think crocodiles and dolphins and sea turtles and even bull sharks! It truly feels like going back in time.
The park is home to hundreds of animal species, including the Florida panther (yes, really), the endangered leatherback turtle, and West Indian manatee.
The Everglades is one of the largest National Parks in the US (third largest), and largest on this list of the best national parks on the east coast. Do note there's 3 main sections of the park: Shark Valley, Flamingo area, and The Gulf Coast, so plan to see 1-2 if you're short on time.
Best Time to Visit: There's two distinct seasons here – the dry season and wet season. Plan to visit November through March, hands down. The weather isn't steaming hot, the mosquitos are finally at bay, and less stormy weather.
Do note it rains pretty frequently during the summer in Florida, so plan to pack a poncho if that's the only time you can fit in a visit. Also, check ahead of time for area closures due to flooding and recent rains.
Must Do's:
Take an airboat ride in Shark Valley: Take an exhilarating excursion on an airboat (like I did in New Orleans!), and be on the lookout for fearsome alligators! Some tours even let you touch or pick up a baby alligator. One you've seen enough crocodiles, get the 360 degree view of the Everglades from the top of 65-foot Observatory Tower.
Flamingo: Here there's a beautiful waterfront, amazing mangrove forests, and tremendous wildlife (think manatees and crocodiles). Don't miss the Mahogany Hammock Trail, aPa-Hay-Okee Lookout Tower, and Anhinga Trail.
Explore the Everglades via kayak: Head over to The Gulf Coast (the other side of the park) for the best spot to paddle! There's a dozen kayak trails in the park, with Turner River off the Tamiami Trail being a favorite.
Lodging In and Around the Park: Unless you're an avid camper, you can't technically stay in Everglades National Park. You'll wanna spend a night or two in Homestead (~20 minutes away), or take day trips to the park from Miami.
Other Important Must-Know Info: You probably already guessed this, but you ABSOLUTELY CANNOT swim in the Everglades. Alligators are aggressive and can detect even the slightest movement in water. Definitely not worth the high risk.
GREAT SMOKY MOUNTAINS NATIONAL PARK | North Carolina & Tennessee
Location: Along the Tennessee and North Carolina border
Established: June 1934
How Long to Stay: 4-5 days
Cost: FREE (no entrance fee or annual pass required) — I could not believe it!
Wildflowers, waterfalls, and wildlife. The Great Smoky Mountains are practically a mecca for outdoor lovers! And it's so green! There's a reason why millions visit the park each and every year. It's easily one of the most popular national parks on the east coast.
The park is located within the Blue Ridge Mountains (a subrange of the Appalachian Mountains), and it's a sight to be seen.
The park is known for scenic drives, black bears, and those spectacular autumn colors come fall! There's estimated to be roughly 1,500 bears in the park — approximately 2 bears per square mile! Whoa.
And just like a few other national parks on the east coast, there are synchronous fireflies lighting up the night sky – but you'll need to win the park lottery to get entry tickets for the show.
Many wonder how the Smokies got its name, and that's from the blue-colored mist that hangs above the mountain peaks and valleys. It looks like hazy smoke!
The biggest attraction of the park and a real gem is the Cades Cove scenic drive. It's an 11-mile one-way road through lush meadows, under canopied trees, and near historic buildings.
Don't miss Clingman's Dome, the highest point in Tennessee and the most iconic view in the whole park itself. You can see out more than 100 miles on a clear day!
If you're feeling super adventurous, you can even hike a 72 mile section of the Appalachian Trail that runs through the Smokies. Just come prepared – it usually takes 7 days or so to complete the section.
Best Time to Visit: Definitely visit in the summer months (June – August), or October in search of autumn foliage.
Top Things To Do:
Hike up Clingmans Dome: Head up the mountain and head straight to the summit observation tower via a 1-hour hike. Take a jacket as the temps at the 6,643 foot peak will be much chillier than at lower elevations!
Drive through Cades Cove Valley: Don't miss this scenic drive – drive extra slow and take it all in. One of the most popular areas in the Great Smoky Mountains – known for its broad, verdant valley surrounded by mountains.
Hiking Mount LeConte: If you're looking for unspoilt nature, hike up Mount LeConte. You can't drive to the summit; hiking is the only way to get there. If you stay at the nearby lodge, except spectacular sunrises and uninterrupted nature
Lodging In and Around the Park: The only home base in the park is at Le Conte Lodge (only reached by hiking) or camping at the various campsites. You can stay in one of the communities surrounding the park (including Gatlinburg, Cherokee, and Pigeon Forge) and make the short drive into the park everyday.
Other Important Must-Know Info: If you're visiting from far, add on a few days and visit the artsy town of Gatlinburg and the hipster community of Asheville.
HOT SPRINGS NATIONAL PARK | Arkansas
Location: Garland County, Arkansas
Established: March 1921
How Long to Stay: 1-2 days
Cost: FREE (no entrance fee or annual pass required)
Hot Springs is by far one of the most unique national parks on the east coast! I mean, what other national park has historic bath houses from the early 20th century to soak in?!
Although you can't soak in the actual thermal springs outdoors (→ it's way too hot!), that's where the bathhouses come in! Drinking the hot spring water is encouraged (and perfectly safe!), so bring along your water bottles! Or, why not fill up a gallon jug or two and take home your own fresh spring water.
Besides the 47 ancient thermal springs, there's mountain views, incredible geology, abundant creeks, tons of scenic drives, and forested hikes through the glorious Ouachita Mountains.
FUN FACT: Hot Springs National Park is the Oldest National Preserve — purchased by the federal government in 1831, and even older than Yellowstone by 40 years! It was later designated as a National Park in the 1920s.
And since the National Park is located directly within the town of Hot Springs, Arkansas, it's surrounded by shops, restaurants, and roads. Thankfully, the huge network of hiking trails make it easy to escape the city life.
The combination of the springs, the mountains, the bathhouses, and it's rich history make it definitely worthy of a spot on the best national parks on the east coast list.
Best Time to Visit: Since summer is hot and humid, you'll wanna plan your visit during early spring (February to April) or August to October (later months for peeping the fall colors).
Must Do's:
Soak in the Springs at Bathhouse Row: This area, home to the Park's historic bathhouses, features 2 spots to fully submerge and relax in the thermal water. And thankfully, the water from the thermal springs is piped directly into the bathhouses! A true and authentic experience. Choose from The Buckstaff Bathhouse and/or The Quapaw Bathhouse. There's even a cell phone tour to learn about the park's history!
Woodland Hiking: Lace up your boots — the 26 miles of hiking trails, complete with beautiful forest scenery, are waiting! There's plenty of short trails on both Hot Springs Mountain and North Mountains that interconnect.
Lodging In and Around the Park: First come, first serve campgrounds are available, as well as numerous hotels in and around the park in Hot Springs, Arkansas.
Other Important Must-Know Info: Unfortunately, the high temperatures of the hot springs are just too hot for bathing. Don't even attempt an outdoor soak. That's where the bathhouses come into play!
ISLE ROYALE NATIONAL PARK | Michigan
Location: Northern Michigan, within Lake Superior (with its northern boundary lying against Canada!)
Established: April 1940
How Long to Stay: 3-4 stays to really appreciate it's wild beauty
Cost: $7 per person per day (including the day you arrive and depart), or a Parks Pass
Isle Royale is the ultimate rugged island paradise (kinda like San Blas in Panama, but not really), and one of the most underrated national parks on the east coast.
This remote cluster of islands in Lake Superior is an absolute gem of the National Parks System, and one for true adventurers. Far from sights and sounds of civilization, it's the perfect park for backpackers, hikers, boaters, kayakers, and scuba divers!
There's historic lighthouses to explore, hiking, and sightseeing cruises. Just watch out for the park's immigrant wolf and moose population! The National Park consists of its main island, Isle Royale, and hundreds of adjacent islands → you definitely won't see them all.
Isle Royale is one of the least visited national parks on the east coast, let alone in the whole NPS system! Meaning, you won't find many crowds. Probably because it's pretty tough and expensive to get to.
You need to take a boat or seaplane to get there, which is an activity in and of itself! Most people choose a 5-hour boat ride from the Upper Peninsula, but a seaplane gives you views from above!
Psst – if you've never taken a seaplane before, check out my seaplane experience in Seattle. Tons of fun and not scary at all!
Best Time to Visit: Mid-spring to fall, since Isle Royale (and it's surrounding islands) are entirely closed from November 1st through April 15th. All islands reopen April 16th. The summers are mild (never reaches above ~70degrees F) and winters are chilly.
The absolute best time to visit is late August when the temps are moderate, the bugs are minimal, and the summer crowds have left. Expect lots of mosquitos, blackfies, and gnats in June and July.
Top Things To Do:
Go for a hike: Popular relatively easy day hikes include Scoville Point and The Stoll Memorial Trail (~4.5 miles), and Suzy's Cave (~4 miles).
Looking for a multi-day hike? Why not tackle the 40 mile Greenstone Ridge Trail in the center of the island. Being the longest trail in the park, hikers typically take 4-5 days to complete it. It's by far a crown jewel of the park, with exposed ridges, deep woods, swamps, and pristine lakes. And maybe even some moose (you'll definitely find some droppings!)!
Check out historic lighthouses: There's Rock Harbor Light, Menagerie Island Light, and Passage Island Light to explore. And get this — they're still used to aid in navigation to this day!
Take a sightseeing cruise: Not into backcountry camping? Take a sightseeing cruise of the Lake Superior shoreline. Many even allow visitors to disembark on remote islands for ranger-led hikes. Destinations include Raspberry Island, the Edisen Fishery, Hidden Lake, and the Rock Harbor Lighthouse.
Lodging In and Around the Park: You'll find cozy hotel rooms at Rock Harbor Lodge (the only full-service lodge in the park) if you're not down for roughing it while camping.
Other Important Must-Know Info: Isle Royale National Park is pretty difficult to get to, which is a main reason why it's the least visited park in the lower 48 states. You need to take a boat or seaplane(!!!) to get there! AND you need to pack in what you need, meaning there are very limited facilities.
MAMMOTH CAVE NATIONAL PARK | Kentucky
Location: equidistant between Louisville, Kentucky and Nashville, Tennessee (~1 ½ hours from both)
Established: July 1941
How Long to Stay: ½ day – 2 full days
Cost: FREE (no entrance fee or annual pass required)
Stalactites. Stalagmites. A subterranean world of tight passageways and long canyons. We're talking about Mammoth Cave National Park, the longest cave system in the world! By far one of the most unique national parks on the east coast!
It's basically an underground playground full of twists and turns and massive rooms and tight squeezes. Once you're in the cave you'll understand just how unique (and fun!) this place is.
Visitors have the option of a variety of different cave tours to choose from, so plan ahead! Just fyi – the most popular of the cave tours is the Historic Tour, taking roughly 2 hours, trekking along it's 2 miles and 440 stairs. Here you can see the Bottomless Pit and Mammoth Dome, squeeze and crouch through Fat Man's Misery and Tall Man's Misery (fun names, right?!), and learn about the history of the park.
Do note there's bats in the cave, although they've almost been wiped out by a disease called White-Noise Syndrome. Just something to be aware of if they're not your favorite.
However, Mammoth Cave National Park is actually way more than a cave; there's rolling hills, deep river valleys, and plenty of nature trails to walk! But let's be honest, everyone comes here to get underground.
FUN FACT: Although Mammoth Cave was established as a National Park in the 1940's, people have been exploring the cave since the 1800's! Whoa!
Best Time to Visit: Honestly, since the temperatures stay the same in the cave year round (mid-50s F), it doesn't matter too much when you choose to visit. But just known summer sees a lot more visitors, so expect crowds. I'd say it's the best National Park on the East Coast to visit on a rainy day, since, well, you're underground the whole time!
Must Do's:
Go on a cave tour: By far the most popular thing to do at Mammoth. Venture deep underground and you'll see the dripping stalactites and stalagmites, squeeze through tight spots, and enjoy the underground world. There's a lot of tours to choose from, but you can take a self-guided tour into the caves if you're tight on time.
Hiking and Nature Trails: Stretch your legs after being stuck in the cave, as the park is full of trails! An easy 0.5 mile flat trail is Heritage Trail, which takes you to a nice view and well worth the short walk.
Lodging In and Around the Park: Stay in the park at The Lodge at Mammoth Park if you can – it's worth it! Or venture right outside to Cave City with lots of hotels to choose from.
Other Important Must-Know Info: Temps inside the cave usually hover around 54degrees F year-round. Always carry a light jacket and wear comfy walking shoes. And don't worry if you need to use the bathroom — there's restrooms inside the cave!
SHENANDOAH NATIONAL PARK | Virginia
Location: ~75 miles from Washington D.C.
Established: December 1935
How Long to Stay: 2-3 days
Cost: $30 per vehicle for 7 consecutive days (or Parks Pass required)
Welcome to Shenandoah. A land bursting with cascading waterfalls, spectacular vistas, fields of wildflowers, and even tight gorges. Breezy summits, mountain streams, and craggy granite peaks await.
Although it's mostly forested, there's also wetlands, waterfalls, and rocky peaks (like Hawksbill and Old Rag mountains). And unlike many other national parks on the east coast, Shenandoah allows rock climbing, fly-fishing, and road biking! Adventure for all!
All this endless natural beauty is a haven to deer, many bird species (including the songbird), squirrels, and the elusive black bear. The park extends along the Blue Ridge Mountains, and there's green ridges and pastoral valleys to admire.
Plan to spend your time hiking and making the scenic drive to viewpoints along Skyline Drive. There's 75 scenic viewpoints, so unless you've got a lot of time, pick and choose your favorites ahead of time.
It's one of the most accessible national parks on the east coast since it's a straight shot from DC on I-66.
And fun fact, Shenandoah National Park is the only place in the world you can find the Shenandoah Salamander, an endangered newt species.
Best Time to Visit: Fall brings the most gorgeous fall foliage, with leaves bright reds, oranges, and yellow, but the colors also bring crowds. Plan to visit during the week during autumn.
Top Things To Do:
Hike to the top of Hawksbill Mountain: Being the tallest mountain in the park, you can't miss this when visiting Shenandoah. The easiest way to access the summit is via the Upper Hawksbill Trail, a 2-mile round-trip hike that's way easier than Lower Hawksbill Trail.
Scenic views on Skyline Drive: This 105 mile road runs throughout the entire park, so you can easily spend 2-3 days here alone! Make sure to stop at Range View Overlook, Hogback Overlook, Spitler Knoll, Big Run, and Crimora Lake Overlake.
Chase some waterfalls: Hike to Overall Run Falls (the tallest waterfall in the park, showcasing an impressive drop and view) and Dark Hollow Falls Trail (most popular waterfall in the park).
Rock Climbing: There's so much granite here, it'd be a shame for climbers to miss out on this. Where to climb? At Old Rag, now one of Virginia's classic climbing spots.
Lodging In and Around the Park: Stay right in the middle of all the park action at Big Meadows or Skyland lodges, or nearby in the town of Front Royal.
Other Important Must-Know Info: Shenandoah National Park has the largest black bear refuge in the state (with estimates of a few hundred), so always be bear aware and know your bear safety. Keep your distance and never feed any wildlife in the park.
Hope this helps you plan an east coast national parks trip! Which ones have you already visited or hoping to visit soon?