Visiting Hawaii and looking for things to do on the North Shore of Oahu? This guide will highlight all the best things to do, what and where to eat, and everything else you need to know about Oahu's North Shore. I promise you'll love this laid-back stretch of sandy land!
If you're in the mood for indie galleries, surf shops, scenic sunsets, and Hawaiian plate-lunches, you'll definitely wanna spend a few days on Oahu's North Shore. We just came back from Oahu, and loved every laidback minute of it! Ohhh I'm still dreaming of the powerful waves, pineapple dole whip, delicious food trucks, and Hawaiian green sea turtles! There's a reason the North Shore is a haven for surfers, beach bums, artists, and tourists alike!
Most people spend the majority of their time in Honolulu and Waikiki. And while I do love these areas, — don't be like the typical tourist! I highly encourage you to get outta the city and add other parts of the island to your Oahu itinerary, making sure to thoroughly explore the North Shore of Oahu! The landscapes are breathtaking, the people are more than welcoming, and it's overall just super easy-going! You've just got to go!
→ Psst: Looking for a similar freeing feeling on Maui? Make sure to check out the hippy town of Paia on the North Shore of Maui!
North Shore of Oahu Logistics
Where is the North Shore of Oahu?
This may come as a surprise, but the North Shore isn't just one town in Oahu. It's a whole series of neighborhoods and beaches along the northern and northwestern coasts of the island. However, when people say they're going to the North Shore, they typically mean they're headed to one of a few spots: Haleiwa Town, the Dole Plantation (on the way), or one of the legendary surf beaches between Kahuku and Haleiwa.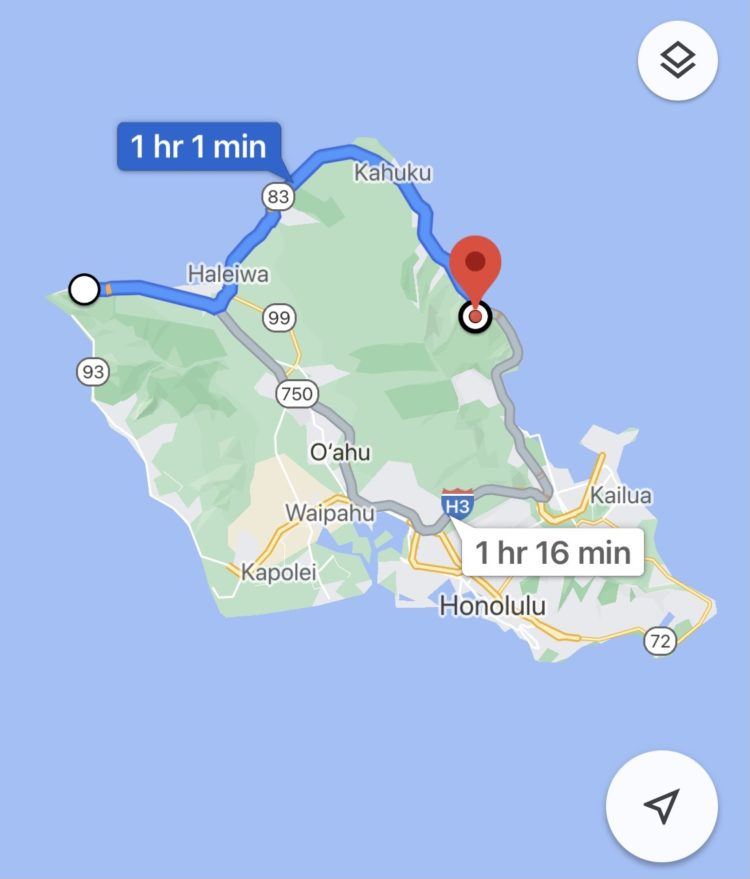 If you look on a map of Oahu's North Shore (and for the purposes of this article), the area between Ka'ena Point State Park and Kahana Bay Beach Park is what I consider Oahu's North Shore.
How to Get to the North Shore
If you're staying in Waikiki or Downtown Honolulu (like most visitors do), there'll be two main ways to get to the North Shore:
The more direct, inland route (45 minutes straight to Haleiwa)
The out-of-the-way but much more scenic coastal route (1 ½ hours along the coast)
As noted, you could technically drive along the coast, but that'll take roughly double the time. It sure is the scenic option though! If you've only got a day dedicated to the North Shore, I recommend making a beeline right to Haleiwa. However, if you're staying a night (or two, like us!), take the (much more) scenic Kamehameha Highway for lots of ocean views, almost-empty stretches of sand, and beach swings!
No car? Don't fret. You can easily get to the main town of Haleiwa by public transit via TheBus, although expect it to take between 1.5-2 hours. Hop on the #52 bus departing at the Ala Moana Center.
When to Visit Oahu's North Shore
Like the rest of Hawaii, there's really no terrible time to visit the North Shore. While winter brings the most rain, it hardly rains consecutive days in a row unless there's a major storm. Typically, it only rains for a bit then clears up! Expect lots and lots of rainbows! One of the best things about Hawaii in winter!
Oh, and summer? Near perfect weather! All the time!
When you go will kinda determine your water activities on the North Shore. But both times of year are recommended for different reasons:
Winter: Wanna watch pro surfers ride waves larger than you've ever seen before? Come during the winter! Surfers from around the world come for the huge swells! With this being said, if you're looking to lay out and float around, you'll need to head to a different part of the island for this from November – February/March-ish.
Summer: The waters are much more calm, meaning they're way more suitable for swimming and snorkeling in the summer! Plus, when it's low tide, you can even go searching for creatures in the tide pools!
How Long to Spend Here
Honestly, it's all up to you! On our first few visits to Oahu, we chose to simply visit the North Shore as a day trip from Honolulu.
On our last trip, we decided to split it up and spent 2 nights on the North Shore and 3 nights in Waikiki. We wanted to be able to explore the area much more in depth than we had in the past. And our verdict? We loved it!
Some people even choose to spend their entire time on the island on the North Shore of Oahu — they just love it that much! And I can honestly see why — It's got such a cool, laid back vibe. While I highly encourage you to check out other spots on the island, definitely spend some time on the North Shore as well!
→ Read Next: The PERFECT 5 Days in Oahu (the only itinerary you'll need, promise!)
One Day on the North Shore of Oahu: If you've only got one day allotted to the North Shore on your Oahu itinerary, here's how I think you should spend your time! I've included all my favorite spots here.
Quick stop at the Dole Plantation on your way to the North Shore for Dole Whip and a look around
Wander the tropical gardens of Waimea Valley (bring your bathing suit for a quick dip in the waterfall!)
Get some shrimp for lunch at one of the many food trucks in Haleiwa (recommendations include Haleiwa Seafood, Giovanni's Shrimp Truck, and Jenny's Shrimp Truck).
Walk around Haleiwa Town, stopping in the little shops and getting some shave ice at Matsumoto's
Beach time at either Waimea Bay, Sunset Beach, Sharks Cove, or Laniakea Beach (there's usually turtles resting here!)
Drinks at Roy's Beach House or Haleiwa Beach House for sunset
Where to Stay
Unfortunately, there's not tons to choose from if you're looking for a typical hotel or resort-style accommodation. The Marriott Courtyard North Shore is the less expensive option (where we stayed), although I suggest booking a night or two at Turtle Bay Resort if you're celebrating a special occasion (or just want a swanky spot to stay!). 
And plus, Turtle Bay is where Forgetting Sarah Marshall was filmed, sooooo fans are kinda obligated to stay there, haha (any movie buffs out there). I would have LOVED to check out the resort (one of my fave activities), but Turtle Bay was closed for renovations/undergoing massive upgrades when we visited the area! It's since been long finished and ready for your arrival!
A Note on AirBnbs in Oahu
We used to LOVE staying in AirBnbs — up until kinda recently honestly. For quite a few reasons, actually:
The fees have become astronomical. A cleaning fee. A host fee. A myriad of other fees. Once you add them all up, that inexpensive Airbnb stay isn't so cheap anymore. I've seen stays double in price due to fees.
The cancellation policies are not clear. Hardly ever. They're actually super confusing! In this day and age, we only book accommodation we can cancel super easily without penalties. I've even messaged Airbnb hosts to confirm cancellation polices and they've said the ones on their page are not correct? Hmm… that sounds super tricky to me.
Managed by non-locals. Most (not all) Oahu Airbnb properties are managed by people on the mainland — not Hawaii itself.
With all this being said, I recommend staying in a hotel instead. This is what we've been doing for all our recent trips. By doing so, you're actually supporting the local economy! Think of all the locals who work in hotels — from the management and front desk staff to the cleaning staff and kitchen staff. These people rely on jobs in Oahu itself.
If you do feel the need to book an AirBnb (I get it, sometimes it's the better choice for you and your family), PLEASE find a property that is managed by a local on the island itself. Thank you. ?
So whether this is your first or 15th visit to the island, don't leave the North Shore of Oahu off your itinerary!
Things to do on Oahu's North Shore
Obviously, if you're just visiting for the day, you won't get to everything on this list. Pick and choose your favorite things to do on the North Shore — lots of ideas here! Just make sure you save some time for eating; there's soooo much good food on this part of the island!
Activities on the North Shore of Oahu
Walk Around Haleiwa Town: No visit to the North Shore is complete without a wander around historic Haleiwa Town. It's full of local style and country ambiance, and just so fun to walk around!
A little history because it's honestly kinda interesting: Haleiwa dates all the way back to the 1900s (yes, it's been around a while!) and was an integral part of the sugar plantation industry. It once was a quaint little plantation town, and the architecture actually still resembles that from the early 1900s.
Later on in 1984, it was designated a State Historic, Cultural, and Scenic District. This means that any new construction must adhere to super strict specs in order to preserve the town, which is why you'll still see lots of paniolo (Hawaiian cowboy) styled buildings.
Now?! It's definitely up-and-coming, if not already discovered! There's lots of good shopping here, from local boutiques and trendy surf shops (the largest being the popular Surf N Sea) to art galleries and spots with authentic (and affordable!) Hawaiian-made gifts. Don't miss Polu Gallery, a small, laid-back gallery featuring local surf art. I loved shopping for a few prints to bring back home.
Hungry? Haleiwa's got you. The town is home to a wide variety of restaurants, bars, cafes — with a lot of options! Think casual like Hawaiian plate lunches and açaí bowls, as well as more sophisticated venues like Haleiwa Joes or Jameson's.
→ Psst: Haleiwa is pronounced hah-lay-EE-wah, so be sure to put the stress on the e!
Waimea Valley Park: Don't have time to head to Maui to drive the famed Road to Hana? If you're looking for lushness, tropical plants, and a waterfall to swim in, you'll love Waimea Valley Park just as much! I mean, the park is 1,800 acres so there's lots and lots to see (making it well worth the $20 admission fee)!
Plan to explore lots of archeological sites, a world-class botanical garden, and even a natural rain-fed 45 foot waterfall with a swimming hole! You can even learn about Native Hawaiians and their way of life. All in all, super stunning gardens and a beautiful history! We unfortunately got here too late in the day to swim, so decided to save this spot for next time (the ticket booth closes at 4, with the last waterfall swim around 3:30pm).
Watch the surfers at Banzai Pipeline, Sunset Beach, and/or Waimea Bay: Visiting Oahu's North Shore in winter? Make sure to spend an afternoon at the beach watching the pro surfers at the Surfing Capital of the World (kinda beats out Surf City in Huntington Beach). And Banzai is legendary, with it's perfect barreling waves and pro-surfers.
Banzai Pipeline, Sunset Beach, and Waimea Bay are known as the "8 miracle mile", seeing swells ranging anywhere from 2 to FORTY feet! Whoaaaa — definitely only for the super-experienced surfer. Don't even think about practicing here in winter (the waves are dangerous and HUGE!).
We're not surfers (by any means — I even smashed my nose SUPing before), but it was exhilarating to experience the winter swells from the sand!
Take a surf lesson: Jealous of all the pros and wanna get on a board yourself? It's the surfing capital of the world! Of course there's surfing lessons on the North Shore! And don't worry — the surf instructors will take you to surf spots more suitable for beginners, with smaller and much easier waves. Check out North Shore Surf Girls and the North Shore Oahu Surf School to learn how to stand up on a board!
Dole Plantation: I'm sorry, but can you really visit the North Shore of Oahu without at least stopping at the Dole Plantation for a dole whip? Nope — not possible. What's dole whip you ask? Quite possibly the most refreshing thing! Dole Whip is basically pineapple soft-serve, and it's heaven on a hot day.
This pineapple plantation is easily one of my favorite places on the way to the North Shore, and that's not just because I love all things pineapple.
There's no chance of getting bored here, with train rides, garden tours, and endless pineapple food available (like I said — dole whip!). There's even a pineapple maze. Yes, you heard that right, a giant pineapple maze with pineapple shaped hedges! Kinda kitschy but definitely a good time.
Polynesian Cultural Center: Entertaining performances, pottery and ukulele classes, and rich, cultural history, all within 8 simulated tropical villages. It's essentially a Polynesian-themed theme park and living museum. Kinda like the Hawaiian equivalent of Downtown Disney! Part-entertainment, and part-learning experience. If you've ever wondered about Polynesia, you'll love visiting the different "islands" at the cultural center.
You'll learn so much here — like how to start a fire using only wood and why there's always a pig served at every luau. Honestly, you can stay all day, but definitely get the Luau package with dinner and show, "Ha: Breath of Life". I've heard there's no words for it (it's that spectacular).
Psst: If you're staying at The Marriott Courtyard North Shore, you'll be less than a 10 minute WALK away, so you gotta go — no excuses. I'm still kicking myself we didn't make time for this!
Stand Up Paddling on the Anahulu River: While walking around Haleiwa, you'll undoubtedly cross a white wooden-looking bridge. That's the Anahulu Stream Bridge with the Anahulu Stream (river) underneath! We saw a bunch of people SUPing on the river and it looked like SO much fun.
There's no waves, making it much easier for a beginner (as opposed to where we learned in the Pacific Ocean in Kauai). You'll still need to work on your balance and you will work your core (making for a great workout!). There's plenty of places to rent a SUP on the North Shore, but Surf N Sea is a popular choice because it's so close to the river and you can even schedule an intro lesson if you feel you need it.
Skydiving: If you've ever had the dream of skydiving, what better place to do it than in freaking Hawaii?! We went skydiving at the Pacific Skydiving Center for my 30th birthday, and I still cannot believe we CHOSE to jump out of a perfectly-working plane. Sounds kinda crazy when I think about it, but I figured I should conquer my biggest fear (at the time). Thankfully, my husband came along with me for moral support (and to get in a jump of his own!).
Although my tandem instructor had to literally push me off the plane, I still had an absolute blast. I mean, the aerial views of the North Shore were absolutely epic! You can even see the beaches from the sky.
Be prepared to wait a bit, as weather conditions need to be PERFECT to ensure safety. We chose to jump from 14,000 feet, but you've got the option for 10,000 feet as well (it's a bit cheaper but you get less of that free-fall feeling).
Shark Cage Diving: Ever wanna snorkel face to face with thrilling sharks but too scared to do it in open water (like us crazies did in Bora Bora)? That's where cage diving comes in! You'll be snorkeling in a floating metal cage surrounded by the sharks in their natural environment on all sides! Galapagos sharks are most commonly seen (that's what we saw!), but tiger sharks and even whale sharks have been spotted here!
We went shark cage diving on our latest trip to Oahu (for my 34th birthday actually!), and it was by far the coolest thing we did the whole week! And yes, we felt extremely safe. If you visit in winter like us, you may even see a few humpback whales on the way as well!
Book your shark cage diving tour here (book early — they sell out!)
If you have a choice, pick the earliest tour (starting around 7am or so), as this is when the water is at its calmest (before the water gets too rough and choppy). We took some dramamine because we heard the ride out to the dive site can be kinda rough, but I didn't think it was so bad at all. I'm sure it depends on the day though. Another benefit to the early tour — you'll get to watch the sunrise out on the water! Truly epic.
'Ehukai Pillbox Hike: For the record, we chose to spend our time relaxing and eating (hey — what's wrong with that?), so didn't get to the 'Ehukai Pillbox hike on the North Shore. If you go, lemme know how it was!
I heard the pillbox hike is relatively short at 3 miles roundtrip, but it's quite steep. You'll pass by a bunch of WWII "pillbox" bunkers on the way up, and get rewarded with picturesque North Shore views at the summit. What could be better (besides some shave ice and poke on a hot Hawaiian day?).
Best Beaches on the North Shore
It's important to note that the beaches have super strong currents and waves in the winter, so you'll wanna stay extra alert and use caution whenever even going near the ocean. You absolutely should not be swimming when the tide is rough, as it's downright dangerous and people have been swept away to sea. Be safe and use your judgement! Never turn your back on the ocean — you never know what's coming next!
There's a whole slew of beaches along the coast, but these are the ones we visited (and we loved them all)!
Haleiwa Beach Park: If you're looking to actually get in the water in the winter, this is the place to be. Since there's a jetty here, the water is typically calmer. We loved strolling the beach, and noticed there's a few tables at the north end of the park which would be perfect for picnics overlooking the sand and ocean. And plus, there's a huge lot so parking is super easy.
Laniakea Beach: After 8 trips to Hawaii and 3 trips to Oahu, I finally saw the green Hawaiian sea turtles resting on Laniakea Beach! To say I was excited is a complete understatement!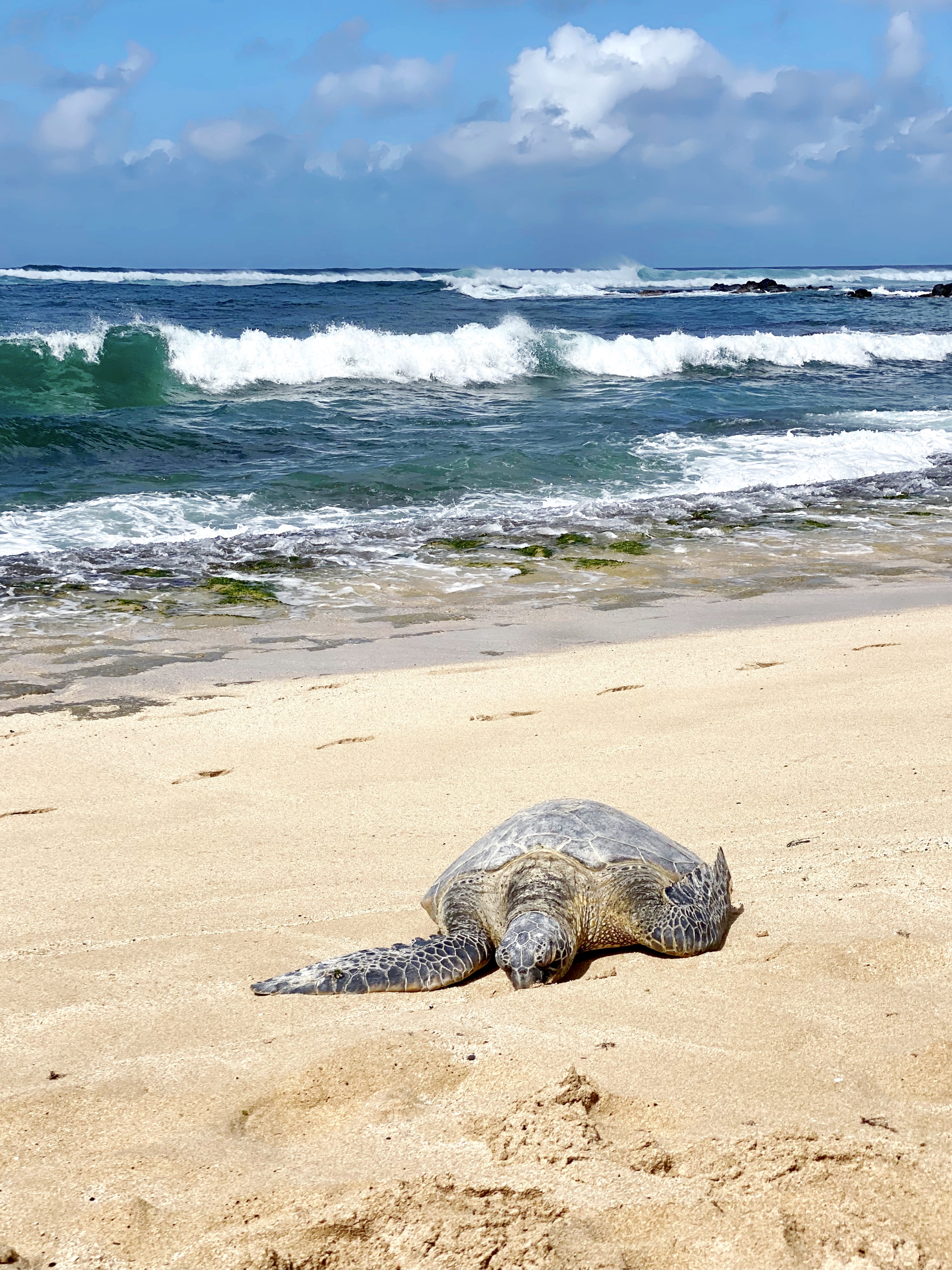 If they're out and about they'll likely be a rope around them urging visitors not to get too close (as well as volunteers to answer all your burning turtle questions!). If you are lucky enough to see them, be sure to keep your distance. It's a federal offense here in Hawaii to go near honus (sea turtles), and you don't wanna not be welcomed back!
Remember — sea turtles are living creatures so seeing them is never guaranteed! I heard they typically visit the beach in the late morning/early afternoon, but I'm not too sure how accurate that is. For the record, I'm pretty sure we visited around 1pm or so. Look closely as they kinda blend in with the large rocks on the sand!
Waimea Bay: Being clean, spacious, and downright beautiful, it's easy to see why Waimea Bay is one of the best beaches on the North Shore of Oahu! We came here multiple nights to watch the sunset, and never left disappointed! Bring a few POG-flavored Maui hard seltzers and you're in for a good time (please be respectful and stay welllll under your limit).
Beware though — the waves can be MASSIVE in the winter, so don't necessarily come here to swim if the swells look large. Waimea Bay is one of the spots for the high profile surfing competitions, and the currents can be extremely dangerous if you're not a SUPER experienced surfer/swimmer.
If no ones in the water except pro surfers, do yourself a favor and stay safe on the sand. In the summer when the waters much calmer, you might even see people jumping off the large rocks surrounding the bay!
Shark's Cove: Bring your snorkel gear, because this is the place to do it on the North Shore! We came here three times and we loved it so much! I mean, look at the photos — the whole area is downright GORGEOUS! Such a difference to the other beaches in the area. There's a little hut across the street where you can rent snorkels if you don't have your own.
But even if you don't snorkel here, you can typically find small schools of fish swimming near the shore just by wading in a few feet! We heard someone even saw an eel with just their feet in!
Banzai Pipeline: We came here to watch the surfers one afternoon, and WHOAAA. I honestly couldn't believe my eyes. They were standing up on the most insane and powerful waves!
Others obviously had the same idea, as there were a bunch of people sitting on the sand with their eyes peeled to the water. Such an experience. If you're visiting in the winter, don't miss it! Bring some Ted's Pie to make it extra sweet! :p
Sunset Beach: 2 miles of pure bliss — what could be better? But really though, don't miss this spot! Like Waimea Bay and Banzai Pipeline, the waves are towering so be EXTRA careful and use caution in the winter. As its name suggests, it's also a great spot to watch the sunset! We walked along the beach a bit after scarfing down our acai from The Sunrise Shack — the beach is right across the street!
Where to Eat on the North Shore of Oahu
There's SO much good food on the North Shore, hence why this section is almost as long as the others! Don't miss the food trucks — they're SO good. Important tip: always look for trucks that specialize in one thing; that's how you know their food is cooked to perfection. 🙂
Shave Ice, Pie, and other snacks
Matsumoto Shave Ice: You can't visit the North Shore (and Oahu in general) without some shave ice! Psst — it's SHAVE ice, never shaveD ice. ? Matsumotos is always a fan favorite and never disappoints (there's a line, always, for a reason!).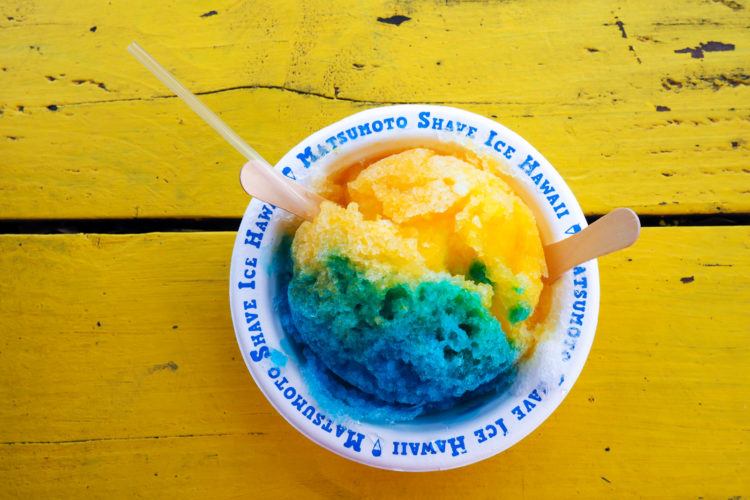 While there's tons of flavors to choose from (plus lots of combos and exotics), ALWAYS opt for some ice cream and condensed milk on top! It's been around for around 70 years, so you know it's good!
Aoki's Shave Ice: Some say Aoki's is better than Matusomoto's. Anyone down for a taste test? I won't tell!! And they're just across the street from each other! People say the syrups taste better because they're all naturally made — Aoki's is apparently where all the locals go! I'm headed there next time I'm on the North Shore.
Uncle's Ice Cream Sandwiches: Ultra-premium ice cream sandwiches made in Hawaii itself? And there's lots of flavors to choose from (including special flavors like banana bread and cookie butter fudge).
Psst — they're sold in select ABC stores and other markets (like Cooke Street in Kakaako!) around the island, so if you're headed to Honolulu later on in your trip and didn't make it the location on the North Shore, don't fret!
Ted's Bakery: Mmmm, pie anyone?! Ted's also sells cakes, breads, and pastries, but they're well-known for their absolutely orgasmic cream pies. ALWAYS get the chocolate haupia cream pie. Promise me that! There's also plate lunches and garlic shrimp, but we just go for the pie. :p
The fact that it's family owned and operated makes it that much sweeter (do your part to support local small businesses!).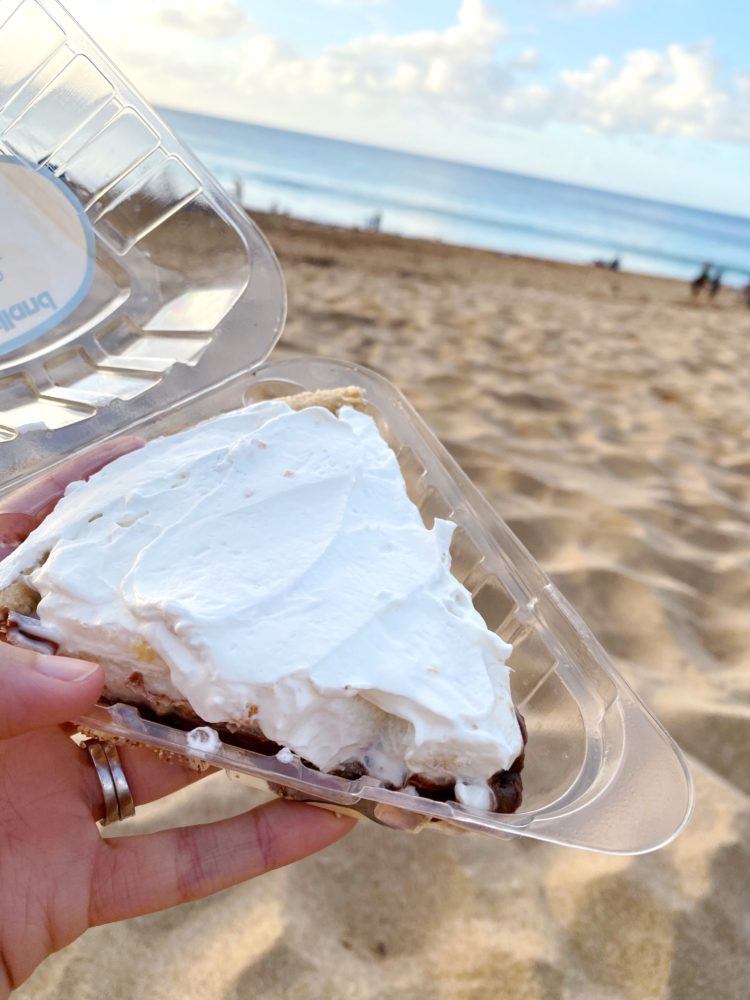 Honestly, don't worry if the actual bakery is closed; Foodland sells individual pieces of Ted's pie (look for the label) and they are just as delicious. We decided one night around 5pm we NEEDED some pie so grabbed some at Foodland to bring to the beach (along with some POG-flavored Maui hard seltzer).
Island Fresh: The cutest little juice shop right on Kamehameha Hwy in Haleiwa. They also sell acai bowls and bowls of classic Hawaiian fruit (all farm to bowl!). Unfortunately we missed this spot, but I'll be getting a daydreamin' bowl and an island fresh smoothie on our next visit.
Psst: there used to be a Wow Wow Lemonade around here, but it's since been permanently closed (boo!).
Coffee and Breakfast
The Sunrise Shack: This little spot has been on my Hawaii bucket list for way too long! And I'm glad to say it exceeded all my expectations. My açaí bowl was absolute perfection on a sunny morning— complete with organic honey and homemade dragon fruit sauce. The bullet coffee was seriously the best.
We ate on the patio at the original location near Sunset Beach, but they've just recently opened up another location near Sharks Cove too! Just don't feed the chickens (they're all over the North Shore). There's also a smaller Sunrise Shack in Waikiki if you need your fix before/after you head up to the North Shore.
Island Vintage Coffee: Yes, there's locations all around the island, but a cuppa caffeine never disappoints (especially in the morning). It's in the same little shopping area (Haleiwa Shore Lots) as Matsumotos, so kinda hard to miss! They sell bags of 100% Kona coffee, which can sometimes be hard to find if you don't know where to look. Try an island latte and any of the acai bowls!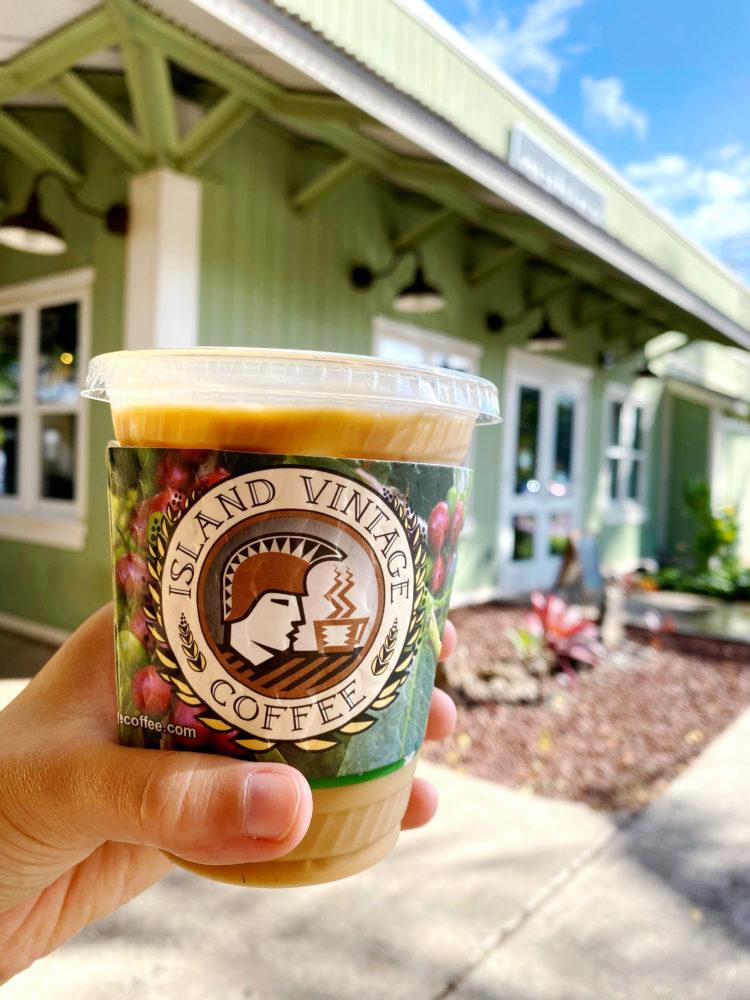 Haleʻiwa Bowls: Ohhhh this place is oh so cute — it's actually a little thatched kiosk with tropical leaves all around! If you're looking for a good (custom!) acai bowl (or a smoothie or some cold-brew coffee), Hale'iwa Bowls is your place.
We always have such a hard time deciding what to order because we want IT ALL! The Paniolo Bowl with peanut butter hits the spot every time, as does the hibiscus mint cold brew tea (the best!). Plus — you can't miss it walking on Kamehameha Hwy in Haleiwa town!
Raised by the Waves: OMG this little spot was soooo good (and I was honestly a bit surprised considering it's 100% veggie/vegan). While the whole menu looked amazing, I opted for keiki almond butter toast with sliced bananas, honey, and cinnamon.
Whatever you do, don't leave without a cinnamon macadamia nut cold brew. My husband loved it so much he ordered a refill for the road (despite the $7 price tag)!
Psst — We were staying at The Marriott Courtyard in Laie so it was only a few minutes away from us, but it'll be a good 25 minutes or so from Haleiwa, just FYI.
Kono's Northshore – Haleiwa: Known for their bomb breakfast burritos, pulled pork, and milkshakes, don't expect a light breakfast here! But whatever you do, don't miss out on their signature Kalua pig in either a famous 12 hour breakfast bomber, sandwich, or plate lunch. AND some fresh pineapple lemonade. It's also a great spot for brunch/lunch.
I've heard it's gone somewhat downhill over the years, so hopefully they can make it great again!
Lunch and Dinner Options
North Shore Shrimp Trucks: The North Shore of Oahu is an absolute mecca for garlic shrimp trucks (aka don't leave without indulging in some!). You simply cannot miss the shrimps! Everyone raves (and raves!) about Giovanni's Shrimp Truck, but there's actually a whole bunch on the North Shore!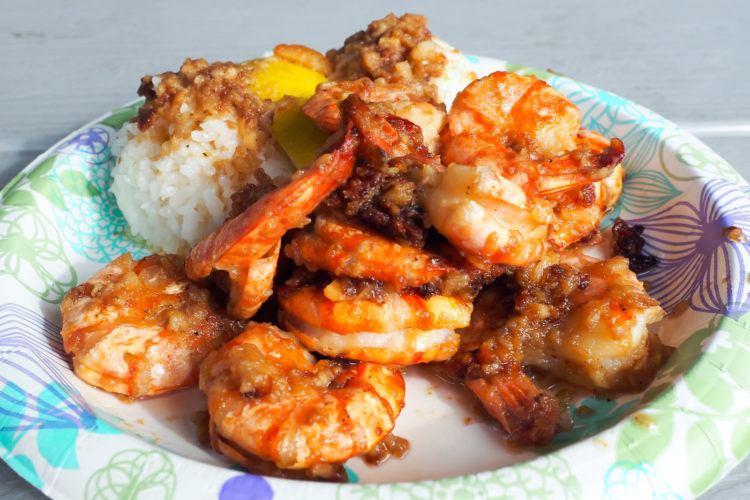 Other favorites include Jenny's (the shrimp is on point!) and Camaron's (go for the garlic butter shrimp)! Can't go wrong with either! There's ALWAYS a long line at Giovanni's (it's the most well known), so if you're not down with waiting, choose another option.
Surf N Salsa: Living in California for over 7 years (whoa!), I honestly thought there was no decent Mexican food in Hawaii. But after hearing locals rave about this spot, I'll definitely eat here next time. We ended up eating at North Shore Tacos and desperately wished we went to Surf N Salsa instead!
KillerTacos: No frills, but go for the kalua pork burrito and/or Alaskan cod fish tacos! Great value and portion sizes for the money.
Haleiwa Seafood: Don't miss this food truck! I repeat, don't miss it! We came here twice during our 2 days on the North Shore — it was that good! We were beyond obsessed with the coconut fish and chips, and my husband loved (LOVED) the fried shrimp!
Pupukea Grill: If you're looking for some Hawaiian street eats on the North Shore of Oahu, Pupukea is your spot. Think poke bowls (get the spicy tuna — it's the best on the island), plate lunches, and other delicious eclectic dishes (like bbq pork quesadillas). Plus, the banana bread is to die for. Worth the drive from Honolulu for the tuna alone!
Haleiwa Joe's: Although we didn't eat at this location in Haleiwa itself, we ate at the Haiku Gardens spot. I can promise the food is super fresh and oh so tasty!
Definitely go for some fresh fish (options change depending on what's caught), and make sure at least someone in your party gets the prime rib. It's what they're known for! My husband ordered it and his cut was larger than his head, I swear! Psst — the lilikoi (passion fruit) creme brûlée was spot on as well!
Haleʻiwa Beach House: Go here for drinks and appetizers (pupus) overlooking the beach at sunset! Yes, they'll be a road in between you and the sea, but you can still see the water. Such a nice ambiance and although we haven't had the chance to visit yet, we've heard the food is great!
Foodland Grocery chain: Yes, it's a grocery store. But come here for fresh poke! We picked up a poke bowl to watch sunset on the beach one night, and it was absolutely delicious! I think we got lucky because I heard the poke sometimes runs out earlier in the day.
If you wanna guarantee yourself some fresh ahi, plan to grab a bowl for lunch. There's a whole bunch of Foodlands along the beach, so I promise you you won't miss it while cruising/walking around.
Hope this helps you plan out your trip to the North Shore of Oahu! We absolutely loved our trip and I know you'll enjoy yours too! Just promise me you'll get some garlic shrimp!