Headed to Hawaii and looking for the best photo spots on Oahu?! Whether that be to get the perfect Instagram shot or to throw a few in frames to hang up at home, I've already picked out some pretty amazing areas! 
Plan on photographing Oahu for a few days — this list of Oahu Instagram spots is pretty long! From the most photogenic beaches and lookout points, to the most instagrammable Oahu coffee shops and hotels, to everything else in between!
Oahu is like one big instagram feed waiting to happen. Every inch of the island is impressive, from the laid-back North Shore all the way to the bustling Honolulu. I was surprised that I was able to find a whole slew of photo spots in Honolulu itself, being a rather large city and all! Because let's face it, half the spots on this list are beaches (makes sense, this IS Hawaii!).
We love visiting the islands. Now that we live in California, Hawaii is so much more accessible to us than when we lived in New York City. We've visited all the islands a handful of times (except the Big island — we're planning to visit next year), and I can honestly say they're all just fantastic!
Don't skip Oahu because people say it's "just a city". I promise you — Oahu is SO much more than Waikiki and Honolulu, although I do happen to love those urban areas too!
Venture on over to the North Shore for some cool, laidback vibes, the East Side for so much wild beauty, and don't miss the jagged green mountain ranges. Oahu's really got it all — I promise! And this Instagram guide to Oahu will clearly show you that!
With that being said, I've compiled all my favorite Oahu photography spots — some more popular than others and some you've probably never even heard of! I'm including all the iconic Oahu photo spots, as well as a bunch of lesser-known and local hidden gems! Plus a few I've personally found myself!
→ Psst — need help planning your trip to Hawaii?! I've got lots of good info over here!
Instagram Worthy Hikes and Lookouts
Diamond Head
Get ready for a serious climb and some serious views — Diamond Head is by far one of the most beautiful places in Oahu. Aka, don't miss it!
The hike isn't that bad, I promise (just wear proper footwear!). Don't leave this off your Oahu itinerary — where else can you climb up an extinct Hawaiian volcanic crater?! Honestly, even if you're more of a "lay-on-the-beach-sip-mai-tai's" kinda girl (or guy!), get your butt up and do it anyways.
The views are downright STUNNING, (think emerald green mountains against sparkling aquamarine water), making it easily one of the best Oahu instagram spots.
Although the hike is only about 1.6 miles round trip, you'll find lots of windy, rocky, uneven and narrow trails. Oh, and expect some steep stairs as well. Makes sense – you're climbing up 500 feet to the top of a crater!
Definitely start early — you'll avoid the lines and crowds on the stairs (it gets busy and the stairs are narrow). I do have to say it's kinda difficult to get that perfect instagram shot because of all the people, but if you work your angles right, you may just get "the shot". We weren't patient enough for this, haha.
Make sure to take lots of water (and a hat and sunscreen) — the sun is strong here! While it's a super popular hike and honestly not all that difficult (even with all the stairs), it can be taxing in the heat. I didn't hydrate nearly enough and honestly almost passed out!
Lanikai Pillbox Hike
While not one of the longest trails you'll find on the island, the Pillbox hike may be one of the prettiest and historic on all of Oahu. During your trek you'll stumble upon colorful and graffiti-covered military bunkers, and witness a stunning panoramic view of Lanikai Beach. And when I say stunning, I mean stunning.
Expect a view with tons of swaying palm trees, crystal clear turquoise water, and two mokes (those pointed islands you see in the photos) jutting out of the water.
We somehow found ourselves lost on the trail and never made it to the top where the pillboxes are located. But just look at that view we got on our attempt up — I'd say we still found one of the best Oahu instagram spots regardless!
Makapu'u Lookout
Finally, views without the effort! Thankfully, you can see some of the most instagrammable places in Oahu even if you're not a hiker!
This lookout point is on the East Side of Oahu, and worth a quick few minutes! You'll see the golden yellow sands of Makapu'u Beach down below, a whole bunch of reefs in the turquoise waters, and even a lighthouse! Visiting in winter? This is a great place to whale watch! Next time I wanna do the short hike (it's paved!).
The clouds were rolling in when we went (and it was super windy), but still — this spot has got to be one of the best Oahu photo spots. And plus, it couldn't be easier to access, as it's right off the side of the highway!
Stairway to Heaven ("Haiku Stairs")
I'm sure you've seen photos of this narrow, rusty staircase snaking through the Hawaiian mountains plastered all over IG. And yea, it sounds epic, right?! The stairs were built way back when during World War II as a way for soldiers to access the radio antenna that sits at the top.
BUT, the Stairway to Heaven hike has been illegal for many, many years now (actually since the 1980s!). People still do it, but it's not worth the repercussions in my opinion. Honestly, you'll find so many other Instagram spots in Oahu (just as good or even better).
I feel like the main reason people want to do this hike is because it's illegal, and that makes it more appealing for some reason. If you do get caught (which is happening much more these days), expect to pay a $1000 fine (it's actually considered a felony)! I've heard that security has been greatly upgraded, and there's also police hanging out there as well looking to give out penalties.
Psst: The Moanalua Valley Trail, another path leading to the stairs and how people used to bypass the guards, is actually illegal now too.
Your call if you wanna do the hike, but I wouldn't risk the penalty myself. Do yourself a favor and skip this one. I just included it on this list of Instagram spots in Oahu to let you know it's illegal and to move on and skip it!
Nu'uanu Pali Lookout
Need more coastal cliff and mountain peak views in your life, minus the hiking? Make a short stop at the Nu'uanu Pali Lookout! The lookout features panoramic views of the windward coast of Oahu — and it's absolutely gorgeous! Just beware, it's windy AF.
As noted above, it's typically beyond windy over here (think gusts of 40-50mph), so taking a photo of yourself without hair blowing all over sounds difficult! A photo looking out and hiding your face would work here though! Hold on to your hats, sunglasses, and phones; it was so windy I was having a hard time steadying my hands to take a quick photo! And take along a light jacket!
We were a bit confused on parking, as there were signs saying visitors had to pay $7 or so. Since we were only planning on staying a few minutes, Noah dropped me off while I ran to look at the view and he stayed with the car. I'm not entirely sure they actually check parking, but we figured, better safe than sorry.
China Walls (aka Koko Kai Mini Beach Park)
This spot is quite different from other beaches, as in it's not really a beach at all! It's more like a massive series of lava rock ledges and platforms to hang out on and admire the turquoise waters below. While we just looked out at the water from atop the rocks, others jumped in! It sure looked super refreshing! Just be extra careful as it looked kinda difficult to get back up the slick rock. There's no ladders (it's all natural), so you may need a friend to help you!
If you want some unique angles while photographing Oahu, definitely head on over to China Walls. There's such beautiful views of the Pacific here, with lots of ledges and cliffs making for interesting photography. You may even catch some cliff-jumpers here! Be extra careful during high tide.
You won't be able to park directly next to the entrance (there's lots of no parking signs), but we easily found free street parking about 5 minutes away in the neighborhood.
Halona Blowhole Lookout
Wanna watch water shoot 30 feet into the air from a lava tube? Head over to the Halona Blowhole Lookout. It's absolutely insane. You may have to wait around for the hole to blow, and to be honest, if you don't know exactly where to look, it's easily missable if the tide is low.
When we went there were a few people looking for the exact blowhole, and no one knew exactly where to find it! Still a beautiful area and so fun! If you're visiting Halona Beach Cove, you'll be parking in this lot anyways, so worth a shot to look! I later learned that the blowhole isn't active at all times of day, so it's possible the little misting we saw from the rocks was it!
Tantalus Lookout
Looking for one of the best Oahu photo spots for sunset? Head up to Tantalus Lookout at Puu Ualakaa State Park! It's quite the panoramic show and only about 15 minutes from Waikiki. You can even see striking views of Diamond Head and the Waikiki skyline, giving you some of the best views on Oahu.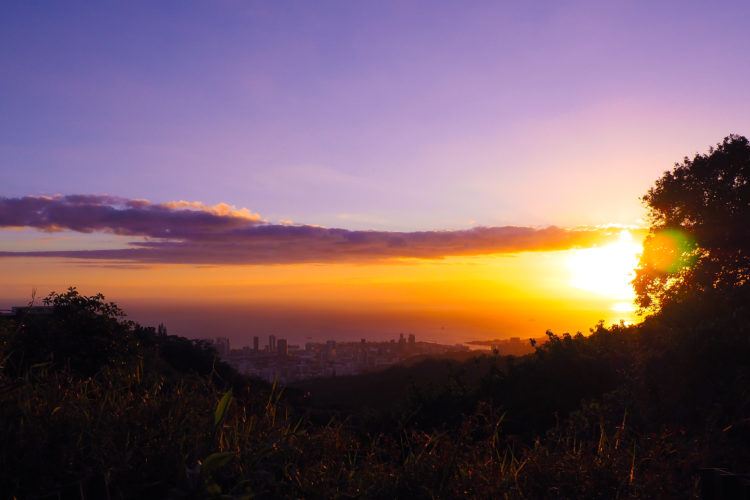 Come a bit early (the parking lot isn't huge), set up a blanket on the grassy lawn, and watch the sky change colors.
Note that you'll need to drive up a windy mountain road to get here, so be especially careful on your way back down in the dark. Take it slow!
Koko Head
Now, I haven't done this hike myself (we decided to lay by the pool and sip mai tais instead — kill me), but it's still on my bucket list of instagram spots in Oahu for next time!
This steep hike is actually an abandoned railroad track on Koko Crater, with over 1,000 uneven steps (straight up the hill, making for a great leg workout). There's little shade, so make sure you slather on the sunscreen, wear a hat, and bring plenty of water.
Probably not the best hike for people with a fear of heights, as you're literally scaling a steep mountain the entire time.
Instagrammable Beaches and Gardens
Lanikai Beach
Ohhh Lanikai Beach. It's everyone's favorite beach on Oahu, and it's not hard to see why. The water's clear, the sand is super soft and white, and there's tons of palm trees swaying around. Idyllic Hawaii as it's best! It's honestly one of those places you'd see on a postcard! And luckily you get to visit!
Out in the distance you'll see the two mokes — the two large rocks jutting out of the water. And if you hike up to the Lanikai Pillboxes, you'll get to see the beach from above (one of my favorite photo spots in Oahu!).
This place used to be kinda a hidden little local secret — but it's now super popular and therefore pretty crowded. Come early to snag a parking spot (there's not much along the road). It's well worth the parking hassle though, I promise!
Try to visit on a day when the sky's clear and blue — it'll make the water exceptionally more beautiful. We unfortunately visited right when it was about to rain, and while the water was still pretty, I can't even imagine how stunning it'd be on a nice day!
Laniakea Turtle Beach
If you come to Hawaii looking for green sea turtles, 100% head over to Laniakea Beach. It's not known as Turtle Beach for nothing! On our last trip to Oahu, we FINALLY got to see the turtles resting on the sand, and I was nothing short of ecstatic. We had snorkeled with them plenty of times in Maui but never saw them out and about!
If you do see them, there'll likely be a rope around them urging visitors not to get too close (as well as volunteers to answer all your burning turtle questions!). If you are lucky enough to see them, be sure to keep your distance. It's a federal offense here in Hawaii to go near honus (sea turtles), and you don't wanna not be welcomed back!
And if there's no turtles resting on the beach that day, don't fret → the beach is super scenic! I actually loved all the mossy green rocks and boulders; it made photographing the beach that much more interesting!
North Shore Beach Swing
Take a drive on the scenic Kamehameha Highway for lots of ocean views, almost-empty stretches of sand, and beach swings!
Sadly, I don't have an exact spot for this, but I actually saw a few beach swings on our way to the North Shore along Kam Highway! If you see one, pull over on the side of the road → you'll likely be the only one there! We had the beach all to ourselves for quite a bit one morning until a sweet family joined us.
Waimea Bay
Come here for sunset — you won't be disappointed! And better yet — bring along a few POG-flavored Maui hard seltzers and you're in for a good time (please be respectful and stay welllll under your limit).
Not only is the beach absolutely gorgeous, but you might even see people jumping off the large rocks surrounding the bay! I wasn't one of them, just FYI. 😉
Hanauma Bay
Hanauma Bay is full of the best photo spots on Oahu — both above and below the water! Since it is a protected marine ecosystem (it's actually a former volcanic crater), there'll be beautiful coral reefs, loads of tropical fish (like the ridiculously colorful parrotfish!), and other sea life. Just be sure to take along your underwater camera! I like to use a waterproof phone case and a GoPro for photos!
Just remember — you're never allowed to touch or walk on any coral (it's actually a law here in Hawaii!) and NEVER mistreat the marine animals (no chasing/petting/feeding/etc). Also – be sure to have reef safe sunscreen, as other sunscreens are not allowed in the bay.
While the whole nature preserve is super pretty, it's actually the view walking down to the beach which I find the most stunning. From up here, you can really see the reefs below the surface and the small waves lapping the sand. We unfortunately visited on a cloudy day so the water wasn't as turquoise as it normally is, but still gorgeous nonetheless!
Ho'omaluhia Botanical Gardens
The entrance road to the Ho'omaluhia Botanical Gardens used to be one of the most popular instagram photo spots on Oahu. And I get why — it's lined with palm trees, there's an epic mountain backdrop, and enough greenery for days. It even gave me some serious Road to Hana vibes. However, it's recent rise to fame has forced the park to prohibit photos along the road now (which I understand — it's not safe to have people wandering into the middle of the road for pictures).
Don't try it — you may get fined! There's plenty of "No Stopping" and "No Photography" signs right on the road. AND someone at the entrance enforcing it. Don't fret — there's still lots more places in Ho'omaluhia Botanical Gardens to take photos! I snapped this photo as we were driving out the car window. 😉
Waikiki Beach
How could this be a complete list of instagrammable places in Oahu without even a mention of Waikiki Beach? Ha — now that'd just be super silly. Yes, it'll probably be crowded — it's Waikiki Beach afterall, but it's still worth a few photos! Most people overlook it thinking it's too popular, but hey, it's popular for a reason! Whatever you do, don't leave it off your Oahu itinerary.
The water's a bright turquoise, you've got the stunning Diamond Head in the distance, and the vibes are so fun! There's always something going on over here! And even if it's busy, there's 2 miles of soft, white sand, alongside the highrises and backed by palms, so you can always look for a less-crowded spot.
Visit in the early morning for a higher chance of less people. I watched sunrise from here one morning and had the beach almost all to myself, minus some surfers in the water. But no matter the time of day, the water will be a bright turquoise and there's lot of boats making for some excellent Oahu photography!
Shark's Cove
You NEED to visit Shark's Cove! We loved it so much we visited not once, not twice, but yes, three times! I mean, look at the photos — the whole area is downright GORGEOUS! Such a difference to the other beaches in the area. Take a short walk to get different angles of the cove; we loved hanging around here!
If you've got time, whip out your snorkels (or rent some from across the street), and dive below the surface! While we didn't snorkel here, I've heard there's tons of fish — like the striking Moorish idol angelfish, colorful parrot fish, shingle urchins, and cauliflower corals. We were even able to see a few schools of fish from the surface! Someone even saw an eel with just their feet in when we were there!
Do note that Shark's Cove changes drastically with the seasons. In the summer, it's as smooth as glass. Winter brings lots of crashing waves! Always be careful, but be extra careful if you're getting in the water in winter!
Halona Beach Cove
Okay, whatever you do, you NEED to visit Halona Beach Cove. Yes, I know I just said that about Shark's Cove, but this is another Oahu photo spot you must not miss! Out of our multiple trips to Oahu, I think Halona Beach Cove is one of my favorites of all time! It's 100% one of the most beautiful places in Oahu, easily!
It's small and scenic and surrounded by jagged cliffs on three sides. I've heard it's exceptionally amazing for sunrise (although we typically choose to sleep in a tad!). I also heard Pirates of the Caribbean was filmed here, but I'm not too sure how accurate that is! :p
Psst: We parked by the Halona Blowhole Lookout and walked over. You'll need to walk on the road for a tiny bit, and then you'll see a set of rocky "stairs" leading down to the beach cove. It's not that difficult, but be extra careful. And once you get down there — expect paradise and then some. We could have spent all day over there; it really was that phenomenal!
Banzai Pipeline
Wanna watch some of the most experienced surfers ride some waves?! Get your booty over to Banzai on the North Shore! It'll take a little practice, but photographing the crest of the wave will get you such an iconic Oahu photo! And if you can get a surfer riding a wave — well, even better!
If you're not a pro surfer (or haven't been seriously surfing for years), don't even think about getting on a board in winter. The waves are HUGE, and it's actually super dangerous if you don't know exactly what you're doing.
We had so much fun watching the waves and surfers one night right before sunset — we just made sure not to get too close to the water! The currents are crazy! Just listening to the waves crash against the shorebreak is absolutely wild.
Tidepools at Makapu'u
The water filling the rocky pools make for some interesting Oahu photography, that's for sure! And these tidepools are far one of the most instagrammable places in Oahu — they're even formed from black lava! You'll wanna of course wear your bathing suit to get some shots inside the tidepools.
The place was nearly deserted and we had the area all to ourselves for a little while!
And if things couldn't get any better — we saw TWO Hawaiian monk seals hanging out on the rocks near the water. And one was a little baby! By far one of the most epic wildlife experiences of my life. Why? Because monk seals are extremely endangered, and there's only about 1,400 of them left in the world (making them the most endangered seal or sea lion species in the USA).
So with that being said, keep your eyes peeled for them! Respect them and their space — never get too close (we kept our distance).
After taking some photos at the tidepools, we walked to nearby Makapu'u Beach to check it out! 🙂
Psst: there's two locations for this spot on Google Maps, but we visited the ones right near Sea Life Park Hawaii.
Haleiwa Beach Park
If you're looking to actually get in the water in the winter on the North Shore (other beaches aren't safe), this is the place to be. Since there's a jetty here, the water is typically calmer. I can feel a whole bunch of Oahu IG photos coming! I recommend taking photos under the palms and near the jetty!
We loved strolling the beach, and noticed there's a few tables at the north end of the park which would be perfect for picnics overlooking the sand and ocean. And plus, there's a huge lot so parking is super easy.
Dole Plantation
If you wanna take some photos in a lush pineapple field, here's your chance! There's also plenty of rainbow Eucalyptus over here, too! And if you've never had pineapple soft serve before, THIS is the place to get it! I mean, who doesn't love a good dole whip?!
Walk through the maze, look at the growing baby pineapples, and of course have an early-morning pineapple dole whip — but beware, it's pretty sweet! There's also tons of pineapple treats for purchase (for now or to save for later!).
Byodo-In Temple
Missing Japan? Head to this replica of an elaborate and historic Japanese Buddhist temple. There's manicured gardens, tranquil meditation sites, and even a lovely koi pond. Look out for the black swans and peacocks! And it's only $5 per person for entry. It made me miss our time in Kyoto so badly!
The temple is one of the most unique photo spots in Oahu, and I wouldn't miss it! My favorite spot was the bridge towards the temple as soon as we passed the entrance, with the jagged green peaks behind. There's also some tall bamboo which would make for a great background as well.
Murals and Street Art in Oahu
Street Art in Kakaako
Since Oahu boasts a lively (and quite large) city, you'll find a whole bunch of urban photo spots in Oahu as well! And my favorite area for color in the city — the up-and-coming trendy neighborhood of Kakaako. It kinda reminded me of the Wynwood Walls in Miami! Here's a few of my favorites from years past:
You'll definitely find the most colorful instagram spots in Oahu over here! There's a whole bunch of murals in this hip little area, with many claiming Kakaako to be Honolulu's trendiest district. The murals get refreshed during the Pow Wow Street Art Festival every February, so you never know what you'll find!
We loved wandering around looking for all the colors and taking fun photos!
Wings of the North Shore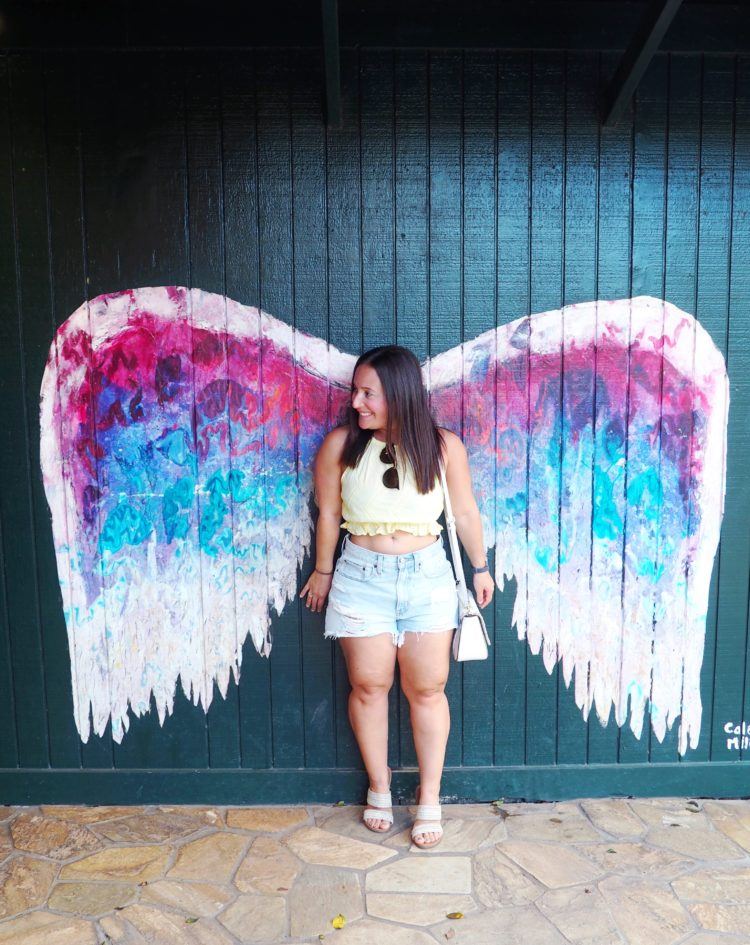 Have you been to the North Shore if you haven't taken a photo with the famous multicolored butterfly wings at Anahulu Shave Ice? This has recently exploded as one of the best Instagram spots in Oahu, and I can see why. I was excited to learn that they are in fact part of Colette Miller's collection! And while you're at it, grab some shave ice!
Restaurants, Bars, and Coffee Shops
Whenever I travel, I always tend to gravitate towards the hip, colorful foodie spots. I'm a sucker for photogenic food! And while I understand there's probably better food out there, I really enjoy these little boutique cafes!
Some are super well-known and iconic to Oahu, while others are little hidden gems I've found along the way. But whatever you say, I consider them some of the best instagram spots on Oahu regardless!
I typically just take photos of the food themselves (instead of being in them). Why? Because I'm kinda impatient when it comes to eating (when this girls hangry, it's no fun). But you do you! The interiors of these spots I've picked out are super boutiquey and just downright cute. Go for it!
→ Read Next: My top 25+ places to eat in Oahu
Leonard's Bakery
Mmmm… just thinking about Leonard's drives me absolutely wild. They're that orgasmic. We always make Leonard's our first stop after the airport — and we're never disappointed. Expect a line, but it always moves fast.
Order a plain glazed original, the macadamia nut (my personal fave), a chocolate filled, and one flavor of the day. They're best eaten while fresh and hot (they make and fill them to order), so don't order more than you can eat! And they're actually super filing, so share a few with friends!
While we of course come for the malasadas, the cute pink boxes, pink and white striped awning, and neon sign are just as IG-worthy.
Mai Tai Bar
No trip to Hawaii is complete until you've had a few Mai tais! And lucky me – Mai Tai Bar at The Royal Hawaiian is my husband's bar of choice when it comes to cocktails in Oahu. I mean, all the umbrellas are pink (and the blues of the Pacific are right there), making this chic bar one of the best photo spots in Oahu! Especially for anyone who loves a stiff drink!
This bar is located right at the edge of Waikiki beach — ask for a table overlooking the sand and Diamond Head!
Psst — they make their drinks quite strong so if you're looking for something a bit on the lighter side, just let them know. ?
Arvo Cafe
Ohhh, we love this cute little plant-filled Aussie-inspired coffee shop! Don't miss the ricotta strawberry toast, halloumi burger, a lavender latte, and some fresh squeezed OJ! Make sure to go here for breakfast or brunch as they close at 2pm most days! With the tassel-fringed umbrellas and photogenic loaded toasts, Arvo is definitely one of the most instagrammable spots in Oahu!
They've recently opened up their own establishment at the SALT at Kakaako, and I'm so proud of them! The first time we visited they were sharing a space with a super cute little plant shop, but now — they're got their very own coffee shop! Be sure to look around; there's tons of colorful murals around here!
4. Olive & Oliver
Located in the SurfJack Hotel, Olive & Oliver is not only the hippest coffee spot we found in Oahu, but the barista was super sweet and I loved all the merch in the boutique!
Quite possibly the most instagrammable coffee shop in all of Oahu! And yes, I went here for their cute cups — their branding is so on point! I need me some of that pineapple wallpaper for my house! Don't worry — the coffee is actually really tasty, too (ask for some latte art)! It's super unassuming from the outside, but as soon as you enter, voila!
If you want more coffee in cute cups (no shame), head on over to Island Vintage Coffee.
5. Matsumoto Shave Ice
Matsumotos is always a fan favorite and never disappoints (there's a line, always, for a reason!). If you wanna take a photo of your shave ice, do it fast! After a few minutes the whole thing will be a big mush and get all sticky all over the place. Take a photo with your shave ice on the green lawn — I always eat mine too fast to be bothered! Some travel blogger I am, right? :p
6. Rainbow Drive-In
The exterior, while at first glance seems kinda boring, if you look a bit closer, you'll notice the entire facade is rainbow covered! It may be kinda hard to take a decent photo here since the sign and best rainbow spot is in a parking lot, but just be safe and you'll get the shot.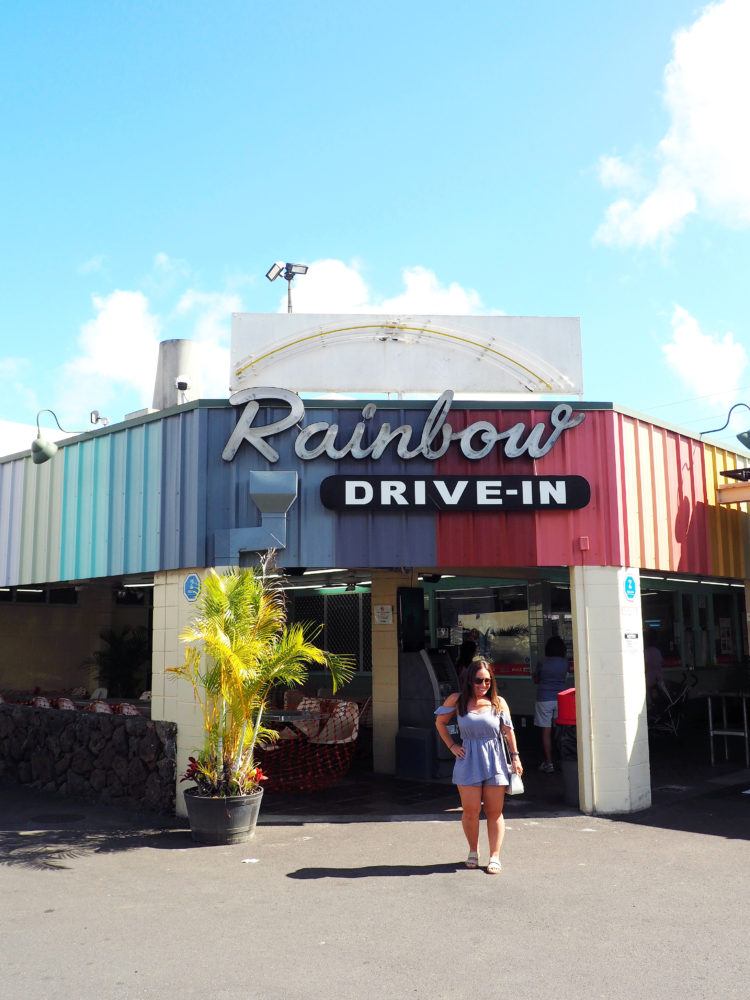 Oh, and don't forget to order a plate lunch — we love the pork combo the best!
The Sunrise Shack
I'm sure you've seen photos of the iconic Sunrise Shack of the North Shore, and if you haven't, well, here ya go! Come here for breakfast — just expect to eat with a lot of chickens (they don't bother you, they just hang out)!
This little spot has been on my Hawaii bucket list for way too long! And I'm glad to say it exceeded all my expectations. My açaí bowl was absolute perfection on a sunny morning— complete with organic honey and homemade dragon fruit sauce. The bullet coffee was seriously the best.
Hideout at the Laylow
Even if you're not staying at the Laylow Hotel, you've gotta head to Hideout for breakfast/coffee one morning. Be sure to take your food to the open lanai setting overlooking Kuhio Avenue (a fun name for outdoor patio) — it's an instagrammers dream come true.
They actually serve all morning, noon and night, but if you're here for the photos (no judgement), make sure to come when it's light out! We had breakfast here one morning, then came back for happy hour!
The interior design of the entire hotel (including the bar and outdoor area) is top notch. The way all the materials blend together so well, their pretty tiled tables, the deep teal cushions and rattan chairs. Can you tell I'm just a sucker for their branding and style?! Even their coffee menu is super cool and trendy!
Raised by the Waves
OMG this little spot in Kahuku was soooo good (and I was honestly a bit surprised considering it's 100% veggie/vegan). While the whole menu looked amazing, I opted for keiki almond butter toast with sliced bananas, honey, and cinnamon. The presentation was just phenomenal, and I took way too many photos.
I can already see a whole photo shoot happening over here with all the plants and outdoor seating. The whole location really is a work of art.
Banan Waikiki Beach Shack
Come here for açaí banana ice cream in a papaya boat or half pineapple — they're by far the most instagrammable items they've got. What's so great about Banan besides the atmosphere and super cool concept? The fact that the ice cream isn't ice cream at all! It's made purely from banana puree, but honestly, you'd never know — especially loaded with toppings! And the sweet treat is completely all natural and dairy free!
And even better — Banan is located in a surfboard-lined alley, so there'll always be that perfect backdrop for your photo.
Hawaiian Crown Plantation
Where to find the best pineapples on all of Oahu?! At the Hawaiian Crown Plantation of course. Not only is the shop super cute, but they have the most amazing smoothie bowls — with tons of fresh pineapple!
Definitely order an acai bowl to share (they're huge) and some fresh pineapple juice! We brought ours to the beach for a little picnic one afternoon and had the best time!
Haleiwa Joe's – Haiku Gardens Restaurant
Want phenomenal food and even better views? Haleiwa Joe's (in Haiku Gardens) is your answer! We've even spent my birthday here one year! You'll feel like you're eating dinner in Jurassic Park! Definitely get the prime rib if it isn't sold out (it's popular for a reason!), as well as lilikoi creme brulee for dessert.
My recommendation: Go on the earlier side, put your name down, and walk around the gardens while you wait for your table. Always request a table overlooking the garden. It's even more spectacular if you time it right and eat as the sun's setting (although it sets behind the mountain, but the colors are still gorgeous).
Jewel or Juice / Lanikai Juice
Hawaii is known for their delicious (and gorgeous) acai bowls, and Oahu follows suits! If you're looking for that deep purple color, order a bowl with original acai as the base. Loving the look of the pink? That's pitaya (dragonfruit)!
Both are absolutely delicious and I'd be hard pressed to pick a favorite! The way the fruit and toppings are arranged oh so perfectly just make them hard NOT to photograph! With that being said, these two spots are some of the best instagram spots in Oahu for foodies!
Instagrammable Hotels in Oahu
The Royal Hawaiian
Ohhhh — the ultimate pink paradise, right in the heart of Honolulu! I'm sure you've seen photos of it before! The Royal Hawaiian's even been nicknamed the Pink Palace of the Pacific — and it's easy to see why!
Although we've never stayed, we've wandered the grounds, snuck a peek at the (gorgeous) pool area, had a few mai tais at the bar (super instagrammable with it's massive pink umbrellas), and even indulged in pineapple scones for breakfast one morning. To say we're dying to stay here is a massive understatement! It's a little pricey so would make for a perfect birthday or anniversary trip!
There's photo ops all over, but I particularly like the views from the grass out back as well as the arched windows near the bakery. The pool area is super cute, too! Make sure to add this to your list of best places to take photos in Oahu, especially if you're in the mood for a mai tai or two!
The Laylow Waikiki
I'd been wanting to stay at The Laylow Waikiki ever since I saw my first photo of it. With it's mid-century modern decor and printed leafy wallpaper, I knew it had my name written all over it. We stayed here this year to celebrate my birthday, and I can honestly say it's the urban oasis I definitely thought it'd be! And it's super photogenic — like every square inch of it.
While the entire hotel screams "photograph me please!", I found the top photo spots at the Laylow to be:
hula girls behind reception
swinging rattan chairs next to Hideout Coffee
monstera leaf wallpaper in the hotel rooms
entire outdoor bar and lounge area
lounge chairs in the pool
But like I said, the entire boutique hotel is basically one big instagram story waiting to happen. I could have photographed The Laylow Waikiki for hours (much to my husband's dismay).
Shoreline Hotel Waikiki
Looking for pops of color?! The Shoreline's got it! Even it's outside entrance is covered in such bold colors (with a beautiful ombre effect), making it one of the best photo spots on Oahu! There's quirky decor (like leafy curtains and a neon aloha sign), colorful artwork, and couches in every color you can think of!
Psst — you don't need to stay here to get a photo for the 'gram. I sauntered into the lobby and took photos, no problem!
And ohhh — the pool area (for guests only, of course) looks like a rainbow threw up on it! Any instagram husbands' nightmare (haha)!
So there ya have it — the best Oahu instagram spots! Hope this helped give you some inspiration next time you're visiting the island!