Heading to Hawaii soon and wondering where to eat in Oahu? You're in luck- there's an absolute abundance of drool-worthy places to eat in Oahu, and this list is a great bucket list of where to eat in Honolulu (the island's largest city) and beyond!
During my last two visits to Oahu, my diet consisted mainly of poke bowls, shave ice, açaí smoothie bowls, and malasadas. Read on for my personal recommendations of where to eat in Oahu. All tried and tested by me, or places I'm kicking myself I didn't have enough time for (a week in Oahu is never enough- there's so much eating to be done!)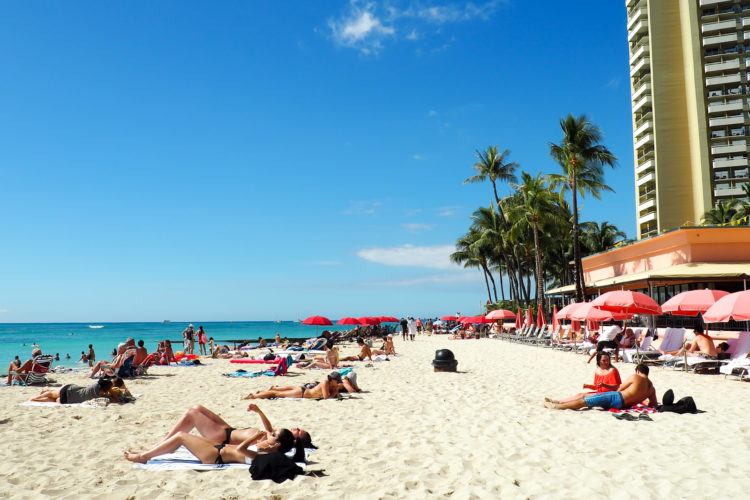 Have any favorite places to eat in Honolulu or on the island of Oahu yourself?! Share below in the comments! I'm always looking for new ways to fill my stomach.
SIDE NOTE: When we're in Hawaii, we somehow never tend to eat the standard three meals a day. We kinda just eat whenever it fits into our plans or when we're hungry. That may mean we sometimes wind up eating Shave Ice and donuts for lunch, whoops!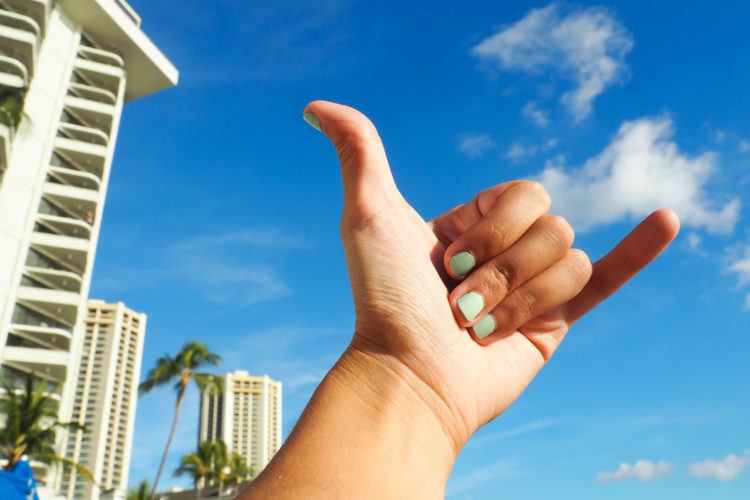 BREAKFAST IN OAHU
Arvo: This hip location a bit west of Honolulu certainly deserves a high spot on this list of places to eat in Oahu. Come with a friend/boyfriend/husband/hostel roommate/whoever and make sure to order the loaded avocado toast (complete with tomatoes and feta cheese), Nutella toast (loaded with bananas and strawberries), and the egg salad toast for sharing purposes.
The lattes are top notch as well. And once you're in the area, be sure to walk around the neighborhood as it's full of art and colorful murals at every turn.
The Hawaiian Sweet Potato Company: We stumbled upon this spot on our last morning in Honolulu, and boy, are we glad we did. Nothing beats a feast of all things sweet potato if you ask me- especially for breakfast! Everything in the shop looked absolutely delicious, and we narrowed it down to sweet potato and mango pie, a sweet potato and blueberry scone, and loaded sweet potato sticks drenched in honey and syrup. I guess you can say we ate the daily vegetable recommendation for breakfast?!
Eggs N Things: Two words. Macadamia Nut Pancakes. And whipped cream. Ok, so five. Another dish to share if you don't want to be stuffed silly the rest of the day (and what a shame that'd be considering how much food is left on this list).
With pancakes piled high and (basically) a whole tub of light and airy whipped cream slathered on top, you'll want to go for a nice long walk afterwards – I can promise you that! Psst- not in the mood for pancakes? They serve all your usual breakfast fares as well- try the chicken mango sausage!
Aloha Kitchen: Still have a craving for carbs for breakfast? You're in luck, because Aloha Kitchen serves some of the best soufflé pancakes on the island. And what are souffle pancakes you ask? Good question – they're the airiest, fluffiest, and most delicious pancakes you'll ever find. The egg whites are separated from the yolks which give them their light, fluffy consistency and are a huge trend in Japan right now! Honestly, I'm not sure if they're better for breakfast or dessert, but either way, you just have to try them.
Favorites include the egg benedict, the banana souffle pancakes (or any myriad of toppings), and loco moco (an absolute must-try in Hawaii!).
Bills Hawaii in Waikiki: Did someone say banana ricotta pancakes? Yes, please! And yes, more pancakes on this list of where to eat in Oahu. The hawaiians must love their pancakes! Even if you're not a big pancake fan, you gotta try them – these ricotta hotcakes with banana and honeycomb butter are their specialty! Share the order with a friend! The Aussie Special, consisting of tasty sausages, eggs, tomatoes, greens, bacon, toast, and homemade strawberry jam, is another loved menu item. Make sure you check in on yelp to get a 15% off discount!
AÇAÍ BOWLS IN OAHU
Not sure what an acai bowl is?! First off – acai is a tropical superfruit with numerous health benefits, and have become quite the trend lately! They are basically smoothie bowls (blended acai plus other fruits) with a variety of toppings sprinkled on top, typically granola, strawberries, bananas, blueberries, and honey. They're a lover of us on the West Coast and huge on the Hawaiian islands, meaning you must try at least one while you're over there!
I typically like to eat acai bowls in the morning as my stomach can't always handle a heavy breakfast, but they're awesome as a midday pick me up as well!
A few of the best places in Oahu to get acai bowls:
Lanikai Juice: One will never be too far from Lanikai, as this chain currently has 6 locations on the island of Oahu (Waikiki, Downtown Honolulu, Waikiki Shopping Plaza, Kahala, Kailua, and Haleiwa). Here you'll find not only your three classic versions of acai (acai, pitaya, and green), but tons of smoothies and fresh juices as well. I had a bowl at the Hilton and ate it at the pool one morning for breakfast.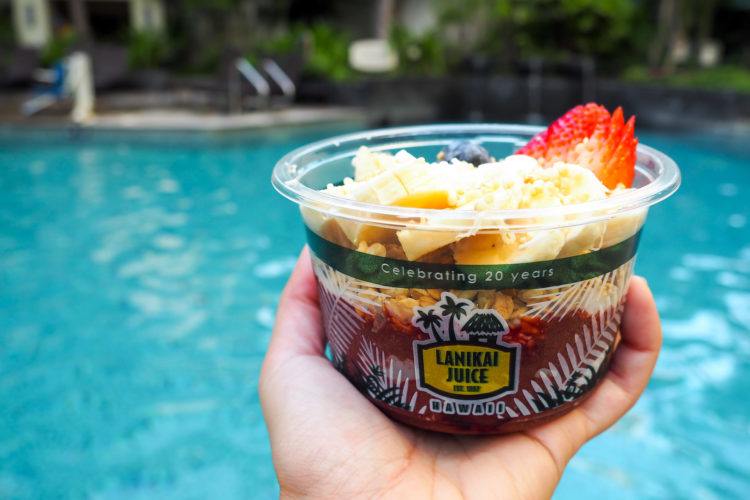 Jewel or Juice: Mmmm one of the best bowls I've ever had (and that's saying a lot since I seem to try out acai whenever I get the chance no matter where I'm at). Being the most affordable option (at only $6.95), you can't go wrong at either location (Kaimuki and Kailua) for a satisfying and cheap cold treat. We had a particularly difficult time finding parking, so hopefully you'll have better luck.
Hale'iwa Bowls: Located in Haleiwa (but you could have guessed that), this epic establishment on the quieter North Shore of Oahu is not to be missed. And although it's only a roadside shack (it is Hawaii afterall), Haleiwa Bowls promises to use only organic products from local Hawaiian sources. Try some special toppings like sweet papaya, Hawaii's famous apple bananas, and/or chia seeds!
SHAVE ICE
Let's just say that shave ice in Hawaii is like Key Lime Pie in the Florida Keys or gelato in Italy. It's not to be missed. Period. I'll say it again – get your little paws on shave ice whenever humanly possible in Hawaii. Just do it. And then report back to me with your newly-discovered love affair. Many places give you the option to add ice cream underneath the shave ice; get it if you enjoy creamsicles. They're heavenly and I love 'em just ohhhh so much.
And please oh please call it by it's correct name. It's called SHAVE ice, not SHAVED ice.
Waiola Shave Ice: Don't wanna leave the Waikiki area in search of some icy goodness? Look no further than Waiola's, the longest running shave ice establishment on the island (which opened in 1940). Be sure to add some sweet azuki (red) beans to the bottom in order to up the sweetness a bit further. I also like to add some condensed milk on top… mmmm.
Island Vintage Shave Ice: Quite possibly my favorite shave ice we had, because the presentation of it just looks absolutely delicious and a bit extra (therefore super instagrammable). Located in the Royal Hawaiian Center, this little walk-up shack can be a bit hard to find (we walked past it on more than one occasion – whoops), but the quality and toppings more than make for that.
Trust me – it's absolutely bomb. I fell for the Heavenly Lilikoi, which had passion fruit, strawberry, vanilla frozen yogurt, popping boba, and mochi. Worth the calories for sure, and yes, it's a bit on the pricier side, but the flavors are not artificially sweetened like most are. Out of all these places to eat in Oahu, don't miss this spot. I beg of you.
Matsumoto Shave Ice: This place is kindaaa an institution around here (especially on the North Shore), and any visit to Oahu wouldn't be complete without a visit to Matsumoto's. Yes, it's a very popular spot and may in fact be wildly crowded, but the shave ice is worth it. I promise x1000. There's a reason this shop has been open since 1951… yes, the early 50s. There are tons of flavors to choose from, but chose carefully as you can only combine up to three per order.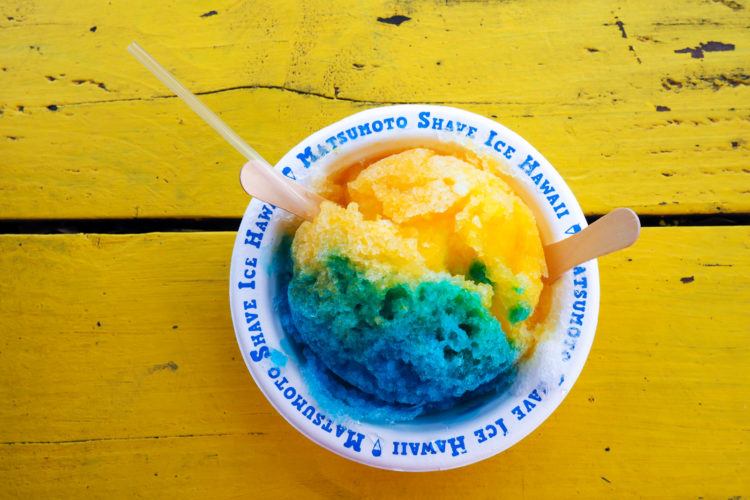 Shimazu's Shave Ice: Although this little hole in the wall is absolutely horrendous when it comes to parking, many claim that Shimazu's serves the best shave ice on the entire island. Thankfully they have a new location as well which may be a bit easier to locate. Here you'll find not only the normal flavors, but a whole slew of special favors as well including red velvet cake, banana foster, lemon drop, and cafe late.
The Local: Looking for some all-natural shave ice (and craft sodas!?) all made from locally grown fruit? The Local may be juuuust what the doctor ordered. The syrups itself is made by Ono Pops that gather their ingredients locally. With interesting flavors such as crack seed, lemon peel, and tamarind, be sure to order the right combination (pick some odd combinations and you may find yourself not loving the result).
MORE TREATS
Leonard's: If you come all the way to Oahu and leave before stuffing your face with at least one malasada, you're doing Hawaii all wrong. Malasadas, super tasty Portuguese donuts, are the perfect mid-day snack bound to make all your doughy Oahu dreams come true. The line can be long, but don't leave without a few of these tasty treats, and always ask what the flavor of the day is.
From passion fruit to custard, I always suggest you order a plain glazed, my personal favorite the macadamia nut, a chocolate filled, and one flavor of the day, because, why not. You'll leave disgustingly full and super sticky. Bring a friend and share these four.
Kamehemeha Bakery – also known as Kam Bakery, deserves a high spot on any list of places to eat in Oahu. Top tip: get the poi donuts. Deliciously glazed outside, with a perfect poi middle. And plus, the bakery is on the way to the airport, so really, you've got no excuse not to go. It's what businessmen who want to impress their teams (and bosses) bring to business meetings. Our Uber driver shared that little tidbit of info with us.
Royal Hawaiian Bakery: Tucked away within the Royal Hawaiian Hotel, the pineapple scones served here will be an absolute haven for any one craving a carb-loaded snack in the middle of the day. The bakery boasts a super cute outdoor area complete with tons of green leafy backdrops for all your instagram needs.
Mai Tai Bar (located within the Royal Hawaiian Hotel): whether you go for a classic mai tai or a sweeter and less strong drink (my favorite being the Bali Tai), rest assured you'll get impeccable service in an impeccable setting.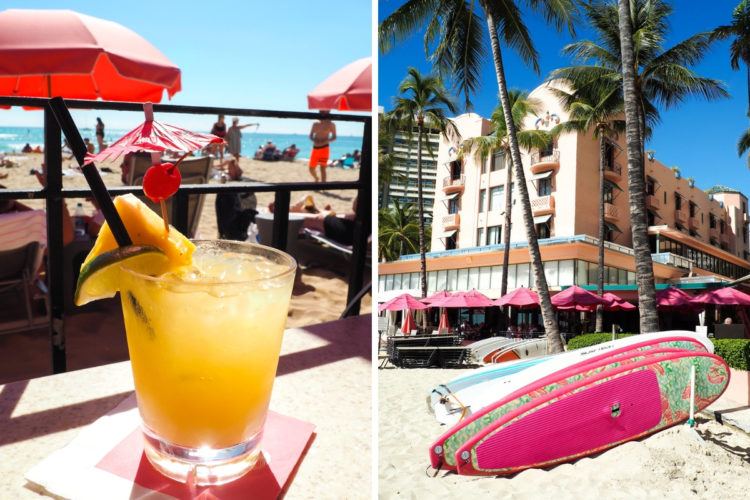 Banan: Come here for açaí banana ice cream in a papaya boat. Completely all natural and dairy free, this little shack nestled beside the Royal Hawaiian Hotel is the perfect "healthy" treat. With "ice cream" made purely from banana purée and other fruits, and loaded with fresh fruit, popped quinoa, and other toppings (chocolate shavings anyone?), you can indulge guilt-free. Finally. :p
Dole Plantation: Dole Whip. Enough said. The freshest pineapples you'll ever have.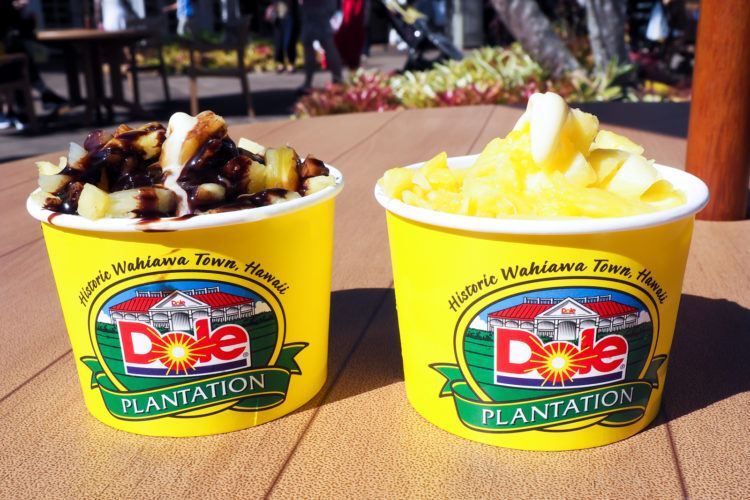 LUNCH/DINNER IN OAHU
Marukame Udon: Craving some warm soupy noodles on an unexpectedly chill Hawaiian night? It happens. Cafeteria-like Marugame's your answer. But trust me, you'll definitely want to come before your stomach starts growling – the line is usually out the door and down the sidewalk! Their delicious udon, tempura, and musubi are a bit hit – which you'll soon find out.
While you wait be sure to watch the udon chefs cutting the dough into those perfectly crafted thick noodles and then cooked to perfection. And lucky for me, they opened one up right here in SF so I can go whenever I may please (and that's like once a week, but don't tell anyone).
Dukes: Come for the fish tacos, stay for the hula pie (it's kinda their thing and absolutely orgasmic, don't miss it). Located basically directly on the beach (eat outside and you'll be sitting with your toes in the sand), you can't get much better than that.
Dukes is a particularly popular option known for not only it's beachfront location, but it's surf 'n' turf, fun tiki vibe, and those infamous umbrella cocktails you'll see wherever you look. Here you'll find delicious regional dishes, live Hawaiian music, and loads of crowds. Make a reservation.
Rainbow Drive Inn: Want to eat among the locals? Head on over to Rainbow's, where you'll be blessed with mixed plates full of generous portions of rice, macaroni salad, graving, and your choice of beef, chicken, and/or local fish. You can also order a loco moco, which is essentially all that with an egg on top. Although the spot looks a bit rough (you'll see what I mean) with only a bit of outdoor seating, the large portions and mixed plates are well worth it. As one yelper put it "Believe the hype, the Hawaiian food here is legit." Yup, exactly that.
Giovanni's Original Shrimp Truck: I betcha know what you're coming here for. Whenever we're on the north shore, we always make sure to load up on some garlic shrimp from Giovanni's Shrimp Truck. This parking lot establishment is known to be crazy, chaotic, and downright busy, and this seems to deter a few people. BUT the lines will still be long and some even wait for up to an hour and a half.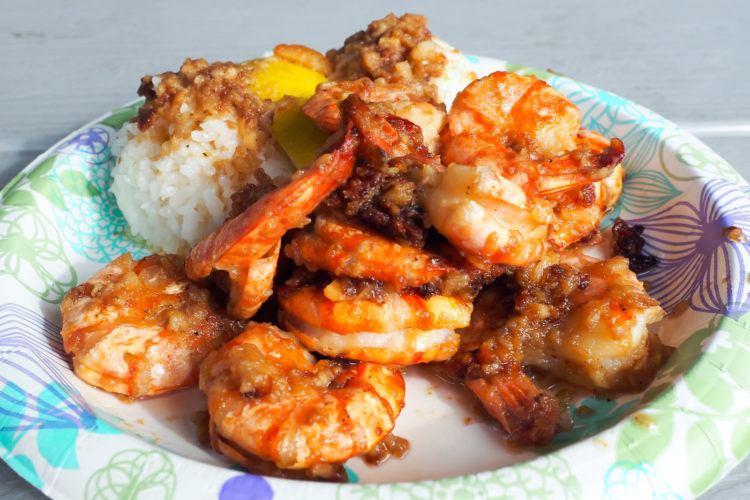 It seems that the quality of the shrimps has decreased over time, which is such a shame because my husband reported they were absolutely phenomenal last time we went to Giovanni's (2017). It's good, but may not live up to the intense hype that many hear of. Some people love it, others don't. Decide for yourself.
Genki Sushi: Not only can you watch your sushi options pass by on a conveyor belt, but you can also order up to 4 things at a time on a touch screen (kinda like our experience in Japan). Your order will then be zipped right to you shortly after! The whole dining experience is really fun! Not the absolute best sushi in all of Oahu, but definitely the most eventful.
Fresh Ahi Off The Boat: Did someone say make-your-own poke bowls? I'm usually pretty picky when it comes to poke, so I especially appreciated the ability to pick and choose exacttttly what I wanted in my bowl. The fish is fresh, the staff is friendly, and the portions are generous with miso soup included.
Try the black rice – it's phenomenal, with the standard ahi poke (and salmon if you like) with garlic chips and edamame. A great fast-food alternative when you don't want the messiness of greasy fried food.
Ono Seafood: With many claiming it's the best poke in all of the United States, it's understandable why so many choose to visit Ono on their trip to Oahu. And the flavor they put into the fish is absolutely to die for. Do yourself a favor and just get some; all the fish is great quality, with my favorites being the spicy ahi and Hawaiian style ahi. I suggest grabbing a bowl to go and heading down to the beach for a sunset meal – can't beat that! Poke heaven!
Roy's: Most definitely a special-occasion worthy meal (my husband took me here for my birthday), as the prices and setting seem to foot the bill. I highly recommend making a reservation in advance as it's nearly impossible to find a walk-in table. And on the elaborate menu, try the crispy blue crab cakes, macadamia crusted mahi-mahi, and the lilikoi cheesecake (mmm my perfect meal).
So there you have it – my ultimate list of places to eat in Oahu, sure to make all your hunger dreams come true. Which of these bomb Oahu restaurants will you be stuffing your face at? Shhh…. I won't tell.