Looking for waves to surf, sunsets to chase, and oh so juicy pineapple to snack on? Check out this 10 Day Hawaii island hopping itinerary – you'll find all that and more.
We just never seem to get enough of Hawaii. Over the last few years we've taken trips to Maui, Oahu, and Kauai, over long weekends and short breaks (we love being so much closer now that we live in California).
A bunch of years back we flew to Hawaii for a whirlwind of a 10-day trip, and just couldn't get enough! There's something about the aloha spirit that just keeps bringing us back to our happy place.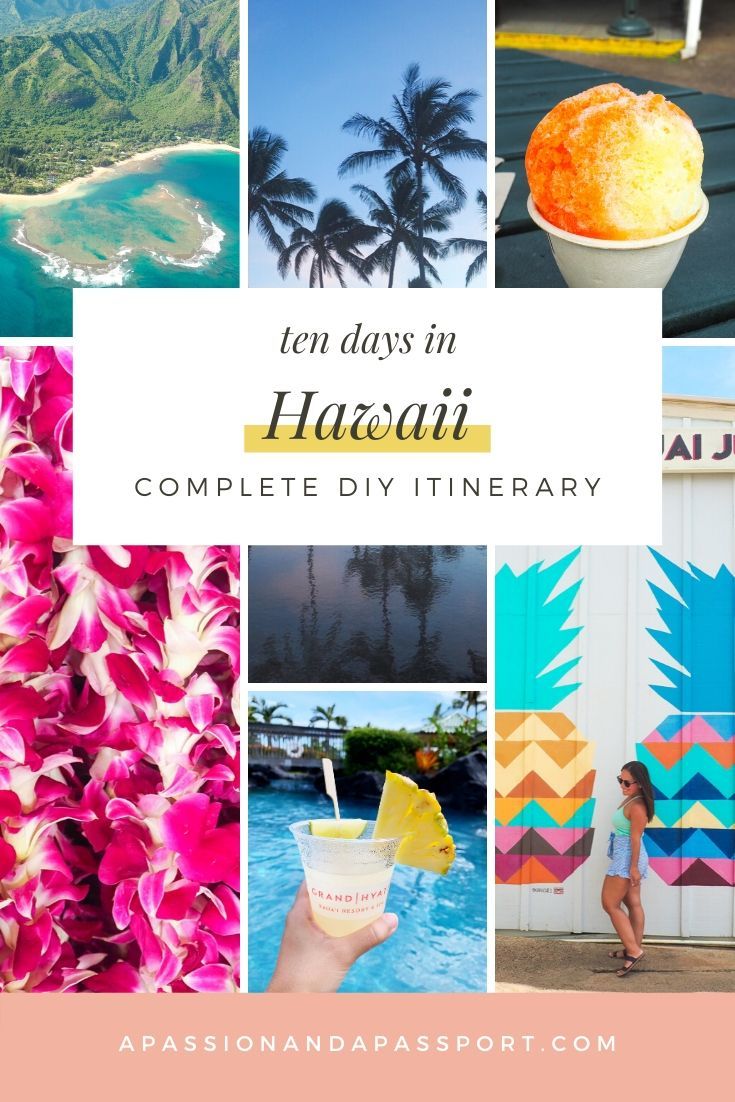 We're literally always planning our next trip back to the islands, so I even made myself an epic Hawaiian bucket list with over 200 beaches, activities, and places to eat!
And Hawaii has it all – spectacular beaches, impressive underwater sea life (so many turtles!), stunning sea caves, enough hiking for days, and stunning green peaks nonchalantly jetting outta the coastline.
It also has active volcanoes (with red-hot lava sightings on a daily basis), funky surf towns, shave ice/fresh fish/hula pie, and enough beach time to last a lifetime. In general, Hawaii is an attack on the senses (in the best way possible).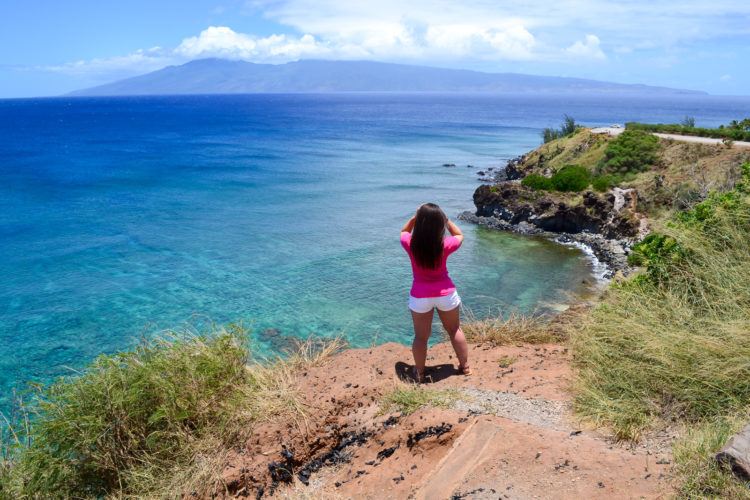 In this Hawaiian island hopping guide I'll be sharing with you my favorite highlights of each island, as well as Hawaii itinerary ideas to get your planning started! Just promise you'll bring me back a malasada (or two or three…).
Read Next → The Ultimate Hawaii Bucket List (with over 200 things to do!)
Hawaii Island Hopping Logistics
When to Visit Hawaii
In all honesty, there's never a bad time to visit the Hawaiian islands (we are talking about paradise after all). The best time to go highly depends on the type of experience you want to have.
However, in general, you'll find warm weather on all the islands all year (78 degrees to 88 degrees, being the warmest in the summer months of July-August), with it's biggest variables being rain and surfing conditions.
We've visited in all seasons and all had their positives/negatives.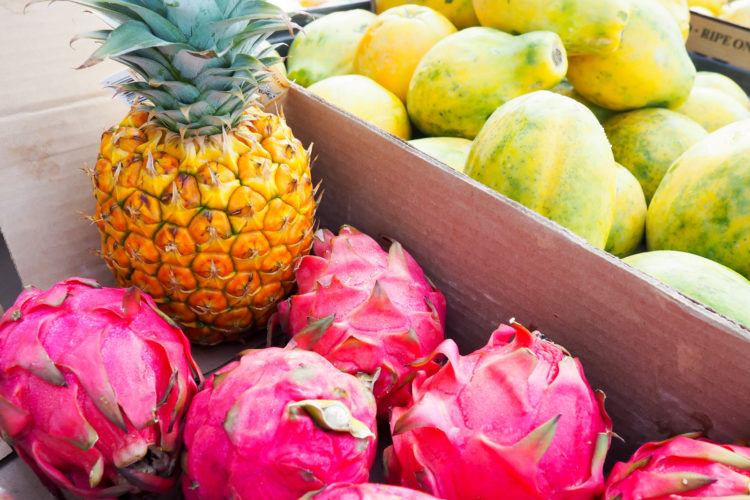 Winter will bring larger swells (November to March), making it a desirable time to visit for those looking to surf, as well as the best whale watching opportunities (during the months of February and March).
Technically, the rainy season in Hawaii is from November to March, although you'll still find many clear, sunny days. And when it rains in Hawaii, it typically does so in short bursts and hardly ever lasting all day.
Summer brings understandably warmer ocean water (making it more comfortable for snorkeling, swimming, and other water sports), but the air can be hot and super humid (yuck!), so it just depends which you prefer.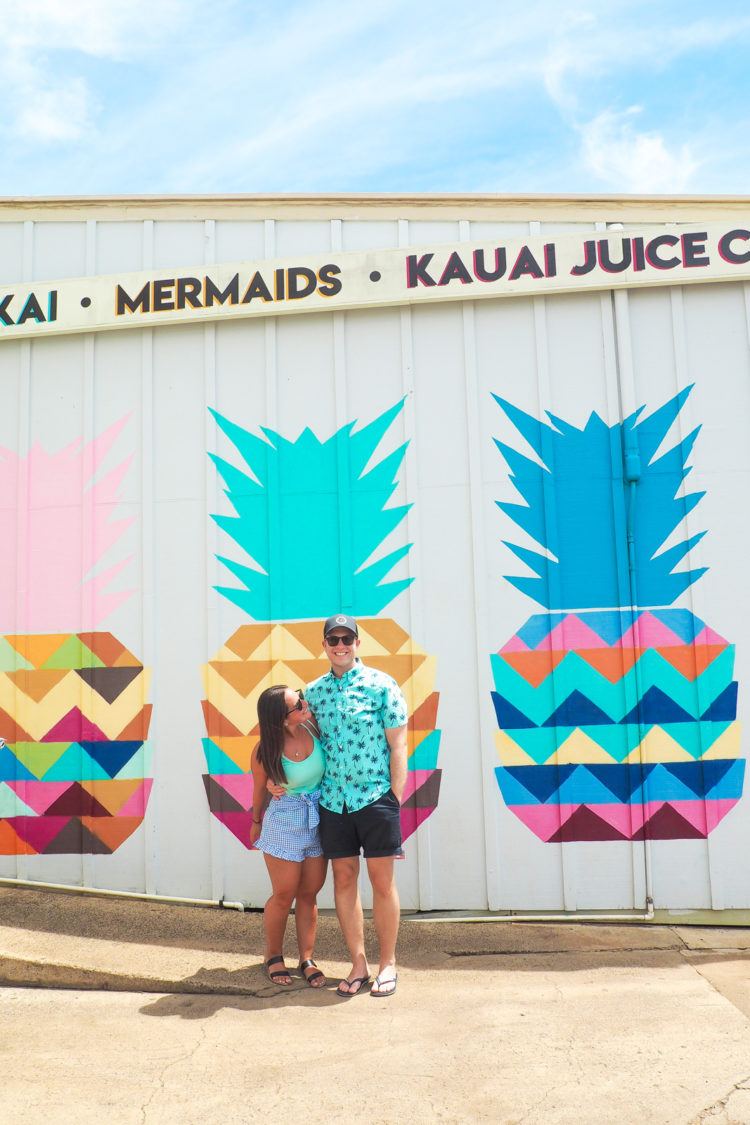 How to Get Around the Hawaiian Islands
Flying: If you plan to island hop in Hawaii, you'll find that flying is the only way to travel from island to island. Thankfully, flights are short, plentiful (with dozens of flights each day), and typically only last an hour (or less) each way.
I always opt for a window seat, as the views are full of islands and reefs (swoon).
Hawaiian Airlines, Mokulele Airlines, and recently Southwest are the primary airlines which fly between the islands. Inter-island flights will cost you around $100-$150, which will hopefully get cheaper now that airlines are competing with the newest addition of Southwest.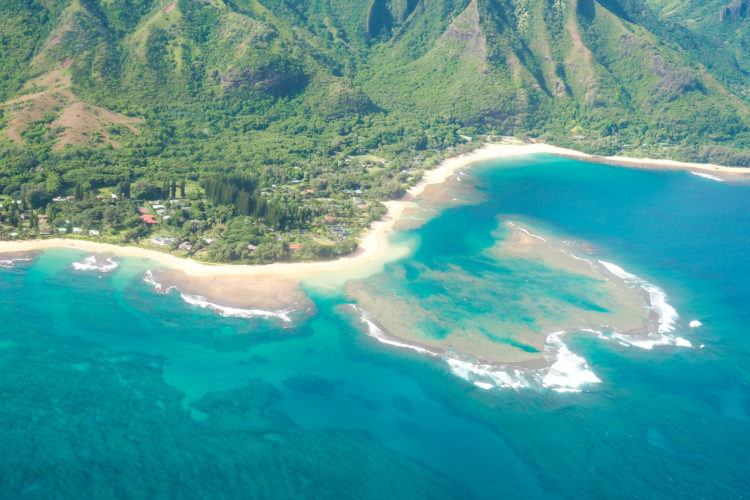 Try and score non-stop flights by booking early, but if you can't (happened to me!), choose short connections. You'll see that most flights make a stop in Honolulu (Oahu), so attempt to keep this time to a minimum. You don't wanna waste precious beach time waiting for a flight! Book early on in your Hawaii island hopping planning and you'll hopefully be able to snag a non-stop flight.
Ferries: At this time, there is no major ferry system connecting the Hawaiian islands. Wouldn't it be nice?! Passenger ferries in the past exited, but there are currently only two ferry routes still running.
Between Maui (Lahaina) and the nearby island of Molokai aboard the Molokai Ferry (taking 90 minutes or so
Between Maui (Lahaina) and Lanai (Manele Bay) via the Maui-Lanai Expeditions Ferry (taking approximately 45 minutes)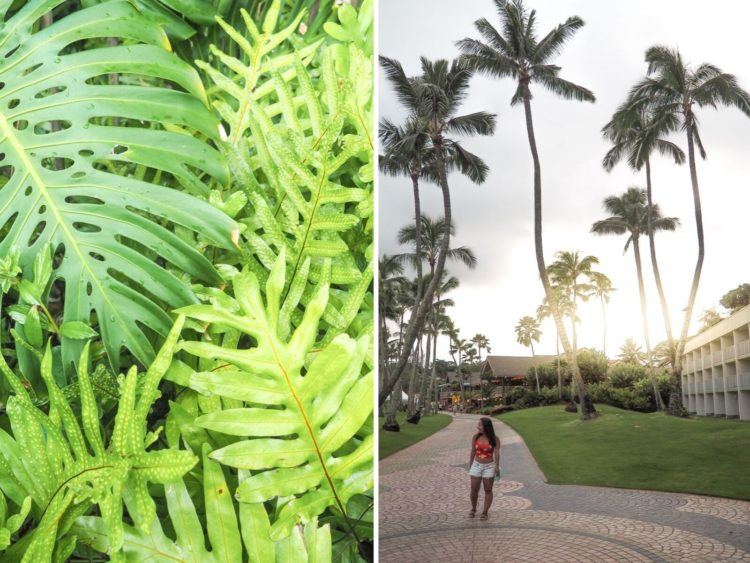 Cruise Ship: For those looking to see a whole bunch of the Hawaiian islands without the hectic schedule of flying every few days, consider a cruise! Plus, you'll only have to unpack once!
Cruises typically leave from either San Francisco, Los Angeles, San Diego, or Honolulu. And you'll have your pick of cruise line as many sail between these islands – Princess, Royal Caribbean, Holland America, Crystal, and Norwegian, with the latter having the only big ship based there at this time.
How To Save Some Money When Booking a Trip to Hawaii
I get it, I really do! Hawaii can get pretty expensive, pretty fast! And if you're looking to spend a decent amount of time island hopping (say 10 days in Hawaii or longer), the costs can really add up. A few tips:
Fly into/out of Hawaii mid-week, as this is when you're more likely to find a less expensive flight
Visit during late March – mid July (with the exception of the last week in April – Japan's Golden Week aka peak travel time), and later in the year from September to mid-December (minus the week of Thanksgiving). You'll likely find discounted room rates (with highest possible change of free upgrades) and cheapie car rentals!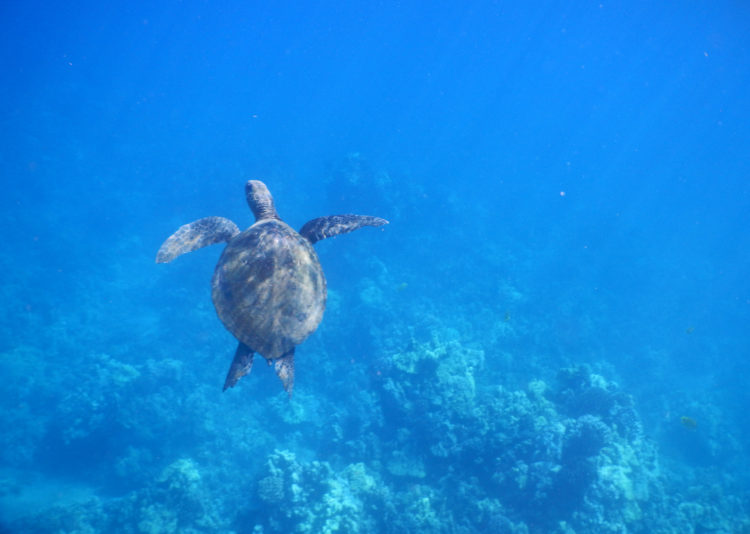 Now, let's get this Hawaii island hopping adventure underway!
Planning a Hawaii Island Hopping Itinerary
Unlike other itineraries on my site (hello Greece, Bali, Thailand, etc), it's unfortunately extremely hard to give you detailed day-by-day plans for a Hawaii itinerary. There's just oh SO much to do on each of the islands, with 4 main ones total.
So instead, I'm breaking down the highlights for you to pick and choose from on each main Hawaiian island. Think of it as more like a DIY itinerary. And just know that you can never go wrong in Hawaii (you really can't).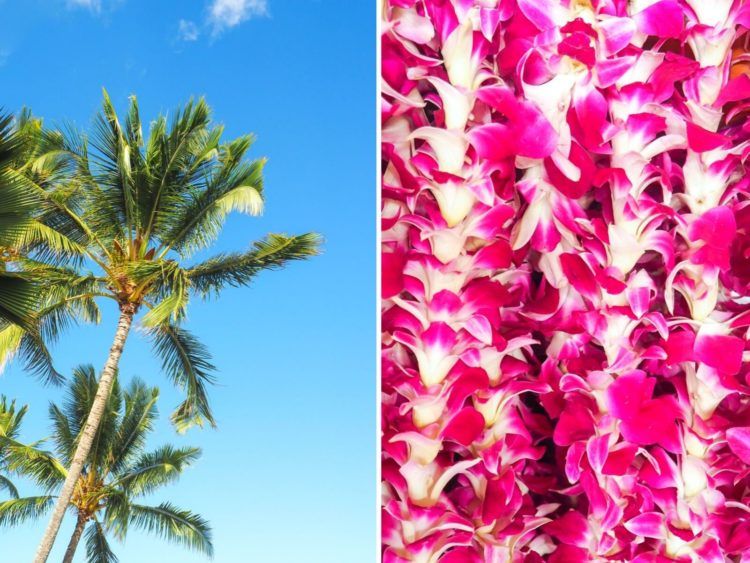 On my other itineraries, I always aim to include all the typical tourist spots and highlights (hey, they're popular for a reason, right?!). However, there isn't just one main Hawaiian island- they're all equal and downright stunning in their own way.
I'd say the majority of people visit Oahu and Maui, but make that decision for yourself (after reading through all the possibilities given on this Hawaii itinerary inspiration post of course). We have a soft spot for Kauai, and are aching to finally make it to The Big Island of Hawaii itself.
How Many Islands to Visit
With 10 days in Hawaii, you can either visit 2 or 3 islands, it just depends on the type of trip you want. With a trip to 3 islands, you can obviously see more of the island chain, but it'll be a rather fast paced itinerary without tons of time to relax.
By only visiting 2 islands, you can plan out more carefree days, spending ample time at the beach and taking it slow. My suggestion? 3 islands, especially if you don't know if/when you'll be back to Hawaii.
However, if you have 2 weeks in Hawaii and don't mind running around from island to island, you can squeeze in all 4 main Hawaiian islands. Just know it'll be hectic as hell, but a very, very good time.
How to choose which islands to visit
I feel your pain – choosing which islands to visit is one of the hardest decisions to make when planning any Hawaii itinerary (without it being a logistical nightmare). They're all so worthy of your time!
With the Na Pali coast of Kauai, Road to Hana on Maui, Volcanoes National Park on The Big Island, and Honolulu/Pearl Harbor in Oahu, how can you possibly leave one (or two) out?! I get it, I really, really do.
And besides those 4 main islands, there's also Lanai and Molokai, as well as 2 others not accessible to visitors, making for a total of 8 Hawaiian islands! Who knew?!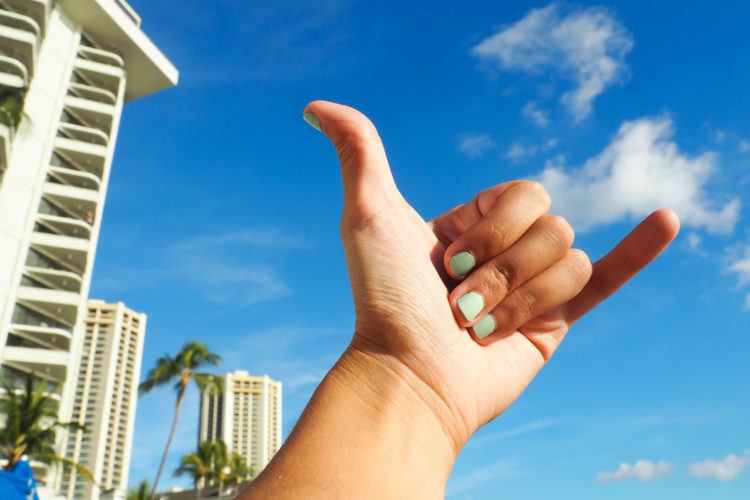 If this is your first time to the islands, how do you even begin to decide which Hawaiian islands to visit? The islands are all so varied – some being more rustic and rugged, while others have a more glitz and glam aspect to it.
On all you'll find scenic hiking trails, underwater adventures, famous surfing spots, and hidden waterfalls. Thankfully, there's no wrong answer. You could just toss a coin and you'd have an amazing trip.
Not sure where to start at all? Look for flight deals. Since Oahu has the only international airport in all of Hawaii (Honolulu Daniel K. Inouye International, airport code HLN), you'll most likely find the cheapest flights here from the mainland. Because of this, it's wise to start/end your trip in Oahu before/after you're done island hopping in Hawaii.
However, with that being said, there are more and more non-stop flights to Maui these days, special thanks to Southwest's new routes. If you're able to find an inexpensive flight to Maui, snag that right up (as they don't come often).
I always use Skyscanner and Google Flights when searching for airfare, and love the option to get email notifications when the price drops.
Sample 10 day Hawaii itineraries:
I get it, it's hard to narrow down which islands you want to visit. Close your eyes and picture yourself in Hawaii – what do you see? Adventure? Relaxation? Cultural experiences? Romance and luxury? A bit of everything?
I've narrowed it down to three types of trips: one for the first-timer's typical Hawaiian experience, one for those who are looking for a bit of privacy and romance, and one for adventure junkies.
The Typical Hawaiian Experience: Get into the Aloha spirit on Maui, Oahu, and Kauai (if time allows)
Visiting Hawaii for the first time and looking for an exceptionally varied itinerary of things to do? Not scared of island hopping around Hawaii in record breaking time?
All three islands are probably best to do with a timeframe of 2 weeks, but if you're like me and don't mind cramming in activities, 10 days in Hawaii will be sufficient. Plan your days wisely, wake up early, and understand you won't have much time for relaxing on the beach.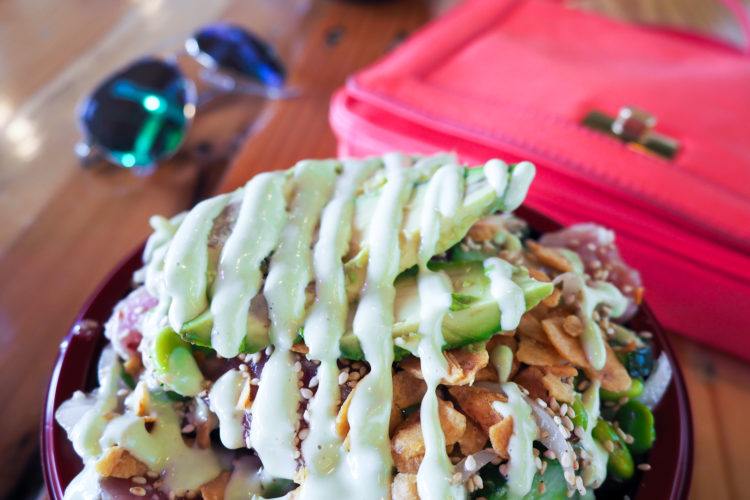 On Maui, plan to wake up early to see the sunrise at Haleakala National Park, drive the curvy Road to Hana, go whale watching (in the winter months), snorkel at Molokini and Turtle Town, and relax at the idyllic golden-sandy beaches of Napili Bay and Kaanapali Beach. 
While on Oahu you can choose from hanging out in Honolulu and Waikiki, paying your respects at Pearl Harbor, hiking up Diamond Head, relaxing on Lanikai Beach, and/or snorkeling at Hanauma Bay (my favorite).
On Kauai, your time will revolve around the rugged Na Pali coastline, with a helicopter ride to see it from above, a snorkel tour to see it from water, and hiking the first few miles of the 11-mile Kalalau Trail (no permit required for this section).
For the Honeymooners: Romance in Kauai, Maui, and Lanai
Hawaii is the epitome of romance. With its abundance of spectacular sunsets, private swimming holes, lush rainforests, and exotic, tropical beaches, I can see why so many honeymooners choose Hawaii as their first trip as husband and wife.
As newlyweds, you probably don't wanna run amongst the families and young kids. Plan your Hawaii island hopping adventure to include lots of private beach time, hiking to secluded and not-as-popular waterfalls, splurge on private excursions (sunset boat ride, anyone?), and opt for that couples massage on the beach you so want and deserve (planning a wedding is hard work, ya'll).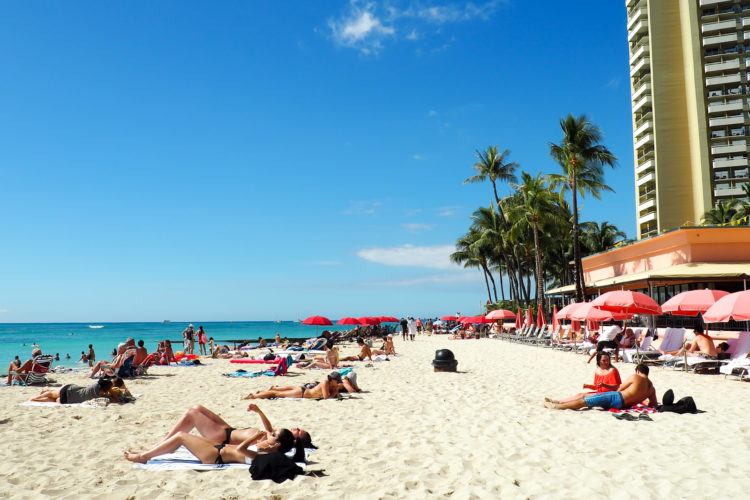 Plan to avoid Oahu (Honolulu and Waikiki are way over crowded with tourists), and the cities over on the Big Island.
Romance on Kauai: What's more romantic than a thrilling experience up in the air? Opt for a private helicopter tour, and you're more than likely gonna get lucky later on. Sure, this is one pricey excursion, but Kauai's the place to do it! Be sure to stay on the North Shore (the stunning Princeville Resort's got my vote), as you'll find these beaches less packed and easier to find your own private beach spots.
Romance on Maui: For a more beachy, less big-city vibe, be sure to add Maui to your Hawaii island hopping itinerary. Maui's a great mixture of culture, postcard perfect honeymoon beaches, serpentine coastal drives, and food. Don't miss celebrating Polynesian culture with your sweetie, singing songs and telling stories of old Hawaii.
Romance on Lanai: If you want the ultimate honeymoon luxury (privacy, of course), make sure to include tiny Lanai into your Hawaii itinerary. It'll definitely feel secluded – with only one resort on the entire island, you can be sure you won't run into mobs and mobs of unwanted tourists.
For Adventure Lovers: Go crazy in Kauai and the Big Island
If adventures the name of your game, a 10 day Hawaii itinerary split between Kauai and the Big Island will really get your adrenaline rushing.
On Kauai, plan to hike the 11-mile Kalalau Trail (if you're one of the lucky ones to secure a permit), soar above the Na Pali coastline via helicopter ride, try your hand at surfing at Hanalei Bay, kayak down the Wailua River, windsurf at ʻAnini Beach, hike into the colorful Waimea Canyon, and/or go stand-up paddling in the Hanalei River.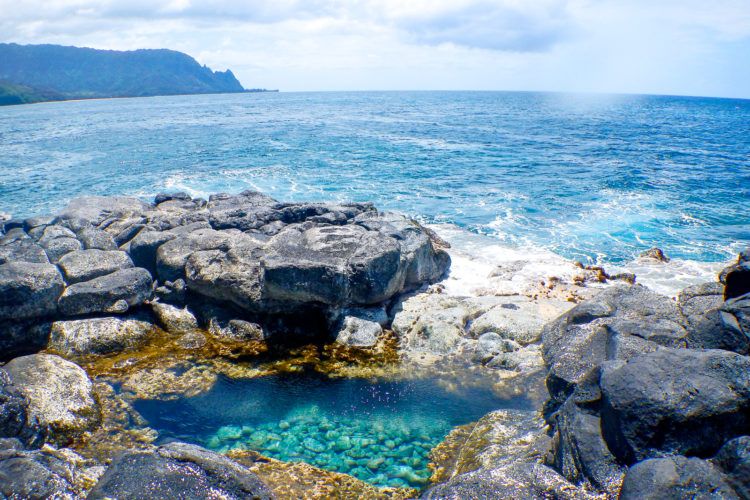 On the Big Island, active volcano trekking is the main reason why we're headed here. At Hawaii Volcanoes National Park, you can hike next to active lava, explore lava tubes, and bike next to scalding hot steam vents. Talk about adventure. Fill the rest of your days by snorkeling with manta rays, spelunking in Kula Kai Caverns, and hiking to waterfalls in Waipio Valley.
Things to do during your 10 days in Hawaii
General Things to do in Hawaii:
Eat all the fresh fruit: eat as much fresh fruit as humanly possible (it just tastes sweeter over here). And yes, this includes coconuts, mango, papaya, and dragonfruit. We love going to road-side farm stands before any long drives to pick up some fruits.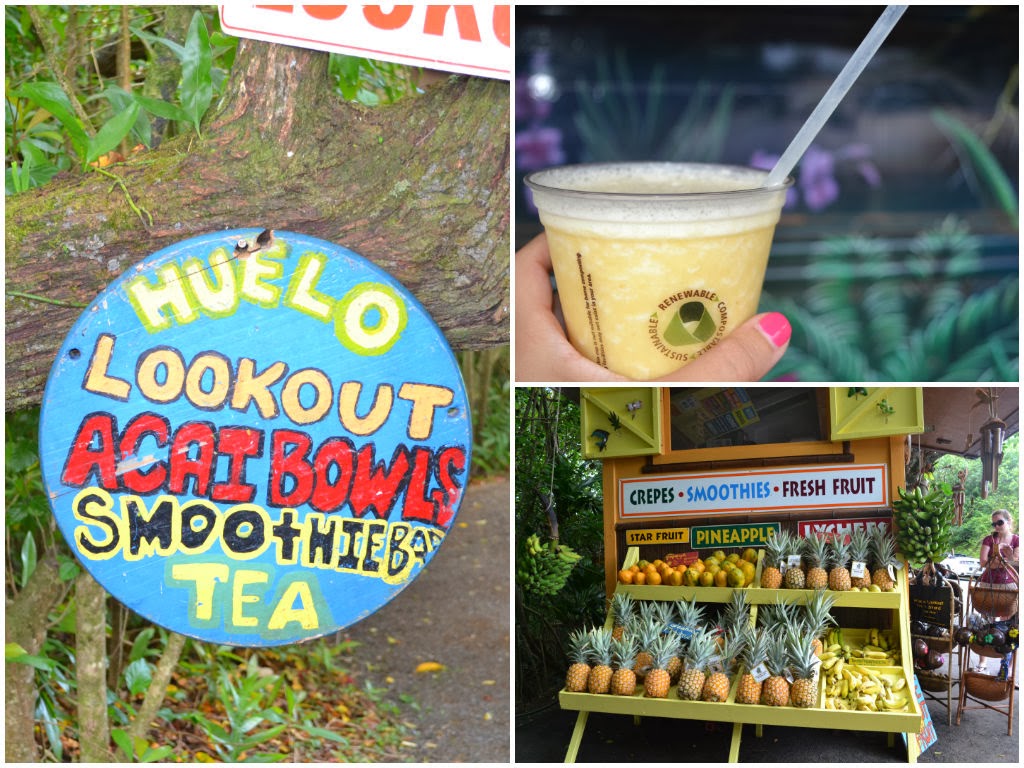 Take a helicopter ride: Preferably over the Na Pali coast of Kauai (the scenery on Maui's a close second). There's nothing like getting a bird's eye view of the towering mountains, jagged coastline, and turquoise reefs.
Attend a luau with traditional dances and a pig roast over a spit fire (the most famous are the Old Lahaina Luau and Feast at Lele in Maui)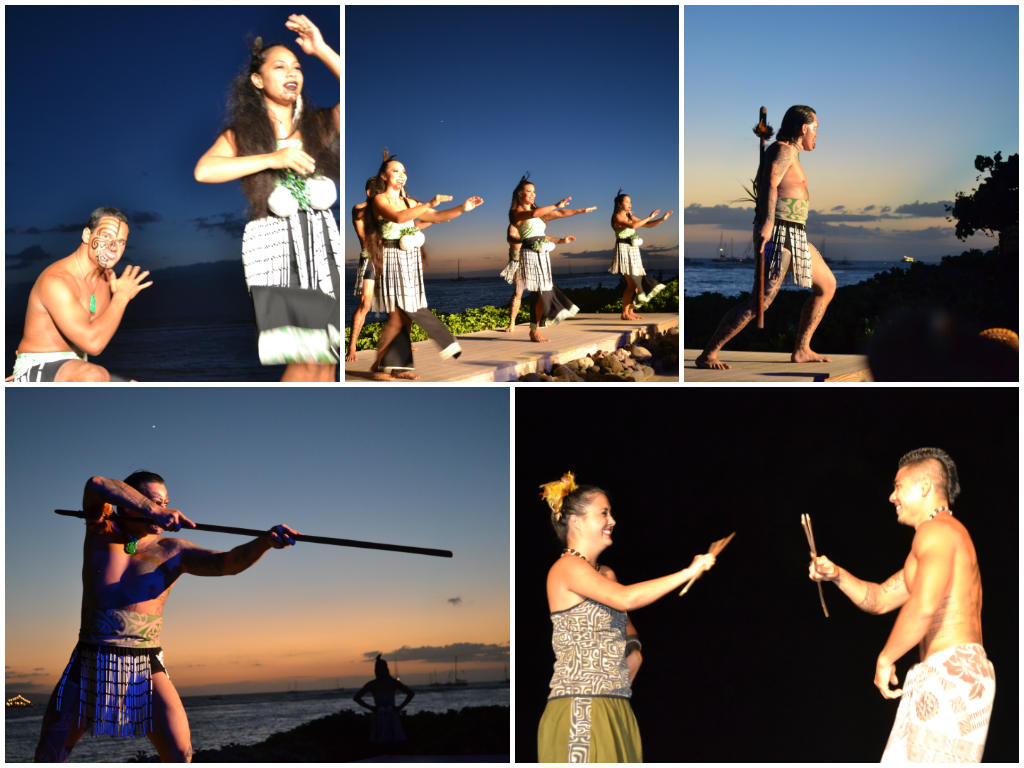 Go snorkeling with sea turtles: Tons of sea turtles can be found in the Hawaiian reefs, most common being the green sea turtle (honus) and hawksbill. Some sites you can snorkel right off the beach, while others you'll need to join a group boat tour. We've been snorkeling in Maui tons of times, and have seen sea turtles almost every time!
Play Golf: There are some world-famous courses on the islands, including Poipu Bay and Puakea on Kauai and Kaanapali and Wailea Golf Club on Maui, although Oahu and The Big Island have some notable courses as well.
Try your hand at surfing: With year round waves, there's never a bad time to go surfing in these waters. Do note the surf gets much more difficult in the winter months, so if you're a beginner, best to learn in the summer when the swells are smaller.
Relax at the beach/pool with a mai tai in hand (this is Hawaii afterall)!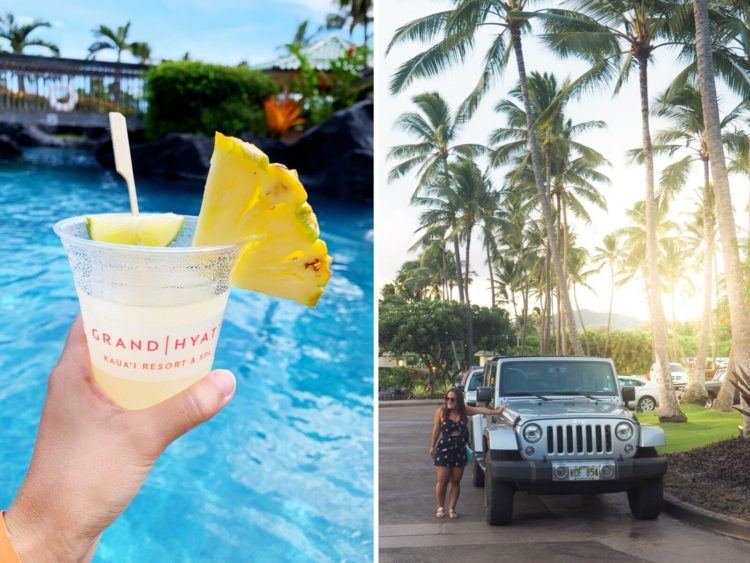 Whale watching: If you're visiting the Hawaiian islands during the winter months of November to April, you're in for a treat – humpback whales, gray whales, and others are frequently seen!
Highlights on Maui: "The Valley Isle"
We love Maui the most. We just do. The beaches are some of the best in the world, and we always find ourselves choosing Maui when given a choice of which to visit (we don't discriminate – we love them all, but there's just something special about Maui).
1. The Heavenly Road to Hana: The Road to Hana, one of the most famous highways in the country, is a drive you'll never forget and one of the most anticipated activities for those visiting Maui. But just for the record, the goal isn't to make it to Hana in a flash, it's to enjoy all the sites along the way.
There's roadside waterfalls to gawk at, pineapple smoothies to slurp up, native plants to admire (including the very special Rainbow Eucalyptus), exposed rocky coastline, and fresh, fresh banana bread to snack on.
Plan to spend a bit of time at Wai'anapanapa, one of the black sand beaches on the island, and right along the Road to Hana. And those 7 sacred pools and the Pipiwai Stream Trail through a bamboo forest towards the end of the drive is absolutely spectacular.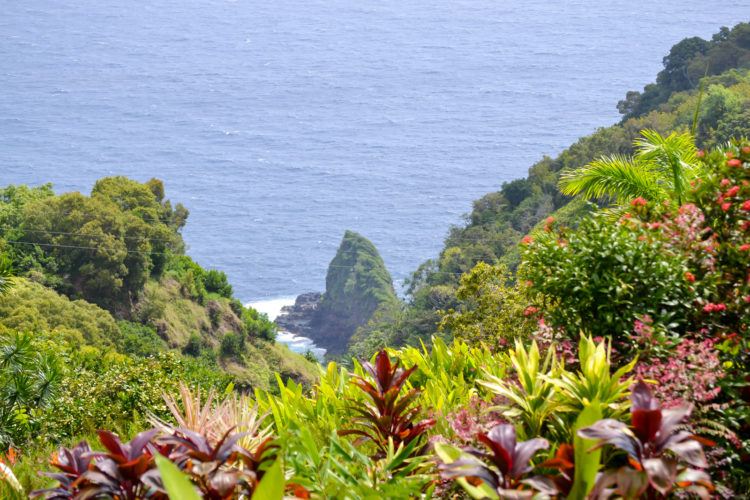 2. Wai'anapanapa Black Sand Beach: Dramatic black-sand beaches. Large, secluded sea caves. Volcanic tubes and spouting blowholes. Coastal hiking trails. Even if you aren't driving the entire Road to Hana, you've gotta plan at least a half-day checking out this unique black-sand beach full of smooth black pebbles.
3. Snorkeling at Molokini and Turtle Town: If you wanna admire the underwater world of Maui, plan to do so at both Molokini (a crescent-shaped partially submerged volcanic crater) and Turtle Town (where turtles are known to hang out). You'll need a boat to get to these spots, so it's wise to join a group snorkeling tour, either on catamaran or speed boat.
The visibility is absolutely spectacular (up to 150 feet below the surface), and there's around 250 species of endemic fish in the area (including pink tail durgons, black triggerfish, butterfly fish, red pencil urchins, yellow tangs, etc). A kaleidoscope of coral awaits!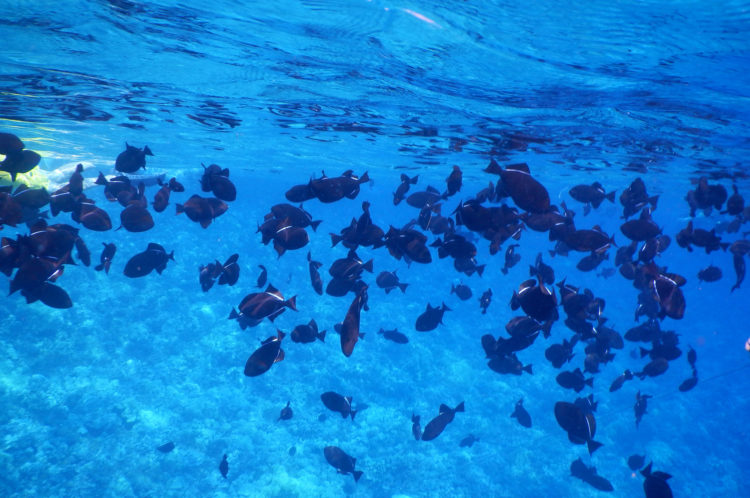 4. Sunrise at Haleakala National Park: Wake up early, because what's better than watching the sunrise from atop a volcano?  It's a long drive up (and you'll need to make a reservation), but being above the clouds (literally), is like no other. 
Imagine watching the sunrise above clouds from an active volcano. Mystical. Intoxifying. Other-wordly. Exactly my point. Haleakala does in fact mean "house of the sun", so you can be positive that view will be worth waking your butt up for. Make sure to take along your warmest colds, as it's quite chilly up here at 9,740 feet.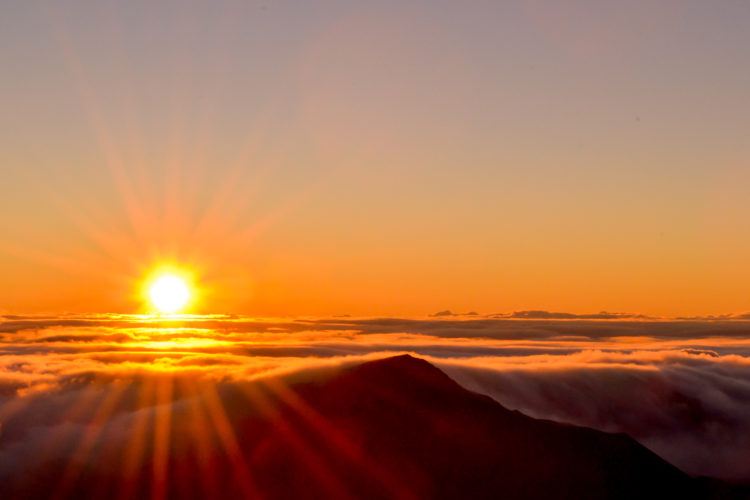 5. Old Lahaina Luau/Feast at Lele: I mean, can you really visit Hawaii and not attend a luau! We loved our time at the Feast at Lele, sipping liquid aloha, scarfing down multiple plates of food, and admiring the traditional dancers. All in all, a very worthy way to spend an evening in Oahu.
6. Kaanapali Beach: With 3 miles of white sand and crystal clear water, it's no wonder Kaanapali was once named America's best beach. Enough said. And since it's oh so close to Black Rock, there's some pretty excellent snorkeling right off the shore here!
7. Surf Town of Paia: This funky little surf town on the North Shore is full of cute little boutiques, great restaurants, and natural food stores. Great to wander around for an afternoon or so!
8. Napili Bay: Although it's kinda hidden behind a residential area, this place is wildly popular! Our beach of choice whenever we visit Maui. Psst – don't miss the fried rice and white chocolate macadamia nut pancakes at The Gazebo Restaurant nearby!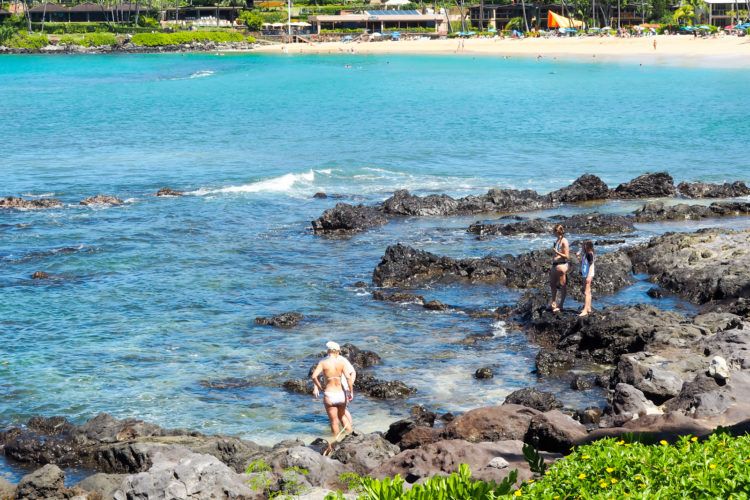 9. Iao Valley State Park: When you're tired of sunning, check out this lush valley in West Maui. Tons of fantastic hiking through the tropical flora of Hawaii and great views of the Iao Needle and other emerald peaks.
10. Lahaina Banyan Court: As soon as you head under the Banyan Tree, you'll be wowed that it is in fact just one tree, it is the largest banyan tree in all of the USA afterall, spanning almost 2 acres and rising more than 60 feet. Pretty incredible if you ask me.
Where to Stay in Maui
On Maui, you'll find a wide range of accommodations, including high-end fancy schmancy resorts (with multiple pools and restaurants on site), trendy, boutique hotels, the cutest bed and breakfasts you've ever seen, and apartment and condo rentals.
West Maui (Kaanapali and Lahaina): This side of the island boasts some of the most beautiful beaches on the island, in my opinion. However, there's not much nightlife as things close kinda early.
Recommended hotels:
Aston Kaanapali Shores (absolutely loved the pool and garden area),
Kaanapali Beach Hotel (fantastic budget option super close to famous Black Rock beach)
Kihei: If you're looking for chilled out bliss, stay over here in south Maui. Kihei is more of a local's beach town, so you'll find less tourists and more peace and quiet for the most part.
Recommended hotels:
Wailea: Known for its massive five star resort destinations (which often come with a hefty price tag), yet more laid-back than lively Lahaina and Kaanapali. If you're looking for a more quiet and luxurious upscale place to stay, choose Wailea.
Recommended hotels:
Where to Eat in Maui: Be sure to grab some garlic shrimp from the Geste Shrimp Truck, a Hawaiian mixed plate from yup – Aloha Mixed Plate, and shave ice from Ululani's.
Other notable dining spots we enjoy include Leilani's at the Beach, Lahaina Grill, Kula Lodge (after watching the sunrise at Haleakala), Aunty Sandy's (great for snacks along the Road to Hana), and the Gazebo restaurant for some white chocolate mac nut pancakes and fried rice.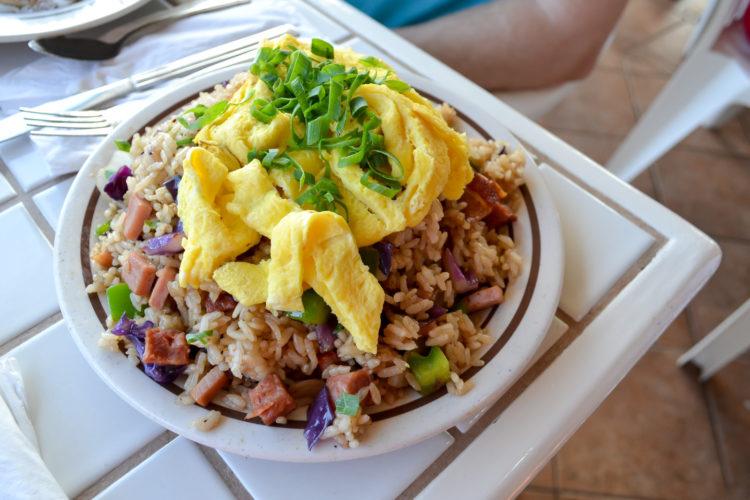 As mentioned above, The Old Lahaina Luau and Feast at Lele are the most famous luau's in all of the Hawaiian islands, so be sure to attend one!
And whatever you do, DO NOT LEAVE MAUI without having a meal at Mama's Fish House (reservations most definitely needed). The menu changes depending on what fish have been caught that day (one of my favorite meals in not only all of Hawaii, but the world. Yup, world).
Highlights on Oahu: "The Gathering Place"
Oahu boasts the infamous Pearl Harbor, Waikiki Beach, and the state capital of Honolulu, making it a great escape for those wanting a good mix of city and beach break. Since most of the state's visitors live in Honolulu, Oahu will feel a bit more crowded than other islands. It's got entertainment and amenities of the 21st century, while still holding that Hawaiian charm.
1. Waikiki Beach: One of the most famous beaches in all of Hawaii, and for good reason! 2 miles of soft, white sand, alongside the highrises and backed by palms, make up one of the busiest and most cosmopolitan areas on Oahu. There's parasailing, boogie boarding, surfing, canoeing, and lots of people watching over here!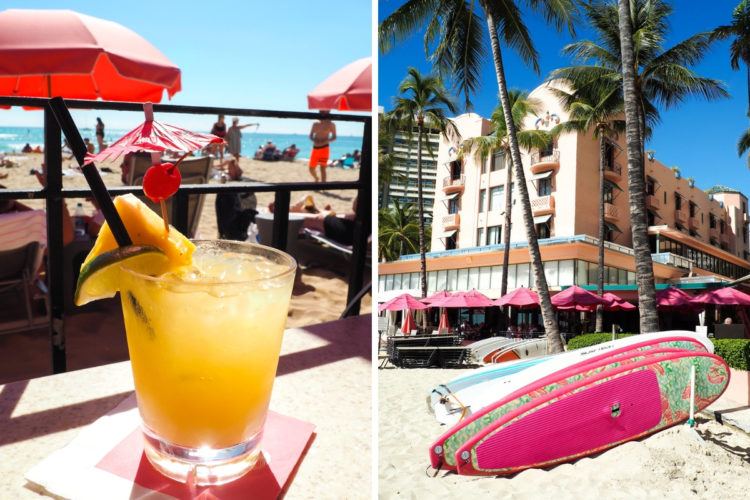 2. Hanging out in Honolulu: Can't come all the way to the islands and miss out on the capital of Hawaii! Honolulu is the biggest city in all of Hawaii, and is known for the the ever-so-popular Waikiki neighborhood, historic landmarks, Diamond Head, mai tai drink, world-class surfing, Hawaiian luaus, and its location as a military fortress.
3. Turtle Beach "Laniakea Beach": If snorkeling isn't your thang, you can thankfully still see some of these gentle giants on shore just basking in the sun here at Laniakea Beach on Oahu's North Shore. The Hawaiian Green Sea Turtles have been frequenting these sands for decades, so do your part and respect them and their land. It's illegal to chase, injure, hunt, touch, hold, or harass them in any way.
4. Snorkeling at Hanauma Bay Nature Preserve: Imagine snorkeling in an aquarium – that's what it feels like over at Hanauma Bay! This pristine and protected marine ecosystem (former volcanic crater) is full of beautiful coral reef, loads of tropical fish, and other sea life. You may even spot a harmless reef shark if you're lucky!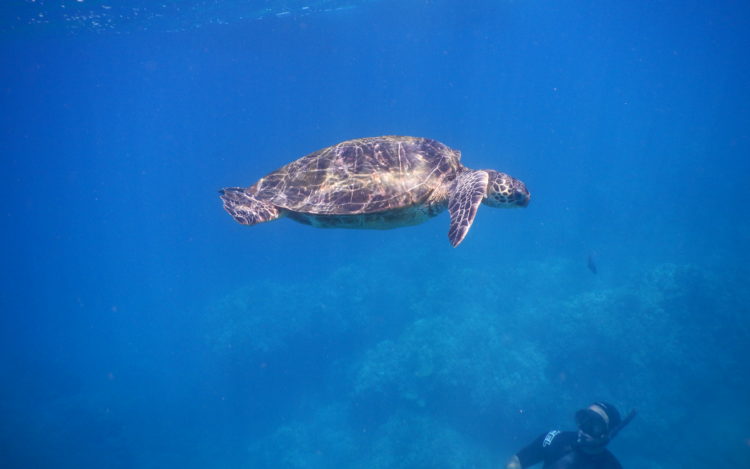 5. Hiking Diamond Head: This unusually shaped area is one of the most unique natural structures you'll come across while Hawaii island hopping, as the land appears to look like a giant crater.
This formation occurs due to Diamond Head being a volcanic tuff cone and dormant volcano, which has resulted in the one-of-a-kind, 150,000 year old structure. Hike across the rocky pathways to the peak, and you'll be rewarded by a plethora of mesmerizing views.
6. Pillbox Hike: While not one of the longest trails, the Pillbox hike may be one of the prettiest and historic on this Hawaii itinerary. During your trek you'll stumble upon 2 aging military bunkers, and witness a stunning panoramic view of Lanikai Beach.
Be prepared for some climbing, and I hope your sense of direction is good – we attempted this hike and for some reason couldn't even figure out which trail we should be on!
7. Stuff your face silly with Malasadas: there's no better place on the island for these Portuguese donuts. Just take my word for it and go. You'll thank me later.
8. Lanikai Beach: If you looked up the definition of a white-sand beach, the first thing that would pop up is a photo of Lanikai! Bleached sand, translucent waters, picturesque palm trees – it's one of those places perfectly crafted for postcards.
Change into your swimsuit and spend the afternoon dozing on the coast, or taming your adventurous side with kayaking and scuba diving, just don't forget your sunscreen!
9. Waimea Bay Beach Park: While Hawaii island hopping, you'll find it difficult to locate a better place to surf than Waimea Bay. Found on the north side of Oahu, this scenic coastline has calm, clear waves perfectly suited for beginner surfers. If surfing isn't your strong suit, you'll easily find the ideal spot to kick back and relax on this vast beach.
10. Makapu'u Point Lighthouse Trail: Hidden behind a series of twisting, rugged cliffs, you'll find a tiny, quaint lighthouse facing the ocean. You'll have to hike the twisting trail upwards first, but I can guarantee the sights are worth the time.
11. Dole Plantation: This pineapple plantation is easily one of my favorite places on this entire Hawaii itinerary, and that's not just because I'm a big lover of some juicy fruit.
There is no chance of being bored here, with train rides, garden tours, and endless food available (don't miss out on the fresh dole whip!). There's even a pineapple maze. Yes, you heard that right, a giant pineapple maze with pineapple shaped hedges!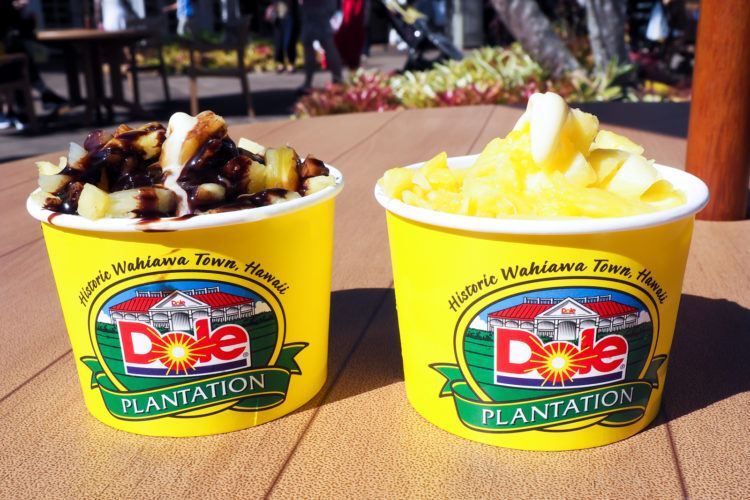 12. Pearl Harbor and the USS Arizona Memorial: Pearl Harbour is a key aspect in American history, and there is no way you can spend 10 days in Hawaii without visiting this memorable monument.
Acting as the resting place for over 1000 sailors, this somber monument commemorates the lives lost during the heart-breaking Pearl Harbor attack, and is sure to bring a tear to your eye.
Where to Stay on Oahu
Oahu is made up of 5 distinct districts, all with their own unique features and varying weather. I recommend staying in either Leeward Coast, Windward Coast, or Waikiki.
Waikiki: If you want to be in a busy area and with endless excitement, the popular Waikiki is definitely where you should be staying.
Recommended hotels: Aqua Skyline (tallest hotel in Waikiki), the Royal Hawaiian Resort (luxury, 5-star hotel), and Aston Waikiki Circle Hotel (stunning views of the ocean).
Leeward Coast: Found on the western coast of Oahu, you are going to find sunnier and drier weather than other parts of the island. If you're looking to sunbathe and improve your tan, this is the place for you.
Recommended hotels: Royal West Indies Resort (close proximity to the wind-sand beach), and Sumerset (found right next to grace bay).
Windward Coast: Located on the eastern side of Oahu, this scenic area is a much greener and wetter option. If you're looking for vast waters and fruitful plantlife, this is the ideal place to stay.
Recommended hotels: Paradise Bay Resort (beautiful views of the Koolau mountains and Kaneohe bay), Pagoda Hotel (affordable hotel in the heart of Honolulu), and the Pacific Marina Inn (close proximity to the airport).
Highlights on Kauai: "The Garden Isle"
Kauai is known as the most rugged and robust of all the Hawaiin islands, a perfect escapade for those wanting a little extra adventure. With a multitude of heavenly beaches, from the stunning Na Pali coast to the never-ending Hanalei Bay, many feel like this is the most beautiful of the Hawaiin islands.
Kauai just has it all: vast, crystal-clear waters, majestic waterfalls within magical lagoons, towering trees in tropical forests. With such a dramatic level of natural beauty, it's not hard to understand why this quaint island is so special.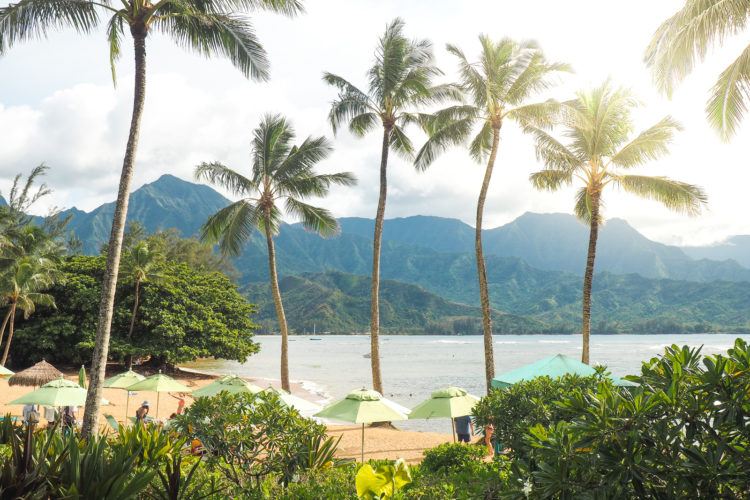 1. Poipu: With remarkable views straight out of a postcard, and warm sand between your toes, the breath-taking Poipu Beach is not one to be missed.
Unwind beneath the feathery leaves of the bushy palm trees, or subdue your thrill-seeking side with surfing, snorkeling, and scuba diving. Not only a beach, but a town along the south shore of Kauai filled with high-end hotels, resorts, and a main shopping center.
2. Na Pali Coast: Absolutely nothing compares to the jaw-dropping beauty of the Na Pali coast, found on the western side of Kauai. You'll never be short of things to do at this serene beach: unmissable opportunities to snorkel and kayak in the crystalline ocean, hiking the famous Kalalau Trail with the most spectacular views, and sky-high helicopter rides across the entirety of Kauai.
If you can only stomach a single helicopter ride while in Hawaii, Kauai and it's gorgeous overhead shots should be a top contender for sure.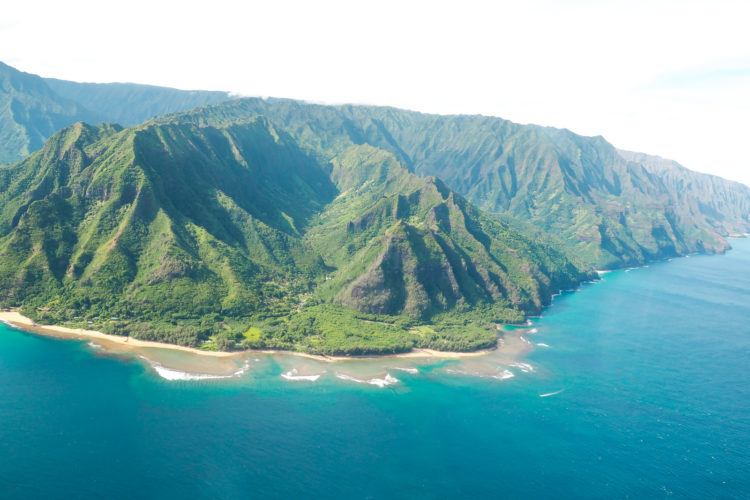 3. Take a dip in Queens bath: Dip your toes into this unique tidepool and bathe like a queen (see what I did there?). This picturesque natural sinkhole is surrounded by indiginous rock, and is a wonderful scenic location to relax and enjoy the ocean view. Watch your step as you hop in, as the waves are known to become quite strong, so be sure to be careful.
4. Waimea Canyon: At 14 miles long and 1 mile wide, this jaw-dropping natural wonder will leave you breathless. Found in the south western area of Kauai, Waimea Canyon is nicknamed the 'Grand Canyon of the Pacific', and it's not hard to see why.
You have the option to either hike or drive towards the impressive canyon, but mind your step as you wander around this awe-inspiring, 3600m deep valley. Take my advice, don't look down!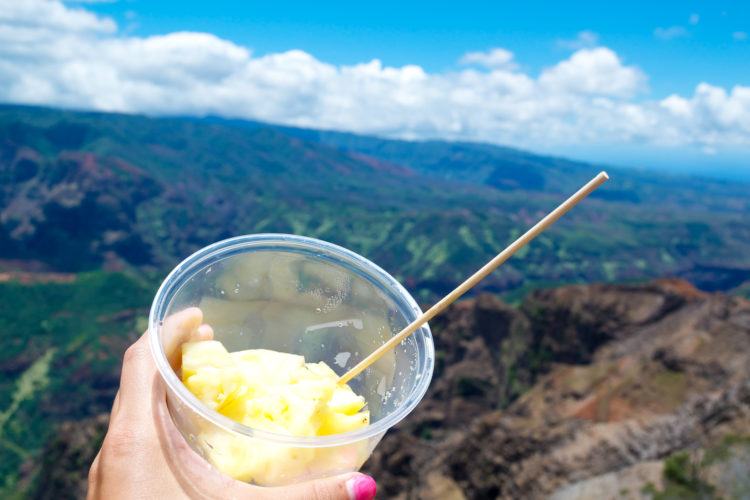 5. Tunnels Beach: Kauai is not short on golden beaches, but the magnificent Tunnels beach is not one you can pass out if you're spending 10 days in Hawaii. Change into your swimsuit and spend an afternoon breathing in the sweet sea-salt breeze and lounging around at this spectacular sandy coastline.
6. Kilauea Lighthouse: Wander up to Kilauea Point you'll spot Kilauea lighthouse perched upon a charmingly scenic cliff, where it stands tall and overlooks the vast pacific ocean.
Lose track of time admiring the most stunning panoramic views of Kauai, and keep an eye out for the tropical birds that reside in the area. Make sure to have a firm grip on any food, as some shearwaters and petrels may fly down to try and steal a cheeky snack!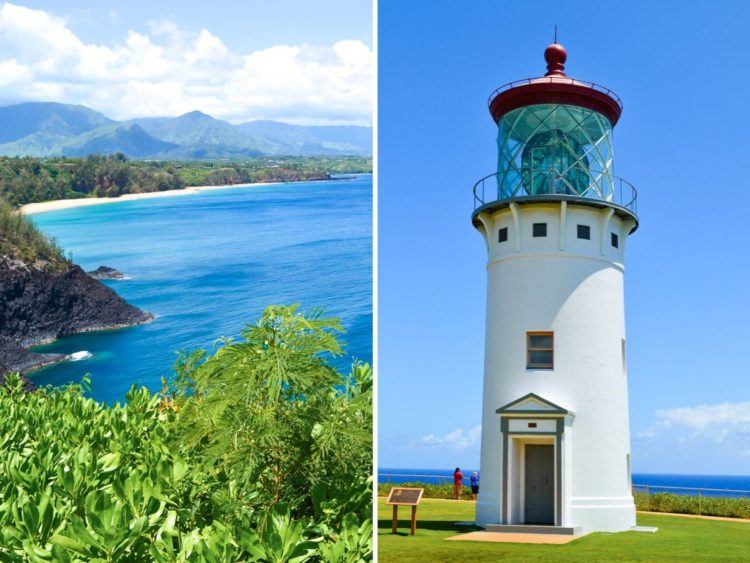 7. Hanalei Bay: Calm and warm waters. Scenic swaying palm trees. Unforgettable views of the picturesque Na Pali mountains. Body surfing, boogie boarding, and kayaking. Beach bums and beach buns. Hanalei Bay will captivate you with its undeniable beauty and abundance of things to do, and is a must-visit location on your Hawaii itinerary.
8. Princeville: On the north shore of Kauai, Princeville is a thriving 9000 acre community full of luxury resorts and beautiful white-sand beaches. From botanical gardens and chocolate tasting, to hiking and waterfall exploration, Princeville really lives up to its name and treats you like royalty (it's the kind of treatment you, our dear readers, deserve!).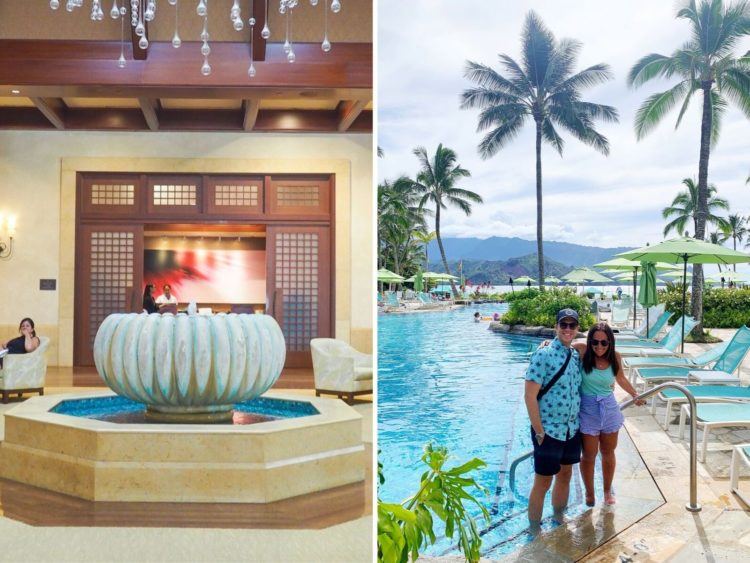 9. Wailua River Kayak and Secret Falls: For those who crave a bit of adventure and epic exploration, the unforgettable trek towards secrets falls will keep you captivated. While on your voyage, you'll paddle through the sacred Wailua River Valley by kayak, and hike along dirt paths while surrounded by tropical wildlife.
Secret Falls itself is a magical lagoon stolen straight out of a fairy tale, where you can soak in the crystal water and be blown away by one of the monumental waterfalls on the island.
10. Ziplining: There is no way better to experience the divine Kauai than soaring along the horizon on a zipline. Fly overhead the jungle and experience the gorgeous garden isle from above. Hands down, this the most adrenaline-pumping and thrilling activity on this Hawaii itinerary.
Where to Stay in Kauai
Most visitors to the island choose to either stay on the north shore (Princeville) or the south shore (Poipu).
Poipu: This is where we typically stay when we're visiting Kauai. Besides Poipu Beach being ranked among the top 10 in the states, staying in this area will put you in the middle of so many options for food and drink.
Recommended hotels: Grand Hyatt Kauai Resort and Spa (featuring a lazy river, movies under the stars, saltwater lagoon, spectacular dining views, and more), Sheraton Kauai Resort (oceanfront with Hawaiian dining), and Koloa Landing Resort at Poipu (part of the Autograph Collection!).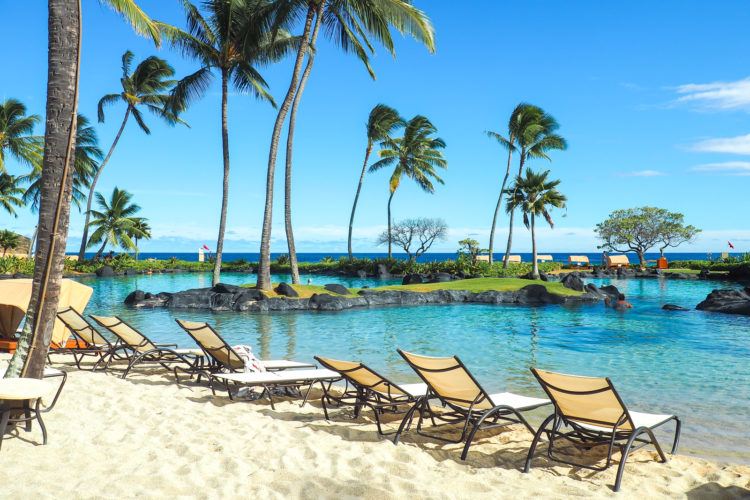 Princeville: A bit more secluded and much more lush than the south shore. Stay here for outta this world snorkeling and beaches with fine golden sand without all the crowds.
Recommended hotels: Princeville Resort (high-end property with a beachfront pool and my first choice), the The Westin Princeville (upscale cliff-top resort), and Hanalei Bay Resort (casual rooms and suites).
Where to Eat in Kauai: Don't miss sunset drinks at The Beach House, fresh fish at The Lanai, breakfast bowls at both Little Fish Coffee (my favorite) and Java Kai, and shave ice at Jojo's.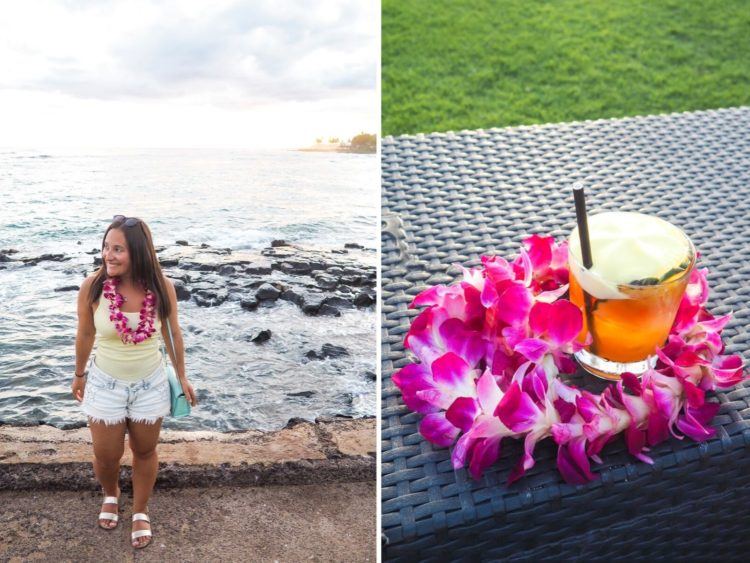 Highlights on Hawaii: "The Big Island"
If you haven't guessed already, the Big Island is called "The Big Island" for a reason – it's huger than huge, and twice the size of all the other islands put together (see, it's quite large)!
AND it's actually still growing in size by way of hardened molten lava, thanks to the world's most active volcano, Kilauea, which is situated right on the island. Pretty neat, eh?
The Big Island has 11 out of 13 of the world's climatic zones – meaning you'll find both white sandy beaches, rainforests, snow-capped mountains, and active volcanoes all on the same island.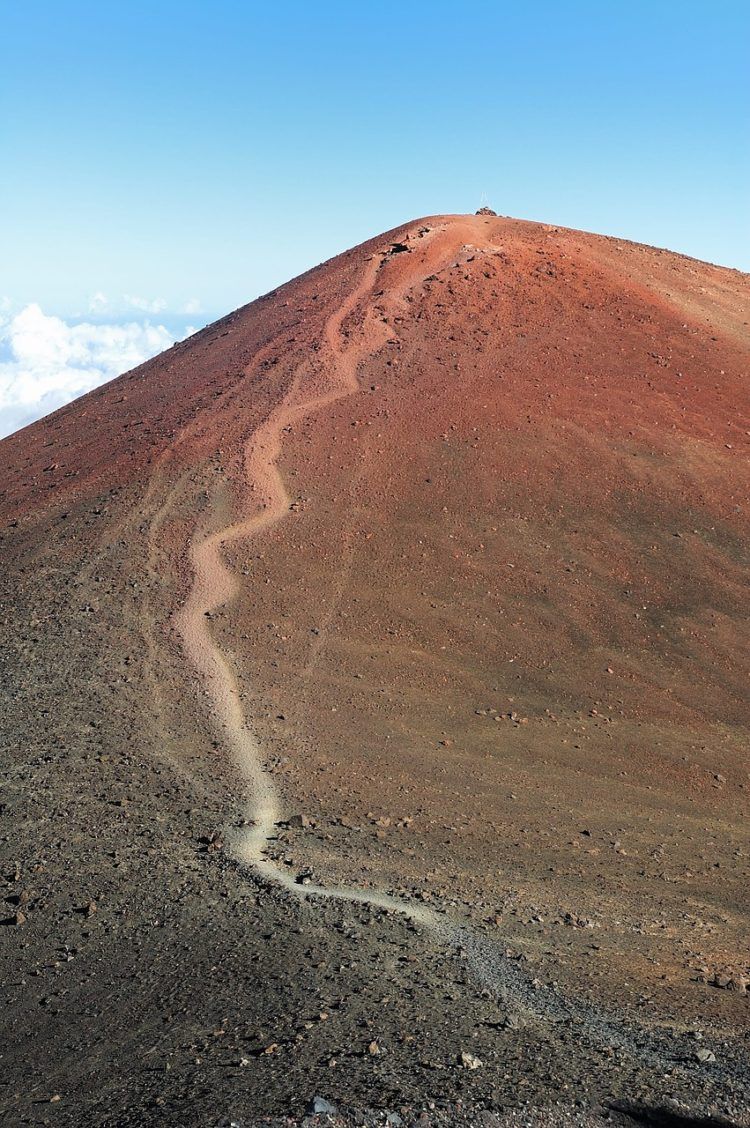 1. Hawaii Volcanoes National Park: Is it just me, or is it getting hot, hot, HOT out here? Hawaii is famous for its multitude of active volcanoes, and there's no better way to safely experience volcanic land than visiting the rugged National Park.
Here you'll find Kilauea Volcano, which is a whopping 280,000 years old and the most active volcano you'll experience while Hawaii island hopping. Thrilling crater hikes INTO the active volcano. Intense treks and bike rides alongside scalding steam vents. Wandering through the Thurston Lava Tube, a large cave sculptured by ancient fast-flowing lava. There's certainly not a shortage of adventures to partake in!
2. 'Akaka Falls State Park: What's here you ask? Well, the clues in the name! Home to a multitude of whimsical waterfalls, you can hike along paved paths and be blown away as you explore this lush jungle full of exotic plant-life and wild birds.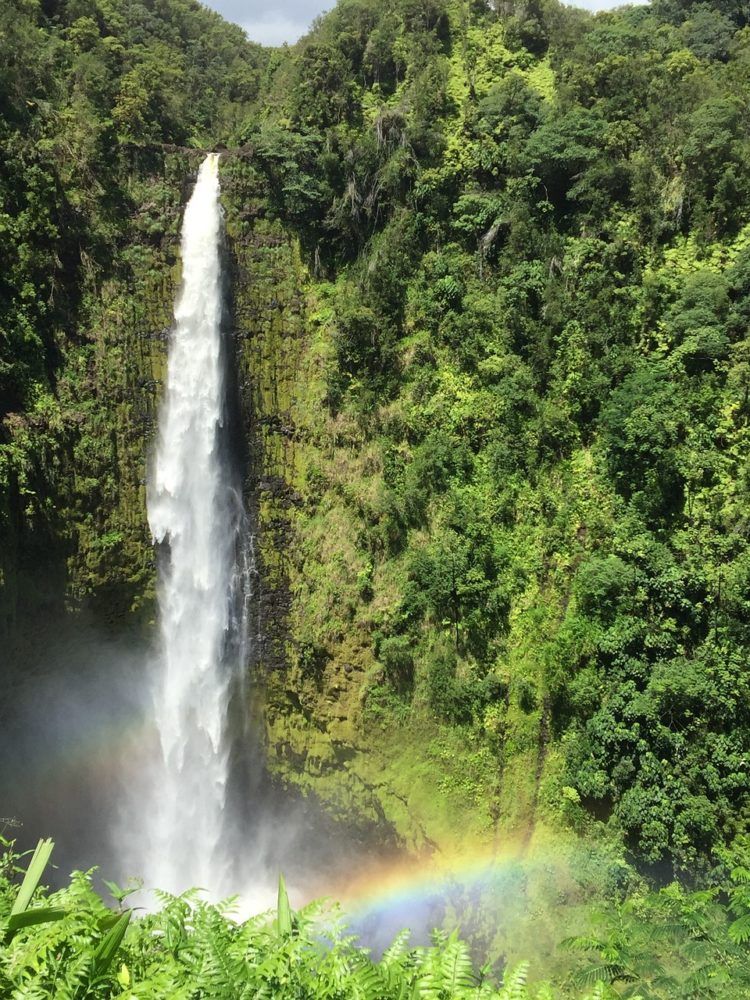 3. Mauna Kea Observatory: Being Hawaii's highest peak at 13,500 feet, this observatory is the best place to get a flawless panoramic view of the Big Island. Perch yourself atop this dormant volcano and be blown away by the remarkable sights.
4. Kona: Expanding across the west side of Hawaii, Kona is rich with culture. From historical monuments, such as Hulihee Palace and Mokuaikaua Church, to fruitful nightlife and quaint shopping boutiques – this city has it all.
So no matter if you're in the mood to explore, shop, or throw back a few cocktails (I certainly am at least!), you'll be sure to find something to do in these busy streets.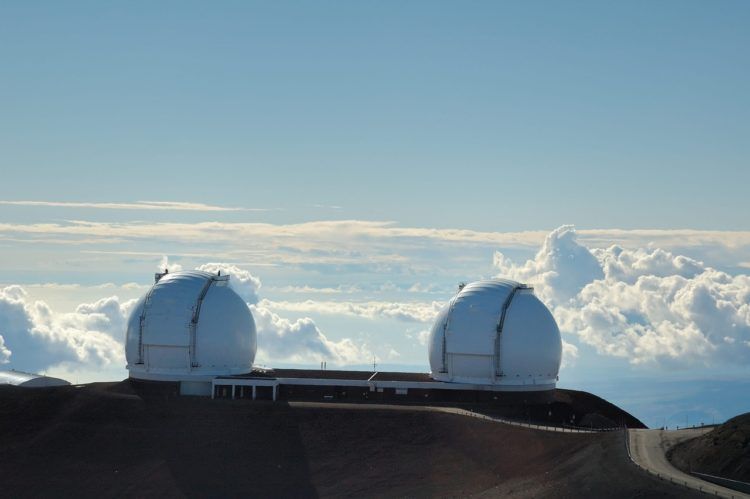 5. Hilo: There is no way you can travel all the way to Hawaii and not explore the Big Island's capital city! It's filled with white-sand beaches and dramatic waterfalls. Vast mountains and tropical forests. Classic farmers markets and soaring banyan trees. Hilo is the city of endless opportunities, you're truly spoilt for choice…
6. Snorkel With Manta Rays: Swimming alongside majestic manta rays is a once in a lifetime experience that cannot be missed, so dip your toes in the water and be prepared for a wild ride.
Considered the birds of the ocean, manta rays have a large span that allows to fly through the water, and watching them move is an absolutely captivating sight. With tours offered at both daytime AND nighttime, you can jump in at anytime and make a splash alongside the rays.
7. Stargaze: With gorgeous clear skies and lack of light pollution, the Big Island is the place to be for stargazing. While just about everywhere on the island has an unforgettable starry night sky, Mauna Kea and Mauna Lau are particularly famous for their stunning skyline and bright stars.
8. Ka Lae: Being able to say you've stood at the southernmost point of the United States is reason enough to visit Ka Lae. If that doesn't sell you, the unforgettable view from the rugged cliffs sure will. Trust me, nothing compares to having the wind whip through your hair as you stare out across the ocean, it's like you're in your own dramatic music video…
9. Snorkel in Kealakekua Bay State Historical Park: Hawaii and it's magnificent beaches are the perfect place to dip your head under water and snorkel, and Kealakekua Bay is definitely one of the top places to do so.
With clear blue waters and gentle waves, you'll have a serene experience while submerged underwater. Keep an eye out for yellow tangs, as these tiny yellow fish are known to frequent the waters!
10. Spelunking Kula Kai Caverns: You've spent enough time wandering above ground, so slap on a hard hat as it's time to go venturing below! The Kula Kai caverns are a series of echoey caves and twisting lava tube tunnels, and it's easy to get lost within the mystifying passageways so be sure to bring along an experienced guide.
11. Waipio Valley and Waterfalls: Within this extraordinary valley you will find the Big Island's most famous waterfalls: Hiilawe Falls, Akaka Falls, and Rainbow Falls. While hiking through the mind-boggling Waipio, it'll seem like a tap has been turned on within the hills.
With mile-high waterfalls that spit fast-flowing water into the valleys below, it's the kind of scene that'll have you crossing your legs and needing to pee!
12. Punalu'u Black Sand Beach: There's something so spooky and captivating about a bold black-sanded beach. Golden sand is replaced by darkened basalt, and it will glitter and sparkle beneath your feet. Turtles are often found lounging around under swaying coconut trees, as even the wildlife enjoy relaxing upon this inky-colored coast.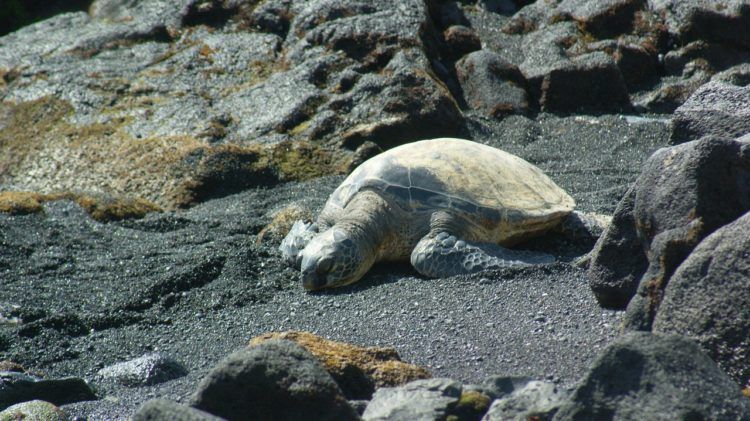 13. Kona Coffee Farm: If you're tired after an intense Hawaii island hopping adventure, Kona Coffee Farm is going to wake you up and put an extra spring in your step. Tour the endless stretches of farmland, and sample what is considered one of the most gourmet cups of coffee in the world.
Where to Stay on The Big Island
The big island is split into 9 distinct areas, all with their own unique features and selling points. I recommend staying in Hilo, Kailua-Kona, or a locally-managed apartment/condo.
Hilo: In Hilo, you'll be close to the Volcano National Park, and in general be in closer proximity to volcanic areas and tourist spots.
Recommended Hotels: Hilo Bay Oceanfront Bed and Breakfast (quaint building with the ocean on its doorstep), Hilo Seaside Hotel (luxury resort with pool), and The Inn at Kulaniapia Falls (short walk away from gorgeous lagoon and waterfall).
Kailua-Kona: In Kailua-Kona, you'll be in closer proximity to the rich historical sights and stunning beaches of the big island, and is perfect for travelers wanting to spend their 10 days in Hawaii exploring.
Recommended Hotels: Hale Maluhia Country Inn (a magical little cottage surrounded by nature), Uncle Billy's Kona Bay Hotel (in the heart of the historic village), and the Sheraton Kona Resort (high-class, luxury resort).
Are you currently planning a trip around the Hawaiian islands?! What's on your 10 day Hawaii island hopping itinerary so far?!