Heading to Hawaii soon and wondering where to eat in Maui?! You're in luck — there's an abundance of drool-worthy places to to eat in Maui! This is a great bucket list of where to eat in Lahaina (a popular tourist area) and beyond! All the Maui must eats, coming right up!
I'm a huge lover of Hawaii. I  just can't get enough of the islands.
We've visited all but The Big Island numerous times (that's on our agenda for next year), and I feel like I've got the Hawaiian lifestyle down. I'm even learning how to perfect my own acai bowl and am contemplating taking ukulele lessons!
I want you to enjoy the area as much as I do, and with that, comes the over abundance of delicious Maui must-eats! I have many favorite dishes and restaurants on the Hawaiian island, so read on, enjoy, and prepare to leave reading with a hungry stomach!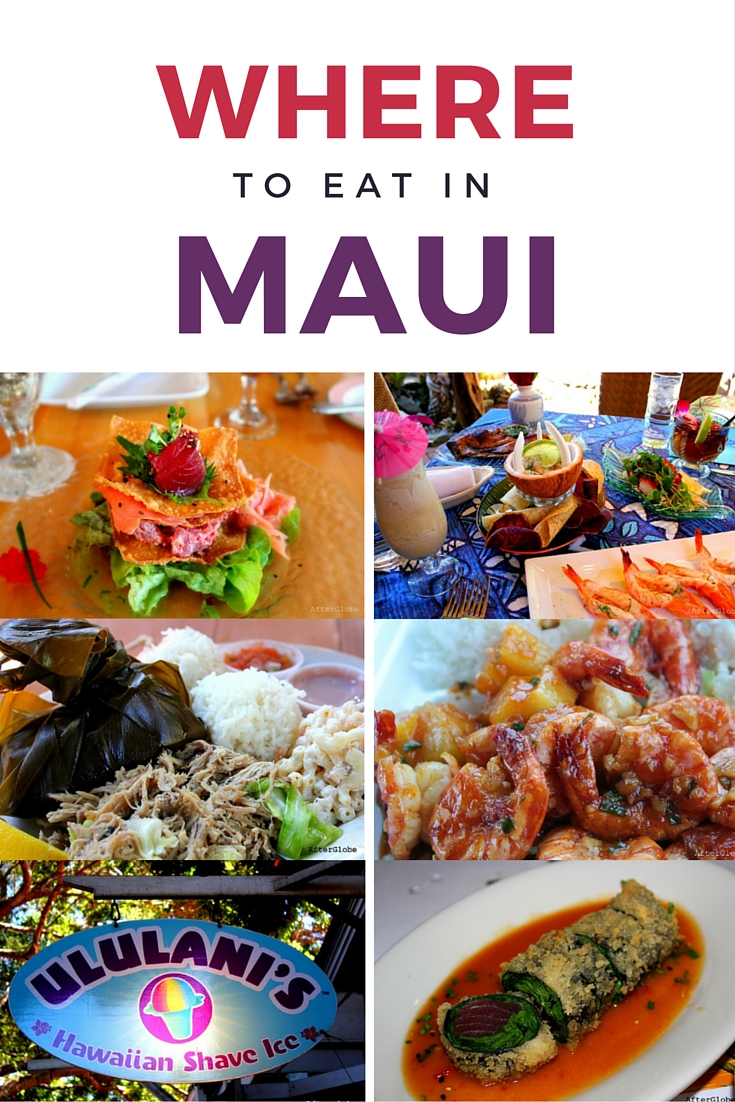 What is travel without trying the local foods? With such a large bounty of fresh tropical ingredients and many incredible places to eat on the island of Maui, it can be hard to decide where to dine during your visit to paradise.
Whether this is your first time to Maui or your fifth and regardless of your reason to visit, at some point you will probably be wondering where are the best places to eat in Maui.
If you want the best spots to eat on Maui from budget to 5-star, this list of 20+ must eats will not leave you disappointed. Each of these restaurants all bring something special to your plate and you will be absolutely amazed at the variety of foods to select from.
Island Hopping in Hawaii: Planning on doing some island hopping? Check out these additional resources:
And now, what you've been waiting for, the best places to eat in Maui! The food we discovered on this gorgeous Hawaiian island was a delicious blend of hearty, flavorful meals with lots of seafood and pork. Restaurants ranged from road-side fruit stands to expensive fine dining.
Don't blame me if you purchase a ticket to Hawaii and have a grumbling stomach before finishing! Enjoy ?
Where to Eat in Maui (All the Best Spots)
Gazebo Restaurant Maui
Quite possibly my favorite hidden gem in all of Maui. My sister-in-law recommended this place to us, and for good reason! I had no idea the line would be super, super, super long, but it was well worth the wait.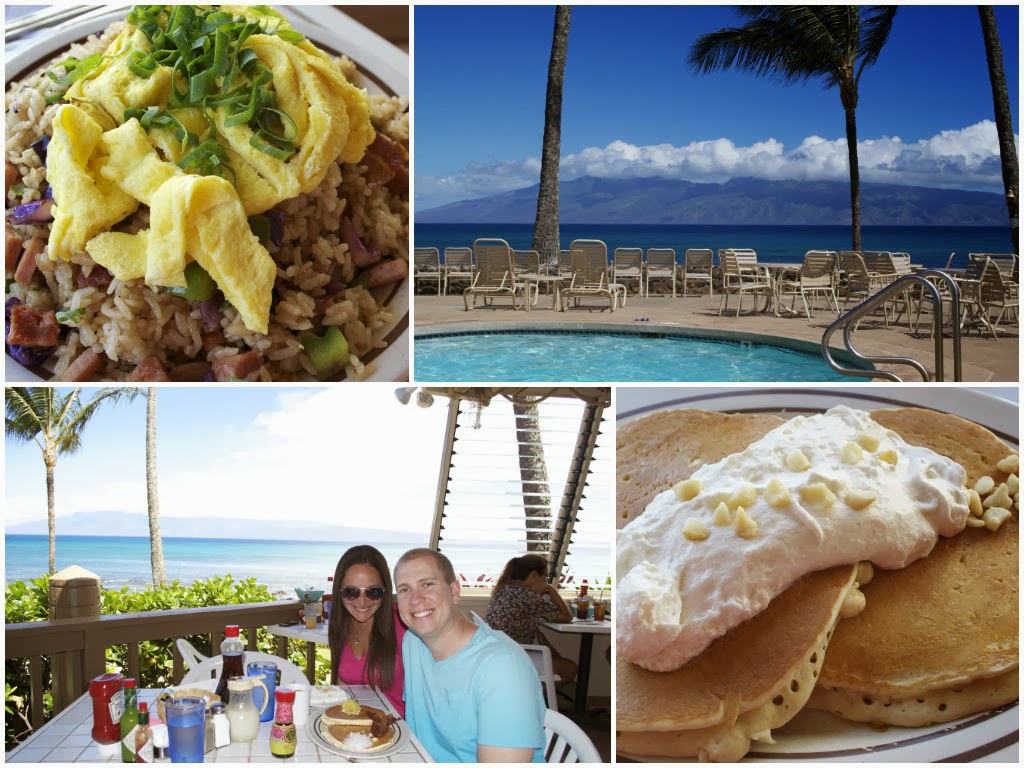 *Do not come here hungover or starving- the line moves rather fast though. Make sure to order the white chocolate macadamia nut pancakes, and a large fried rice – two things they are known for.
The portions are HUGE, and the fried rice alone feeds four people (we finished ours at the airport before heading to Kauai). Located at the Napili Shores hotel, the views from both the poolside area and the seating area were breathtaking.
Come here for breakfast or lunch, as they are only open until 3pm I believe.
Aloha Mixed Plate
A casual multi-award-winning, outdoor restaurant right along the ocean of Lahaina's famous Front Street. They are open for breakfast, lunch and dinner. They even have a nice little happy hour.
All of their food is delicious, as well as their drinks. Start with a plate of their coconut shrimp to share and wash them down with Sassy Wahines and Lava Flows. Then finish it off with a large plate of kaluha pork, lomi lomi salmon, lau lau, Hawaiian style mac salad, poi, rice, and haupia (Hawaiian coconut pudding).
Be sure to give yourself plenty of time to just sit back and chill for a bit because you will need it after a meal like that.
Lahaina Grill
A special restaurant for a special occasion (pretty pricey). Located in Lahaina (well, duh, obviously, you could have told me that :p), it's a fun way to spend an evening.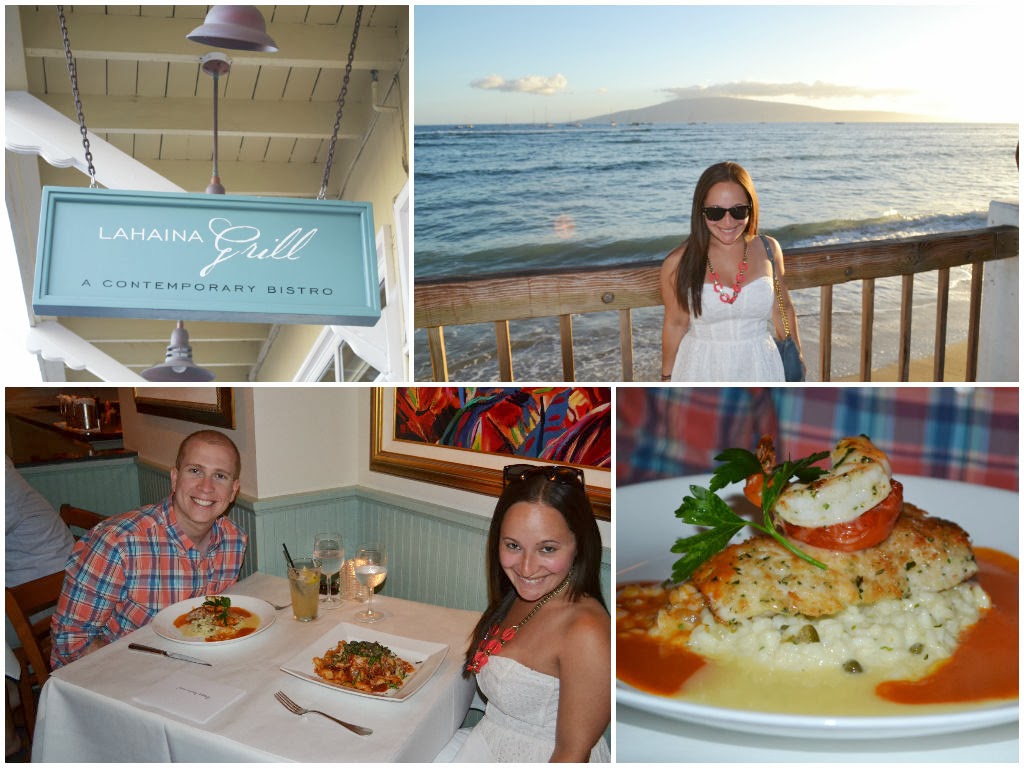 The views from the edge of town are just gorgeous, and we enjoyed watching the sunset before heading over to dinner. Reservations are a must here.
My husband said the fish was extremely fresh and delicious. They even took a picture to send to us and gave us a congratulatory card signed by the staff!
Geste Shrimp Truck
You will be hungry when you land on Maui and Geste is just down the road from the airport.The Shrimp Scampi is a favorite. It's full of flavor with butter and garlic deliciousness.
If you want something sweet and spicy, go for the Spicy Pineapple Shrimp. The Pineapple Shrimp's sweetness is a nice contrast to the slight heat from the spice. Both are served Hawaiian plate lunch style on a bed of cabbage with a scoop each of rice and crab potato mac salad.
All shrimp plates are served with a dozen large shrimp. The servings are huge and you could very easily share it with another. However, they are so good, you will want your own. The shrimp are cut open to make it super easy to peel the shells off.
Make sure to grab plenty of napkins and something to wash off your hands with.
Kula Lodge
After waking up at 3am to watch the sunrise at Haleakala, you will definitely need a pick me up before driving back to your hotel to rest. Kula Lodge, located in the slopes of the Haleakala Crater, provides just that.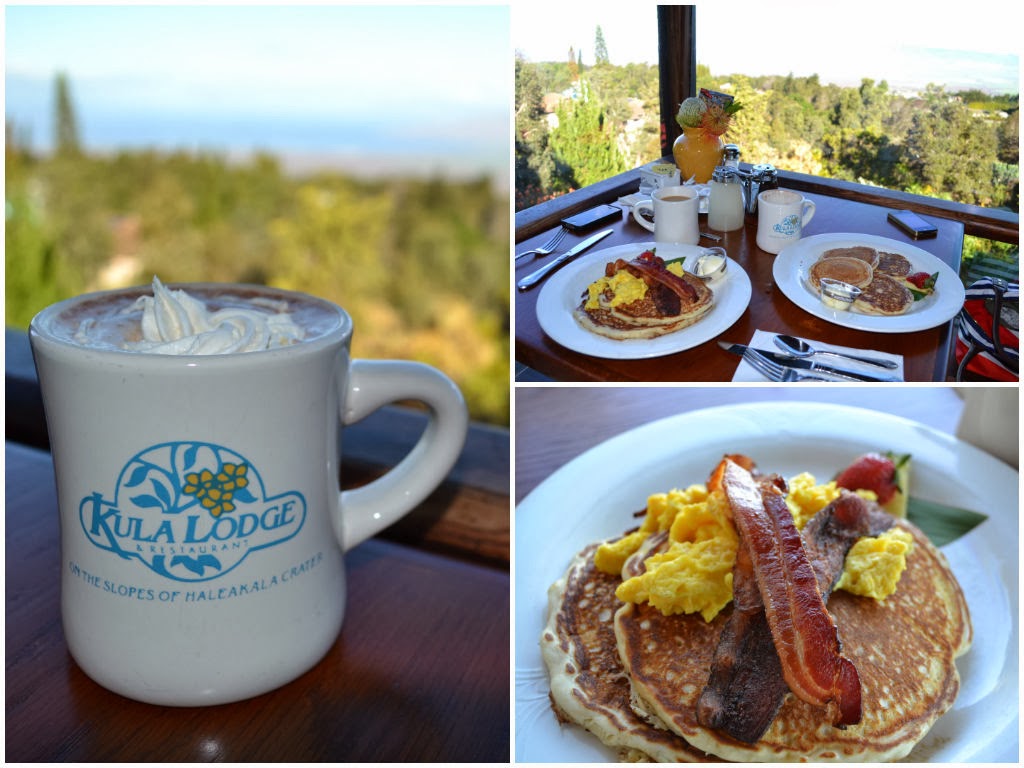 An informal, quiet, reasonably-priced place for breakfast with phenomenal views of the island due it's high elevation. Read some negative reviews on TripAdvisor, but decided to go here anyways, and I enjoyed.
It may have been because I was half sleeping; however, the view and large, fluffy pancakes alone made it worth it.
Haliimaile General Store
Not a store, but a full restaurant. You will find HGA in Upcountry Maui in the tiny town of Haliimaile, (pronounced ha-lee-ee-MY-lay).
The food is both beautiful and delicious. The service is another story, but if you go knowing you are going for the food and not the bad service it should be worth the drive out there.
No matter what, get the Sashimi Napoleon. With layers of Ahi tartare, smoked salmon, sashimi ahi, crispy wonton stack and wasabi vinaigrette it is out of this world. Definitely should be included on any list of where to eat in Maui, that's for sure!
Maui Tacos
My husband forgot his button downs at home (surprise surprise), so we ventured to the mall one night after a full day out exploring the island. Too hungry to wait until we got closer to our resort, we ate at the food court. Yup, the food court. I'm pretty easy to please. And when we stumbled upon Maui Tacos, I was glad he forgot those shirts at home after all. *Photo provided by Maui Tacos.
Teddy's Bigger Burgers
This isn't your traditional burger place. Giant portions, creative burgers, sinful cheese fries are just the very tip of the iceberg. If you're looking for a one-of-a-kind dining experience in Maui, skip Teddy's Big Burgers.
But if delicious fast-food burgers are your thing, you've come to the right place! Try the Cajun Burger- my absolute favorite! Hoping this chain makes it's way to the mainland soon!
Jawz
Who knew Mexican-Hawaiian fusion could be so good? Jawz serves nachos, burritos, quesadillas, and more. But, it's their fish tacos that you are going to want to try. You can grab some of their tacos at two locations on Maui. The best being their taco truck parked daily near Big Beach. You can also catch them in Kihei with a deluxe salsa bar.
Mama's Fish House
There's a reason that Mama's is called the best restaurant in Hawaii. Is it the beautiful oceanfront open air dining or basking in the warm glow of the Maui sunshine that makes Mama's so incredible?
Could it be Mama's exquisite cuisine artfully prepared and orchestrated to perfection in every bite? Or maybe it is the constant special attention that's been given on every visit.
Of course, it's all of these along with the people of Mama's Fish House that go above and beyond perfection with their desire to make you feel right at home.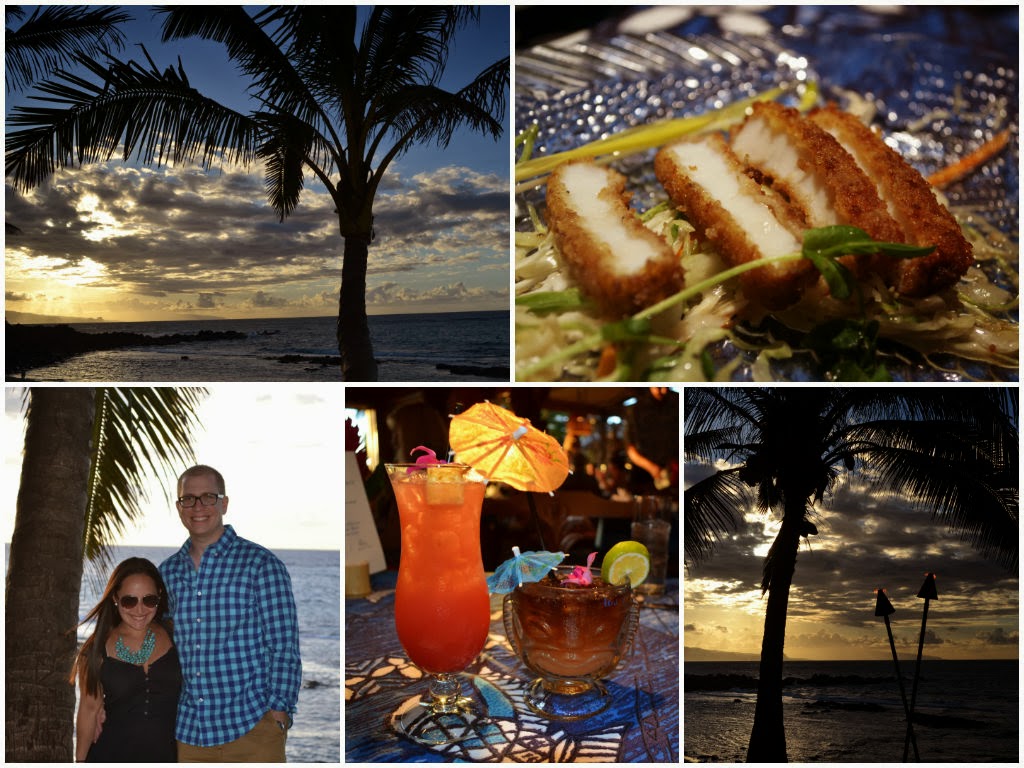 Sansei Sushi
This restaurant is home to some of Maui's favorite sushi. Take your pick from sushi topped with mangoes, shrimp cakes, or miso-marinated butterfish.
There is always a crowd at Sansei's, day and night, people patiently waiting to sample some of the restaurant's amazing sushi. Their menu is filled with so many great dishes, it's hard to choice.
You can't do wrong with the Panko Crusted Ahi Sashimi Sushi maki, Sansei Shrimp Dynamite, and the Seared Ahi Salad. With locations on both the South and West Shores and happy hour on both Sunday and Monday for 50% off all sushi and appetizers, there's no reason to miss Sansei Sushi.
Attend a Luau
The Old Lahaina Luau Maui: Being the most authentic luau in the Hawaiian Islands, Old Lahaina Luau doesn't mess around when it comes to their food.
The bountiful buffet of regional cuisine has enough variety to satisfy everyone's palates starting with the kalua pig they unearth at the beginning of the evening.
Make sure to leave room for the dessert platter they bring you just before the full entertainment starts. The chocolate dessert cups with lilikoi mouse inside are the best.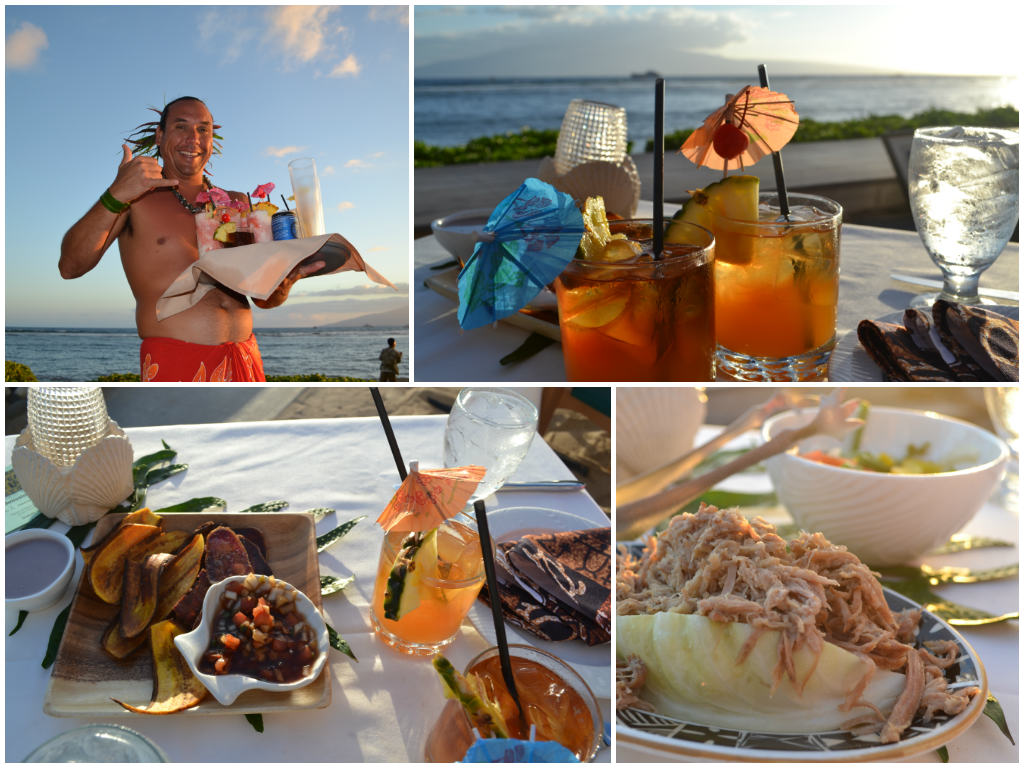 The Feast at Lele: A little less well-known, but just as delicious and entertaining as The Old Lahaina Luau. This festive, high-end luau takes place right on the beach off the main street of Lahaina.
You'll sip tropical cocktails and savor traditional Polynesian food as you watch a live Polynesian music and dance show, with a gorgeous Hawaiian sunset as your backdrop.
Note: Both luau's are likely to sell-out weeks in advance! Book ahead of time to avoid disappointment and to get your desired choice of seating. Book and read reviews below:
Can't decide between the Old Lahaina Luai vs The Feast at Lele? Check out this post, it'll help make your decision that much easier. We chose the Feats at Lele >> see why.
Island Style Tacos: BBQ place on the road to Hana
I had originally planned for us to venture off to some other place (totally forgot the name!) for lunch along the Road to Hana, but we got hungry earlier than expected. And I'm so glad we did!
The Kalua Pork tacos were my favorite, and the husband said the fish tacos exceeded his expectations. Definitely a great stop!
Plus, it's easy to find and you'll able to view (and buy if you want) the gorgeous handmade bowls and other items made out of fresh palm leaves. Located in the NaHiku Marketplace.
Ululani's Shave Ice
There is more than one place to get shave ice on Maui, but the only place we recommend is Ululani's.
Their ice shave is so fine, cones massive, and they have more flavors than any place we have ever been to. Li Hing Mui (salted plum) is my all-time favorite. They even put a little Li Hing Mui powder on top for a little extra kick.
A popular flavor with travelers is Tiger's Blood with a snow cap. No matter what flavor you get, you will love it. If you don't have enough flavoring, let them know and they will add some more free of charge.
Make sure to stop into one of Ululani's two Lahaina locations or in their Kahului and Kihei locations.
Leilani's at the Beach
A beautiful location, ask for a table overlooking the beach. For the absolute best views, make your reservation a little before sunset. You'll be able to watch the sun descend below the ocean while eating your meat and fish. Don't leave without ordering some Hula Pie, my absolute favorite thing in all of Hawaii (besides the Kalua Pork!)
5 Palms
There's no where more perfect to spend your last morning on Maui then at Five Palms in Kihei. With their beachfront location it's perfect for your final breakfast in paradise.
Sit out on the lanai and start off your meal with one of their lovely tropical mimosas. Order the Hawaiian Sweet Bread French Toast topped with straberries, white chocolate chips, and crystallized ginger for the best Hawaiian French Toast you will ever taste
Aunty Sandy's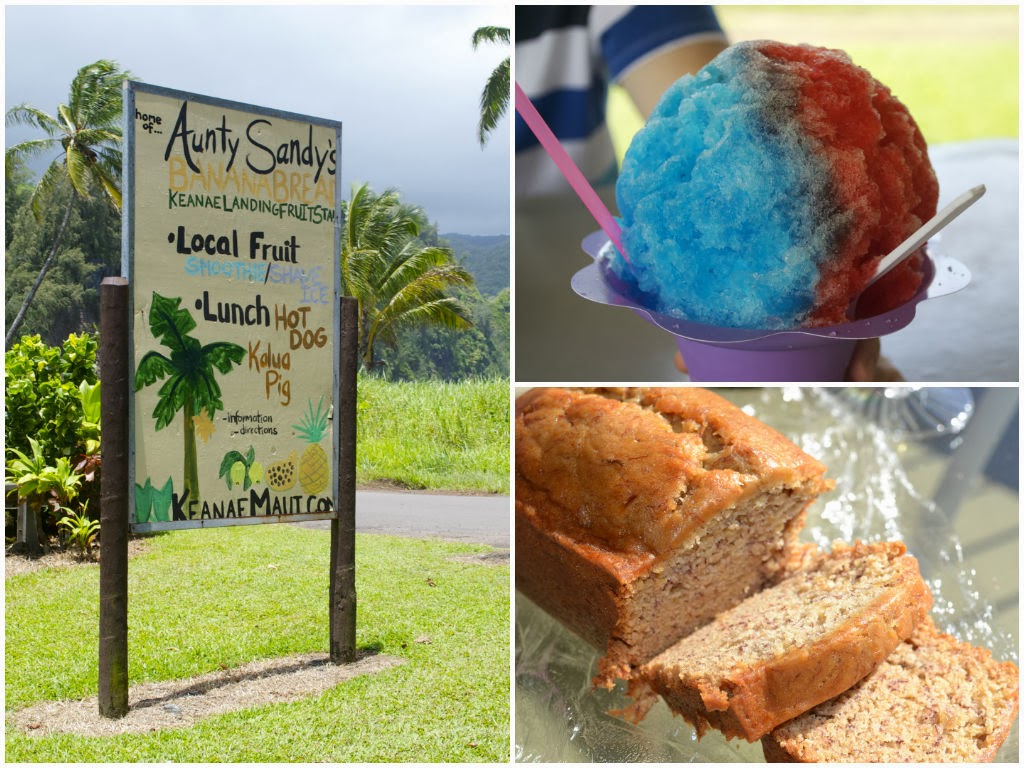 Not your average road-side fruit stand, this offers so much more. Kalua pig, freshly baked banana bread, and most probably the largest shave ice you'll find on the island.
A small little gem on the Keane Peninsula while on the Road to Hana. However, there are no signs from the main road, so put it in your GPS beforehand.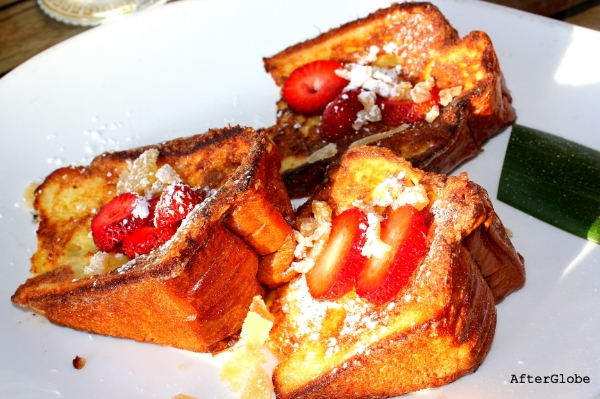 808 Deli
This is one of those places you will randomly come across while walking along South Kihei Road and you will be glad that you did. They have a great selection of sandwiches, including paninis and salads.
Recommendations will lean you towards the Southern Squealer of pulled pork, Hawaiian BBQ sauce and cheddar cheese topped with coleslaw on a roll with a side of Maui onion potato chips and potato mac salad. Your mouth will thank you for it.
Make your trip to Maui worthwhile by enjoying these
10 must eat places on Maui.
Where's your favorite place to eat on Maui?