Headed to Maui and looking for the best things to do in Paia?! I'm sharing all about this funky little chilled out beach town on the North Shore of Maui, which we absolutely love!
This massive guide will showcase not only my favorite things to do in Paia, but where to eat, where to stay, and all the best beaches to visit in this hippy surfer town. It's the perfect escape from the bustling resort area of Kaanapali — super laid back and one of the most eccentric places in Maui.
We visited Paia on our most recent trip to Maui, and fell in love with the entire town. Coming from San Francisco, I loved the hippy, bohemian vibes, and just how vibrant and carefree all the locals seem to be. It's honestly kinda reminiscent of a funky and laidback California beach town from the 60s, which I discovered is totally my scene.
The town is full of old-school hippies, professional surfers, and tourists looking for the best things to do in Paia. And of course everyone's looking to soak up the artsy vibes of the little beach shops (lots of surf and swimwear here!) and fine art galleries. Let's not forget the hemp store, Buddhist stupa, and the best natural food store on the entire island. Take a break from the beach and head to Paia for a day for some shopping, art, and relaxation!
And just to set the record straight, make sure you pronounce Paia "pah-ee-ah" — you don't wanna give away your tourist status right away!
Planning on doing some island hopping? Check out these additional resources:
Things to Know Before Visiting Paia
Where is Paia exactly?!
Paia is located on Maui's North Shore, not terribly far from where most visitors book hotels. It's about a 45 minute drive from the buzzy beach areas of Lahaina and Kaanapali in West Maui, and only about 20 minutes from Kihei in South Maui.
The town is concentrated on the cross section of Hana Highway and Baldwin Avenue, and it's really hard to miss. Just put Paia Fish Market into your GPS and it'll take you right to town!
You might have heard of Paia when researching stops on the Road to Hana. This is because it's essentially the last little town before making the long and windy drive to Hana! Psst – you'll wanna fill up on gas here.
Many tourists breeze right through Paia with hopes to reach Hana faster, but don't be like them! Definitely make a stop (just not on the same day you're driving the road to Hana — Paia deserves a full day of its own!).
How long to Stay in Paia:
I'd say a day trip to Paia will suffice, but you definitely won't get to everything on this list! It's a tiny town, but there's a whole bunch of things to do and restaurants to check out.
There's definitely enough beaches and other things to do in Paia for two days or so, so if you wanna explore in-depth (and eat all the things), plan to spend the night!
Us? We typically visit on day trips when we're staying in Lahaina/Kaanapali, but next time we're on Maui, I kinda wanna spend the night!
Weather in Paia
Just like elsewhere in Hawaii, there's a rainy season and a wet season. The rainy season typically lasts between November-March, with the dry season being April-October. Thankfully, in regards to temperature, highs are consistent in the 80s and lows consistent in the 60s/70s year-round.
Honestly, there's really no bad time to visit this artsy town. Just avoid visiting in mid-summer if you're not a huge fan of the heat, as some will say the weather can become uncomfortably warm.
Where to Stay in Paia
Paia is home to some of the most unique lodging options in all of Maui! I mean, there's even a treehouse surrounded by mango trees (and yes, of course it's on my Hawaii bucket list)!
Would I spend my whole trip in Paia? Probably not — Maui is filled with tons of things to do around the island (find my detailed Maui itinerary here). BUT, I would spend a night or two here in addition to a few nights in Kihei or Lahaina/Kaanapali.
Psst —> if you're hoping to get a head start on the Road to Hana, I highly recommend spending the night before in Paia. You'll be about 45 minutes ahead of everyone starting in Kaanapali/Lahaina! And those 45 minutes sometimes mean beating all of the traffic!
My Paia recommendations:
Paia Inn: Check out Paia Inn, a boutique hotel just steps from Paia Bay and located across the street from Paia Fish Market (yum!). This Bali-inspired hotel offers private patios, concierge services, and on-site dining. Be sure to lounge on their private beach and relax in their tropical outdoor spaces (and yes, complimentary Wifi is offered of course).
Mangolani Inn: If you're feeling a bit more adventurous, check out Mangolani Inn, a boutique bed and breakfast — in an actual treehouse! Yes, a treehouse!! Just steps away from the main town, Mangolani Inn's tranquil scenery consists of mango trees, avocado trees, and passionfruit (can we get any more tropical than this!?).
If this isn't relaxing enough, don't forget to lounge in the hammocks and take a dip in the hot tub. Of course, we can't look past Mangolani Inn's effort to promote green energy by using solar panels!
Aloha Surf Hostel: Looking for a budget-friendly option? Aloha Surf Hostel, located between two of the most famous surf spots on Maui, offers both dorm-style and private lodging options. This tropical-themed oasis offers free breakfast, tours, and Wifi. And it's where you'll find that super Instagrammable surfboard fence!
Take a break from walking the town to play pool, ping pong, or relax in their hot tub. Traveling solo? You'll be sure to meet fellow travelers here!
The Best Things To Do in Paia, Maui
Shop in Paia Town: If you're looking for beachwear or island-themed gifts, the town of Paia offers some of the most unique and eclectic shops to wander around in. Bring your wallet though because these small shops can get quite pricey. A few to check out:
Don't miss Alice in Hulaland (one of my favorite shops in Paia), where you can find a reasonably priced beach bag and lots of Hawaiian themed clothing (good quality trendy stuff, not your typical Hawaiian luau shirts). :p
If you're looking for some uniquely designed jewelry, be sure to stop into Heart in Paia, where you can buy pieces directly from the artist. Shop small and support!
And I always love stopping in Pakaloha — their bikinis come in a rainbow of colors (and you can never have enough bikinis!). They are kinda pricey but I've been happily wearing mine for years without much wear and tear.
Colorful Surfboard Photo Opp: Make a quick stop at the Aloha Surf Hostel to take a picture with the array of colorful surfboards (can't miss this perfect Instagram opportunity!). You'll find the hostel right on Baldwin Avenue, a little up the road (221 Baldwin Ave). It'll take all of 5 minutes, but worth it in my opinion!
Hang at the Beach: Need to cool off? I hear ya – all that walking around in the hot Hawaiin air is difficult ?. Take a break and head to the beach, watch the surfers, and take a dip.
There's quite a few beaches in Paia, but I highly recommend Baby Beach for a chilled-out lagoon and Ho'okipa Beach if you wanna see some turtles! See below for information about specific beaches in Paia!
Take a Yoga Class: Yogis, you're gonna LOVE Paia! And all you beginners as well (promise)! Paia is the perfect spot to reconnect your body and mind — there's a whole slew of yoga studios to check out in this peaceful beach town.
A few recommendations:
Relax and clear your mind and body at Maha Yoga & Wellness Center by taking one of their many, reasonably-priced (!!!) yoga classes. Unwind even more by enjoying a massage or foot bath treatment — there's lots of services to choose from!
In the mood for a more intense workout? Check out Infusion Barre & Hot Yoga where classes are offered for all levels and instructors are known for their positivity and friendliness.
Looking for a beginner yoga class or simply want to expand your yoga skills? Check out Iyengar Yoga, also located in the main town, where a variety of yoga classes (beginner to advanced) are offered.
Due to the close proximity of these 3 yoga studios, all are comparable in price, and reasonably-priced for yoga in paradise 🙂
Ho'okipa Lookout: Take a short drive to Ho'okipa Lookout, famous for watching windsurfers, surfers, and spotting an abundance of sea turtles lounging in the sand. Be cautious as the cliffs can be dangerous and the rocks can be slick. If you're lucky, you may be able to catch the food trucks and local artists sellings goods near the parking lot.
Speaking of parking, it can be tough, so arrive early in the day and maybe even catch the sunrise! Check out details about Ho-okipa Beach Park below.
Head to Twin Falls: Continue your journey on this rustic side of the island by heading to Twin Falls, just a 20 minute drive from the town of Paia. This is the perfect stop if you're wanting to avoid the treacherous road to Hana.
Twin Falls is known to be the first stop on the Road to Hana, so obviously can get crowded. Plan to get there early in the day. Park on the street and follow the jungly trail to the waterfalls.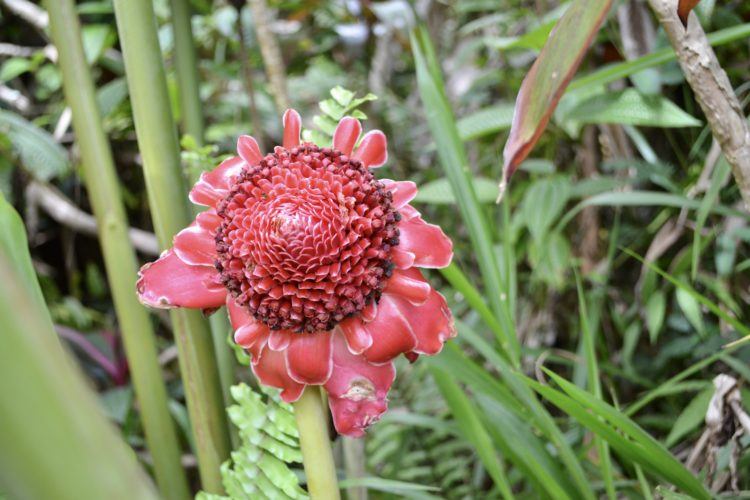 This short trail (it's less than a mile!), will lead you to a beautiful freshwater pool where you may see locals jumping off of cliffs or tourists simply cooling off in this refreshing natural pool. Be sure to bring a waterproof camera and get those insta-worthy pics!!
This spot is a DREAM for the ultimate jungly Hawaiian photos. Take the trail back to the parking lot — you'll find a Hawaiian Farm Stand full of fresh juices, smoothies, and popsicles. Indulge!
FYI — It's best to wear hiking/water shoes or shoes with grips on the bottom as this trail can be muddy, wet, and slippery at times.
Huelo Lookout: If you wish, continue on the Road to Hana to Huelo Lookout (it's about 25 minutes east of Paia). There's views of the ocean in the distance and of course, those not-to-miss jungly lookouts. Stop at the Huelo Lookout Shack for some fresh banana bread, smoothie, or sugar cane juice (my favorite!).
Makawao Spa Treatments: Experience the tranquil upcountry town of Makawao by getting a massage, facial, or an ultimate, luxurious spa treatment from Ho'omana Spa. Ancient Hawaiian techniques and natural remedies are incorporated to give you the ultimate relaxation experience. The coconut milk and honey bath is calling my name!
Maui Pineapple Tours: Take a 10 minute drive from Paia up to Makawao to experience Maui Pineapple Tours to learn about the history and culture of harvesting this yummy fruit! Tour the actual pineapple fields and learn all about the growing cycle of a pineapple.
This 1.5 hour tour can be a bit pricey, but included in the price is an airport safe pre-packaged pineapple to take home and enjoy on the mainland! The ultimate Hawaiian souvenir!
Take a Helicopter Tour: Looking for more adventurous things to do in Paia and want to get a bird's eye view of the island? Take a helicopter tour from OGG and experience the Hana Rainforest, where you'll land and explore a former taro plantation in the Wailua Valley. 
Continue your journey by exploring the lush jungle! Experience aerial views of Maui's north coast, specifically Paia, Haiku, and the Road to Hana. This is the perfect alternative to experiencing Hana if you're not wanting to take on the well-known treacherous drive. It's honestly not that scary though — just use common sense and go slow!
After landing in Kahului, make an extra stop at Geste Shrimp Truck for lunch. Be sure to try their flavorful garlic shrimp!! One of the best on the island. Need a pick-me-up? Be sure to grab a cup of authentic Hawaiian coffee from Akamai Coffee.
Read Next: My Helicopter Experience in Maui (psst — we loved it!)
Attend the Obon Ceremony and Festival at Mantokuji Mission of Paia: If you're lucky enough to be in Paia during the Obon Ceremony and Festival, head to the Mantokuji Mission of Paia. The Obon Ceremony and Festival is a Japanese ceremony to celebrate the lives of ancestors by participating in traditional dances and eating lots of food (count me in!).
Famous for serving local favorites like andagi (deep-fried donuts), shave ice, and chow fun, this vibrant and lively ceremony takes place in the summer. Be sure to check the exact dates at Mantokuji Mission for this festival's arrival. It's by far one of the most cultural things to do in Paia!
Beaches in Paia
Baldwin Beach Park: Be sure to check out Baldwin Beach Park, the North Shore's most popular beach. This long, white sandy beach offers bathrooms, showers, picnic tables, BBQs, and lifeguards (for good reason)!! The surf can be rough at times, making this a popular destination for experienced body boarders and windsurfers.
Baby Beach: Looking to cool off after strolling the shops or taking a hot yoga class? Head over to Baby Beach – the perfect spot to relax as this lagoon offers protection from the big waves.
Swim some laps, float on your back, or take a stroll on the large sand dunes and wooded area that backs the beach. It's kid-friendly but can get windy in the afternoons, so be sure to hit this beach earlier in the day. I LOVED seeing the turtles swim around in the water.
Ho'okipa Beach Park: Not in the mood to go snorkeling in Maui, but want to see more Hawaiian green sea turtles and professional windsurfers? Head over to Ho'okipa Beach Park! This beach is home to a world renowned windsurfing destination due to its impressive surf. But my favorite part — the sea turtles! There's lot of them relaxing on the shore and the exposed reef that runs along the water. Don't get too close; they're federally protected!
Like Baldwin Beach, it's best to be careful of the surf and rip currents over here. Two lifeguard stands are located at each end of the beach — be sure to ask them about the swimming conditions for the day.
Want to get a better view? Head up to Ho'okipa Lookout, located on a cliff along the beach. It may be best to drive to this spot, as the lookout offers its own parking lot. More information on the lookout can be found under "Things to do in Paia".
Tavares Beach: Next up, Tavares Beach, a sandy spot near Paia known for its snorkeling, swimming, rock jumping, surfing, and windsurfing. You may even spot some sea turtles along the reef! The beach is a favorite among locals, so try to hit this beach during the week to avoid crowds.
Tavares is easy to miss, especially if you're not familiar with the area. It's often referred to as "Blue Tile House Beach", as there is a beach house with a ceramic blue tile roof used as a landmark (so look out for that!).
Paia Secret Beach: Between Paia Bay and Baldwin Beach, you'll find Paia Secret Beach. Known as a clothing optional or nude beach, this beach is relatively private and often visited by locals.
To access this beach, park at Paia Bay and walk through the wooded area along the west end of the bay. Clothing is expected on the Paia side of the beach, unlike the Kahului side, where some swim nude. There is no vehicle access for visitors and there are better beaches for swimming adjacent to this one, but head here if you're looking to avoid crowds or simply want to swim nude!
Kaulahao Beach: Need to see more sea turtles? Head over to Kaulahao Beach, located just about a half a mile away from Paia town. This isn't the best beach for swimming due to the rocks, but sea turtles on the sand!!!! There is a small parking lot, where visitors come and go, likely making a stop before beginning the Road to Hana.
Where to Eat in Paia
Mama's Fish House: My all time favorite place to eat in not just Paia, but in all of Maui(!!!). Whatever you do, don't miss this spot! There's Polynesian decor, a seafood-driven Hawaiian menu, and even epic ocean views.
The menu changes daily depending on what the local fishermen catch — it doesn't get more fresh than that! And while everything on the menu is great, obviously get fish and dessert (I'd die for some lobster-stuffed mahi mahi and liliko'i creme brulee right about now)!
Psst → You'll definitely need to make a reservation (way) in advance, as Mama's is popular for a reason. Check sunset time and make your reservation for a bit after. Come extra early to wander the lush grounds, watch the sunset, and grab a tiki drink at the bar!
Paia Fish Market: Time to fuel up after shopping and beach time? Be sure to check out the well-known Paia Fish Market. This casual dine-in restaurant has fresh seafood plates, tacos, and pasta. If you're not a fan of seafood, they offer burgers, salads, and plenty of appetizers. Definitely order the shrimp and fish tacos — some of the best I've ever had!
Cafe des Amis: Not in the mood for seafood? How dare you (haha). Cafe des Amis serves up both Mediterranian and Indian dishes for breakfast and all throughout the day. I cannot stop thinking about their crepes!
Not hungry? Grab a cocktail, glass of wine, or a refreshing fruit smoothie! Be sure to check out their happy hour from 4-6! We always look for happy hours on the island to stay within budget, while still getting to try all of the yummy, island food!
Ice cream lover? Head over to Cafe des Amis's Artisan Ice Cream shop, located right next door. With raving reviews and local flavors like toasted coconut (vegan) and lilikoi butter, you'll definitely want to try this homemade ice cream!
Paia Bowls: If you haven't had an acai bowl in Hawaii yet, do yourself a favor and make that a TOP priority. And lemme tell you — the acai from Paia Bowls is top-notch (they also have smoothies, but who are we kidding, just get a bowl. Add some of their tropical toppings like coconut, ashwagandha, papaya (my favorite!), and even peanut butter!
The outdoor patio is just as lush as you'd imagine. Need a pick-me-up? You're in luck — there's bulletproof coffee and a golden turmeric latte here, too!
Milagros Food Company: Need a heartier meal or simply a cold cocktail? Head over to Milagros Food Company for fresh Mexican food, mai tais, and margaritas! Try something Hawaiian like a Li Hing Mui marg and a mahi-mahi burrito.
Psst → Happy Happy is EVERYDAY from 3-6, and the drink and appetizer specials are a really great price!
Mana Foods: Yup, Mana Foods is actually a grocery store — BUT, here me out! Imagine aisles of fresh tropical fruits, organic local produce, delicious bakery goods, and even a smoothie bar. It definitely ain't your regular market!
Pick up some deli meat, tropical fruit, a salad from the salad bar, or a dish from their hot food bar and head to one of the beaches mentioned above for a picnic and some more sunshine!
Tobi's Shave Ice: Shave ice a MUST in Maui, and Tobi's doesn't disappoint. The syrups are locally sourced and there's lots of outdoor seating. And always add the coconut ice cream for that perfectly creamy flavor.
If you need more than a snack, their fresh tuna poke is the way to go.
Vana Paia: We like to come to Vana Paia (part of Paia Inn) for breakfast. Yes, it's a bit on the pricier side, but I promise you won't be disappointed. The food is high-quality and fresh, there's fresh-pressed juice (my fave), and you can eat under the tropical trees on the outdoor patio. Loaded bloody mary's anyone?! You betcha they fill up that glass with all of the fixings!
Coming later in the day? Vana offers pastas, sandwiches, and fresh fish dishes like scallops and prawns. They've even got their own sushi bar — make sure to try a few sushi rolls and some fresh sashimi.
Paia Bay Coffee and Bar: Paia Bay offers breakfast, lunch, and dinner, or come here simply for some coffee! You might even catch some chill live music!
There are so many options — think breakfast plates, nutella croissants (<3), fresh salads, sandwiches, and a mahi mahi curry bowl (yum!). Again, look for their happy hour, which runs from 3-6 and offers food and drinks!
This outdoor restaurant is tucked behind the storefronts, so be sure to keep an eye out! I recommend stopping here to fuel up before heading on the Road to Hana.
Flatbread Company: Ohhhh, one of my favorite dishes — wood-fired pizza! And they're over here at Flatbread Company. With fresh ingredients for salads and pizzas, no one should be disappointed (and tehre's even a bunch of vegan options!). We like to share a pizza and a salad here and it's enough for the two of us!
I hope you've enjoyed all my favorite things to do in Paia! Are you planning a trip to the North Shore of Maui anytime soon?!