Headed to Japan and looking for the best things to do in Kyoto? You're in luck, because I've compiled a whole bunch of Kyoto sights and attractions!
Wondering what to do in Kyoto? Oh, there's so much! With it's classical Buddhist temples, lush gardens, and imperial palaces, Kyoto is not to be missed on any trip to Japan.
It's also wildly famous for geisha entertainers, kaiseki dining, and traditional wooden houses. Continue reading for some of the most popular things to do in Kyoto, Japan. Kyoto is the capital city of Kyoto Prefecture, which is located in the Kansai region of Japan, and is roughly 3 hours away from bustling Tokyo via high-speed bullet train.
Promise me that you'll make the trip to Kyoto at least once in your life – yes, it's just that spectacular (aka I'm currently scheming another trip there asap).
And pssst – if you're planning a trip to Japan, be sure to check out my popular 10-day Japan itinerary.
Kyoto Sightseeing Map
So without further ado, here are some of the most famous things to do in Kyoto, Japan.
Best Things to do in Kyoto
1. Nishiki Market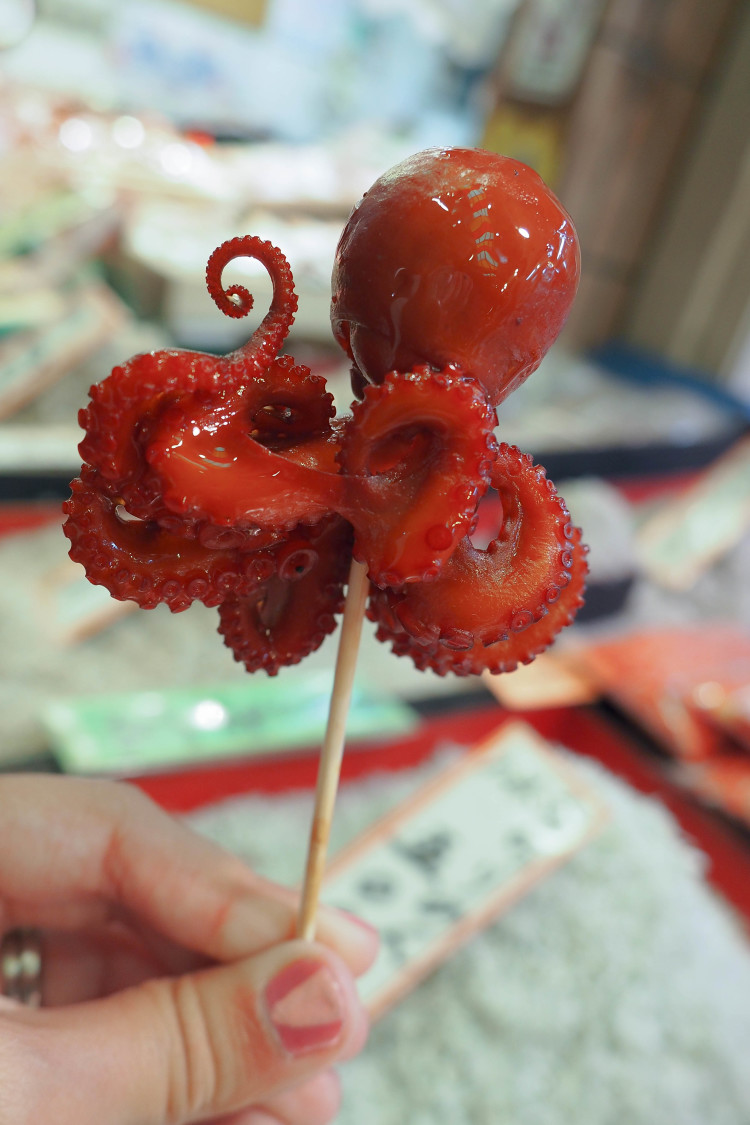 Nishiki Market is definitely a must visit in Kyoto, especially for lovers of Japanese food. The market is not super big, nothing to compare to Tokyo's former fish market for instance, but the products on offer are definitely top quality – I am still dreaming of the delicious fruit that we saw and tasted.
We really recommend visiting with a guide, in order to understand what the various foods are – for example, I had no idea there were so many different kids of miso and pickled vegetables before visiting Nishiki!
The market is also a great place to taste different kinds of street food.
If you've been to Japan before you'll know that people don't usually 'eat' in the street as much as in other places in Asia, but in Nishiki there seemed to be street food on offer at each stall – from barbecued fish, giant oysters and tiny red octopus, to colorful mochi balls and matcha ice cream with a real gold leaf.
In Nishiki there's also one of the best knife shops we've ever visited, with knives for all types of food, with also many options for left-handed people!
Margherita | The Crowded Planet
2. Fushimi Inari Shrine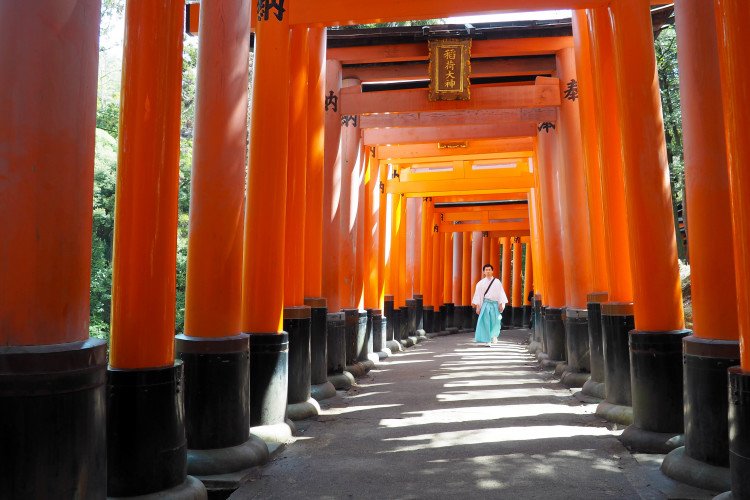 One of the top tourist sites in Kyoto is the Fushimi Inari Taisha Shrine Gate. The shrine was built to commemorate Inari, the god of rice. The shrine has ancient origins and is said to date back to before the capitol's move Kyoto in 794.
Anyone who goes to Kyoto knows of the Fushimi Gate and ten thousand vermillion gates but it is actually more like 30,000 gates. These gates are actually called torii in Japanese and they are a reddish orange colour. These gates were all paid for and donated by national and local businesses, sometimes even individuals buy the gates.
You can walk through one gate to another to the main buildings and visit the Shinto shrine there. The entrance fee is free and the best time to visit is first things in the morning otherwise you will be in a crowd of selfie sticks. Technically the shrine is open from 9am to 5pm but you can visit anytime.
You can also hike to the summit of the mountain which takes about 2-3 hours there and back but you are able to turn back at any time. The shrine is about a 45 minute walk from Kyoto, a 10 minute taxi ride, or a 5 minute train ride but the train is not that frequent.
Nicole | TravelGal Nicole
3. Have a Meal at a Luxury Ryoken
Kaiseki is a traditional meal, where diners kneel on rice straw tatami mats and sample a series of small dishes made from seasonal ingredients, cooked in the most regional way possible in order to best bring about their flavors.
This reverence for nature is closely linked to the changing of the seasons, which influence virtually every aspect of Japanese culture. The Kaiseki at Kanamean Nishitomiya are made with 3 ki – Kisetsu(season), Kikai(chance) and Ki(dishes). The menu changes every month and dishes are selected with a monthly theme like cherry blossoms in April, Gion festival in July, Moon watching in September, and Autumn festivals in October.

We were visiting Japan in December and had a lovely Kaiseki Christmas meal at Kanamean Nishitomiya in Kyoto which is known as one of the best ryokan in Kyoto. there were appetizers of tempura vegetables, soup, steamed bamboo, fried rice, raw fish, chicken – all served in beautiful dishes – some were even delicate Hermès plates with pretty floral and butterflies.
The meal was expensive but worth every bit. We finished with a yuzu pudding served in lemon sized fruit that had distinctively Japanese fragrance crowned with a blushing strawberry. From the ingredients to the crockery and plating to service – it was like witnessing an art form – a beautiful Japanese culinary art!
Priya | Outside Suburbia
4. Eat alllll the Ramen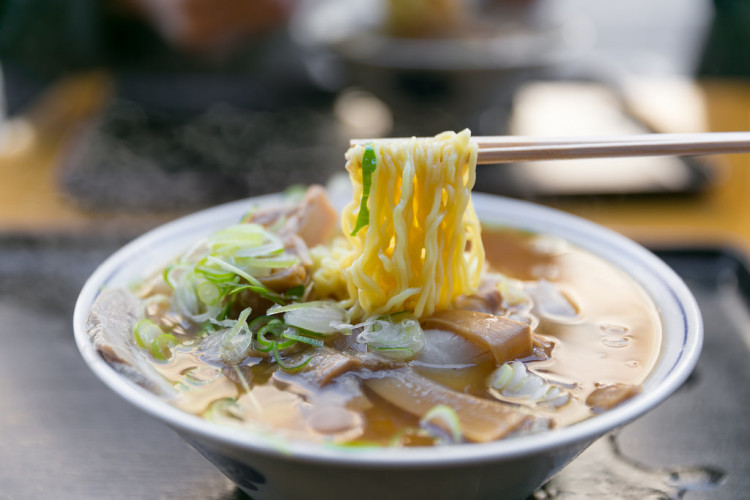 One of my most memorable experiences, from my time spent in Kyoto, was tasting my very first Japanese Ramen. On my very first trip to Japan, my friends and I split our time between Osaka and Kyoto, in attempts to make the most of our autumn vacation from our homes in South Korea. I took the lead on mapping out which sites we would see, while my friend Nancy found us fabulous places to eat.
The first place we visited was Daikoku Ramen, a traditional ramen restaurant, that has a line out the door soon after opening. We chose to go first thing in the morning in hopes of avoiding some of the longest lines. and were in luck – our party only had to wait about 20min before we were seated.
Of course we ordered up some Ramen and gyoza and had our food in just a few minutes. The food was exquisite, with very deep, rich flavors, and the price was very reasonable considering the quality of the food. I highly recommend you visit one of these popular ramen houses while you are in Kyoto; you won't regret it!
Daikoku Ramen (246-1 Honmachi 13-chome, Higashiyama Ward, Kyoto, Kyoto Prefecture, Japan)
Ayam-ya – Japan, 〒600-8238 Kyoto Prefecture, Kyoto, 下京区御方紺屋町 2-1-11
Ramen Factory Kyoto – 814-18 Honmachi 15-chome, Higashiyama Ward, Kyoto, Kyoto Prefecture 605-0981, Japan
Lindsay | The Neverending Wanderlust
5. Arashiyama Bamboo Forest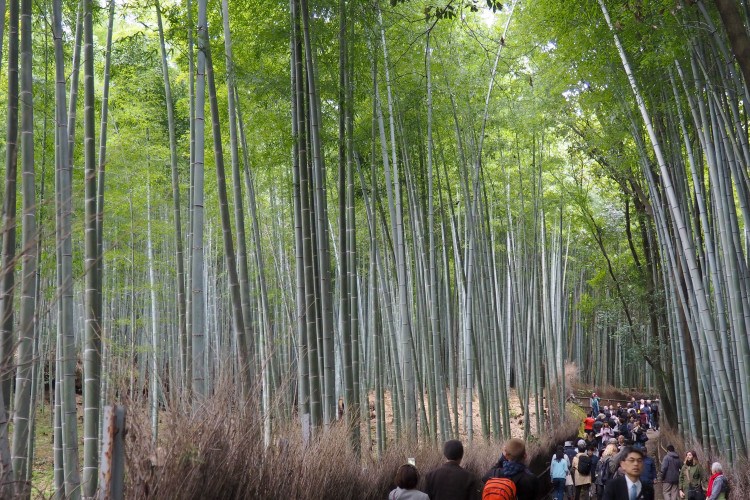 A stroll through the Arashiyama Bamboo Forest is a highlight of any trip to Kyoto. The hushed green forest is both peaceful and eerie. As the sun filters through the bamboo at different angles, gentle streams of light flicker across the forest.
A single short path weaves from the town through the forest to the base of the hills. We suggest taking your time meandering through the forest before exploring some of the other highlights in the area. At the base of the grove is Tenryu-ji Temple, with one of the best examples of Zen gardens in Kyoto. It is lovely to stroll through the garden and admire the perfect symmetry of the design.
At the end of the grove turn left to walk through the nature park and down to the river where you can stroll along the riverbank back to town. Or turn right to walk further up the hill to oochi-Sanso Villa. With spectacular grounds, a tea house and one of the best examples of Japanese architecture it is worth the entry fee.
It is a short free walk through the forest and is hugely popular. You will need to go very early to avoid the crowds. It is an easy 30 minutes train ride from Kyoto. Be prepared to brace yourself for a distracting walk from the station where souvenir shops line the streets for hundreds of metres!
Rachel | Adventure and Sunshine
6. Take a Ninja Class
My kids were desperate to take a ninja class in a Kyoto dojo. Having traipsed around temples and other sightseeing places with us, we felt they deserved this opportunity even though we were somewhat unenthusiastic. It turned out to be one of the best things we did!
We took our 2 hour class at the Ninja Dojo and Store in the central Kyoto Shijo area. Along with an American family of four and two instructors, we learned all about the training and purpose of ninjas during feudal Japan. Each instructor took one family to one of the two studios so that we had plenty of space to practice what we learned.
A class involves getting dressed in a ninja outfit as well. The instructor expertly clothed us all up in no time at all. We looked the part which helped us get into character. It was so much fun because the instructors were enthusiastic and knowledge.
We learned a lot about feudal Japanese times such as the difference between a samurai sword and a ninja sword. And, I discovered my daughter is extremely talented at blowing a poison dart gun.
You need to make reservations because the ninja class is popular. If you have a child attending the class, then there will need to be one adult present. The classes though are not childish or geared towards children.
Although our time slot was taken by two families, the class before us was all adults who looked like they were having a blast. There is also super cool store on-site with antique ninja weapons. Our kids were pleased with their fridge magnet Shurkien (Ninja star) souvenir which was way less expensive (and dangerous) than the antique items!
Shobha | Just Go Places
7. Ride the Randen Line Train
Kyoto, the spiritual capital of Japan, has a staggering 1200 year history and a never-ending stream of visitors who flock to sample some of the 1600 traditional temples. It is a bustling city with a modern bus system and efficient underground railway, but Kyoto was once criss-crossed by a network of tramlines.
Of this network only the Randen Tram Line remains and it holds a nostalgic place in the heart of many locals. The cute purple trams with their box-like shape, complete with conductors wearing peaked caps and white gloves, are a charming sight.
Owned by the private Keifuku Railroad Company, it is in reality two lines. The Arashiyama, running west from Shijo-Omiya Station to Arashiyama (of bamboo forest and Tenryuji temple fame) and The Kitano Line.
Our Japanese friend was delighted to take us on the Kitano Line and show us three of her favourite Kyoto temples – all of which are Unesco World Heritage listed. During cherry blossom season the tram slows between Narutaki and Utano Stations to admire the track-side cherry trees.
We left the tram at Ninnaji Station (B5) to visit a temple of the same name. Ninnaji is one of the most peaceful temples in all of Kyoto and is famous for a special brand of late flowering cherry tree.
From there it is an easy walk to the famous Ryoanji Zen Garden, where 15 rocks sit with silent purpose in a sea of raked sand. A further walk leads to the interesting complex of Kinkakuji, the golden temple who shines regally from it's own pond. Exploring three very different temples via the historical Randen Tram Line is an excellent way to spend a day in Kyoto.
Jan | Budget Travel Talk
8. Moss Garden Temple
Visiting Saiho-ji Temple (also called Koke-dera/ Moss Temple) is an opportunity to experience Japan in a way that few tourists do. The temple visit starts with an activity such as copying the 'heart sutra' or chanting.
Sitting down on a tatami (straw mat) floor and practicing traditional Japanese calligraphy is a great way to slow down and start to appreciate traditional Japanese life.
Then you have time to wander the gardens. There is a traditional dry garden with rocks and raked sand, but the highlight is the moss garden, with over 200 varieties of moss around a heart-shaped pond. The 'heart' is the Japanese character for 'heart', not the western concept of Valentine's Day heart.
There are three tea pavilions scattered around the garden amongst the trees and bamboo and moss. Wander slowly along the paths that meander through the garden and take in the quiet beauty of this magical place.
The garden is best in spring, when it is wettest, but can be visited year-round. Gaining entrance is a little complicated. If you live in Japan, you need to send a special kind of postcard that has a self-addressed return side to reserve your visit several weeks in advance.
If you don't live in Japan, the easiest thing is to ask your hotel to do this for you. When you receive the confirmation postcard, you will be told the exact time of your visit, and you must bring the postcard confirmation and pay 3,000 yen on the day of your visit.
James | Travel Collecting
9. Geisha Spotting in Gion
Kyoto is considered the birthplace of geisha culture. Although you can find the beautiful and talented performers throughout Japan, the best place to see an actual geisha is in the district of Gion in Kyoto.
Known for their white makeup, elegant kimonos, and perfectly kept updo hairstyles, geishas are young women who have train for years in in the traditional Japanese arts. They typically perform at high-end dinners, special events, and private tea houses.
Getting an invitation to a geisha performance isn't easy nor cheap. You also won't find these poised performers walking the streets, willingly posing for selfies with tourists.
So, many people resort to paparazzi tactics to catch a glimpse of a geisha. Spotting a geisha is somewhat like spotting a falling star. It's often hard to do, and you'll only catch a fleeting glimpse. But if you are lucky enough to spot one, it's incredibly memorable.
The best way to catch a glimpse of a geisha is to head to Gion around dusk. This is typically around the time the geishas are heading to a performance. Look for the crowds and for taxis or hired drivers parked directly in front of the door to a building.
Then you wait, with your camera ready, for the geisha to emerge. She will quickly be escorted from the door to the car and whisked away to her performance. Geishas are often accompanied by a younger apprentice, called a maiko.
Dressed similar to a geisha but wearing a more muted kimono, she will likely follow the geisha in a second taxi. This will give you a more chance to see one of these traditional Japanese entertainers, even if only for a brief moment.
Melissa | Parenthood and Passports
10. Kiyomizu-dera Temple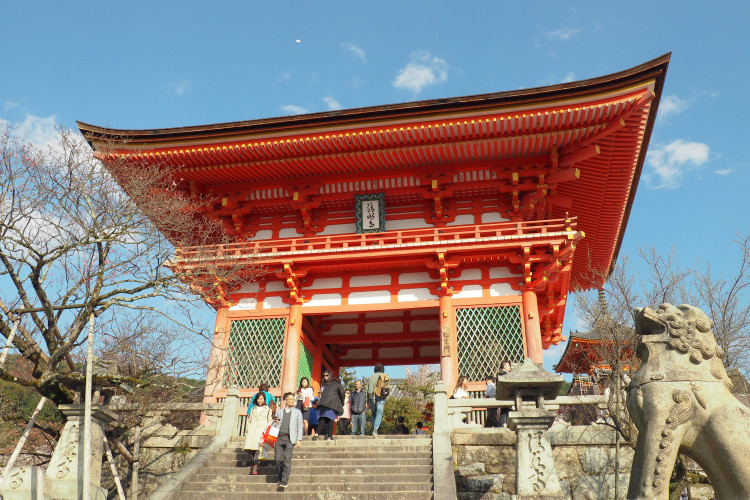 The Kiyomizu-dera Temple is one of the most popular temples in all of Japan, let alone Kyoto. It is a UNESCO World Heritage site and a must-see on your visit.
There are several parts and pieces including a gorgeous main hall with a beautiful veranda, the Otowa waterfall where you can have your wishes granted by drinking the water, and the Jishu Shrine, dedicated to the god of love and "good matches," Ōkuninushi.
There are 2 popular times to go: during the cherry blossom season in the spring and the leaf changing in the fall. In addition, there are evening festivities at both times, and let me tell you, it gets extremely crowded!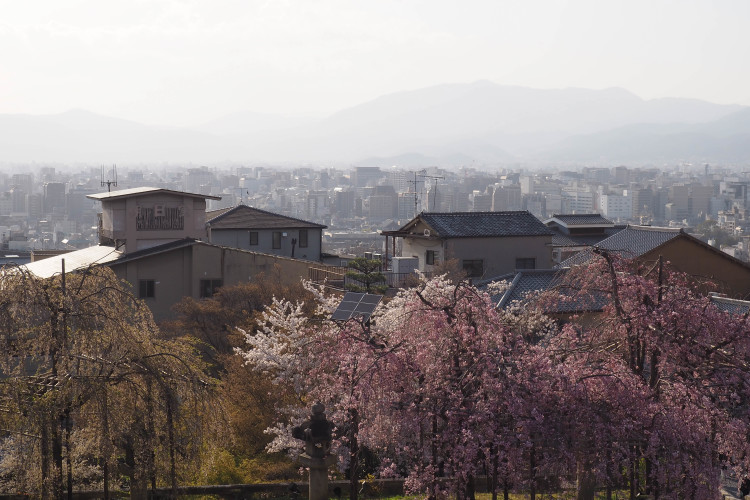 If you don't want to be jostled along by a crowd and have the possibility of actually seeing the temple and shrines, I recommend visiting in the early morning.
It is quite beautiful and pretty calm! Because of the wishes at the Otowa fall and the shrine of love, there are lots of people, students, and young couples, many in kimonos, visiting the temple.
After your visit, there are 2 fun things to do in the area: have a coffee at Inoda Coffee shop which has been in Kyoto since 1940 and has delicious coffee, and then do some shopping along Masuyacho, in particular, check the adorable boutique called Dot Dot, which has beautiful handmade products in you guessed it, polka dots!
It's the perfect way to move from 1633 to 1940 to the present all in a few blocks!
Andi | Misadventures with Andi
11. Nijo Castle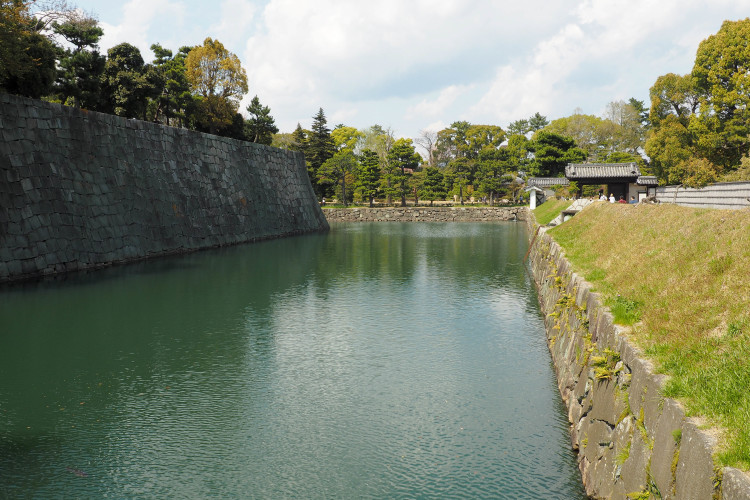 Not often found in the guidebook top ten lists but one of our favourite things to do in Kyoto was visit the beautiful Nijo Castle! The castle was built in 1603 by the first shogun of the Edo-era. It's a vast complex built up of spectacular grounds and several open to the public buildings!
Our favourite part of the day was taking off our shoes to explore the main castle building in particular we loved listening to the nightingale floors as we stepped on them – apparently an early security measure!
The audio guide is worth getting to cover more of the castle histories! Not to be missed at the castle is the grounds however as the gardens in the complex were my favourite that I visited in all of Japan.
Leona | Wandermust Family
12. Philosopher's Path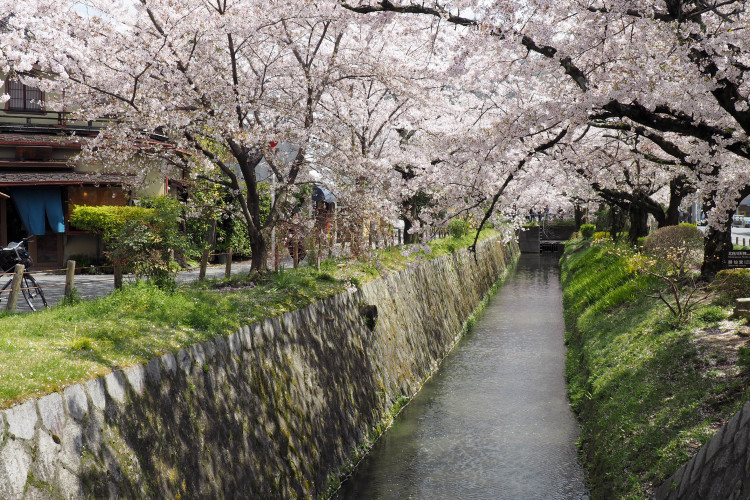 One of the best things to do in Kyoto is to walk the along the Philosopher's Path.
The Philosopher's Walk is a pedestrian mile long stone path that follows a cherry-tree lined canal in East Kyoto in the Higashiyama district between Ginkaku-ji and Nanzen-ji. It is named after the famous Japanese philosopher: "Nishida Kitaro" who practiced meditation while walking this route on his daily commute to Kyoto University.
This is the place to come in Kyoto to marvel at the famous "hanami" (cherry blossom) in the Spring – particularly in April. Here the trees just explode with color, which makes it one of the best places in Japan in our opinion to watch the hanami. The Fall months are also a good time to visit to see beautiful colors.
Read Next: When to Visit Japan (Seasons, Weather, and Festivals)
The Philosopher's Walk is also the perfect way to see more of the many temples alongside it. Each temple is surrounded by a Japanese Garden – themselves something to marvel because of the immaculate attention to detail.
The most famous stopover along the Philosopher's Walk is the Ginkaku-Ji Silver Temple, which has one of the most impressive gardens around it. Everything is so precise, extremely well maintained and so very Instagrammable!
There are many restaurants, cafes and boutique shops along the path to stop over during your walk.
Stefan and Sebastien | Nomadic Boys
13. Kinkaju-ji (Golden Temple)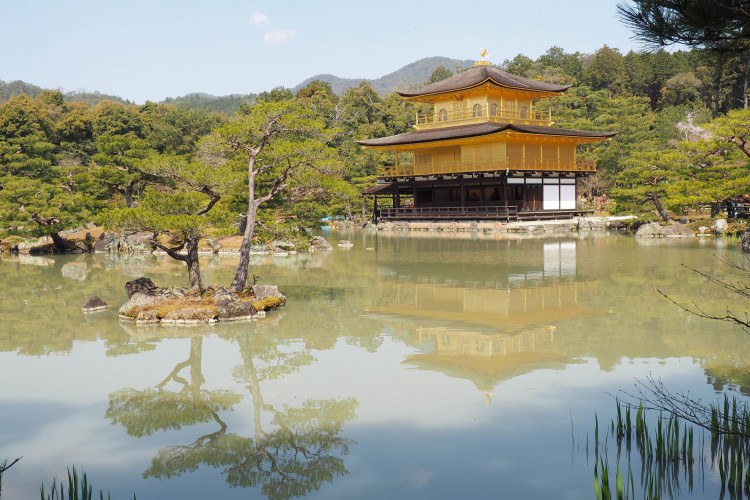 Kinkaku-ji or the Golden Temple in Kyoto has an interesting history behind it – it's a private estate which belonged to the military warlord, Yoshimitsu, who ruled Japan in the Emperor's name in the 1300's. Now it's a Buddhist temple and tourist hub, where people flock around the wooden gate, to snap photos of the golden walls and surrounding pond.
To get to the Golden Temple, is an easy 30 minute ride from Kyoto Station, using the Shinkansen and then a bus. From the bus stop, it's a two minute walk. The gold glistening temple can be easily spotted once past the entrance.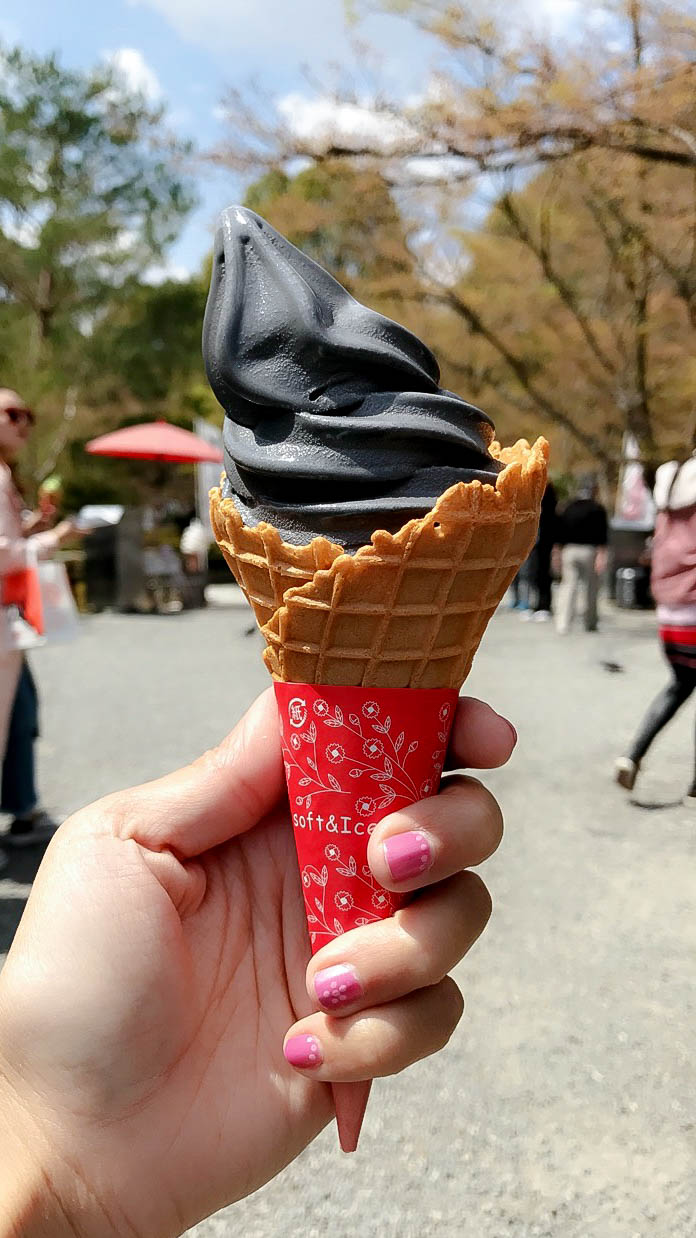 There's an entrance fee and people directing the crowd one way around the temple. I went during early May and saying that it was crowded is an understatement. Tourists, cameras and selfie sticks in hand, paused along the pathway to snap photos and pose for selfies.
The day was hot – if I do recommend a time to go, it would be more towards the cooler months for the weather and to avoid the tourist crowds. At the end of the short hike around the temple are vendors selling food and souvenirs that you can buy to keep as a memory for you're time at the Golden Temple.
Samah | God and Wanderlust
14. Otagi Nenbutsu Temple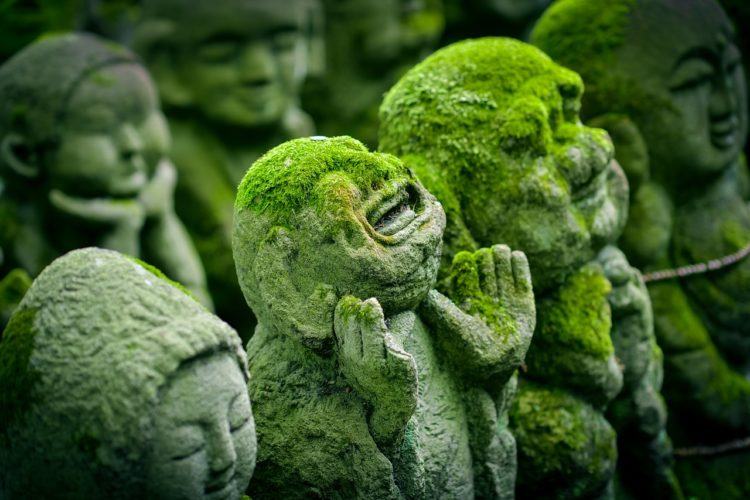 Kyoto has always been a top destination in Japan with its spectacular temples and shrines. However, once you've visited the main sights and still find yourself yearning for more, there's one final temple that many people miss.
If you're looking to get off the beaten path and willing to strike out on public transportation or a short drive for those with rental cars (very brave, but also very rewarding), then you really must find your way to the small, quirky and unique Otagi Nenbutsu temple. This smaller, serene temple sits on the outskirts of Kyoto at the base of Mount Atago.
The temple grounds are peaceful and quiet with none of the tourist coach crowds all jostling for position to get that iconic shot of the Golden Temple. What makes Otagi Nenbutsu different are the hundreds of small hand carved statues standing in ranks outside the temple. These are all donated by local worshippers and all are carved with a different face and look.
Visitors search through the small statues in the hopes of finding one that bears their resemblance! If they look hard enough, nearly everyone will find a version of their own countenance staring back at them.
Corinne | Reflections En Route
15. Show at Gion Theatre
Gion is one of the oldest areas in Kyoto where many people visit in hopes of seeing a Maiko or a Geisha. However, not everyone is lucky to spot a Geisha on the streets of Gion. Instead, we highly recommend buying tickets to a show at Gion Corner. You will not only get to see a Maiko in person but also get to watch her perform one the many dances which can cost you a fortune in the tea houses.
What's more, before the Maiko dance performance there are several other traditional Japanese performing art shows in the theater. These art forms include tea making ceremony, flower arrangement, puppet show, comedy play, and many more. There is an English explanation announced for each for these art shows. All of this for a ticket costing about USD $28 is not bad in our opinion.
Since all of the different art form demonstrations is packed in just 1 hour it might seem rushed to some people but think of it as a trailer of Japanese culture and traditions. The show at Gion Corner is especially something to watch if you are visiting Kyoto for a short duration. Being an indoor event, it's great all year long attraction in Kyoto.
Richa | My Tickle Feet
16. Hiking Kurama to Kibune
Looking to escape the crowds in Kyoto? Head north to the town of Kurama. From Kurama, you can hike over to Kibune. The train ride itself is worth the trip as it enters a stunning well treed mountain valley.
This is a perfect outing on a hot sunny day, as you'll be rewarded with cool shade in the dense, old growth forest. The first part of the hike is steep with plenty of stairs, but worth it for the incredible views especially if you are lucky enough to visit in the fall when the maple trees are glowing red in the sunlight.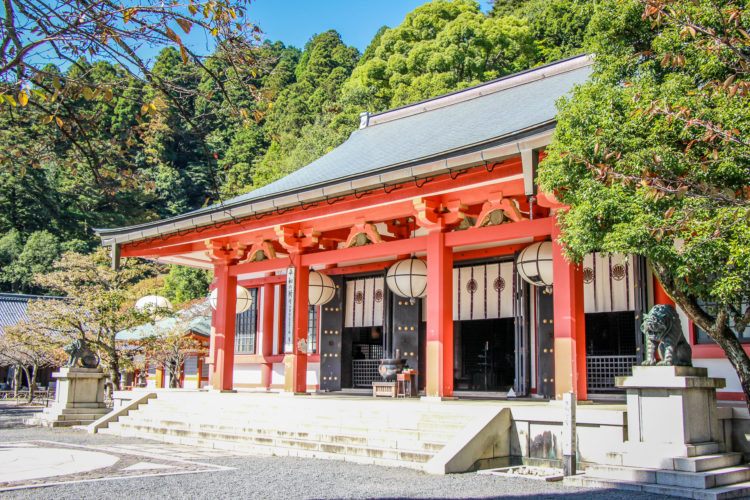 Once you reach the Kurama-dera temple, take a moment to explore the temple and get reenergized before continuing on to Kibune. We recommend taking a picture of the Kibune sign as the signs past this point are only in Japanese.
From the Kurama-dera temple, you'll continue climbing up to the top of the ridge. From there you can decide to head back to the Kurama station or continue on to Kibune. The trail down to Kibune is much more of a natural hiking trail and is steep downwards.
After lunch in Kibune, you can hike back over to Kurama the same way you came or take a short bus ride to Kibuneguchi Station (don't forget change for the bus). The hike from Kurama to Kibune is approximately 2miles/3.3km with a total elevation gain of 954ft/291m.
Celine | Family Can Travel
17). Ginkaku-ji (Silver temple)
Known as the little brother of its more famous sibling Kinkaku-ji or "Golden Pavilion", Ginkaku-ji is one of the most memorable things to do in Kyoto. Having visited both, I was quite surprised to find that Ginkaku-ji was undoubtedly the shogun villa that took my breath away!

Welcomed by an immaculate gravel zen garden on entering the grounds of Ginkaku-ji, I was delighted by the feeling of calm in this peaceful setting. Hugged by a winding stone pathway, a sparkling pond lay in the shade beneath a number of Japanese maple trees and other native plants.
The best part of the gardens was the stunning elevated view over the grounds and Kyoto city from the mossy hillside above, with the sounds of miniature waterfalls and rivers flowing nearby.

A relaxing way to reach Ginkaku-ji is by strolling Kyoto's beautiful Path of Philosophy. Lined with cherry trees, this two-kilometre pathway runs adjacent to a Meiji-era canal where koi fish are easily spotted along the way.

Ginkaku-ji or the "Silver Pavilion" is best visited in the late afternoon, as most day trippers to Kyoto start to head back to their accommodation elsewhere. It's lovely to enjoy the tranquillity these gardens were designed for without the crowds. If you're visiting Kyoto, be sure to find out the dos and don'ts in Japan to help you make the most of your visit!
Alyse | The Invisible Tourist
18. Okochi Sanso Garden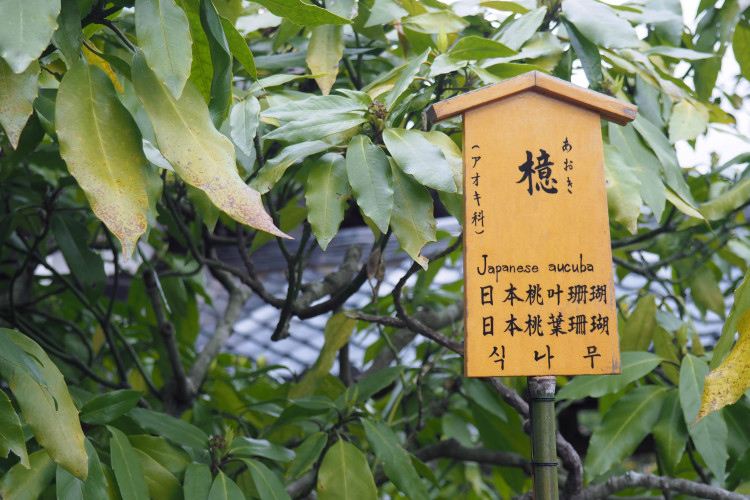 When you are visiting Arashiyama in Kyoto, Okochi Sanso Garden is a stunning attraction that is set in the picturesque outdoors and situated at the rear of the ever-popular Bamboo Grove Walk. The gardens are a hit for all tourist who venture into Arashiyama, which is ideal for anytime of the year, especially during the cherry-blossom season in the months of march and April.
The superb garden setup was originally designed by a Japanese actor in the name of Okochi Denjiro. Okochi created the gardens on his own estate over a 30-year period which included the traditional Japanese houses that is seen throughout two-hectare space of land. The gardens opened to the public in the 1960's after the Okochi had passed away.
Tourist will love visiting the Okochi Sanso Garden for an approximately an hour of two of their time, it's a peaceful walk in nature through well landscaped gardens and various bushlands. You can view the boutique art gallery of various themed arts and gaze over Kyoto City from numerous vantage points.
Perhaps the best bit will come at the end of your walk when you sit down in a traditional Japanese tea house for a delicious green-tea and miniature cake, it's all a treat that will make the 1000-yen entrance fee all the worthwhile.
Anthony | Fair Dinkum Traveller
19. Collect Goshuin/Calligraphy from temples
Japan is an overload of tradition and culture and there are an endless amount of experiences for tourists to enjoy. One the most-unknown yet must-have experiences is collecting shuin (calligraphy) from various temples and shrines; and Kyoto is the perfect place to collect a one-of-a-kind design. A goshuin also makes for the coolest Japanese souvenir, as it is a unique journal chronicling your visit.
To collect the calligraphy first one needs a Goshuin-cho, more commonly shortened to Goshuin, which is the book the calligraphy is drawn into. These books are made of traditional Japanese washi paper and open and close accordion style.
You can purchase a goshuin at nearly every temple and shrine in Japan, each temple usually having a unique design, or for a more traditional experience you can visit a Washi paper workshop (such as Kamitowa in Osaka) where you can make your own hand-made Goshuin book.
With your book in hand you can venture to any temple or shrine, and in one of the little windows of the temple you will see a sign with the Japanese characters '朱印所' – this is where you go to collect your calligraphy.
Each shuin, or calligraphy of the temple/shrine will have the name of the temple/shrine, as well as the date of your visit and sometimes a mantra from Buddha all in Japanese kanji. Collecting the calligraphy from the temple and shrine will usually cost ¥300 and for temples that offer one-of-a-kind designs, they can cost up to ¥1000.
The best way to find limited edition stamps and calligraphy is to look up Japanese Goshuin sites (if you don't read Japanese, Google Translate can help somewhat) otherwise an insider tip is by looking up #Goshuin on Instagram, and looking at the tagged location of pics.
There are many different shrines and temples in Kyoto, and Fushimi Inara, famous for it's red torii gates has a famous goshuin that is said to bring good fortune and luck in business.
Marc | The One Hit Wander
20. Visit some Historic Sites (Tofuku-ji Temple, Genkoan, and Hosenin)
Temples like Genko-an, Hosenin and Tofuku-ji Temple come to mind when we think of Kyoto. These spots are very popular and are scattered around the city and guarantee an experience of historic moments and famous townscapes.
Hosenin
Hosenin, although small, is said to be a sub-temple of Shoren-in found in Ohara. Ohara is a small town that can be accessed within 42 minutes or less by bus. However, it is essential to take a jumper or light jacket along as temperature change varies.
Entrance fee to Hosenin are a tea cake (mocha) and match (tea). After this, you are then led into the house where you can easily discover the running water along the temple (this space feels more like a house) before seating.
If you love and appreciate beauty, quiet places, you will most likely want to visit Hosen in again. The experience and view is just OUT OF THIS WORLD, home to a 700-year-old pine tree, this tree is no doubt magnificent, and you can tell it has been showered with time, affection, love and care from a bonsai master.
There are different eye-pleasing gardens to look at. The path in the garden is wonderful too. It's a short stroll, but intensely healing. You will discover a pond garden that can be viewed from different angles. Once you get to the temple tatami room, you should enjoy your tea, the healing garden views, a Buddhist artwork and altar. The view through the garden to surrounding mountains is fine too. Last,
remember to listen and connect your mind to the soothing sounds of tsuikinkutsu; a traditional musical device. Avoid rushing/skipping any experience. Enjoy each moment and beauty.
Genko-an
Start off by paying your respects to Sakyamuni; a Buddha statue found inside the main building. Head over to the "Window of Confusion" and "Window of Enlightenment". The meanings of these two windows include "Zen state of mind and principles of Buddhism". Stand facing the windows, the square window on the right is named the "Window of Confusion".
This is because the word "Confusion" translates to four kinds of suffering in Buddha's religion: birth, old age, disease, and death. This window will help you realize that there are so many events in one's life that has happened and will happen. These events help shape one's life. The round window on the right is named "the Window of Enlightenment".
This window is said to express the Zen mindset. It proclaims the untainted form of nature, a white, innocent, form…which means to cause enlightenment. It is believed that the circle shaped window represents the universe (round). I believe it is better to first look at the "Window of Confusion", then to look at the "Window of Enlightenment"- it gives you a bigger picture.
On the other side of the windows, there is a Japanese garden, and the beautiful view of fall colors you see through the windows are quite popular. This has made a lot of tourists travel to see these fall colours in autumn.
This might not be the best time for you to travel if you enjoy silence a lot. You can travel in season outside of all. Snowy landscapes and lush greenery are also attractive, so I think you should come in the raining season.
Tofuku-ji
The Tofuku-ji Temple is one of the most visited temples in the city. Perhaps, what made it so is the gorgeous view of autumn leaves during autumn season. The huge temple boasts of over 2,000 m2 vast Japanese garden, where lots of maple trees flourish and deliver radiance with warm colours. The most popular view is from/of the Tsutenkyo Bridge (通天橋), the 100 m bridge which connects Kaisando Hall and Hondo Hall.
The apex season of autumn leaves take place from mid to late November, and the beautiful bridge is usually highly crowded during this period, so it's highly advised to visit in the morning. A famous Zen garden called Honbo Garden (本坊庭園) which has amazing rock gardens is found here. The Hojo is one of the main buildings in the temple.
Balogun | Hol Beach Today
21. Stay in a Ryokan
Kyoto is known for tradition and there is no better tradition in Kyoto to experience than to stay in a traditional Japanese Inn. Ryokans are found throughout the country, but some of the best are found in and near Kyoto. Staying in a ryokan is a completely different experience from staying in a hotel. It's a complete cultural immersion.

Take your meals in your room and experience Kaiseki Ryori (Japanese Haute Cuisine) while wearing a traditional yukata. It's an experience like no other! There are other considerations – you'll sleep on a futon on the floor, which in my experience is immensely comfortable, although I did opt for the western style pillow!
Traditional ryokans also have communal bathing facilities, which follow strict cultural rules and customs. They're great fun, even for an introverted English woman!
3 of the best ryokans to explore in Kyoto are:
• Gion Komatsu – with private bathrooms
• Ryokan Izuyasu – built in 1839
• Luck You Kyoto Bukkoji-Higashimachi

The names may have been westernized, but the experience is truly Japanese.
Sarah | A Social Nomad
22. Participate in or Watch a Tea ceremony
Participating in an authentic Tea Ceremony was one of the highlights of my 5-day Kyoto trip in Japan. I chose not to do it in a teahouse, but in an authentic Japanese home with quite a limited group of participants.
During the tea ceremony we got to stay on the tatami (traditional Japanese straw mat) and enjoy the required steps of a tea ceremony. We found out many things about the existing types of green tea in Japan (matcha), how it should be properly prepared, why is the tatami designed that way and what are the things you need to say before and after you sip your hot tea.
During my tea ceremony I was with only 2 other travelers, so the atmosphere was very intimate and nice. We got to taste homemade Japanese tea sweets and we could ask as many questions as we could.
The tea place where I went is located right across the street from Kinkaku-ji (the Golden Temple in Kyoto) and it is called Tea Ceremony Kyoto. I chose to do this activity late in the afternoon, when the sun was setting beautifully over that nice Japanese home, but you can do it at any time of the day.
Doing it in the morning would be a great idea, as the matcha tea will give you an energy boost for your next activity!
Our host was a certified tea ceremony master which studied for this at Urasenke, the biggest school of tea ceremony in Japan, so we also got to find out many insights about this practice and why is green tea so important in this country.
I won't say more about this activity because I don't want to spoil the other interesting details that you will find out there, but if you have 45 spare minutes to learn more about the Japanese culture, participating in an authentic tea ceremony is definitely worth your time!
Yulia | Miss Tourist
23. To-Ji temple
Tō-ji Temple (translated as "East Temple") is one of the many UNESCO World Heritage Sites worth exploring in Kyoto. Its most famous structure is the 5 story wooden pagoda towering above the temple grounds.
Built in the year 828, this gojū no tō stands at 54.8 meters and has the distinction of being the tallest wooden tower in Japan. It is located in the southeast corner of the Tō-ji Temple grounds but it's height makes it difficult to photograph in its entirety. It is normally closed off to the public but on special occasions the ground floor is open for viewing.

As you walk around the serene gardens and turtle filled pond, make sure to visit the other two large wooden buildings on the temple grounds: Kondo Hall and Kodo Hall. These massive structures were originally built in the year 825.
Both were badly damaged by fire and rebuilt in 1486 in the contemporary architectural style from the Edo Period. The Kondo Hall houses a large statue of Yakushi Buddha, and his two attendants, the Nikko and Gakko Bodhisattvas.
The Kodo Hall has curated a collection of 19 large statues that are arranged accordingly to a mandala. It is an impressive display of historical religious relics to behold but not photograph (photography is prohibited in both buildings).

The Tō-ji Temple grounds are open everyday from 8:00 am to 5:00 pm (entry until 4:30 pm) and the admission price is 500 yen (which is increased to 800 yen for irregular special openings of the pagoda).
For shopping enthusiasts, on the 21st of each month there is a special flea market held in the park area surrounding the temple. It's an excellent place to find bargains on second hand Japanese goods (pottery, kimonos, antiques, etc.)!
Paul | Chow Traveller
24. Eat all the Street Food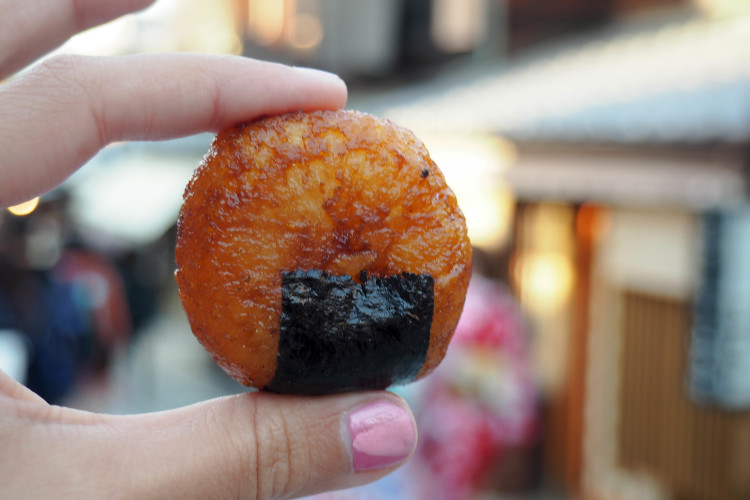 The Japanese have elevated simple street food to an art. You find gatherings of food stalls around temples, in markets, at street festivals, lining roads leading to tourist attractions and in the middle of busy cities.

The prize for freshest best tasting street food in the most interesting location goes to delightful tidbits found at the Nishiki market. Both sides of this long street are packed with street vendors. Some notable stands include Uoriki, a fish shop that has been around since 1919 and stores selling Dashimaki Tamago a Kyoto specialty of flavored eggs folded into many layers.

Other locations where street food abounds are the areas around temples. The perfect example is the area around the Fushimi Inari shrine where multiple stalls line the long avenue leading up to the famous gates.
The stalls tend to be neat and organize and the food meticulously prepared and presented. When people say Japanese food presentation is as important as the taste itself, they are not kidding. It is a pleasure to merely look at the food.
Of course, the ultimate tests of Japanese street food are the flavors, and they don't disappoint. Some of the most popular include chilled salted cucumber on a stick; takoyaki which are little bits of octopus deep fried in batter; pork dumplings or nikuman, and the all-time favorite, Ikayaki, delicious fried squid.

An ideal evening out in any Japanese city includes vendor hopping along a string of Japanese street food stands.
Talek | Travels with Talek
25. Teramachi Shopping Arcade
After visiting the picturesque culinary displays at Nishiki Market, it only makes sense to continue on to two connecting shopping arcades: Teramachi and Shinkyogoku. The two shopping streets run parallel from Shijo Dori at the southern end to Sanjo Dori at the northern end, with Nishiki Market extending west from Teramachi.
What makes these markets great for visiting? For starters, they are totally covered, so they make a great escape for a rainy day or if you're all templed out and need something different to do in Kyoto. Teramachi features an interesting mix of antique shops, second-hand clothing stores, bookshops, and art galleries.
On the other hand, Shinkyogoku is where you can load of on tacky Japan souvenirs for your friends and family back home. Consumerism aside, there is some cool history behind the shopping arcades. Teramachi literally means "temple town," as a Japanese warlord in the 16th century moved many temples here in an attempt to control the clergy.
As out of place as it may seem, we loved Nishiki Tenmangu Shrine, a quaint spiritual oasis in the middle of the sea of souvenir shops in Shinkyogoku market. This peaceful little shrine has a history that goes back 1000 years. Only in Kyoto!
Nick | Spiritual Travels
26. Kennin-ji Temple
In a city renowned for beautiful temples and shrines, Kennin-ji was one of our favorites. Kennin-ji is the oldest Zen Buddhist temple in Kyoto and dates back to the 13th century. The temple was founded by Eisai, a Buddhist monk who introduced both Zen Buddhism and tea cultivation to Japan having learnt about them while studying in China.

Kennin-ji is a working temple, where monks in training wander the grounds in quiet contemplation. You can freely visit most of the temple buildings and grounds and enjoy the peaceful atmosphere.
But you should definitely pay the small fee to enter the is the main halls. You can then explore the temple's highlights including the stunning "Twin Dragons" mural in the Dharma Hall that was commissioned in 2002 to commemorate the temple's 800th anniversary.

There are several other important artworks on display from the Edo period, including a replica of Tawaraya Sōtatsu's gold screen painting Wind and Thunder Gods that has been proclaimed a national treasure.

We loved the zen gardens throughout the temple complex. Featuring maple, moss and gravel elements, they are perfectly serene. One of these, the Chō'ontei Garden (Garden of the Sound of the Tide) is a simple and elegant space.
It was created using three stones that represent Buddha and a servant Boddhisatva on each side. There is also a zazenseki, a stone for seated meditation.

Kennin-ji is a quiet haven in the Higayashi district, close to Gion.
Katy | Untold Morsels
27. Iwatayama Monkey Park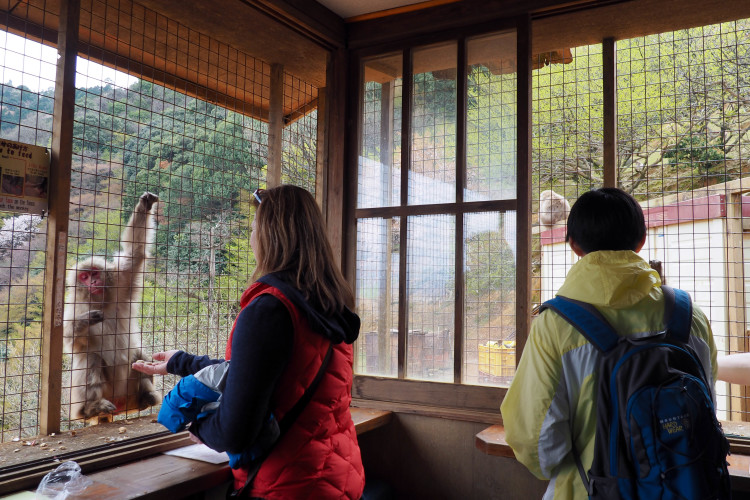 A great place for nature and animal lovers to visit in Kyoto is the Iwatayama Monkey Park. High on a hill in the Arashiyama district, wild Japanese macaques roam freely, their playful personalities delighting visitors of all ages.
It's a steep hike to the open area at the top where the monkeys hang out, but the effort is worth it to see these cuties frolic around. For an up-close experience with the monkeys, you can buy some small bags of fruit and feed them from inside a fenced hut. It's entertaining to see how excited the monkeys get, some even trying to reach through the holes in the fence to grab the snacks!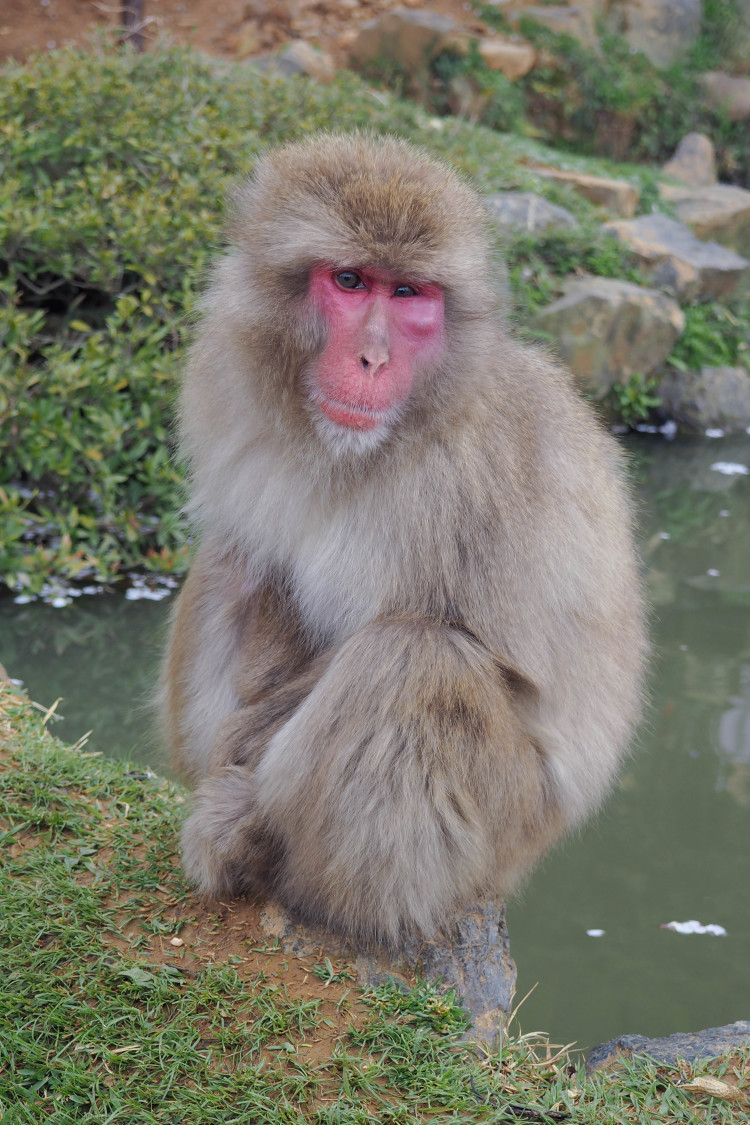 The monkey park is open year round, but a great time to visit is during the birth season, which occurs between March and September. This is your best chance to see baby monkeys. Another nice time to visit is in autumn when the maple trees along the trail are changing colour.
To have a safe and enjoyable visit to the monkey park, make sure you don't bring in any food and don't stare, chase, or touch the monkeys. You will also need suitable hiking shoes for the walk to the top.
Rhonda | Travel? Yes Please!
Hopefully you've found at least a few interesting things to do in Kyoto after reading through this lengthy list! What are you most excited about on your trip to Kyoto?!