Wondering what to do in Harajuku? There's so much to explore in this Tokyo neighborhood that it's hard to know where to begin. Luckily, this handy Harajuku guide has got your back. Read on to discover the best things to do in this uber-cool area.
On my whirlwind of a trip to Japan last year, one of the places I was most excited to visit in Tokyo was the quirky little area of Harajuku. I had heard a bit about it, but visiting was a whole other story. And I honestly didn't realize how much time to account for the neighborhood since I under estimated just how many over-the-top and intriguing things to do in Harajuku awaited me!
Harajuku is known internationally as one of the most fashion-forward places in Japan – and, perhaps, the world (and there's tons of things to do in Harajuku). It's the home of kawaii, or Japanese "cuteness" culture.
This bustling neighborhood has birthed many of the country's most eccentric trends and is always filled with style-obsessed teenagers sporting the latest cutting-edge designs.
It's a fascinating fashion whirlwind, and the place to see and be seen while you're in Tokyo. Yet there are even more things to do in Harajuku than shopping and ogling the outlandish fashions, believe it or not. From shrines to karaoke, there's a lot to experience in this thriving cultural hub.
Read Next: Top 35+ Things to do in Tokyo (Bucket List + Itinerary Inspiration)
Harajuku Street Guide and Attractions (Best Things to do in Harajuku)
Meiji Shrine & Inner Garden
No Harajuku guide is complete without a mention of the famous Meiji Shrine. Dedicated to the late great Emperor Meiji, the iconic shrine is surrounded by a dense forest which is particularly beautiful during the sakura and koyo seasons.
Read Next: When To Visit Japan (Seasons, Festivals, and Crowds)
Yoyogi Park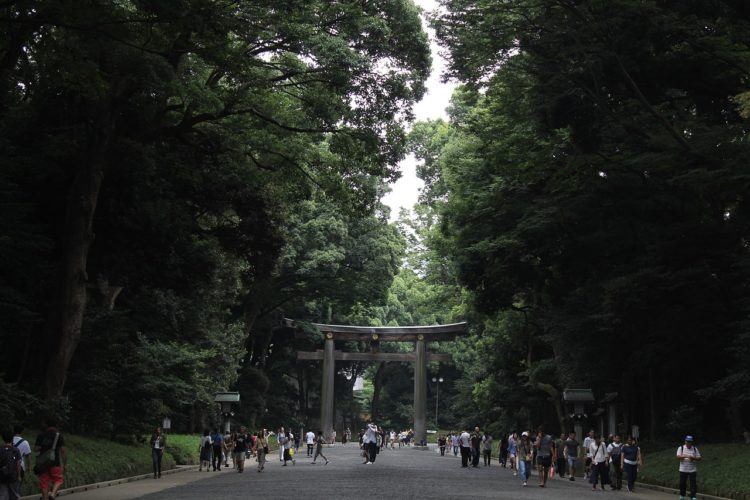 Located opposite Harajuku station, Yoyogi Park is one of the most scenic spots Tokyo has to offer. You can enjoy a picnic or rent a bike and cycle through the park. It's also a very popular blossom-watching spot during the spring.
On Sundays, hundreds of artists and hobby groups gather in the park to perform, practice and socialise, which makes for very entertaining people watching.
Takeshita Street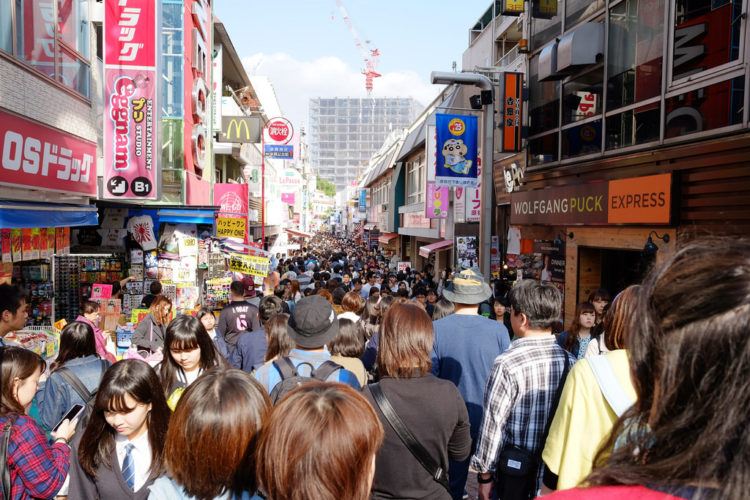 Takeshita street epitomises Japanese pop culture so if you're interested in kawaii fashion it should top your list of Harajuku attractions. Many of the country's kookiest trends are born here and it's a prime spot for observing Japan's trendy teen culture.
Tokyu Plaza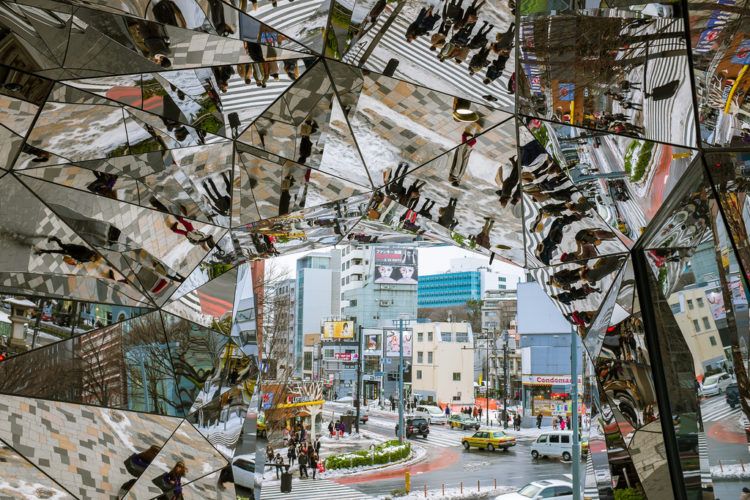 This mall puts the 'extra' in 'extravagant'. Its eye-catching exterior appears to be made of Kiriko cut glass and the mirror emblazoned entrance is a great spot for a mind-boggling selfie. Head to the 14th floor observation deck for sweet city views or lounge at the luxe roof terrace on the 6th floor.
Moshi Moshi Box Harajuku Information Center
View this post on Instagram
If you don't feel like lugging your bags around all day, storage at the Moshi Moshi Box will only set you back $4.50 per item. They also offer maps and tons of other helpful info. Best of all, it features a giant candy-coated world clock – a veritable kawaii landmark.
Hedgehog Café Harry Harajuku
View this post on Instagram
This cafe takes cute to a whole new level. For $15 you can spend a blissful half hour petting, feeding and of course cuddling adorable baby hedgehogs. Rest assured, the hedgehogs here are well cared for and regularly rotated to ensure they aren't overexposed to guests.
Shop NOA
View this post on Instagram
If you're into taking fun photos with your friends – and let's be honest, who isn't? – then Shop Noa is one of the best things to do in Harajuku. It was Japan's first shop dedicated entirely to purikura (cutesy photobooths with lots of filters and stickers). There are hours of fun to be had inside these machines and you can even rent costumes for added excitement.
Karaoke Kan
View this post on Instagram
Karaoke Kan is one of Japan's most iconic karaoke chains. It's a light-hearted, reasonably priced venue with some decidedly dangerous all-you-can-drink deals. There are three branches along Harajuku's Meiji-dori street and they're all open until 5am – have fun!
Togo Shrine
View this post on Instagram
Harajuku attractions aren't all kitsch and kawaii. When you're all shopped-out (yes, it can happen), head to the Togo Shrine for a spot of peace and quiet. It's hidden just behind Takeshita street but it feels like a different world entirely.
Take a few breaths and learn about one of Japan's greatest naval heroes, or enjoy a walk around the little garden and pond area.
Harajuku Shopping
Ask anyone for advice on what to do in Harajuku and they'll likely tell you to shop 'til you drop. The area is famous for its shopping, so it would be rude not to indulge, right?
You'll see a couple of your typical chain brands here but the real draw of the area is that it's a mecca for kawaii fashion.
There's a reason Gwen Stefani sung "You Harajuku girls … you've got some wicked style." From vintage shops to far-out fashion havens, the busy Harajuku streets are filled with the craziest, most creative selection of stores you've ever seen.
A visit to the following list of stores is equal parts shopping and sightseeing; it's guaranteed that you'll come away having learned something new about kawaii culture by the end of the day.
Largest Daiso in Tokyo
View this post on Instagram
Daiso is a Japanese 100 yen store chain that sells everything you could ever want – and more. Tokyo's largest branch can be found in Harajuku is a bargain-lover's nirvana.
WEGO
View this post on Instagram
WEGO sells super cool, budget-friendly streetwear. It's vintage-inspired but all of the clothes are actually brand new so you should be able to find everything in your size – bonus!
Kiddy Land
View this post on Instagram
Kiddy Land is toy heaven. It's a five-floor department store divided into themed rooms based around different cartoon characters. Who hasn't always wanted to visit Snoopy Town or Hello Kitty Land?
GR8
View this post on Instagram
From the outside, GR8 resembles a traditional Japanese garden but once inside it's a neon-lit showcase of the hottest urban fashions. They even carry Kanye's notoriously hard-to-come-by Yeezy line. Hope you brought your wallet!
Dog
Any Harajuku guide worth its salt will tell you to head to Dog. It's an underground Aladdin's cave of fashion that's seemingly dictated by the motto "too much is never enough." The store is so influential in the world of Japanese fashion that the shop floor employees regularly earn themselves magazine spreads and TV cameos.
Panama Boy
This boho-hipster secondhand store is a great spot to bag some bargains. Its stock tends to be less outlandish than your typical Harajuku boutique. Head here to score levi cutoffs, flowy dresses and vintage designer handbags.
Oedo Kazuko
Tucked away inside a basement, this hidden gem is the place to buy kimonos in Harajuku. As well as their colorful garments they sell beautiful accessories including hairpins and beaded bags.
Unfollow
This hipster hotspot sells a mixture of vintage items and edgy streetwear. Its carefully curated selection of garish shirts makes for a fun try-on session and their reconstructed vintage jewelry will definitely catch your eye.
Pass the Baton
View this post on Instagram
This concept thrift store aims to link two lives together through the passing on of clothes, furniture and antiques. Each item comes with a photo of the previous owner and a short note explaining its meaning to them.
Where to Eat in Harajuku
Wondering what to do in Harajuku after shopping? Stuff your face, of course. One of the best things to do in Harajuku is eat – the food is out-of-this-world delicious! You wouldn't expect boring fare in Japan's quirkiest, most creative neighborhood, would you?
There are a ton of kawaii treats on offer here that often look even sweeter than they taste! Harajuku is a sugar-addict's heaven; crepes, ice cream and crunchy pastries are a major component of Harajuku street food.
Rest assured, you can also enjoy more traditional savoury dishes such as soba and gyoza. Hope you're hungry!
Totti Candy Factory
View this post on Instagram
Freshly spun, brightly colored and bigger than your head, Totti's rainbow cotton candy makes for a truly awesome sweet treat. They also sell kawaii candy and cake pops. Careful you don't get a toothache!
Zaku Zaku
View this post on Instagram
Zaku Zaku is famous for its croquant chou, which is a crispy, nut-coated pastry filled with custard cream. You can also order it in cone form and enjoy a dollop of creamy, soft-serve ice cream on top. Yum yum!
Rainbow Pancake
View this post on Instagram
From caramelised apple to sweet potato, the sky's the limit when it comes to toppings at this sweet little restaurant. The pancakes are fluffy and portions are generous, so come hungry!
Kawaii Monster Cafe
View this post on Instagram
Eating at this quirky cafe is one of the most memorable things to do in Harajuku. You enter through the mouth of a giant monster and things only get crazier once you're through to the other side.
With distortion mirrors, garish colours, giant bunnies and a cake-shaped carousel, it's sort of like an even wackier, kawaii version of Willy Wonka's chocolate factory.
Reissue
View this post on Instagram
This ultra-cool cafe is the home of kawaii coffee art. Show one of the latte artists a photo of your pet, spouse or favourite cartoon character (the sky's the limit here, really) and they'll recreate them in foam.
Marion Crêpes
View this post on Instagram
Crepe stands are a big part of Harajuku street food culture and Marion claims to be the oldest stand in Japan. Filled to the brim with sugary goodness, their fresh, buttery crepes are the perfect mid-shopping snack. Order the Mega Marion for an ice cream, cheesecake and chocolate sauce extravaganza.
Calbee Plus
View this post on Instagram
Chocolate covered potato chips are a popular snack in Japan. Calbee Plus serves them freshly fried with sauce and soft serve ice cream. Ditch the diet and get yourself a tub of this calorific goodness!
Harajuku Gyozaro
 

 

 

View this post on Instagram

 

 
This small restaurant is no-frills food at its absolute best. Choose fried or steamed dumplings and enjoy them from a countertop stool. There's an ever-present queue outside but it's definitely worth the wait.
Dobutsuen The Zoo Ice Cream Shop
Affectionately known as 'the smallest zoo in the world', this ice cream joint serves up adorable animal-shaped scoops. The shop looks like a vending machine but the cones are actually served by staff hiding inside.
A trip here is definitely one of the cutest things to do in Harajuku – and that's saying something.
Anywhere Door
This dessert cafe is famous for its Insta-worthy Harajuku apples. Chunks of Japanese Jonathan apple are wrapped in creamy mousse, sprinkled with white chocolate and then sprayed with red or green edible dye to create this uber-realistic treat – and it tastes even better than it looks.
Bar Bonobo
This intimate venue feels like someone tried to compress Harajuku's nightlife into a two-storey house. Bar Bonobo comprises a cocktail bar, a nightclub and a music library. It's a chilled, cosy spot that's perfect for kicking off your Harajuku night out.
Baird Beer Taproom Harajuku
This place is a quintessential izakaya – the Japanese equivalent to a pub or tavern – which means it's an ideal spot to see how the locals get down. The staff are welcoming and the craft beers are delicious, so there's no real excuse not to stop here after a hard day's shopping and sightseeing.
Kamakura Matsubara-an Keyaki
Did someone say 'handcrafted soba'? Enjoy noodles every which way at this secluded Harajuku restaurant, whether you like 'em cold, covered with daikon or on the side of chargrilled chicken.
Gion Tokuya
This dessert shop blends trendy and traditional in the best way possible. Located in United Arrows HQ, Gion Tokuya serves up a variety of classic treats such as wasanbon (fined grained sugar), mochiyaki shiruko (sweet bean soup) and kakigori (shaved ice desserts). It's a delicious way to learn about Japanese food culture and if you miss it, you're missing out.
Hopefully this guide of things to do in Harajuku, Japan has helped you figured out what to do while you're strolling down Takeshita and Harajuku Street! What are you looking forward to in Harajuku?!
Photos via Panama Boy | Takeshita Street | Tokyu Plaza |