Stuck inside and looking for something else to do besides netflix and chill? Bored of all those 1,000+ piece puzzles (I feel you). I've got plenty of travel-themed staycation ideas in here, and thankfully, they're all available from the comfort of your living room. No plane tickets required.
In an effort to entice you all to try the #TravelAtHome movement and help curb your never-ending wanderlust during this time of utmost uncertainty, I've compiled a whole long list of travel-related destination-specific activities for you all to enjoy.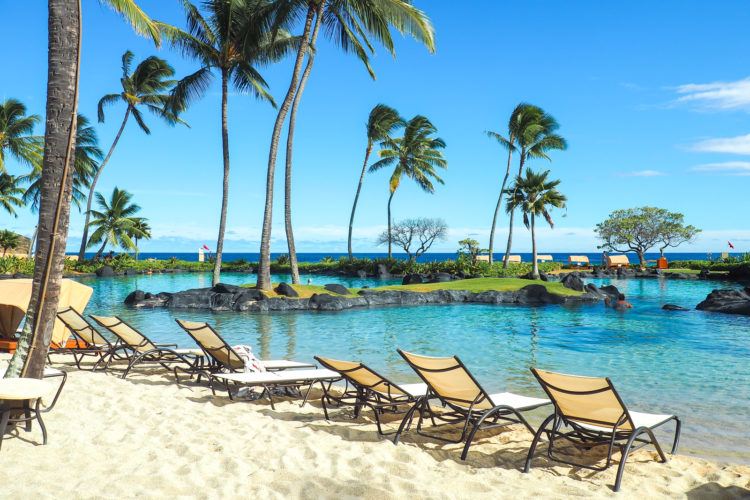 We've all seen that wild photo of a couple in bathrobes lounging on lawn chairs in their living room drinking champagne with the waves of the sea plastered on their TV. And if you haven't, well, you're welcome. Why'd they do this? They had to unfortunately cancel their 53rd wedding anniversary cruise trip, and decided to make the most of it.
It got me thinking – they must be onto something. Why not recreate travel experiences at home? It's sure as heck a lot cheaper, and there's no need to spend hours agonizing over what to pack and standing on dreaded entry lines to attractions.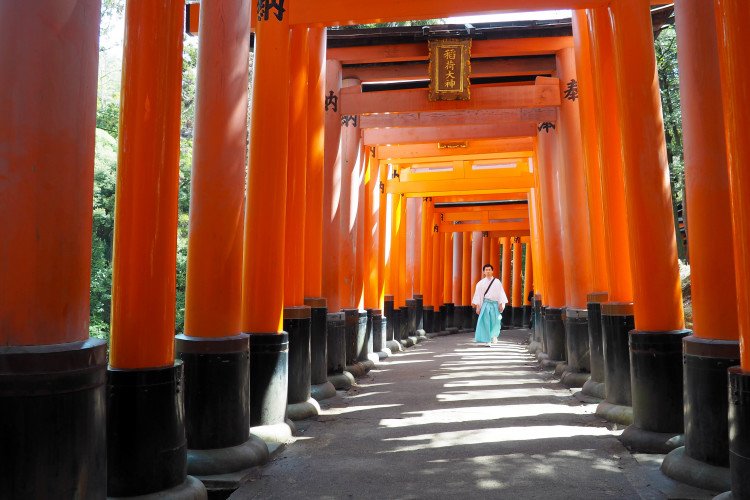 What are you to do when you can't get travel off your mind, but going anywhere juuuust isn't at all possible – well, besides your living room (and kitchen and bedroom and balcony) of course? Since we're all pretty much stuck inside for the foreseeable future (or at the very least, the next few weeks/months), I thought it'd be fun to put together this guide of travel-themed staycation ideas!
These staycation ideas are packed to the brim with virtual museum tours, traditional recipes, dance and calligraphy lessons, iconic movies and films to watch, and oh so much more. Look through the whole list for one-off travel-related inspirations, or pick a specific destination and choose a few to make a whole day out of it!
I'll be adding more as the next few days go on, as I've already thought of more destination-specific staycation ideas with the help of my friend Caroline from Pictures & Words. No, we didn't stay up until 1:30am on a random Tuesday night practicing social distancing through chat. :p
Disclaimer: Yes, I admit some of these ideas are kinda stereotypical and a bit ridiculous, but that just adds to the fun! The activities and ideas below are meant to be fun and lighthearted, and in no way am I attempting to ridicule or make fun of any cultures. Did I need to explain myself? Who knows these days – times are wild.
Tips for these travel-themed staycations:
Plan a little in advance. I'm not telling you to go out and buy all the things, but if you intend on cooking/baking, you'll probably want to make sure you have all the necessary ingredients.
Get your whole family involved! A lot of these ideas can be custom tailored to those with small kids, and you can even do a lot of things virtually with your family from afar (facetime and zoom make great options).
Make a plan and stick to it. You don't need to have every second of your "travel day" planned out, but I guarantee you without some sort of schedule, you'll go back into your old habit of heating up leftovers in the microwave and cleaning the bathroom. That certainly doesn't spell ridiculously fun travel staycation to me.
And on that note – Don't think about work/daily chores. I know it's oh so hard when you're stuck in your house surrounded with all your to-do's, but try your best! Who likes to answer emails and worry about the dishes/dirty clothes while on vacation, virtual or not. Trust me, they ain't going nowhere. You can do them when you get "back" from your staycation. Better yet, if you know that'll stress you out, do all the un-fun stuff before you "leave".
Get creative, and don't feel silly! No one's judging you! Heck, no one will even see or know you're doing any of these activities (unless you plaster photos/videos on social media, which I highly recommend – be sure to tag me on IG @apassionandapassport and I'll share my favorites – with your permission of course). I'd love to see how your #travelathome days are going!
pin these for later!
---
1. Parisian Dream
Paris is always a good idea, even when you can't physically get there. Skip the long plane ride, and transport yourself to a French fantasy-land, complete with all the croissants and crepes and macarons you can eat, Eiffel Tower photoshoots, and even see some masterpieces by Michaelangelo at the Louvre (virtually of course).
Set the scene by pretending you're a Parisian for the day! French women (and men!) tend to look effortlessly chic, so dress accordingly! Put on something simple yet semi-tailored, avoiding any neon colors or flashy attire. Minimal makeup goes a long way here as well. Just skip the cigarettes (it seems like the French have a slight love affair with lighting up)- smoking's never cool no matter the country (IMO).
Psst: if you wanna feel more French than ever, check out my friend Lena's post on French Lifestyle Tips – great for this travel staycation and/or in your general, everyday life!
How to Have the Perfect Parisian Staycation:
Start with a typical French breakfast: A typical french breakfast is light, sweet, and fairly simple, and thankfully, easily replicable at home! Breakfast is actually the least important meal of the day over here in France, so no need to go all out (save that for later). Have a croissant (or other light pastry), a piece of fresh fruit, and a cup of coffee, and you can basically call yourself a Parisian. If you have a balcony or porch, set up outside and eat in the sun!
Escape to the Louvre: Next up, "head on over" to the Louvre. And thankfully, since this is obviously a virtual tour of the super-popular art museum, no need to wait on ridiculously long lines or buy expensive tickets! Check out the Egyptian antiques, the stunning ceiling of the Apollo Gallery (it's absolutely gorgeous!), and more in the virtual tour. Click here for a free virtual tour of the Louvre.
DIY Creperie for lunch: Ever wanted to learn how to make those super-thin and perfectly-moist pancakes, which seem to be a delectable staple in France? Now's the time to practice your crepe making skills! And psst – it's really not as hard as you think. Here's a basic crepe recipe – I bet you already have all the ingredients at home (flour, eggs, milk, water, salt, and butter). Add some melted semi-sweet chocolate and strawberries on top for a sweet crepe (whipped cream optional), or cover the crepe in melted butter and sprinkled with granulated sugar for a popular crepe au sucre. Listen to some french cafe music to really set the scene (here's a great spotify playlist).
Take a "day trip" to Giverny: This wouldn't be possible in a real-life scenario, but thankfully, since we're confined to our own houses, a day trip over an hour away to the town of Giverny is definitely do-able! Have you heard of Monet's Water Lilies – those famous oil paintings by french impressionist Claude Monet? Well, you're in luck, because Giverny is where he lived and worked for decades! Tour Monet's Garden here, and watch a guided tour of the gardens here.
Learn about the history of the Eiffel Tower: Need to brush up on your Eiffel Tower facts? Did you know that the tower actually shrinks in cold weather, or that repainting the tower which happens every seven years takes 60 tons of paint?! Here are a ton of interesting facts, and here's a great video for the kids (skip the intro by fast forwarding to 1min:30 seconds)!
"Climb up" the Eiffel Tower: Yeah, this one's a bit of a stretch considering there's no possible way to teleport yourself over to Paris, BUT if you're looking to get a bit of exercise today, find some stairs! Climb to the "first level" of the Eiffel Tower in 328 steps, and 674 steps to the "second level". Sure, the views won't be the same, but hey, gotta burn some calories if you wanna offset all the crepes and macarons. When you reach your desired level, reward yourself with this 360 degree view of Paris from the top deck of the tower. Be sure to swipe all around as the views change depending on which way you look! If you don't have any stairs in your house/apartment building, consider climbing a few hills (if you live in SF for example) or do some leg lunges instead.
Afternoon Parisian Picnic by the Eiffel Tower: This is my favorite staycation activity on this whole Paris-inspired day (besides making and eating the crepes of course). Now that you've learned all about the iconic tower and essentially climbed all the way up, it's time to enjoy it by rewarding yourself with a parisian-inspired picnic! A few tips for setting the scene:

Be sure to buy/gather all your picnic provisions ahead of time! Buy some olives, dried fruits, nuts, biscuits, an assortment of french cheeses and charcuterie (mmm my favorite), baguettes, and of course champagne. There probably aren't any French fromageries open around you, but you can most likely find a few cheeses in your local supermarket – look for brie, camembert, comte, and munster.
If you're looking for something a bit more substantial to eat, consider making a few croque monsieur to "bring along"! It's really quite simple and sounds a lot fancier than they really are – essentially, a croque monsieur is a hot sandwich of ham and cheese (typically Emmental or Gruyere, but use what you got). Wanna spice things up a bit? Make a croque madame by adding a fried egg on top. Croque Monsieur recipe here.
Throw up a photo or video of the Eiffel Tower on your TV or project it onto a light-colored wall.
Lay out a cozy blanket to sit on for your picnic (sure, it won't be the same as lounging on a manicured garden in Paris, but hey, we're making the most of it).
Put on that beret you bought in 2006 (or some other chic hat if you have one)
When it's all set up, stick your baguette in a cute tote and stroll on into the "living room" err the Champ de Mars (the huge grassy area around the Eiffel Tower) and enjoy!
And if you're feeling absolutely ridiculous, have a virtual photo shoot in front of the TV Eiffel Tower. I mean, there are ALWAYS couples and families taking photos (I even did a solo photoshoot on my last visit). Don't miss out – set up the tripod and just roll with it (and now you've got the entire scene to yourself).
Learn how to make macarons: Time for a midday snack break! Yup, there's lots of eating during this Parisian staycation. This one's for all the wanna-be bakers out there! You cannot "visit" France, and Paris in particular, without indulging in a few of these sweet meringue-based treats. Note that it'll take a little while to make the macarons (around 2 hours), so plan out a decent portion of the day for this. I found a super simple recipe for us all, which I'm excited to try out in the next few days (be sure to tap out the bubbles!). If you're feeling extra ambitious you can even make your own buttercream, although no judgment if you use store bought.
Watch a virtual performance at the Moulin Rouge: End the day with a virtual performance at Paris' most iconic theatre. Dress up in your finest attire, and project the clips below onto the tv. The Moulin Rouge is best known for its glamorous and festive show "Feerie". If you just want a quick taste of the action, the Moulin Rouge website has a free 5-minute promotional video which showcases members of the troupes and their elaborate costumes. While you can't watch the whole performance online, you can learn about the dancers (in this great video! – see what really goes on backstage and how they prepare for each performance, and this one too!), and watch select clips of the show here. Or just put on the movie "Moulin Rouge" if that's more your style. No matter what you watch, enjoy with some fine French champagne.
---
2. Hawaiian-Inspired Tropical Staycation
Craving a tropical vacation or just want to escape to a warmer state of mind? No matter the weather outside your window, you can have an idyllic day of sipping fresh fruit smoothies, playing ukulele, and learning how to hula dance!
Throw on a floppy hat, some sunnies, and a colorful, flowy dress. And yup, being barefoot is all part of the scene, so you don't even need shoes to complete your look. If you really wanna go all-out, crank up the heat (although I'd highly advise against this since it'll likely shoot up your electric bill quite fast).
How to Have the Perfect Hawaiian Staycation:
Make a colorful lei and/or tropical flower crown: To really get into the Hawaiian spirit, you've gotta dress the part – lei included! Now, I totally get if you don't have fresh flowers hanging around (although you could probably find a cheap bouquet at your local supermarket), but there's other ways to make these colorful garlands. Get creative and see what you have laying around the house- you can make them with plastic straws and construction paper, yarn, tissue paper, and even money (for that "authentic" leaf look). Listen to some calming Hawaiian music (great band/playlist on Spotify here) while you make your wearable craft!
Take a helicopter ride above the Na Pali coast in Kauai: There's nothing like seeing the islands of Hawaii from the sky; those dramatic peaks amongst that crystal-clear turquoise water is a true sight to be seen. We've been lucky enough to take a few heli rides on our recent trips to Hawaii (Maui heli photos here and Kauai heli photos here if you wanna take a peek), and can honestly say, they've been some of our favorite travel experiences to date! Since traveling to Hawaii's not an option these days, why not take a virtual heli ride instead (perfect for those with a fear of heights!). A few virtual heli-tour options: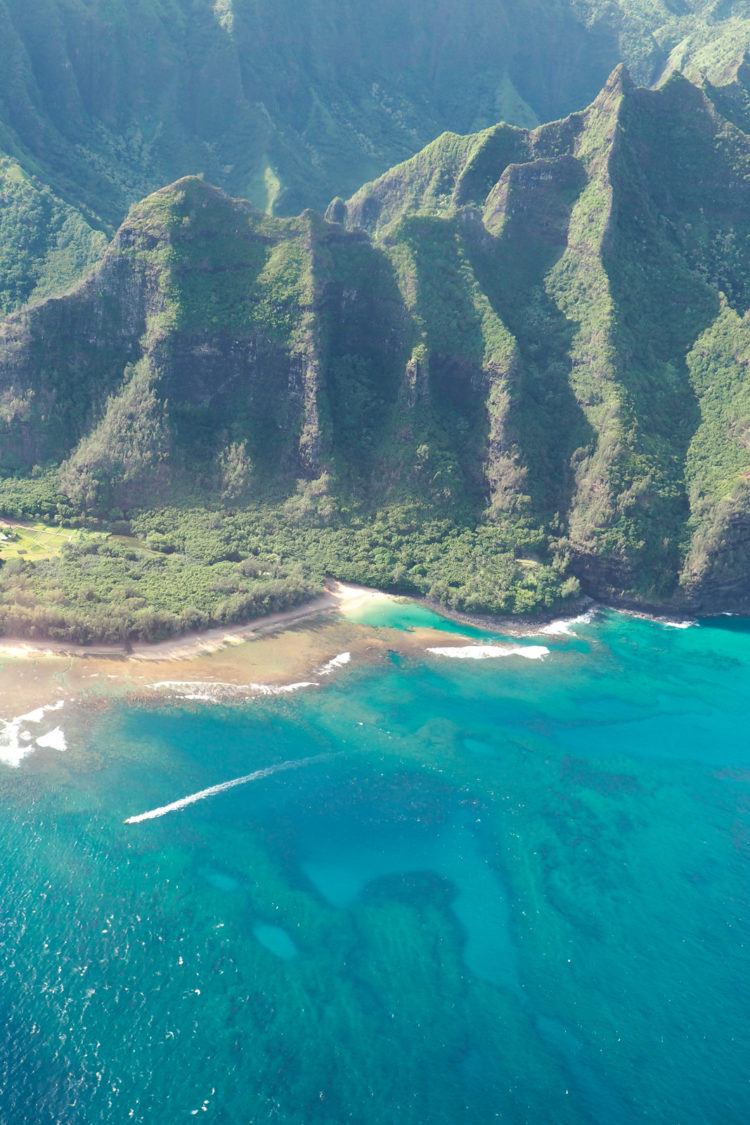 Learn how to hula dance: Hula is a Polynesian dance form accompanied by a song or chant, and you can easily learn how to do so yourself! Yes, it's more than swaying your hips back and forth, haha. Check out these step-by-step hula lessons on this youtube channel (there are tons of songs to choose from and a bunch of hula basics). Learn more about Hula here. Psst: if you think you may need a little warming up, consider making yourself a tropical drink first ;). Mai Tai's, Blue Hawaiian's, and Pina Colada's always welcome.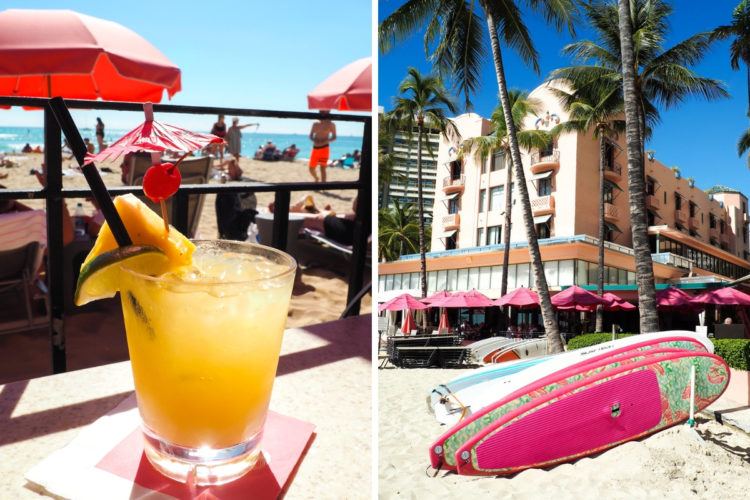 Make (or order in) a poke bowl: We make our own poke bowls all the time, and they couldn't be easier! Honestly, all you really need to do is throw a bunch of pre-made ingredients and veggies into a bowl. All you need is some fresh fish (we opt for the Hawaiian ahi tuna poke), a base layer of either rice and/or salad, and some toppings! We typically throw in some shaved carrots, shelled edamame, sliced cucumbers, and avocado chunks. Drizzle with some soy sauce and you're good to go! Eat on a beach towel with views of the ocean (via the TV of course) and a slight breeze (via a floor fan on low speed) and you'll feel like you're really at the beach (well, kinda, haha).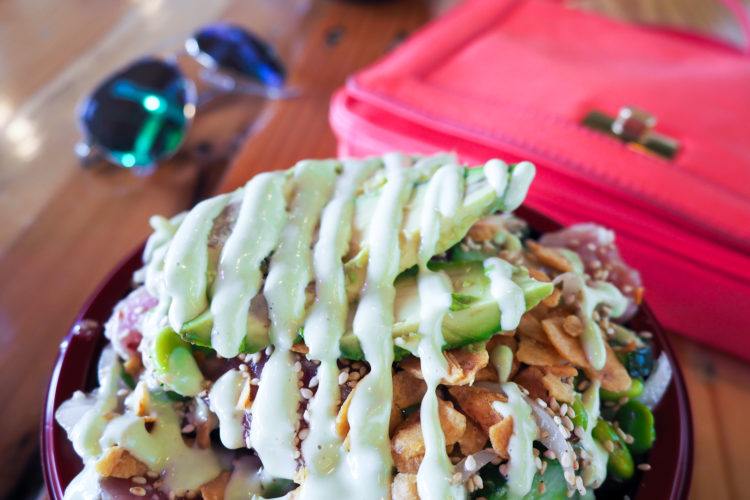 Indulge in some tropical fruits: Grab some tropical fruits from your local grocery store and make a simple fruit salad, tropical fruit smoothies, and/or an acai bowl (I've seen frozen packets of acai in my local chain store, at Trader Joes, and Whole Foods). Pick up a pineapple, a mango, some kiwi, pitaya/dragon fruit, passionfruit (my favorite!), lychee, and basically whatever you can find. You can even do a tropical fruit taste testing and see which ones your family likes best. Or feed them to your partner blindfolded and see if they can guess what they're eating!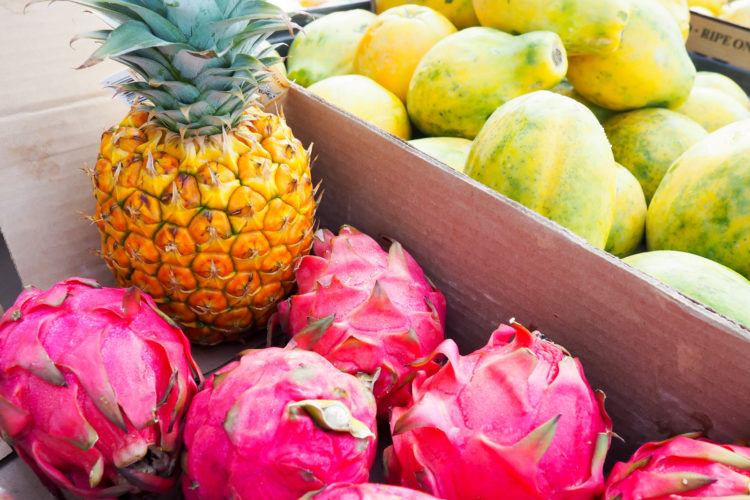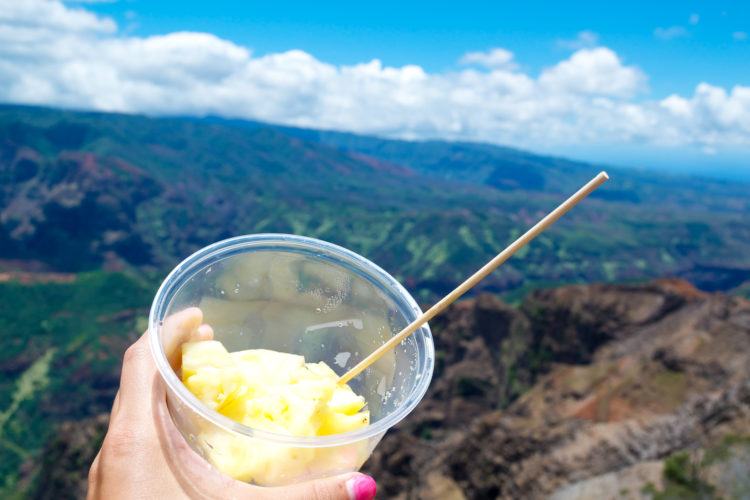 Take a calming tour of the Hawaii Tropical Botanical Garden: Although we can't get to the botanical garden ourselves in person, this video will make you feel as if you've been transported to the Big Island in no time.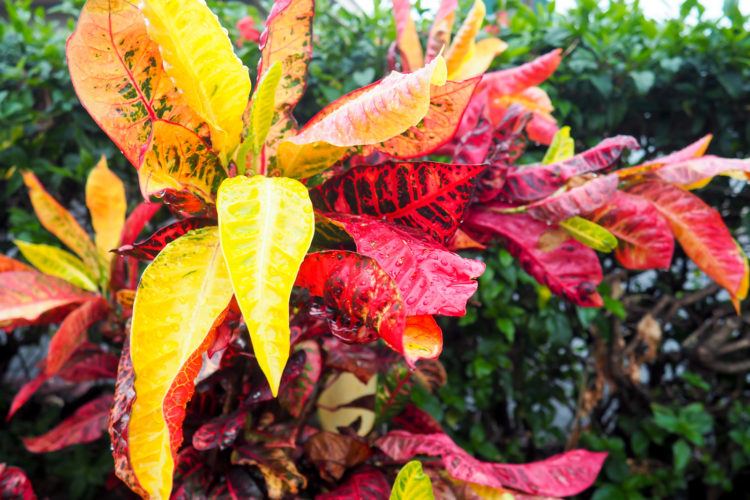 Learn how to play Ukulele: Ok, so you probably don't have a ukulele hanging around, but if you're planning in advance, now's the time to order one! They're not at all expensive (around $30-$50 or so), and you can even find them in Walmart and on Amazon (this one even comes with a case). There are a bunch of great tutorials on Youtube, beginner basics here, and then a few quick song lessons here, here, and here. Start learning a few chords, then off to simple songs you go! And if you've ever played guitar before, you'll pick up the uke in no time.
DIY Tropical Flower Bath: End the day the most relaxing and soothing way I know how – with a sensationally-smelled flower bath. Obviously this will be a solo activity (or with a partner if your tubs big enough and you're feeling a bit romantic), so save it for last once the kids/distractions are at bay. And how do you make this colorful bath come to life? By simply adding a whole lotta flower petals to the water. Wish I could do this every single day.
---
3. A Typical Tourist Day in NYC
Ohhh, the city that never sleeps. But thankfully, you can choose when to end your day and go to bed whenever you damn well please since you're traveling at home. Crowds? Congestion? Traffic? Those creepy characters in Times Square? You won't have any of that here! A day in New York City, coming right up!
Bagels and Lox for breakfast: Sure, nothing tastes as good as a NY bagel, but if you're having a NYC-themed staycation outside of the state, get what you can! Be it take-out from a bagel shop, from a bakery, or from your local grocery store. Be sure to slather on the cream cheese and smoked salmon just as we New Yorkers do!
Search for passengers/Find your ancestors at Ellis Island: Did you know there's a database of 65 million passenger records online? Yeah, neither did I. Simply put in your last name (or a name you want to search), and see who pops up! Yes, you'll need to create an account to get more info than just name, arrival year, last place of residence, and ship name, but hey, it's free! I put in my last name and found over a dozen passengers, although I'm not sure if any are actually related to me! Search for passengers here.
Head to an art museum: NYC is loaded and loaded with museums, filled to the brim with art pieces from Vincent Van Gogh, Gustav Klimt, and Sophie Taeuber-Arp. Save a few bucks (okay, more than a few), and take virtual tours instead. And if street art's more your thing, there's that too!
Have a classic NYC feast for lunch: You've heard about the deliciousness that is NY pizza. Although I bet anything you can get around your area won't even come close (sorry, I'm biased and used to live in NYC), you should still opt for pizza on this NYC travel-themed staycation! Whatever you do, make sure it's at least NY-style, meaning the slices are wide and thin enough to fold in half (just like how we NYers eat), and if the grease runs down, all the better and more authentic! If you can't fathom impersonating the real deal pizza, make some hot dogs (complete with spicy mustard and sauerkraut like they serve in the food carts), NY style candied street nuts (mmm the best is Nuts 4 Nuts – copycat recipe here!), and handmade soft pretzels (frozen is fine, from your local pretzel shop is even better (if they're open of course), or recipe here if you feel like doing a bit of baking and want fresh buttery ones!).
"Window shop" on 5th Ave: I couldn't not include this as I thought it was too funny. 5th Ave is full of the world's most expensive retail spaces, meaning I can hardly afford anything, but it's fun to take a look anyways! Since we can't go into the stores in person, check out what they have to offer online. "Pick out" a few things to treat yo'self with – either buy or just pretend, haha. You can even have a guessing game with your partner/roommate as to just how much things cost (I mean, how can a stapler cost $729?). Iconic 5th Ave stores include: Bergdorf Goodman, Cartier, Ferragamo, Gucci, and Saks Fifth Avenue.
Pick out a book from the NY Public Library: Word has it that the NYPL is offering over 300,000 virtual books for free on their app, SimplyE (but I think it's just for NY-ers?). Library card or not, there are still thousands of public domain classics available as soon as you download the app. Before picking out your book, take a 360 degree virtual tour of the iconic spot, full of marble and majestic public reading spaces, chandeliers and stunning pieces of art/murals. Make sure you really swipe all around, the ceilings are just as impressive as the rest of the place! Don't miss The Main Reading Room, the murals in the McGraw Rotunda, and Astor Hall with it's unique stone vault.
Watch your favorite Broadway Show: Nothing screams NYC more than Broadway, so end your NYC staycation with one of your favorite shows. Nothing beats watching a live performance in an actual theater, but if that's not possible, watching from your couch is the next best thing (when have you been able to put your feet up in the theatre anyways?!) Choose a show you've already seen 27 times or pick out a new one! My favorites include Rent, Hamilton, The Lion King, and Mama Mia. And be sure to listen to your favorite musical soundtracks beforehand to get yourself really in the mood to sing along (which you can now do so, since um, there's no one in the "theatre" to disturb).

Psst: Not sure where to get these Broadway shows from? BroadwayHD offers a free 7-day trial with a comprehensive library of ~300 productions. You can stream as many shows, plays, and ballets as your little broadway heart desires.
---
4. Cherry Blossom Season in Japan
Japan is one of our all-time favorite countries, despite only visiting twice. We fell in love with just about everything the county has to offer (too much to list right now). And OH, the food! Everything is just so good (and yes, I mean everything). So skip the 13+ hour flight, and indulge yourself in everything Japan from the comfort of your own home.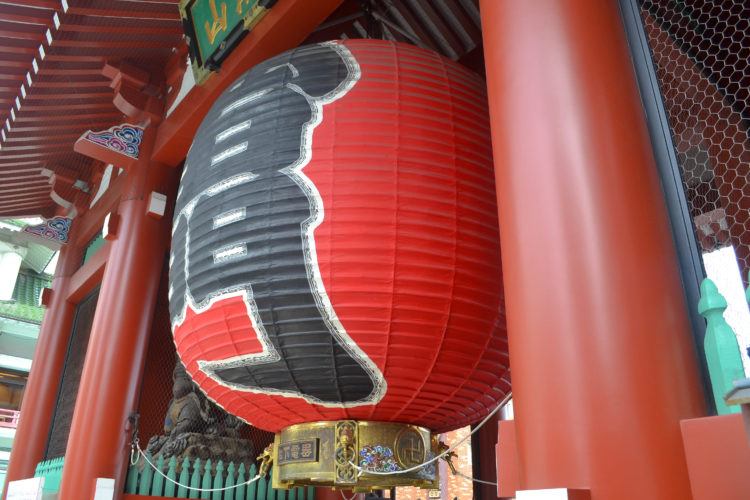 Here's how I'd plan my Japanese-inspired travel staycation:
Participate in Radio Taiso: Every morning in Japan, the radio broadcasts an exercise routine, known as radio taiso (which translates to "radio exercise" in English). It's an extremely popular form of exercise in Japan, and it's estimated that ~10 MILLION people practice it regularly (just imagine an entire city-full of people in schools and workplaces doing the same exercises together).. Listen to the accompanying music, and stretch your joints through their full range of possible motion, just like the Japanese do. Listen, bend, and stretch with this video (although it's not the greatest of qualities, it is in English thankfully).
Watch a real-taping of the cherry blossoms: Spring is a wonderful time of year to visit Japan, and thankfully, the blossoms still bloom even if no one's visiting (sadly). The entire country is filled with tiny pink and white petals and just smells utterly amazing and sweet. Although you won't be able to sniff the blossoms yourself, you can still check out how fascinating they are! I've compiled a few videos that really showcase these spectacular blooms and provide some info as well: watch HERE, HERE, and HERE.
Make homemade sushi for lunch: It's not as hard as it seems (you can even buy poke at your local supermarket to make it even simpler). And plus, now's a great time to support your local asian markets (they need our business), or I bet the international aisle at your grocery store will have what you need. You'll need the following: sushi rice, a bamboo mat, plastic wrap, nori (seaweed sheets), soy sauce (we always opt for low-sodium), toasted sesame seeds and/or chia seeds, sriracha chili sauce, veggies, protein (doesn't have to be fis), and wasabi and pickled ginger. Here's a great recipe that's super easy to follow, along with some do's and don'ts when making sushi at home. One important tip: eat your homemade sushi immediately, and do not leave it out for an extended period of time. A few ways to make your sushi experience even more fun:

It's common to eat meals on the floor on a tatami (straw floor mat) in Japan. If you don't have any lying around (I sure don't), a cushioned mat (like those you might find on outdoor seating) or folded up towels will do! Remember, it's all about the experience, not the perfection.
Eat around a low table, such as your coffee table, for a semi-culturally experience.
Get comfy – wear your finest robes and slippers
Throw up a view of Mt. Fuji on your tv!
Learn how to fold origami: If you don't have origami paper lying around, you can easily make some! Simply cut large squares out of any thin paper you do have! Check out this Beginners Guide to Origami, and learn all the basic folds and bases of origami (the diagrams are exceptionally clear). Once you've practiced some of the basic steps, get to some more advanced stuff! Ideas below (zoom in on the linked photos for clear diagrams).
Get all wacky on Takeshita Dori Street: The Japanese neighborhood of Harajuku is where you'll find a whole slew of wild stores and extra extra cafes. Since we can't get there exactly today, why not recreate a few easy things? On our last visit, I was obsessed with this rainbow grilled cheese (just put some food coloring on the cheese…) and the fun ice cream characters (again, use ingredients you have to form a face!). So fun and oh so easy!
Watch some anime: Anime and manga culture are HUGE in Japan. I'm sure you've heard of them before, but what are anime and manga exactly you ask? Anime is hand-drawn and video cartoon animation originating from or associated with Japan. Yes, anime is essentially Japanese cartoons, while manga are the comic books filled with these anime characters. Popular anime/manga include Darwin's Game, The Rising of the Shield Hero (full episode!), Dr. Stone (dubbed in English), and Gurren Lagann. Be sure to read the explanations of the episodes below the videos! If these short clips really piqued your interest, you can get a free 14-day trial to CrunchyRoll, and watch all the anime your little cartoon heart desires. If you're more into the hand-drawing aspect of anime, check out this gals YouTube channel. Looks pretty interesting. And if you're reading this in the middle of the global pandemic, you may find this particular anime quite interesting. Hint hint – it has to do with the current state of the world.
Practice Japanese Calligraphy: Calligraphy in the English language is quite beautiful, but I feel like Japanese calligraphy (also known as Shodo) takes the cake as one of the most beautiful artistic writing forms. In traditional Japan, learning shodo has traditionally been valued as a verryyy highly important skill to learn, especially for noblemen. It's based on Chinese characters/symbols, known as kanji (the foundations of Japanese calligraphy actually originated in China, hence the similarities). Let's try some today! Getting the strokes right does take some practice, but you'll see – it's a pretty calming activity and can be done in just a few minutes. All you really need is some paper and a thin paintbrush dipped in either ink or paint. Learn the 5 Basic Rules of Kanji first, then try it out yourself! Here are a bunch of simple kanji characters to try out. If you want to learn how to translate and then write your name in Kanji, give this a watch as well!
Watch a sumo wrestling match: Did you know sumo is Japan's national sport?! Can't forget about watching a quick wrestling match during your Japanese staycation! Live Grand Sumo Tournaments are actually pretty hard to catch since they're only held on specific months for 15 days each, buuuut since we're doing this all virtual and all, you'll get a front-row view no matter the date. Read "things you probably never knew about sumo wrestling" first, and then watch a match or two! It's all in Japanese, but thankfully there are English subtitles.
Sip tea at a DIY Japanese Traditional Tea Ceremony: Green tea (matcha) is all the rage in Japan (and pretty much elsewhere these days), and is what's commonly served during Japanese tea ceremonies. The health benefits are outstanding (packed with antioxidants, boosts metabolism, detoxifies the body, calms the mind, rich in fiber, etc etc etc), but the ceremony is more than that – they represent harmony, respect, purity, and tranquility. The preparation and presentation of the matcha (powdered green tea) is what this ceremony is all about. Read about preparing your own tea ceremony here. While a full-length formal event lasts roughly 4 hours (!!!), you can make your DIY tea ceremony as long or short as you want. Traditional sweets are served during the tea ceremony as well to help balance the bitter taste of the tea. So go on – make a mean cup of matcha and try some japanese snacks. Favorites include mochi (easily found in various flavors at Trader Joes), pocky (you can even buy them at target!), and different flavored kit kats (you may find some varieties at home depending on the season).
Slurp up ramen for dinner: Support your local ramen shop (you know they're relying on take-out orders now) or make your own by getting high-quality noodles from your local Asian grocery store (they need your business now too). Ramen typically consists of noodles (the main ingredient of the dish), some sort of rich, flavorful broth (miso, tonkatsu, shoyu), tender meat (pork or chicken), garnishes, and soft boiled eggs. Here's a quick and easy typical ramen recipe using store bought fresh yakisoba noodles (be sure to cook the noodles separately as you'll read in the post). I did find a vegetarian option as well which looks pretty tasty. And of course no judgements if you use instant ramen, just know there's tons of ways to elevate and upgrade the dish quite cheaply and easily!
Which of these travel-themed staycations will you be planning out in the next few weeks/months? Share your favorites below! Any other ideas?