Headed to Japan soon and looking for the best places to visit in Tokyo? This in-depth Tokyo guide has a monstrous list of all the best things to do in Tokyo, including top foodie spots, quirky neighborhoods, temples and parks, and so on and so on!
Start reading, save this post for safe keeping, and decide which places to visit in Tokyo you'll be checking off your Tokyo bucket list!
Ever since I returned home from Japan last year, I cannot get the country outta my head. I don't know if it was all the shiny bright lights, the sweet-natured and extremely helpful locals, or the food (yes, it's probably the food), but I've been longing to head back ever since.
I've even imagined happily living in Japan for a few months and hence, crossing off the all the things on my Japan bucket list.
Since I only visited the city for a handful of days (I know, I know, I need to go back), I've enlisted other Japan obsessors (like me) to share their favorite places to visit in Tokyo! Enjoy this long, long list of the best places to go in Tokyo, and let me know in the comments below if you have any additional places in Tokyo worthy of this list! Enjoy! 🙂
If you're currently planning a trip to Japan, be sure to check out this popular post: 10 Days in Japan >> A First-Timer's Complete Itinerary 
Top Places to Visit in Tokyo (My Ultimate Tokyo Bucket List!)
1. Kawaii Monster Cafe
In the fashionable and popular district of Harajuku, you will find one of the coolest and unique cafes in the world, and definitely worthy of a spot on any Tokyo bucket list. Going to the Kawaii Monster Cafe is definitely one of the more memorable things to do in Tokyo. It's hard to explain the experience in words, as it's simply something that you have to see for yourself!
But, to give you a small taste of what awaits you, I can mention rainbow spaghetti, cat food for humans, neon lights, unicorns, dressed up kawaii monster girls, mirrors, giant mushrooms in every color you can imagine, spinning wheels, music and dancing shows. Um, what?! Yup!
Think of Alice in Wonderland and multiply by 10 – so wacky! There are various room and booths where you can sit and enjoy a meal, for example the Mushroom Disco Room, Milk Stand, Bar Experiment and the Mel-Tea Room.
And it's not only a fascinating experience, but the food is actually really good too, even though it's a bit pricier than a regular restaurant. One of the most quirky places to visit in Tokyo? You betcha! // Alexander Waltner | Swedish Nomad
2. Sensoji Temple and Asakusa Neighborhood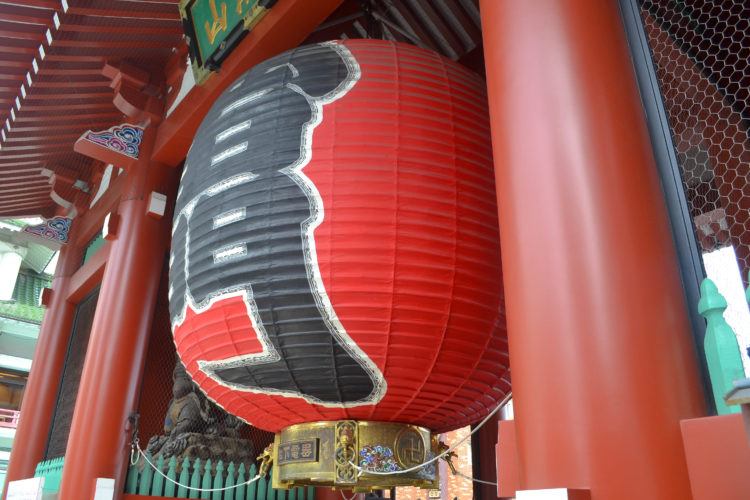 Built in year 645, the Sensoji temple is one of the oldest and most iconic Buddhist temples in Tokyo, and absolutely unmissable on any trip to Tokyo. The Asakusa neighborhood, where the temple is located, is full of amazing shops, restaurants, street food, and always seems to have a feeling of festival in the air. As you walk up the stairs to the temple, you will notice the huge red lanterns adorned with messages to the Goddess Kannon.
Once through the gate, you'll see the people cleansing themselves at the well. According to tradition, everyone should do this upon entering, so don't be afraid to get your culture on! After visiting the temple, the best part is trying out some of the best local foods like yakisoba, candied bananas, and of course those delectable octopus balls called takoyaki. Yum! // Corinne Vail | Reflections Enroute
3. Ueno Park
Ueno Park is a large public park located in central Tokyo. The grounds were originally part of the Kaneiji Temple, which was, however, destroyed in the late 1800s. Luckily, the temple grounds were turned into a public park, which is now home to one of Tokyo's most popular cherry blossom viewing spot!
More than 1,000 cherry trees line the central pathways of the park, making it one of the most popular places to visit in Tokyo in cherry blossom season. This is an ideal spot to visit for people watching, as it is typically filled with locals just out enjoying the beautiful weather and scenery.
During prime cherry blossom season, crowds can get heavy, so arrive early and throw down a blanket to save your spot. If time permits, be sure to walk across the bridge to the Shinobazu Pond, where there is usually some kind of traditional street food festival going on, especially in good weather and during festival season. // Nancy Kwang Canter | We Go With Kids
4. Harry! Hedgehog Cafe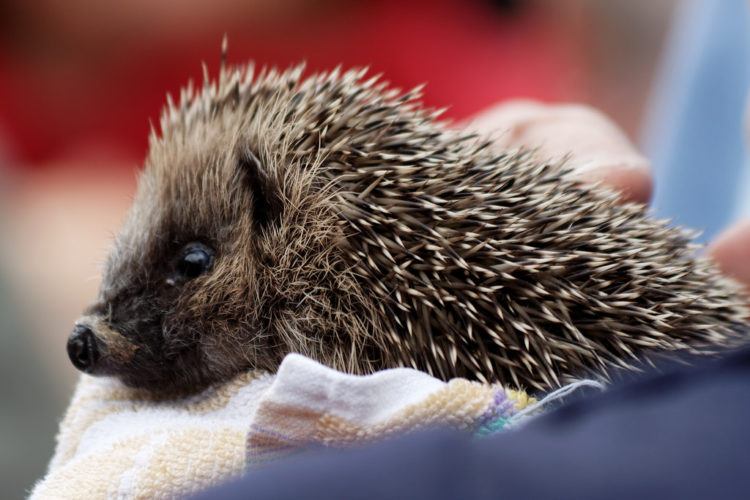 When it comes to odd experiences, the Japanese are hard to match. If you want to add something quite different to your Tokyo bucket list, I recommend visiting HARRY! Hedgehog Cafe. Yes, it's a tourist trap and your coffee won't be great – it's instant. But, you WILL be sipping your Nescafe with a hedgehog (or lizard, or rabbit) of your choice!
Even though you can, we never encourage buying pets at places like this. Besides, hedgehogs require specific care that most people are not prepared to provide. But the idea of sitting in a space with a beautiful little animal like this was too good to pass up.
The café has many rules to protect the animals, and you may only hold them briefly for a photo. My hedgehog, who I named "Pokey," didn't seem to mind being picked up. Was it worth it? Sure! It was both different and a lot of fun. // Ha Lef | The RTW Guys
5. Kawasaki Warehouse
Even though the Kawasaki Warehouse Arcade is not the most popular tourist attraction in the city, it should definitely be on your list of places to visit in Tokyo!
The minute you set foot in this video game arcade, it feels as if you have just entered a movie scene. Kawasaki Warehouse is a recreation of the famous Kowloon Walled City and has the same dark and grim atmosphere…
But that doesn't take any fun away from a visit, but rather adds to the whole experience. When you walk around the arcade, you'll mostly see local Japanese grown-ups playing the games. There are four floors to explore and the activities range from modern video games to simple claw machines, dart boards, and billiard tables.
The entrance to Kawasaki Warehouse is completely free, but you do pay for the games. Watch out that you don't spend all your money on the claw machines, it can be quite addictive to try to win a fluffy Pikachu! // Lisanne van Beurden | Chapter Travel
6. Gyuukatsu
Aside from sushi and sashimi, there is one thing that you must try in Japan: Gyuukatsu. If the word seem vaguely familiar, it's because katsu means cutlet in Japanese. Gyuukatsu is a fried beef steak with a fried crusty outside, and it's rare.
You get to cook it on your own personal tiny hot plate to your liking and eat it with rice. There are also three dips and sauces: rock salt, soy sauce, and a mustard sauce. All three are delicious and go well with the beef. You can also add Yam paste to your rice, though the slimy texture is not for everyone!
You can find Gyuukatsu in a chain restaurant of the same name throughout Tokyo! Be sure to go early as it can get very busy during dinner and most shops aren't big. You order it in a set, but there's also the option to get extras. // Nam Cheah | Laugh Travel Eat
7. Tokyo DisneySea
One of the best things to do in Tokyo, and one for your Tokyo bucket list for sure, is to take advantage of of being near one of the coolest Disney Resorts in the World!
Tokyo DisneySea is our favorite park we have ever been to! Entire areas of the park are dedicated to two of my favorite childhood Disney classics: The Little Mermaid and Aladdin. Walking through Agrabah gives you all the feels as does going under the sea with Ariel and her friends.
Another awesome feature to Tokyo DisneySea would be the exotic popcorn flavors found around the park. If you're lucky you'll even be able to see Mt. Fuji off in the distance as well, we were able to see it in the sky during sunset which made an already magical day even more so.
If you only have time for one day at Disney in Tokyo, skip the Magic Kingdom as it's not as unique as Tokyo DisneySea. // Megan Indoe | Bobo and Chichi
8. Meji Shrine
Tokyo is a city famous for its crowded streets and frenetic energy, but there are pockets of Zen to be found in the large metropolis. Across from one of the busiest and wildest parts of town, Harajuku, is the Meiji Shrine and Gardens.
This massive urban garden rivals New York's Central Park both in its size and beauty. While the city buzzes madly outside the gate, travellers can easily find peace and quiet by walking along one of the trails. In addition to hosting a variety of flowers and trees, there are even birds that will perch on your hand if you sit quietly.
It is so serene in the gardens, that it is hard to believe that Tokyo's pulsating rhythm beats so closely nearby. If you're looking for a place to experience calmness that rivals leaving the city and taking a nature walk, then head to the Meiji Shrine and Gardens to recharge. // Thea Jane | Zen Travellers
9. Shinjuku Gyoen Park
Shinjuku Gyoen Park is the largest park in Tokyo and it's stunning. If you want a quiet place in the middle of Tokyo, this is it. Once you step into the park, you're immersed in nature, in stunning Japanese gardens, lakes filled with Japanese carps, birds flying and nesting around, and the loveliest trees and orchards.
If you want to, you can try a Japanese tea with a traditional sweet in one of the tea houses too – for around $5!
Entry to the park is paid (around $2 per person), but it's well worth the price and you can easily spend the whole day there. Bring a picnic and enjoy a sunny day. It's very close to Shinjuku Gyoen Mae station, as the name suggests, and it's sure to please everyone. // Thais Saito | World Trip Diaries
10. Takeshita-dori St (Harajuku)
Kawaii, or "cuteness" is one of the more familiar Tokyo subcultures. The best place to experience kawaii culture is Harajuku district in Tokyo, and Takeshita dori is the epicentre.

Takeshita dori is a narrow, pedestrianised street full of shops, snack bars and restaurants. You can get all sorts of cute clothing here; if you're stuck for inspiration then just take a look at the gangs of local teens who gather on the street, decked out in their finest.
You can often see people dressed in amazing cosplay outfits too. Grab your souvenirs from the 100 Yen shop, or explore nearby Kiddy Land toy shop for more cute offerings.

Takeshita dori is also a great place to get snacks; try the creme brûlée crepes or enormous servings of pastel rainbow candy floss (cotton candy), bigger than your head. For an all out crazy food experience, you'll want to try the Harajuku Monster Cafe which serves neon rainbow food in even brighter surroundings. Unmissable! // Emily Cole | Kids and Compass
11. Tsukiji Tuna Auction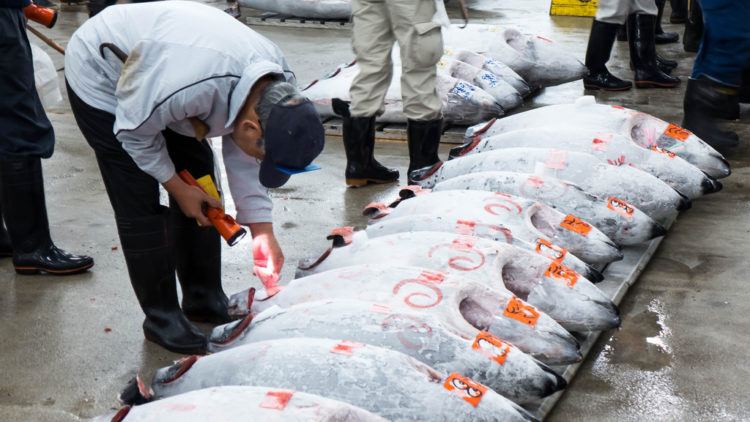 One of the unique things to do in Tokyo involves fish, the middle of the night and it's free. It's also potentially time-limited, so you'll need to get your act in gear to get there. The Tsukiji Tuna Auction is world class theatre for free before dawn at the Tsukiji Fish Market.
The market is due to move in October 2018 and while the tuna auction will continue, after this date, we think the best idea is to go sooner rather than later. And then, of course, go again when the market opens at its new location.
Watching the auction is free. But only to the first 120 folks who get there and line up. At 3:30am. It's first come first served. You're coming here to see the world-famous giant tuna auctions. These fish have been caught way out in the Pacific Ocean, they're frozen as soon as they're caught and they're being sold, by auction.
To give you an idea, the most expensive tuna sold here was in 2013 for US$1.8 million. (yes you read that right. One point eight million US dollars for a fish.
Each auction lasts just over a minute. It's fast-moving, brilliant theatre. And of course, when its over and you're led out of the area, there's nothing better to do at 0530, than head to one of the famous sushi bars here at the market and throw down your own US$40 for a sushi breakfast. Hey, you only live one and this is Tokyo! // Sarah Carter | ASocialNomad
12. Shibuya Crossing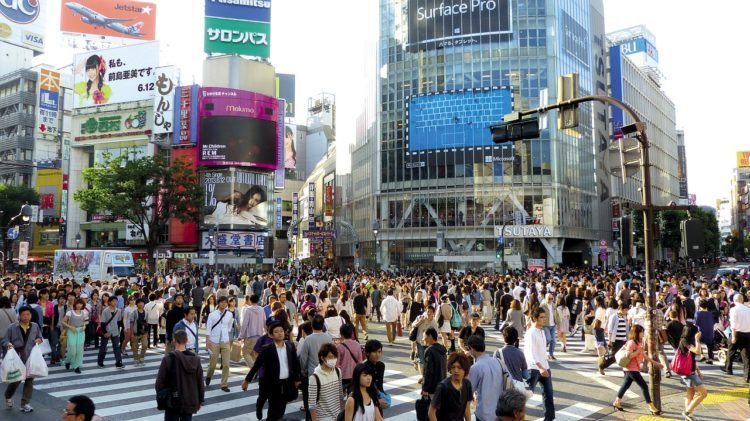 While the colourful and busy district of Shibuya itself is worth a visit, the most famous part of the area is the famous Shibuya crossing – the busiest intersection of the world! Shibuya is great for people watching and experiencing the typical atmosphere of the city and for me, this crossing just symbolizes Tokyo like no other place in the city.
The intersection was already part of several movies (such as Lost in Translation), and as soon as the traffic stops the view of the thousands of people crossing the street is incredible.
For the best viewpoint of the crossing, go to the big Starbucks café right in front of the crossing. Get a table at the glass window, and you'll have a great picture spot and view of the intersection. I loved sitting there, enjoying my café while just watching the busy streets of Shibuya! // Patrick Muntzinger | German Backpacker
13. Tsukemen at Fuunji
When trying to decide where to eat in Tokyo, you must stop by Fuunji in Shibuya for a bowl of tsukemen or dipping noodles. Aim to get there as soon as the restaurant opens or in between meal times as there are only a handful of bar seats.
With the restaurants growing popularity, it's likely that you'll find a line out the door. The wait isn't long as people quickly slurp their noodles and move on. There is a vending machine to take your order as you enter the restaurant and as you near the front of the line, you hand your ticket over.
As the name of the dish suggests, you dip your noodles into the broth before you slurp. The rich savory broth clings to the noodles in the most delicious way possible. There are no words to describe the tastiness and deliciousness of this bowl of noodles. It has to be experienced first hand. // Adelina Wong | Pack Me To
14. Mario Karting around Tokyo
If riding around Tokyo dressed as Mario on a go-kart is not a bucket list item than I don't know what is! It's entirely legal and surprisingly easy to go.
All you need is a valid international drivers license and a sense of adventure to join a go-karting tour in Tokyo where you can see all of the most famous sites for a new vantage point.
Rainbow bridge? Tokyo Tower? Shibuya Crossing? Trust me when I tell you they look so much more refreshing low to the ground and zooming past at 90 kilometers per hour. Even if you're not a Mario fan, why not try Pikachu? Or Elsa? Or any number of characters.
The Mario Karts tours have so many options its insane. The best part of it all has to be the reactions of your average Japanese person on the street; you'll become an instant celebrity and are sure to have thousands of photos posted of you online before this bucket list item is complete! // Jordan Adkins | Inspired by Maps
15. Maid Cafe in Akihabara
"Welcome home, master!' is the greeting of a young Japanese girl with two ponytails and a cute old fashioned waitress costume at the entrance of one the Maid Cafe's in Akihabara, Tokyo.
Maid Cafe's are meant for die-hard manga and cos play fans. It's absolute an overload of cuteness. In the Maid Cafe's you can order cute cakes (with hearts or smiling faces), play games with one of the maids or just have an innocent conversation.
No sexual services are offered, it's all innocent entertainment. Please read the rules of the Maid Cafe carefully before entering and remember that services can be quite expensive. Visiting a maid cafe in Tokyo is fun and a one-of-a-kind experience, don't miss it during your stay! // Manouk Bob | Bunch of Backpackers
16. Memory Lane Shinjuku (Piss Alley)
A tiny alley packed with over 60 bars and restaurants is tucked away among the crowded streets and neon lights of Shinjuku. Memory Lane, or Piss Alley as it was known in its heyday, is a hub of tiny yakitori bars reminiscent of a Japan from days gone by.
Piss Alley dates back to the 1940s when, in a post war Tokyo, black market traders helped restock the city alongside street traders selling local delicacies from their food carts.
Memory Lane is dark and moody and is now the hangout of Japanese salarymen who pull up a stool and indulge in sake, beer and freshly cooked yakitori before catching the last train home. We squeezed in and did exactly as the locals do, laughing at attempts to hold broken conversations with the salarymen and clinking sake glasses amongst a rowdy chorus of cheers, orkanpai as the locals declared in Japanese.
It's a surreal experience and an incredible glimpse at both local life and a Japan from the past. // Elaine & David | Show Them The Globe
17. Sumo Wrestling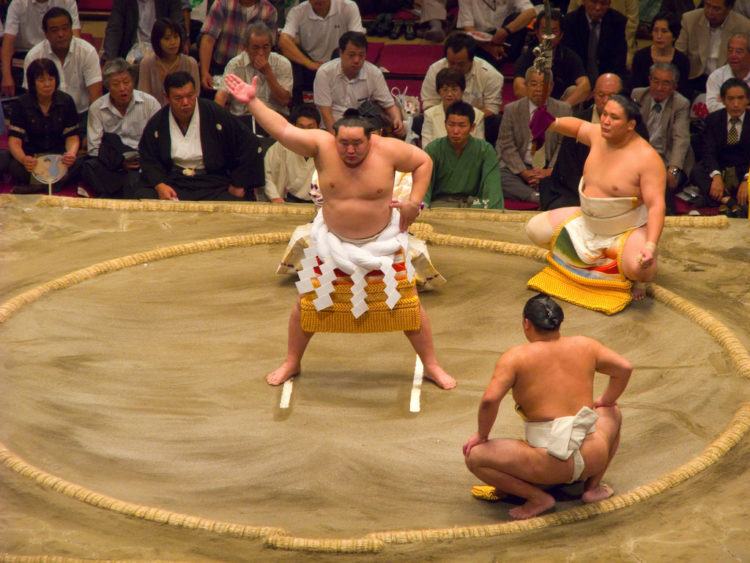 Watching sumo wrestling in Japan should definitely be high on any Tokyo bucket list. Sumo is Japan's national sport and has a long history dating to ancient times. Watching sumo is a cultural experience as the sport includes many rituals and traditions.
There are ring entering ceremonies when the wrestlers come in and each match is preceded by an elaborate ceremonial ritual involving salt-tossing, singing and foot stomping – in fact the actual wrestling part of a match is very short.
If the timing works out, I recommend attending a sumo wrestling tournament at Ryogoku Kokugikan where three professional sumo tournaments lasting 15 days each are held each year in January, May and September. If you travel to Tokyo outside of the tournament dates, you can visit a sumo stable (where the wrestlers live and train) to watch a morning practice session. // Matilda Ge | The Travel Sisters
18. Sukiyabashi Jiro
I flew around the world for one meal at Sukiyabashi Jiro and I would do it again in a heartbeat. That's right – I flew over 5,000 miles for a 25-minute dining experience at the world's first three-Michelin star sushi restaurant.
At 92 years young, Jiro Ono, the head chef of Jiro Dreams of Sushi fame, has been making sushi for over seventy years. His passion and love for his craft is evident in the mouthwatering morsels of sushi that he hand delivers to restaurant goers at his 9-seat sushi restaurant in Ginza station, Tokyo.
Sukiyabashi Jiro is the ultimate bucket list-dining destination in Tokyo, Japan. The twenty-course omakase menu serves the finest cuts of squid, tuna, jack mackerel, sea urchin, and other local fish that Jiro and his son Yoshi handpick from the fish market.
In order to get a coveted reservation at this restaurant, you must have a native Japanese speaker call the restaurant on the first day of the month to reserve next month's seating. I would highly recommend booking a hotel room at a five-star restaurant and have the concierge call for you.
At $300/person or 30,000 Japanese Yen, this is one of the most expensive sushi restaurants, but it is also the best sushi you will ever eat in your life. // Collette Stohler | Roamaroo
19. Yanaka Ginza
Yanaka Ginza might not be the most famous neighborhood in Tokyo, but it's a must-see one. If you get tired of the busy streets and modern surroundings of the city, escaping to a less touristy place is always a good idea.
When stepping into Yanaka Ginza, you feel as if you're in the past, in a somewhat more authentic place on your trip to Tokyo, where the locals go on with their daily lives. Small shops, little stalls where you can buy bento boxes and fresh fruits, little cafés hidden from the crowds…. on top of being absolutely enchanting, the prices tend to be lower than they are in the busy center of the city.
I've been to Yanaka Ginza every time I've been to Tokyo. This place always calms me down and makes me feel immersed in the Japanese way of life. I love to be surrounded by locals and Yanaka Ginza gives you that. // Alice Cardillo | Take Your Bag
20. Mount Takao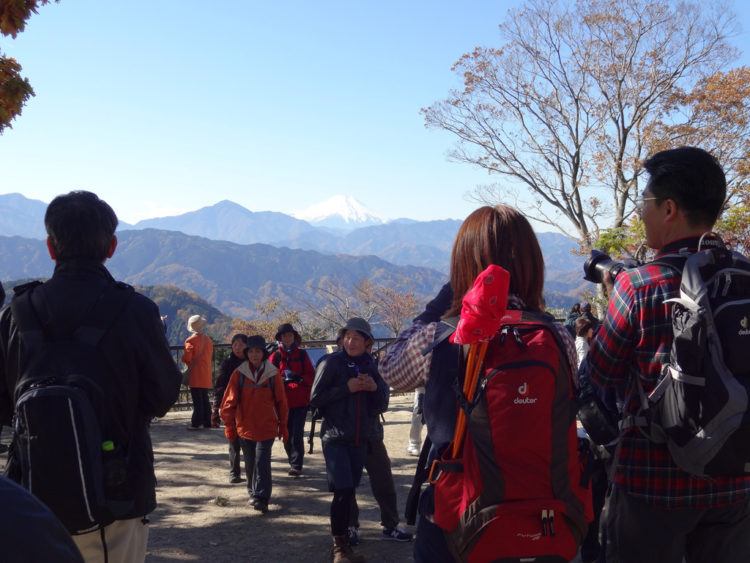 Tokyo is an incredible city to spend time in but if you're after a break from the crowds without leaving the city then a day at Mount Takao is a great option. It's only an hour by train from Shinjuku and there's something there to suit everyone. Mt Takao is especially popular during autumn for its coloured leaves but it's a fun spot to visit throughout the year and in the heat of summer the mountain air can be a few degrees cooler than the city.

If you're feeling active you can hike up from the base surrounded by nature, explore the historic temple and continue on up to the peak. A more relaxed option is to take the cable-car or rope-way to the half way point and enjoy lunch with some incredible views back out to the city and Yokohama.
For a traditional experience to end the day visit the onsen at the base, bathing in the therapeutic hot spring waters is good for relaxing the body and mind. // Toni Broome | 2 Aussie Travellers
21. Nakiryu
In a city known for its incredible food scene, one place stands out to me: Nakiryu Ramen. It has a Michelin star, and lunch will run you about $15. That is hard to beat. It opens at 11:30. Get in line before 11, as the place only seats 12 at a time.
Place your order in the machine (cash only): tantanmen ramen with extra noodles. You'll be rewarded with a bowl of mana from heaven, a spicy, salty, noodle-y, goodness that will forever change the understanding man has with a bowl of soup.
The extra noodles come when you've finished your first set, to be dumped in and slurped up with the rest of the soup. I am not overselling this. Just trust me. // Jonathan Berg | The Royal Tour
22. Tokyo Dome for Baseball
There are so many ways to explore Japanese culture in Tokyo, but my favorite was always through some baseball. People love the sport in Japan and you'll find one of the world's most serious fan cultures at the Tokyo Dome when the Yomiuri Giants duke it out against their rivals in Nippon Professional Baseball's Central League.
Imagine the New York Yankees but Japanese style. If you're lucky enough to get a seat when the Giants play their bitter rivals, the Hanshin Tigers from Osaka, then you'll have a chance to see one of the world's most intense contests.
Fans will sing organized songs when Giants batters come to the plate and you'll hear opposing fans sing when their team is up. Baseball in Japan (and most of Asia) is more like a soccer atmosphere with all the singing and noise throughout.
It's really a great thing to experience if you get the chance. Also, with all the players leaving for the Major Leagues, you'll probably get a sneak pack at someone who'll be suiting up in the United States really soon. // Carl Hedinger | Travel Through Life
23. Ueno Public Market
Ueno public market also called Ameyoko in Tokyo is were the locals go shopping for their weekly shopping maybe grabbing a bite to eat in one of the many small street food vendors in this busy outdoor market. The area is definitely the discount street of Tokyo and everyone goes shopping here.
You'll find fresh seafood, perishable goods, sundry items, cheap Chinese made goods and the occasional tourist souvenir stand.
Located just outside and across the street from Ueno station, the market started originally as a black market for cheap goods after World War 2 and it hasn't changed location much except for all the food stands and do try the seafood there, it's cheap and fresh as you can get for Tokyo. // Noel Morata | Travel Photo Discovery
24. Miraikan
The incredible Miraikan is Japan's major science centre, and a brilliant place to visit to get a glimpse into what our future lives could look like. This hands-on museum has wonderful exhibitions about life on earth, space, the human body, medical advances, and poses important questions on the future of our planet and the effects of climate change.
But the highlight has to be the robot section – from small prototypes up to fully functioning droid-like humans that make you do a double take they are so life-like! There's fabulous explanations of the role of robots in society and lots of ethical questions about what makes us humans that make great discussion points.
Another fabulous exhibition is a replica of the International Space Station, which gives a great insight into what life is like for the astronauts living onboard the space station. // Kylie Gibbon | Our Overseas Adventures
25. Totoro Cafe (Setagaya)
The Totoro Café, known locally as Shiro-Hige's Cream Puff Factory, was somewhat of a consolation prize on our visit, having missed out on Tokyo's Ghibli Museum. But I feel we got the better deal in the end.
As the Totoro Café is the first cafe in Tokyo to have an official license from Studio Ghibli, where it is rumoured to be owned by a man called Miyazaki (as in Hayao Miyazaki, the man behind Studio Ghibli).
And as expected the café is adorably cute, with all sorts of memorabilia from Totoro and the other various Ghibli franchises. However the main attraction is undoubtedly Shirohige's Totoro Cream Puffs, shaped as the adorable Totoro himself, which come in four different flavours (strawberry, custard, chocolate, and caramel banana).
Although, a highlight in itself was the charming suburban backstreets of Tokyo's Setagaya neighbourhood where the café is found near the local JR lines. // Allan Wilson | Live Less Ordinary
26. Golden Gai Bar Crawl
Hidden away just around the corner from the hustle and bustle of Shinjuku is my personal Tokyo favourite – Golden Gai. A small network of criss-crossing alleyways connects over 200 tiny bars, pubs and eateries close to the red light district. Far from being its seedy extension though, Golden Gai is a fascinating glimpse into authentic Tokyo life.
Wander the narrow alleys, complete with overhanging cables, old post boxes and street art before checking out the bars. These small establishments – some seating as few as four people – are popular with local regulars enjoying a drink and conversation. Some are even exclusively for locals but more and more are beginning to welcome tourists.
Look out for English signs and welcoming smiles of the staff.
Top tip: Head to Nagi for some of the best ramen in Tokyo. Hockey legend Wayne Gretzki loved it so much, he left an endorsement on the wall! // Alexei Gayanov | Travel Lexx
27. Edo-Tokyo Museum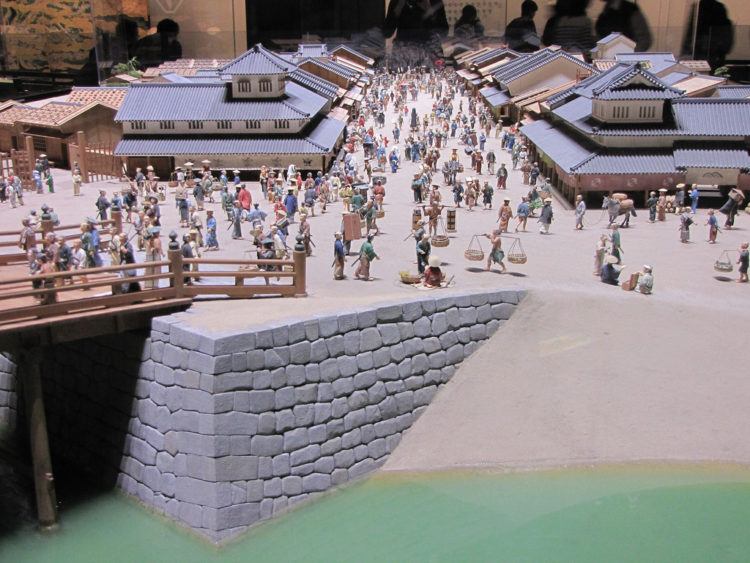 If you are interested in Japanese culture, cuisine, or history make a plan to visit the Edo-Tokyo Museum for a few hours. The Edo-Tokyo Museum may not be the Smithsonian but it is the perfect place to examine many unique cultural experiences that grasp what life was like in Tokyo over many centuries.
The exhibits at this museum will take you on a journey that starts in the Edo period and will lead you up until the current time. Each display is incredibly intricate and some are even hands on! See if you would be able to compete in Edo period sports, invite yourself into a detailed model of a samurai's house, and examine the finery of Japanese pottery, art, and clothing.
It is fascinating to see how much has changed in Tokyo but also how many traditions have still been kept. // Kallsy Page | Pages of Travel
28. Mori Art Museum
Interested in contemporary art? Then, don't miss out on Mori Art Museum in Tokyo! Atop Roppongi Hills Mori Tower, this modern gallery houses the latest contemporary art of some of the world's most internationally acclaimed artists.
The ever-rotating exhibitions feature artwork and installations in a variety of genres, from captivating Japanese architecture to manga – with the aim to inspire us to reinterpret our surroundings in the daily life. Even if you're not an avid art enthusiast, you'll find it engaging!
The best part of visiting Mori Art Museum is the ticket gives you access to Tokyo City View! From the 52nd floor of the tower, you can get a sweeping 360-degree panoramic view of Tokyo city.
With an additional 500 yen, you can go all the way to the open-air rooftop Sky Deck. It will give you an impressive outdoor view – strongly recommended during the sunset time! // Cat | For Two, Please
29. Karaoke rooms
Japan is mad about karaoke and the karaoke bars throughout Tokyo are a must-cultural experience. Grab some friends and rent a room for an hour where you can belt out your favourite hits. Food and drinks can be delivered right to your room, so you can make a whole night of it. The karaoke bars in Tokyo have all the latest songs with fairly easy-to-use systems with an English option.
Found throughout Tokyo, a convenient place to find karaoke bars is on Center-Gai in Shibuyu where for 300 Y/person/hour, you have yourself some great entertainment.
Another place you will find lots of karaoke bars is in Shinjuku. If you are like us, you will quickly find out that one hour is simply not enough time to get through all your favs. The karaoke bars are a great rainy day activity and fabulous fun if you are traveling with kids. // Dawn Nicholson | 5 Lost Together
30. Hie Jinja (vermillion gates)
Hie Jinja may seem like a small shrine but its annual Sanno Matsuri (around 15 June) is one of ancient Edo's three great festivals. A grand Shinkosai procession also takes place every even-numbered year.

If battling the crowds at Kyoto's Fushimi Inari doesn't appeal to you, fret not. You can also find vermillion torii (bird gates) here in the heart of Tokyo. The nearest metro stations are Akasaka Mitsuke, Taimeke-Sanno and Kokkaigijidomae.

From the entrance opposite the Bank of China, it's a short climb to reach the torii-lined passage. Regular folk use this narrow passage to get to the shrine (it's a working place of worship, after all) but it's still peaceful even at midday.
I even found it relaxing to watch people ascend and descend the stairs, the tinted sunbeams and shadows patterning their faces as they pass through the gates. // Nicholas Lim | Rambling Feet
31. Bar Ben Fiddich
If we could only have one more cocktail for the rest of our lives, it would undoubtedly be at Bar Ben Fiddich in Tokyo. Though the tiny bar may be tough to find – it's located on the ninth floor of a high-rise in West Shinjuku – what awaits you inside is pure liquid magic.
Cocktail master Hiroyasu Kayama uses a vast selection of herbs, spices, and plants to create cocktails in unexpected yet captivating ways. There's no menu here, but it doesn't matter; Kayama-san is uncannily talented at reading your verbal and non-verbal cues to craft a cocktail that fits your tastes. If you like whisky, gin, absinthe, or amaro, you'll be in heaven here.
Pro tip: if you treat the cocktails and bar with the genuine reverence they deserve, you just might be invited up to a coveted seat at the bar directly in front of where Kayama-san works. // Julianne Marie | It's Five O'Clock Here
32. Tokyo Skytree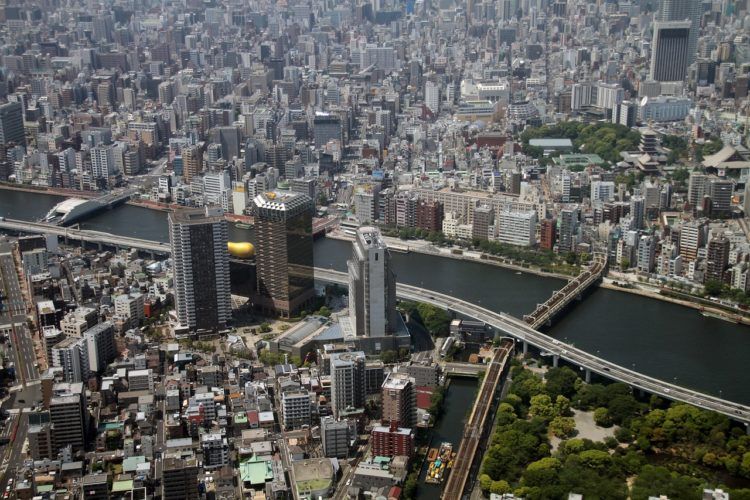 This 634 metres high broadcasting, restaurant and, indeed, observation tower is located in the Sumida district of Tokyo. Today, it has 32 floors above ground and an observation desk that is located in a height of 451.2 metres.
Once in Tokyo, you should not miss heading to Sumida and checking out the view from the Skytree. It offers endless panoramic scenes from all different angles and is truly amazing with its futuristic interior and exterior.
Also, it is located right at a mall, which has an amazing food court and offers the right snack after checking out the megacity Tokyo from up above.
Fun fact: the tower is earthquake resistant and has a special treat for anyone who is coming here on his or her birthday. Beware to be dressed in a cute crown and enjoy having your photo taken in a truly Japanese way.
Other than that: this tower is just magical and also offers great views of the other large towers that are located in Tokyo. // Clemens Sehi | Travellers Archive
Are you visiting Japan soon? Which of these places to visit in Tokyo are on your Tokyo bucket list?!